UPDATE#26 12/01 TO 12/14/2010
Howdy Everybody,
The adventures of 2006, 2007, 2008, 2009, and thru 11/30/2010 have been published on the website. We continue with the latest edition.
UPDATE 2010 #26 12/01/2010 to 12/14/2010
At last update, we were aboard AMARSE at the Loggerhead Marina in Stuart. Welcome back to our continuing adventure…
12/04/10 SATURDAY STUART, FL
My doctors and I have been seeking a resolution to my eye problems. My ophthalmologist suspected that it might be my eyelids that are now interfering with my vision. The lid droops down and restricts the upper field of vision. He referred me to an Oculoplastic specialist for a second opinion. After ordering variety of tests, he concurred and now I will be scheduled for functional, upper eyelid Blepharoplasty.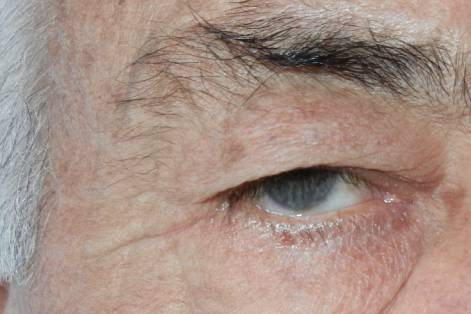 Judy really likes the new "Snuggie" that I gave her. It is made of fleece material and has sleeve openings for hands. Now, she keeps comfy and toasty warm on the chillier of Florida nights.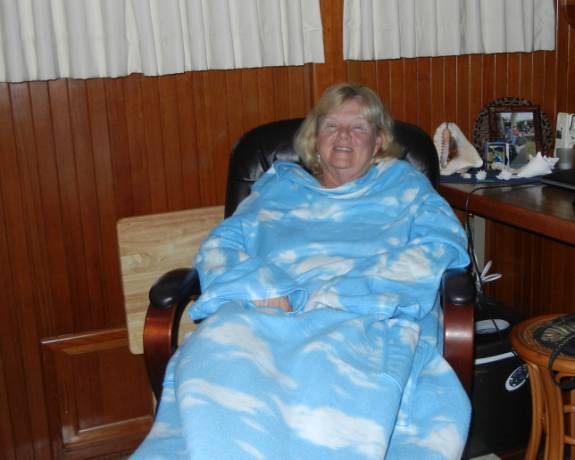 12/06/10 MONDAY STUART, FL
There are a number of Royal Marsh Harbour Yacht Club members here in the South Florida area. Roberta and Steve (INDEMNITY) are finishing up repairs; Teri and Dave (TERALEE) are ready and waiting for a weather window before heading east. Fred and Sidonia (SHEARWATER) are waiting in Palm Beach Gardens for the Gulfstream to settle down to a reasonable level. They will all be headed over to the Abaco Islands in the Bahamas this month. We all decided to get together for a luncheon at Guanabanas Restaurant in Jupiter.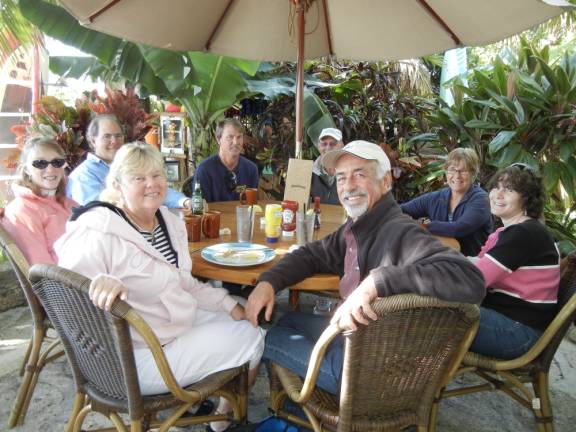 12/08/10 WEDNESDAY STUART, FL
There are two dock sections at Loggerhead Marina. This picture is of the eastern-side, fixed docks where AMARSE is located.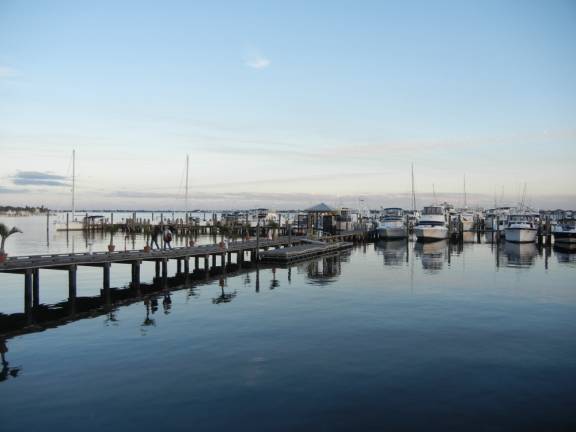 Judy made and decorated a great cake for Ivor's birthday.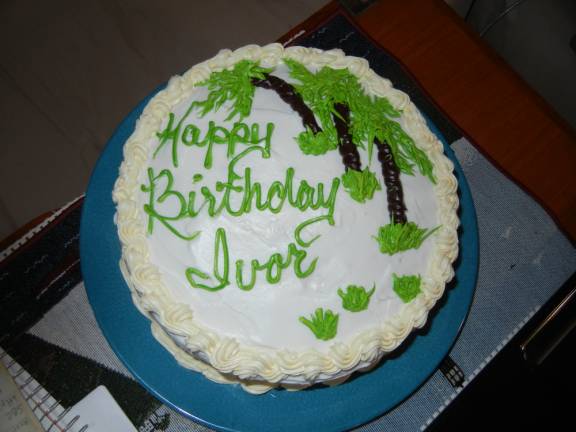 We have been invited to the home of Ivor and Susan (LAZY SUSAN) for dinner and to celebrate Ivor's upcoming birthday.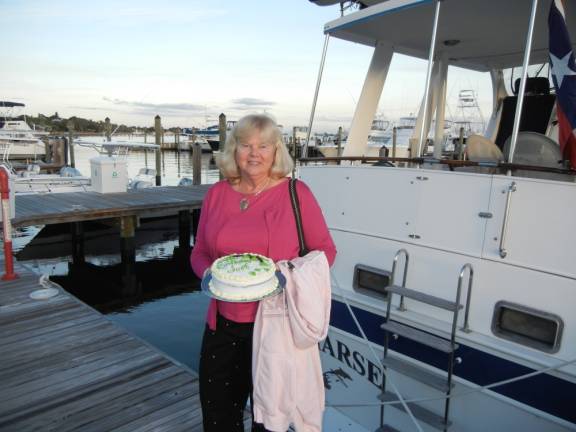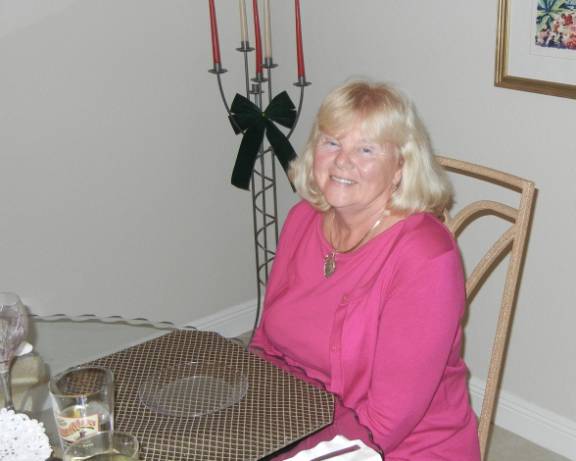 The lovebirds, Ivor and Susan…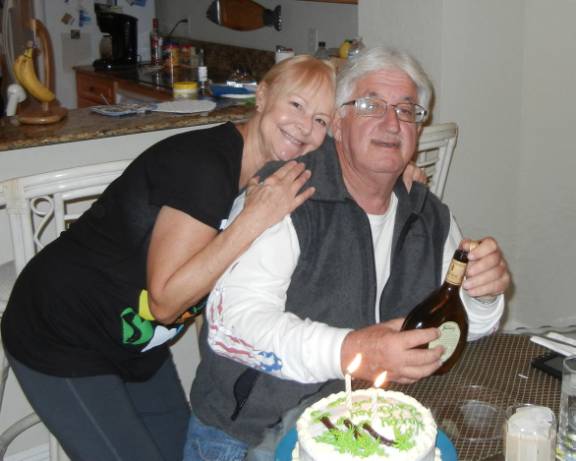 Just look at that anticipatory smile. One can only imagine the kind of wish he is going to make when he blows out those candles…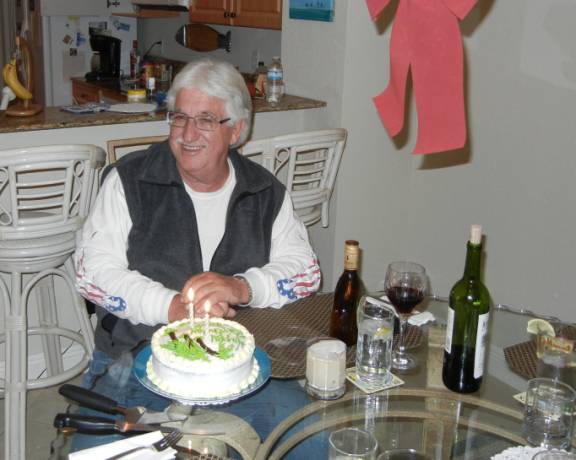 It is great to have friends like these…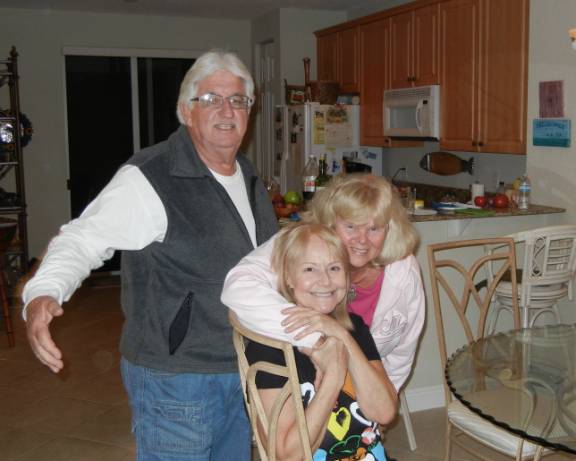 Santa wants to know, "Have you been a good little blond this year?"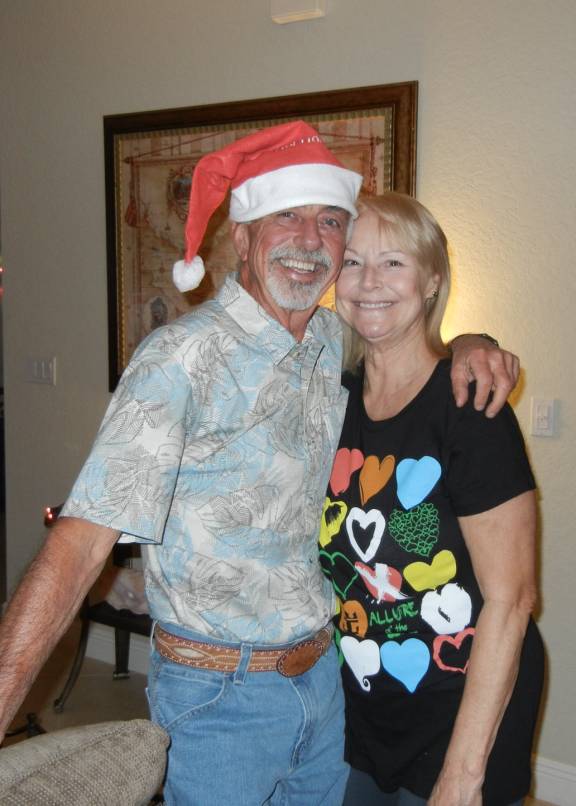 12/10/10 FRIDAY STUART to CORAL SPRINGS, FL.
I had to go to St. Mary's Hospital in West Palm Beach for a pre-operative consultation with the anesthesiologist and medical associates in advance of my upcoming surgery. My primary physician's release forms had been forwarded but additional blood tests were required and a ream of paperwork forms and releases nearly gave me writer's cramps.
We drove down to Coral Springs to visit with Jeff and Sharyn. The fountain waterfall by the pool was attractively decorated for the holidays.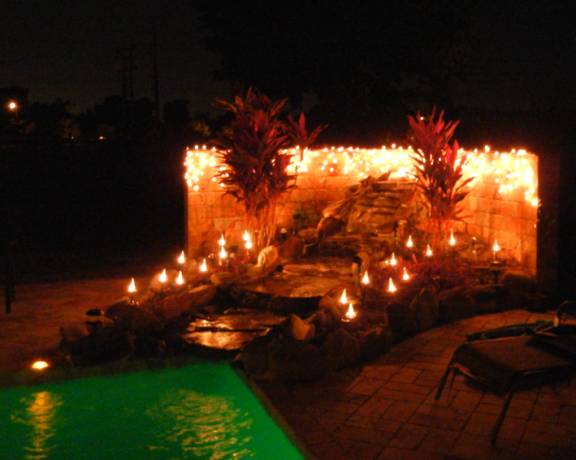 They put up a Christmas tree to add to the festive mood…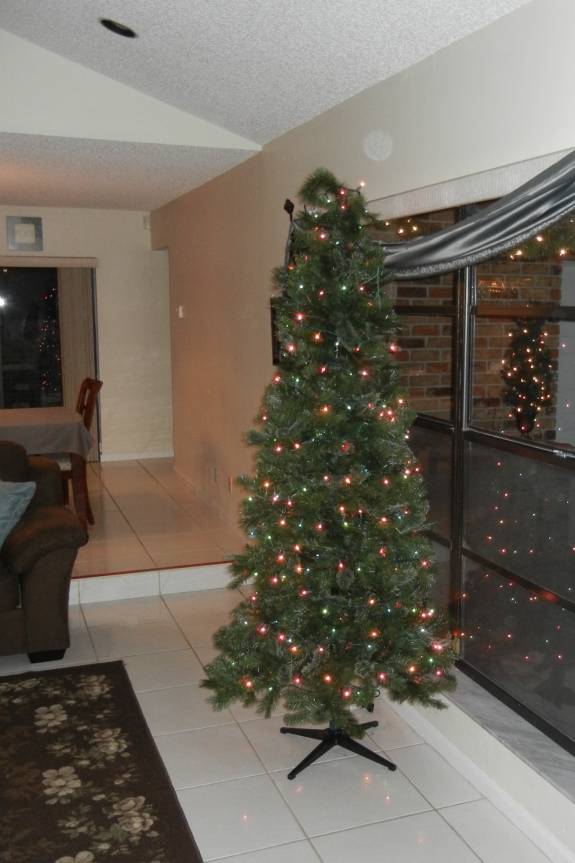 Now tell me, "Is that a great pizza or what?"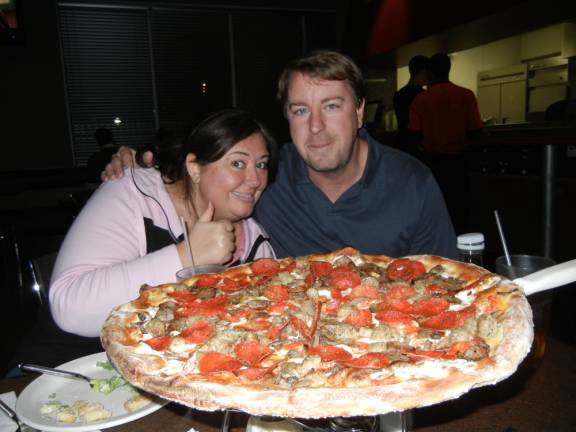 Sharyn and Jeff took us to Scarfone's Coal Fired Pizza parlor. We started out with a delicious Caesar Salad. Our giant pizza choice was slathered with copious amounts of pepperoni, meatball chunks, mushrooms, tangy red sauce, and mozzarella cheese. I really like this version of Italian-style, crispy-crusted pie.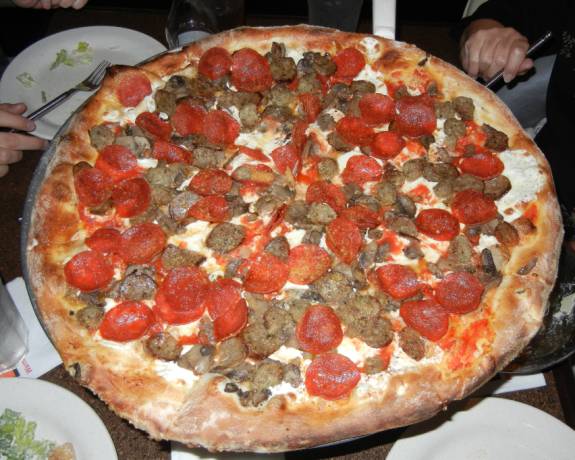 It is kind of fun to watch the pies slide off the peel and into the torrid oven.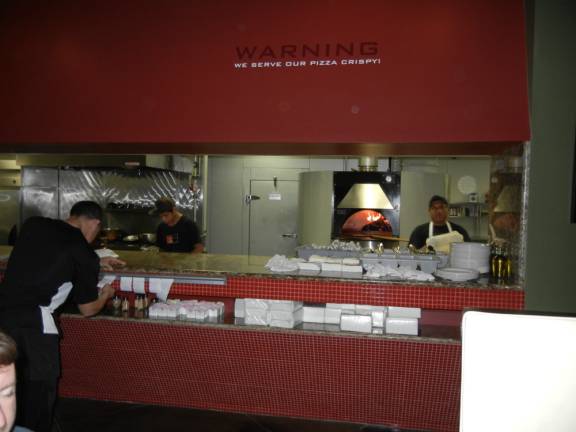 Fully stuffed with too much pizza, Jeff drove us around to enjoy the neighborhood Christmas lights and yard decorations.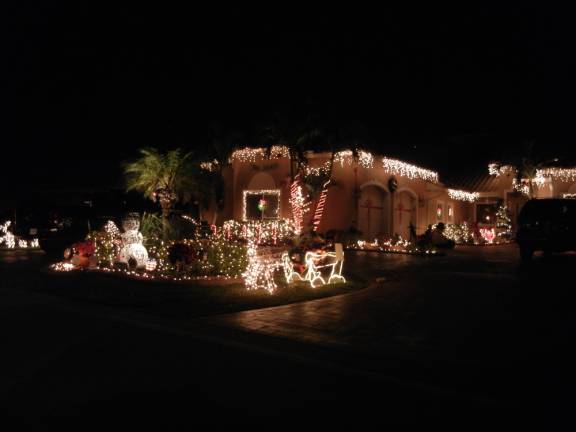 12/11/10 SATURDAY CORAL SPRINGS, FL
The table was set and our feast was nearing readiness. We can't be together for Christmas dinner later this month, so we will just have to celebrate a few weeks early. The meal before us consisted of Roast Turkey, Scalloped Potatoes, Stuffing, Gravy, Black Olives, and Christmas cookies.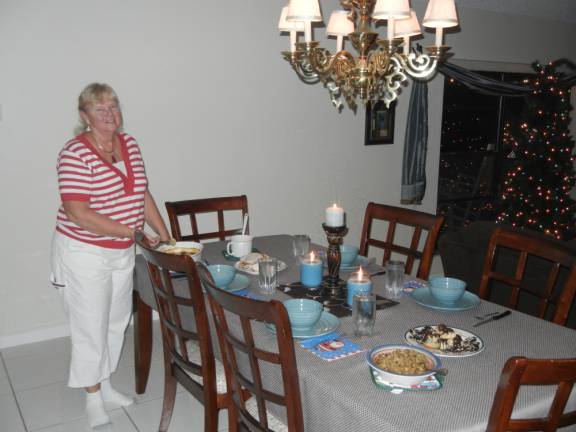 Jeff and Sharyn offered up the prayer for Grace…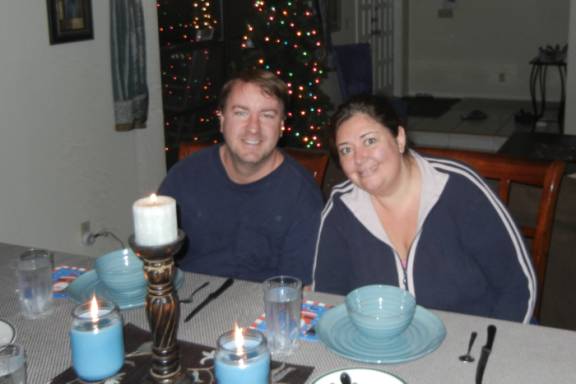 12/12/10 SUNDAY CORAL SPRINGS, FL to MSC POESIA
The bright sunny morning gave the backyard pool a crystalline glisten.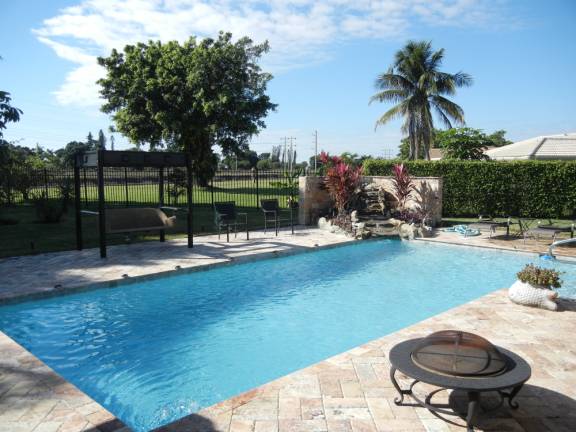 I was the first one up this morning and peacefully enjoyed the restful setting of the pool area patio.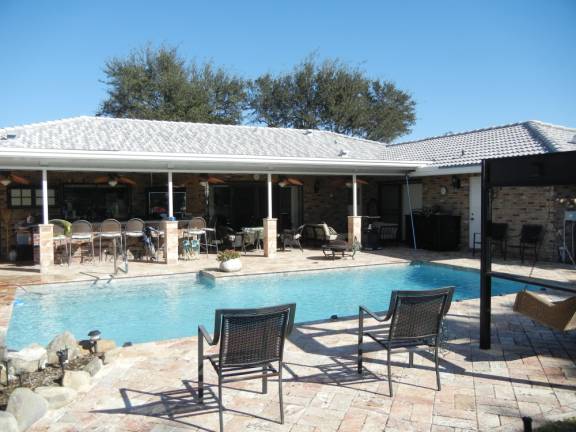 Our truck was parked in front of Sharyn's house. She and Jeff drove us to the Port Everglades Cruise Ship Terminal in Ft. Lauderdale. After dropping our bags with the porters, we checked in and were boarded to the MSC POESIA about 1pm.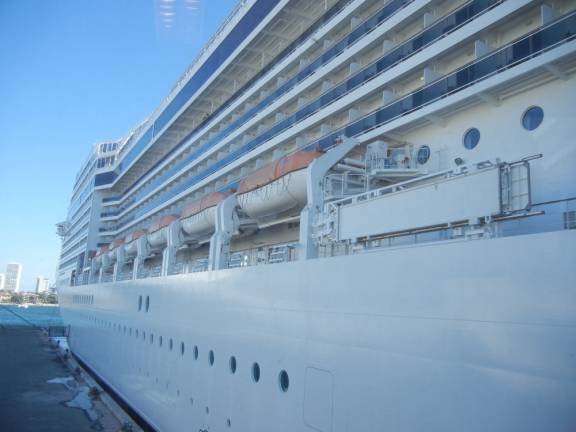 SPECIFICATIONS FOR THE MSC POESIA
Tonnage:

93,330 gross tons

Name:

MSC Poesia

Length:

963.9 feet

Owner:

MSC Cruises

Beam:

105.6 feet

Port of registry:

Panama

Draft:

26.2 feet

Crew:

987

Decks:

13 (passenger accessible)

Ordered:

March 1, 2006

Installed power:

5 × Wärtsilä W16V38B diesels (58,000kW)

Builder:

Aker Yards (St. Nazaire)

Propulsion:

2 propellers

Cost:

$360 million

Speed:

23-knot (26 mph)

Christened:

April 5, 2008 by Sophia Loren in Dover, UK

Capacity:

2,550 passengers (lower berths)
3,605 passengers (maximum)

Notes:

13 elevators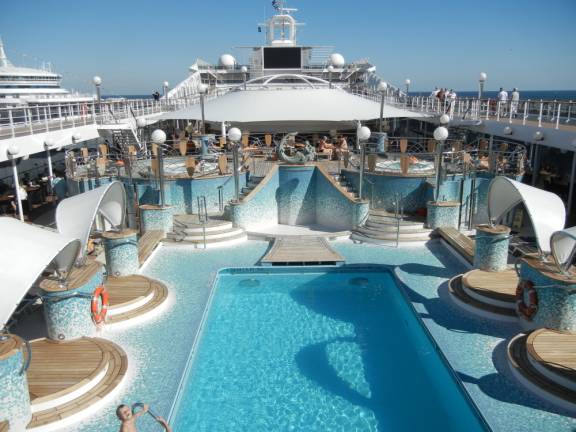 Port Everglades is one of the busiest cruise terminals in the world. Numerous ships are scheduled to depart today, including the CELEBRITY SOLSTICE and the CARNIVAL FREEDOM.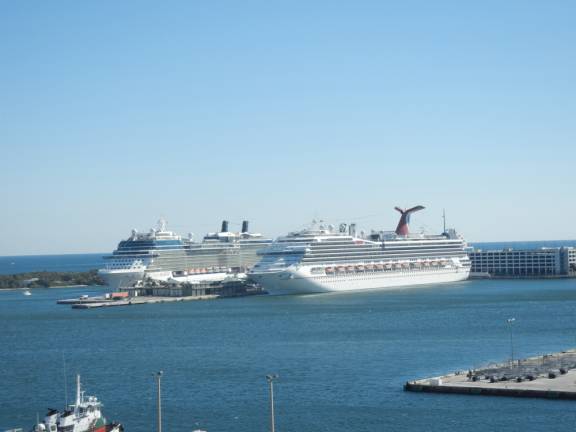 The buffet lines were open and the tables were filled with passengers taste-testing the fare selections.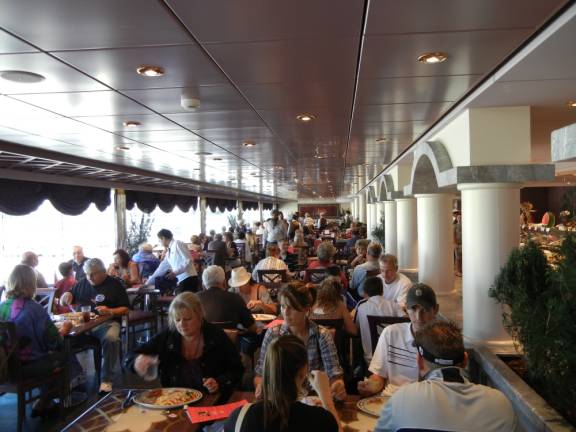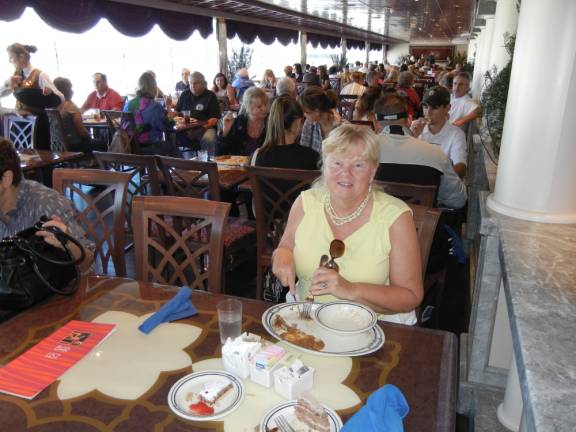 A chef was on duty to specially prepare the Pasta of the Day.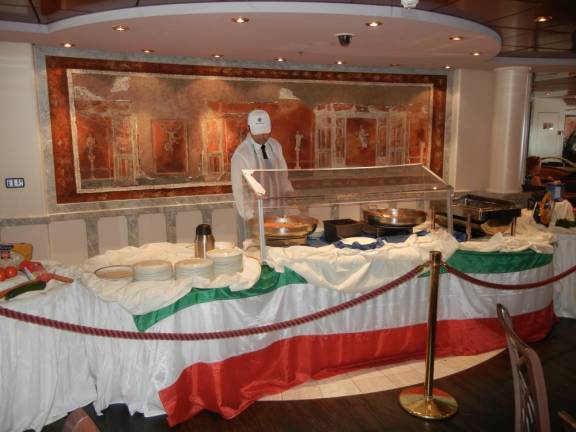 An abundant salad bar offered a wide range of choices.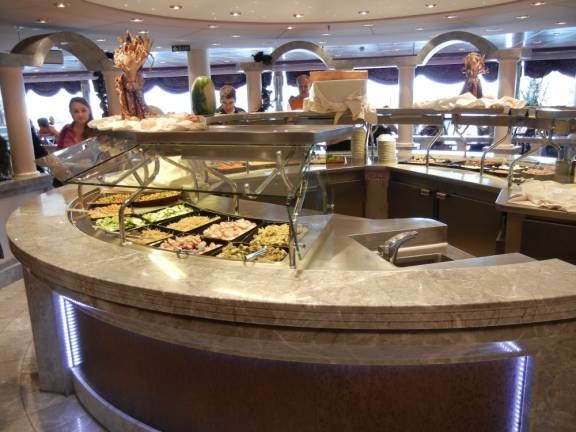 Piping hot pizzas were being freshly baked in the slate ovens. I really liked the way they made the crusts so thin and crispy. Of all the cruises we've been on, these pizzas were, by far, the best I've had.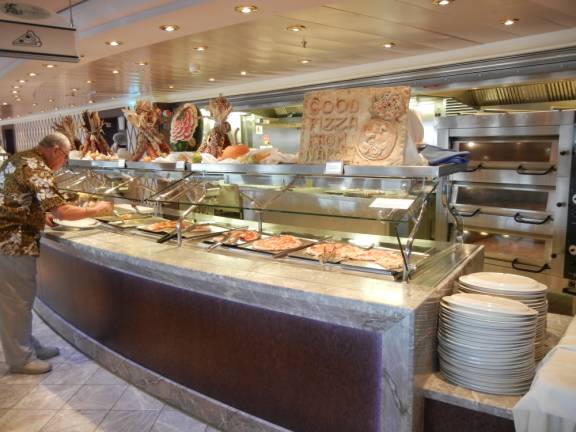 The toughest part of this buffet is deciding what choices you want to make.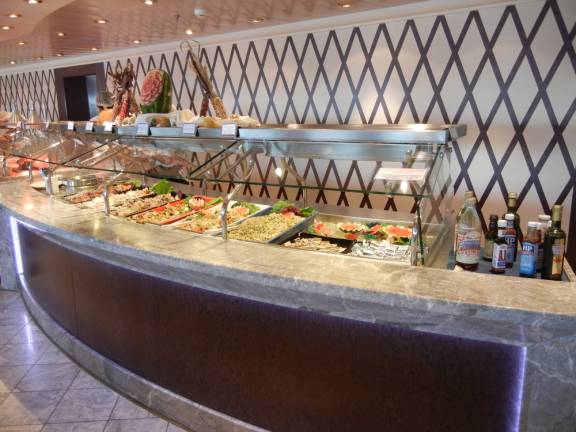 While most people were busy boarding or fully engrossed in their ravenous gluttony at the chow lines, Judy and I took a familiarization stroll around the various ship areas. Comfortable lounge areas were scattered around the ship's interior.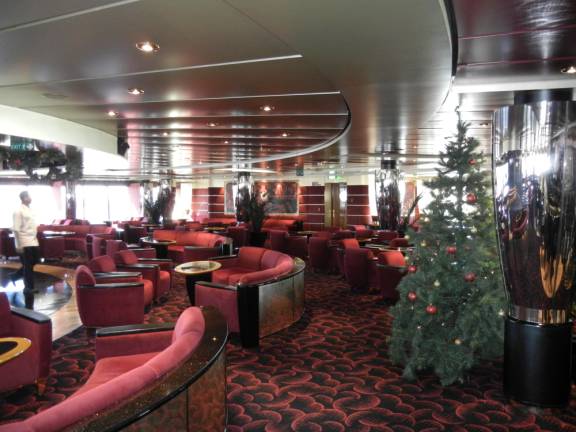 The primary focal area of the ship centers on the multi-level atrium area.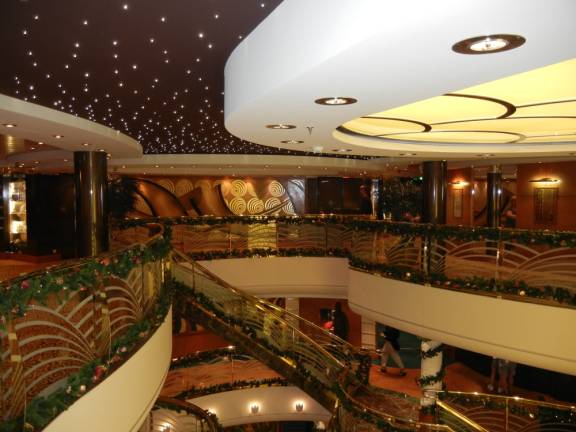 The effect of a waterfall descends to a white grand piano that is suspended over a glass-covered pool.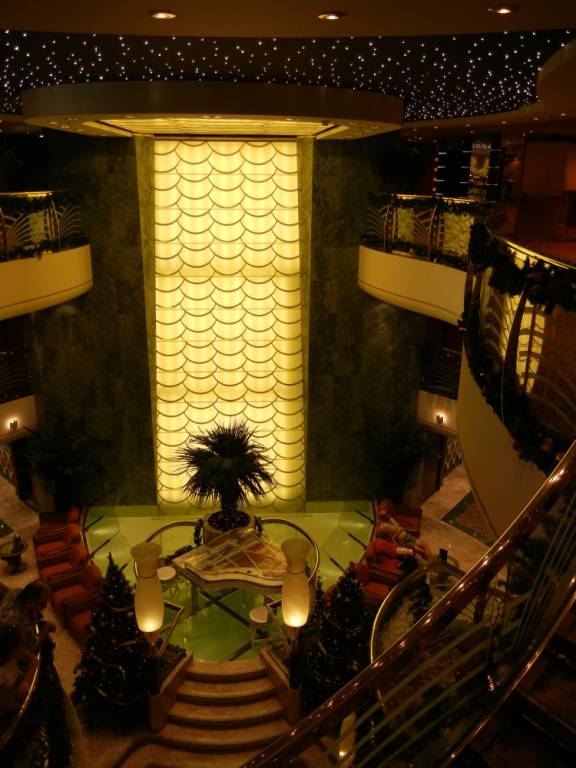 While in port, the Casino Royale remained a strangely quiet place.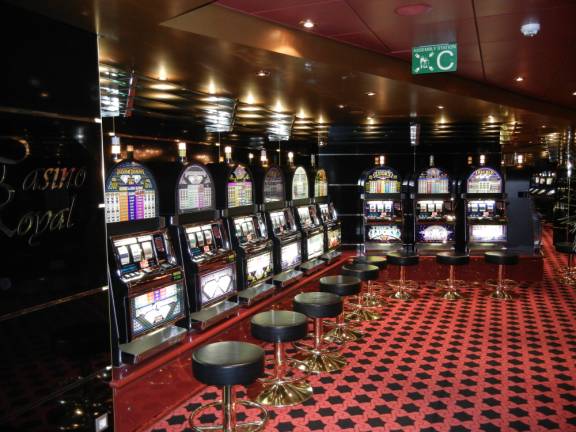 The furnishings at the Zebra Lounge exhibited a wildly exotic pattern consistent with the theme.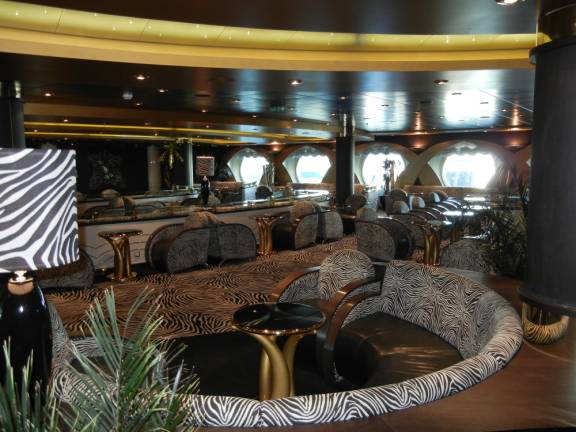 The Vegas style atmosphere of the Carlos Felice Theatre was both colorful and bright.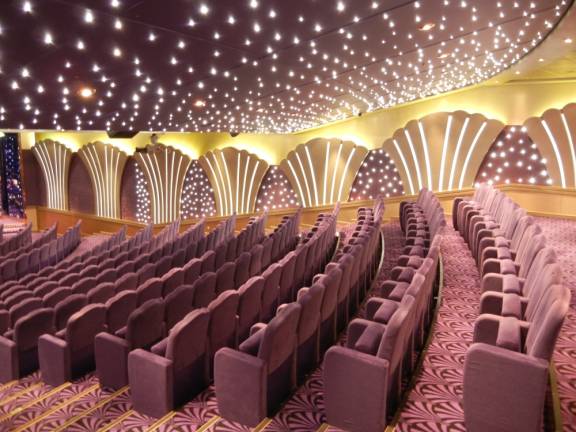 Located in the bow area of the POESIA, the theatre will be the main stage venue for the shows.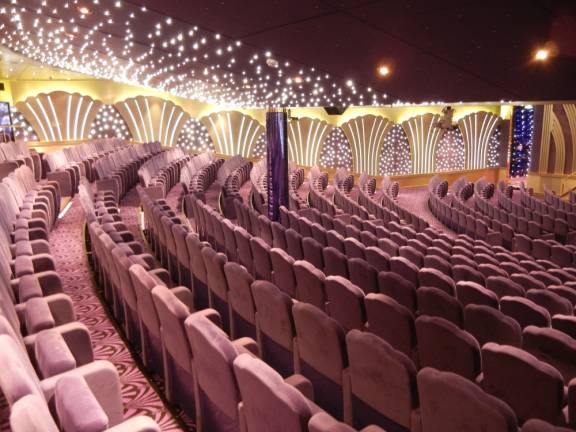 Two dining rooms hosted two separate seating times, with passengers having assigned locations.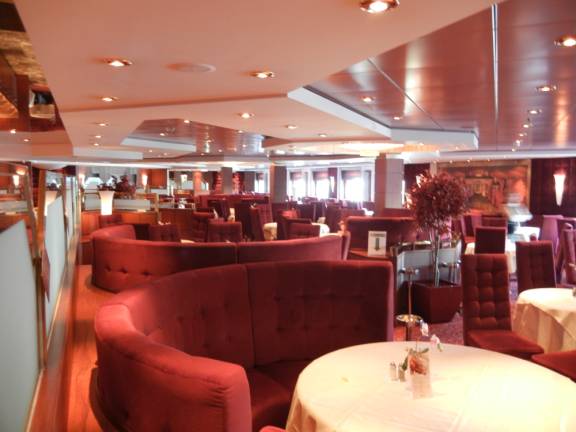 The elegant and exotic Zebra Lounge…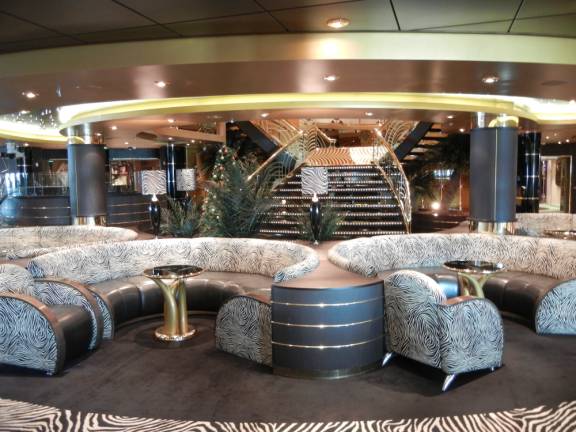 The Grand Piano stage in the Atrium…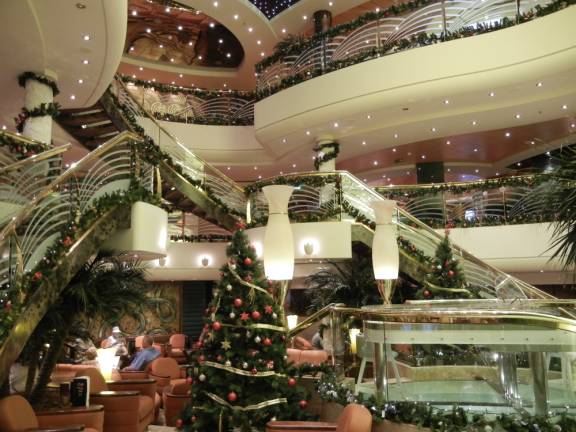 Judy and I were assigned to the first seating in this dining room.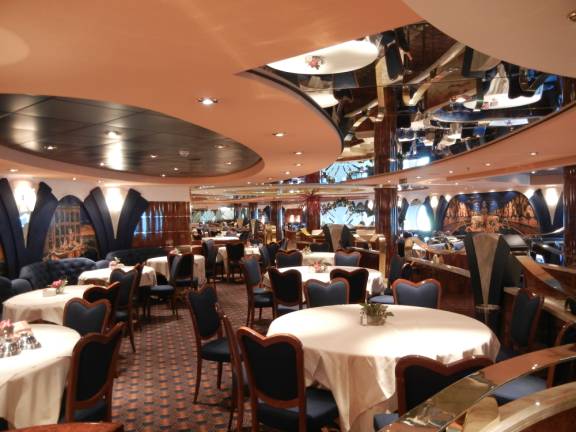 CARNIVAL FREEDOM was the first out of the Port…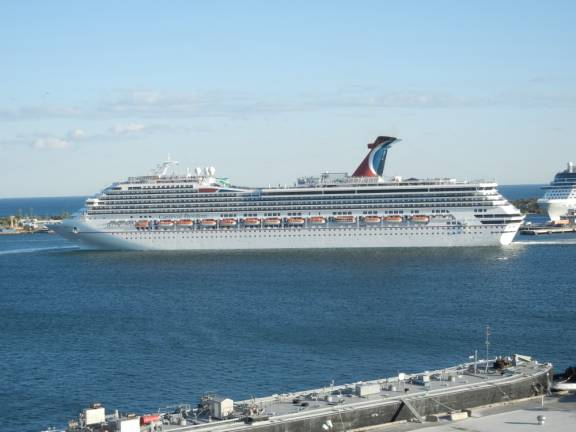 As required by international maritime regulations, all passengers were in mandatory presence for the safety and lifeboat drill.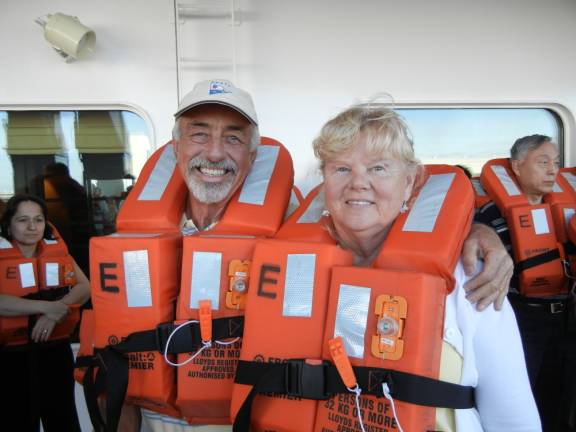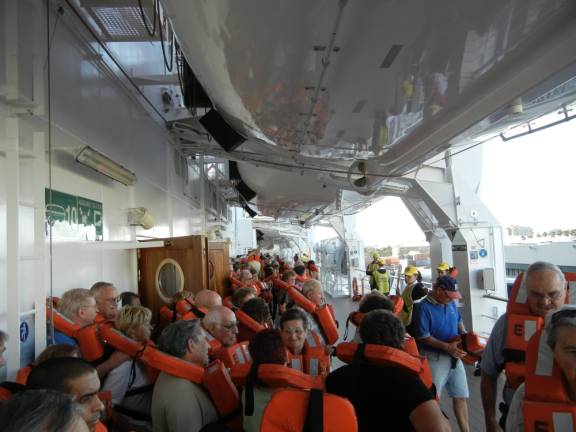 A while later, CELEBRITY SOLSTICE took her turn and headed to sea.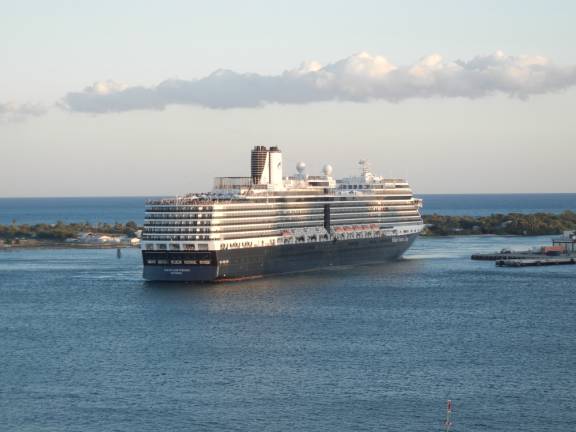 The multi-lingual cruise director, Katherina, conducted briefings and announcements in five different languages.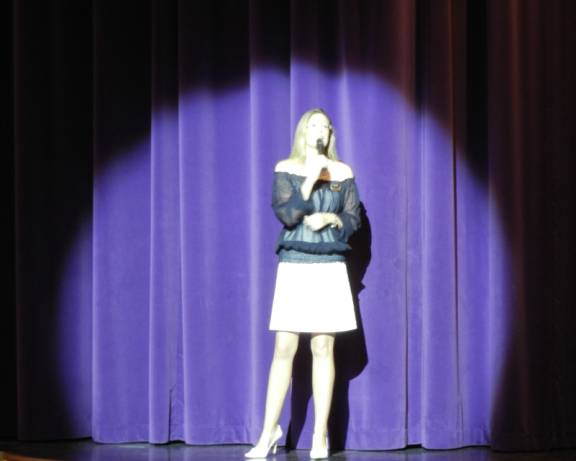 The first night's entertainment show features the classic music of this trio.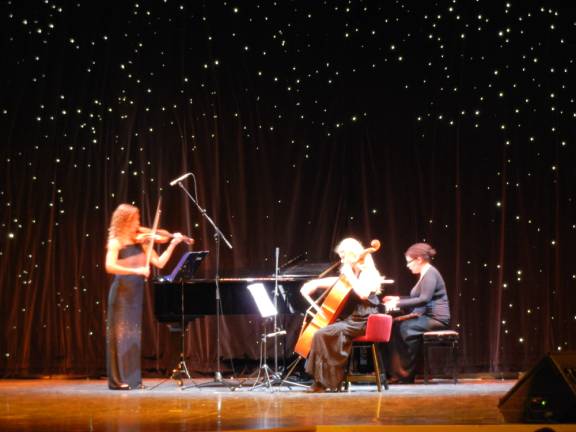 An operatic soprano and tenor bellowed out selections from famous Italian operas.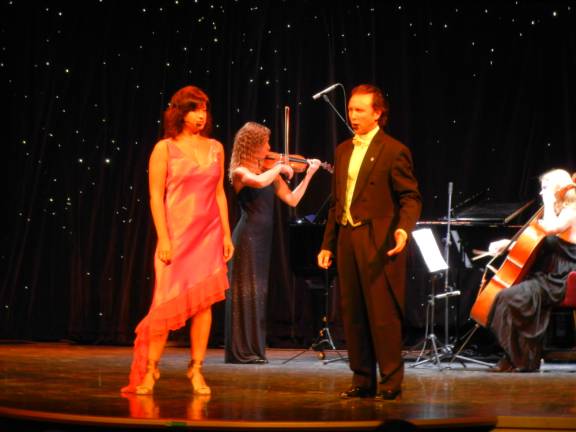 Later in the lounges, a variety of musical entertainment was available. This group regularly performed in the Pigalle Lounge.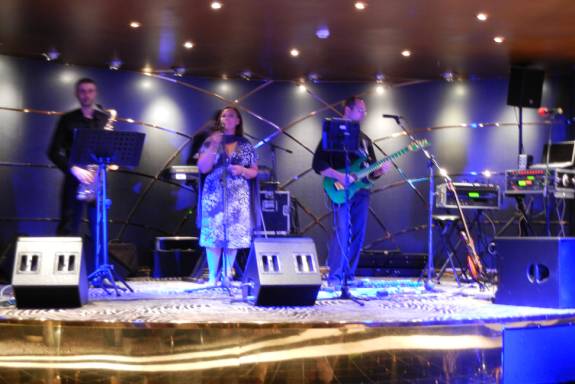 Our room was modern, clean, and comfortable. We had signed up for an inside room. Luckily, the cruise line gave us a complimentary upgrade to a slightly larger, ocean view room.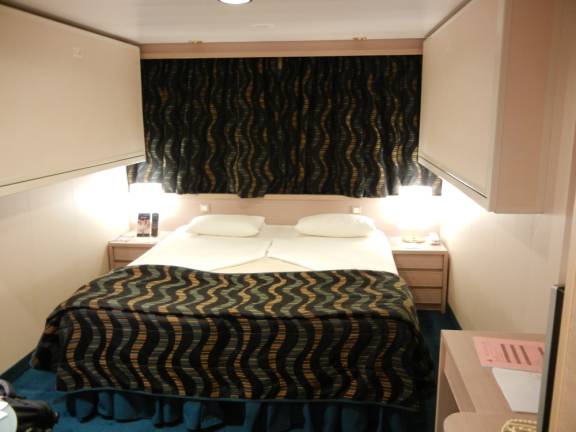 12/13/10 MONDAY MSC POESIA AT SEA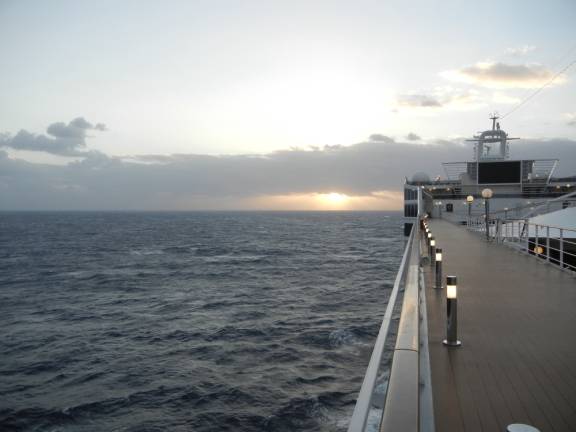 A fresh breeze acting over a significant fetch had the sea state elevated and the whitecaps highlighting the wave crests.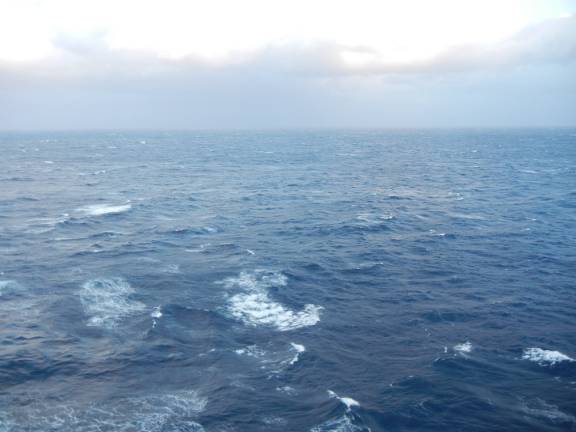 With modern stabilization equipment, the POESIA handled the mounting seas in effortless fashion. I would not have wanted to try to navigate our AMARSE in these waters.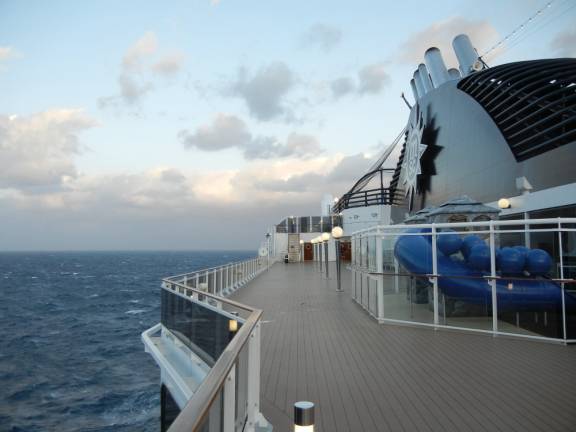 For safety reasons, the pools are covered with netting during the night and early morning hours.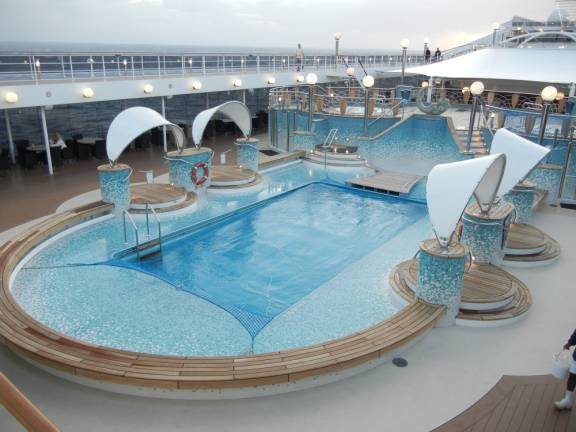 This cute animal figurine displayed some of the creative decoration at the breakfast buffet.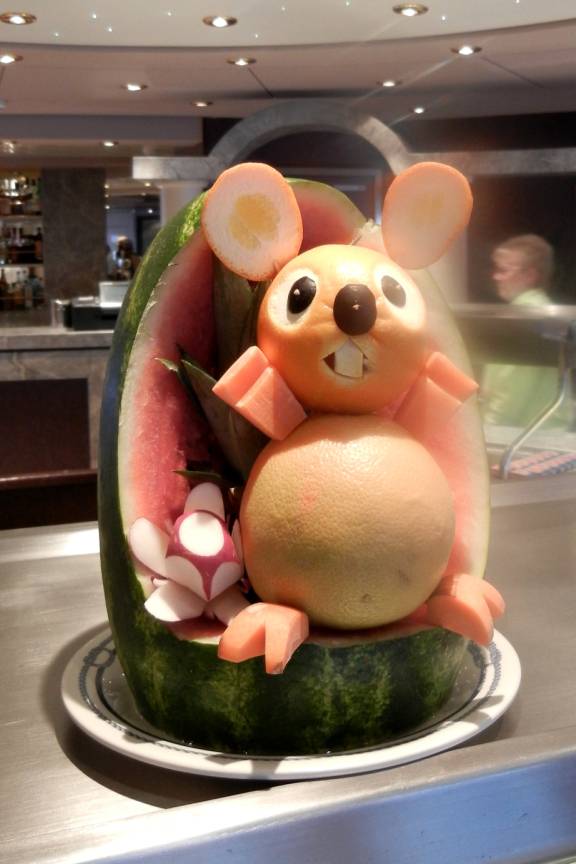 With the curtains pulled back, we could get a glimpse of the Caribbean seas. We were especially fortunate to have this particular room since most of the other ocean view rooms had the obstruction of the lifeboats interrupting the scenic aspect.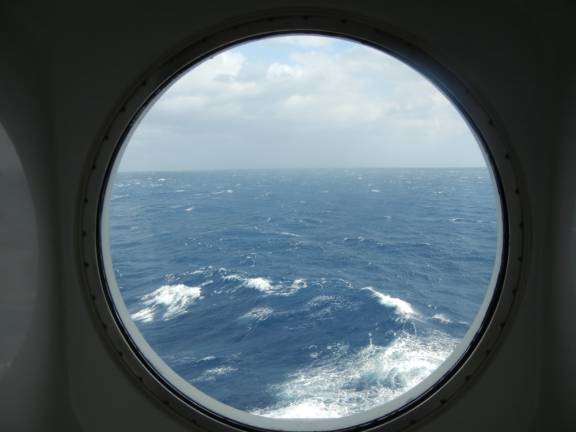 The daily newsletter announces the shipboard activities that are scheduled. Judy took interest in a craft group that was making colorful flowers from strips of crepe paper. I tried it too, however, my results were somewhat less than satisfactory. Her exceptional talents brought forth some of the finest floral arrangements.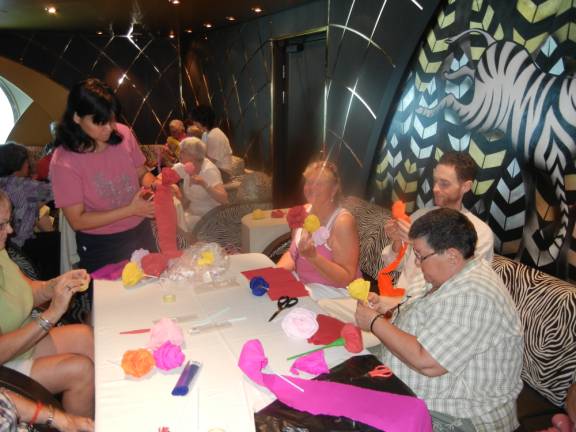 More to my liking was a demonstration by an ice-carving artist.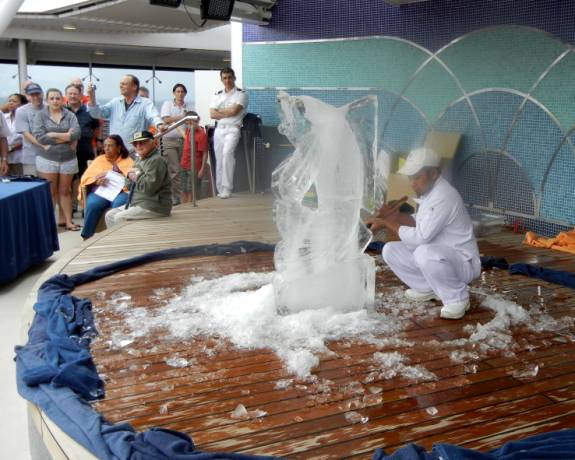 Well, look at this, "All Dressed Up, and Lots of Places to Go…"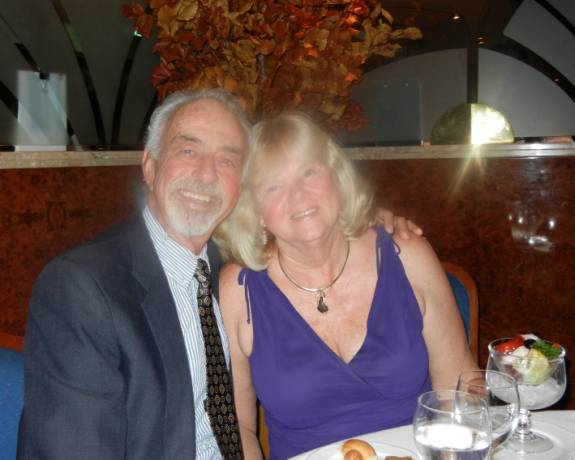 When I look at Judy, all I can say is, "WOW!"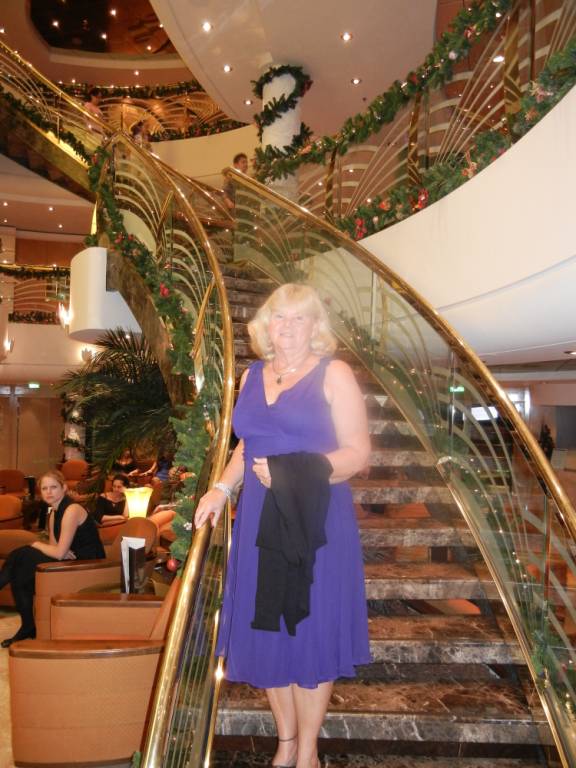 In the Carlos Felice Theatre, the ship's Captain introduced the Officers of the Crew…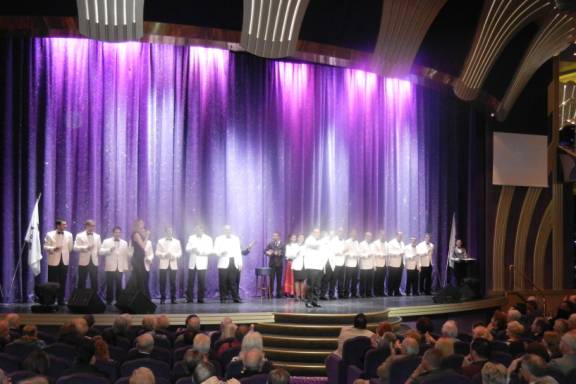 Captain Giacomo Romano…
The show that followed the introductions featured graceful acrobatics by an incredibly strong pair of athletes.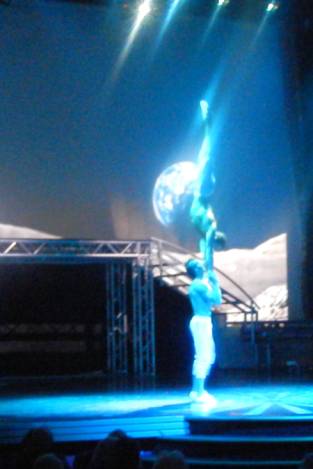 There was song, dance, and a variety of very good performers participating…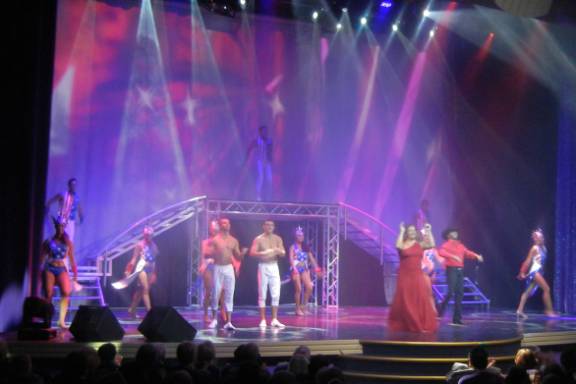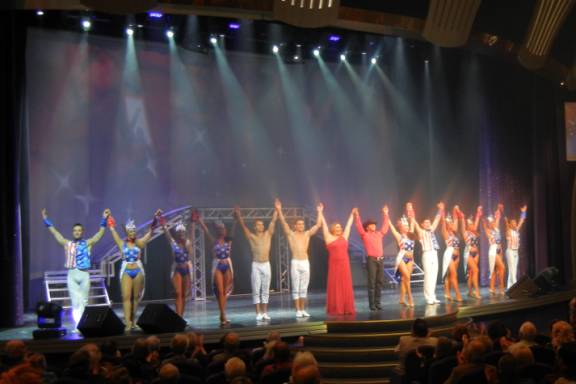 One of the members of the Cruise Director's Staff, Leah Ann, was stunningly lovely in her elegant eveningwear. She hails from Durbin, South Africa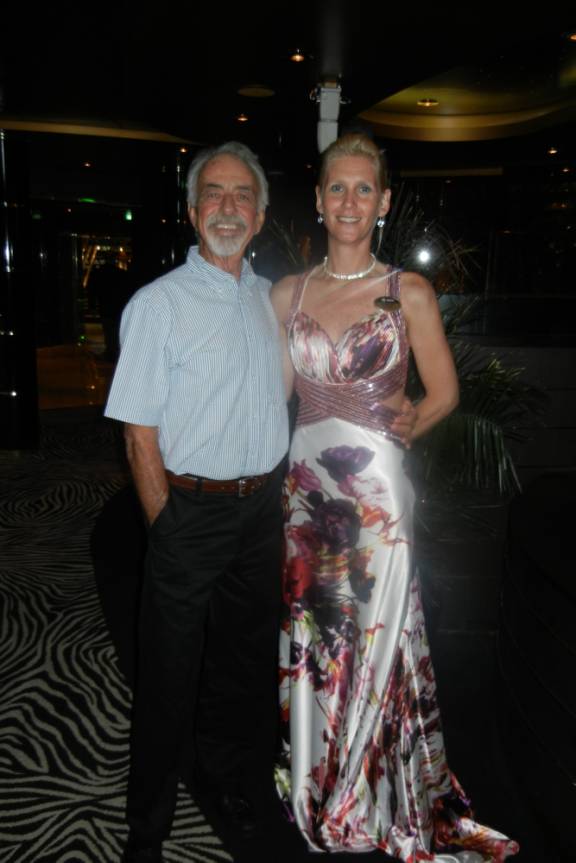 12/14/10 TUESDAY MSC POESIA AT SEA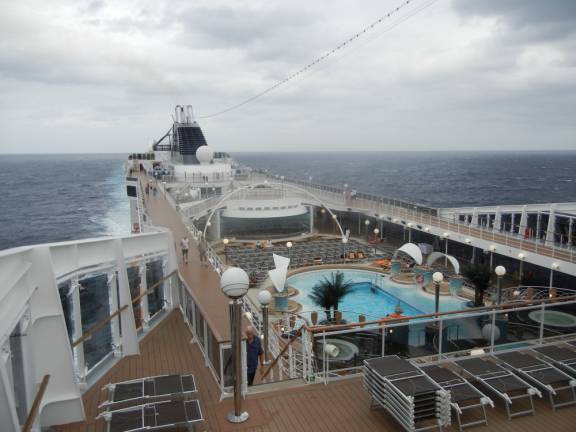 In the Carlos Felice Theatre, the chef from the Sushi Bar gave a demonstration of their offerings. I am not a Sushi fan but I enjoyed the show.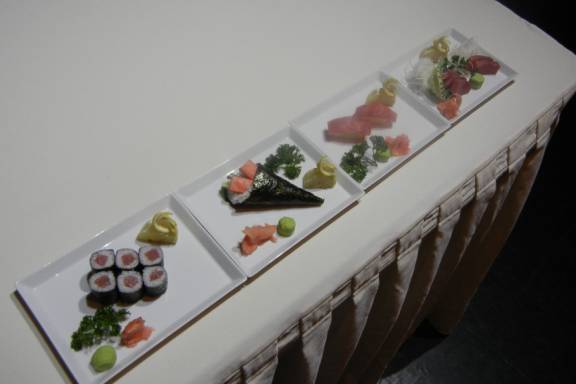 Another chef demoed his talents with Italian cuisine.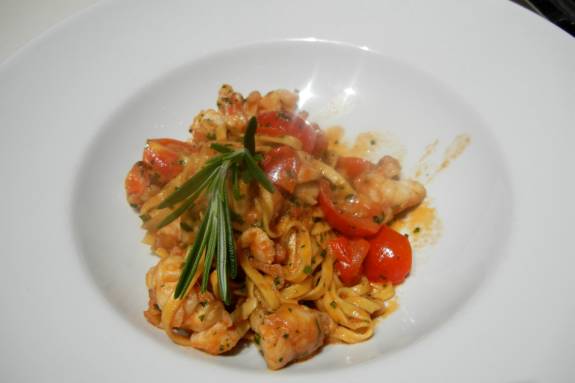 All of these dishes are featured in the POESIA's specialty restaurants. The demonstrations were designed to showcase their menu fare in hopes of deriving extra revenue in their separate restaurants. Upgrade charges are about $30 per person plus 18% gratuity.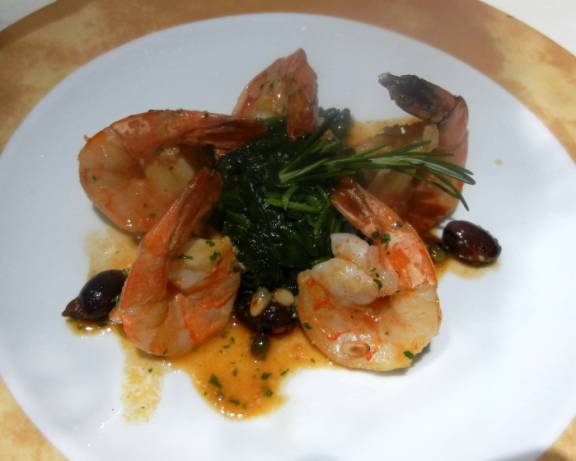 Judy and I are well satisfied with the menu selections available in the main dining rooms.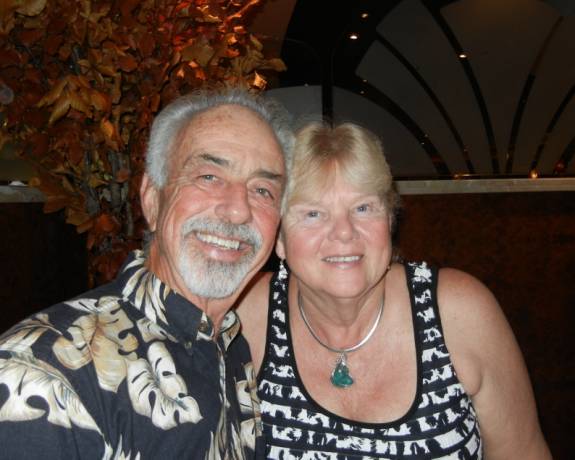 At times, the wait-staff involves the dining passengers with a sideshow.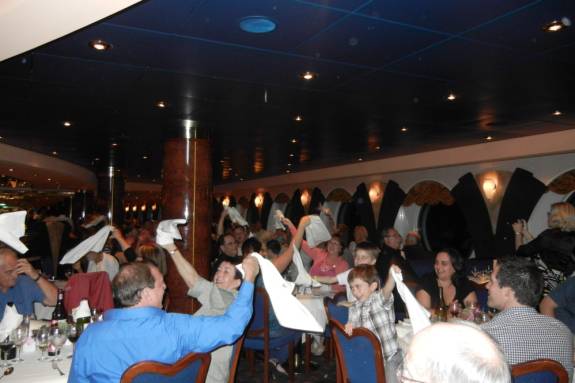 Tonight's theme and fashion was "Italian Night".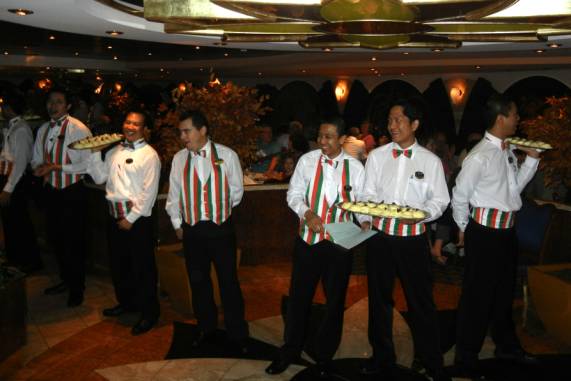 "Good To The Last Drop"; in this case, that jingle theme extends well beyond the cup of coffee…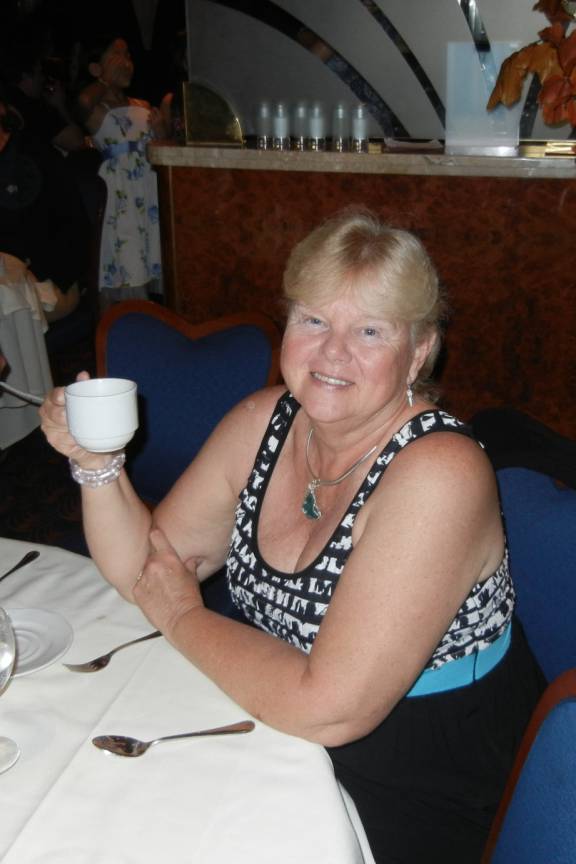 An Italian singing troupe entertained in the main theatre as a warm-up prior to show time.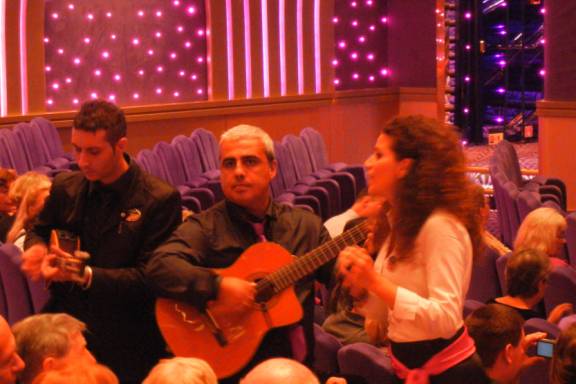 Michael is the American Cruise Host and Katherina is the multilingual, European Host.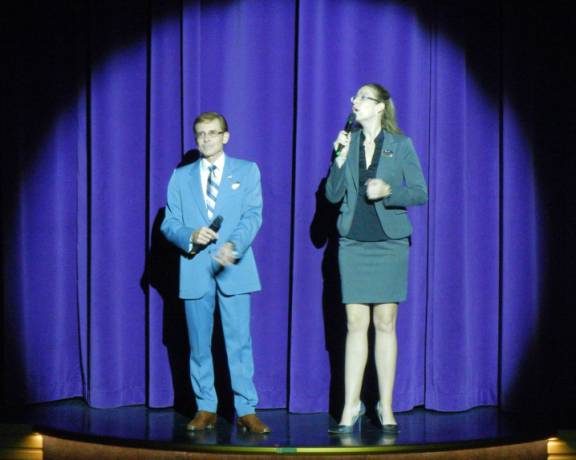 Operatic music is an important component of Italian entertainment. Several artists brought their talents to the stage. Although I'm selectively appreciative of this genre, I enjoyed the majority of their performances.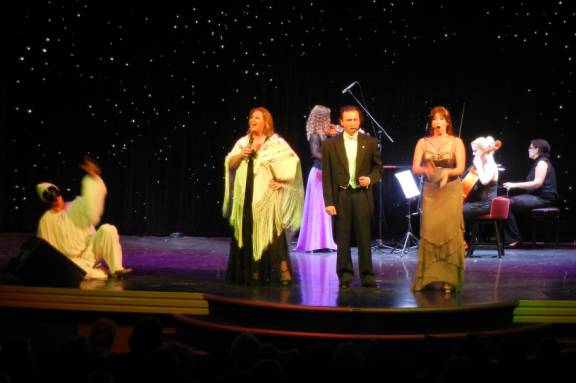 A champagne salute to their audience…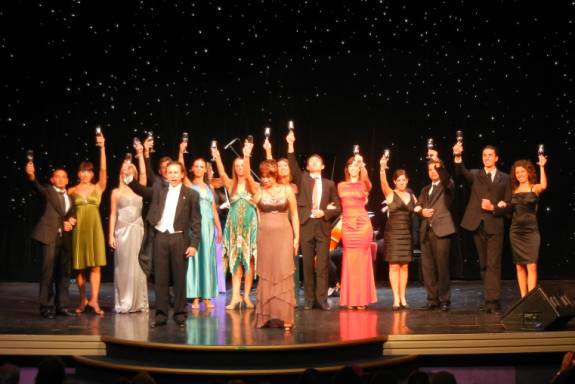 Many of the passengers were enjoying the singer in the Pigalle Lounge. We preferred the atmosphere and group featured in the Zebra Lounge.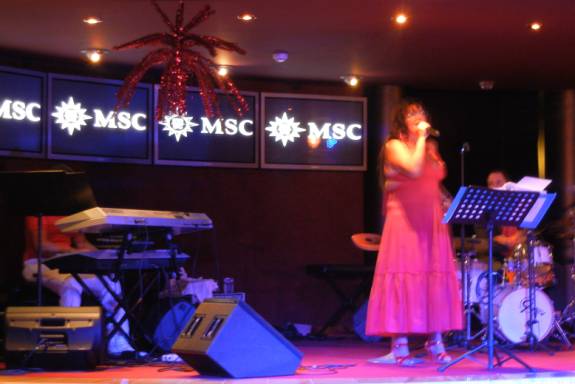 Years ago, I took a class in culinary garnishing. I have long been fascinated with artistic creations in a food medium. These talented displays far exceeded anything that I've ever accomplished.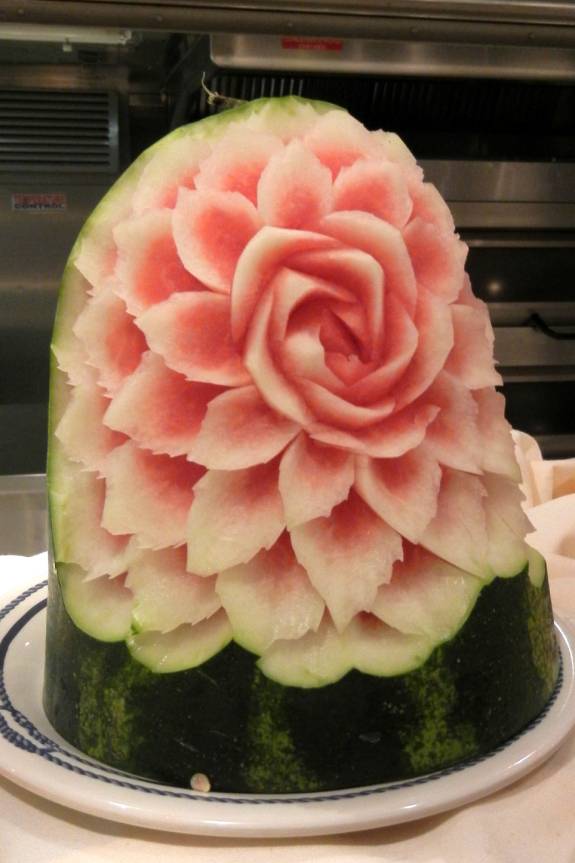 Located on Deck 13, the Villa Pompeiana Cafeteria is the buffet-style venue where most passengers go for breakfast and lunch.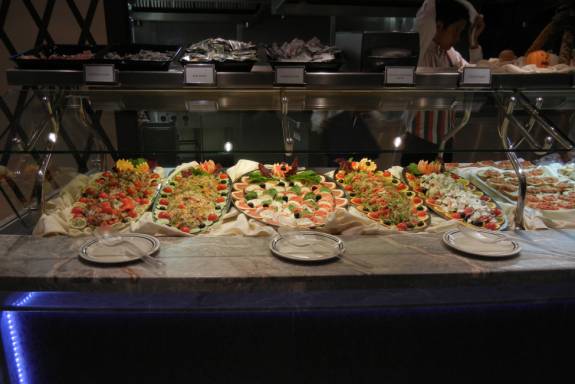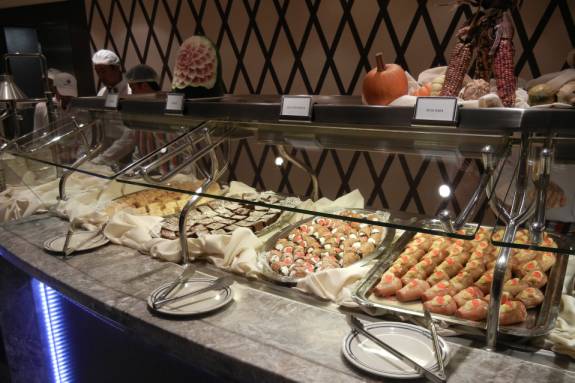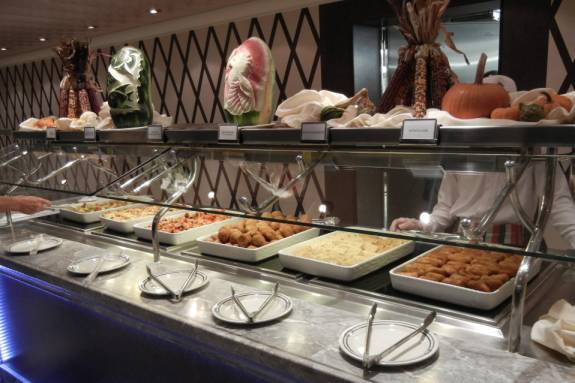 The Bar dei Poeti featured a jazz duo. We would be enjoying their classic jazz selections until they would drift into a confusing melange of esoteric hammering that neither of us could appreciate. At that point, we would seek other venues such as the Zebra Lounge for some popular dance music or the Grappolo d'Oro wine and piano bar for its intimate and romantic ambiance.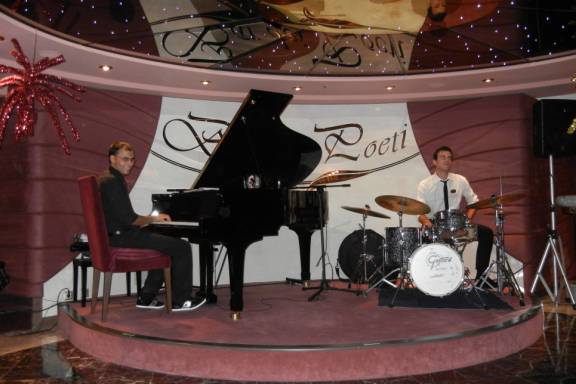 In the next update, our cruise trip aboard the MSC POESIA will continue. Please join us to enjoy this fun voyage.
CONTINUING UPDATES ARE READY FOR VIEWING…
TO ADVANCE NOW, CLICK THE BUTTONS BELOW
You can CLICK on these handy buttons to advance to your choice. ENJOY!!!
POST SCRIPT:
We sincerely hope that you will review the previous years of compilations to give context to the current editions. Please let us know if you have any special suggestions and thoughts.
REMEMBER: The website is now fully active and you can visit it at any time. You can also review any of the previous logs from the years 2006, 2007, 2008, and 2009 to learn more about the crew and their many adventures. Enjoy.
ATTENTION: SPECIAL NOTE:
You may contact us via email anytime.
Thanks for allowing us to share our life and adventures with you.
Lotsa Luv,
Fred Reed and Judy Law
AMARSE
MT40
"AMARSE" is pronounced "AM-ARE-SAY".
Our website is: www.amarse.net .