UPDATE#27 12/15 TO 12/31/2010
Howdy Everybody,
The adventures of 2006, 2007, 2008, 2009, and thru 12/14/2010 have been published on the website. We continue with the latest edition.
UPDATE 2010 #26 12/15/2010 to 12/31/2010
At last update, we were aboard AMARSE at the Loggerhead Marina in Stuart. Welcome back to our continuing adventure…
12/15/10 WEDNESDAY PHILLIPSBURG, SAN MAARTEN, NETHERLANDS ANTILLES
By early morning, the seas had settled into a placid, tropical state.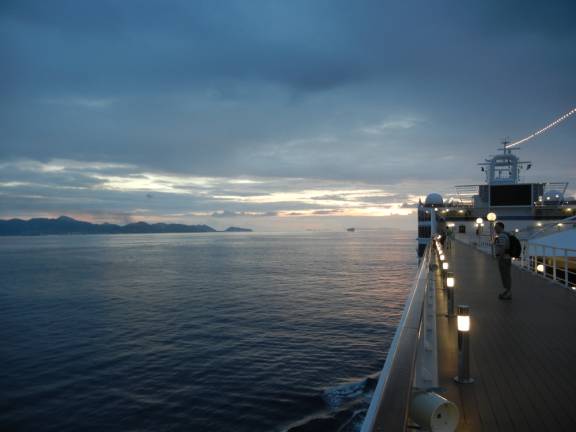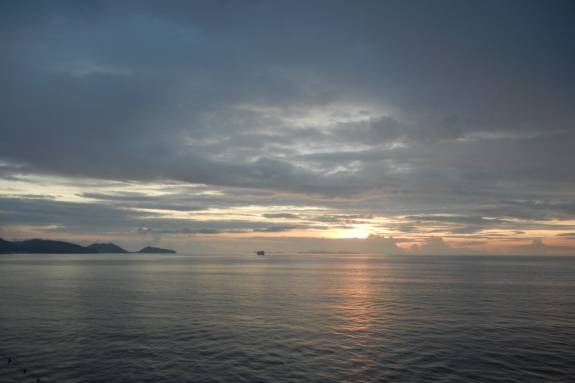 MSC POESIA slowly approached the docking facilities at Phillipsburg, St. Maarten, Netherlands Antilles.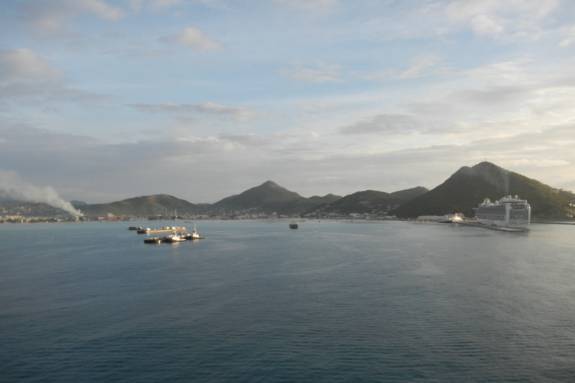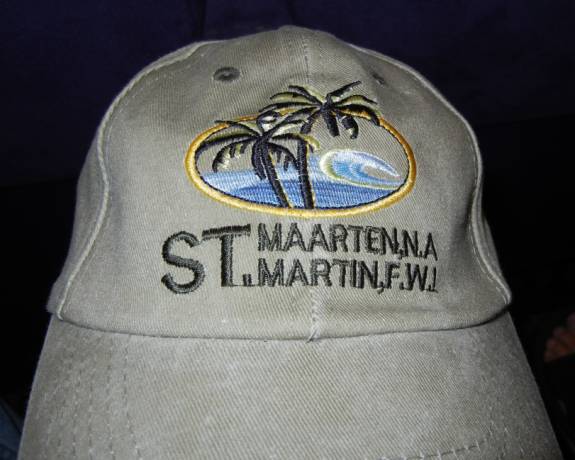 The downtown area is a composite of historical landmarks and tourist-oriented shops.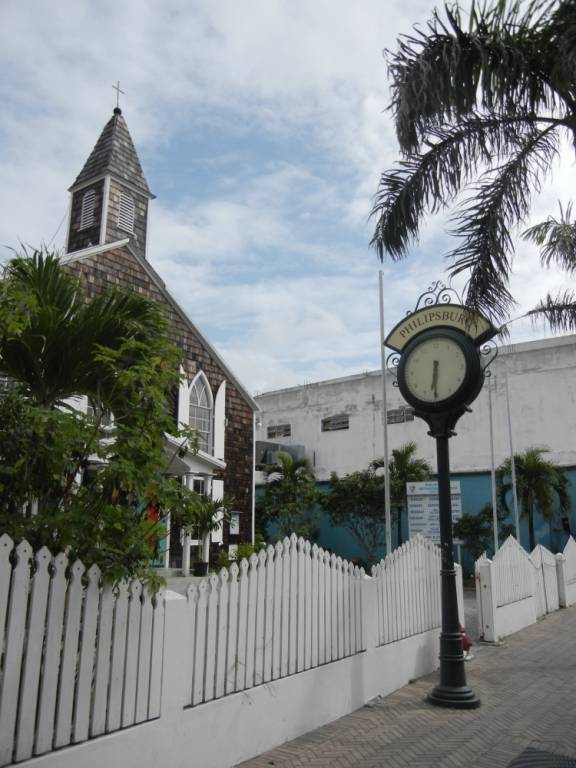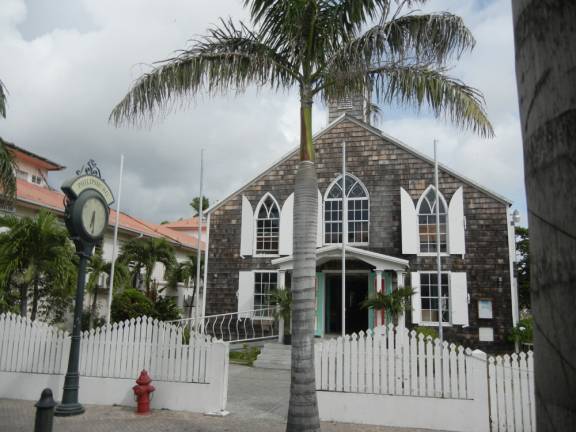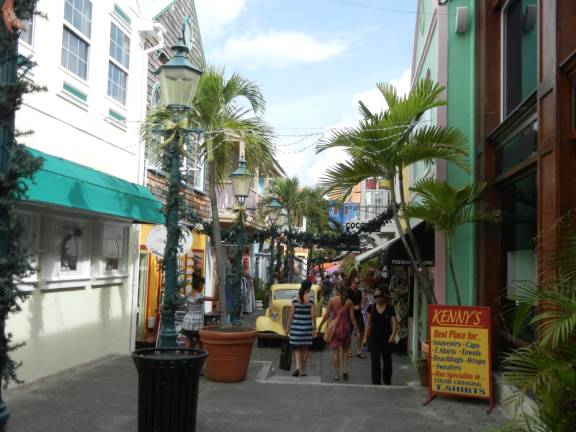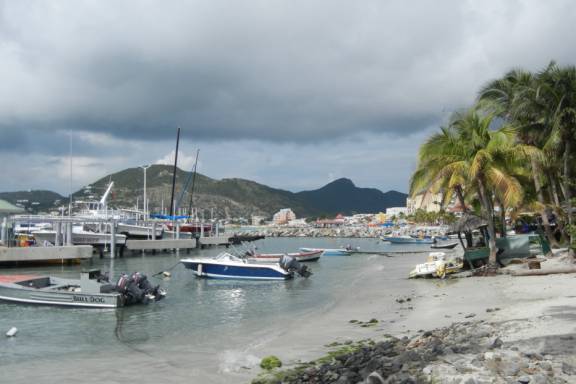 What an interesting name for a waterfront bar…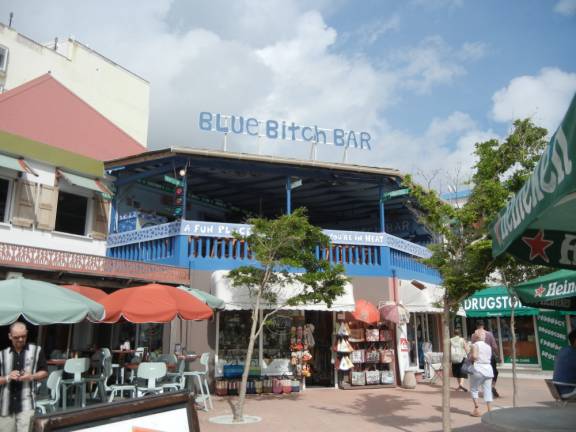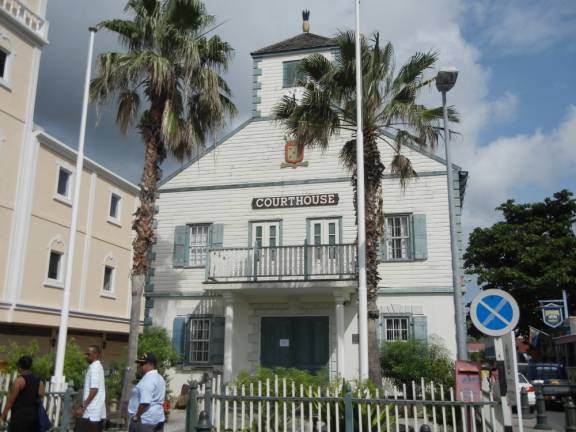 Numerous cruise ships and their passengers filled the Phillipsburg tourist destination.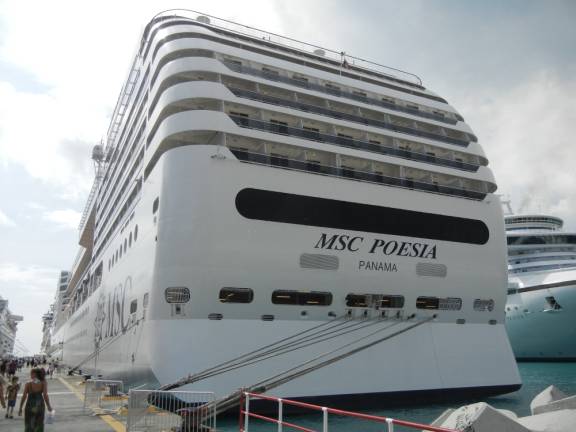 Our table for eight included a family of four. For the adult sons to join their aging Mom and Dad on this cruise was an admirably generous expression of love and respect. I boisterously applaud them.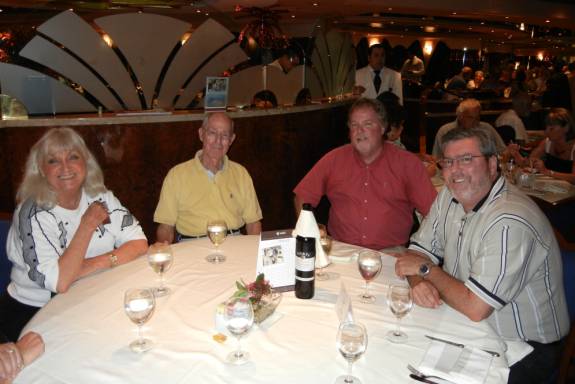 Another rousing show time delightfully entertained us in the Carlos Felice Theatre.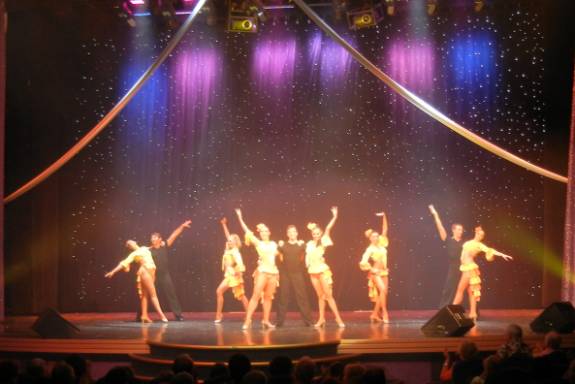 An aerialist gal mesmerized the crowd to the edges of their seats as she swirled, twirled, and twisted up, down, and around the suspended drape.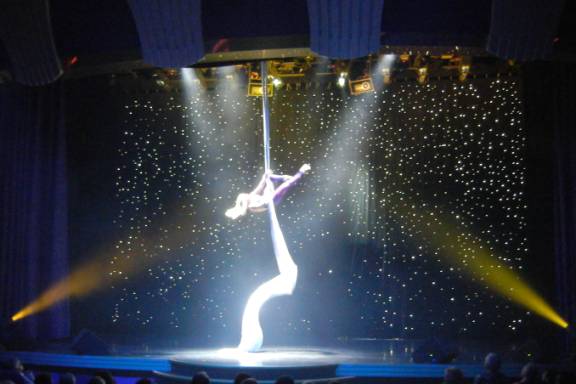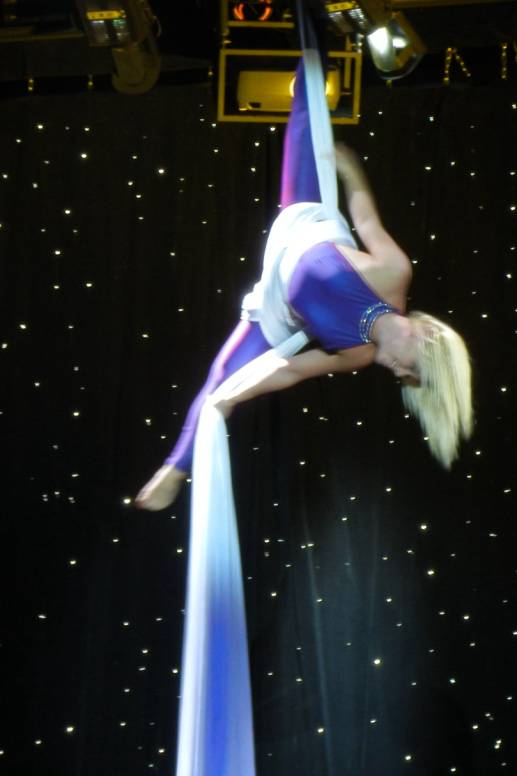 The tumultuous applause was enthusiastic and prolonged…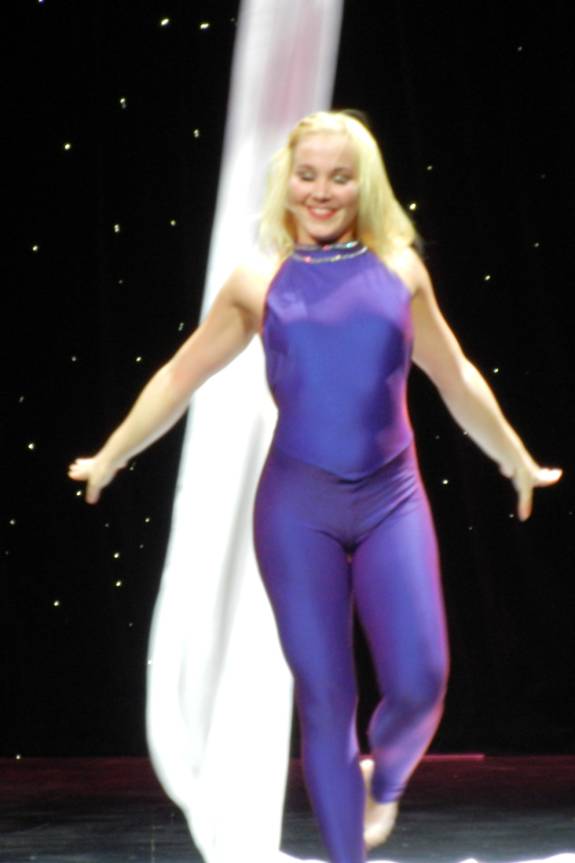 A male performer, highly skilled in the art of knife throwing, forcefully hurled the razor sharp blades at various objects and around his human assistant. Following that display, he amazed everyone with his acrobatic feats and balance act.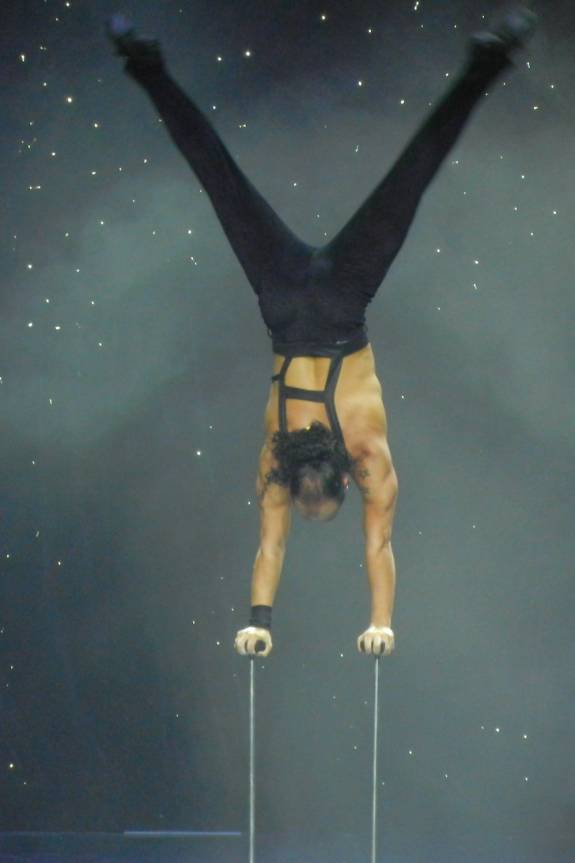 Propelled by two men wielding a flexi-board beam, a female acrobat was flung high above, performing aerial flips and splits before landing upright on the balanced beam.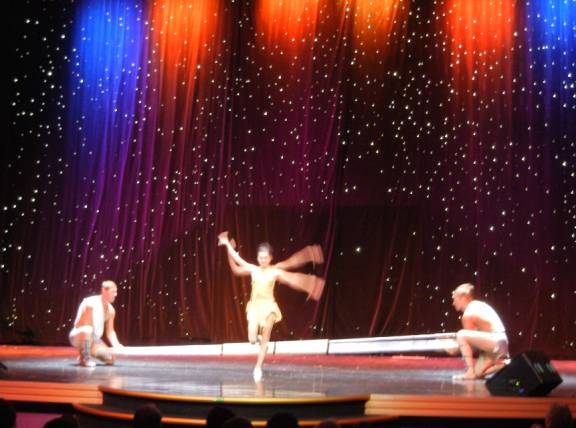 A spirited chorus line of female dancers, wearing costumes of long skirts, petticoats, and black stockings, lifting and manipulated their outfits with the high kicking, suggestively provocative body movements of a French favorite, the CanCan dance.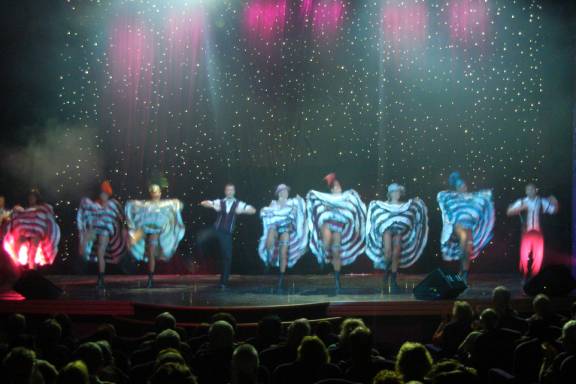 Story-theme dancers performed energetically…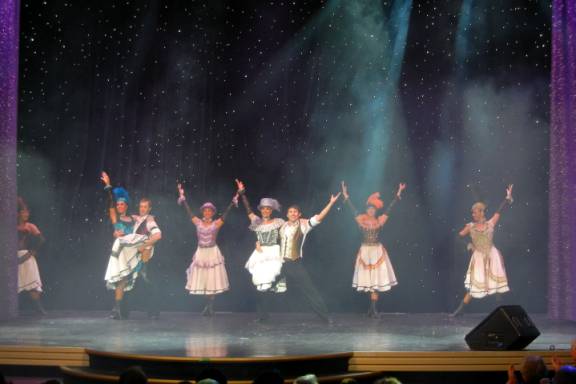 … finale of the song, dance, and acrobatic show.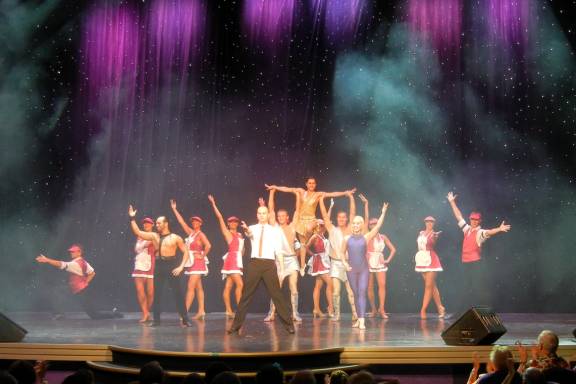 Later the same night, dancers drew a huge crowd for an on-deck show.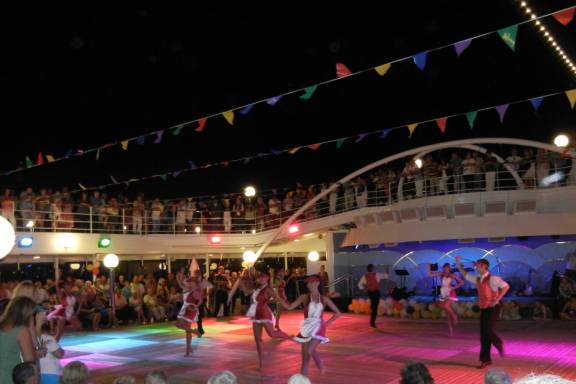 The POESIA entertainment staff goes by the name, "The Animation Team". On the darkened deck area, the team performed a tropical island style, fire-torch dance around and through the swim pool.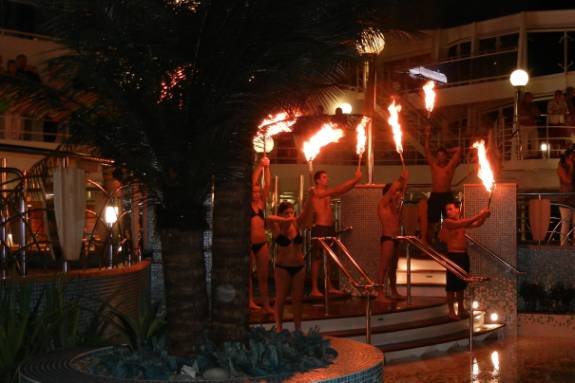 Although she really didn't enjoy it, Judy would sometimes join me in the Hitchcock Cigar Lounge. It was a beautifully appointed, comfortable area to enjoy a smoky puff or two.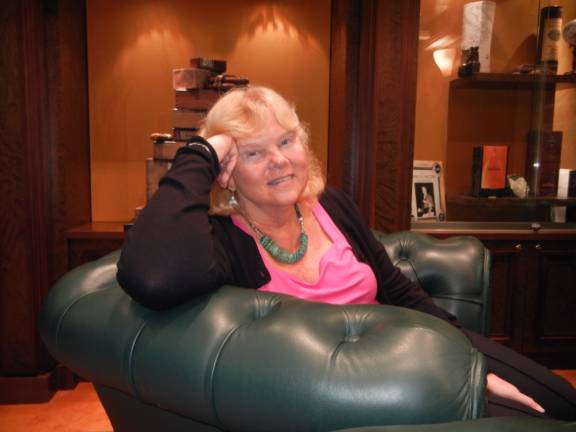 12/16/10 THURSDAY ST. THOMAS, USVI
Following the overnight cruise, MSC POESIA approached the bay at St. Thomas in the US Virgin Islands.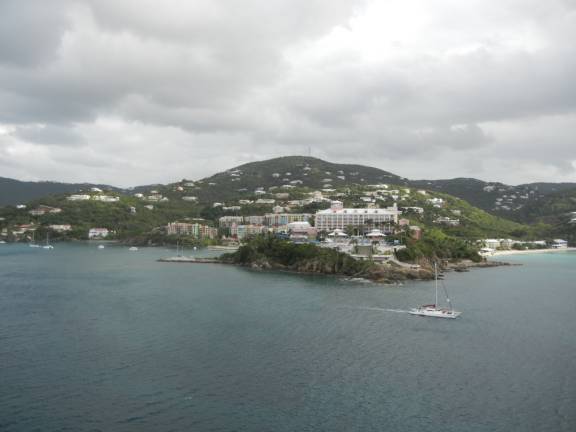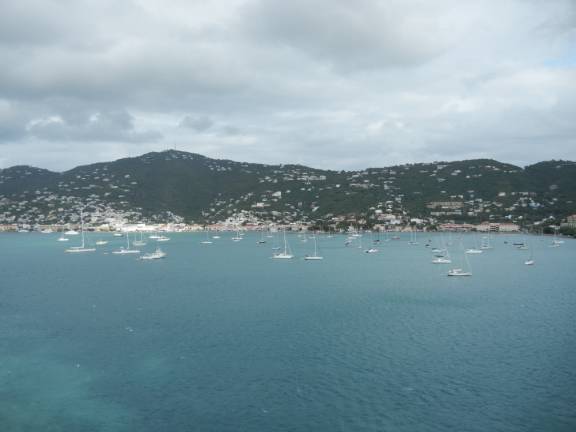 Although most folks were headed to shore excursions, the ship was available for those still aboard. A tumbling waterfall spills into one of the main pools.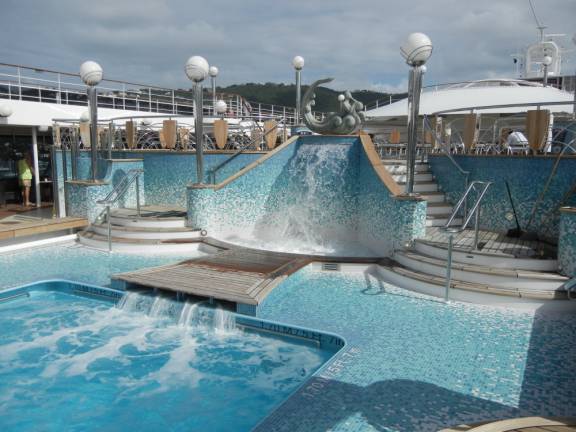 MSC POESIA at St. Thomas, USVI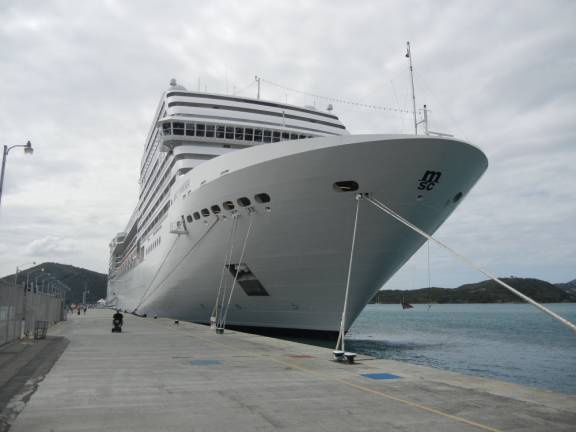 After dinner, we were in the theatre for another great evening of performances. Although we had seen these flexible, strong athletes before, they held everyone's interest with selected new moves and feats.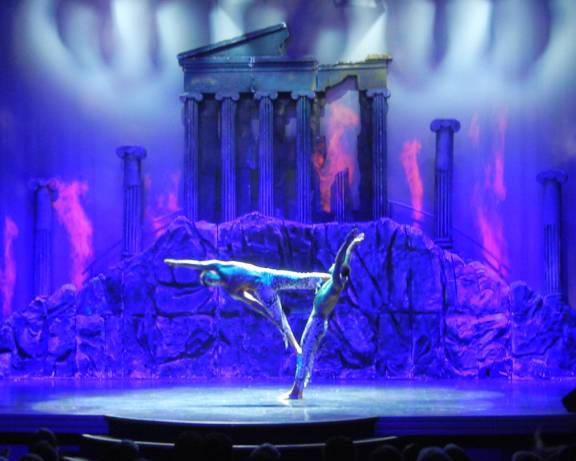 Elaborate costuming and spectacular staging brought the energetic performances to new heights on the applause scoreboard.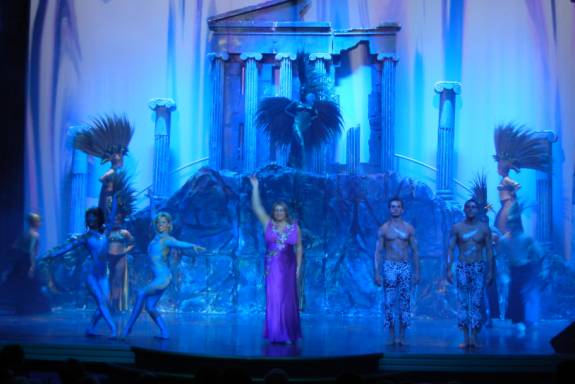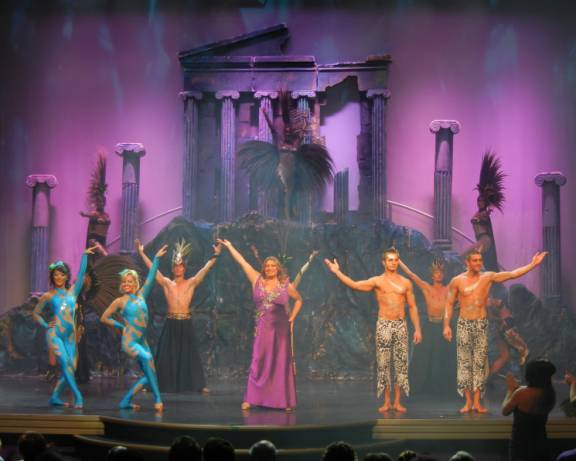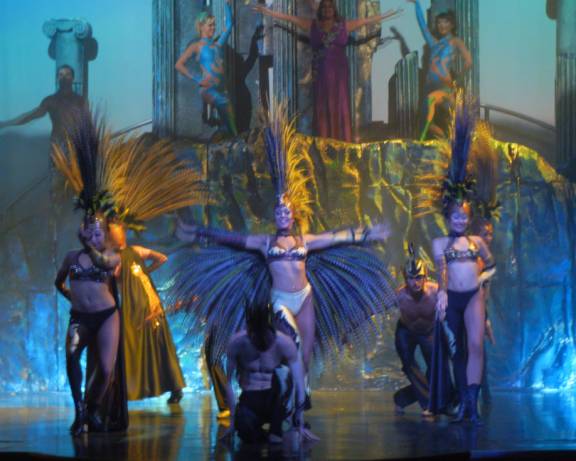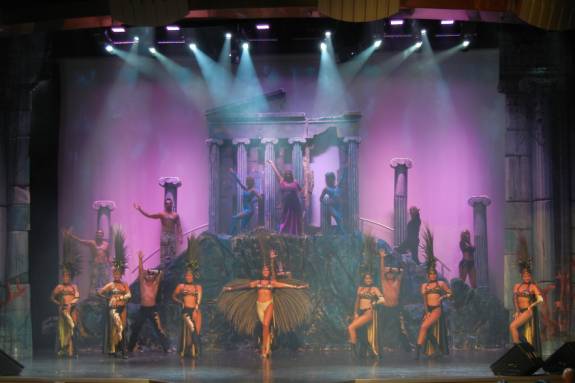 12/17/10 FRIDAY MSC POESIA AT SEA
The extensive distance between St. Thomas and Nassau required day and night passages at sea. Judy elected to enjoy another craft-making event. She found them simplistic, yet still fun.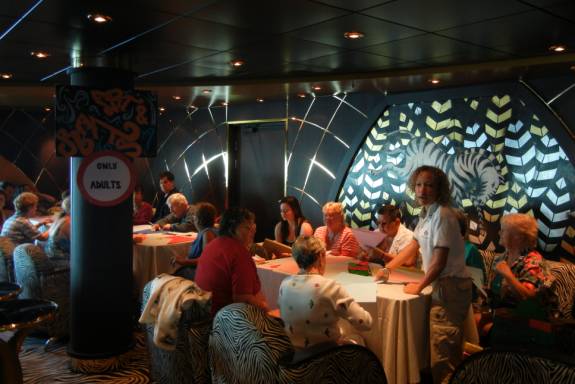 The Zebra Lounge and dance floor…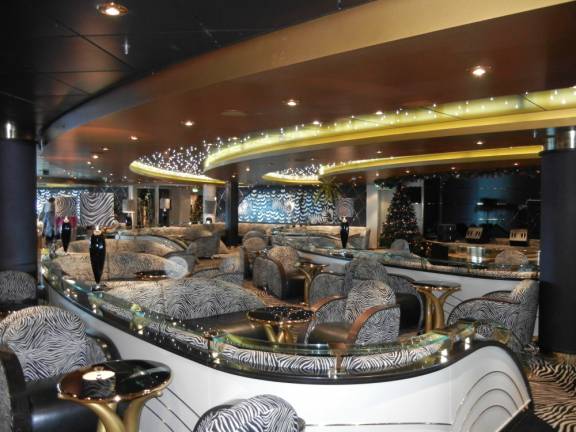 The Pigalle Lounge and nightclub area…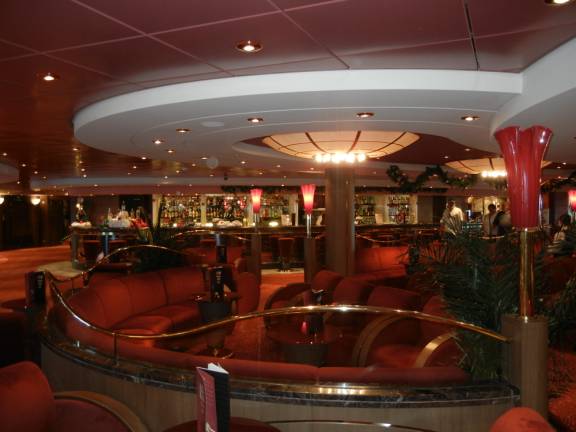 At dinner, the waiters paraded about with slabs of the Flaming Baked Alaska desserts.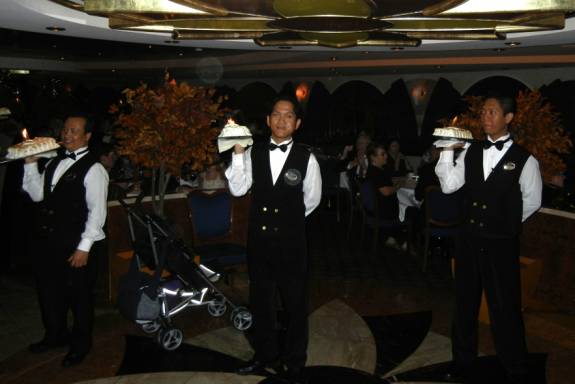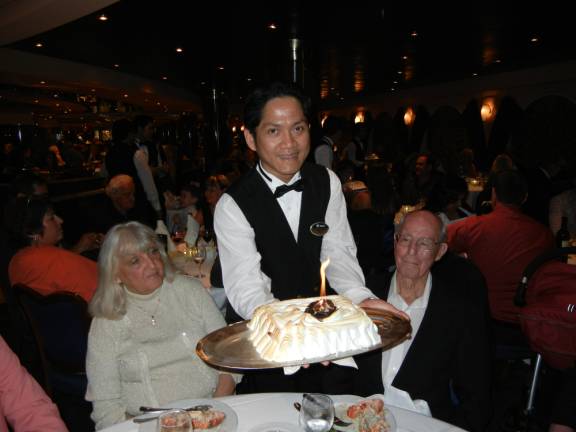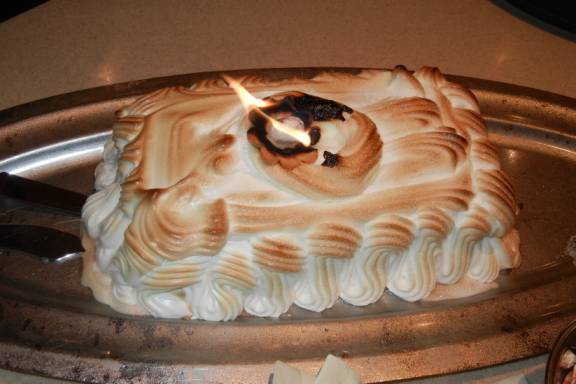 In the Carlos Felice Theatre, a heckling group from the Animation Team taunted some of the incoming people. Unsuspectingly, they would sneak up behind them, imitate their walk or motions, then secretly and quickly hide their bulbous red noses if they became suspect. It was hilarious and very well executed.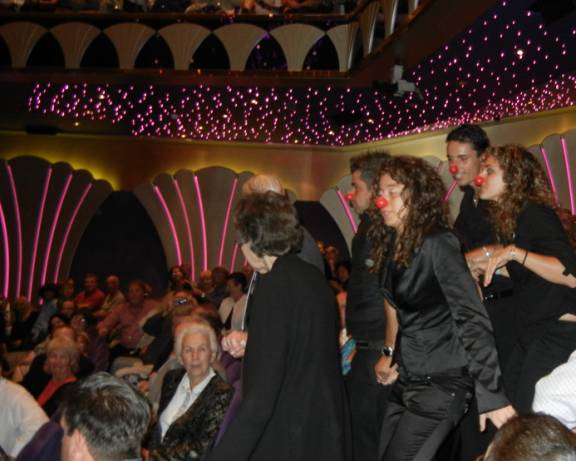 Much of the theme in tonight's show focused on the elegant days prior to the French Revolution.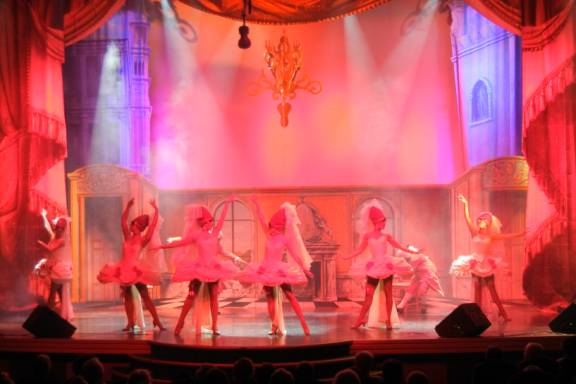 In an absolutely amazing display of flexibility and agility, these perfect human forms arched and stretched in seemingly unbelievable contortions.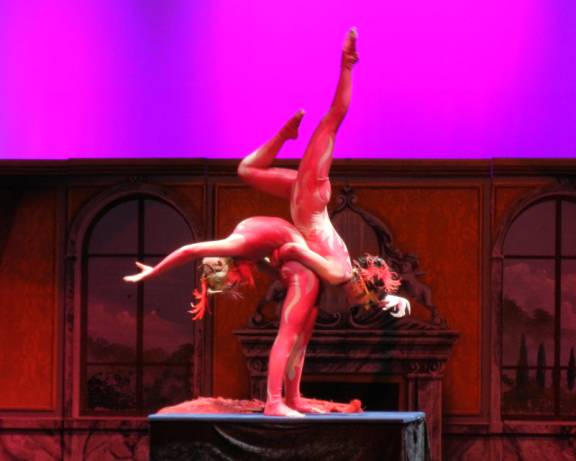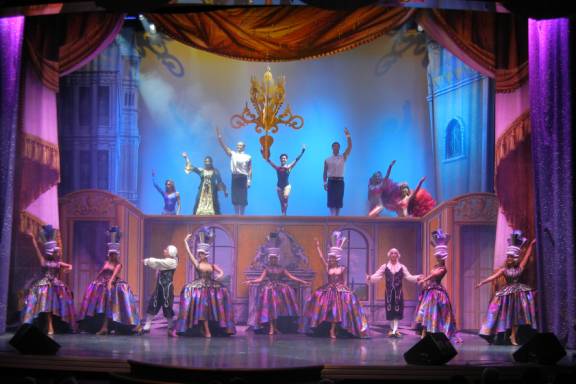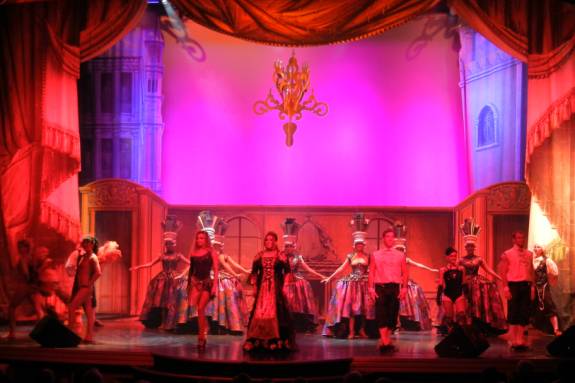 Star performers on the MSC POESIA stage…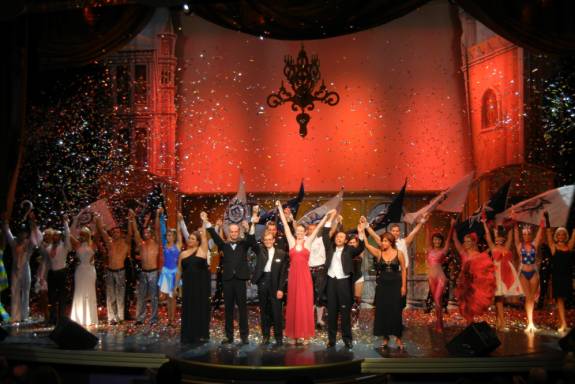 I just couldn't resist. One can only imagine the direction that my mind was racing…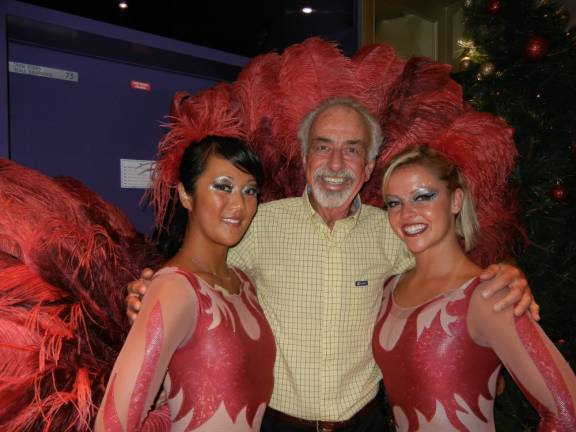 On the upper main deck, the amazing team of chefs arranged table after table of decorative treats. Their creations were both visually impacting and artistically arranged.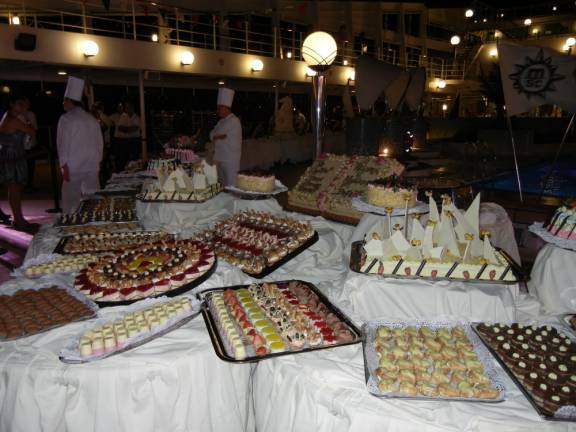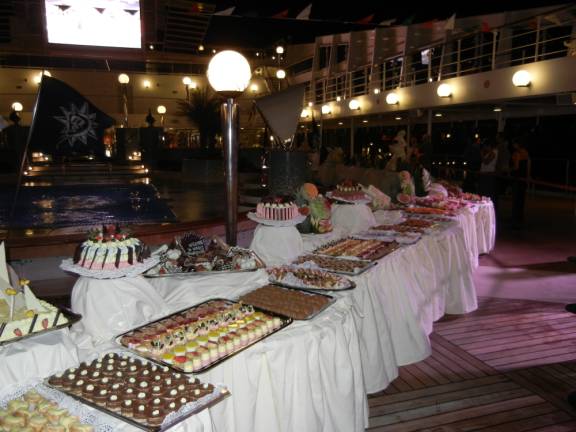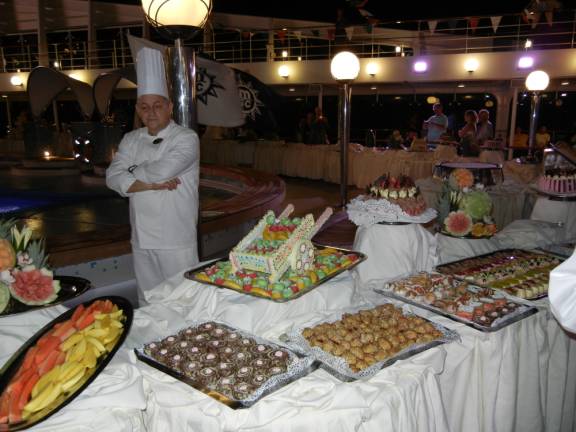 Huge trays were laden with succulent fruits at the peak of ripeness.
Artfully carved fruit flowers and figures emphasized the aesthetics of the gala event.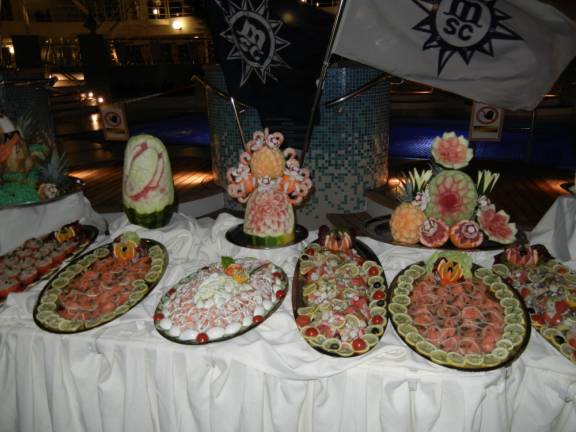 Seemingly life-sized statues were reportedly created in white chocolate.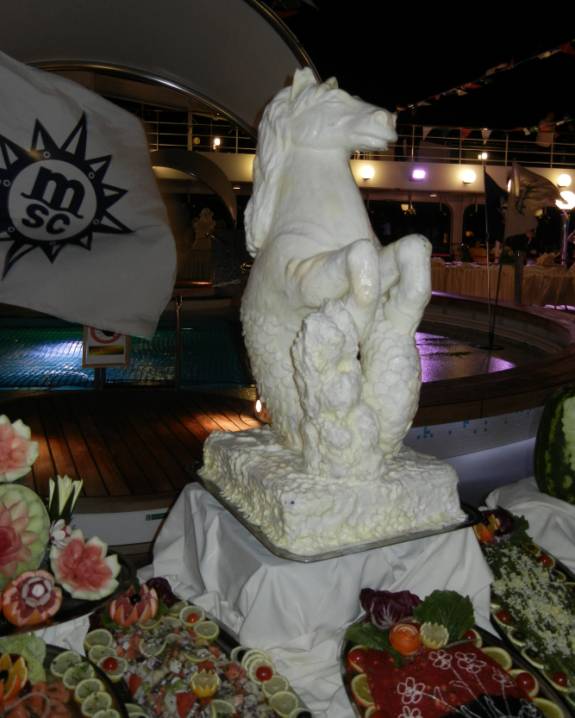 The bodies of whole, roasted chickens were transformed into a musical band. I wondered if they were playing "The Chicken Dance".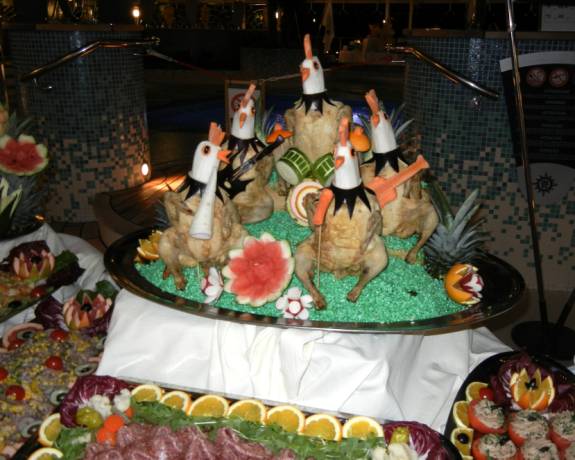 Sliced and rolled meats, exotic salads, and seafood platters were soon to be scavenged by the flocks of ravenous guests.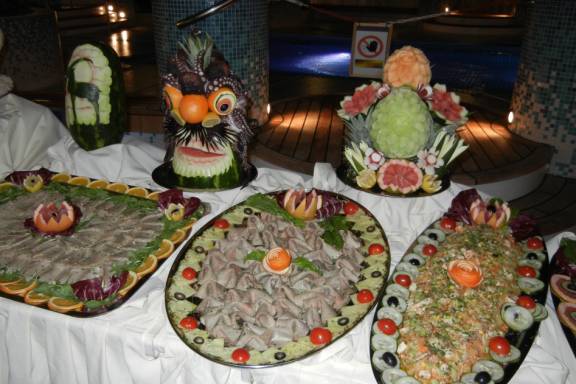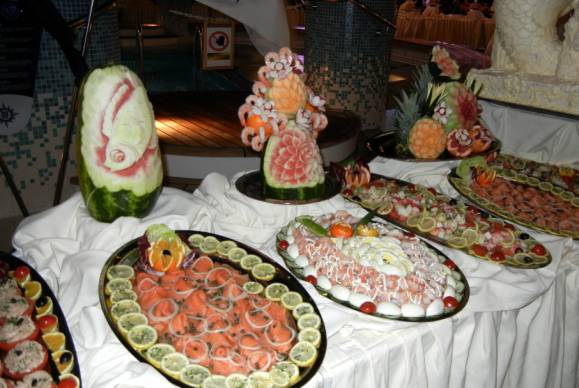 The leaders of the chef staff stood proudly beside their trophy creations.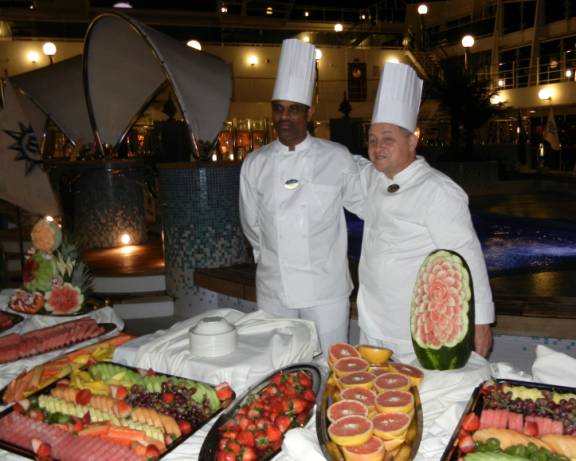 On the deck stage, the troupe of minstrels serenaded us with their Italian favorites.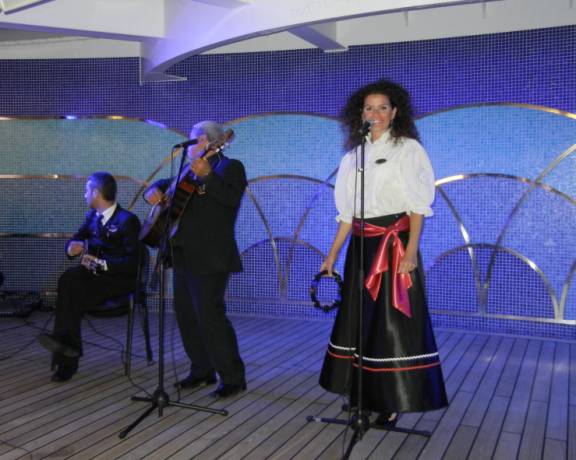 Cheese, Please…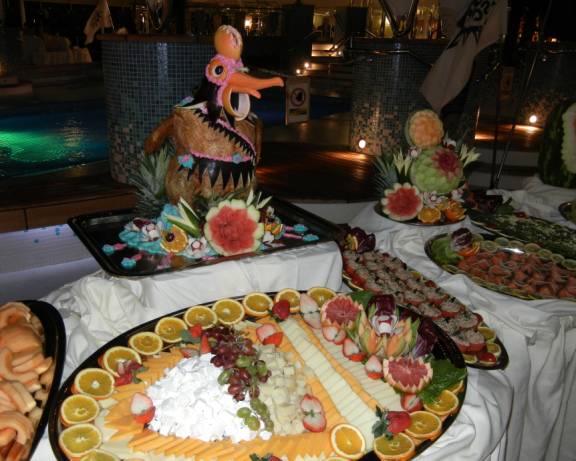 How about this for a creative display and assortment of artisan breads?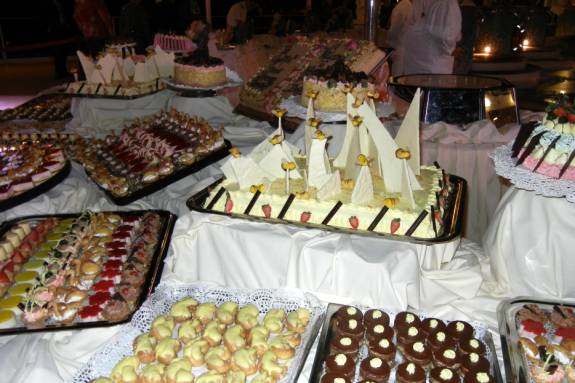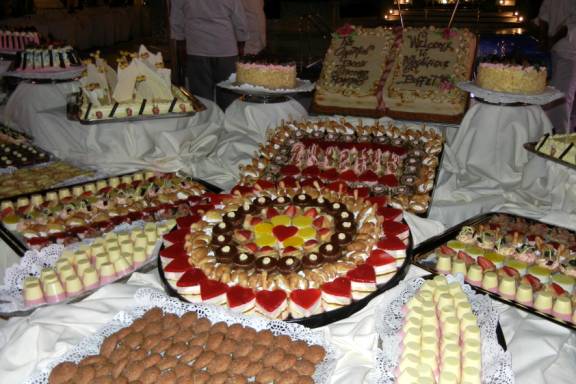 An extensive display of international wines was available for purchase.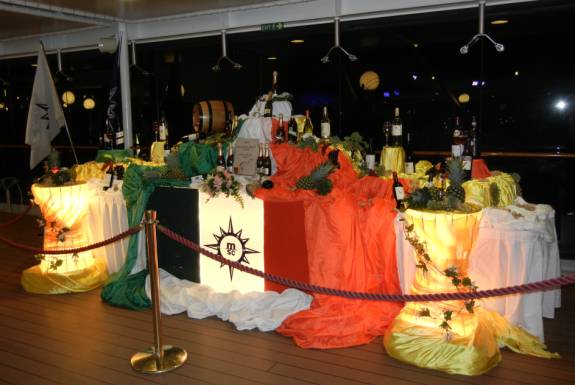 By the close of the Midnight Gala Buffet, you could tell by the lethargic dragging of the guests that their gluttonous caloric scavenging had literally sapped all evidence of strength from their existence. BURPppppppp…
12/18/10 SATURDAY NASSAU, BAHAMAS
The Hitchcock Cigar Lounge is decorated with memorabilia and mementoes of the film career of Alfred Hitchcock. He consistently appeared with a smoking cigar during introductions at the beginning of each thriller movie. I enjoyed numerous conversations with other passengers enjoying the comfortable lounge.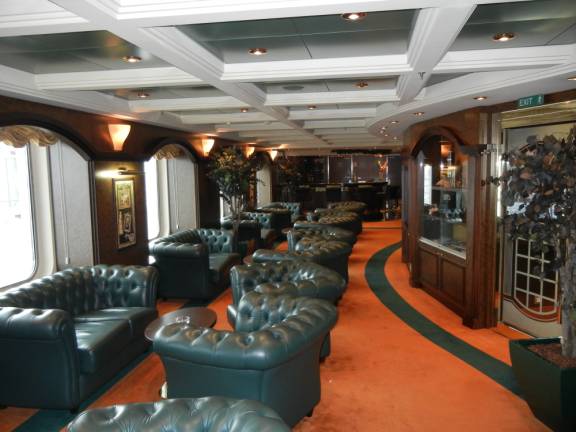 Although we generally choose the breakfast buffet at the Villa Pompeiana Cafeteria, we thought it would be nice to dine in the restaurant.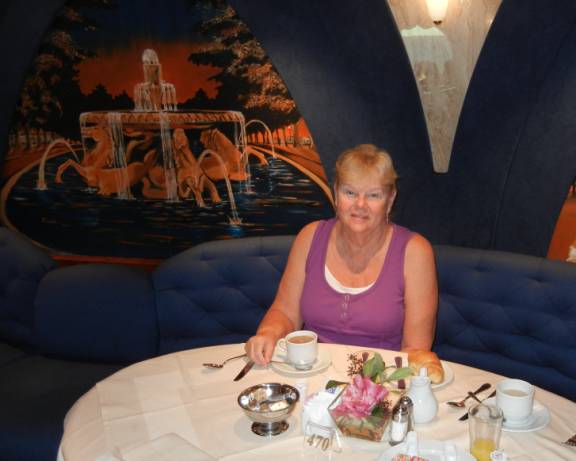 Just for some exercise, we walked into the downtown touristy area of Nassau. What do you think of Judy as a Junkanoo dancer?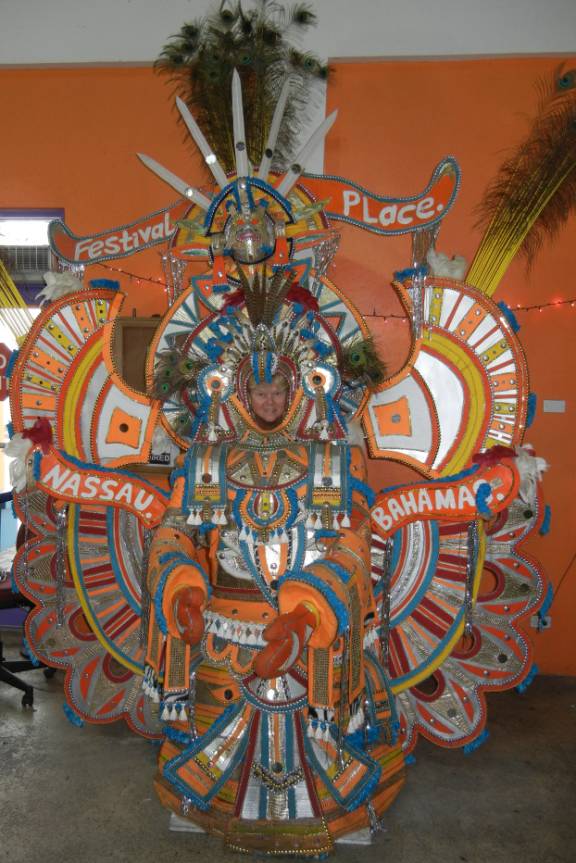 …Or how about me?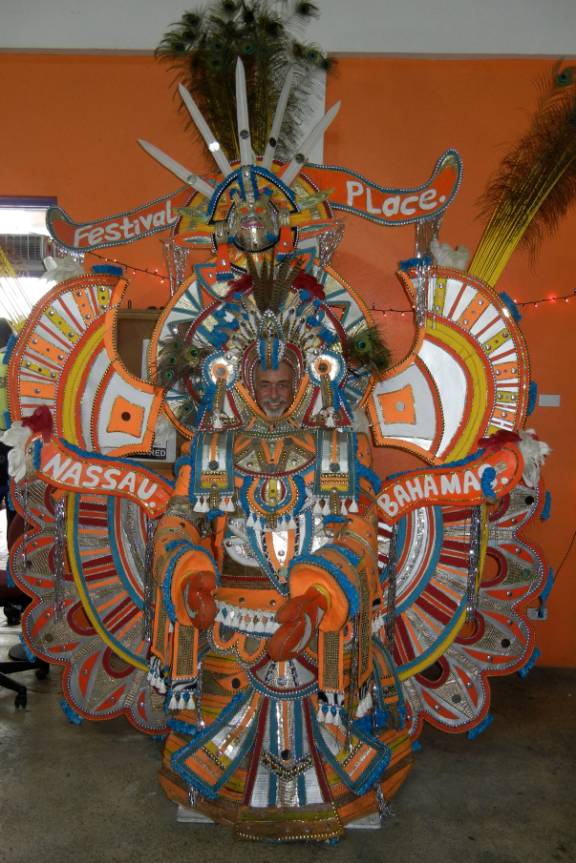 A typically Bahamian sound was emanating from the terminal stage.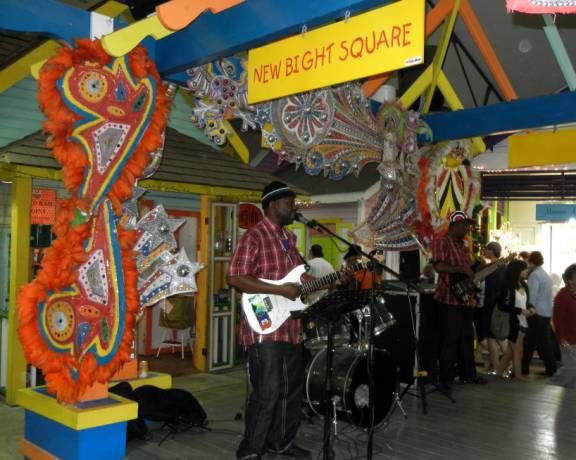 Another band group was tooting tunes in recognizable Caribbean tones.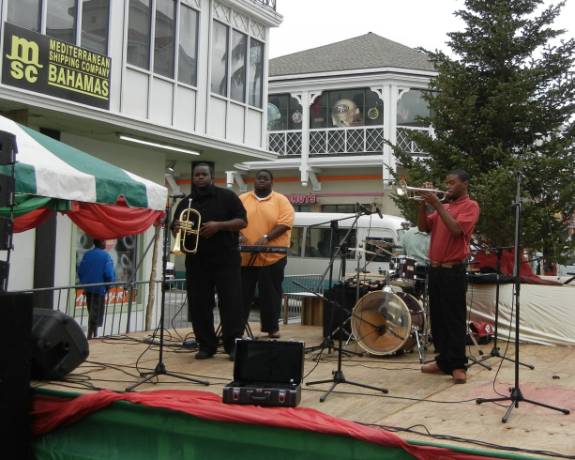 Many of the cruise ships carry the Home Port registration of Nassau, Bahamas. In such cases, those vessels are actually home.
MSC POESIA has two dining rooms, the Ristorante Le Fontane and the Ristorante IL Palladio. Our evening meals were taken in the Le Fontane. Each night, there were special selections available from a changing menu representing different regional favorites.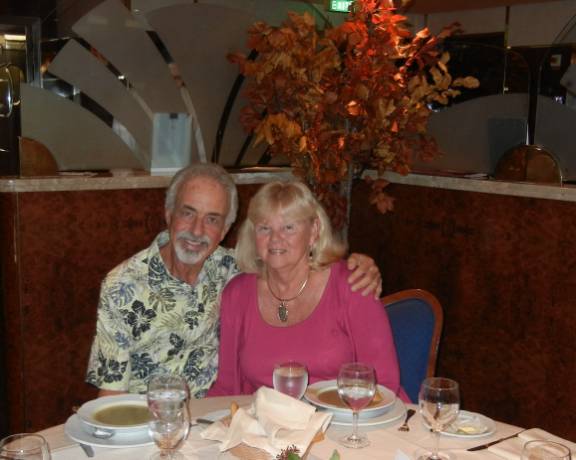 Most of the waiters were Indonesian. Our lead waiter was named Ullisus. He was very polite and attentive.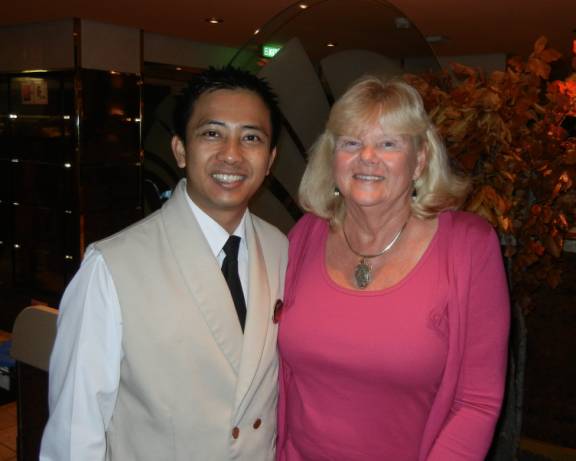 As the ship was making the crossing back to the USA, we attended the final show in the Carlo Felice Theatre.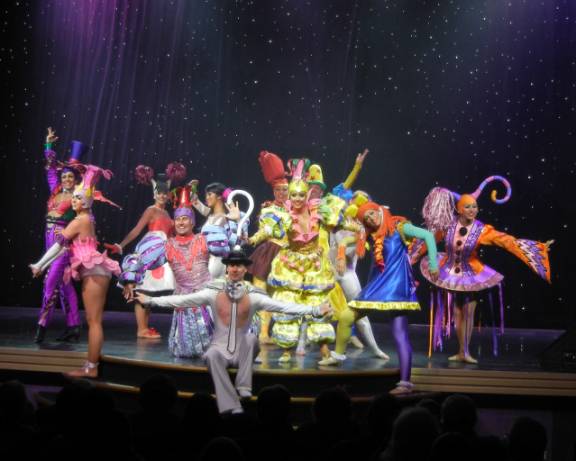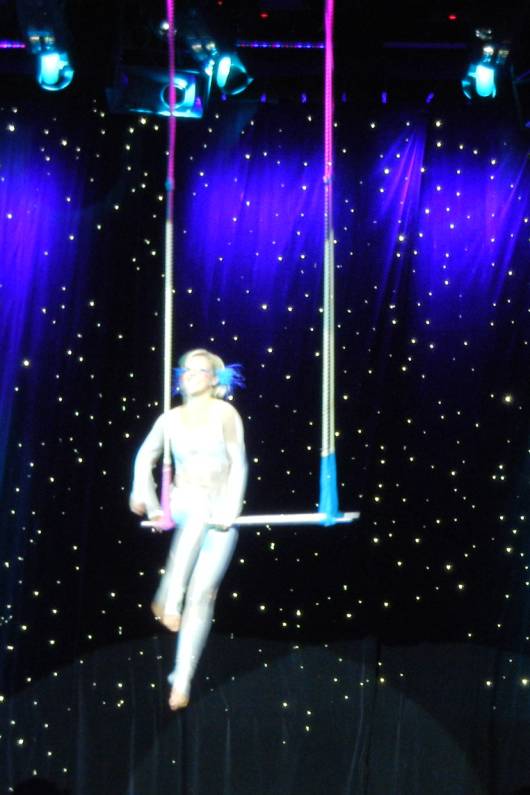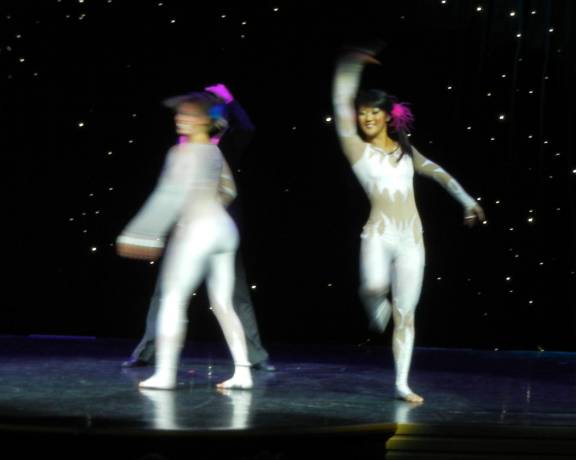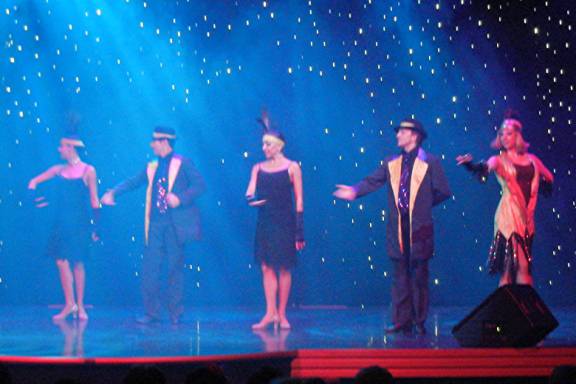 The juggling act was quite entertaining.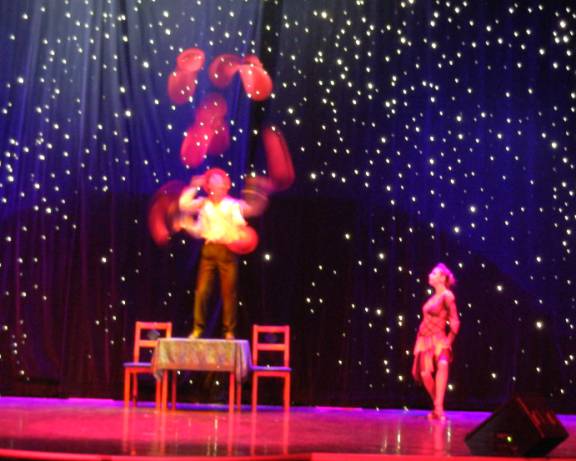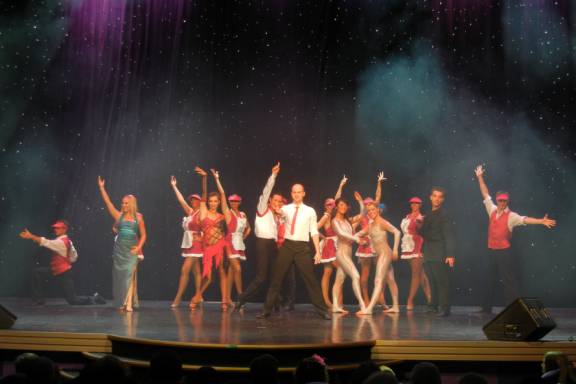 12/19/10 SUNDAY FT. LAUDERDALE to STUART, FL
When we were awaking early in the morning, the MSC POESIA was arriving at the Port Everglades Ship Terminal. While authorities cleared the vessel, we enjoyed our breakfast in the cafeteria buffet. Our bags had been collected at midnight and various color assignments were given to the passengers. As the color codes were called out over the loudspeaker system, the associated group was released to proceed to US Customs and Border Protection screening.
To summarize our overall impressions of the cruise aboard MSC POESIA, we were very pleased with the overall experience. For those seeking an economy priced cruise, we believe that there is very good value with this line. The food was very good, the service was very good, and the entertainment was very good. If it is a total luxury cruise that you seek and you are willing to pay a much higher ticket price, then you might want to find a premium line. At the price we paid, I do not believe that we could have had more value for the dollar.
Sharyn picked us up at the terminal area and drove us back to her house. After a very short visit, Judy and I headed back to Stuart and our beloved AMARSE.
12/20/10 MONDAY STUART, FL
12/21/10 TUESDAY STUART to PALM BEACH to STUART, FL
Before 6:30am, we were sitting in the waiting area at the St. Mary's Hospital Outpatient Surgery facility. My paperwork was complete and we were fitted with ID wristbands and badges. I'd guess we'd sat patiently for slightly more than an hour before I was brought to the pre-op area. Vitals signs were recorded and IV ports were inserted. There were visits from numerous members of the attending staff, including the nurses, surgical assistants, anesthesiologist, and the surgeon. After being wheeled into the operating room, I was put into a twilight sleep and Dr. Patipa performed his surgical procedure. Although I was mildly alert enough to respond to simple commands, I was really off in "LaLa Land" and completely unaware of what was happening. There was absolutely no pain.
After several hours of recovery time, I was released into Judy's loving care and she drove us back to Stuart. I was instructed to apply iced compresses to cover my eyes and to remain in the upright position. I am one of those people that will follow the post-op instructions to the letter. There was almost no discomfort and I only had to take one dose of the pain pills that the doctor had prescribed.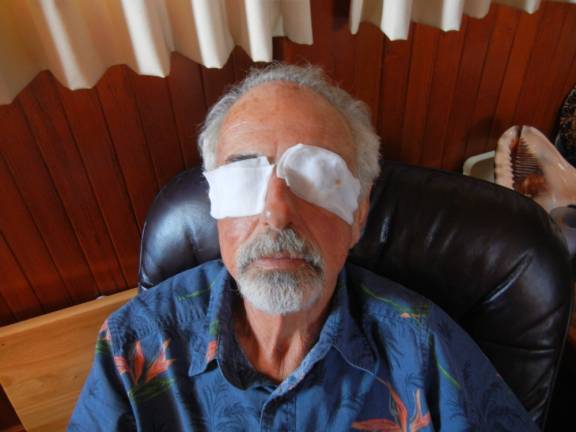 That evening, Judy snapped a picture of the results. I had expected more bruising and blackening but I think that the skill and careful technique by Dr. Patipa may have resulted in minimizing the trauma effects.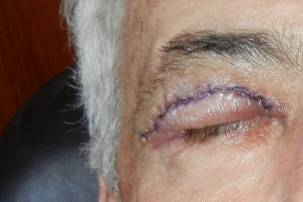 For much of the night, I rested comfortably in my easy chair.
12/22/10 WEDNESDAY STUART, FL
Judy drove me for a postoperative checkup at Dr. Patipa's offices in Stuart. He appeared pleased with his results and recommended continuing the antibiotic cream and cold compresses to reduce swelling. I vowed to restrict any exertion that could jeopardize the healing process. After the holiday, I will have my stitches removed.
12/25/10 SATURDAY STUART, FL
MERRY CHRISTMAS EVERYONE
Fortunately for us, there would be no white Christmas here in Florida.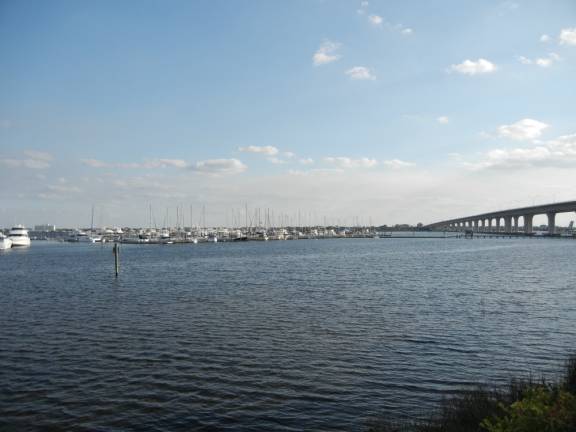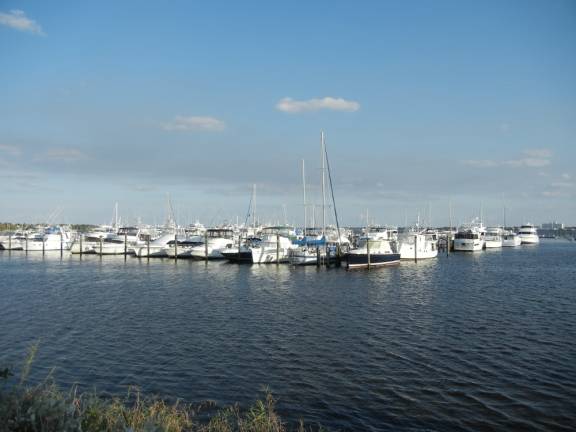 A group of cruisers organized a potluck style Christmas dinner on the floating docks. It was a great chance for us to meet with new and old friends in a boating family-like atmosphere.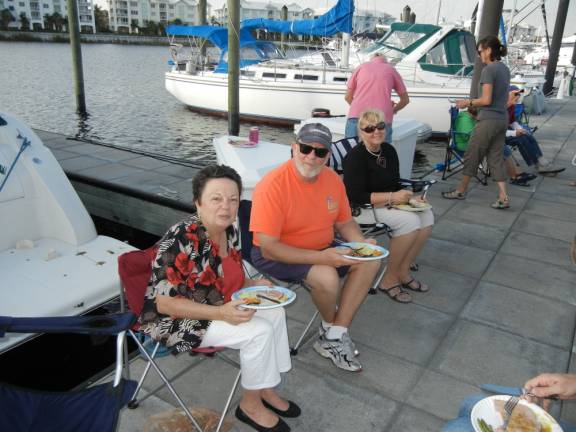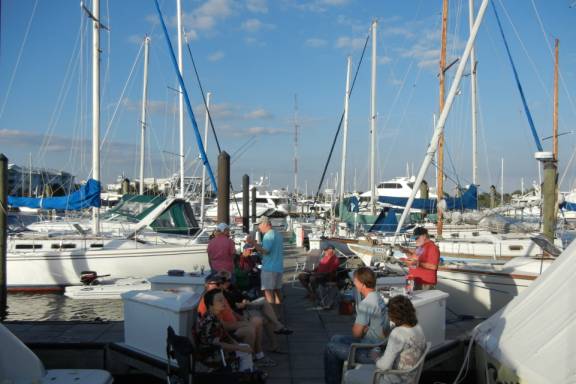 When we saw his San Antonio shirt, our conversation revealed that he had kept his Island Packet sailboat in the same marina in Rockport, TX where we used to be docked. Together with one of our good friends, Robert (also known as BoatBumBert), they had sailed the IP from Texas to the Virgin Islands. Now, he is in Stuart and moving into a Condo residence. It was fun chatting and reminiscing about our fun days at Key Allegro Marina.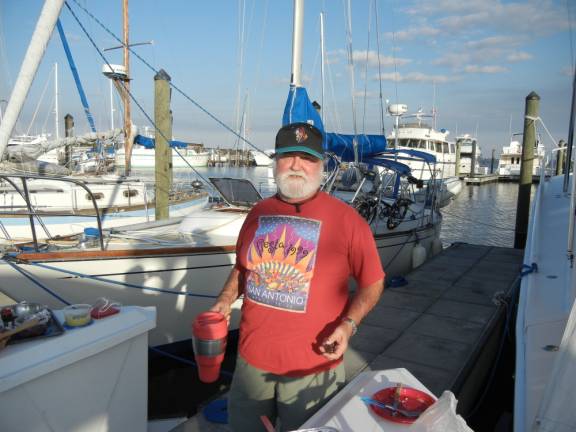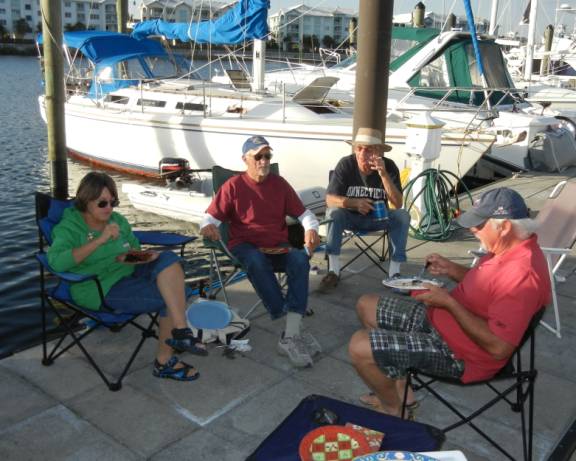 The former Key Allegro Marina dockmates…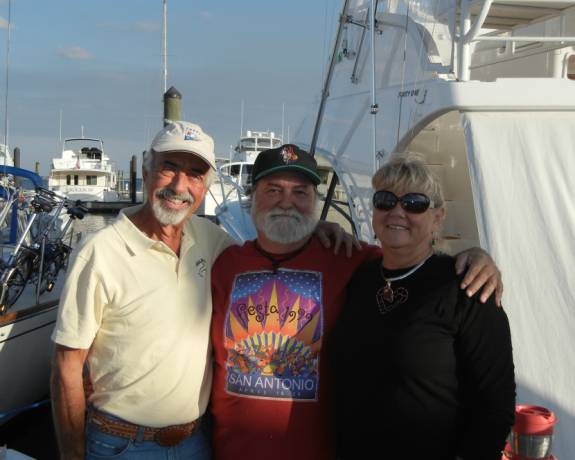 Almost needless to say, "A good time was had by all".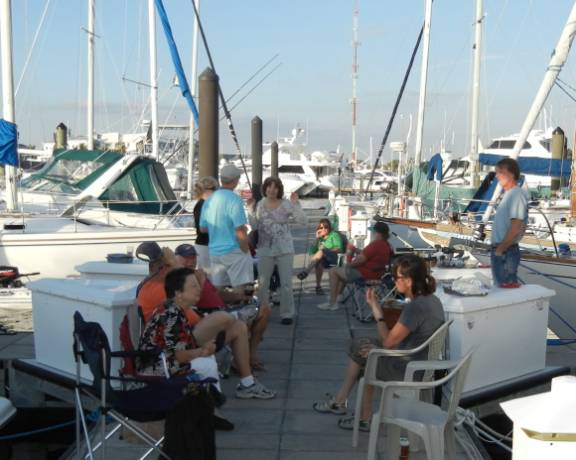 12/27/10 MONDAY STUART, FL
With each passing day, the swelling was reducing and the results were becoming more evident.
12/28/10 TUESDAY STUART, FL
Judy extended her jewelry talents with a beautifully designed new creation. Using both gold and silver materials, she cut, twisted, and formed the malleable metals into an impressive and magnificent work of art.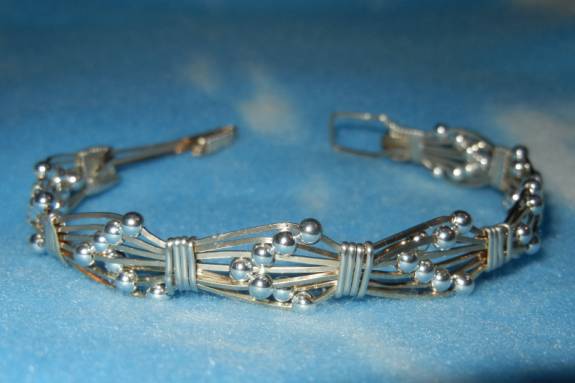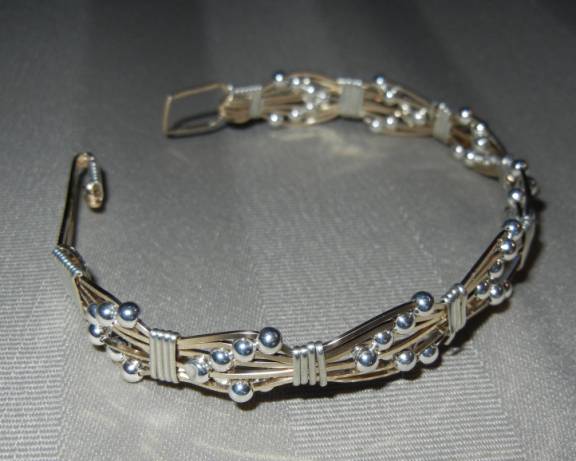 12/29/10 WEDNESDAY STUART, FL
At my morning appointment, Dr. Patipa removed my eyelid stitches. I reported seeing a rather large floater directly in my field of vision. Confident that it was not related to the surgery, he referred me back to my ophthalmologist for immediate examination. The worry was that there might be the chance of some retinal damage. At the East Florida Eye Institute, they were quick to arrange an afternoon session. Dr. Frenkel was not available, however, two other physicians of their team examined me. Their diagnosis was a PVD (Posterior Vitreous Detachment) that would warrant additional watching to ensure that any possibility of retinal detachment could be caught early. The prognosis, for now, was live with it and hope that the effects would diminish in time. Now, I am on the "wait and see" list. My reports of a continuing line in my left peripheral vision was met with the further recommendation to "wait and see" in hopes that further reductions in minor swelling might resolve the issue. I have my doubts, but I will follow their recommendations. The very good news is that they were not finding any majorly critical issues.
12/31/10 FRIDAY STUART, FL
Our choices for New Years Eve celebrations came down to a night aboard AMARSE with just the two of us. For us, it was a much better idea than attempting to engage of the madness and hazards of party-time events. Our 2010-year has been very good for us and we look forward to another wonderful year in 2011. I am confident that if we can keep our health, we will have all we want or need from the joy of being together. Happy New Year Everybody!!!
CONTINUING UPDATES ARE IN PROGRESS…
WATCH FOR THEM, COMING SOON…
POST SCRIPT:
We sincerely hope that you will review the previous years of compilations to give context to the current editions. Please let us know if you have any special suggestions and thoughts.
REMEMBER: The website is now fully active and you can visit it at any time. You can also review any of the previous logs from the years 2006, 2007, 2008, and 2009 to learn more about the crew and their many adventures. Enjoy.
ATTENTION: SPECIAL NOTE:
You may contact us via email anytime.
Thanks for allowing us to share our life and adventures with you.
Lotsa Luv,
Fred Reed and Judy Law
AMARSE
MT40
"AMARSE" is pronounced "AM-ARE-SAY".
Our website is: www.amarse.net .
CONTINUING UPDATES ARE IN PROGRESS…
WATCH FOR THEM, COMING SOON…
You can CLICK on these handy buttons to advance to your choice. ENJOY!!!