UPDATE#25 11/01 TO 11/30/2010
Howdy Everybody,
The adventures of 2006, 2007, 2008, 2009, and thru 10/31/2010 have been published on the website. We continue with the latest edition.
UPDATE 2010 #25 11/01/2010 to 11/30/2010
At last update, we were still in San Antonio and wrapping up our renovation projects. Welcome back to our continuing adventures…
11/01/10 MONDAY, SAN ANTONIO, TX
Our progress at home remodeling and renovation is moving along nicely. The time has been flying by and we have been working long hours everyday.
The garage is not only a place to store vehicles. It is also a primary storage facility for all kinds of stuff. Of course, it has become my active workshop area. I still have a complete diesel engine that I had kept for spare parts from the JEANNIE LIN sailboat days. One of these days, I will disassemble and part out the spares and sell them on-line. The engine is a Westerbeke W33A and I have tons of spares too.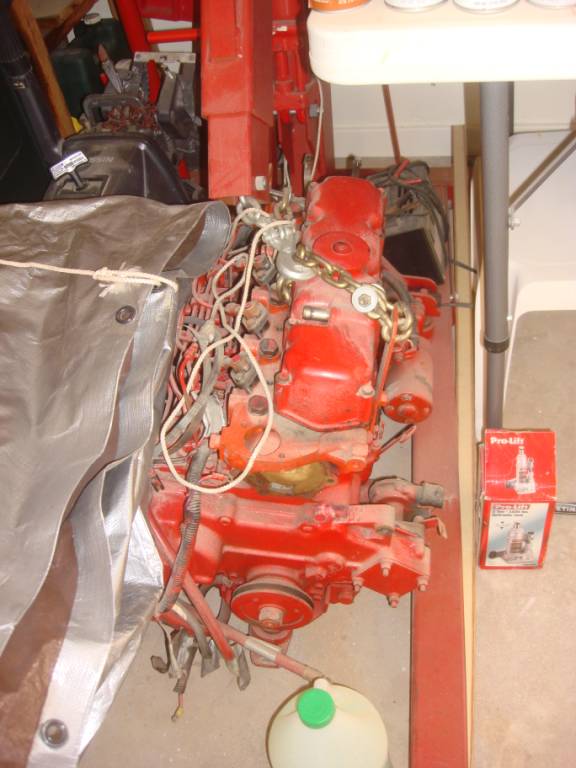 11/02/10 TUESDAY, SAN ANTONIO, TX
How about a little tour of our changes in décor? You can refer to a couple of previous updates to view the "Before" pictures. Starting in the main living area, the walls were significantly updated by the removal of the wood paneling. The window treatments have given the room a complete new look with the addition of Levelor window blinds and Judy's handmade valance curtains. A new, solid oak TV stand helps bring the theme together and restores the warmth of wood to the effect.
The totally rebuilt wet bar area has a bright, fun, and a more effective presence. The brightness of the textured, painted walls has totally changed the look and feel of the room.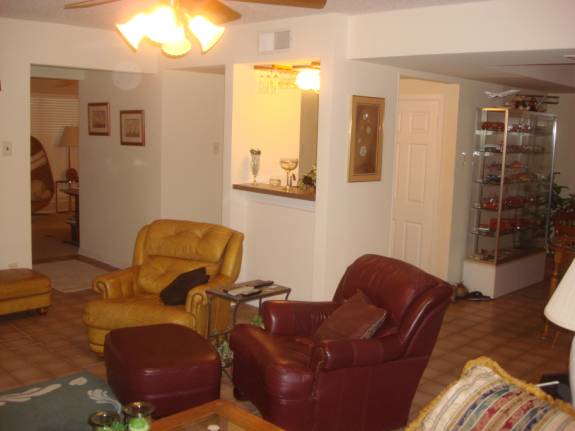 The highlighting of the wall trim moldings gave focus and contrast to the dining room area.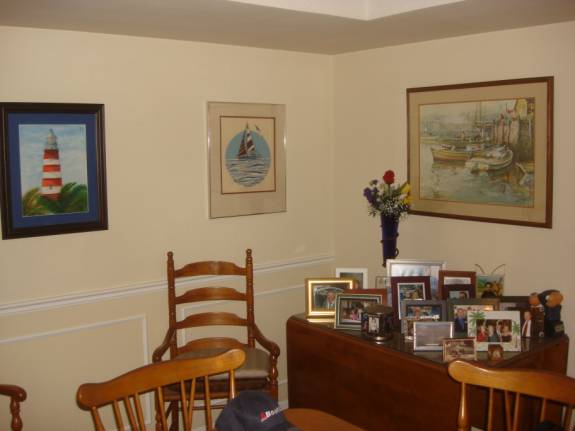 Remember that dull, plain stairway trim? The addition of this decorative base molding trim has added a beautiful measure of visual enhancement.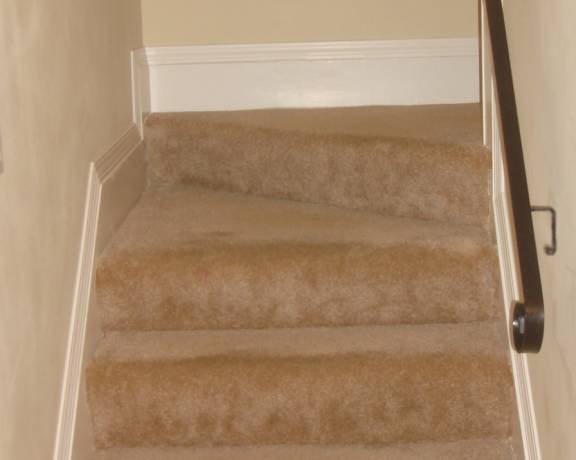 Other than adding a pair of updating 6-panel doors, the 1st guestroom kept much of its familiar and comfortable appearance.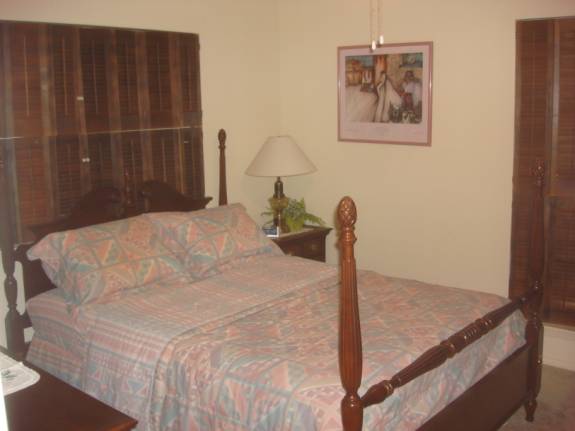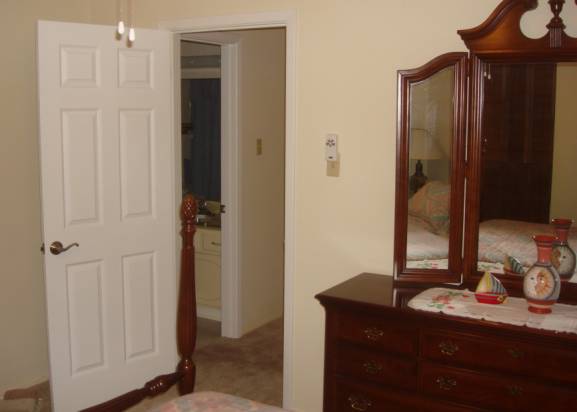 The second guestroom has undergone a total transformation from a cluttered storage area to an inviting, colorful, and relaxing place to host our visiting, family, friends, and houseguests. We added a pair of twin beds, new window blinds, furnishings, ceiling fan, and upgraded door treatments.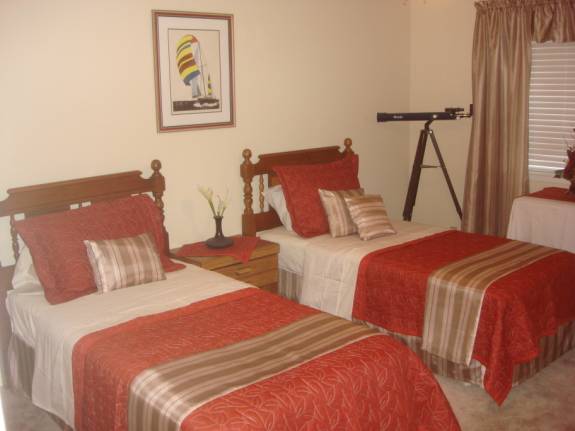 The original, sliding closet doors were dull and outdated dark-wood panels. I took the units down to the shop area and spray refinished them to add the modernized effect.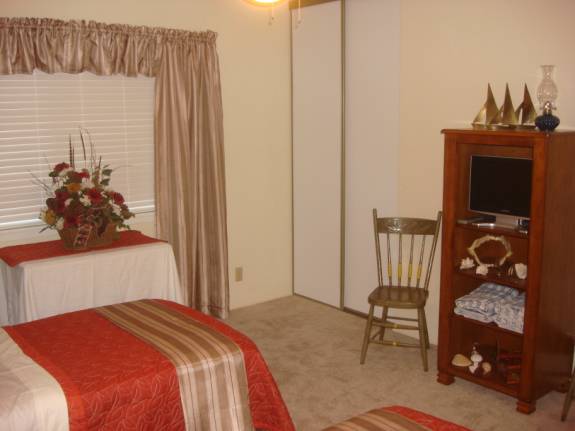 The addition of the new 6-panel doors added a significantly inviting touch. I had to cut each slab to specific size to fit each position. My custom guide helped to provide straight, smooth edges from my circular saw. Judy wielded the brushes to add contrasting colored paints to the rooms. All of the fabric work, including the bedding, skirts, pillows, shams, table covers, curtains, and numerous decorative accents were the results of Judy's magnificent seamstress skills. We bought a new sewing machine especially for her project work. I must tell you, "I am excited, thrilled, and totally impressed with her creative results and skillful expertise."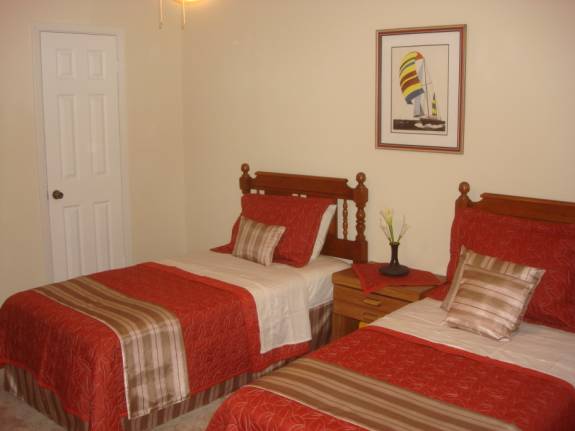 The master bathroom took on a renewed look with new hardware, faucets, and refinished cabinetry. Changes to the valance lighting enhanced the overall look.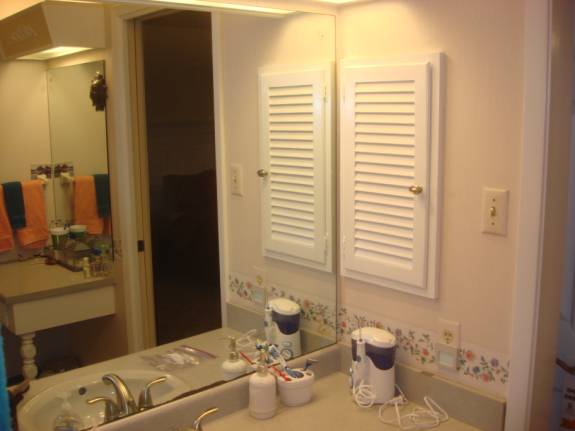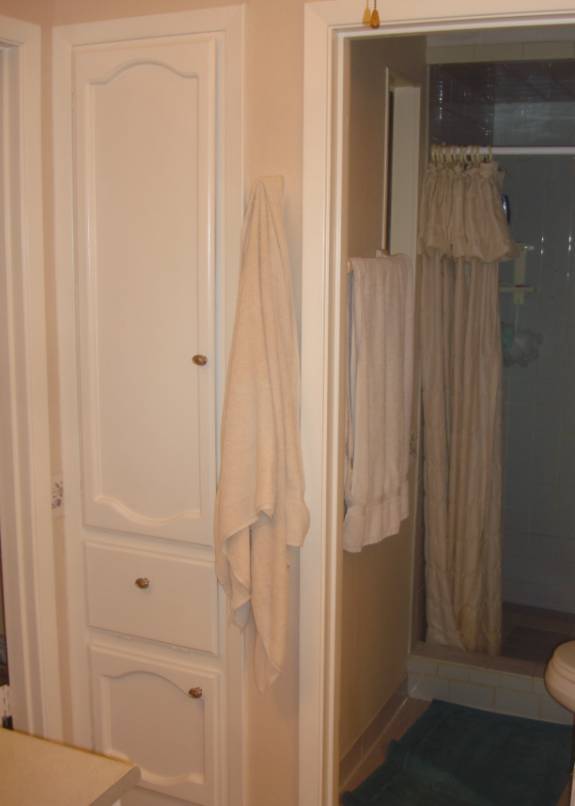 On the kitchen end wall, Judy added the highlighting decorative touches of her intricate handiwork. Her handcrafted baskets were made out pine needles gathered in the Bahamian islands of the Abacos and woven together in Judy's unique patterning. Judy cast and hand-painted the parrot figure while we were in Brunswick a couple of years ago. The combination of her skills looks fantastic.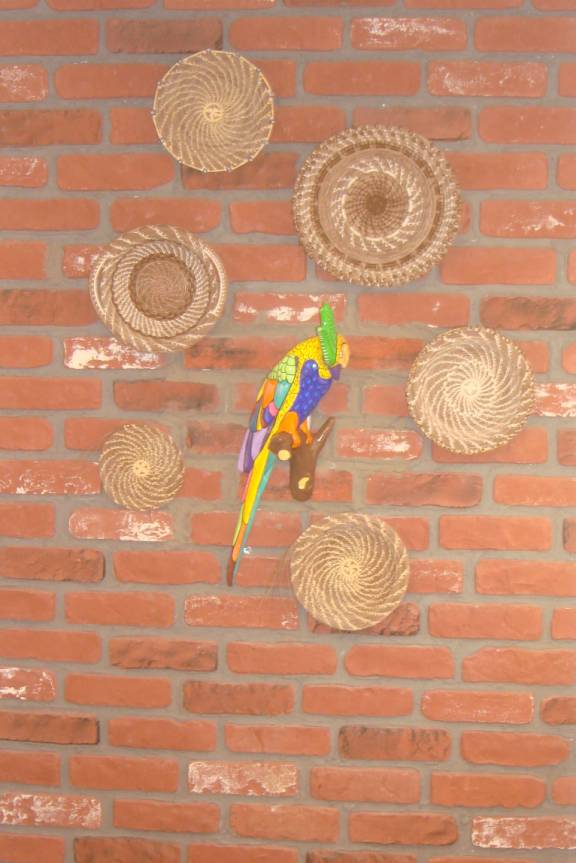 The freshly refinished kitchen door took on a new look with the addition of tilting blinds. The wall surfaces found a classic look with color mixed from the National Trust For Historic Preservation collection.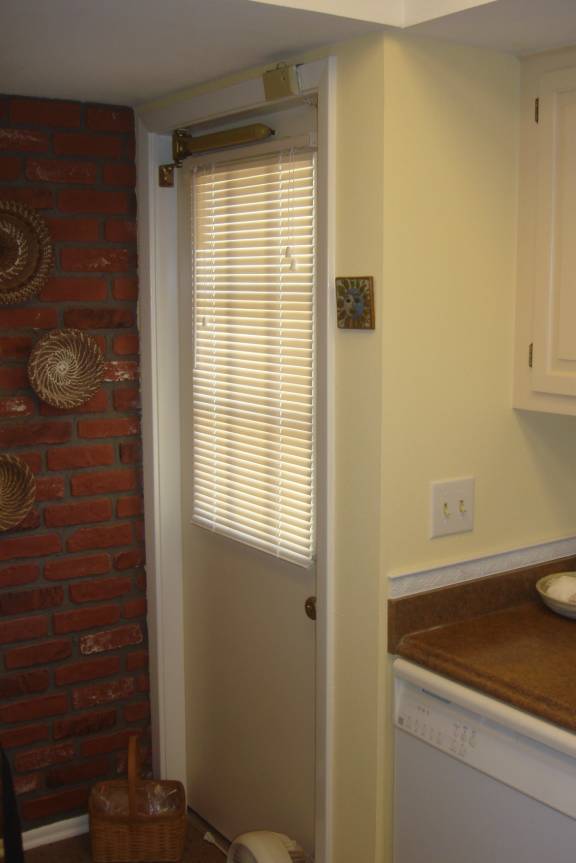 Although this picture doesn't begin to show the huge change, the results of the modernization project to the recessed ceiling were dynamic. The newly textured area projects superb lighting effects from these installed fixtures.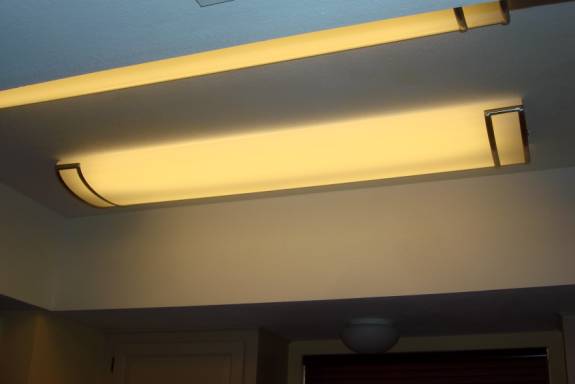 The new counters, window treatment, backsplash trim, and refinishing touches gave the entire kitchen the delightful, homey feel that we were looking for.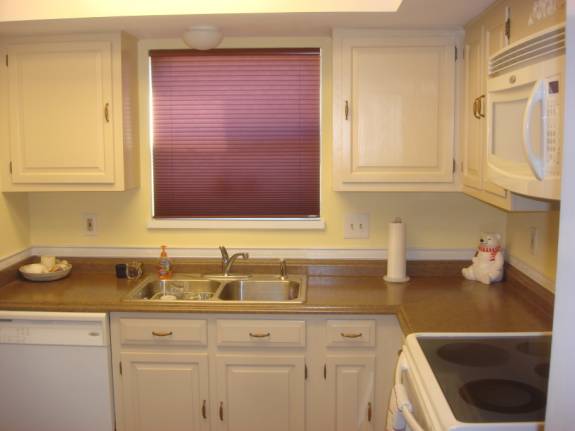 The walls and Judy's window treatment bring the whole room together into a refreshing atmosphere that exudes relaxation.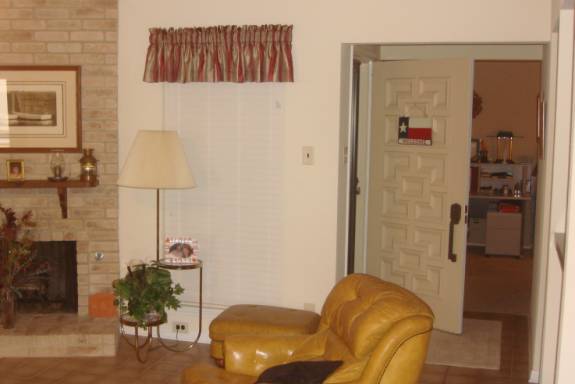 The new look of the wet bar provides an inviting place to prepare thirst-quenching libations in Texas-sized proportions.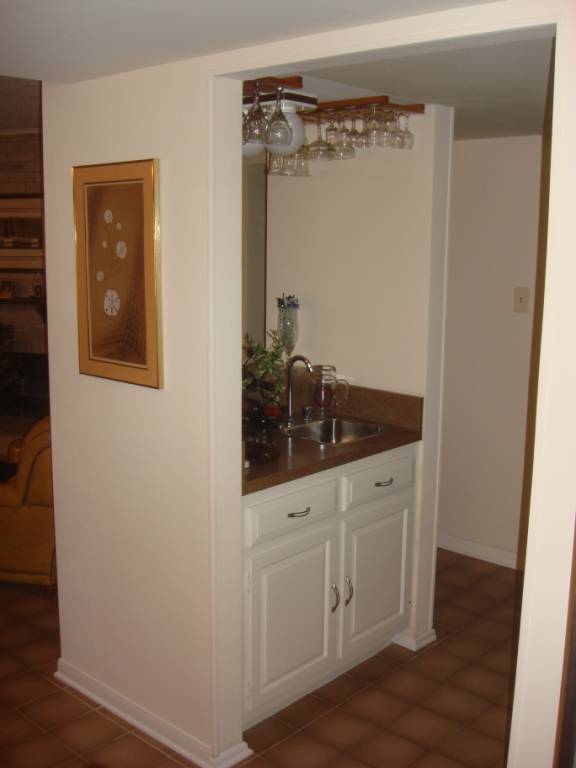 With so many of our projects completed, we packed and initiated the sequence of shutting down the house for our departure and continuing adventures elsewhere. Somehow, it seems strange to be leaving so soon after adding all the enhancements here.
11/03/10 WEDNESDAY, SAN ANTONIO to LUFKIN, TX
With the truck loaded up with lots of stuff, we started out for more family visits and our return to AMARSE. The first stop of our itinerary was to Lufkin, Texas to visit with those of Judy's family living there. Again, Mark and Dawn's comfortable guesthouse offered all the conveniences and comforts for our short visit.
Dining with the family at the Café Del Rio satisfied our hunger pangs and gave us an opportunity to enjoy the group setting.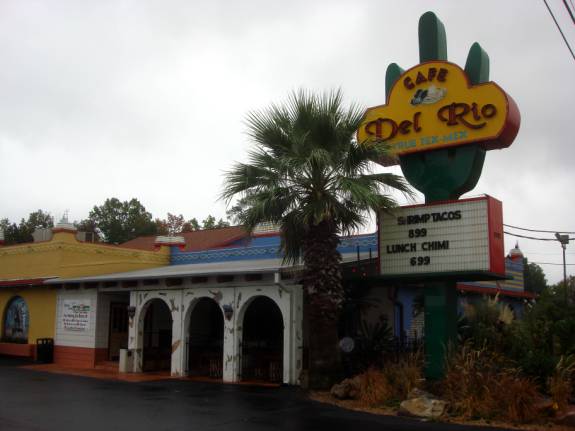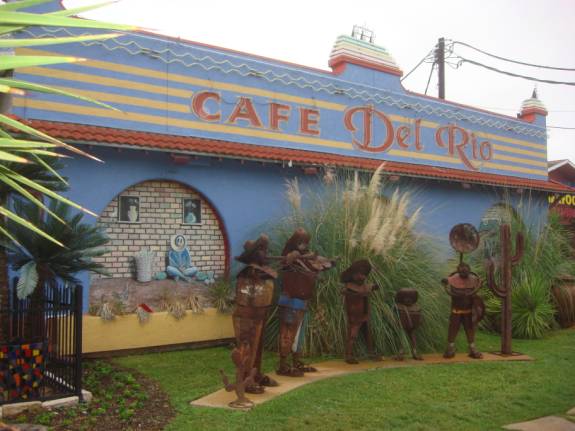 11/04/10 THURSDAY LUFKIN, TEXAS
We had a nice opportunity to visit with these terrific family members. Mark and Scott helped me with some additional servicing to the truck. Using his big lift, the tasks were much more accessible. Thanks, guys! They have always been cooperative and generous to lend their assistance and expertise to our mechanical needs.
11/05/10 FRIDAY LUFKIN. TX to O'FALLON, MISSOURI
It was another long drive for us from Lufkin, TX all the way to O'Fallon, Missouri. Just one look at Lisa would have made the trip worthwhile. Lisa and Judy have found a wonderful bond of love, respect, and mutual admiration of each other.
Lisa, Ashley, and Judy confirm the well-known fact that, "all girls love jewelry". Judy let them pick a favorite from her collection of necklaces.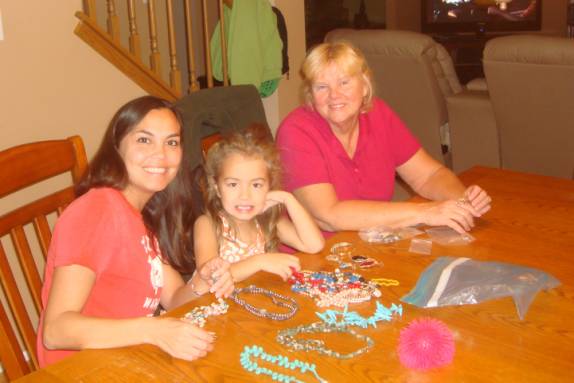 11/06/10 SATURDAY O'FALLON, MO
Doug and I went out early to accomplish chores and pick up parts in his new Sonata. On the trip north, my truck's manual transmission started acting strangely and giving us problems shifting. I suspected that using the genuine, OEM replacement fluid from the Nissan dealer might help remedy the problem. Once again, Doug generously and willingly helped me with the mechanical stuff to the truck.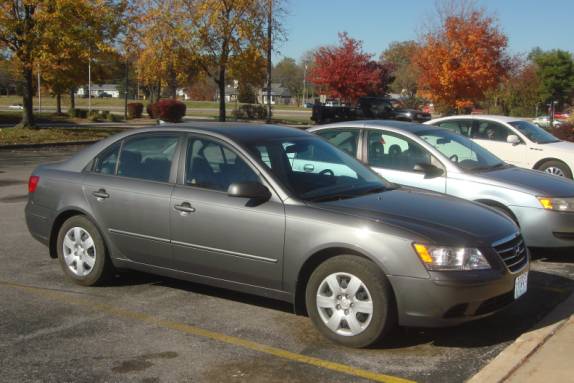 The projects still left plenty of time to play with the grandkids. With a robust shove from Daddy Doug, Ashley grinned with glee as she soared higher and higher.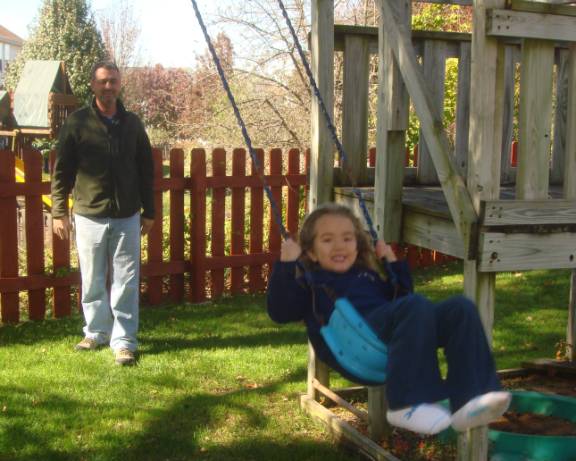 Grandpa and Ashley undertook the preparation of the dinner menu. Much to my delight, she seemed to love the idea and quickly jumped at the chance to be "Grandpa's Helper"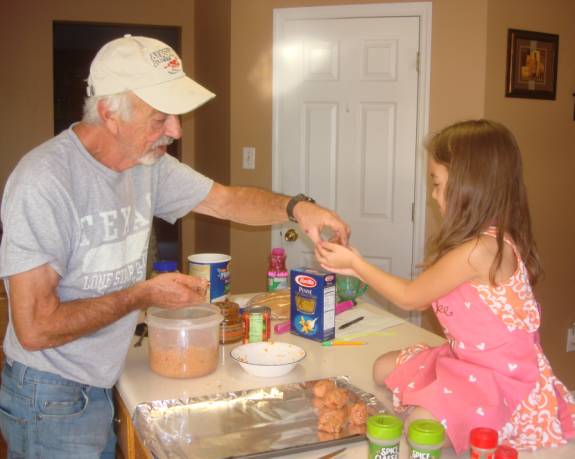 Ashley's child-sized hands were just right to shape, form, and arrange the perfect meatballs.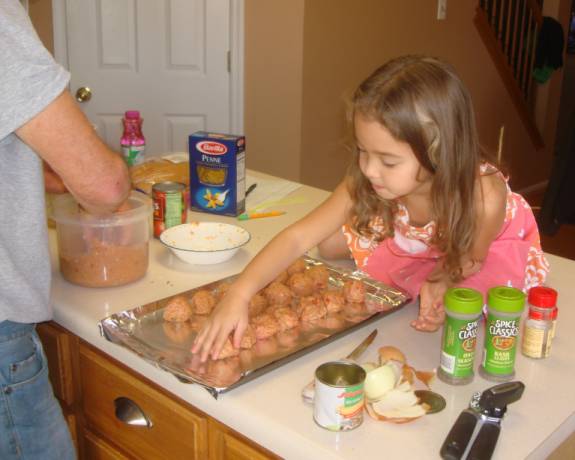 As you might expect, our dinner efforts turned out to be delicious and very enjoyable.
11/07/10 SUNDAY O'FALLON, MO
After a range of daily activities, Lisa put together a family favorite. Some years ago, during a previous visit, I passed on the recipe and technique for a special Lasagna dish. Although I personally don't put recipes on paper, Lisa took excellent notes back then and has prepared the Italian specialty on numerous occasions over the years. It was even more delicious than I remember the original one.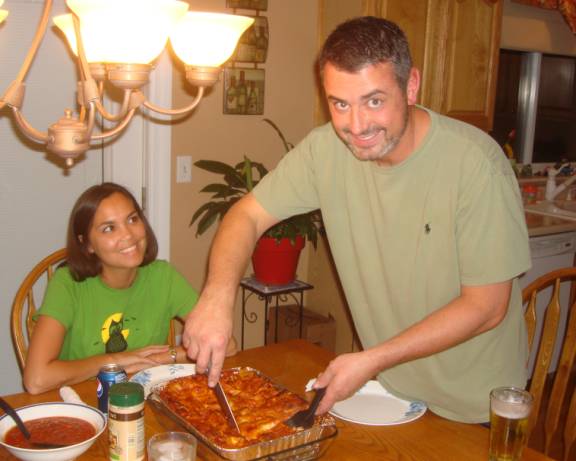 Although my actual birthday isn't today, the family took this advance opportunity to celebrate the upcoming date. The girls made a huge, sweet treat festooned with birthday candles. My Grandson, Austin, urged me to make a special wish and "blow out the candles". I already know that my secret wish has come true!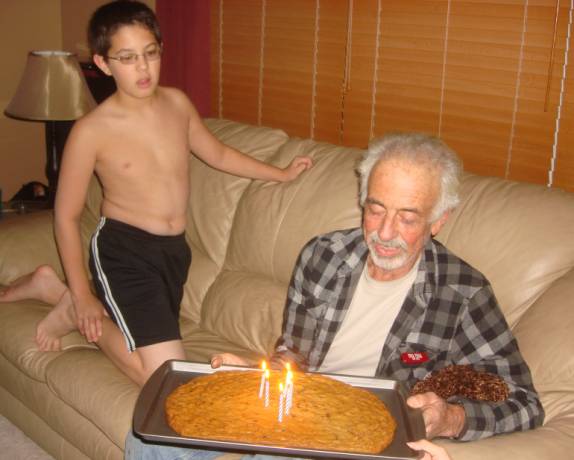 11/09/10 TUESDAY O'FALLON, MO
Doug's sister, Sharyn, had an extra car that needed a bit of mechanical attention. Instead of undertaking the expense of the repairs, she agreed to transfer the title to Doug. With his mechanical inclination, he set to working off the problem list. It was at the point to be ready for the road now. I was intrigued by the license plate numbers. Down in Lufkin, TX, one of Mark's competitors is the "UFO Pizza" place. I sent him this picture that seems to say, "UFO PIE"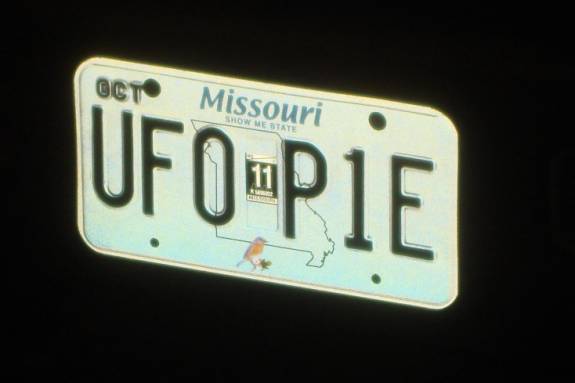 One of the challenging repairs was the bending, twisting curves in the replacement brake lines that needed to be completely fabricated. With the big jobs done, the State Inspection was passed and the licensing activated. Now, this will be a good work vehicle.
11/10/10 WEDNESDAY O'FALLON, MO to BRUNSWICK, GA
Doug had generously taken a few days off from work to spend more time with his Dad and Judy. Being together with my Son, Lisa, Austin, and Ashley renewed me and I was lifted in a way that only a family visit can do. All too soon, we had to move on to Georgia and resume our love affair with AMARSE and our nautical side of life.
It is a mighty long drive straight through to Georgia. We had to leave very early. On his way to work already, Doug led the way out to the highway intersection. Passing through eastern Missouri, Illinois, Kentucky, Tennessee, Alabama, and into Georgia, we finally arrived at the Brunswick Landing Marina late that same night. As she promised, AMARSE had been a very good girl and seemed glad to see us. It was great to be "home" and we sought some much needed rest in her comfortable bed.
11/14/10 SUNDAY BRUNSWICK, GA
Since we had made so many improvements to our San Antonio house, it was only fair that our beloved AMARSE benefit from some attention and upgrades. I had bought some major upgrades to the electronic navigation systems. In the upper electronics panel, I installed a new Garmin 3206 to replace the older 210 model. To accommodate the larger format, I had to construct a completely new, right side panel. The VHF radio was relocated and some internal supports need to be altered. Along with extensive rewiring, I installed an electronics master switch, power indicator, and a pair of LED light strip to facilitate night operations.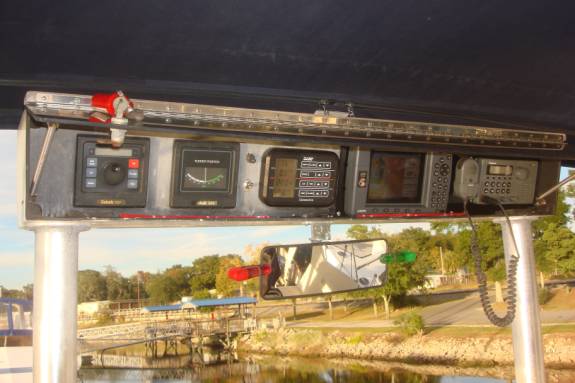 Within easy visual position and control access, I installed a new Garmin 4208 unit, attached to a custom made pedestal pole mount. The new mapping capabilities are awesomely displayed on the wide screen presentation. Using the proprietary networking interface, the two new units are partially linked together through a single antenna/receiver unit.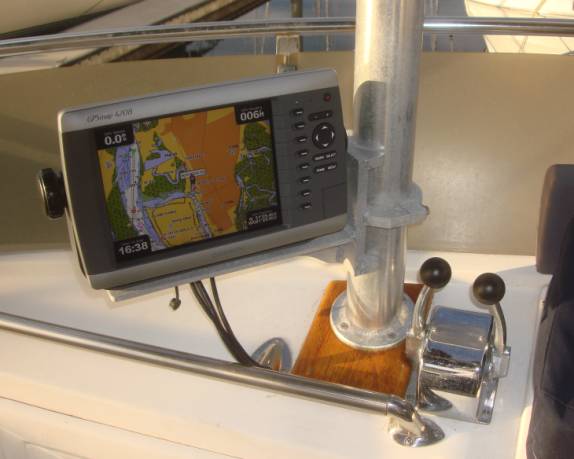 Lots of boats have already departed for the warmer weather destinations.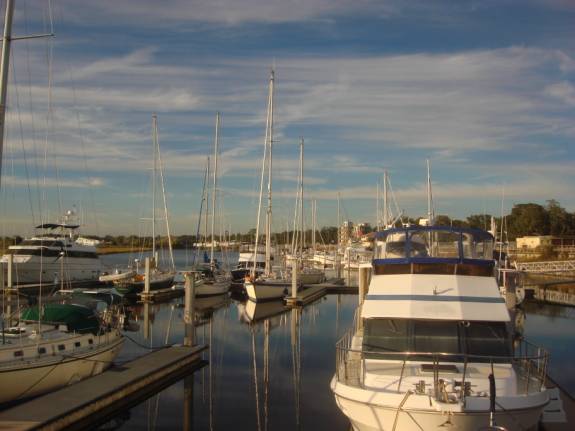 A hinged lid covers and protects the instrument cluster while docked. Note the different red and green key fobs that we can swap to match the color identification colors of the waterway navigation markers. Redundantly, the matching spring clips on the mirror provide a backup confirmation.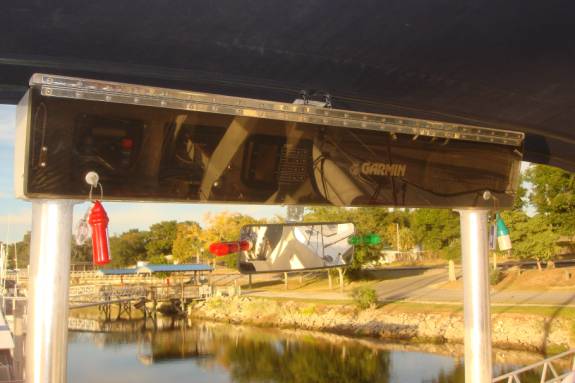 Sunset across the Golden Isles marshlands as seen from the Brunswick Landing Marina…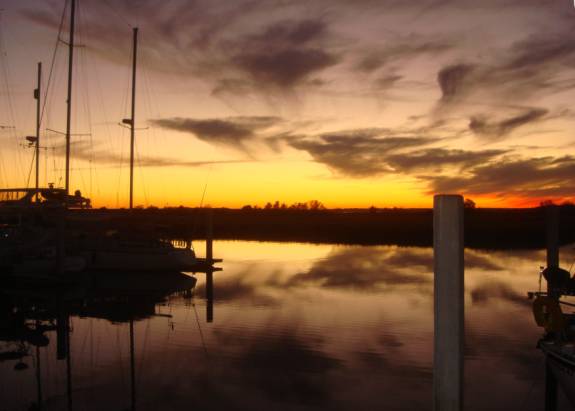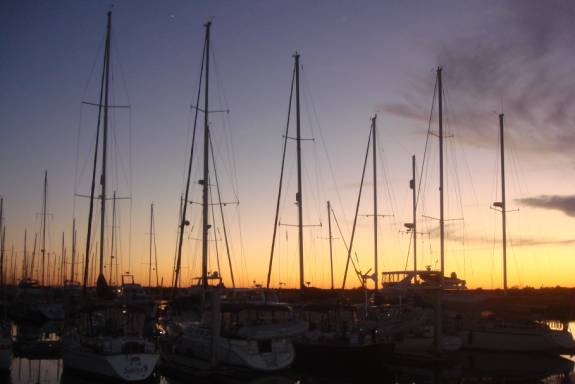 11/16/10 TUESDAY BRUNSWICK, GA
HAPPY BIRTHDAY TO ME…
11/17/10 WEDNESDAY BRUNSWICK, GA
As part of our preparation to head south, I arranged for the services of Joe Tinsman to clean and polish our diesel fuel supply. He always does such an excellent job and I appreciate his professional, caring attitude and friendly personality. We also hired the diver to scrape the running gear and make sure the thru-hulls were clear. The hull surfaces were still in good shape since our extensive recoating in the Bahamas.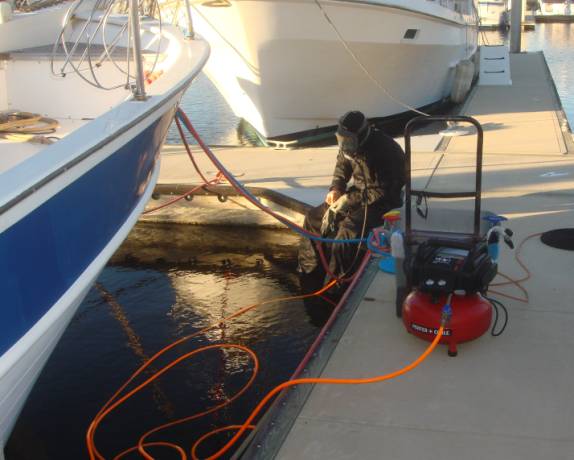 The weather was very pleasant and tranquil…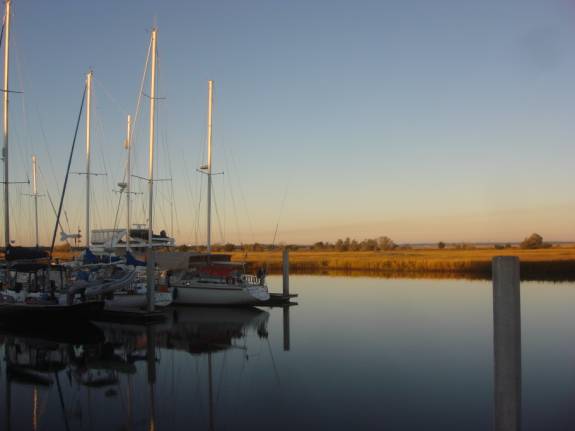 11/18/10 THURSDAY BRUNSWICK, GA
With our time to leave Georgia rapidly approaching, we took some time to relax and enjoy the comfortable salon aboard AMARSE.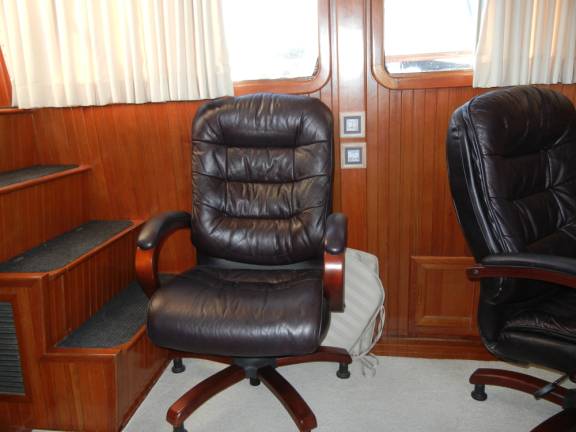 11/21/10 SUNDAY INDIAN HARBOR BEACH, FL
Many times in these updates, you have read about our wonderful friends, Dave and Barb (CHABLIS). We were invited to come and stay at their new Florida home in Indian Harbor Beach. In our guestroom, we admired this wonderful painting of adult Pelicans.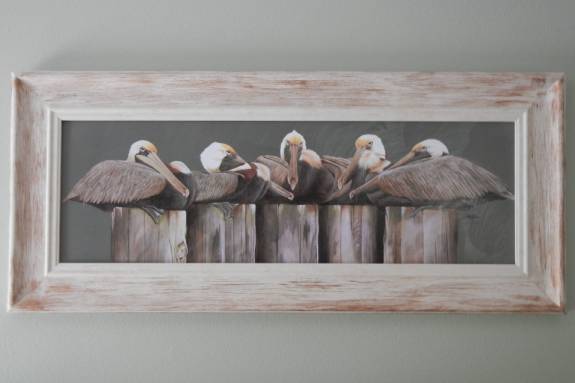 The wonderful lanai looks out over their patio to a channel of the Indian River gently flowing along the back of their home.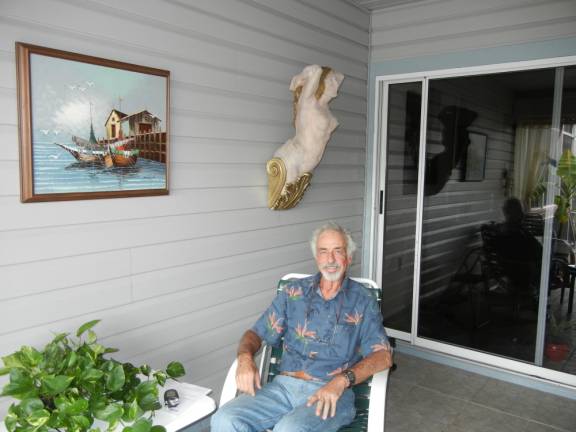 For a lunch treat, we went to Duffy's Sports Grill. The Florida chain is one of our favorite eating places in Stuart.
I think Dave and Barb enjoyed the Coconut Crusted Dolphin Fingers and Sweet Potato Fries…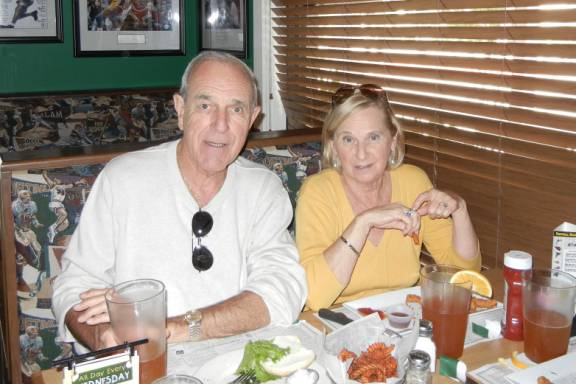 We always enjoy some of our best times when we're with Dave and Barb.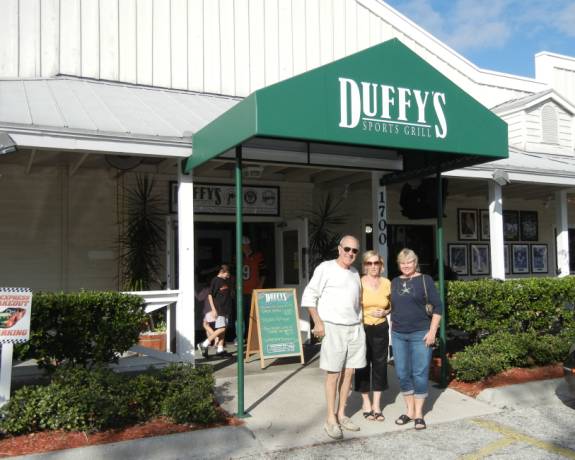 Our afternoon included a trip up to Jetty Park, located on south side of the Port Canaveral Ship Channel.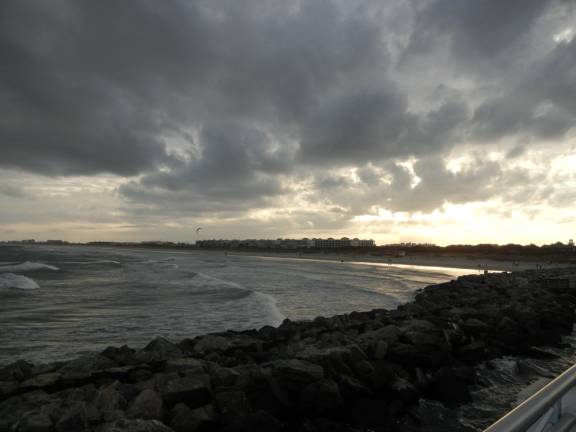 Frequently, kite-surfers frolic in the waves close to shore…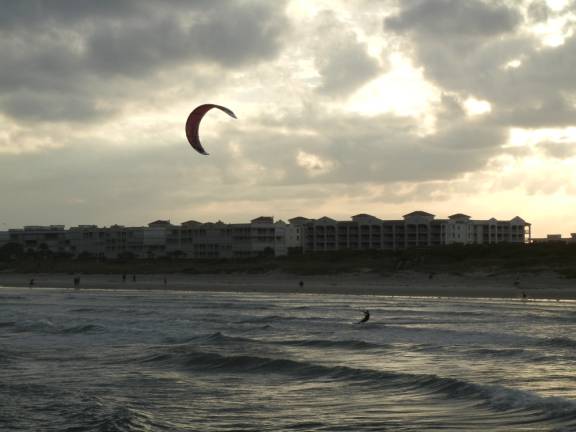 A steady procession of cruise ships were departing from the port facilities and headed toward the Atlantic Ocean Gulfstream. FREEDOM OF THE SEAS of the Royal Caribbean fleet shimmered in the setting sun.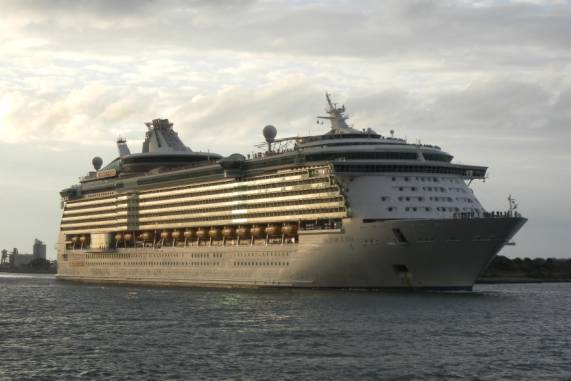 In like fashion, CARNIVAL SENSATION was making way toward the ocean waters.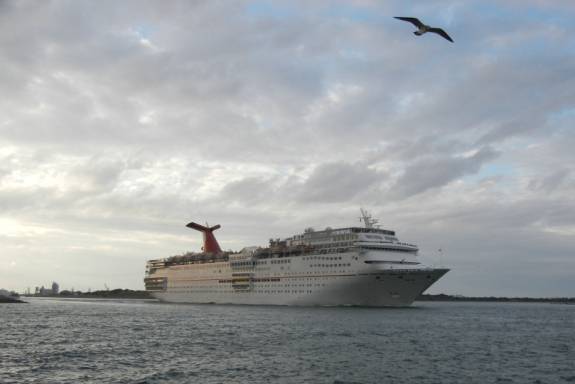 Various species of shorebirds swooped about in search of some tender morsels of aquatic creatures.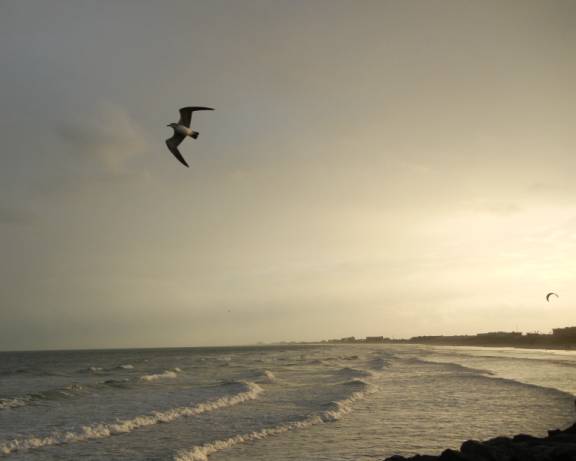 Light, misty showers generated brilliant rainbows across the ocean horizon.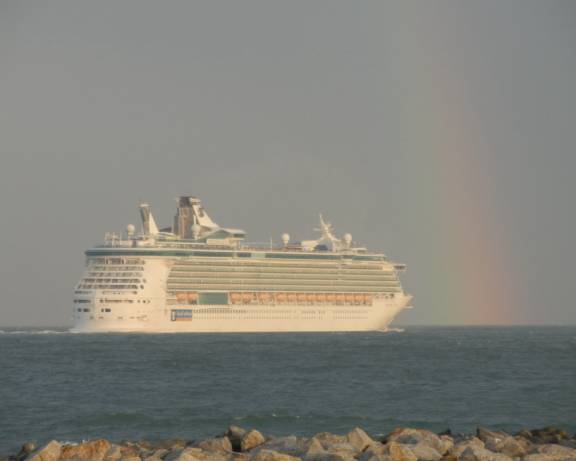 Look carefully beyond the Jetty Park pier. Can you see the double rainbow?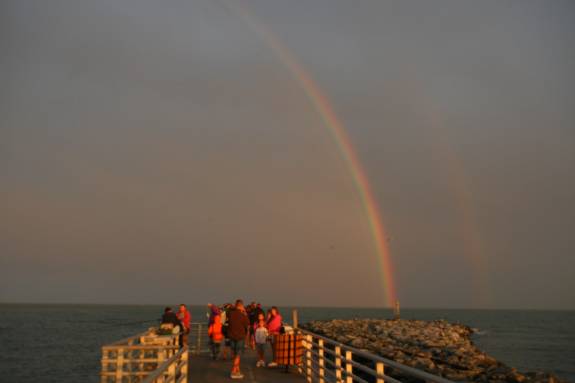 The DISNEY WONDER churned seaward in the late afternoon.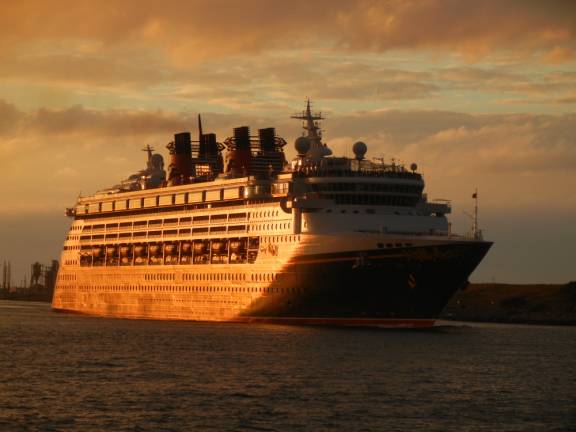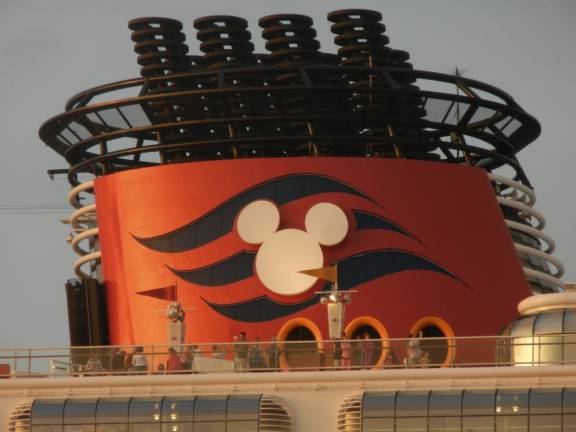 Our impetus for our afternoon visit was to witness an impressive rocket launch from Cape Canaveral Air Force Station. The United Launch Alliance (ULA) Delta 4-Heavy rocket was staged to hurl a classified spy satellite cargo for the U.S. National Reconnaissance Office. The largest of the Delta 4 family, the Heavy version features three Common Booster Cores mounted together to form a triple-body rocket. Launch time is scheduled for 5:58pm.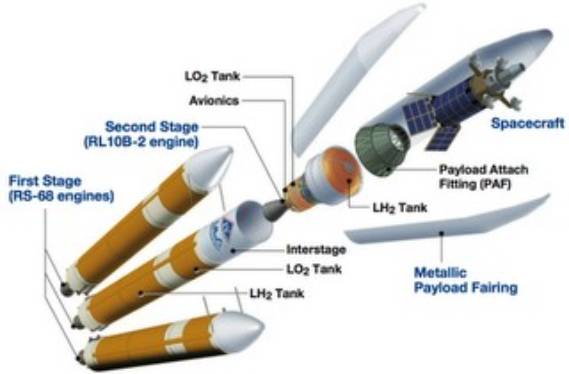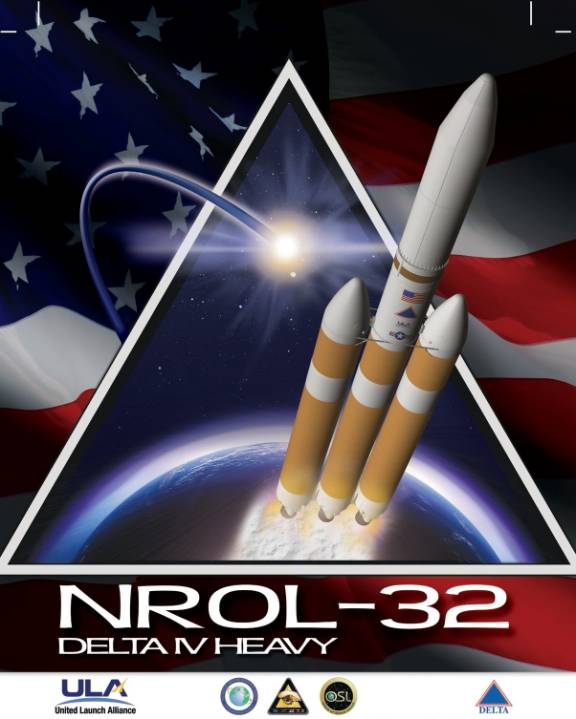 From our vantage point on the Jetty Park pier in Cocoa Beach, FL, we could see the immensely powerful rockets ignite and light up the evening sky. All was silent for a while, then came the thunderously shaking roar of the delayed sound waves. It was an awesome display of raw power hurling the secret technology away from the bounds of earth's gravity. Due to the low cloud cover, we lost visual contact all too soon as the rocket penetrated the overcast layer.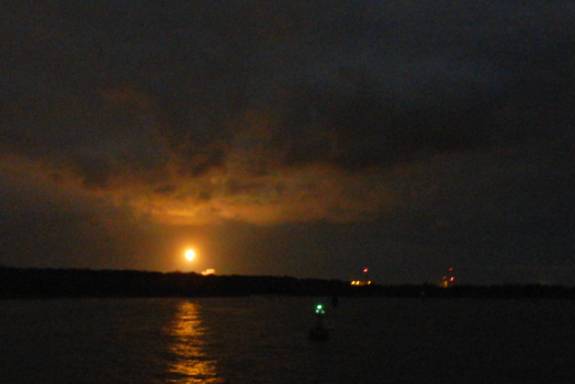 The clouds obscured all but the rocket glow and we were denied the watching of the rocket separations. This was Dave and Barb's first close-up chance to see a launch. Being less spectacular than some other launches, I think they may have been somewhat disappointing.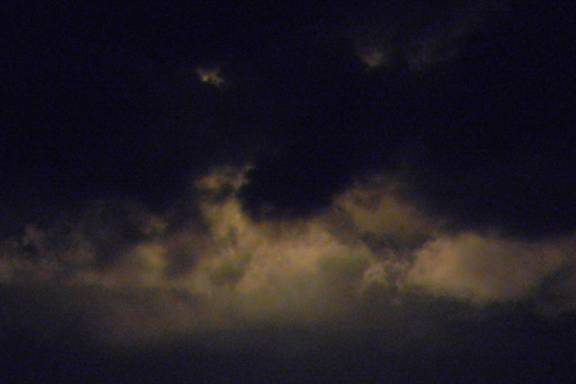 When we returned to Dave and Barb's home, there was certainly nothing disappointing about dinner.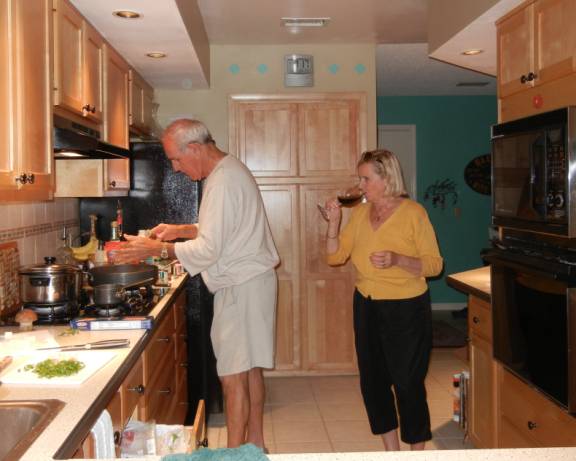 Being one of the most skillful masters of Italian cookery, Dave created another magnificent meal.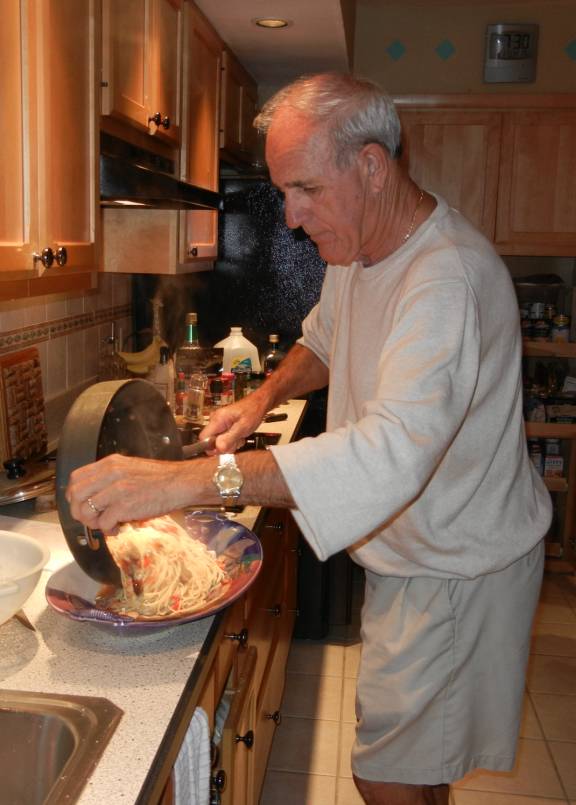 11/22/10 MONDAY INDIAN HARBOR BEACH, FL / STUART, FL
The northerly view from their dock in the early morning emanates a gentle sense of tranquility.
The southerly view sights both the drawbridge and the high bridge behind. Through this channel, boats can pass Dragon Point and join the ICW in the Indian River.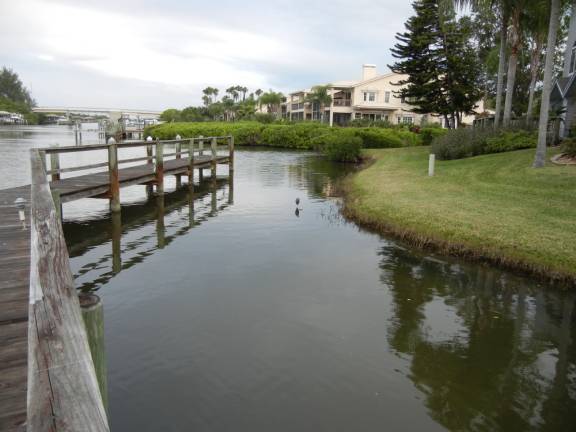 Numerous paddlers, rowers, and sculling enthusiasts streak past through the smooth, calm waters.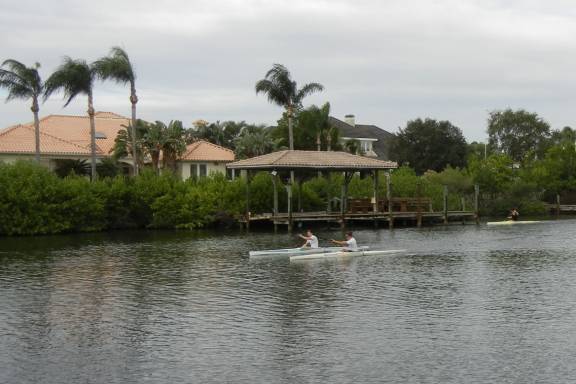 Judy and I went to Stuart for my eye doctor appointment. Following that, Ivor and Susan (LAZY SUSAN) joined us at Duffy's Sports Grill.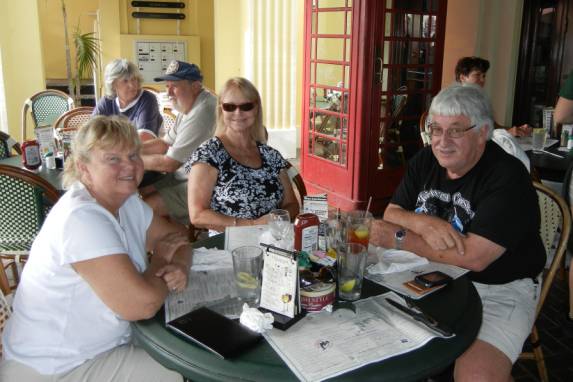 We returned to Barb and Dave's for another restful evening.
11/24/10 WEDNESDAY HEADING ON SOUTH IN FLORIDA
To recap our voyage as we were heading south, this bird liked the looks of AMARSE and decided to join us for part of the journey.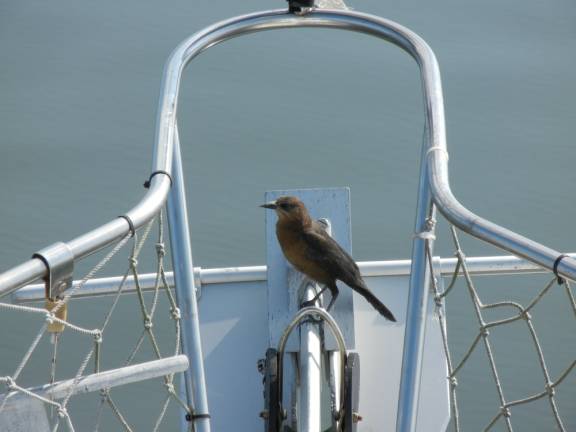 At times, mornings can be mildly cool. A sunny spot and a light wrap helps stave off the chill for Judy.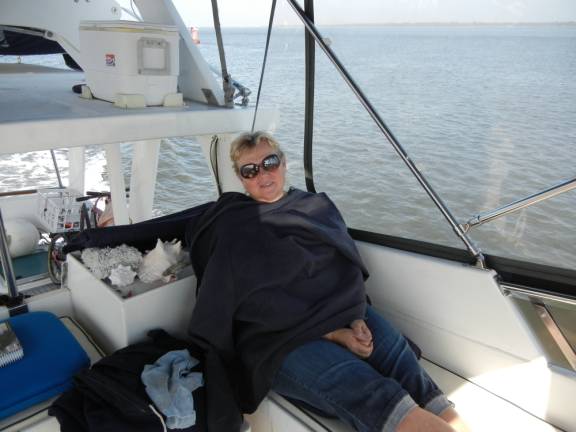 The waterways were visual elegance.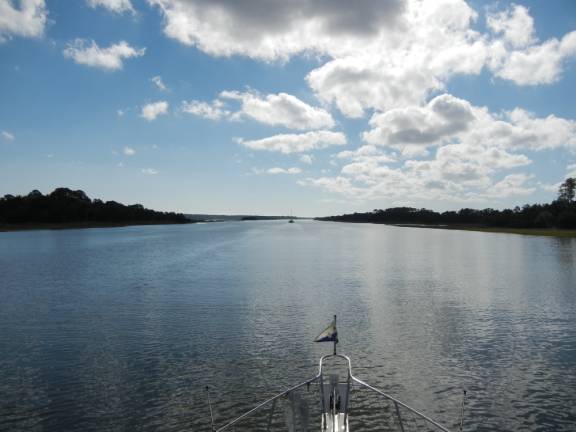 We had passed the degaussing station at Kings Bay.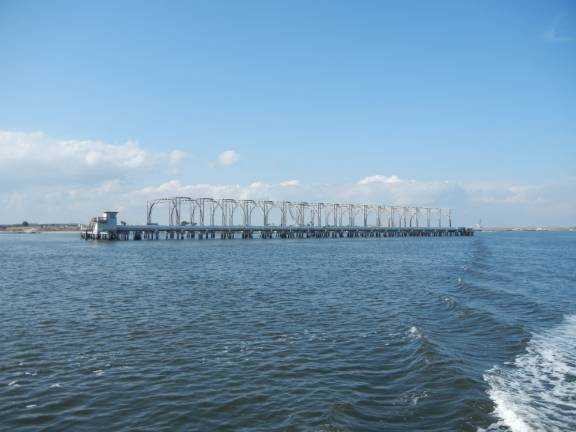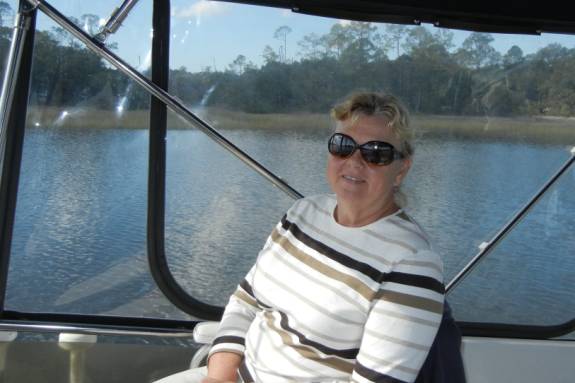 11/25/10 THURSDAY HEADING SOUTH IN FLORIDA
HAPPY THANKSGIVING DAY
There is not much question in our minds that we have everything to be thankful for. We are thankful for our families, our freedom, our health, our lifestyle, and, perhaps most important, we are extremely thankful for each other's love.
Fort Matanzas National Monument consists of the 1740 Spanish fort and about 100 acres of salt marsh and barrier islands along the Matanzas River.
In 1742, the British under Oglethorpe approached the inlet with 12 ships. Cannon fire drove off the scouting boats and the warships left without engaging the Fort. This was the only time Fort Matanzas fired on an enemy. Spain lost control of Florida with the Treaty of Paris, 1763, and regained control with the Treaty of Paris, 1783. With the Spanish Empire deteriorating, Spain expended little effort maintaining the fort. When the United States took control of Florida in 1819, the Fort had significantly deteriorated. The United States never used the fort and it fell into ruin.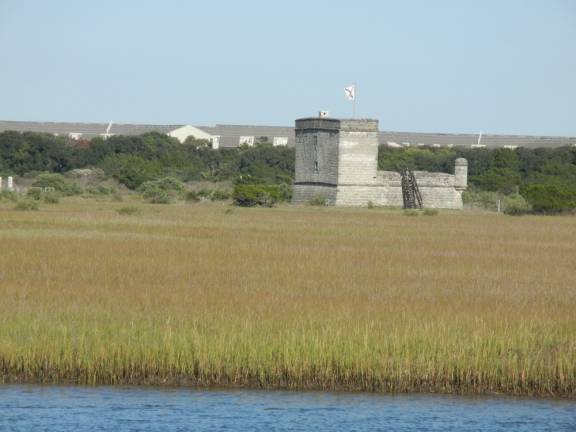 Through a generous offer from RMHYC members, Jim and Lynette (PEACE), we were allowed to tie to their friend's dock in Palm Coast, FL. The area is so beautiful and peaceful. Our sincere thanks for the wonderful hospitality extended by their neighbors.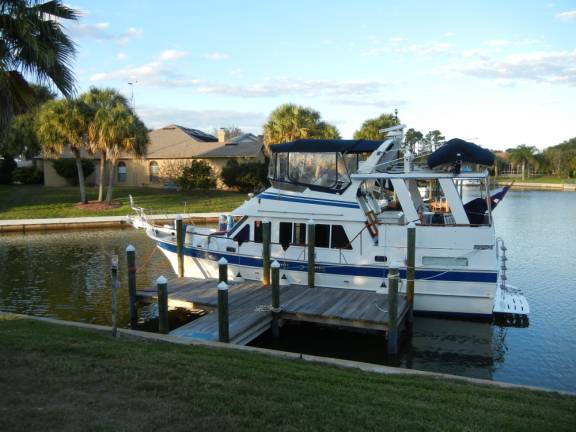 Our Thanksgiving dinner aboard AMARSE was a tribute to our thankfulness. Even our finest paper plates and flickering faux candles reminded us that real thankfulness extends far beyond the material elegance that some may derive from fine bone china. Our gratitude, appreciation, and thankfulness welled from deep within our souls.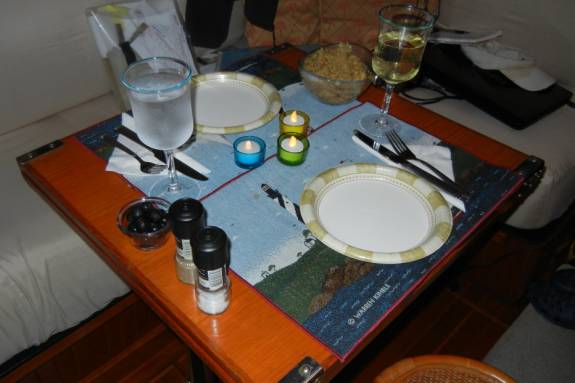 The dinner menu maintained the established traditions of this holiday. Sliced, deep fried turkey breast shared our plates with buttery mashed potatoes and stuffing. The meal was terrific.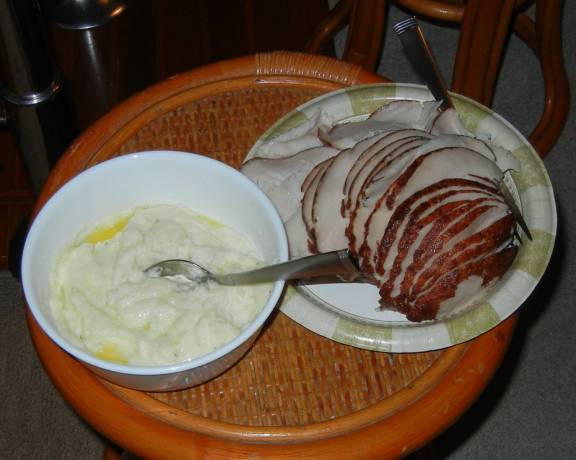 For all of your love and friendships, I am extremely thankful…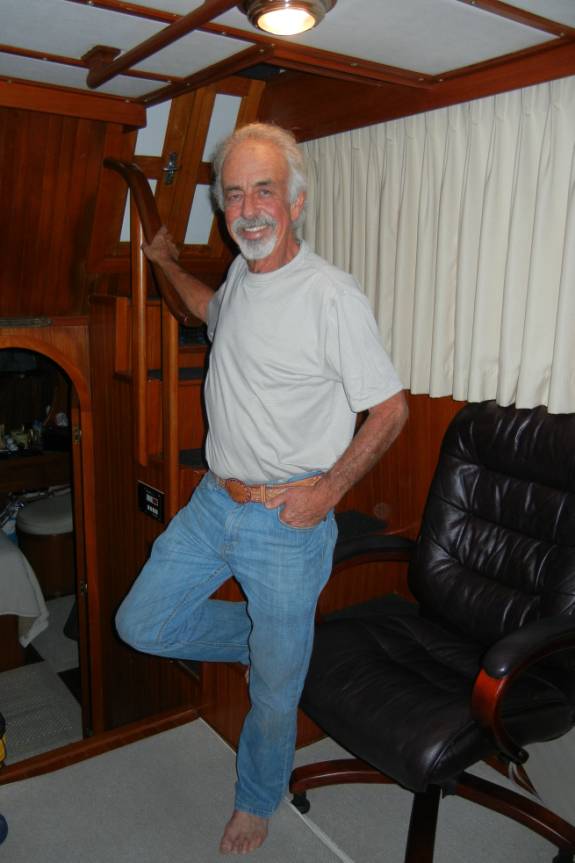 11/26/10 FRIDAY HEADING SOUTH DAYTONA BEACH, FL
The Halifax River Yacht Club hosted us for our evening in Daytona. The HYRC was founded in 1896 with 31 original members. Back then, the town was less than 20 years old and the area was still considered alligator territory. The newly-built clubhouse and renovated docks have risen up on this same site of origin established over a century ago. HRYC is the only yacht club on the eastern seacoast qualified to claim this distinction. The club and organization is unique in having been in continuous operation since its inception. Once again, we appreciated their classic hospitality and delightful location. If they could have accommodated us, we probably would have stayed longer.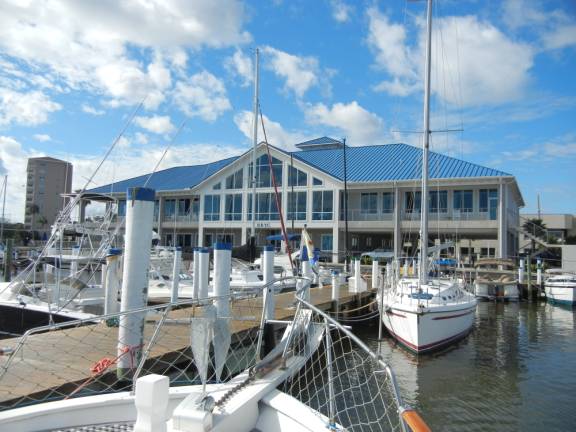 Unfortunately, there were no performances scheduled for tonight at the News-Journal Center theatre that is operated by the Daytona State College.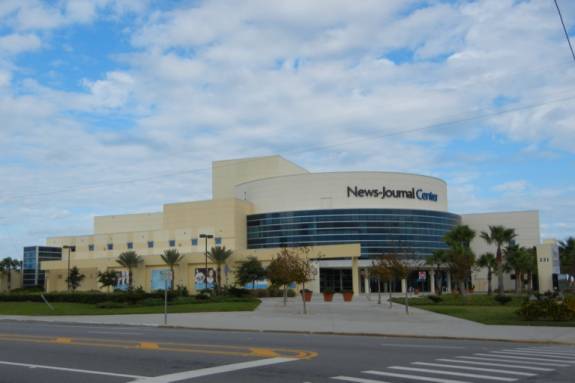 Judy's brother, Dean, drives a Toyota RAV4 similar to this one. We suggested that he add the cute little eyelash accents to his headlights too. On second thought, it might not adequately represent his masculinity.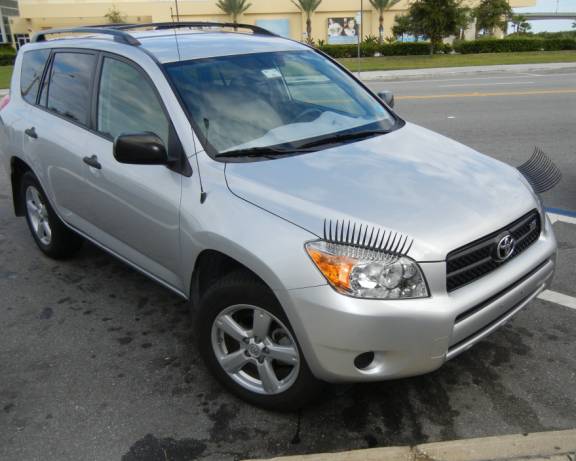 11/27/10 SATURDAY COCOA, FL
The city of Cocoa Beach was hosting their Christmas waterfront boat parade tonight. AMARSE found an excellent place at the city dock from which to enjoy the colorful procession. Led by the local sightseeing paddle wheeler, numerous boats followed in full display mode.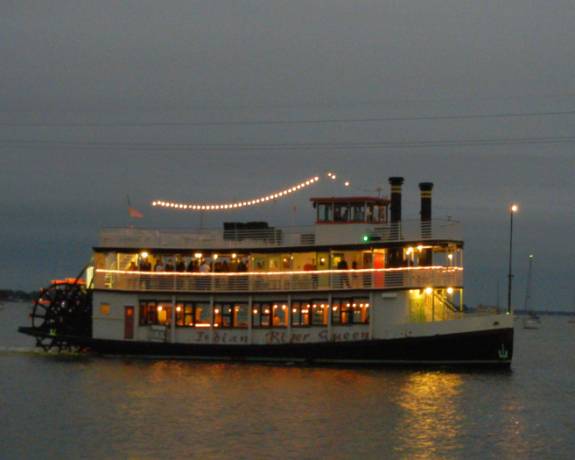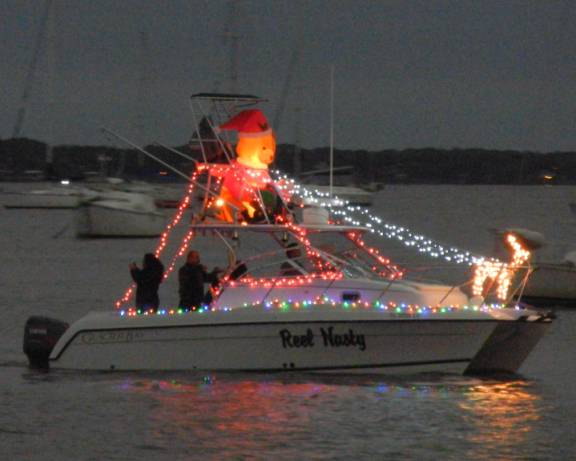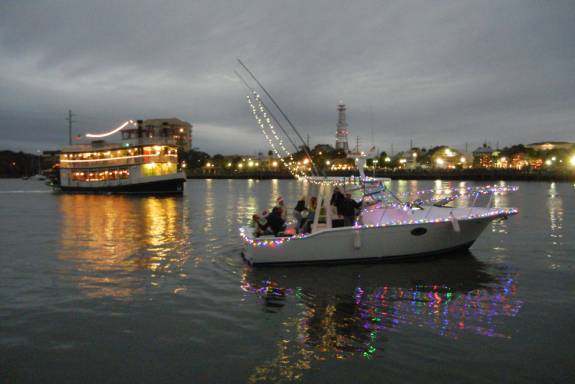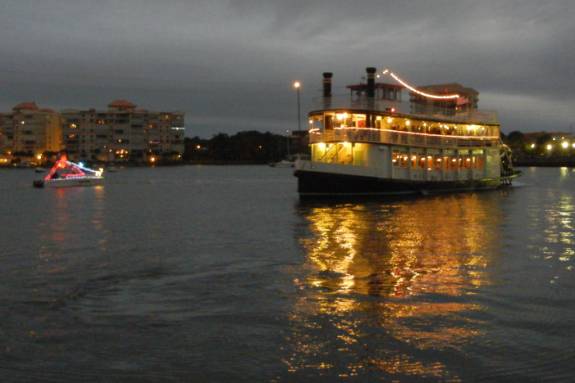 Merry Christmas, Rudolph…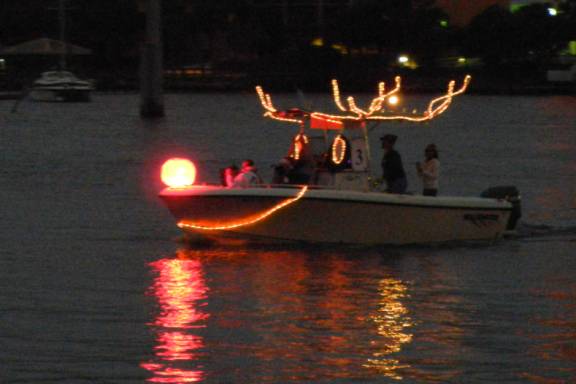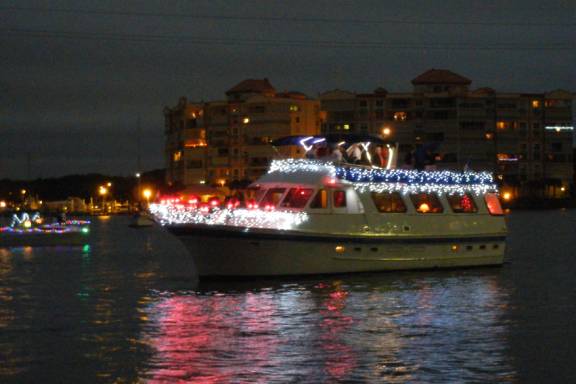 Cocoa Beach is heart of the Space Coast. What could be more festive than a lighted Space Shuttle being pulled by a lone reindeer.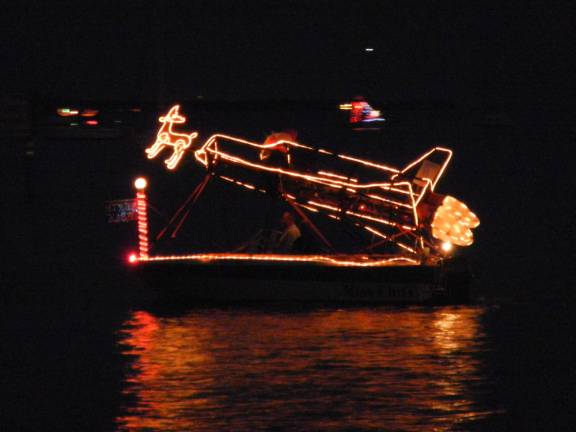 All along the waterfront city park, the bands and festivities brightened everyone's holiday spirits.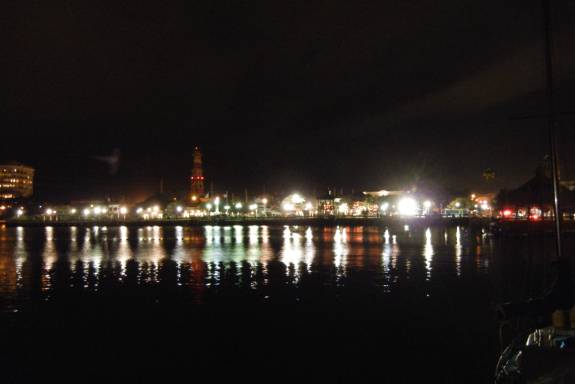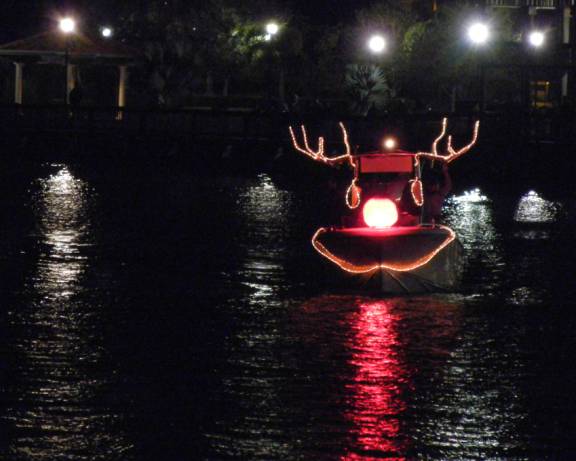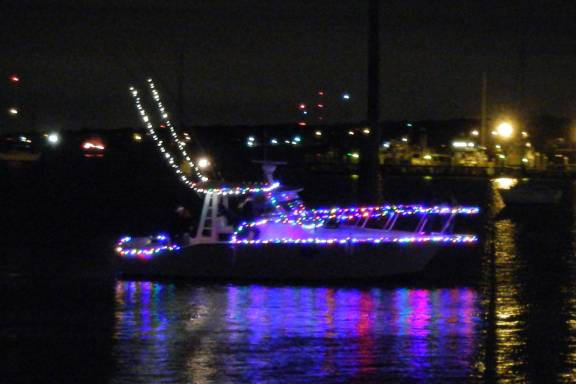 11/28/10 SUNDAY HEADING SOUTH IN FLORIDA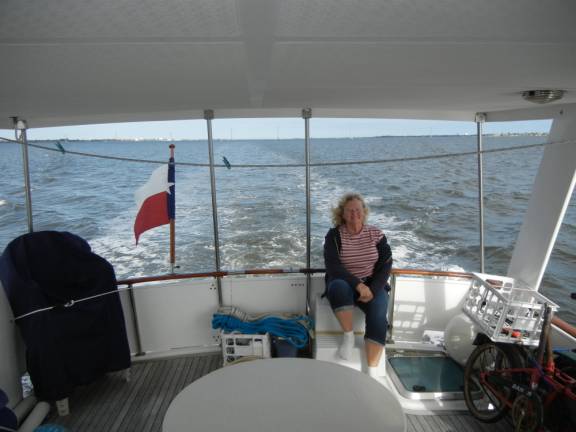 A family pod of dolphin splashed in our wake. During our cruising voyages, we have had the pleasure of these aquatic mammals at our side many times. We never cease to be totally amazed by their friendly nature and marvelous, seemingly effortless agility.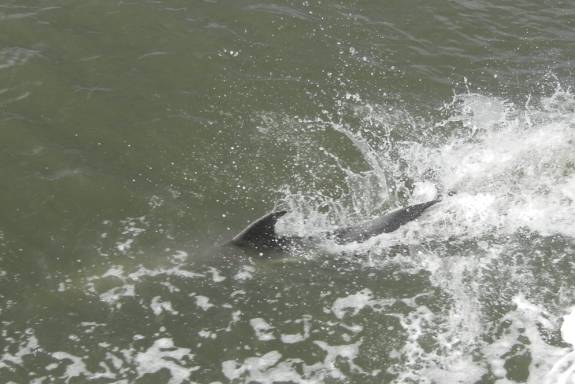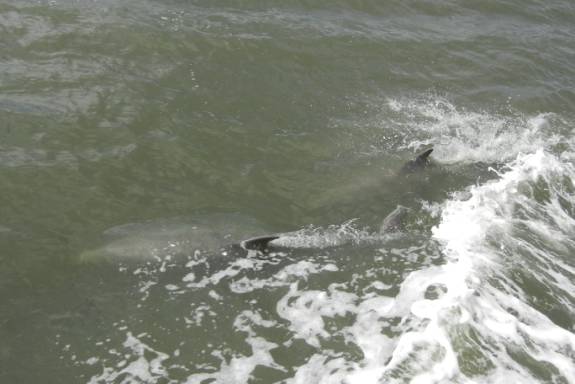 Threatening weather was in the forecast for the Florida coast. With windy conditions in our future, we elected to bypass the mooring balls at Vero Beach. We would feel more comfortable in a more protected environment without the additional hazards created by multiple boat rafting situations. My time/speed/distance calculations pointed toward a twilight arrival in Stuart. Our original plan was to return to Sunset Bay Marina, however, they reported that they were full up. A call to Harborage Yacht Club/Loggerhead Marina put us in touch with their Asst. Dockmaster, Al. He was most courteous and helpful in arranging a slip for AMARSE. Just as the sun edged below the horizon, AMARSE was backing into the eastern section, fixed-dock.
11/29/10 MONDAY STUART, FL
As morning awakened us, we were impressed by the tranquil beauty of our location. Our love affair with Loggerhead Marina was just beginning.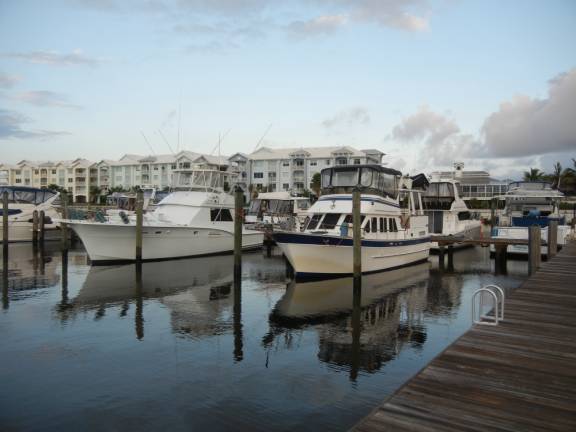 The Loggerhead Marina group has assumed ownership and operations of the Harborage YC boating facility. Our slip was conveniently positioned for easy access to the complex's amenities. Although these fixed docks are a bit more expensive, I think that for us, the difference will be worth it. Over on the western side, the floating docks are more distant and they seem to be subjected to more wake conditions from vessels passing in the channel, as well as being more open to the wind.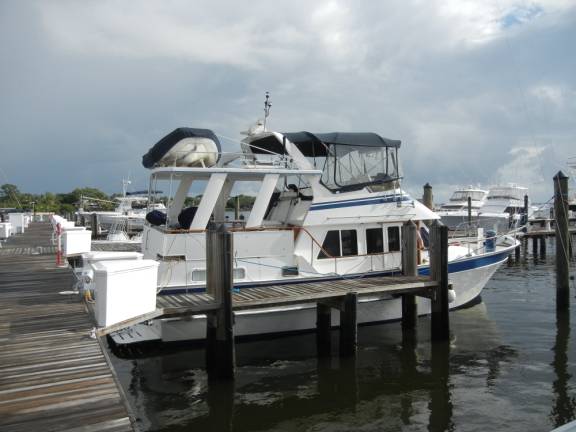 Harborage Yacht Club Condos and the Loggerhead Marina's eastern section fixed-docks.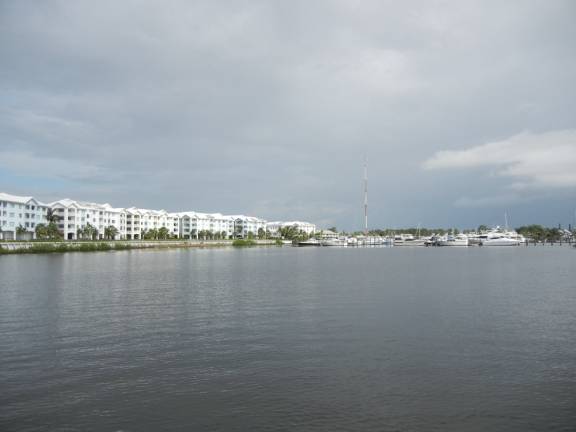 The dock walkways are protected by magnetically locked gates.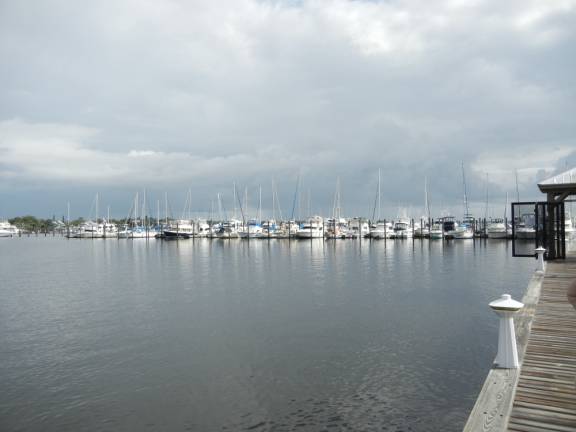 Loggerhead Marina is a bit further from the downtown Stuart area. With a little walking, it is still easily accessible. Our folding, Dahon bicycles will make the trips even more convenient.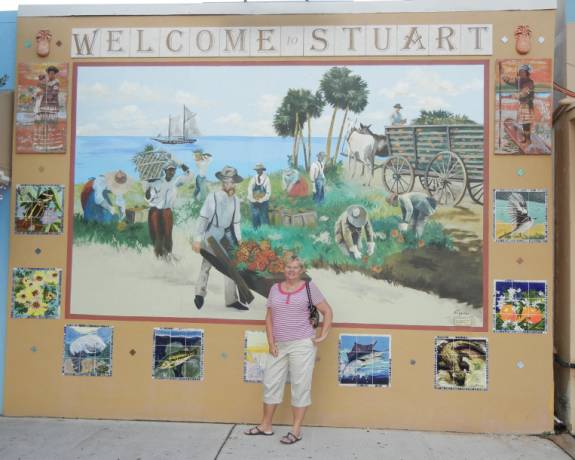 As we returned toward Loggerhead, the view from the Roosevelt drawbridge confirmed the crowded capacity conditions at Sunset Bay Marina.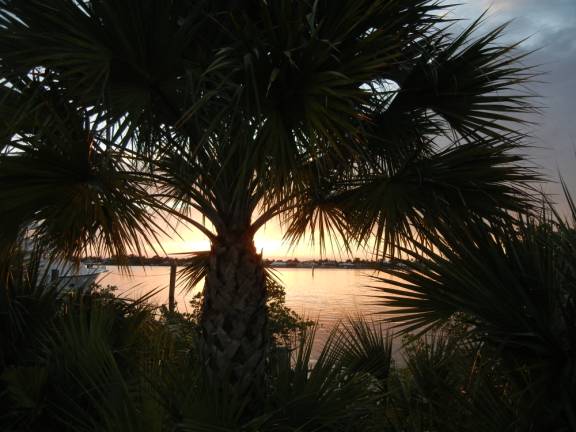 Luxury condos line the shores at the Harborage YC/Loggerhead complex. Attractive fountains and manicured landscaping add some pleasing touches to the ambiance.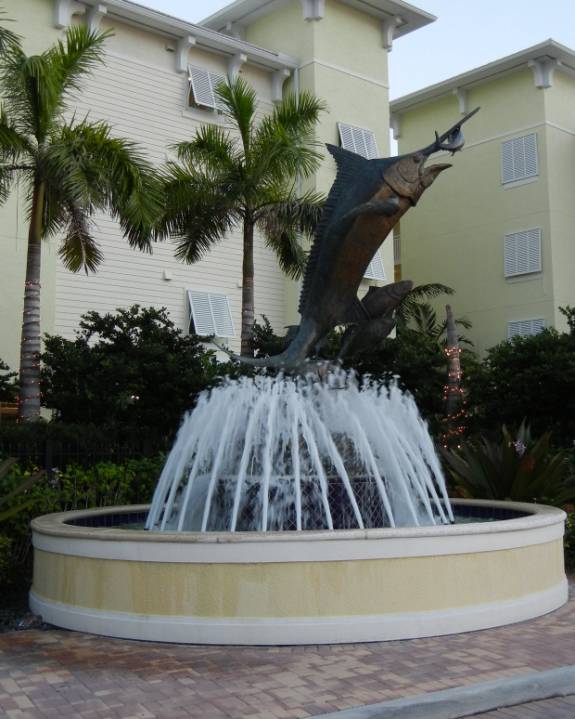 View of the eastern section from the walkway of the western entranceway…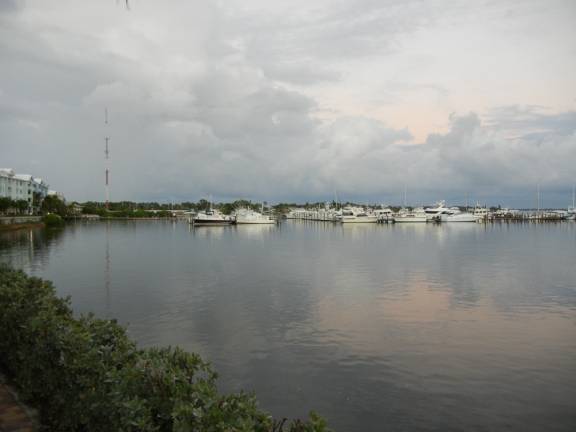 View of the western section of floating docks… Initially, I had thought that a floating dock might be more comfortable. Subsequently, friends have reported that these docks react adversely to the passing boat wakes, actually making conditions more susceptible to rolling motions.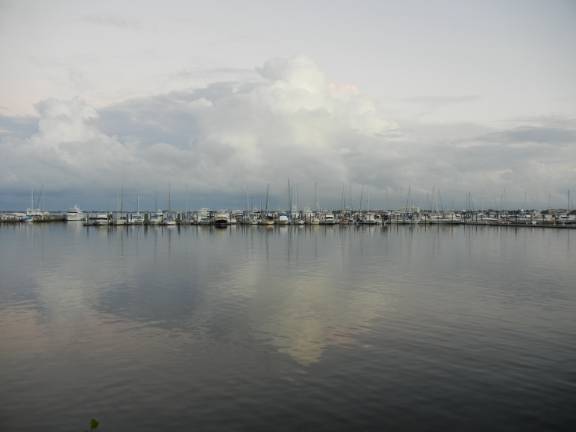 A pleasant walkway follows the shoreline and provides a convenient, yet distant, access to the western section. The US-1 high-bridge crosses the Okeechobee River leading to downtown Stuart.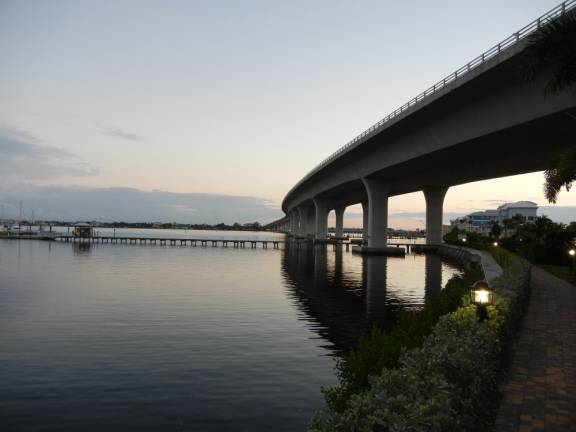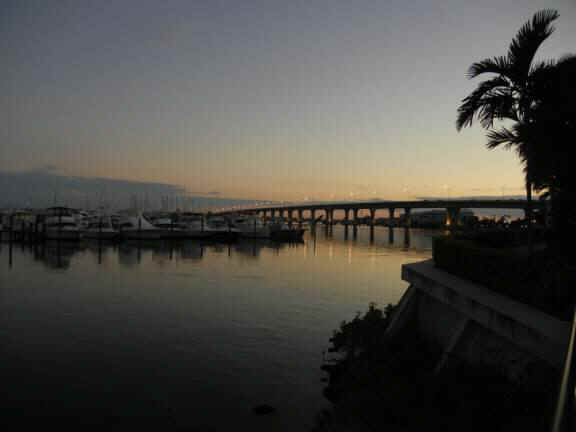 11/30/10 TUESDAY STUART, FL
Just up the eastern section ramp, Wahoo's Bar/Grill, the Spash pool bar, workout facilities, boaters lounge, heated pool, laundry, and various other amenities can be found. Having been here only a couple of days, we are still learning our way around and hoping to meet new friends. Being right in the middle of the holiday season, it appears that many of the boaters have taken temporary leave to celebrate their family activities away from their boats.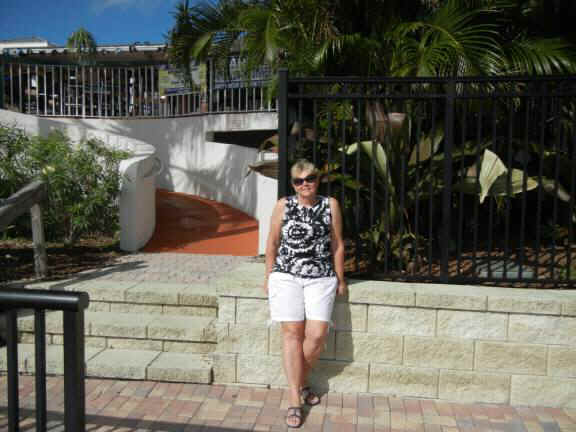 With numerous medical appointments scheduled, our length of stay here is yet to be determined. I invite you to return soon to the AMARSE website and to learn more of our continuing adventures. Happy Holidays…
CONTINUING UPDATES ARE IN PROGRESS…
WATCH FOR THEM, COMING SOON…
POST SCRIPT:
We sincerely hope that you will review the previous years of compilations to give context to the current editions. Please let us know if you have any special suggestions and thoughts.
REMEMBER: The website is now fully active and you can visit it at any time. You can also review any of the previous logs from the years 2006, 2007, 2008, and 2009 to learn more about the crew and their many adventures. Enjoy.
ATTENTION: SPECIAL NOTE:
You may contact us via email anytime.
Thanks for allowing us to share our life and adventures with you.
Lotsa Luv,
Fred Reed and Judy Law
AMARSE
MT40
"AMARSE" is pronounced "AM-ARE-SAY".
Our website is: www.amarse.net .
You can scroll up on this page and then select the NEXT button on the left side of your screen to advance to the next update. Enjoy!!!
CONTINUING UPDATES ARE IN PROGRESS…
WATCH FOR THEM, COMING SOON…