UPDATE#20 06/01 TO 06/31/2010
Howdy Everybody,
The adventures of 2006, 2007, 2008, 2009, and thru 05/31/2010 have been published on the website. We continue with the latest edition.
UPDATE 2010 #20 06/01/2010 to 06/31/2010
At last update, we were staying at the home of Ivor and Susan (LAZY SUSAN) in Palm City. They have been helping me get ready for surgery. Welcome back to our continuing adventure…
06/01/10 TUESDAY PALM CITY/STUART, FL
After an extensive battery of other medical and optical examinations over the last couple of months, the day had finally arrived for my eye surgery. Dr. Ronald Frenkel, and his surgical team, assembled at the Surgery Center of Stuart to perform the cataract surgical procedure. The physician will remove the clouded natural lens and replace it with an artificial lens. At the same time, I paid extra for him to correct a slight astigmatism condition and that should further improve my vision prospects.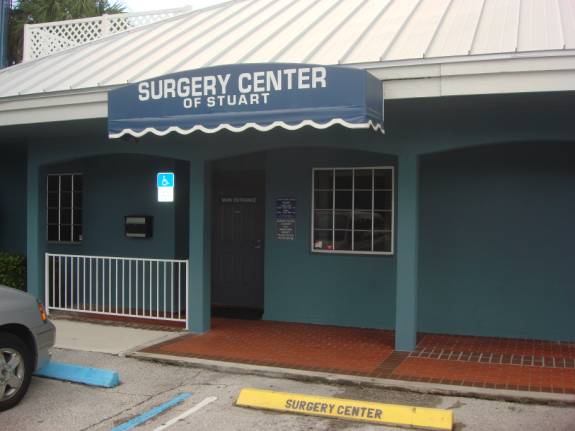 Several hours after the surgery was performed in an outpatient status and, after being fitted with special sunglasses that I call, "my blast shields", I was released to Judy's care. Of course, I won't be able to drive for a while.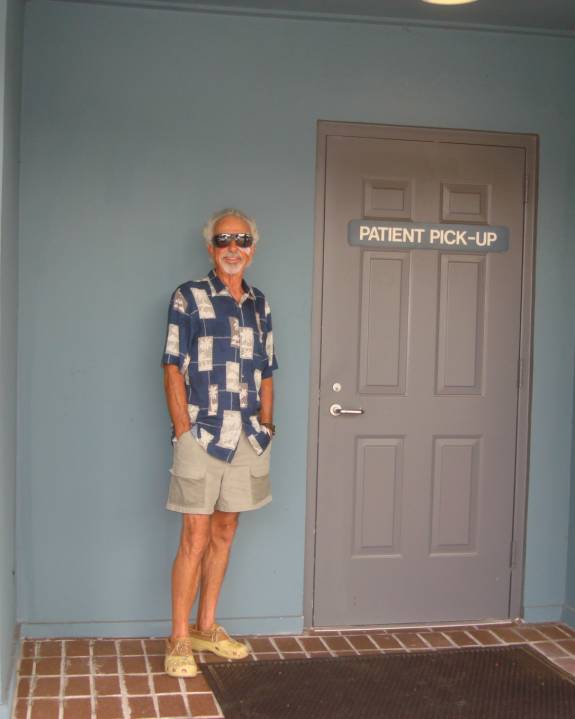 Ivor and Susan were getting their motorhome ready for a trip to Colorado.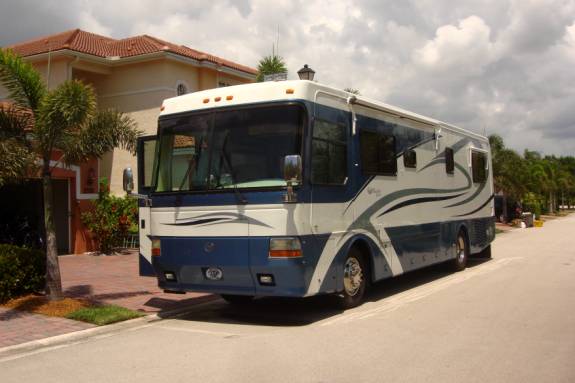 As a cruise specialist in the travel business, he has a huge sign promoting the Royal Caribbean cruise line.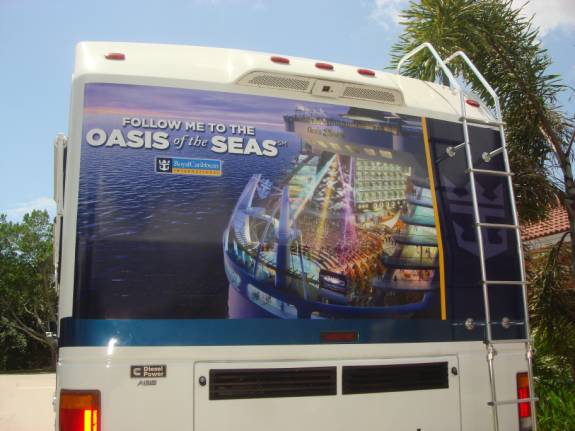 My special and sincere thanks to Ivor and Susan for helping me make it through the logistics of this surgery. Without a doubt, Judy's help has also been immeasurable and totally appreciated. Especially when you're having some problems, it is so reassuring and comforting to know that you have people that are willing to care for you and help you get through it all.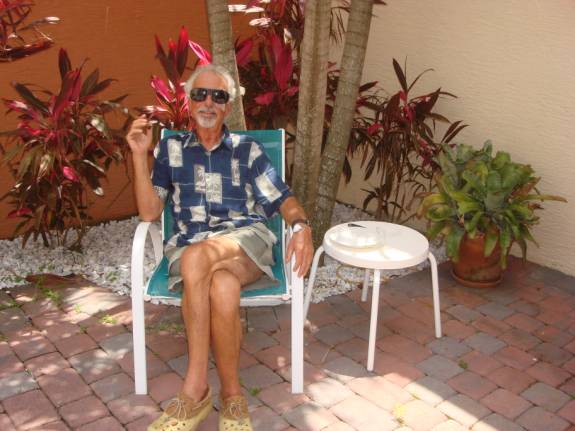 06/02/2010 WEDNESDAY STUART to NAPLES, FL
Another great friend, Scott (MOLLY BROWN), invited us to stay a few days of my recovery time with him in Naples, FL. Scott and I worked together for well over two decades. We retired on the same day from that company. Although I love my retirement circumstances, Scott is still strangely infatuated with the working life. It may be because he's the best in the business.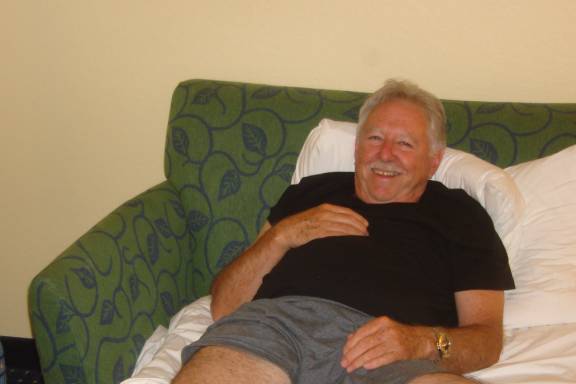 06/03/2010 THURSDAY NAPLES, FL
GEMBA is a beautiful Chris Craft Constellation 501. This model has been a dream choice for him for many years. Coming across this one, he fell in love right away.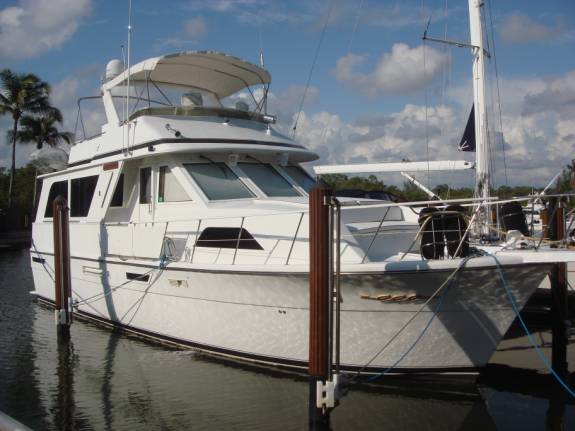 GEMBA was quick-hauled in Naples for a survey to assess areas needing attention.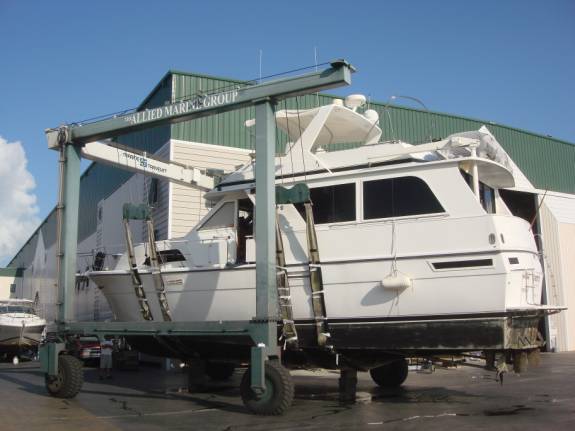 06/04/2010 FRIDAY NAPLES, FL to BRUNSWICK, GA
We left Naples about 9am for the long drive to Brunswick. I still have not recovered sufficient vision to permit safe driving and I am restricted for any exertion. With the continuing regimen of prescription eye medications, etc., it makes me very happy that Judy is doing all the driving and navigating. I just sat there, resting and sleeping most of the trip.
06/05/2010 SATURDAY BRUNSWICK, GA
My vision is improving a little more each day. The eye drop therapy continues with applications every two hours. There are three different kinds of drops to put in. I spend most of the time resting my eyes to recuperate.
Again, we were invited aboard CHABLIS. Robert (SEA ISLAND GIRL) smiles brightly with the loving hug and friendship kiss from Barb (CHABLIS).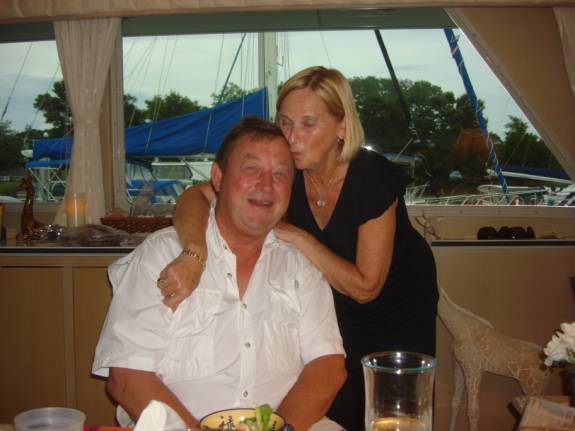 06/07/2010 MONDAY BRUNSWICK, GA
We met a wonderful couple, Tom and Jan (NAVIGATOR). They were passing through Brunswick on their way to Hilton Head Island. They had introduced themselves to us and told us that they felt as if they knew us already because they have been following our adventures on this website. We shared a nice evening together and enjoyed their company very much. As they got ready to head out today, we wished them Bon Voyage and Smooth Sailing.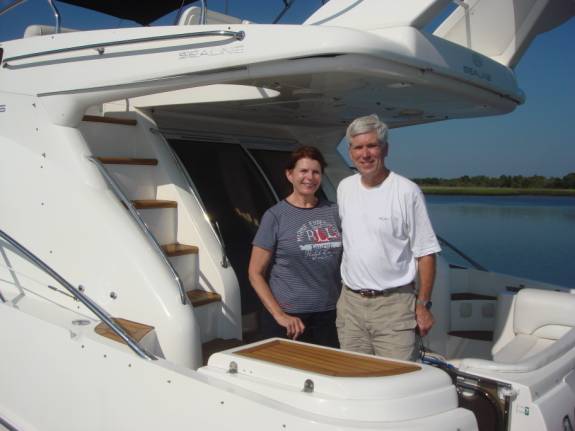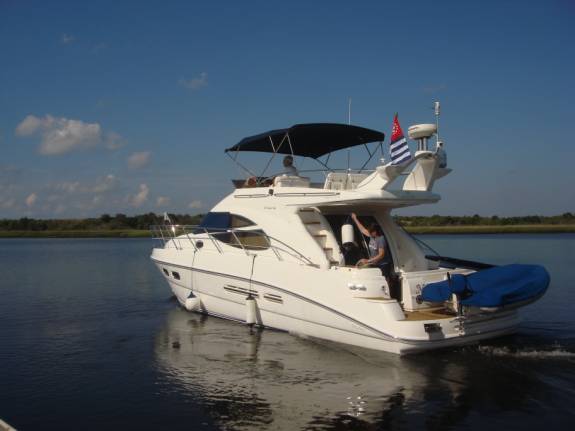 Barb and Dave (CHABLIS) joined us for dinner aboard AMARSE. The menu started with Mexican shrimp cocktails, then an entrée of Seared Tuna, seasoned rice, and steamed Asian vegetables. For dessert, we had fresh, sliced Georgia peaches, with Blue Bell Vanilla ice cream. (Blue Bell is a Texas company, so you know that stuff is super good).
06/08/2010 TUESDAY BRUNSWICK, GA
I still am under doctor's orders to restrict from exertion. While I was resting, Judy worked on the side door varnishing work. She is the obvious master of the brightwork.
Scott called and cheerfully informed us that he is now the proud owner of GEMBA. I guess that means that MOLLY BROWN will be looking for a new owner. If any of you might be interested in finding an extremely nice 34' Sedan Cruiser, the MOLLY BROWN would be a good one to look into. She is in real good condition and quite comfortable with nice appointments.
06/09/2010 WEDNESDAY BRUNSWICK, GA
If you ever need any upholstery work done in Brunswick, I highly recommend "Friendly Upholstery". We have had work done there before and have been totally satisfied with their workmanship. When we went there today, we sadly learned that the former owner and his wife had both passed away during the year. Rose, and another woman from Atlanta, now operate the business. I want you to know that my recommendation extends to them too. Rose has been there for quite a while now and we were pleased to see her still there. She is an excellent upholsterer and seamstress. They agreed to come to AMARSE to assess our needs and help us formulate a solution. True to their word, they arrived by early afternoon. In addition to their cooperative suggestions, we will discuss and incorporate some of our own ideas too.
I had to replace the potable water pump with a new one. The existing one had been cycling unnecessarily and was excessively noisy. West Marine made the exchange effortless since it was still under warrantee.
06/10/2010 THURSDAY BRUNSWICK, GA
The main problem was that the sofa seat bottom cushions were still not as comfortable as we would like. We had had new foam replaced, bolsters placed underneath, and some roll filler material inserted into the front of the cushion. Each of these attempts would provide a measure of improvement, however, none actually remedied the entire problem. The lower cushion would also have a tendency to slide forward. After examining and re-examining, assessing and re-assessing, it appeared that the cushion was actually wider than the base and that might be causing the roll over and out situation. I constructed a set of base extenders out of starboard plastic sheet. Attaching them with bolts, the cushions were ready to be re-installed. Now, the right solution has been found and I am happy with the comfort I get from the cushions and modified base arrangements. Once again, "Friendly Upholstery" earned our respect and thanks because they adjusted and enhanced our cushions at no charge. Now, my friends, that is what good customer service is all about.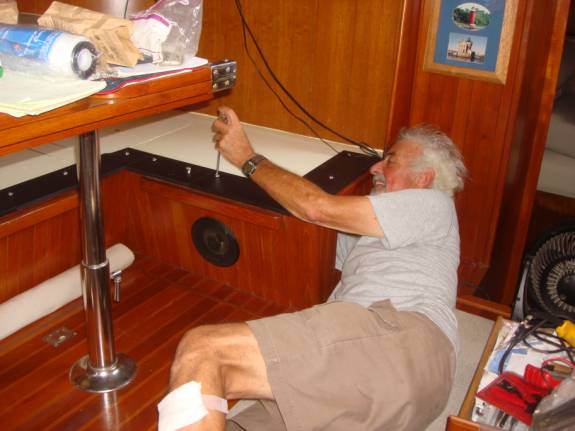 06/14/2010 BRUNSWICK, GA to NAPLES, FL
On the way to Naples, we took a slight detour to Bokeelia, FL to visit my longtime friend, Russ. Russ and I had been the best of friends during our teen years. We worked together on cars, motorcycles, small engines, boats, and everything else that made noise and burned fuel. Russ was always the master mechanic and I was always the apprentice. I learned a lot from him and from the day-to-day "wrench bending" we did together. In later years, he moved away to Florida and our lives took different directions. It was great to visit with him.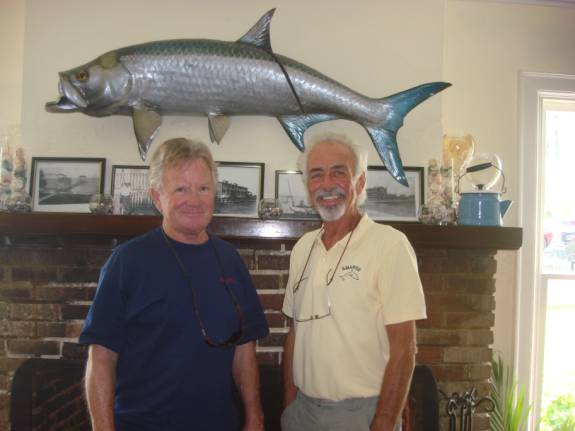 06/15/2010 NAPLES, FL
GEMBA needed some TLC to get her ready to go to Ft. Myers for some yard maintenance. Scott and I started working at a feverish pace to get everything accomplished that needed to be done in this short time. Thank goodness for the stand-up engine room.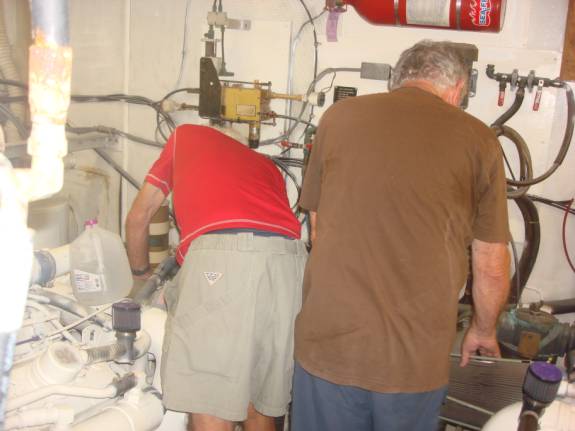 Boat manufacturers and designers are never considerate enough give us quite enough room to accomplish repairs. A water leak turned me into a rubbery contortionist, twisted and turned beyond the limits of my age.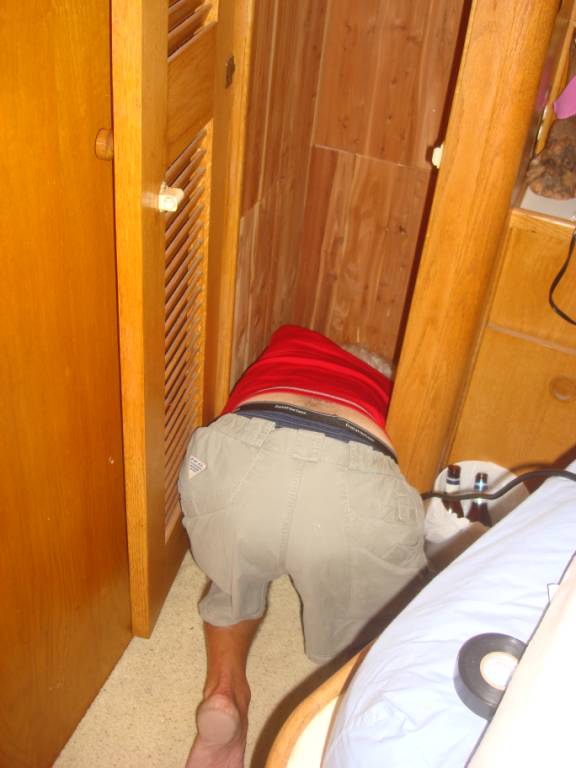 GEMBA will soon move away from this residential dock located behind a private residence. Scott has requested that we join him and that I assume the role of Captain of GEMBA for the entire voyage to her future home in Rockport, TX. With all of Judy's superb boating skills, he couldn't have chosen a better crew.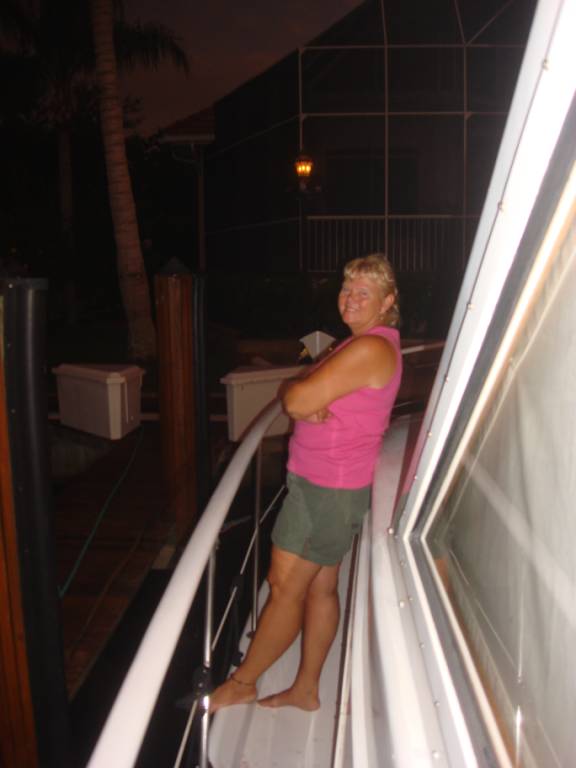 06/16/2010 WEDNESDAY NAPLES, FL
For these couple of days, we have worked feverously on cleaning and maintenance chores.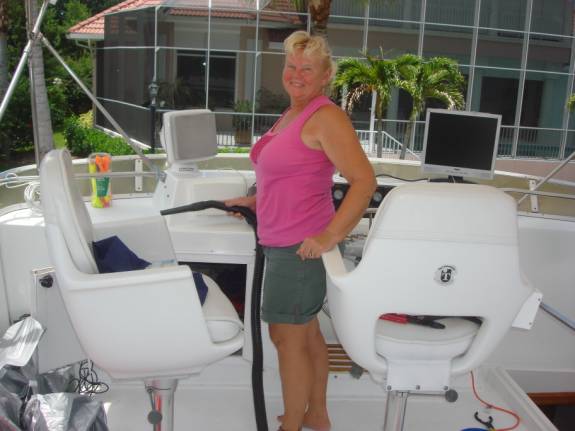 Makeshift repair for a leak in the main, fresh water tank…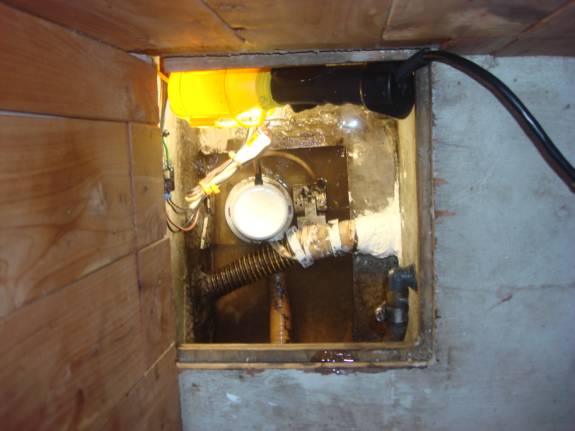 06/17/2010 THURSDAY NAPLES to FT. MYERS BEACH, FL
The alarm blasted at 05:45 am. I had already been up and was enjoying a cup of coffee when the clock awoke the rest of the crew. With the weather checked, the crew briefed on safety first and general ops, we made the final preparations to get underway.
At 06:45, the lines were drawn aboard and GEMBA eased back out of her slip in Naples for the final time. The skies were clear, the wind calm, and the seas favorable. The closeness of the canal required that the boat be backed until reaching a place wide enough to make a turn, then maneuvered around to exit the narrow canal channel. With the tide sitting a foot below high, we still needed complete vigilance to negotiate the twisted channel. We motored out at no-wake speeds to the open gulf. Operating at slow cruise, we turned north toward Ft. Myers. It was a delightful day to be out on the water and to be aboard this lovely yacht.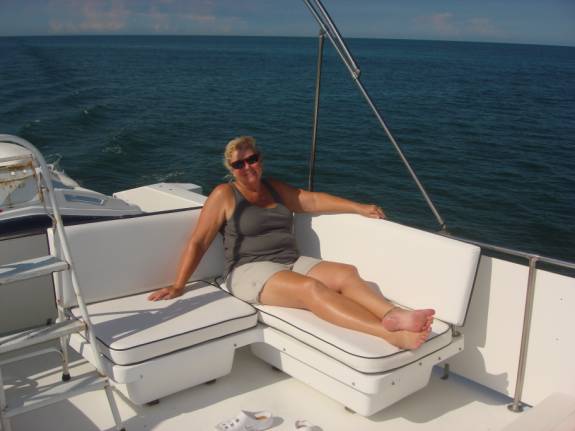 I had the pleasure of working the helm controls while Scott kept a sharp eye out for pirates, hazardous condition, and the remote possibility of a naked mermaid surfacing off our beam.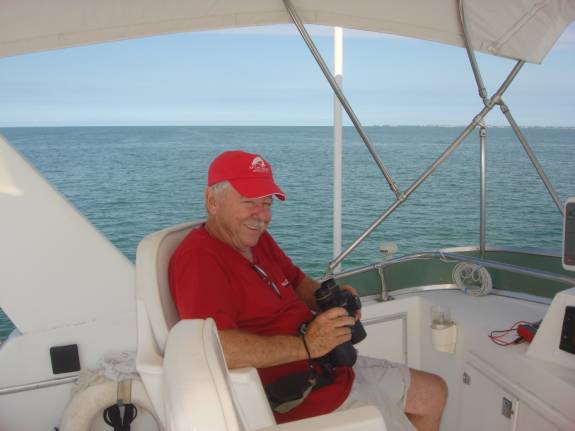 GEMBA entered Estero Bay from the north end and slowly motored to the haul out slip at Olsen Marine Services by 10:40 am. We had traveled 31.5 miles at a moving average of 9.0 and a moving time of 3 hrs 31 min.
06/18/2010 FRIDAY FT. MYERS BEACH, FL
Judy and I rented a car from Enterprise to drive back to Naples to retrieve her Riviera. GEMBA was turned over to Olsen's with a sizeable list of items to be accomplished. They have scheduled the workload over a three-week period.
The evening turned to party-time. A good meal, numerous celebratory cocktails, cigars on the fantail, and the fun atmosphere of GEMBA had Scott in the elated mood to do his "John Travolta" style dance moves.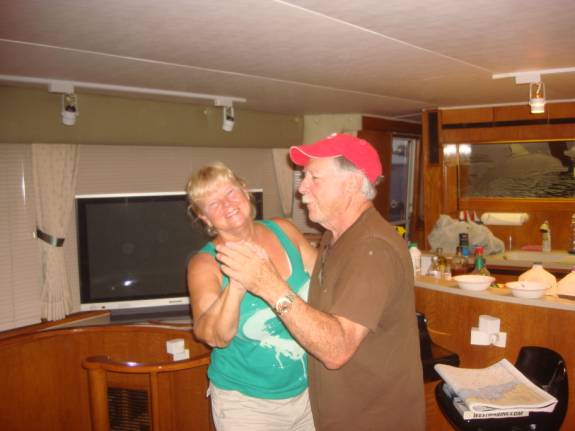 06/19/2010 SATURDAY FT. MYERS BEACH to CORAL SPRINGS, FL
After dropping Scott off at the RSY airport for his flight back to Texas, we drove across Alligator Alley to my Daughter and Son-in Law's home in Coral Springs, FL. It was a great treat to have this opportunity to visit with them and with Jeff's parents, Jim and Judy.
After a pleasant afternoon of relaxing and chatting, we were all invited to dine out at the Aruba Beach Café.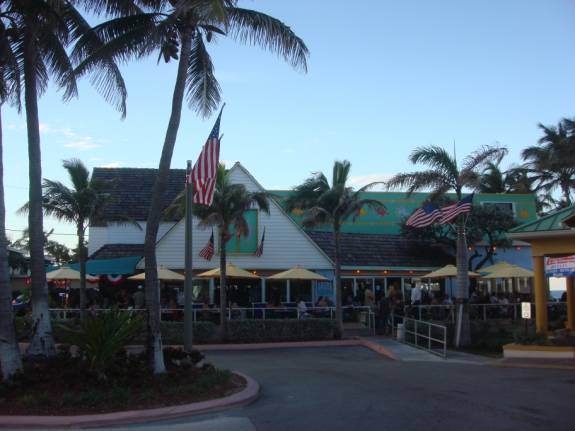 My wonderful Daughter, Sharyn; Jeff's dad, Jim; and my beautiful Love, Judy…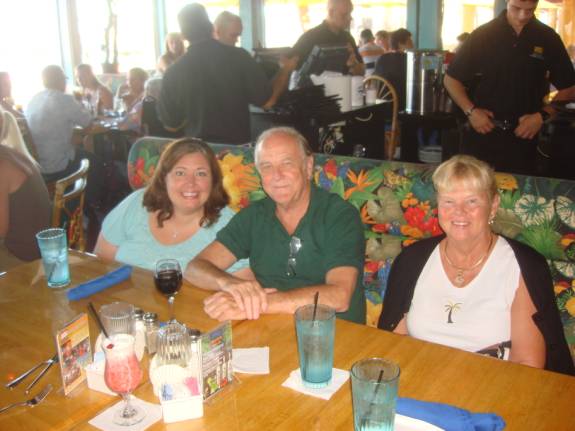 ...that's me, Fred; Jeff's Mom, Judy; and my handsome Son-in-Law, Jeff…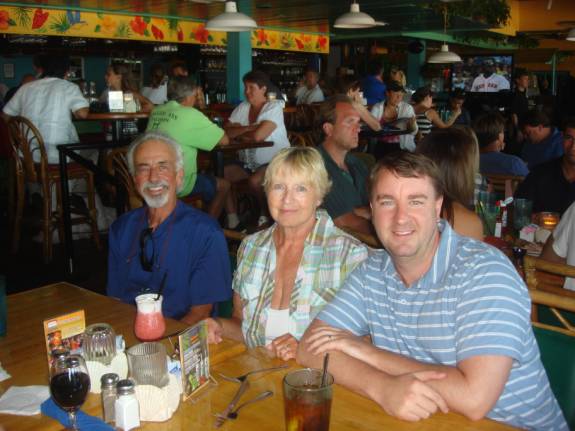 Jeff's Parents, Jim and Judy… It was terrific to have the opportunity to meet them and to share the fun.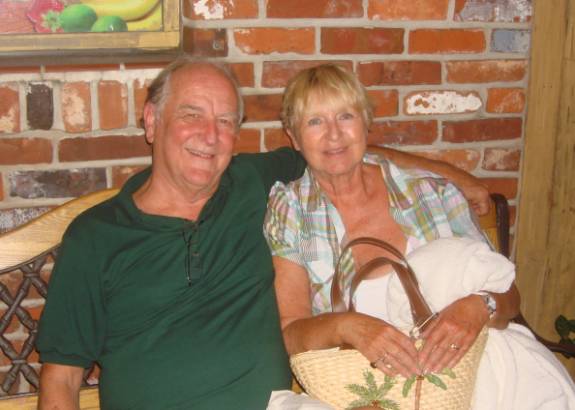 06/20/2010 SUNDAY CORAL SPRINGS, FL
HAPPY FATHERS DAY
It was really wonderful to be able to spend this very special Fathers Day with my daughter. It is such an honor to be her Dad, to have been there at her birth, to watch her grow, and to see what a fine, caring, and marvelous person she has become. I am sooooo lucky and blessed…!!!!!!!! To make it a double treat, Jeff was able to be with his Dad too.
06/21/2010 MONDAY CORAL SPRINGS, FL to PALM CITY, FL
Daughter, Sharyn, and Dad, Fred…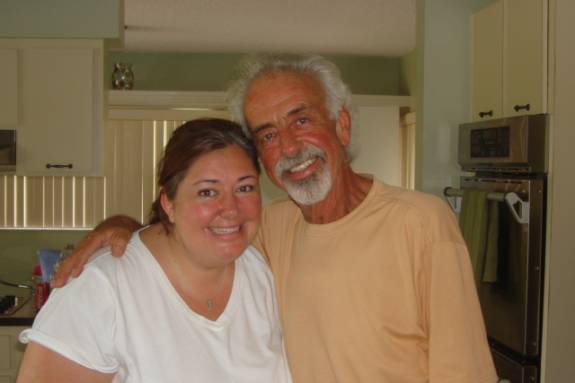 In the afternoon, we drove to Palm City, FL to be the guests of Susan (LAZY SUSAN) at their home. Once again, she extended their generous hospitality so that I could make my appointment with my eye surgeon tomorrow. Ivor had already departed on his big motorcycle trip to meet a group that will travel the famous Route 66 tour from Chicago to California. As a former touring motorcyclist, I have to say that I'm a quite envious. Susan, Judy, and I went to Ruby Tuesdays Restaurant for dinner. They have one of the best and most complete salad bar options that I've ever enjoyed. Thanks, Thanks, Thanks Again to our dear friends, Ivor and Susan.
06/22/2010 TUESDAY STUART to BRUNSWICK, GA
My appointment at the East Florida Eye Institute went well. I reported that I am seeing some sort of unusual curved line in the left peripheral of my vision. Although Dr. Frenkel was on vacation, his associate thought that it would probably go away in time. We will just have to wait and "see". As one might expect, she released me without finding any significant problems. We headed northbound to Georgia.
With a stop at a Cracker Barrel Restaurant along the way, we arrived back in Brunswick and boarded AMARSE about 8:30pm.
06/24/2010 BRUNSWICK, GA
Paul and Sue (ODYSSEY) had just arrived in Brunswick yesterday. Judy and Sue are such good buddies and enjoy so many of the same things. As girls will be girls, they took off shopping for the day. Of course, they had to go to 5 Guys Burgers & Fries for gals' lunch out.
For Judy and I, another great dinner featuring a super-sized Mexican style Shrimp Cocktails and crispy bread sticks.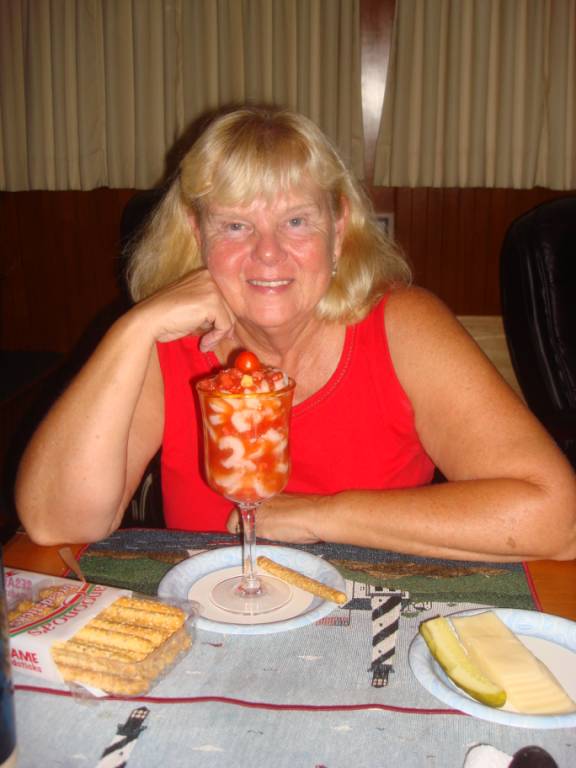 06/25/2010 FRIDAY BRUNSWICK, GA
The day was another hot one with strong, afternoon thunderstorms. Judy caught up with the laundry chores today. The Brunswick Landing Marina has great laundry facilities with lots of machines. As a nice amenity, their coin-less operation is included in our monthly rent fee.
I've been working on the trip planning for GEMBA. The navigation gear aboard her is very outdated. I bought a new Garmin 546S GPS unit from West Marine today. It is a smaller unit than I wanted but I know that it will be great for the temporary use on GEMBA. After that trip, I can install it as an upgrade on AMARSE, so it will all work out OK.
06/26/2010 SATURDAY BRUNSWICK, GA
The weather was clear and beautiful at the Brunswick Landing Marina. The view from our slip on Dock 13 shows that the number of sailboats outnumbers the powerboats.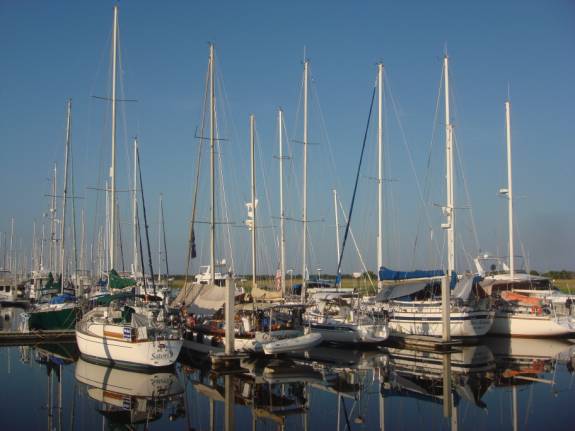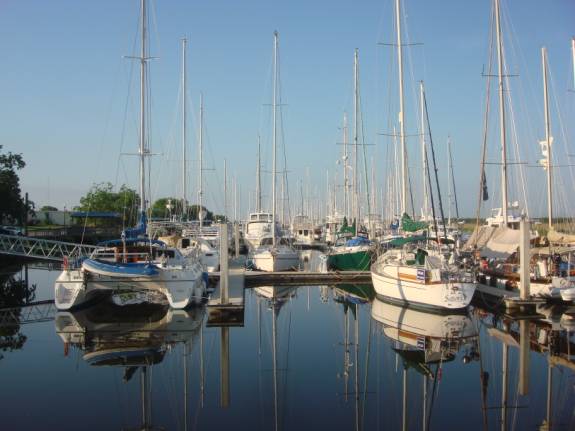 Again today, the girls had shopping to do. As you might expect, that meant another gals' luncheon. They chose the Chinese Buffet at the Mall. The best part of that place is the unlimited peel 'n eat shrimp.
06/27/2010 SUNDAY BRUNSWICK, GA
HAPPY BIRTHDAY to MY SON, DOUG…
One of the hazards of having another birthday is that the person has to listen to me sing the birthday song. It has always been a tradition for me to melodiously bellow the annual vocal rendition. I figure it this way, they have the whole rest of another year for their ears to recover, so it ain't so bad…
06/28/2010 MONDAY BRUNSWICK, GA
It was another scorching hot day today. Tropical Storm Alex was hammering the Mexican Yucatan. For a good portion of the day, I scraped away the old window caulking from the cabin windows of AMARSE. Judy did a great job of masking around the frames and I did the re-caulking with GE Silicone II. I have found it to be a very reliable product and a good alternative to the more expensive 3M products.
06/29/2010 TUESDAY BRUNSWICK, GA
We got the report that GEMBA had been hauled in Ft. Myers Beach. Olsen had problems with their lift machine so they transferred it to nearby Gulf Marine Services boatyard. Olsen will still do the work. Since GEMBA had been sitting for such a long time, the technician that was hired to clean up the fuel tanks and polish the diesel fuel advised that the conditions were very dirty. Of course, that is what we expected he would find. Stagnant diesel fuel has a strange affinity for water and provides a host medium for algae and bacteria growth. It is so important for boaters to keep their fuel systems in top shape. AMARSE is on a dedicated schedule to have her fuel polished on an annual basis. Clean fuel is Happy Fuel and Happy Fuel means a Happy Engine, La-La-La-La--Laa.
I accomplished a lot of maintenance on AMARSE today. I cleaned up and made all the "thru-hulls" smooth and operational. The batteries were serviced and topped off with distilled water. All vessel fluids were checked and filled as needed.
In further preparation for the GEMBA trip, I went to Verizon and had both my cell phone and computer air card reactivated. We downloaded new software programs onto the laptops.
06/30/2010 WEDNESDAY BRUNSWICK, GA
Transformed to Hurricane strength, Alex has escalated from Tropical Storm forces and now threatens to strike the south Texas coast near Brownsville. Massive rainfall amounts are forecasted to affect the entire Texas Gulf coastal areas.
Our adventures will continue in the next update.
You can scroll up on this page and then select the NEXT button on the left side of your screen to advance to the next update. Enjoy!!!
CONTINUING UPDATES ARE IN PROGRESS…
WATCH FOR THEM, COMING SOON…
POST SCRIPT:
We sincerely hope that you will review the previous years of compilations to give context to the current editions. Please let us know if you have any special suggestions and thoughts.
REMEMBER: The website is now fully active and you can visit it at any time. You can also review any of the previous logs from the years 2006, 2007, 2008, and 2009 to learn more about the crew and their many adventures. Enjoy.
ATTENTION: SPECIAL NOTE:
You may contact us via email anytime.
Thanks for allowing us to share our life and adventures with you.
Lotsa Luv,
Fred Reed and Judy Law
AMARSE
MT40
"AMARSE" is pronounced "AM-ARE-SAY".
Our website is: www.amarse.net .
You can scroll up on this page and then select the NEXT button on the left side of your screen to advance to the next update. Enjoy!!!
CONTINUING UPDATES ARE IN PROGRESS…
WATCH FOR THEM, COMING SOON…