UPDATE#19 05/10 TO 05/31
Howdy Everybody,
The adventures of 2006, 2007, 2008, 2009, and thru 05/09/2010 have been published on the website. We continue with the latest edition.
UPDATE 2010 #19 05/10/2010 to 05/31/2010
At last update, we were traveling on a Yucatan adventure in Mexico. Welcome back to our continuing adventure…
05/10/10 MONDAY VALLADOLID to TULUM, MEXICO
The beaches of Tulum are wonderful. The gentle surf of the Caribbean has pulverized the coral into fine, soft, sugary white sands. The colors of the water are unequaled in nature. With sand sifting through your toes, it is easy to believe that you really are in a tropical paradise.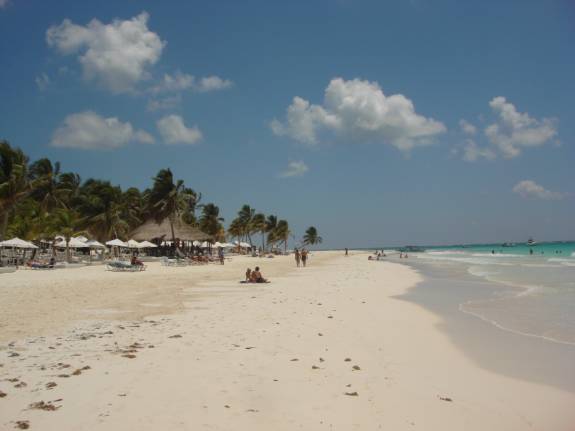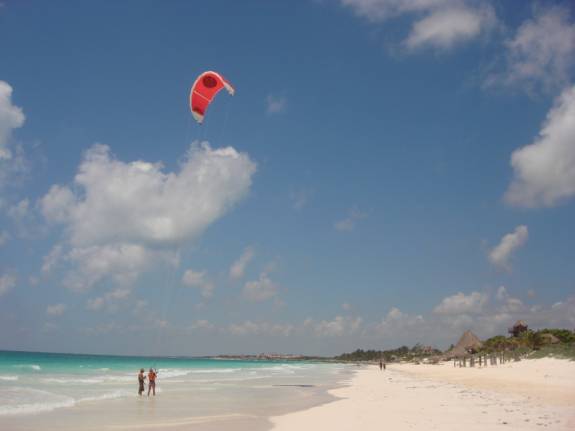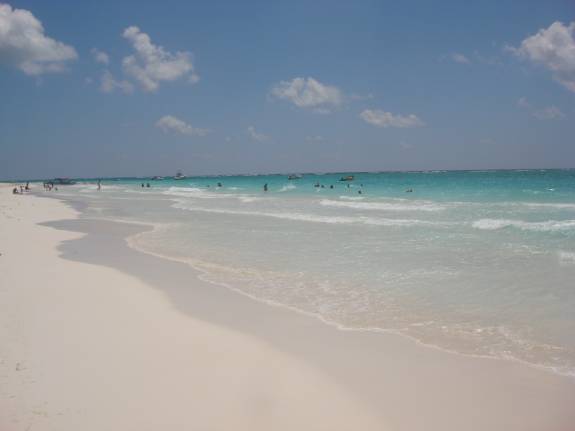 Our choice of accommodations was the Hotel Diamante K. I first visited this place decades ago when it was called, Los Gatos (The Cats). Everything remains pretty much the same, except the prices have risen dramatically.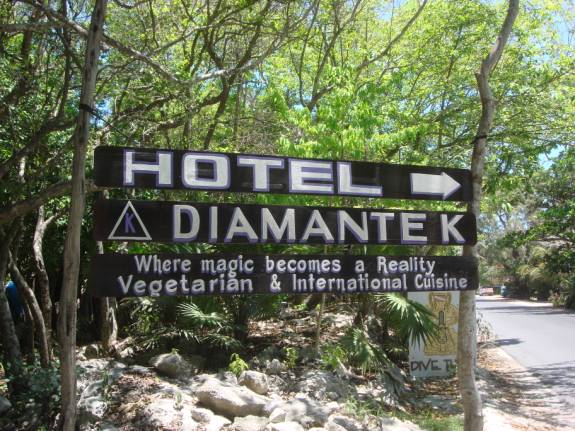 Sandy, palm tree covered grounds sit along a coral rock shoreline interrupted by an idyllic little beach.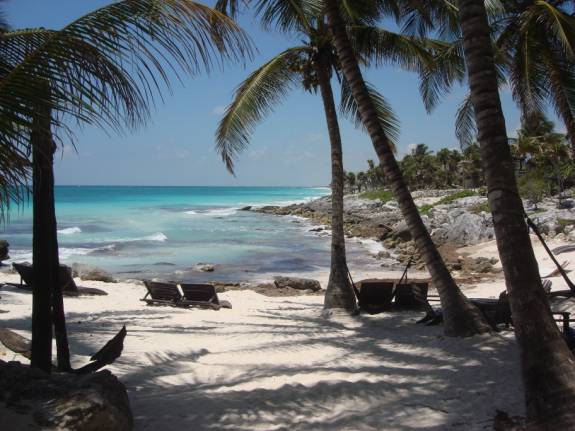 The rooms are little more than thatch-roofed huts made of stone and sticks. Perhaps one of the more interesting amenities is the "Camas Colgantes" (Hanging Beds). These are the beds, suspended from the roof beams on ropes like swings. Protected by insect netting, they are really quite unique and romantic.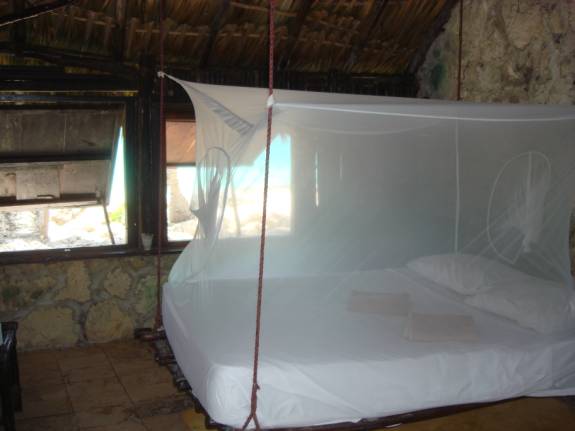 The windows have no glass or screens and tilt out toward the close-by sea. The view is unparalleled and the sound of the lapping waves comes through like soft, tranquil music.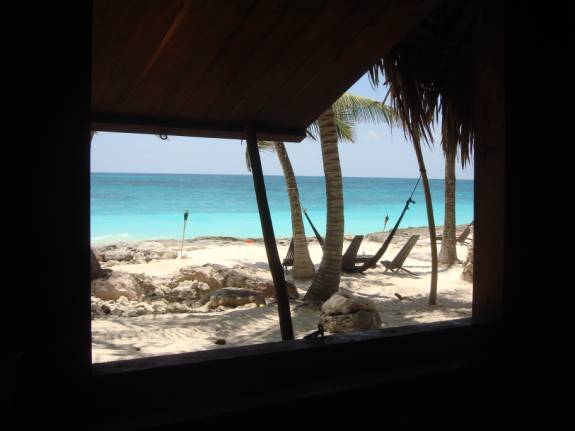 A variety of buildings of different shapes dot the sandy grounds…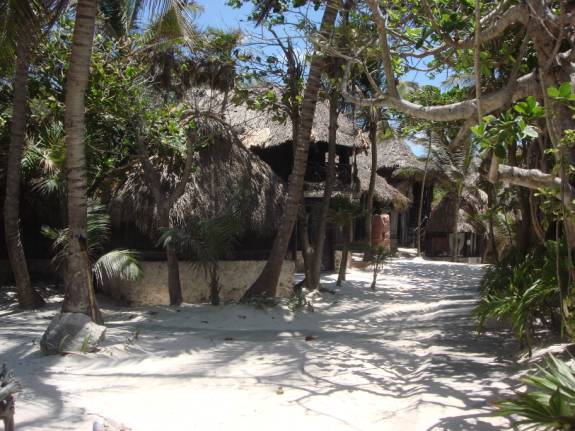 Tucked in seclusion, the rustic "Romantic Shower" is lovely…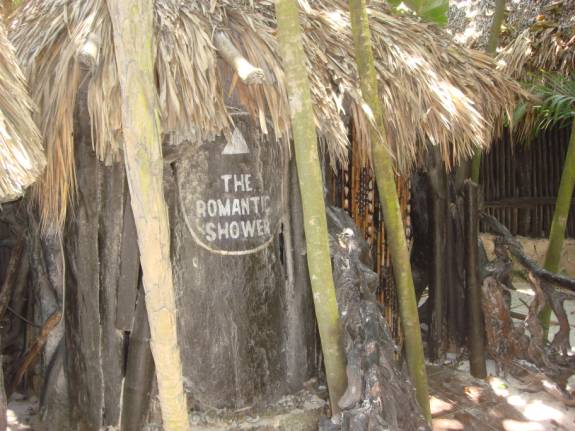 Decorated with twisted driftwood, the shower water splashes down from a cut conch shell. Of course, it is roomy enough for just the right couple. Have you ever heard the term, "…you wash my back, and I'll wash yours"? Now covered with new tiles, the flooring years of ago was made of smooth tree branches too.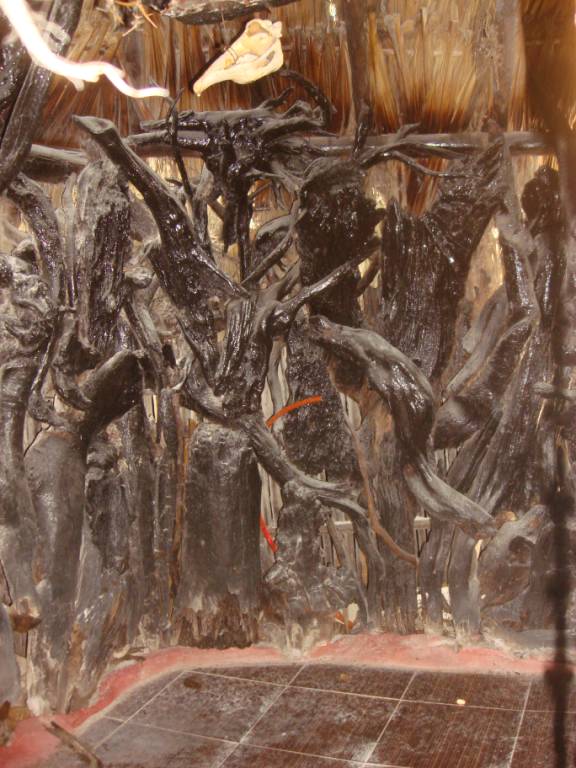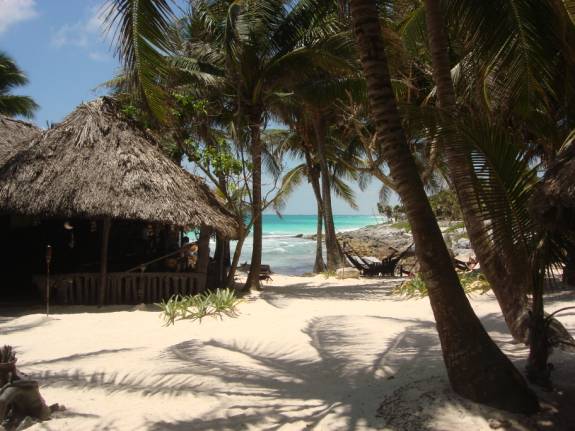 The walls of the cabana style rooms are made in Mayan style with tree trunks or limbs standing vertical. The doors are deep carved wood planking.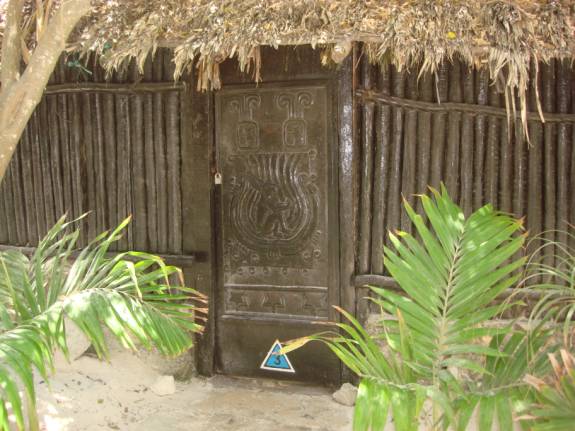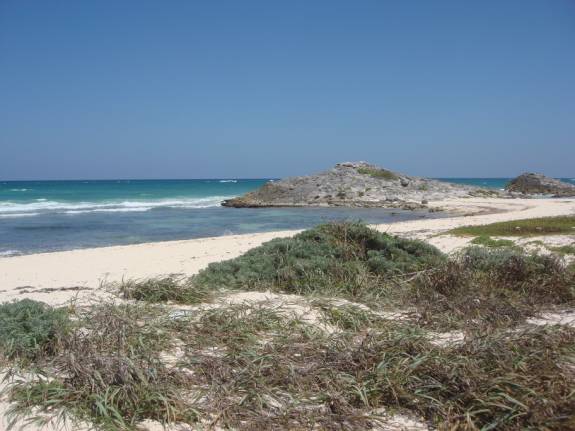 Who could say "no" to this hammock?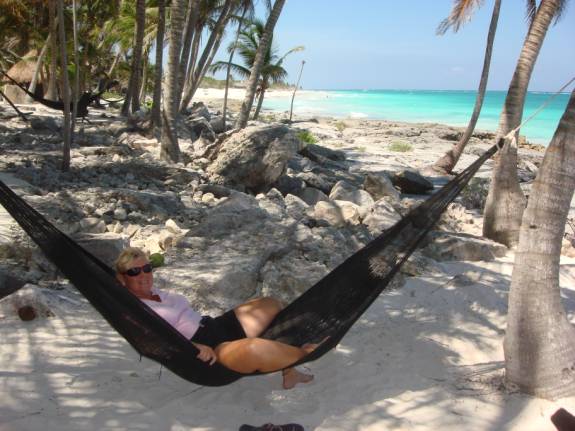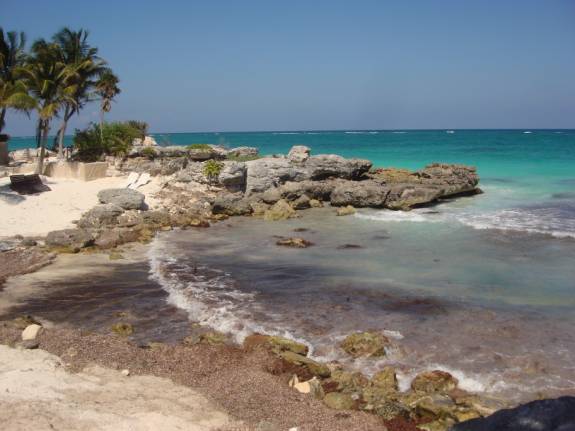 05/11/10 TUESDAY TULUM to PLAYA DEL CARMEN
"Sittin' on the Rock o' the Bay"… Almost sounds like a song….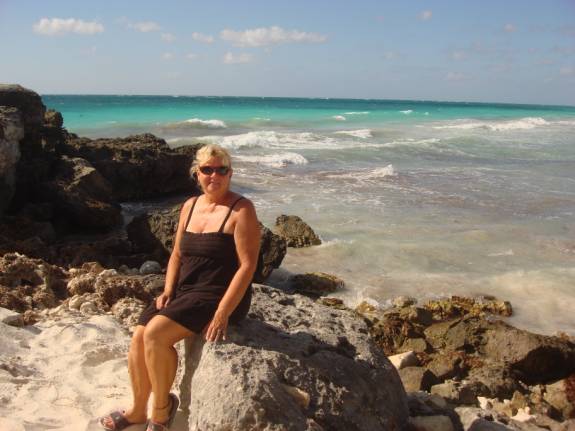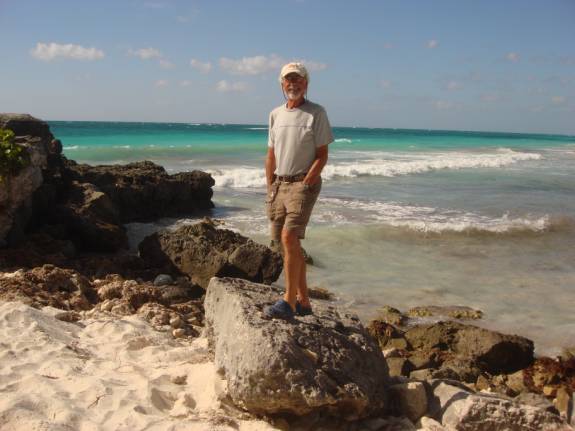 Driving north, we came to Playa Del Carmen.
PLAYA DEL CARMEN
After searching all around for an economical hotel, we settled on the Hotel Jabines.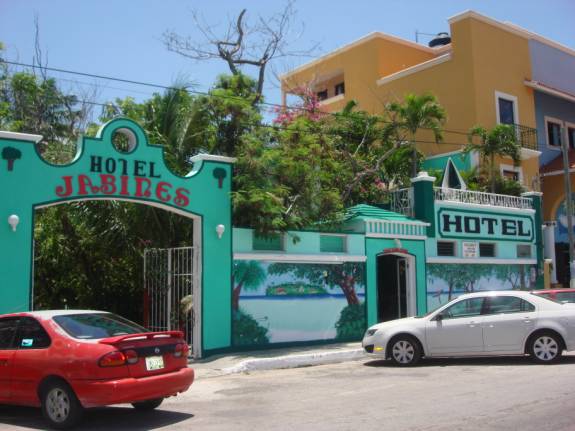 Having secured parking and a shady courtyard area, we checked into our room.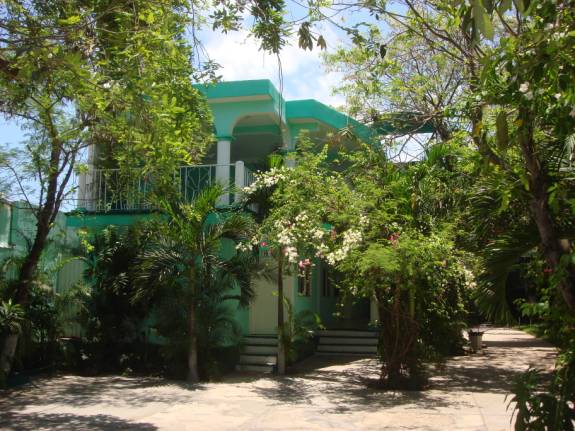 The room was plain, simple, and very clean. The housekeeping staff even folded the towels into cute, swan shapes.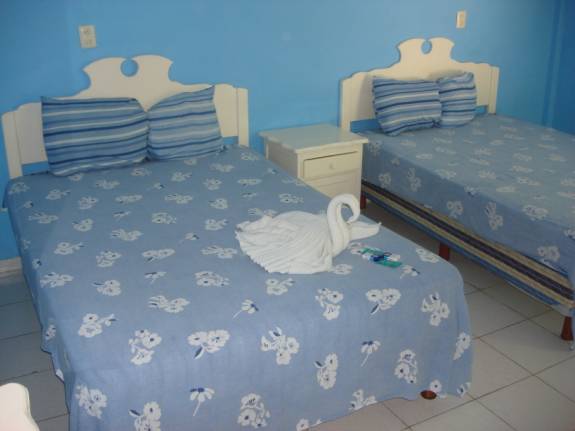 Across from the hotel, a large park area commemorates areas of Mexico. The huge Mexican flag waves brightly and proudly against the blue, clear sky.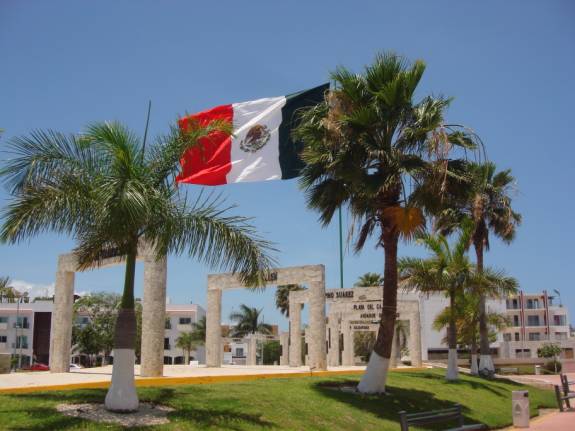 Who can forget the famous Winston Cigarette ad that said, "It's What's Up Front That Counts"? I have to say that this busty mannequin sparked my attention and nearly poked my eyes out…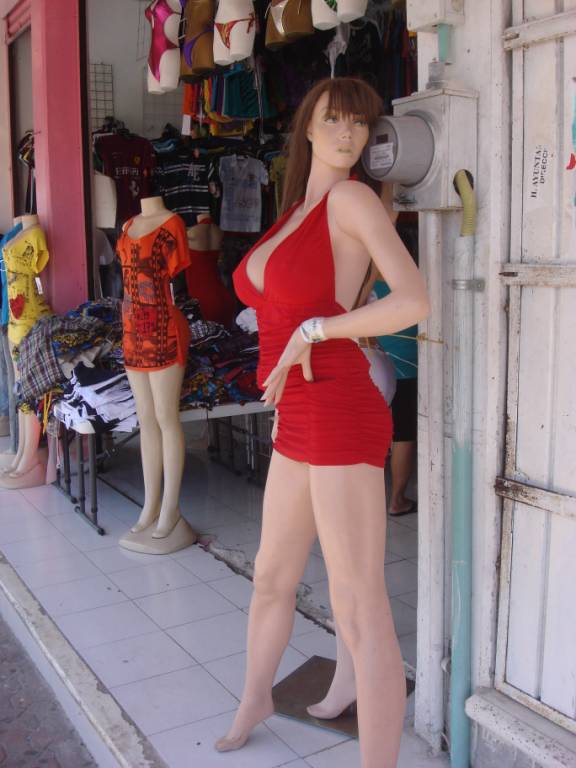 The once sleepy fishing village of Playa del Carmen bore little resemblance to the tourist mecca of today. Now, expensive luxury resorts abound along the pristine beach. High-speed ferryboats shuttle between Playa and Cozumel.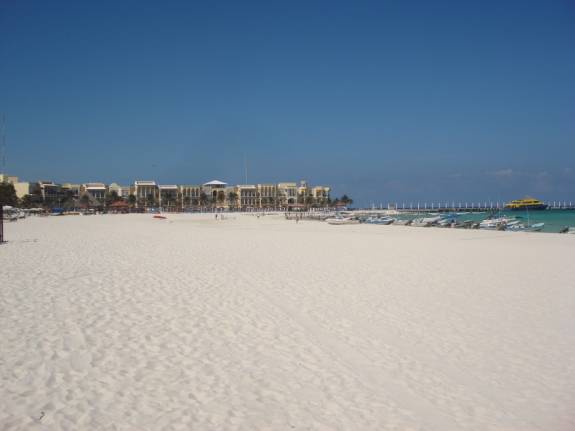 We found a neat little place to rest, relax, and enjoy the beach scene at Club Nautico Tarraya.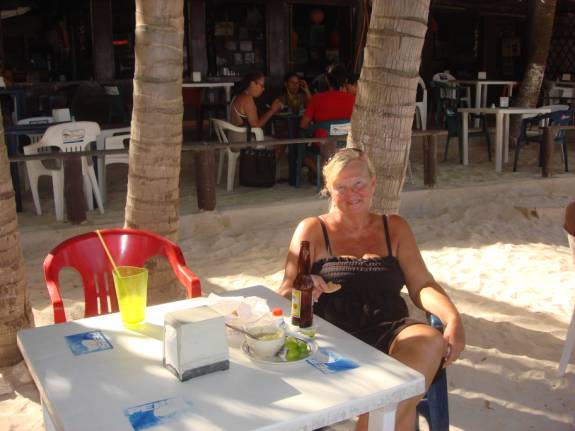 One very lucky pirate at Club Nautico Tarraya…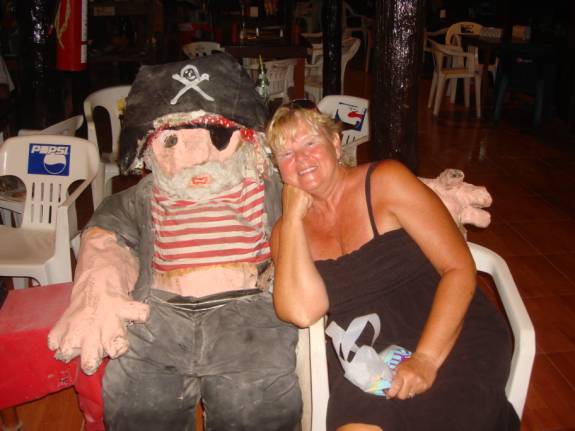 The downtown area has been cordoned off and turned into a pedestrian shopping area filled with shops and restaurants of every conceivable kind. This neat, tilting-top VW bus has been converted into a unique little bar inside a restaurant.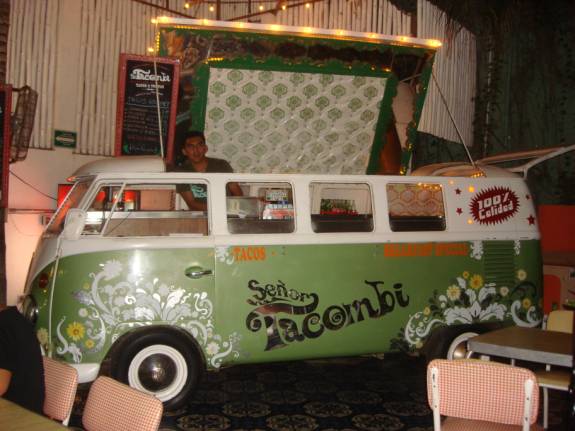 05/12/2010 WEDNESDAY PLAYA DEL CARMEN
For breakfasts, we found this terrific little fonda stand, called Taqueria Los Portales, near our hotel. Their method of preparing authentic Eggs Mexicana was wonderful and very economically priced. Travelers willing to step off the tourist path can generally find wonderful meals at relatively inexpensive prices. If it's good food you're looking for, then this is the kind of places you should be checking out. If you see lots of locals choosing a place, you can surmise that it could be good. If it is a tropical touristy place with atmosphere that you seek, then perhaps you should look more toward the beachfront.
An office front advertisement, at this dentist office near our hotel, caught my attention. For a very modest price, I could get a good dental cleaning and exam on a walk-in basis. I decided to try it. I was very pleased with the service, actually performed by the dentist himself. He had up to date equipment, including a visual monitor so that you could see the work and any problem areas. I'd not seen that device in the US dentist offices. If you are in Playa del Carmen, I can recommend this dentist, Dr. Millan Valdivia.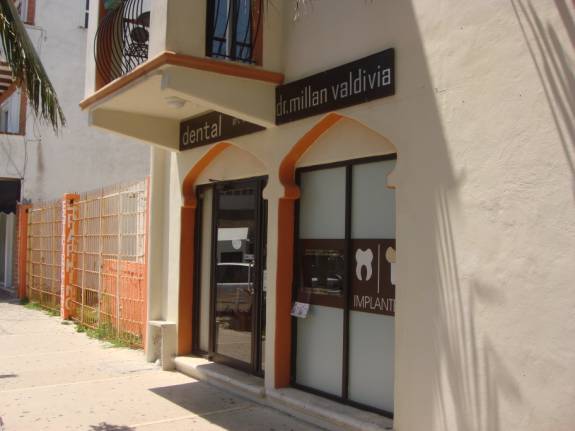 Some of the beachfront condos are absolutely magnificent. I particularly liked the design and aesthetic appeal of this one. Oh, Oh, I should have been born into wealth…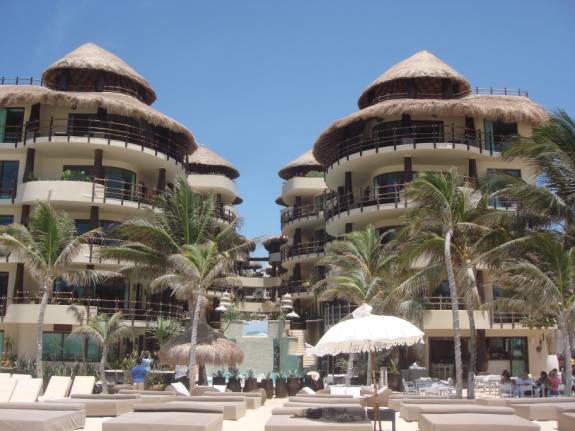 Of course, the beach is there for all to enjoy; No complaints here…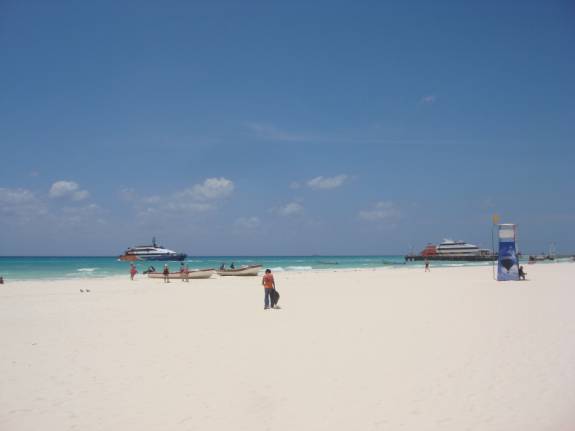 At the beach, a body can develop a powerful thirst. In search of mandatory relief, we hustled over to our favored, beachfront bar and restaurant, Club Nautico Tarraya. This place has been serving beachgoers with a good, fairly priced menu of selections since the 1960's. The beer is cold and the tapas are great. Customers used to be able to enjoy a little sunshine on the beach chaise lounge chairs, however, now they are separately owned and patrons must pay a rental fee to use them.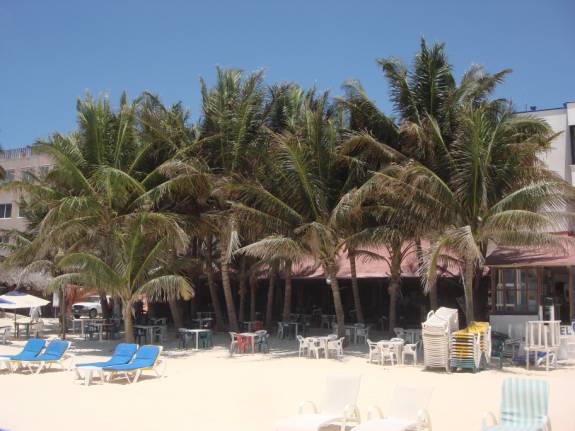 Ahhhhh……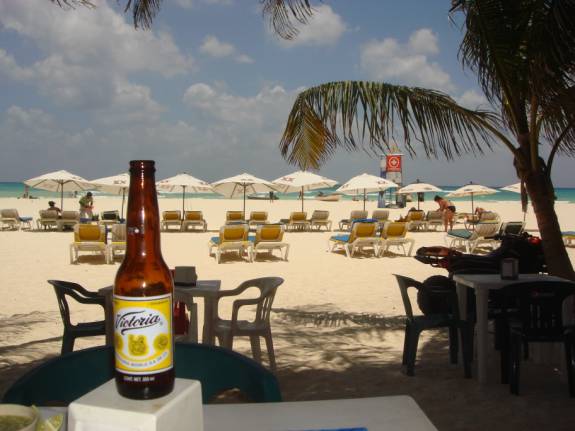 One swingin' blond…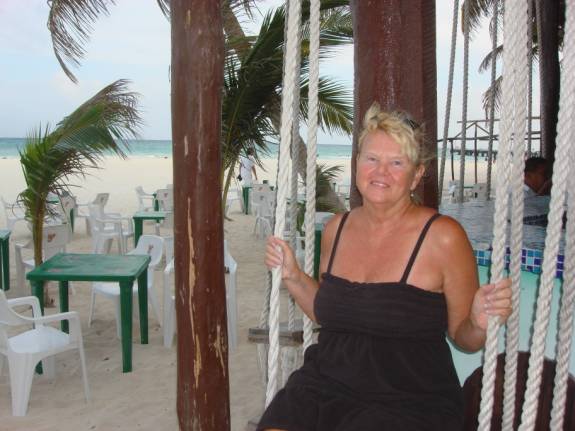 …and I'm the lucky one to be here with her.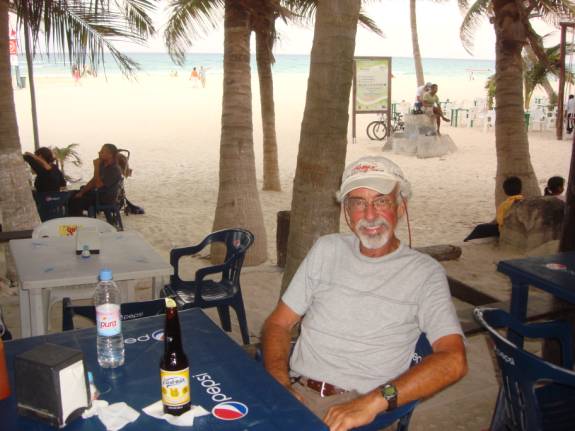 In the evening, we returned to the Club Nautico Tarraya for dinner. Judy's favorite Mexican meal is Huachinango Frito (pan-fried red snapper fish). This menu selection turned her dreams into reality.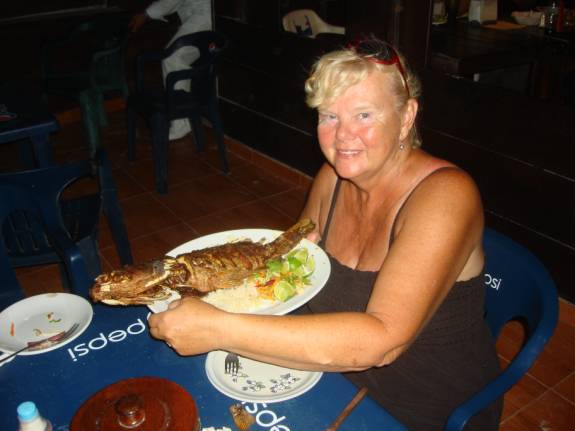 After dinner, we strolled around the tourist zone. In the park, this gal was handing out small samples from her sweets display. The enticement was executed perfectly and we happily bought some of her "dulces".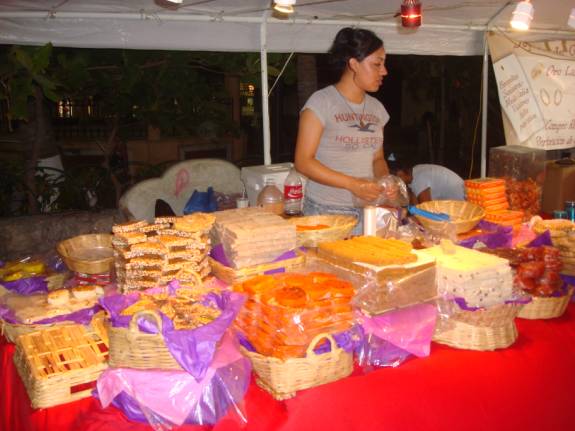 05/13/2010 PLAYA DEL CARMEN to CANCUN to FT. LAUDERDALE, FL
The day had come for us to ride "the big silver bird" back to Florida. We returned the rental car and, before boarding the Spirit Airlines flight, enjoyed the last bit of time enjoying the warmth and sunshine at the Cancun airport.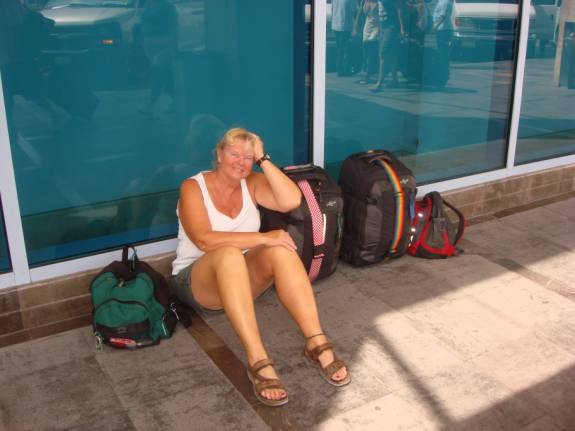 When we got back to Ft. Lauderdale, we had to sort out public buses to get to Coral Springs. After boarding the correct numbered bus at the airport, we soon realized that we had hopped on the one headed south instead of north. OOPs… Across the street, we caught the right direction one and headed to the central terminal. There, we switched to another headed west toward University Ave. Another bus took us north to Coral Springs. It was only a short walk to pick up our truck at Sharyn and Jeff's. Of course, they would have picked us up, however, they were not available today. The truck started right up and we were off on the drive to AMARSE, docked at Sunset Bay Marina in Stuart, Fl.
05/14/2010 FRIDAY SUNSET BAY MARINA STUART, FL
Back on AMARSE, we rested well. We sure do love our life and times aboard. Once again, we're reminded that, "…there's no place like home".
At 10am, I had an appointment with Dr. Sherman for my "Once in a Lifetime" Medicare Physical exam. They had the results in from all the blood tests and I was very pleased that everything was very good except for one low reading on Vitamin D. That was great news. On the downside, we found that my left eye vision was suffering a significant loss. He suggested I see an Ophthalmologist right away and his office staff set up the appointment for later today. He is a very good doctor. I got a shot of pneumococcal vaccine, talked over medical issues, and I was out by noon.
At 12:45pm, the team at East Florida Eye Institute conducted a very thorough testing exam. Dr. Frenkel determined that a cataract in my left eye was the cause of the loss. The remedy will be surgery in the near future.
05/15/2010 SATURDAY SUNSET BAY MARINA STUART, FL
Another beautiful sunset at Sunset Bay Marina in Stuart, Fl…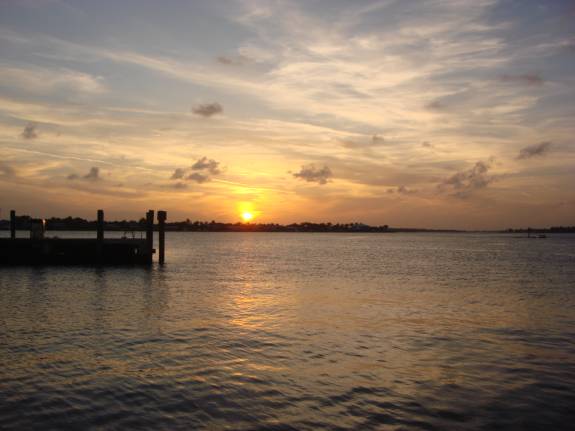 05/16/2010 SUNDAY SUNSET BAY MARINA STUART, FL
There is an old saying, "Gentlemen Prefer Blonds". With Susan and Judy hugging on him, Ivor is definitely a "Gentleman" today.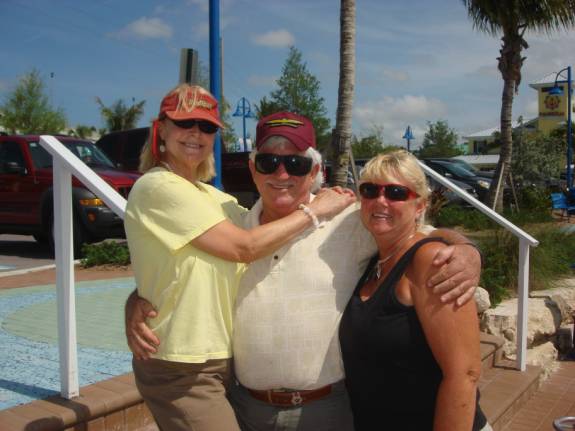 I ain't doin' so bad either…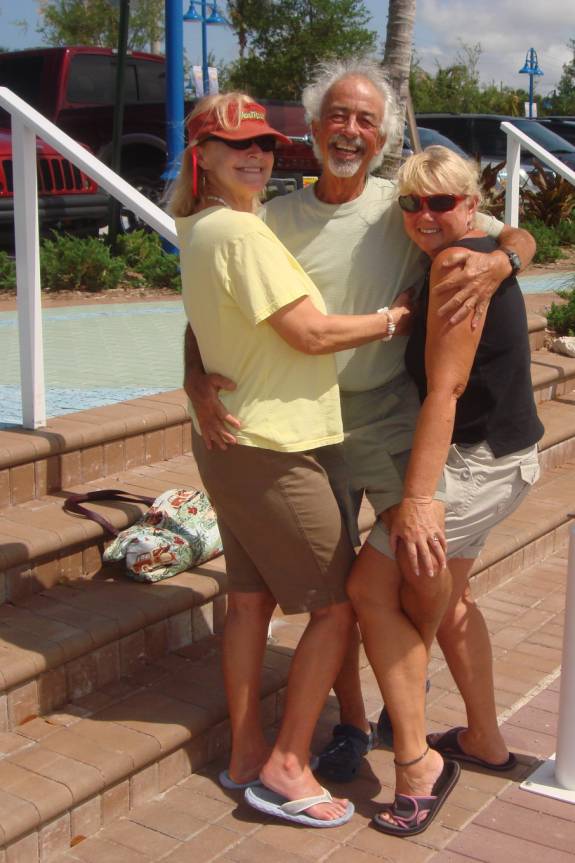 05/17/2010 MONDAY SUNSET BAY MARINA STUART, FL
More medical appointments filled in the schedule for today. I had to go to the Martin Memorial Lab in Palm City at 7:15am for a PSA blood test that was inadvertently missed on the initial tests. I returned at 11:15am for an ultrasound to check for any evidence of an abdominal aneurism. Fortunately, everything was fine. My dermatologist had the results of my biopsy and reported that they detected a pre-cancerous spot on my chest. Of 3 possible options, I chose to just keep watch for any further changes. At 1:30pm, I had another appointment for more testing and a pre-op check-up with my ophthalmologist, Dr. Frenkel.
On the fun side of the day, we enjoyed evening cocktails with Steve and Nancy aboard their DeFever (SALTY TURTLE). Because my eyes had been widely dilated and numbed, I chose to spend the rest of the evening just resting.
05/18/2010 TUESDAY SUNSET BAY MARINA STUART, FL
Sunset at Stuart…
The closed Roosevelt Drawbridge, with the open railway bridge behind, at Stuart…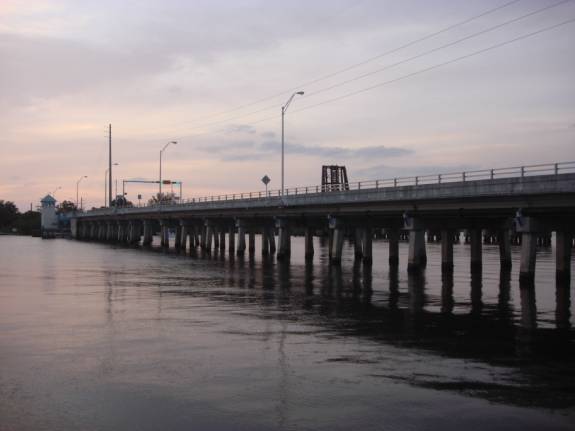 05/19/2010 WEDNESDAY STUART to COCOA, FL
The forecast was for hot, humid, and calm winds today. The alarm rang at 5:30am, but I was already up and awake. At 6:35am, AMARSE moved away from Dock D-2 at the Sunset Bay Marina. The current was running strong and that made it difficult to swing AMARSE out and away from the tightly packed side dock. It took a lot of powering, so I imagine that the guy behind us must have thought we were nuts.
As luck would have it, the Roosevelt Bridge and the railroad bridge were closed. The rail bridge came down at 6:15, but the first train didn't come until 6:48am. The bridges stayed down for a second train and we couldn't get through until 7:18am.
We traveled the 7 miles to the ICW and proceeded northbound, passing Vero Beach about noon. Continuing on, we passed by Dragon Point at 4:15p to arrive at the dock at Cocoa, FL at 6:08pm. We had traveled 97.6 miles today and put 12 hours on the engines.
AMARSE at the city dock in Cocoa, FL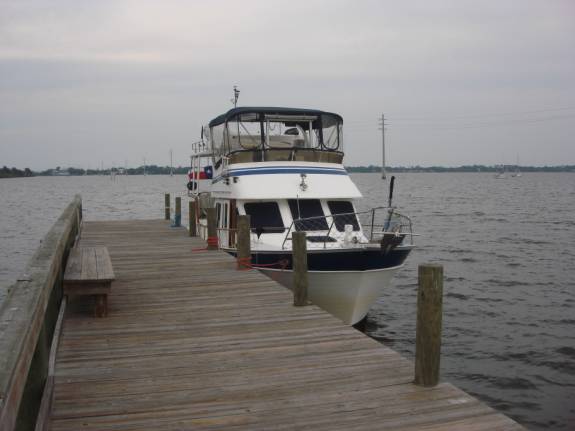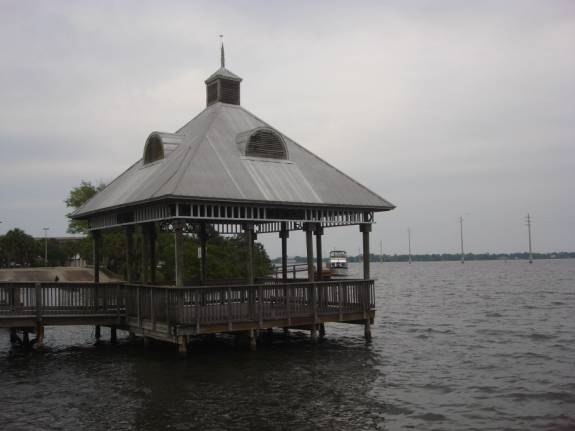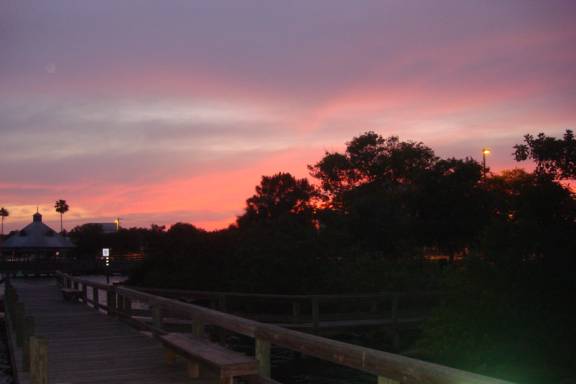 05/20/2010 THURSDAY COCOA to ST. AUGUSTINE ANCHORAGE
Another wakeup call at 5:30am revealed a nice, warm, clear day ahead. By 6:05a, AMARSE was off the dock and underway northbound.
Judy loves cruising the ICW aboard AMARSE…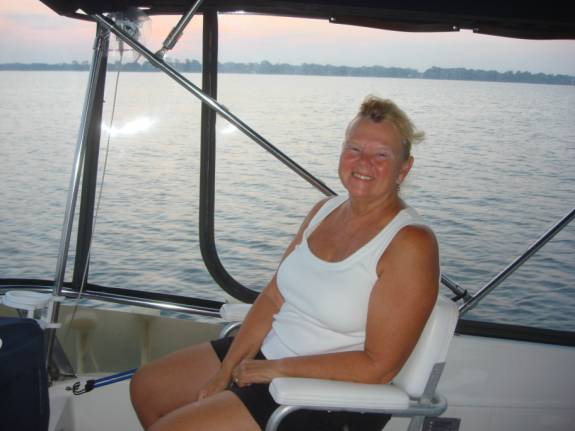 SUNRISE underway along the ICW…
Judy makes a slight correction to the autopilot controller to keep AMARSE on the perfect, desired course. It may look like a lot of water out there, but the actual channel can most often be very narrow.
Titusville swing bridge at 8:21am…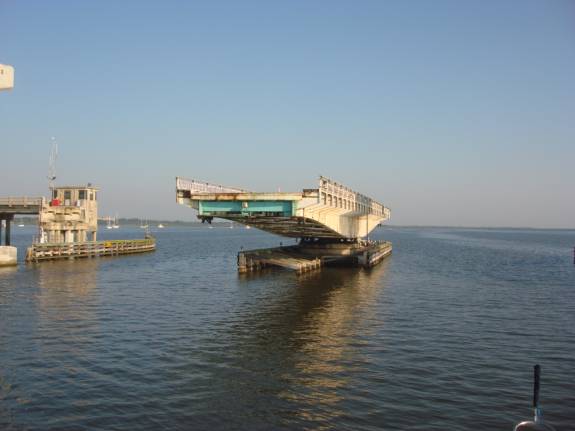 This long-serving bridge will be replaced with a new high bridge that is already well into the construction phase.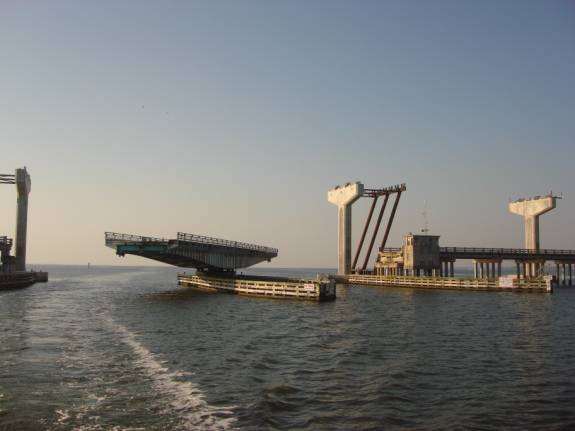 The Haulover canal and its drawbridge lead through to Mosquito Lagoon (9:30am)…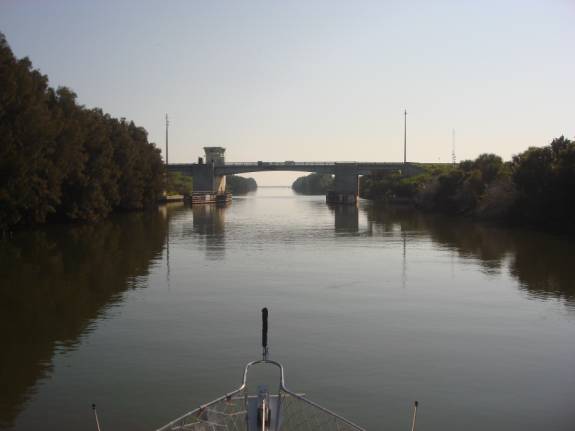 In the Mosquito Lagoon channel, the VHF started receiving a call hailing "AMARSE, AMARSE". Of course, we had no idea who was calling until this pontoon boat pulled up alongside. Much to our surprise and delight, it was Rose and Phil (WINGS). Our smiles instantly blossomed upon seeing them here. They live way over on the west coast of Florida now and were just out for days cruise after trailering this boat to the east coast. Rose and Phil have remained dearly loved friends since we first met them in Bobcageon, Ontario. At that time in 2006, we were both cruising America's Great Loop. We were on AMARSE and they were on their Endeavor power catamaran, WINGS. After completing the "Loop Cruise", they sold WINGS and moved back on land. This was a super surprise that we will never forget.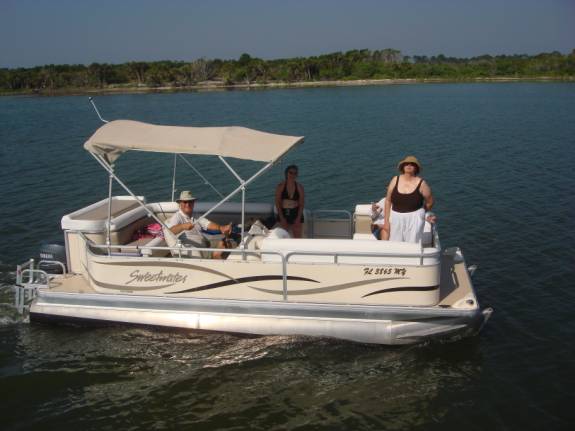 Only one span opened for our passage through the L.B. Knox Bridge at 3:30pm.
You might think that AMARSE's crew would be shivering with fear at the sight of this pirate ship, however, we were undaunted and, steering clear, continued ahead at "Slow Pass" speed…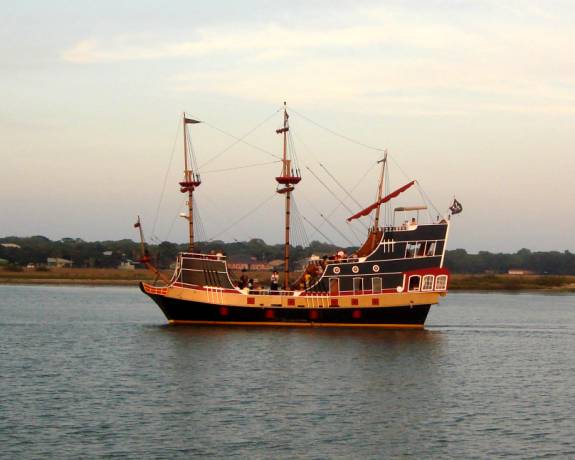 It was 7:45pm as we set the hook in the anchorage area just south of the Lions Bridge in St. Augustine, FL. We had traveled a whopping 120 miles today and added 13.9 hours to the engine tachometers. For dinner, I grilled smoked sausage and served it with pine nut couscous.
05/21/2010 FRIDAY ST. AUGUSTINE to FERNANDINA, FL
The anchor was up and we headed out in a dense, thick fog. Using the GPS and Radar to navigate, we made the turn northbound near the inlet. The current always runs strong here and it knocked our speed down to 7 mph. When the tides turned more favorable, our speed increased sufficiently to make up for some of the losses. The crossing of the St. John's River at Jacksonville was easy at 10:45am.
The Kingsley Creek Railroad Bridge has always been open for our passages. I'm not actually sure whether this rail line is still operational or not. Be aware, the swirling current flow is very, very strong through this section.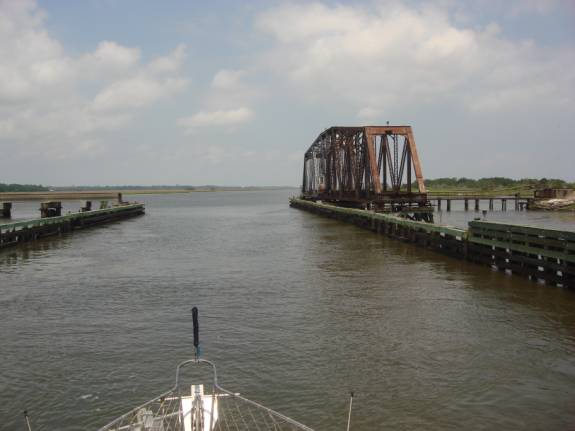 By 1:38pm, we had secured AMARSE to mooring ball #5 in the city field at Fernandina Beach.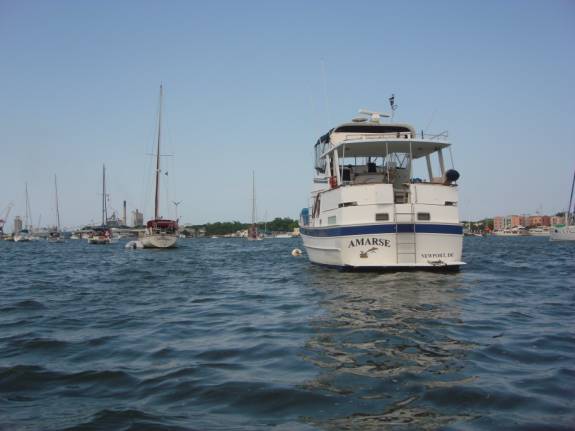 The dinghy was lowered and we crossed the channel to the marina to pay our fees and to visit the historic downtown waterfront area. Fernandina is "infamous" for its pirate traditions.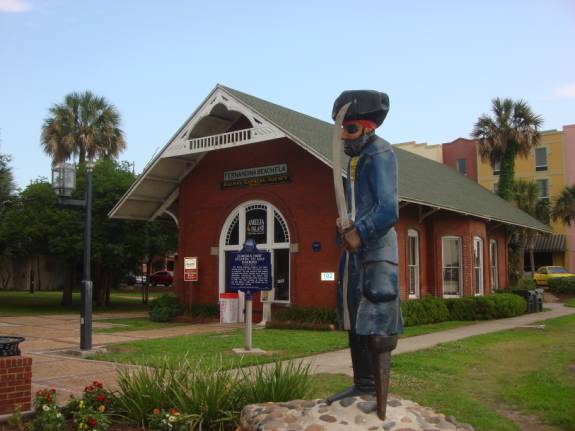 Humphrey Bogart might have been trying to take this blond into custody, however, she was able to thwart his scheme by rendering his gun useless…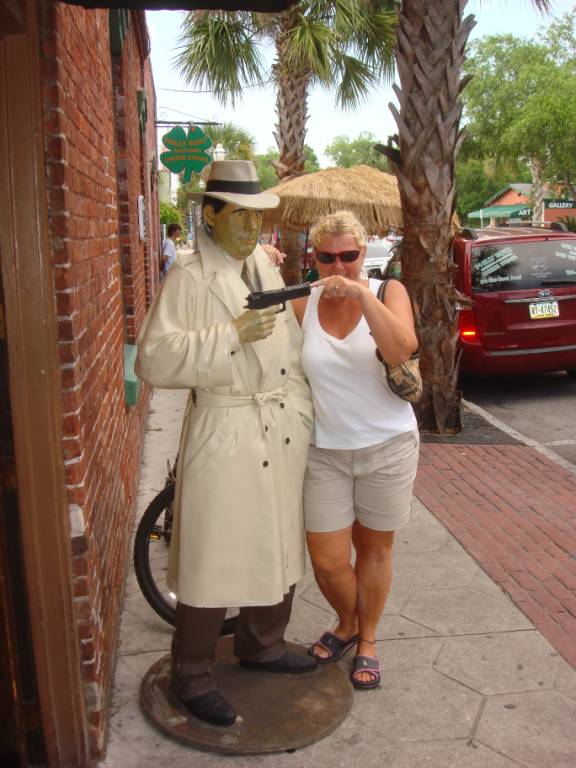 Ornate shrimp statuettes decorate the city in a multitude of intricate, artistic designs.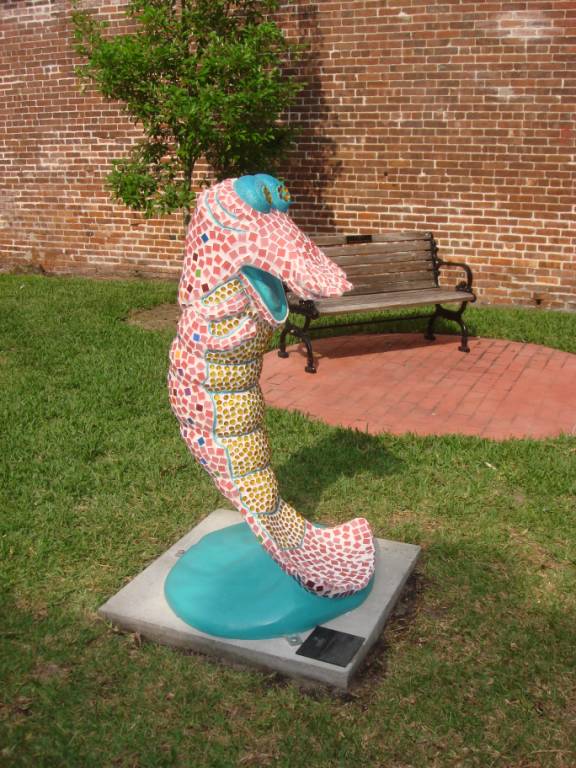 The Fernandina Beach, FL area is a great place to spend a few days. There are usually ample mooring balls available and places to anchor out, just watch out for tides and strong current flows. The town has a lot to offer and just strolling around the historic center is enjoyable.
05/26/2010 WEDNESDAY BRUNSWICK LANDING MARINA, BRUNSWICK, GA
We had a good trip up from Fernandina Beach. Kings River Naval Sub Base…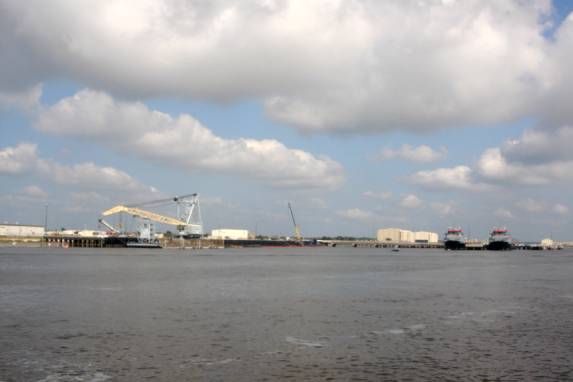 The marshes and swamps of north Florida and south Georgia are the habitat and breeding grounds for humongous "horse flies". We have experienced attacks from these vicious insect before, however, this massive invasion from these voracious monsters came in such amazing numbers that it shocks one's conception of possibility. The constant barrage of buzzing and biting instilled a sense of hostility that bordered on anger and rage. To quote Tevya from Fiddler on the Roof, "…and when I get angry, even flies don't dare to fly"… SWAT!!!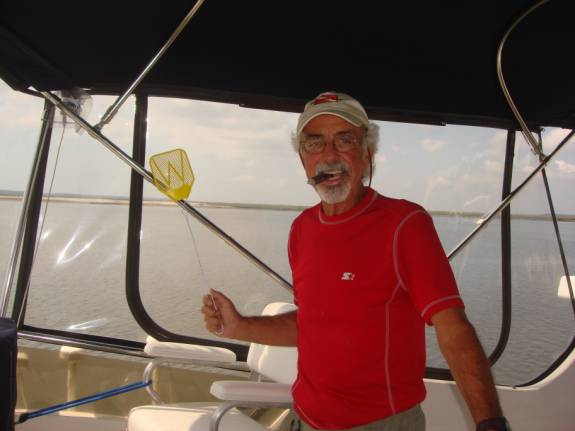 The invasion was phenomenal. In actuality, Judy was largely responsible for the major offensive/defense positions that resulted in the quality and quantity of confirmed kills. By any measure of appreciation deserving honor, a hero's award ceremony needed to be convened to bestow up her, the "National Fly-Swatters Medal of Honor".
This pile is only a small sample of the huge number of horse flies that were killed in a very short time.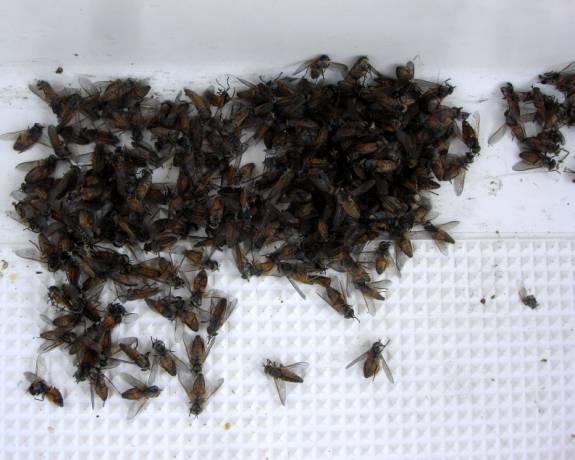 Brunswick fleet of shrimp boats on the East River…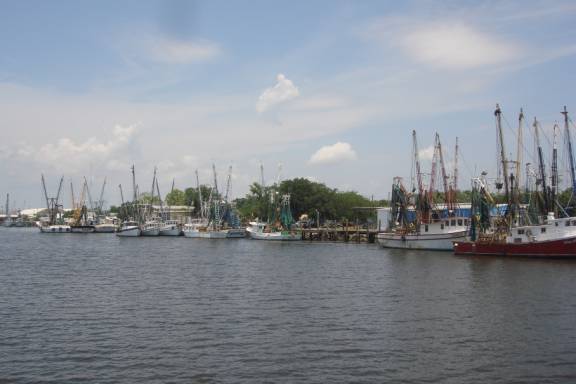 AMARSE showed evidence of her ICW transit by exhibiting the traditional "Waterway Smile". Tannins and the effects of the salty and brackish waters tend to create a brown water line at the bow. Judy used the excellent trick of spraying lemon juice on the stained area. Instantly, the stains vanish and the beautiful white hull regains its normal color. As a plus, the lemon juice is non-polluting and environmentally conscious. I am always thankful that Judy takes such great care of AMARSE (and me too).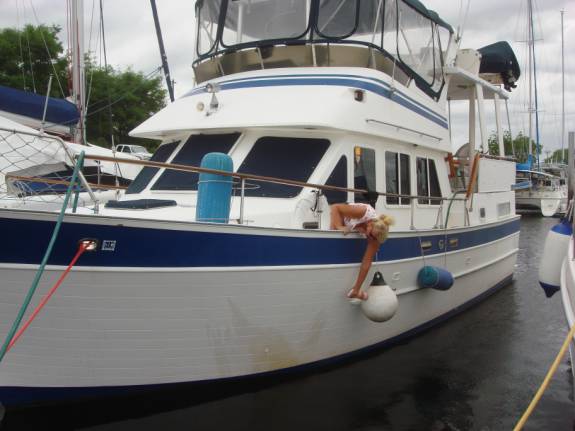 This evening, we went over to St. Simons Island.
Our dock neighbors, Kim and Paul (PRIVATE ISLAND), seated lawn side with Judy and me at the St. Simons Lighthouse…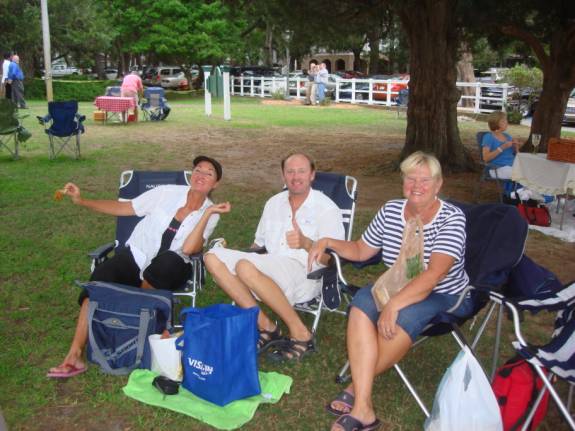 The Gazebo bandstand at the St. Simons Lighthouse grounds…
Canon aimed across the St. Simons Inlet to the Atlantic Ocean…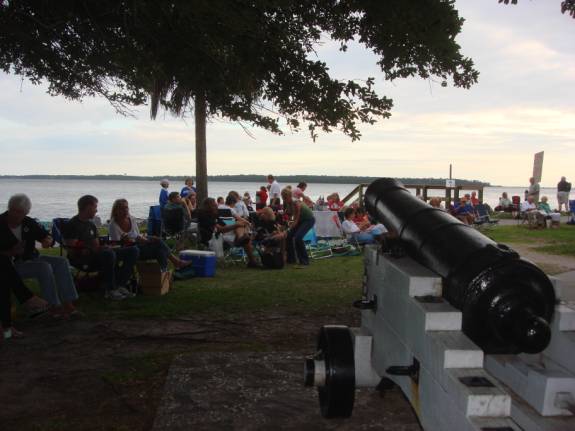 Picnic style dining on the lawn is a favorite family event at the lighthouse performances. During the season, there are at least semi-weekly music shows, including "A Little Light Music" and "Jazz in the Park" programs.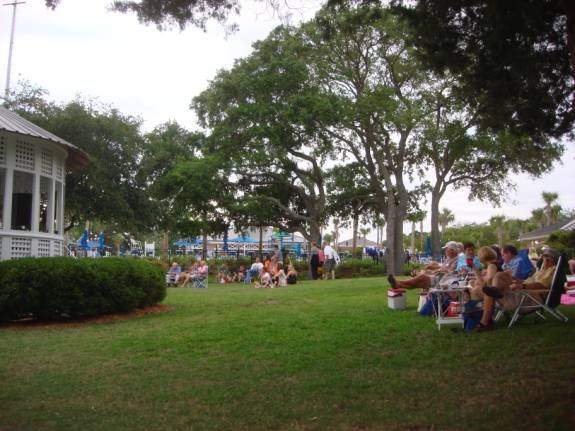 The famous lighthouse has been dark for many months while renovations were being undertaken.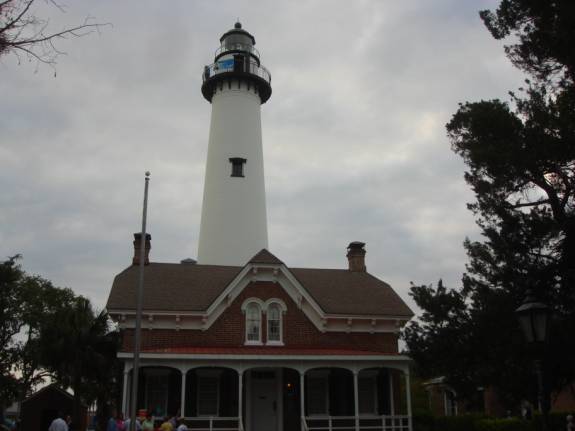 The newspapers called it, "The Big Turn On". Tonight's gathering was to celebrate the "re-lighting" ceremony and to enjoy a commemorative music performance by the "Wharfratz Band". It was a very good show.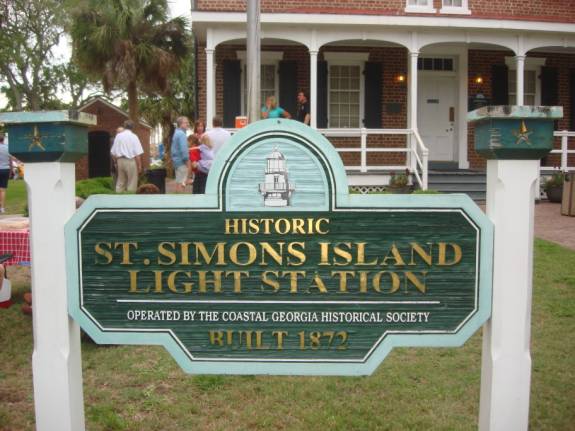 Smooth, mellow music filled the park and delighted the listeners.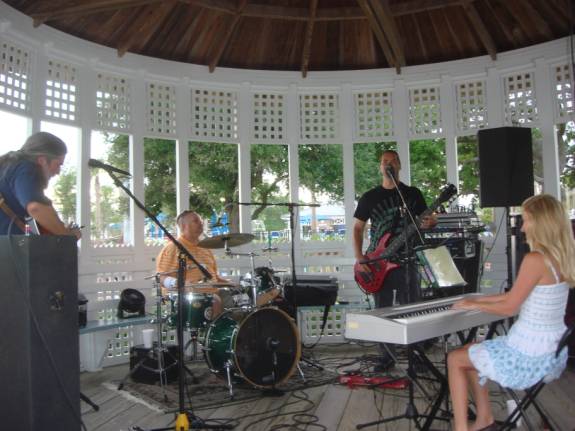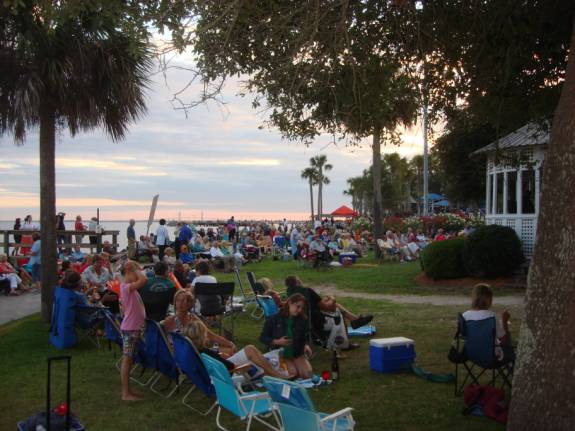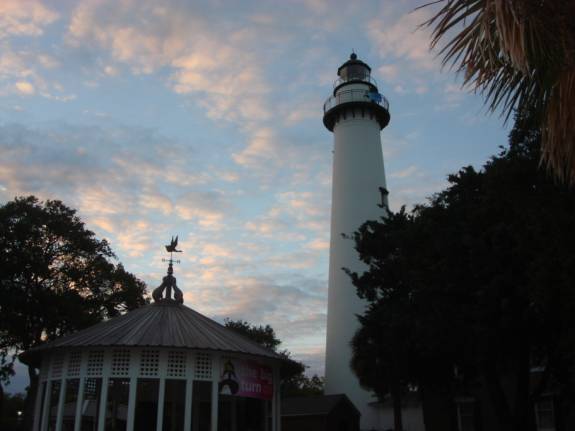 With a brilliant Full Moon in the background, the beacon of the lighthouse was re-illuminated.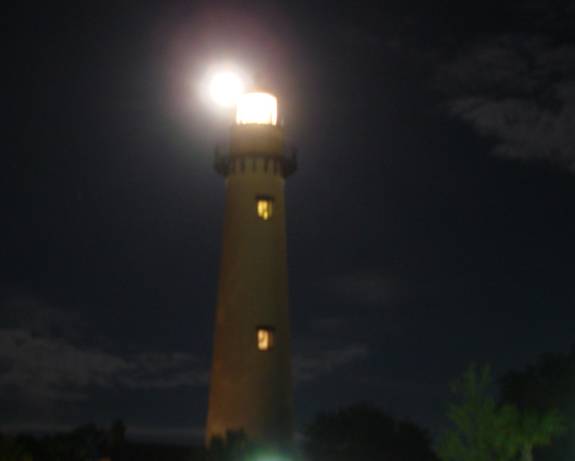 05/27/2010 THURSDAY BRUNSWICK, GA
One of our favorite treats aboard AMARSE is a special shrimp cocktail. Using a recipe style that we experienced in Mexico, I try to duplicate the subtle, savory flavors. The concoction contains salad size shrimp, finely diced tomatoes and onions, lemon juice, Lee & Perrins, and spices, all bathed in a tomato/clam juice base. Served with crispy bread sticks, it comes close to the perfect, warm weather lunch.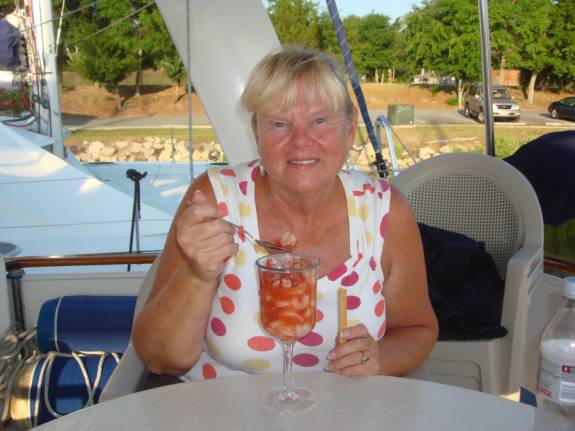 Dave and Barb invited us to join them aboard CHABLIS for an evening of friendship and the opportunity to savor the results of Dave's expertise at the culinary arts.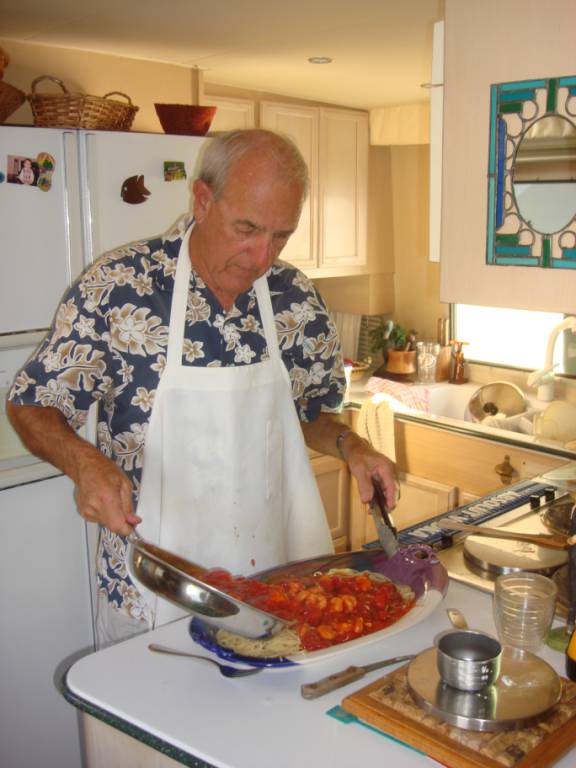 A gastronomic treat like this is what great memories are made of…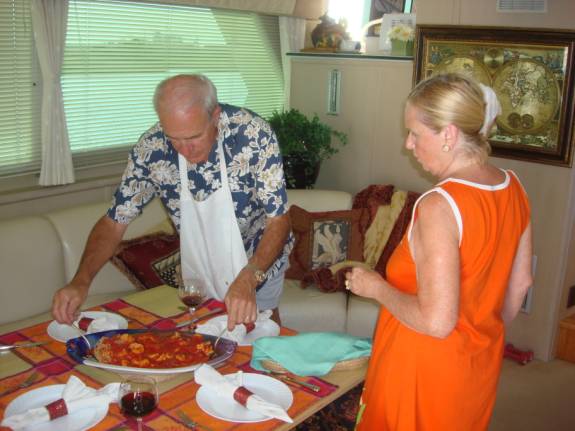 Always elegant, always delicious, always wonderful… Dave and Barb are the best… We LOVE them!!!!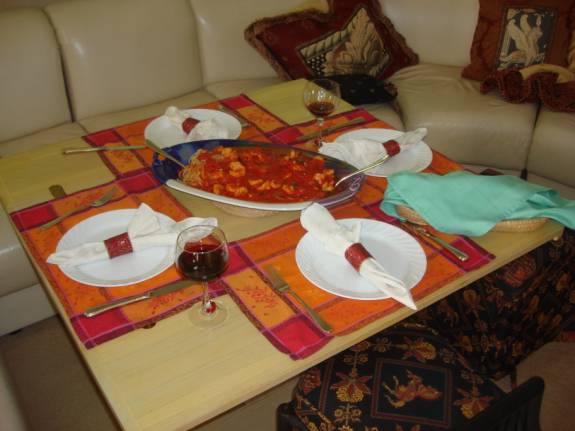 05/28/2010 FRIDAY BRUNSWICK, GA
Tonight, we returned to St. Simons Island. This time, we were not here to see the lighthouse.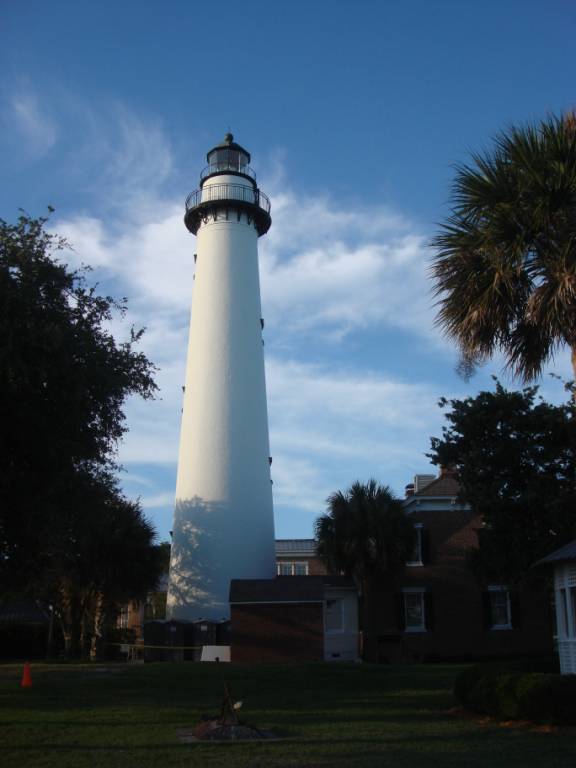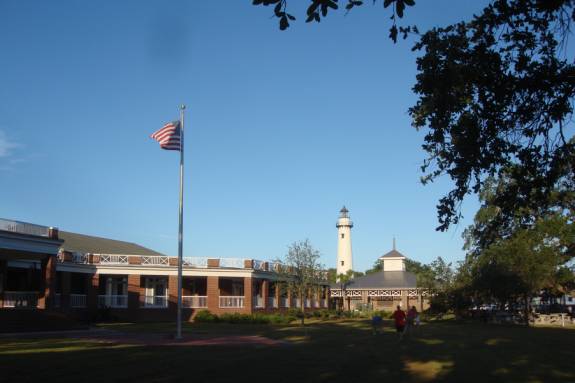 We were here to enjoy a live theatre production by the Island Players. The stage at the Casino Theatre came alive with actors bringing a rousing show called, "You Can't Take It With You".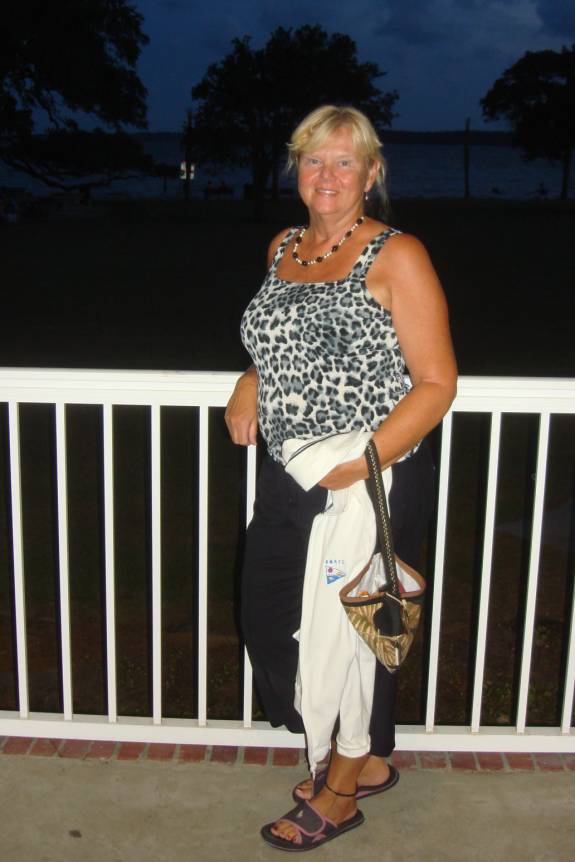 05/29/2010 SATURDAY BRUNSWICK, GA
Great friends, great food, great drinks, great conversation; all at a great place…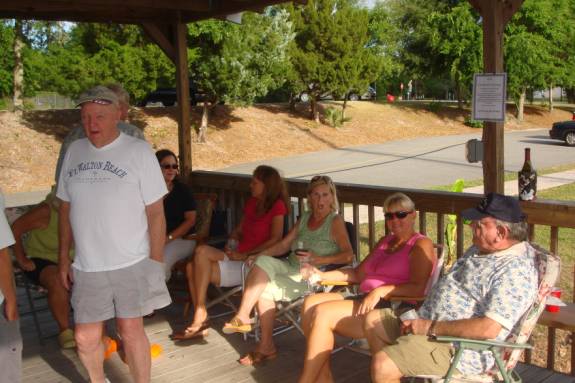 Robert (SEA ISLAND GIRL) helped manage the grilled masterpieces…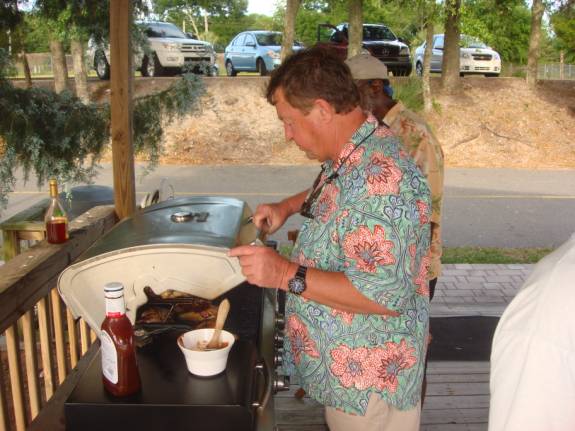 Under the watchful eye of Henry McCoy, Judy (AMARSE) added marinated summer squash slices to the hot grids.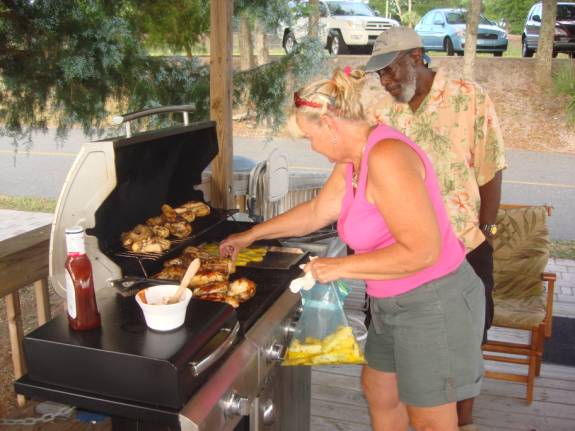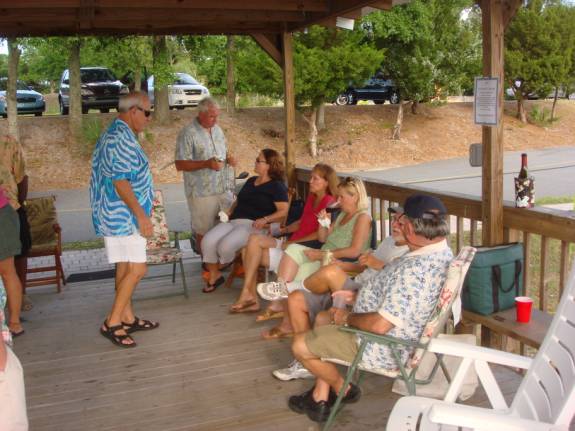 A lot of our friends were already at Brunswick Landing Marina. We are assigned to Dock 13 this year. An evening get-together was organized, in part to welcome us back to our summer home, and in part to celebrate another day of this great life.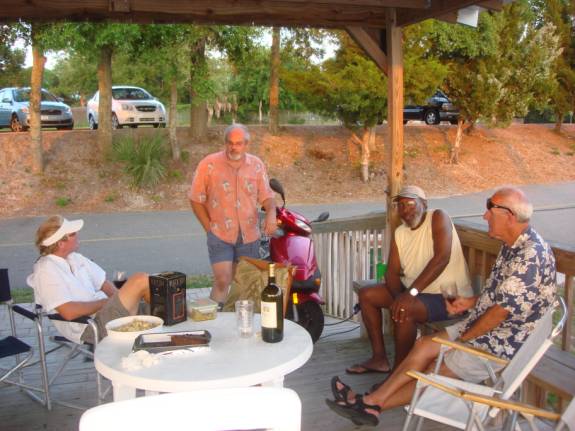 Our new neighbor, Kim (PRIVATE ISLAND), Barb (CHABLIS), and Judy (AMARSE)…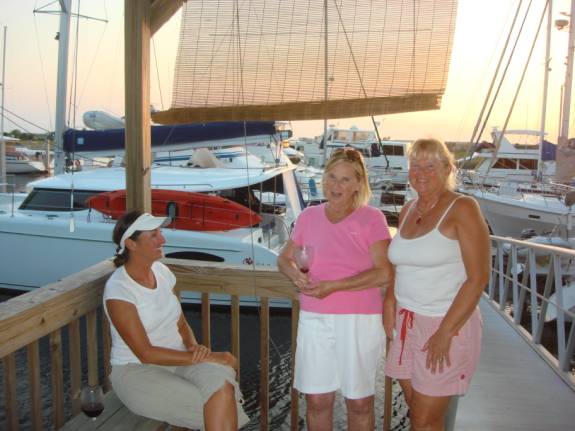 Judy (AMARSE), along with Margo and Dennis (PIZZAZ) proudly unfurl the RMHYC (Royal Marsh Harbour Yacht Club) burgee. The RMHYC group adding their smiles consisted of Fred (AMARSE) Henry McCoy, Sheila and Neil (SILVER QUEEN), Dave and Barb (CHABLIS), Robert (SEA ISLAND GIRL).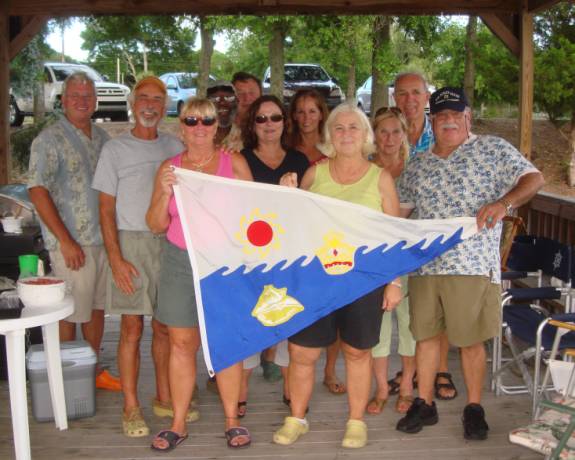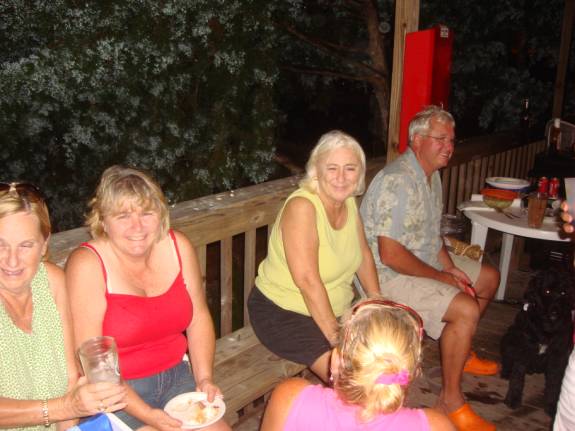 05/30/2010 SUNDAY BRUNSWICK to PALM CITY, FL
In Judy's car, we left the marina for Palm City, FL. to be ready for my scheduled surgery in Stuart.
We were invited to join Ivor and Susan at their community clubhouse for a gathering of veterans interested in commemorating their service to our country and to remember all those brave soldiers that honored their country, and its people, by giving their life for our freedom. For those members of their club that had served in the military, special hats were donned to signify their individual branches of service.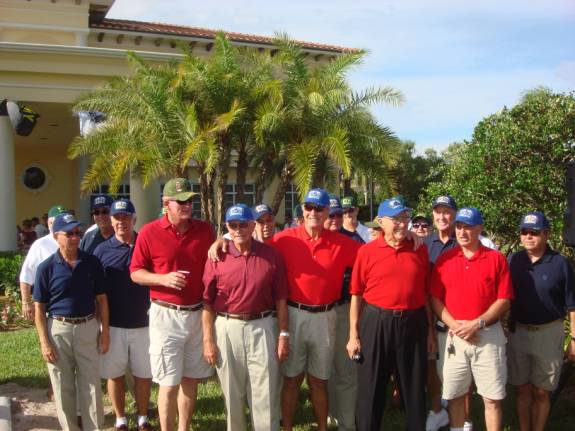 A US MARINE honor guard respectfully raised the Stars and Stripes on the newly erected flagpole.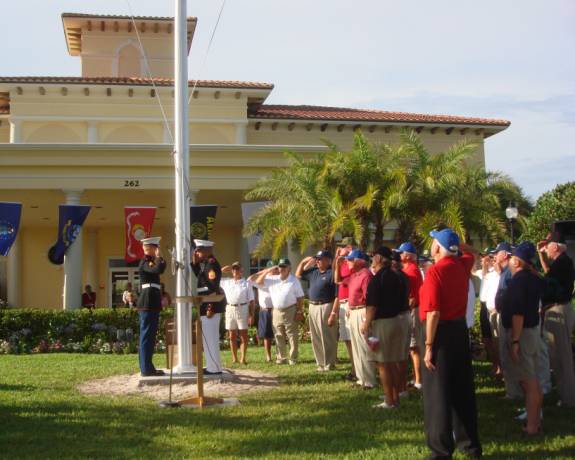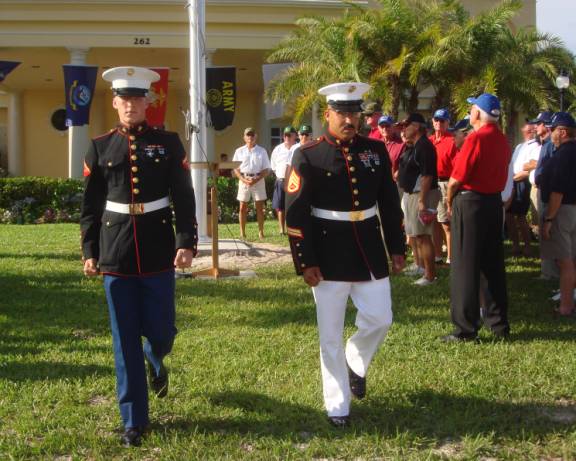 05/31/2010 MONDAY PALM CITY, FL
MEMORIAL DAY
We are the guests of Ivor and Susan (LAZY SUSAN) at their lovely home in Palm City, Florida. I am here in the Stuart area to have eye surgery to remove a cataract that has been affecting and clouding my vision. They have graciously offered to have us stay with them during the medical procedure and recovery. They have always been so wonderful to us and we have always appreciated their magnificent hospitality.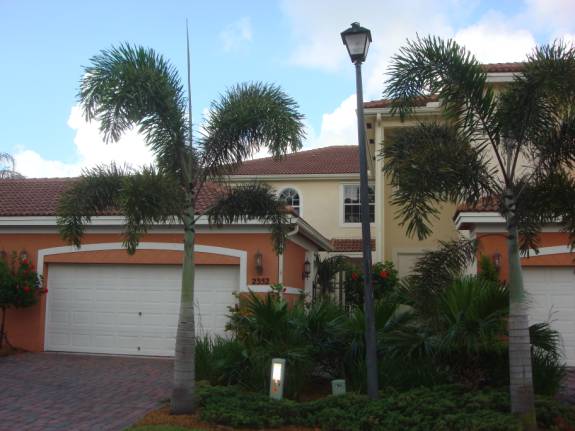 Judy and Susan at Ruby Tuesdays Restaurant… I don't think that's soda pop. What do you think?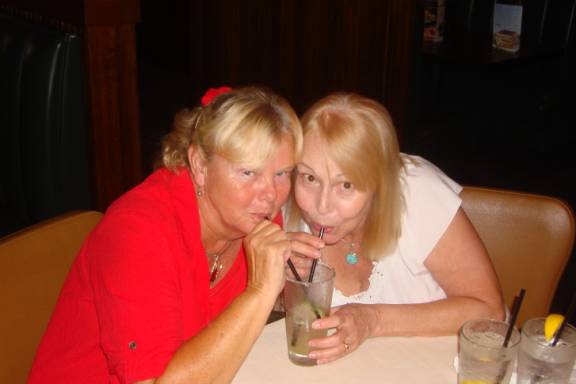 As the month of May comes to a close, I prepare for surgery while here by resting my eyes and applying prescription drops in my eyes. In the next update, the adventures will continue.
If you would like to advance to the next update addition, you can scroll up on this page and click on the NEXT button in the left column
CONTINUING UPDATES ARE IN PROGRESS…
WATCH FOR THEM, COMING SOON…
POST SCRIPT:
We sincerely hope that you will review the previous years of compilations to give context to the current editions. Please let us know if you have any special suggestions and thoughts.
REMEMBER: The website is now fully active and you can visit it at any time. You can also review any of the previous logs from the years 2006, 2007, 2008, and 2009 to learn more about the crew and their many adventures. Enjoy.
ATTENTION: SPECIAL NOTE:
You may contact us via email anytime.
Thanks for allowing us to share our life and adventures with you.
Lotsa Luv,
Fred Reed and Judy Law
AMARSE
MT40
"AMARSE" is pronounced "AM-ARE-SAY".
Our website is: www.amarse.net .
CONTINUING UPDATES ARE IN PROGRESS…
WATCH FOR THEM, COMING SOON…