UPDATE#21 07/01 TO 07/31
Howdy Everybody,
The adventures of 2006, 2007, 2008, 2009, and thru 06/31/2010 have been published on the website. We continue with the latest edition.
UPDATE 2010 #21 07/01/2010 to 07/31/2010
At last update, we were getting everything ready for our trip to Ft. Myers Beach and to move GEMBA to Texas. Welcome back to our continuing adventure…
07/02/10 FRIDAY BRUNSWICK, GA to FT. MYERS BEACH, FL
With canvas down, electronics stowed, extra lines secured, and all thru-hulls secured, we thanked our beloved AMARSE for her wonderful contribution to our lives and asked her to "be a good girl" while we were gone. Although I'm sure that she will miss us, I'm confident that she will be safe and comfortable here. Without a doubt, we shall miss her too. Thankfully, friends will keep a close eye on her wellbeing. By 5:30am, we were in the Riviera headed south to Ft. Myers Beach, FL.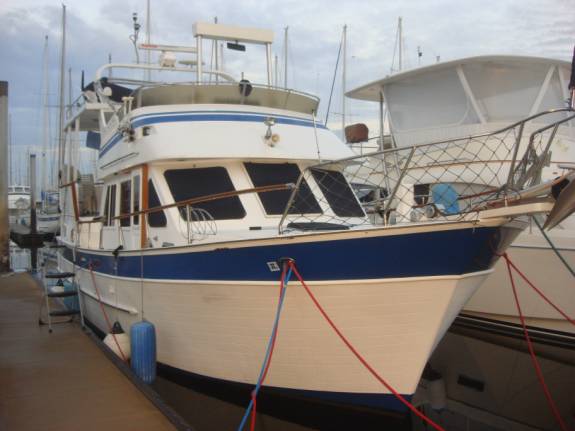 By 1:30pm, we were in Ft. Myers Beach and went to check on GEMBA. She was still blocked up in the Gulf Marine Boatyard. Although we had suspected that the schedule of work by Olsen Marine Services might be a little behind, it took no more than a cursory look to see that there was still a lot of stuff to be done.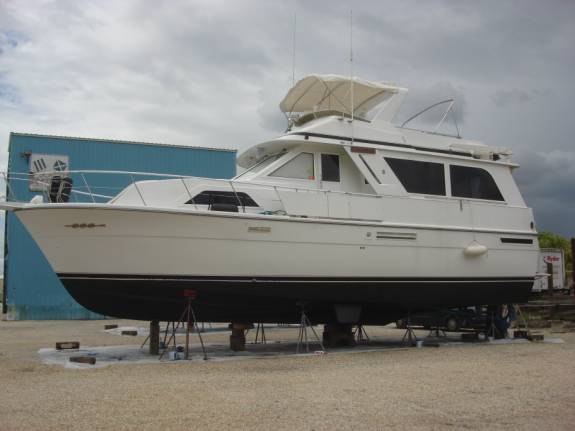 Rainy conditions and technical problems with the Olsen lift had slowed progress significantly.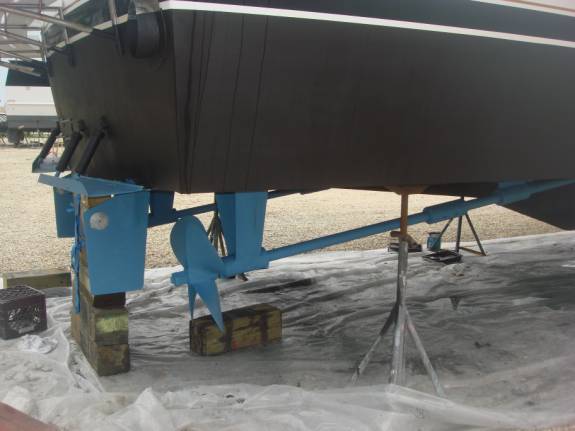 The fins for the NAIAD ROLL STABILIZERS…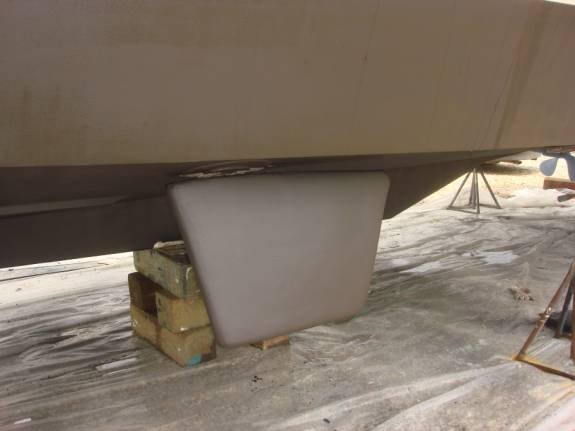 Hotel room at the Marriott Residence Inn in Ft. Myers...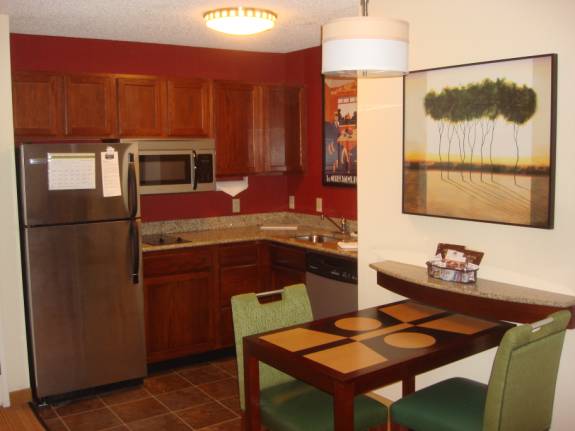 We loved the beautiful, decorative touches to the bedding and the colors were very attractive.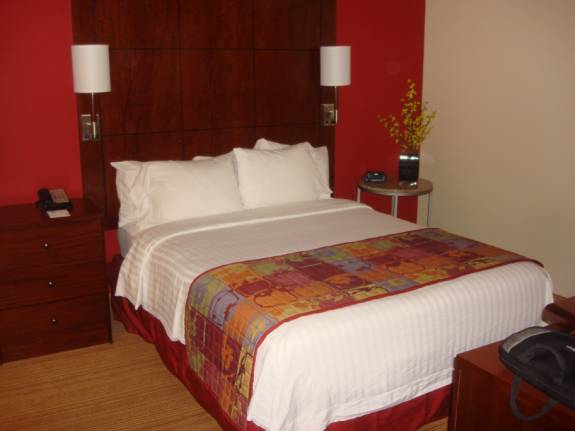 07/03/10 SATURDAY FT. MYERS BEACH, FL
More rain created more puddles. With the Independence Day holiday at hand, the work would be delayed even more. Our original plan was to be leaving today. Well, that surely wasn't going to happen.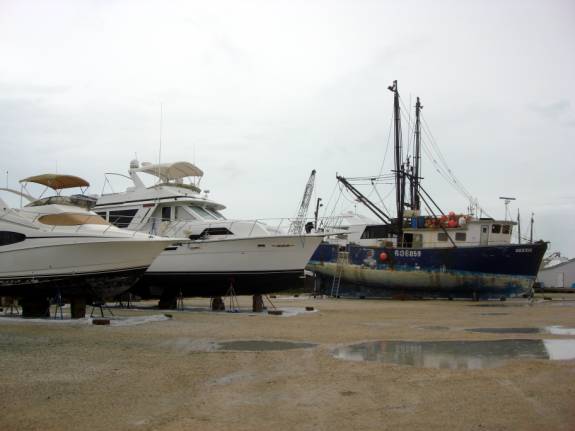 Scott busied himself with some computer research and electronics troubleshooting of the boat's entertainment center. Scott is very good at assessing and fixing stuff.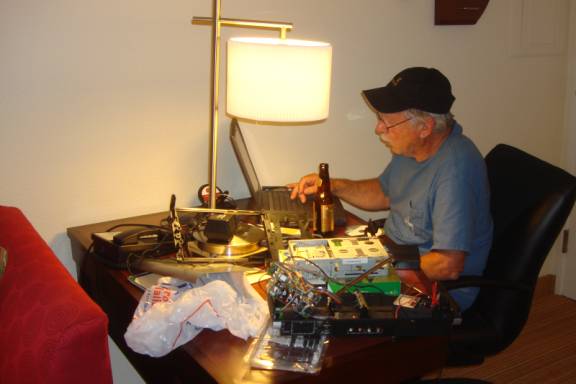 07/05/10 MONDAY FORT MYERS BEACH, FL
Scott set to working on the Nautica inflatable jet boat.
In no time, he had lots of components taken apart. He will need new parts before he can get everything back on track.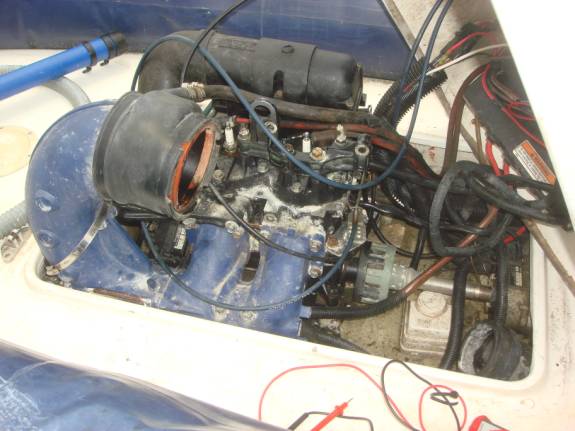 07/06/10 TUESDAY FT. MYERS BEACH, FL
Gulf Marine was anxious to get GEMBA out of their yard space and back in the water. The huge lifted GEMBA effortlessly while the Olsen guys finished up the bottom work.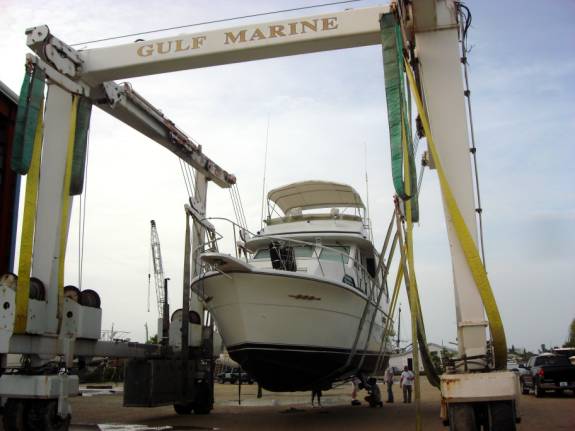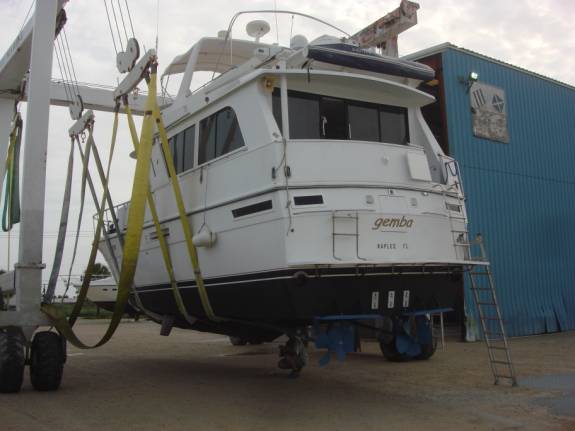 Huge, new zinc plates were attached to the hull stern to prevent electrolysis problems. The running gear had been prepared with the special, Olsen 3-coat process and new zincs.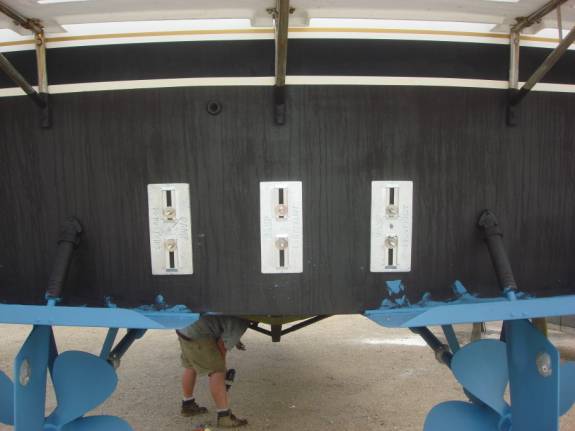 New engine feed thru-hulls had been installed and the bronze strainer intakes were bedded in.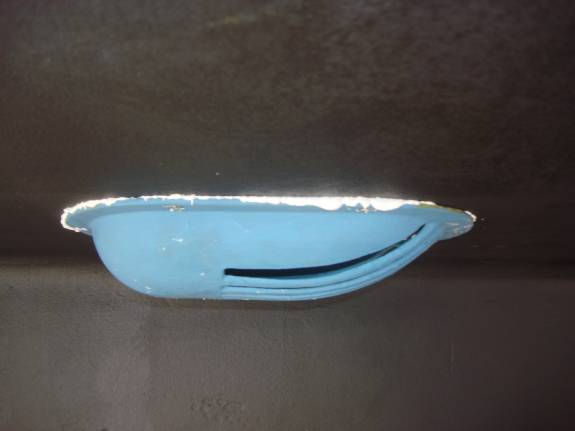 Scott finally broke a smile as GEMBA was launched.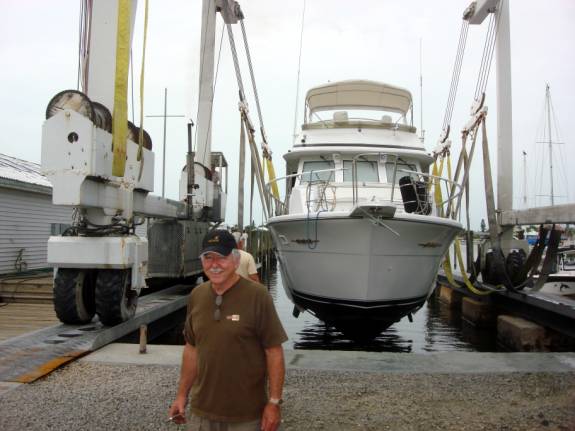 Olsen's yardman moved the GEMBA over to their yard dock.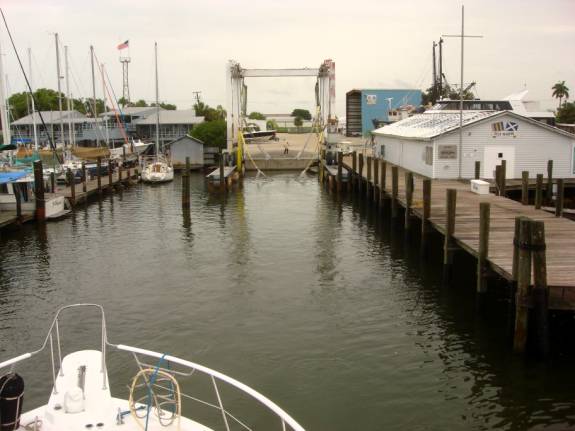 07/07/10 WEDNESDAY FT. MYERS BEACH, FL
The fuel polish guy returned to complete the filtering process. They claimed that a lot of the fuel had needed to be drained and was in too foul a condition to be saved. I guess I really don't understand that one, but what do I know… In the process, he somehow damaged the tank quantity senders beyond repair. Now, we will have to calculate our fuel consumption without the aid of main tank gauges.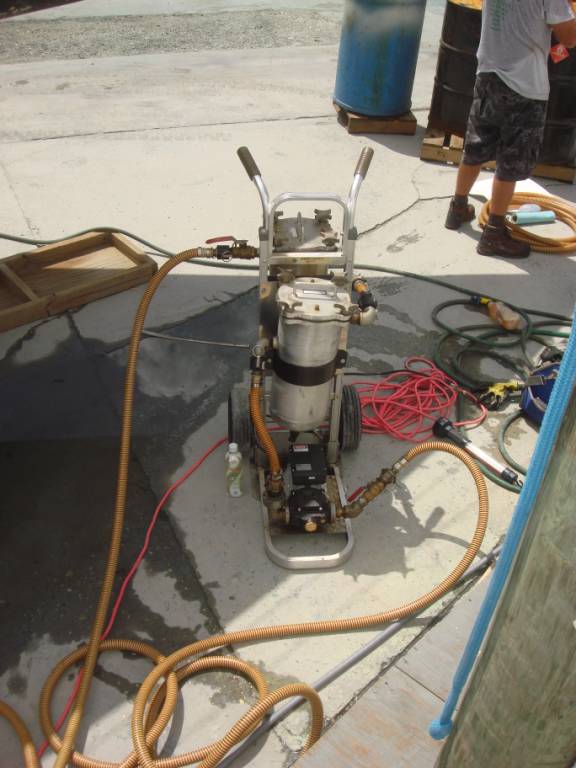 07/08/10 THURSDAY FT. MYERS BEACH, FL
The Olsen maintenance process continued to rack up hours. I don't think I've been overly impressed, nor will I feel any pressing urge to recommend their services to my friends.
07/09/10 FRIDAY FT. MYERS BEACH, FL
Olsen finished up what they could get accomplished. In as much as the yard does not work on weekends, Scott elected to defer some of the minor issues due to the time constraints. A staggering bill would yield the release papers. We kept busying ourselves with provisioning and getting everything ready to leave tomorrow morning. Judy's car will remain parked here until we return for it later.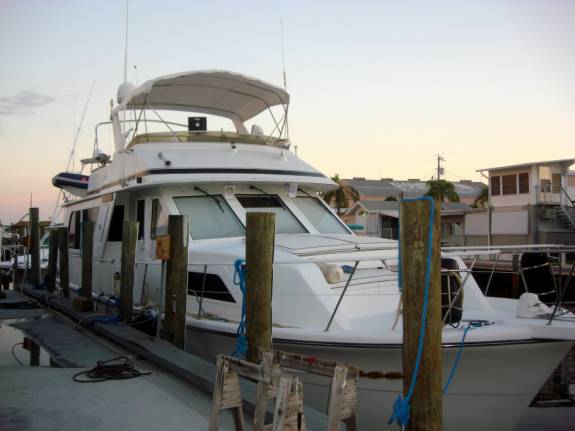 OK, let's get a good night's rest. The journey commences in the morning.
07/10/10 SATURDAY FT. MYERS BEACH to BRADENTON, FL
I was up and getting things organized at 4am. For the rest of the crew, the alarm at 5:30am meant all hands on deck for Commander's Coffee Call. Of course, there was the standard briefings concerning the weather, sea conditions, trip plan, systems checks, crew coordination, operations, positions, and, most important, the safety issues that will make or break the success of our adventure. Judy and I have long internalized a repetitive sort of safety briefing that we repeat at every operation, whether it be docking, anchoring, moving around the boat, or any other changing on-deck requirement. One of us simply says, "RULE NUMBER ONE?" The other must respond verbally, "NOBODY GETS HURT!" For us, it re-emphasizes what is the most important issue facing us. After all, if something happens to either of us, the story is over. Anything else can be overcome.
At 6:20am, the twin, 550 HP Detroit Diesels roared to life. A check of the engine room revealed a small leak from a cracked water hose on the starboard engine. After shutting back down, we made repairs in short order and had the engines turning again. At 6:45am, the transmissions transferred power to the propellers and we were underway from the Olsen Marine dock. We headed out from Estero Bay and joined the ICW at marker #11 as we passed Sanibel Island.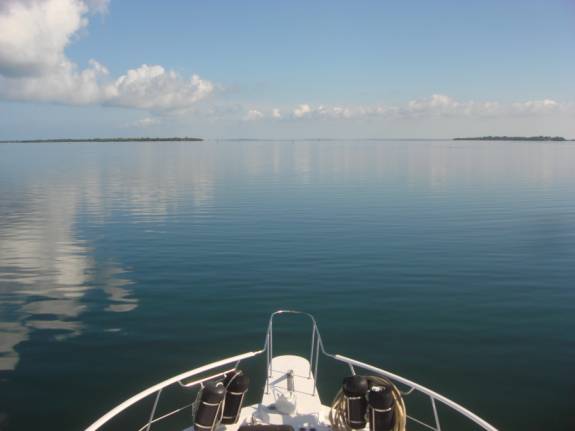 An escort of frisky dolphin joined our wake and proudly demonstrated some of their phenomenal aquatic skill for our enjoyment.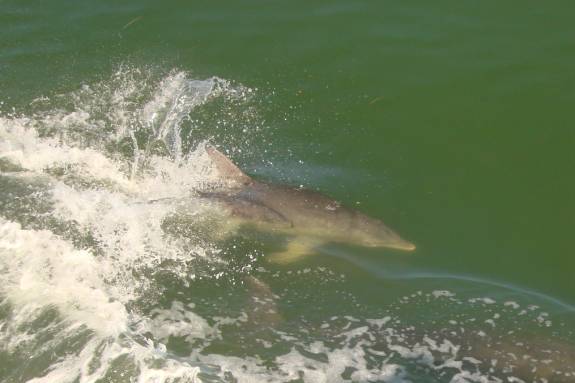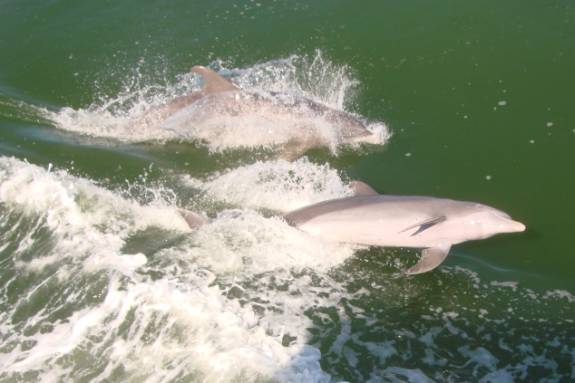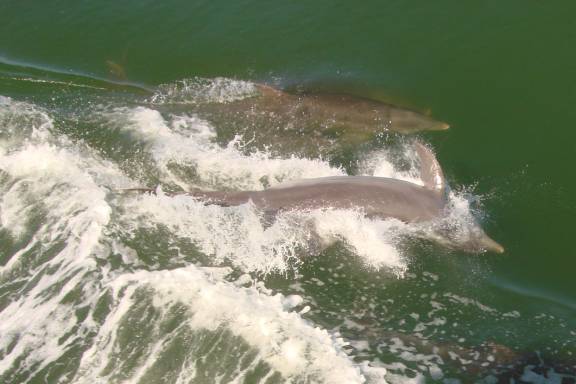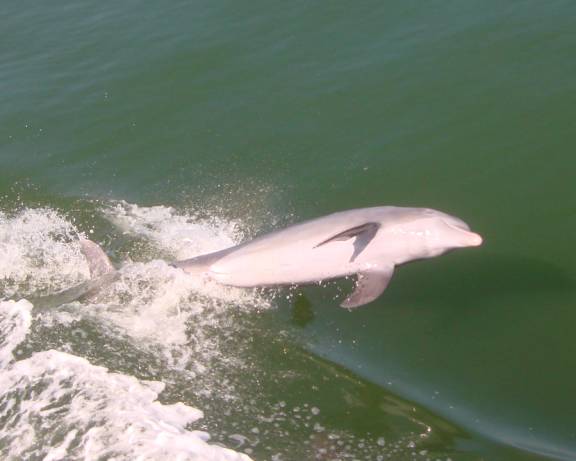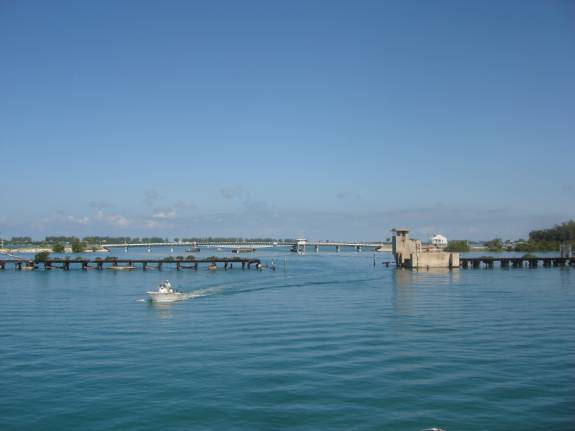 Our VHF radio request had the bridge tender opening the swing span for our quick passage.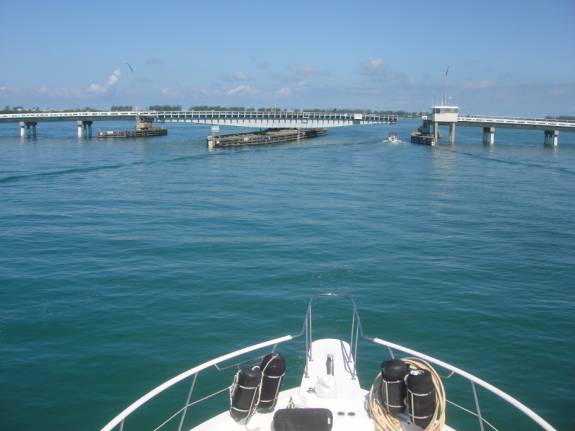 Near the Circus Bridge, south of Sarasota, we stopped at MarineMax for fuel. We had left Ft. Myers with much less than full tanks and we needed more fuel for the long trip ahead. Since they had the best price that we could find in the area, Scott elected to fill all the tanks. An hour later, we were back on the waterway headed north.
For the evening's dockage, we chose the Seafood Shack. The dock that they had assigned was just too narrow and had no power available. We had to move over to another vacant slip that was not much wider. Our dear friends, Rose and Phil (WINGS) were kind enough to come to the marina to catch our lines and help direct us into the slip. They agreed to stay and dine with us aboard GEMBA. I prepared a delicious meal of Spaghetti Bolognese. You know, it's tough to present a Philadelphia gal, that grew up with some of the finest Italian food in the world, with a dish that makes the mark. From all accounts, dinner was a total success. Rose and Phil have remained close in our hearts since the days of the Great Loop trip. If you remember, we had the sweet surprise of seeing them over on the east coast at Mosquito Lagoon several months ago.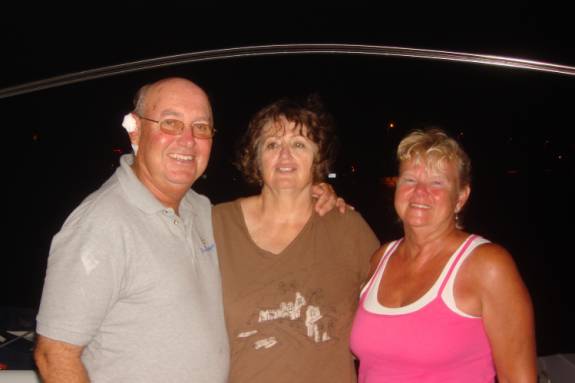 The trip logs recorded 94.6 miles, traveled at a moving average of 9.4 mph, and the moving time came to 10 hrs, 4 minutes.
POSITION N27 27.778 W082 41.354 ICW mile marker 87.2.
07/11/10 SUNDAY BRADENTON to CLEARWATER and GULF OF MEXICO
Again, I was awake early at 4:30am. The rest of the crew accumulated their beauty rest until the alarm at 6:30am. With all the pre-departure checks and briefings completed, GEMBA was churning up the ICW at 7:40am. We chose the alternate, by-pass route at the Tampa Bay Inlet. By 9:30am, we rejoined the ICW at mile 110.8 near the giant Skyway Bridge.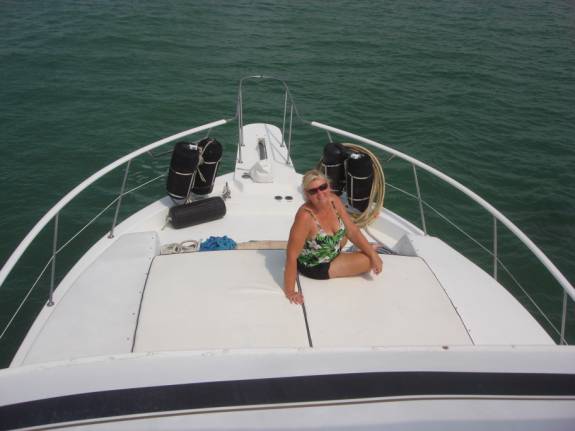 When we got to Bellaire at mile 131.9, we located a tranquil anchorage and dropped the hook at 1:13pm. A review of the weather and seas suggested that tonight would be the best night to make the Gulf crossing from Clearwater to Apalachicola. We planned to rest here and depart later this afternoon so that we would make landfall on the other side in daylight conditions. I don't know how much we actually rested, but we did take our little naps.
At 4:10pm, the windlass cranked the anchor aboard and we headed out the channel, under the causeway, and out into the Gulf of Mexico. We turned at the CLWTR sea buoy at 4:45pm to begin our overnight, official crossing.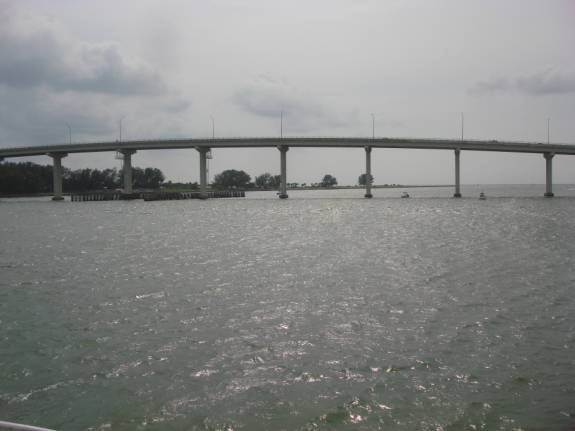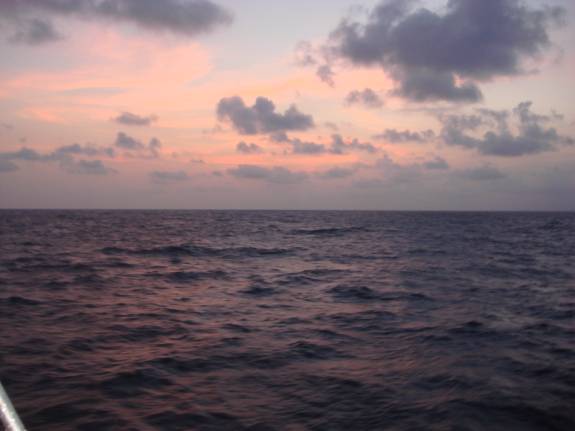 The forecast for relatively smooth seas may have been a bit understated. By nightfall, the seas were building and the waves were soon careening over the bow, soaking everything with the salty green Gulf waters. Fortunately, GEMBA is quite stout and handled the rough conditions admirably. The most difficult part of the trip was trying to move around the boat safely. There were numerous times when we heard the phrase, "RULE NUMBER ONE?" I guess you already know the mandatory response…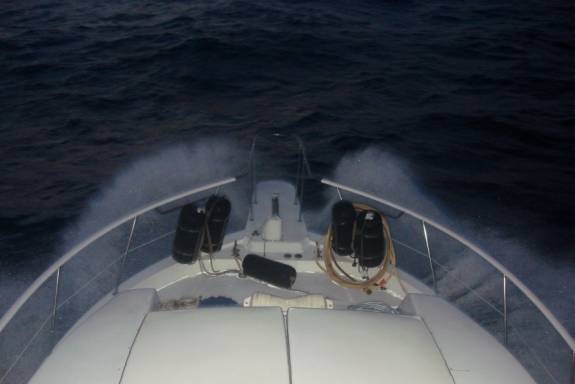 When the bells tolled midnight, we were well offshore and it became Monday.
07/12/10 MONDAY GULF OF MEXICO to APALACHICOLA, FL
The rough conditions began to subside as dawn approached and we neared the coast of northwest Florida. Upon straightening up the foredeck, Scott proudly displayed a fish that had ridden the crest of a wave onto the bow area. Somehow, I think it will be too difficult for him to fillet.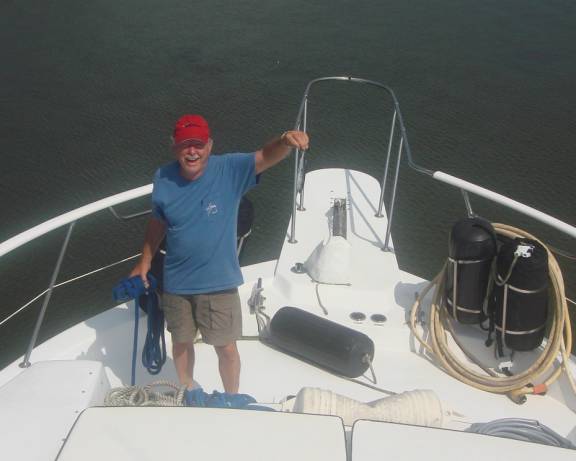 We transitioned from the open Gulf of Mexico to the GIWW inland waters at Dog Island Pass near Carrabelle, FL. Another 25 miles, or so, brought us to Apalachicola. Like the rest of us, I think that Judy was happy to be back in smooth waters again.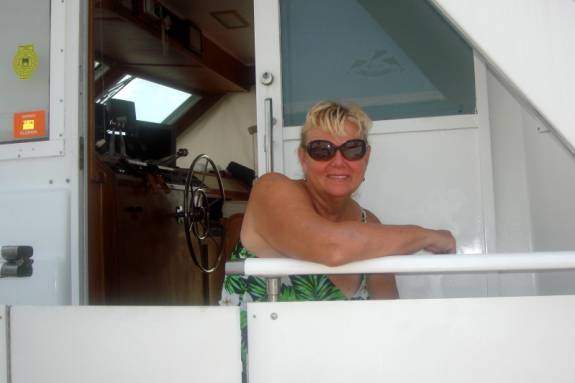 At 11am, we arrived at the Gander Oil Company dock for fuel. With probably the best prices in the area, GEMBA had her thirst quenched with full tanks. We moved to what we thought was the City Dock. We were soon informed that the docks belonged to Apalachicola Marina and the overnight rate would be $1.50/ft. Since we were already set up and secure and the rate included 50-Amp electric service, Scott decided that we would stay right where we were.
Apalachicola is a quaint little town with a rich, seafaring history. We enjoyed walking around the waterfront areas.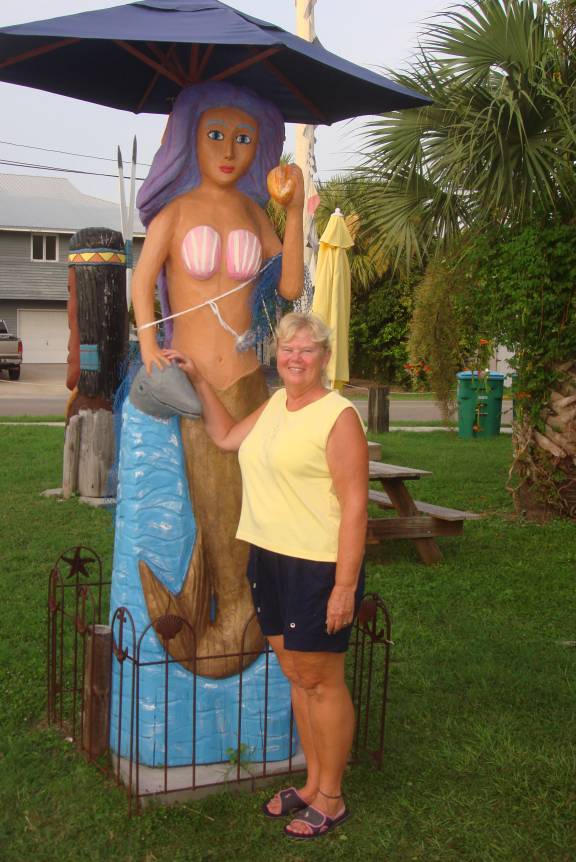 This relic of history appeared to need only a light coat of paint and some Windex for the window glass. What do y'all think?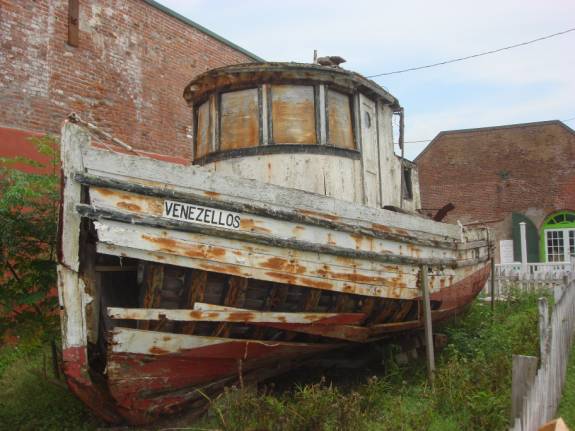 The port of Apalachicola is well known for their shrimp fishing fleet.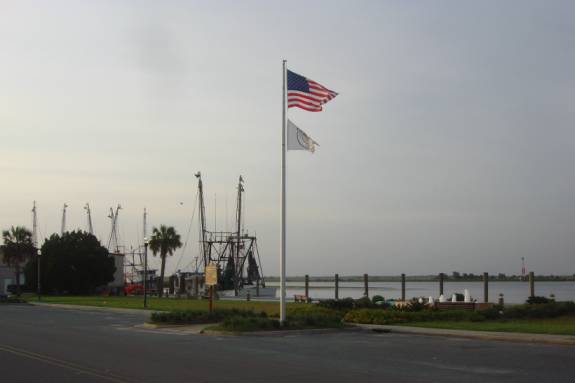 In these days of the massive BP Oil Spill Disaster, most of the fleet has turned their attentions to clean-up activities. The Coast Guard and private contractors have enlisted their services in the VOO Program (Vessels Of Opportunity). At an attractive daily rate, the vessels and their crews, pull booms and other containment equipment in an effort to reduce the threat to the sensitive coastline and fishing waters. Huge stacks of containment booms stand ready to be deployed as instructed.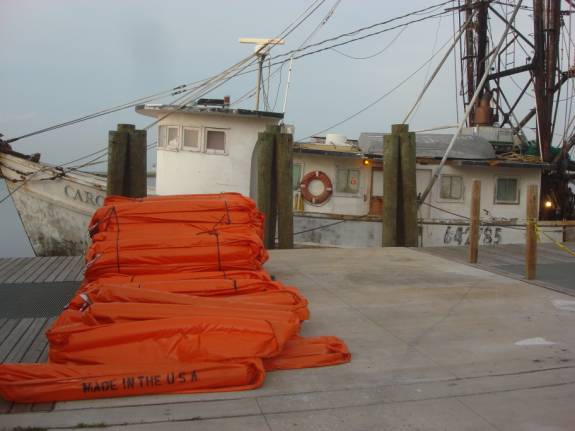 The fuel vacuum readings were on the rise and as a preventative measure, we changed the primary Racor filters. Needless to say, we were tired puppies after the long night in the Gulf. Those beds felt very good and welcoming. So far, we have traveled 331 miles in a Moving Average Time of 34.2 hours and yielding a Moving Average Speed of 9.7.
07/13/10 TUESDAY APPALACHICOLA to PANAMA CITY, FL
At 7am, GEMBA eased away from the dock. As I was making the turnaround, I was surprisingly aware that I had no transmission control on the starboard engine. With only one engine, I maneuvered into a docking position on the City Park Dock that we had originally planned to stay at. I bled the hydraulic controls and added some fluid. This helped regain the control effectiveness.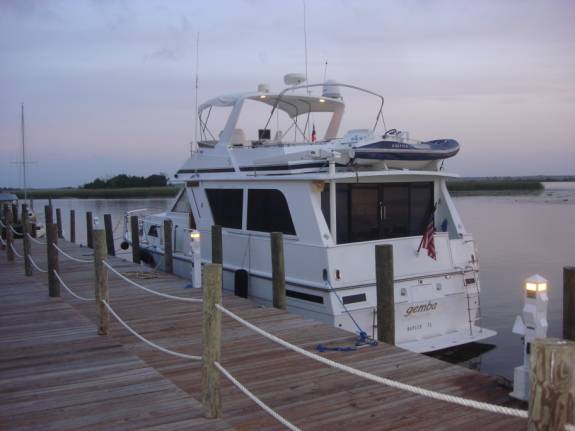 The GIWW EHL (Gulf Intracoastal WaterWay East of Harvey Locks) travels through some interesting and scenic areas. Along the way, our ships clocks had to be changed to Central Daylight Time from the EDT settings.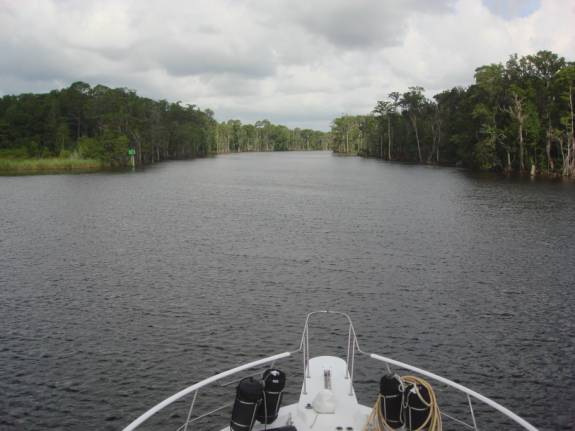 At 2:43pm, we turned off the GIWW and headed for the Bay Point Marina in Panama City. . We were tied up securely at 3:27pm. The marina is very nice and the staff is extremely courteous. Being AGLCA boaters, the cooperative manager extended a special rate of $1/ft, plus $7.50 for electricity.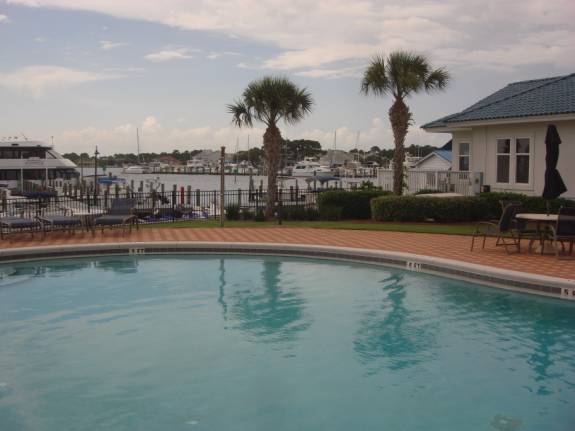 The gorgeous pool was very inviting in the very hot, summer temperatures.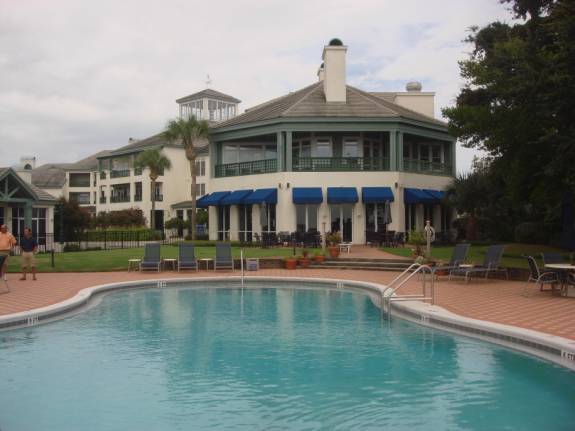 Hey Scott, I had always thought that the "Dead man's Float" was in the face down position. I guess I was wrong again…
Just look at that wonderful smile… Soooo Coooool….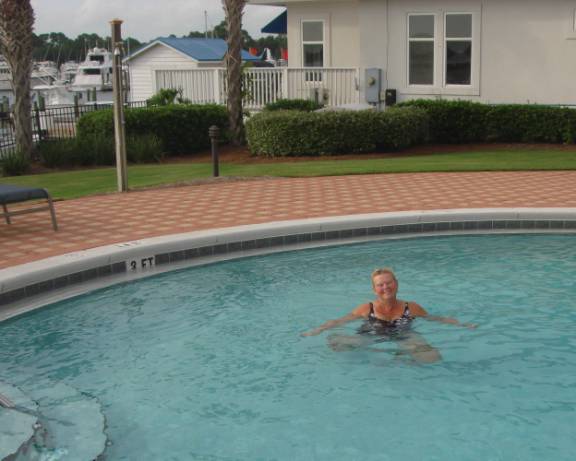 Today's log recorded 65.9 miles traveled in 6 hrs, 41 minutes of actual moving time, yielding a moving average speed of 9.8. So far, we have traveled 397 miles.
07/14/10 WEDNESDAY PANAMA CITY to FT. WALTON BEACH, FL
One of the rudderpost shafts has been leaking beyond acceptable limits. We didn't have wrenches large enough to handle that task ourselves. We called a recommended mechanic service. They arrived in a timely manner and repacked and tightened the gland nuts to stop the flow.
At 11:35am, we were underway and rejoined the GIWW EHL at 12:05pm at mile marker 289.
In the early evening, we arrived at the Ft. Walton City Dock with the clock showing 6:40pm. As we were heading for the dock, the starboard transmission would not shift properly and I had to shut down that engine. Of course, there was wind and current to deal with and to complicate matters, the rudder position indicator was not operative because the autopilot head had failed from water intrusion. Fortunately, I was able to dock safely and without incident.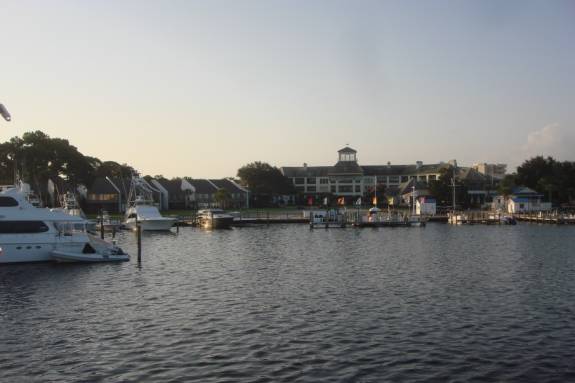 There is a narrow cut that has some interesting colors and formations. Although the nickname of "Grand Canyon" might be vastly exaggerated, there is a vague resemblance to the colors and erosion patterns that attempts to stretch the imagination.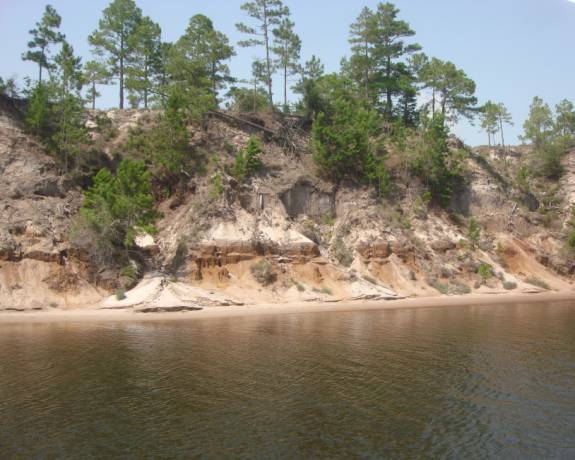 Ft. Walton Beach city dock slips; free with prior permission from city offices…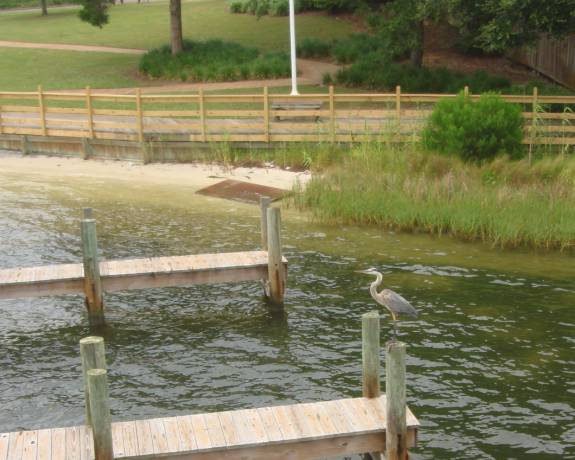 Great Blue Heron…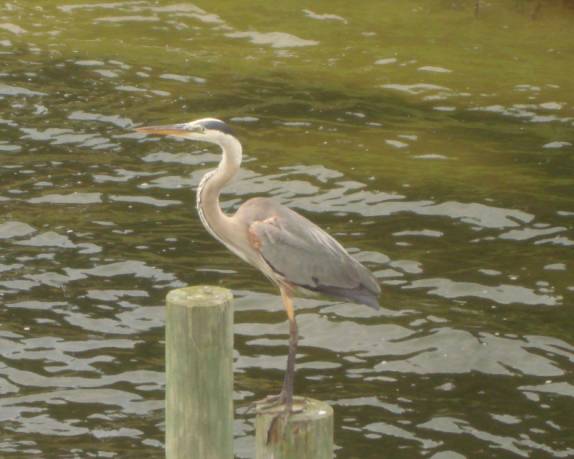 In the early evening, we arrived at the Ft. Walton City Dock with the clock showing 6:40pm. As we were heading for the dock, the starboard transmission would not shift properly and I had to shut down that engine. Of course, there was wind and current to deal with and to complicate matters, the rudder position indicator was not operative because the autopilot head had failed from water intrusion. Fortunately, I was able to dock safely and without incident. Again, we repeated the bleeding process and re-pressurized the system. We were able to regain control but still don't understand the root problems.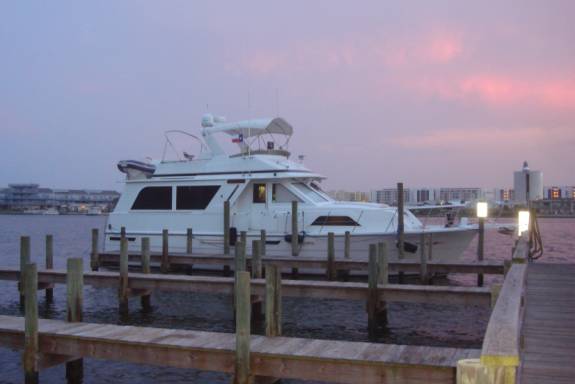 There are no dock fees here, however, you must obtain prior permission from the city offices so that they can notify the local police. No electrical service is provided so we had to use the generator as the power source.
One of my GPS units was acting unreliably. I determined that the antenna for the lower unit had failed and most likely had shorted out from water intrusion. I called the very cooperative West Marine store and they agreed to have one of the managers drop a new one off at our dock. I paid them over the phone and, after their store closing, a real nice guy brought the needed unit that I proceeded to install. Thanks, WM…
Our trip today traversed 63.2 miles. In a moving time of 6 hrs, 7 min, our moving average speed indication was 10.3. The trip so far has accumulated 461 miles.
POSITION N 30 24.098 W 086 36.384
07/15/10 THURSDAY FT. WALTON BEACH to ORANGE BEACH, AL
At 7am, we were underway. Due to the time zone changes, we have modified our early departure times to avail us of the maximum daylight hours. Scott had the bow watch duty. He must not be doing a very good job because he still hasn't seen any naked mermaids yet. Wait a minute, he just turned his head away for one minute, and there she was. Darn!!! He missed another one, right in front of him…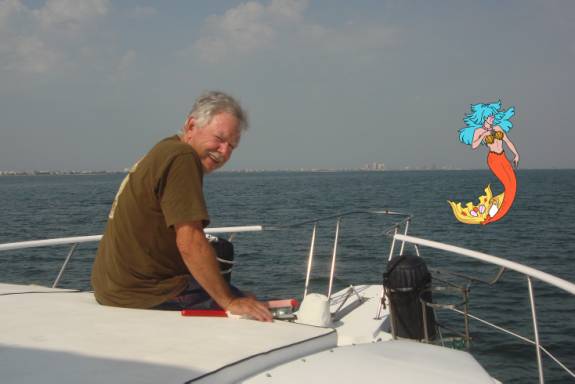 All along the way, we've seen numerous "Vessels Of Opportunity" working and patrolling the waterways.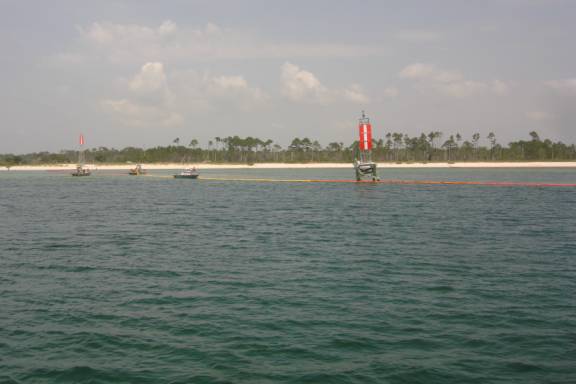 In the Pensacola area, their presence was numerous. As well as the work vessels, there were law enforcement boats, Coast Guard boats, Marine Patrol, and various conservation units in the area. Of course, we made the passing without the hint of a wake. There were oil containment booms strategically placed all along the shoreline. Fortunately, the spill impact has been very minimal in these areas.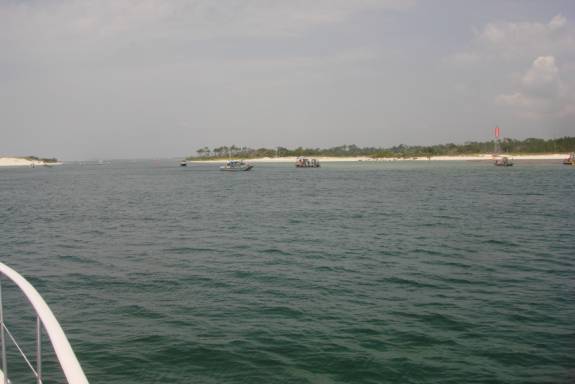 The beach sands of the Florida Gulf coast and eastern Alabama are composed of fine, white grains of sugary magnificence. Everyone is deeply concerned for the environmental impact that this BP Oil Spill will, or could have, on their survival. Fortunately, containment procedures and just plain good luck with the Gulf weather has minimized the raw crude intrusion. On the downside, the economic impact on the entire Gulf region has been devastating to the tourist business and the fishing endeavors.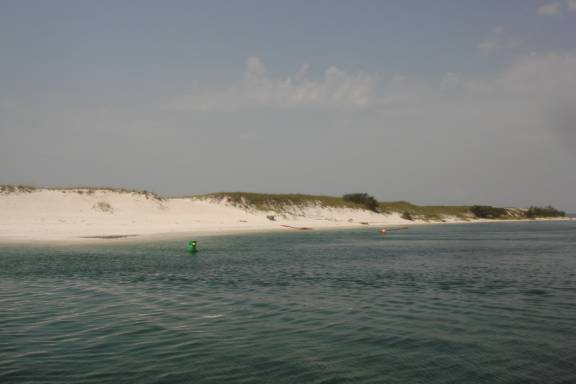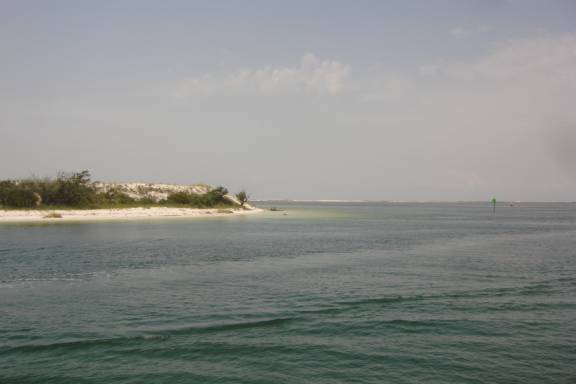 This restaurant and the Homeport Marina are well known. Near Orange Beach, Alabama and the Gulf Shores area, Lulu's Waterfront Restaurant is owned and operated by Jimmy Buffett's sister. On occasion, Jimmy and friends will make unannounced appearances. At 2:30pm, I brought GEMBA up to the main fuel dock where Scott could go into the office and register for the night's stay at the marina. We were directed to enter the harbor area and take the assigned slip. I backed out of the fuel dock, turned into the harbor channel, and began to align with the slip. Guess what? The transmission could not be controlled again and I had to shut down an engine again. I managed to get the boat turned in the narrow channel and maneuvered to rest up against the long dock seen below.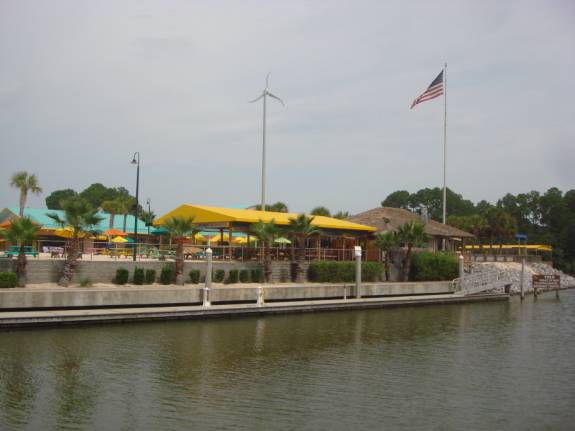 We messed around with linkages and stuff looking for the problem. Not knowing exactly what we did, we were able to restart and have control. I maneuvered GEMBA into her slip where we secured her for the night.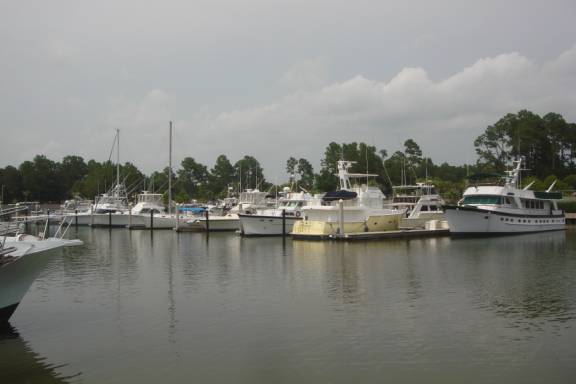 Knowing that they lived nearby, Scott called his favorite aunt (his Mom's sister). In their Lincoln Navigator, they came to the marina and we went to dinner at a Mexican restaurant favorite of theirs. After a tour of Orange Beach, we returned to GEMBA. It was a delightful visit.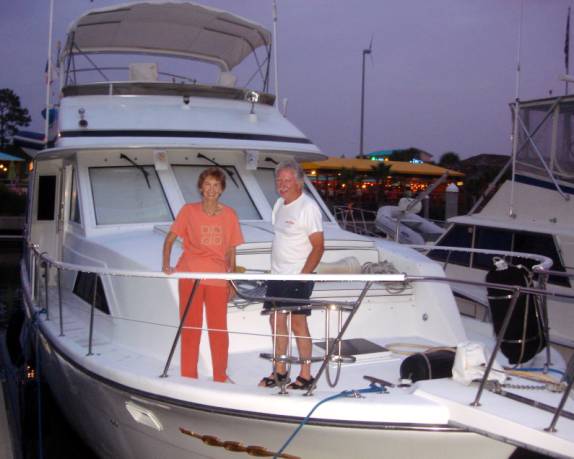 On the upper deck of GEMBA, Scott and his Aunt reminisced and chatted cheerfully, like favorite relatives should. It was easy to see the love they shared.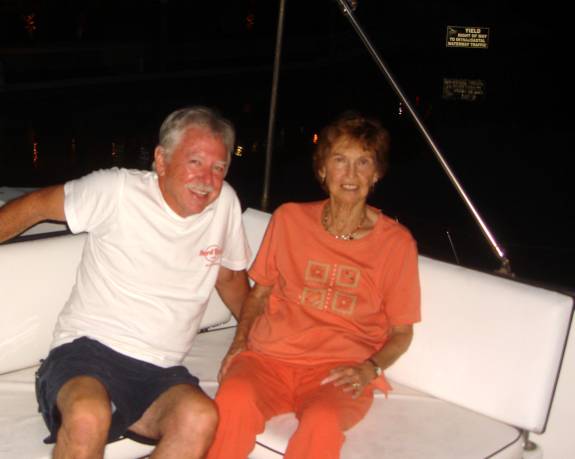 As you might expect, they were very impressed with GEMBA.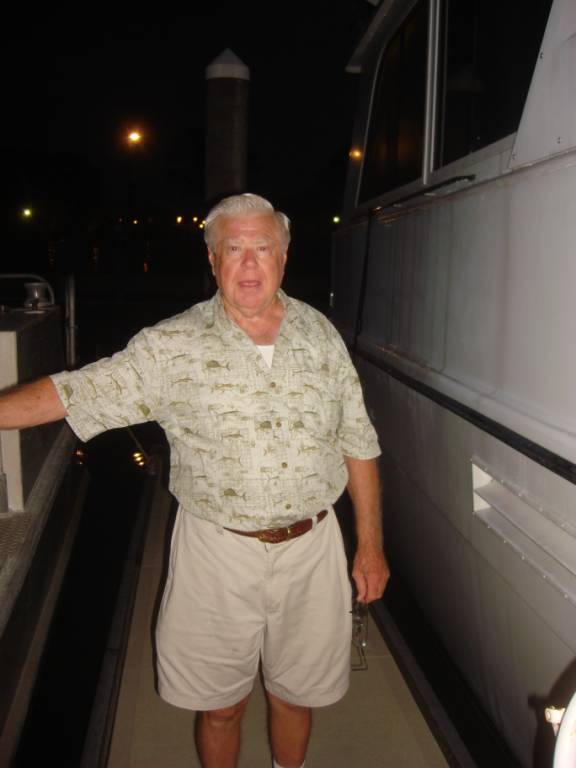 Ship's Log: 63.2 miles; moving average 10.3; moving time 6 hrs, 7 min; Total trip odometer 461 miles.
POSITION: N 30 24.098 W 086 36.384
07/16/10 FRIDAY ORANGE BEACH to BILOXI, MS
The crew was a little slow getting underway this morning. We turned out of the Homeport Marina at 9am at mile marker 155 GIWW EHL. The mileage markers are measured from east of the Harvey Locks at the Mississippi River in New Orleans. Along the waterway, we encountered numerous vessels involved with the clean up and containment of the BP Oil Spill disaster.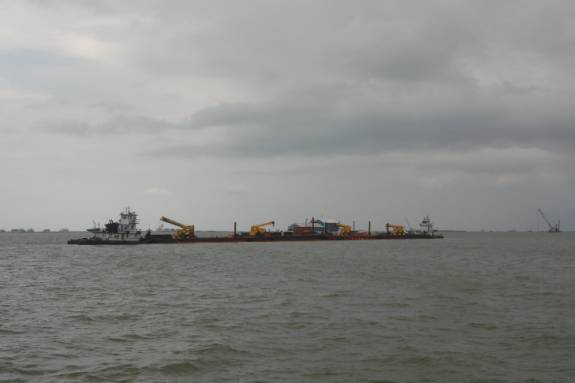 Scott assumed his rightful position in the main salon. His Ekornes lounger chair is wonderfully comfortable. Some folks claim that the salt air make a person logy and induces a state of sleepiness. Well, I'd guess we have positive proof now.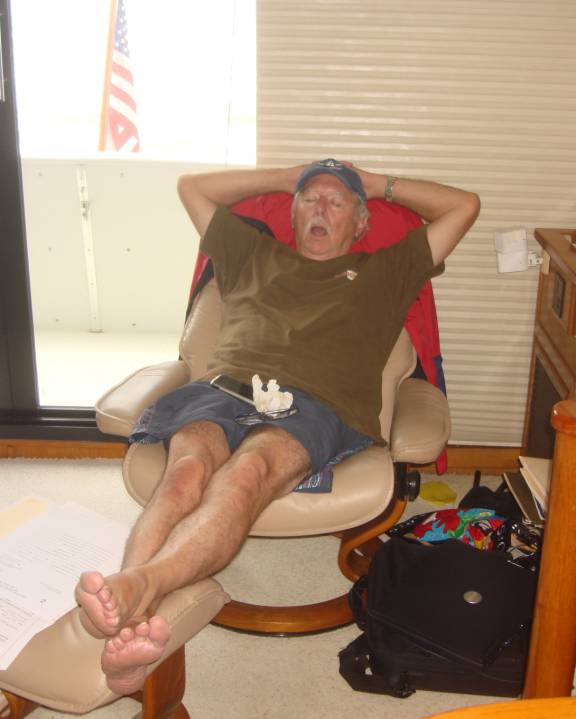 At 3:08pm and mile marker 88, we turned north off the GIWW EHL and headed up the Biloxi Ship Channel. By 4:12p, we were tying up to an end dock at Point Cadet Marina. Our great friend, Jimmy (SIMPLY SOUTHERN) lives in the area and has been working at this marina with the VOO (Vessels Of Opportunity) program. He is involved with the landside activities and the servicing, recording, and briefing of vessels that are coming and going at this location. He works shifts of 12 hours a day, 7 days a week. Jimmy is a great guy that we had the privilege of meeting in the Bahamas and we have been guests at his home in Gautier, MS on numerous occasions.
After his shift, Jimmy drove us to my favorite Cajun seafood place of all times, Taranto's Oyster Bar & Eatery in Ocean Springs, MS.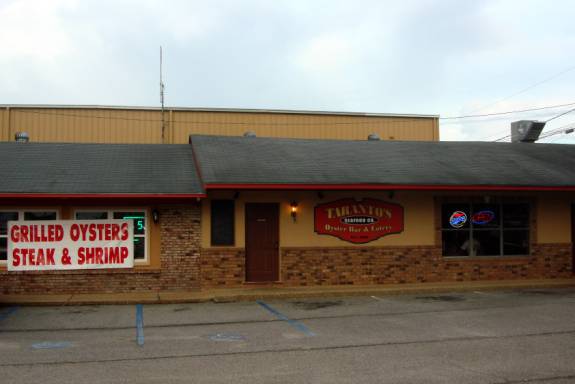 Fred, Judy, Jimmy, and Scott enjoyed their usual, magnificently fresh, Gulf shrimp. I am particularly fond of their shrimp gumbo and Cajun boiled platter. Judy loves their grilled shrimp plate. Of course, their frigid cold beers help add to the perfect combination.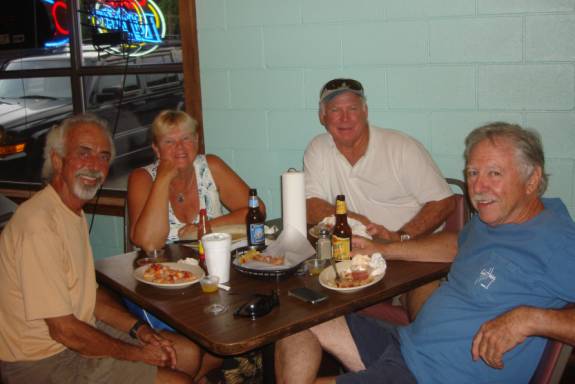 Ship's Log: 76.7 miles; MvgAvg 10.8; MvgTime 7 hrs, 7 min; TotOdo 605 miles.
POSITION: N 30 23.312 W 088 51.537
07/17/10 SATURDAY BILOXI, MS
You can see the excitement in his eyes. His sweetie, Mary, was flying in from San Antonio for her first visit to GEMBA and to enjoy a few days at the Gulf Coast region.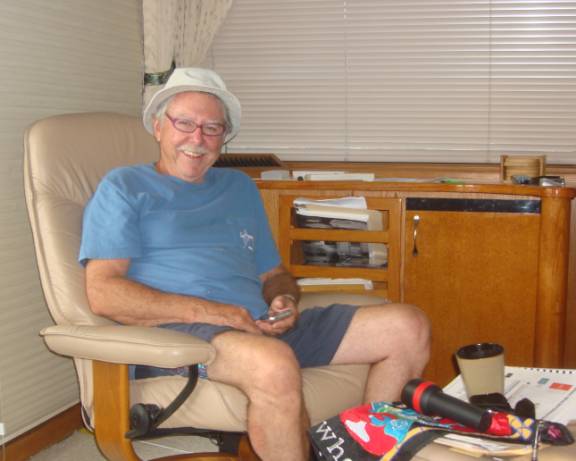 Point Cadet Marina is located right along the casino strip and adjacent to the Isle Hotel and Casino complex. It has taken many years to rebuild this facility since the devastation of Hurricane Katrina. The Biloxi area was especially hard hit and Jimmy's home was literally washed away from its foundation by the storm surge.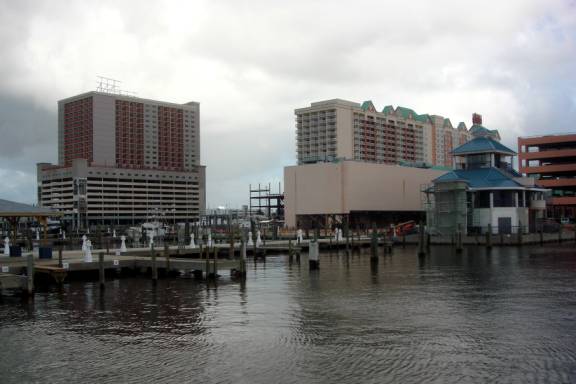 It was only recently that electrical power has been restored to the docks.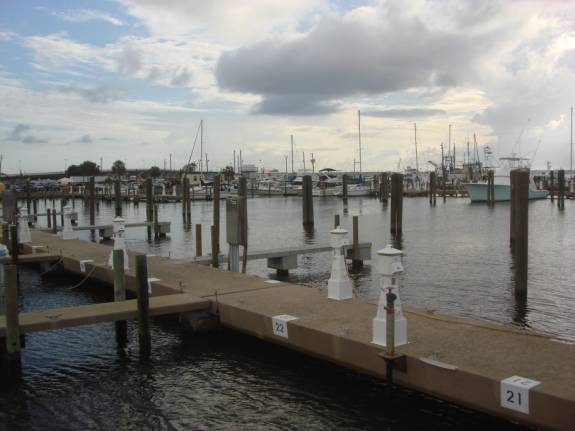 My excitement today came from a visit to the Singing River Hospital emergency room. My arm had been swelling up and I could hardly move it. Being quite painful, I conceded that I needed some medical attention. Although I hadn't figured it out before, the problem was the result of a mild fall during the Gulf crossing. The trauma resulted in a fluid buildup and some internal bruising irritation. Fortunately, X-ray results showed no breaks. The physician used a large needle syringe to drain the fluid and put me on restricted duty, pain pills, and antibiotics.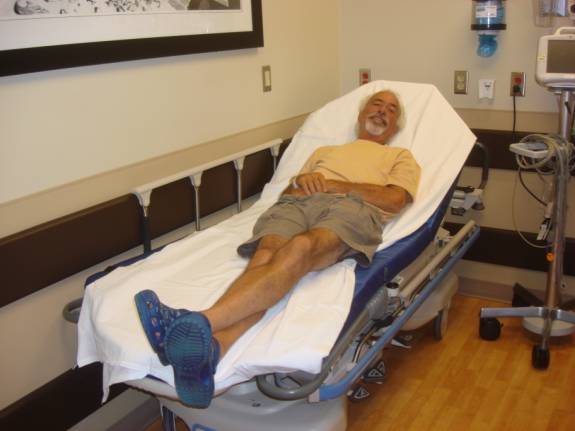 We had another chance to visit Taranto's Oyster Bar for Cajun treats. Diane adds the loving touch to Jimmy.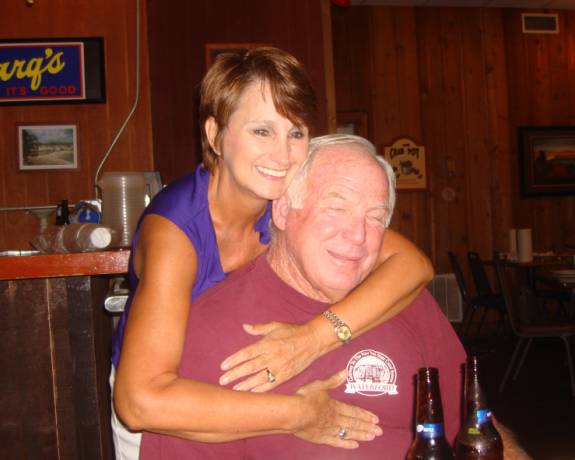 Fred, Judy, Diane, Jimmy, Scott, and Mary at Taranto's…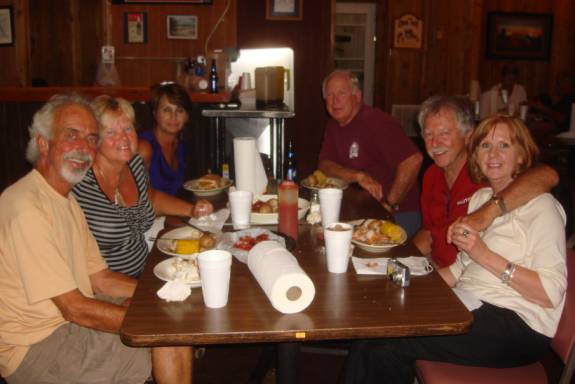 07/18/2010 SUNDAY BILOXI, MS
GEMBA was thirsty for a fuel fix. The Point Cadet fuel pumps are tucked away in the back area of the marina. We started up the Detroit Diesels and began to motor to those docks. Yep, you guessed it; we experienced shifting problems with both transmissions. Somehow, I managed to get both of them into neutral. Under the watchful eye of a guardian angel or, perhaps, Poseidon himself, we gently drifted over to the breakwater wall. Judy and Mary kept us in safe position by adeptly using the fenders and dock poles. Again, Scott and I messed with a bunch of different mechanical and hydraulic things and got back the control we needed to maneuver into the fuel dock. With full tanks, we returned uneventfully to the end dock. This problem remains a mystery to me.
In their rental car, Scott and Mary headed west to New Orleans. Scott needed to go back to Texas for a previously scheduled work trip. By driving, they could take a couple of days and enjoy a few sights along the way.
07/19/2010 MONDAY BILOXI, MS
Somehow, the schedule was working in our favor. With Scott away on his trip, I had a chance to recuperate here in Biloxi from my arm trauma. We also had a chance to visit some more with Jimmy and Diane. Jimmy has been very generous to loan us his car during the day while he is on his work duty at the marina.
In the evening, Judy and I went to the Isle Casino. Judging from the money we had going in, compared to the money we had going out, it's my best guess is that the odds were not very much in our favor. In any case, it was kind of fun to just putzing around on the One-Armed Bandits.
07/20/10 TUESDAY BILOXI, MS
My infirm arm and elbow has been steadily healing and feeling stronger. I proceeded to undertake a complete bleeding procedure of the Hynautic hydraulic shift control system starting at the bottom and moving all the way to the top.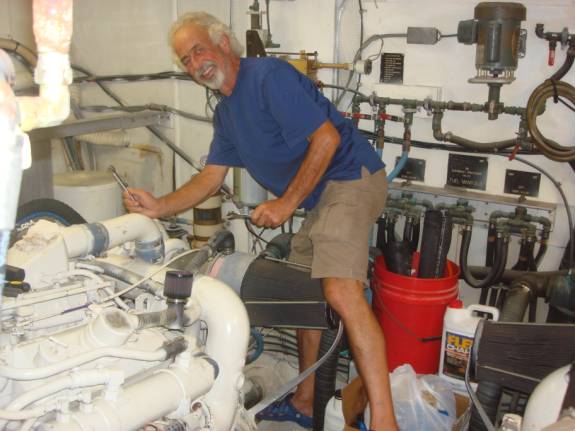 Scott had been commenting on a slight leak in the aft master cabin. At first, we suspected a window port leak. With further investigation, I found a problem with the aft air-conditioner condensate drain line. Due to a poor installation methodology, the line had separated from its overboard point and was draining water into an aft locker. To make the repair, I had to wedge myself into a tiny space in the portside, fantail locker. It was so tight that I actually got stuck and couldn't get my head out no matter which way I wiggled. Fortunately, Judy heard my rapping on the hull and came to my rescue. Oh sure, she was laughing hysterically at my predicament but she got a screwdriver and removed the locker door hinges to free me. We both wished we had had the state of mind to take a picture. It would have been a humorous reminder of one of those comical situations that I sometime get into.
By sunset, we were tired puppies.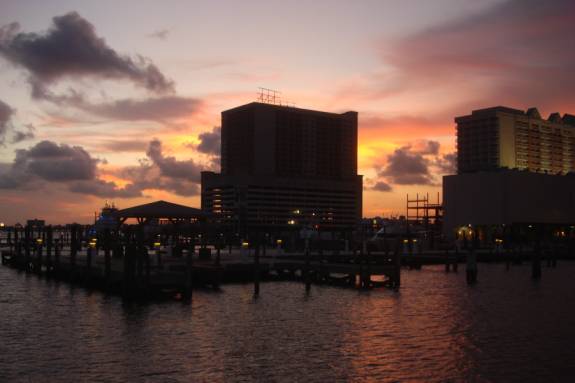 One of the best ways to relax, that I know of, is to visit with great friends. This evening, Diane and Jimmy graced us with their presence aboard GEMBA. After our cocktail time with beers and sipping fuzzy navel drinks, Judy prepared a fabulous dinner featuring her special recipe of Sautéed Chicken Breasts in a creamy, flavorful mushroom and caramelized onion sauce. It is definitely my favorite dish that she makes. It is such fun and a joy to be with them.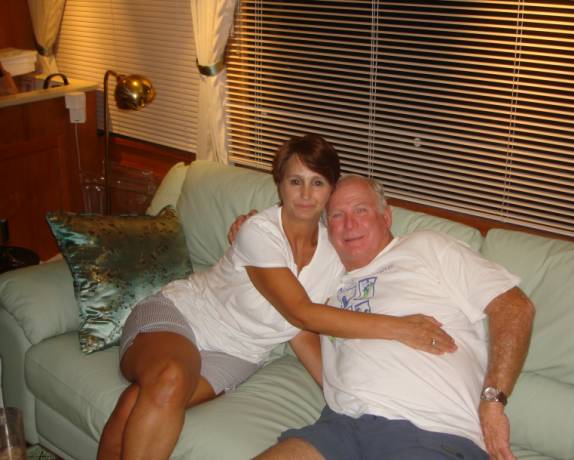 07/21/2010 WEDNESDAY BIXOXI, MS
Scott's business trip was complete and he flew back into the Gulfport/Biloxi Airport. Jimmy lent us his car to pick him up in the late afternoon. Luckily, we were able to get back to GEMBA just before Jimmy came off duty. We sure appreciate all of his hospitality and generosity during our stay here in Biloxi.
07/22/10 THURSDAY BILOXI, MS to HOUMA, LA
We have a long day ahead and will be navigating what is probably the most demanding section of the trip. We were up early and off the Point Cadet dock at 5:40am. At 6:58, we were back on the GIWW EHL at mile marker 75 on the southwestern side of Biloxi. The Mississippi Sound was behaving favorably and gave us a pleasant crossing. We rejoined the inland waters near Rabbit Island and proceeded west toward New Orleans. At mile 10 GIWW EHL, we had the Florida Railroad Lift Bridge opened without delay.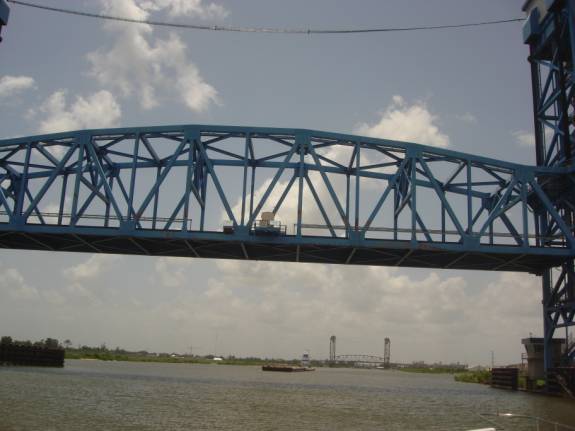 The Industrial Lockmaster promised a quick lift into the Mississippi River and by 1:10pm, we were secure in the lock for the 15-minute rise.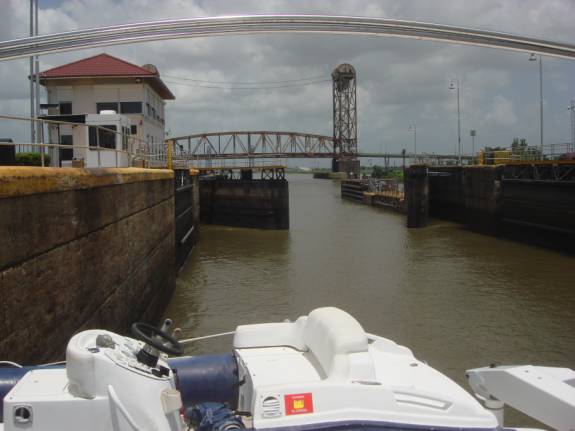 Sharing the Industrial Lock with a couple of small tugs… The rail bridge on the immediate westside opened right up for our exit into America's most well known river, affectionately nicknamed, "The Big Muddy".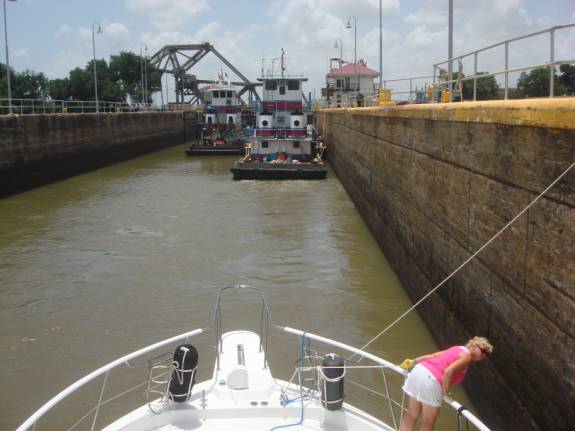 Vessels of all sizes and descriptions ply the fast-moving, heavily trafficked river. The US Coast Guard operates a VTS, Vessel Traffic Service. VTS Lower Mississippi River manages vessel traffic on one of the most hazardous waterways in the United States due to the complexity of the marine traffic and the powerful currents of the Mississippi River. Using VHF channel 05A, 14, or 63A, the VTS maintains an advisory service and direct control of all vessel traffic within its area of responsibility that spans from twenty miles above the Port of Baton Rouge (River Mile 255 above the Head of the Passes) to twelve miles offshore of Southwest Pass Light in the Gulf of Mexico. To complicate communications procedures further, intership Bridge-to-Bridge frequency is usually VHF 67. If you plan to transit these areas, a current copy of Skipper Bob's guide and a copy of the WaterWay Guide can be of great aid in sorting things out between the river, land bridges, and locking operations.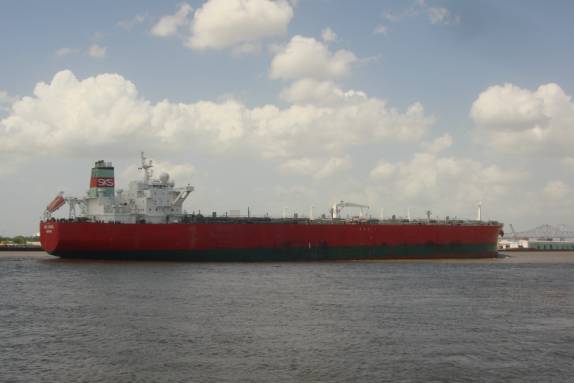 After crossing to the west side of the Big Muddy, a westbound vessel has two choices to rejoin the GIWW WHL (Gulf Intracoastal Waterway West). We chose to proceed upriver and transit the Harvey Locks at MM 0.0. At 2:11pm, we were ordered to standoff the lock entrance in the mighty Mississippi until further notice as they were locking eastbound. At 3:45pm, we were signaled to enter the Harvey Lock and secure to the south wall behind the small barges.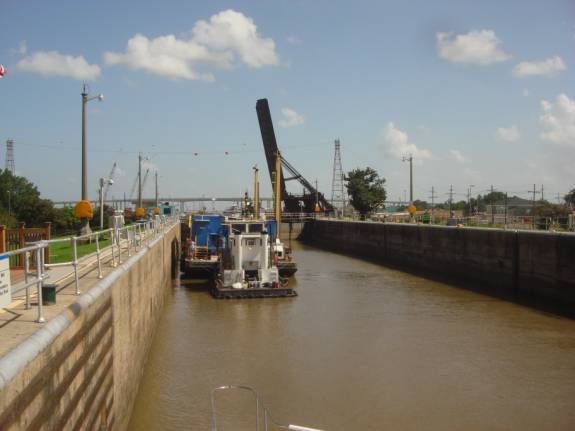 Twenty-five minutes later, we were at no-wake speed, idling out of the lock.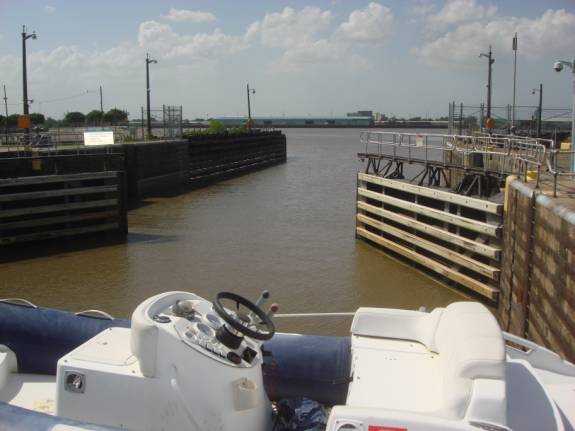 Westbound again, we were required to maintain the no-wake speed as we passed through the densely packed channel.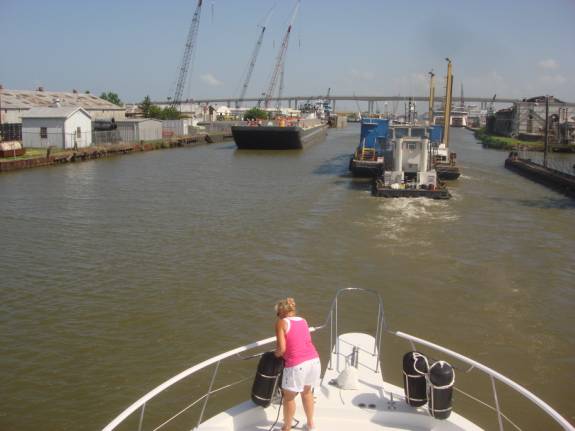 Docked at the side of the channel, we passed by the very famous paddle wheeler, the Mississippi Queen. The Mississippi Queen was built in Jefferson, Indiana, from 1973 to 1975. Her then owner, the Delta Queen Steamboat Company said, she is "the fulfillment of Mark Twain's dreams". The Mississippi Queen is 382 feet long, 68 feet wide and has a height of 71 feet to the top of the twin telescoping stacks. There are 208 staterooms for a total of 422 passengers. The Mississippi Queen has the world's largest calliope with 44 gold plated solid-brass pipes. Mississippi Queen went out of service at the end of 2007. Her current owners had plans to renovate the vessel but all was stopped toward that venture early in 2008. By the end of the 2008 season, Majestic America Line decided to discontinue its cruise business. In a rapidly deteriorating condition, the Mississippi Queen awaits an unsecure future as she lies at this wharf in New Orleans.
In the 1980's, I had a vacation residence on the Mississippi River section north of St. Louis. My family and I will always have fond memories of zipping out in our runabout speedboat to escort the magnificent paddle-wheeler. Audible for many miles, we would hear the huge calliope's pipes whistling loudly and everyone would wave and cheer as she traveled through one of the most beautiful regions of river country. We would enjoy a similar experience when her more historic sister ship, The Delta Queen, would transit our area.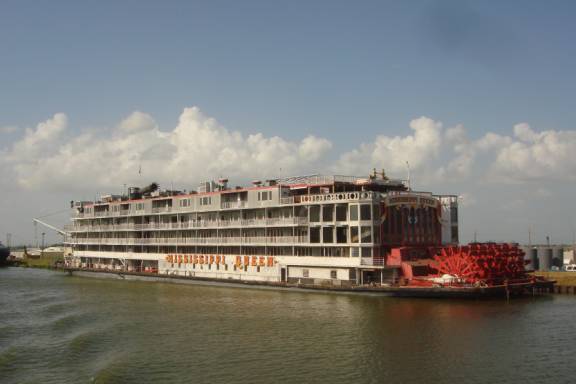 Our progress westbound continued to Houma, Louisiana at GIWW WHL mile 57.5. Arriving at 9:45pm is much later than we usually like to travel, however, this portion of the waterway is fairly straightforward and I have been this way numerous times before. At the bases of the big bridge, the City of Houma has some nice docks. The dock facilities are in great shape since their renovation and the lights from the bridge were helpful in allowing us to see our way in. We would spend a comfortable night there before heading out early again in the morning.
SHIPS LOG: 146 miles today; mvg avg 9.8; mvg time 15 hrs, 1 min; total time 16 hrs, 23 min; total odometer 752 miles.
POSITION: N 29 35.935 W 090 42.711
07/23/10 FRIDAY HOUMA, LA to WEEKS CUT, GIWW
The morning weather was clear with only a light breeze. We are closely watching the progress of Tropical Storm Bonnie that is heading for coastal Louisiana. Hoping to make progress west, we were off the Houma dock at 6:10am. By 9:30am, we were waiting for the Bayou Boeuf Lock and 28 minutes later, we were out and heading west again. With almost no change in vertical distance, the lockmaster requested that we just hold position in the center of the lock waters for the 8-minute time between gates.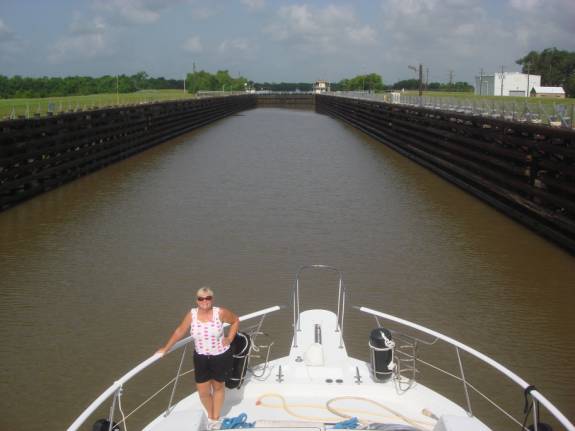 We had traveled without incident to the middle of Weeks Cut. At this point, the waterway becomes quite narrow and is infamous for very heavy barge traffic attempting to negotiate the twisting, turning directions of the waterway. Barge Tows with 3 or 4 wide are not uncommon. If there were an inopportune place for an engine to fail, this would be one of them. Yep, you guessed it. Within a very short time, the Generator quit, followed by the second engine. I turned and glided as far to the edge of the waterway that I could and Judy scrambled to deploy the anchor. Unfortunately, we were still partially in the narrow channel and the barge operators were getting nervous about coming through. While we worked feverously to troubleshoot and attempt to resolve the problem, the barge tow boys were constantly calling and complaining about our position. Our response was that we had experienced double engine failures and, therefore, were to be considered a "Vessel Not Under Command". We were doing everything we could to resolve the situation ASAP.
Thanks to one of the Tow Captains, he made a call to one of his support people that sent out a small tug to assist. These folks were extremely cooperative and highly competent. They offered to tow us out of harms way and offered us the use of their dock for a few hours. Not fully understanding the problem, we elected their second option of towing us to a steel wellhead walkway. That was interesting in that the pad was only about 8 feet wide. They skillfully maneuvered us to within reach and we were able to snag a line and bring GEMBA alongside the walkway. Carefully placing fenders, we hustled at stringing a web of dock lines. We thanked the tug guys as they wished us goodbye and good luck.
Well, what had happened? As we suspected, air had somehow gotten into the fuel distribution system and all the fuel pumps began to cavitate. With fuel starvation throughout, the engines could not continue to function. After changing all the filters and bleeding the systems, we were able to get the generator and the port engine running. Not totally comfortable with the close passing of the towboats and their wakes, we decided to move on one engine to a safer and more comfortable location. The port engine seemed to be running smoothly and we slipped the lines to head west on one. In a matter of a few minutes, that engine quit again but the generator kept running. Convinced now that we needed to return to the wellhead, we bled the system again and with that same engine running again, we maneuvered back on one engine to dock safely. We repeated the same dock securing methods and resolved to understand the problem better by further troubleshooting. We decided to isolate the fuel delivery system to segregate the tank lines. Our goal was to get that port engine to be stable and reliable enough to get us to Intracoastal City were we could attack the entire problem. We tested long enough to be fairly convinced that our strategy had a better than even chance of succeeding. It was getting too late to move again and the wise decision was to stay here for the night and head out in the morning light. As far as I'm concerned, today had enough exciting moments to last a lifetime. Fortunately, we were all safe, no one got hurt, and we didn't sustain any damages to GEMBA. I'd be willing to guess that those guardian angels and even Poseidon are all getting a bit weary of keeping us out of serious trouble. I know I'm thankful for their watchfulness.
07/24/10 SATURDAY WEEKS CUT WELLHEAD to LOWRY, LA
The generator had run successfully all night. This gave us an additional measure of confidence that we had found sufficient isolation to continue westbound on the port engine only. At 6:12am, GEMBA eased away in the GIWW at about mile 138 WHL. All mileage markers are now by standard reference west of the Harvey Lock in New Orleans. About 9am, we were near Intracoastal City, Louisiana. To facilitate easier docking, we started the starboard engine. Scott was in the engine room to monitor and see if he could spot or troubleshoot any problems. While checking under the floor panels, his keen eye located a possible cracked hose situation that may have been the source of our troubles. To prevent an unexpected failure, I intentionally shut down the starboard engine and set us up for yet another single engine approach to the Shell Morgan docks. Though somewhat stressful, the docking at 9:15 am went smoothly on one engine. Scott and I proceeded to repair the rubber hose line and we were confident that our efforts had resolved the issue. We added fuel here because they offer about the best pricing anywhere on the Gulf coast area.
With everything running smoothly, I backed GEMBA out of the dock at 11:02am. Just west at the Leland Bowman Lock, we had to wait until noon for the 10-minute passage. This is another of those minimum change locations and we were instructed to just hold position in the center of the lock waters.
The Mermentau River branches off the GIWW and we made the turn upstream at 3:56pm. By cell phone, Scott had arranged a dock space a ways up river. The river area is very beautiful and we thoroughly enjoyed the scenery. The GPS map program had no detailed maps available but we were able to navigate using the standard red and green channel markers. When we arrived at the Myers Landing docking area, we were somewhat surprised by its remoteness. It was quite obvious that they don't get this sized boat here often, if ever. Pulling up to a wall by the adjacent RV Park, the woman from the phone call asked if we would have enough depth. I pegged my interest on the depth sounder as we slowly eased our way to the wall. We didn't have a lot of depth to spare but we were OK. Our next surprise came when tying to the "cleats?" They were made from bent steel rebar that had been welded to a piece of pipe and painted red. The pipe contraption was then simply slid into another larger pipe buried in the ground. Oh well, the conditions tonight should be very calm and safe. Then, the next surprise arose. In his phone call, Scott had asked whether they had electric power available or not. The response had be "Yes", however, when we got there, the woman announced that it was only 15-amp service via an extension cord. GEMBA normally need two 50-amp circuits to power her systems. Fortunately, the onboard 20KW diesel generator would supply all her needs. The woman was very nice and said that she couldn't charge us anything since we weren't using any electricity or taking on any water.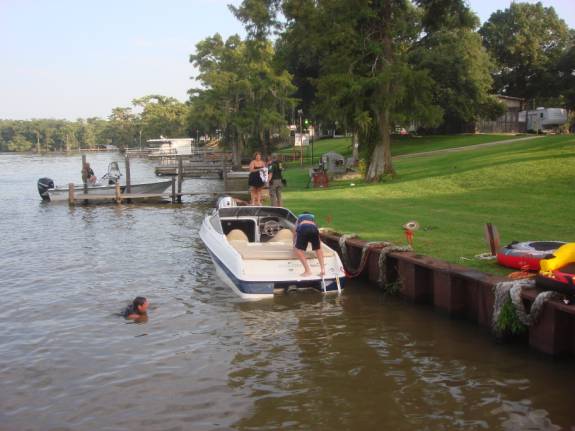 The area is a Louisiana Sportsman's Paradise. This place is evidence that "the good ol' boys" know how to have their own kind of fun. Staying in their trailers and RV's in the campground, they fish all day and drink beer all night. It was all in fun and we enjoyed seeing this segment of Americana so vividly portrayed.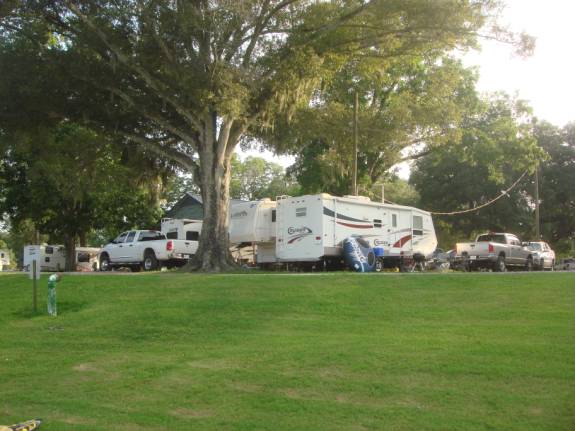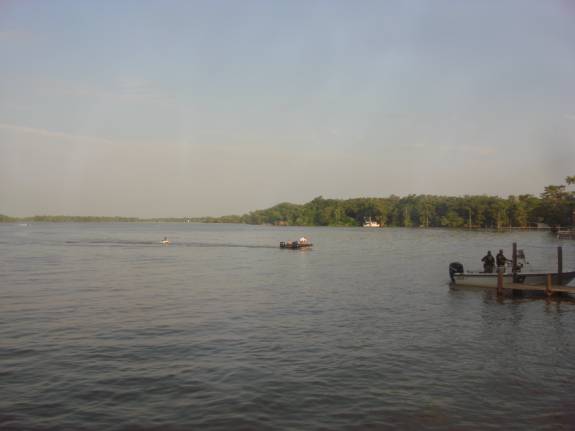 GEMBA on the Myers Landing Dock wall in Lowry, LA…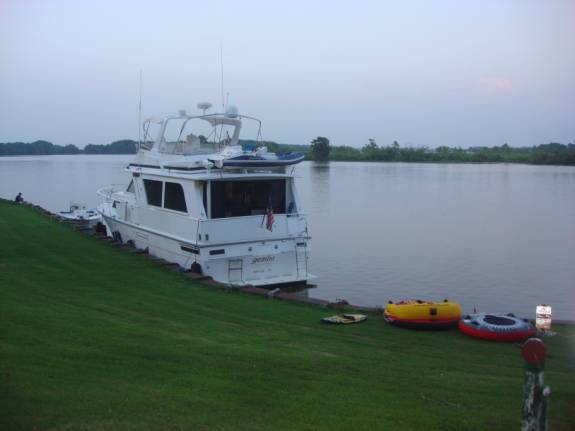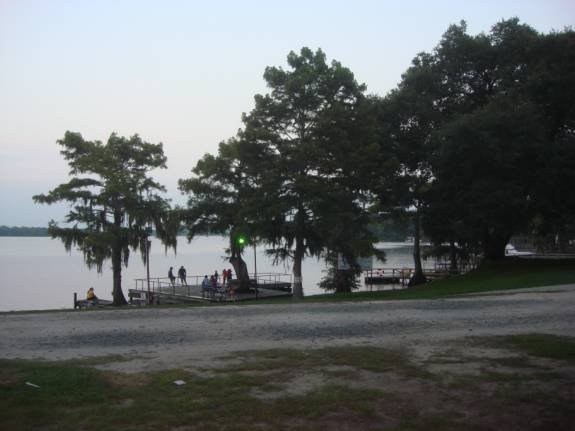 It was a fabulously calm evening. The highlight of excitement came from a group of folks that were entertaining themselves by rolling down the grassy hill near GEMBA. Many of their body shapes were perfectly cultivated for rolling. Now if that robust sporting activity didn't bring a chuckle, then nothing could. You know, I think I like this place and hope I can return here again someday.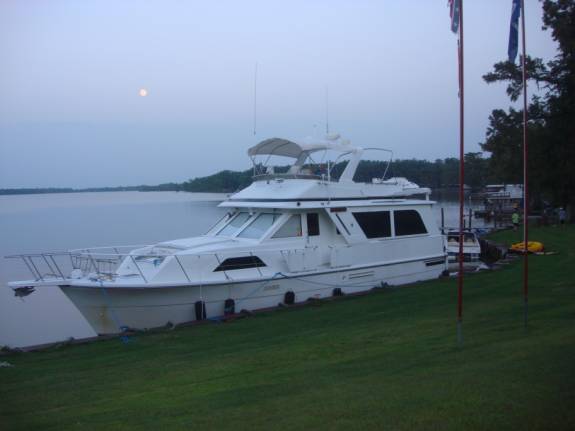 SHIPS LOG: 72.9 MILES TODAY; MVG AVG SPEED 8.4; MOVING TIME 8 hrs, 39 min; TOT TIME 11 hrs, 13 min; TOT TRIP ODOMETER 906 MILES.
POSITION: N 30 01.376 W 092 46.138
07/25/10 SUNDAY LOWRY, LA to SABINE PASS, TEXAS to SAN ANTONIO, TX
We were relieved to get the weather reports that Tropical Storm Bonnie had fizzled out in the Gulf of Mexico and would no longer present the threat that was expected. Before most of the fishermen/campers were stirring, GEMBA was underway at 6:09am and headed down the Mermentau River for about an hour to the GIWW intersection. I guess I better watch out for the handsome yachtsman, Scott, huggin' on my woman…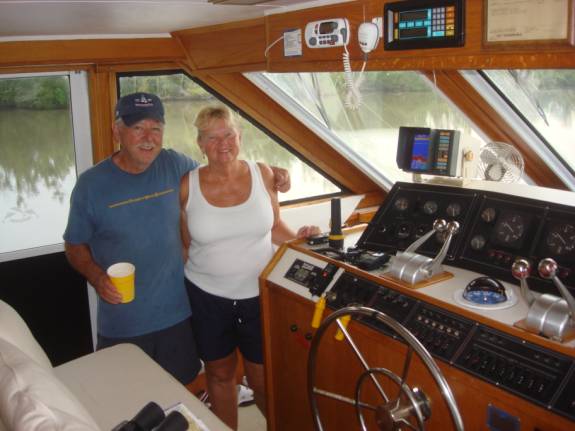 I guess the boy was just plain tuckered out from the captivating "hill rolling" spectacle last night.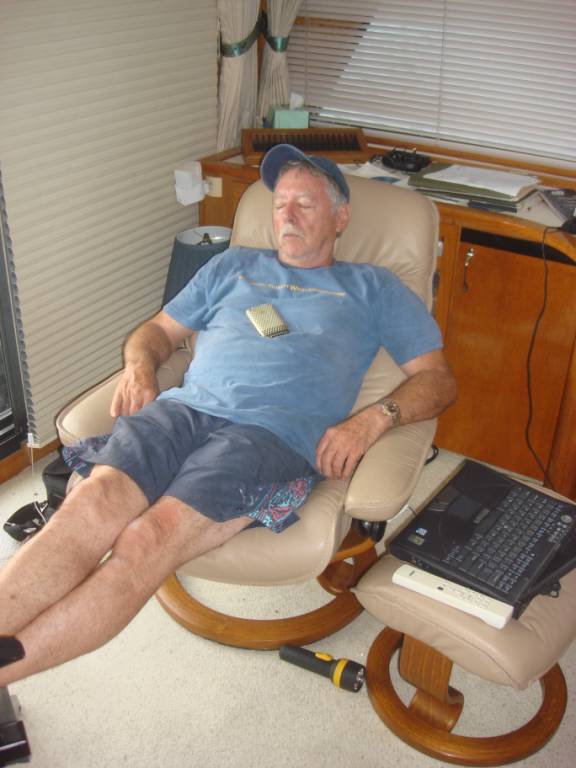 One of the few remaining, cable-operated pontoon bridges began to swing open to give us access to the subsequent locks.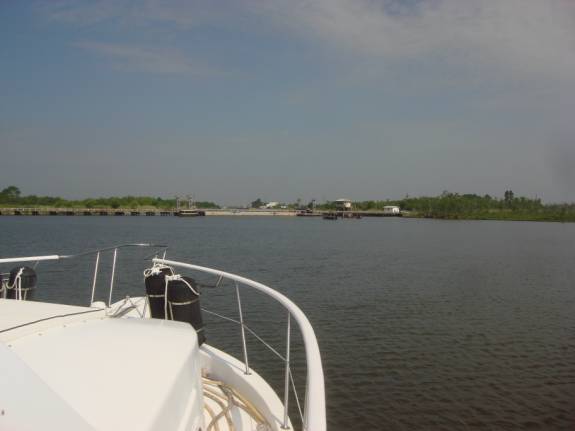 The Calcasieu River locks were standing by and ready for our entry at 10:30am. A mere 8 minutes later, we were out of the locks at mile 238 W.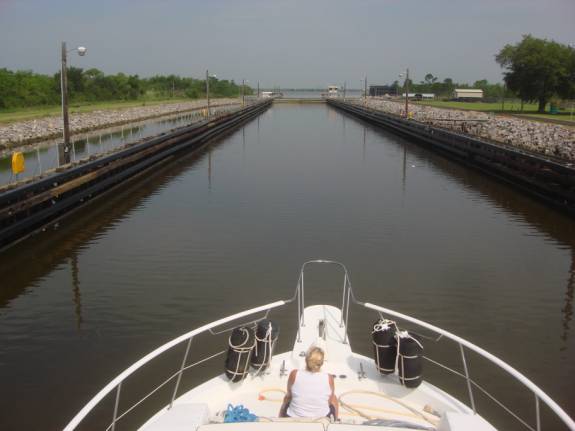 Tow and barge traffic continued to increase along the southwestern Louisiana waterway. Barge cargos consist mainly of chemicals and petroleum based products. As my friend JD would say, "…Here comes another load of 'Tri-Methyl-Terrible'"…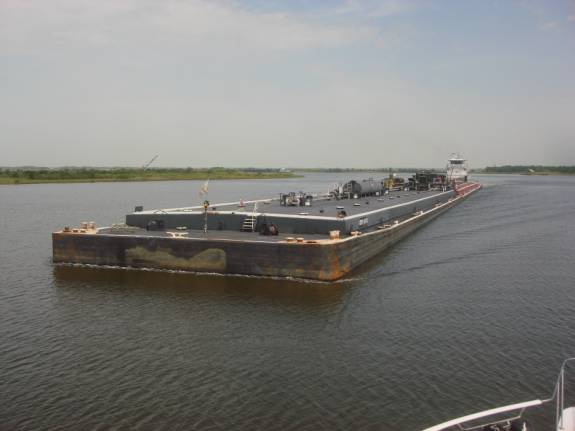 As we approached Port Arthur, Texas, the ship traffic increased too.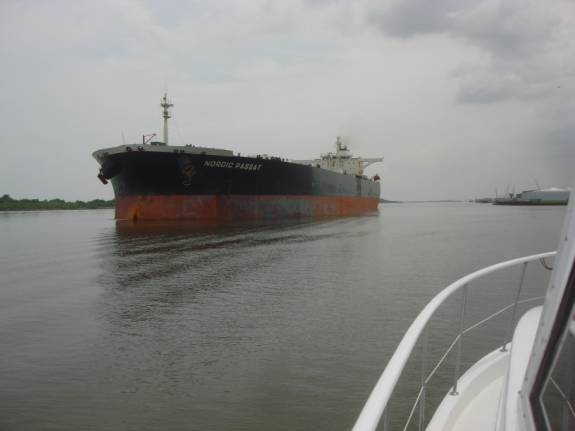 It was sunny and warm. Judy relaxed and enjoyed tanning on the aft upper deck.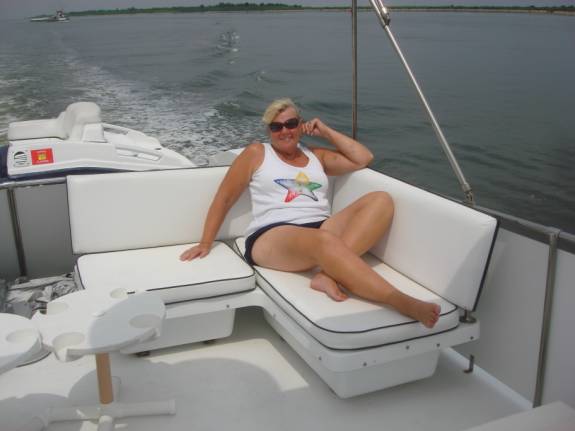 Scott was due to be back on the schedule for his business trips. Our first choice of marinas in Beaumont was totally full. The dockmaster there recommended that Scott contact the Sabine Port Authority for dock availability. The marina has only recently been opened and we couldn't find it on any of our charts. The marina staff wasn't much help since only the guard was on duty and he didn't know anything about boat navigation or position coordinates. Fortunately, Scott's sweetie, Mary, was driving there by car and gave him the road directions that she had been given. Scott plugged the data into his iPhone and came up with a rough estimate of where we should go. We concluded that we would need to leave the GIWW and proceed south via the Port Arthur Ship channel. Through several phone conversations with Mary, she was able to guide us up to the marina entrance. I maneuvered GEMBA through the curved, narrow entrance and into her assigned slip at 4:40pm.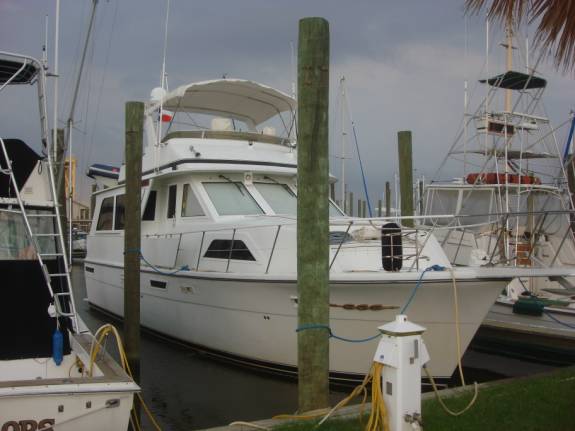 With numerous trips scheduled, Scott elected to have GEMBA stay here for up to a month or so.
SHIP'S LOG: 101 MILES TODAY; MVG AVG 9.9; MVG TIME 10 hrs, 13 min; TOTAL TRIP ODOMETER 1009 MILES since FT. MYERS BEACH, FLORIDA.
We secured the boat, packed up our stuff, and headed for San Antonio in Mary's Toyota RAV4.
With Scott's hunch and some very good luck, we took a random exit from I-10 to find this terrific restaurant. The Mambo Seafood serves a great menu of fresh meals in a Mexican style preparation and atmosphere. Everything was very tasty and economically priced. There is little doubt that we could even possibly pass by this place again without stopping for some great eats.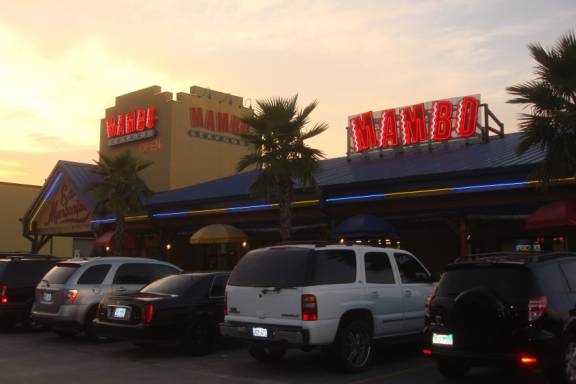 It was a long drive back to San Antonio and we arrived home very late. Our home there is usually very easy to get opened up and comfortable to use. In most cases, all we have to do is turn on the electrical circuit breakers, open the water service at the street valve, turn on the gas for the water heater, and get the refrigerator going. Everything went back on easily except the air conditioner. When I turned it on, sparks were flying and the breaker popped. Unfortunately, it was a very hot night, however, we did fine with the ceiling fans and another floor fan. Looks like my work is cutout for tomorrow, but for tonight, I'm much too tired to do much except sleep. Ahhhh, Home Sweet Home…
07/26/10 MONDAY SAN ANTONIO, TX
I was up early and proceeded to attack the air conditioner problem. My diagnosis revealed a badly corroded and burned relay. I had a bit of trouble identifying the part numbers to obtain a replacement part. I contacted Grainger Supply and was referred to their electrical engineering department in Chicago. The very helpful rep asked me to send him some pictures via the internet email. With some reference help at his department, he called back with the exact replacement numbers for a start contactor that I ordered and picked up at the San Antonio store. I didn't trust the condition of the power transformer. I replace it and rewired the unit to make it fully operational. OK, we'll be nice and cool now.
07/29/10 THURSDAY SAN ANTONIO, TX
As y'all know, we've been spending the vast majority of our life aboard AMARSE for over four years now. During that time, we have deferred a lot of projects around the house. We decided to use our time here to tackle some of them. Needing a lot of attention, we decided that the backyard deck was a major priority. Much of the wood was deteriorating and demanding repair. Luckily, I found a terrific person to help with the renovations. Tyler operates Premier Remodeling and has demonstrated that he is a true craftsman that is highly competent and really cares about the quality of his work.
The first stage was to rip out the upper deck and rebuild the underpinning.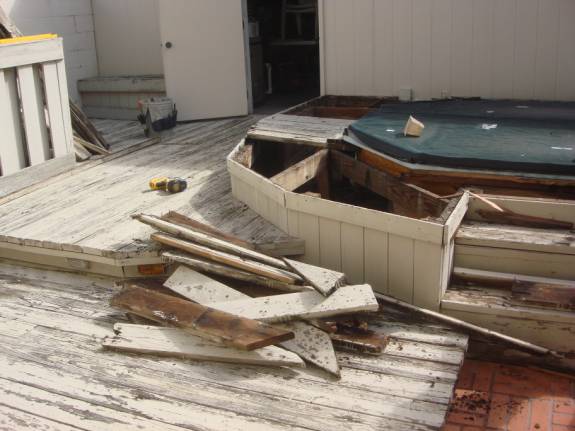 Much of the structure was reinforced and vertical posts were set into concrete bases. The very large hot tub requires substantial support from a strong, stable structure.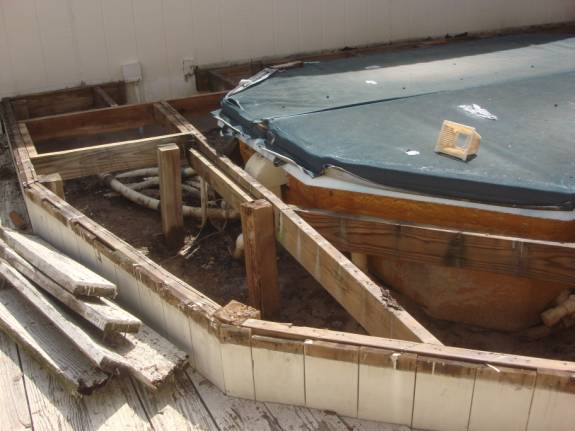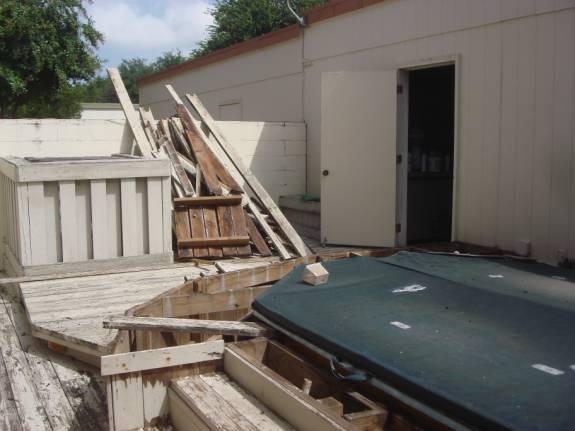 As you might have guessed, this was not just a simple day project. You can follow our renovation projects in the upcoming update editions. Please take a look at the next issues soon. Although we miss AMARSE, we feel good about being here and are enjoying the house and our home life too.
CONTINUING UPDATES ARE IN PROGRESS…
WATCH FOR THEM, COMING SOON…
POST SCRIPT:
We sincerely hope that you will review the previous years of compilations to give context to the current editions. Please let us know if you have any special suggestions and thoughts.
REMEMBER: The website is now fully active and you can visit it at any time. You can also review any of the previous logs from the years 2006, 2007, 2008, and 2009 to learn more about the crew and their many adventures. Enjoy.
ATTENTION: SPECIAL NOTE:
You may contact us via email anytime.
Thanks for allowing us to share our life and adventures with you.
Lotsa Luv,
Fred Reed and Judy Law
AMARSE
MT40
"AMARSE" is pronounced "AM-ARE-SAY".
Our website is: www.amarse.net .
You can scroll up on this page and then select the NEXT button on the left side of your screen to advance to the next update. Enjoy!!!
CONTINUING UPDATES ARE IN PROGRESS…
WATCH FOR THEM, COMING SOON…