UPDATE#09 03/17 thru 03/31
Howdy Everybody,
The adventures of 2006, 2007, 2008, 2009, and thru 03/16/2010 have been published on the website. We continue with the latest edition
UPDATE 2010 #09 03/17/10 thru 03/31/10
At last update, we were at Abaco Beach Resort and Boat Harbour and enjoying the RMHYC Country Western Hoedown Event. Welcome back to the Bahamas and beyond…
03/17/10 WEDNESDAY BOAT HARBOUR, ABACOS, BAHAMAS
ST. PATRICK'S DAY and JUDIE JENKINS BIRTHDAY
The weather was threatening to rain but the wind was quite calm. A gang of RMHYC guys hopped in dinghies at 11:30am for a trip to Cracker P's Restaurant on Lubbers Quarters Cay.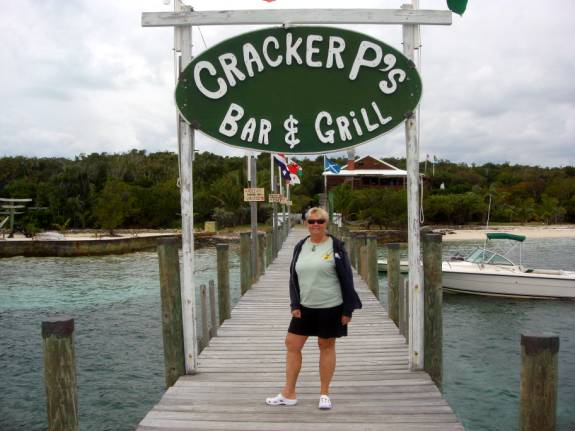 Near the foot of the dock, a signpost offers mileage numbers to a myriad of destinations.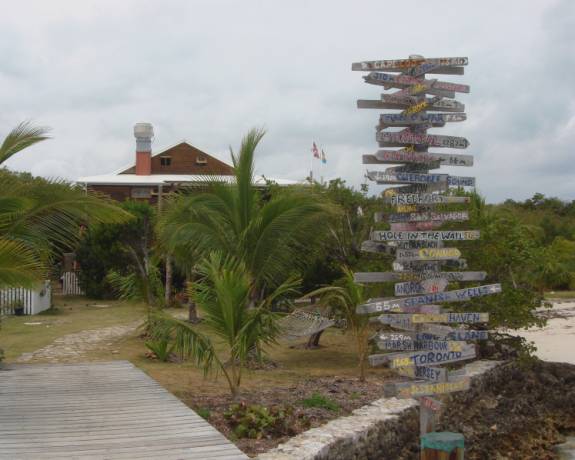 Seated family style, a total of 25 folks were ready for food and drink…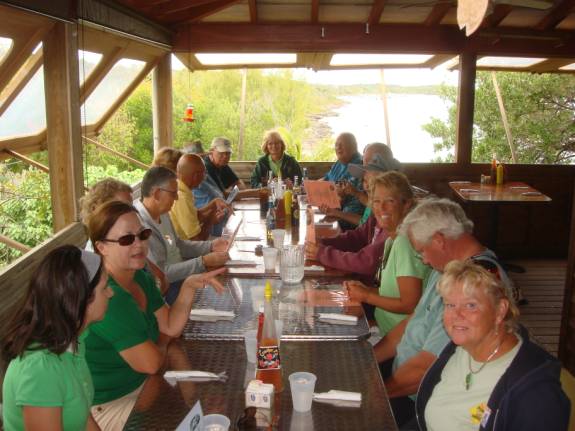 Let's see now, the St. Patty's Day leprechauns here for the luncheon were Frani & Bob (SIN VELAS), Ed & Shirley (M/V TALLY HO), Condo Barb & Condo Janet (ABR), Becky & Tim (POKEY), Neil & Sheila (SILVER QUEEN), Fred & Judy (AMARSE), Doug & Leslie (HAPPY CLAMZ), Fred & Sidonia (SHEARWATER), Gene & Judy (LO QUE SE A), Wilma (JOHN HENRY), George & Jane (TIME OUT), Bob & Sharon (CATCH ME IF U CAN), and Sue & Paul (ODYSSEY)…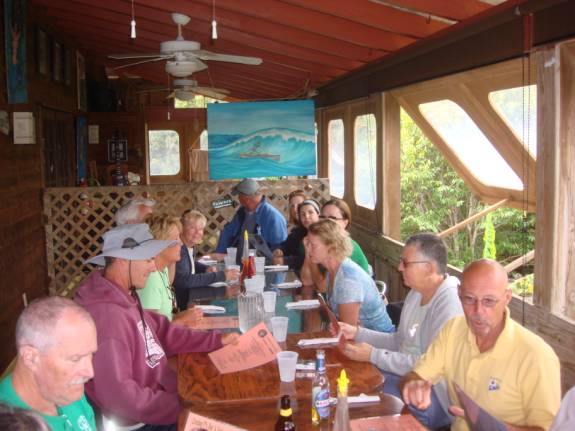 I don't know if Wahoo is a traditional Irish dish, however, it was delicious.
03/18/10 THURSDAY BOAT HARBOUR, ABACOS, BAHAMAS
It was quite windy today but still a very nice day overall. After her morning walk, Judy hosted the final water aerobics group session of the season. Much of the rest of the day, she was busy baking a special, surprise birthday cake for Sheila (SILVER QUEEN). Neil had asked Judy to help make the coming day a bit more special for his wife.
A constant checking of the weather forecasts has been foremost on many minds lately. Many of the cruisers are making plans to head west toward the US and Canada. Although not perfect, my analysis points toward an early departure tomorrow morning. HAPPY CLAMZ left this morning headed for Treasure Cay's protected anchorage. Their plan is for an early shot at the DON'T ROCK PASSAGE tomorrow morning. AMARSE is ready to go and all gear has been stowed and secured for travel. A final decision on GO-NO GO will take place tomorrow morning pending the latest forecasts.
At 5pm, most of the remaining RMHYC folks at Boat Harbour gathered for a "Good-Bye" party. There were lots of hugs and well wishes being passed around. We will certainly miss being with all of our wonderful friends here at the Abaco Beach Resort and Boat Harbour Marina.
At 6:30pm, we arrived at our invited dinner with Rick and Diane aboard LADY DI. The cocktails, conversation, and delicious meal will be a great memory for us. They are very wonderful friends. Diane prepared a salad, Pork, rice, broccoli, and carrots. Yummy… …Now to bed to rest up for an early morning…
03/19/2010 FRIDAY BOAT HARBOUR to GREAT SALE CAY
The morning was clear with temperatures in the high 50's F. A northwest breeze persisted at 15 to 20 knots. The forecast looked "doable" and we were set for launch after making the final checkout with the resort front desk. We certainly appreciated that Chris, the dock master, made a special effort to be here at 6am to assist those leaving. He is a great asset to the marina and a good friend to the cruisers. Several other boaters had planned to leave this morning but decided to delay due to winds and an unfavorable "Whale Cay Passage" forecast. Fortunately, we can use the Don't Rock Passage and that should be acceptable for passage.
AMARSE was all lines aboard and underway at 7:18am. Several of our neighbor boaters felt more comfortable waiting for lower winds and better reports. We based our decision to go using data from several sources and a "take-a-look" attitude. Our back-up alternative would have been to anchor in Treasure Cay harbor. Seas were on our nose but well within our comfort zone. As we approached the Don't Rock passage, we joined company with HAPPY CLAMZ as she led. The tides were cooperative and the swells were not excessive, resulting in a "Non-Event" type passage. The head wind did continue until mid afternoon and a salty spray kept the foredeck quite wet. Within a couple of hours of Great Sale Cay, the winds eased and the seas became more relaxed. The anchor was down and set at 6:55pm. With the wind clocking and calming, the anchorage in the bight of Great Sale Cay was well protected.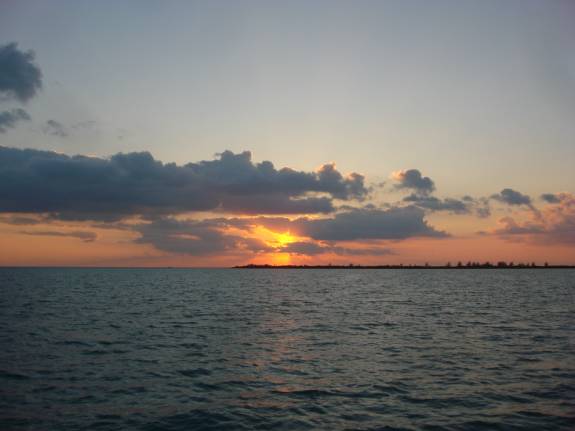 During numerous checks of the engine room conditions, I could observe an increase in vacuum pressure at the Racor fuel filters. I decided to change both Racor elements. I have chosen to use 2-micron filters in the first filters and that should screen out any impurities before reaching the engine filters at final stage. The engine units are 10 micron and are much more difficult and time consuming to change. The Racor filters are relatively easy and the whole job, including clean-up, was completed in less than an hour.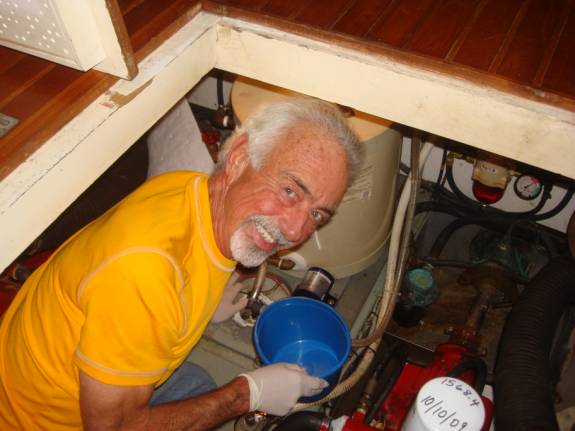 We relaxed, had a nice dinner, gazed at the star-filled sky, and rested peacefully awaiting an early morning, daybreak departure.
03/20/2010 SATURDAY GREAT SALE CAY to GBYC, PORT LUCAYA, GRAND BAHAMA
I had been awake for some time when the alarm sounded at 6am. After breakfast, we weighed anchor and were underway shortly before sunrise at 7am.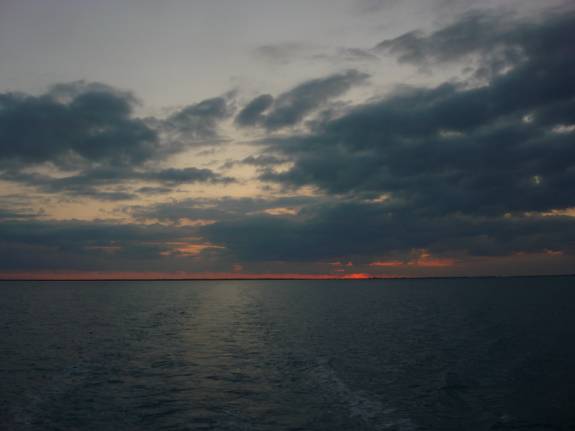 The twin Ford Lehman engines had the props churning up the turquoise blue water across the Bahama Bank.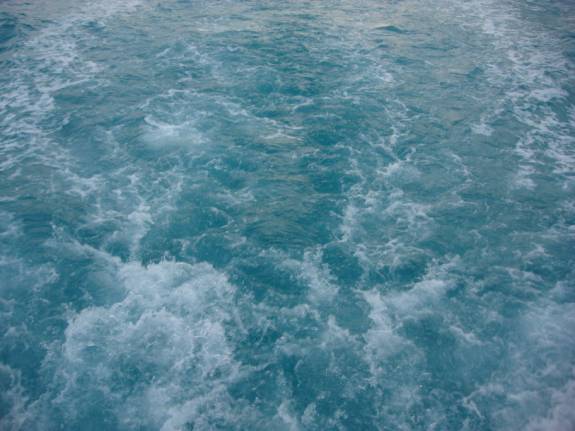 The wind was nonexistent and the only ripple disturbances came from AMARSE's wake.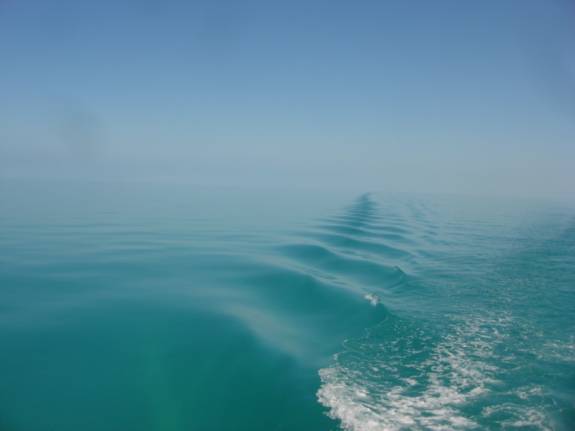 We arrived at the Dover Sound entrance channel to the Lucayan Canal about an hour before high tide. According to the charts, AMARSE needs the extra depth from high water to clear her keel. As it was, we never saw less than 5.8 feet of depth, even at the shallowest point in the center of the channel. We were into the top of the canal just before 1pm.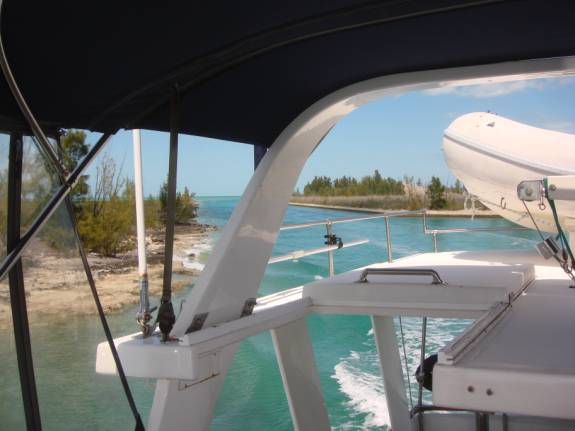 The canal was built decades ago by some enterprising developers planning to subdivide the lands into canal waterfront parcels. The whole project failed because they were unable to get sufficient utilities installed by the Bahamian providers. Even today, the land remains largely desolate in the northern sections.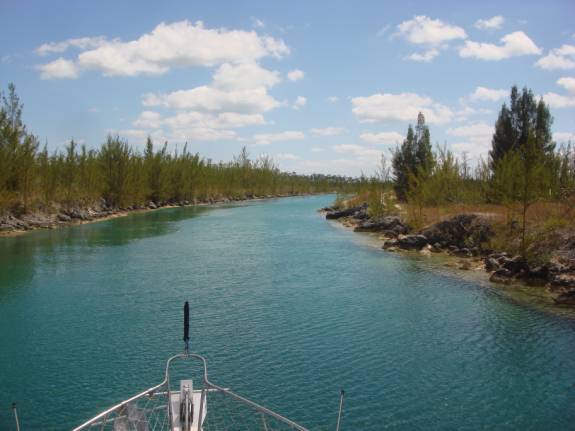 At one point, the canal narrows and demands a close watch to keep in the center. Submerged rock ledges on both sides could play havoc with the exposed propellers.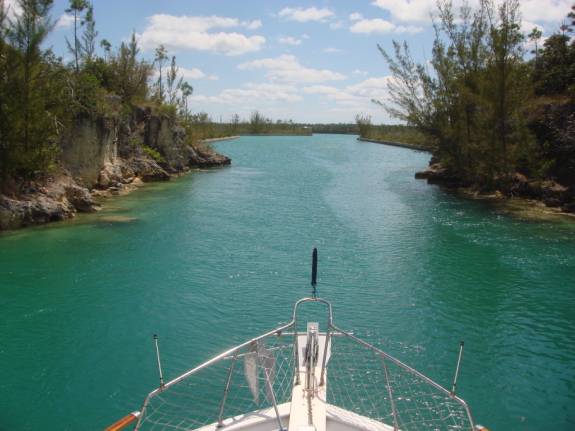 More southerly, there is some development occurring at a very slow pace. Homes range from the palatial to mere fishing cottages.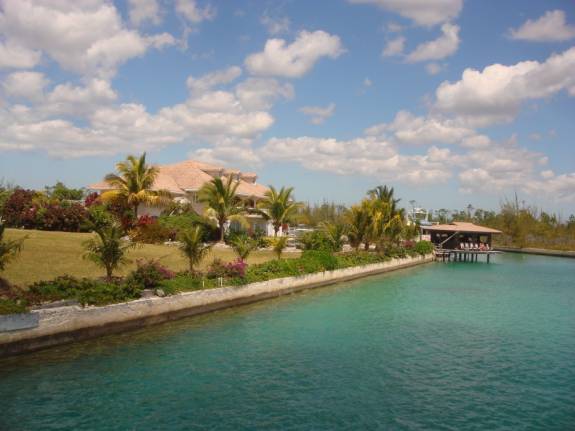 A fixed bridge limits boating traffic to approximately 27 feet of air draft.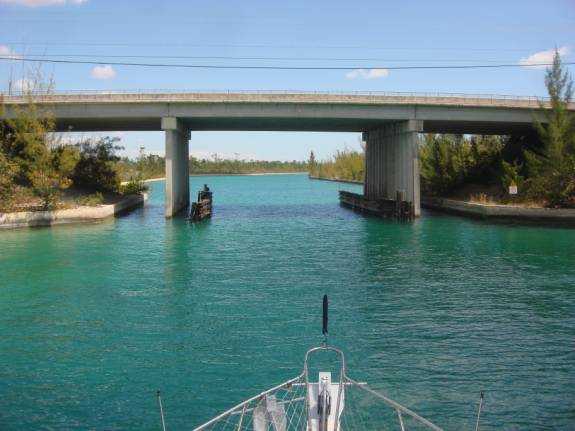 This large hotel was well into the construction phase when the development project failed and the building was never finished, never opened, and was never occupied as hoped.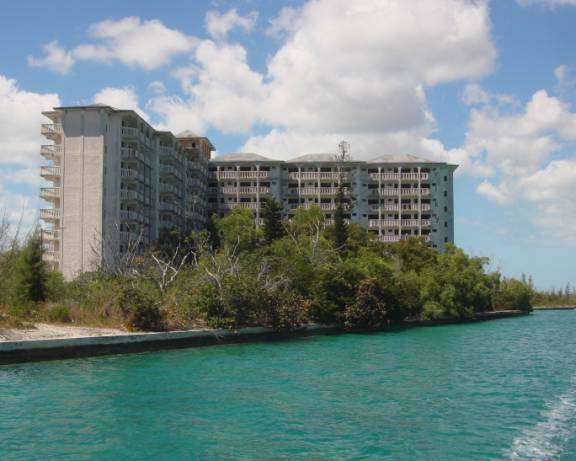 About an hour later, we reached the southern end of the canal. The beautiful beach is frequented by party boatloads of tourists on day trips from Port Lucaya and Freeport.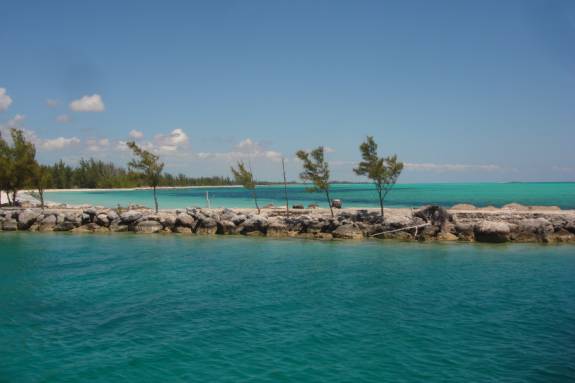 The end of the rock jetty marks the emergence into the BBO (Big Blue Ocean).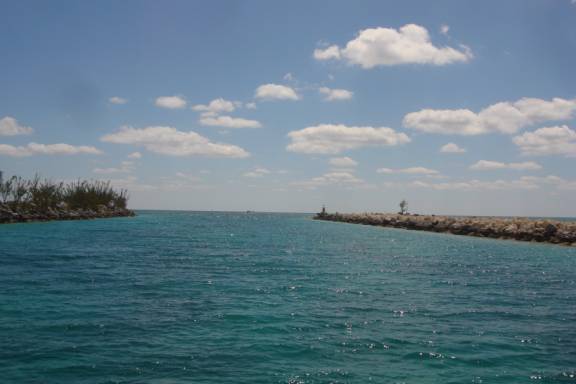 We eased past HAPPY CLAMZ to snap this photo of their Nordic Tug 32 cruising the Atlantic Ocean.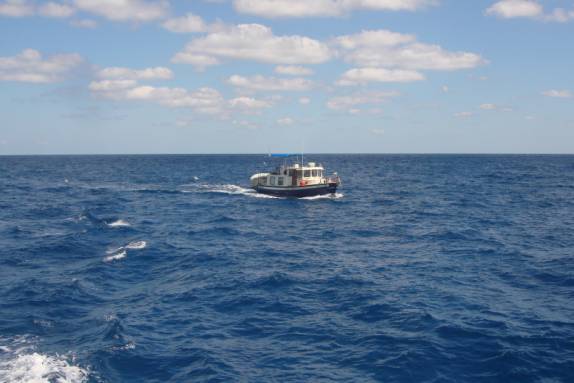 The Bell Channel leads into Port Lucaya.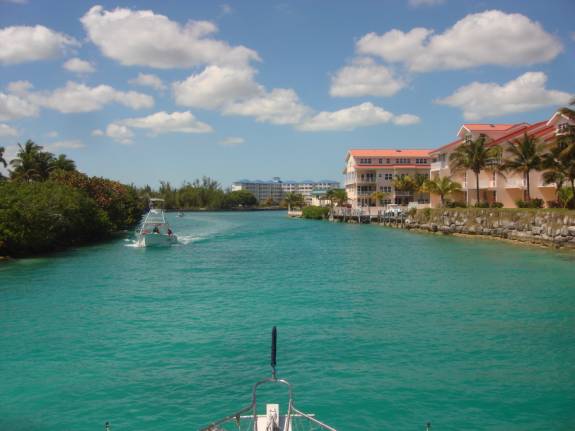 Ahead and to starboard, the Grand Bahama Yacht Club awaited our dockage. By 3pm, we were secured to the massive concrete dock facilities.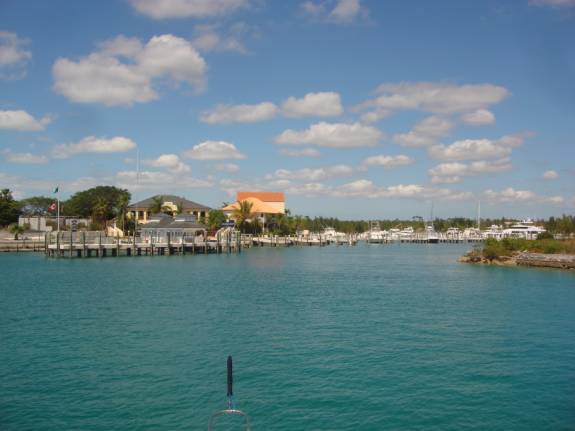 The Port Lucaya lighthouse…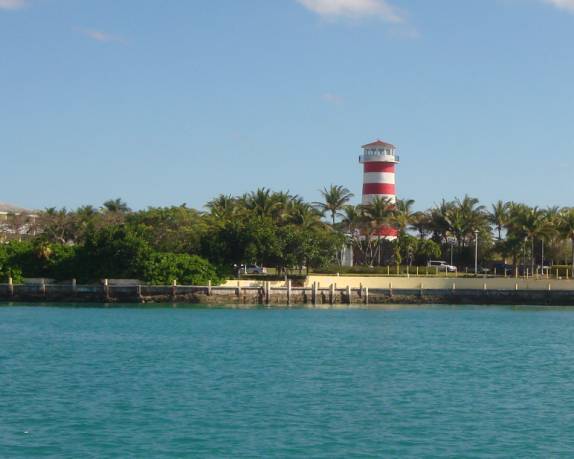 The GBYC operates a complimentary water taxi from the docks to Port Lucaya Village and Marketplace. Along with Doug and Leslie, we headed over on the 10-minute trip soon after checking in. By mutual consent, we chose to have the "Early Bird Special" at Le Med Restaurant. Priced at only $12.50, diners are treated to a salad, entrée choice, baked potato, fresh veggies, and a glass of their house wine. Judy enjoyed the Coconut Shrimp and I enjoyed the Pan Fried Grouper. The food was very good, as was the service.
We mildly challenged the slot machines at Casino. Our money went quickly, however, Leslie enticed one machine to actually double her dollar investment. Go, girl, go…
A pleasant evening of walking by the ocean beach and hotel's pool area was delightful.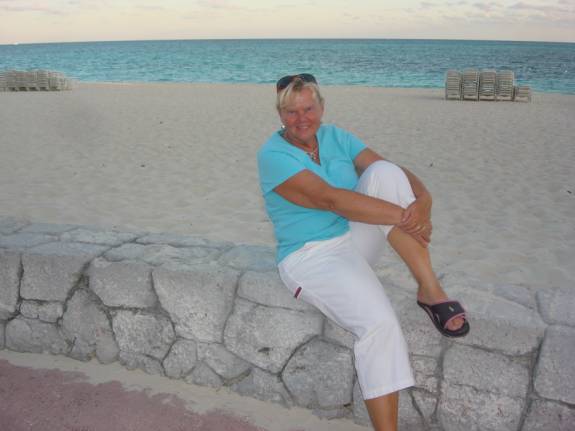 Judy and Fred (AMARSE)…
Leslie and Doug (HAPPY CLAMZ)…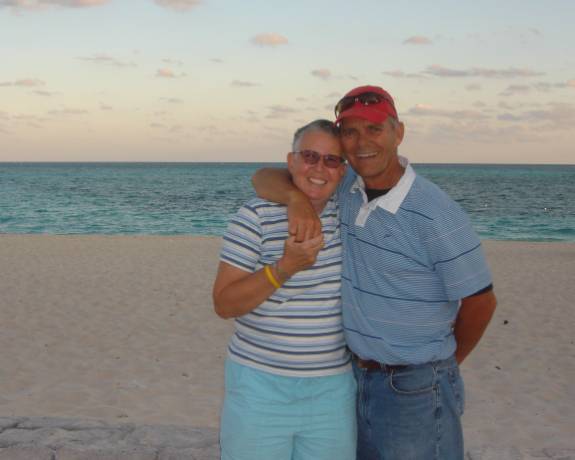 Judy (AMARSE)…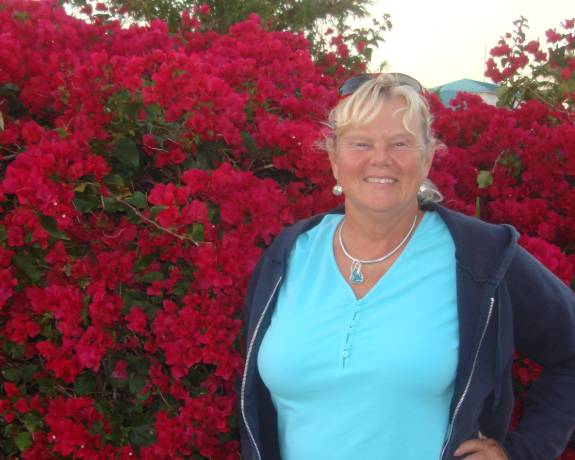 Fred and "his Bahama Mama"…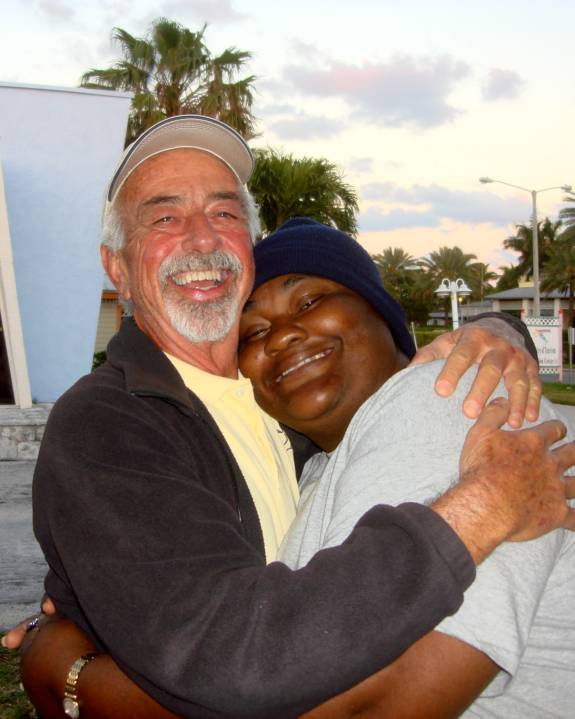 Fountain at Port Lucaya…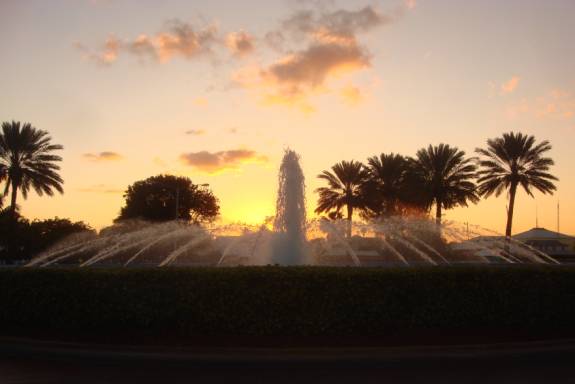 On the main stage of Count Basie Square in Port Lucaya, a very good band played contemporary and Caribbean favorites… We could only stay until shortly before 9pm in order to catch the last water taxi service back to the marina.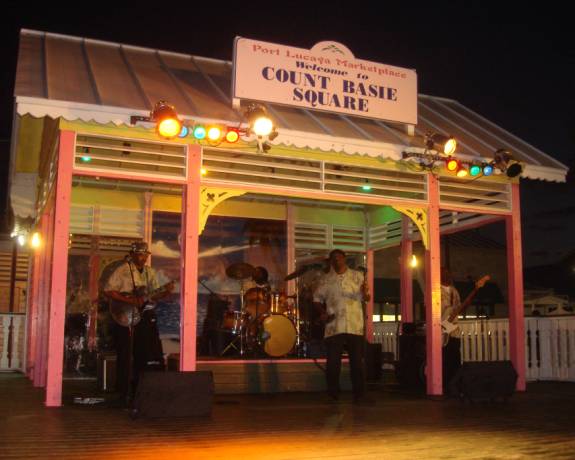 03/21/10 SUN GBYC, PORT LUCAYA, GRAND BAHAMA ISLAND
For much of the day, I worked on logs, photos, and website updates. We had to wash off the accumulation of salt residue from AMARSE. I guess I was really tired because I fell asleep on the divan sofa in the main salon and caught up on about 3 hours of ZZZZZZ's…
At 5pm, the group of RMHYC boaters met at the poolside bar for "Captain's Call" cocktails. It is happy hour from 5 until 7pm and complimentary hors d'ouvres are provided. Behind the pool, a new, fancy restaurant and club house has been built but has not yet opened. Unfortunately, due to the downturn in tourism, fishing, and cruising, the entire facility is currently operating in financial receivership.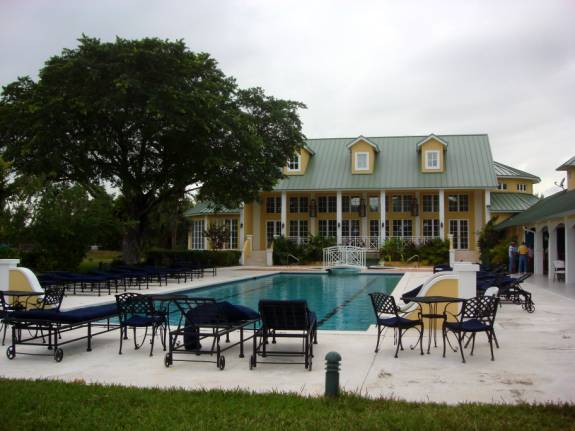 RMHYC members from Boat Harbour Marina included CHABLIS, TOURELOU, HAPPY CLAMZ, AMARSE, and TK III. There were several other club members from different locations too.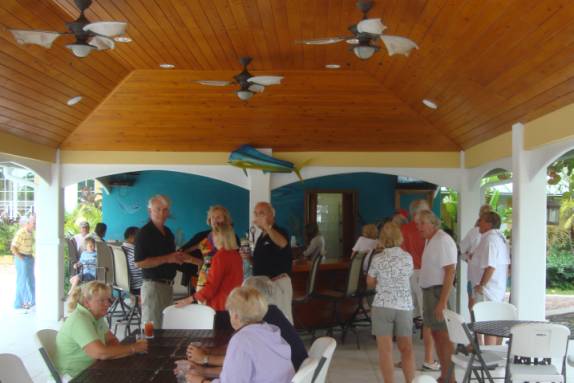 Dinner guests aboard AMARSE were Ron and Susan (TK III). After cocktails, we had salad, spaghetti with homemade meat sauce, homemade artisan bread, and few measures of Chilean wine. Following the meal, Ron and I savored our Nicaraguan cigars at topside while Judy and Susan chatted about all things Arts and Crafts below. It was such an enjoyable evening together with friends…
03/22/10 MON GBYC, PORT LUCAYA, GRAND BAHAMA ISLAND
In the overcast, breezy morning, Judy walked with Doug and Leslie. I worked on updates and pics. Dennis and Georgia (NJORD) arrived this morning. Woody and Ellen (DOUBLE SS) came in the afternoon. Ron, Susan, Doug, Leslie, Judy, and I took the 11am water taxi to Port Lucaya village. From near the police station, we boarded the van bus taking us to Freeport downtown. There wasn't much of interest for us so we went back to the International Bazaar straw market. With tourism down sharply, many of the stands were boarded up and there was very little going on. Boarding another van bus returned us to the Port Lucaya Village. Although not very crowded, this area seems to be the most active and interesting for tourism infrastructures. Even the cruise ship guests are bused over here from Freeport for their shopping experience. Viscously sharp thorns fiercely protected these beautiful flowers.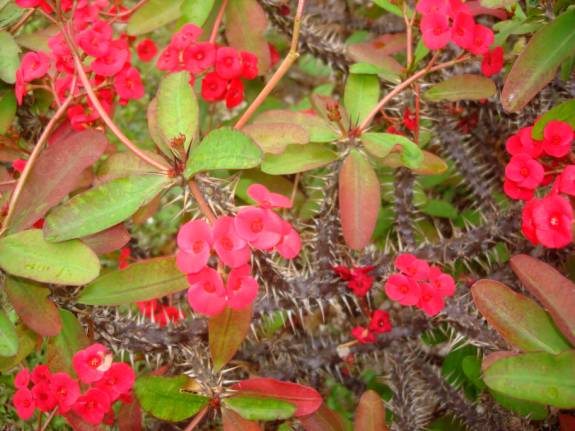 We had lots of choices for restaurants. For us, the Chinese Restaurant special caught our eye and we were well satisfied with the delicious lunch priced at only $5 per person. After eating, Doug walked back to the marina, Ron and I hailed the water taxi, and the girls took to the numerous shops looking for bargains.
An early evening, friendly gathering at the marina with Georgia (NJORD), Doug (HAPPY CLAMZ), and Dennis (NJORD)…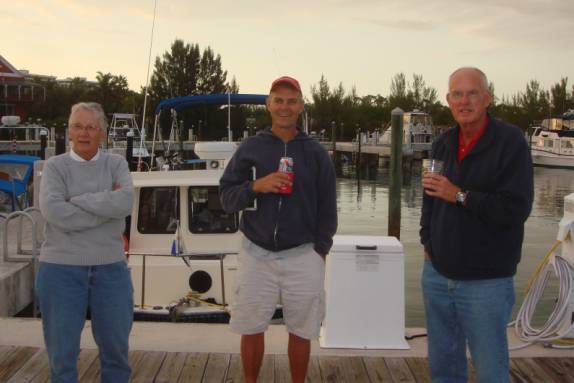 03/23/10 TUES GBYC, PORT LUCAYA, GRAND BAHAMA ISLAND
The plan to go to Port Lucaya Village for breakfast was put into action at 7:30am.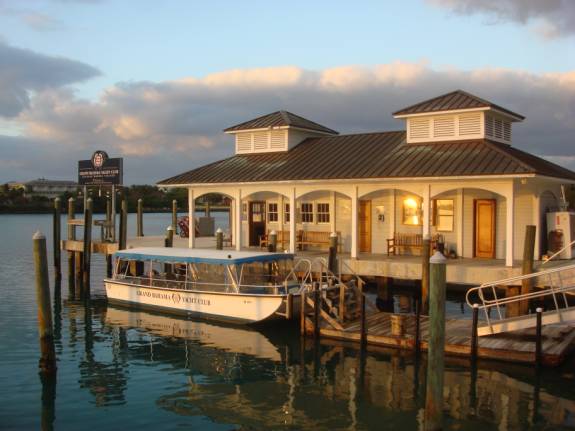 Boarding the water taxi for the short trip…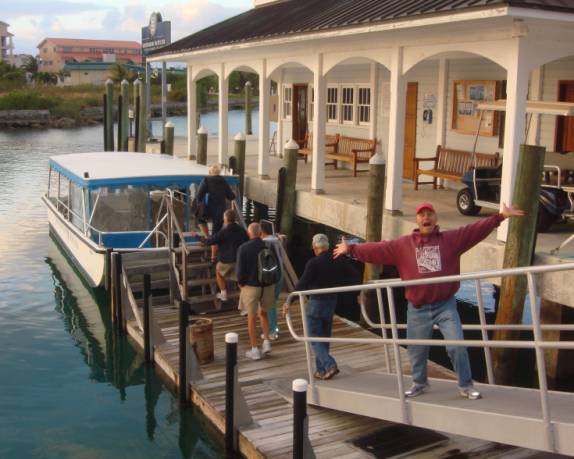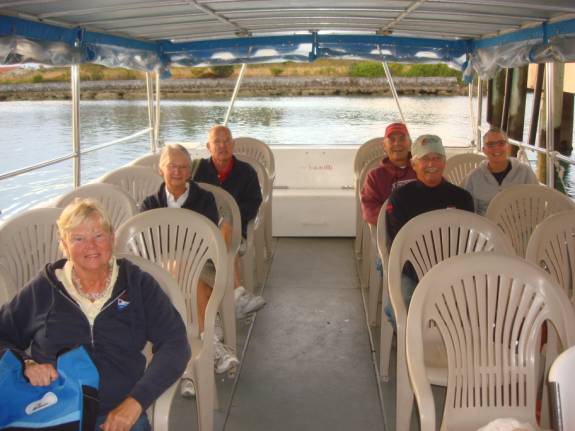 Leslie heartily recommended (perhaps insisted) that we go to Zorba's. She has eaten there several times and has become addicted to their corned beef and grits breakfast.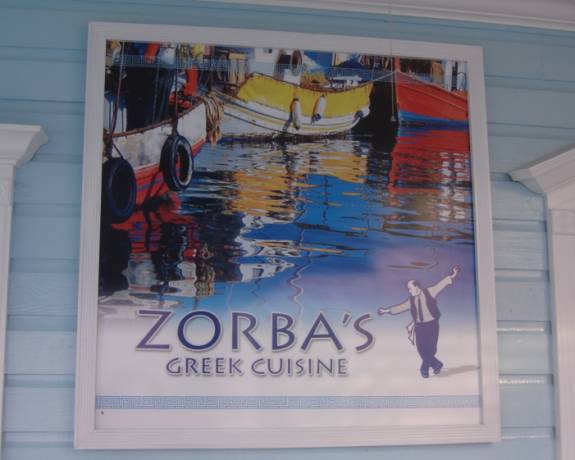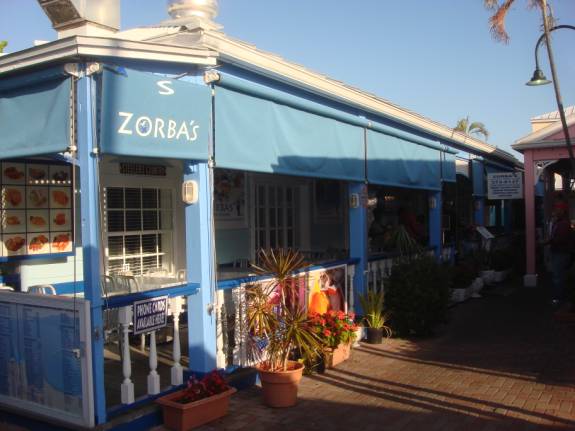 Judy had French Toast and I had blueberry pancakes. Everyone enjoyed their personal selections and Leslie was really as "happy as a clam" with her Bahamian favorite, CB&G. Dennis and Georgia (NJORD), Leslie and Doug (HAPPY CLAMZ), Judy and Fred (AMARSE), and Ron (TK III)…
There were very few folks around this early in the morning and the cruise ship crowd had not yet arrived for the day.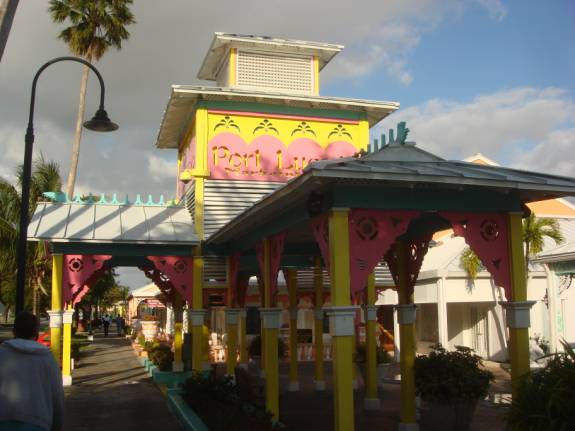 Straw market stands work hard to lure you in to buy their trinkets and souvenirs.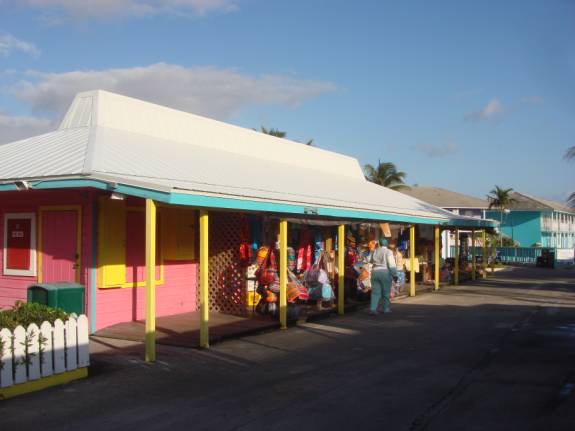 Most of the small specialty shops were still closed.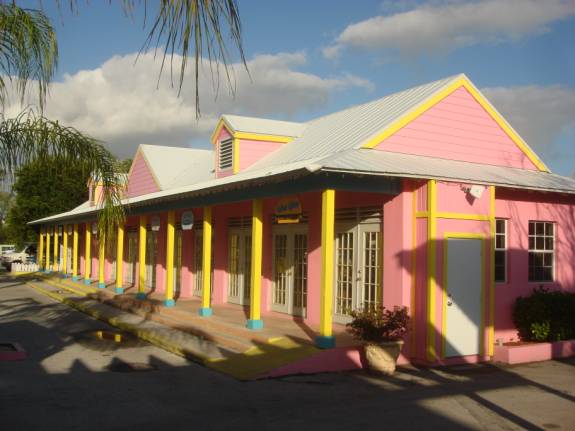 Even the casino was closed and the pool didn't have a single swimmer…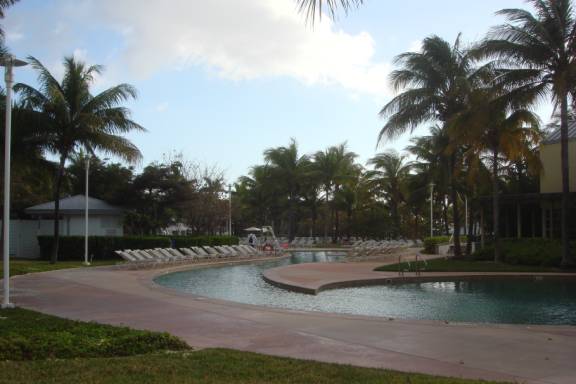 Back at the GBYC, the stout concrete dock system harbors the vessels.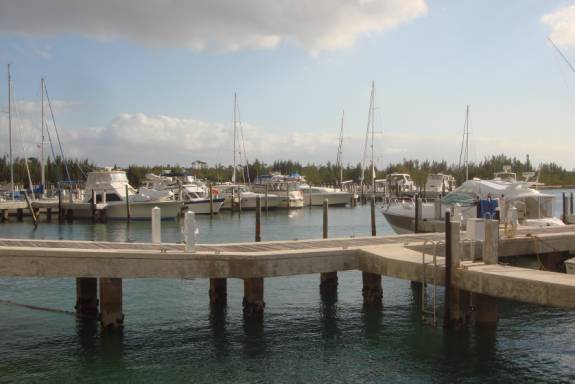 A condo complex provides a land-based option to staying on your boat. Mostly, it's wealthy sport fishermen who have bought these places.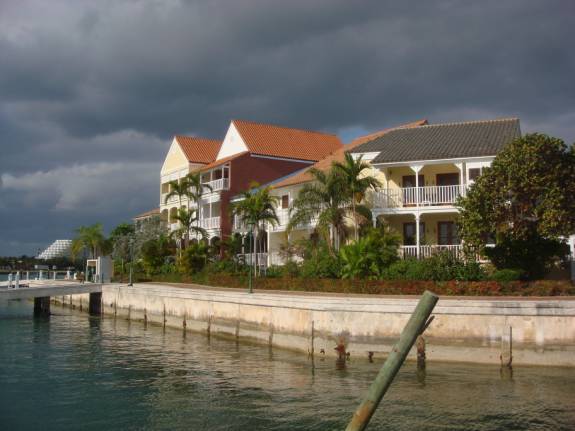 AMARSE…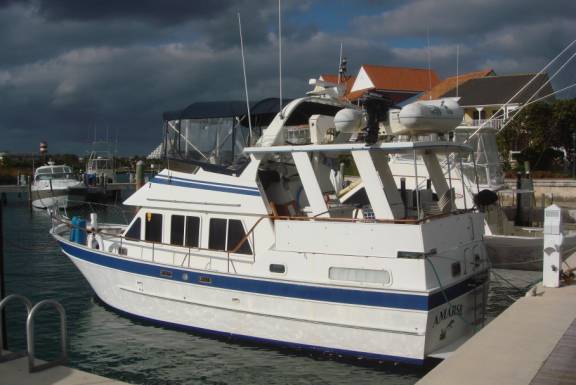 Building at the Grand Bahama Yacht Club (GBYC)…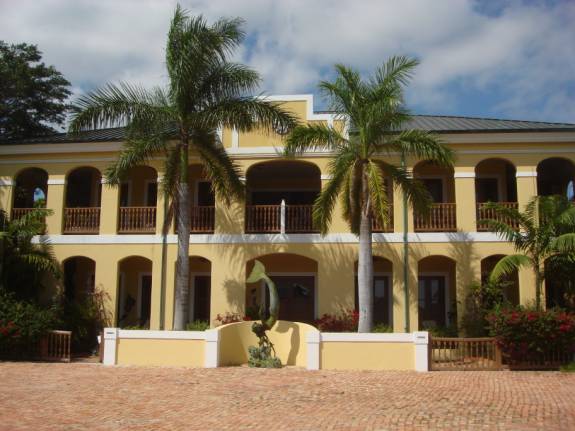 This mermaid statue is a fascinating piece of artwork…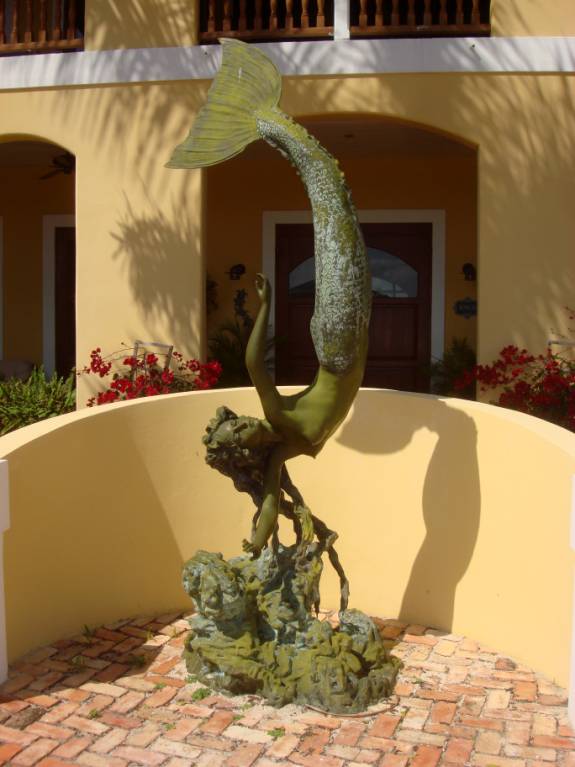 At "Captain's Call" happy hour, the RMHYC was well represented.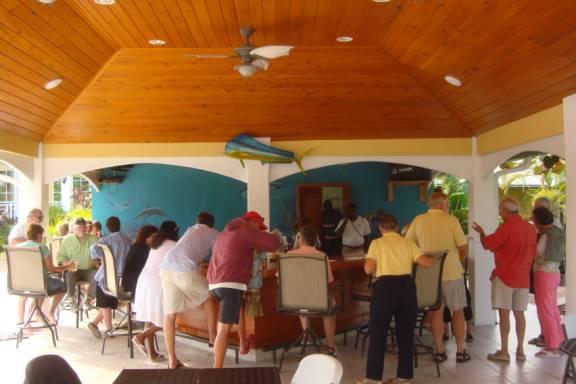 AMARSE is resting comfortably for her planned crossing of the Atlantic Ocean Gulfstream that will commence early tomorrow morning. We had checked out from the marina in order to get an early start.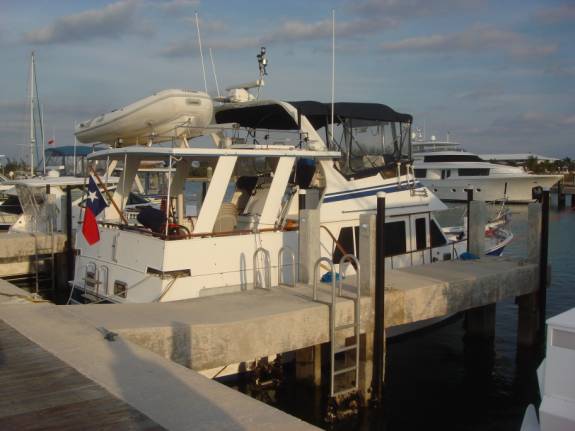 03/24/10 WEDNESDAY GBYC, PORT LUCAYA, GRAND BAHAMA to MANATEE POCKET, PORT SALERNO, FLORIDA
I was up at 4am, an hour before the 5am alarm setting. We had coffee, made the final checks on the weather and stream conditions, gathered our cords and lines, and powered up the engines for a 6am cast off. AMARSE led the little pack, with HAPPY CLAMZ and NJORD in close formation. Still dark, the handheld spotlight (gift from Judy's brother, Dean) was extremely helpful in avoiding the harbor hazards. The Atlantic Ocean was feeling quite hospitable and the calm to mild wind presented a pleasant sea state. Still a bit cool, Judy was well prepared to keep toasty warm.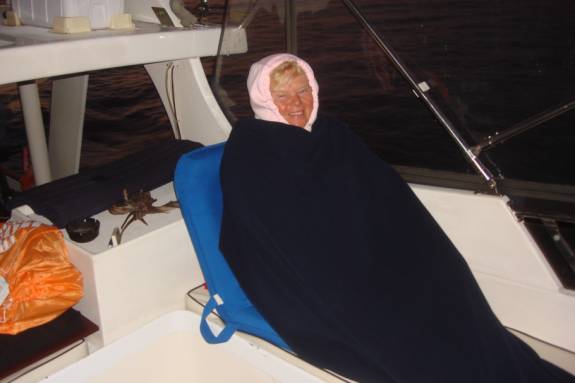 Perhaps you've heard one of the Lone Star State's mottos, "…It's a whole other country…". The Texas flag proudly waved gently against the colorful sunrise…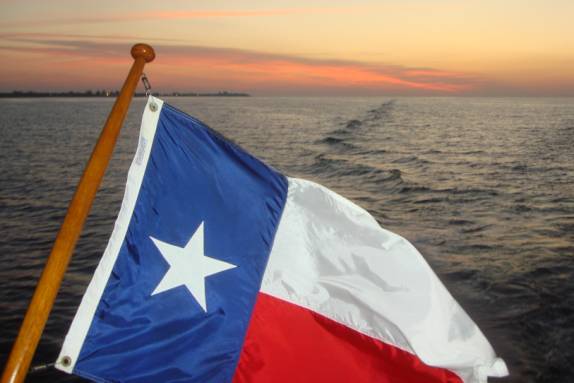 Close in trail, NJORD seemed to enjoy the comfortable conditions…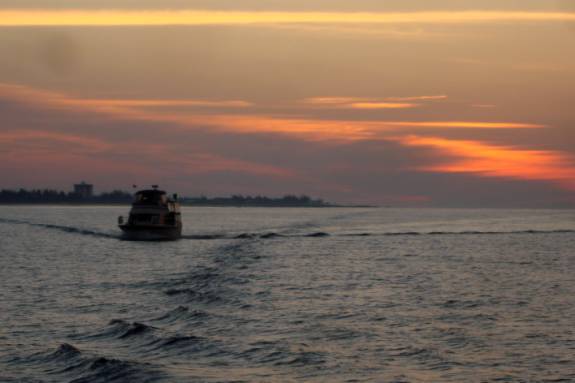 AMARSE made a turn near Freeport to head for St. Lucie Inlet near Stuart, Florida. NJORD and HAPPY CLAMZ had courses plotted for Lake Worth Inlet near West Palm Beach, Florida. Several hours into our voyage, a much faster TK III passed us by as she zipped toward St. Lucie Inlet. We looked forward to arriving in the same anchorage several hours after they would.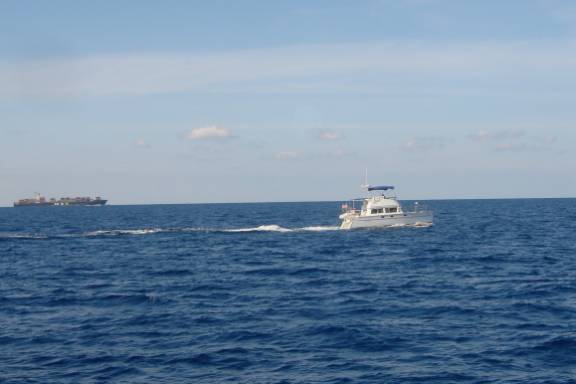 As per the norm, the seas were slightly higher than forecast. In the midst of the Gulfstream, we experienced mostly 2 to 3 footers punctuated by frequent 4 footers and a very occasional 5 footer. The wave patterns were swells and rollers and there were no wind driven waves. Although we were subjected to a rolling moment, the decks never got wet even once. We were glad to have chosen this day for the crossing.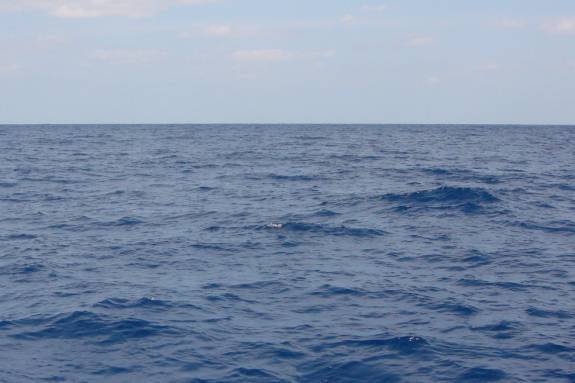 With a helpful tide, the St. Lucie Inlet presented no problems. The channel is in constant change and the buoy markers are changed frequently, therefore, the charts are unmarked and the GPS does not portray marker positions. I would not attempt this inlet in the darkness or during inclement weather.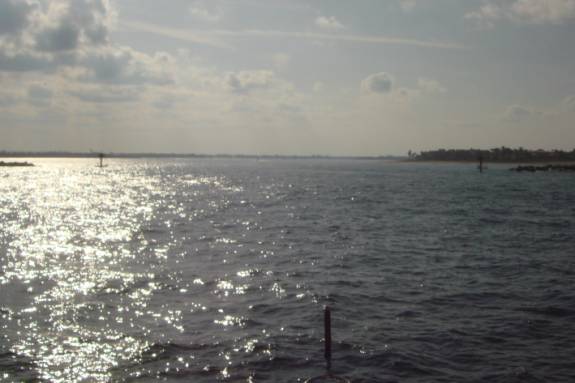 We anchored in the tranquility of Manatee Pocket at about 6pm. Off our stern, TK III was already secured at anchor.
At Pirate's Cove Marina, numerous sport-fishing yachts stand ready for their next challenge.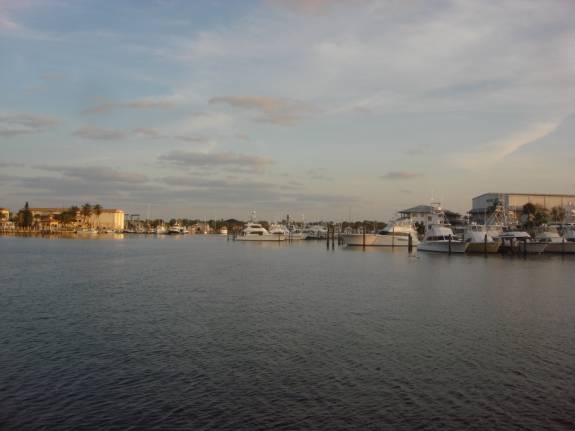 Clearing US Customs and Immigration was efficient and quick using the LBO (Local Boater Option) program established by CBP. For dinner, we fired up the BBQ grill for a delicious chicken breast meal served with almond fried rice. We're happy to be back in the good ol' USA, but we already miss so many of our friends from the RMHYC.
03/25/10 THURSDAY MANATEE POCKET, PORT SALERNO, FL
It had been perfectly calm overnight and the forecast promised a day of the same. Ron and Susan (TK III) have long time friends living here in Stuart. Brenda and Roger were generous to lend Ron their truck for errands and Judy and I tagged along.
Back at the boat, we took the dinghy for an excursion around the Manatee Pocket bay and into Port Salerno. A side trip up into the mangrove canals brought us into the midst of these magnificent Ibis waterfowl.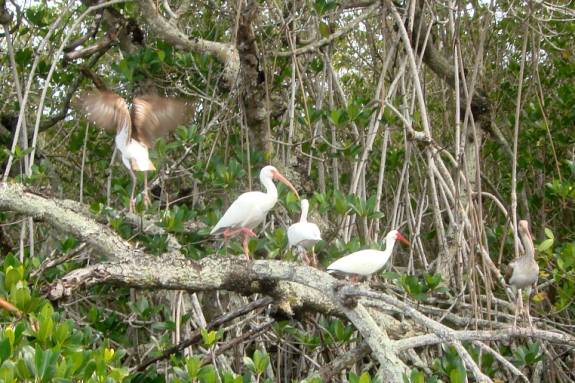 At 5:30pm, we followed Ron and Susan (TK III) in our dinghy headed up a side canal to Roger and Brenda's lovely home for cocktails. I had made up an appealing tray, decoratively arranged with Jarlsburg Swiss cheese slices, fresh tomatoes, and black olives. Roger and Brenda served us a wonderful dinner of delicious salad with bacon dressing, perfectly cooked steaks, baked potatoes, sautéed mushrooms, and ice cream desserts. Thank you so very much, Roger and Brenda, for a thoroughly enjoyable dinner and thank you for making us feel like longtime friends.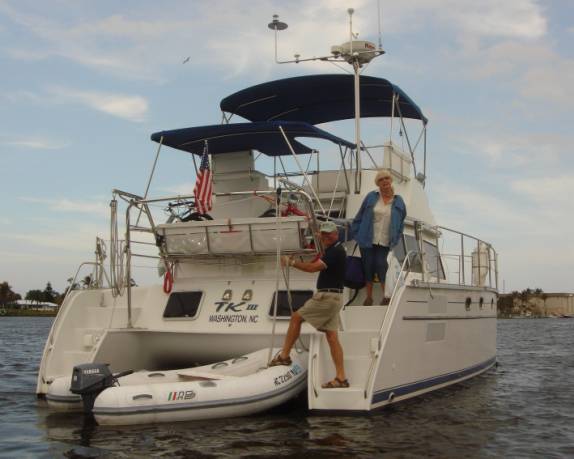 03/26/10 FRIDAY MANATEE POCKET, PORT SALERNO, FL
It was a very stormy night throughout Florida. The pelting rain hit about 3am and was accompanied by a shifting wind that tugged the anchor chain taut. I decided to stay awake on anchor watch to preclude any chance of an unexpected dragging condition. We were closer than I liked to another trawler that was obviously shorter scoped on anchor rode. Another boat came over to our area from the inner harbor after he dragged into another boat. I sure didn't want that to happen to us. Fortunately, the holding here is excellent and we never moved a bit. It continued to be an overcast and rainy, dismal weather day. I took the opportunity to catch up on my missed sleep with both a morning and an afternoon nap. By late afternoon, the skies began to be more Florida like.
Ron and Sue picked up Woody and Ellen from their boat. We followed in our inflatable dinghy. In the picture below, TK III is the power cat to the left and DOUBLE SS is the power cat to the right.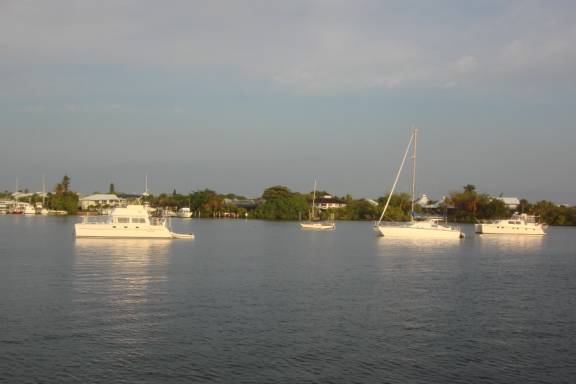 After cocktails at Brenda and Roger's house, we loaded up their three vehicles for the short ride to Shrimper's Restaurant located at Manatee Pocket.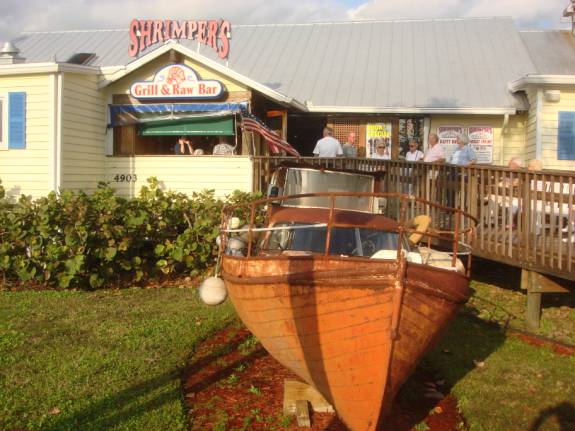 Roger had made reservations for us so we didn't have to wait very long for a table out on the patio that offered us a wonderful view of the waterfront. As recommended by Roger, the special Haddock fish dinner was absolutely wonderful.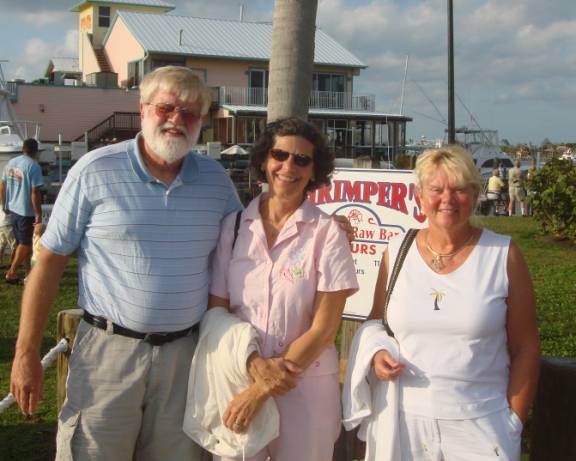 Brenda and Roger (Our hosts), Woody and Ellen (DOUBLE SS), Ron and Susan (TK III), and Judy (AMARSE)…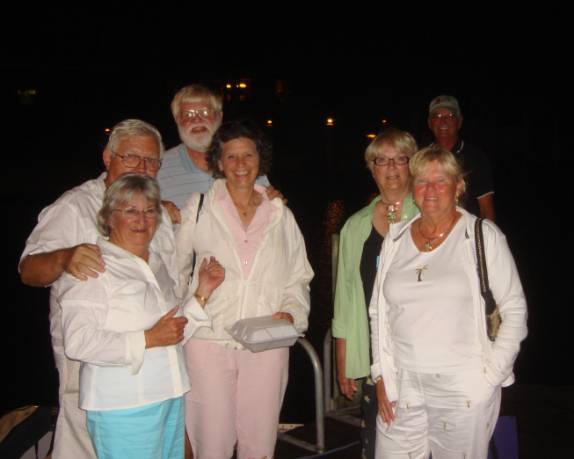 03/27/10 SATURDAY MANATEE POCKET to SUNSET BAY MARINA, STUART, FL
The overnight wind and morning air was very calm and delightfully warm. TK III rested peacefully and nearly motionless here in Manatee Pocket. We still had several more days until our marina reservations would be available at the beginning of April. The original day plan was to take a dinghy excursion and sightsee the local area. After listening to the weather forecasters prognostications for deteriorating weather over the next few days, we called to see if there might be a chance to push up our reservation. The dockmaster informed us that our slip had just been vacated and was open now. We were welcome to come this afternoon. We hailed TK III and told them of our change in plans. They called the same marina and made arrangements for a few days stay too. This was great news because we really enjoy being with them.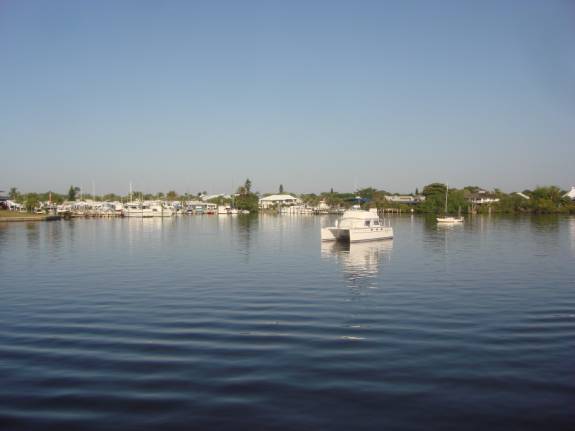 As we pulled out the anchor, we could see why the holding was so good here. The entire chain and anchor flukes were heavily caked with gobs of a muddy clay, shelly mass that was difficult to wash off, even with our strong wash-down pump. It probably took 20-30 minutes before everything was cleaned off enough to proceed.
After adding diesel fuel, AMARSE moved to her new dock home along the D Dock wall. Sunset Bay Marina is a brand new facility located in Stuart, Florida on the Okeechobee WaterWay at about the mile 7.2 marker. Private enterprise has taken over the former City location and completely renovated and upgraded everything. During the rebuild, they were closed for some time and replaced the entire mooring field facilities that have been very popular with the cruising crowd. The main administration building houses the marina office, a marine/snack/coffee shop, laundry, showers, bathrooms, and a large TV lounge for the cruisers. Everything is modern and well run.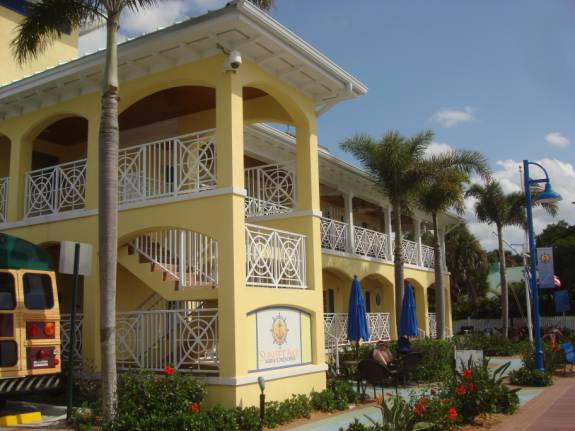 Situated close to the downtown historical district of Stuart, it is just a short walk to lots of shops and restaurants. Stuart is sometimes called, "The Billfish Capitol of the World", due to its close proximity to the fertile Atlantic Ocean.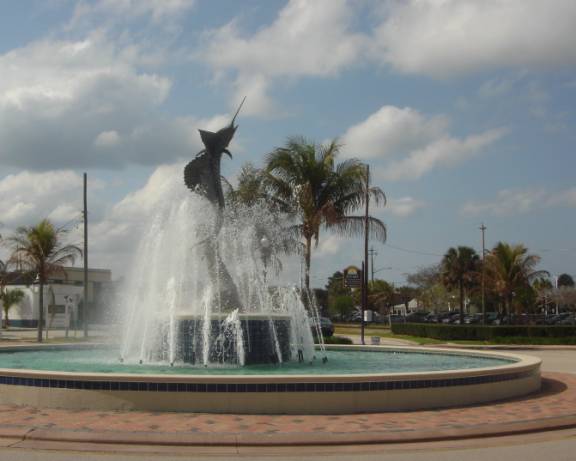 Just recently opened, the "Sailor's Return Restaurant" is drawing a good crowd of locals, cruisers, and tourists. The location is ideal for a relaxing meal and great views of the setting sun. Live music is often playing around the open patio areas.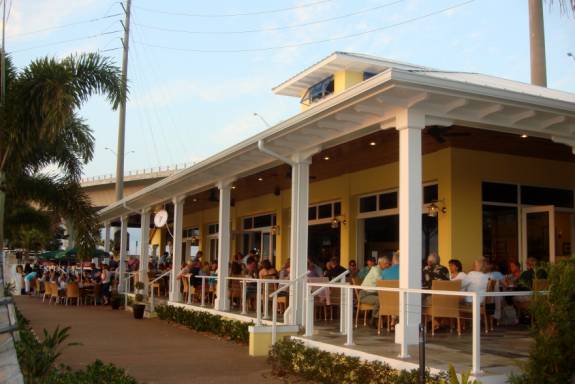 The main administration building at Sunset Bay Marina…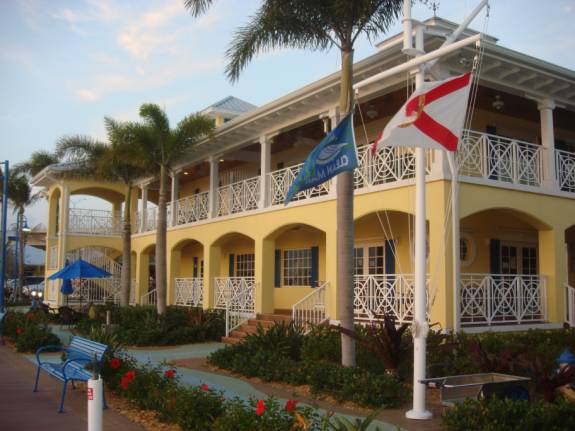 Most of the docks are floating style, surrounded by an encircling concrete pier wall that provides both protection and lots of additional fixed dockage.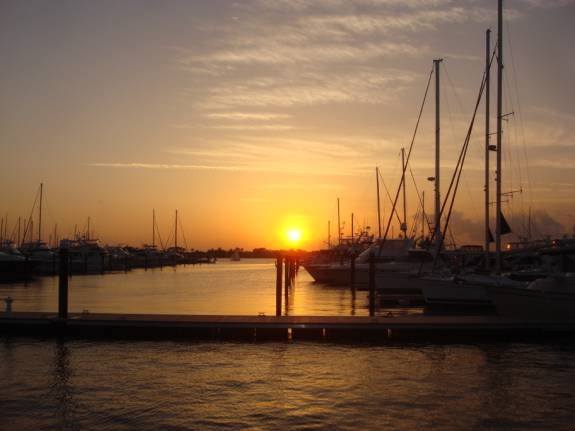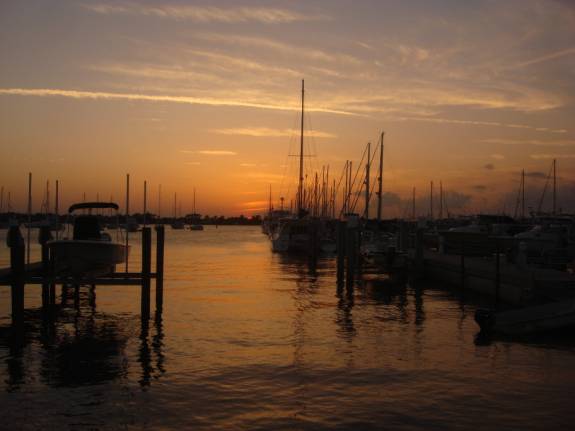 03/28/10 SUNDAY SUNSET BAY MARINA, STUART, FL
AMARSE rests comfortably against the side-tie, fixed dockage of the D-Dock finger pier. With only about a foot of tidal action, we don't have to worry too much about adjusting dock lines.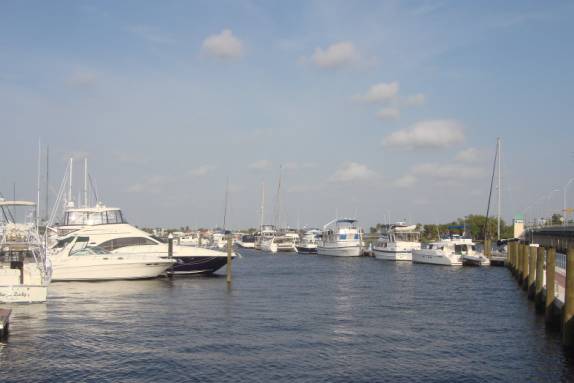 Docks B and C are the floating slips…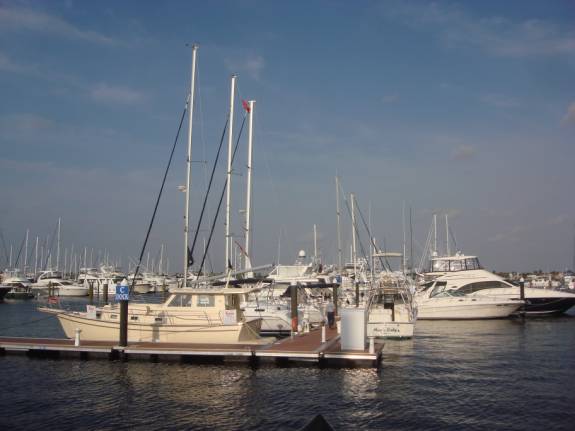 A nice walkway provides a smooth and scenic, waterfront route to the downtown zone. Shore birds and waterfowl are very interesting to watch.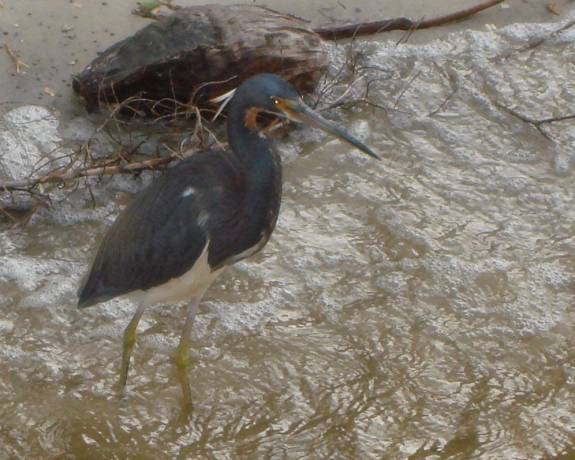 A cormorant basking in the morning sun…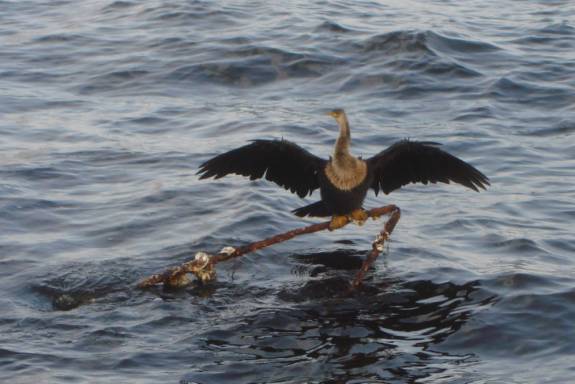 Every Sunday, vendors set up their stands at the weekly "Green Market". It is kind of like a Farmer's Market except there aren't any farmers here anymore and many of the booths sell a variety of products and services. We didn't find much of anything that overly interested us.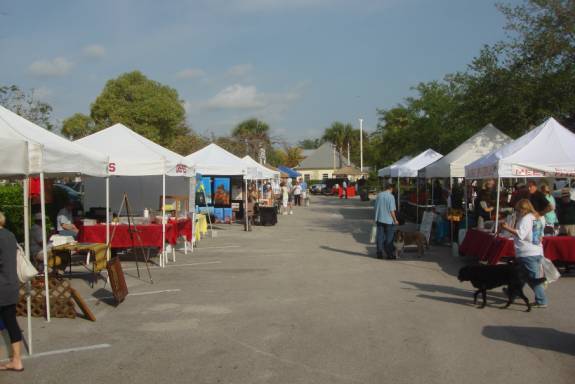 We had the chance to visit some more with Susan and Ron (TK III) at their pier on Dock A. They have a little, white Maltese puppy named "Harley".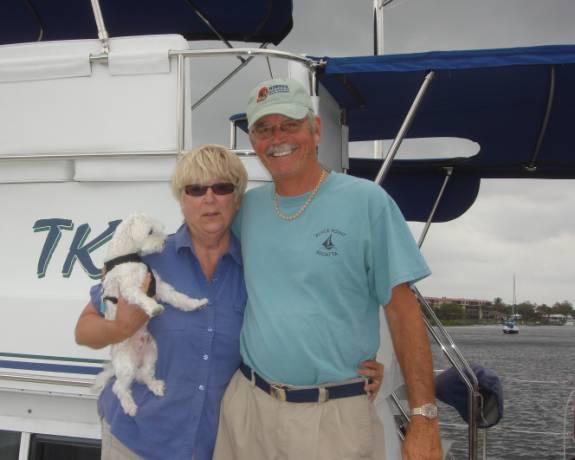 WATERWAY GUIDE LADY hails from Deltaville, VA. It is the vessel of Jack Dozier, owner and publisher of the well-revered series of cruising guidebooks. Many folks also enjoy their terrific Regatta Point Yacht Club and Marina, located in their homeport town up in the Chesapeake Bay.
As predicted, the late afternoon weather was turning cooler, breezier, and the threat of heavy rains was evident.
03/29/10 MONDAY SUNSET BAY MARINA, STUART, FL
Overnight, significant storms dominated the weather pattern. A continuous overcast hovered low and periods of heavy rain persisted until afternoon. Tornadoes and waterspouts were reported both north and south of us. By the time of clearing, we had about 10 inches of rainwater in a wash bucket on the rear deck. It was definitely a day for inside activities where Judy made a fabulous basket and I worked on logs and updates.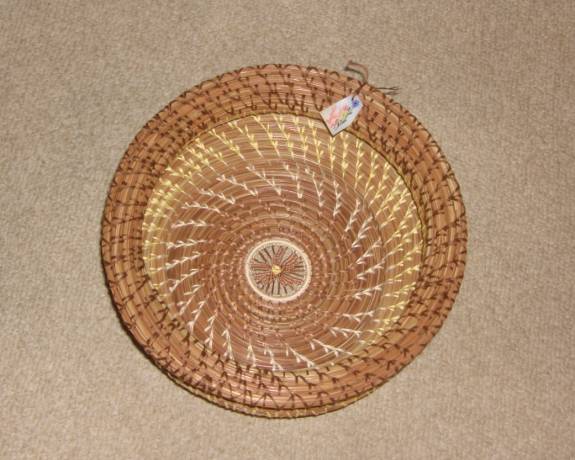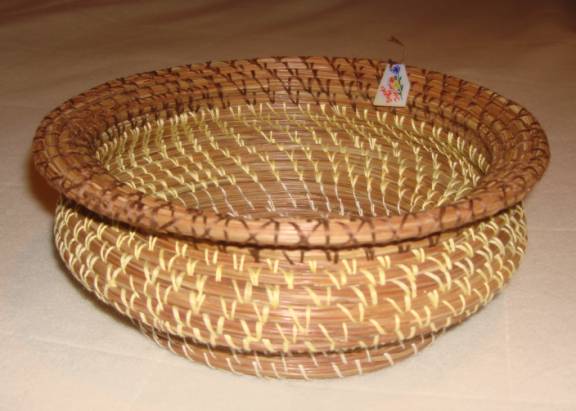 We received an email informing us that a strong tornado had ripped through Grand Bahama Island, Port Lucaya, and the GBYC Grand Bahama Yacht Club. There were at least 8 boats from our RMHYC contingent there. All of them sustained some level of damage but all remained seaworthy. Bimini tops were torn away, fiberglass scraped and damaged, stainless rails bent and broken, antennas snapped off, equipment blown away, and a variety of other damages were incurred. We were amazed that the massive concrete pilings that secured the boats could have snapped like ordinary twigs. We were so happy that, remarkably, none of our friends had been injured. News reports told that 3 people had been killed when a huge container crane toppled down at the nearby Freeport facility.
RMHYC boats that we know were there included SEA ISLAND GIRL, M/V TALLY HO, LO QUE SE A, PUFFIN, TEAMWORK, TIME OUT, SHEARWATER, AND SIN VELAS. Sidonia sent me these next two pics showing the concrete pilings that attempted to secure their boat. They had 7 stout lines attached and 6 of them parted. WOW!!!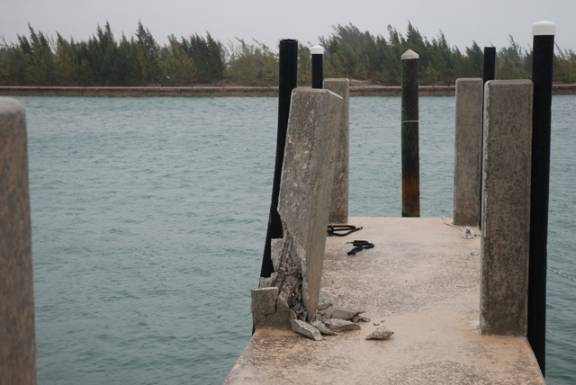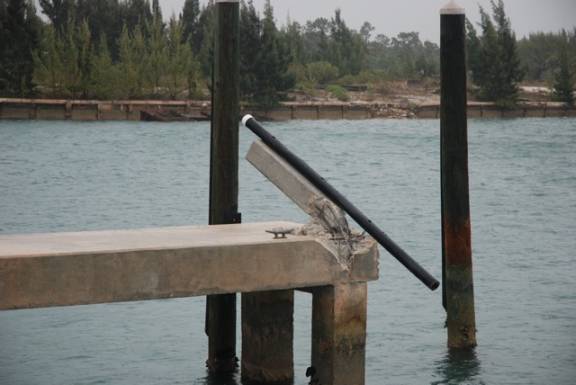 The elements of nature are incredibly forceful and relatively unpredictable. We were glad that we had been the lucky ones to have missed the agony and scariness of that phenomenal and unexpected event.
The weather was much cooler now but improving. Roger and Brenda came to the marina to take Ron, Susan, and us for dinner at the Park Avenue BBQ/Grill restaurant. Judy, Susan, and Brenda were ready and raring to go…
The Monday evening special is a full rack of baby back ribs for only $10.99. With two sides and some pitchers of beer, it was way more food than we could eat. Next time, we will be smart enough to share a dinner between the two of us like Roger and Brenda did. It was well worth the 45-minute wait for a table. Overnight, the temperatures were predicted to drop significantly, perhaps even into the high 40's F. Burrrrr…. Florida has had an unusually cold winter season this year. The good news is that the daytime temps should become more pleasant tomorrow.
03/30/10 TUESDAY SUNSET BAY MARINA, STUART, FL
As forecasted, the winds calmed down overnight to bring a cool, clear morning. Ron and I walked to the Publix grocery store while Judy and Susan headed for the downtown area for some "gal-time" shopping. Around noon, we met back up for a terrific lunch at Duffy's Restaurant. They have great food at reasonable prices. Judy and I shared the Coconut Crusted Dolphin Fingers (8 good-sized pieces for $7.99), Susan enjoyed a salad/chicken wrap combo, and Ron had a juicy burger. We are all anxious to return for another great lunchtime experience soon. You can sign up for an MVP Card that will give you an additional 40% discount on food items between 2 and 4pm; Now that is a very good deal.
We had arranged for a rental from Budget Rent Car. They normally offer a pickup service but their response to several inquiries indicated a less than friendly response that no one would be available and that we should simply take a taxi. Oh well, Mapquest said it was just over 2 miles to the rental office so we elected to walk there. I don't know, but it sure seemed farther than that when we were walking. The car was ready and we signed out a new, 2-door, black metallic Pontiac G6. Without delay, we zipped back to the marina for tonight's soiree.
The Sunset Bay Marina held a huge, customer appreciation party this evening at 5pm. To say thanks to the cruisers and residents, a catered event drew a large gathering of boating folks from both the marina and the mooring field. An outside catering company prepared a magnificent buffet line featuring some Florida favorites and specialties like coconut shrimp, conch fritters, roasted chunks of chicken breast, cole slaw, rice, rolls, sweet tea, lemonade, quiche, cheeses, crackers, key lime pies, and lots, lots more. It was really quite wonderful, plentiful, and delicious. The ravenous cruisers formed a huge line that stretched halfway around the building. A couple of staff members meandered through the line handing out snacks to stave off the hunger pains of the patient filers.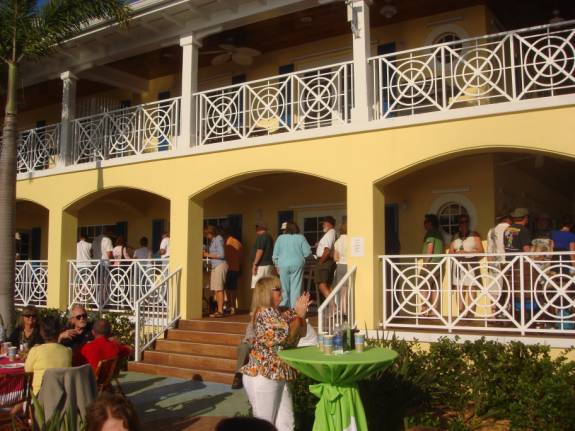 … and the weather was wonderfully cooperative this afternoon.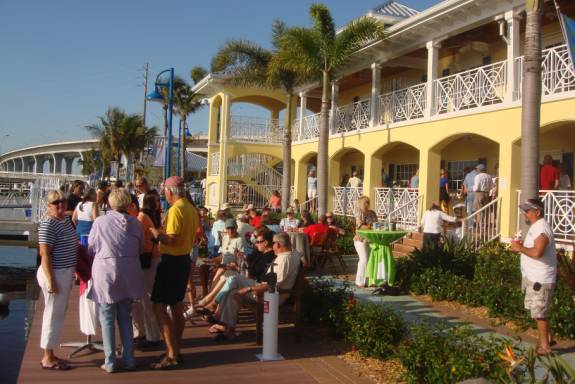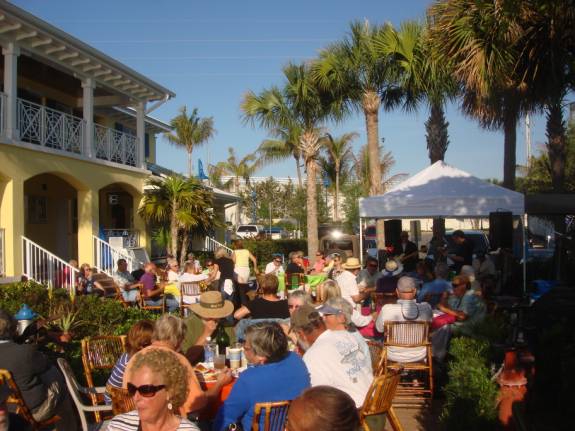 Dean Lopes and the Endless Summer Band played lots of everyone's favorite music… They were quite good and it was generally appreciated that they didn't try to blast everyone's eardrums out with excessive volumes. Everything was just perfect for this kind of event…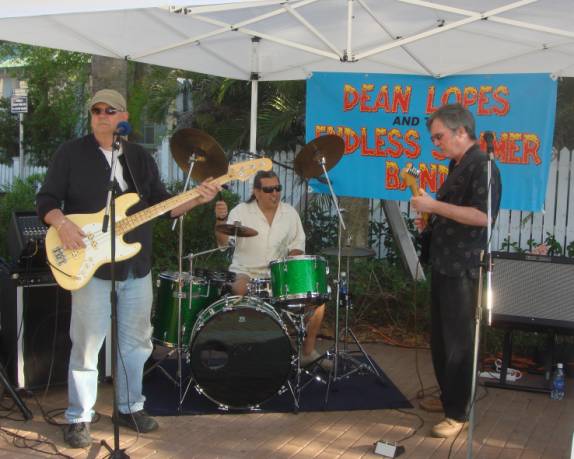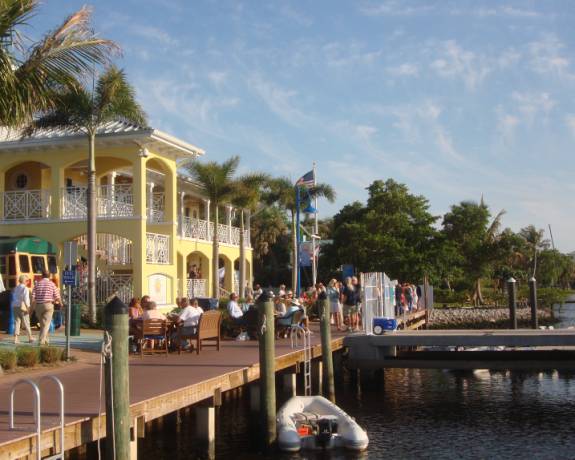 The dinghy docks were packed tight with a plethora of inflatables from the "mother vessels" out in the harbor mooring field.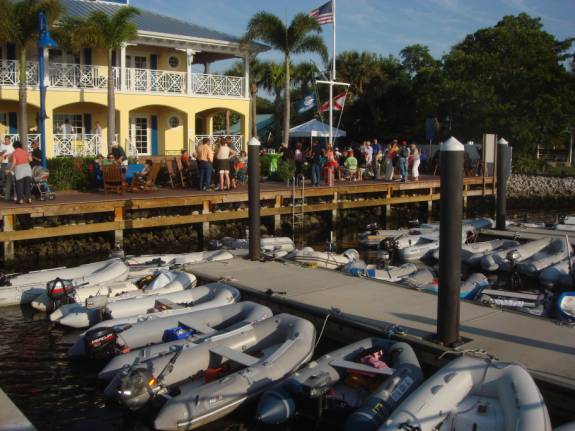 The band played on for more dancing and listening enjoyment…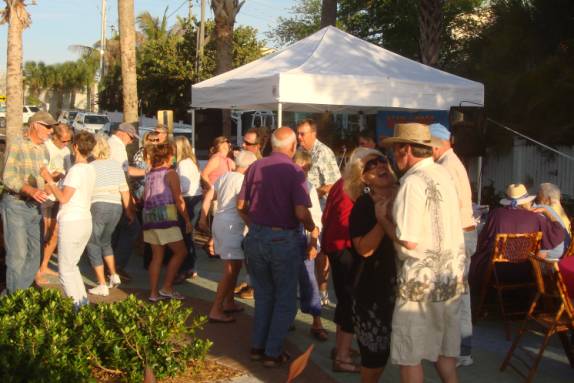 Ron and Sue have been having so much enjoyable fun here in Stuart that they decided to stay a few weeks longer here. This is great for us because we'll get to enjoy their wonderful company even longer that expected…
03/31/10 WED STUART to BRUNSWICK to STUART (by CAR)
Nature had another beautiful day in store for Florida's east coast. HAPPY CLAMZ was leaving this morning and we had said our goodbyes again last night. For us, the alarm blasted at 5am. By 5:40am, we were headed north toward Brunswick, Georgia in the rental car. At about 11am, we pulled into the parking lot of Brunswick Landing Marina where our car had been setting out the winter. Even though I had brought tools, battery chargers, air pump, and miscellaneous stuff to get us going, I was pleasantly surprised that the reattached battery had plenty of juice to start the Riviera right up without any problems. We had a nice chance to visit a bit with the wonderful dock master, Sherry, and Cindy. We always appreciate their great smiles, personal warmth, and all the attention that they provide for us and the other cruisers who come here. We look forward to our return to Brunswick in just a month or so.
Of course, we had to have lunch at one of our favorites, the New China Restaurant. Judy had the daily special, the Chicken Fried Rice platter, and I enjoyed the Pork Egg Foo Yung luncheon plate. We returned the rental car at the Jacksonville airport and headed back to Stuart, together in the Riviera. By 7pm, we were back at the marina, however, the parking lot was crammed full of sunset diners at the busy restaurant. A grocery run to Publix for an hour allowed enough time for those toasting the sunset to vacate a parking space or two. The tired kids were ready for some rest after a long day and we could put away another exciting month of adventures to be logged into the history books. Now, who knows what next month will bring…? Stay tuned to find out…
CONTINUING UPDATES ARE IN PROGRESS…
WATCH FOR THEM, COMING SOON…
POST SCRIPT:
We sincerely hope that you will review the previous years of compilations to give context to the current editions. Please let us know if you have any special suggestions and thoughts.
REMEMBER: The website is now fully active and you can visit it at any time. You can also review any of the previous logs from the years 2006, 2007, 2008, or 2009 to learn more about the crew and to travel with them on their many adventures. Enjoy.
ATTENTION: SPECIAL NOTE:
You may contact us via email anytime.
contact@amarse.net or visit the contact section in the left hand column.
Thanks for allowing us to share our life and adventures with you.
Lotsa Luv,
Fred Reed and Judy Law
AMARSE
MT40
"AMARSE" is pronounced "AM-ARE-SAY".
Our website is: www.amarse.net .