UPDATE#08 03/06 thru 03/16
Howdy Everybody,
The adventures of 2006, 2007, 2008, 2009, and thru 03/05/2010 have been published on the website. We continue with the latest edition.
UPDATE 2010 #08 03/06/10 thru 03/16/10
At last update, we were at Guana Cay, Abacos for the Barefoot Man Concert. Welcome back to the Bahamas…
03/06/10 SATURDAY GUANA CAY to MARSH HARBOUR, ABACOS, BAHAMAS
The wind clocked overnight to come from the Northeast at 15+ knots. The temperature was cool in the 60's this morning and the harbor turned placid in the lea.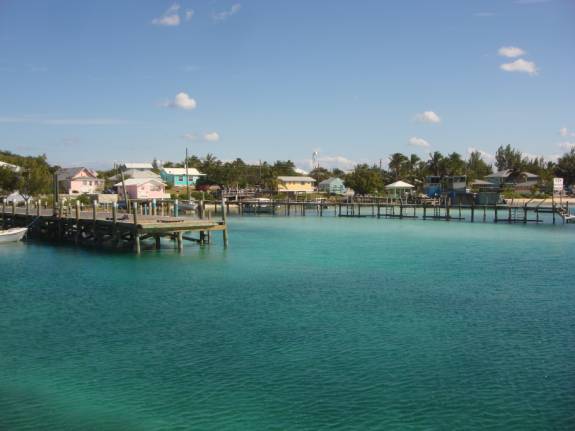 Guana Hideaways docks were newly installed last year. It is the same place that we used to call, "Earl's Dock". With the new ownership, Darvin became the dock master. So far, there is no electricity or water service available, but that has been scheduled for installation in the future. This time, Darvin had the wireless internet up and running. The dock arrangement does not accommodate very many wide-beamed boats, even ours was a tight squeeze between the narrow pilings.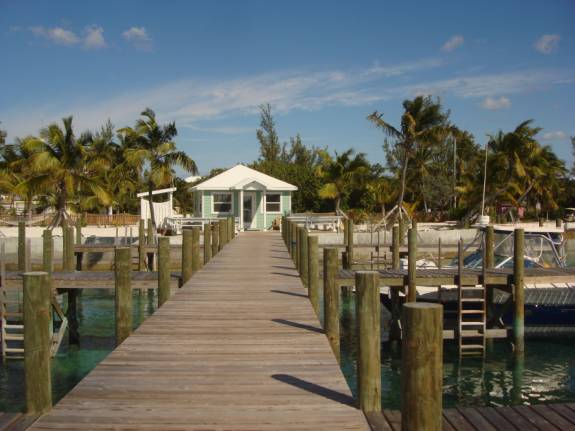 A bunch of RMHYC friends organized a "Pitch In" (Pot Luck) breakfast to be held under the famous "Fig Tree". Almost everyday, islanders come here to sit, chat, and have a rum drink or two. This morning, the picnic table would be filled with breakfast delights.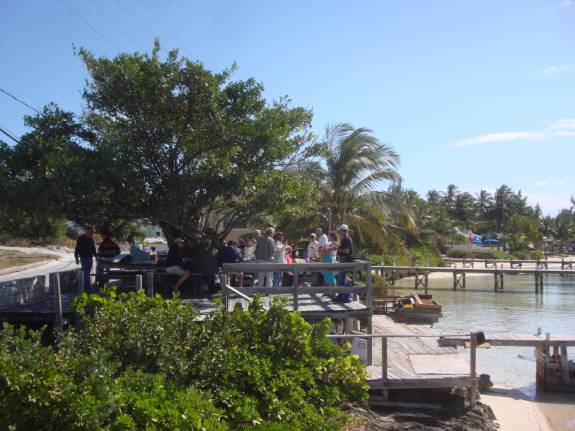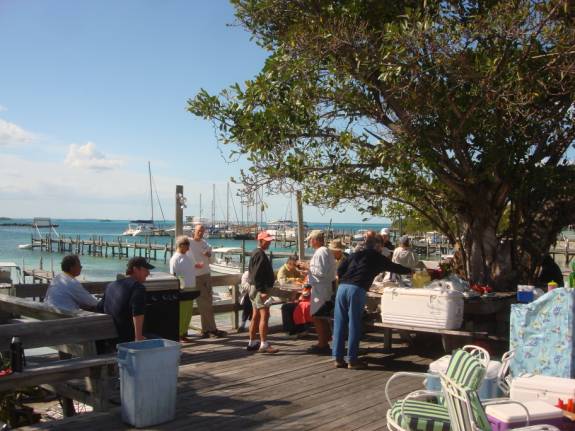 My contribution was a Country Breakfast Casserole, containing bacon, sausage, eggs, potatoes, and lots of cheese. The recipe requires that it be prepared the night before, refrigerated overnight, and baked in the morning. It is a time consuming blend, but, wow, it is well worth it. There wasn't even a scrap leftover.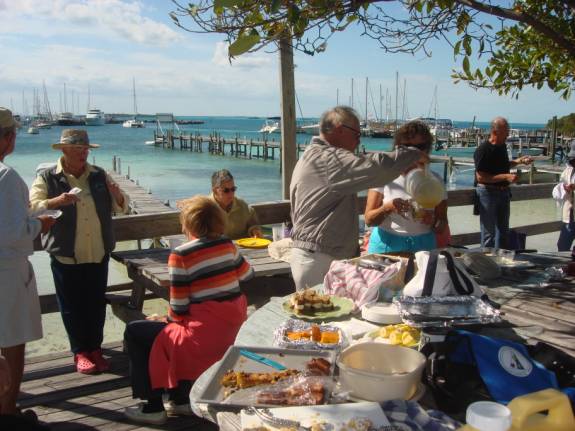 With forks in hand and plates licked clean, the two Joe guys were ready for seconds.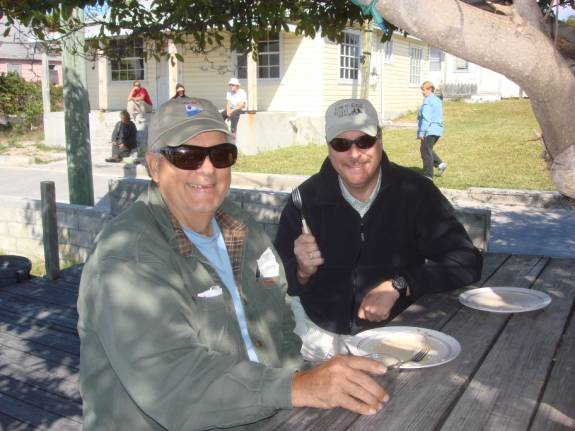 Sharon (CATCH ME IF U CAN) and Judy (AMARSE)…
Joe DeMaris, Tim, Joe Jr. (ADAMAS DE MARIS)…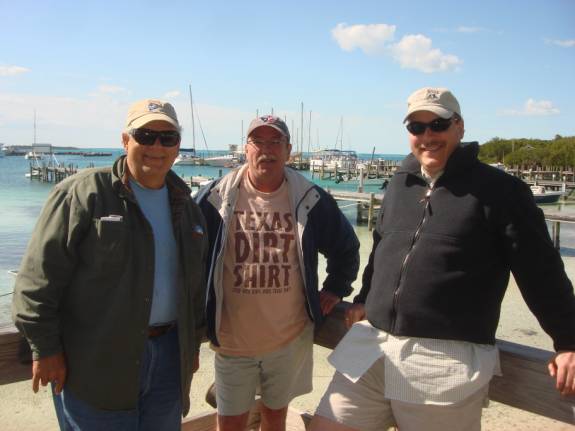 We had thought about staying another night, but it was so nice out that we had cruising fever. We departed the Guana harbor about 11am. We soon caught up with ADAMAS DE MARIS under sail and took the opportunity to snap a photo or two.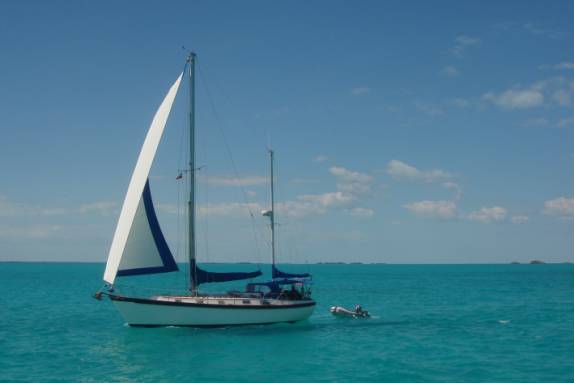 Also traversing the Sea of Abaco, Sidonia snapped this photo of AMARSE from SHEARWATER.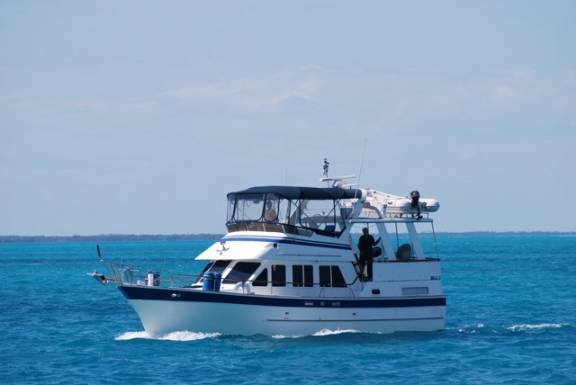 SHEARWATER passed us on her starboard side and kept the South Man-O-War passage well off her port side.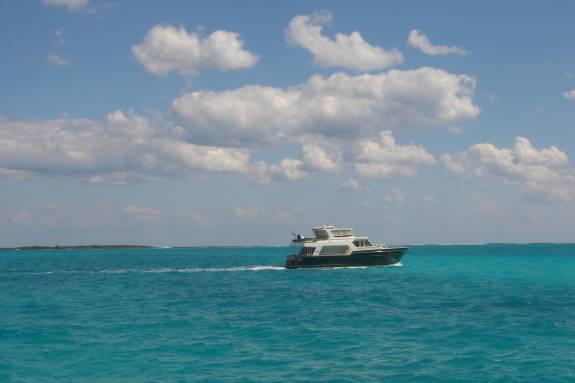 By mid-afternoon, we were all back in the Boat Harbour Marina. Doug (HAPPY CLAMZ) had to don his wetsuit to retrieve a "walkabout" foot mat. It seems the wind had taken advantage of it while he was away.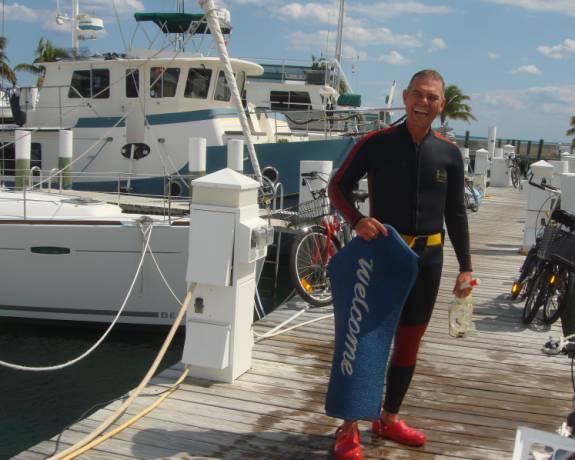 03/07/10 SUNDAY BOAT HARBOUR, MARSH HARBOUR, ABACOS
Lots of boats were leaving the marina for their journeys homeward. They included CHABLIS, MAGNUM OPUS, SKINWALKER, KOOL IT, and TOURELOU. It seems like it is always a challenge to retrieve the stubborn bow lines from the piling when the tide is low. Rita (MAGNUM OPUS) wrestled her lines in with a boat hook.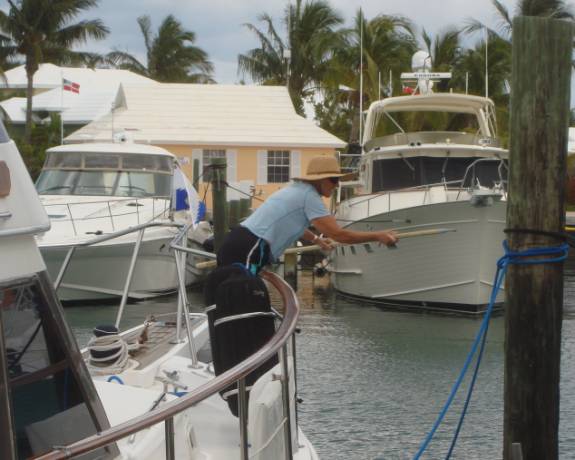 As friends helped free the other dock lines, Robert waved goodbye from MAGNUM OPUS.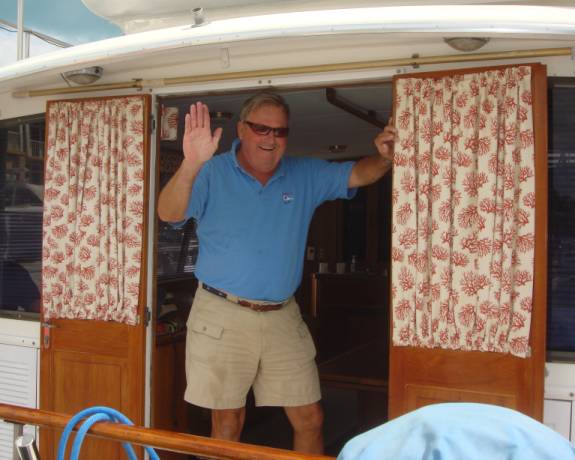 Robert and Rita are very well loved by all of us and many were able to come by to wish them "fair winds and kindly seas".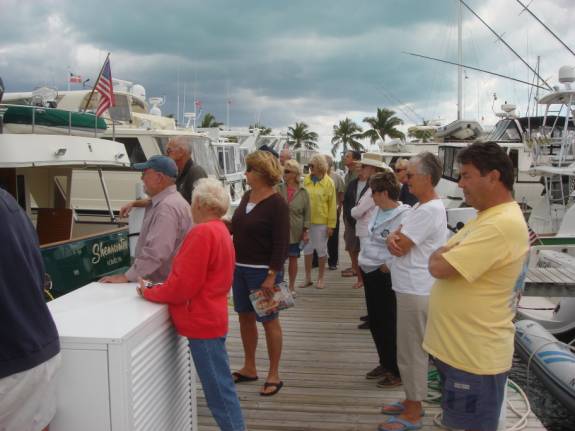 Bon Voyage, mes amis…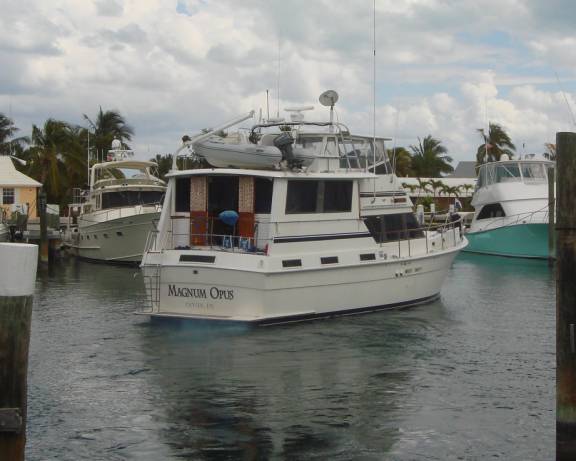 With a few startling blast from her huge air horns and with orchestral march music blaring from loudspeakers, SKINWALKER made a dramatic departure from the marina. Capt. Bones will be heading to Baltimore to take the helm of a day-cruising, Pirate Ship. Avast, ye matey, Arrrghhh...
Too bad the departees missed out on another great evening of heavy hors d'ouevres at the gathering area.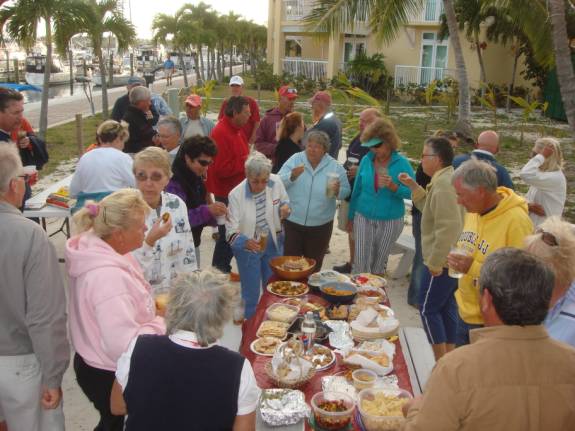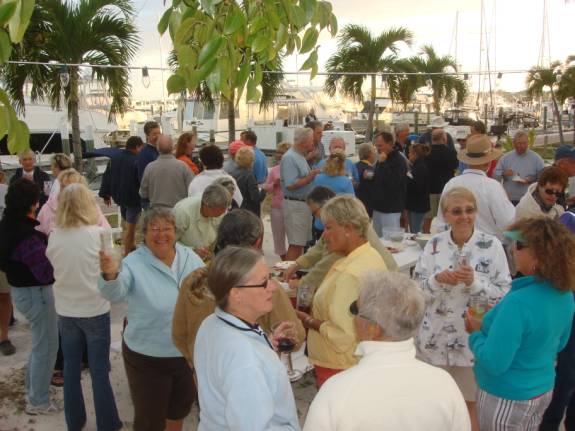 03/08/10 MONDAY BOAT HARBOUR to HOPETOWN HARBOUR
It started out to be a beautiful, calm day that beckoned us to cruise and find a comfortable anchorage for the night. We headed across the Sea of Abaco to an anchorage near Tahiti Beach. The dinghy was lowered just as the breeze began to pick up. A short dinghy ride convinced us that the short chop was just enough that we were going to get soaked if we went much further. Although it was smooth enough for AMARSE, we thought we would have more fun if we relocated to a smoother spot for the inflatable boat rides. Having never spent the night in Hopetown, we weighed anchor, took the dinghy in tow, and headed north for the harbor. An empty mooring ball was available and Judy snagged the pennant with the boat hook. The mooring tackle was almost new and looked very stout. Using double pennant lines, we were secure for the night. By the green floating markers, we could identify the mooring ball as one of "LUCKY STRIKE's". Unable to hail him on VHF, we took the dinghy to the public dock and roamed around town. We could not resist purchasing on of Vernon's Key Lime pies from his grocery store. After a little cruise around the harbor canals, I spent much of the afternoon relaxing in the hammock, while Judy brushed a watercolor of the famed lighthouse. For dinner, I cooked bratwurst on the grill and Judy prepared fried rice and fresh tomato slices for sides. I was so relaxed in the evening that I fell sound asleep on the divan sofa.
03/09/10 TUESDAY HOPETOWN HARBOUR, ELBOW CAY, ABACOS, BAHAMAS
By morning, it was again very calm and beautiful.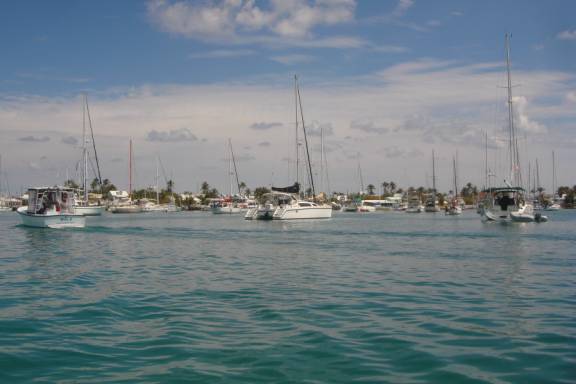 I took a solo dinghy ride around and among the many moored boats in the harbor. Perhaps I'm prejudiced in thinking that AMARSE is one of the prettiest of them all. We both love this boat and all the joy it brings…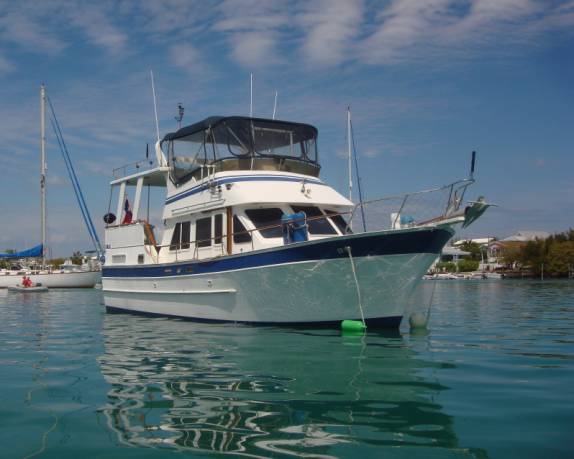 While we were enjoying Hopetown Harbour, many of the folks back at the marina were getting ready for the big race event. This was the 1st Veggie Car Race ever to be held at Boat Harbour Marina. Organized by Fred and Sidonia (SHEARWATER), the race preparations have been going on for several weeks. The competitive spirit, ingenuity, and engineering expertise may well have been the most innovative since the invention of the wheel. Since we were not in attendance, these great pictures are courtesy of Jonathan Jenkins (DOUBLE JJ).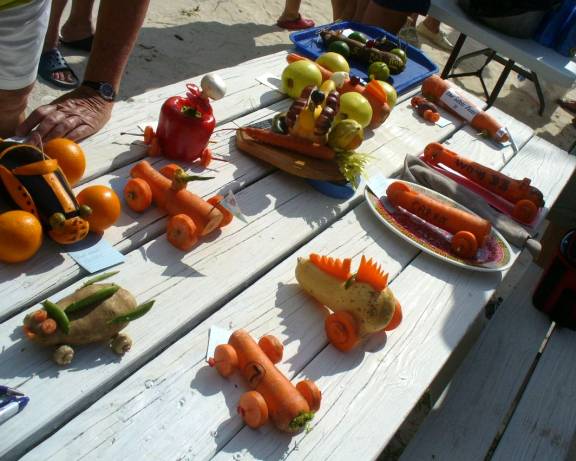 The contestants conceived, designed, and constructed the stealthy vehicles using a variety of vegetables and fruits.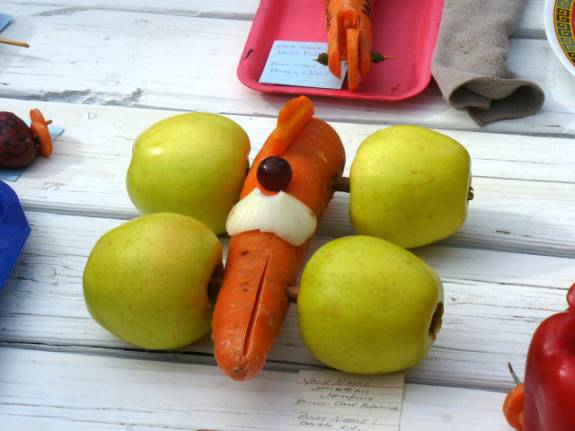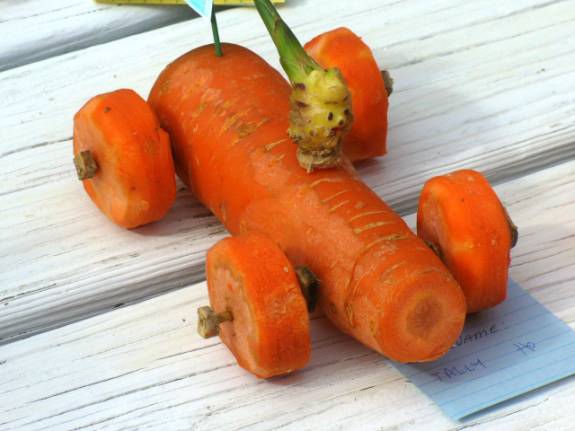 Decorative touches, such as the trim on this eggplant entry, were accomplished in wonderful detail.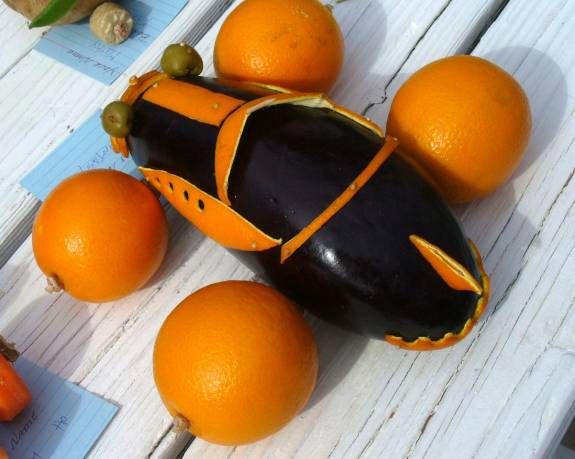 The spectators were plentiful, the drivers eager, the cars fine-tuned to perfection, and the weather was spectacular.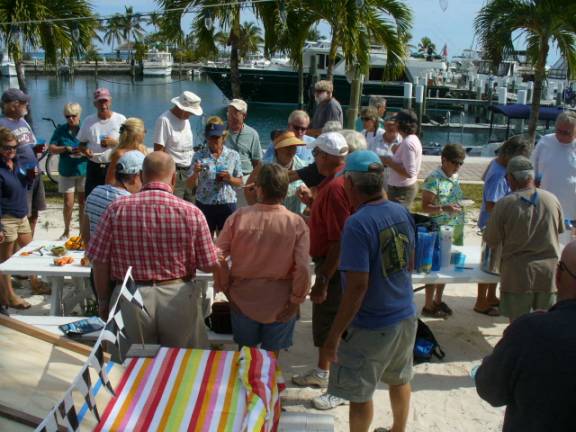 The track was finitely angle exactly to the specifications of the sanctioning authority.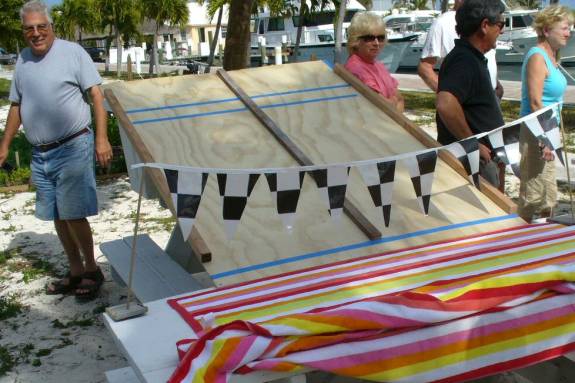 Unfortunately, ESPN was unable to arrive on time to televise the major contest.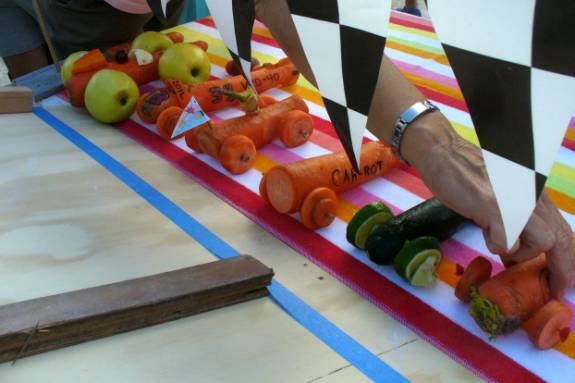 The vehicles were aligned at trackside and on pit row for the photo opportunities.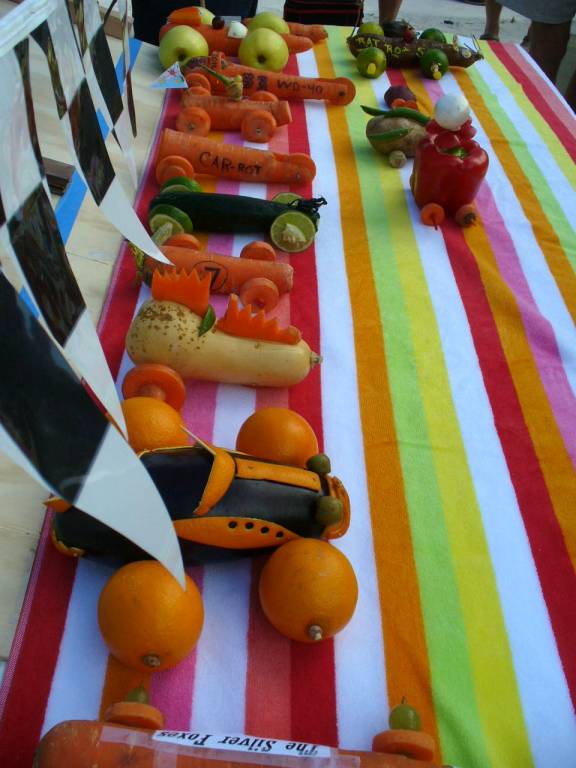 Track official, Leslie (HAPPY CLAMZ), ensures that the vehicles are properly positioned on the start line.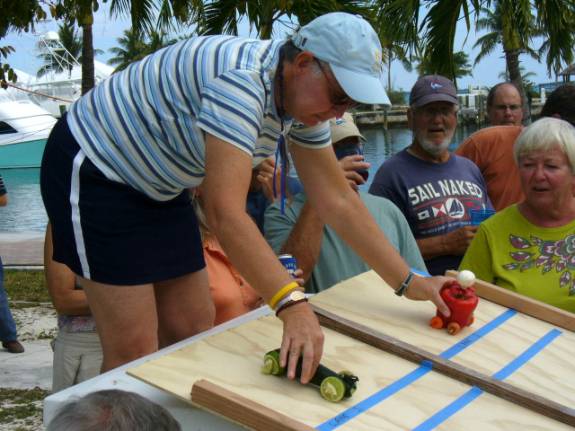 All the work, all the planning, and all the skills were focused on the coveted winner's trophy and perpetual bragging rights as WINNER, 2010 RMHYC VEGGIE CAR RACE champion.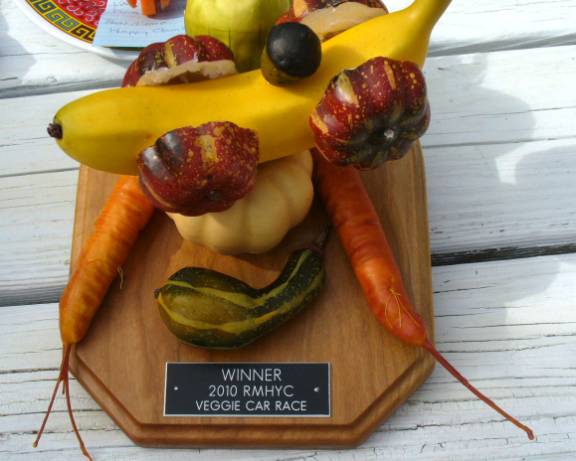 With arm held high in salute, Fred (SHEARWATER) presented the trophy. And the WINNER is……. Jim Howenstine (SILVER FOXES) (he's the one in blue cap). Congratz, y'all, for a superb effort and the overwhelming rise to the challenge.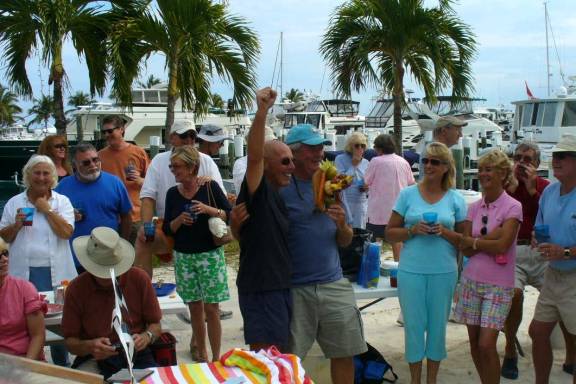 On the other side of the Sea of Abaco, AMARSE was moored in the foreground of the Elbow Cay Lighthouse. For a relaxing breakfast, I made egg omelets crammed with lots of bacon, grilled onions, red and green peppers, and gobs of cheddar cheese to be enjoyed up on the sundeck table. Judy made a special necklace pendant for Bette (TAR HEEL). I think it was one of her most beautiful pieces that melded gold and silver, twisted wires strands wrapping a stunning piece of red sea glass that was in the shape of a jib sail. I think Bette is going to love it.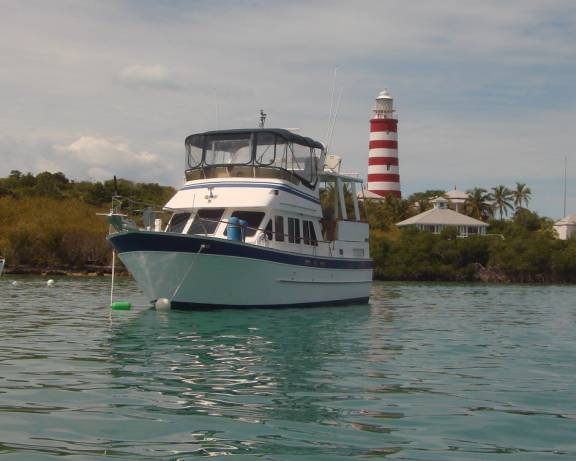 The wind was calm and the seas placid. It was the perfect afternoon for zipping around the coastline and sightseeing all the way to the reef at South Man-O-War passage. Later, while Judy continued to paint her watercolor portraiture of the Hopetown Lighthouse, I lounged in the hammock and listened to music on the iPod. This is what cruising and island life is all about…
Tonight, we were the guests of David and Bette (TAR HEEL). They are such gracious and wonderful people. Judy and I were thrilled with the invite and enjoyed every minute of our time together. With some good wine, a yummy salad, and shrimp creole over rice, the meal was one to remember for a long time. For dessert, we brought one of Vernon's (VERNON's GROCERY) world-famous, Key Lime pies.
03/10/10 WEDNESDAY HOPETOWN HARBOUR to BOAT HARBOUR
TAR HEEL was moored nearby in Hopetown Harbour. Bette hosted the Cruiser's Net on VHF channel 68 from 8:15a to 9 o'clock.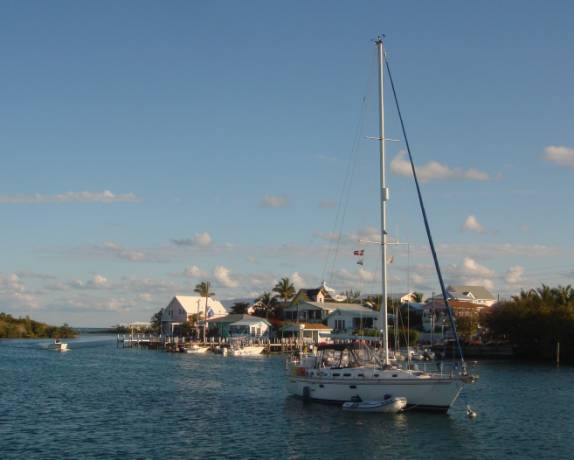 The vast majority of the vessels here on moorings are sailboats. We hoisted the dinghy back up atop the sundeck roof, dropped the mooring lines, and set out of the channel toward our home marina at the ABACO BEACH RESORT and BOAT HARBOUR MARINA.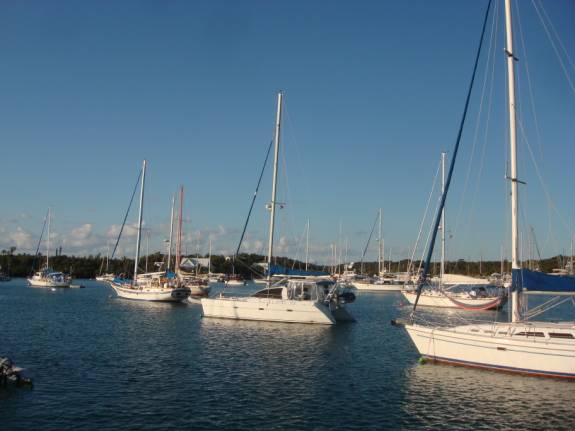 After on-loading some diesel fuel at the fuel pumps on dock 3, we relocated into our slip #420.
Doug and Leslie (HAPPY CLAMZ) had organized another fun evening event. About 100 RMHYC members from all the surrounding area met at MANGO's RESTAURANT for "Hot Dog Night" and a "Tic-Tac-Toe" tournament.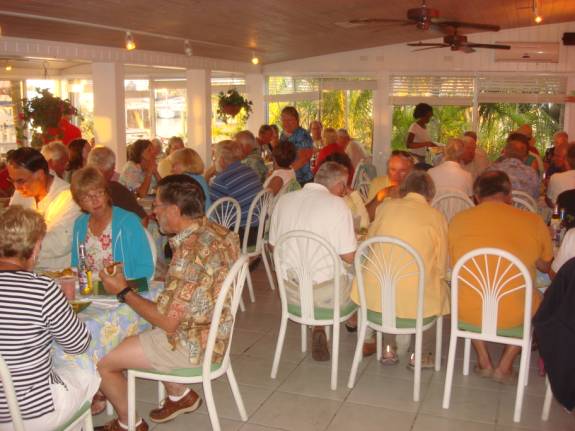 Harold, manager of Mango's, had set up a great buffet of plump wieners, fresh rolls, hot French fries, and all the fixin's, including chili and cheese toppings.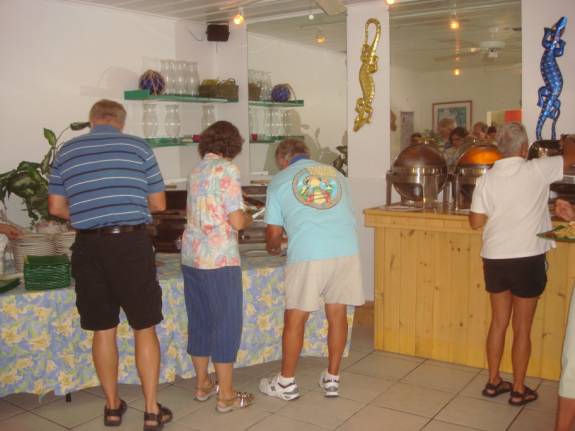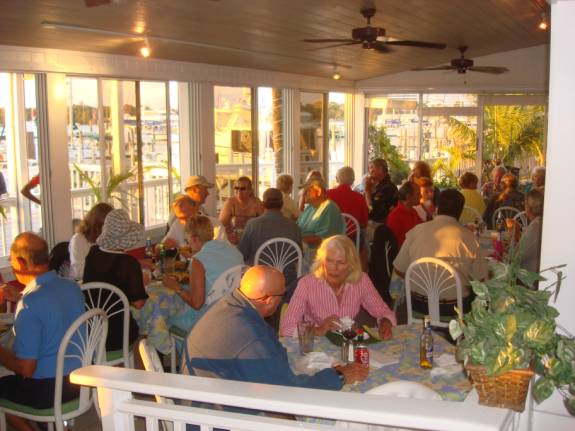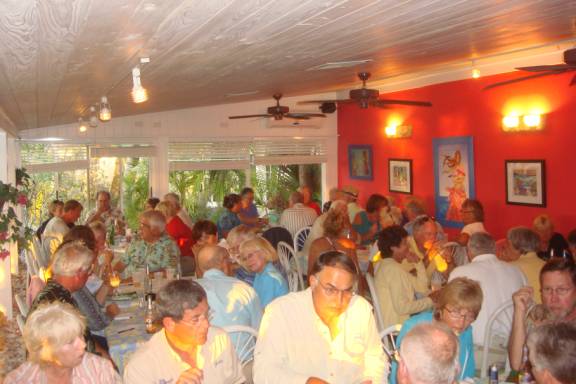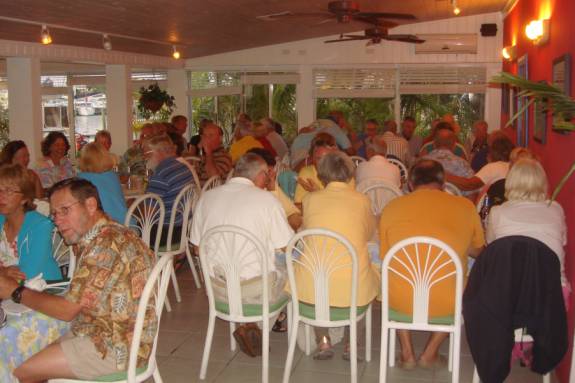 Doug (HAPPY CLAMZ) presented a special trophy (handmade by Judy Koetitz, (LO QUE SE A)) to the person that ate the most hot dogs.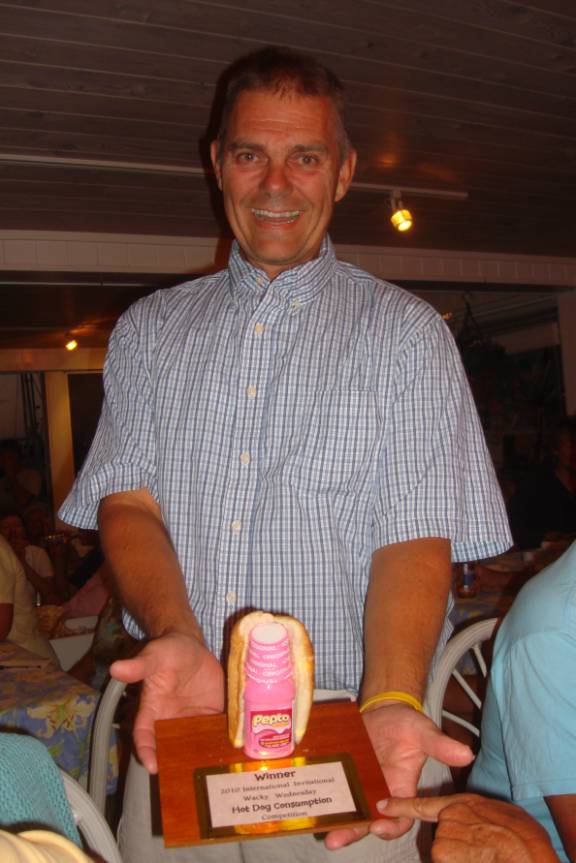 The final winner of the 2010 INTERNATIONAL INVITATIONAL WACKY WEDNESDAY HOT DOG CONSUMPTION COMPETITION was Dave (NO TACT)(on left in blue shirt). Several folks tied the actual number, but Dave won when the tiebreaker came down to the "lightest personal weight" of the finalists. Bob (SIN VELAS)(on right) helped in the presentation by holding the trophy. I'd always heard of "bobbing for apples" before, but "Bob-ing" for Hot Dogs was a new one on me.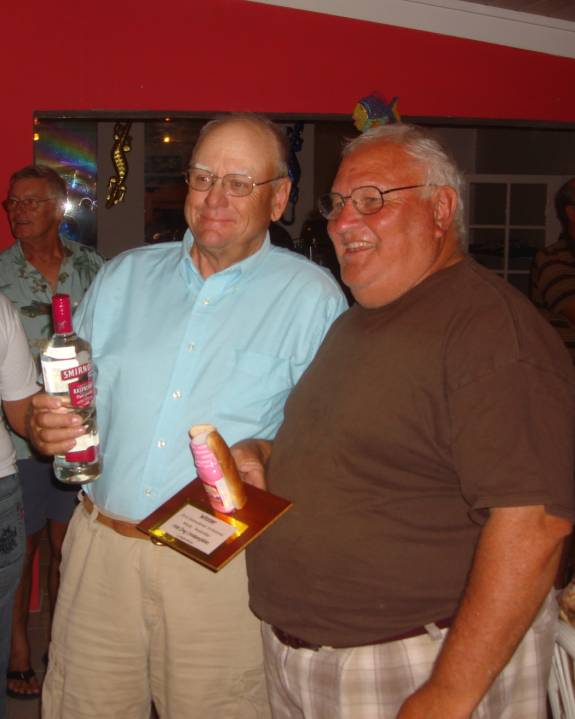 The numerous elimination rounds of TIC-TAC-TOE resulted in just two remaining contenders. On a special board made by Judy (LO QUE SE A), the match for the championship narrowed to Fred (AMARSE) and Melody (ADAMAS DE MARIS)…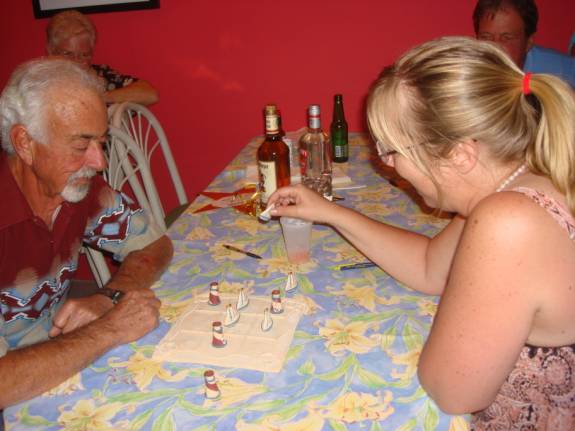 In the last and final round, I was soundly defeated by my fellow Texan, Melody (ADAMAS DE MARIS). Once again, we proved that "the Lone Star State" rules…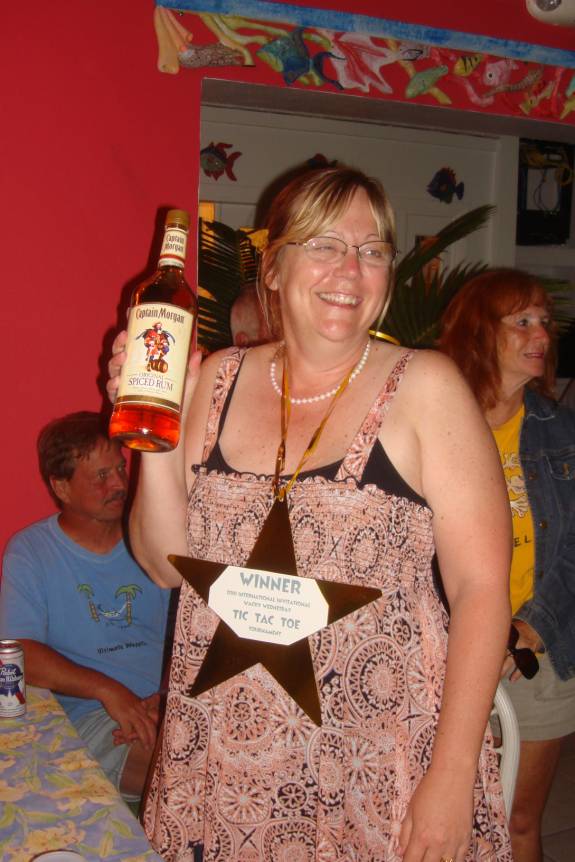 It was a great evening and we extend our gratitude to Doug and Leslie (HAPPY CLAMZ) for all their efforts to bring us some of the "best times of our lives".
03/12/10 FRIDAY BOAT HARBOUR, MARSH HARBOUR, ABACOS
As evening guests of Peter and Sally Sweeting (the resort owners), Judy and I enjoyed their friendship and a wonderful dinner meal. Around the dinner table in their lovely home in the Residential Complex of the resort, friends Judy and Bob Williams (SHADE MOR) also enjoyed the warm hospitality. Sally's menu of roasted pork, rice and beans, and cole slaw was a delightful, Bahamian inspired treat. Thank you so much, Peter and Sally.
03/14/10 SUNDAY BOAT HARBOUR, MARSH HARBOUR, ABACOS
The official change to Daylight Savings Time occurred in the wee hours of this morning. Springing forward shortened the available hours today. Almost everyone remember to be on time for the event under the Marquis Tent at the resort.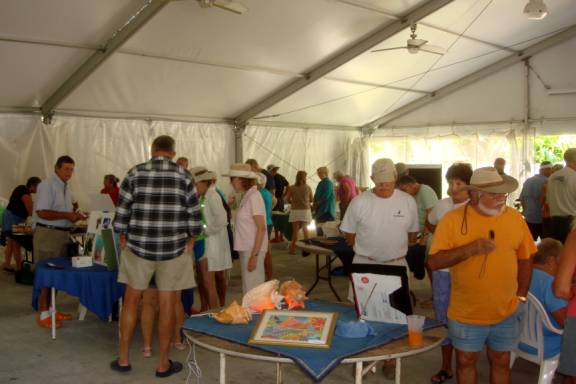 The initial plan was for a huge sale of special Royal Marsh Harbour Yacht club clothing and regalia. Buyers were plentiful and eager to select just the right items to add to their RMHYC wardrobe. Woody and Ellen (DOUBLE SS) were intently selecting their choices and Neil (SILVER QUEEN) already had an armload of logo-emblazened garb.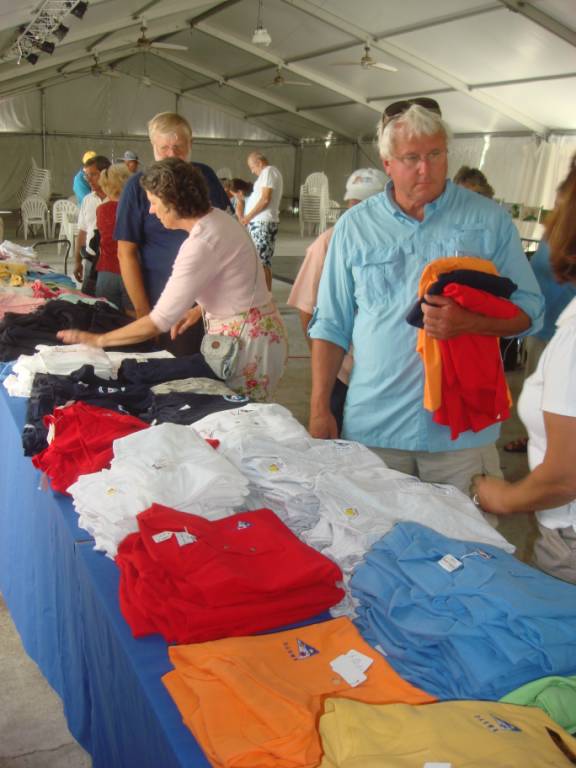 As an added attraction, someone followed up on the idea to have an ARTS and CRAFTS SHOWING that featured the talents and accomplishments of the cruisers here at Boat Harbour Marina. Nothing was being sold, only displayed for the appreciation and demonstration of their finest work. Judy (AMARSE) showed her various styles of jewelry and examples of her baskets made with Abaco Pine Needles.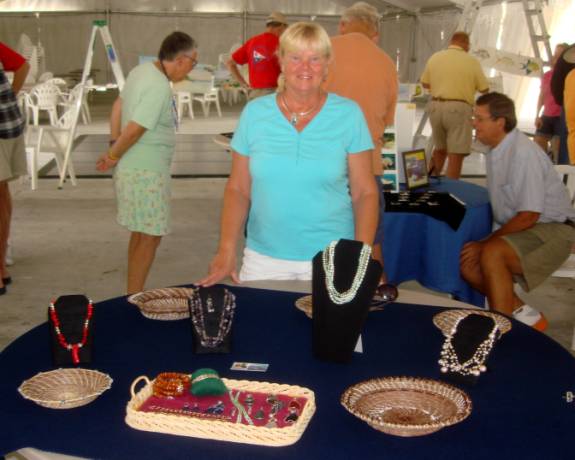 Sue Graham (ODYSSEY) filled a table with her craftsmanship of jewelry and was there to explain to Vanessa (S/V TALLY HO) and Lois (PUFFIN) about here techniques.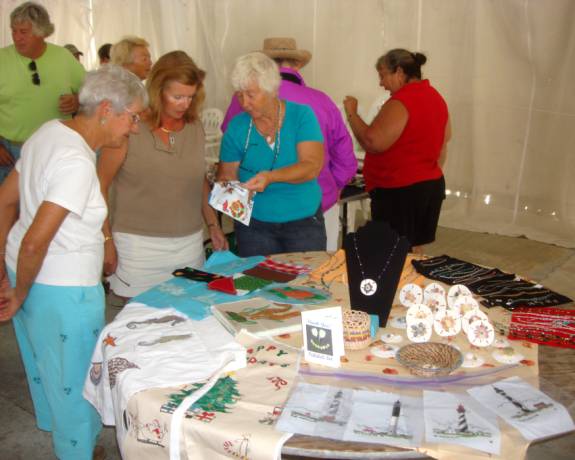 Wink and Wilma (JOHN HENRY) offered samples of their artful expressions though underwater photography and the making of fine jewelry.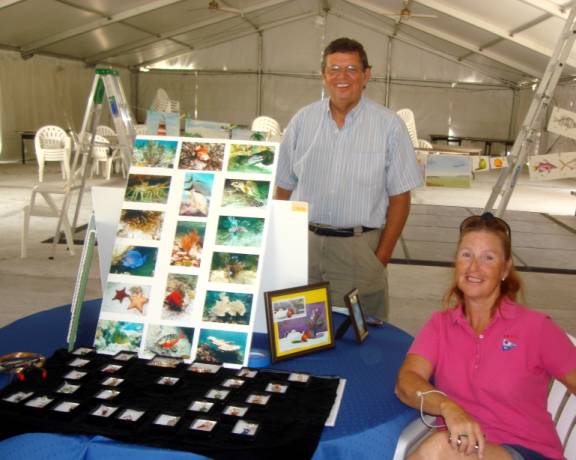 Dennis Ojard (NJORD) creates table lamps from gorgeous Queen Conch shells.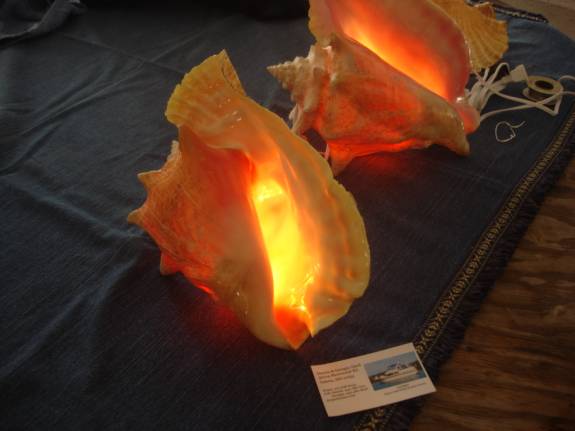 Judie Jenkins ties one-of-a-kind fishing flies. They are terrific and I doubt that any fish could resist their alluring quality.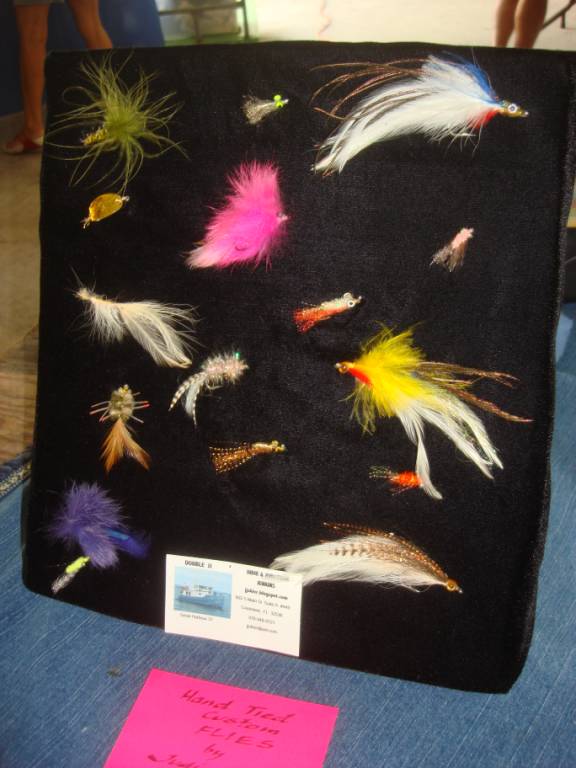 Judy (AMARSE) also displayed examples of her watercolor art form. It makes me very happy to see her talented self-expression and to know that she really thrives in this lovely place and environment.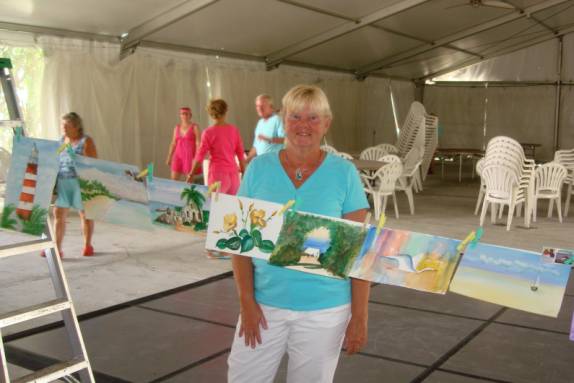 Shirley (M/V TALLY HO) makes wonderful, pine needle baskets in various forms.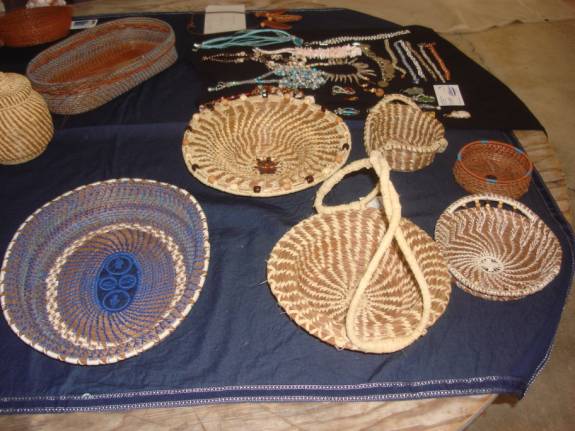 Sidonia (SHEARWATER) helped foster the special techniques used in this kind of basket weaving. Many grateful gals have followed her lead and have branched off with new ideas of their own. Sidonia is a much-admired teacher and offers expert guidance to anyone interested enough to pursue.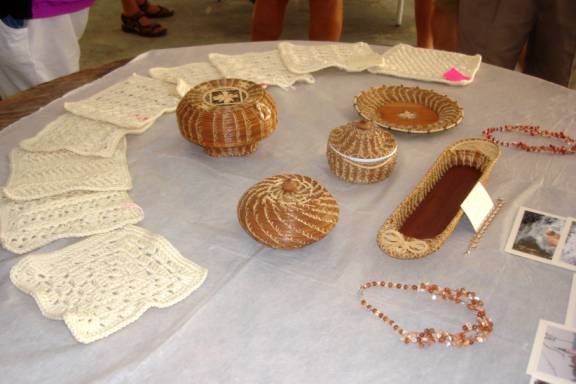 Fabric imprinting produced interesting and attractive "table-scapes".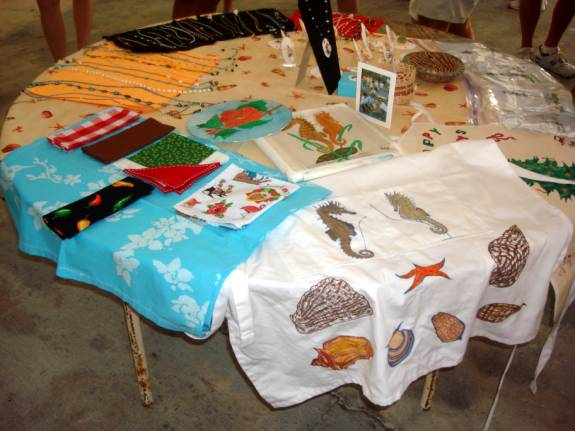 Mary Lou (SEA SMOKE) painted and decorated these native nuts and pods into cute little animal figures.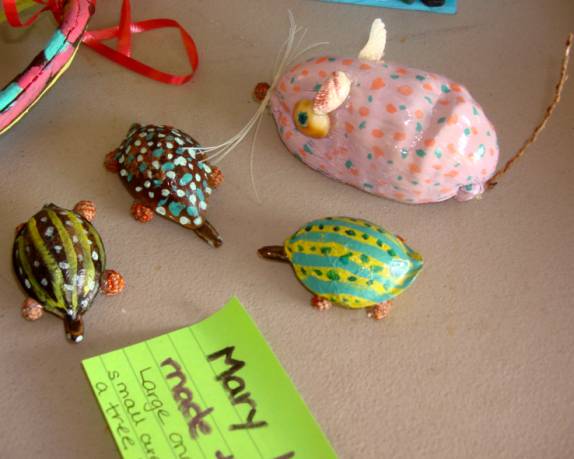 Carolyn Wilson focused her talents to create inspiring learning tools for school children. As an active volunteer educator at "Every Child Counts" (ECC), she works diligently to develop and enhance the lives of her students through art.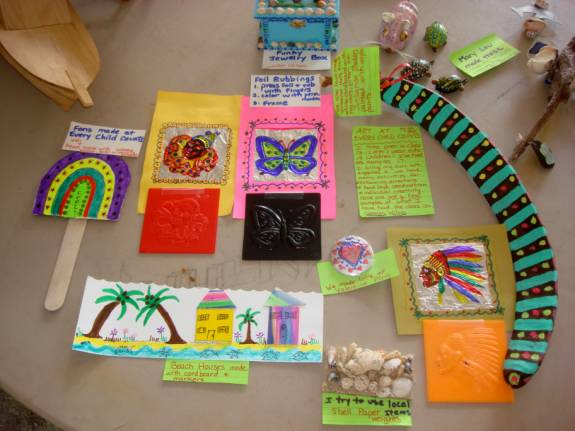 Ray Vallerie (LAST DANCE) is a master model builder. Intricately patterning his scale replicas, his craftsmanship amazed all who had the good fortune to see them.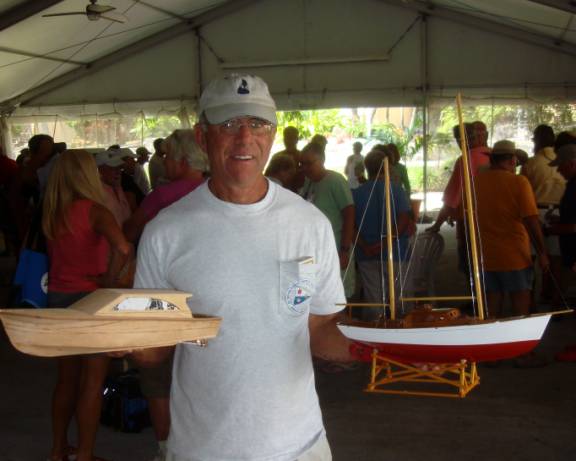 Roberta (INDEMNITY) is one of the most accomplished basket weavers in the group. I admire the symmetry and design continuity evident in each of her styles.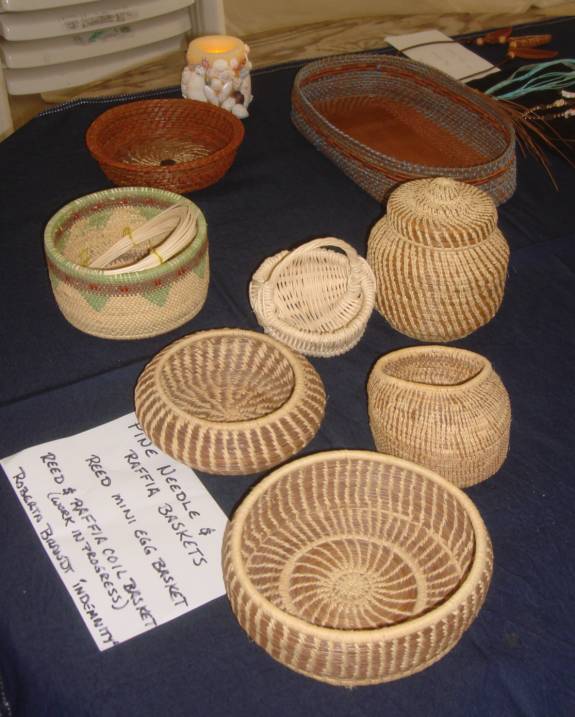 Susan McDaniel (TK III) creates her art with flair, color, and imagination. Her eye-catching array of watercolors displayed not only her extradinary talent, but revealed the wide range of her artistic endeavors.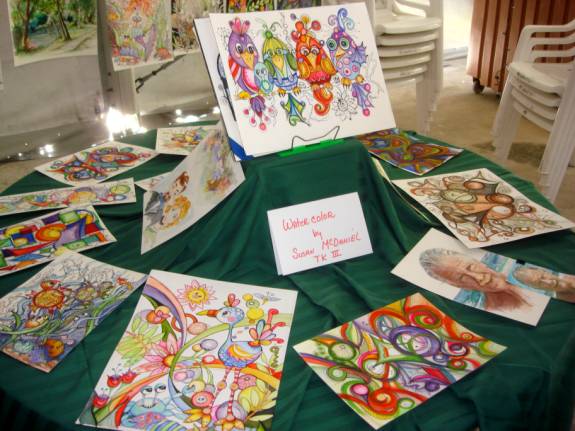 Awesome…. Need I say more?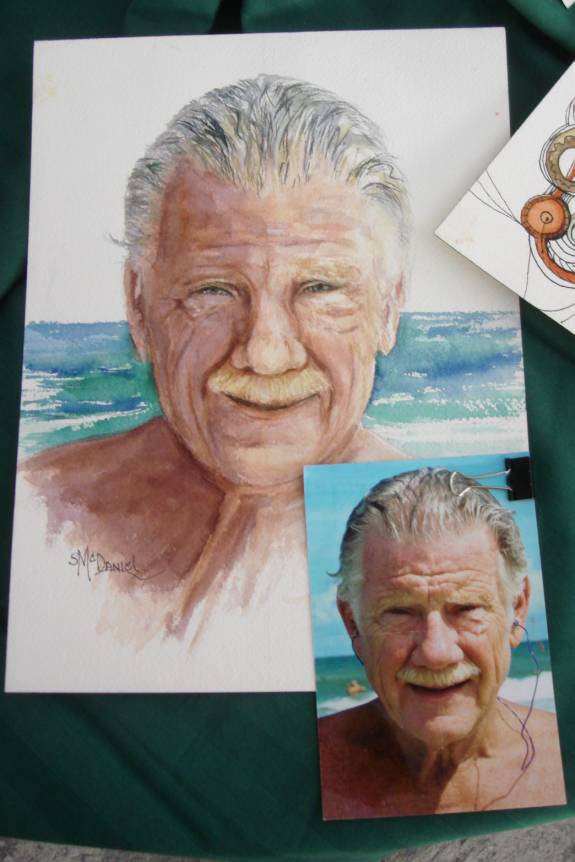 Clever, colorful, and so cute…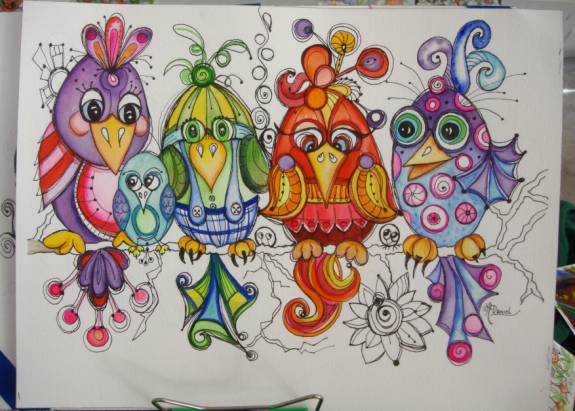 I could feel a calm tranquility, that soothed my soul, as I gazed into this quietly wooded, stream setting…
Look at the balance and introspection…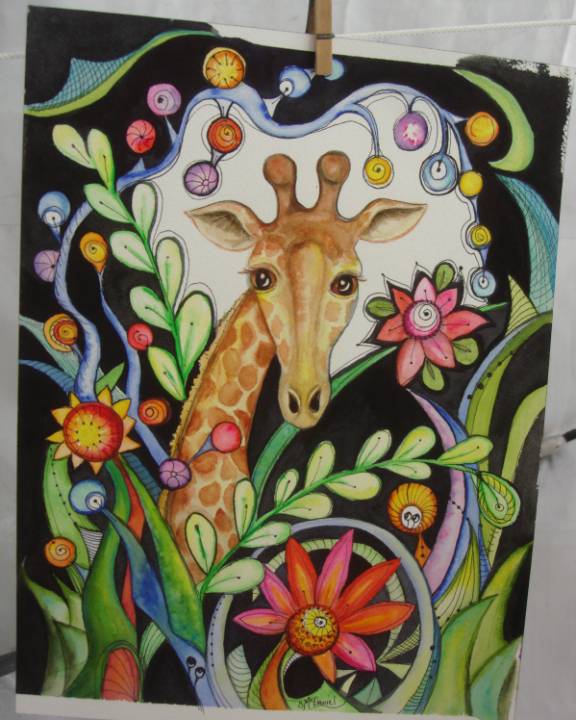 My thoughts and feelings jumped out in Mardi Gras spirit through this piece…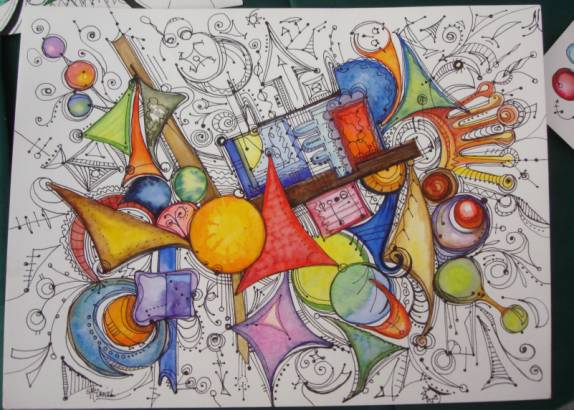 Kathy Sales (LO KEE) works in both watercolor and acrylic. Her use of color is both effective and eye catching…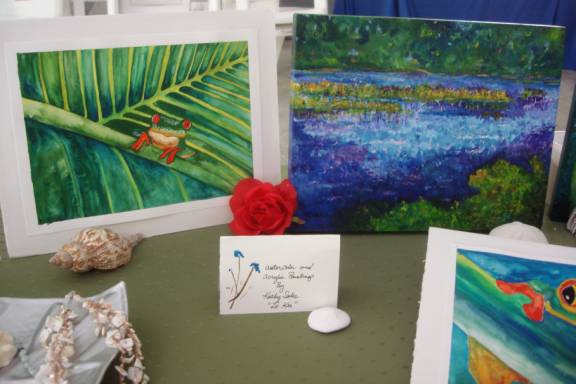 Kathy made all of the jewelry that she has so attractively displayed…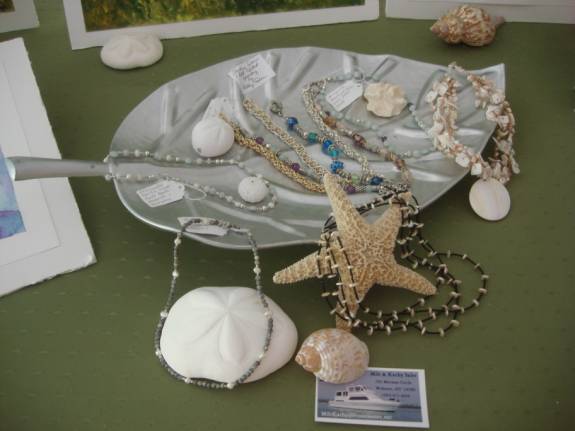 Judy (AMARSE) brings a combination of design elements into harmony with color in this red coral and silver necklace. In some of her basket designs, she has incorporated decorative beading that adds a pleasant sparkle to the natural materials.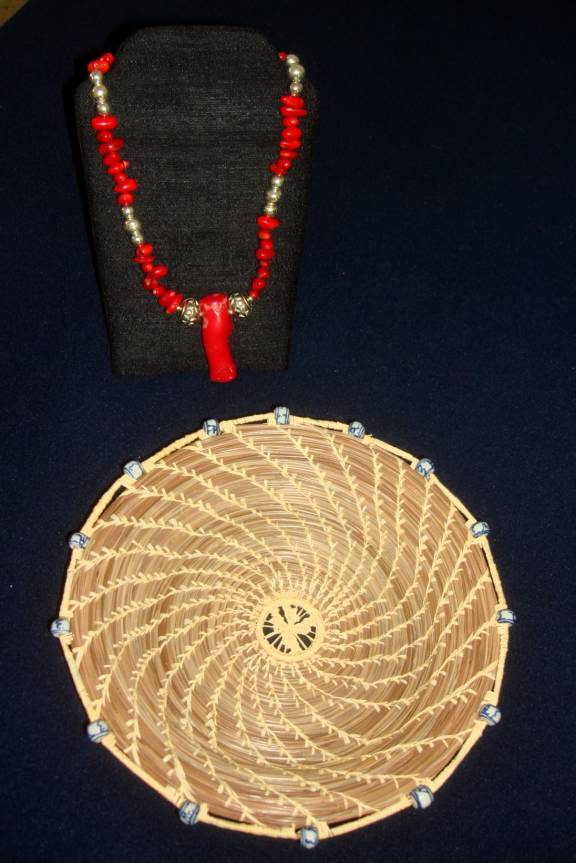 I particularly like this design, created by Judy (AMARSE), that combines fine threads and bean beading to the Abaco Pine needles.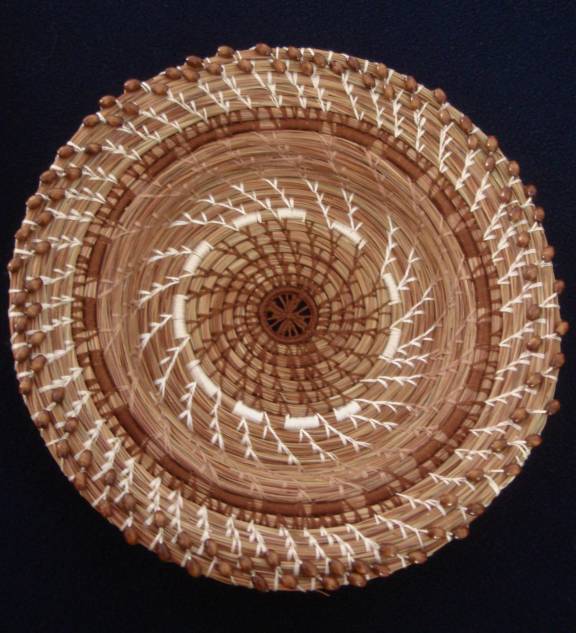 The multi-talented Kathy Sales (LO KEE) attracted many fascinated viewers…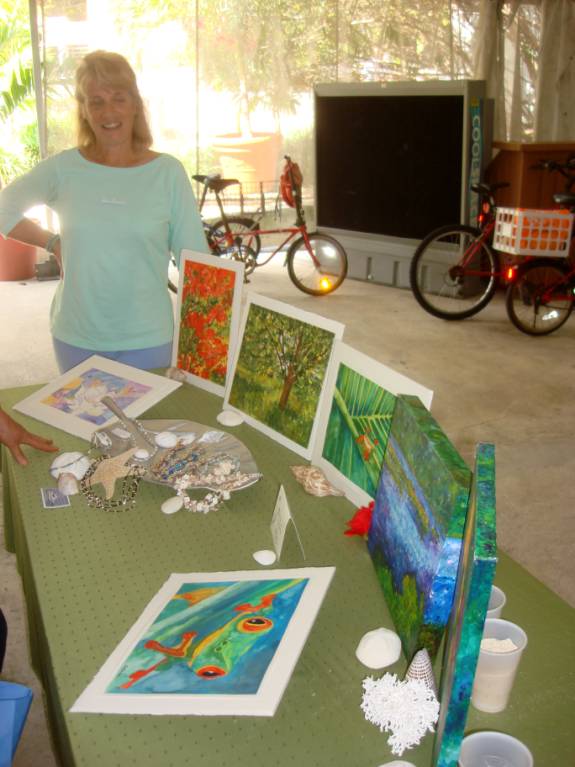 Lois (PUFFIN) crafted this beautiful candle lamp with beach shells that she collected from the local Bahamian beaches.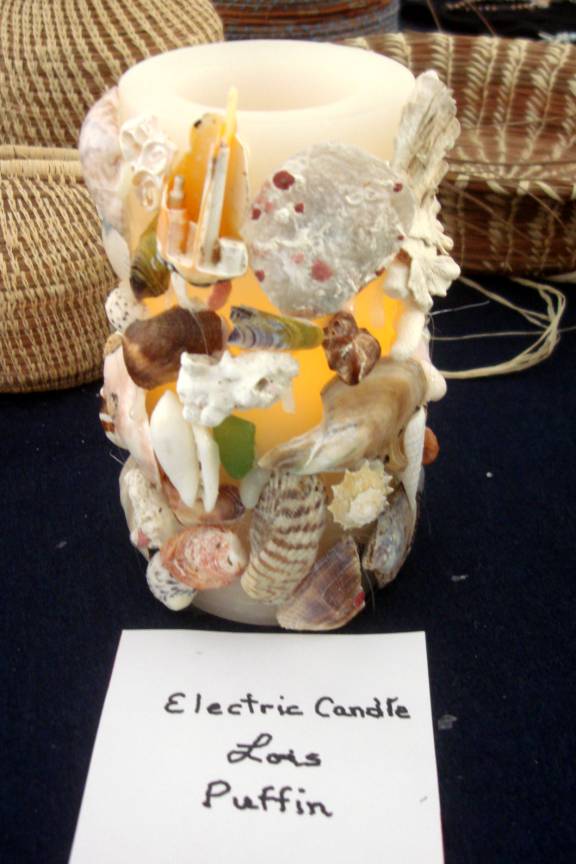 The Abaco Beach Resort and Boat Harbour Marina is the winter home for many Great Harbour Trawler cruisers. They had planned a GH Rendezvous earlier this year but were weathered out. Today, the weather was perfect for the group to get together to salute their allegiance to their vessels and to foster their friendships. Wilma (JOHN HENRY), one of the officers of the Great Harbour Trawler Association, asked me to take some photos of the event and to enjoy their hospitality.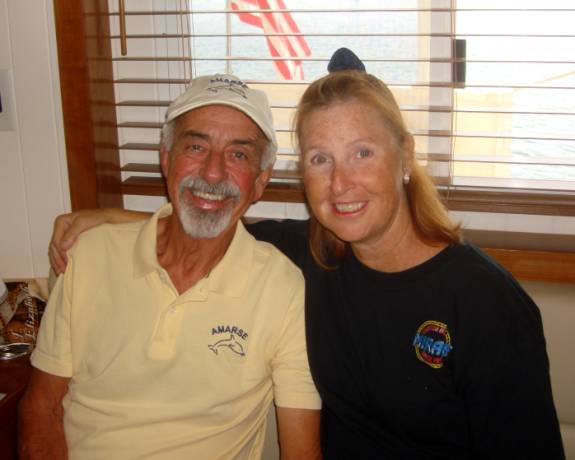 Sue Graham (ODYSSEY), one of the Great Harbour Trawler Association's most dedicated enthusiasts, is well known for her special recipe for pizza. Wherever folks gather, there are always numerous requests for her savory dish, served up with her cheerful smile.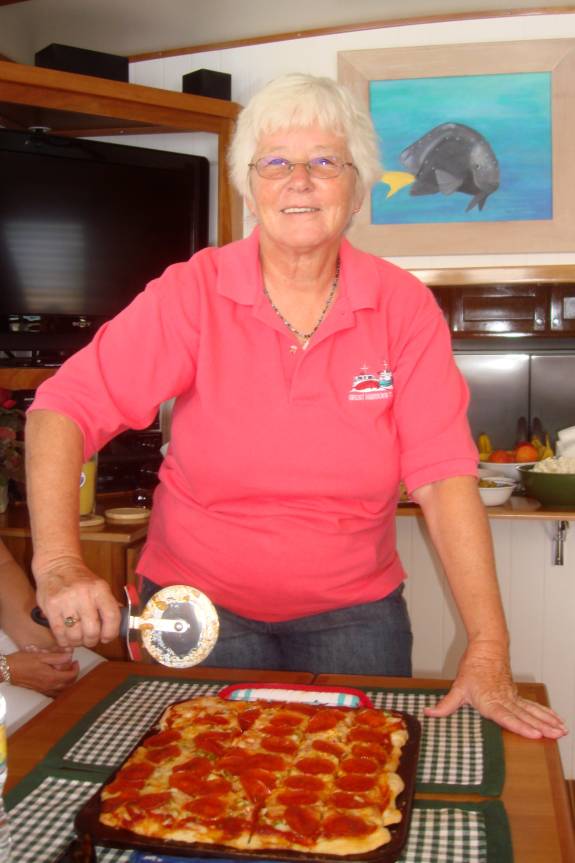 The afternoon event was held aboard POKEY, the GH47 of Tim and Becky (Left). Enjoying cocktails with them are Sheila (SILVER QUEEN) and Carl (PUFFIN).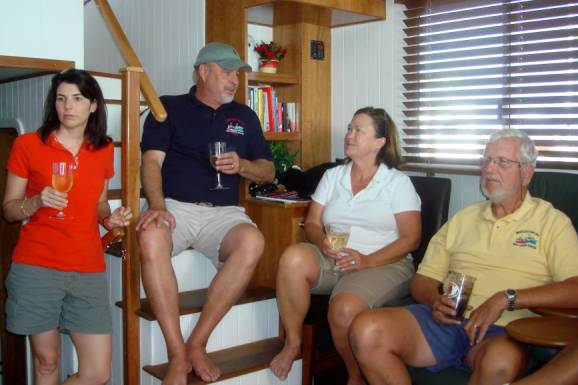 Wilma (JOHN HENRY), Judie (DOUBLE JJ), Lois (PUFFIN), and Jonathan (DOUBLE JJ)…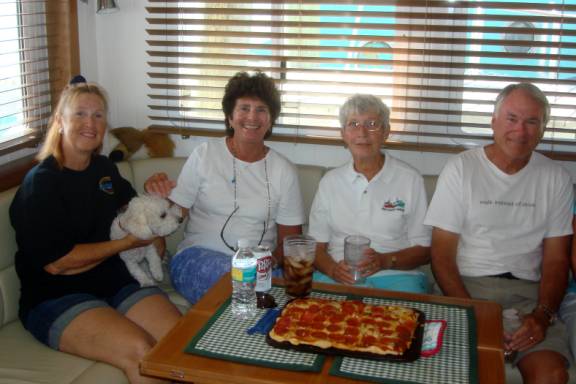 Neil (SILVER QUEEN) and Tim (POKEY)…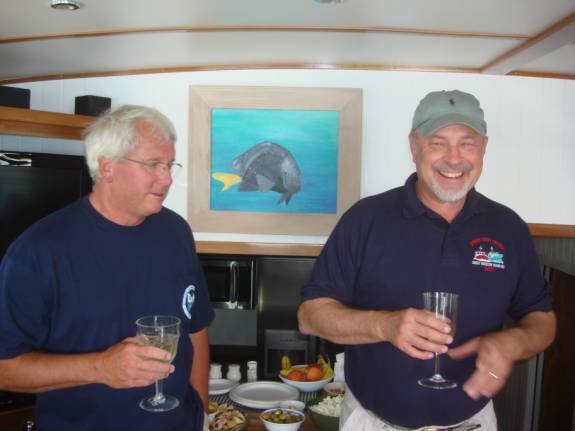 Wink and Wilma (JOHN HENRY) proudly wear their distinctive shirts emblazed with the Great Harbour 47 logos…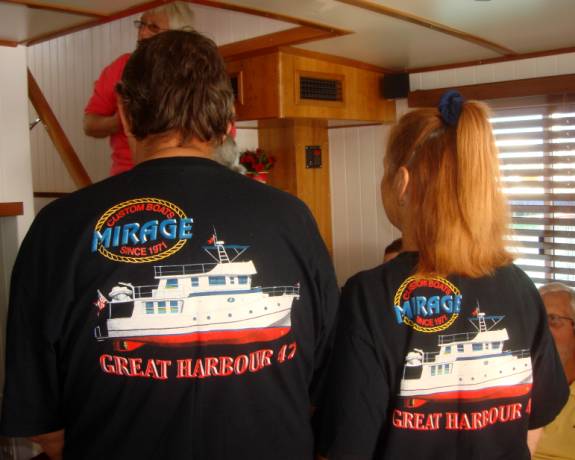 The Great Harbour Bahamas Rendezvous group… Neil, Sheila, Sue G., Lois, Wilma, Gene, Judy, Becky, Judie, Jonathan, Wink, Carl, Tim, and Paul G… Their vessels included JOHN HENRY, SILVER QUEEN, ODYSSEY, LO QUE SE A, PUFFIN, DOUBLE JJ, and POKEY.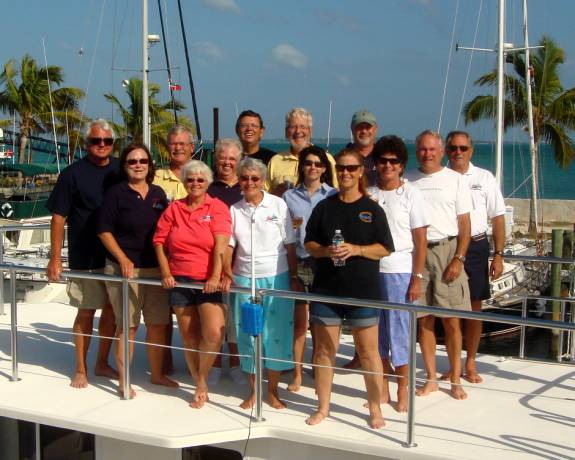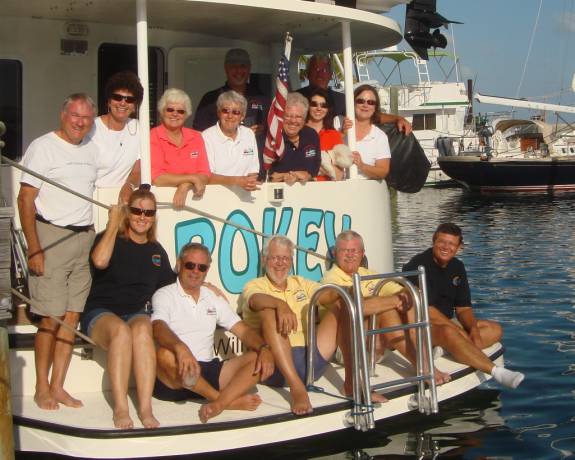 03/16/10 TUESDAY BOAT HARBOUR, MARSH HARBOUR, ABACOS
The evening for the special RMHYC party event for March was eagerly attended. Chairpersons, Doug and Leslie (HAPPY CLAMZ) dubbed the event as "Country Western Hoe-Down) themed. Here at the RMHYC, we take our parties seriously when it comes to dressing in style. Fred and Judy (AMARSE)… Wink and Wilma (JOHN HENRY) were decked out and ready to get with it…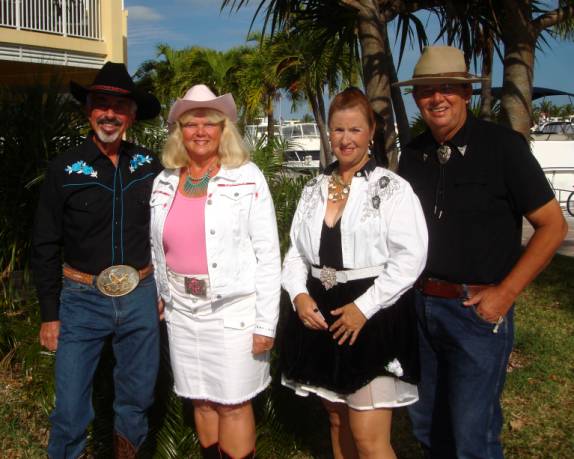 I juz gotzta tell y'all, this little Texas filly was "plum purdier than a spotted dawg"…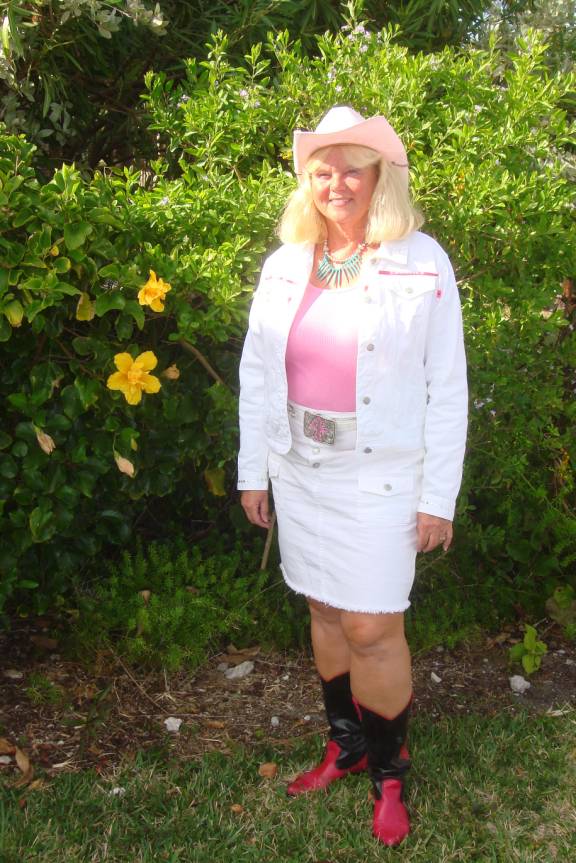 Texas would have been proud of their "hometown kidz", Fred and Judy (AMARSE)…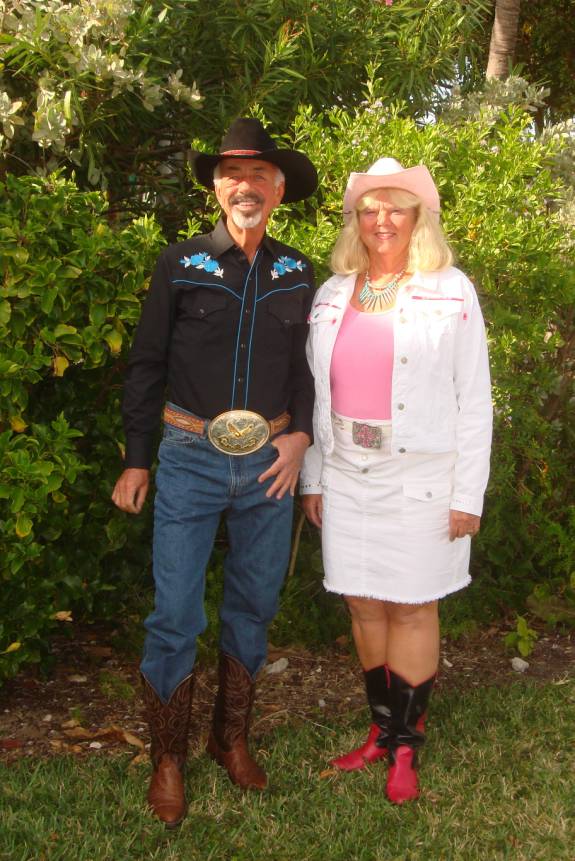 Judy (AMARSE) and Mary (TEAMWORK)

...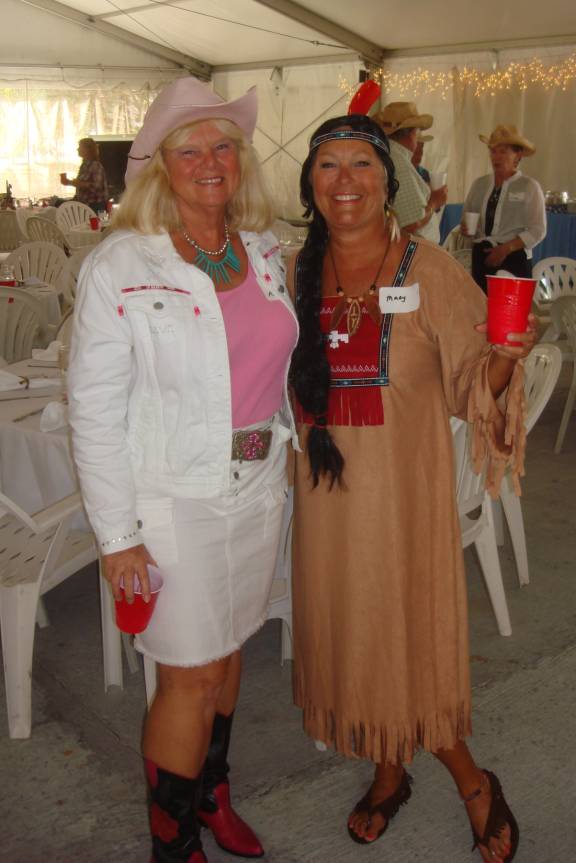 Gene (LO QUE SE A), Neil (SILVER QUEEN), and Judy (LO QUE SE A)…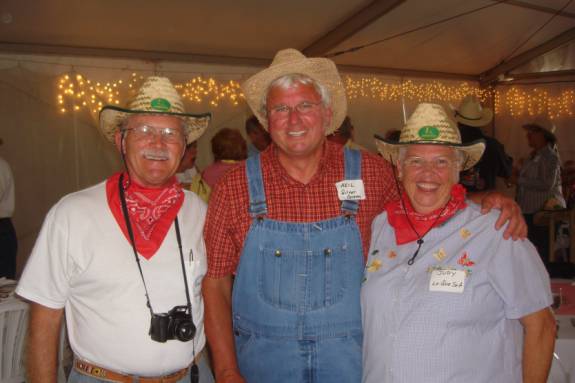 When it came time for the dinner buffet, Doug initiated a belt buckle contest to see which tables would lead the line. The men's contest went first and I took the first place. Patty (REAL ESCAPE), Marce (BEACH HILL), Sandy (CRITCHER CAT), Judy (AMARSE), and Wilma (JOHN HENRY) vied for top honors in the Women's category.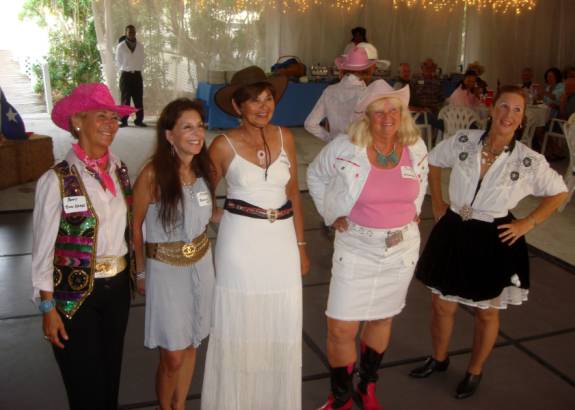 Tables were set for eight and occupied on a first-come basis…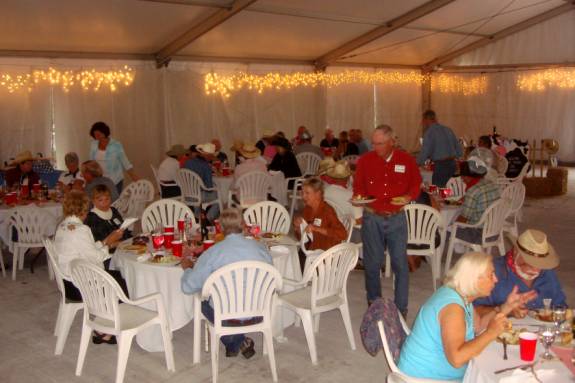 The chairpersons, Doug and Leslie (HAPPY CLAMZ) were justifiably proud of their hard work and personalized direction in organizing and negotiating for the wonderful dinner menu. The food was very good and there was plenty to eat for everybody.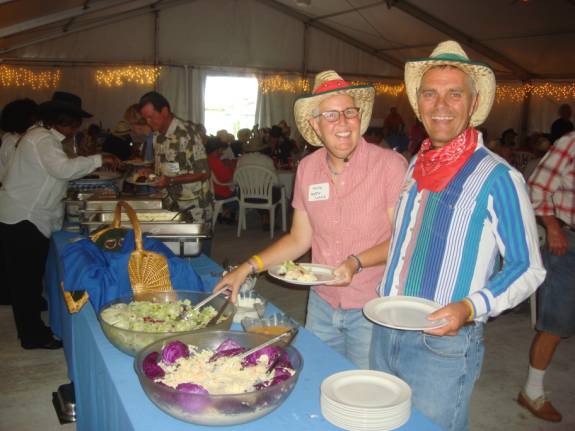 Penny (ARE YOU A TURTLE?) and Kathy (FENNDERS) found the salads very appealing. The menu featured barbequed chicken, beans, rolls, and apple pie. Nobody went away hungry…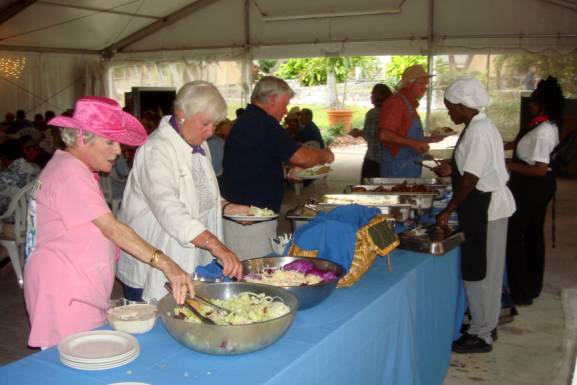 The gathering of 195 RMHYC members and guests seemed to be fun for all…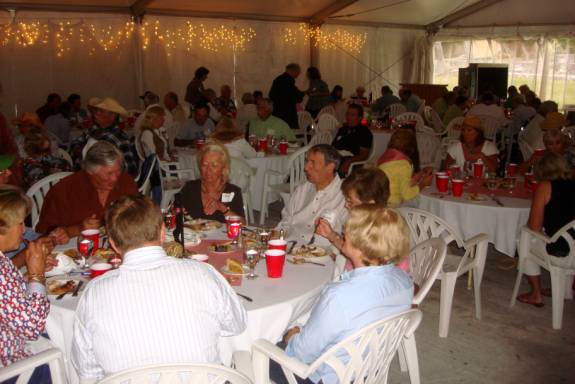 Sidonia and Fred (SHEARWATER) were dressed to the hilt. Sheriff Fred's belt buckle was a very close runner up to mine. His hat, badge, and gun belt were great accessories too. Sidonia was stunning in her pink hat and western garb.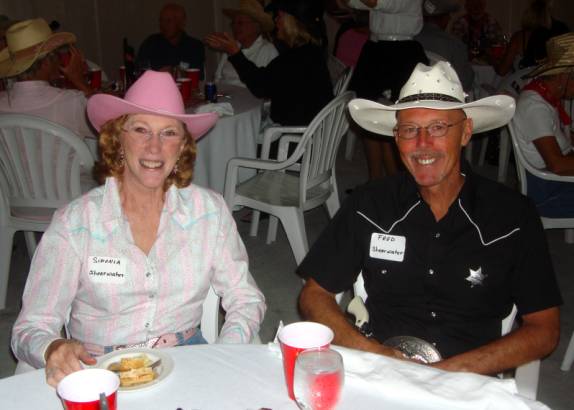 Judy (AMARSE) stands with some of the fantastically clever decorations. Judy (LO QUE SE A) was in charge of the Decorations Committee and she is to be highly congratulated for her magnificent results.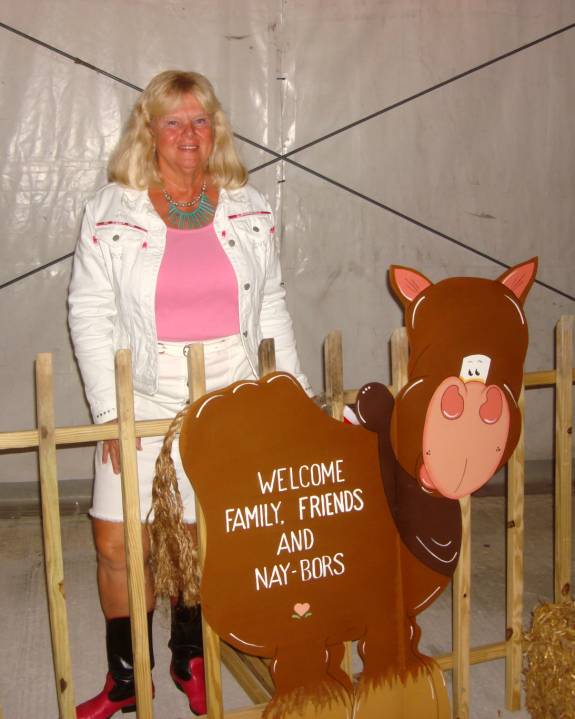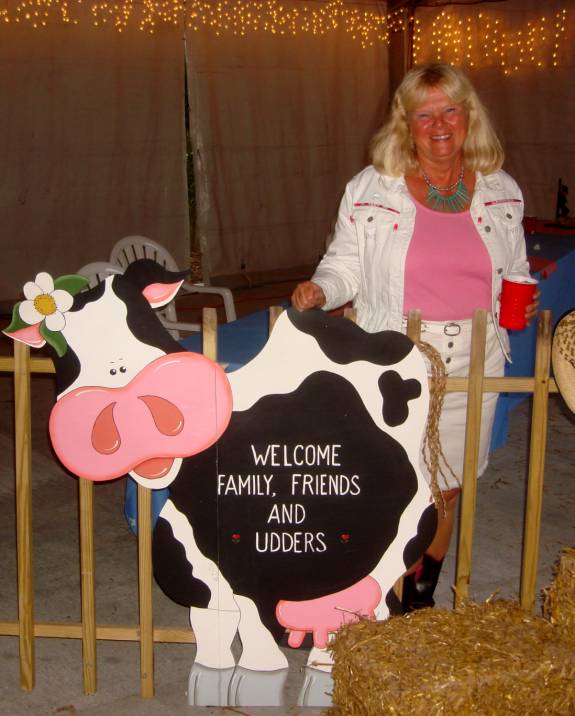 When it comes to "cool" outfits, Rick and Diane (LADY DI) were "dynamite"… Diane fashioned their special boots in an artful, ingenious way.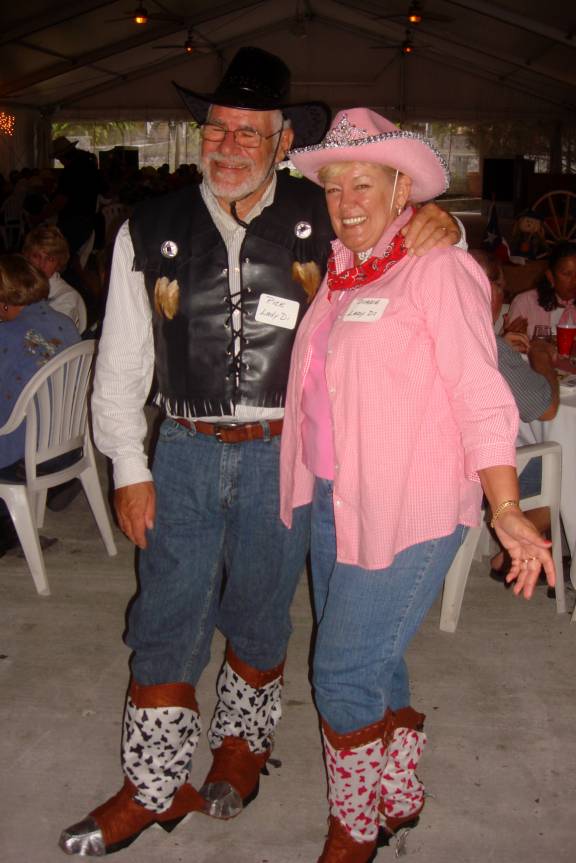 When DJ Ray (LAST DANCE) cranked up the music, the dance floor filled. There was a perfect mix of western and oldies that had everyone singing and stepping out…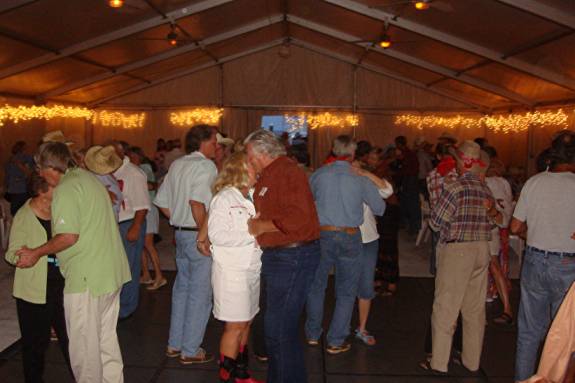 Penny (ARE YOU A TURTLE?) danced with our Commodore, Jim Fenn (FENNDERS). Penny was one of the original members of the RMHYC during its inception. I was a great honor to have her here tonight.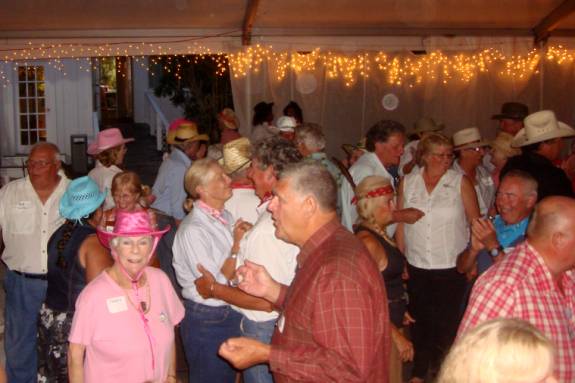 This is a fun-loving group that is unequalled in the entire world…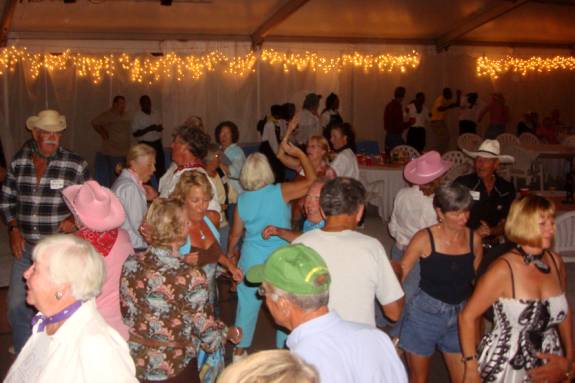 Jan Dennis (ROVING SEAS)…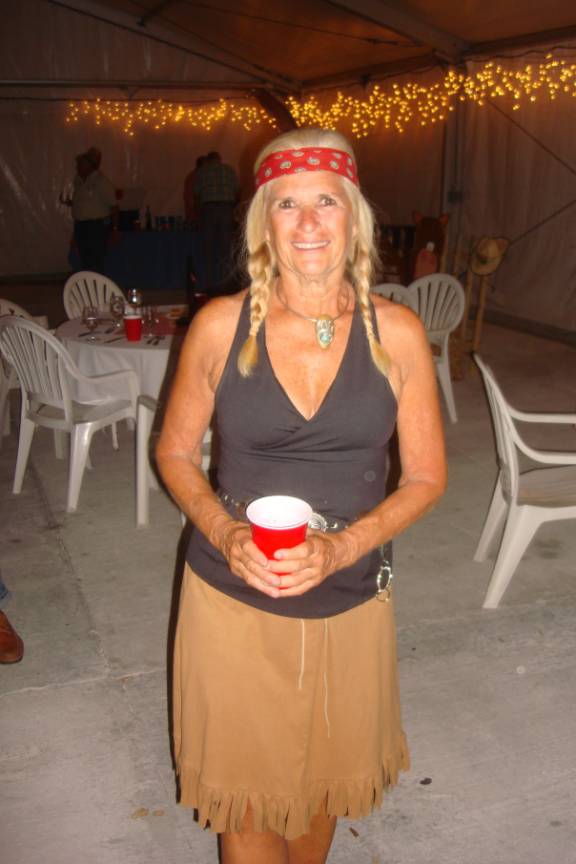 Now, tell me, "Do they look like they're having a super time, or not?" Shirley and Ed (M/V TALLY HO) paired with Vanessa and Andrew (S/V TALLY HO)…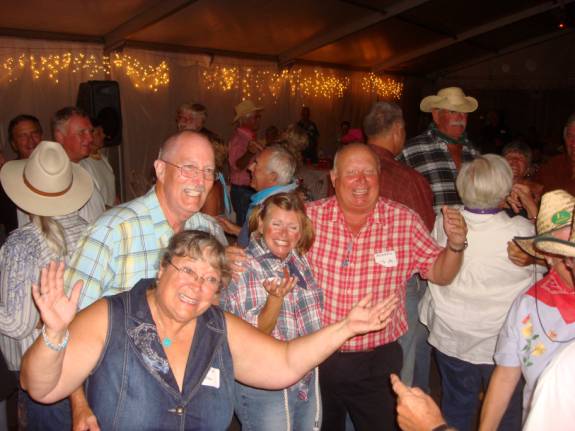 WOW! Look at them cowgirls…
They bring a George Strait country song to mind…
Yeah... how 'bout them cowgirls
Boys ain't they somethin'
Sure are some proud girls
But you can't beat their lovin'
And I'll tell you right now girls
May just be seven wonders of this big, old round world
But how 'bout them cowgirls
How 'bout 'em boys
Ellen (DOUBLE SS)(front), Roberta (INDEMNITY), Judie (DOUBLE JJ), Terry (TERALEE), Sandy (CRITCHER CAT), Frani (SIN VELAS).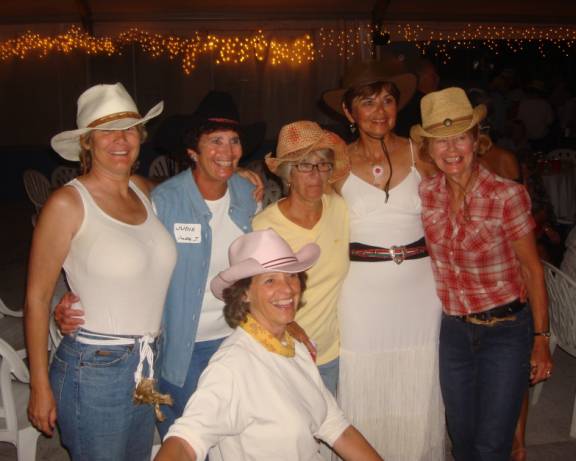 Everyone remembers the "Stroll"…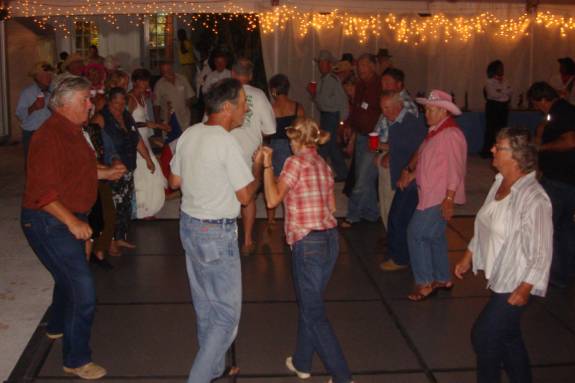 In a showing the pride for the Lone Star State, I brought the stern flag from AMARSE… "God bless Texas"…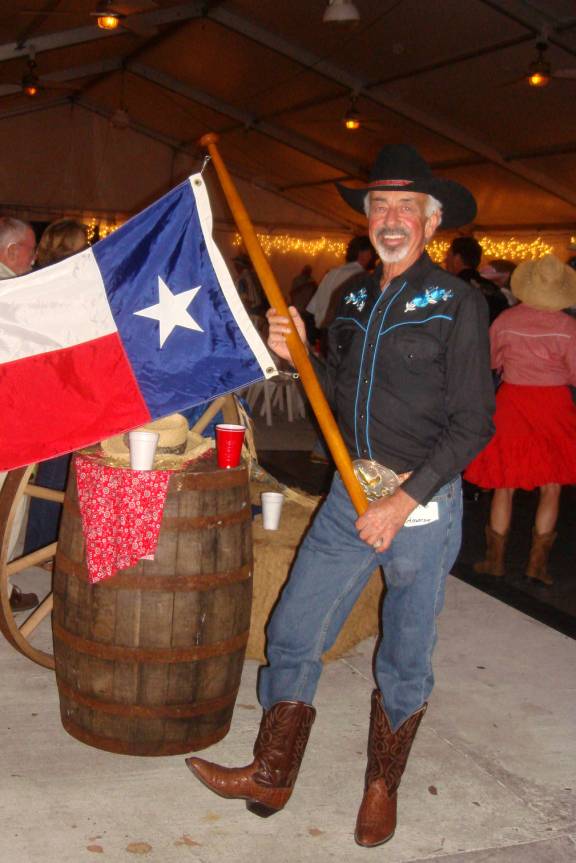 Doug and Leslie (HAPPY CLAMZ) were "Hoe-Down-ers" in style.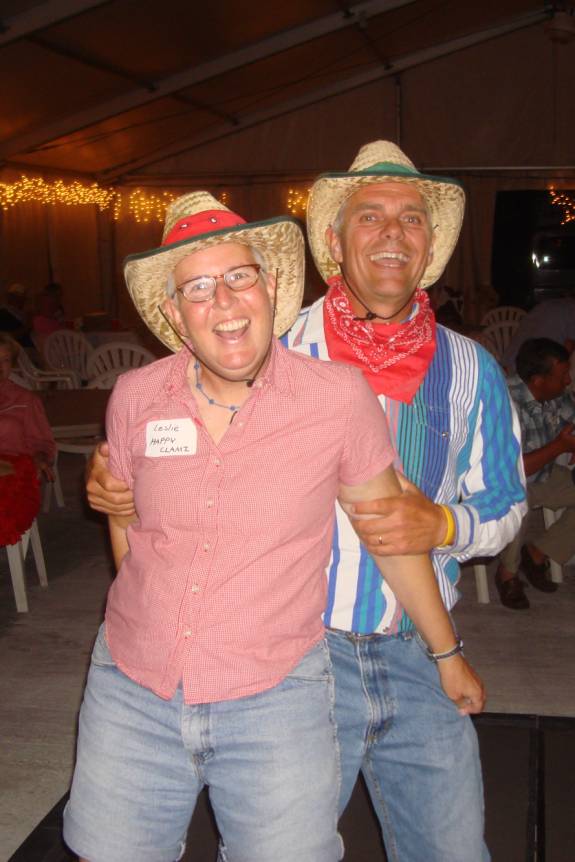 Judy (AMARSE)…
Accomplished western style dancers, Wink and Wilma (JOHN HENRY) have been giving 2-step lessons for weeks now. Wilma is demonstrating a couple of advanced techniques to Bob and Frani (SIN VELAS).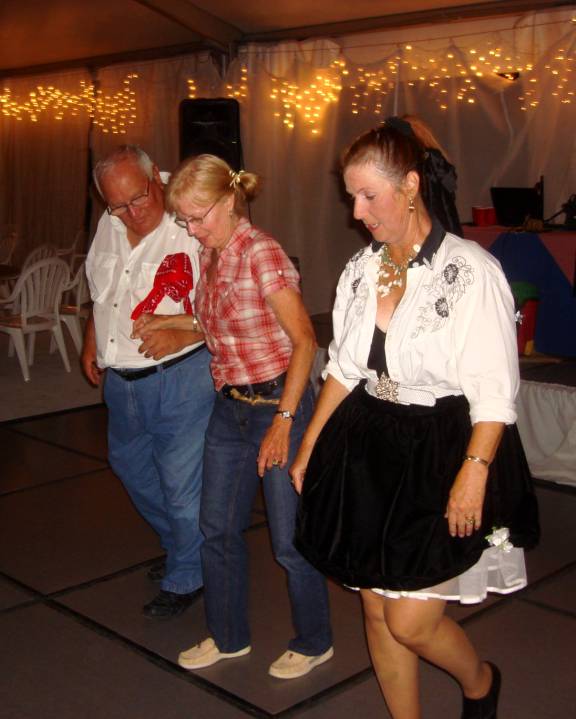 As the song goes, "If you can't find a partner, grab a wooden chair". Since all the chairs were plastic, it seems like the two Bobs were able to find "a partner" anyway...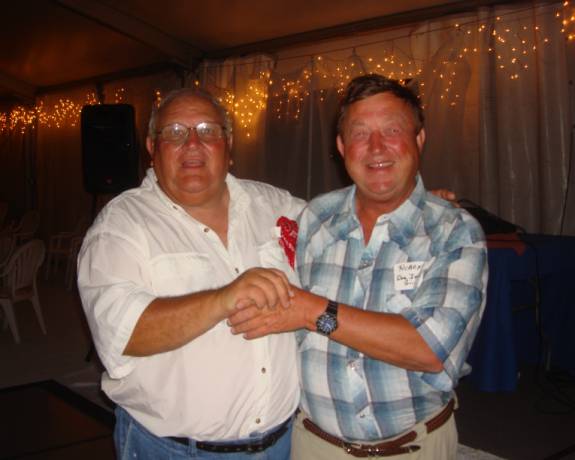 CONTINUING UPDATES ARE IN PROGRESS…
WATCH FOR THEM, COMING SOON…
POST SCRIPT:
We sincerely hope that you will review the previous years of compilations to give context to the current editions. Please let us know if you have any special suggestions and thoughts.
REMEMBER: The website is now fully active and you can visit it at any time. You can also review any of the previous logs from the years 2006, 2007, or 2008 and learn more about the crew and their many adventures. Enjoy.
ATTENTION: SPECIAL NOTE:
You may contact us via email anytime.
Thanks for allowing us to share our life and adventures with you.
Lotsa Luv,
Fred Reed and Judy Law
AMARSE
MT40
"AMARSE" is pronounced "AM-ARE-SAY".
Our website is: www.amarse.net .