UPDATE#10 04/01 thru 04/28
Howdy Everybody,

The adventures of 2006, 2007, 2008, 2009, and thru 03/31/2010 have been published on the website. We continue with the latest edition.

UPDATE 2010 #10 04/01/10 thru 04/28/10

At last update, we were 7 miles west of the ICW on the Okeechobee Waterway, docked at Sunset Bay Marina in Stuart, Florida. Welcome back to our adventures…

04/01/10 THURSDAY SUNSET BAY MARINA, STUART, FL

It was a warm, calm, and beautiful day here in Florida. Today marks the 4th year of our cruising adventures aboard AMARSE. It was on April Fool's Day in 2006 when we departed Clear Lake, Texas (near Houston). It has been a magnificent experience, filled with lasting friendships and a lifetime of memorable moments.

In the morning, Ivor (LAZY SUSAN) came to visit us on his motorcycle. We enjoyed wonderful conversation until early afternoon. Judy and Susan (LAZY SUSAN) went out and about to the craft stores.

Ron and Susan (TK III) joined us aboard AMARSE for cocktails, snacks, and a few puffs of cigars. Somehow, I think this might be a "staged photo", in as much as I don't really believe that Susan actually seeks her enjoyment from those leafy wraps…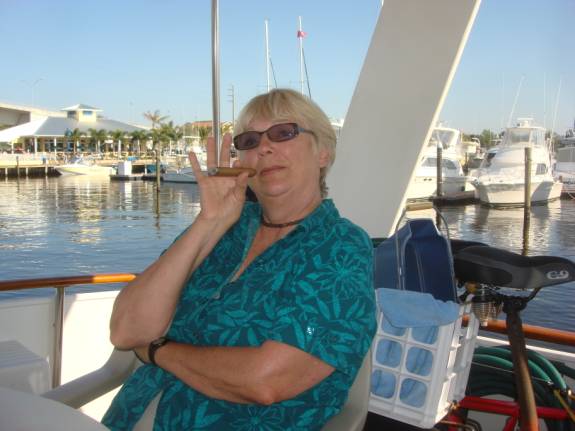 …but I do.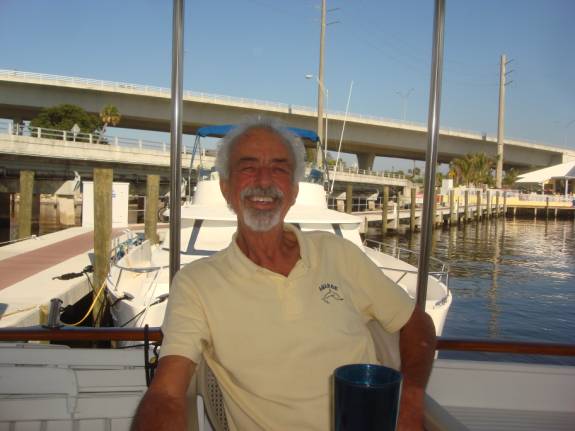 …as you might guess, Judy doesn't partake either.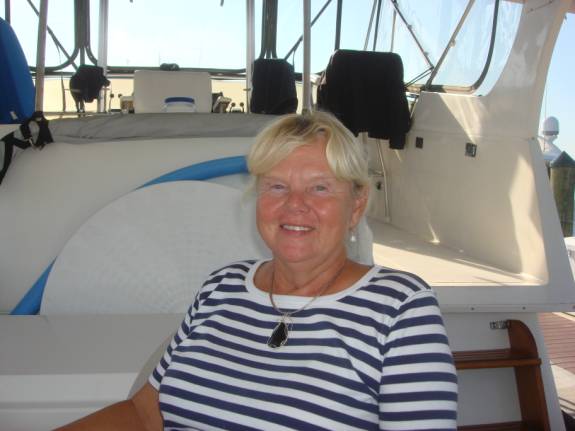 04/02/2010 FRIDAY SUNSET BAY MARINA, STUART, FL
Another beautiful day in Florida. Judy occupied most of her day scrapping and sanding the teakwood trim on AMARSE. Many of the areas will require extensive striping and many refinishing coats of varnish.
In company with Ron and Susan in their dinghy, we motored over to Roger and Brenda's waterfront home. After cocktails, we all went to Shrimper's Restaurant for their special, Haddock dinner. After the meal, we all enjoyed walking around the Art Center in Port Salerno.
04/03/2010 SATURDAY SUNSET BAY MARINA, STUART, FL
Again, the weather was near perfect. About 7:30am, we met Ron and Susan (TK III) and headed over to a big, nautical flea market. There was lots of stuff but we didn't buy anything. Ron found a couple of items that he needed.
Ivor and Susan (LAZY SUSAN) came to AMARSE about 5:30pm for cocktails and snacks. For dinner, we all went to Duffy's Sports Grill in the historical district of Stuart. The food there is very tasty and economically priced. They feature lots of specials. I'm particularly plagued by the cravings for their "Coconut Crusted Dolphin Fingers", served with an orange-ginger dipping sauce. Yummy, yummy…
04/04/2010 SUNDAY SUNSET BAY MARINA, STUART, FL
HAPPY EASTER EVERYONE…
Judy tackled the laundry chores in the morning. For lunch, we walked to town in hopes for a Duffy's lunch. Since they were experiencing some power problems, we decided to try Mulligan's. Although we did not find it to be very good, we could easily notice that it was more expensive. Next time, I'll pass by.
Each Sunday, a Music Concert takes place along the waterfront park. Today's concert featured Elisha "Atlas" Parris and the ensemble known as A'JAZE!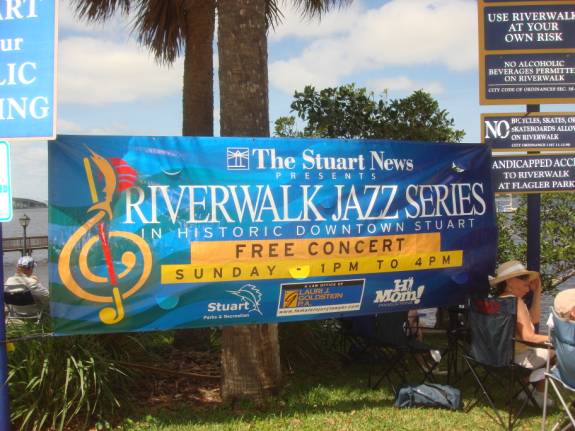 There was a rather large gathering of listeners that seemed to enjoy the smooth Jazz stylings.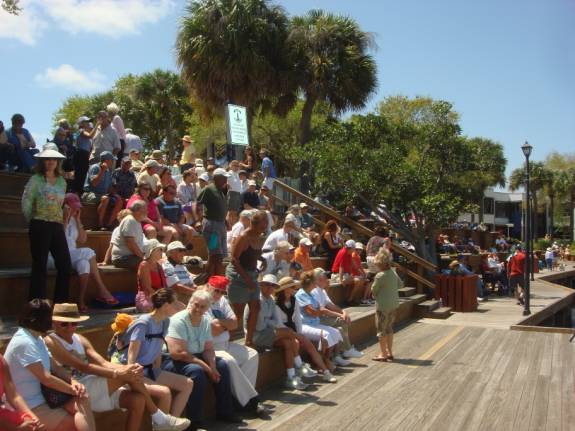 Elisha "Atlas" Parris and the ensemble known as A'JAZE!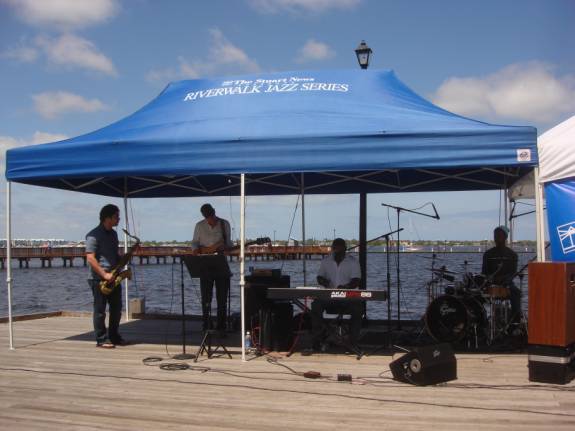 After the concert, we drove up to Ft. Pierce to visit with Joe DeMaris (ADAMAS DE MARIS) and his crew, Matt and Bob. They enjoy over-nighting at Harbortown Marina while waiting for crew changes.
From our own marina docks in Stuart, it is easy to see why they called it, "Sunset Bay"…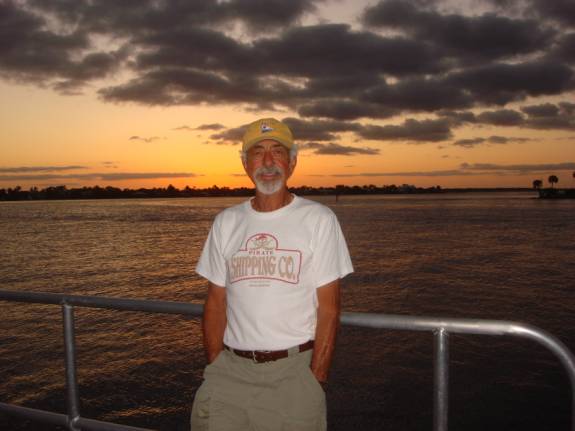 04/05/10 MONDAY STUART, FL to TITUSVILLE, FL and RETURN
The alarm blasted loudly at 2:30am. We quickly arose with anticipation and the excitement that we would get to see a Space Shuttle launch this morning. We piled into the Riviera, along with Ron and Sue, for the couple hours drive to Titusville. There is a nice park from which to view the early morning launch. Exactly on schedule at 6:31am, the STS 131 mission launched aboard DISCOVERY, vividly illuminating the pre-dawn darkness in a splendid display of massive power and sophisticated technology. I just love this stuff…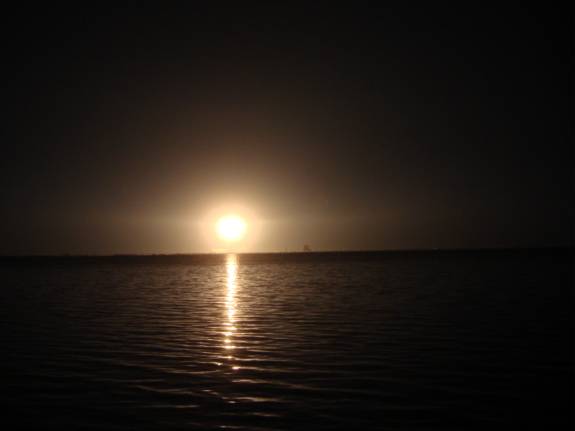 As the rockets blasted out of sight, all that remained was the contrail wisps and smiling faces of those fortunate enough to witness the spectacle.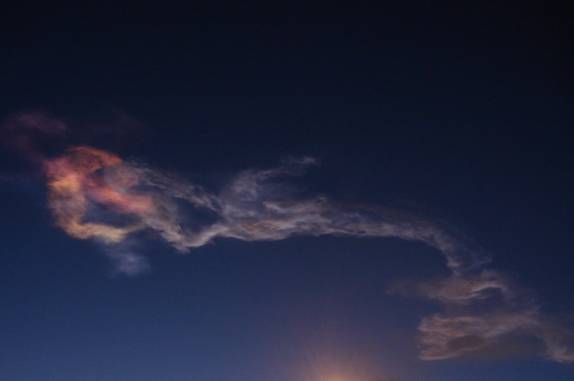 By 9:30am, we were back in Stuart enjoying breakfast at Charley's Flashback Diner.
04/06/2010 TUESDAY SUNSET BAY MARINA, STUART, FL
Judy resumed more of her skillful work on the teak varnishing.
My Sony camera has been giving me problems again. I returned it to Best Buy for service by their Geek Squad. Since it is still under warrantee, they will ship it off in hopes for a return in a couple of weeks.
I guess I won't be taking many pictures until it comes back.
Last week, we had dropped off our Bimini Top windshield for repair. Hobe Sound Canvas called us for the pick-up. They repaired it with a new, heavy duty zipper that now opens in two directions. This should be an improvement over the original, single-piece zipper. They did a good job, as usual.
04/07/2010 WEDNESDAY SUNSET BAY MARINA, STUART, FL
More work was accomplished on the teak wood today. Judy went shopping by herself while I worked on computer stuff and slow-cooked a delicious Pot Roast for our dinner enjoyment. I even baked fresh, artisan bread to accompany the feast.
04/08/2010 THURSDAY SUNSET BAY MARINA, STUART, FL
This evening, we attended a performance at the historic Lyric Theatre in downtown Stuart. Entitled "String of Pearls", it featured two gals singing tunes from the WWII era. The singers were wonderful and they put on an excellent show. On the other hand, the show included dance numbers by a variety of people. We were very disappointed in this portion because the (so-called) dancers were not very good at all. We jokingly remarked that they must have picked them up from the beginner class at Arthur Murray's. With that exception, we enjoyed the show and the venue.
04/09/2010 FRIDAY SUNSET BAY MARINA, STUART, FL
Ivor came over around noon and we went to Duffy's for their daily lunch special of Fish N' Chips. It was pretty good, but the portion size is much smaller than their dinner entrée.
Our dear friends, Wink and Wilma (JOHN HENRY) were docked at Harbortown Marina in Ft. Pierce. We offered to drive them across the Florida state to get their car. They have a beautiful condo in Sarasota that overlooks both the Gulf of Mexico and the IntraCoastal Waterways. The view from both sides of their patios are wonderful. We had dinner at one of their favorite eating spots. Unfortunately, I can't remember the name of the place. Judy and I enjoyed the overnight stay with them. Judy and Wilma basked in the hot tub while Wink and I solved a bunch of the world's problems.
04/10/2010 SATURDAY SUNSET BAY MARINA, STUART, FL
After breakfast in the condo, Wink gave us a guided tour around the Sarasota area. It sure is nice around there. By noon, Judy and I were back on the road headed for Stuart. The trip took about 3 hours, 15 minutes of driving, plus stopping time for lunch in Acadia at the Clock Family Restaurant.
Tonight, we had reservations and tickets for a unique performance at the Martin County-Blake Library. In their JFK Auditorium, we were fascinated and delighted by the Cashon Marionettes. The skill and craftsmanship of the puppeteer were nothing less than amazing. He has conceived, designed, crafted, and mastered the characters of his own imagination. WONDERFUL!!!
Here are some examples of his magnificent work…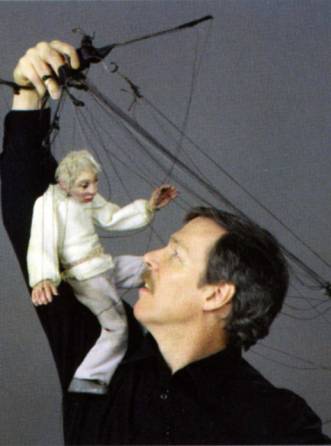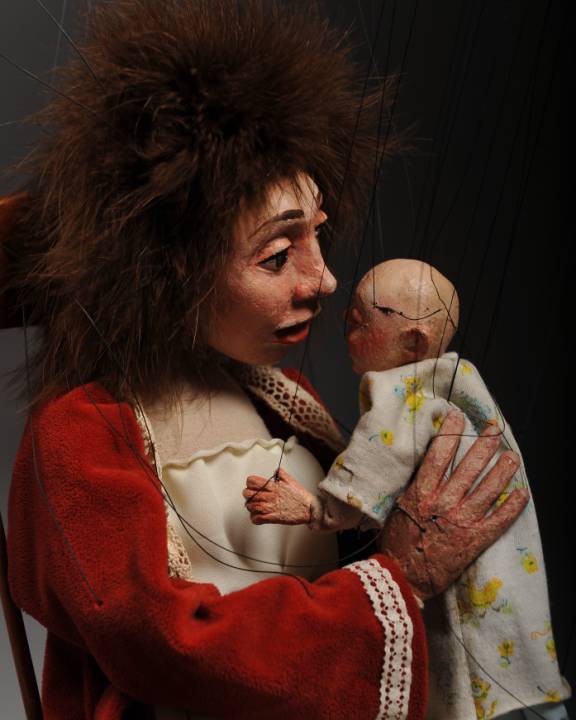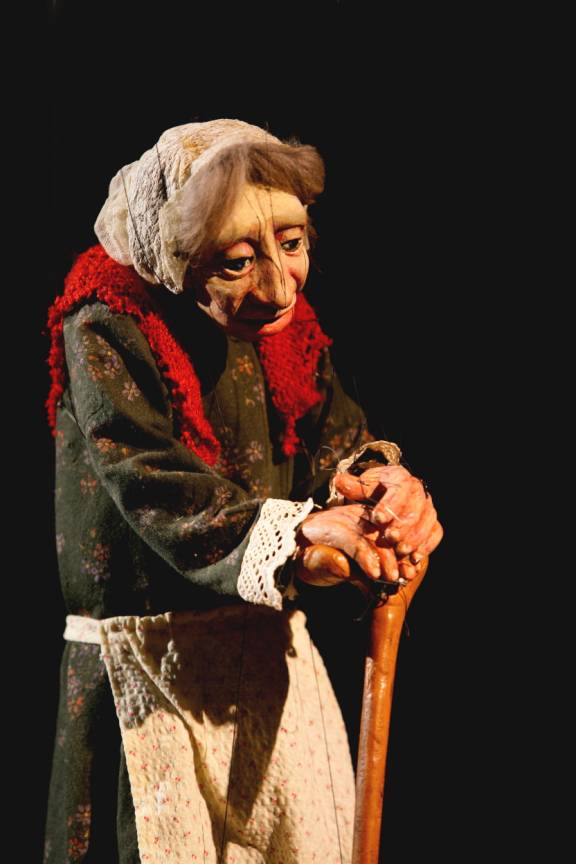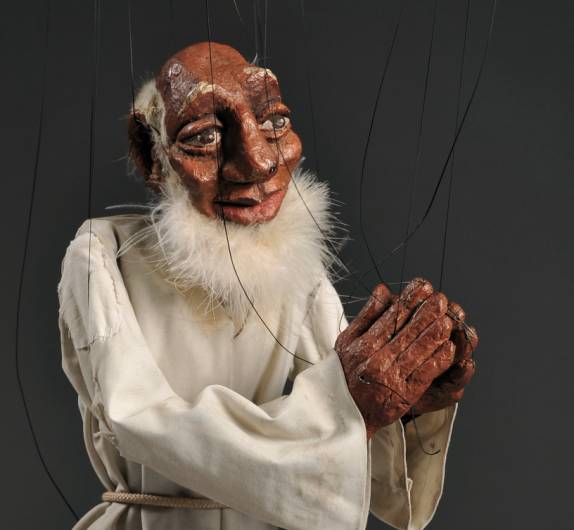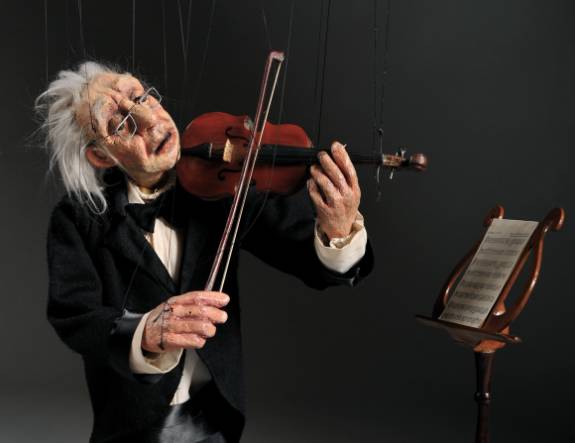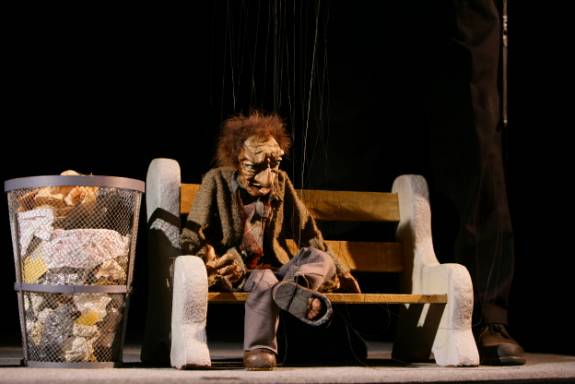 04/11/2010 SUNDAY SUNSET BAY MARINA, STUART, FL
A huge Flea Market draws a large number of bargain hunters out each weekend in Stuart. There is row-after-row of an endless variety of trash and treasure. Most of the vendors are permanently based on location and re-appear each and every weekend. Although we don't want or need very much, it is kind of fun to peruse the offerings.
04/12/2010 MONDAY SUNSET BAY MARINA, STUART, FL
At 5pm, we met with Larry and Sharon (LEAD FREE TOO) for BBQ Rib Night at PA Grill on the north side of the big bridge. Every Monday evening, the restaurant offers a $10.99 special of a full-rack of baby back ribs with two sides. Besides being fantastic, there is so much food that we can both share a single dish.
04/13/2010 TUESDAY SUNSET BAY MARINA, STUART, FL
It was overcast with intermittent showers throughout the day. We sorted through all sorts of things on the boat and assembled lots and lots of used, and even new, stuff to donate to the Salvation Army. They seemed pleased with all the items we brought.
Judy went to lunch at the Luna Italian Café in downtown Stuart with Ron and Susan (TK III) and Larry and Sharon (LEAD FREE TOO). I wasn't feeling all that well, so I just puttzed around the boat. For dinner, I made my Bolognese sauce and some fresh, artisan bread.
04/14/2010 WEDNESDAY SUNSET BAY MARINA, STUART, FL
Jim and Kathy Fenn (FENNDERS) dropped by to AMARSE. They are the wonderful Commodores of the RMHYC (Royal Marsh Harbor Yacht Club). It is always great to have the chance to visit with them
We went for the afternoon special at Duffy's Sports Grill with the TK III's and LEAD FREE TOO's. Of course, I had to have those awesome, Coconut Crusted Dolphin Fingers.
04/15/2010 THURSDAY SUNSET BAY MARINA, STUART, FL
Our friends, Ron and Susan (TK III), departed northbound from Sunset Bay this morning about 7am. We will miss them a lot, until we see them again.
At 7pm, we were at the Blake Library's JFK Auditorium for a performance by the "PORCH DOGS". They provided us with great entertainment featuring rousing Cajun and Zydeco music.
04/16/2010 FRIDAY SUNSET BAY MARINA, STUART, FL
The varnishing work continued on the interior and exterior of AMARSE today.
On the 3rd Friday of each month, the City of Stuart hosts a music concert at Gazebo Park. The featured band, THUNDER ROAD, specialized in Country Music (our favorite). They were fantastic. To spice up the performance, the CHILI CHICKS were dancing up a storm. This group has earned the honor of being "line dancing" champions. These gals have great looks and great moves.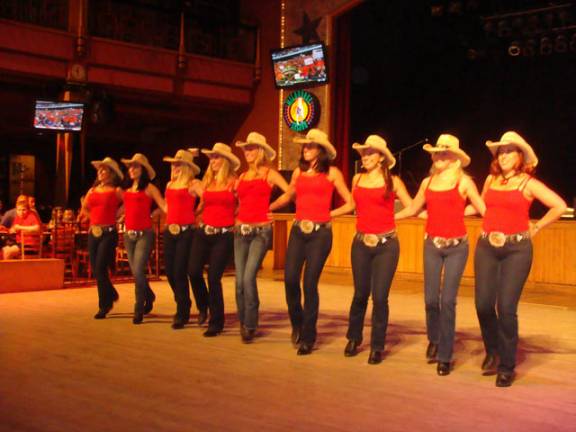 04/17/2010 SATURDAY SUNSET BAY MARINA, STUART, FL
You guessed it, more work on varnishing woodwork. We installed new carpet treads on the entry and stairway steps aboard AMARSE. They look great.
04/18/2010 SUNDAY SUNSET BAY MARINA, STUART, FL
My daughter,Sharyn, and Son-in-Law, Jeff, arrived at AMARSE about 12:30pm. I just LOVE them so much; it is a such a great privledge to be called, "POPS". Judy prepared her specialty of Chicken Breast in mushroom sauce for our luncheon treat. Awesome, as usual…
Although the weather was not fully cooperative today, we were able to visit the historic district of downtown Stuart between the intermittent sprinkles and showers. After a wonderful visit, they headed back to their home in Coral Springs about 6:30pm. Hey kidz, please hurry back because I miss you already…
04/19/2010 MONDAY SUNSET BAY MARINA, STUART, FL
Judy dragged out the sewing machine and commence to making some new pillows to decorate the salon divan sofa. They are quite beautiful and boast a red/gold pattern of palm trees. Another great addition to the décor of AMARSE.
We got the call announcing that the Fugate's, Joe and Roxanne, would be arriving at the Stuart airport this afternoon. Aboard their Cessna twin CE310, they were waiting for us at Stuart Jet Center. After a visit to Duffy's for drinks and dolphin fingers, we relaxed aboard AMARSE for the afternoon. For dinner, we introduced them to PA Grill for the Monday special of Baby Back Ribs. Altogether, there were 10 of us their, including boater friends from LEAD FREE TOO, SEQUE, AMARSE, FUGATE'S, and PETER…
04/20/2010 TUESDAY SUNSET BAY MARINA, STUART, FL
The morning was very nice when our friends arrived at the Sunset Bay Marina.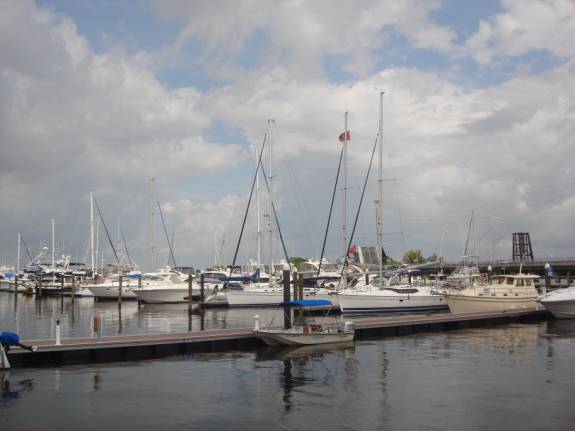 Together with Joe and Rox, in their rental car, we viewed the waterfowl and took in the local area sights along Hutchison Island and Ft. Pierce.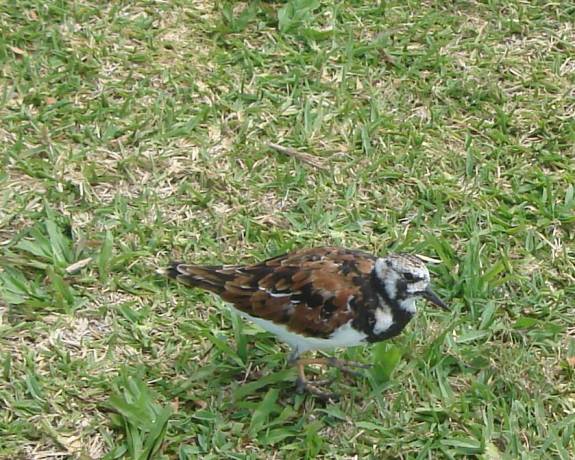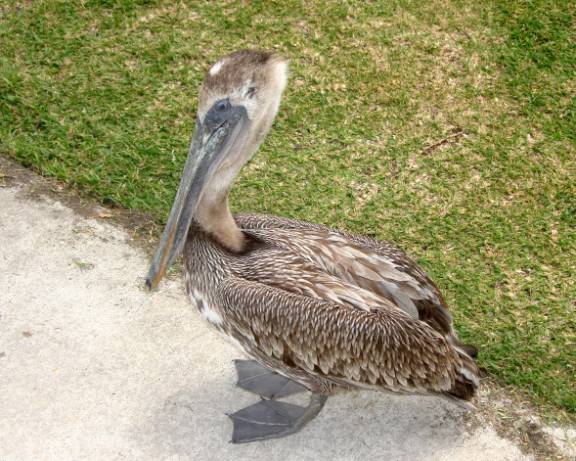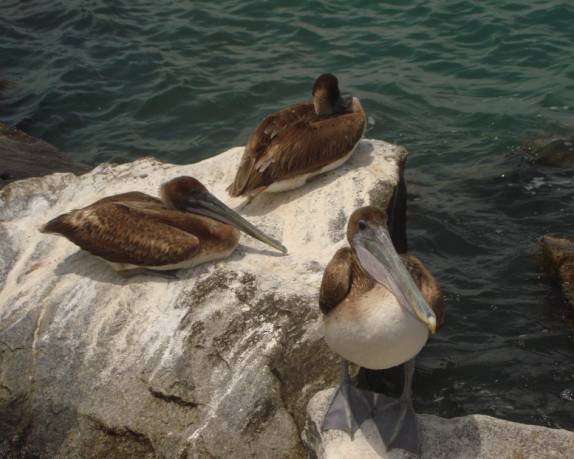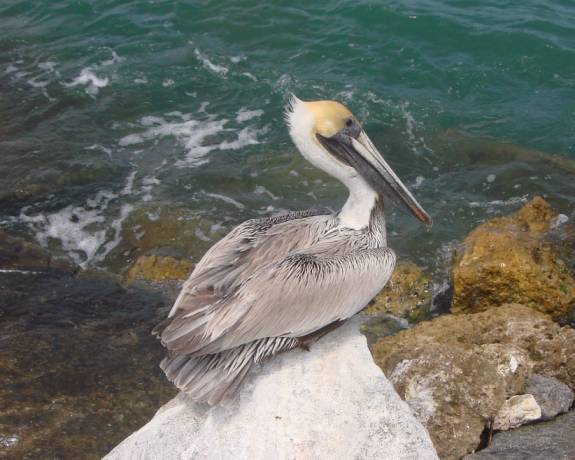 Joe and Roxanne at Ft. Pierce Inlet...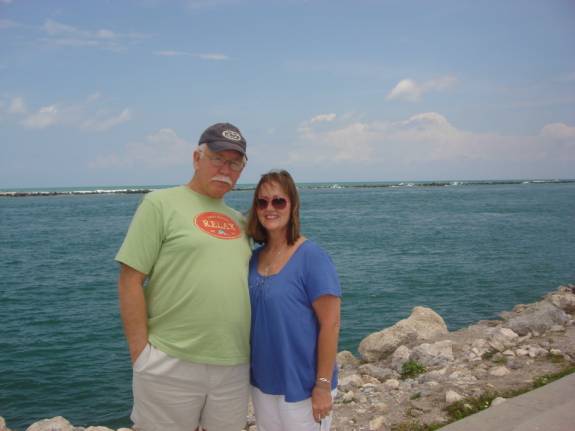 Fred and Judy...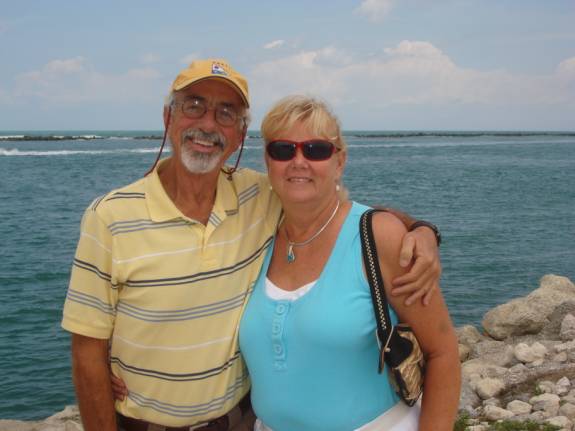 Lunch was at the dockside restaurant at Harbortown Marina in Ft. Pierce.
Later, dinner was served on the sundeck aboard AMARSE. We thoroughly enjoyed salad wedges, fresh Mahi Mahi, mini pasta tubes, mixed veggies, and Judy's homemade brownies. I had made fresh artisan bread to go along with the meal. Now, this is what the good life is about… Good friends, good food, and good weather…
04/21/2010 WEDNESDAY SUNSET BAY MARINA, STUART, FL
We met Joe and Rox for breakfast at a Stuart restaurant favorite, Charley's Flashback Diner.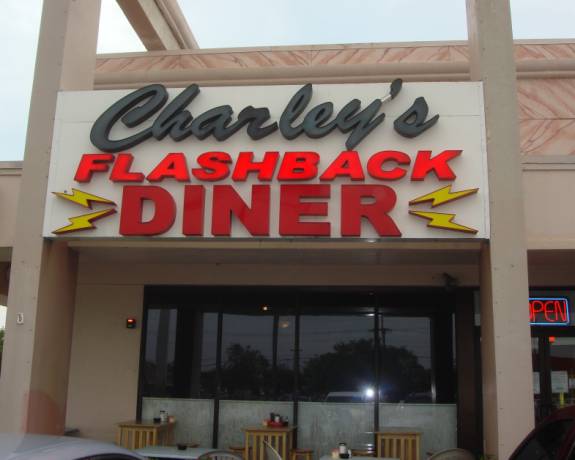 In the afternoon, we enjoyed appetizers and beers at Duffy's Sports Grill.
For dinner, we all chose another favorite place, TooJay's Restaurant. They have wonderful, NY deli style meals as their specialties.
04/24/2010 SATURDAY SUNSET BAY MARINA, STUART, FL
Tonight, we were honored to be dinner guests at Ivor and Susan (LAZY SUSAN). It is always such a delight to be them and Susan is a wonderful magician of the culinary arts.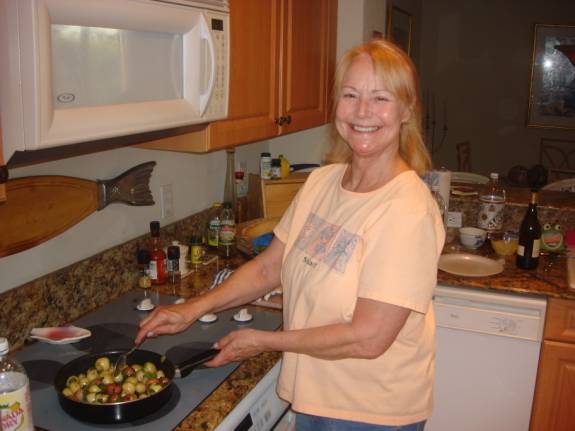 Another couple, friends of Ivor and Susan, helped to make the evening even more fun.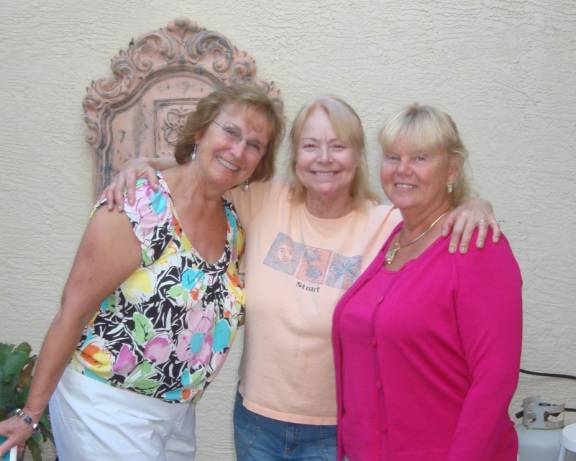 ...Romeo, Romeo, Where Fore Art Thou?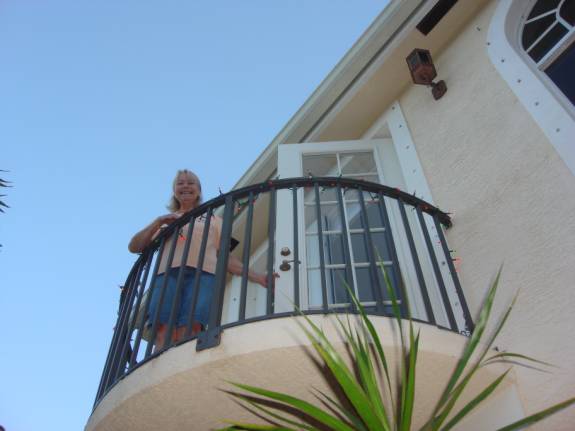 Oh, Juliet, Oh Juliet... Here I is, Baby, Here I is...!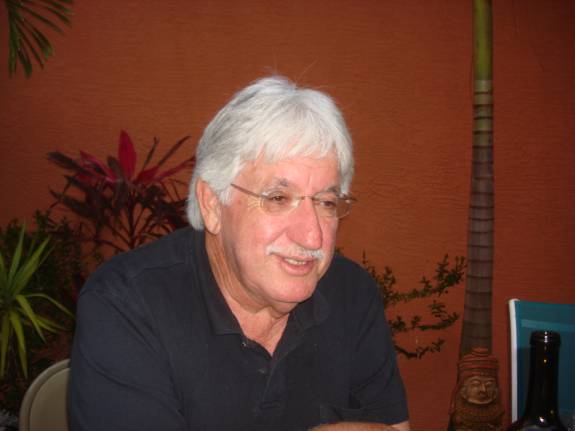 Judy and I "JUZ LUVZ DEEZ GUYZ"...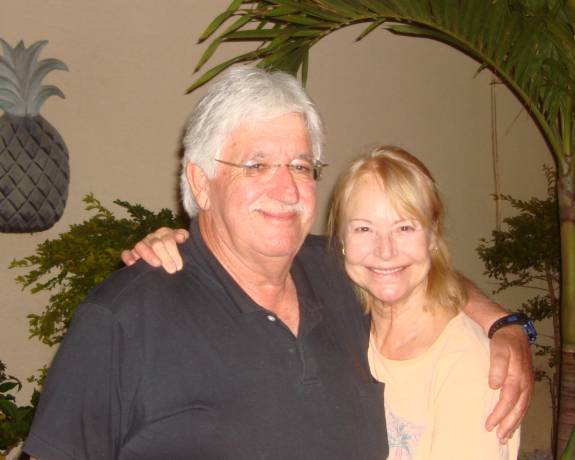 04/25/2010 SUNDAY SUNSET BAY MARINA, STUART, FL
Another Sunday means another waterfront concert in downtown Stuart. This week, it was Country Music.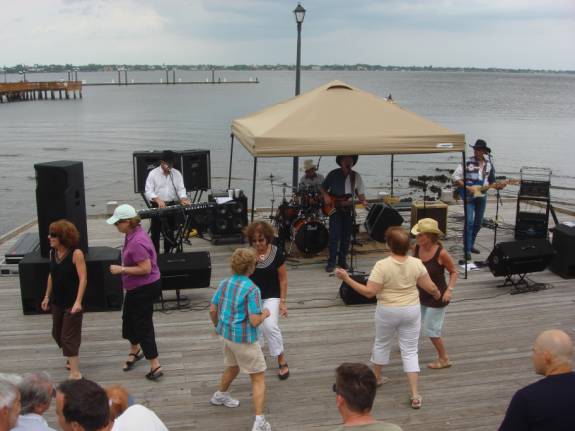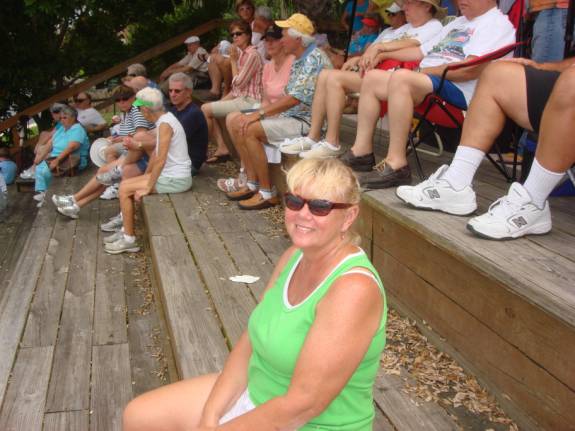 04/26/2010 MONDAY STUART, FL to CORAL SPRINGS, FL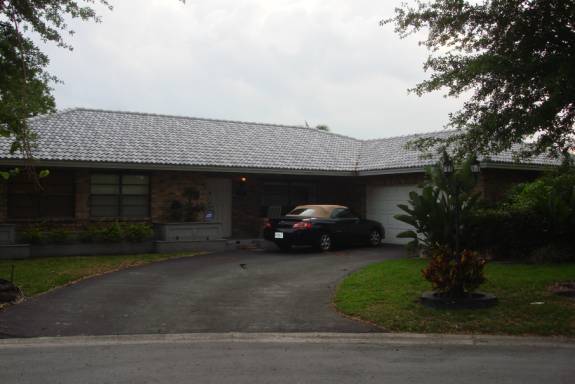 Sharyn and Jeff dropped us off at the Ft. Lauderdale International Airport for our Spirit Airlines flight to Cancun.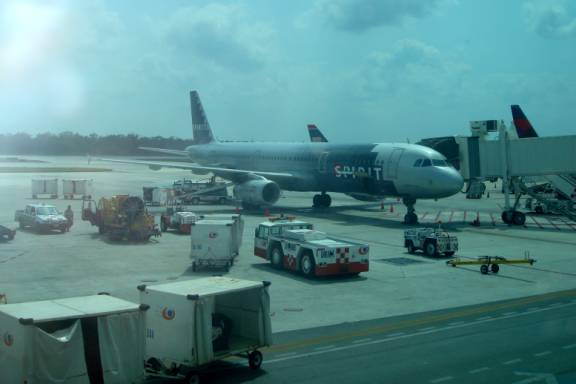 Our favorite hotel in Cancun is the Grand Royal Lagoon. It isn't one of the fancy, mega-complexes that line the big beaches. It is, however, clean, quiet, and economical. We have stayed here many times over the years.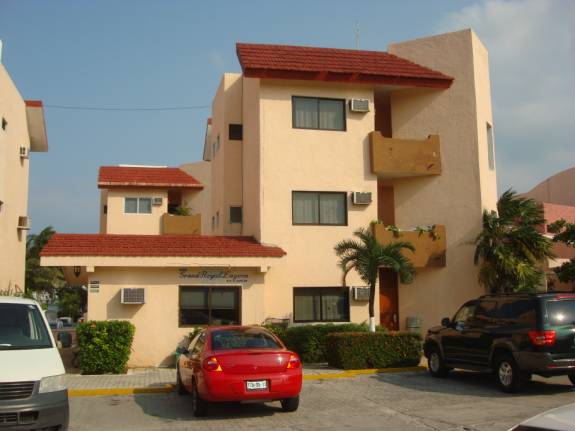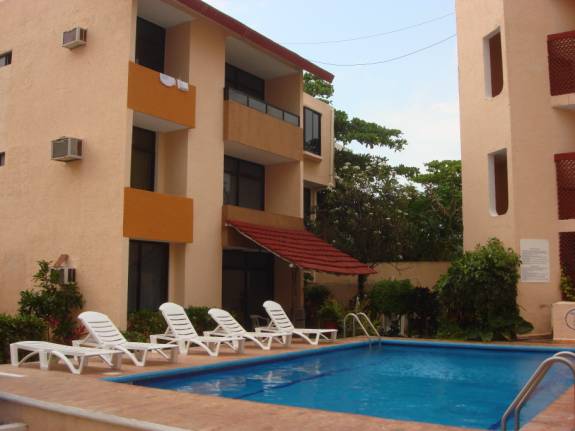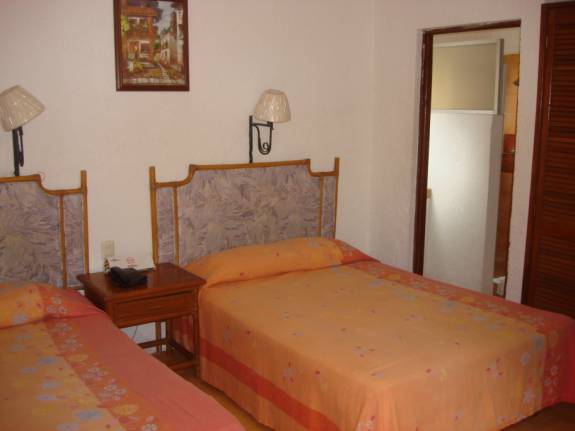 The hotel looks out over the lagoon and the Zona Hoteles...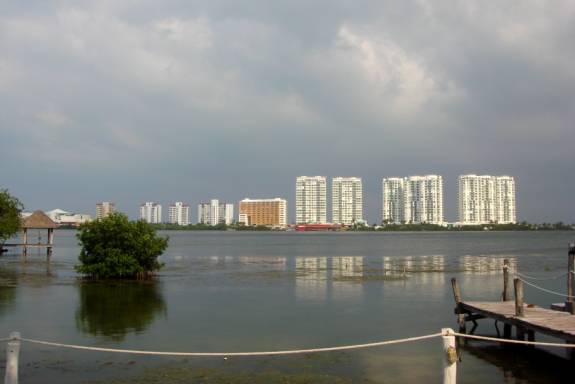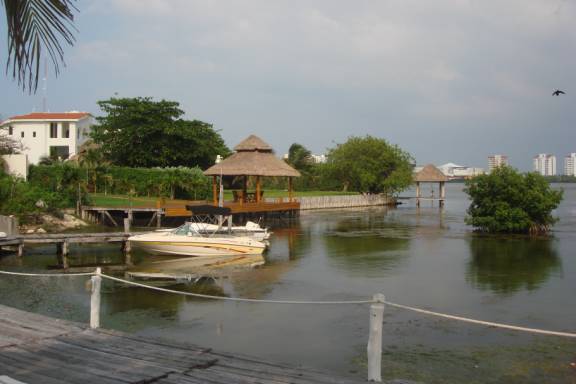 An large iguana enjoys the warmth of the Mexican sun, much like we do...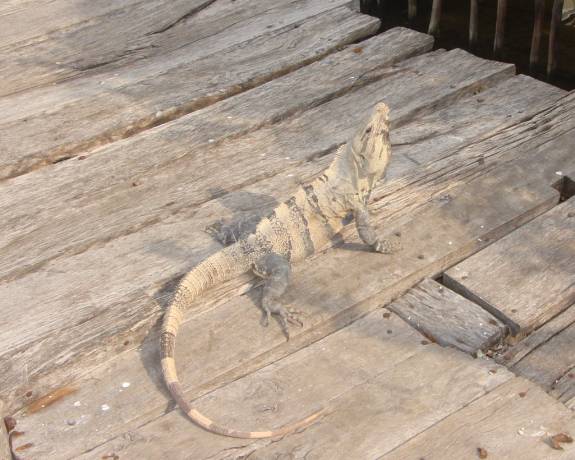 Near downtown, a park is lined with various stands and carts that sell a variety of snacks and curios...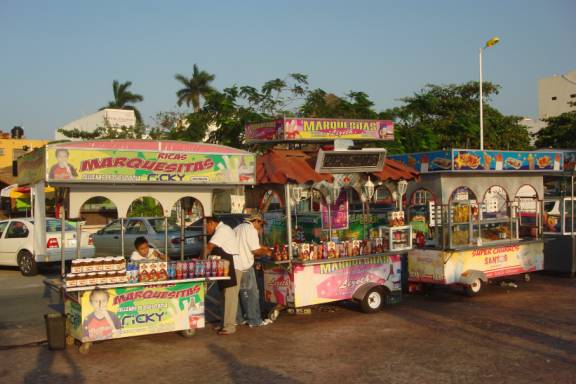 04/27/2010 TUESDAY CANCUN to ISLA MUJERES to CANCUN
Using local buses, we made our way to Punta Sam for the ferry boat to Isla Mujeres.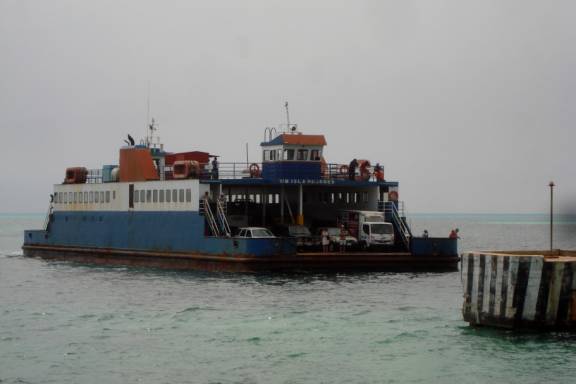 Basically a cargo vessel, the fares for pedestrian passengers are very reasonable. Traveling via this mode, you won't find many Gringo tourists.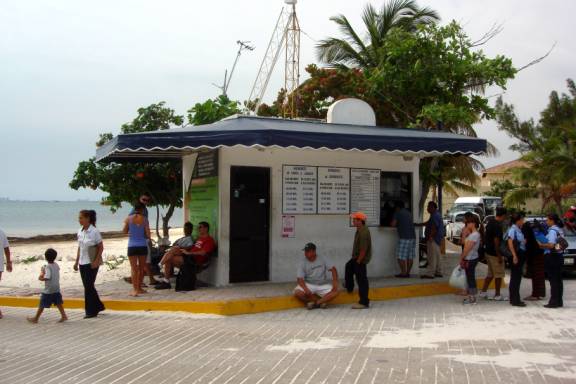 The ferry is ready for loading and a quick turn-around...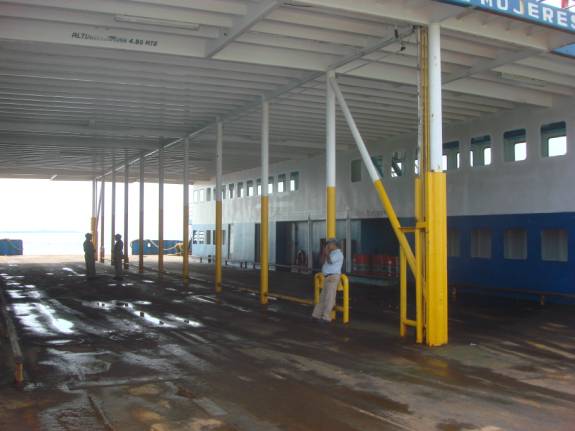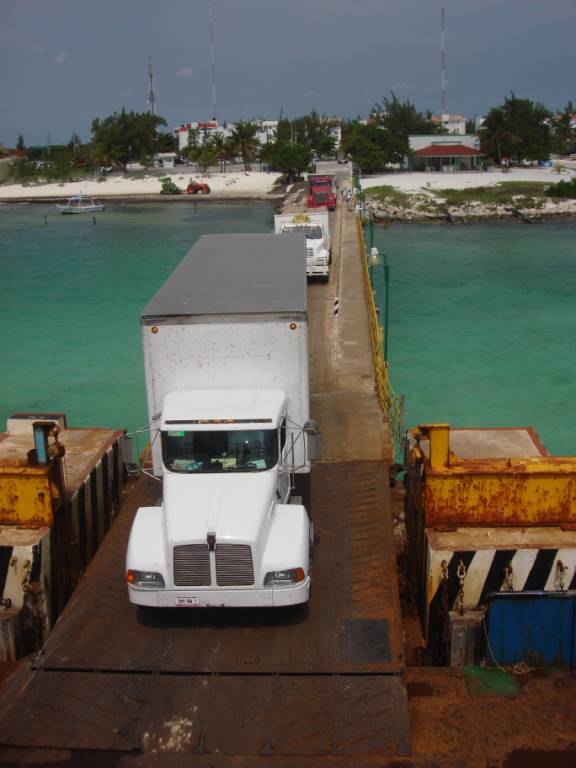 Judy and I have enjoyed the slow, relaxing pace of this vessel on numerous occasions during previous visits.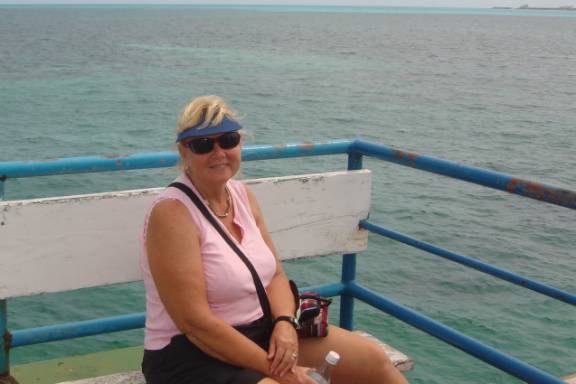 … and we're "off" for the hour or so voyage.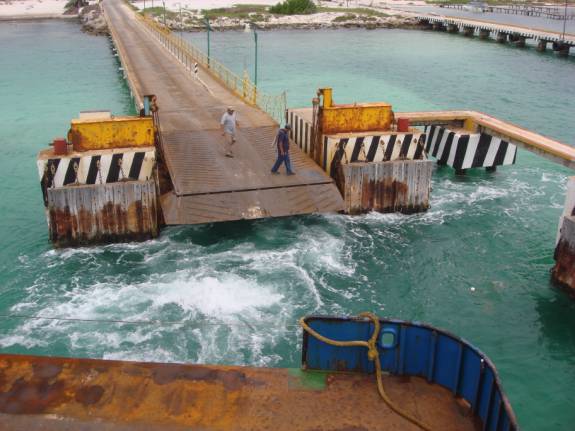 The ferry passes by the tranquil, sandy beach of downtown Isla Mujeres.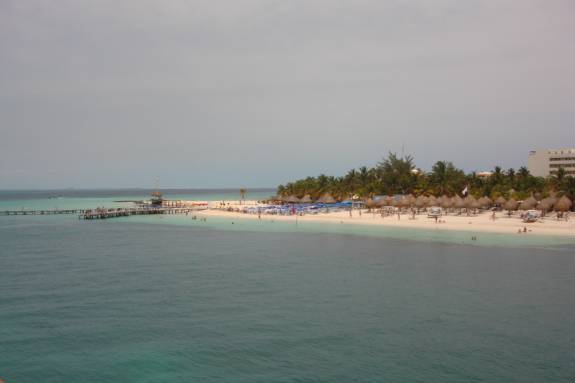 The municipal marina, refuel point, and customs are located near the downtown center.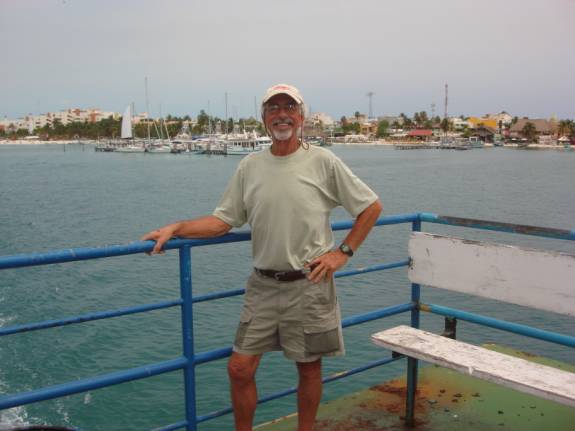 Welcome to Isla Mujeres...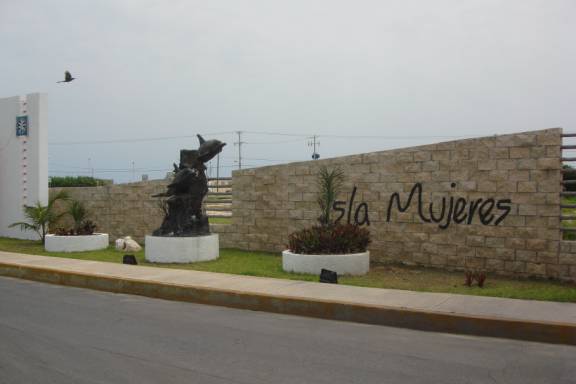 We stopped by the "EL MILAGRO MARINA" to checkout the facilities.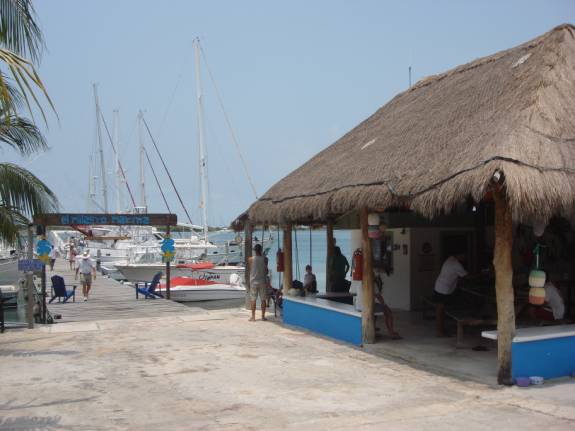 Much to our surprise, we immediately recognized a familiar boat. It was none other than, COUP DE VENT, a Westsail 32 that was formerly owned by our good friends, Milton and Jimmie, from Victoria, Texas.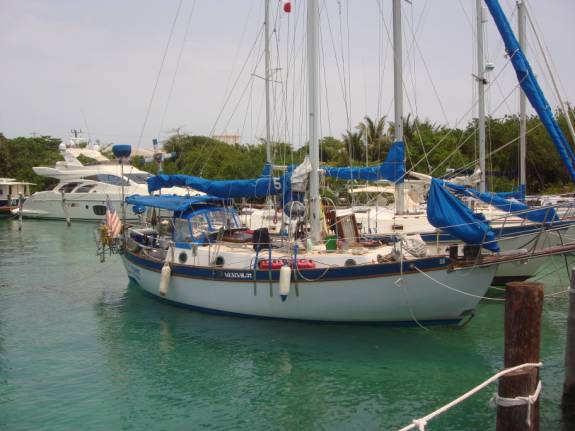 Coincidentally, we had also met the current owner during our trip to Guatemala last year. It was more evidence of our small world. It brought great smiles as Judy posed with the captain. The stout sailboat will soon set sail for the transatlantic journey headed for Spain and the Med.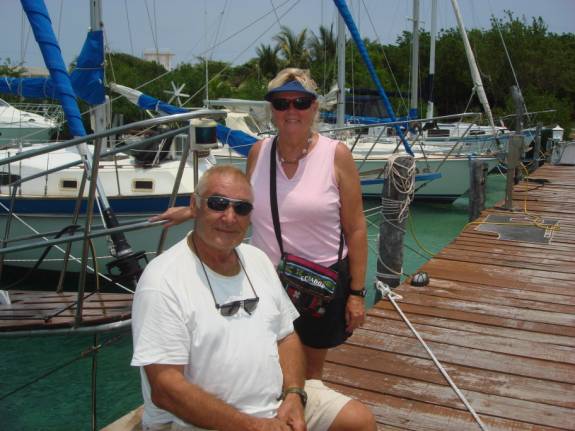 Another marina, just down the bay, boasts first class amenities and a dockage rate to match. Although quite lovely, it would well exceed our boating budget by far.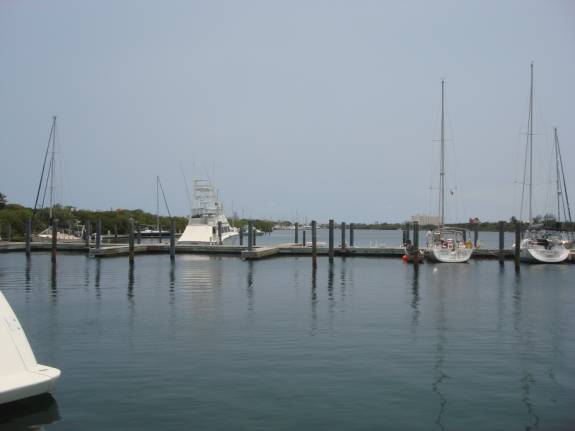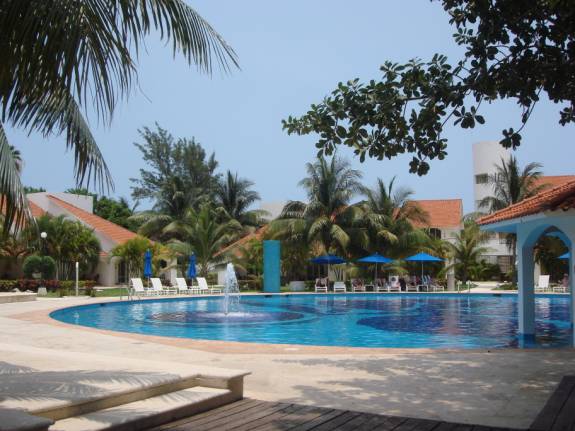 Lots of iguanas roam freely around the marina property...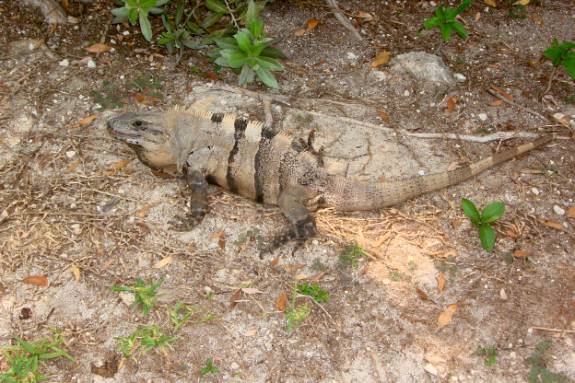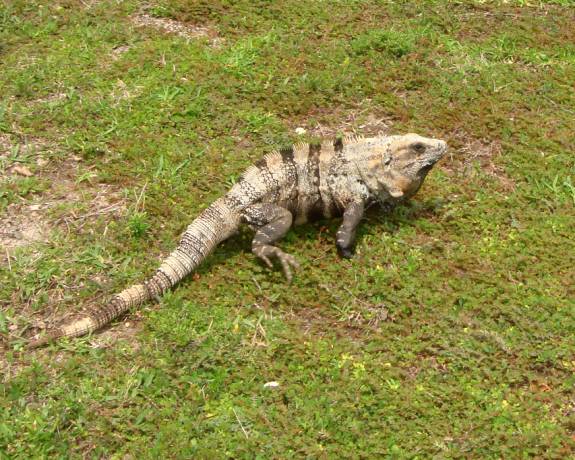 On this side of the island, the downtown beach is well protected and boasts sugary sand, rental lounge facilities, as well as, food and drinks.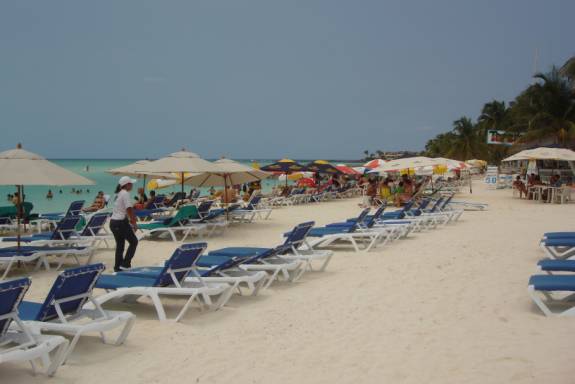 On the Caribbean side, this section of shore is well worn by the surf, devoid of facilities, and is seldom visited by many tourists.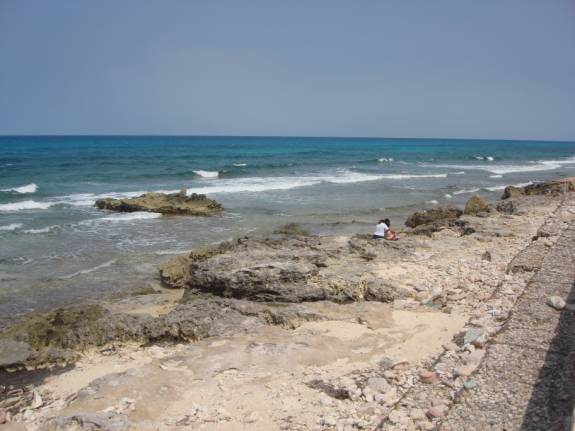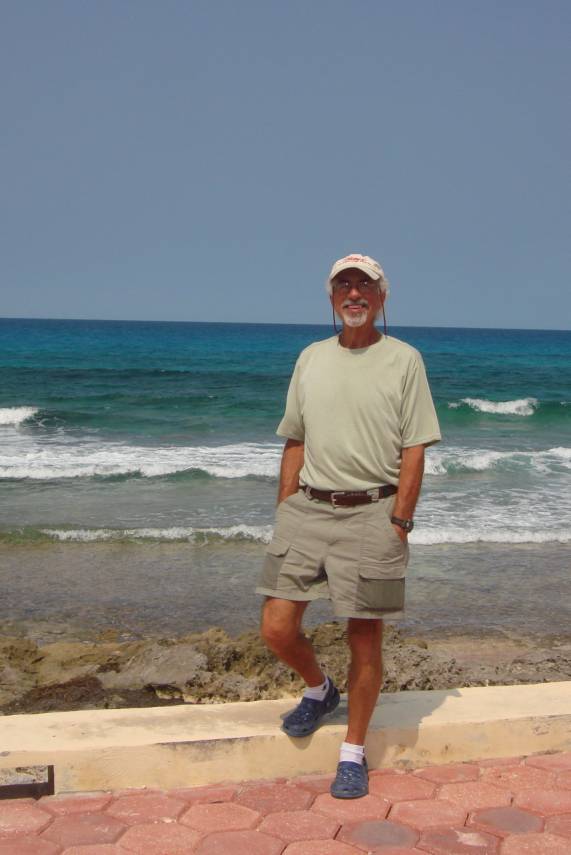 Our ferryboat has arrived and is making ready to return us to the mainland.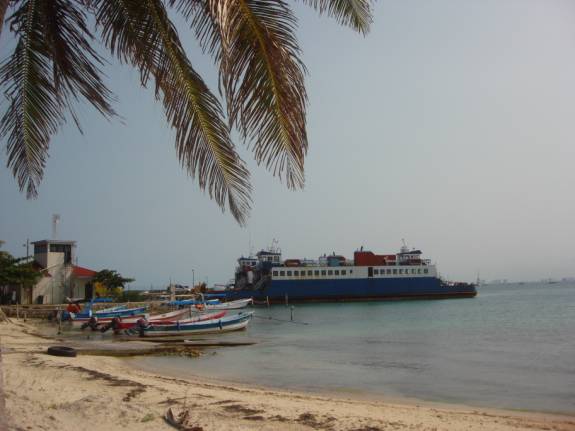 Back at our hotel, the Grand Royal Lagoon, their Tiki Bar serves wonderfully cold, Mexican beers.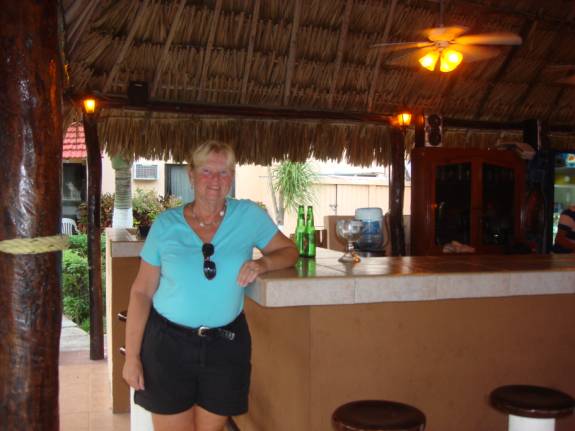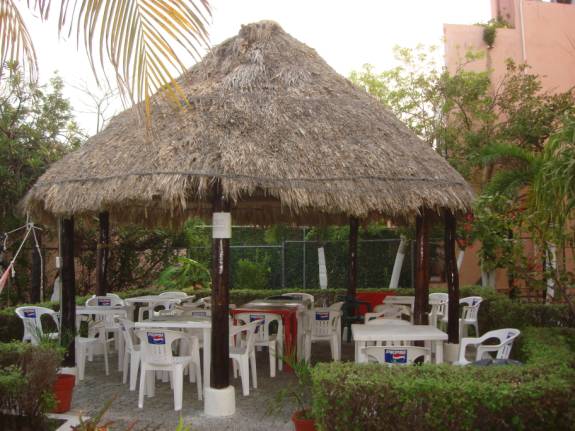 For dinner, we took the bus to downtown Cancun for Tacos Al Pastor. The restaurant, El Poblano, has some of the best ones.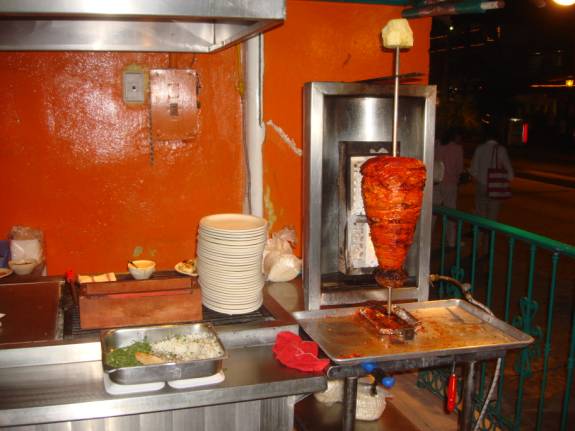 04/28/2010 WEDNESDAY CANCUN to VALLADOLID, MEXICO
This morning, we picked up our rental car at the airport. To get there, we took a local bus to the downtown terminal, then another express bus to the airport terminal. Something we learned while researching this trip, our credit card supplied insurance will only apply if the rental period is 15 days or less. Since our trip would exceed this time limit, we postponed picking up the car to ensure the insurance coverage.
We had already checked out of our hotel in Cancun, so we headed west across the Yucatan Peninsular for the city of Valladolid. Our choice for accommodations was Casa La Candelaria. The guesthouse sits on a side street, close to the center, and beside a quiet, park-like setting.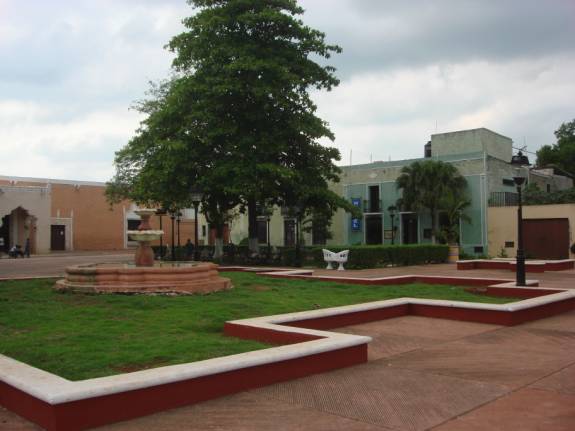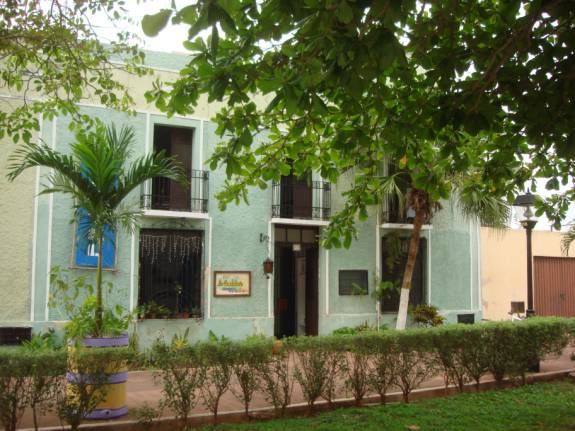 In the garden-like courtyard of the guesthouse, the kitty-cats rule…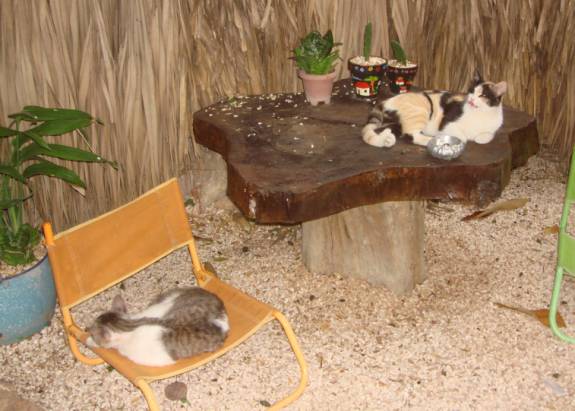 Our Yucatan adventures will continue in the next update. We will be exploring the sights of some famous Mayan ruins.
CONTINUING UPDATES ARE IN PROGRESS…
WATCH FOR THEM, COMING SOON…
POST SCRIPT:
We sincerely hope that you will review the previous years of compilations to give context to the current editions. Please let us know if you have any special suggestions and thoughts.
REMEMBER: The website is now fully active and you can visit it at any time. You can also review any of the previous logs from the years 2006, 2007, 2008, and 2009 to learn more about the crew and their many adventures. Enjoy.
ATTENTION: SPECIAL NOTE:
You may contact us via email anytime.
Thanks for allowing us to share our life and adventures with you.
Lotsa Luv,
Fred Reed and Judy Law
AMARSE
MT40
"AMARSE" is pronounced "AM-ARE-SAY".
Our website is: www.amarse.net .