UPDATE#03 02/01 thru 02/13
Howdy Everybody,
The adventures of 2006, 2007, 2008, 2009, and thru 01/31/2010 have been published on the website. We continue with the latest edition.
UPDATE 2010 #03 02/01/10 thru 02/13/10
At last update, we were in Boat Harbour in beautiful Marsh Harbour, Abacos. Welcome back to the Bahamas…
02/01/10 DAY MARSH HARBOUR, ABACOS, BAHAMAS
The recent cold front brought us another day of overcast skies and windy conditions. I guess we needn't complain with temperatures hovering around 70 degrees F. It was a good day to take care of financial chores and routine stuff.
After the walking group, Judy went to "Stitch N' Bitch". It is a wonderful group of gals that get together to express themselves with crafts and arts. Judy has been helping some of the gals with their basket-making techniques.
02/03/10 WEDNESDAY BOAT HARBOUR to SEA SPRAY MARINA
At 9:25am, AMARSE hauled her stern lines aboard and got underway for the RMHYC (Royal Marsh Harbour Yacht Club) Sea Spray Rendezvous. Heading across the Sea of Abaco, our great friends, Dave and Barb aboard CHABLIS, passed us on our starboard side. That's Lubber's Quarters Cay in the background. The rendezvous host marina is located within White Sound at Elbow Cay, Abacos, Bahamas.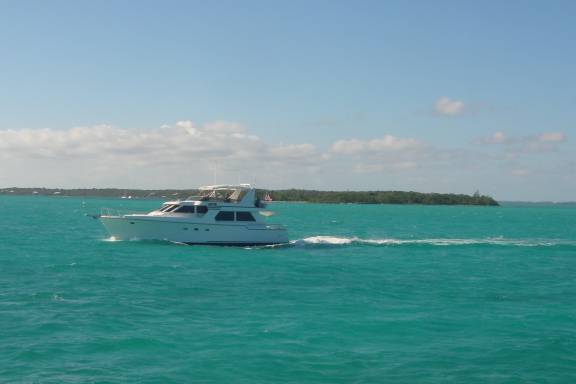 Junior, dock manager of Sea Spray Resort and Marina, coordinated the docking procedures and assignments for the flotilla of some 26 boats coming in for the three-day, two-night program. AMARSE backed into her slip assignment at 10:30am.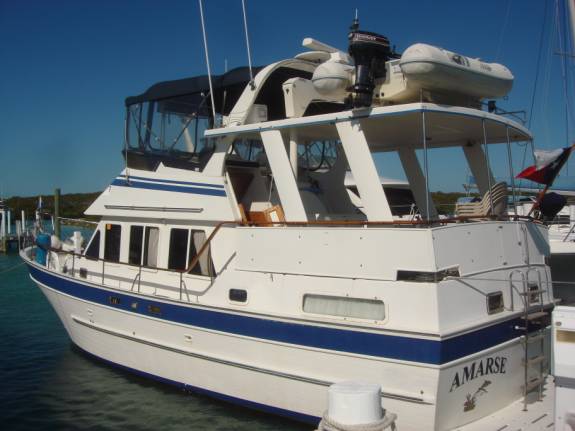 A steady stream of RMHYC member vessels filed in to the several rows of dock slips.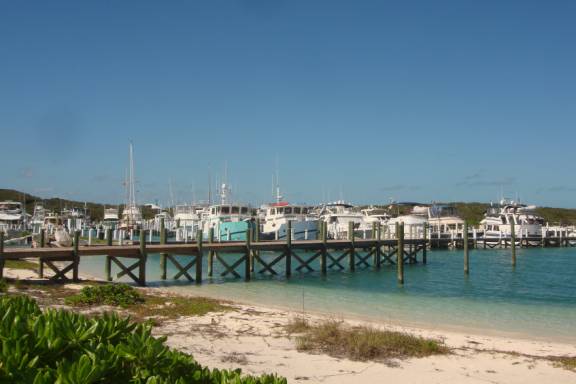 Even with all the excitement planned for the gathering, I just had to take a moment to admire the beauty of the abundant flowers.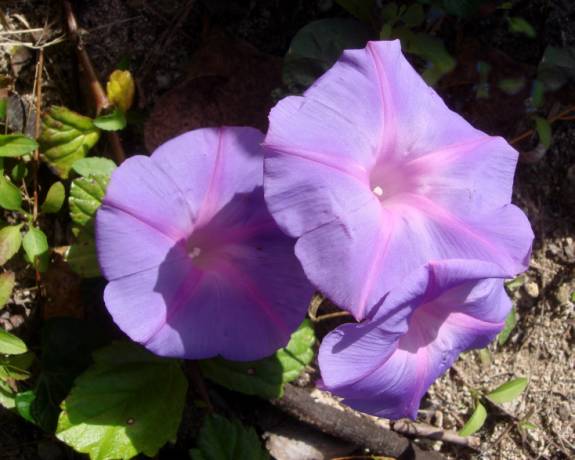 A moderate breeze was blowing in from the east over the Atlantic Ocean side of Elbow Cay. A small group of us decided to have lunch at the Abaco Inn's Oceanside dining room.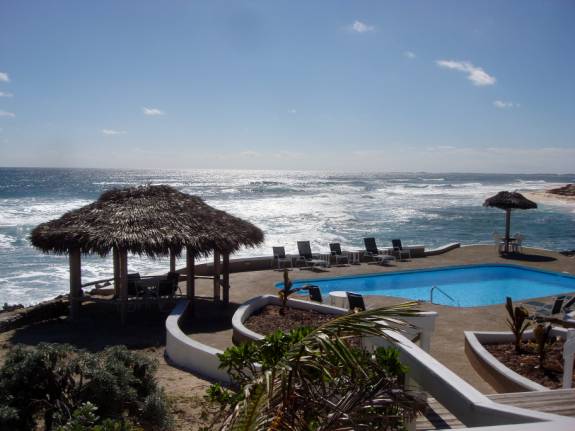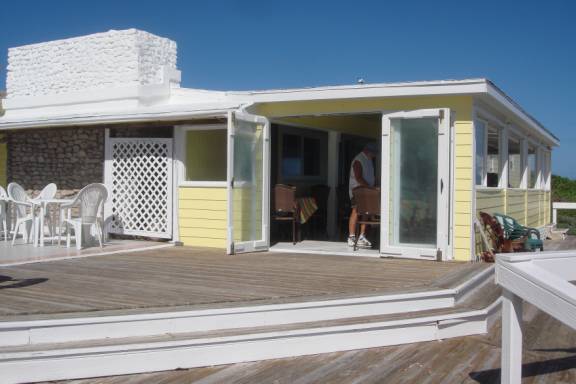 Fred and Judy (AMARSE), Connie and Paul (THE ROSE), Paul and Sue (ODYSSEY), Jonathan and Judie (DOUBLE JJ), and Sandy and Jeff (OASIS IV) enjoyed cocktails and lunch.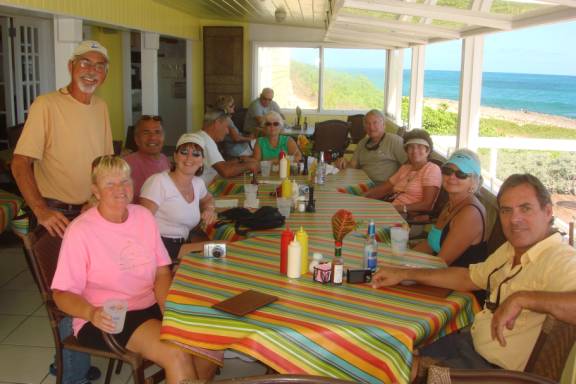 Fred and Judy (AMARSE)…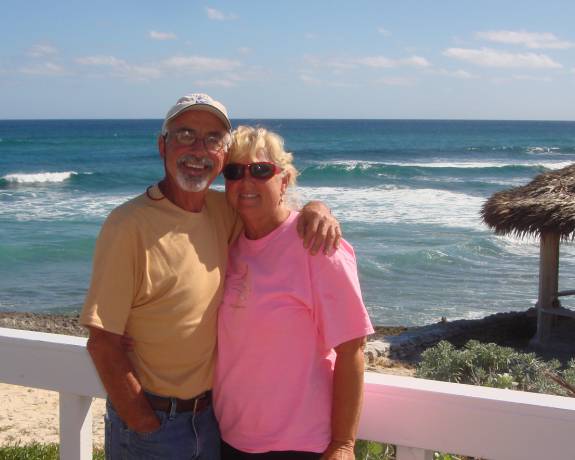 Although they couldn't bring their boat to the Bahamas this year, Connie and Paul Murgo (THE ROSE) are visiting their friends here by land. They are loyal members of the RMHYC and we all love them and wish they could spend the whole season here with us.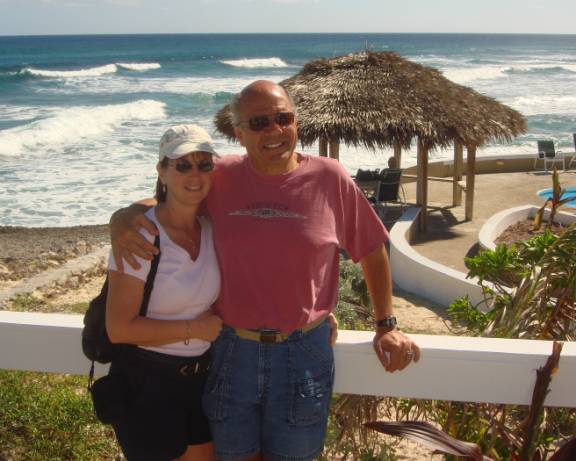 Sue and Paul G. (ODYSSEY)…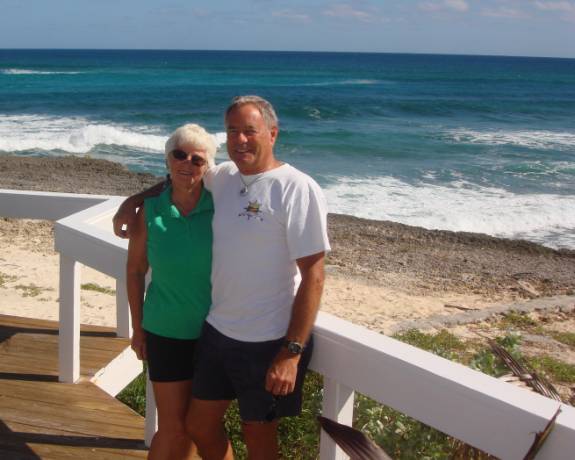 Paul and Connie (THE ROSE)… I fondly remember that it was Paul M., Paul G., Connie, and Sue that came out from the comfort of their boats to help us with docking in the pouring rain as we made our first trip into Boat Harbour Marina years ago. Thanks again, y'all…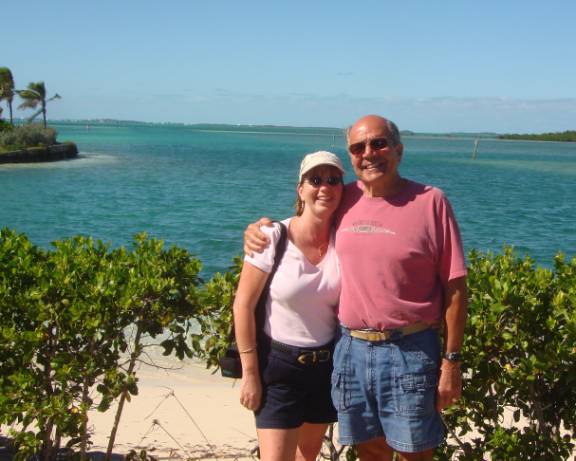 Abaco Inn (Sea of Abaco side)…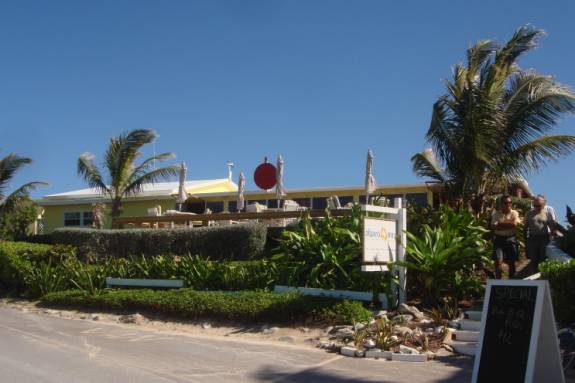 More of our RMHYC 26-boat contingent at Sea Spray Marina…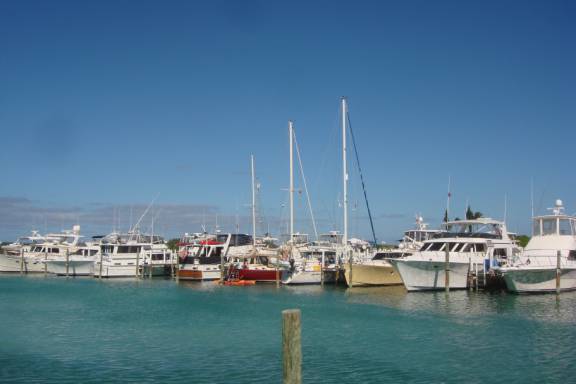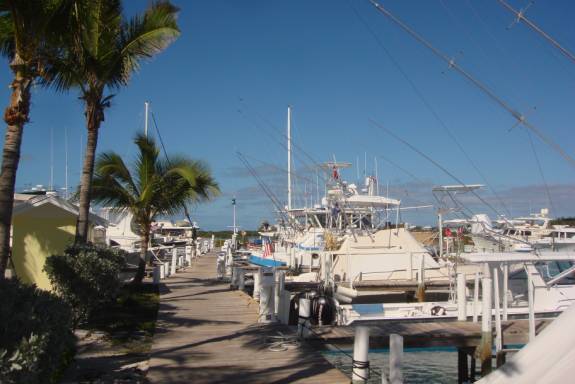 Our terrific Commodore, Jim Fenn, and our First Lady, Kathy, always have a warm smile and cheerful greeting for all our members…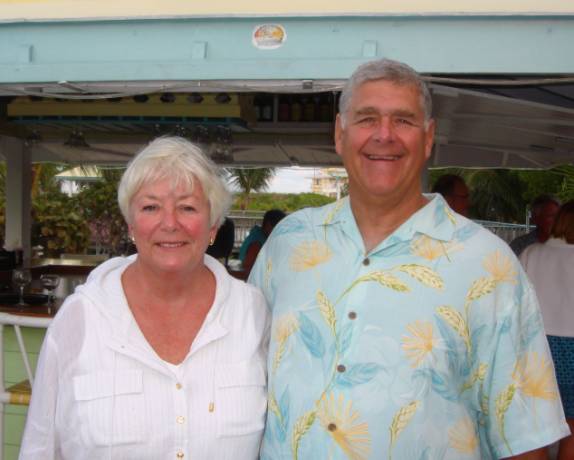 To kick off the evening, our Rendezvous group met at the Sea Spray bar. Sharon and Bob (CATCH ME IF U CAN), Frank and Mary (SEA SMOKE), and Roger (TEAMWORK)…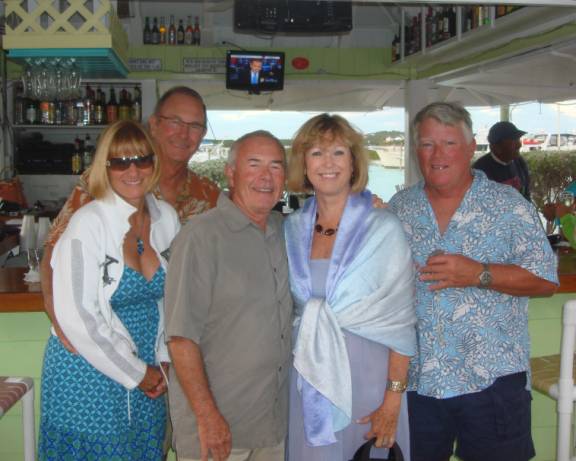 All the gals "looked marvelous"… Rita (MAGNUM OPUS, Diane (DUETTO), Georgia (NJORD), Judy (AMARSE), Mary (TEAMWORK), and Mary (SEA SMOKE)…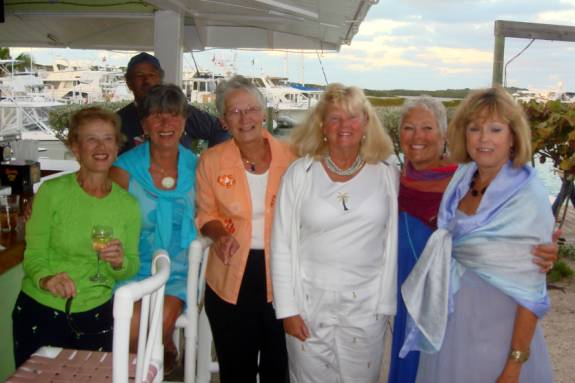 A zigzag stairway leads up to the fine dining room at the Hopetown Harbour Lodge.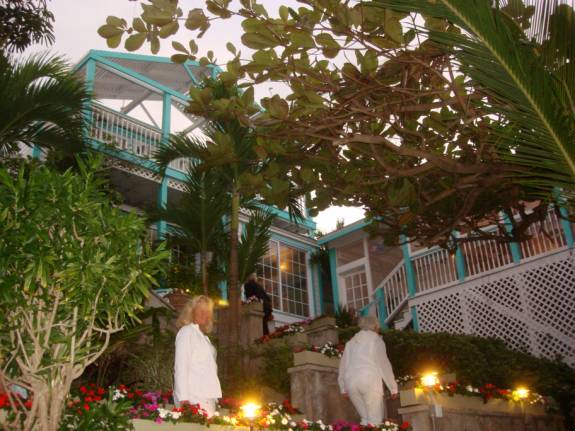 As always, our group members enjoy socializing over cocktails. The lodge bar is cozy and comfortable…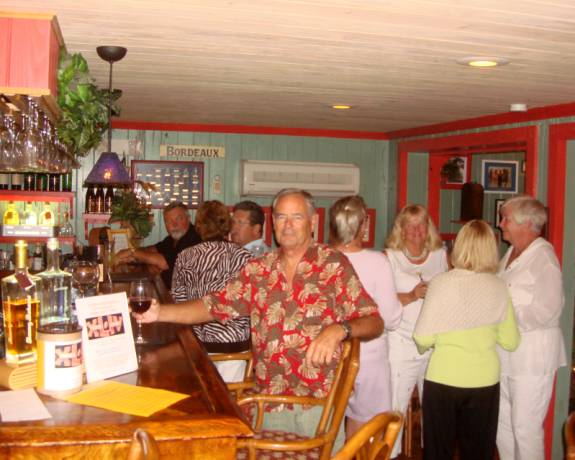 Bob and Judy (SHADE MOR) are a fabulous couple. We owe them our gratitude and appreciation for organizing this fun, fun rendezvous event. It takes lots of time and skill to set up these gatherings. Nobody could do it better than Bob and Judy. I LOVE THESE GUYZ…
At least 40 members were seated for the delicious meal in the lodge dining room. Next week, this dining room will be renamed to "The Great Harbour Room".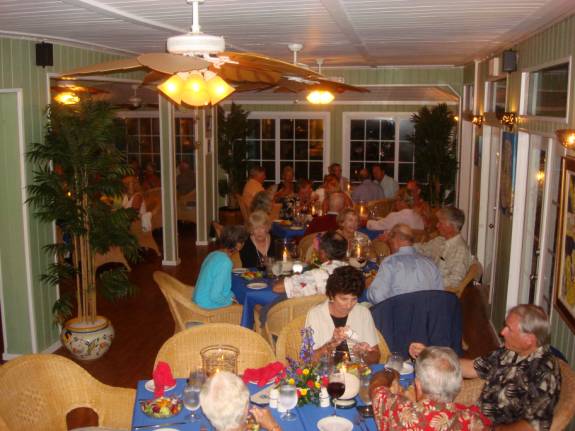 Our table for six seated Lily and Henry (OH HENRY), Dave and Barb (CHABLIS), and Judy and Fred (AMARSE)…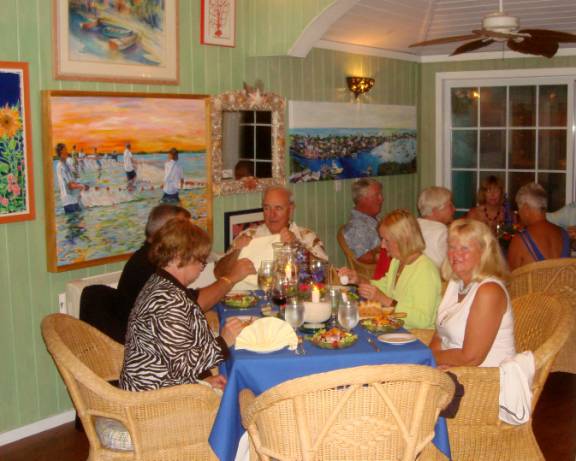 The staff and Tommy (manager) came out to recognize the applause for a fabulous dinner. The elegant buffet featured chicken, fish, and all the succulent prime rib that you could possibly enjoy. The service was impeccable and well received.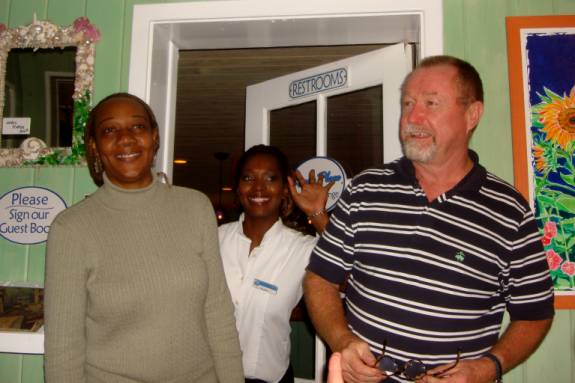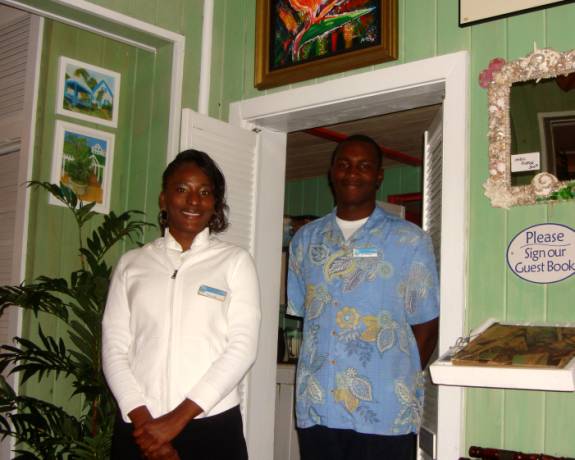 The smile on Judy (SHADE MOR) reflects the joy and pleasure that we all felt for this special night together.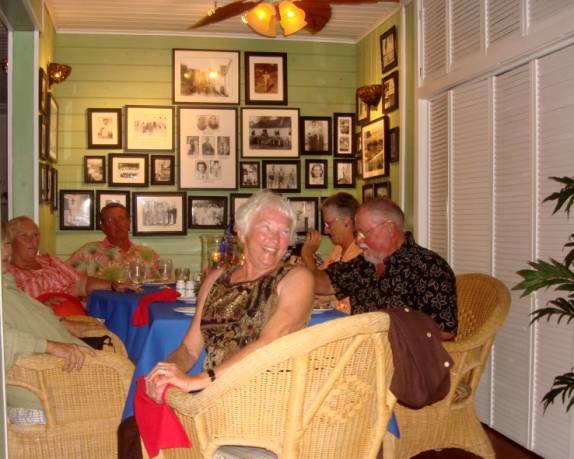 At about 9pm, we all returned to rest aboard our boats at the Sea Spray Marina. Some of the folks had rented golf carts; others rode in the marina van with Junior at the wheel.
02/04/10 THURSDAY SEA SPRAY RESORT/MARINA, ELBOW CAY
Another angle showing some more of the RMHYC boats filling the docks at Sea Spray…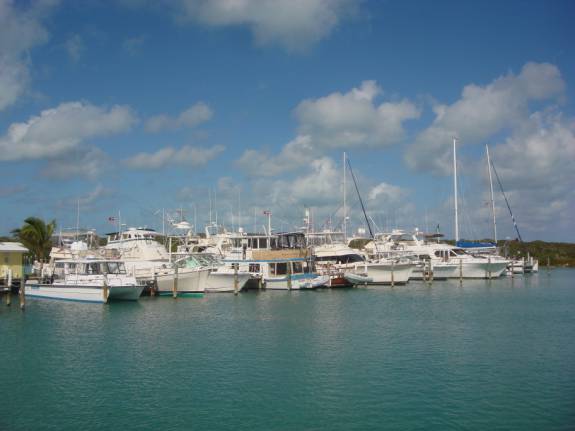 Four of the hardiest souls took the plunge in the chilly pool water for the morning water aerobics exercises. At our home marina over at the Abaco Beach Resort and Boat Harbour Marina, we are cheerfully spoiled and treated with a heated pool. This Sea Spray pool is unheated and could be described as "COLD, COLD, COLD". To the music from my iPOD, the dedicated swished, swirled, and shivered through their workout routine. Rita (MAGNUM OPUS), Diane (DUETTO), Judy (AMARSE), and Georgia (NJORD)…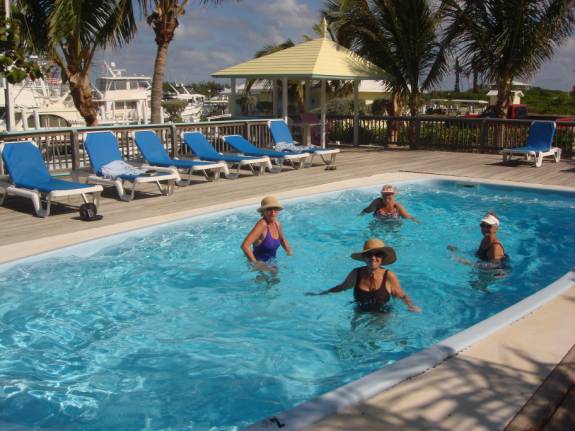 Sue and Paul G. invited us to join them for a tour around Elbow Cay in their rental golf cart. Paul let me drive for the first part of the trip, so it was easy for me to stop and take a picture of this magnificent flower.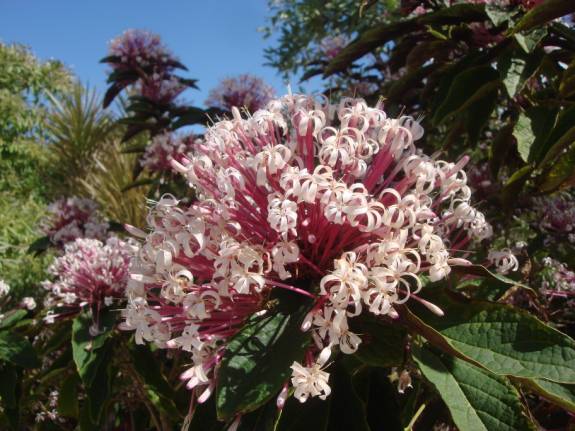 Located on Turtle Hill, the "ON DA BEACH" Bar & Grill beckoned us to take a look around.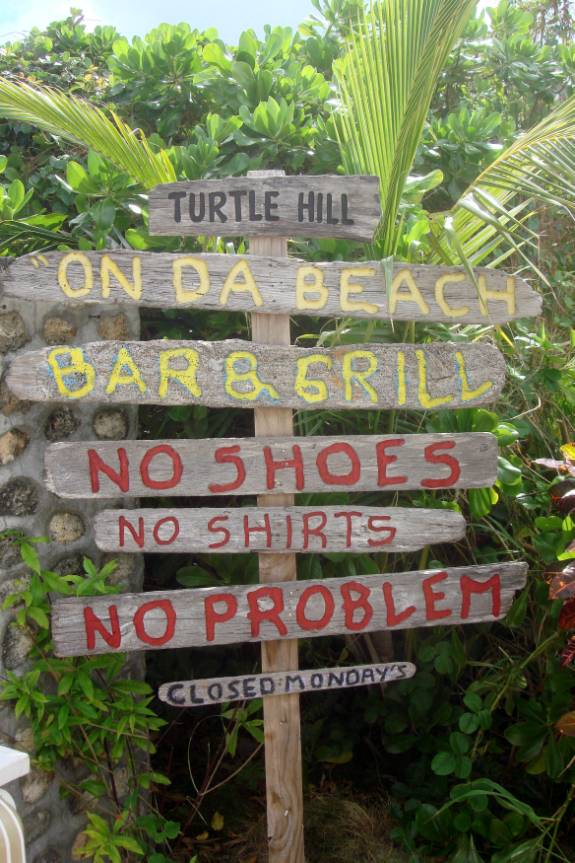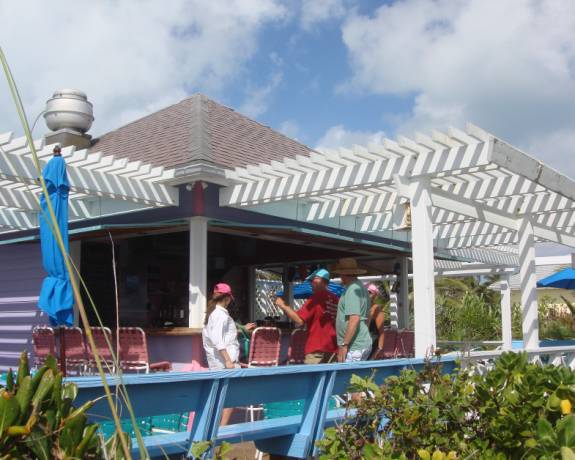 Perched above a pristine Atlantic Ocean beach, it offers an awesome view of the sun, sand, and sea.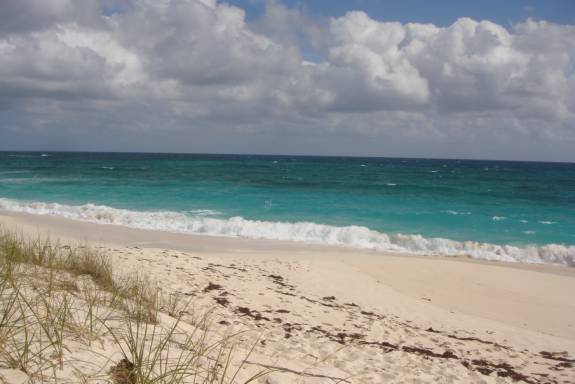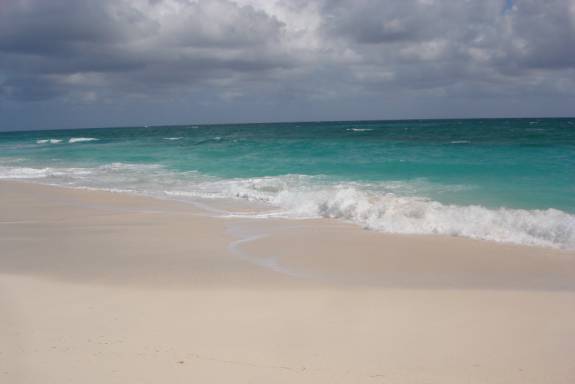 Judy, Paul, and Sue G…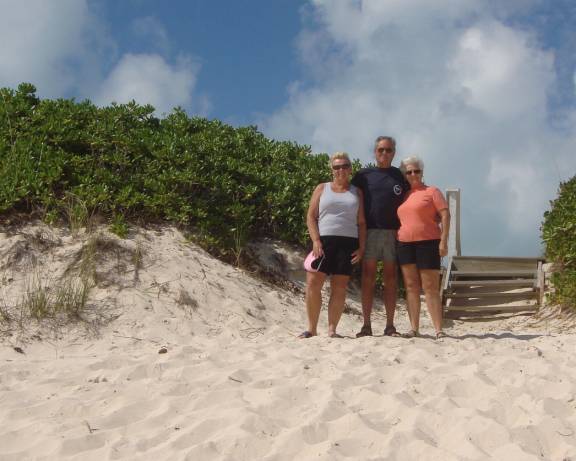 There was no way to resist the scrumptious ice cream at the Sugar Shack. My absolute favorite flavor is the "caramel-ious".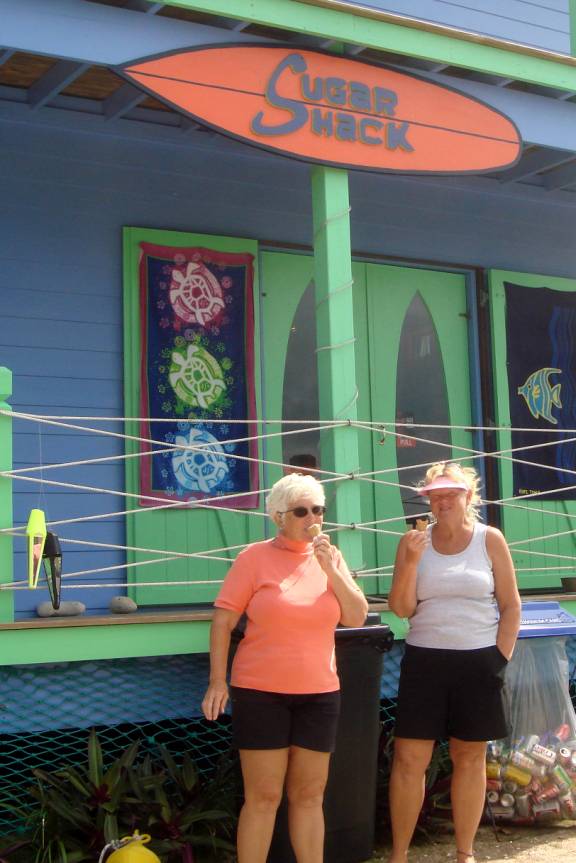 Sue and Judy bombed off in the golf cart again while Paul and I took time out for a restful afternoon.
At 4:30pm, we joined the special group invited aboard ODYSSEY for snacks and cocktails.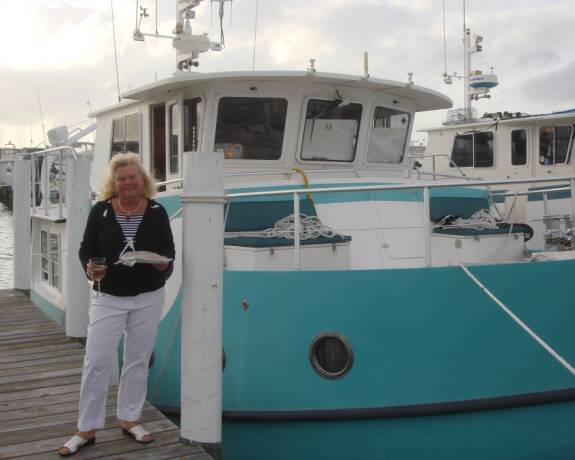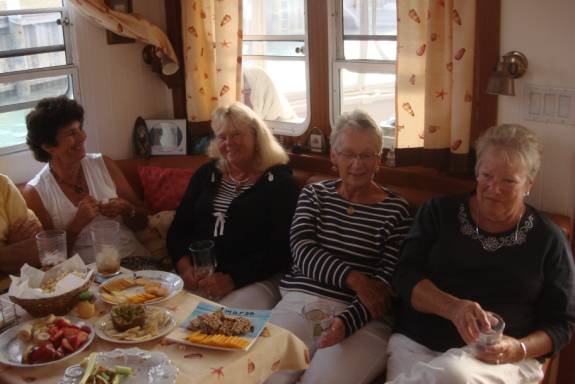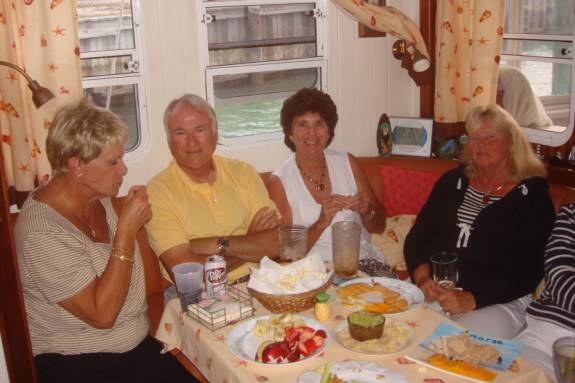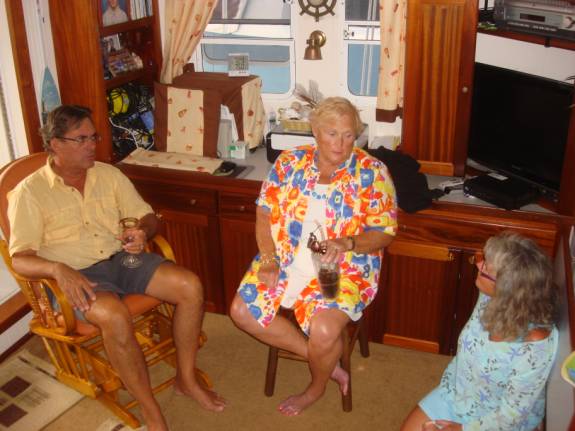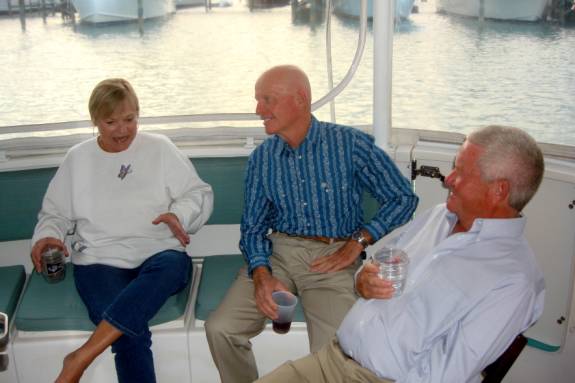 Our gracious host and hostess, Paul and Sue G. (ODYSSEY)…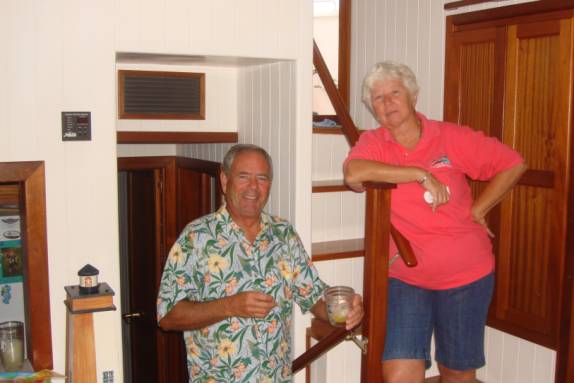 At 5:30pm, the entire group of RMHYC Rendezvous participants assembled for more cocktails and socializing.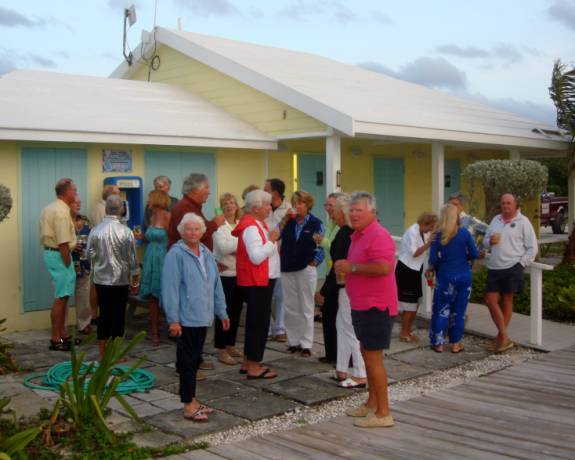 An hour later, we all gathered in the Sea Spray dining room for a buffet featuring many Bahamian favorites.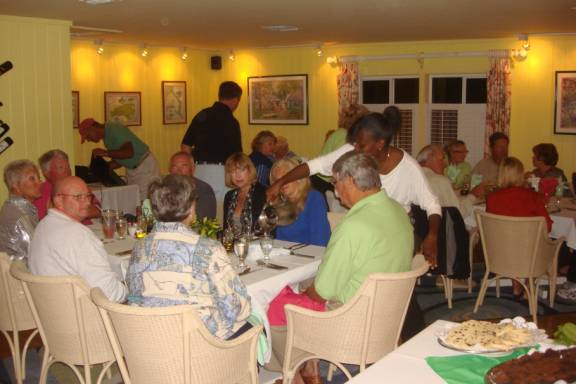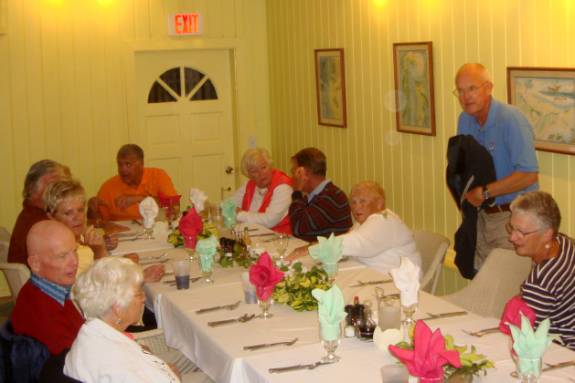 Our dedicated dockmaster, Chris Higgs, from Boat Harbour Marina, made a special trip over to deliver an important package to one of our members. His overall dedication and caring demeanor has earned him our sincere friendship and continual appreciation.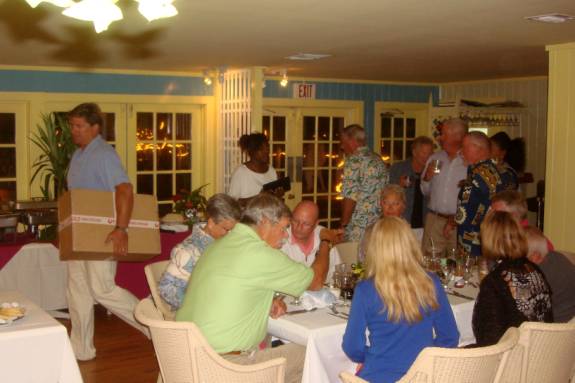 Rub-A-Dub-Dub, let's go get some Grub…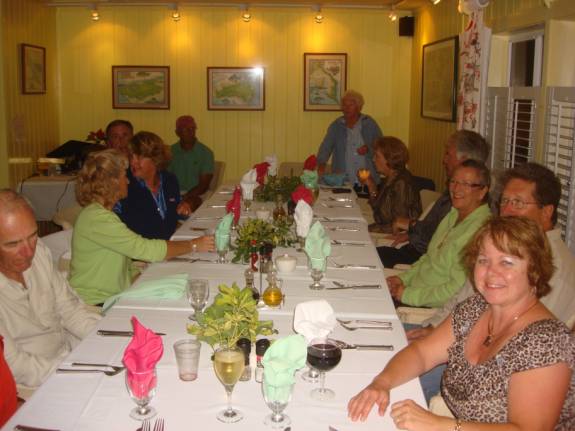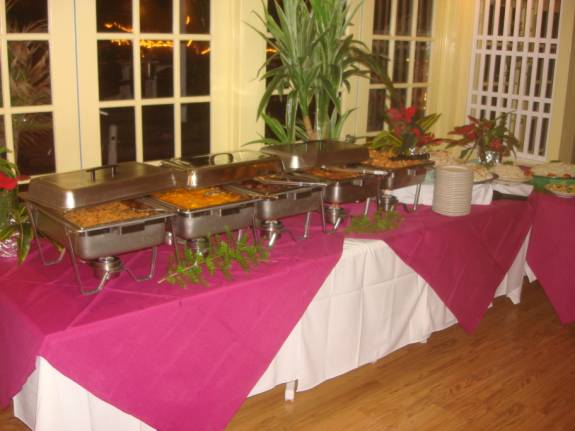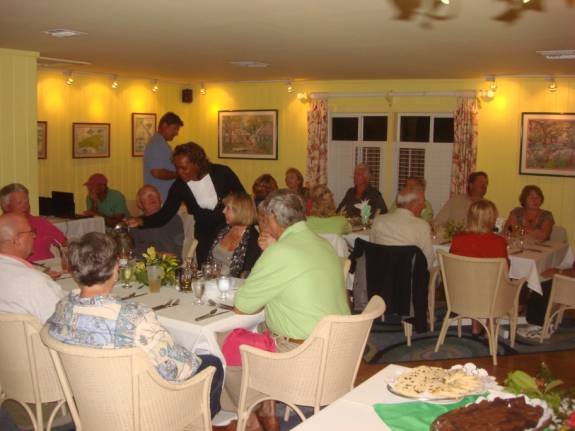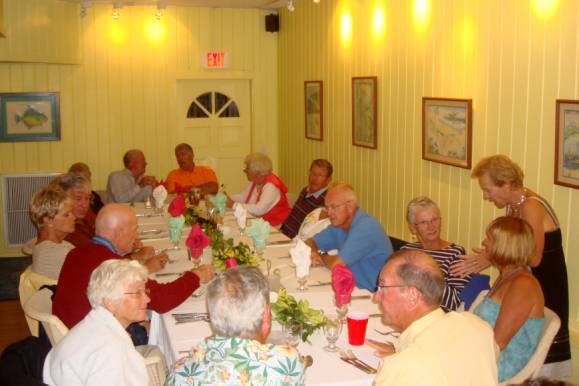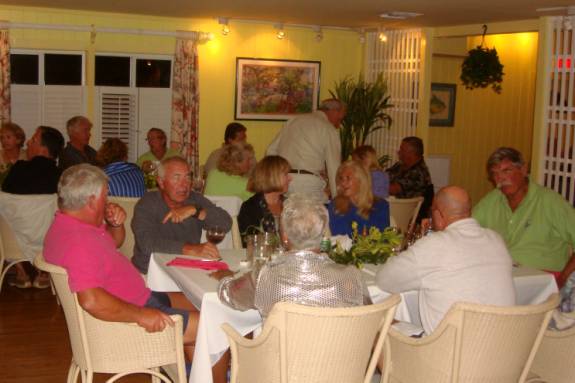 Sea Spray manager, Junior, went table to table to express his personal thanks to all of us for visiting and enjoying our stay.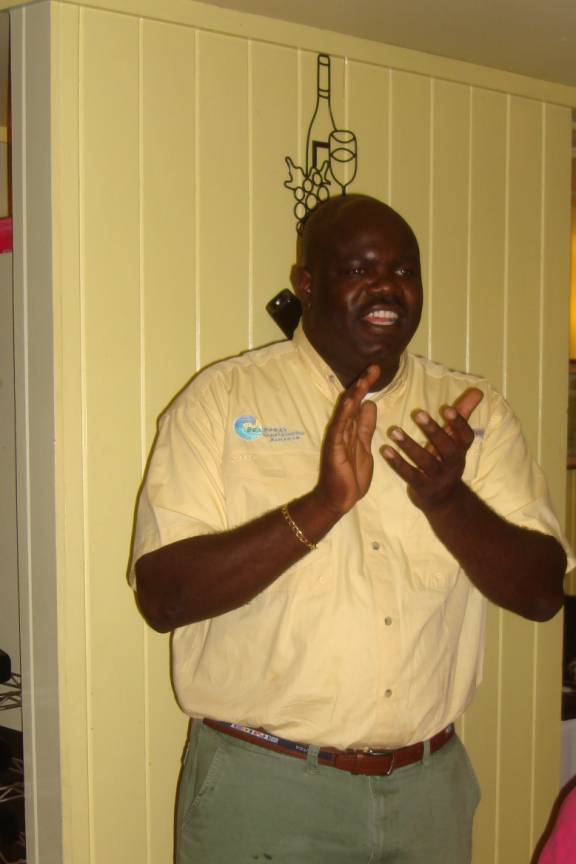 Some of the group headed back to their boats, while others dusted off their dancing shoes for some fancy stepping around the dockside bar.
Our masterful, RMHYC disk jockey, Ray (LAST DANCE), played tune after tune with the dancing beat.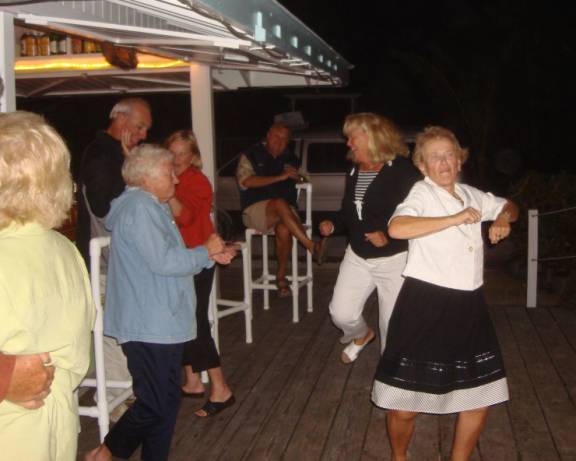 Our Past-Commodore, Dave Bluto, and his lovely wife, Barb, are two of the most wonderful folks that we have ever met. We truly love this couple. This is their 14th season in the Abaco Islands of the Bahamas. You ought to see these two smooth dancers in action, WOW!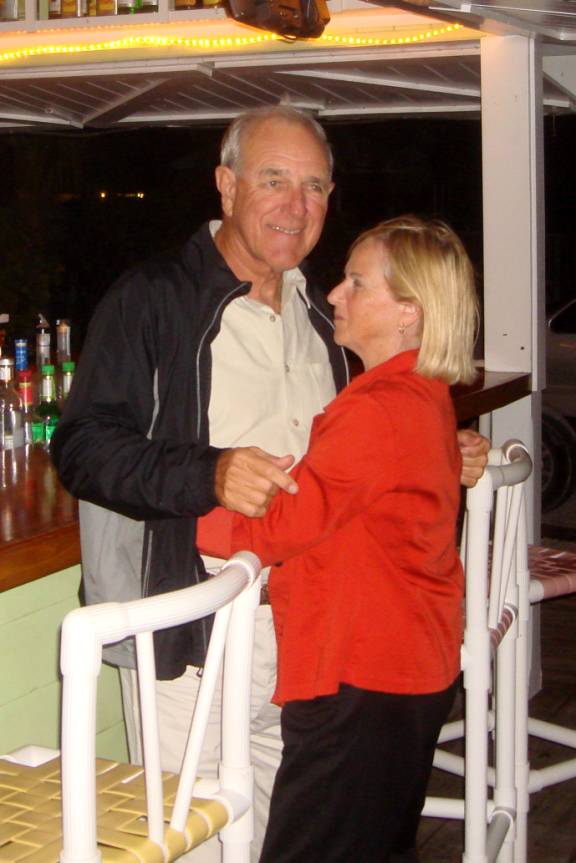 Judy was fortunate to be on Dave's dance card for this tune…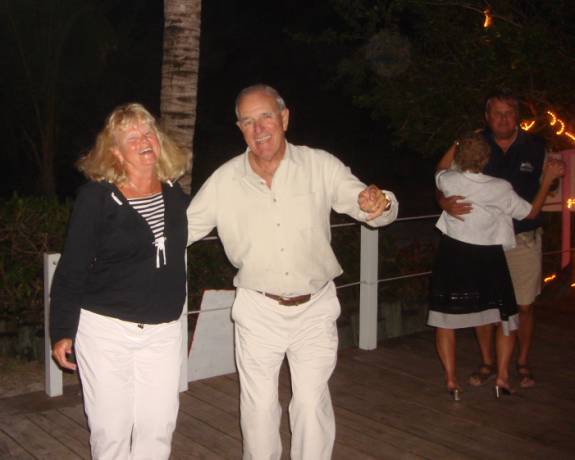 Kathy and Milt (LO KEE)…
Can anyone guess the name of the song that Jim is smiling about?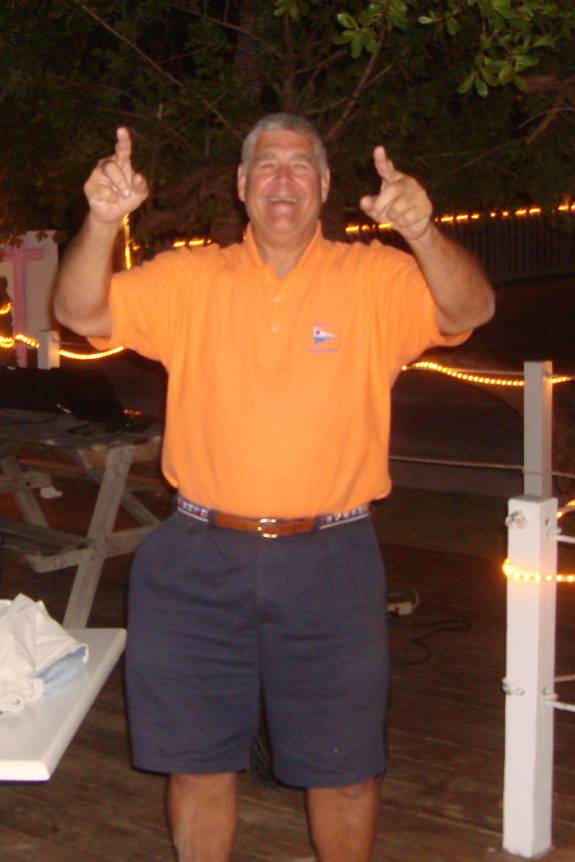 Judy (AMARSE), Kathy (LO KEE), Diane (DUETTO)…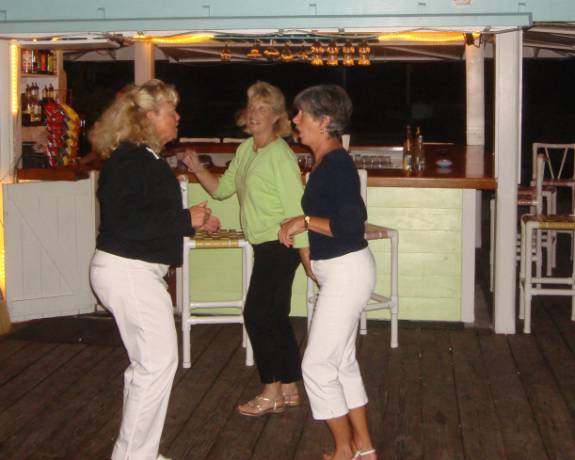 Another fun, fun, fun evening was enjoyed by those RMHYC members participating in this rendezvous event. The Royal Marsh Harbour Yacht Club just has to be the most wonderful group of folks in the whole, wide world.
02/05/10 FRIDAY WHITE SOUND, ELBOW CAY to BOAT HARBOUR
The breeze freshened significantly overnight and was building into this morning. As we arrived at the Abaco Inn for a wonderful buffet breakfast event, the Atlantic Ocean was wavy and wild.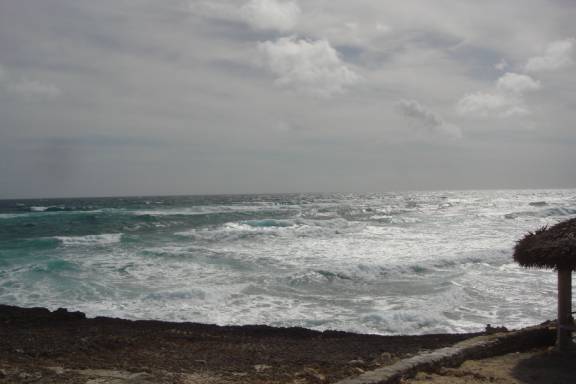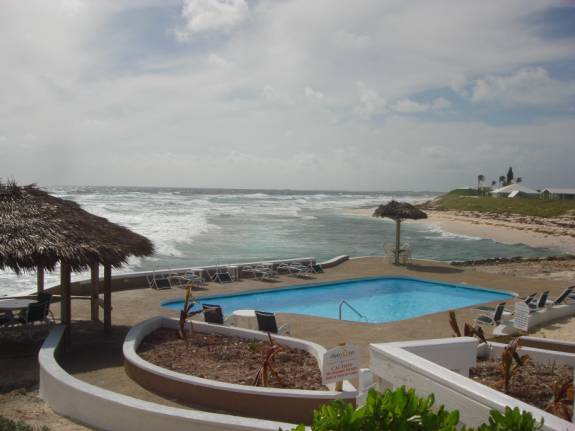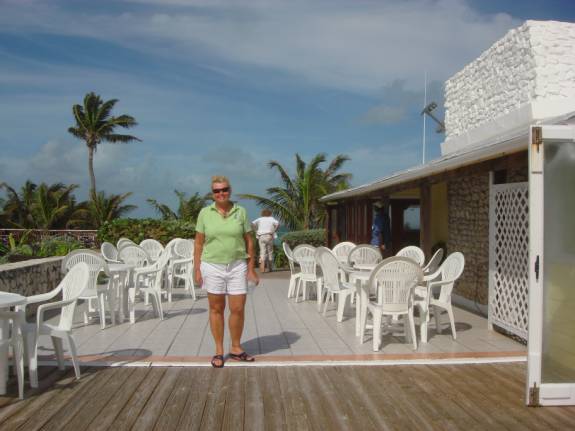 With lots of great choices, it was one of the nicest buffets we've had and my special omelet was exceptionally tasty. Kudos to the Abaco Inn…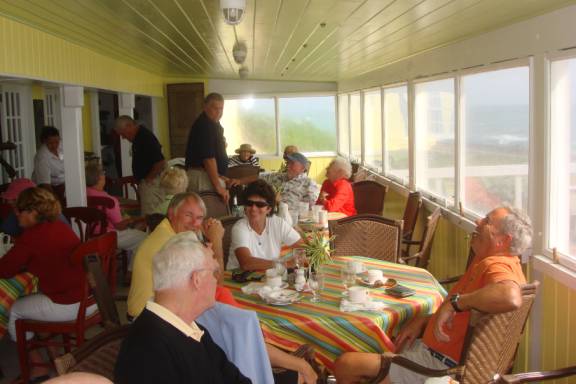 The view from the Abaco Inn toward the more sheltered Sea of Abaco…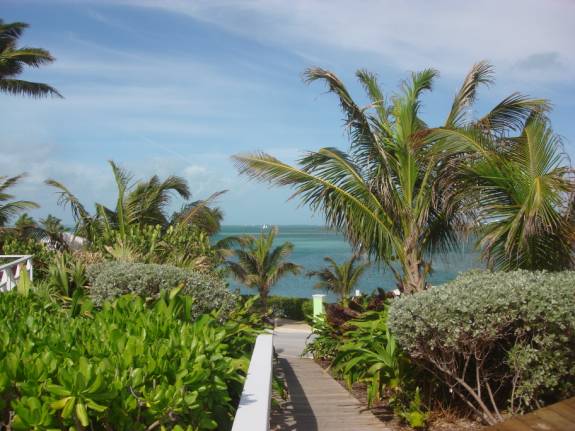 Several of the boaters chose to stay a bit longer here at Sea Spray. AMARSE decided to head back to Boat Harbour with the majority. We've had a wonderful time and have enjoyed every minute of our sharing with the RMHYC members at this rendezvous.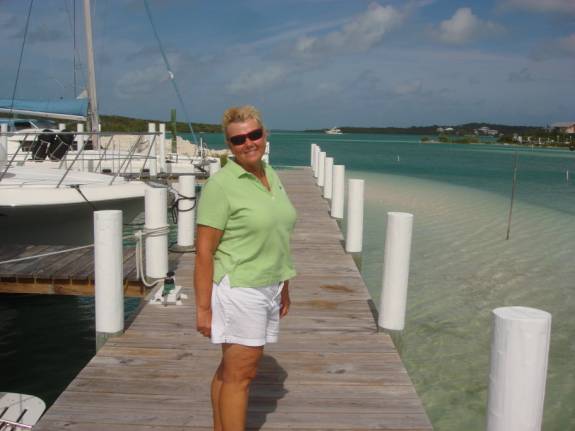 At high noon, we bucked the crosswinds out of our slip and headed out the White Sound channel toward the Sea of Abaco. We were back in our sheltered Boat Harbour slip early enough for Judy to join in the Friday art classes. Her watercolor paintings are looking mighty fine. The gal has lots of talents…
02/06/10 SATURDAY BOAT HARBOUR, MARSH HARBOUR
The breeze persisted again this morning. We are fortunate to be in this marina harbor where we are protected from the strongest winds.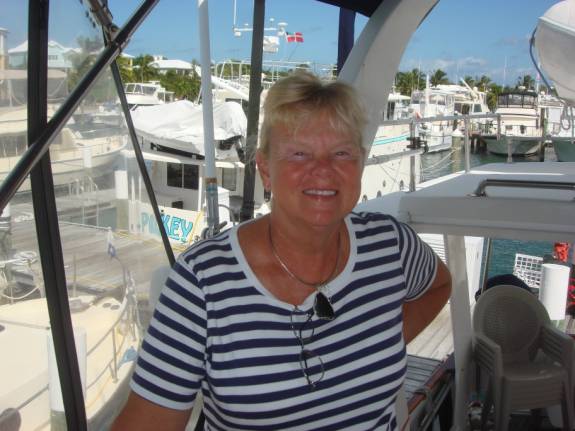 Judy (AMARSE) and Wink (JOHN HENRY) hosted a jewelry showing to give a preview of their handmade pieces that will be offered at the upcoming MAN-O-WAR CAY FAIR. Set up on POKEY, they greeted a steady stream of folks interested in their specialized artform.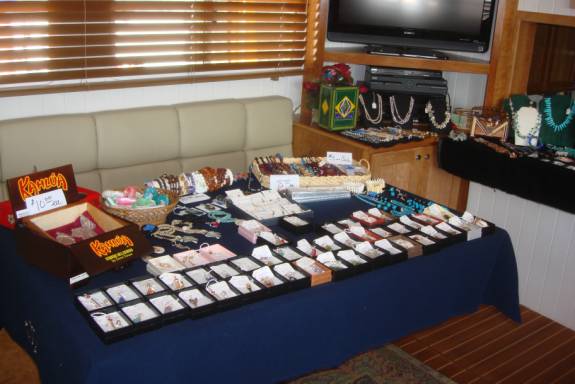 It is quite obvious that they have both been very busy creating many wonderful pieces.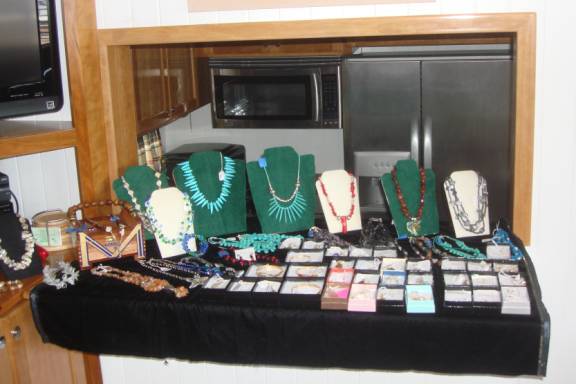 Sue G. (ODYSSEY) was to have joined them, however, they opted to extend their stay at Sea Spray for the weekend.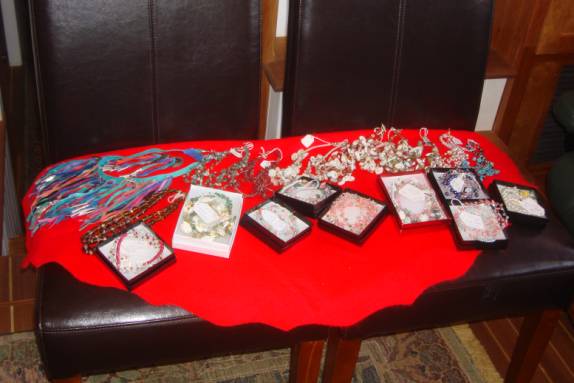 Judy and I were invited guests for dinner aboard S/V TOMLIN TOO. Our warm and wonderful friends, Tom and Linda, prepared a magnificent roasted chicken dinner that was delightful.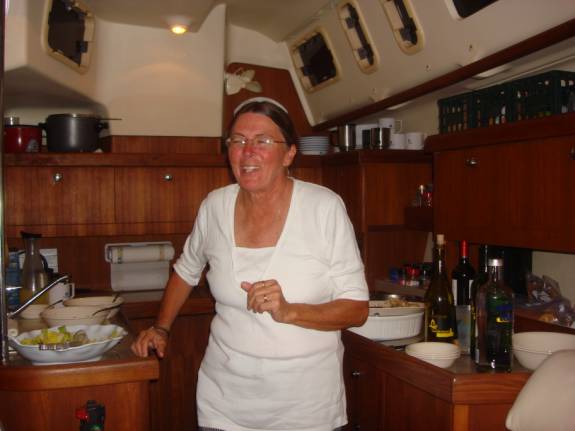 Steve and Roberta (INDEMNITY) shared the hospitality too…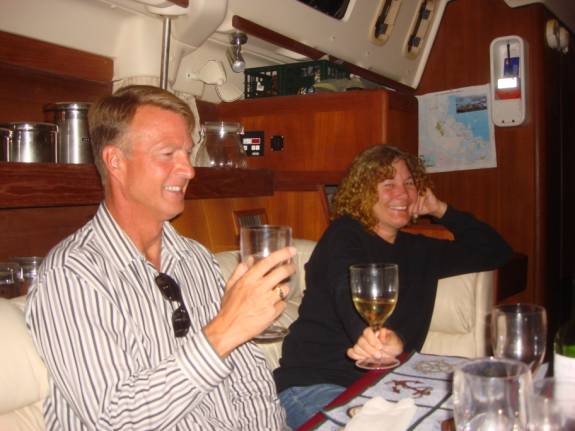 02/07/10 SUNDAY BOAT HARBOUR, ABACO, BAHAMAS
We had to wash down the boat to get off all the salt accumulation from the rendezvous trip. The winds from the Atlantic Ocean beach blows a constant, salty mist and fine sandy grit over all the boats in Sea Spray Marina. Fortunately, we don't have that same problem in Boat Harbour Marina.
One of my other chores today was a necessary but rather unpleasant one. The warm, high salt content water has a tendency to foul the head plumbing pipes and valves. To keep them clear and functioning properly, I take the mechanisms apart, lubricate, and scrape away the salty build up.
Tonight, most of the marina residents were focused on the Super Bowl game. Neither Judy nor I had much interest in sitting by the bar watching the TV. Fortunately, Dennis and Margo (PIZZAZZ) had much the same feelings. Along with Steve and Roberta (INDEMNITY), we joyfully accepted their gracious invitation to join them aboard PIZZAZZ for an evening with dinner. I made a medley of fresh carrots and cauliflower as the vegetable dish to share. Margo served a delicious waldorf salad, chicken in mushroom sauce, wild rice, and finished the great dinner with everyone's favorite, a moist chocolate cake.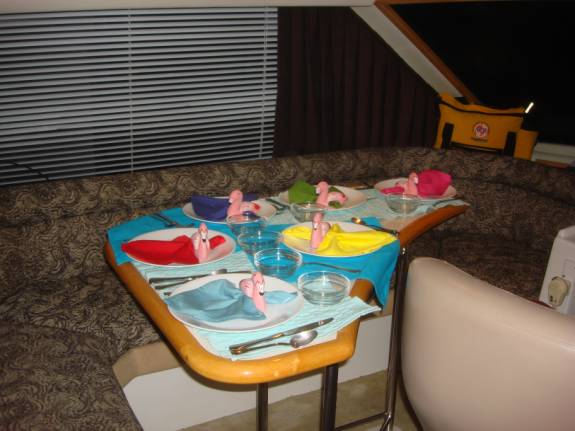 Margo is not only fabulous in the galley, she is also our RMHYC Vice Commodore. As if that wasn't enough, Margo is also a US Coast Guard approved vessel examiner that volunteers her expertise conducting safety inspections of our boats. She was kind enough to complete a thorough inspection of AMARSE recently, resulting in the successful issuance of the 2010 Inspection Form and window sticker.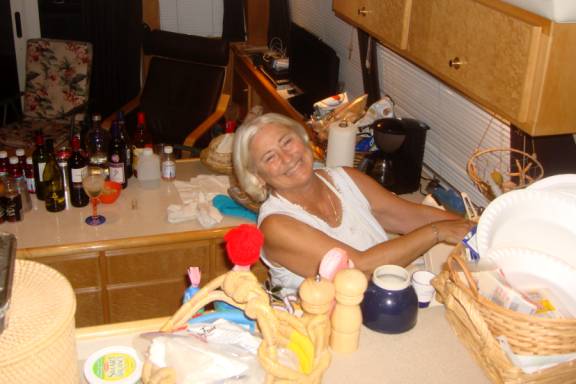 By the way, the New Orleans Saints defeated the Indianapolis Colts by a score of 31–17 in Super Bowl XLIV tonight at Sun Life Stadium in Miami Gardens, Florida.
During the wee hours after midnight, 4:14am to be exact, the last nighttime launch of a US Space Shuttle was launched from the Kennedy Space Center in Florida. Unfortunately, I overslept and missed the opportunity to catch a glimpse of the rocket illumination as it passed above the Bahamas.
02/08/10 MONDAY BOAT HARBOUR, ABACO, BAHAMAS
The aromas from the crock-pot filled the air as a large, bottom round chunk of beef simmered for most of the day. Judy joined the gals with the arts and crafts group, known as "Stitch N' Bitch", a cutesy name for bunch of very talented women. I took the time to check over the engine room, refill batteries with distilled water, check fluids in both engines, the generator, and the transmissions, as well as inspecting the coolant hoses and v-belt conditions.
At 5pm, Judy and I hopped on our bikes to join in the gathering of about 160 RMHYC members for a special appreciation party at Mangos Restaurant.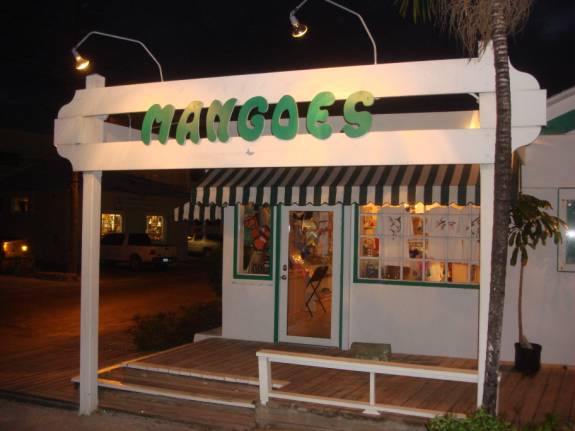 Organized by Judy and Bob (SHADE MOR), the manager of Mangos, Harold, offered our group special happy hour prices all night and set up a magnificent appetizer bar for everyone's enjoyment. It was very generous and greatly appreciated by all who partook.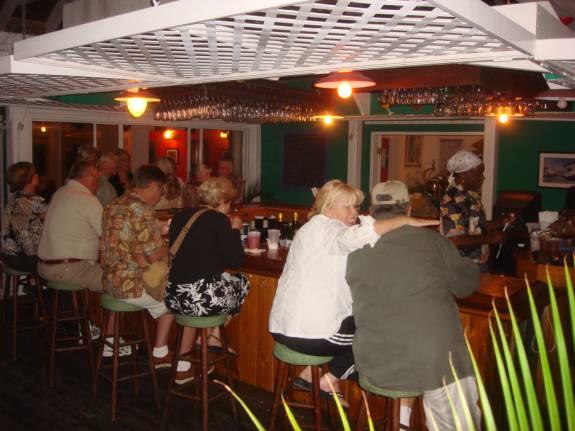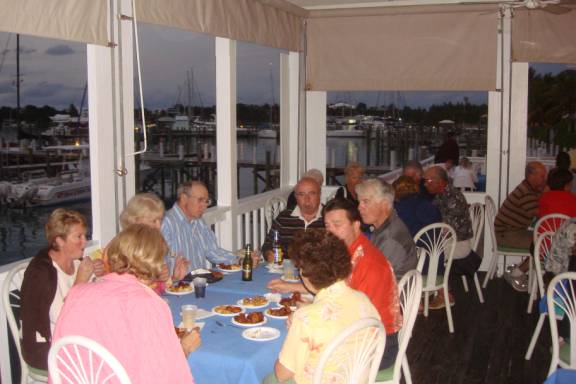 RMHYC Past Commodore, Robert Wilson, found a few delicious tidbits from the wide variety of choices.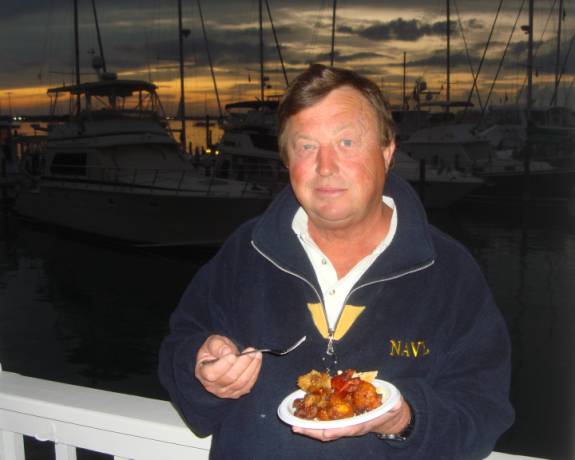 The harborside setting and great service brought smiles to everyone's faces…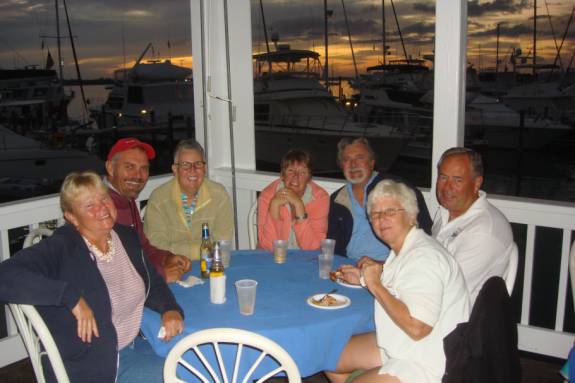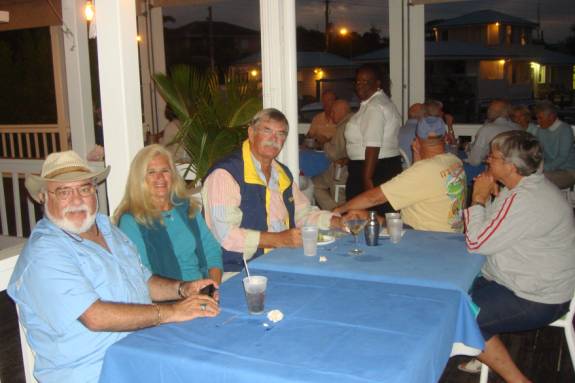 Bob and Sharon (CATCH ME IF U CAN)…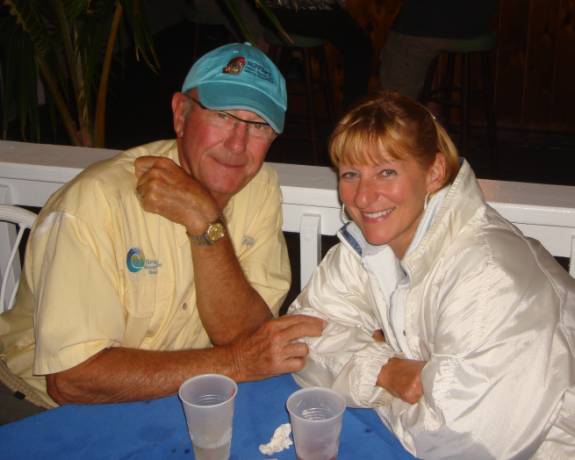 Commodore Jim and Kathy (FENNDERS) nibbled and sipped their drinks with David (NO TACT) on the outside deck area.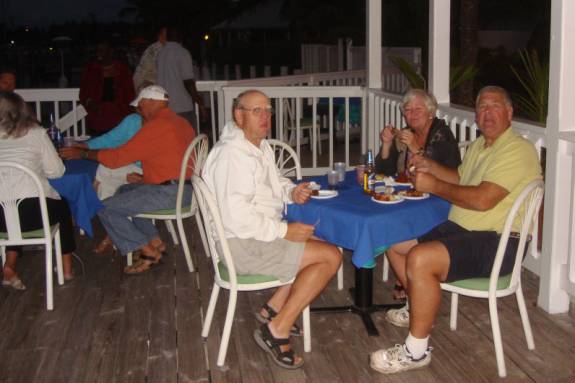 Joe and Eileen (ADAMAS DE MARIS)…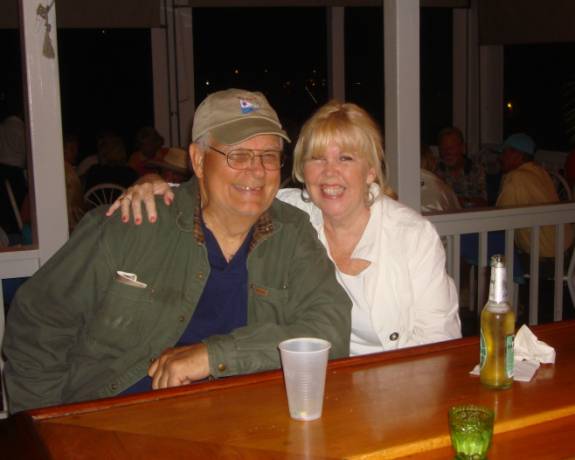 All of these barflies were heard speaking in Canadian… AY…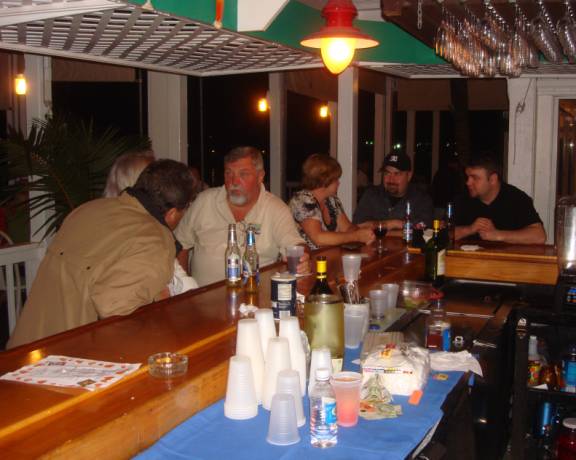 Our own RMHYC DJ Ray brought his collection of music to keep the dance floor packed with the "shakers, rattlers, and rollers…"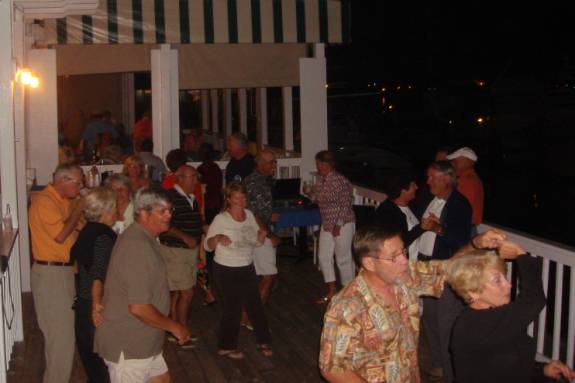 The friendly bartender was mighty busy with this thirsty, ravenous, and energetic crowd…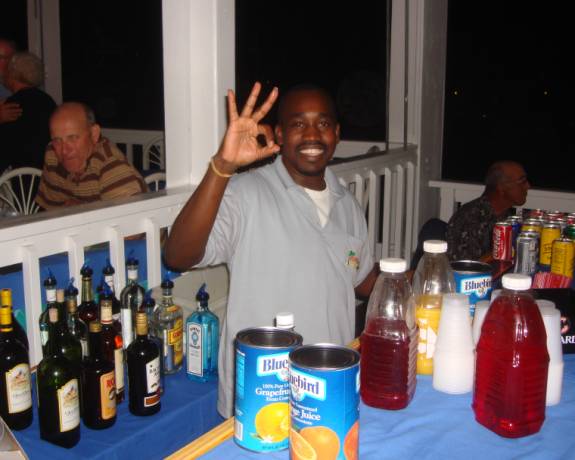 02/09/10 TUESDAY BOAT HARBOUR, ABACO, BAHAMAS
At 7:55am, the powerful engines of SEAFOOD SEARCHER churned us away from their Dock 5 slip. Judy and I were the guests of Jack and Sue Powers for a day of fishing.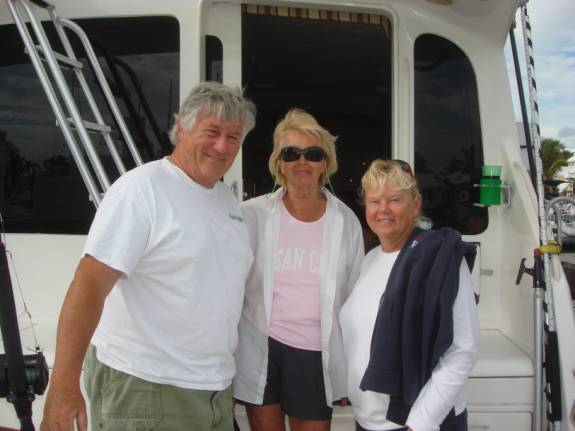 As we headed through the Sea of Abaco, planning for the southern passage leading to the Atlantic Ocean fishing grounds, the winds continued to freshen and the passage condition reports from the Cruisers Net made it clear that today would not be a productive day for bottom fishing. Disappointed, Jack turned SEAFOOD SEARCHER back toward the Boat Harbour Marina. Although we would have enjoyed learning from their fishing expertise, it was a very delightful opportunity to be with them aboard their fabulous and beautiful boat. Thanks, Jack and Sue…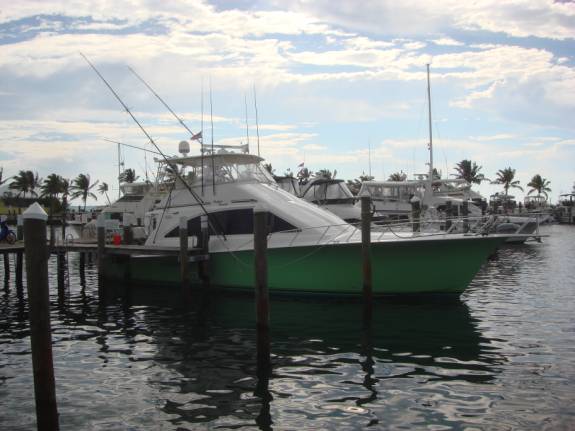 Judy's brother was expected to arrive this afternoon. Unfortunately, his airliner had a mechanical problem that caused enough delay that he couldn't make the connection to Marsh Harbour. The airline rearranged his flight schedule so that he could spend the night with friends, Hank and Gwen, in Orlando and continue to the Bahamas tomorrow. Dock 4 had a welcome cocktail party organized for his arrival. Since he wouldn't be here, the group carried on in the gallant tradition of "the party must go on".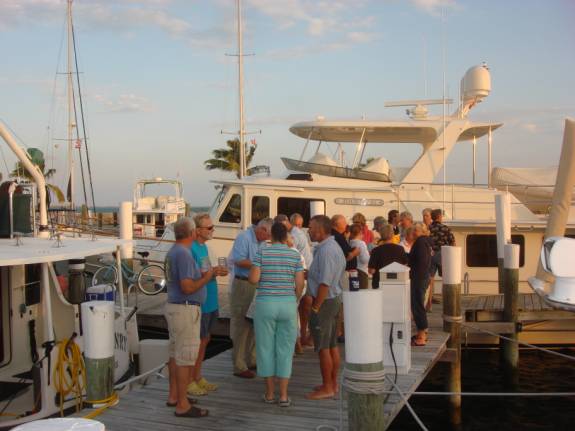 Joe and Eileen (ADAMAS DE MARIS) joined us from Dock 3…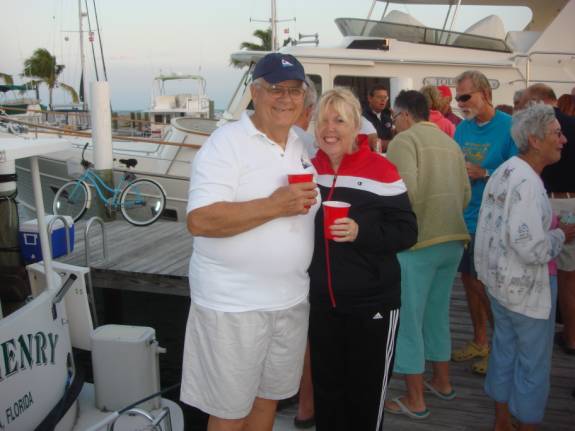 02/12/10 WEDNESDAY BOAT HARBOUR, ABACO, BAHAMAS
It seems as though there is always some excitement going on around the docks. This morning, one of the boaters was lowering his dinghy by crane from the upper deck. The cable attachment failed and the dinghy fell full distance down into the water. Helpful neighbor boaters worked fast to get the situation stabilized. Fortunately, no one was injured. A couple of the knowledgeable boaters spent much of the day getting the dunked motor working again. It is so great to have all these wonderful friends that are ready, willing, and able to help in every way.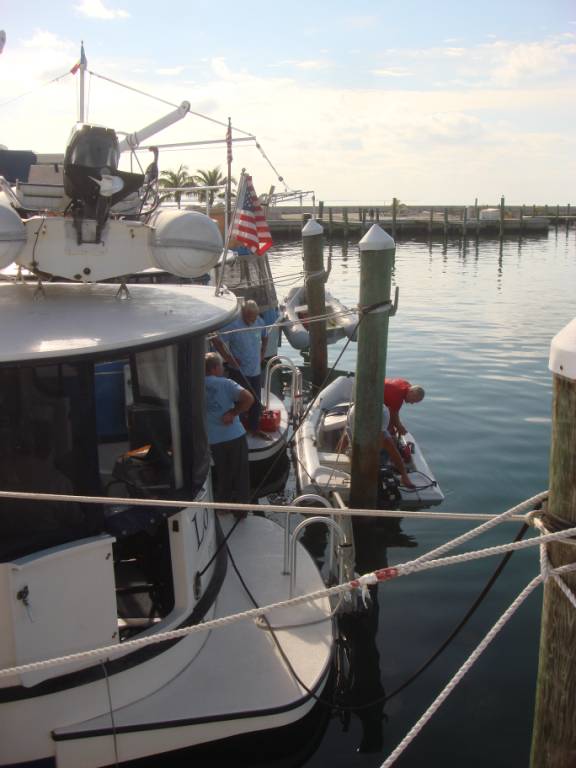 For months, these two dogs have been roaming uncontained around the marina. Their presence has been quite controversial. Several folks are attempting to find them a permanent home where they might be better cared for.
As always, the morning water aerobics group is very active. This year, the Boat Harbour guests are thrilled that the pool is now heated to a comfortable temperature.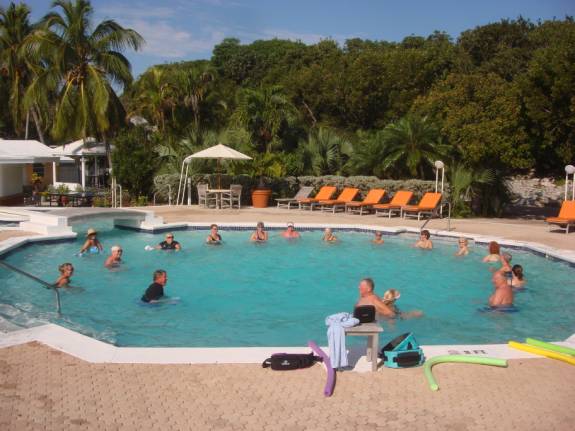 Judy's brother, Dean, arrived at 1:20pm. Although he will only have a few days here, we are looking forward to a fun time. Although a little cool for us, Dean is very happy to be out of the extreme cold and snowfall in Kansas.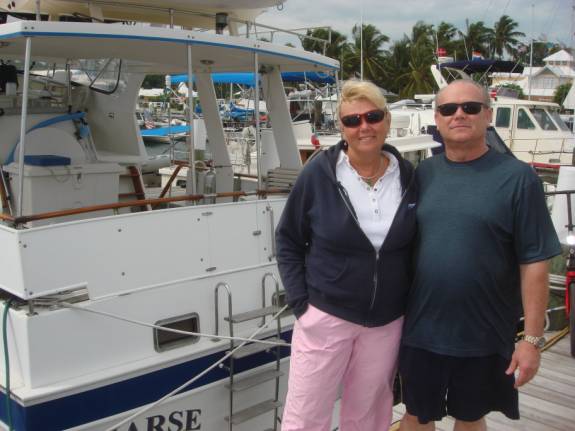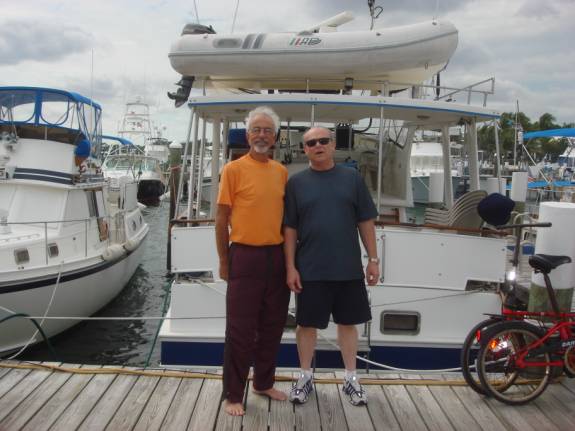 Dean, Judy, and Fred (AMARSE)…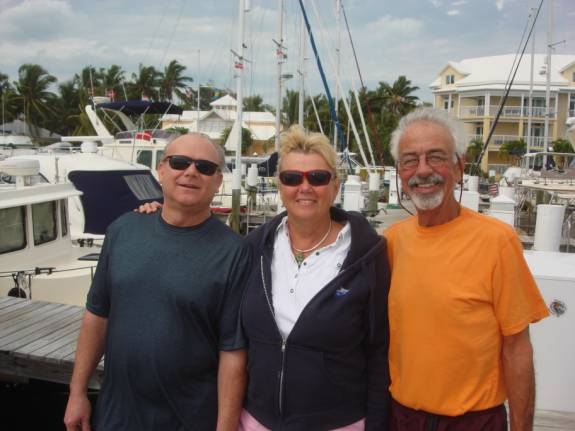 It must be a welcome change to go from blizzard white snow to tropical green palm trees…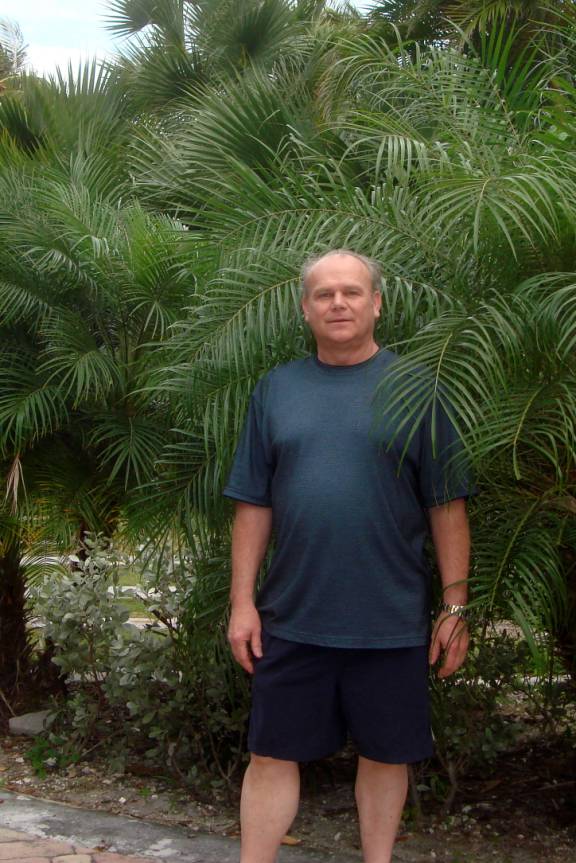 02/11/10 THURSDAY BOAT HARBOUR, ABACO, BAHAMAS
HAPPY BIRTHDAY to LESLIE FOLKERTH (HAPPY CLAMZ)
The winds were getting stronger and the forecast was not positive for cruising. The decision was made to enjoy most of our time around the resort. Dean joined the walking group with Judy. When you're with family, the real enjoyment comes from just being together, relaxing, and talking about everything und
er the sun.
02/13/10 SATURDAY ANNUAL MAN-O-WAR CAY FAIR
It was very windy and the temperature hovered near 60 degrees F. Our plans to take AMARSE to the Annual Man-O-War Cay Fair had been altered and our marina reservation there cancelled. That had been a very good decision since winds were clocked as high as 63 mph and we heard that several boats had pulled moorings loose in that harbor. Sue and Paul (ODYSSEY) had come over to the island after the Sea Spray Rendezvous and were secure in the lea at a friend's protected dock and they recorded over 40 knot winds even there. At least the rain had ceased and the important fair could be held.
Judy, Wink, and Wilma loaded all their jewelry items into a 6:45am taxi to head for the Albury Ferry landing and workers boat that would leave just after 7am.
Frank (SEA SMOKE) had made prior arrangements for a special ferryboat to depart directly from Boat Harbour Marina. Dean and I, along with about 50 RMHYC members, boarded and paid our $15/pp reduced RT fare.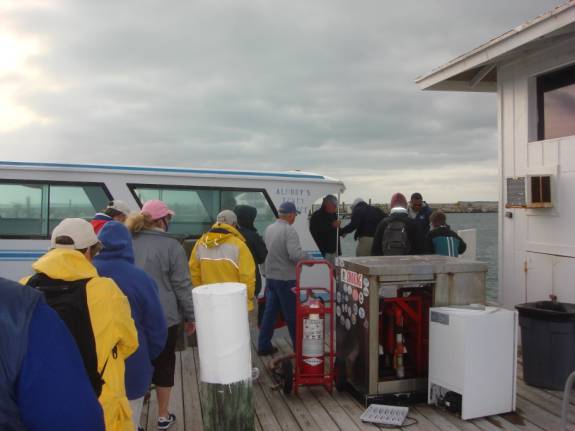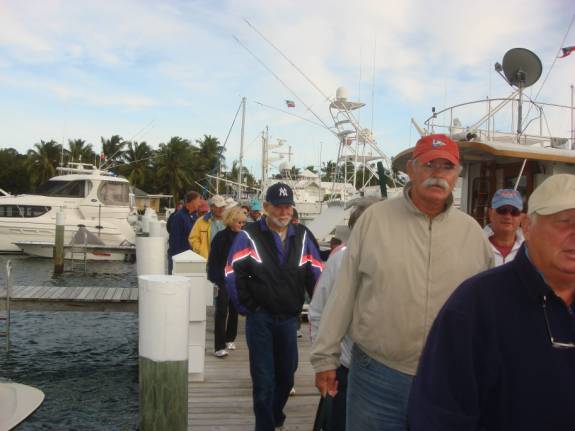 Everyone was bundled up in foul weather gear to stave off the wind and possible wet weather. The seas were very rough and the bow spray doused the vessel windows and up over the roof. The stout ferryboats do very well at handling these challenging conditions.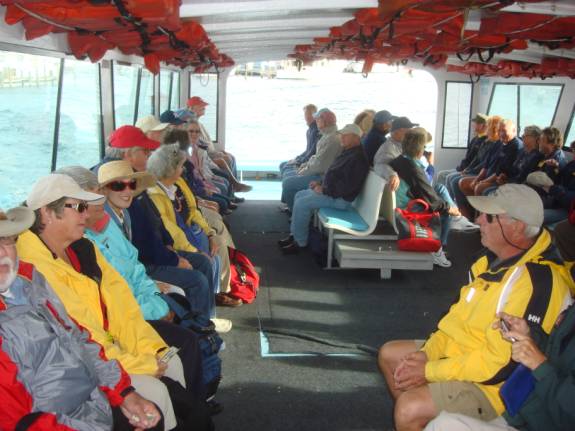 Judy, Wink, and Sue G. were all set up and interested shoppers were carefully perusing all of their artful creations. The fair is a major fundraiser for the school on Man-O-War Cay. Each of the sellers receives special vendor authorization in return for a percentage of sales.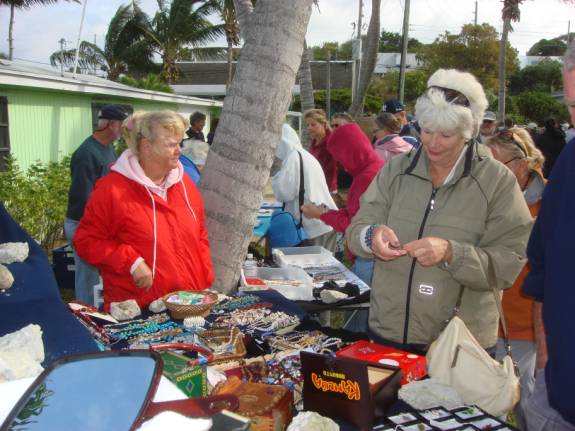 The fair is one of the most popular events on the island. Boats arrive from all the neighboring islands carrying hoards of folks. Unfortunately, the attendance for this year was down significantly due to the extremely windy and somewhat inclement weather conditions.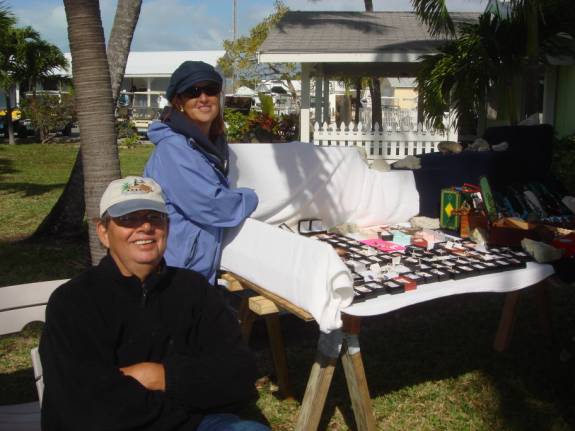 Wink and Wilma (JOHN HENRY) braved the windy, cool elements to offer his unique style of jewelry. Wink has artfully mastered several techniques and works primarily with colorful sea-glass embellished with solid gold and silver. As you might imagine, his workmanship drew lots of interest by the fashion conscious visitors.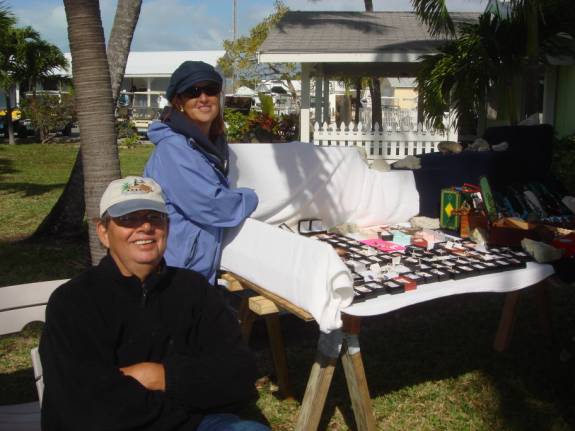 Although the sun came out intermittently, the blustery winds were quite chilling outside. Dean and I took shelter to enjoy a nice lunch at the Dock N' Dine waterfront restaurant. Their Grouper fish is deliciously prepared and ranks as the best I've ever had.
The fair hosts a large variety of food vendor stands, artists, bake sales, clothing, souvenirs, and an endless array of flea market items. With the unfortunate weather conditions, numerous vendors cancelled, leaving some empty tables. Combined with lower buyer attendance, we suspect that the charitable proceeds were down significantly this year.
Paul and Sue are planning to stay on the island for several more days. Wink and Wilma opted to take the later ferry. Judy, Dean, and I boarded the 1:30pm ferryboat going directly back to Boat Harbour Marina. For dinner, I prepared beautiful, pink slabs of seared Ahi Tuna, served with sides of jumbo carrots and seasoned rice. Yummy, yummy, yummy…
CONTINUING UPDATES ARE IN PROGRESS…
WATCH FOR THEM, COMING SOON…
POST SCRIPT:
We sincerely hope that you will review the previous years of compilations to give context to the current editions. Please let us know if you have any special suggestions and thoughts.
REMEMBER: The website is now fully active and you can visit it at any time. You can also review any of the previous logs from the years 2006, 2007, or 2008 and learn more about the crew and their many adventures. Enjoy.
ATTENTION: SPECIAL NOTE:
You may contact us via email anytime.
Thanks for allowing us to share our life and adventures with you.
Lotsa Luv,
Fred Reed and Judy Law
AMARSE
MT40
"AMARSE" is pronounced "AM-ARE-SAY".
Our website is: www.amarse.net .