UPDATE#02 01/16 thru 01/31
Howdy Everybody,
The adventures of 2006, 2007, 2008, 2009, and UPDATES thru 01/15/2010 have been published on the website. We continue with the latest edition.
UPDATE 2010 #02 01/16/10 thru 01/31/10
At last update, we were enjoying the Abaco Beach Resort and Boat Harbour Marina, located in beautiful Marsh Harbour, Abacos. Welcome to the Bahamas…
01/16/10 SATURDAY MARSH HARBOUR, ABACOS, BAHAMAS
It was another warm, wonderful day here in the Abacos. HAPPY CLAMZ has hosted family this week. Mark and Janice (left) have thoroughly enjoyed their reprieve from the frosty cold of Ohio. Somehow, I can't imagine going back to all that wintry mess. Doug and Leslie (right) have enjoyed his brother and sister-in-law's visit.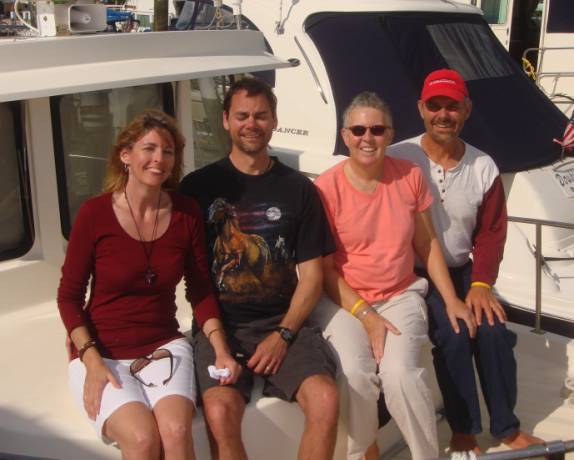 Judy did some sunning at the pool this afternoon while I fell asleep in my sundeck hammock to the music of Secret Garden.
One of our favorite couples will be leaving the fold tomorrow for points south. Paul and Mary (S/V PROPINQUITY) seek additional adventures in the southern Bahamas. We couldn't let them get away without a "farewell" get-together on Dock 4.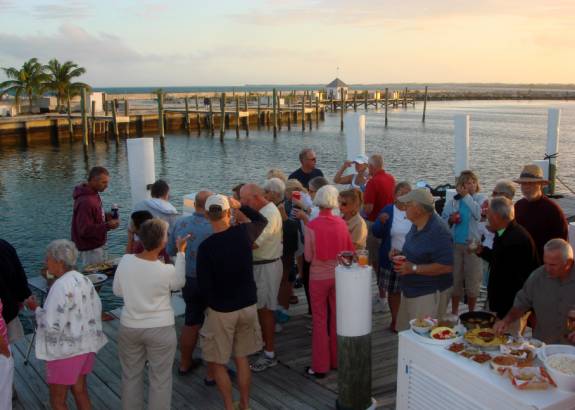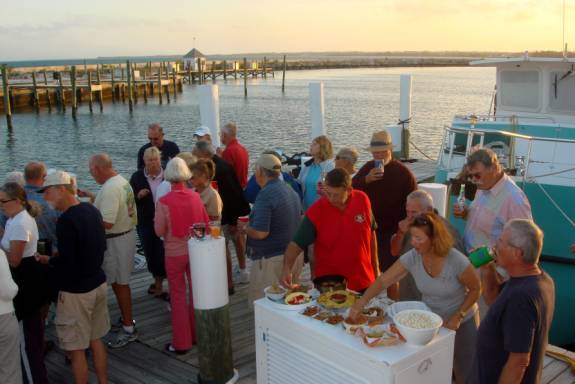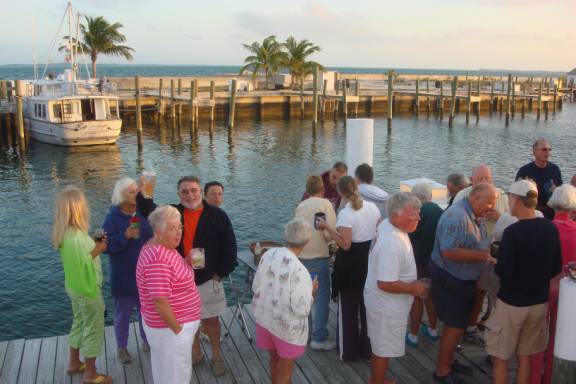 Bette and David (TAR HEEL) were dressed to the "nines" for the dinner fundraiser benefiting ECC (Every Child Counts). In the immortal words of Fernando Lamas, "You LoooK Marvelous!"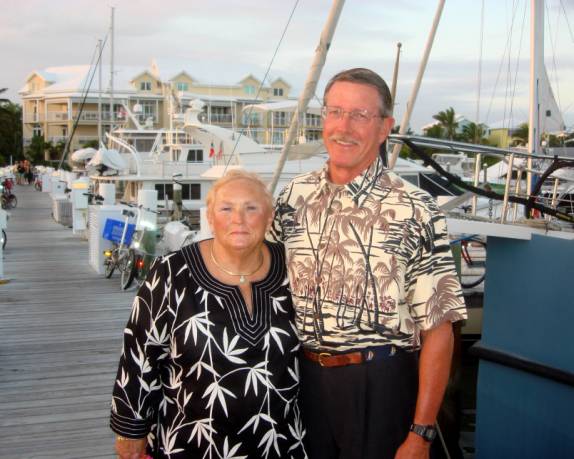 To signal and honor the sunset, Carl (PUFFIN) sounded the traditional Conch Horn in a long-winded, clear and mellow tone.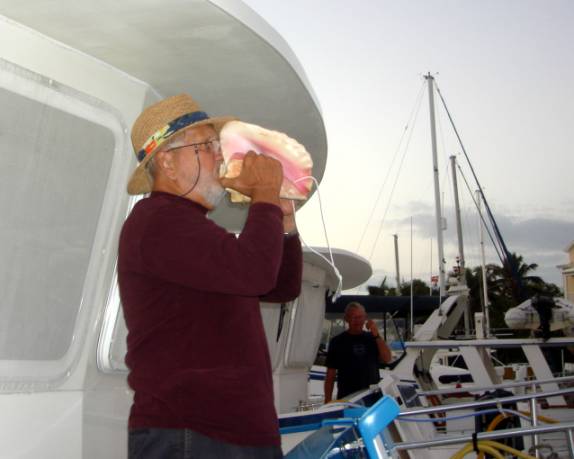 Paul and Mary (PROPINQUITY) are wonderful and valued friends. They will be greatly missed and we all wish them the very best of everything.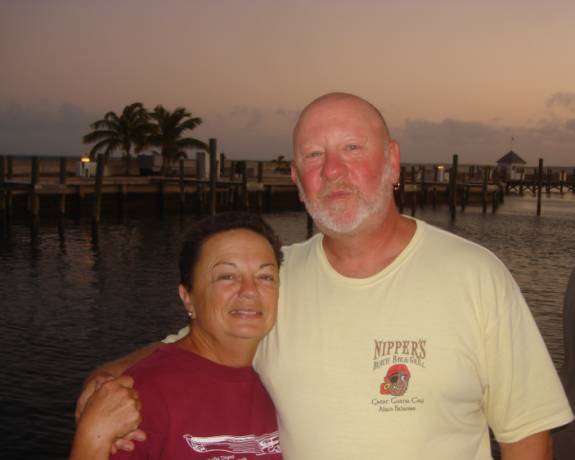 01/17/10 SUNDAY MARSH HARBOUR, ABACOS, BAHAMAS
I was busy with miscellaneous deck chores on AMARSE. Our Dock #3 neighbor, Brian (ROVING SEAS), saved me a lot of steps manning the valves on the pedestal.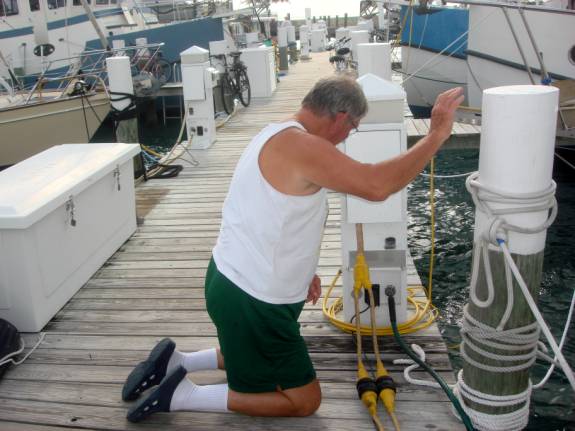 01/18/10 MONDAY
MARTIN LUTHER KING HOLIDAY in USA
HAPPY BIRTHDAY to CAROLYN WILSON
About noontime, PROPINQUITY hauled in all fenders and lines to make her final departure from Boat Harbour.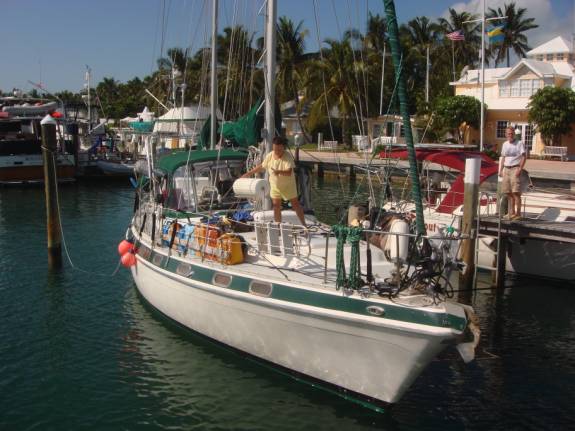 Quite a crowd was on hand to wave goodbye and to let them know that we all love them.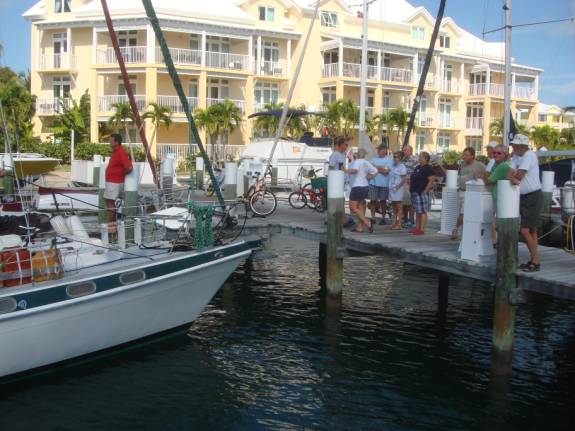 Hopefully, we'll see them again next winter season, if not before.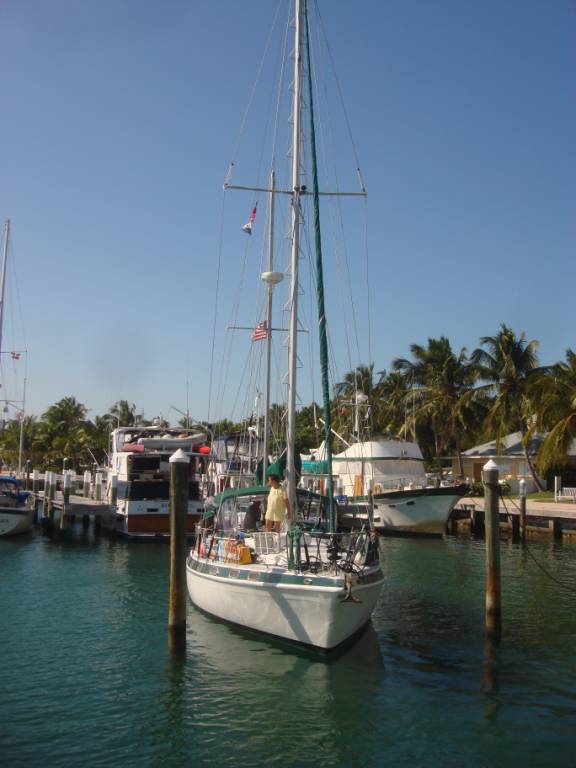 For Carolyn Wilson's birthday, we asked them to join us for dinner aboard AMARSE. I prepared my favorite Spaghetti Bolognese and Judy made Chocolate Fudge Brownies with a decadent sauce and whipped cream topping. Carolyn's piece had a candle with which to make her special, birthday wish.
Carolyn, Judy, and Robert…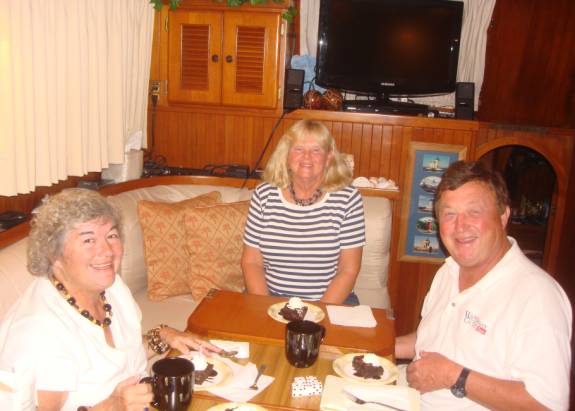 01/19/10 TUESDAY BOAT HARBOUR to TREASURE CAY
Everything about the morning weather beckoned a flurry of boating activity. AMARSE turned propellers to head out at 7:40am. ADAMAS DE MARIS was only 15 minutes behind. Crossing the Sea of Abaco was like scoring a groove through glass. With our engines cooled to a very slow cruise, our sailboat partner would be able to catch up.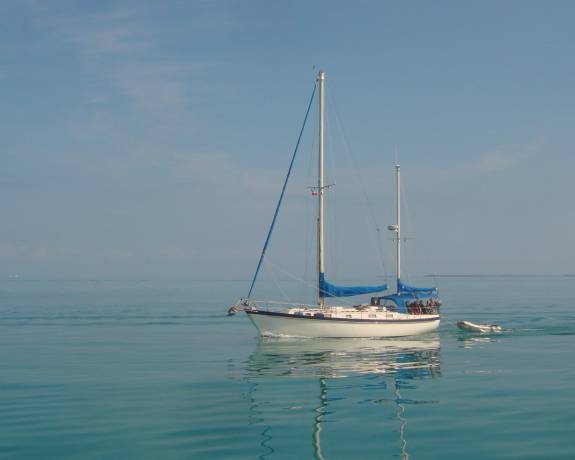 Eileen snapped this picture of AMARSE as we pulled out ahead with a blast of higher speed.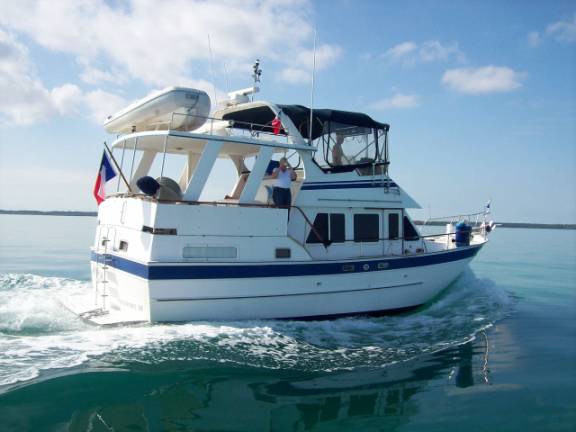 Our wake gave them a chance to feel some sense of motion…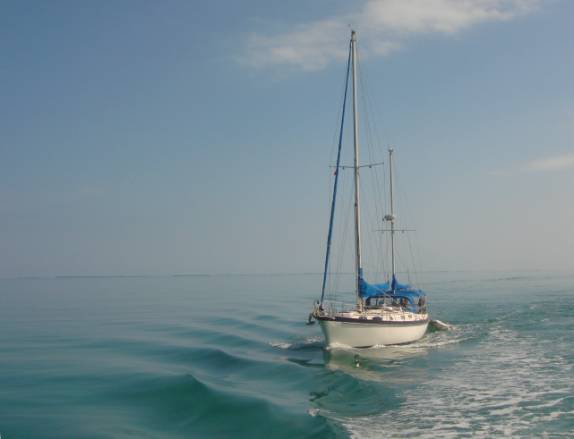 By 11:30am, our relaxing cruise located us in a perfectly tranquil anchorage tucked into Treasure Cay, Abacos.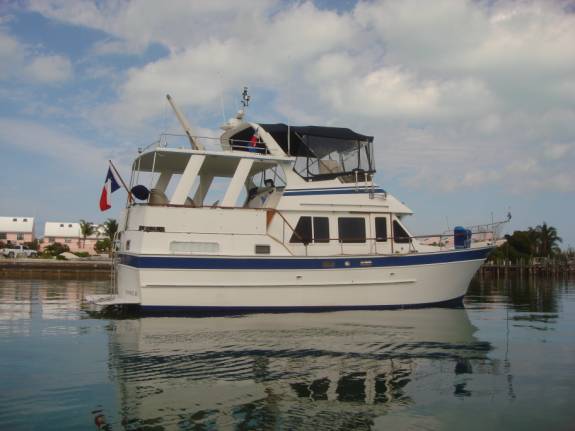 ADAMAS DE MARIS set her CQR anchor just off our bow…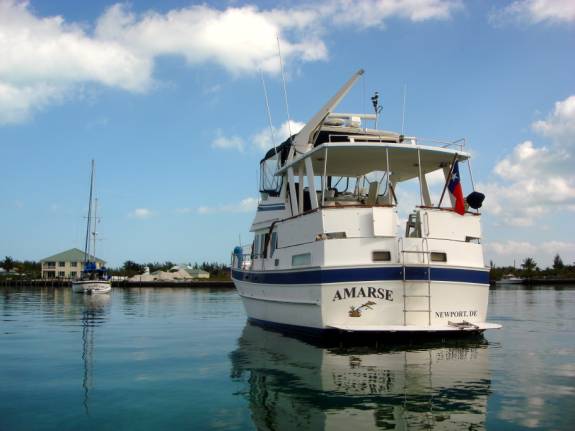 The next order of activities required launching the dinghies…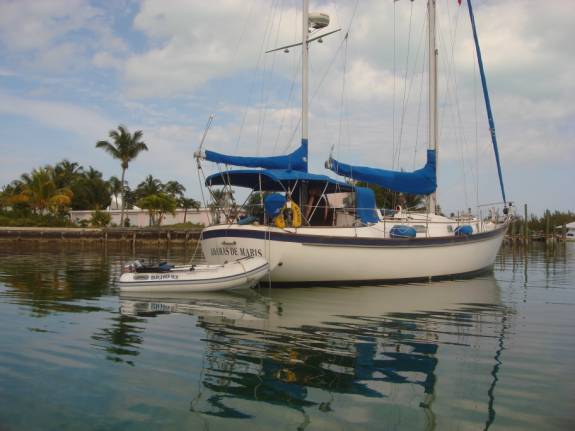 Joe and Eileen…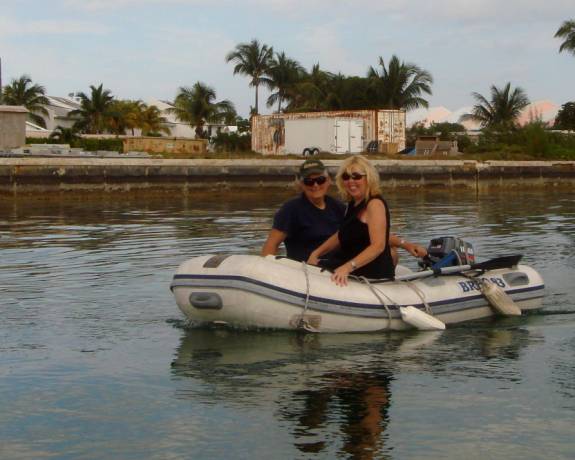 Fred and Judy…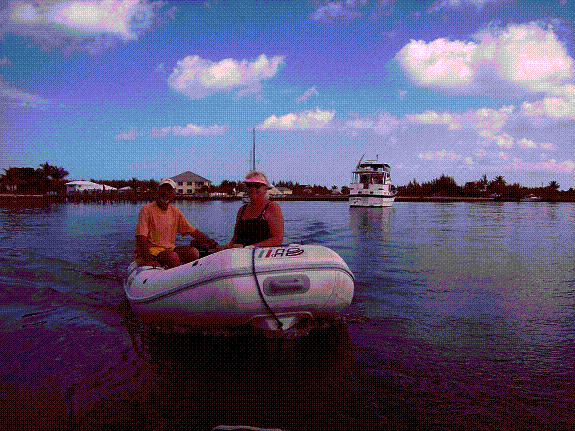 Fred…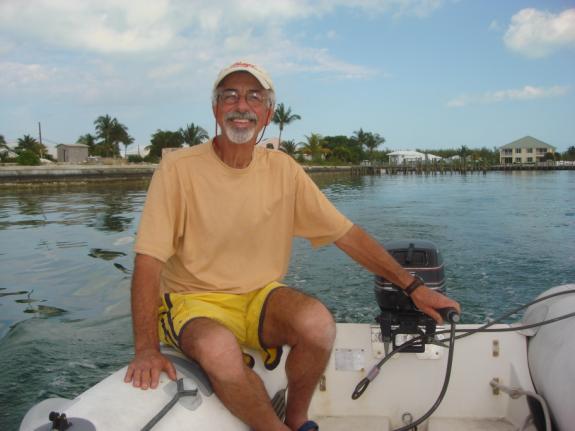 The sandy shore of Treasure Cay is classed as, "One of the 10 best beaches in the world". It is also called, "The most beautiful beach in the Caribbean". In my eyes, I behold Judy as, "The loveliest lass in all the land".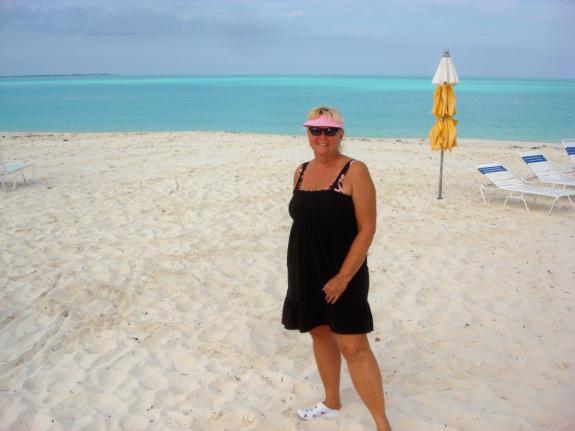 Joe and Eileen marveled at the silky sand and teal waters. This is what the beach life is all about…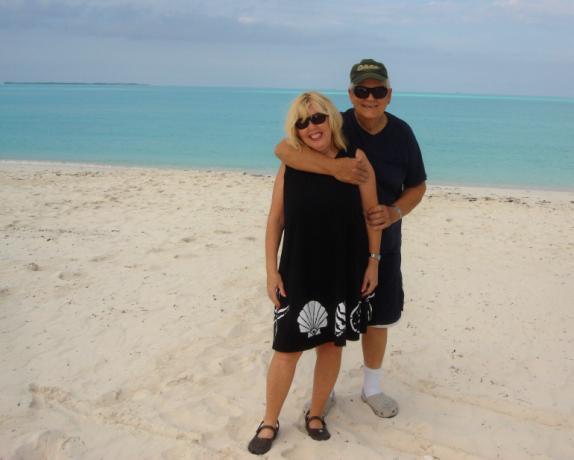 Judy and Eileen walked around the arc of sandy beach and out to the southernmost point.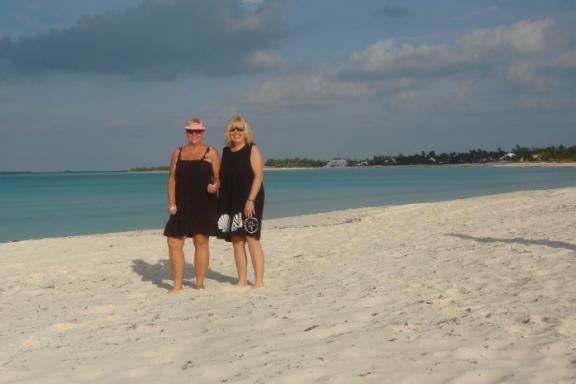 I relaxed and chatted with Joe while soaking up the sunrays.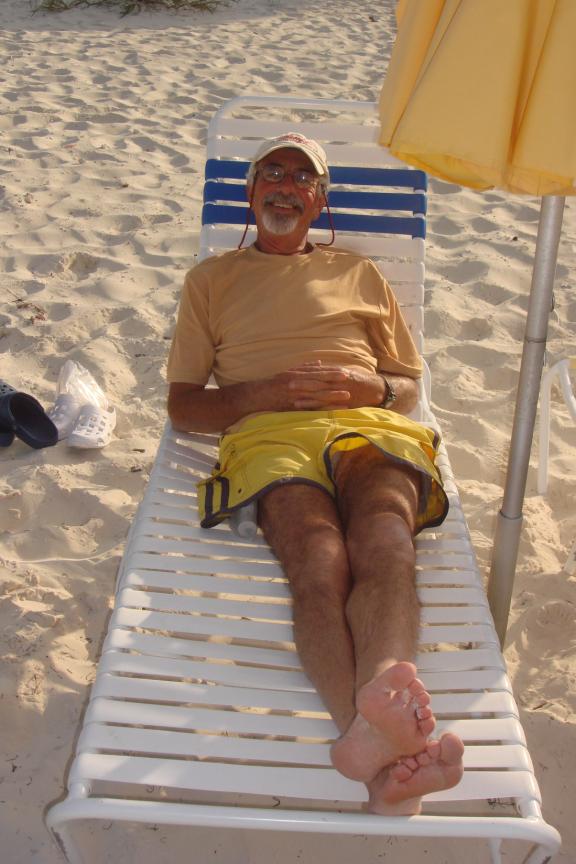 The "paparazzi" posted this sneak photo for this celebrity publication. The feature article was entitled, "The Beach Queen, Eileen, on the Treasure Cay Scene".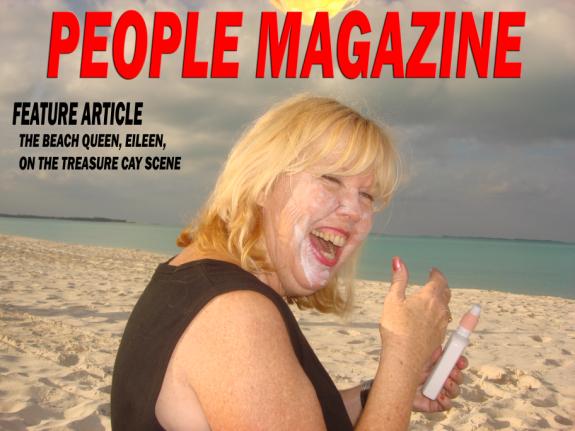 A climb down the wooden ladders at the dinghy dock and the outboards were ready to be started.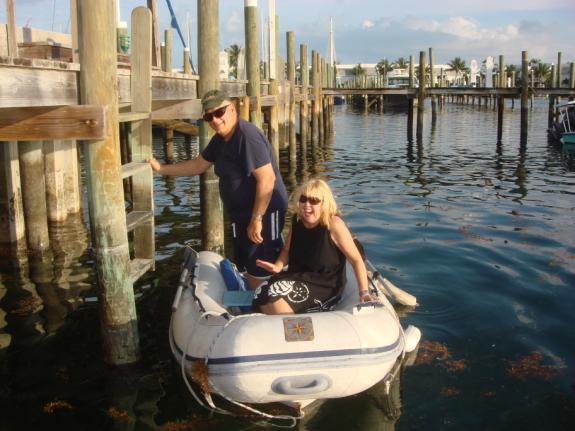 The boats' directions shifted slightly as they played in the gentle breeze and tiny current.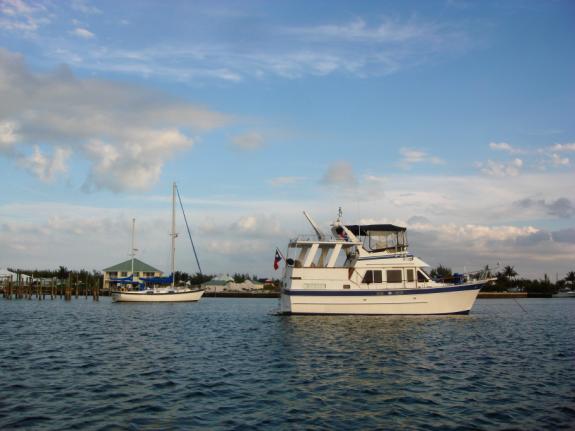 In the clear water, it was easy to check how well the anchors had set.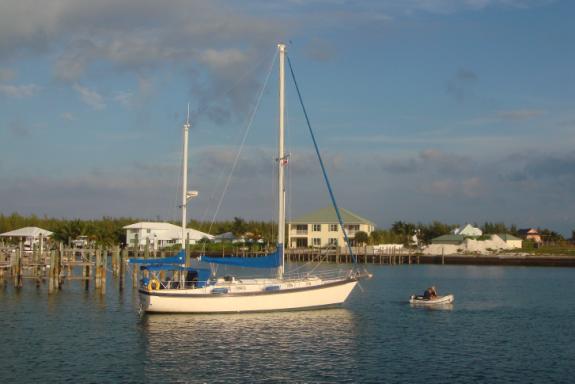 I had bought some warm, fresh Bahamian bread at the bakery on shore. After cool cocktails, appetizers, and tranquil jazz music, I served the pasta entrée for four on the sundeck of AMARSE. The bursting color of the sky was like some sort of surreal competition in nature to see if the day or the sunset would be the more spectacular. Don't ask me to be the deciding judge…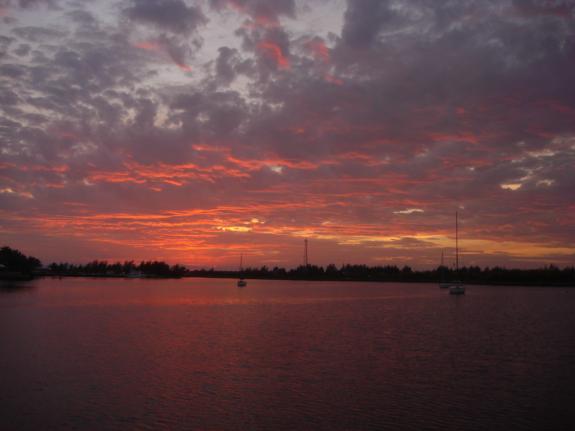 01/20/10 WEDNESDAY TREASURE CAY, ABACOS, BAHAMAS
The perfectly still, reflective water in the Treasure Cay anchorage emphasized the tranquility of the early morning.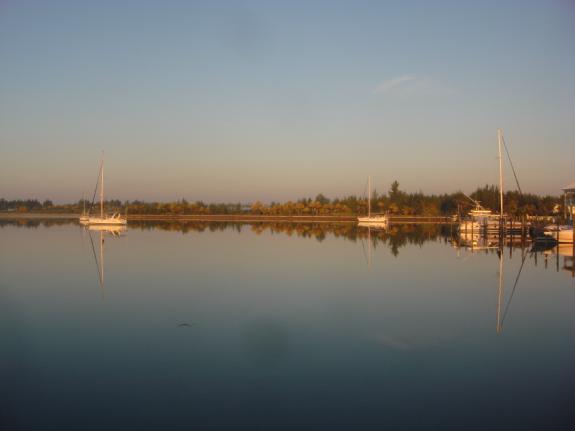 The dinghies were impressed to glide us through the several, cottage-lined canals around the cay.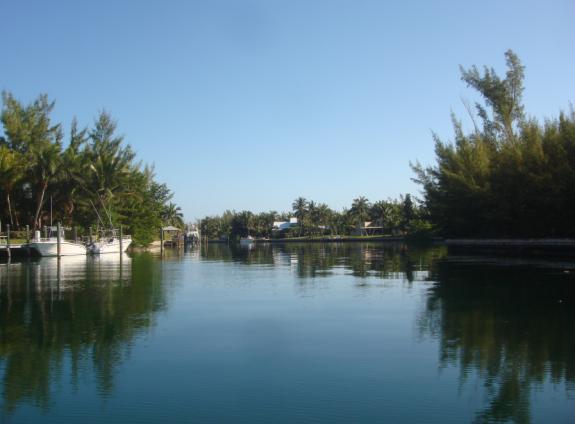 A fisherman's nets were artistically looped to dry out under the drooping palms.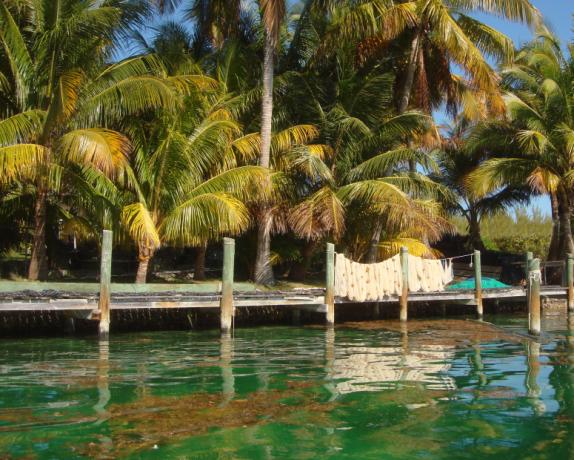 This interesting amphibious floatplane, with very high-lift wings, appears to be an excellent platform for tropical photography missions.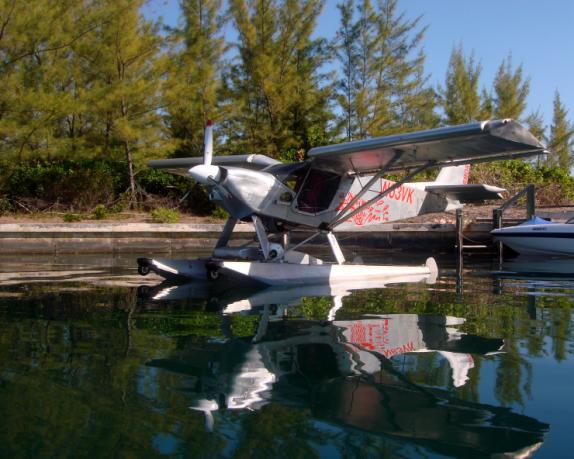 After the canals, our dinghy journey continued out into the placid Sea of Abaco.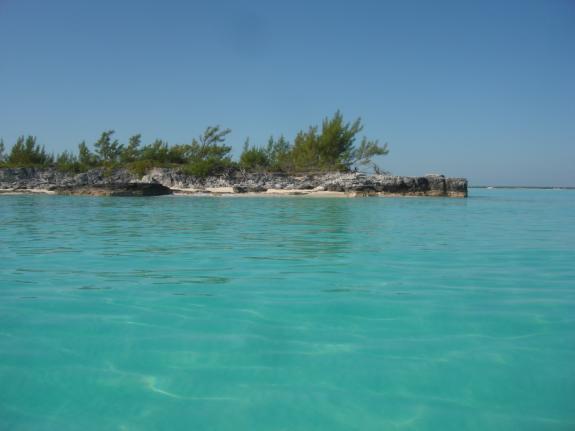 The "Whale Passage" is often one of the more formidable challenges in the Abacos. It is where the powerful Atlantic Ocean meets the Sea of Abaco. When wind, swell, and wave conditions combine across the shallow reef, the route is said to "Rage". Frequently, it becomes impassable, even in large boats. Today, the waters were perfectly well behaved and Judy and I decided to attempt the passage in the little dinghy. Although I'm sure many others have, we may be the only ones of our friends to have wandered out there in this tiny of a watercraft. After the circumnavigation of the Whale Cay, we thought it would be interesting to actually squish our toes in the sand of the seaside beach.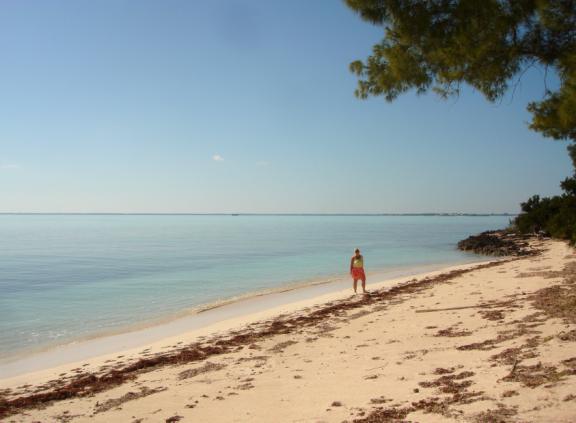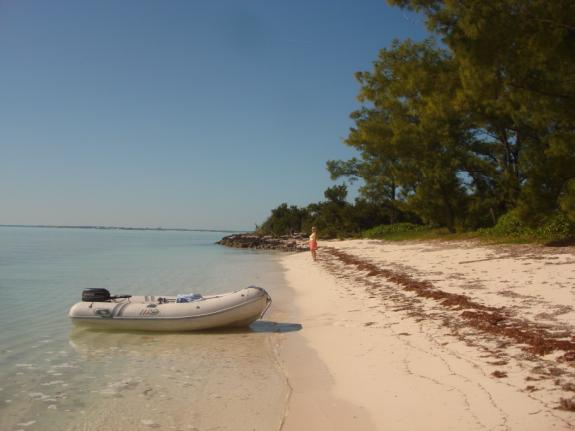 With tides receding, the humming outboard propelled us to the "Don't Rock" passage. Around this rock outcropping, and in calm conditions and high tides, there is a very shallow channel that offers an alternative for minimal draft vessels to bypass the "Whale".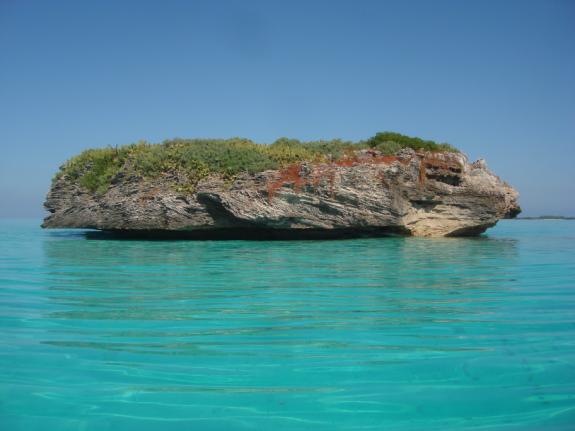 In the shallow waters, silhouetted against the sandy bottom, we could see dozens of hungry barracuda, schooling in search of lunch.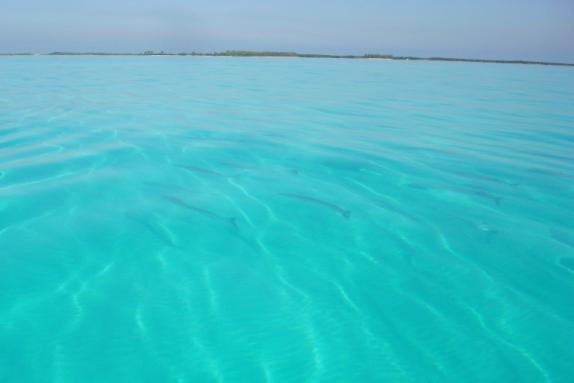 At the Treasure Cay Marina, we were delighted to see LA GARZA VERDE at the docks. John and Sue were the first AGLCA Loopers that we had met on our 2006 voyage. Our paths have crossed numerous times since and they are always a delight to visit with.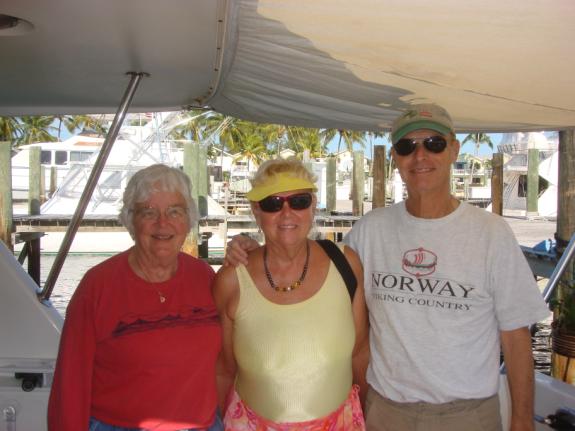 While the girls walked the northern arc of the sandy beach, Joe (ADAMAS DE MARIS) and I relaxed and ranted. I think that we may have conjured up numerous viable solutions to most of the world's problems.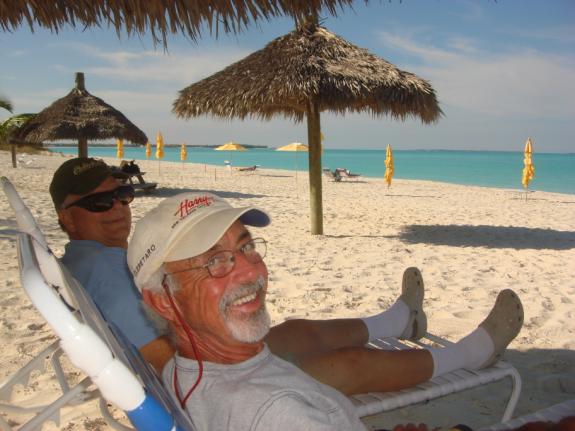 What can I say…? You need to experience this place yourself…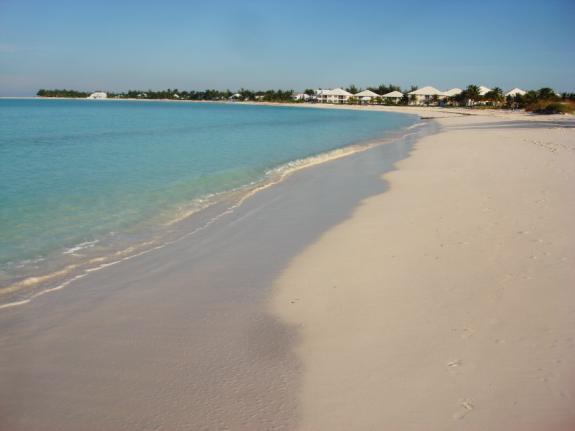 Joe and Eileen treated us to drinks and delicious nibbles at the beachfront bar and restaurant…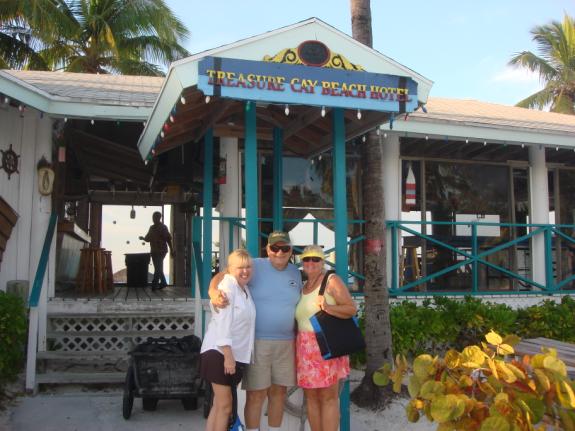 Another magnificent sunset brought the close to a wonderful day…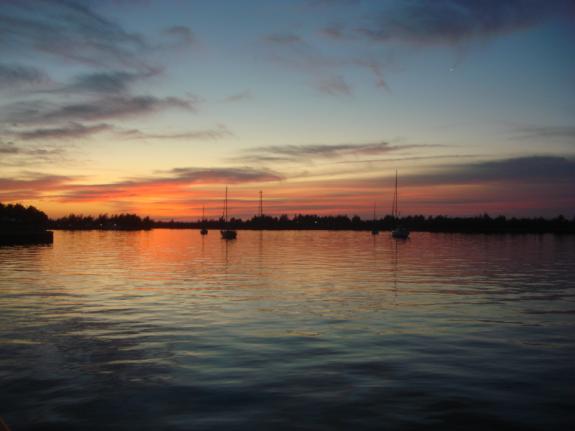 01/21/10 THURSDAY TREASURE CAY to BOAT HARBOUR
Sunrise reflections of ADAMAS DE MARIS in the Treasure Cay anchorage…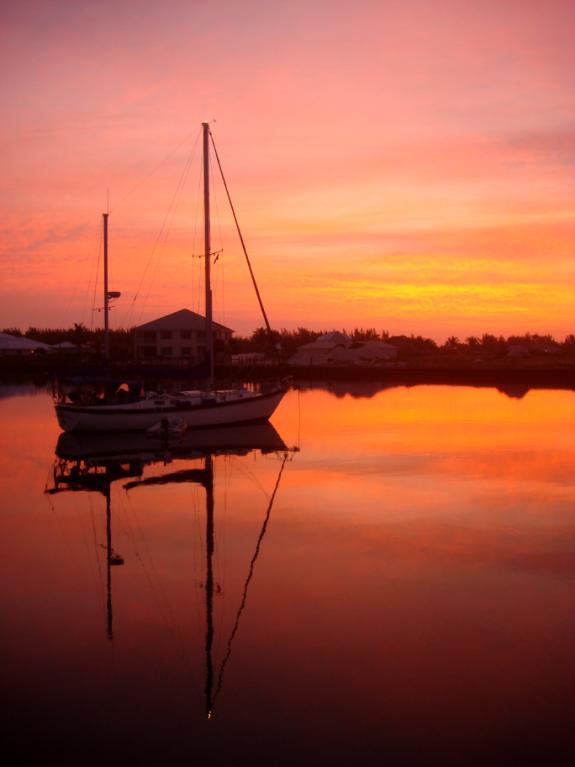 At 8am, AMARSE was anchor aweigh for the 24-mile trip back to Boat Harbour. The sea was friendly, the winds light, and, after a pleasant three hour cruise, we were back in our Slip #420.
For dinner, Judy made her fabulous meal featuring succulent chicken breast smothered in mushroom sauce. Accompanied by mashed potatoes enhanced with butter, sour cream, and cream cheese, the evening repast was nothing less than superb.
01/23/10 SATURDAY MARSH HARBOUR, ABACOS, BAHAMAS
This morning, Judy joined with over 200 others for the annual "Cancer Benefit Walk". Each participant donated a fee that raised significant funds for cancer awareness and research.
01/24/10 SUNDAY MARSH HARBOUR, ABACOS, BAHAMAS
It was a bit windy this morning and a neighboring sailboat was "singing" melodically through her mast and rigging. I was busy preparing an "Egg Casserole Bake" for the planned breakfast brunch. I had combined eggs, sausage, bacon, onions, shredded potatoes, and gobs of cheese that came out wonderfully delicious. From the crock-pot, our secondary dish had shredded potatoes, onions, zucchini, yellow squash, sausage, bacon, and cheese that had slow cooked overnight. Everything seemed to be a hit as our large group from docks 3 and 4 assembled at the picnic area for our first "Pitch-In" brunch.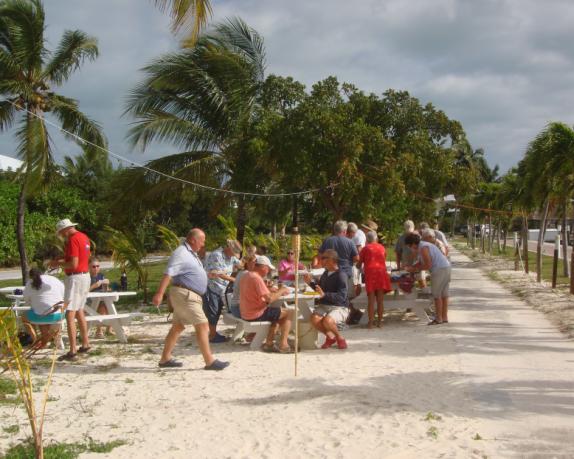 Dock 4 gourmets, Carl and Lois (PUFFIN), Judy and Gene (LO QUE SE A)…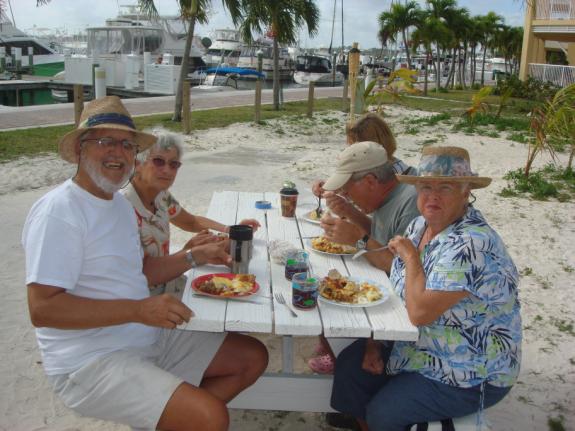 Judie and Jonathan (DOUBLE JJ), Mary and Roger (TEAMWORK)…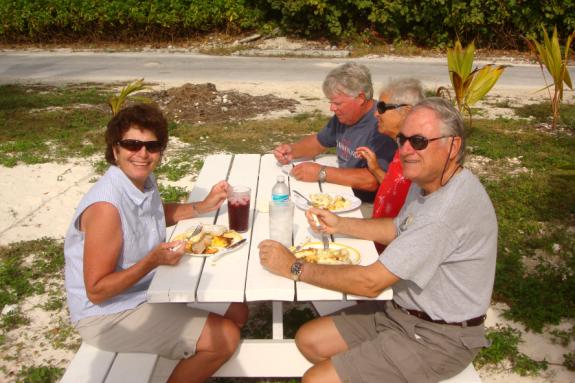 (Left to Right) Judy (SILVER FOXES), Judy (AMARSE), Wink and Wilma (JOHN HENRY), and Jim (SILVER FOXES)…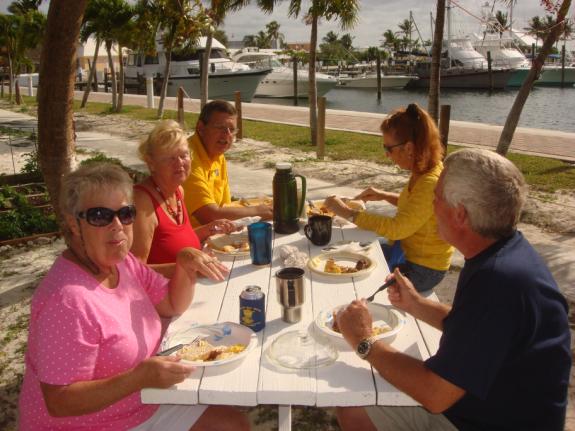 The "chow hounds" appreciated everyone's generous and loving contributions.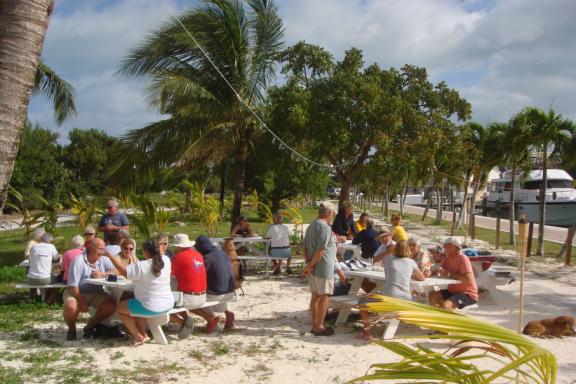 The herb and vegetable garden is sprouting nicely… Judy (SHADE MOR) and others have been exercising their "green thumbs" with a magical touch.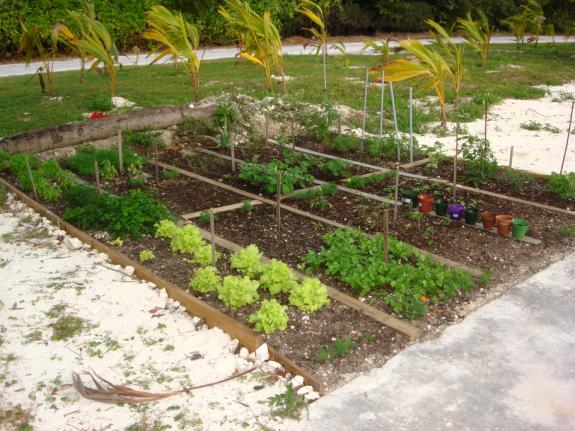 I spent most of the rest of the day with feverish attempts to convert the website structure to accommodate the 2010 entries. My plan is to jump the sequence into January 2010 for current events and then return to complete the remaining 2009 updates. I was also able to publish through UPDATE #30 for 2009 today. For much of the afternoon, Judy worked with Sue G. (ODYSSEY) on jewelry projects.
01/25/10 MONDAY MARSH HARBOUR, ABACOS, BAHAMAS
As a boating community service, the RMHYC (Royal Marsh Harbour Yacht Club) has generously constructed and maintained the dinghy landing facility at the Union Jack Dock in Marsh Harbour. Somewhat beaten by the harsh elements, the dock was in need of some repairs. Spearheaded by David Bauereis (TAR HEEL), Commodore Jim Fenn (FENNDERS), and several others, the leadership organized a work party. Responding to the VHF radiobroadcasted request, a cooperative group of some 40 members assembled to assist in any way they could. Needing strong backs and weak minds, there was no shortage of available volunteers.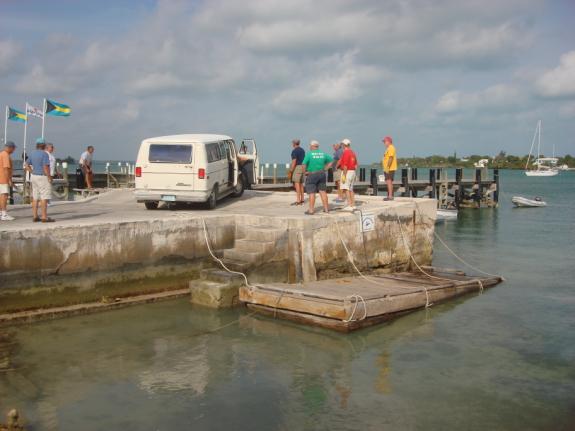 The trusty van was pressed into action.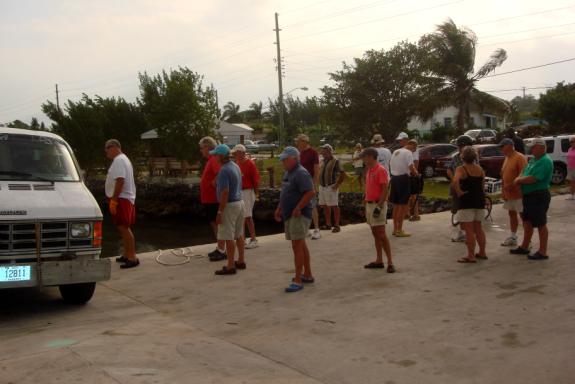 With an ample supply of sidewalk supervisors, the key team players attached sturdy lines to the dock and van's axle housing.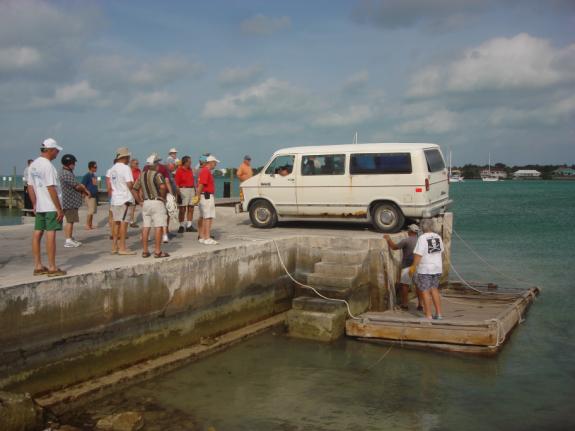 David Crone (JAFTICA) piloted the powerhouse van…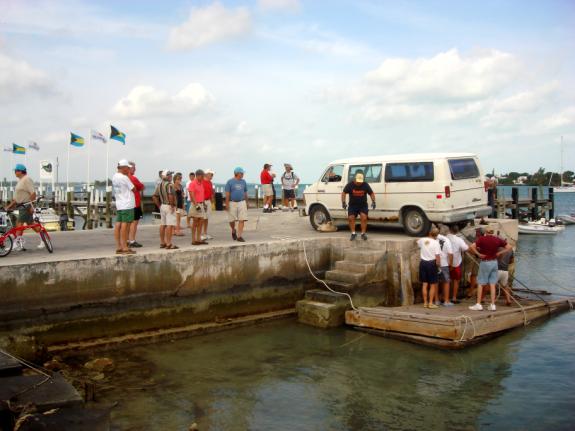 Once hauled up on its side, the problems were clearly revealed. A combination of rotting wood members and waterlogged foam flotation had resulted in the unstable failure.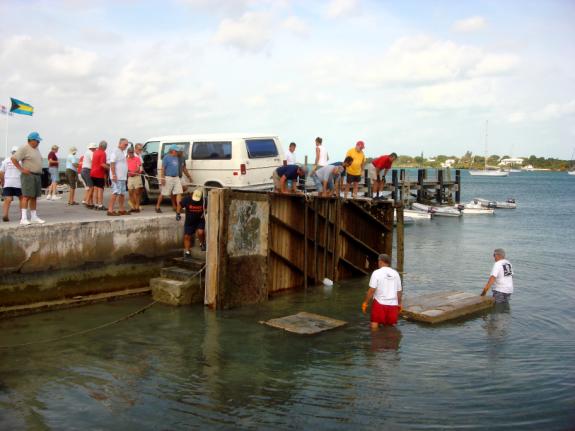 With much insightful consultation, the leadership thoughtfully sorted out the suggestions, carefully decided on a solution, and masterfully formulated the plans to resurrect the ailing structure.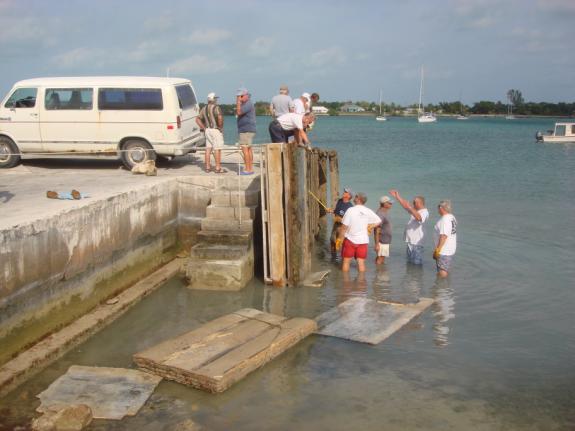 At significant expense, generously provided for by the RMHYC treasury, supplies were ordered, picked up, and reconstruction began that afternoon. In special recognition for duty above and beyond the call of duty, we extend our appreciation and thanks for the outstanding efforts of the "tech team" of Commodore Jim Fenn (FENNDERS), David Bauereis (TAR HEEL), Steve Brandt (INDEMNITY), David Crone (JAFTICA), Bob Williams (SHADE MOR), John Mitchell (FANNY BAY), and the Vice Commodore of Special Projects, Ray Vallerie (LAST DANCE). Additional thanks goes out to everyone else involved, either directly or indirectly.
01/26/10 TUESDAY MARSH HARBOUR, ABACOS, BAHAMAS
Normally, Bette (TAR HEEL) leads and instructs the water aerobics group. While they are on "walk-about", Judy substituted the smaller, yet dedicated, session in the pool at Abaco Beach Resort. They drafted me to set up the iPod and portable speakers to provide the background music that helped motivate their vigorous exercising.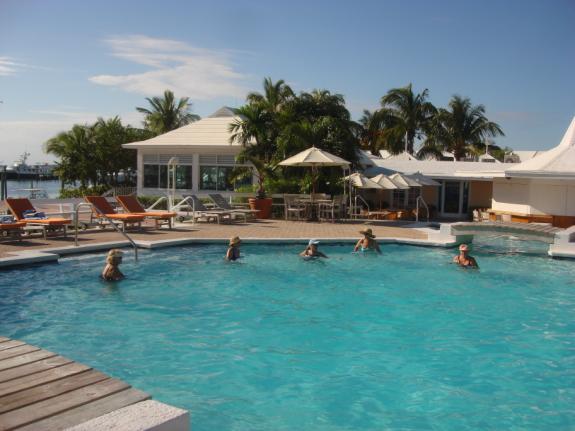 The Marsh Harbour anchorage and Jib Room marina, as taken from the southeastern end near Skaggs's dock…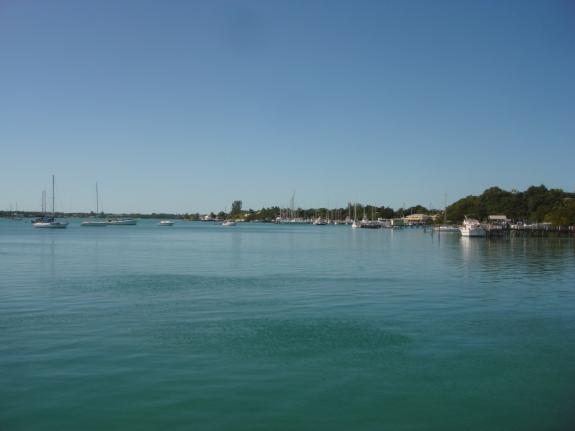 The dinghy landing facility, located at the Union Jack dock in Marsh Harbour, has been returned to full service and will serve visiting cruisers for a long time to come…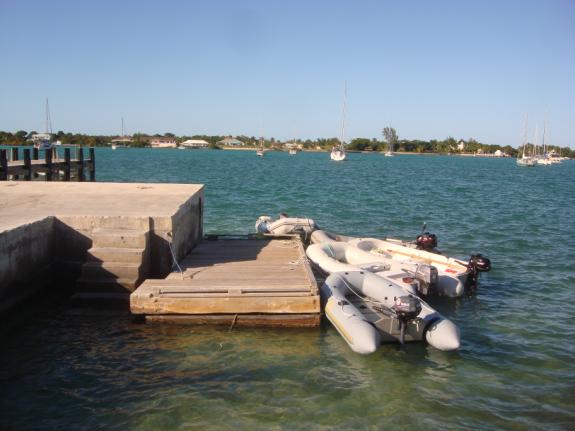 The M/V SHEARWATER has been on a long journey all the way from Washington State on the western coast of the USA. Aboard a cargo freighter, she transited safely through the Panama Canal to her off-loading in Ft. Lauderdale, FL. Fred and Sidonia are just arriving on Dock 5, after a couple of days crossing over the Atlantic Gulfstream.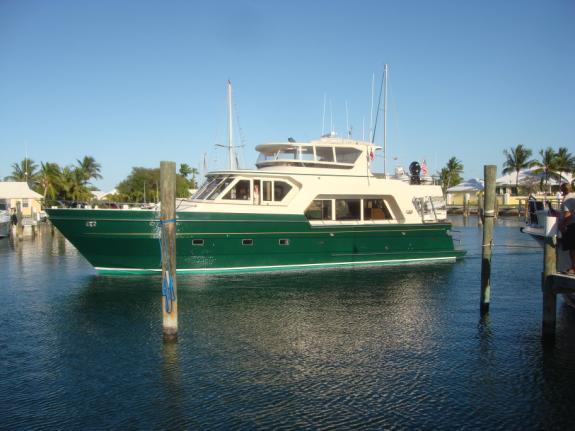 Just about everybody was on hand to help receive their lines and welcome them "Home".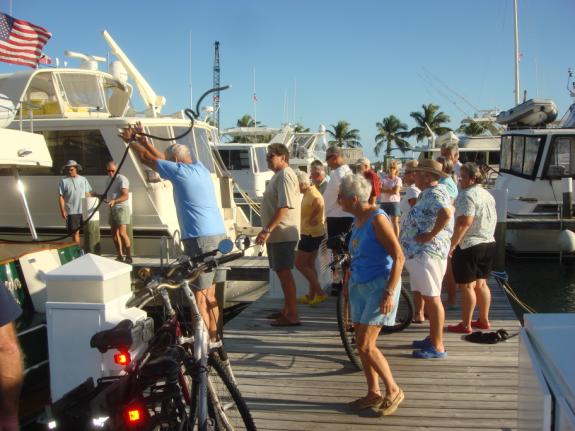 Fred (SHEARWATER)…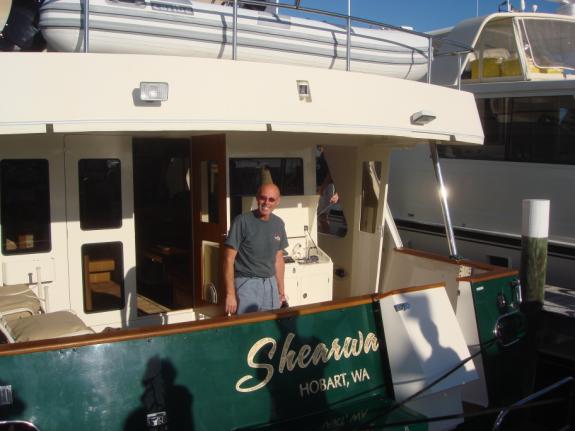 Sidonia…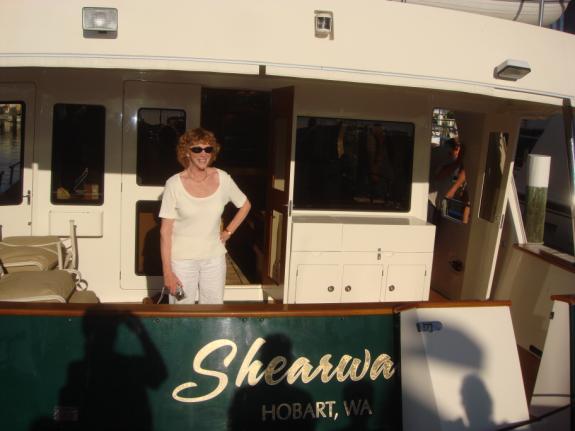 01/27/10 WEDNESDAY MARSH HARBOUR, ABACOS, BAHAMAS
WOW… What a day! The forecast was verified with warm temperatures, calm to gentle winds, and a nearly placid sea state. Judy and I hopped aboard the dinghy for the trip to Man-O-War Cay on the other side of the Sea of Abaco. Nestled in the western bay, we tied up at the courtesy dinghy dock at MOW Marina.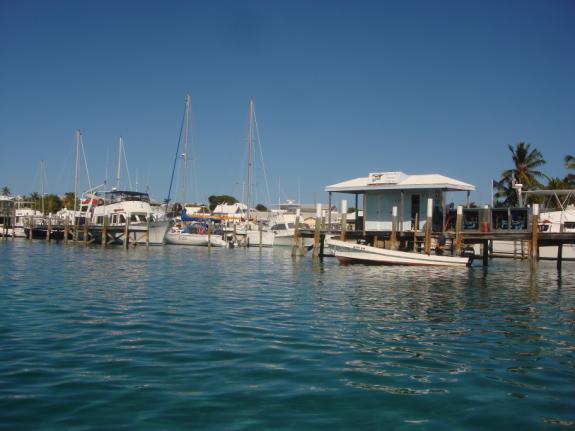 The Dock 'N Dine restaurant is becoming deservedly famed for their exceptional "Fried Grouper" fingers. They are the best tasting, mouth-watering morsels of fresh seafood ever to be found in these islands.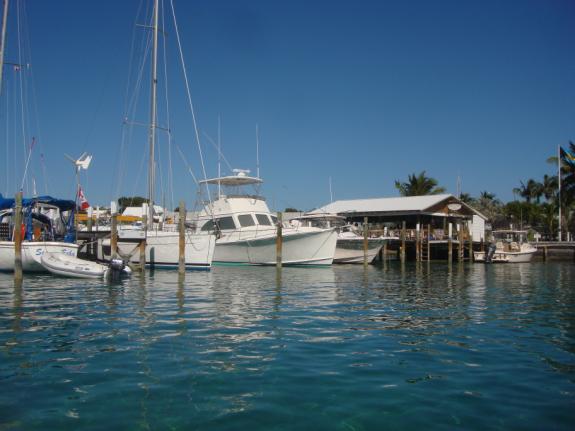 A little exploring on the return trip found us idling through the Matt Lowe Cay project. Multi-Million dollar docks and land lots are being constructed for the ultra wealthy. The grounds are beautifully kept, aesthetically arranged, and, unfortunately, nearly deserted as a result of the sagging economy and real estate slump.
A large contingent of hungry and thirsty RMHYC members descended upon Mango's Restaurant for their special Pizza Night offering. A buffet was set up and the famished could gorge their way into near oblivion with unlimited slices and wash it all down with reduced priced drinks. This time, everyone paid in advance and wore wristbands as evidence. Drink tickets were available for purchase. Everyone had a great time around the family-style, combined table setups. We hope this will become a regular event.
01/28/10 THURSDAY MARSH HARBOUR, ABACOS, BAHAMAS
As an example of friends helping friends, Paul G. (ODYSSEY), generously took my propane tank to the refill facility on the other end of town. It would have been a real struggle for me and I thank him for his thoughtfulness.
At noon, we joined them, Paul and Sue G. (ODYSSEY), in our dinghies for a day trip to Tahiti Beach at the southern end of Elbow Cay.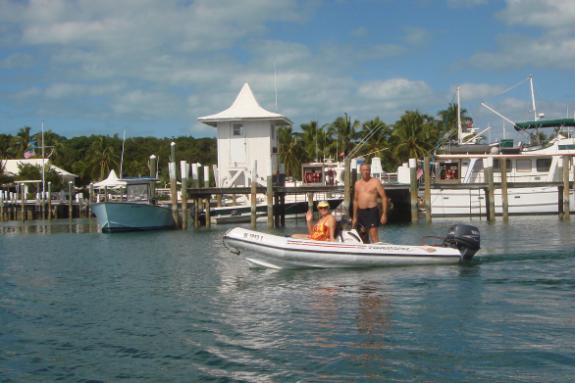 At low tide, Tahiti exposes itself into a magnificent sandy beach.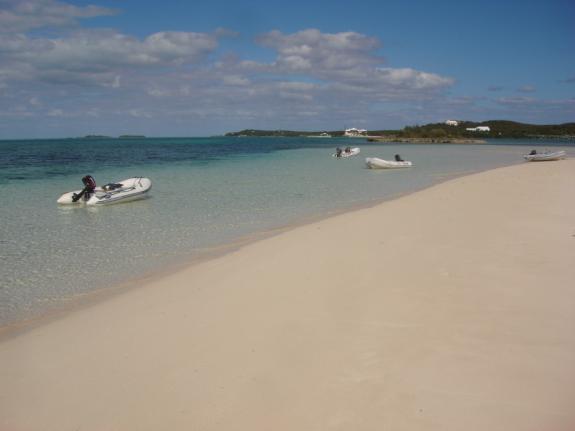 Shirley and Ed (M/V TALLY HO)…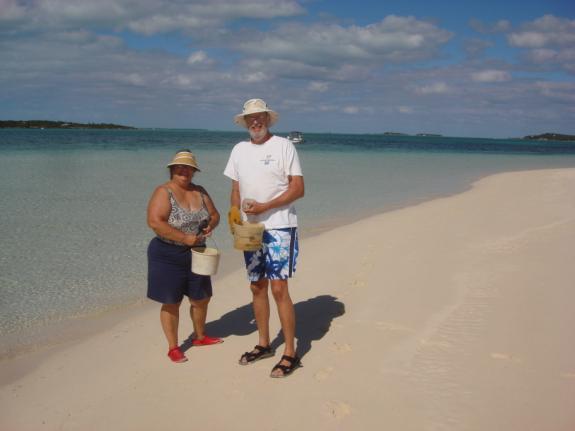 Judy (AMARSE)…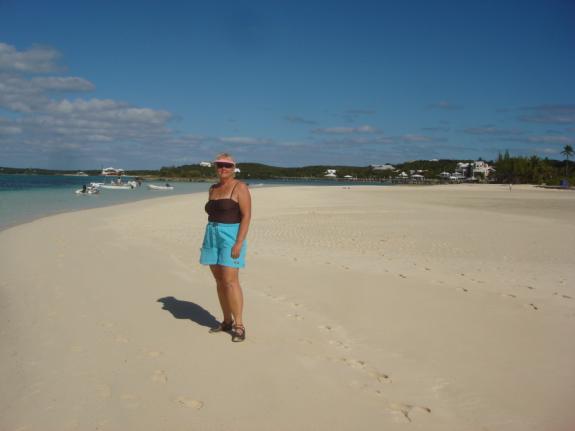 Fred (AMARSE)…
For dinner, I made White Creamy Conch Chowder served with hot biscuits. To make it, I shredded the conch using the special disk in the food processor. Having been marinated in white wine, the pieces were tender and succulent. By melding the rich flavors with lots of cream, butter, onions, carrots, and, then, substantiating with potato flakes, it made for a rich and hardy main meal.
01/30/10 SATURDAY MARSH HARBOUR, ABACOS, BAHAMAS
Yes, yes, it was another fabulous weather day. Judy and a few other gals perused the displays at the Arts In The Park Festival being held at Abaco Beach Resort. The large display and sale of artworks helped benefit the Bahamas National Trust Conservancy Program.
Later that afternoon, Judy designed and created a magnificent necklace, using red sea-glass framed with twisted strands of solid gold and silver. Justifiably, she was very proud of her artistic endeavor. Her beautiful work often amazes me.
At 6pm, we rode our bikes all the way out to the New Visions Ministries facility. It is a modern building that is full of hi-tech sound and lighting systems. At 7pm, we were thrilled with a musical concert by Shere Khan. Making a special guest appearance, the 18-member acapella chorale group had been flown in from New Jersey's Princeton University. The music was wonderful and delightfully entertaining. We wished the concert had been hours longer, since it seemed to be over all too soon. David (JAFTICA) offered us a ride back to the marina and was willing to stow our bikes in the van. It was a grateful offer that was too good to refuse. Thanks, David…
CONTINUING UPDATES ARE IN PROGRESS…
WATCH FOR THEM, COMING SOON…
POST SCRIPT:
We sincerely hope that you will review the previous years of compilations to give context to the current editions. Please let us know if you have any special suggestions and thoughts.
REMEMBER: The website is now fully active and you can visit it at any time. You can also review any of the previous logs from the years 2006, 2007, or 2008 and learn more about the crew and their many adventures. Enjoy.
ATTENTION: SPECIAL NOTE:
You may contact us via email anytime.
Thanks for allowing us to share our life and adventures with you.
Lotsa Luv,
Fred Reed and Judy Law
AMARSE
MT40
"AMARSE" is pronounced "AM-ARE-SAY".
Our website is: www.amarse.net .