UPDATE#11 02/22 thru 03/05
Howdy Everybody,
The adventures of 2006, 2007, 2008, and 2009 through 02/21/09 have been published on the website. We continue with the latest edition.
UPDATE 2009 #11 02/22/09 thru 03/05/09
At last update, we were at Marsh Harbour in the Bahamas and enjoying the fabulous Junkanoo celebration.
02/22/09 SUNDAY BOAT HARBOUR
Today seemed like a great day to dive under AMARSE to scrape away some of the growth that has accumulated on the hull bottom. ORINOCO was kind to lend me their Brownie Third-Lung breathing device. It is a gasoline-operated compressor complete with lengthy hose and pressure regulators. The unit is ideal because it frees you from the cumbersome air tanks normally associated with scuba.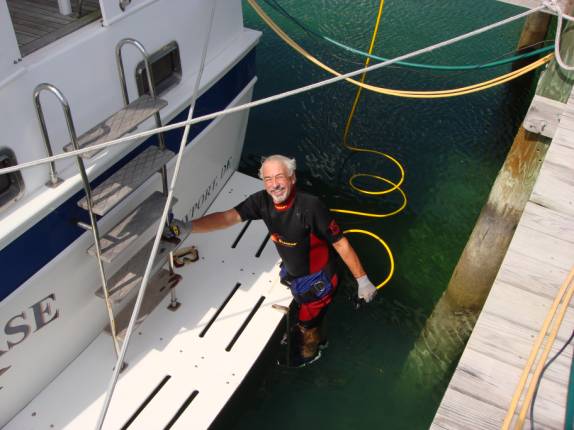 The water temperature indicated a 67.8 degree F on our onboard sensor. A shorty wetsuit, weight belt, water shoes, gloves, and mask were donned. Even with that gear, I still started to get tired and chilled after only a half hour. I climbed out to take a break for a little while before going back in for another half hour. As I climbed out again, I was really chilled and quite cold. Even though the job was not anywhere near done, that would be all that I could handle for today.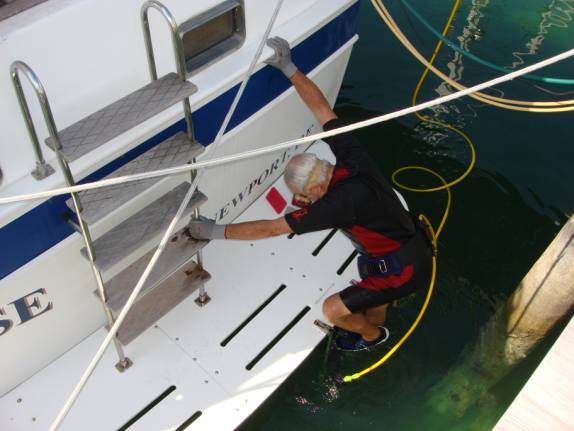 You've heard me speak often about the great friends we have here. No one extends his hand of friendship and helps more than Paul Graham (ODYSSEY). Just watching me shiver was more than he could stand. Paul and Judy insisted that I go up to the showers and stand under the hot water until I could regain some body heat.
Meanwhile, Paul gathered up his underwater equipment and came to AMARSE ready to scrape some more where I left off. His better level of equipment consisted of a full wetsuit, topped with a shorty wetsuit, neoprene booties and hood, and heavy gloves. Within minutes, he was in the water armed with scrapers, scrubbers, and stiff brushes. Although he was better protected from the cold, I have no earthly idea where he got all the energy to accomplish all that he did. Thank you, thank you, and thank you, Paul…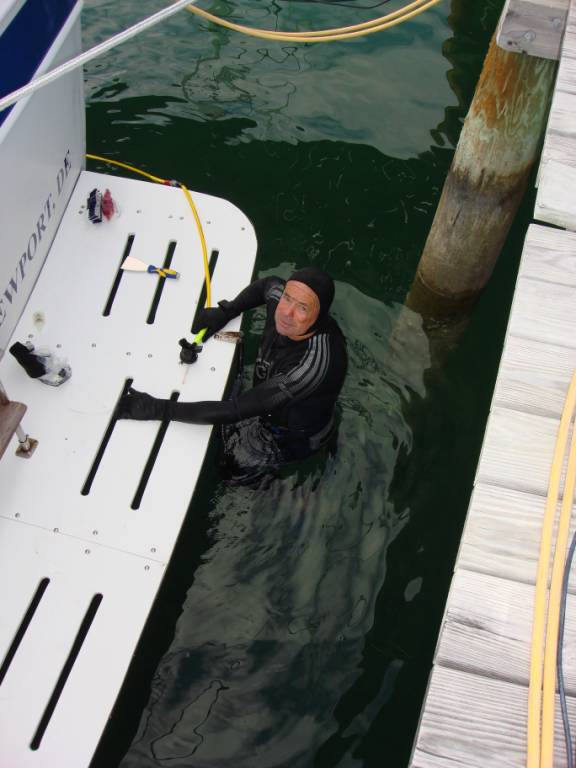 After the scrubber was reduced to shreds, he continued with a stiff brush that reportedly worked pretty well on the soft growth.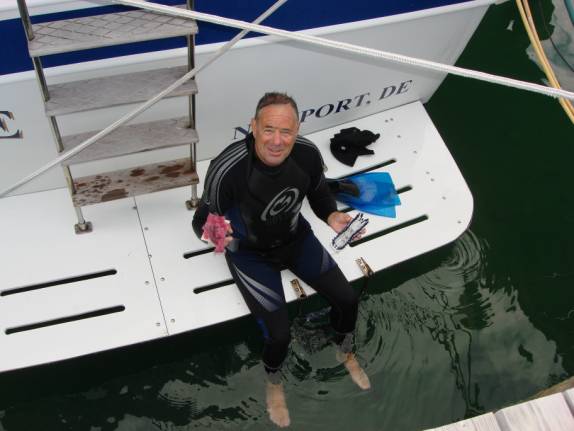 While Paul and I were scrubbing the hull, Judy was busy scrubbing this beautiful King Helmet Conch shell. Although extremely beautiful, they are a real challenge to scrub and clean.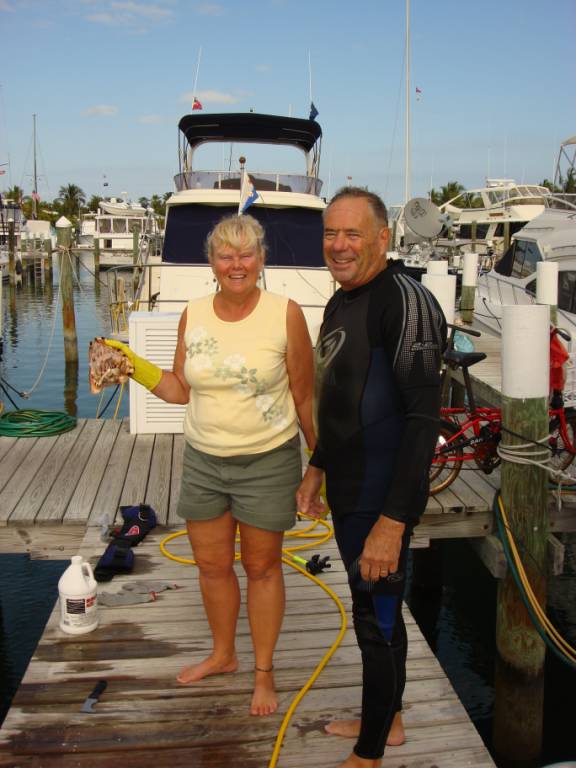 Wait a minute, isn't that TAR HEEL returning to the harbor? As you may remember, they headed out a few days ago for points south.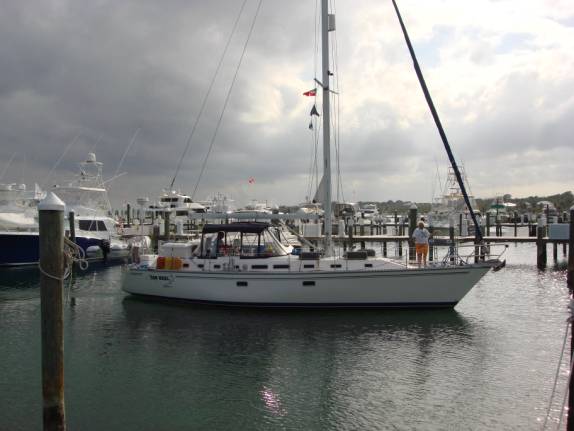 After we had Bette and David tied securely to the dock, we heard the report that they would require some electrical repairs on their boat. Although not good news, we were selfishly happy to have them back here with us. Now, we can have the pleasure of their company for a while longer.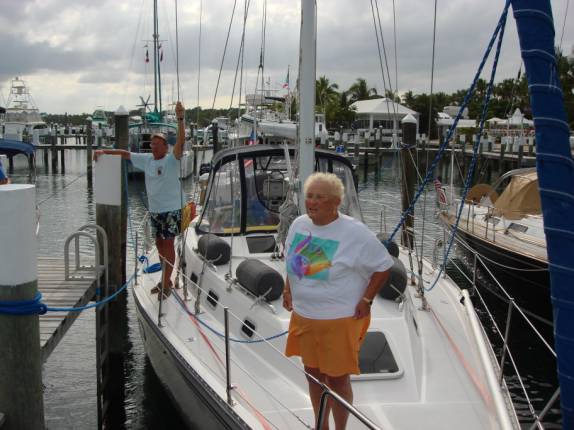 For the rest of the afternoon, I stayed indoors trying to warm up by working on picture files.
The Graham's offers of friendship continued with an invite to ODYSSEY for dinner. Bette and David (TAR HEEL) were also invited guests for the feast. Sue had roasted a turkey that she served with tasty mashed potatoes, stuffing, salad, green beans, and dinner rolls. After enjoying a fruit cocktail Jell-O dessert, she packed up the leftover turkey bones for me to make soup. What a great couple friends…!
02/23/09 MONDAY BOAT HARBOUR
Once again, I worked all day on the Junkanoo picture files. I think that I have lots of great pictures but they still require lots of editing and organizational work. It was a good opportunity to watch over the huge pot of turkey soup that I had simmering on the stove all day.
Judy shared the galley duty by making and baking goodies for our dinner guest plans.
Conditions in the passage between Man-O-War Cay and the Atlantic Ocean were conducive for FENNDERS to head for the fishing grounds. Rick Brenneman (LADY DI) and Robert Wieczorek (MAGNUM OPUS) watch the stern as their captain, Jim Fenn, eases the Hatteras back into her berth.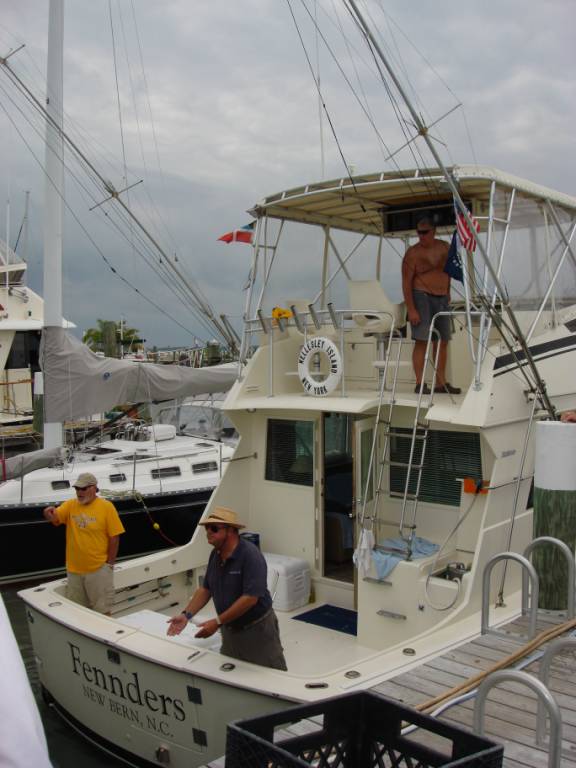 Robert Wieczorek (MAGNUM OPUS), Patty Mitchell (ORINOCO), Rick Brenneman (LADY DI), and that fun-loving, fishing fanatic, Judy Williams (SHADE MOR) were the guest members of the team that hooked these great Dolphin fish.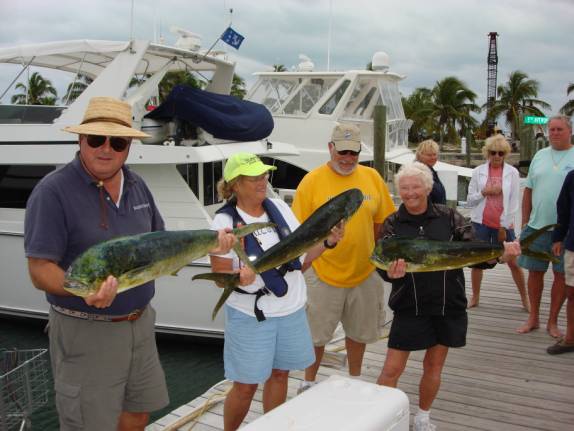 Our dinner guests tonight aboard AMARSE were Robert and Rita Wieczorek (MAGNUM OPUS). The dinner menu consisted of a Sweet Red Pepper and Black Bean soup, sautéed grilled Tilapia, mashed potato supreme, and kernel corn. Judy had made Rita's favorite dessert and served the double chocolate layer cake. Our guests brought a great bottle of Chilean red wine for our enjoyment. The salon was transformed into the AMARSE Auditorium to enjoy a DVD video presentation of the Jimmy Buffett Labor Day concert from Wrigley Field in Chicago. The evening was lots of fun.
02/24/09 TUESDAY BOAT HARBOUR
Judy was aboard TOUCAN with a group of gals that were honing and perfecting their craft skills making those fabulous, Abaco Pine needle weavings. I'm very impressed with their creations. Sidonia (DOUBLE TROUBLE) offered her expertise as instructor and Lillian (TOUCAN) was hosting the session.
An afternoon group was setup and Judy was invited to ORINOCO by Patty Mitchell to teach some additional jewelry-making techniques to another bunch of gals.
By 5pm, all the craft groups had disbanded to attend a large-scale dock party hosted by the residents of Dock 1. They have affectionately named their pier as "1st Place".
Paul and Sue Graham (ODYSSEY) were our guests at dinner tonight aboard AMARSE. The specialty tonight was that awesome, homemade Turkey Soup that simmered for many hours. It was perfectly seasoned and chock full of wonderful carrots, onions, celery, rice, and tender pieces of the turkey meat morsels.
The feature in the AMARSE Theatre Complex was "Con Air" starring Nicholas Cage.
02/25/09 WEDNESDAY BOAT HARBOUR
Lillian (TOUCAN) made this fantastic example of the kind of weaving work that the gals have been doing. They use the extra long needles from the Abaco Pine tree. They have collected all the needles themselves and bind the baskets together using raffia, which is derived from a species of palm. The shells on Lillian's basket add a nice, tropical touch.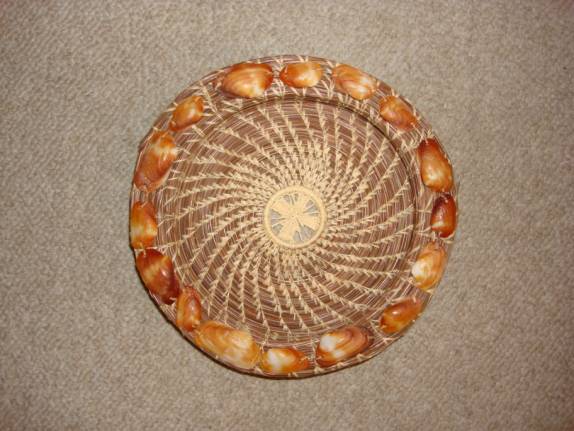 With PROPINQUINTY already departed for parts south, we temporarily have an open slip to our starboard side.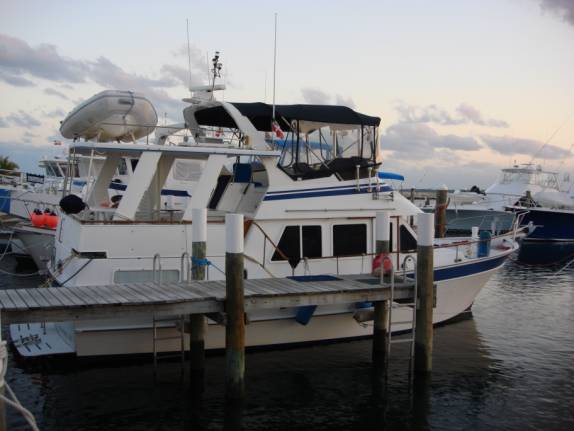 Over on Dock 3, Kent and Gretchen were waiting for us aboard KINJA KAT when we arrived for cocktails and dinner.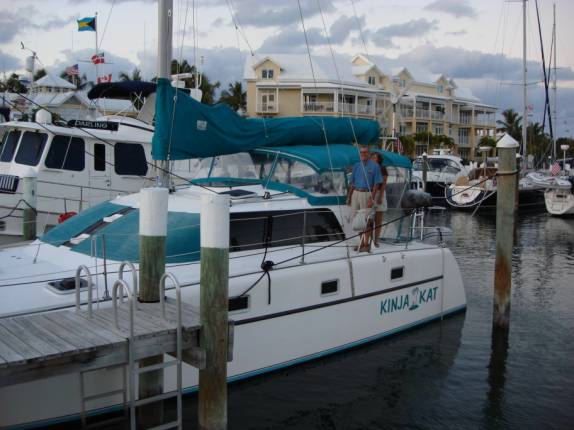 With the peaceful sounds of island steel drum sounds emanating from their stereo, their friendly manner and beautiful boat soon had us in a nice, relaxed mood.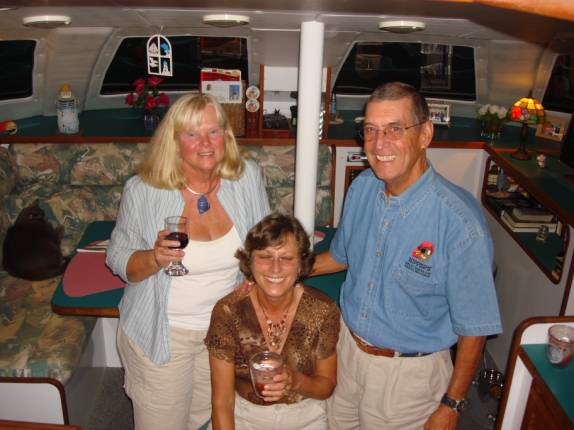 Along with a delicious salad with crumbled blue cheese, Gretchen had prepared a delightful dish of Beef Stroganoff. The evening seemingly flew by as we simply chatted, as friends will do. We look forward to many more occasions to enjoy our times together.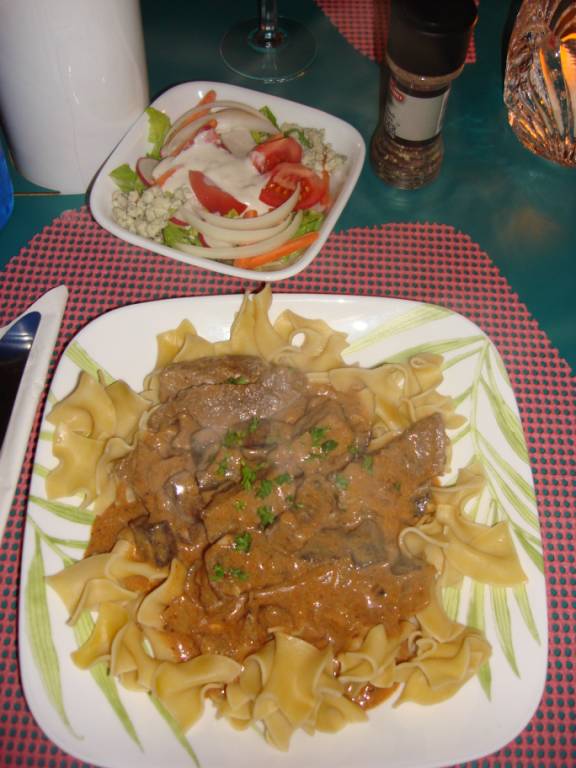 02/26/09 THURSDAY BOAT HARBOUR
At 6pm, we headed up to the Angler's Restaurant. Thursdays have become known for a well-attended evening of dinner and the talent showcase. Judy looked beautiful all dressed up and wearing an awesome piece of sea-glass that she found and creatively wrapped. It has a special nautical appearance with the distinctive sailboat shape.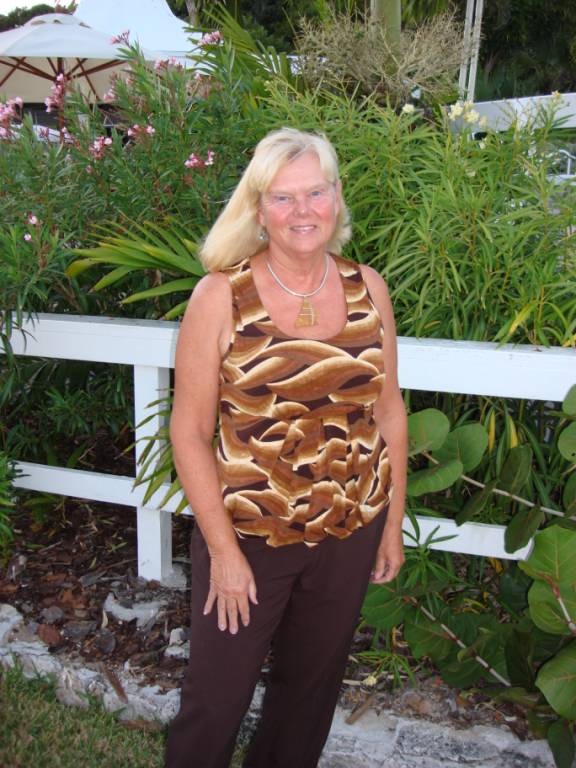 After dinner, the "Dock 4 Hillbillies" took the stage to entertain us with their personalized version of "That Good Old Mountain Dew". It was a real hoot!
(L to R) Ed and Shirley Zellers (M/V TALLY HO), Judy Koetitz (LO QUE SE A), Lois Lantz (PUFFIN), Sue Graham (ODYSSEY), and Gene Koetitz (LO QUE SE A) on the bucket bass.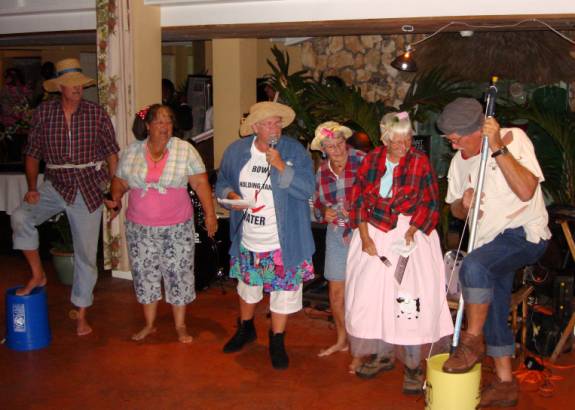 Sue Graham (ODDYSSEY) was the undisputed "Queen of the Hillbillies". Notice the earrings made from "threaded nuts" and the unique necklace made from a big, old "stainless steel bolt".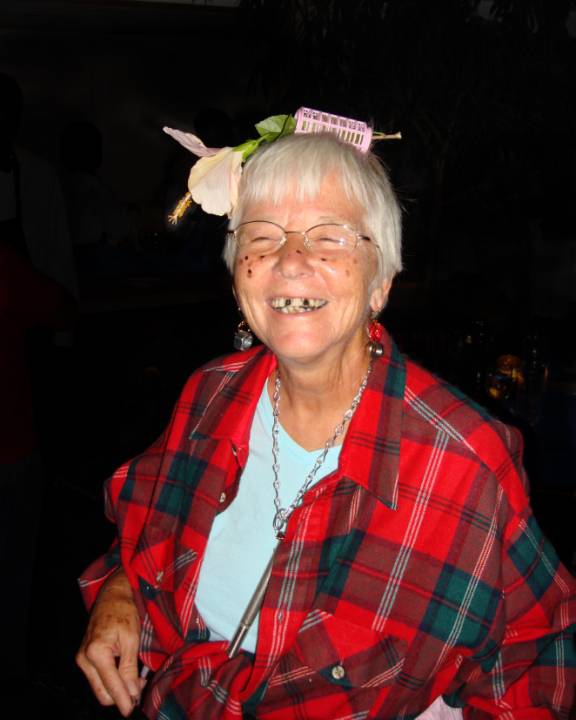 Sidonia St.Germaine (DOUBLE TROUBLE) sang a beautiful song…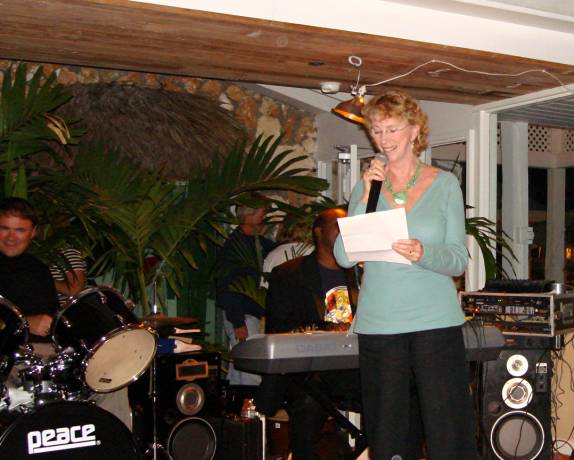 Carl Lantz (PUFFIN) belted out a tune with his deep, powerful voice…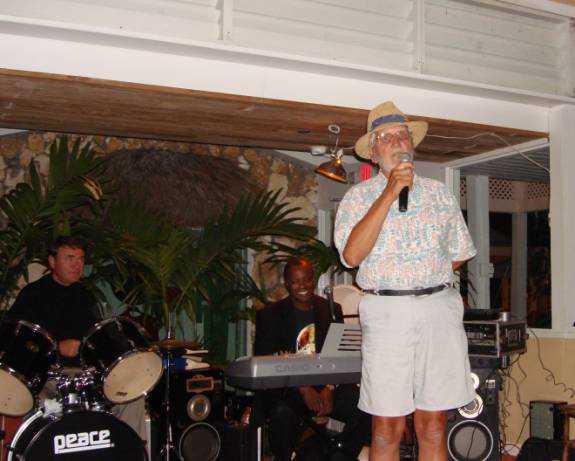 Judy Law (AMARSE) got a huge round of applause for her rendition of an Anne Murray song entitled "Could I Have This Dance". It wasn't long before she had the couples up and dancing to this favorite tune.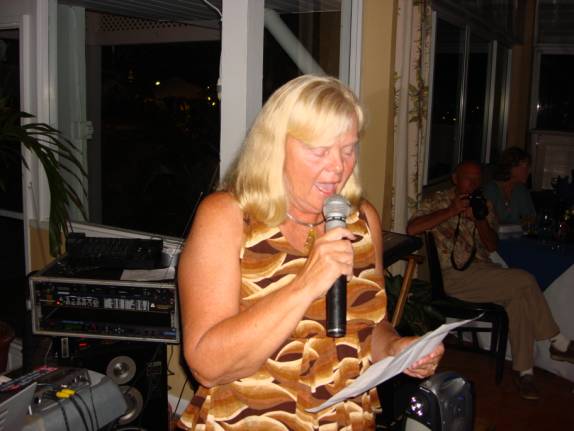 Robert Wilson (SEA ISLAND GIRL) joined vocal forces with Anderson and Della for some gospel songs.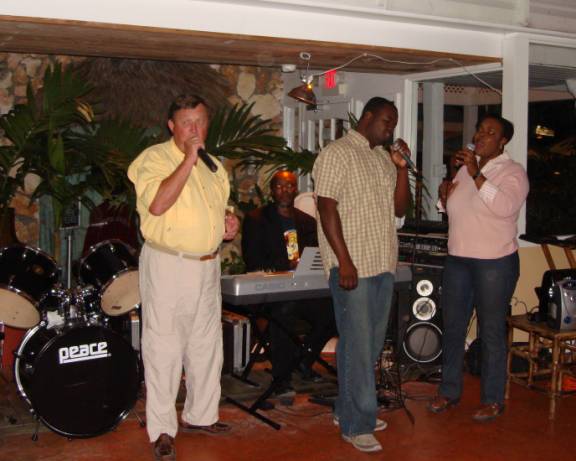 Once again, we were fascinated by the musical styling by Carolyn Wilson (SEA ISLAND GIRL). She always amazes us with her choice of interestingly unique songs.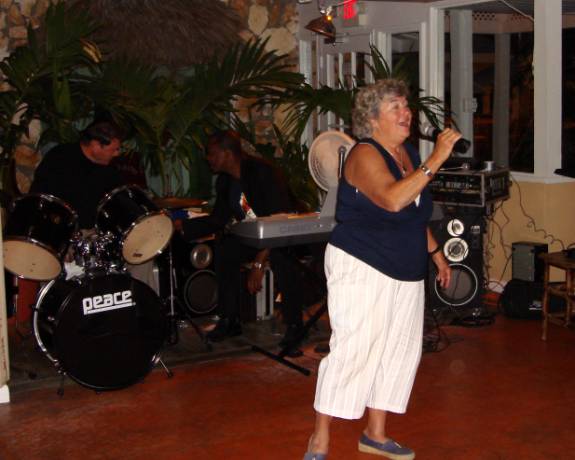 Judy and Jim Howenstine (SILVER FOXES) were matching footsteps with the best of them…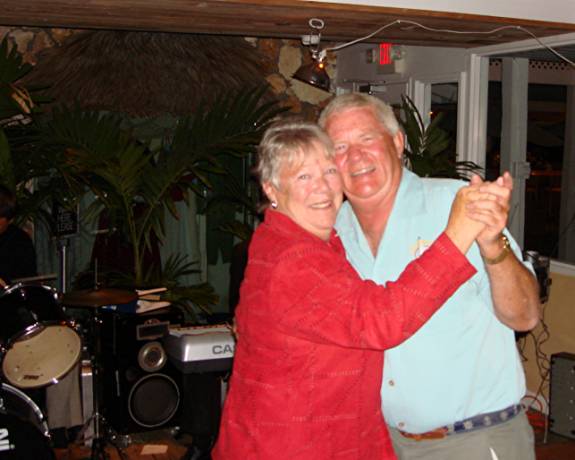 As were Carolyn and Robert Wilson (SEA ISLAND GIRL)…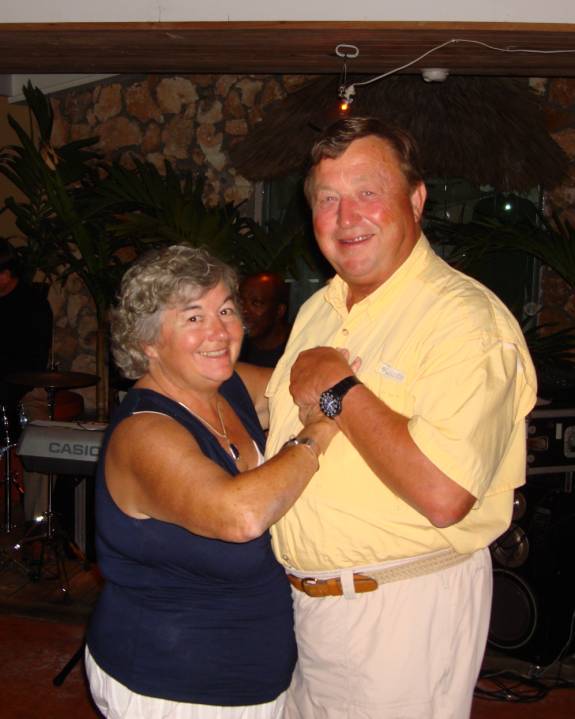 That's the resort General Manager, Bob Kramm, wailing the drums and the resort's house maestro, Steven Colebrook, at the keyboard.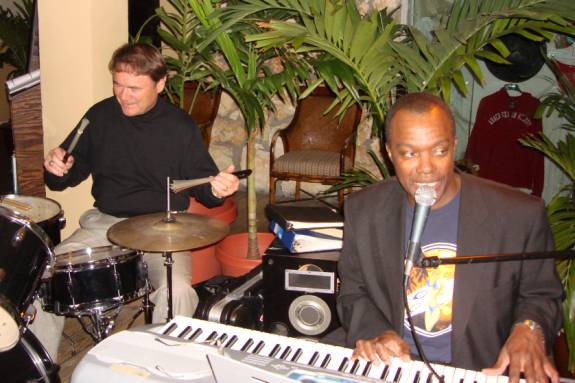 02/27/09 FRIDAY BOAT HARBOUR to TREASURE CAY
We just had to go and see the handsome pride and joy of Dave and Barbara Bluto. Their grandson, Seth Nathan, is aboard CHABLIS for a visit with his parents. They've have told us before that he was a real charmer. Now, we all know for sure that their grandparental boasting was all the actual truth.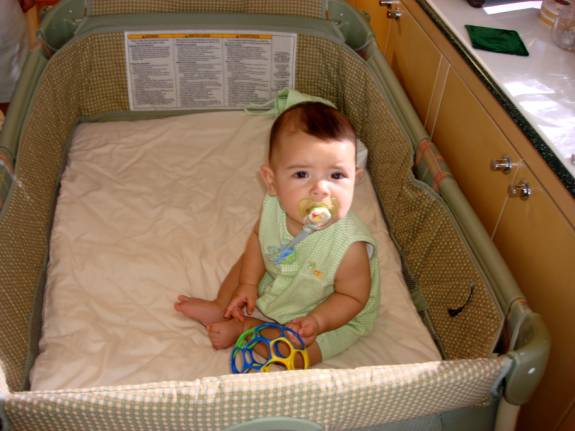 The weather forecast was for a nearly perfect weekend. The morning was clear, 73 degrees F, and the 15-knot breeze was promised to calm down.
At 10:40 am, AMARSE was motoring away from her slip at Boat Harbour heading for Treasure Cay.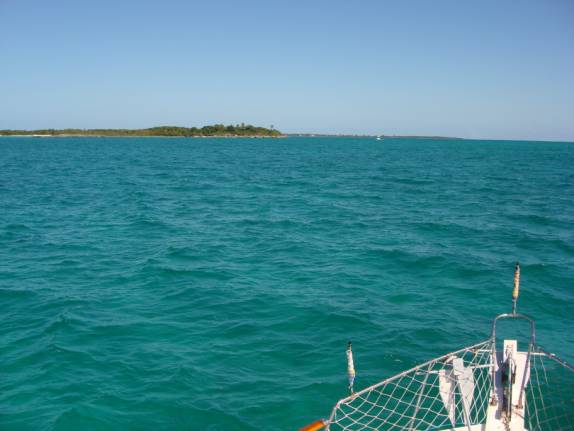 Rounding the rock outcropping at Point Set Point, S/V TALLY HO was under full sail with several friends from our dock.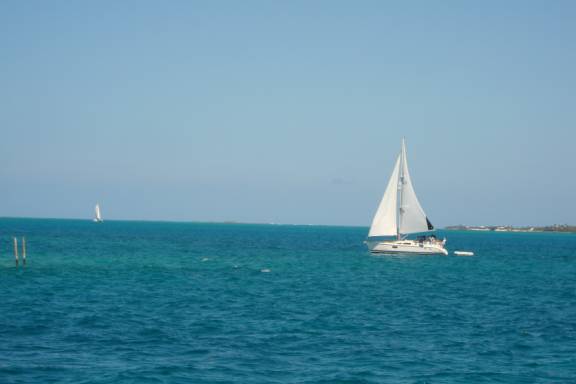 Heading westbound, the late morning light turned the Sea of Abaco into a palette of bursting colors.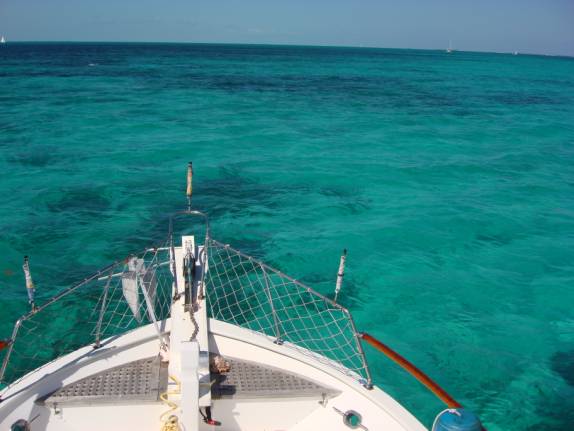 About 23 miles from Boat Harbour, we entered the narrowing channel leading to the Treasure Cay harbor.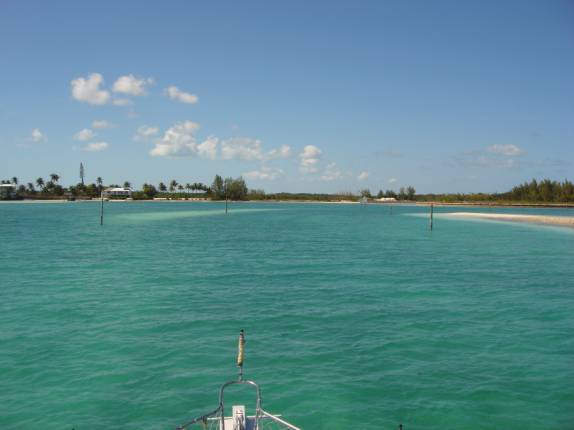 The channel turns about 90 degrees to avoid this shallow sand and coral area.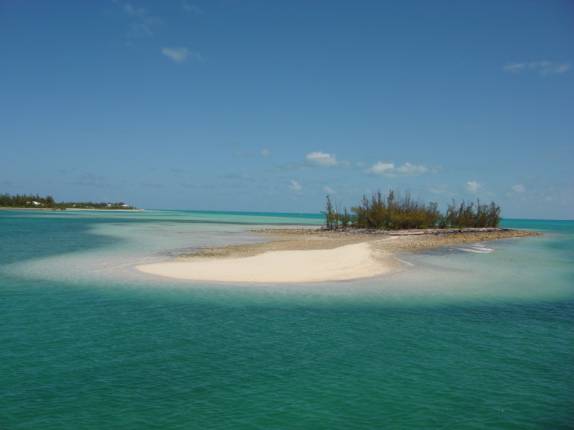 The fuel tanker was present for unloading…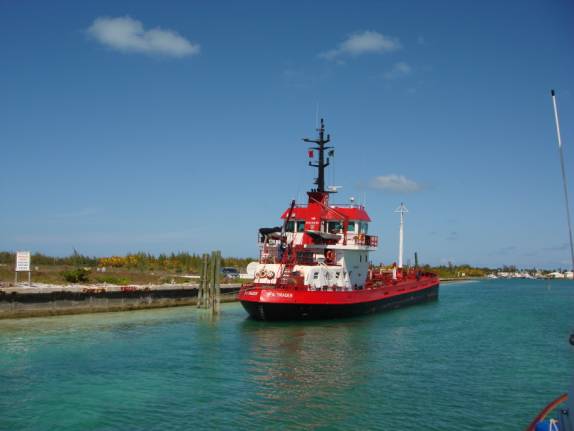 The concrete-walled channel continues into the marina and anchorage area.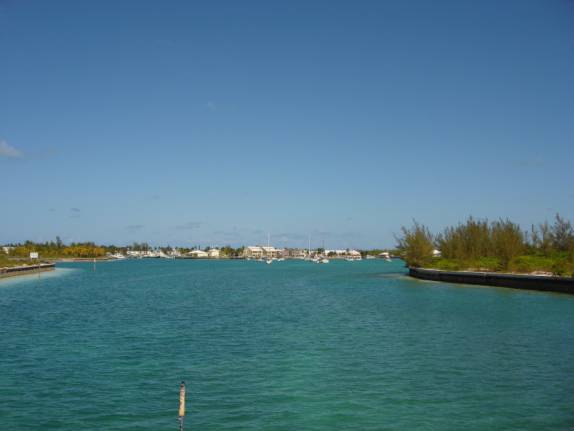 Secure in our anchorage spot, the first requirement was to get our dinghy off the sundeck roof and into the turquoise water.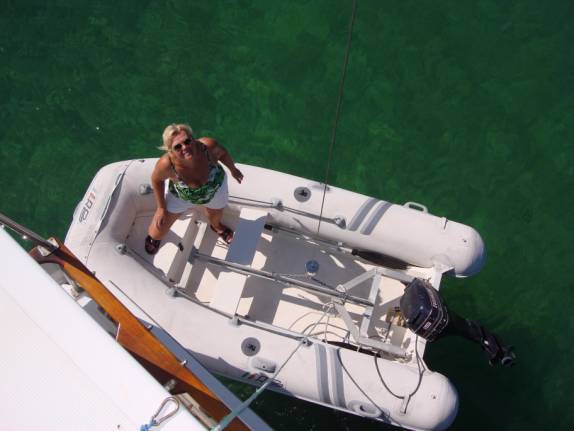 We had numerous other boats sharing the good holding anchorage area. Although mostly sailboats, there were at least three power vessels lying on the hook.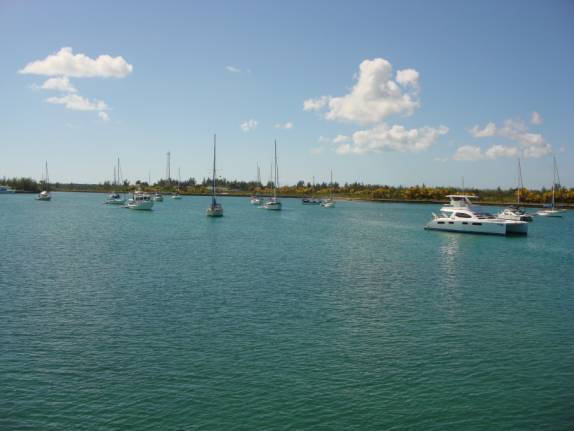 We were somewhat surprised when a bright yellow seaplane swooped down overhead and landed in the canal ahead of us. In the dinghy, we went to see more and could see that the pilot sometimes keeps the plane on a mooring ball.
By the time we got near, he was almost ready to depart again so we watched intently from aside.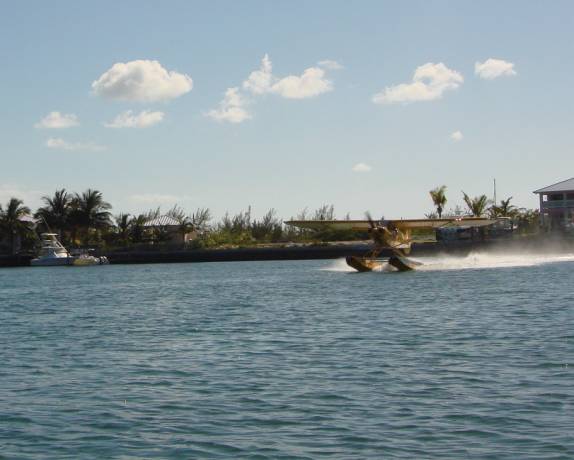 We left AMARSE anchored in about 8 – 10 feet of water…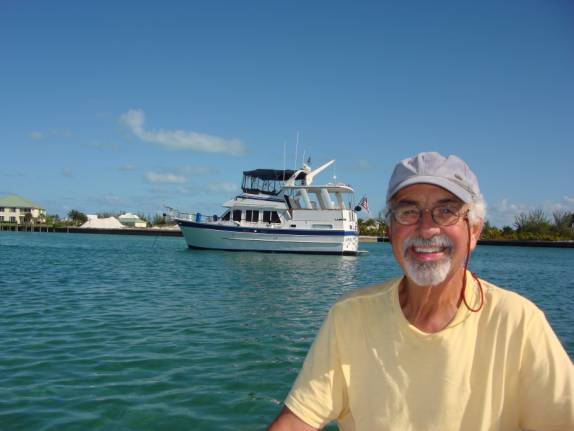 The beach at Treasure Cay is often referred to as the prettiest beach in the Caribbean. We have even heard it regarded as "one of the ten best" beaches in the world. With or without a specific title, everyone can see that it is absolutely beautiful.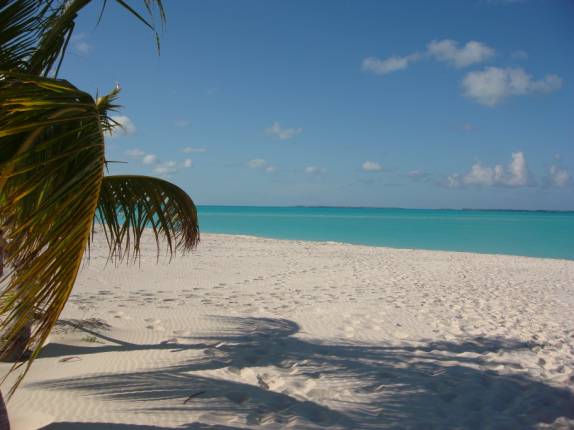 Judy at the beach on Treasure Cay…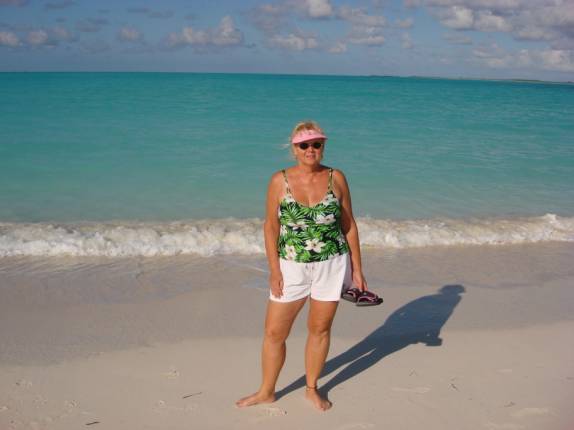 Fred at the beach… That powdery, sugar sand feels so good between my toes…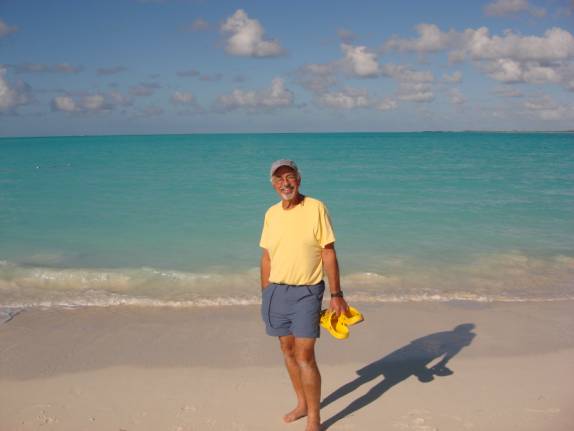 The sand was just the right consistency for somebody to create a simple, but neat, little sandcastle.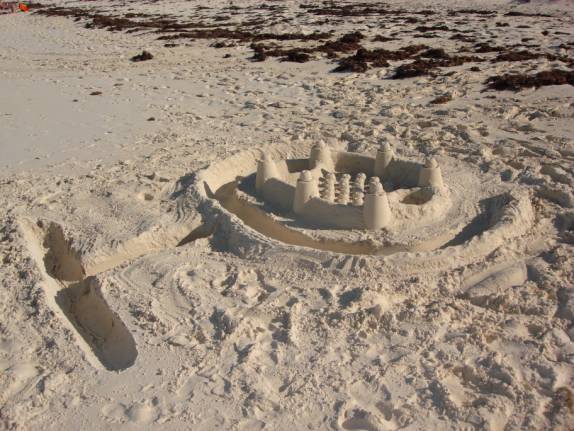 The Coco Beach Bar fronts the gorgeous sand beach…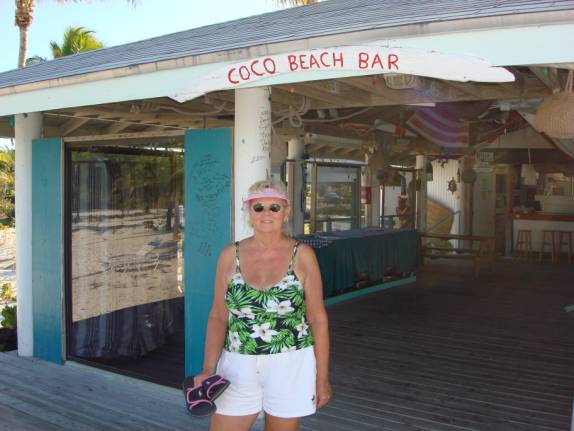 Docks at Treasure Cay Marina…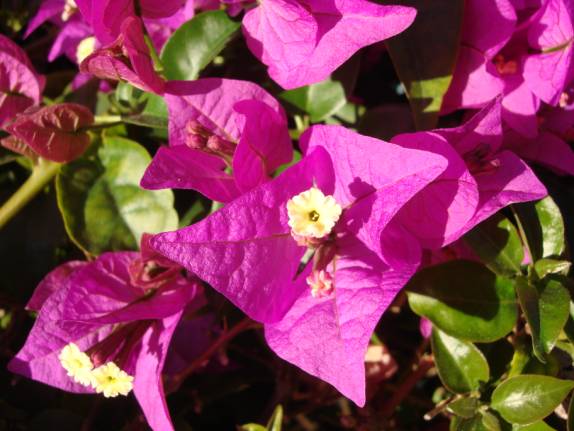 Dinghy dock at Treasure Cay Marina…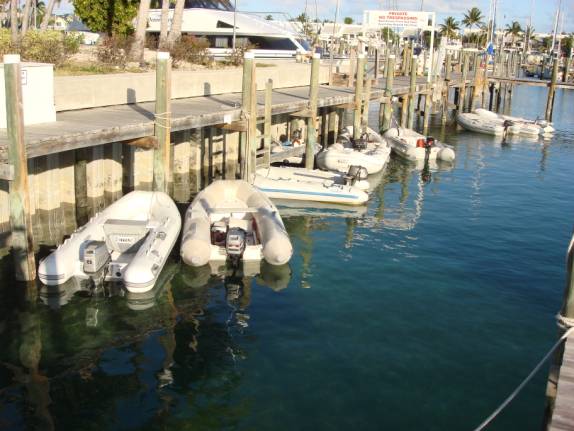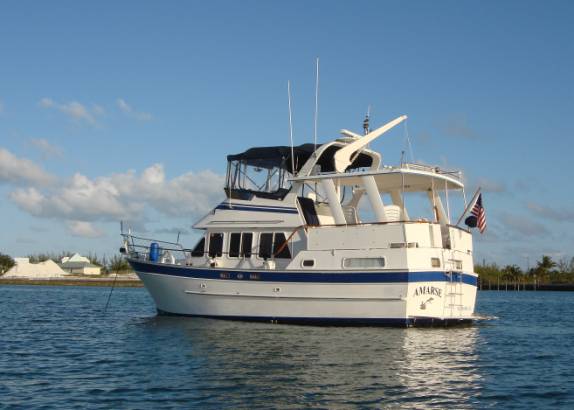 In the late afternoon, I can't imagine anything more relaxing than the music of Celine Dion, a savory cocktail, and a smooth Cuban cigar. As the song says, "It just don't get better than this…"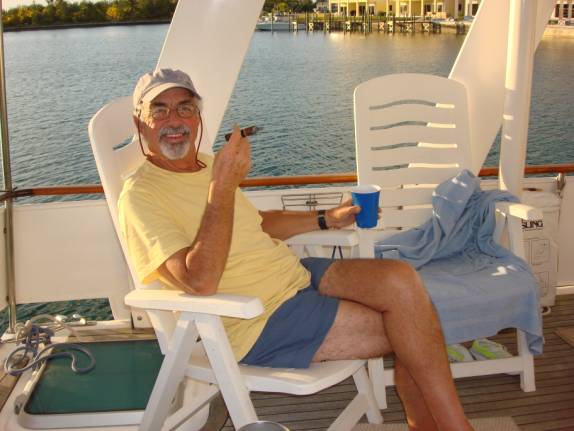 … and there is absolutely no one that I'd rather be enjoying all this with than Judy…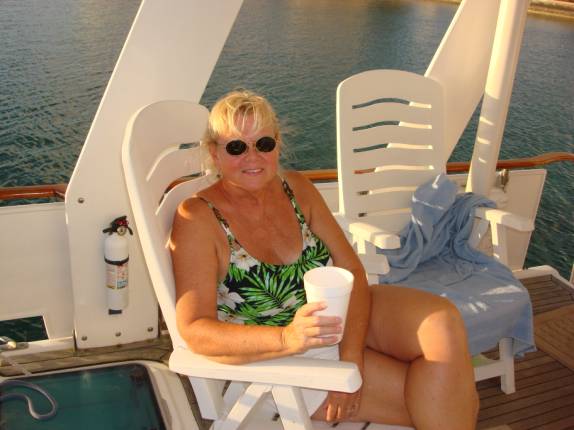 As the sun set lower and lower, Judy was feeling the slight chill of late afternoon…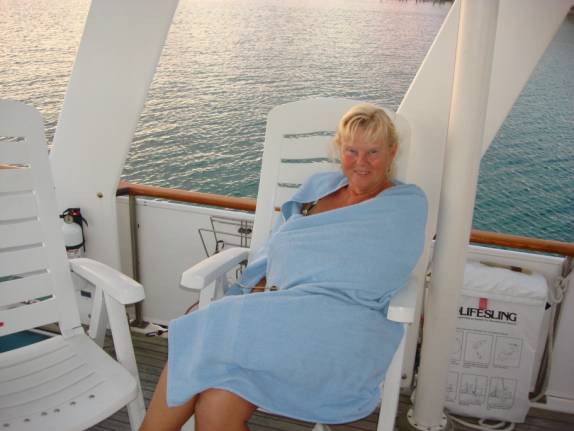 As the sun set in the west, we couldn't help but think about our dear friends, Patty and Robert Mitchell, who had departed Boat Harbour and we had traded fond hugs to say our goodbyes. The very thought that it was doubtful that we would ever get to see them again brought us that twinge of sadness that only comes from parting dear friends. In this absolutely peaceful, calm, tranquil, and loving setting, we pondered the wonders of this life and could clearly see how fortunate we are to be living our dreams…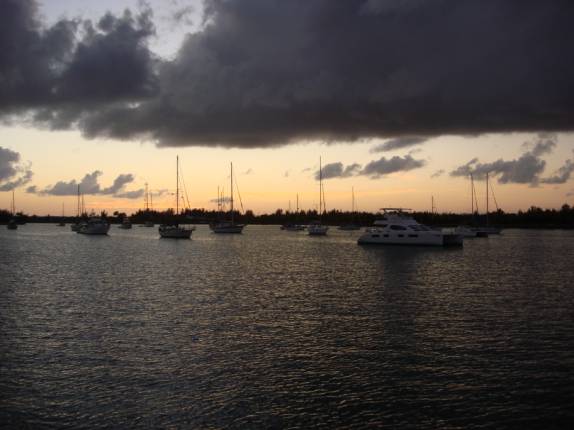 POSITION: N 26 40.258 W077 16.833
02/28/09 SATURDAY TREASURE CAY
The flat water of the anchorage signaled the start of another perfect weather day.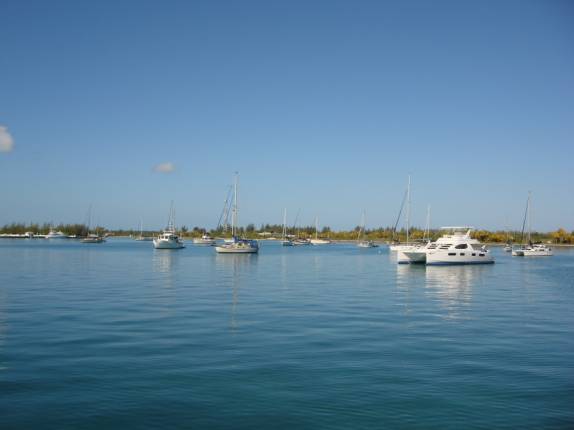 Judy relaxed and trimmed the ends of some Abaco Pine needles that she will use in her weavings…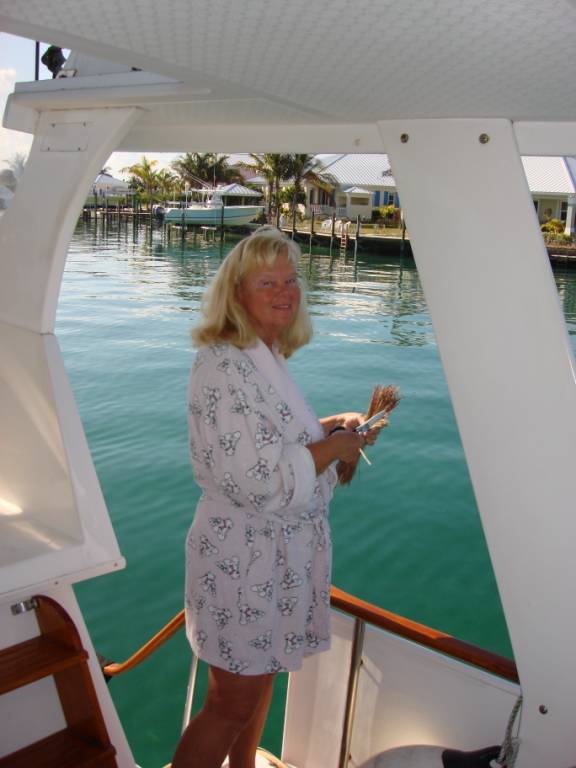 The morning was still young when we answered a VHF radio call to AMARSE. We were informed, "You can run, but you can't hide"… It was Patty and Robert on ORINOCO and they were pleasantly surprising us as they gently idled into the anchorage area. Judy and I were absolutely delighted! What was that we were saying last evening? Just goes to show, "Never say never"…
Robert and Patty had changed their plans and now we could enjoy being with them again for another day. After lunch and with their dinghy in the water, they loaded Maggi, the Wonder Dog, and we joined for a trip to the beach.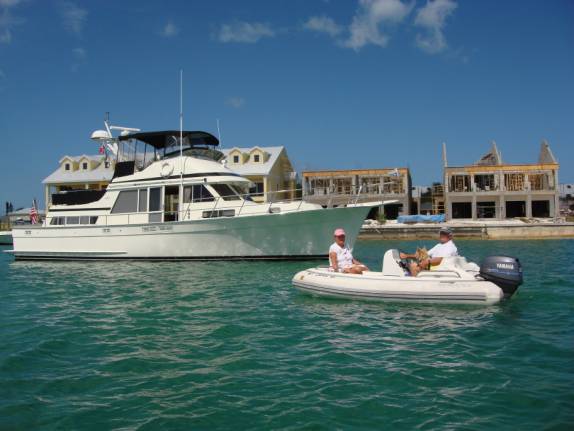 The roots of this large tree are as tightly intertwined as our friendship with the Mitchell's. No, I don't think that coconut came from this tree…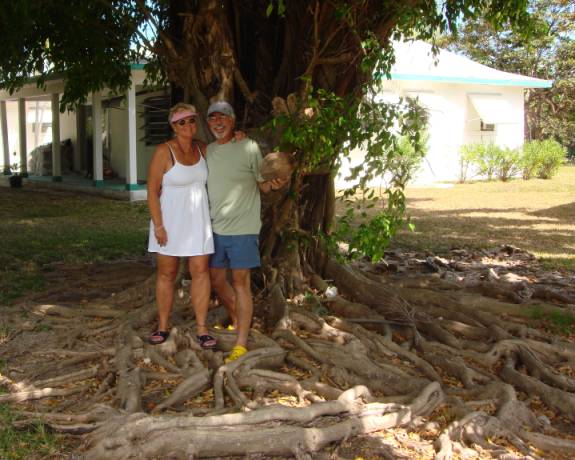 Robert, Maggi the Wonder dog, Patty, and Judy…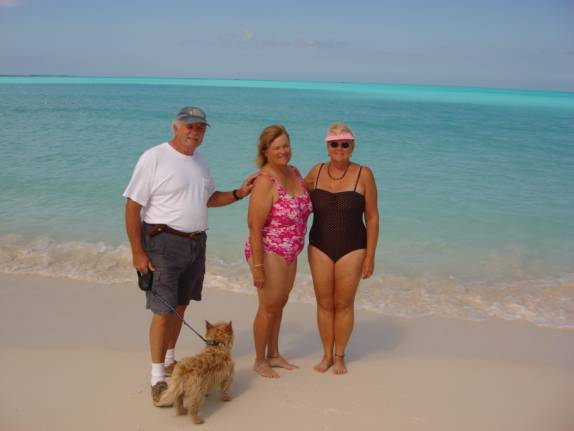 Patty couldn't resist the temptation of the crystalline waters. I was content to just stroll the beach today…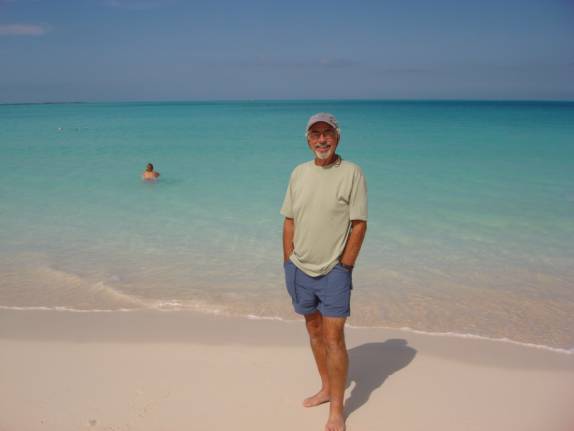 Patty, Robert, and Maggi…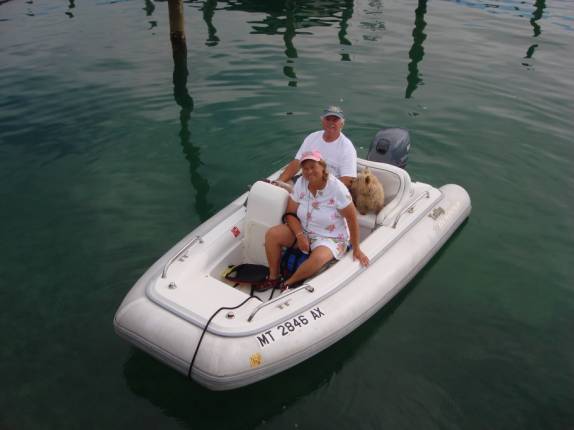 Fred Reed departing the Treasure Cay dinghy dock area…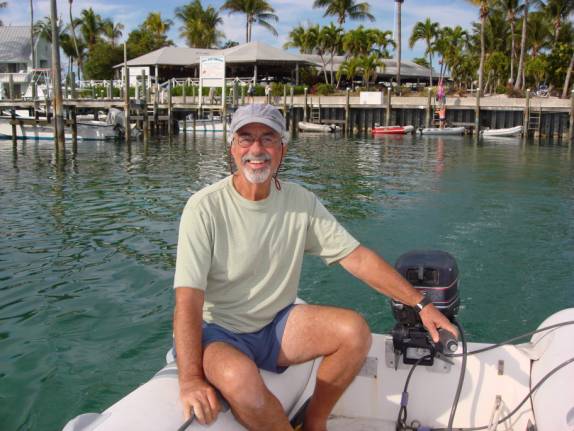 Patty and Robert joined us for dinner aboard AMARSE for our "next, last dinner together". Judy prepared my favorite of favorites, her recipe for chicken breast in mushroom sauce, cheesy scalloped potatoes, and baby peas. The salad, lettuce wedges with crumbled blue cheese, was a tasty starter. For dessert, Patty brought her brownies. It was a wonderful evening of friends being friends. As the evening drew to a close, we again traded hugs and bade each other "Bon Voyage". Their future travels will take them through Canada and the Great Lakes to Minnesota. ORINOCO will be transported to Vancouver on the west coast of Canada. Their planned voyage will continue "North to Alaska"… Now, tell me, "How's that for a magnificent and exciting adventure plan…?"
Tomorrow, in the early morning, AMARSE will cruise back to Boat Harbour…
03/01/09 SUNDAY TREASURE CAY to BOAT HARBOR
AMARSE was readied for an early departure on this bright, sunny morning. Our plan was to get back to Boat Harbour before the big winds picked up as a cold front was scheduled to reach the Abacos sometime today.
ORINOCO, a 47-foot Tollycraft cruiser, was resting peacefully at anchor as we were departing from the area at Treasure Cay.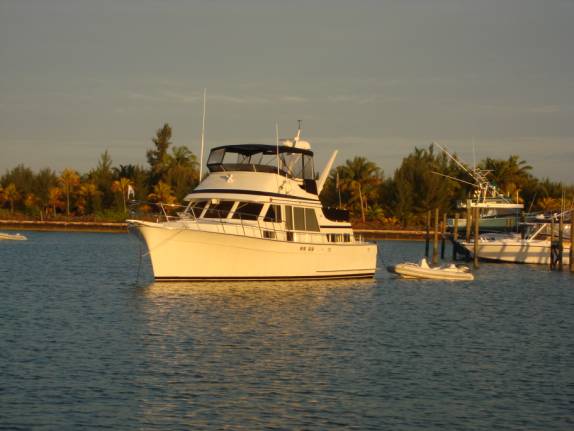 Judy managed the anchor retrieval from the foredeck. She is very skillful and knows just what to do and how to do it. The powerful wash-down pump is invaluable for clearing the chain and anchor flukes of sand and debris during retraction.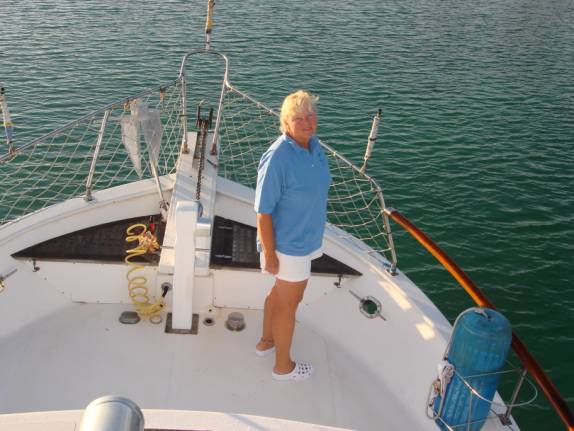 At this time of a Sunday morning, the refueling facility, located alongside the harbor channel, is still closed.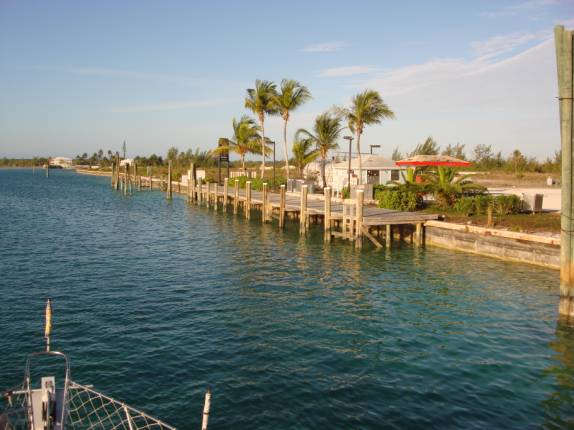 With the sun shining brightly across the Sea of Abaco, the winds began to increase in the morning hours.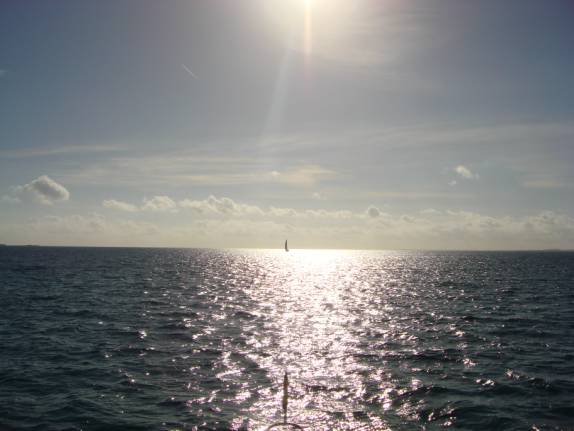 The winds had already picked up to about 18 knots making the Sea of Abaco a might rough and choppy. As they were heading back to Marsh Harbour, we spotted SALTY DAWG passing in the opposite direction.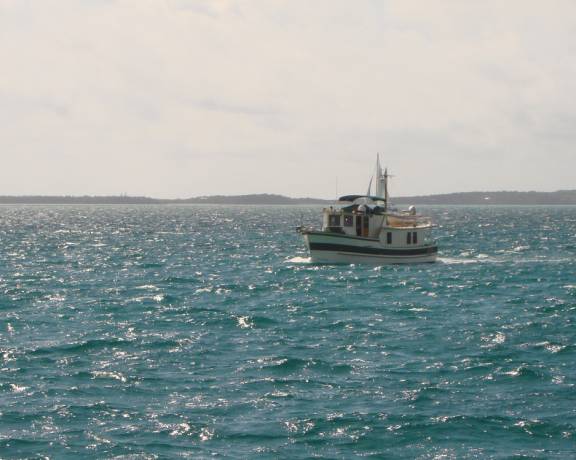 Our trip back covered 23.3 miles, taking 3 hours and 2 minutes at a moving average speed of 7.7 mph.
03/02/09 MONDAY BOAT HARBOR
It was cool and windy this morning following periods of rain overnight. It was helpful in rinsing off some of the salt residue from our weekend cruise trip.
After dinner, we accepted an invite to play Farkle aboard SEA ISLAND GIRL. Robert and Carolyn hosted us along with Steve and Karen O'Brien (CHRISTMAS). Steve conquered the first game and Judy whipped up on us all for the next two games. We cheerfully gave a lesson to play "Ship, Captain, Crew". That is another fun dice game. Carolyn served us some delicious coconut ice cream that is made in Nassau.
03/03/09 TUESDAY BOAT HARBOUR
Another cold and windy pattern was the order of the day. I had stayed up until 4am again last night dealing with a difficult website problem. Once I get started toward a resolution, I find it impossible to rest until I get to the root and get things behind me. Needless to say, I was a tired little puppy today.
Judy was a busy bee all day with craft sessions. A gang of gals were invited to Susan Harward's condo to have Judy and Kathy Sales give them some hints and the techniques of crocheting jewelry.
The wind settled down enough for me to light the BBQ grill for some smoked sausage for our dinner.
03/04/09 WEDNESDAY BOAT HARBOUR
I woke up with chills, shivers, and an overall achy feeling. Combined with a miserable headache, it was a sure thing that my day would be rather laidback. I stayed down for a nap most all of the afternoon. By evening, I was starting to feel quite a bit better.
03/05/09 THURSDAY BOAT HARBOUR to GREAT GUANA CAY
The weather was finally moving into a warming trend. It was still a bit breezy but everything was deemed okay for our morning departure.
At 8:45am, AMARSE eased away from Dock #4. Our weekend destination was a slip at Guana Hideaways at Guana Cay.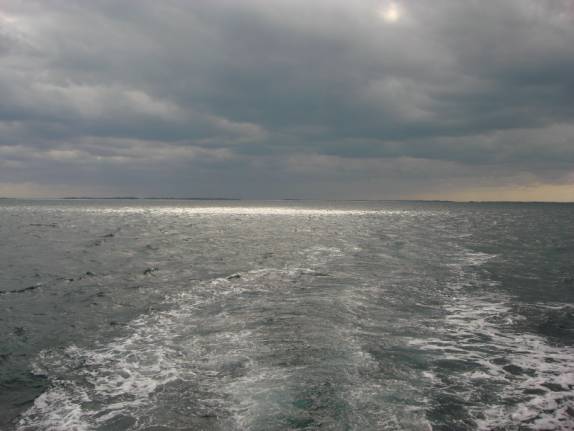 After crossing the Sea of Abaco in just under 2 hours, the dockmaster (Darvin) grabbed our lines on the eastern side of the new docks. It was a tight squeeze in with barely 6 inches of clearance on each piling. We were happy to be here at these coveted docks for the big concert weekend. Our appreciation and thanks to Dave Bluto for coordinating the slip spaces. He was generous to negotiate accommodation for the group of RMHYC boats. AMARSE was the first of our fleet to arrive.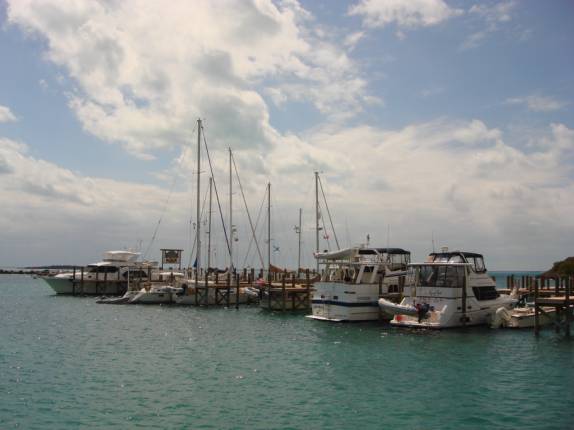 The Art Café and Bakery is nearby and they have very nice baked good for sale.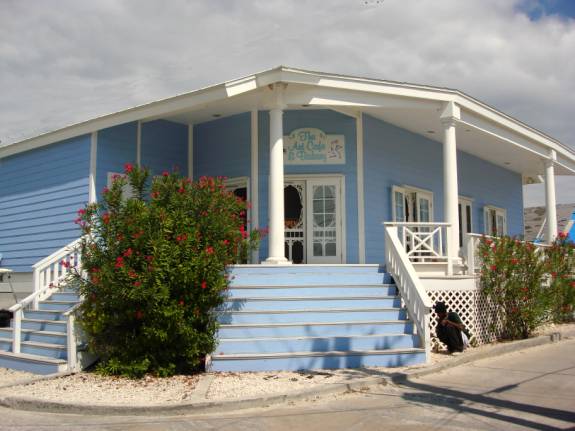 Robert and Carolyn Wilson had already arrived with SEA ISLAND GIRL. While Dave was backing CHABLIS, Barb readied the stern lines for docking.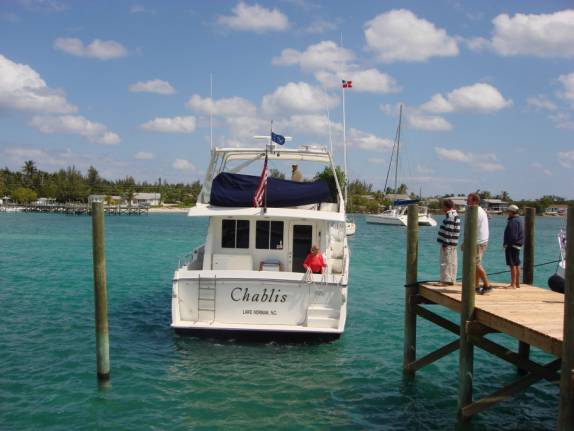 Hey, "Wait a minute, isn't that ORINOCO heading into that slip?" Why, it sure is… A few hours ago, we had talked to them on the VHF radio and their plan was to head west. Of course, we thought, once again, that we would probably never see them again. Never say Never… They later informed us that the passage through the "Whale" was uncomfortably rough and undesirable. They modified their plan and decided to come here for another chance to visit and to enjoy a weekend concert of "The Barefoot Man". This would surely make our weekend even greater.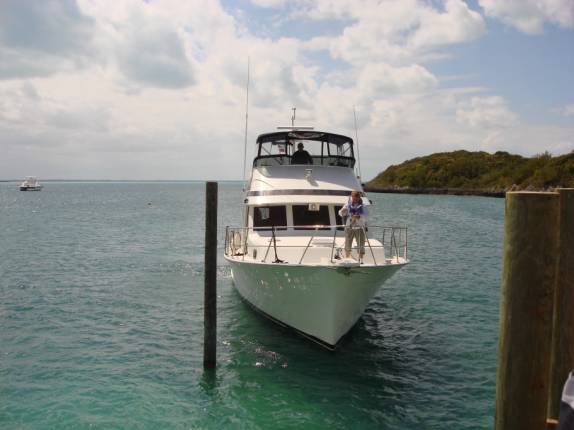 Jim and Joan Elliott (CHRISTINE) were tucked in snugly adjacent to AMARSE.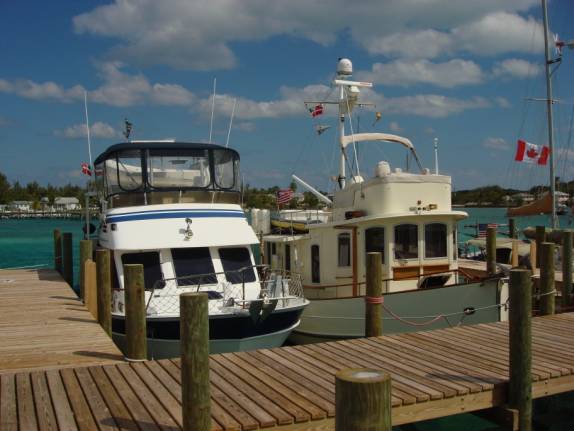 CHABLIS, WILD ROSE, SEA ISLAND GIRL, REAL ESCAPE, ORINOCO, and AMARSE would be here at these docks. Henry and Lilly Jamrozinski took a slip over at Orchid Bay Marina to accommodate the wider beam dimensions of OH HENRY.
The lunch place chosen was Grabber's Beach Bar located at Sunset Beach on Fisher's Bay.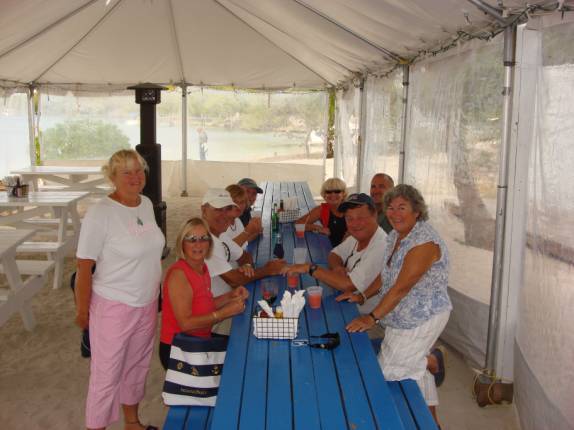 Joan (CHRISTINE) found a comfy spot in this beachside hammock…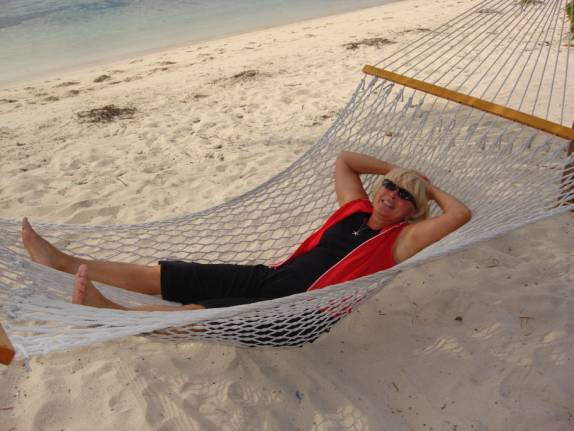 Jim (CHRISTINE) found a comfy spot right next to Joan…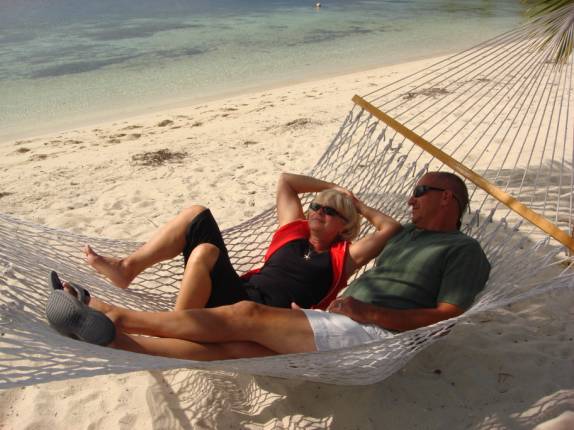 We walked to the windward side of the cay to check out the ocean beach at Nipper's Beach Bar.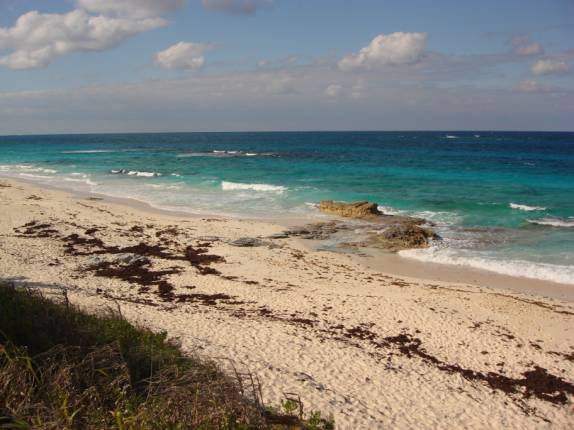 The breeze was a little brisk but the weather was just beautiful…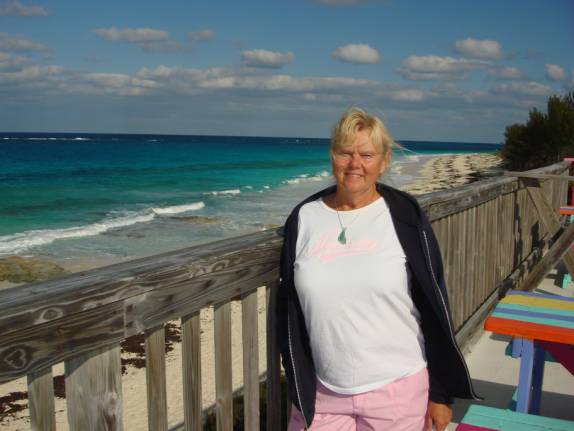 Fred (AMARSE) and Jim (CHRISTINE) could not resist the temptation to ignite their fine, Cuban cigars. Ahhh, this is the good life…
The water depth gets quite skinny along the skiff dock as the tide recedes in Settlement Harbour of Guana Cay.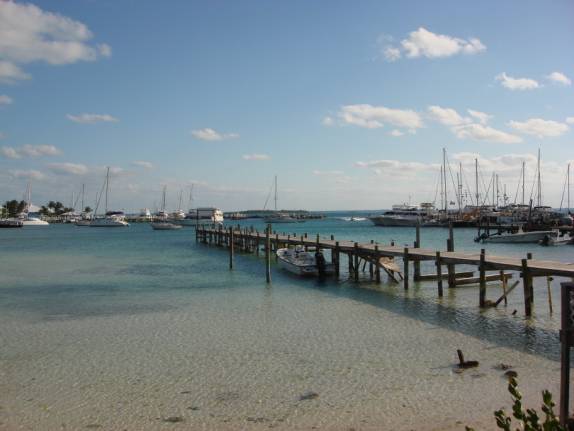 Carolyn has been busy planning her storybook creation. She has cleverly written an ingenious ditty reminiscing about last year's "missing nozzle". It is a hoot and will be presented to the "nozzle pirates" at their fun get-together this weekend.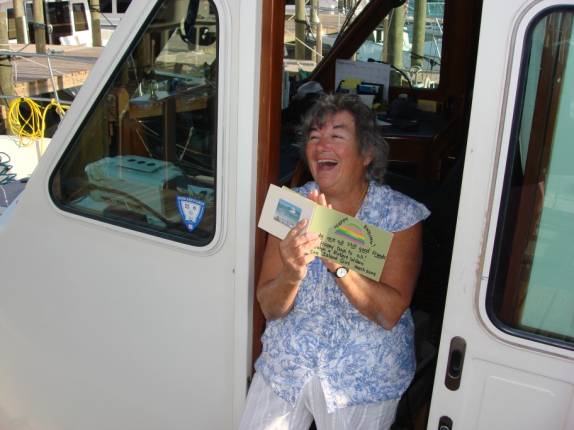 Henry (OH HENRY) came by in his golf cart to give rides to a private party at CORAL VIEW. Our group had been invited to join land-dwelling, yacht club members, Bill and Annette, for the gathering at their lovely, island home.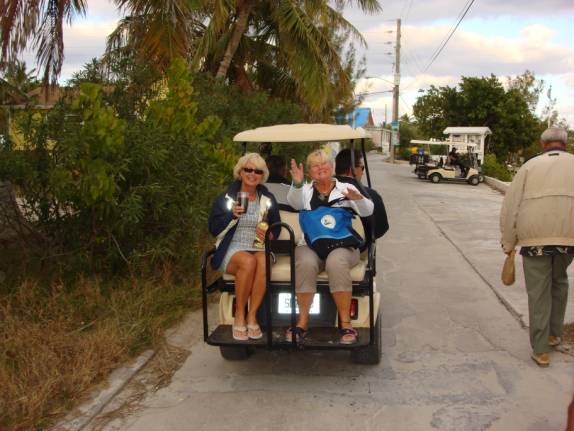 CORAL VIEW…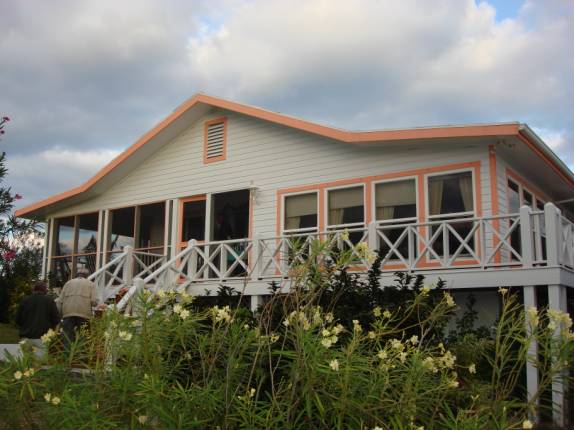 Our gracious hostess, Annette (CORAL VIEW), and Fred (AMARSE)…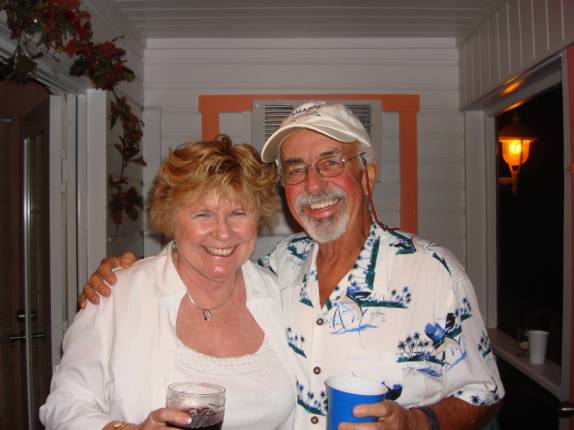 Annette, Dave, Robert, Patty, and Judy…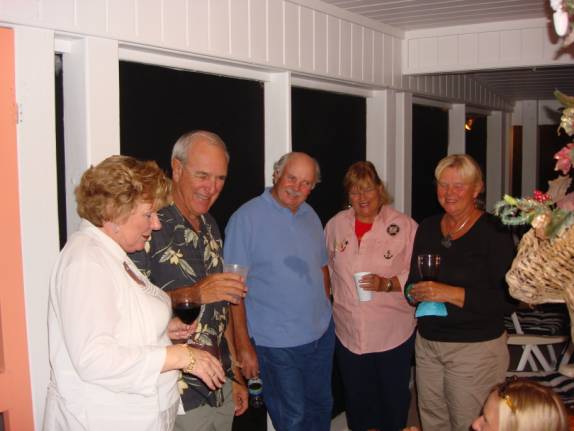 During our casual conversation, I was chatting with Bob Rosell. We were talking about his Canadian home area near Toronto, Ontario. I mentioned that I had a cousin from nearby Milton, Ontario. He said he knew lots of folks there and wondered what his name was. I replied, "Fred Silver". Rosie, as he is often called, said he knew of a Fred Silver that was in the catering business. There goes that "small world" thing again. Of course, they are one and the same. He said he had met him through the Curling Clubs there. Now, how interesting, don't you think? You may remember that Fred and Judy Silver came to AMARSE in Brunswick, Georgia to visit with us this past November.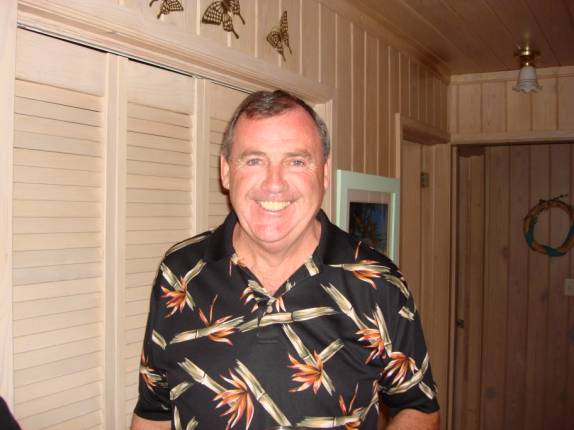 Bill and Annette had a special treat in store when George (The Barefoot Man) stopped by with the band, Chuck and Barrie of SEA 'N B. Thanks for such an enjoyable evening at CORAL VIEW.
There is a big day ahead with the huge public concert featuring "The Barefoot Man", "Sea 'N B", and local recording star, "Sean McEwan". An RMHYC contingency force will begin their protective table watch and reserving guards beginning at around 2 am.
CONTINUING UPDATES ARE IN PROGRESS…
WATCH FOR THEM, COMING SOON…
POST SCRIPT:
We sincerely hope that you will review the previous years of compilations to give context to the current editions. Please let us know if you have any special suggestions and thoughts.
REMEMBER: The website is now fully active and you can visit it at any time. You can review any of the 2006, 2007, or 2008 logs and learn more about the crew and our plans. Enjoy.
ATTENTION: SPECIAL NOTE:
You may contact us via email anytime.
Thanks for allowing us to share our life and adventures with you.
Lotsa Luv,
Fred Reed and Judy Law
AMARSE
MT40
"AMARSE" is pronounced "AM-ARE-SAY".
Our website is: www.amarse.net .