UPDATE#12 03/06 thru 03/09
Howdy Everybody,
The adventures of 2006, 2007, 2008, and 2009 through 03/05/09 have been published on the website. The saga continues with this edition.
UPDATE 2009 #12 03/06/09 thru 03/09/09
At last update, we were aboard AMARSE at Great Guana Cay in the Bahamas.
03/06/09 FRIDAY GREAT GUANA CAY
In the wee hours, sometime around 2 or 3 am, the first contingent of the RMHYC table-watch brigade took up their strategic position under the covered-roof section at Nipper's Beach Bar. Their vigilance would ensure that our members would again have the ideal vantage point to view "The Barefoot Man" concert stage. Henry and Lilly Jamrozinski (OH HENRY) and Robert Wilson (SEA ISLAND GIRL) withstood the discomforts of a brisk wind and the cold night air to take the first watch. Several hours later, Jim Elliott and Rose Dowling reinforced the guard duty team. Rumor has it that Rose came armed with coffee and cinnamon rolls. A few hours after sunrise, Judy took over the security of the roped-off and taped-off table and viewing area. A little while later, I joined her for the rest of her shift. Henry and Lilly returned for another tour of duty. The four of us played the tile game, "Rummikub" (pronounced: 'rummy-cube'). It was lots of fun and made the time pass quickly.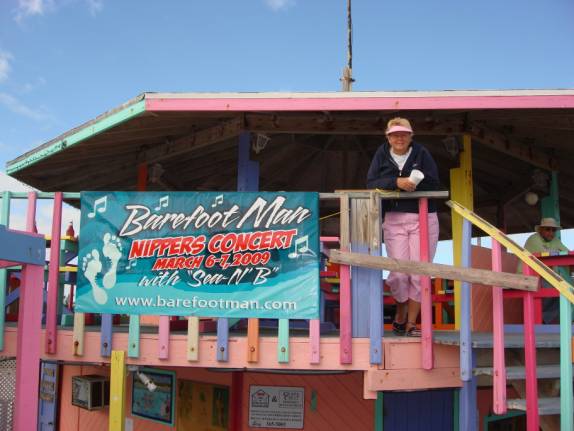 The immense beauty of the Atlantic Ocean beach at Guana is nothing less than spectacular… How photogenic is this place?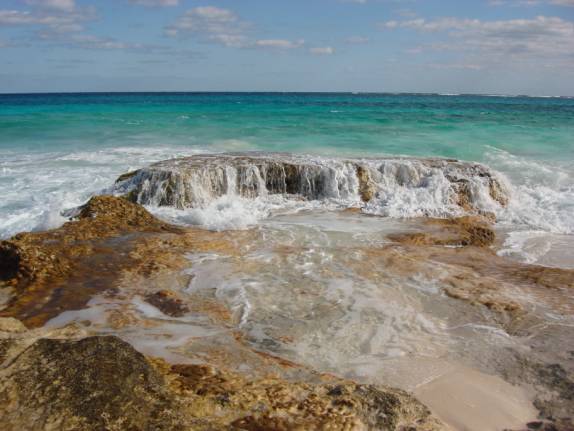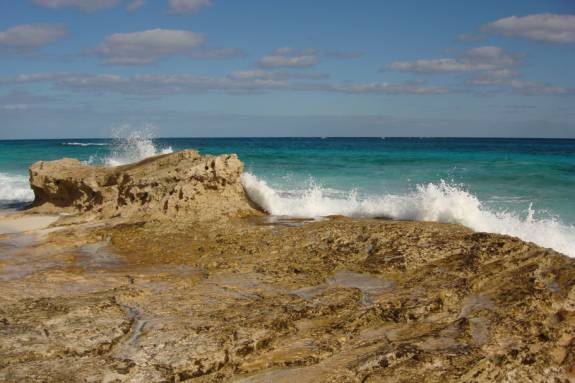 Well before the crowds began to arrive, the performers were busy setting up their sound systems and arranging their equipment.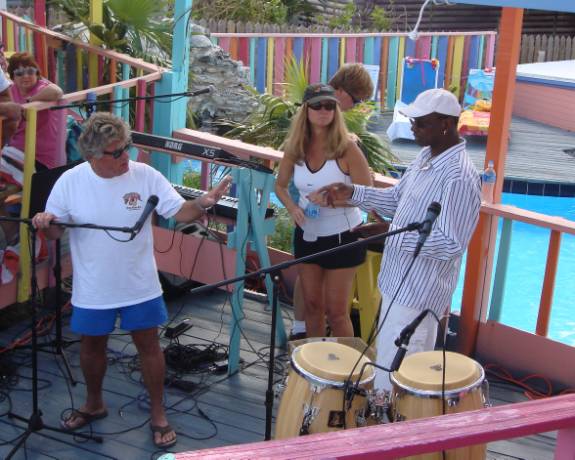 With fresh reinforcements arriving, we returned to AMARSE to get ready for the concert that was scheduled to commence around noon.
Soon, the ferryboats would be arriving to flood the island cay with party and music fans heightened to enjoy an exciting day. The exposed sandbar easily revealed the low tide levels.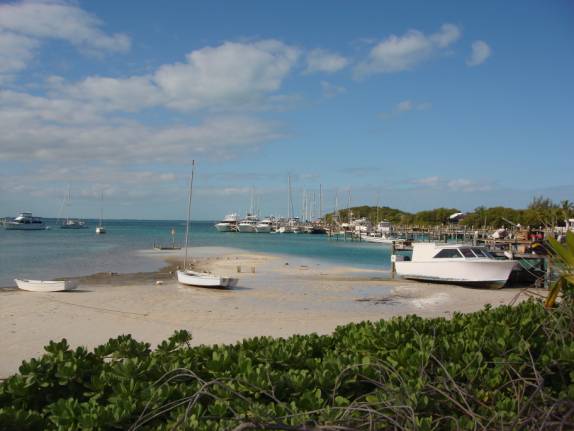 Guana Hideaways is an all-new facility that is still under construction. The docks are all new and have yet to receive electric and water services. This dock office has just opened and condo facilities will soon start going up.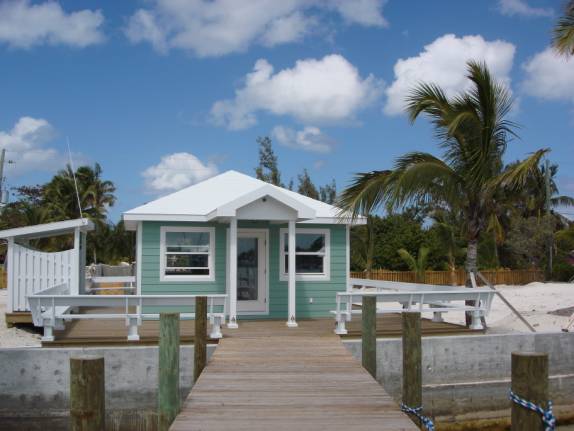 We walked back up "that sandy road" to Nipper's Beach Bar. Hoards of folks were already arriving. These interestingly decorated golf carts are an initial indication of the kind of fans that the lead performer has garnered. The Barefoot Man's CD record album, "Time Flies When Your Havin' Rum" was the inspiration for this clever design.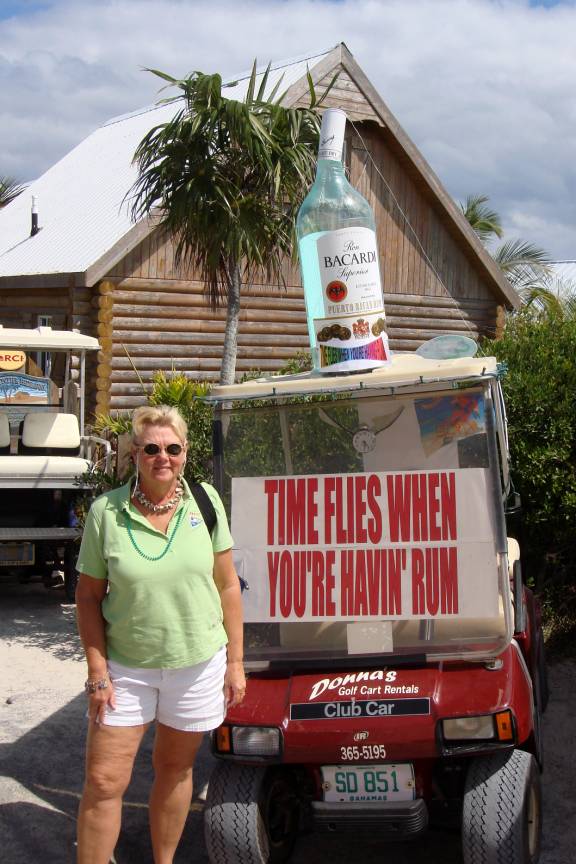 Although the golf cart humorously refers to another Barefoot Man CD album, "Fake Boobies" can't compare with the real ones…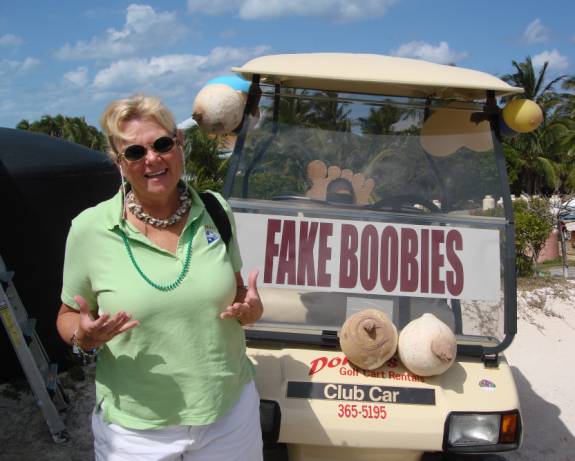 Cathie and Bob Jung (BOBCAT) were there ready for a great day of fun. You may know of her fame as "The Queen of Corsets". Cathie has a tiny waist of only 15 inches and she holds the Guinness World Record for the smallest waist of any currently living person.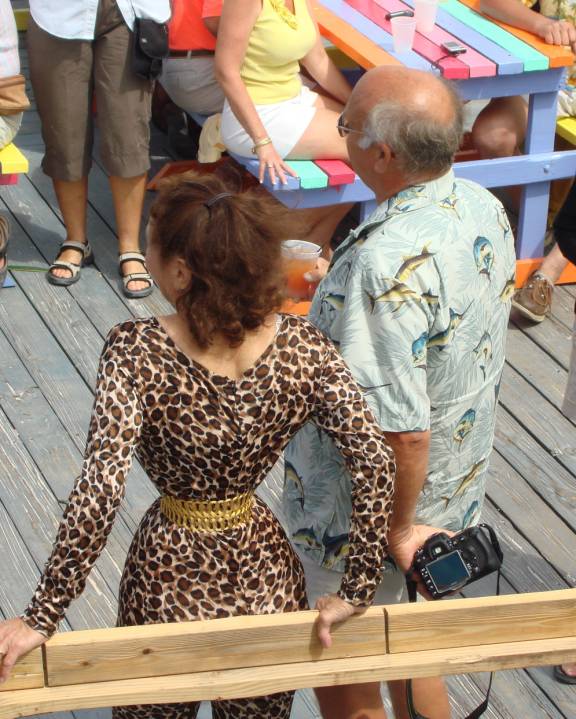 Robert Mitchell (ORINOCO) heading up the steps to the RMHYC reserved area.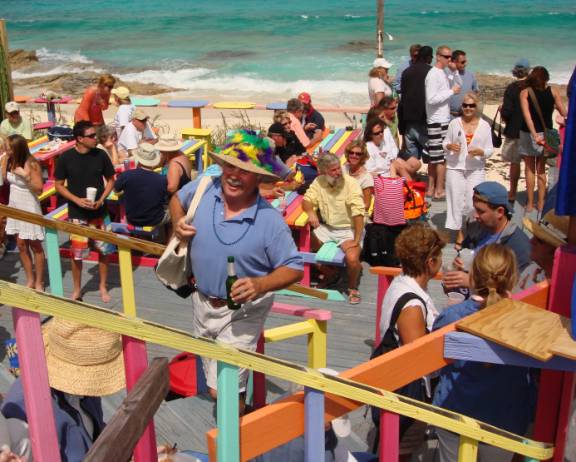 Judy Law (AMARSE) sporting one of her beautiful crocheted necklaces…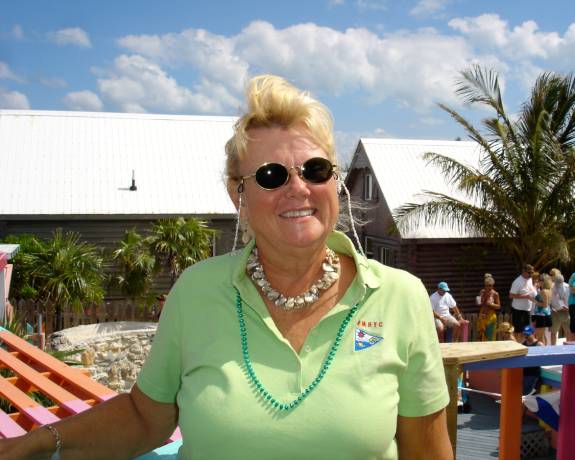 Robert Mitchell (ORINOCO)…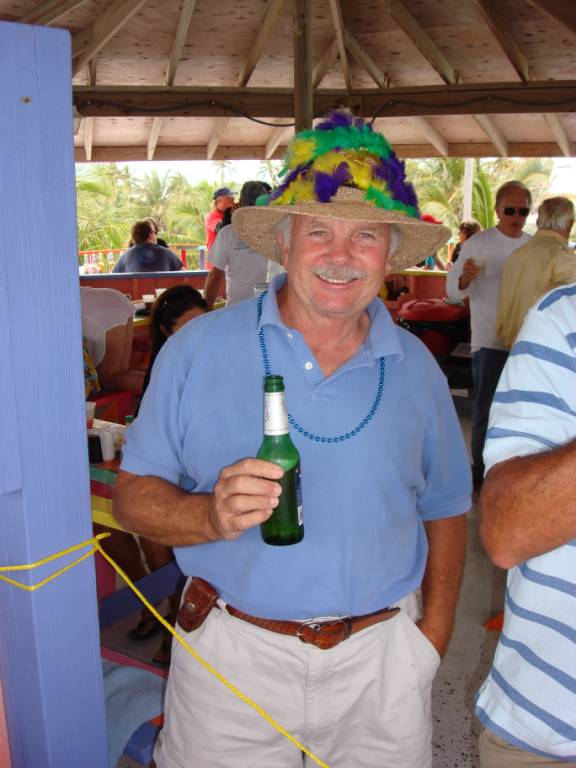 The Guana gals were generously tossing out strands of Mardi Gras style beads from their reserved vantage point by the pool house…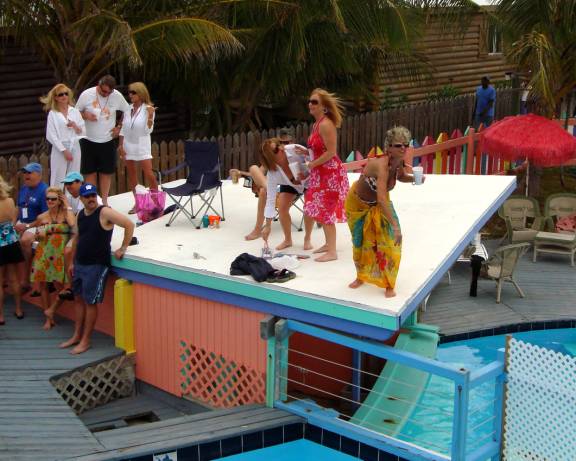 The opening performer was a favorite local recording star, Sean McEwan.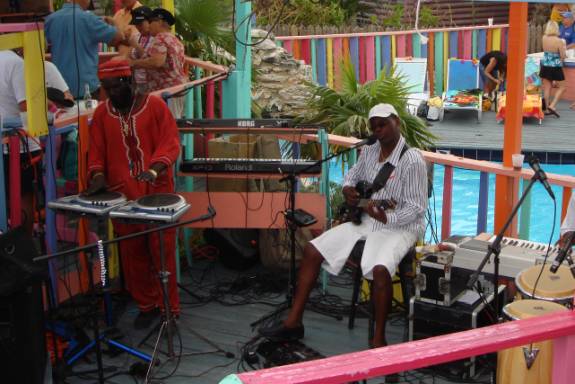 As more ferries and private boats arrived at Guana Cay, the crowds began to build rapidly.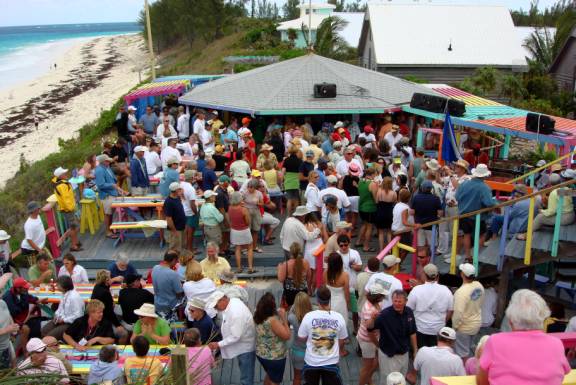 There is a widespread rumor that people sometimes get a little crazy at these concerts. Imitating the wild side, Patty demonstrates a secret technique for chugging two bottles of catsup at once. Wow… pretty wild behavior, wouldn't you say..?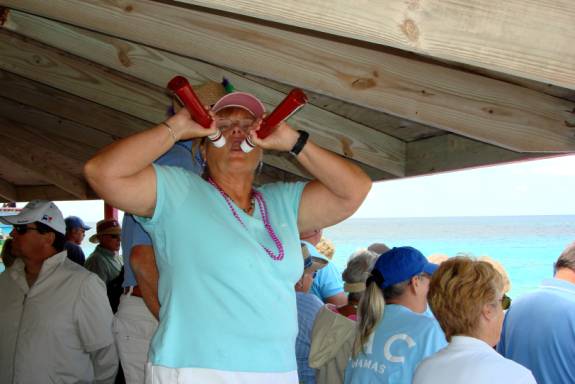 She's got the moves…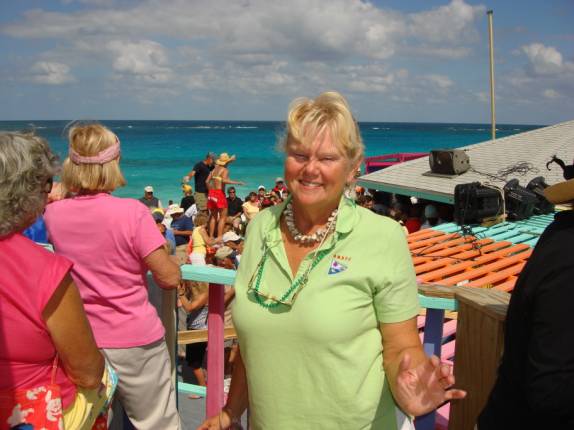 Sun n' Fun at the poolside… This is a place to "see and be seen…"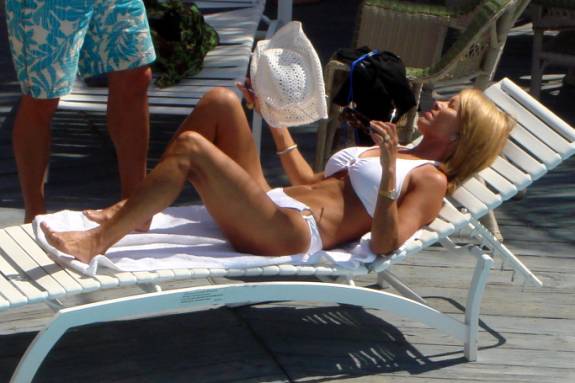 Cheers…! Judy (AMARSE) and Pat Dwyer (SALTY DAWG)…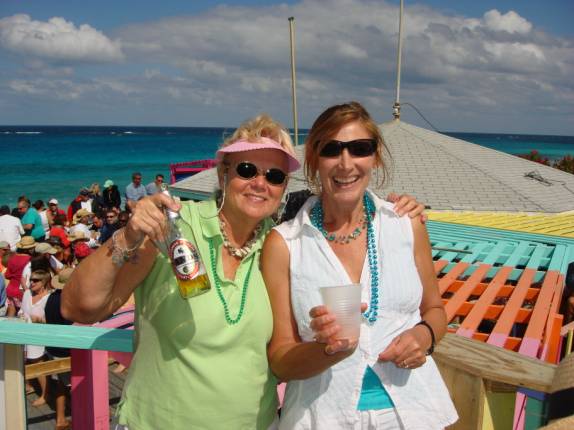 Before his performance, The Barefoot Man was around to sign T-shirts, CD's, Caps, and various other locations…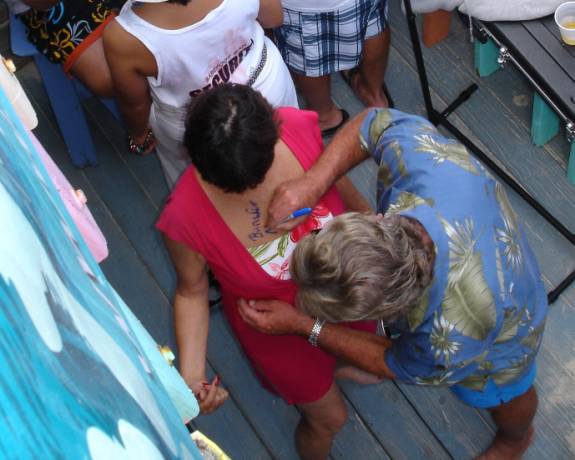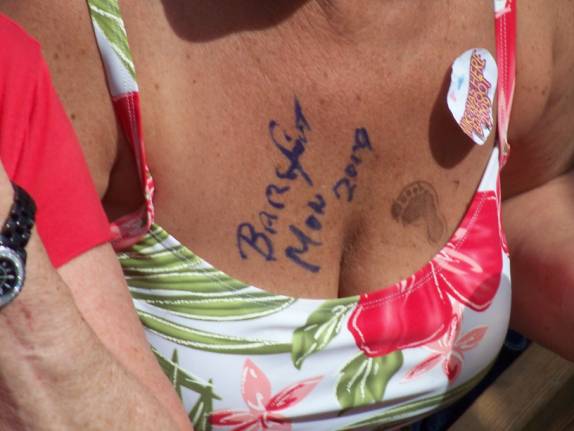 As the dance floor got more crowded, some gals took to the tabletops for their gyrations…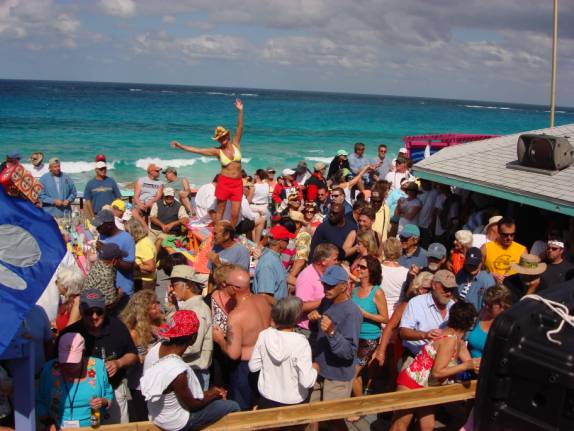 Even after many hours of faithful guard duty, Henry and Lilly (OH HENRY) were ready to party…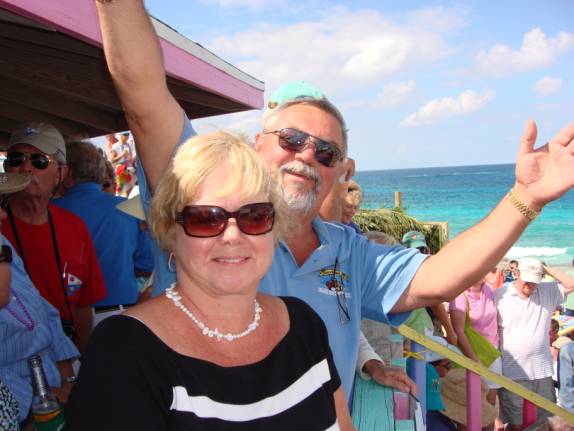 Earl was nothing less than fabulous on the steel pan instrument. I don't think that I've ever heard anyone sounding better.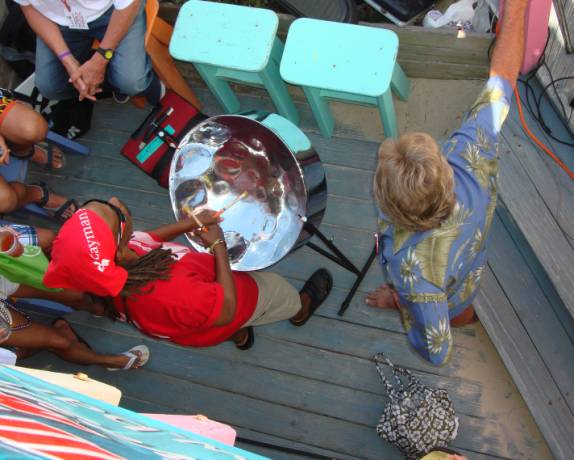 A couple of buddies, Judy (AMARSE) and Patty (ORINOCO)…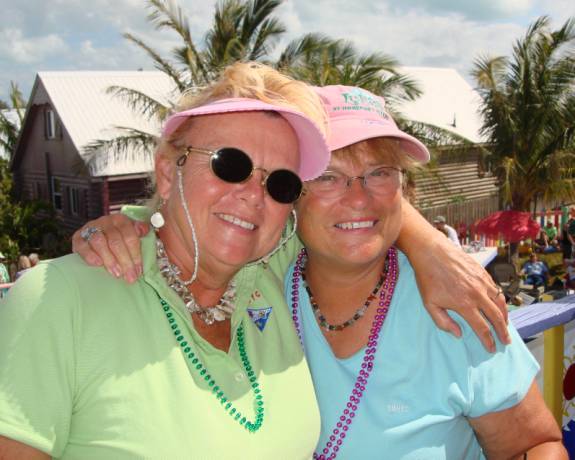 Patty schmoozed the Barefoot Man to autograph her special, pink hat. She brought that cap from LuLu's Restaurant in Alabama. Owner, Lucy Buffett, is sister to the very famous, Jimmy Buffett.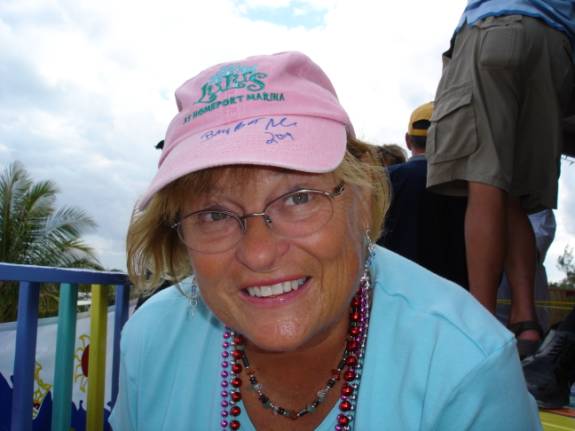 There was lots more to see here than The Barefoot Man…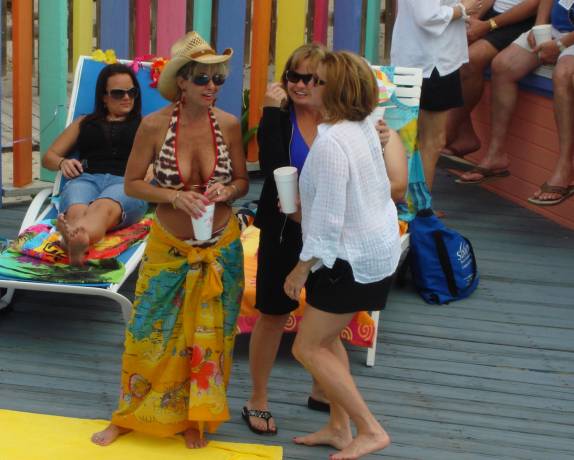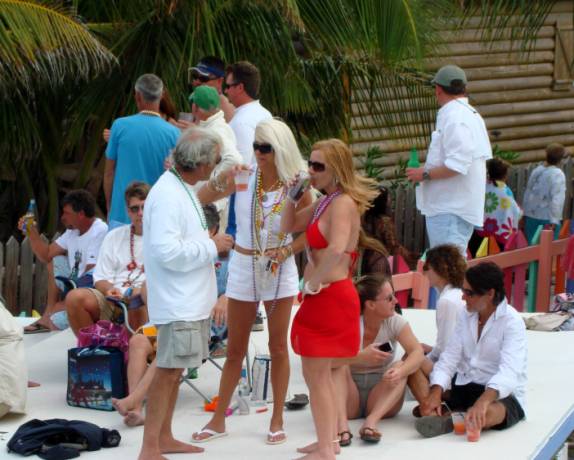 The specialty drink here is called, what else but, a "Nipper's". Judy confirms that it easily passes her stringent taste test.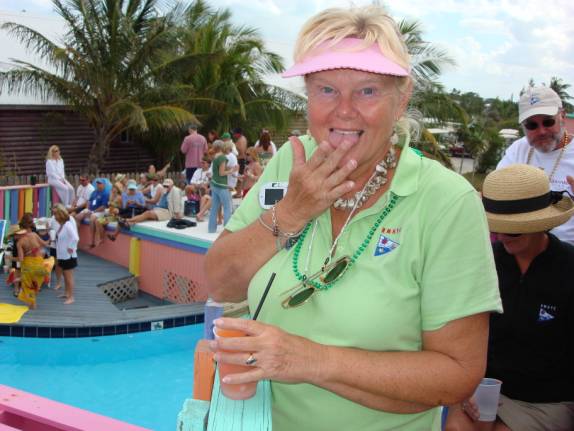 Dave Bluto (CHABLIS) and Robert Mitchell (ORINOCO)…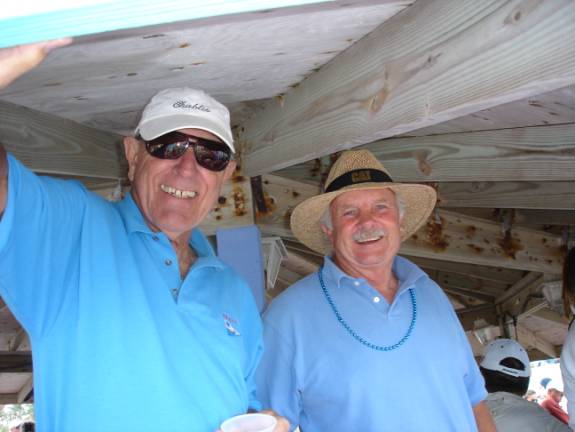 The house was full when The Barefoot Man kicked off his sandals, picked up his guitar, and stepped up to the mike…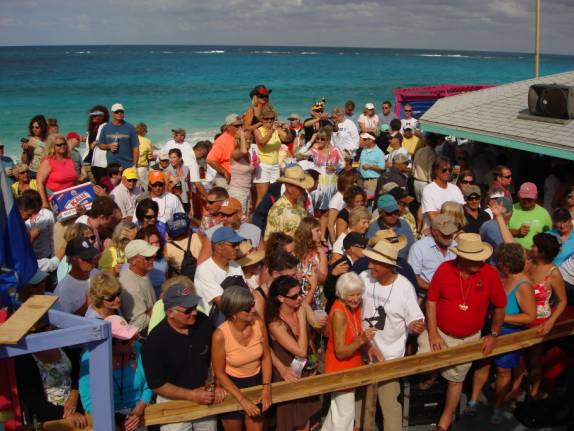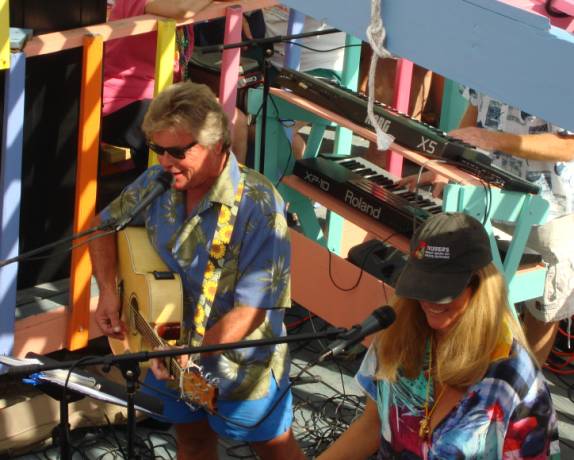 The sideshows continued with even more strands of beads being flung up to the eager crowd…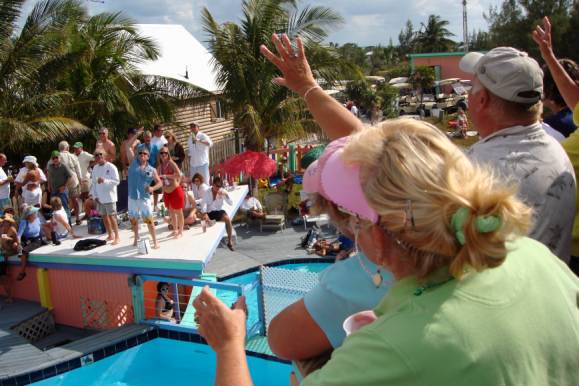 The Barefoot Man performs with the band duo known as "Sea N' B".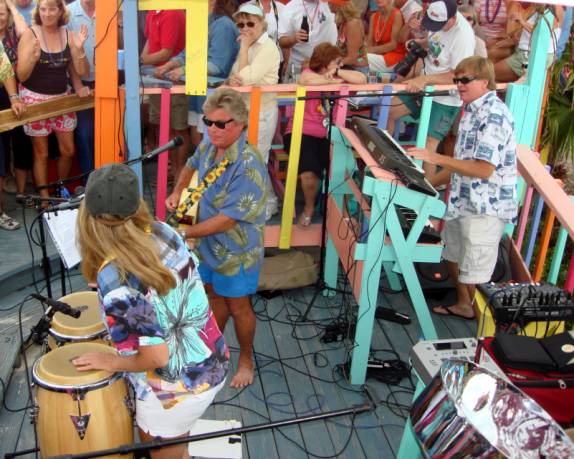 Gail (OUR TIME), Jim and Judy Howenstine (SILVER FOXES), and John Thomassen (OUR TIME)…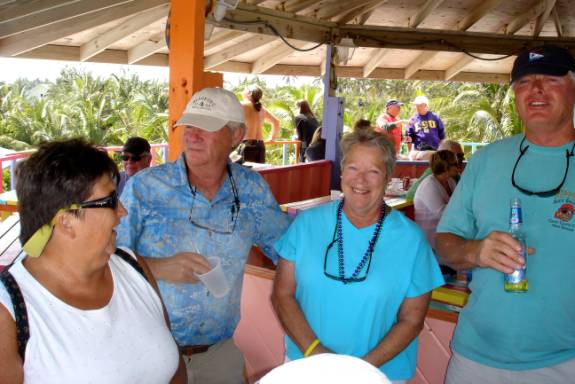 Looks to me like these "kids" are having fun…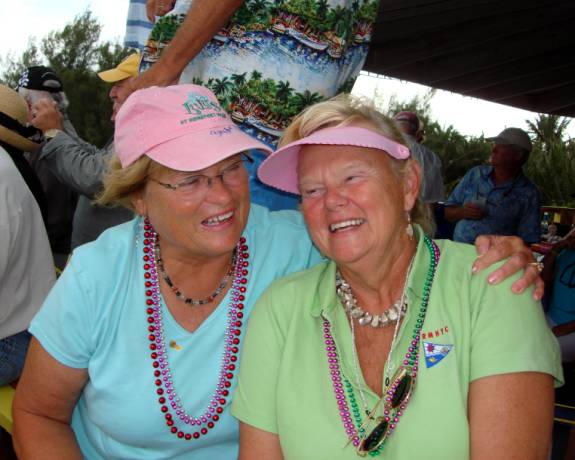 The percussionist is Barrie…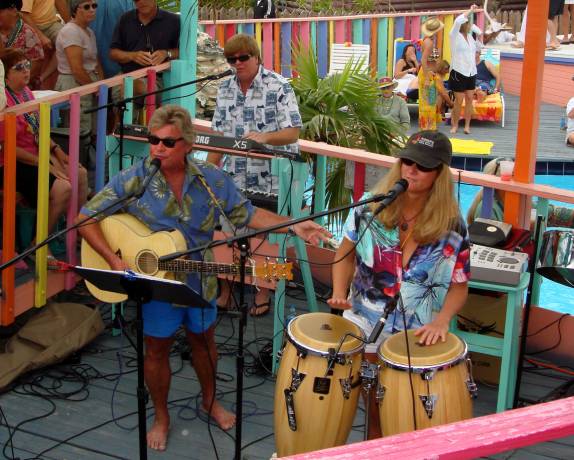 I think that this gal is really super. She lived for many years on this little cay and she knew The Barefoot Man when he was just a youngster. Nipper's owner, Johnny, used to help her in her home kitchen when he was just a little fellow. Susan Harward (SUSAN'S COVE) and Fred Reed (AMARSE)…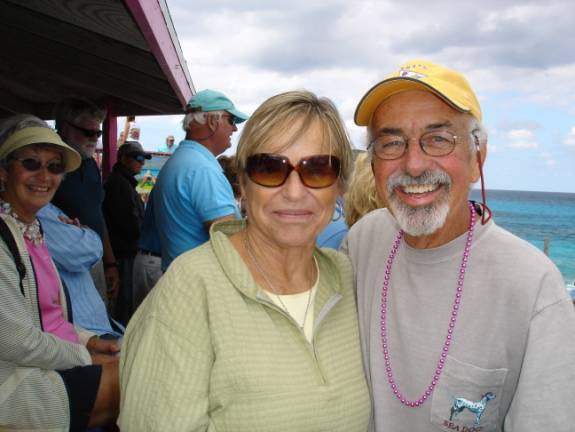 The RMHYC members were very appreciative of the efforts extended by the overnight watch team that secured this viewing spot.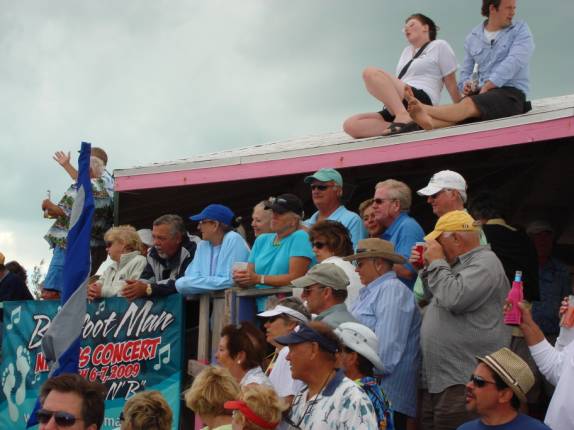 Carolyn's (SEA ISLAND GIRL) and Joan's (CHRISTINE) overhanging crocs and bare feet seem so appropriate at this beach concert…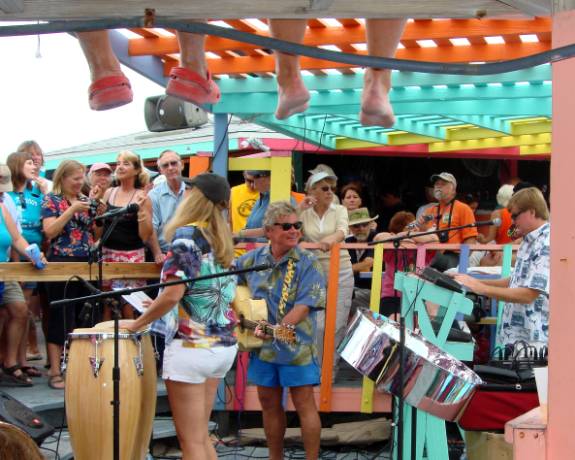 Kent and Gretchen (KINJA KAT)…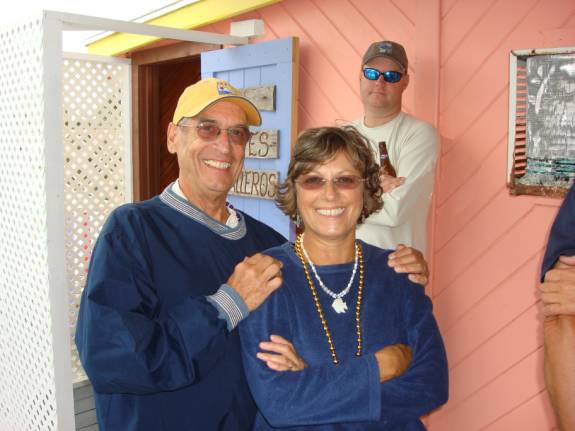 One half of the "SEA N' B" band, Barrie…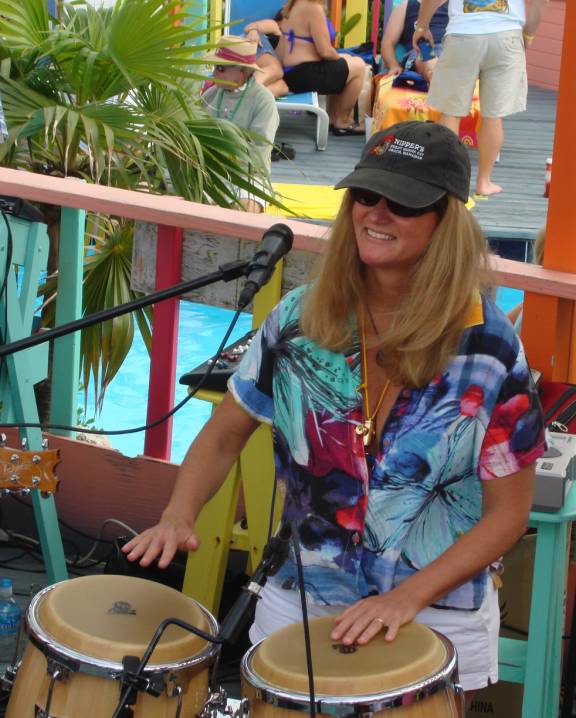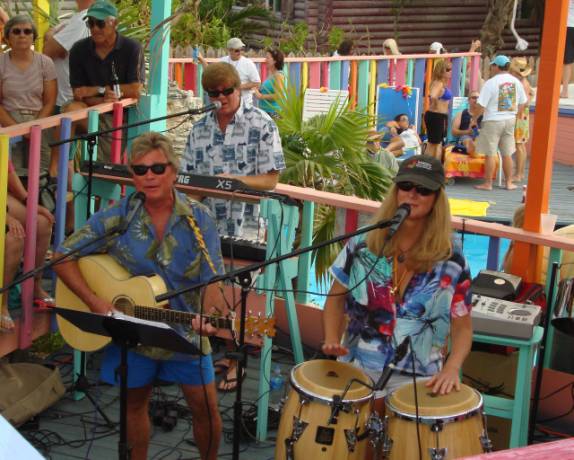 Patty and Robert Mitchell (ORINOCO)…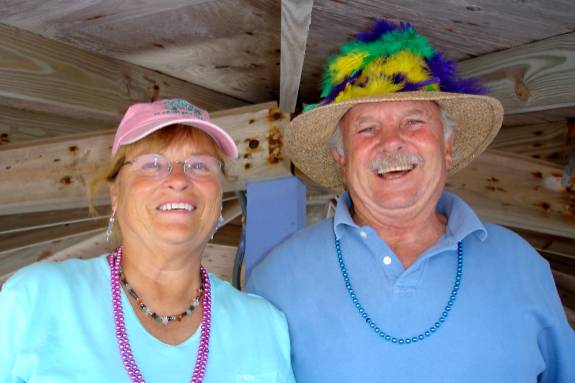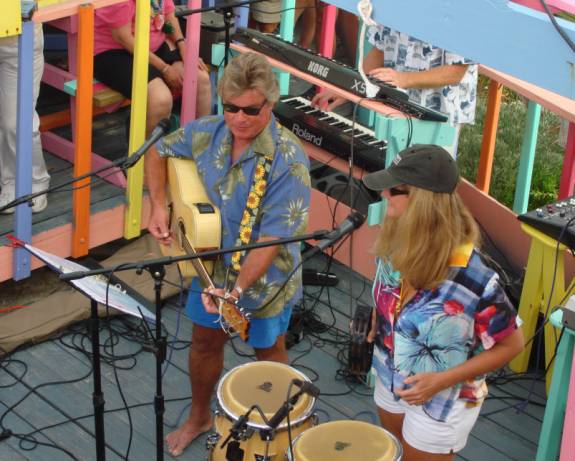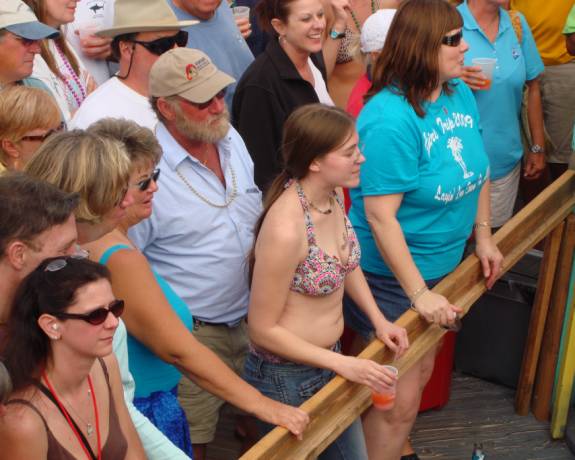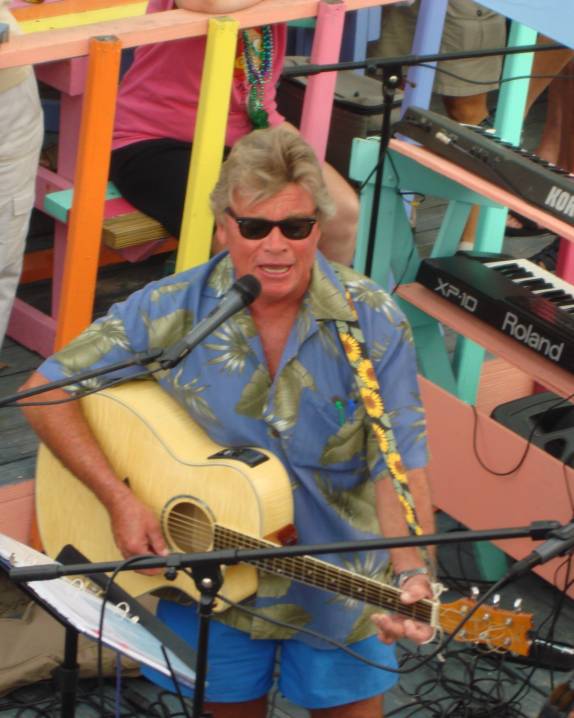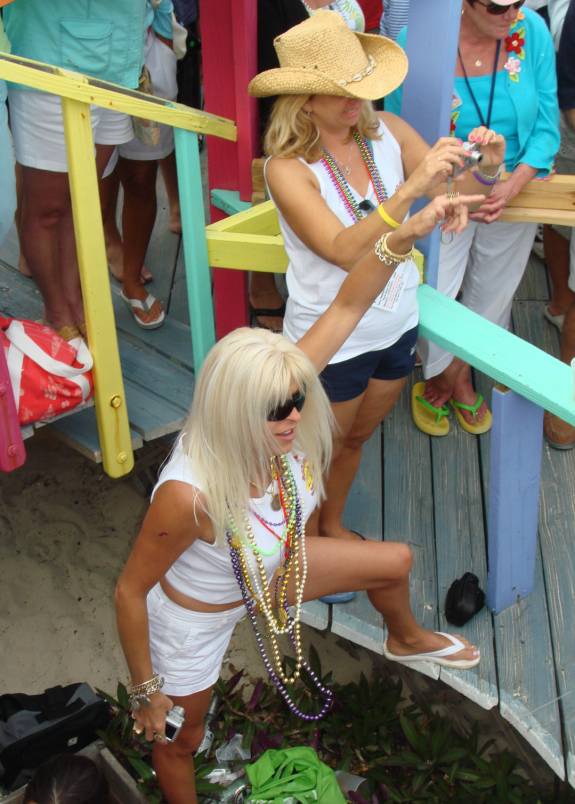 Rose Dowling (WILD ROSE) wanted to have a front row position for her favorite song, "ALICE…"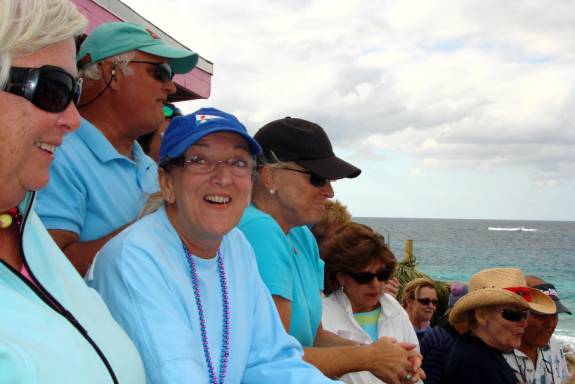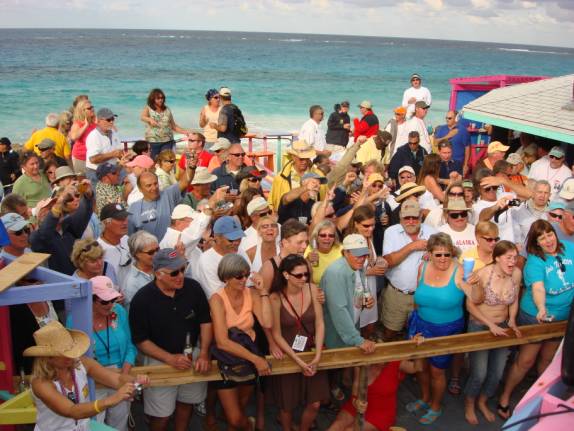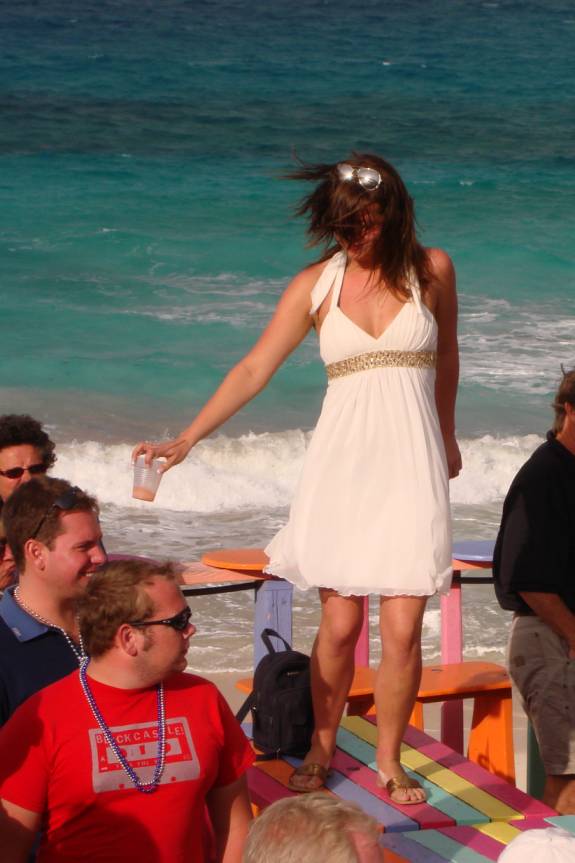 A pause for the cause…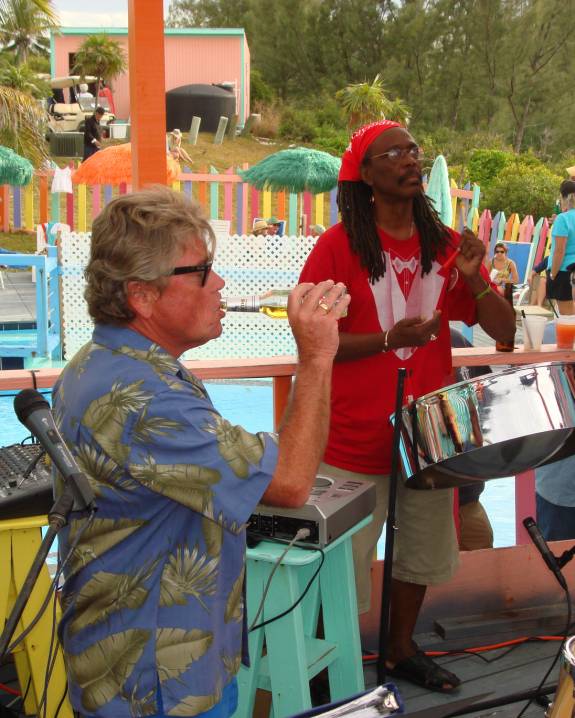 Earl, maestro of the steel pan… He is nothing less that great…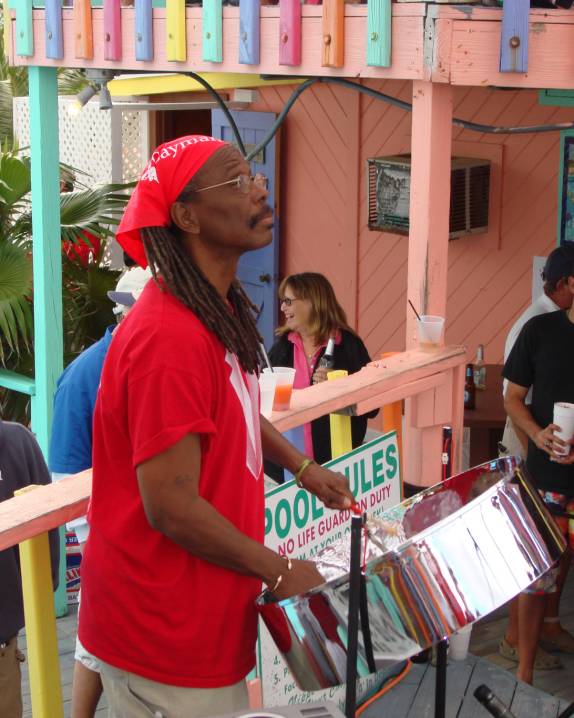 Joan (CHRISTINE) and Judy (AMARSE) found a great place to peak through to the music stage…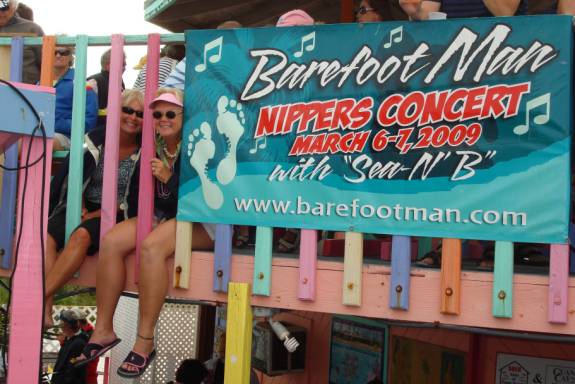 I know I've seen this face before, but I just can't remember where or when…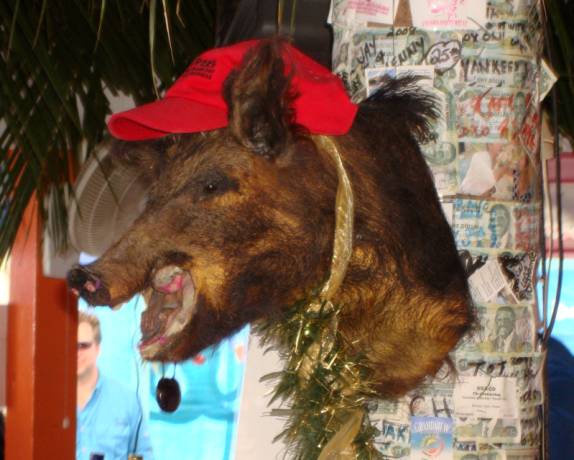 Patty conned Judy into a few puffs on this little Cohiba Cuban cigar. Having never been a smoker, she didn't like it very much…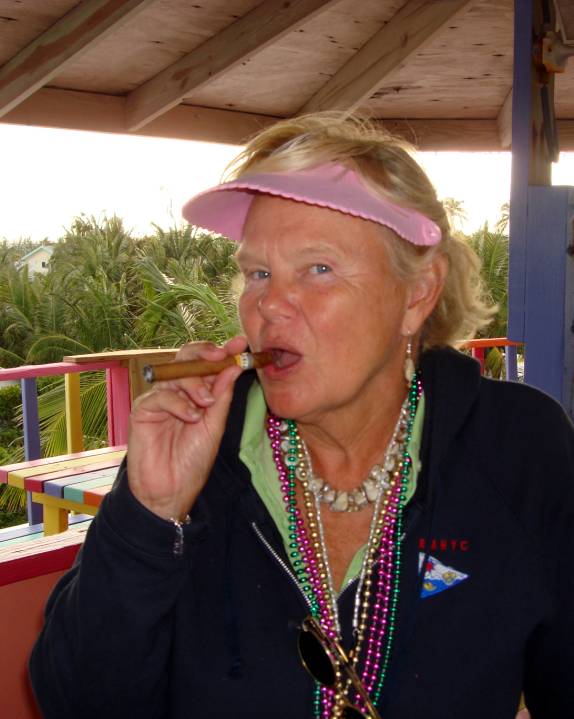 You have to experience life to enjoy life… Hey, you ought to try one of these mild Cohiba's…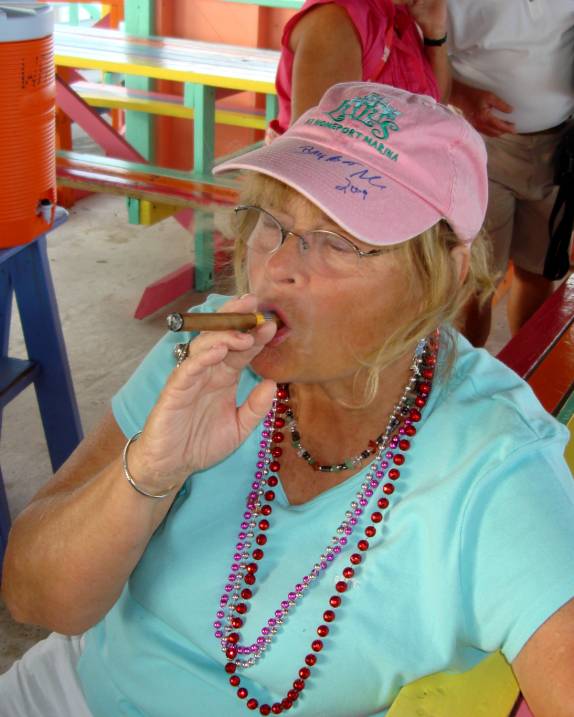 Patty had no problem convincing Jim (CHRISTINE) of the merits of fine Cuban tobaccos…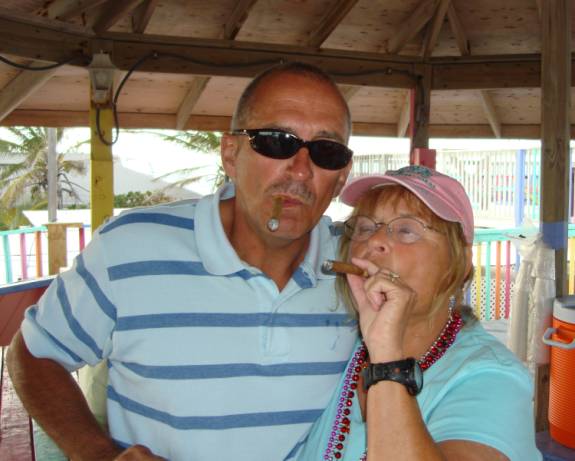 Even after I had smoked this P. UPMANN cigar down to the nubbin, I continued to enjoy chewing on the end all afternoon.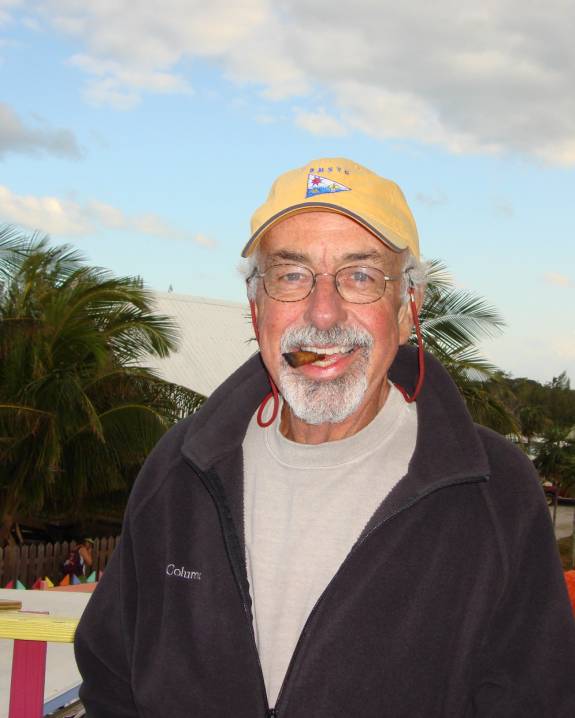 Joan Elliott (CHRISTINE) and Patty Mitchell (ORINOCO)…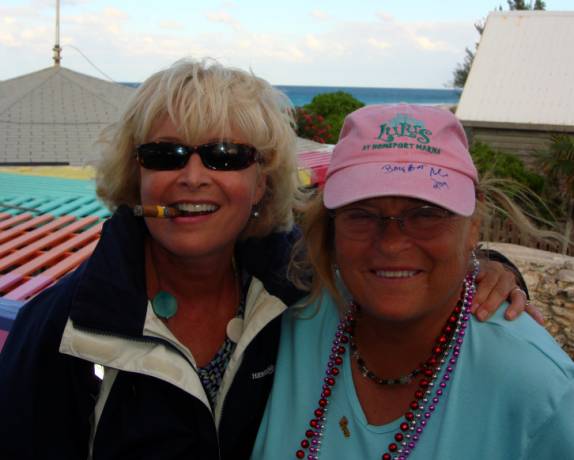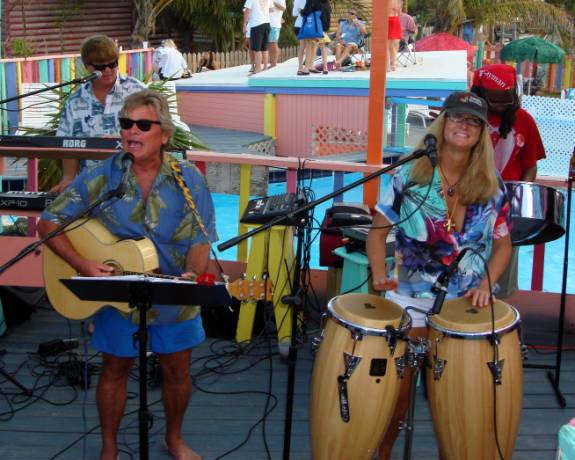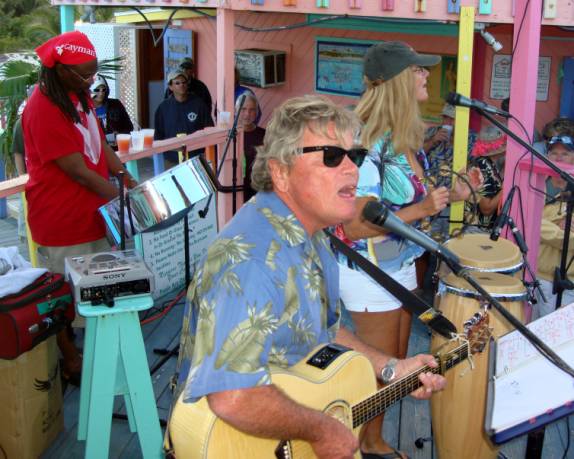 Chuck Quappe is the other half of the band "SEA N' B"…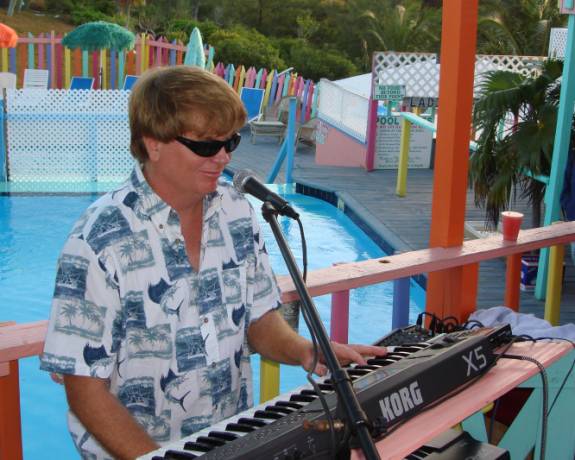 Barrie Quappe sang a song from their new "SEA N' B album CD.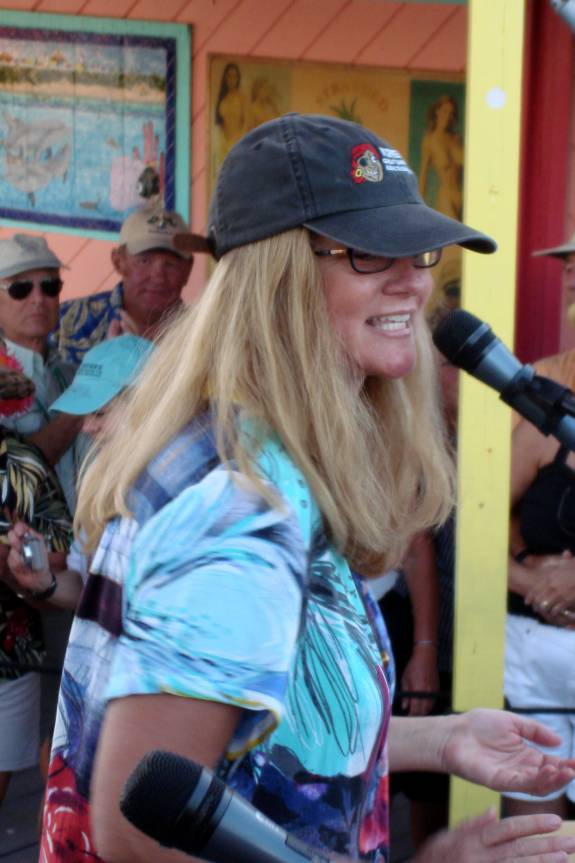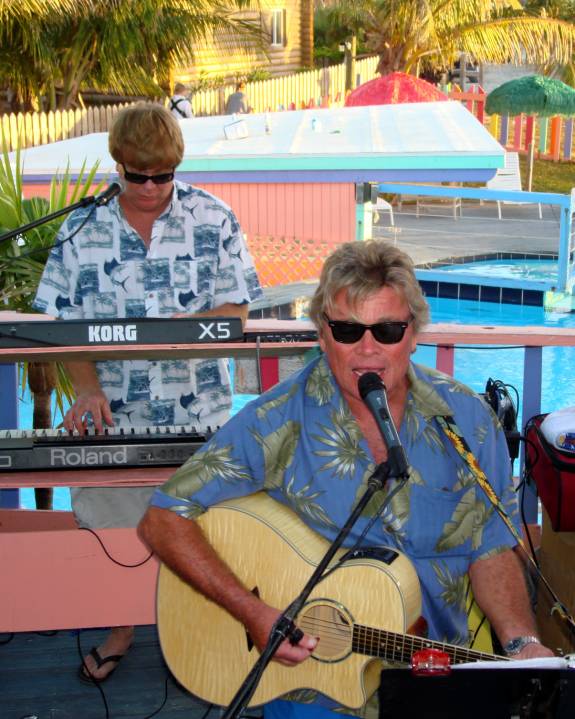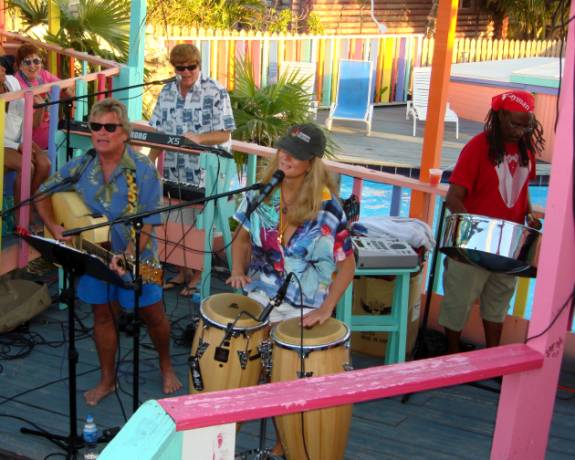 Johnny (Owner of Nippers Beach Bar) and Judy (AMARSE)…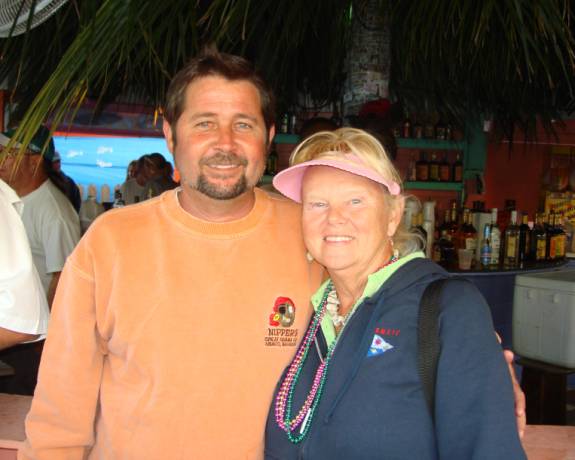 How cool is this golf cart tribute to The Barefoot Man…?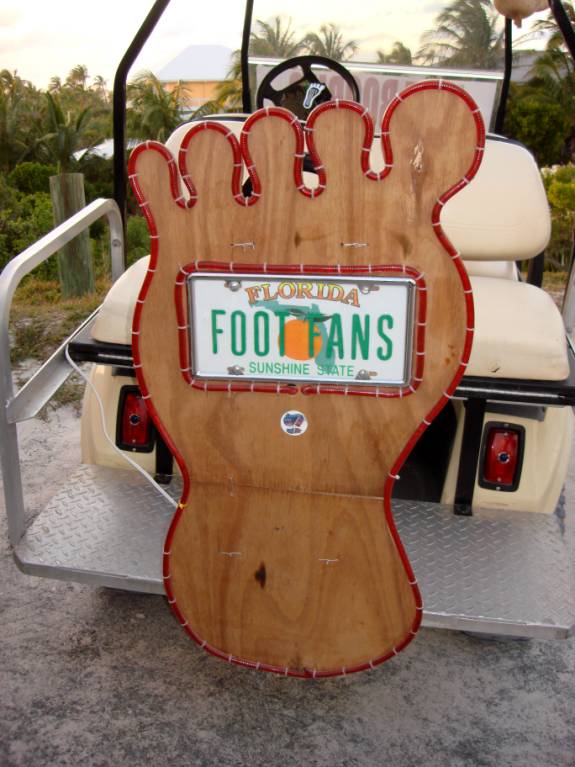 With the afternoon concert concluded and the sun setting rapidly, we walked across the island cay to Settlement Harbour on Guana.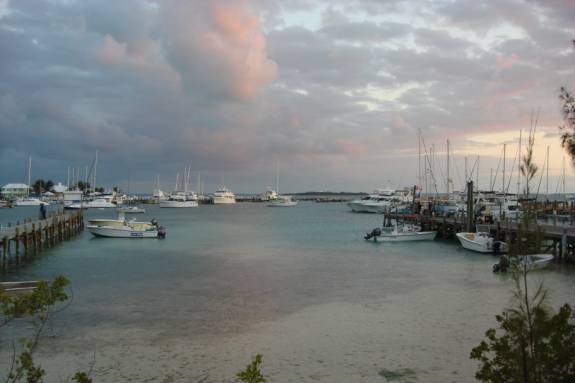 We arrived just in time to see the remnants of daylight over Fisher's Bay from Grabber's Bar on Sunset Beach.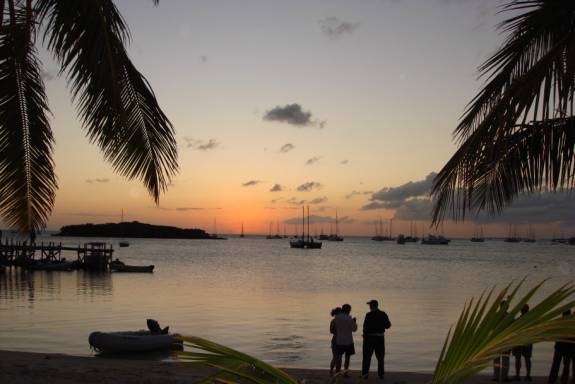 After a short rest aboard AMARSE, we returned to Grabber's Bar to hear their guest band, Coco Locos. The music group was brought in from Cocoa Beach, Florida for this special weekend. Seemed like lots of people were having a fun time.
We had a long and action packed day that was very enjoyable. It has been lots of fun to be able to stay here on AMARSE at the dock. These tired kids had no problem sleeping that night.
03/07/09 SATURDAY GUANA CAY to BOAT HARBOUR
Dave and Barbara Bluto hosted a breakfast gathering aboard CHABLIS. Each couple brought a side dish and Barbara made up the delicious, buttermilk pancakes. We brought a couple of pounds of grilled sausage patties. How many boats do you know of that have aft-deck, built-in griddles? Barbara gave me a chance to try out this neat feature on CHABLIS.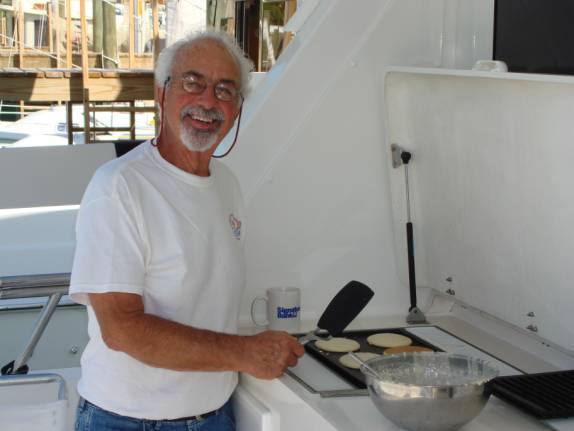 Hungry breakfast diners arrived to CHABLIS from ORINOCO, OH HENRY, AMARSE, WILD ROSE, and CHRISTINE.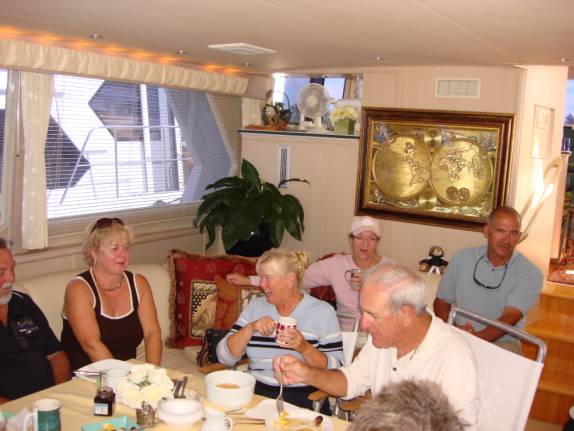 All to soon, it was time for AMARSE to leave the dock for Boat Harbour. Robert and Patty Mitchell would be departing in the opposite direction through the "Whale Passage" and on toward the Florida coast. Again, we hugged and said our "goodbyes". They promised that we would see them again; I certainly hope that we will. Until then, we will surely miss them.
Under nearly clear, blue skies, the sun illuminated the beautifully colored water of the Sea of Abaco.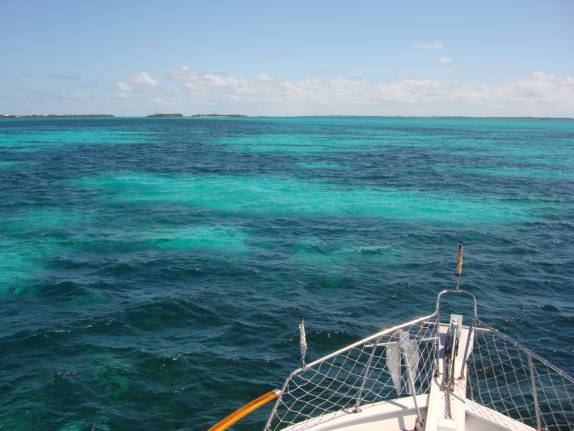 CHABLIS loped along at a gentle pace while Dave trolled a line off the stern…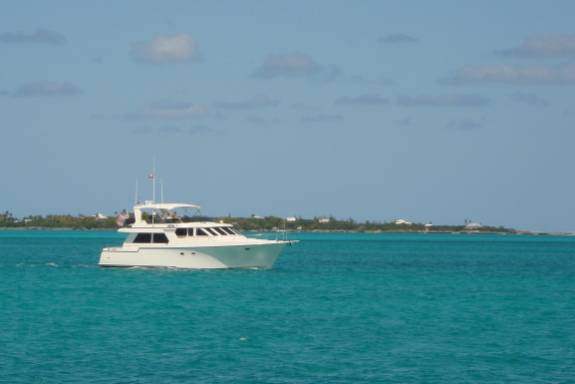 While we backed into our slip, we had a great group of friends standing by ready to assist us with our docking lines. We were pleased that our friends, Bill and Mary Russell (HARBOUR REACH) had finally made it in and had been assigned to the slip right next to ours. We are pleased to welcome them to the Abacos and Boat Harbour Marina.
From Guana Cay to Boat Harbour, we had traversed 13.2 miles at a moving average speed of 6.7 mph giving us a nice, gentle cruise of about two hours.
03/08/09 SUNDAY BOAT HARBOUR
We have been enjoying an absolutely wonderful stretch of fine, tropical weather. When we get sunny, warm, and calm days, the urge to explore fills everyone's soul. With a favorable low tide time, Tahiti Beach was a favorite destination for shelling. Gene and Judy Koetitz (LO QUE SE A) decided to dinghy travel to the beach.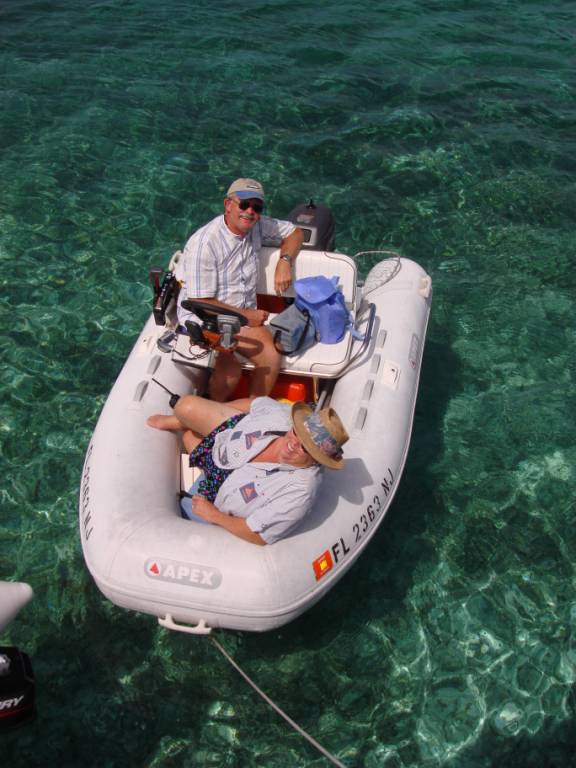 Ed and Shirley Zellers invited a group of us to join them aboard M/V TALLY HO for a trip to the beach.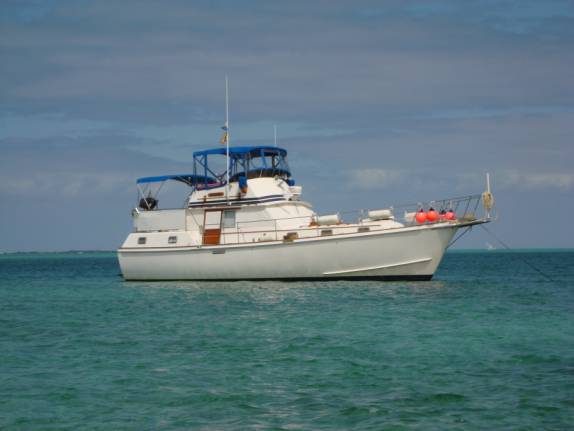 Gene and Judy helped to ferry Bill Russell (HARBOUR REACH) and Judy Law (AMARSE) in their dinghy.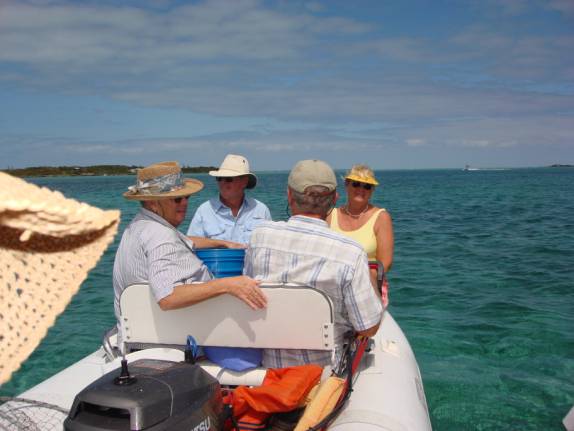 Bill and Mary Russell (HARBOUR REACH) wiggle their toes into the sands of Tahiti Beach. That's M/V TALLY HO at anchor in the background.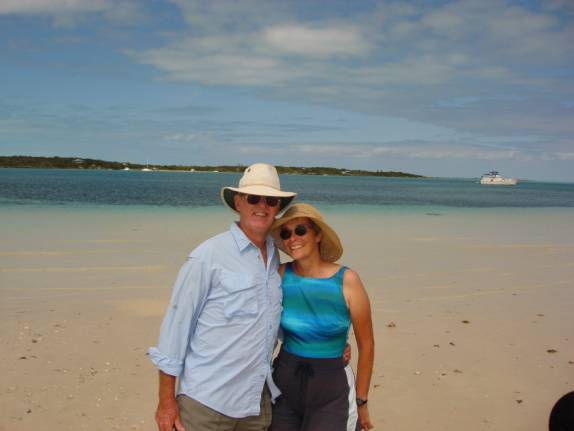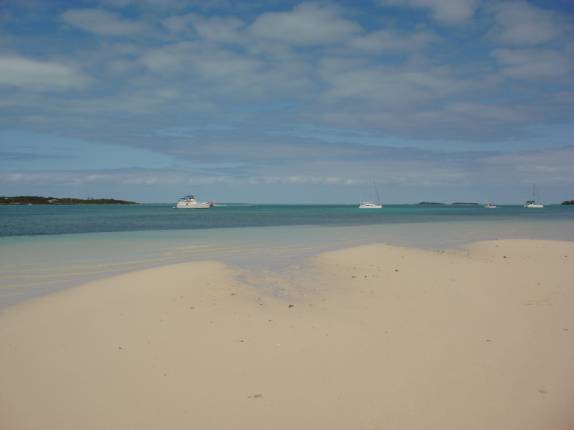 A camouflaged Star Fish in the shallow waters…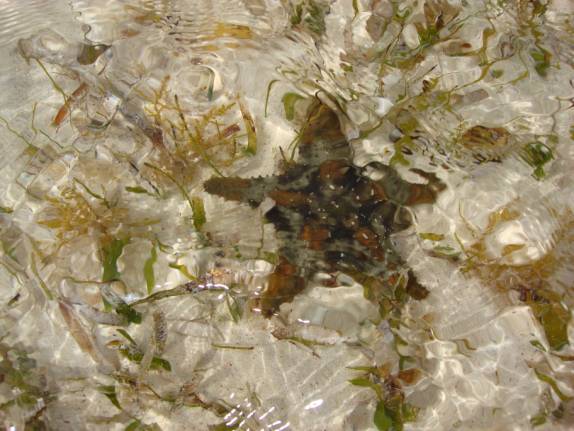 Judy Law (AMARSE)…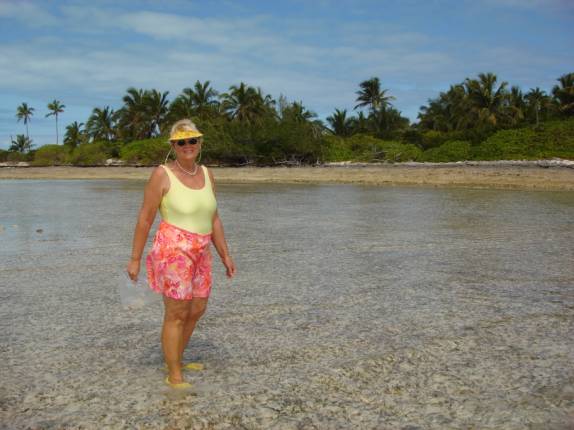 The sand in these shallows is so fine that you sink to your ankles and your croc shoes will get stuck in the sandy muck…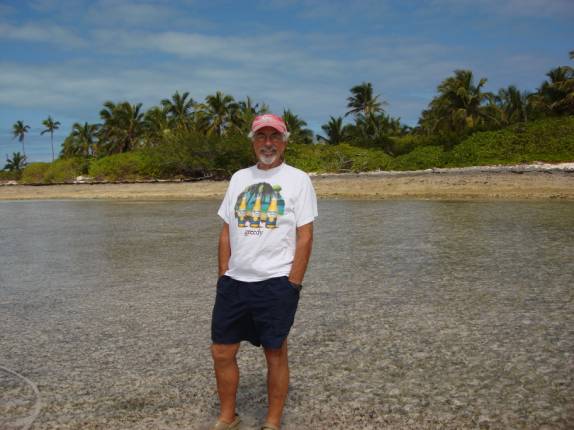 Out on the Atlantic Ocean side of the Tilloo Cut, we sometimes find some good shelling opportunities in the sands near this coral outcropping.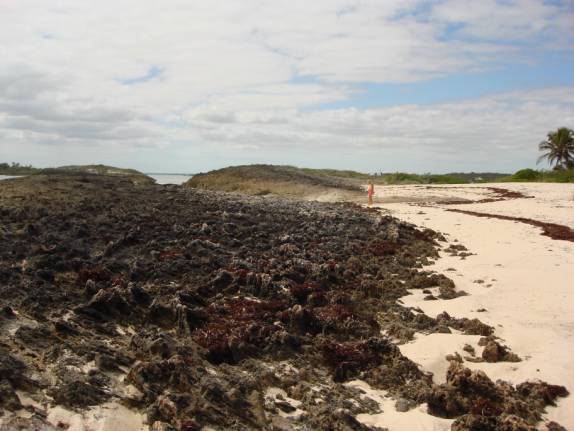 Back on the Sea of Abaco side at Tahiti Beach, Kent and Gretchen Cronkhite (KINJA KAT) get ready to dinghy away back to their boat. Ed Zellers (M/V TALLY HO) stands by to lend a hand at wiggling the inflatable boat out to some deeper water.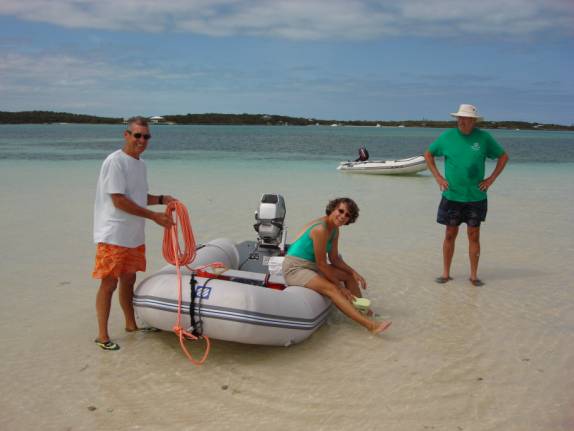 Judy (AMARSE) climbs back up to the cockpit of M/V TALLY HO.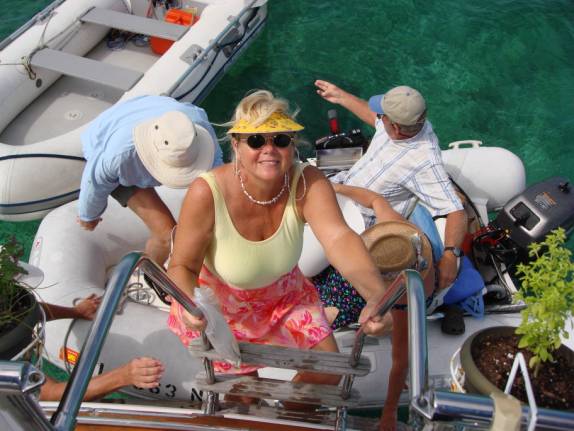 (L to R) Ed and Shirley (M/V TALLY HO), Fred and Judy (AMARSE), Carolyn Wilson (SEA ISLAND GIRL), and Mary Russell (HARBOUR REACH)…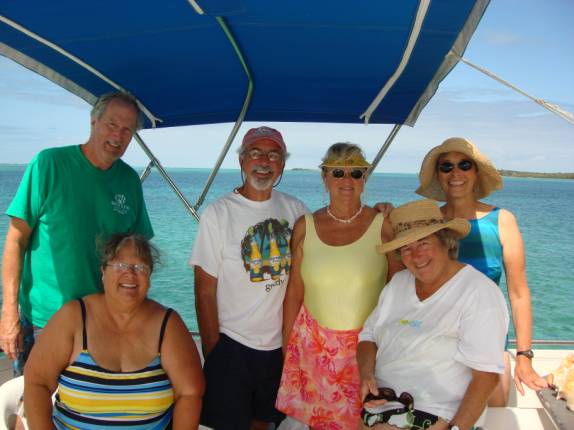 At 5pm, Dock 4 boaters held a nice cocktail party. We all practiced a cute song set to the music and tone of "Yo-Ho, Yo-Ho, It's a Pirate's Life For Me." Bette and David Bauereis (TAR HEEL) came up with the unique lyrics that personalized the tune for Dock 4…
The table was set aboard AMARSE for our dinner guests, Bill and Mary Russell (HARBOUR REACH).
03/09/09 MONDAY BOAT HARBOUR
The weather gods were smiling upon the northern Bahamas again today. We lowered our dinghy from the sunroof and set out for a day of exploration and fun sightseeing.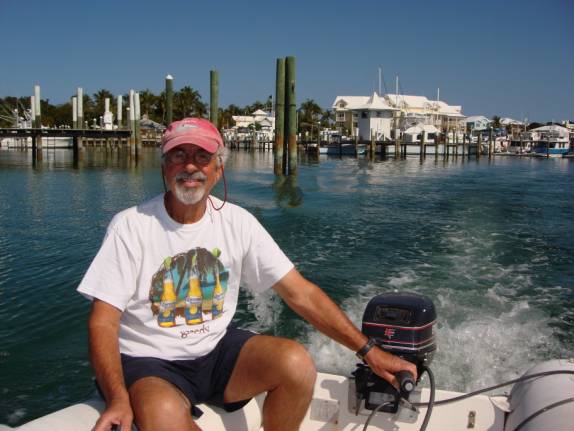 We zipped up the channel by Sugarloaf Cay and cut through to the Sea of Abaco near Matt Lowe's Cay. Over smooth water, we entered the channel into the harbor area of Man-O-War Cay. In the eastern bay, we photographed this rustic-looking, waterfront cottage.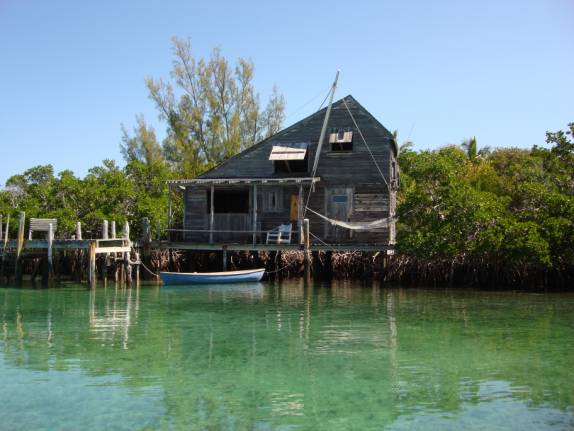 The harbor is full of boats lying at fixed moorings.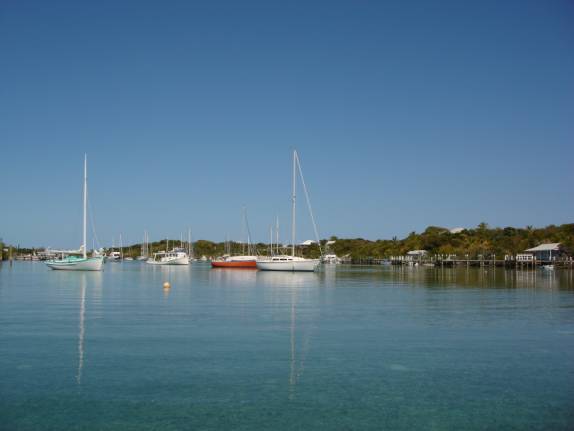 This beautiful, old wooden sloop was probably built right here on this cay.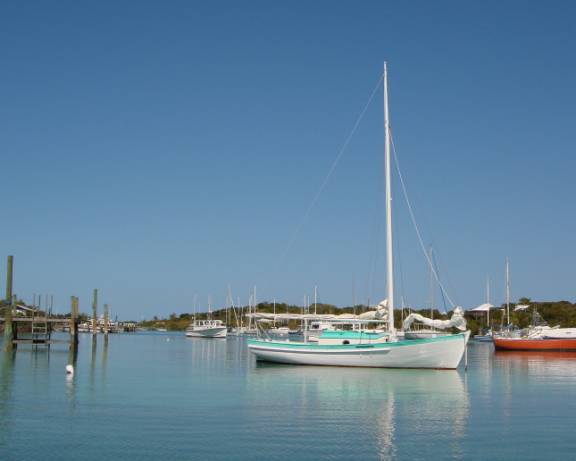 This old wooden ketch rigged sailboat is another example of the type of boat that would have been built here at Man-O-War Cay.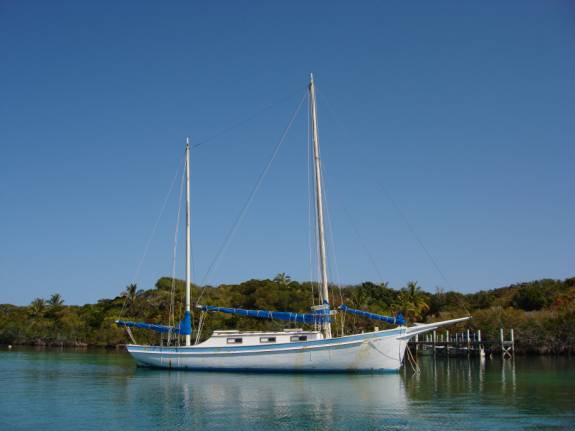 Over in the western (or northern) side of the harbor, there are dock facilities and more mooring balls.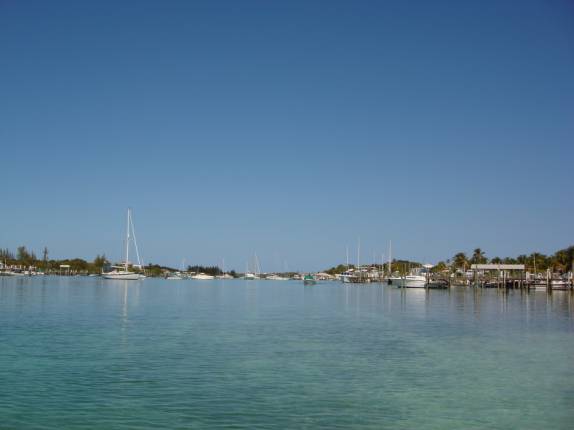 This water can be very shallow at low tide, as this sailor soon learned. Later, the tide will rise again and the boat will be upright and afloat.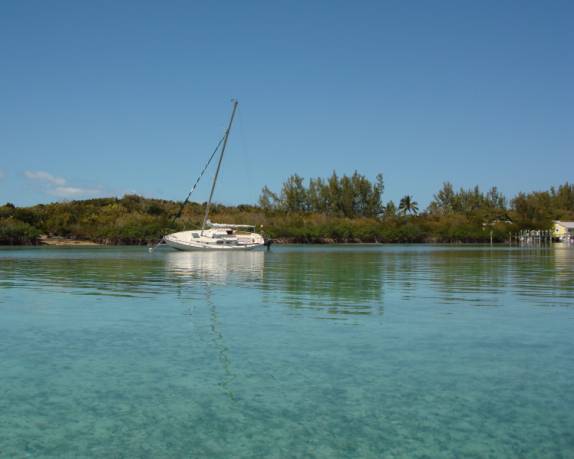 As we meandered around through the shallows, we spotted these black skimmers on this sandbar. Though we would have liked to get a closer look, the extreme low tide would not permit us enough water for even our dinghy to approach.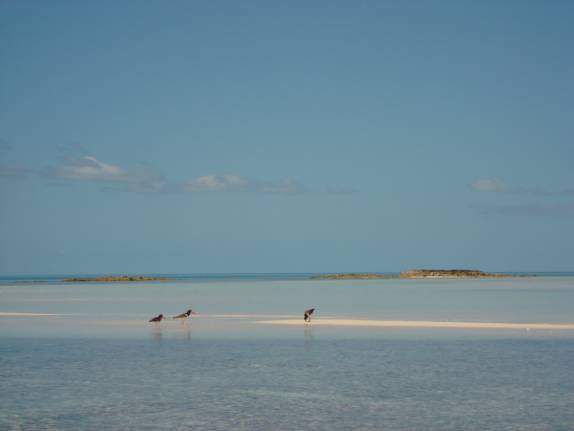 After searching various routes looking for enough depth to get out, we finally found a tight spot to make it through to the deep water. After crossing the Sea of Abaco toward the south and east, we entered the Hope Town channel. We tied up at the dinghy dock and walked around looking at the quaint sights. This tropical island cottage seems just perfect.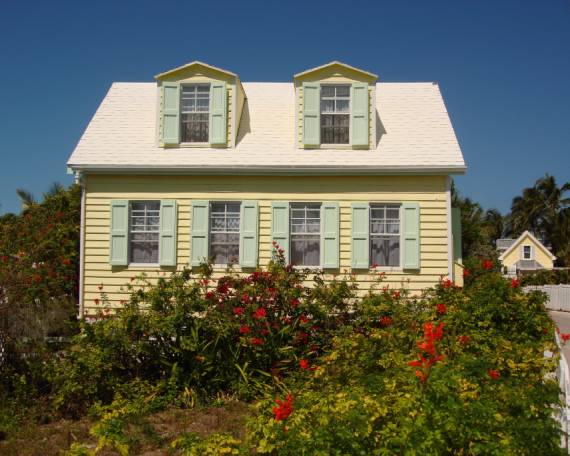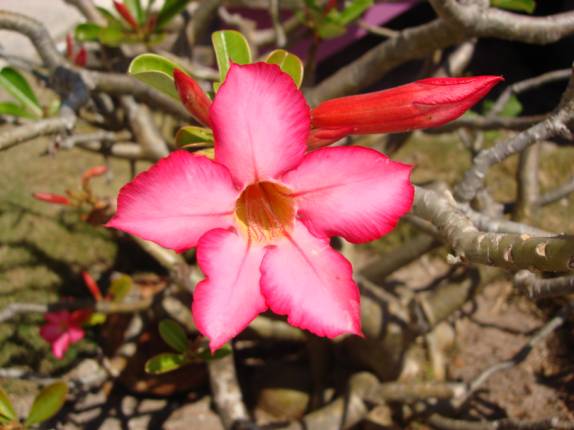 The harbor is full of mooring balls that can be rented from various individuals and businesses. The famous Hope Town lighthouse stands a regal watch over the Elbow Cay reef. We had a nice lunch on the waterfront deck at the Harbour View Restaurant. Judy enjoyed the Grouper fish fingers and I found the Creamy Conch Chowder to be delicious.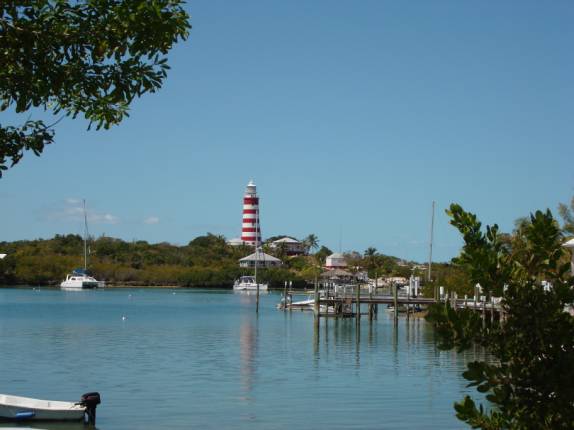 In a bit of disrepair, this historic cottage reminds all of how island life used to be.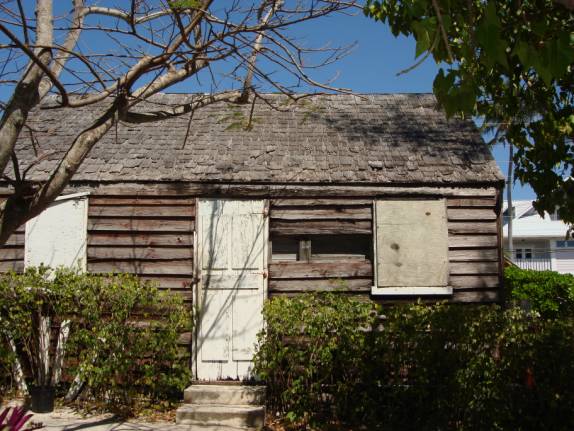 A curly-tailed lizard… These are common throughout the Caribbean.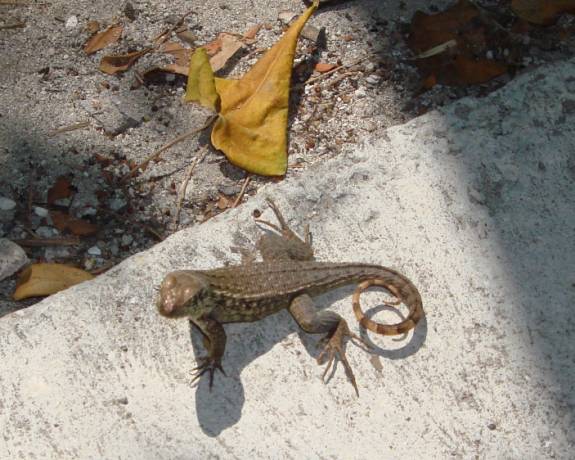 A Hope Town beach fronting to the Atlantic Ocean… Notice how tranquil the ocean appears today.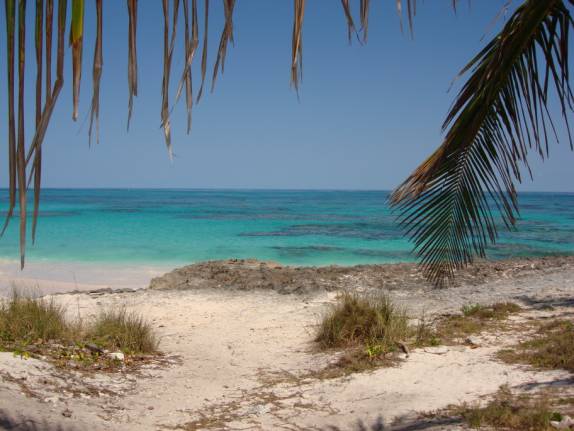 The flowers are both plentiful and beautiful on this island cay.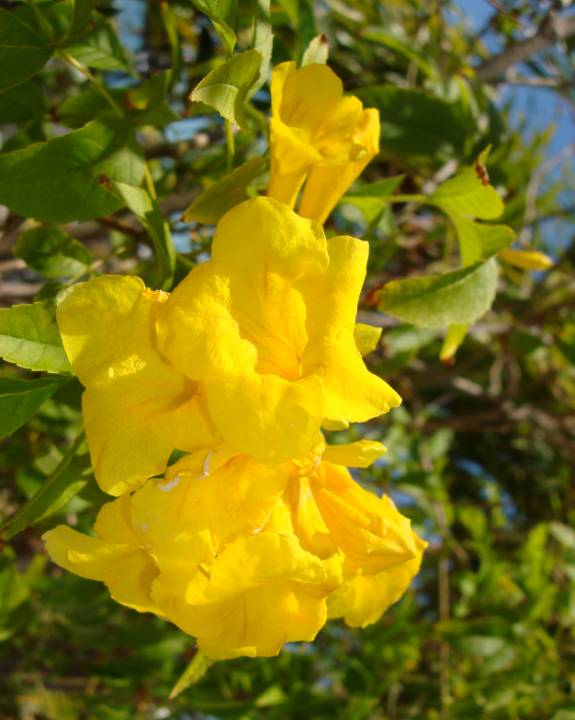 Down the ladder and into the dinghy, Judy releases the dock line for our trip down to Sea Spray Resort, then around Lubber's Quarters Cay, and back to Boat Harbour Marina.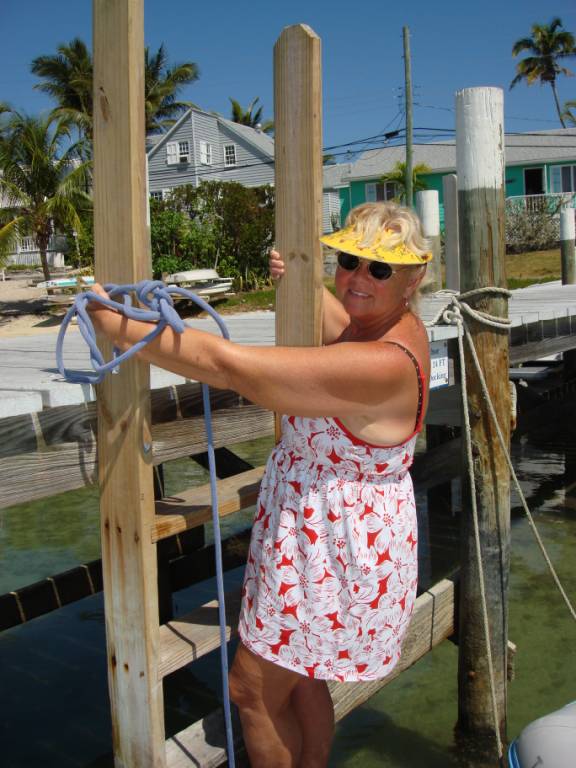 CONTINUING UPDATES ARE IN PROGRESS…
WATCH FOR THEM, COMING SOON…
POST SCRIPT:
We sincerely hope that you will review the previous years of compilations to give context to the current editions. Please let us know if you have any special suggestions and thoughts.
REMEMBER: The website is now fully active and you can visit it at any time. You can review any of the 2006, 2007, or 2008 logs and learn more about the crew and our plans. Enjoy.
ATTENTION: SPECIAL NOTE:
You may contact us via email anytime.
Thanks for allowing us to share our life and adventures with you.
Lotsa Luv,
Fred Reed and Judy Law
AMARSE
MT40
"AMARSE" is pronounced "AM-ARE-SAY".
Our website is: www.amarse.net .