UPDATE#06 02
/12 thru 02/
14
Howdy Everybody,
The adventures of 2006, 2007, 2008, and 2009 through 02/11/09 have been published on the website. We continue with the latest edition.
UPDATE 2009 #06 02/12/09 thru 02/14/09
At last update, we were aboard AMARSE at the Abaco Beach Resort and Boat Harbour Marina in the Bahamas.
02/12/09 THURSDAY BOAT HARBOUR
Jim and Kathy Fenn took some of the folks out fishing in FENNDERS. They make the passage out into the Atlantic Ocean through North Man-O-War cut. The conditions were perfect and they had a red-letter day out in the blue-water and reeled in the yellow/green-ones.
Judy Williams is an avid fisherman. If it is out there, she's going to catch it. She reeled in this giant Dolphin fish that was as tall as she. Nice going, Judy…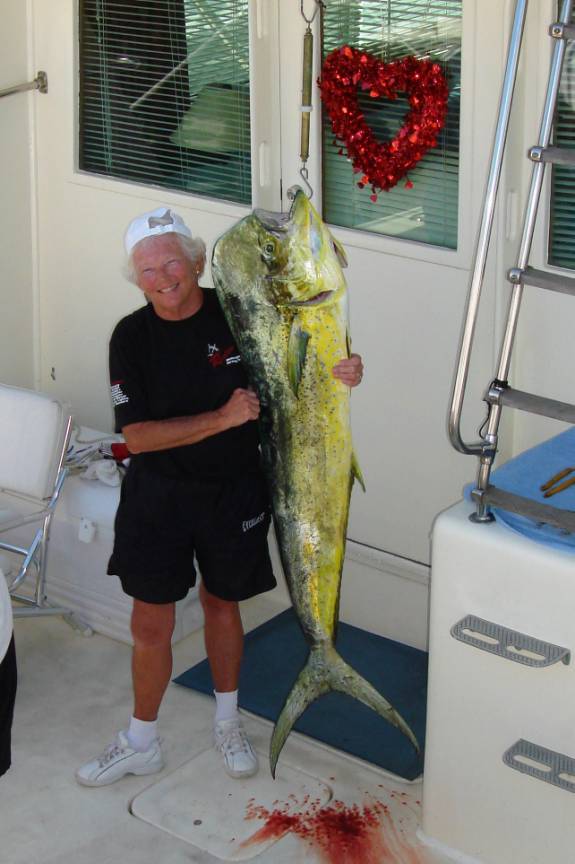 The father and son duo of Nick and Dave Bluto hit on the lucky streak with this nice pair of Dolphin fish. The commercial marketing people have renamed these wonderful fish as Mahi Mahi to avoid the common confusion with the mammal species of dolphins.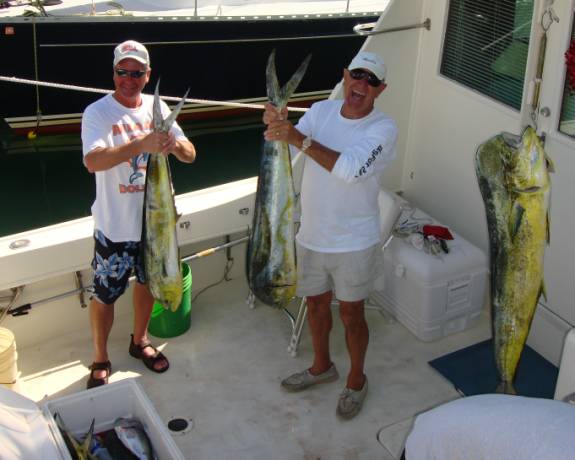 That sure is a nice fish, Nick… If you notice closely, Nick is wearing a Miami Dolphins T-shirt (mammal species) and he is proudly holding a Bahamian Dolphin (fish species) in hand…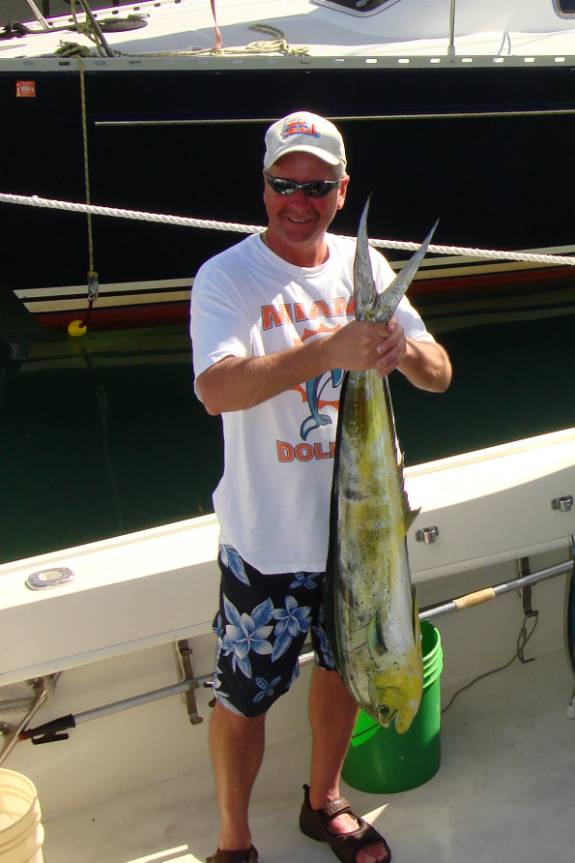 Now here is a happy fisherman's smile if I ever saw one… Nice catch, Dave…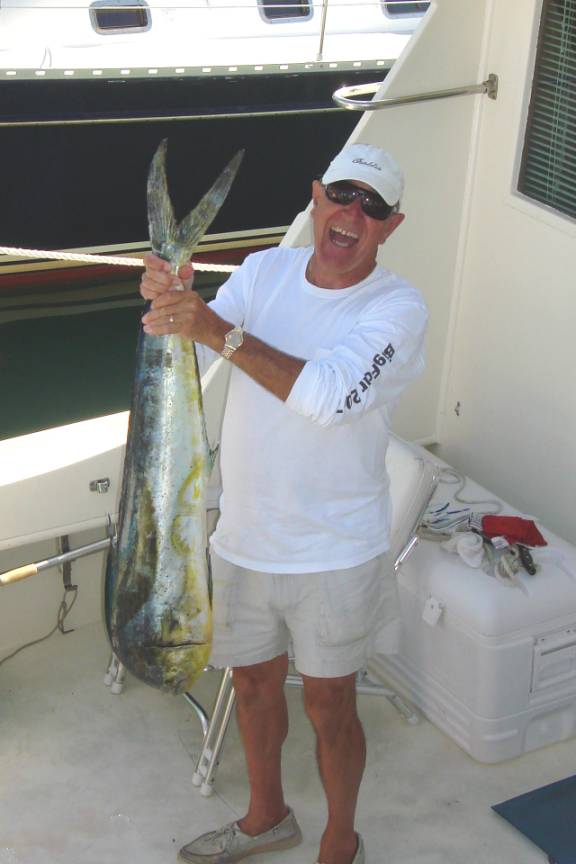 Jim Fenn holds up a nice tuna…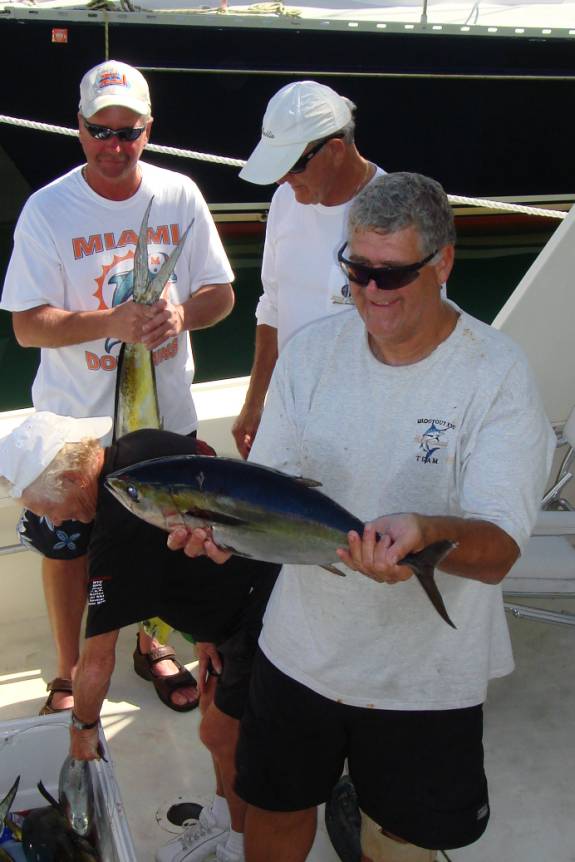 Judy Williams displays this beauty of a tuna…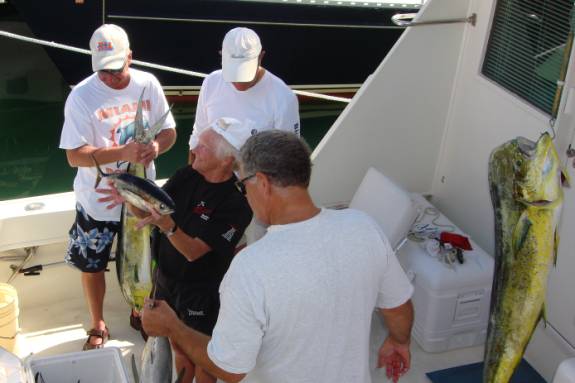 The tuna has such a wonderful, streamlined shape…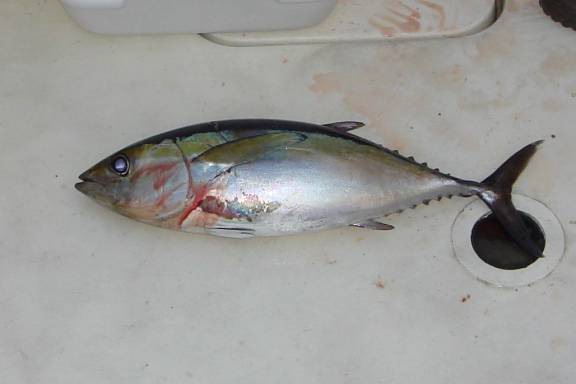 Two tuna, one Wahoo, and seven lovely dolphins…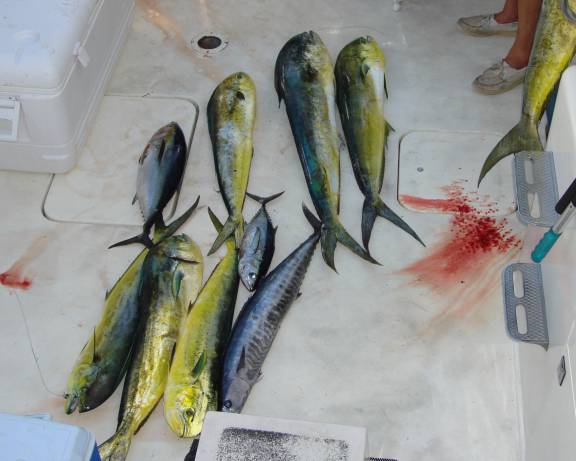 Kathy Fenn (right) operates the boat controls when they get hit on the lines. They call it a team effort to bring in this kind of special catch.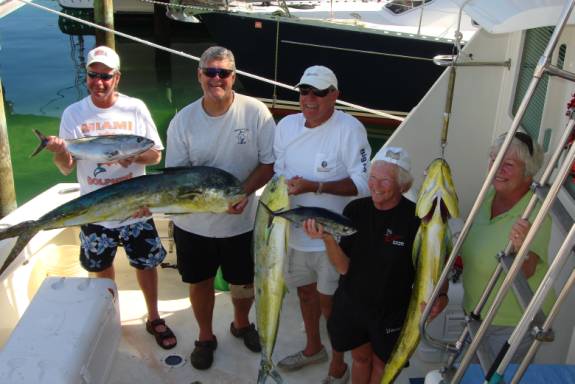 This is an example of the great neighbors here at the RMHYC docks. Ray Vallerie (LAST DANCE) is brightening up the beautiful signboards for SHADE MOR while Judy was out fishing.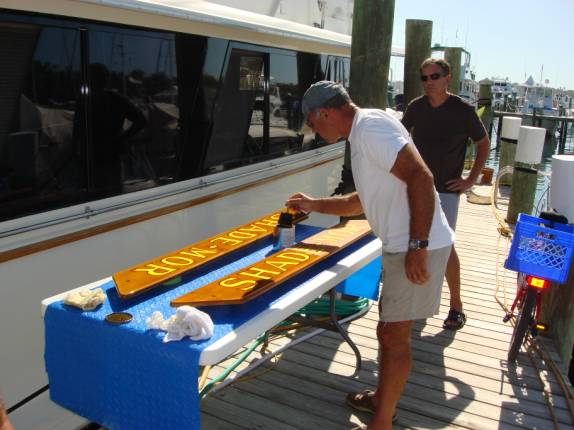 It is a good thing that Jim is so strong to be able to toss all those big fins into the cooler box.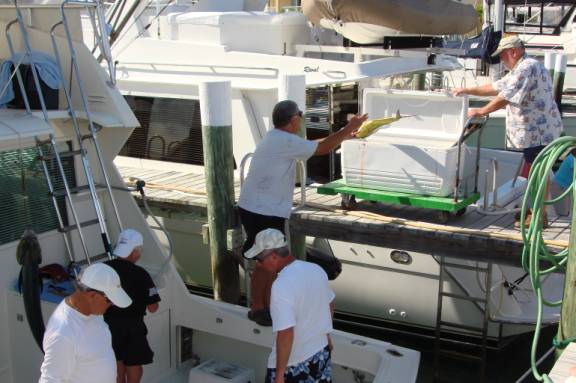 Now, that's what I call some "bigg'uns". They were kind enough to share some of the succulent filets with us. Wow… delicious, fresh, and tender!!!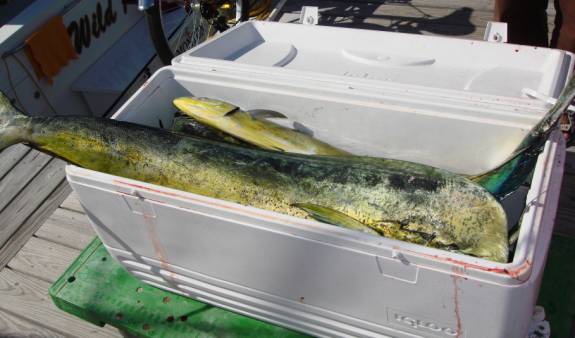 At 6pm, we made our way up to the Angler's Restaurant here at the Abaco Beach Resort. It's Thursday night and that means another "Talent Night" session for our local performers. Henry Jamrozinski (OH HENRY) has a great voice and sings a lot like Neil Diamond.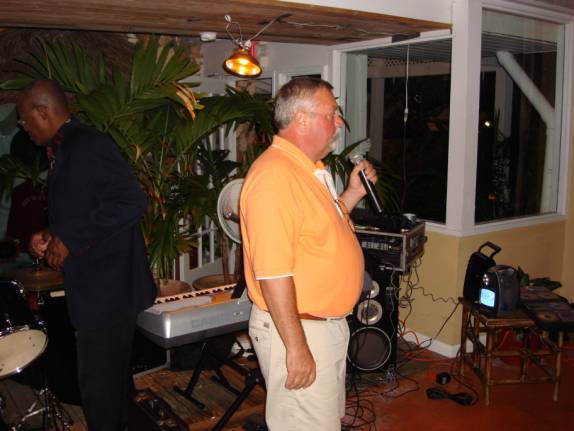 It is a great time to be with friends and dine out at the Angler's Restaurant.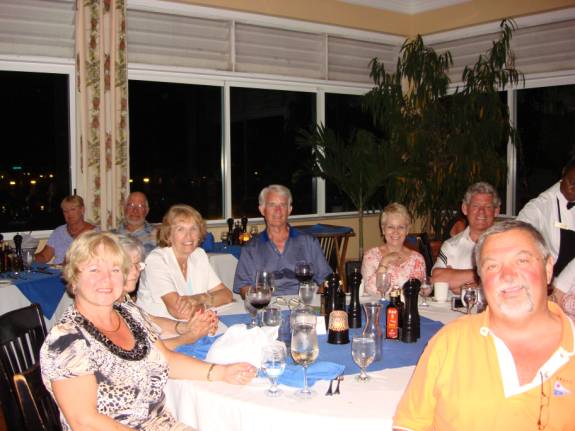 Judy Law (AMARSE) gives a big hug to David Crone (JAFTICA)…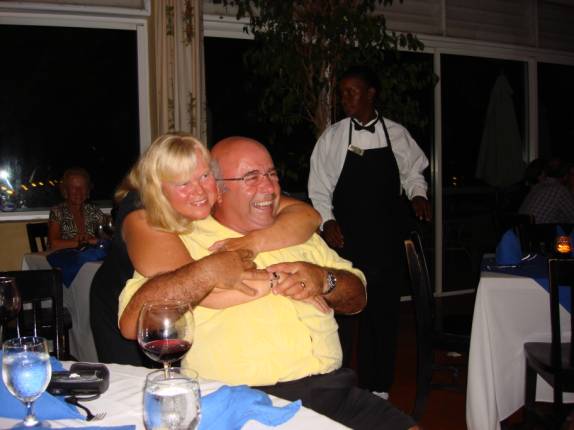 Bob and Rita Wieczorek share a table with visiting members, Tom and Pat Comber (LISA MARIE). Tom and Pat flew in for some vacation festivities. Hopefully, they will be able to bring their boat back again next year.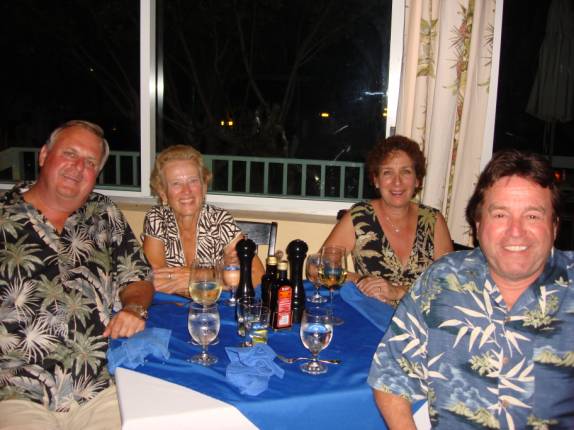 Everybody loves it when "Della-licious" take to the microphone…
Ed and Shirley Zellers (M/V TALLY HO) enjoy the evening with their visiting company.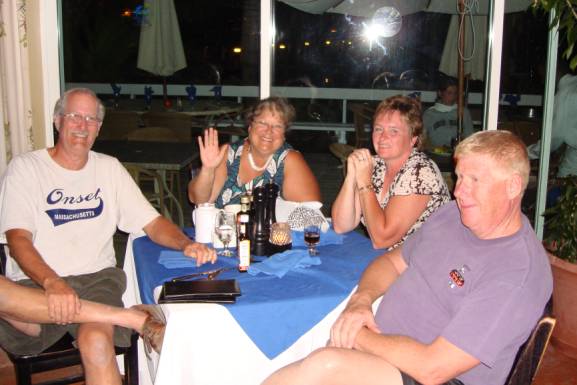 Gretchen Dirksen-Cronkhite (KINJA KAT) and Judy Law (AMARSE)…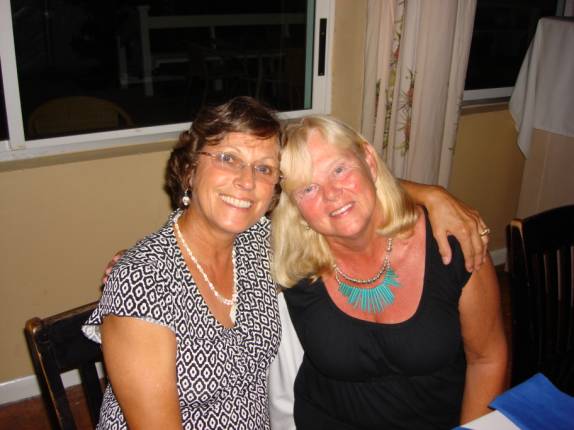 Carolyn Wilson (SEA ISLAND GIRL) came to the front to sing us a wonderful song. She has the amazing ability to remember the exact words for lots of songs and can recite verse after verse of poetry. I don't know how she does it…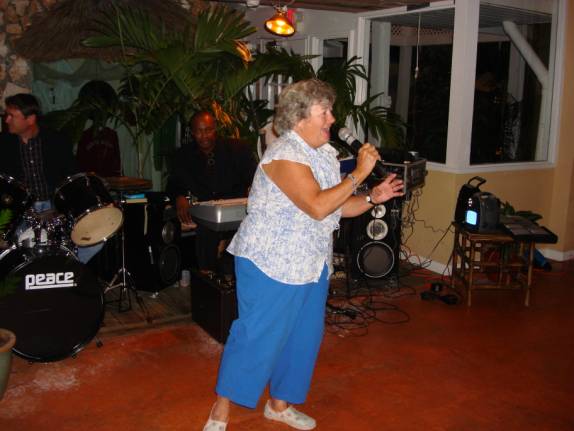 Kent and Gretchen (KINJA KAT) couldn't resist the urges to dance, dance, and dance…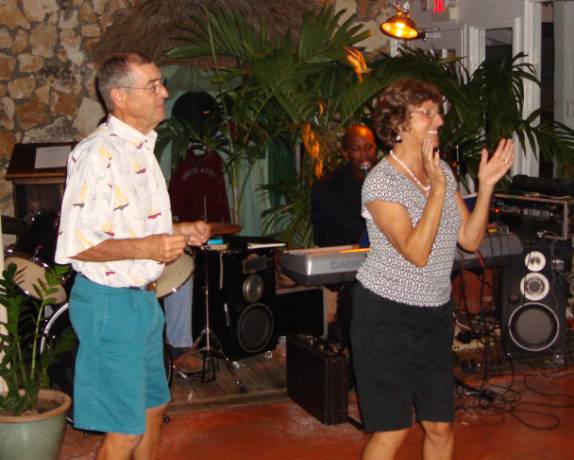 02/13/09 FRIDAY BOAT HARBOUR
The big day has finally arrived. Tonight the members of the RMHYC will be delighted as they "eat, drink, and be merry" at the fabulous Commodore's Ball and Mardi Gras Theme Party. Throughout the day, committee groups worked to transform the big tent into an atmospheric gem that will convince everyone that they are in the heart of New Orleans for Mardi Gras. We owe a debt of gratitude to all the artistic volunteers and especially to Brenda Baker (BRENDA J) for chairing the memorable fiesta. Her leadership was essential to the overwhelming success.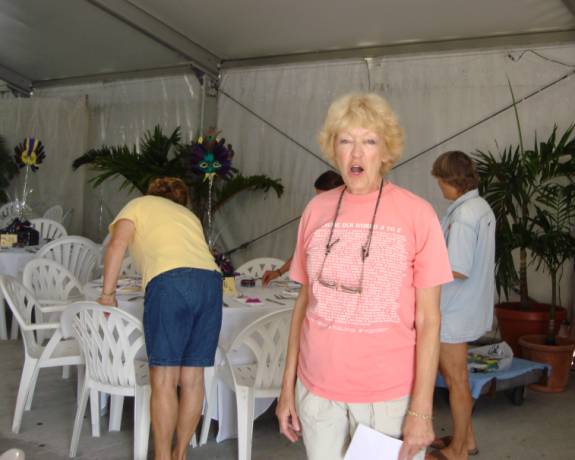 Linda Thompson (TOMLIN TOO) puts some finishing touches on table #6…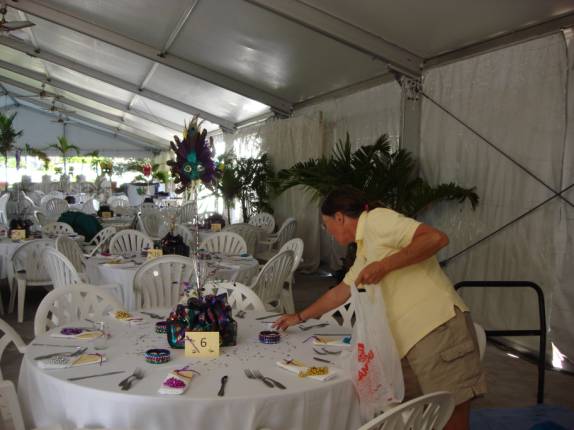 After turning over the reigns of the Commodore role, Robert Wilson (SEA ISLAND GIRL) removed the official flag pennant of the office and replaced it with a more suitable symbol of his ideals… A close look at the proudly flying burgee ought to bring a big smile to almost everyone's face…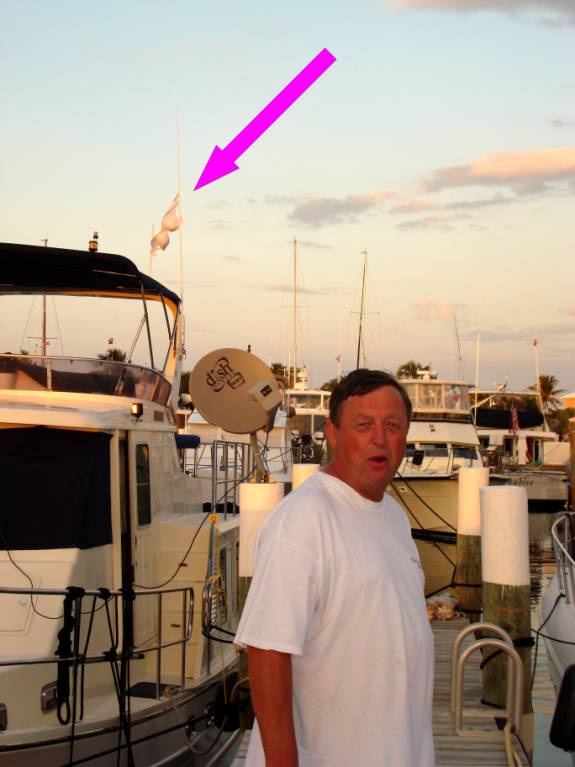 The late afternoon was full of fun as we prepared ourselves for the masquerade ball with the Mardi Gras theme. Judy Law (AMARSE) was absolutely stunning in every way…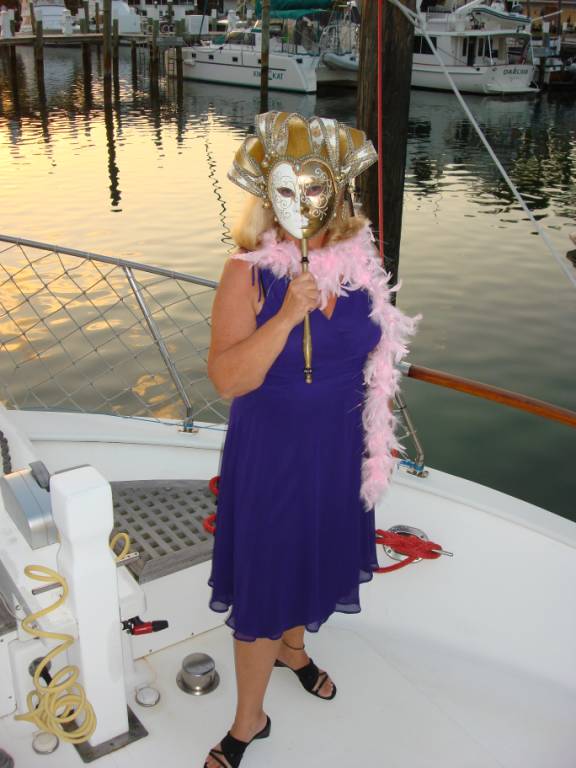 Backlit by the colorful sun setting directly over the Marquee Tent at the Abaco Beach Resort, Fred Reed poses on the bow of AMARSE.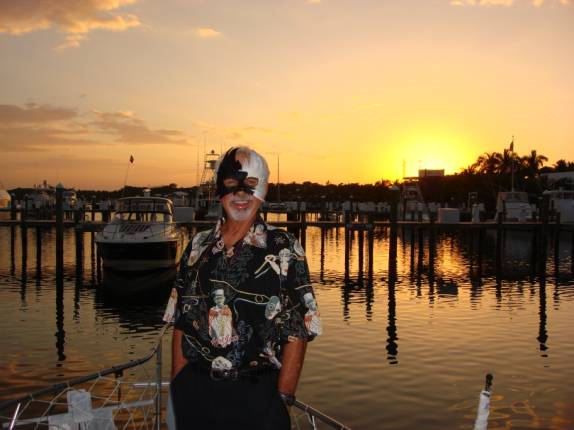 Sherry (CHIPKA FIRE III) displays a wonderful air for the theatrics in her charming eveningwear…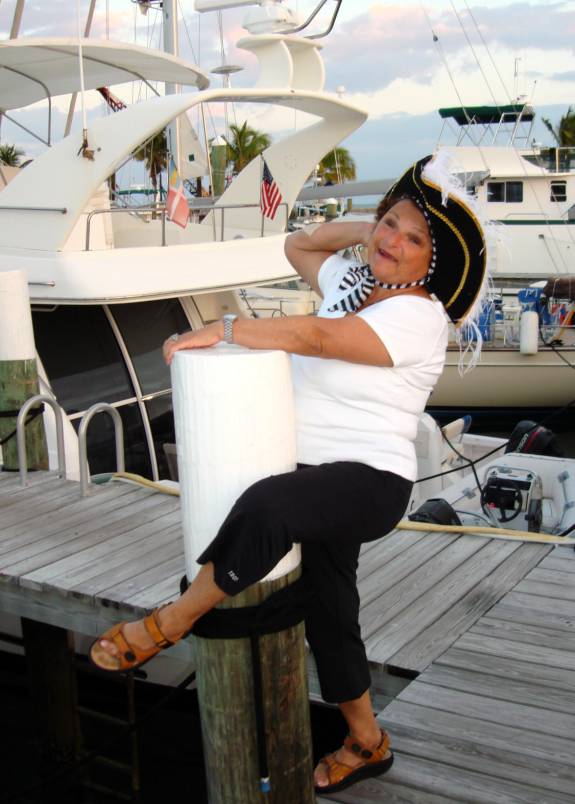 As soon as we walked in to the big tent, we were thoroughly amazed at the wonderful transformation resulting from all the efforts of the event Krewe.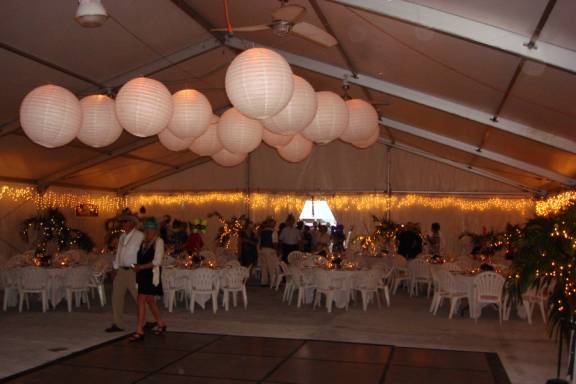 An elaborate signboard guided the 175 fortunate attendees to their assigned table by boat or cottage names. AMARSE was seated at table #18.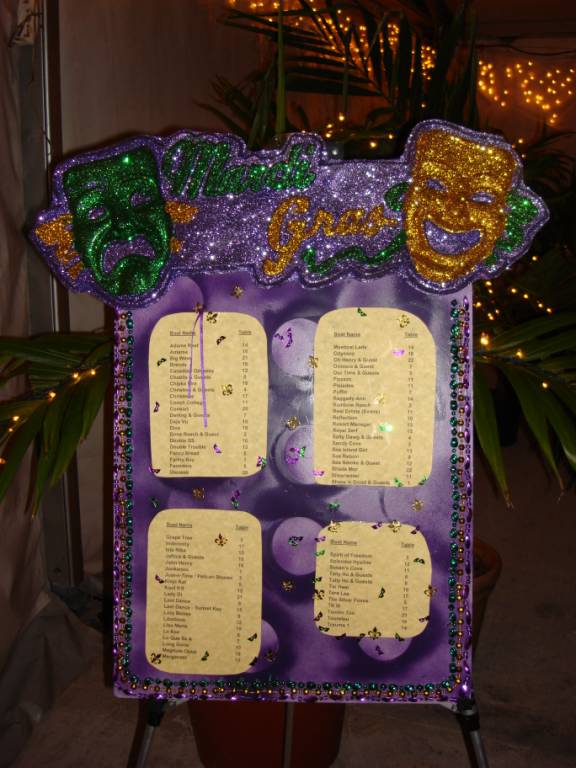 The music was playing and the mood was truly festive. The theme was emphasized with Cajun and Zydeco tunes emanating from the sound system.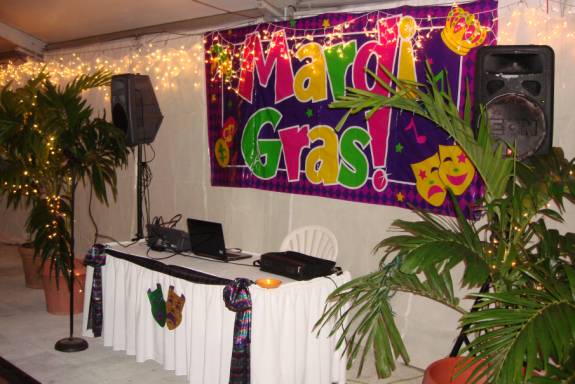 John and Gail Thomassen (OUR TIME) and their guest from Canada…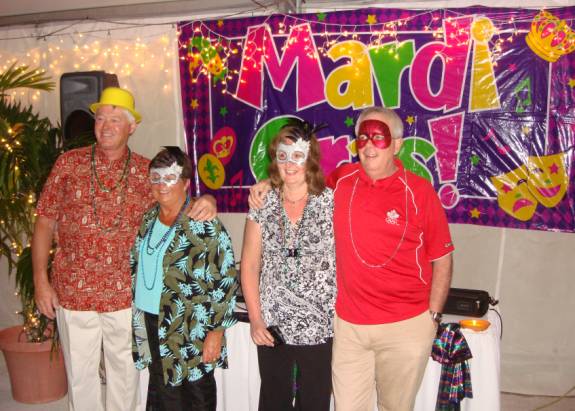 The outfits were awesome! Robert Wieczorek (MAGNUM OPUS), Bette Bauereis (TAR HEEL), Judy Law (AMARSE), Kathy Sales (LO KEE), and Rita Wieczorek (MAGNUM OPUS) were costumed delights.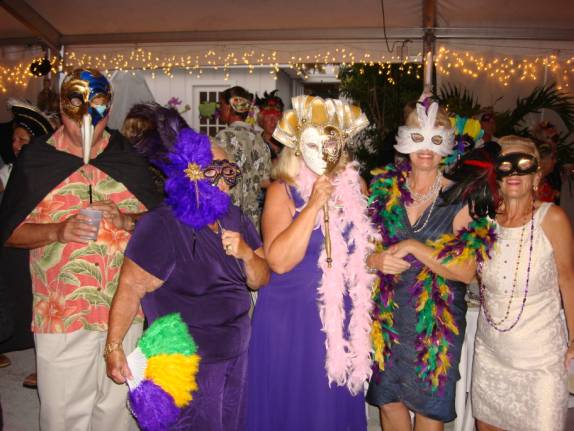 Stunning in their Mardi Gras garb, Robert and Patty Mitchell (ORINOCO)…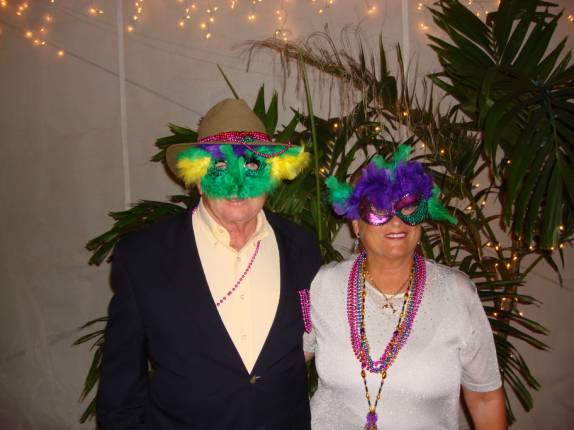 Judy Law (AMARSE), Lilly Jamrozinski (OH HENRY), and Judy Williams (SHADE MOR)… WOW!!!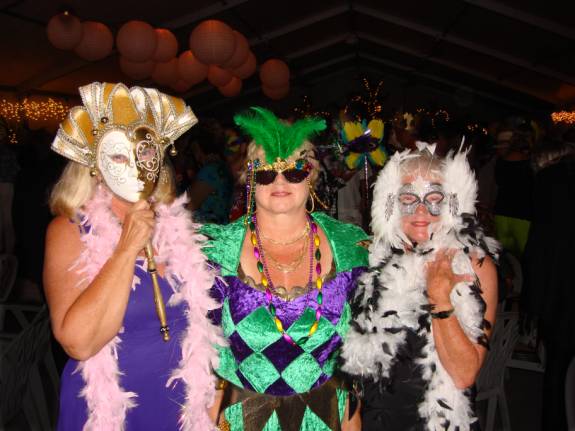 That's Carolyn Wilson (SEA ISLAND GIRL) in front, John Mitchell (FANNY BAY)(L), Bob and Nancy Solomon (MERGANSER), Robert Wilson (SEA ISLAND GIRL), and the white-bearded wonder is Steve O'Brien (CHRISTMAS)… Oh, what fun…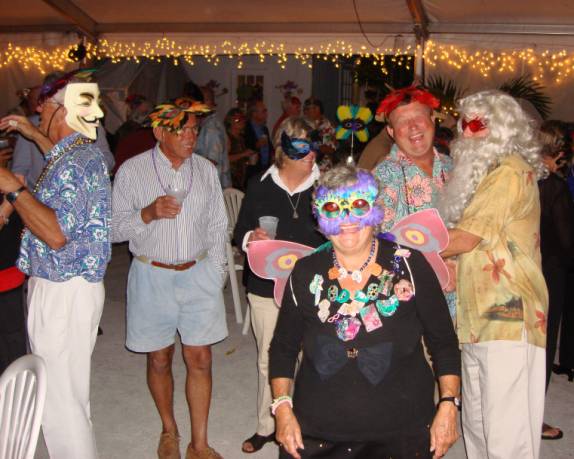 Bette and David Bauereis (TAR HEEL)… Although you can't see it in the picture, David put lots of fun into his formal tuxedo by wearing stylishly elegant, Bermuda shorts…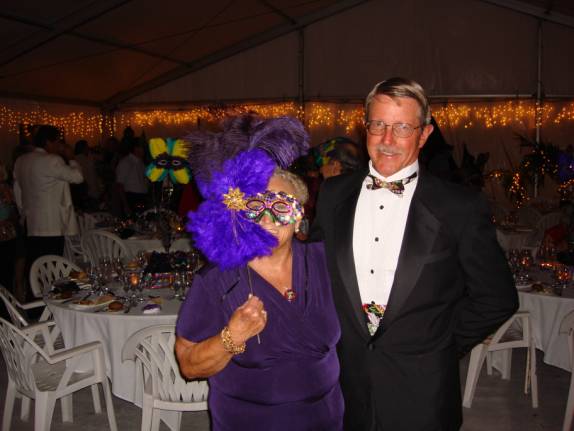 Sue and Paul Graham (ODYSSEY)…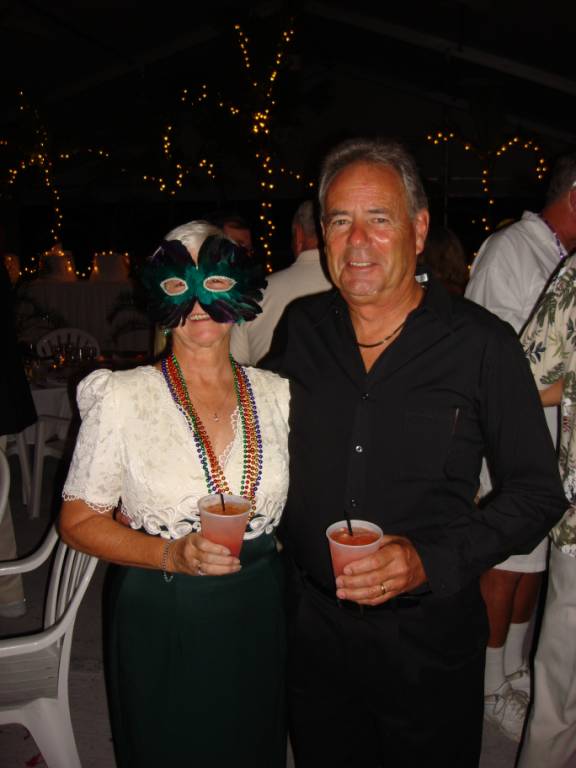 Dave and Barb Bluto (CHABLIS). Dave's outfit was complete with King Neptune's spear and a colorful cloak. Notice the shells on the mask that he made totally by hand for this special event. It looks like a sure winner to me. In her handcrafted mask, Barb looked extremely charming as King Neptune's "Queen of the Seas".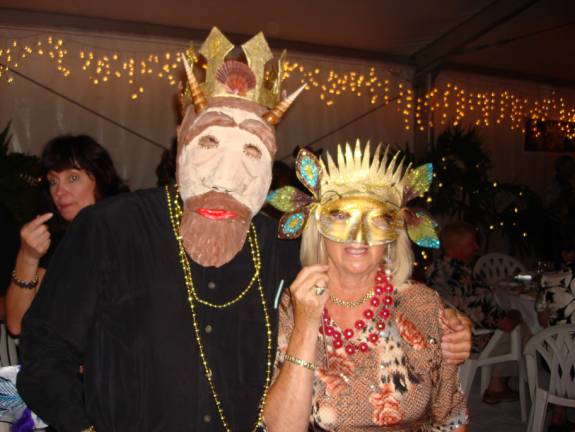 Vanessa Benjamin (S/V TALLY HO) and Judy Law (AMARSE)… A couple of "Hot Babes"…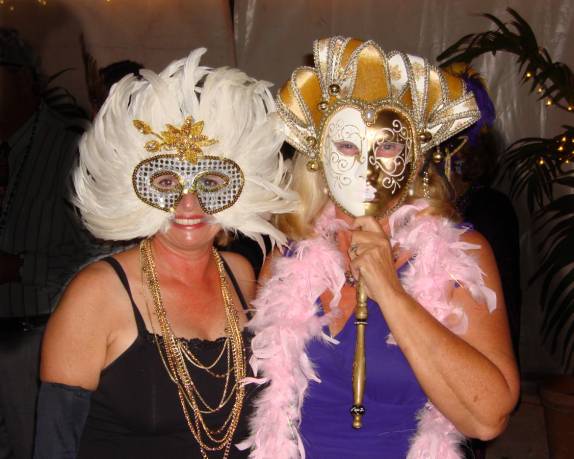 Pat Comber (LISA MARIE), David and Audrey Crone (JAFTICA)… Our special appreciation and thanks to Audrey for all her input, efforts, and guidance as Co-chairman for the event.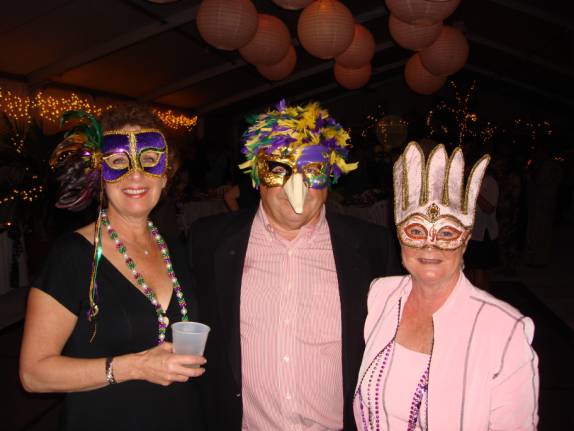 Linda Thompson (TOMLIN TOO) took on the responsibility for all the ticket sales and seating arrangements. She is to be highly commended for the absolutely magnificent job of keeping everything organized and providing the opportunity for so many to enjoy this tremendous party.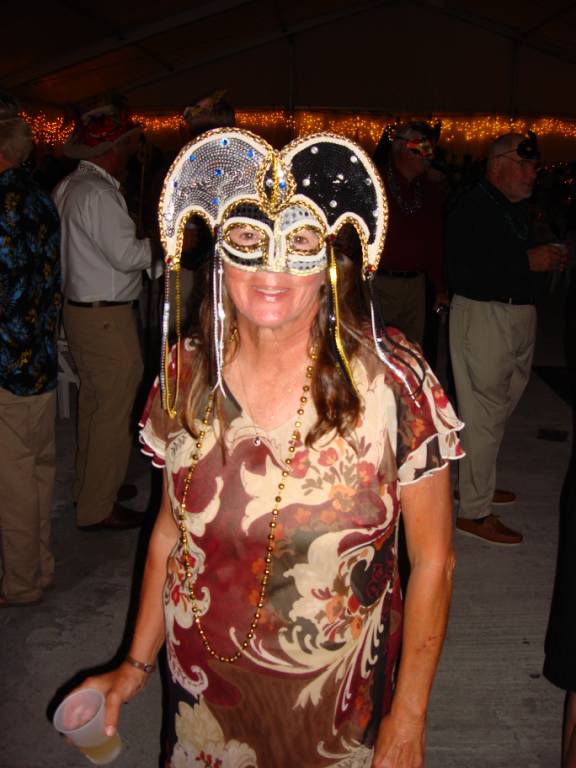 Lilly and Henry Jamrozinski (OH HENRY) were amazing in their elegantly festive, Mardi Gras Ball clothes.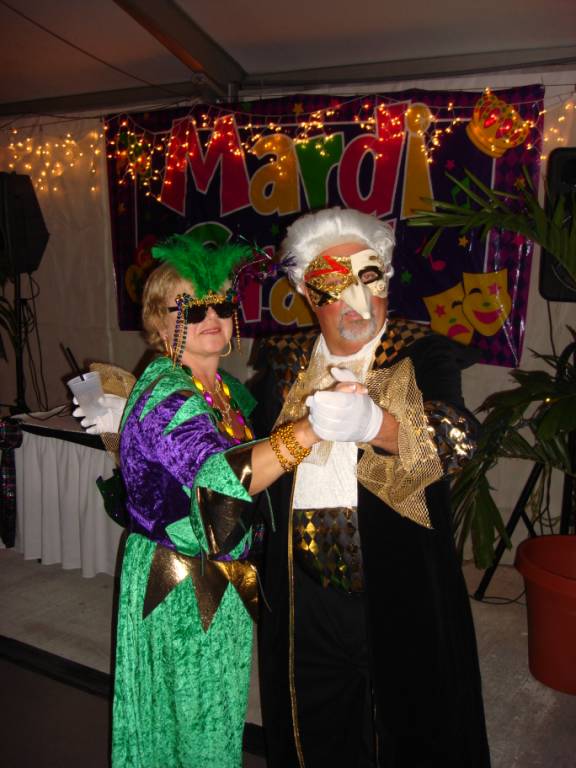 Three beauties… Judy Law (AMARSE), Kathy Sales (LO KEE), and Sue Graham (ODYSSEY)…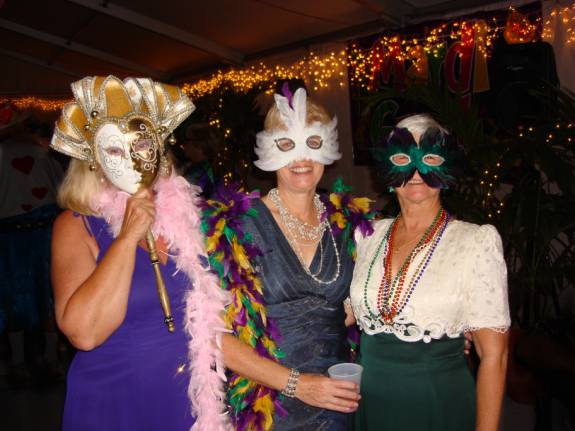 Before long, Shirley Zellers (M/V TALLY HO) had the bouncing flow of the "Conga Line" prancing joyfully around the "Bourbon Street" environs…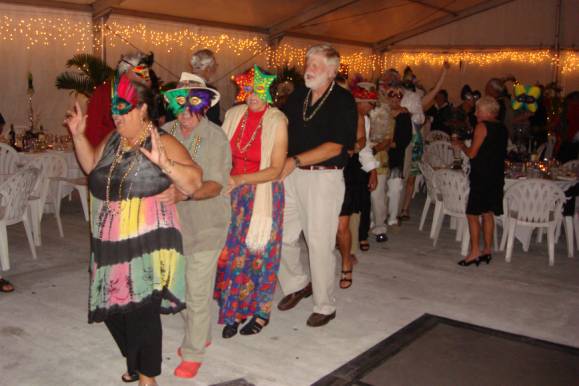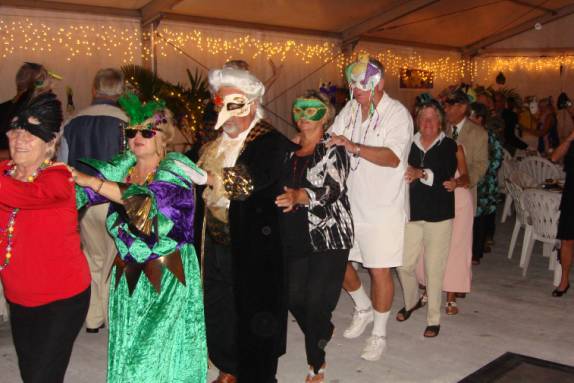 The accomplished dancing partners, Wink and Wilma Thornton (JOHN HENRY), showed the world how to step out with a little "swamp-stomp" footwork.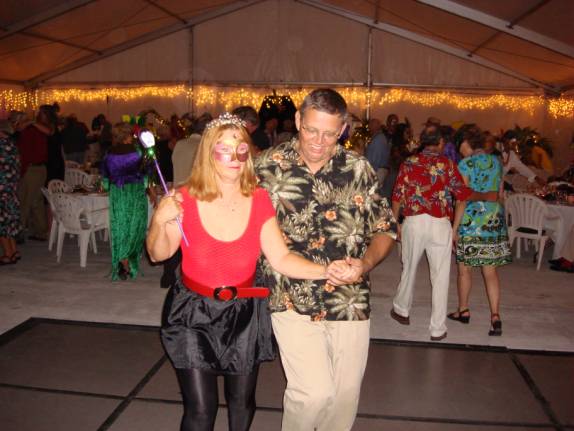 Judy always enjoys a hug from Bob Williams (SHADE MOR).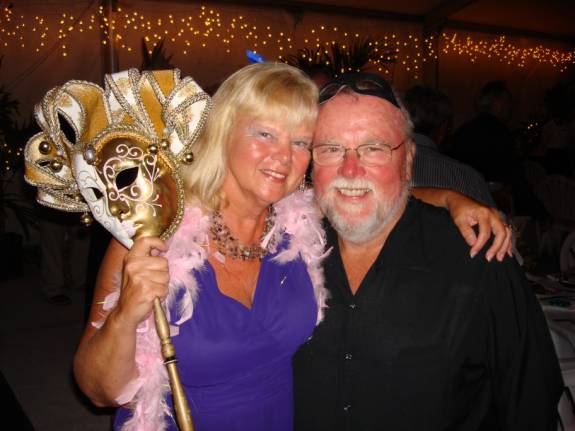 Ray Vallerie (LAST DANCE) deserves our most sincere gratitude for setting the mood for this Mardi Gras event. Not only did he prepare and organize the entire musical entertainment program, he also designed and implemented the overall lighting to set the truly festive tone. Thank you, Thank you, Ray…! You are an amazing gentleman!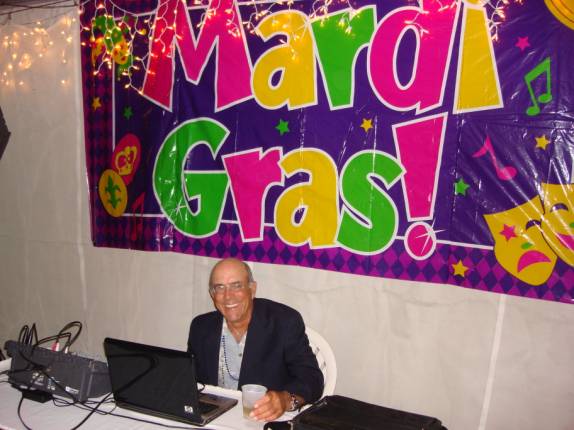 Joan and Jim Elliott (CHRISTINE)…
Judy and Fred (AMARSE)…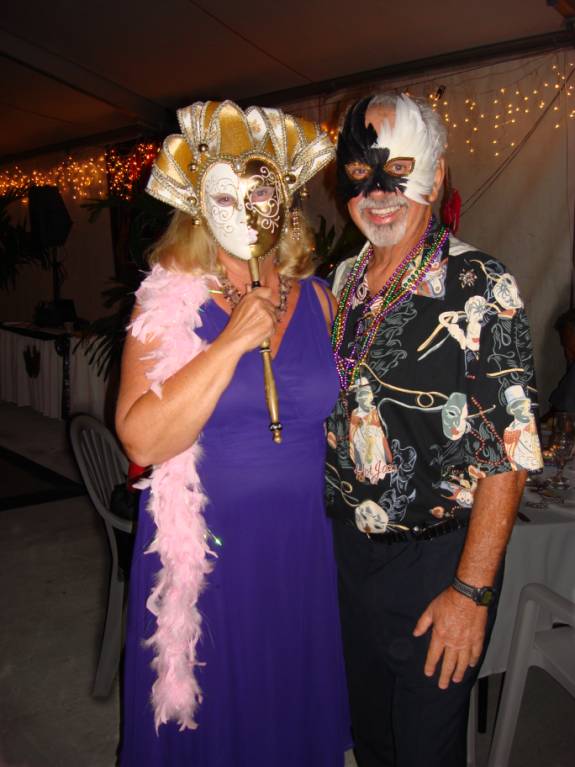 Sherry and Fred (CHIPKA FIRE III)…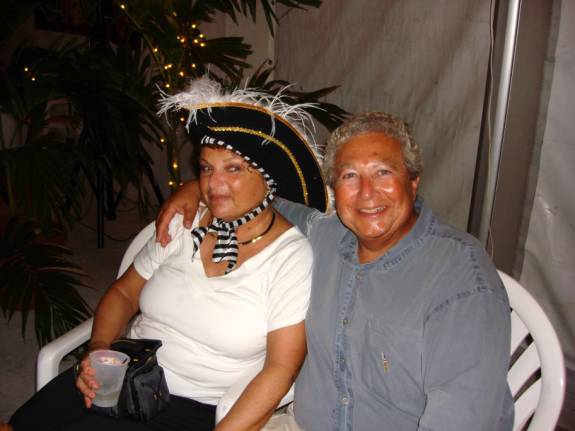 Sidonia and Fred St.Germaine (DOUBLE TROUBLE)…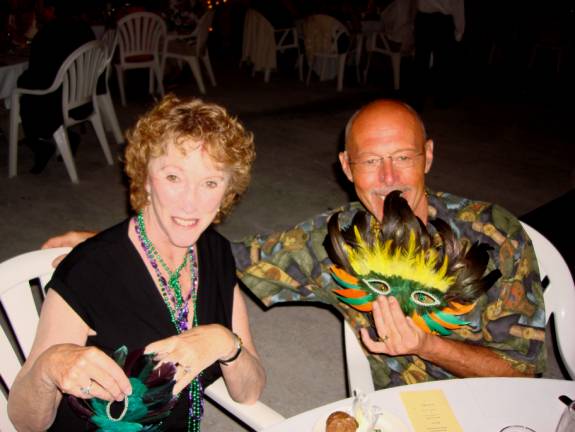 Sherry (CHIPKA FIRE III)…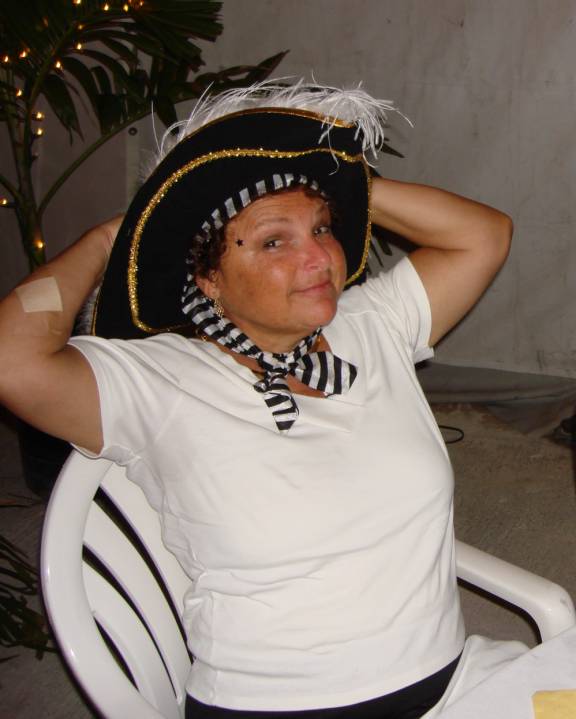 The dinner was excellent and everyone raved about the delicious choice of Cajun Chicken stuffed with Andouille sausage dressing.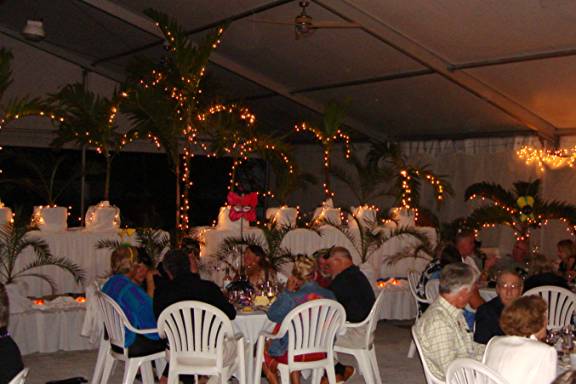 Oh, Yah… Fred (AMARSE) always welcomes a hug from Wilma (JOHN HENRY)…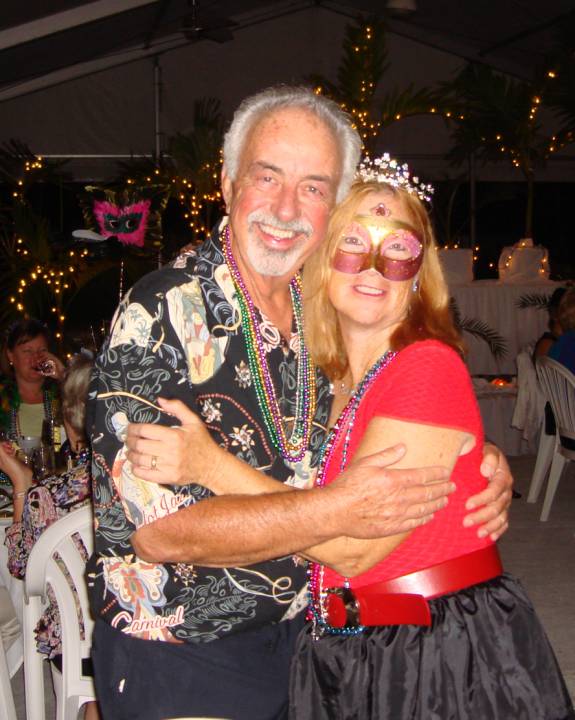 The lovely and stunningly sexy, Judy Law (AMARSE)…
Wilma Thornton (JOHN HENRY) was a star-studded beauty in her masque and beads…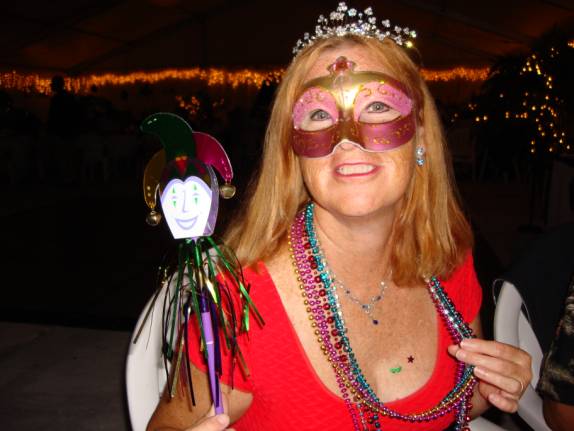 Costumes ranged from stylishly conservative to brilliantly unusual…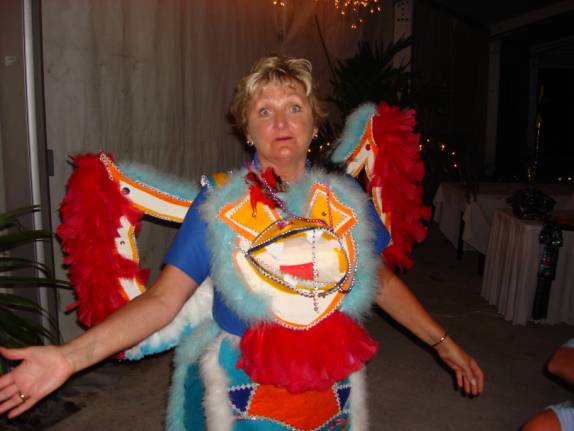 Robert obviously has an "eye", or maybe two, for a pretty gal…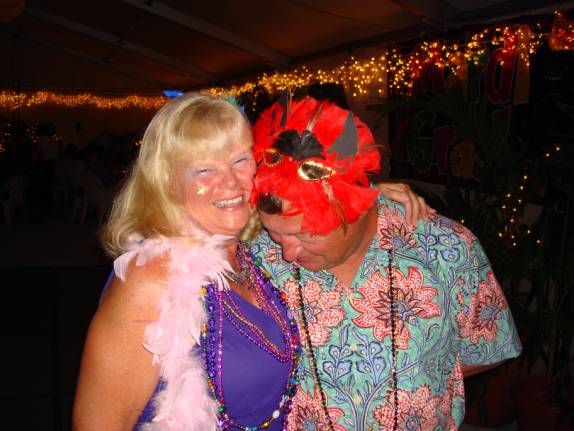 Our RMHYC Commodore, Jim Fenn, was the Master-of-Ceremonies tonight. He had Ray Vallerie crawl out from behind the DJ's station to accept the accolades for all of his extensive efforts.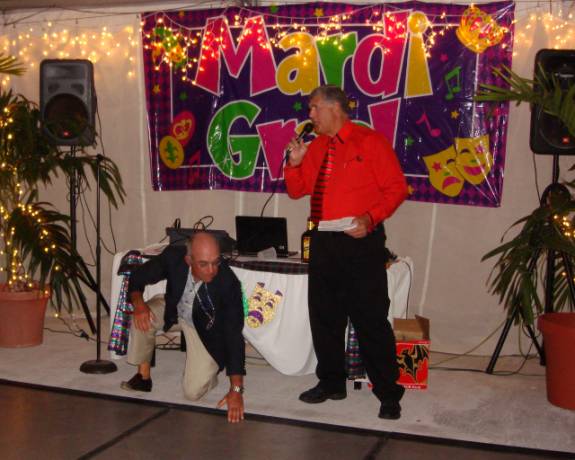 Jim extends all honors and thanks to the Co-Chairwomen of this hugely successful event, Audrey Crone (JAFTICA) and Brenda Baker (BRENDA J). This wonderful Ball and party has certainly exceeded everyone's possible expectation.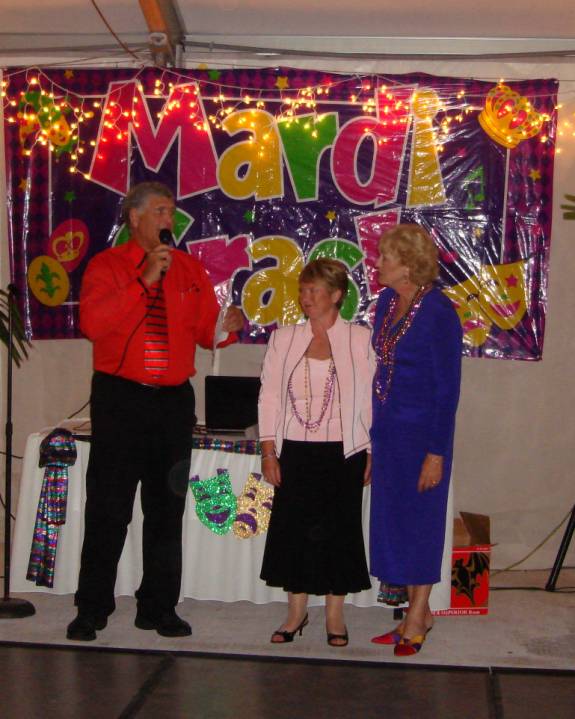 Jim announced that the RMHYC corporate jet had just flown in a very special guest all the way from the Bayou Abeer in the swamplands of 'Nawlins', Lauw-wheez-E-anna… Yep, it was our Ol' Cajun Buddy, Boudreaux LeBlanc. Dressed in his swamp boots and bayou finest, he came out a "swingin'" and a "slingin'" those coveted Mardi Gras beads.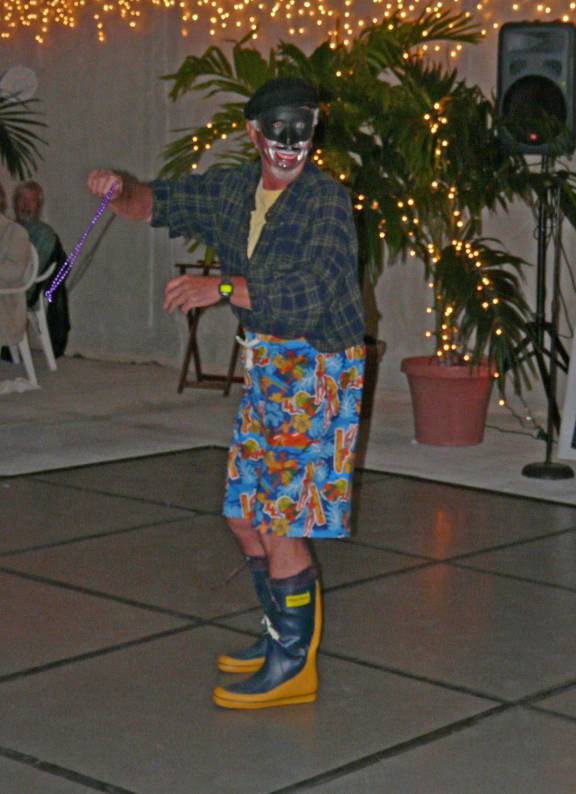 Lots of RMHYC folks have become acquainted with Boudreaux and have been enjoying the thrice-weekly radio announcements being broadcast 'live' from his boat "Zydeco" down on the bayou.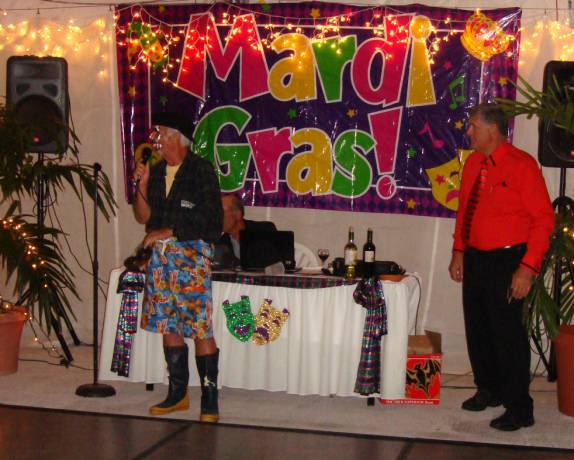 In his distinct, Cajun French and swamp/southern accent, Boudreaux apologized and explained why his wife, you know, his wife Charmaine, could not be here tonight. It went something like this:
OH, YAH…AH JUST GOTZ TA TELL Y'ALL ANOTHER LITTLE STORY ABOUT CHARMAINE, YOU KNOW, MY WIFE, CHARMAINE…
WELL, CHARMAINE WAS A DRIVING US TO THE 'NAWLINS AIRPORT TO COME ON OVER HERE and WE WAS A RUNNING A LITTLE LATE… SO NATURALLY, CHARMAINE HAD THE PEDAL TO THE METAL…
wELL, JUST AS WE WAS A COMING OVER DAT BRIDGE AT WHISKY BAYOU, CHARMAINE DONE SAW DEM FLASHING RED LIGHTS IN DA REAR VIEW WINDOW.
OF COURSE, SHE PULLED RIGHT OVER AND UP WALKS DAT LOUISIANA STATE TROOPER WITH HIS CLIPBOARD IN HAND.
THE TROOPER AXED CHARMAINE, "DID YOU KNOW THAT YOU WERE GOING 80 MILES PER HOUR AND THE SPEED LIMIT IS ONLY 40?"
wELL, SHE COULDN'T LOOK HIM IN THE EYE BUT CHARMAINE DONE TOLD HIM… NOPE, THAT SHE WAS A ONLY GOING 40…
dAT TROOPER WAS GETTING FED UP WITH HER… hE SAID, nO MA'AM, I CLOCKED YOU AT 80 MILES PER HOUR…
WELL, THEN HE LOOKs OVER To ME … OF COURSE, I'M TRYING TO STAY OUT OF IT all AND waz Jez LOOKING OUT DA PASSENGER WINDOW…
DAT TROOPER SAYS TO OL' BOUDREAUX, "SIR, I clocked thIS WOman GOIN' 80 and SHe claims She was ONLY going 40… Now you tell me… Was She going 40 OR WAS SHE GOING 80?"
WELL, THEN I looks dat big TROOPER straight in the eyes and i tells him…, "OL' BOUDREAUX HERE LEARNED A LONG TIME AGO, "I NEVER, NEVER DISAGREE WITH CHARMAINE when She's been drinking…"
NOW Y'ALL KNOW WHY CHARMAINE AIN'T HERE TONIGHT, SHE'S DONE BEEN LOCKED UP IN THE 'NAWLINS JAIL…
OH, CHARMAINE… CHARMAINE….UH HA, UH HA…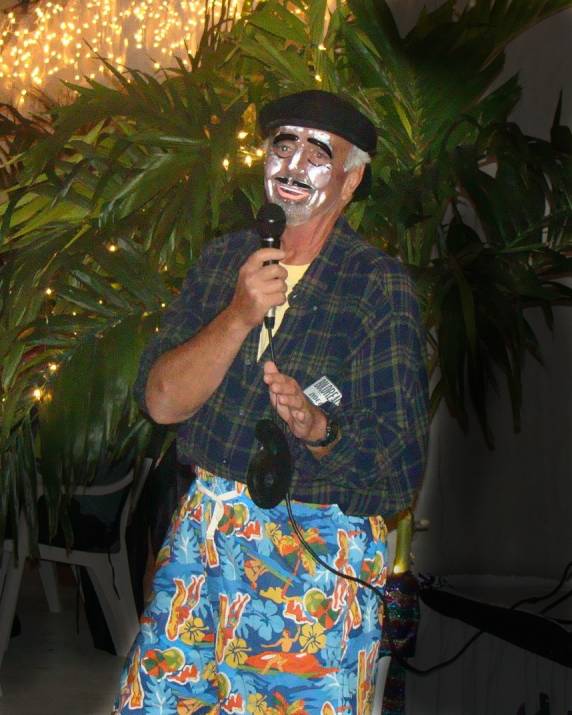 Boudreaux was brought in to present the coveted awards for "Best Mask". A specially appointed, totally unbiased committee conducted the difficult selection process. The results had "been hermetically sealed in a mayonnaise jar on Funk and Wagnall's front porch since earlier this evening..."
…and the winner in the women's' category, Vanessa Benjamin (S/V TALLY HO)…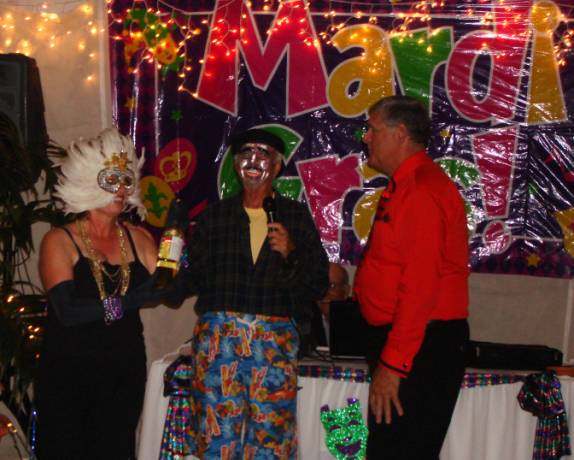 …and the winner in the Men's' Category, wearing the impressive King Neptune mask, Dave Bluto (CHABLIS)…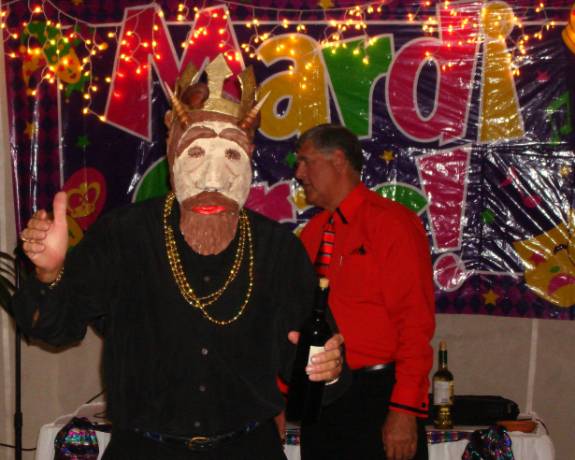 Boudreaux signed off with the familiar "Laissez Les Bon Temp Rouler", which everyone now knows means, "Let the Good Times Roll"…
But, of course, he bade everyone a few "Merci Beaucoup, Mes Amis" salutations along with an "Au Revoir" or two…
As he left the stage, it was clear that Charmaine wasn't around. That Cajun rascal, Ol' Boudreau LeBlanc, tried to hit on my Judy…
The crowd was in the mood to dance, dance, dance…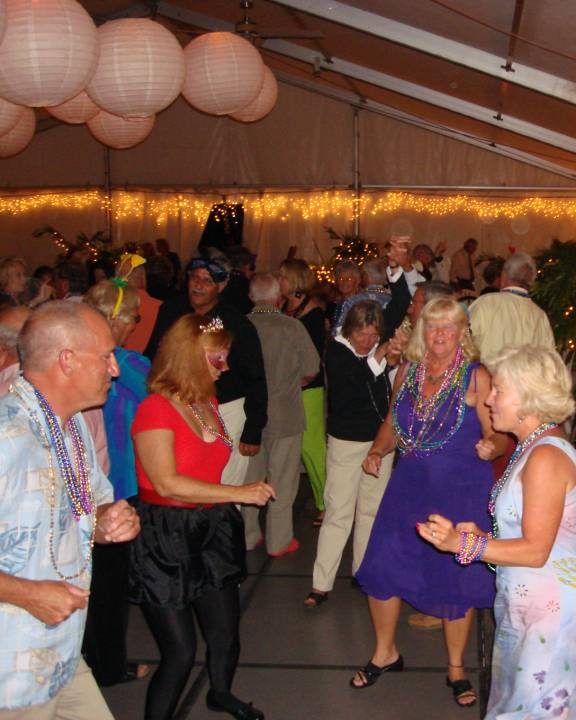 Somehow, someway, Judy managed to acquire Ol' Boudreaux's beret along with a large collection of those Mardi Gras beads. I wonder what a gal has to do to garner that many strands…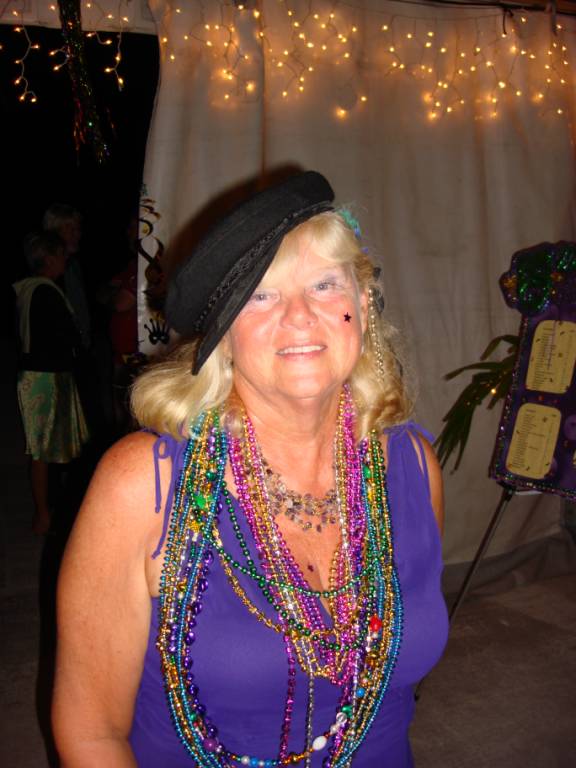 Our wonderful friends, Margo Caldy and Dennis Krakow (PIZZAZZ)… It is so great to see them here and dancing again after Dennis's recent back surgery. Way to go, Kidz…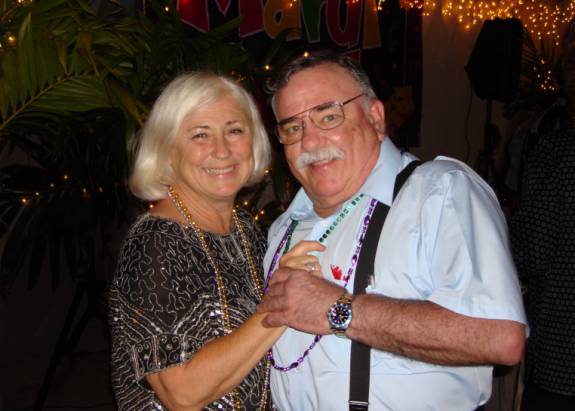 Our DJ, Ray Vallerie had skillfully arranged a wide variety of music suitable for every dancing pleasure including the "electric slide" line dance…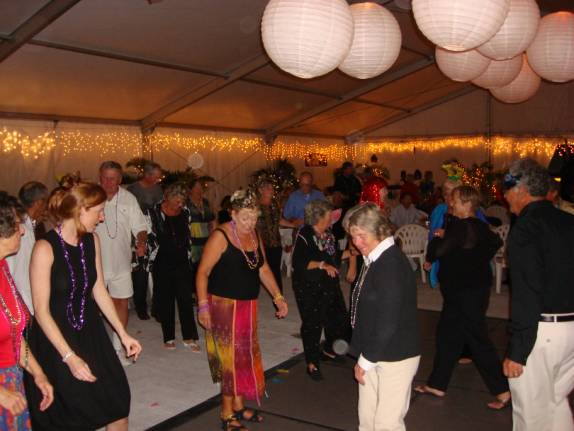 …and the bead collection continues to suspiciously increase… How does she do it?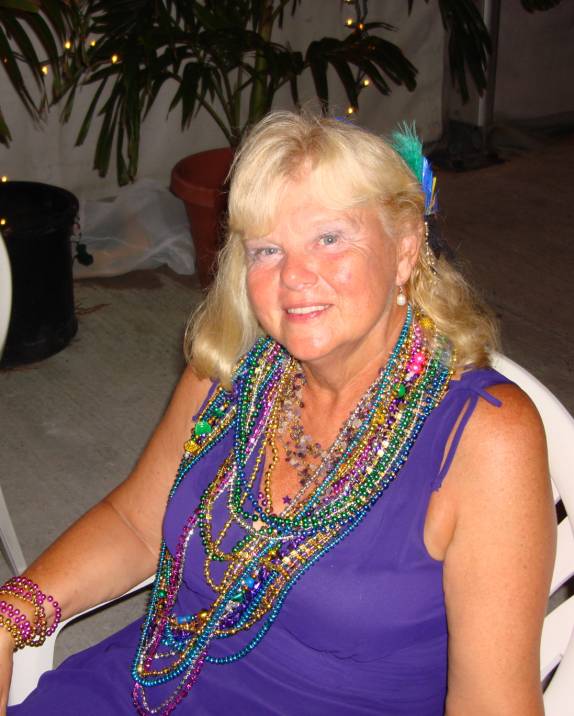 Karen and Steve O'Brien (CHRISTMAS)…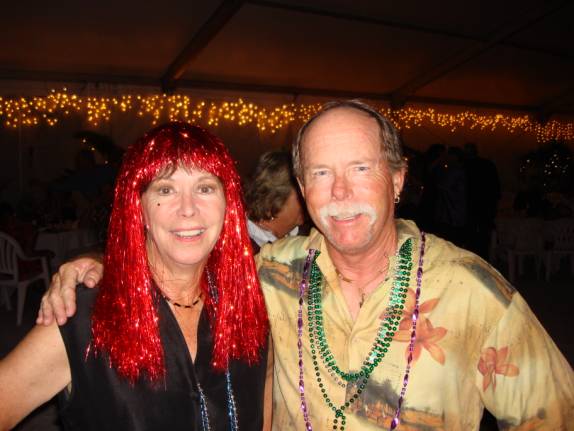 Our Commodore, Jim Fenn, hoists the mike to croon us a tune…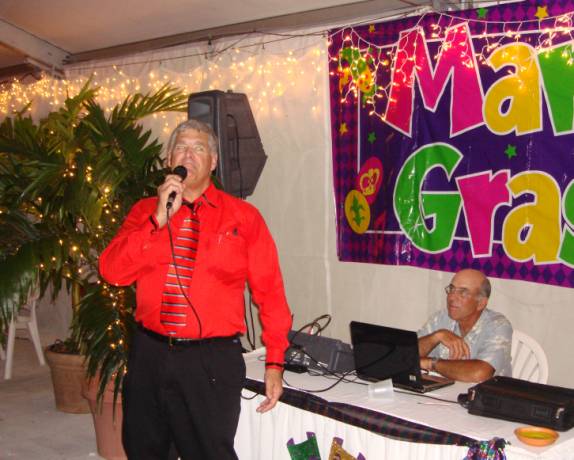 The dance floor was the place to be with all the great music…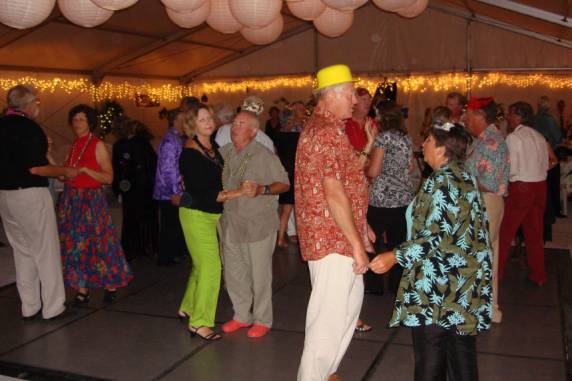 Robert Wilson (SEA ISLAND GIRL) had us reminiscing about the "King", Elvis Presley…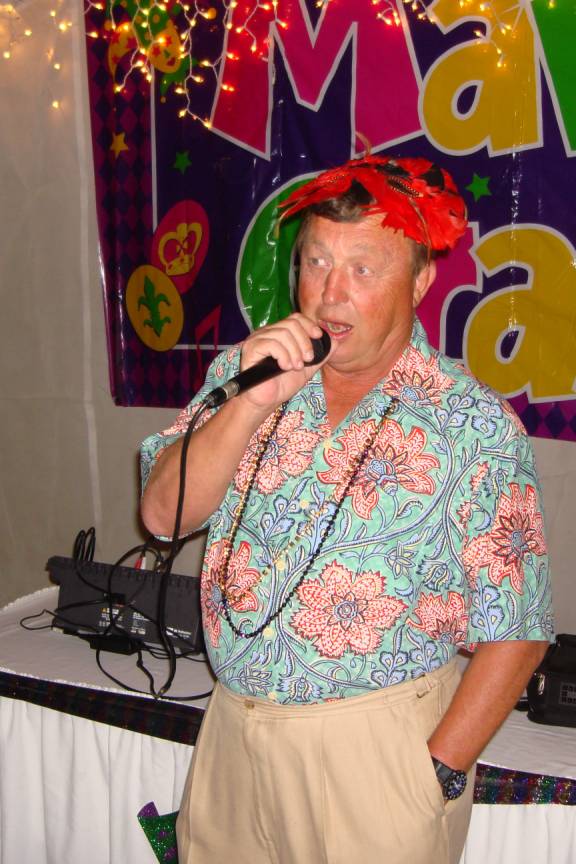 Who is that "mystery man"?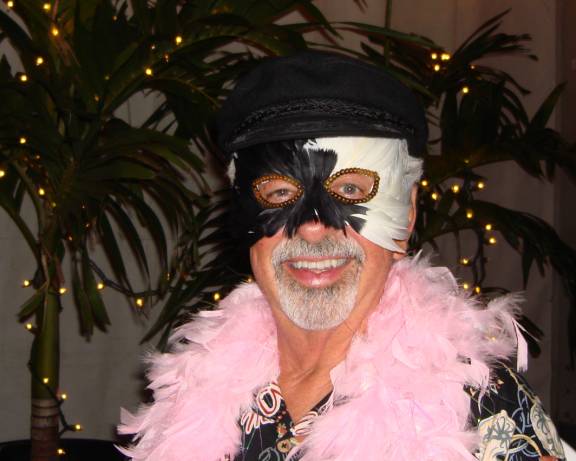 Milt and Kathy Sales (LO KEE)… As a familiar song says, "…the look of Love is in your eyes…"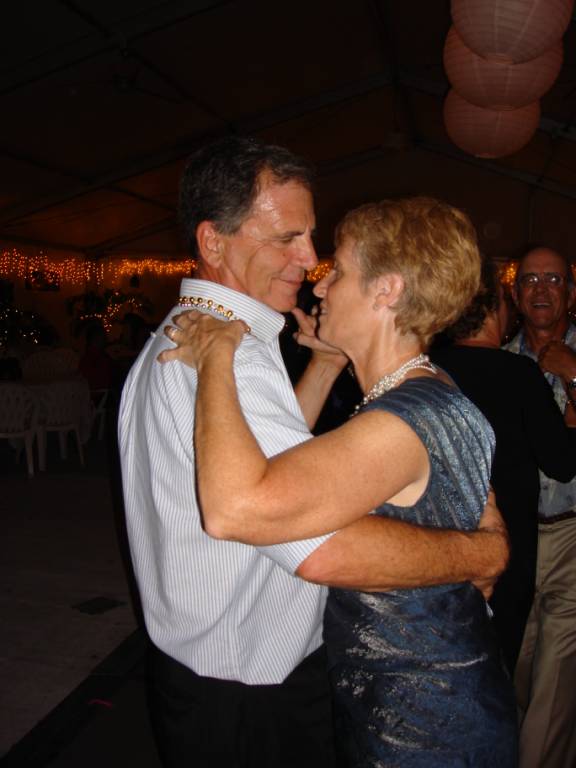 Ray and Susie Vallerie (LAST DANCE) assured us that this was not the last dance of the evening…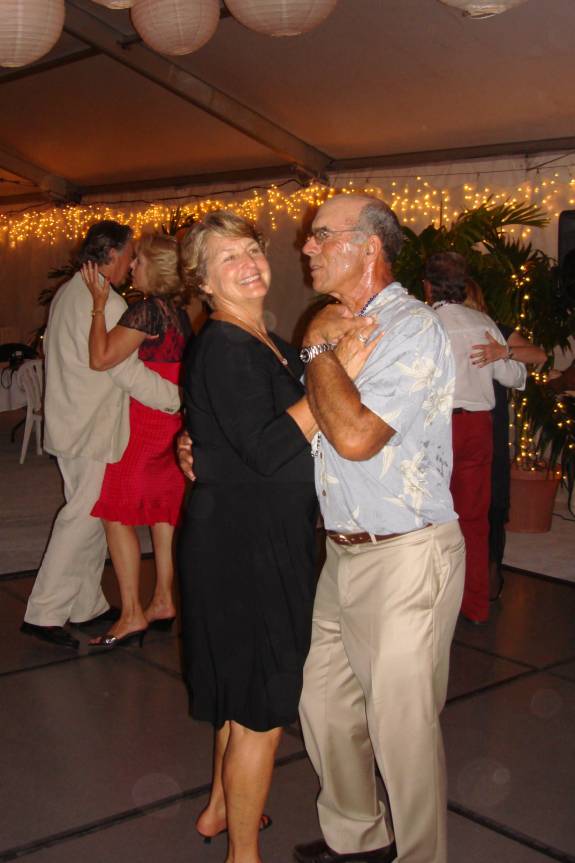 Carolyn and Robert Wilson (SEA ISLAND GIRL)…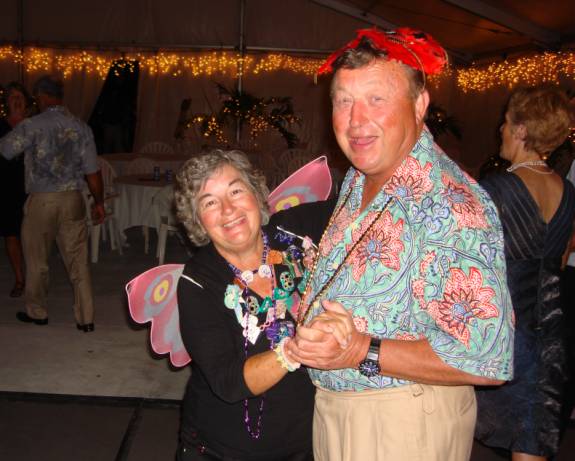 Fred and Judy (AMARSE)…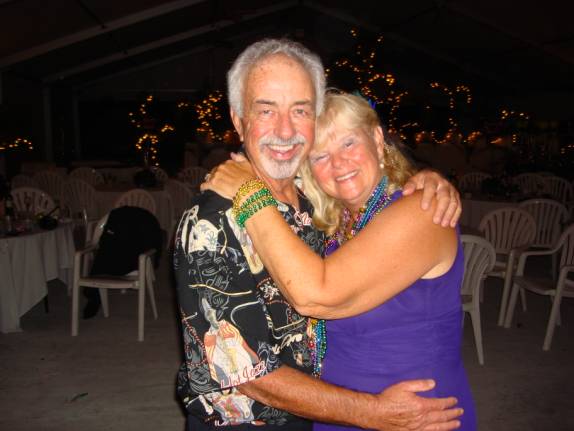 Judy and Fred (AMARSE)… Judy's mask was handcrafted in Italy. Fred's shirt typifies the Mardi Gras theme, hot Dixieland Jazz, and festive Carnival masks. His feathered mask hints of a stealthy, wild cat with a slight twist toward the mysterious "Phantom of the Opera".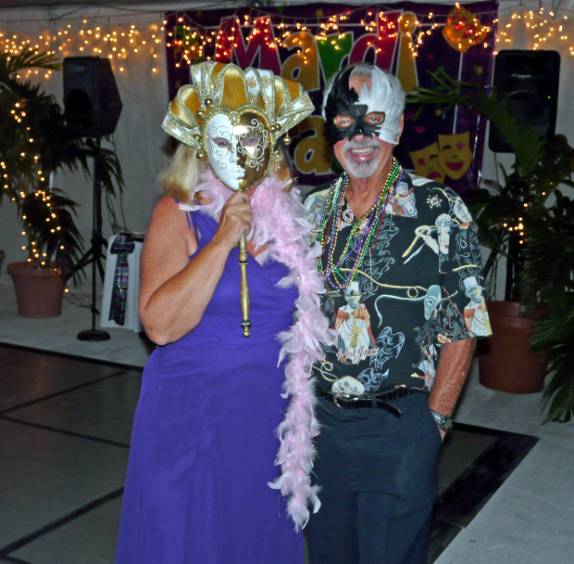 The wonderful party went on at full tilt until near the stroke of actual midnight. In a place where "cruisers' midnight" usually strikes at around 9pm, it is a testament to all the fun-filled excitement that everyone was having during each and every moment. All I can say is that this is such a great club and we are all such a great family of fun-loving friends.
02/14/09 SATURDAY BOAT HARBOUR to MAN-O-WAR CAY
The dawn had not fully broken as TOURELOU eased away from her end berth. Headed for Nassau, Tony and Fran Relow won't be back until next year. We all hope that they have a pleasant trip and we are looking forward to their return next winter.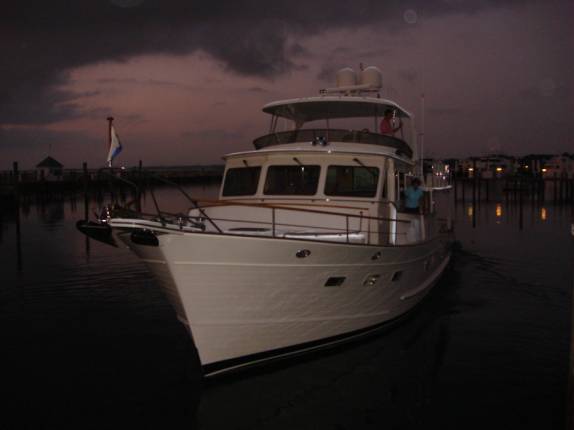 Still under the dusk of early morning, the Captain, and his deckhands, Sue and Judy, readied ODYSSEY for the run to Man-O-War Cay.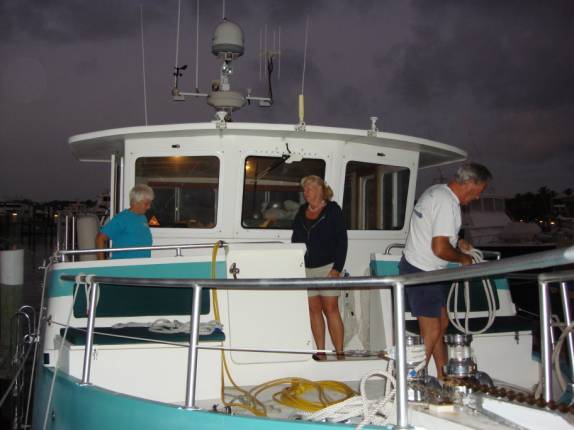 Precisely at 6:30am, Captain Paul Graham maneuvered with astern propulsion to swing away from dock 4. They were headed for the annual Man-O-War Cay Fair and Flea Market Bazaar. Sue and Judy will set up to sell their select line of island beaded jewelry to visitors from all over the Bahamas and the World.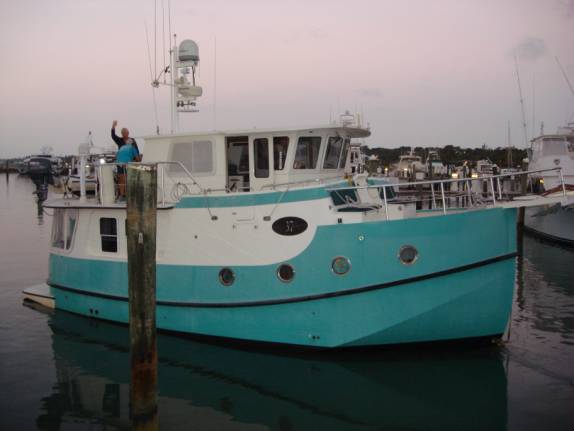 Frank Gavin (SEA SMOKE) negotiated with the Albury Ferry Service to have a large ferry pick up a group directly from Boat Harbour Marina. At 9am, the reserved group of over 100 folks seated themselves aboard DONNIE XII for the trip across the Sea of Abaco. The negotiated round-trip fare was $15 per person.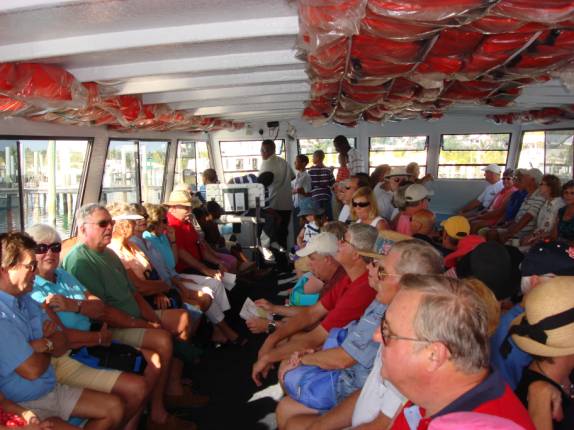 I'd be willing to bet that Shirley and Ed Zellers (M/V TALLY HO) were still a bit tired from all their dancing last night, however, that undeniable urge to bargain shop captured all of our spirits this morning.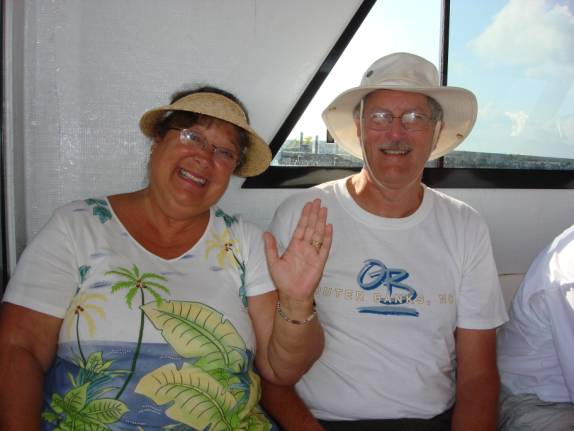 Kevie's daughter, Robert Wilson (SEA ISLAND GIRL), and Jim Elliott (CHRISTINE) positioned themselves at the stern.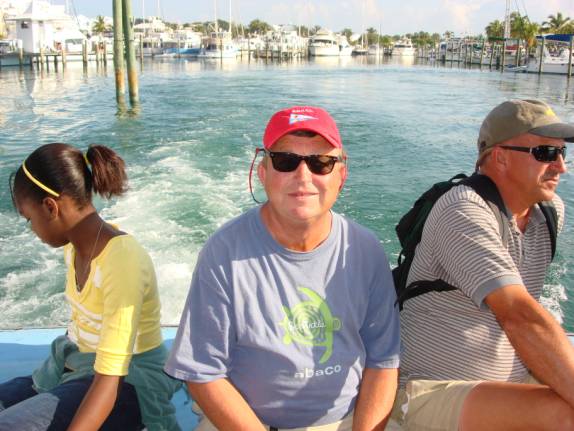 Jim and Joan Elliott (CHRISTINE) enjoying the sun at the stern rail…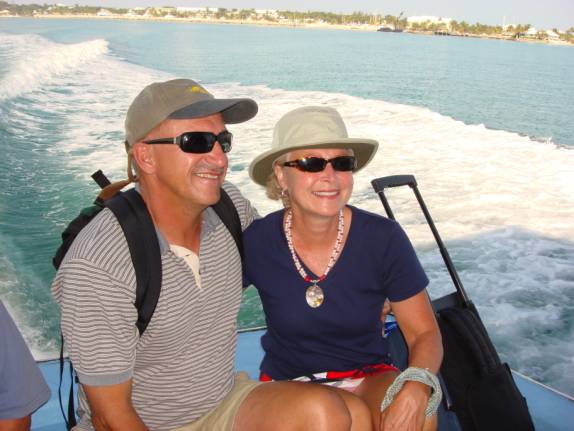 Robert, Jim, and Buck, somehow, strangely remind me of that famous trio, "Hear No Evil, Speak No Evil, and See No Evil"…
The full load of eager shoppers disembarked on the dock at Man-O-War Cay.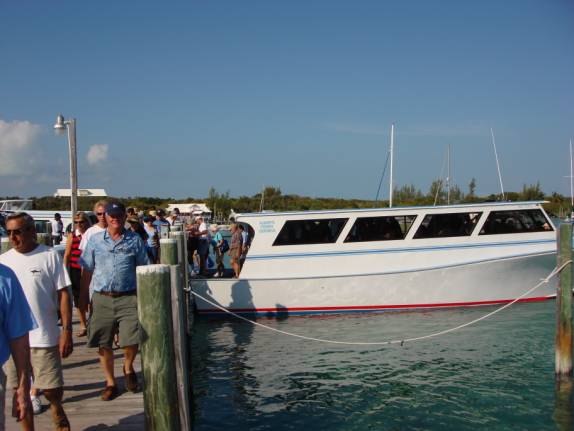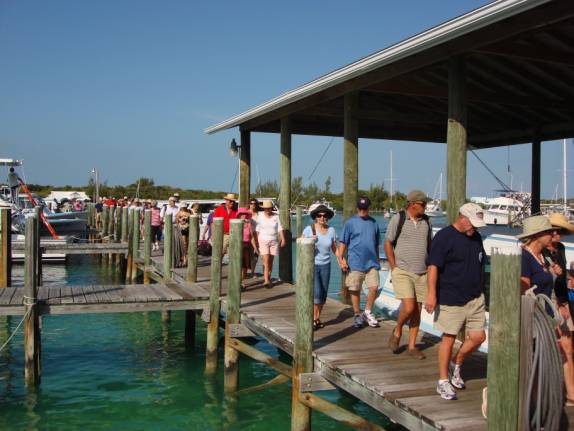 Flea market booths and food vendors lined the narrow streets of the little community…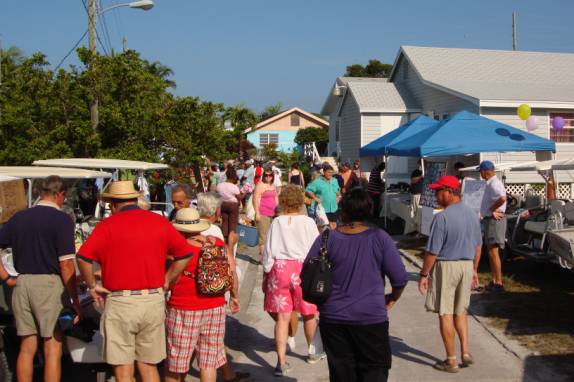 Drawing lots of interest, jewelry vendors Judy and Sue displayed their lovely works of art.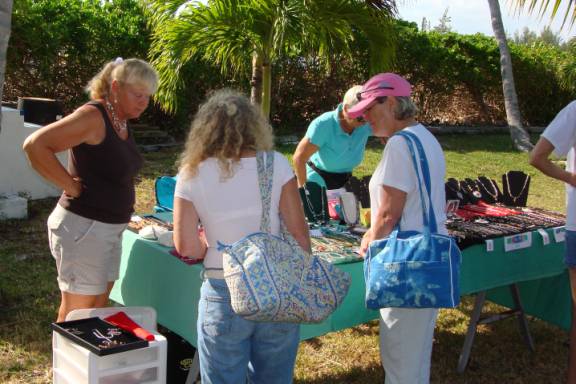 The annual event is a benefit fundraiser for the local school with a percentage of every sale reserved for that purpose. The weather was perfect and sales were brisk this year resulting a highly successful outcome for the charity.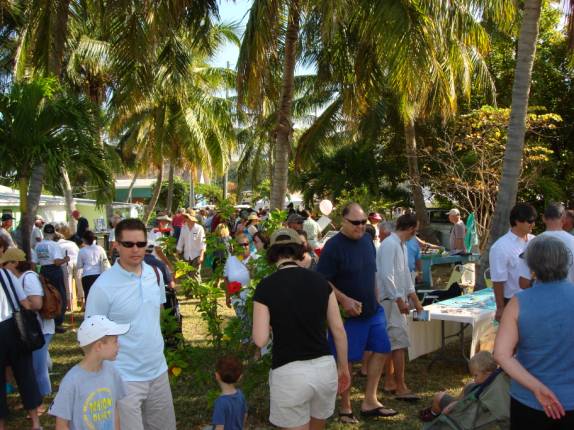 Paul Graham had asked me to help relocate ODYSSEY from the south bay to the north bay around midday. Of course, I excitedly agreed at even the hint. Their friend has a secure dock and a lovely cottage perched between the Sea of Abaco and the protected bay of Man-O-War Cay.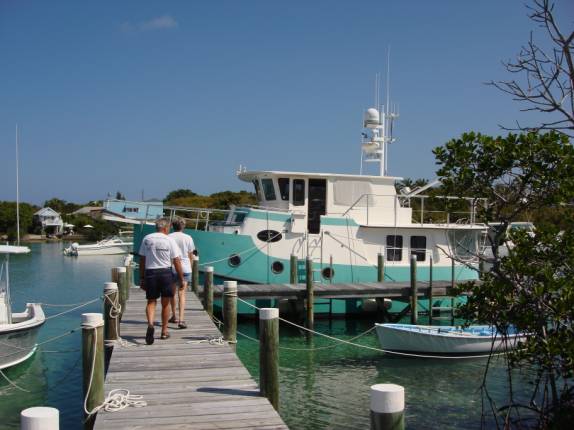 This wonderful, classic wooden rowing boat is in pristine condition.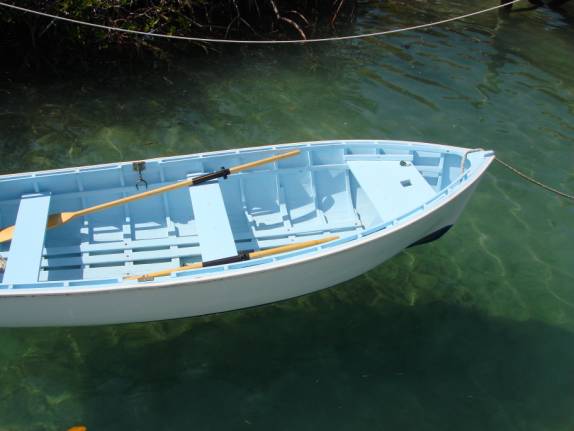 Just up the rise, the airy cottage sits strategically with spectacular views in all directions. The main building was constructed a half century ago using natural Abaco pinewood harvested locally. The natural wood displays even more beautifully inside. Gentle breezes cool the interior through the open design features. Collecting rainwater to a cistern provides their main source of fresh water.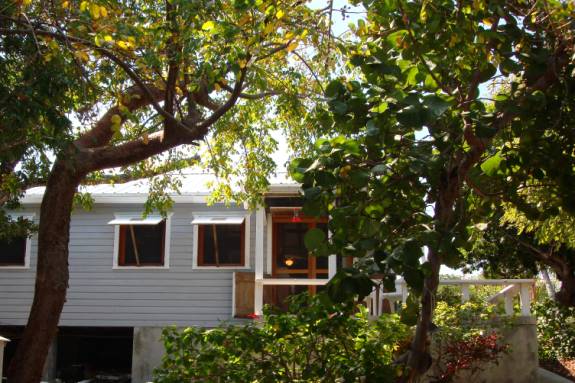 Set on two acres, the flora and fauna line the pathways to the sea. The view on this perfect day was breathtakingly beautiful.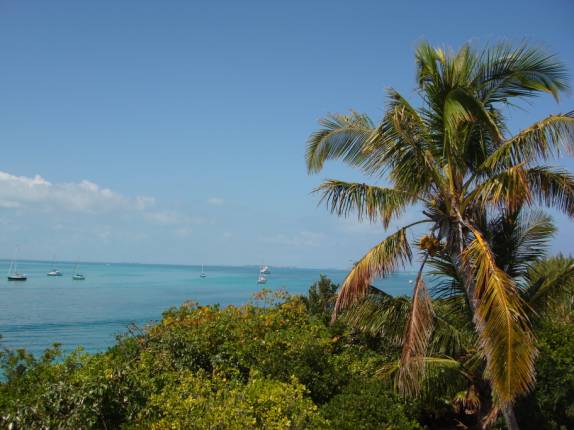 The view back south from the dock shows the tranquil anchorage and mooring area in the northern bay.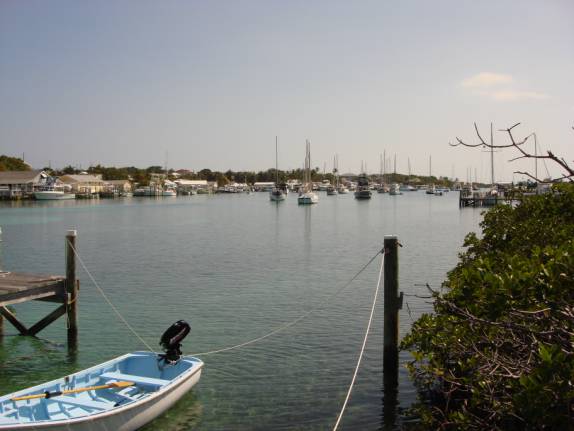 At 3:30pm, the ferry re-boarded the group for our speedy and safe return to Boat Harbour. Judy came back with us, as ODYSSEY would be staying the night at that dock.
Back at Boat Harbour, Judy and I joined the small group on the bow of LO QUE SE A for cocktail hour and some humorous story telling. Of course, at sunset, the conch horns had to be sounded.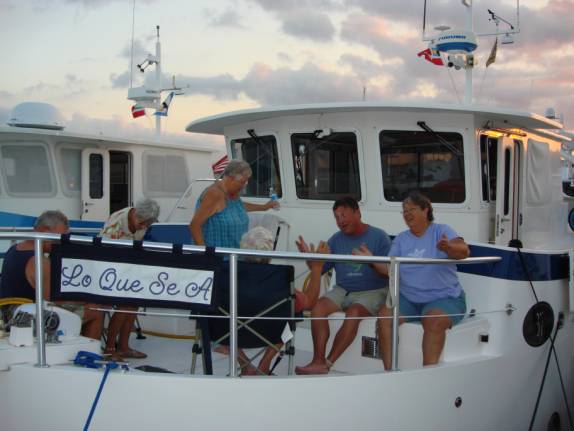 CONTINUING UPDATES ARE IN PROGRESS…
WATCH FOR THEM, COMING SOON…
POST SCRIPT:
We sincerely hope that you will review the previous years of compilations to give context to the current editions. Please let us know if you have any special suggestions and thoughts.
REMEMBER: The website is now fully active and you can visit it at any time. You can review any of the 2006, 2007, or 2008 logs and learn more about the crew and our plans. Enjoy.
ATTENTION: SPECIAL NOTE:
You may contact us via email anytime.
Thanks for allowing us to share our life and adventures with you.
Lotsa Luv,
Fred Reed and Judy Law
AMARSE
MT40
"AMARSE" is pronounced "AM-ARE-SAY".
Our website is: www.amarse.net .