UPDATE#07 02
/16 thru 02/
19
Howdy Everybody,
The adventures of 2006, 2007, 2008, and 2009 through 02/14/09 have been published on the website. We continue with the latest edition.
UPDATE 2009 #07 02/15/09 thru 02/19/09
At last update, we were aboard AMARSE at the Abaco Beach Resort and Boat Harbour Marina in the Bahamas.
02/15/09 SUNDAY BOAT HARBOUR to GUANA CAY
Judy and I received another great invitation to join a group aboard SHADE MOR for the cruise to Nipper's Beach Bar and Restaurant on Guana Cay. We always love to be included in this wonderful day event planned by Bob and Judy Williams.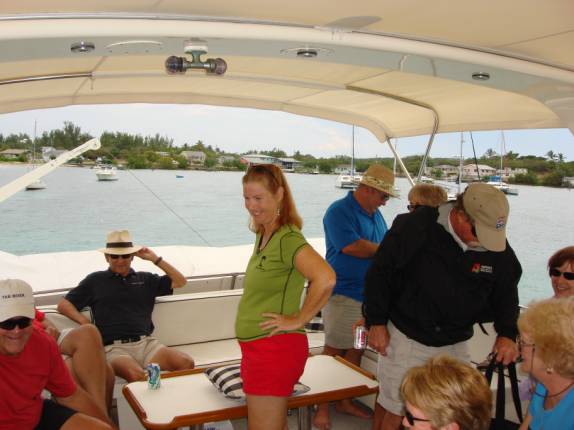 For a little while, the weather looked iffy during the trip across the Sea of Abaco. The wind had picked up and there were light rain showers. As luck would have it, the skies began to lighten and the winds subsided a bit as we neared the Guana harbour.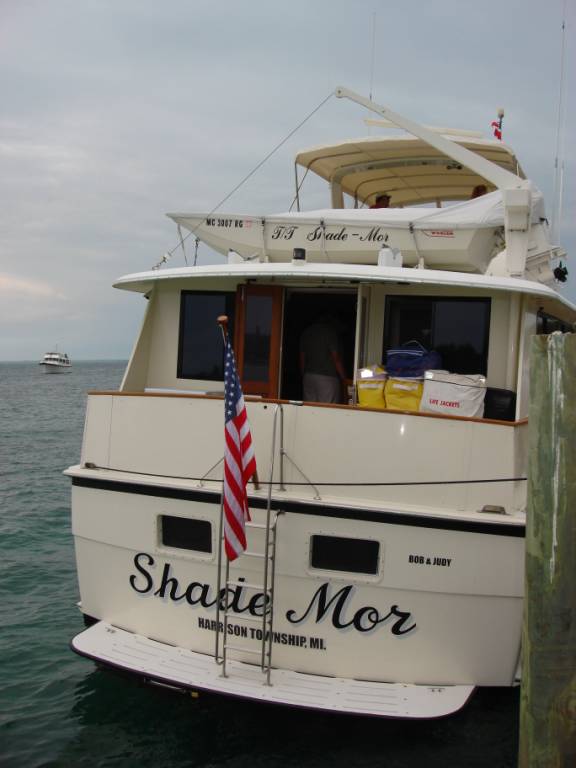 To keep the brisk breeze from pressing SHADE MOR too tightly against the dock pilings, several of the strong guys were impressed to push her off enough to insert a few large, cylindrical fenders as a protective measure.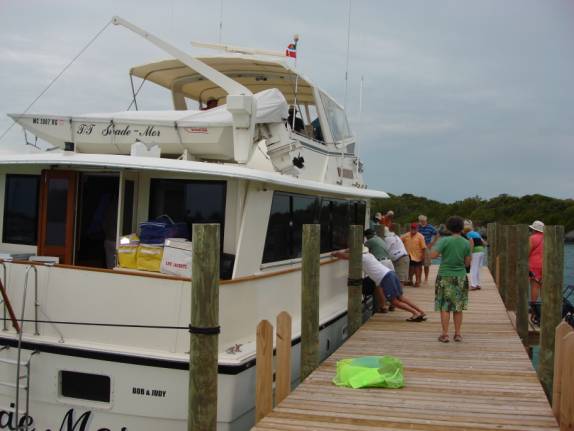 This way to the world famous Nippers…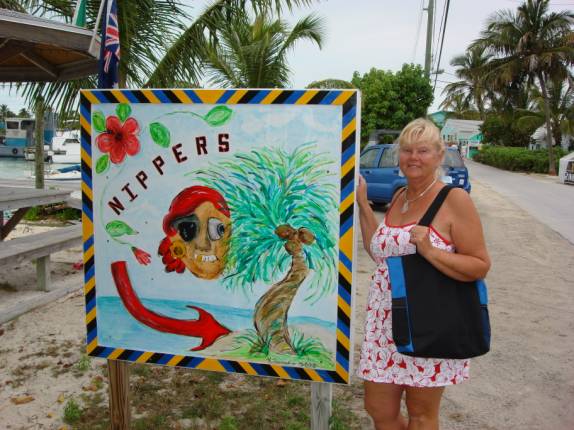 The light rain had left crystalline droplets on the petals of this bloom as if to highlight its awesome natural beauty…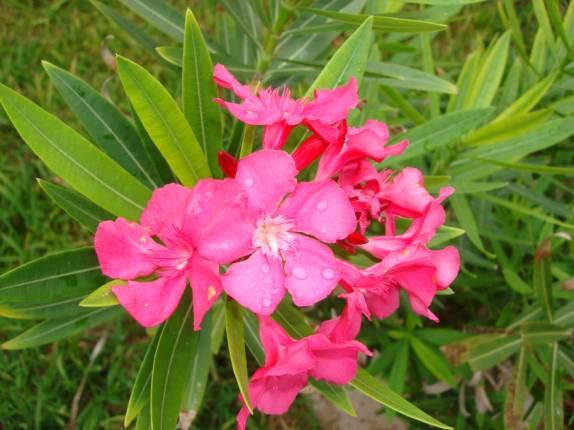 In a special humidor room, Nippers has a primo selection of genuine Cuban cigars just begging to be smoked. How could I ever resist?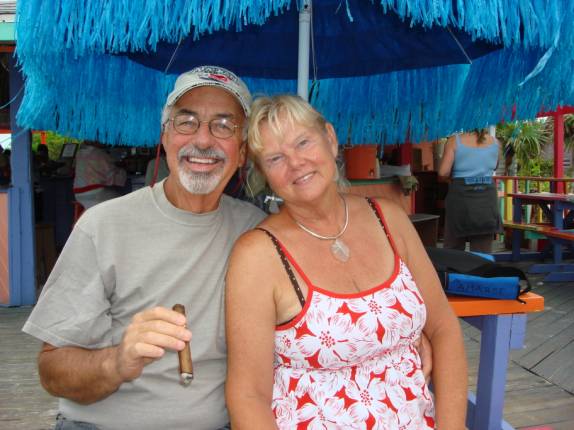 When I saw that sand sticking to Andrew's toes, I could immediately sense the true, relaxing tropical atmosphere of this wonderful place.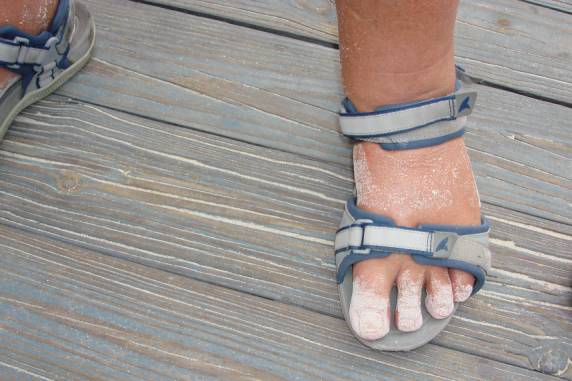 Bette and David Bauereis (TAR HEEL) were clearly enjoying that magical aura of this tropical paradise…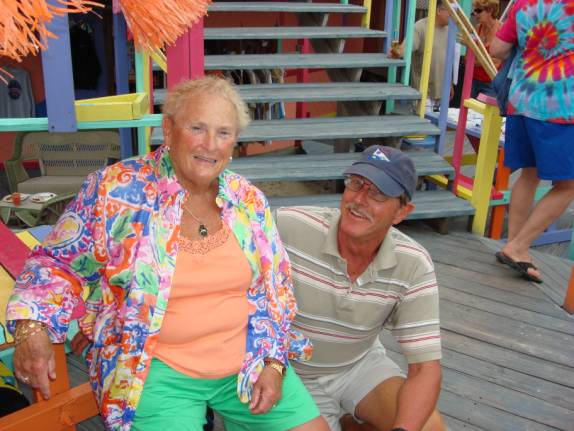 Robert Wilson (SEA ISLAND GIRL) had Bette up dancing to the Caribbean beat…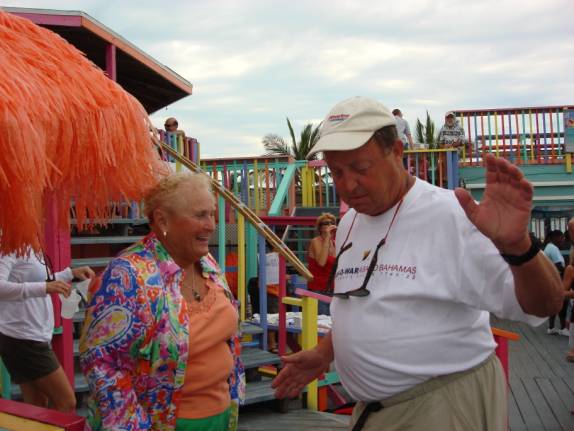 With sand on her feet, Judy had jumped into the full swing of that tropical beach mode…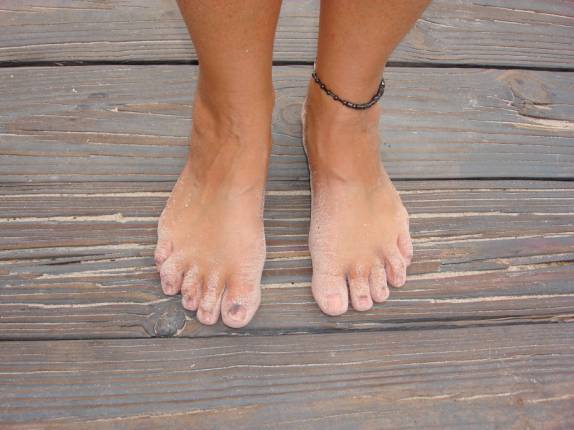 Now, here is a very happy couple…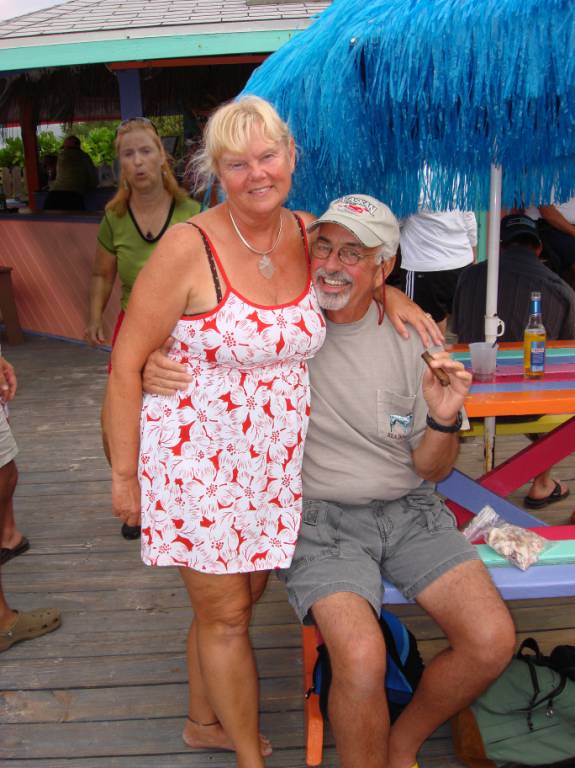 Wilma and Judy got into the "move of the groove"…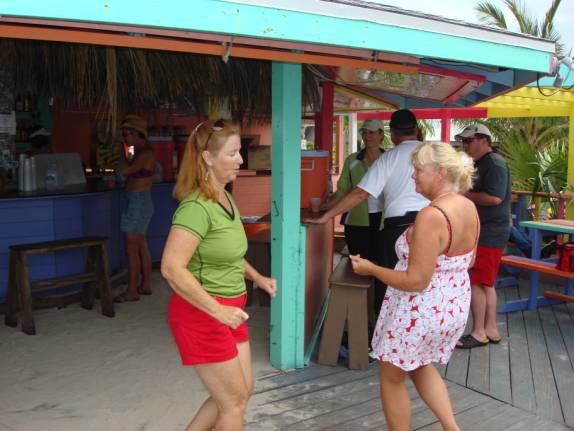 Wally (S/V FANCY BREAD) found his favorite place in the sun resting by the poolside lounge…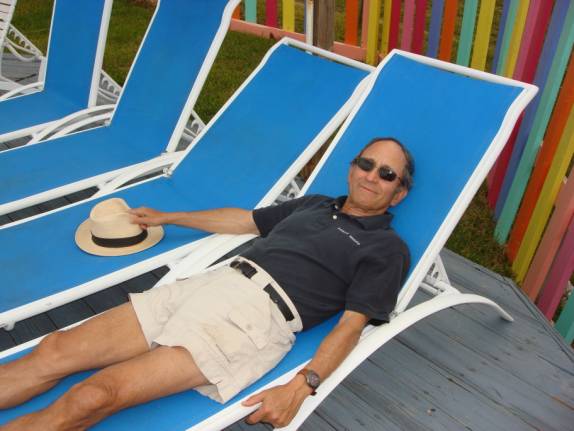 Yummy… A strand of raw onion… Yummy…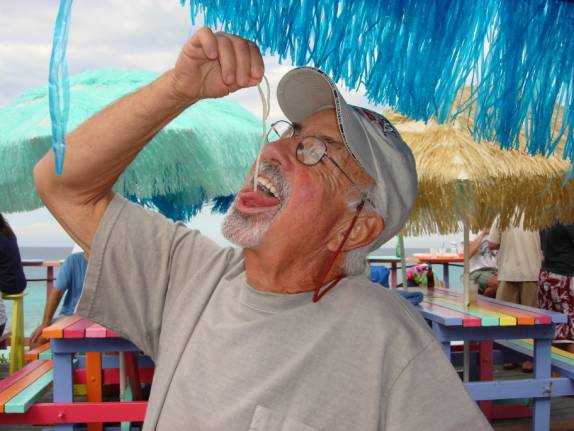 The salty sea air, a frozen Nippers drink, and a tasty lunch were just the right combination to keep these RMHYC folks real happy and content…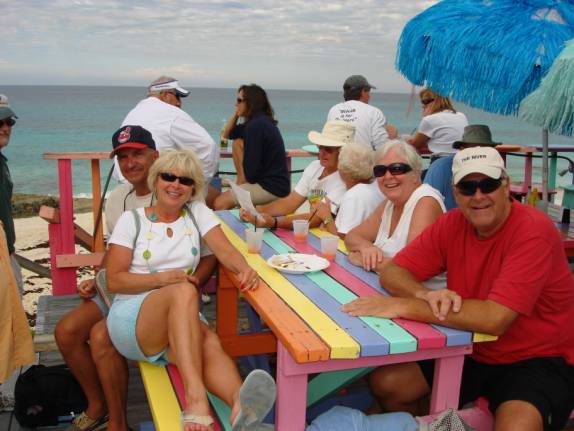 All the girls love Robert… They all think that he is Elvis…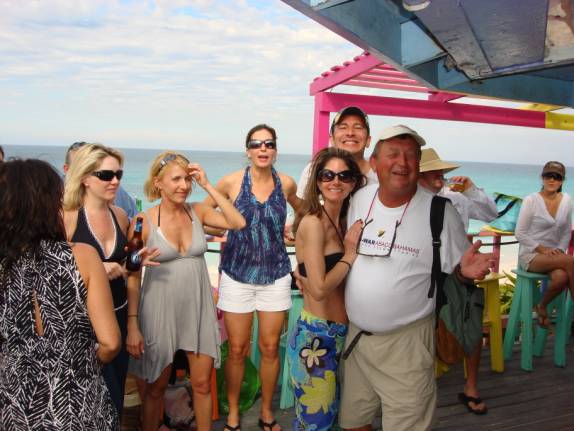 Party time at Nippers…
Brant and Elinor were guests of Robert and Carolyn Wilson aboard SEA ISLAND GIRL. Just able to visit this year, they were berthed at Dock 7 aboard LAZY BONES in previous years.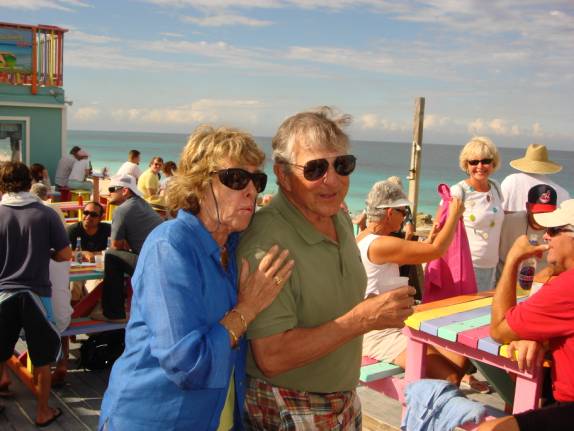 Rick and Diane Brenneman (LADY DI)…
Judy, Judy, Judy…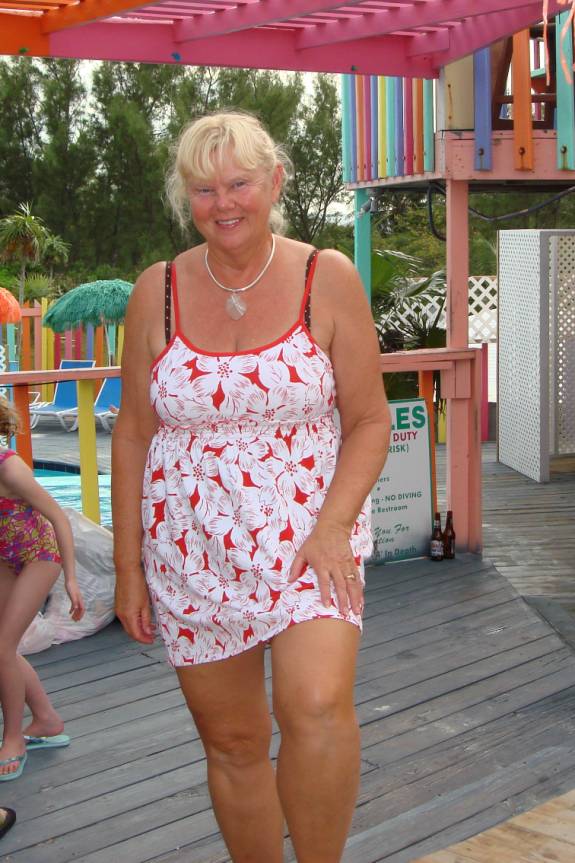 Joan Elliott (CHRISTINE) and Judy Law (AMARSE)…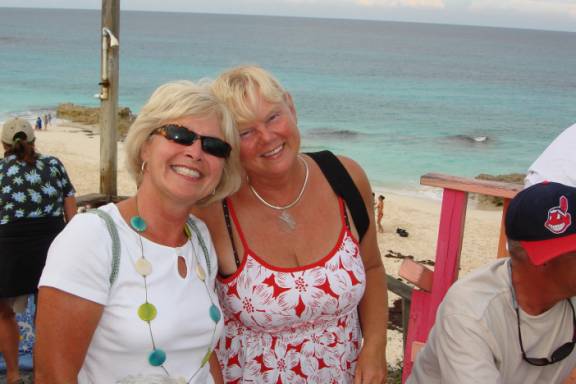 Captain Bob Williams (SHADE MOR) and Fred Reed (AMARSE)…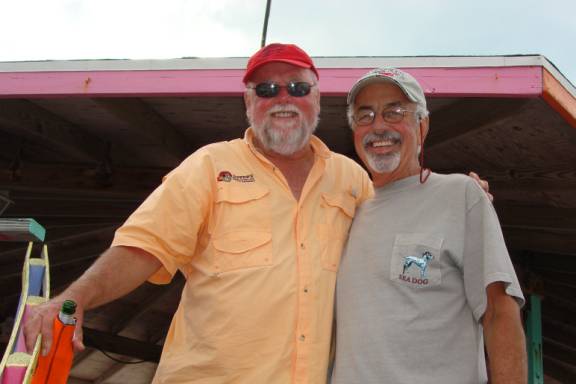 Main deck area at Nippers Beach Bar…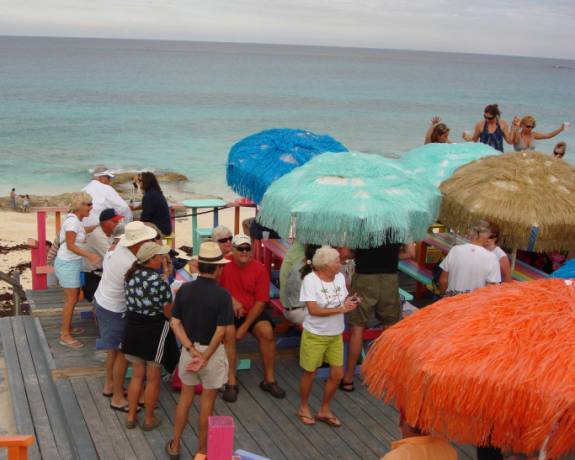 Pam and John Mitchell (FANNY BAY)(center) and Joan and Jim Elliott (CHRISTINE)(outside)… John Mitchell is an honored Past Commodore of our Royal Marsh Harbour Yacht Club.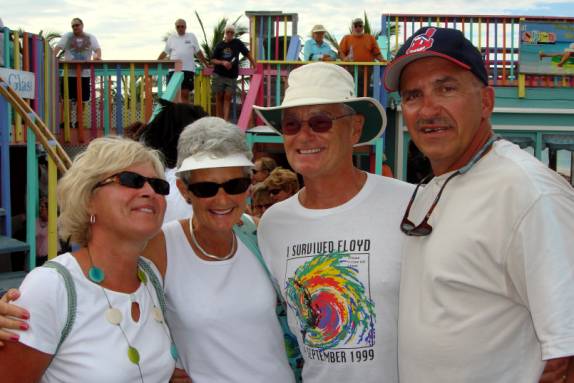 Judy (AMARSE) and Wally (FANCY BREAD)…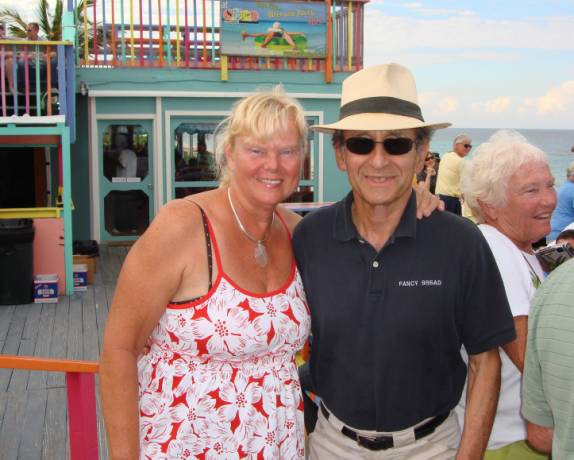 The foredeck started to fill up for our return departure that was scheduled for 4pm.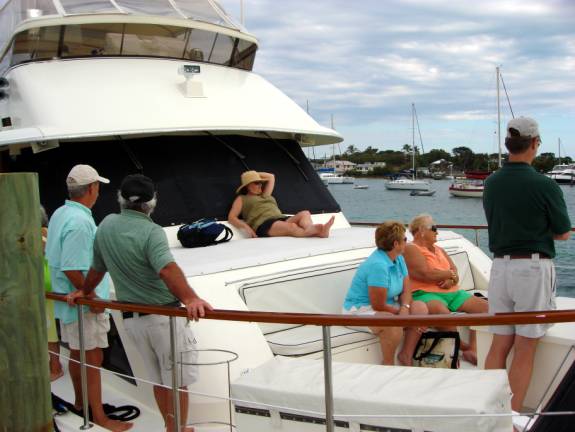 We certainly echo Carolyn Wilson (SEA ISLAND GIRL) in proclaiming this as "another great day in the island paradise…"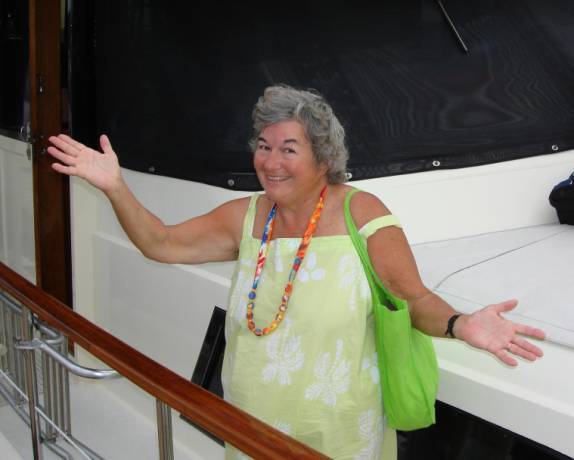 Thanks again, Bob and Judy Williams (SHADE MOR) for bringing so much joy to our times in the Abacos!
02/16/09 MONDAY BOAT HARBOUR
U.S. PRESIDENTS' DAY…
HAPPY BIRTHDAY, BOYS…
After our fabulous evening at the RMHYC Commodore's Ball and Mardi Gras Theme Party Event that was held a few nights ago, Judy had the bright idea to transform her beautiful mask into a wall decoration for our master stateroom. It looks absolutely perfect and we are both delighted with the new look and by the great memories that are brought to mind. Great idea, Judy…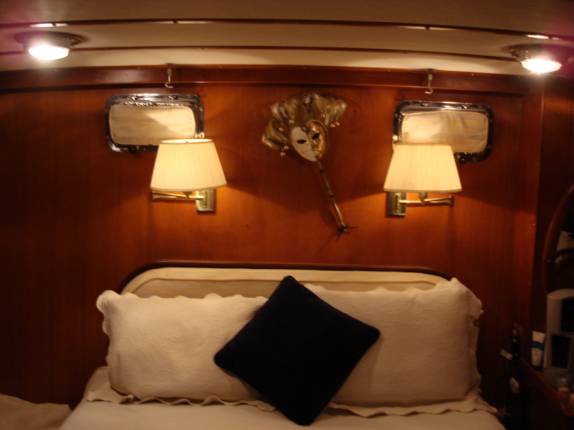 Ed Zellers (M/V TALLY HO) helped us to form and reshape our conch shell to make a couple of good conch horns. Now that we have the proper instrument, we just have to perfect the technique.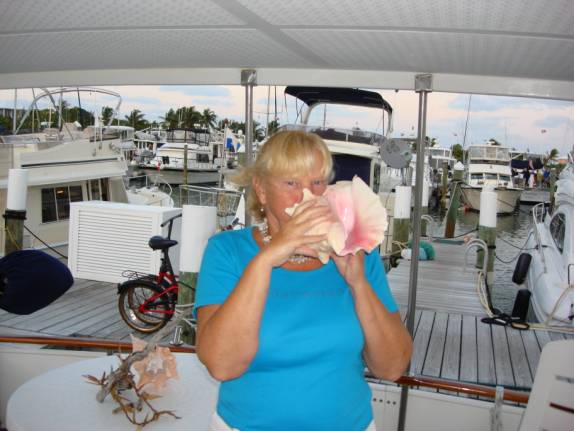 Our dinner guests aboard AMARSE were Kent and Gretchen Cronkhite (S/V KINJA KAT). Following cocktails, the meal commenced with Iceberg Lettuce Wedges with tomatoes and black olives, then topped with blue cheese dressing and crumbles. The entrée featured Stuffed Green Peppers filled with a blend of sausage, sweet red peppers, carrots, celery, onion, and seasoned tomato sauce layered with shredded cheeses.
02/17/09 TUESDAY BOAT HARBOUR
Rita (MAGNUM OPUS) hosted a luncheon and jewelry making session for the gals. Judy and Kathy Sales gave the instructional techniques to the eager group of six. They are all coming up with lovely designs and creations.
Once again, my website activities consumed most of the day. Our evening included a visit to SEA ISLAND GIRL for a rousing few games of "Farkle". The "Queen of Farkle", Carolyn Wilson snookered us on both games to regain her title. Even with all the applause, we still had time for a few games of "Ship, Captain, Crew" to further our enjoyment.
2/19/09 THURSDAY BOAT HARBOUR
Using iTunes, I worked on my iPod music organization. I am really enjoying a renewed interest in listening to various musical selections that are easily accessed with the iPod.
At 1pm, Rita Wieczorek came over and we organized the new photo sections for the RMHYC webpages. With a lot of new faces in the officer ranks, it was definitely time to give these hard working folks the recognition they deserve. RMHYC members should access their pages frequently to garner all kinds of news, information and event schedules. As Vice Commodore of Communications, Rita is doing a magnificent job of keeping everyone fully informed in a variety of media. I am pleased to be able to assist her with numerous photos for her fascinating articles.
Thursday evening signaled another "Talent Night" event at the Angler's Restaurant here at the Abaco Beach Resort and Boat Harbour Marina. Ed and Shirley Zellers (M/V TALLY HO) were headed up for tonight's performances.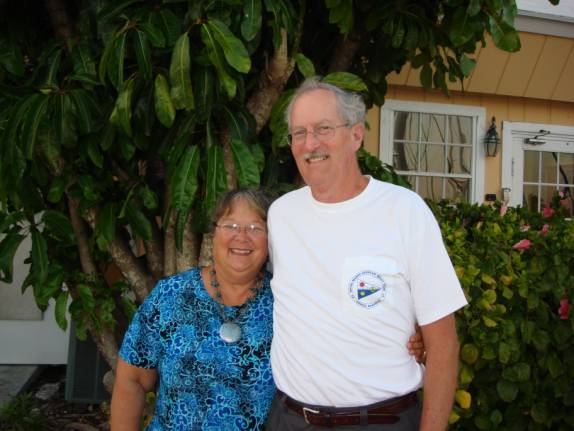 Judy and Fred (AMARSE) walked up there too…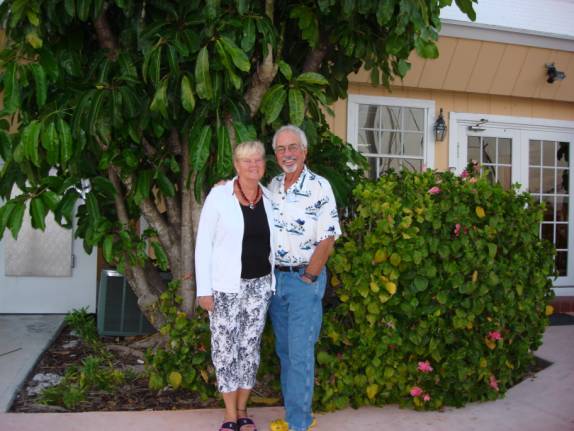 Frank Gavin (SEA SMOKE) and Shirley Zellers (M/V TALLY HO) drew lots of big smiles with a vaudeville-style shtick.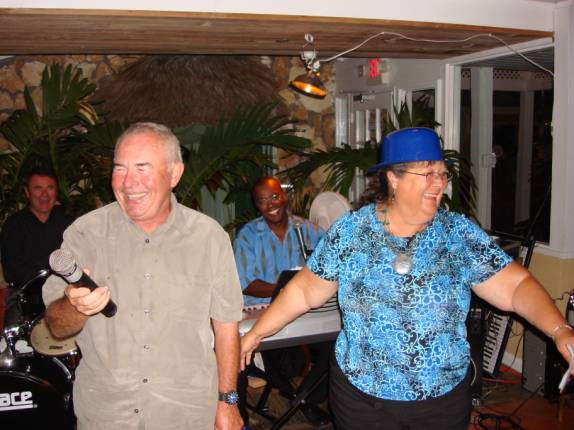 Many of the resort staff and employees are talented contributors…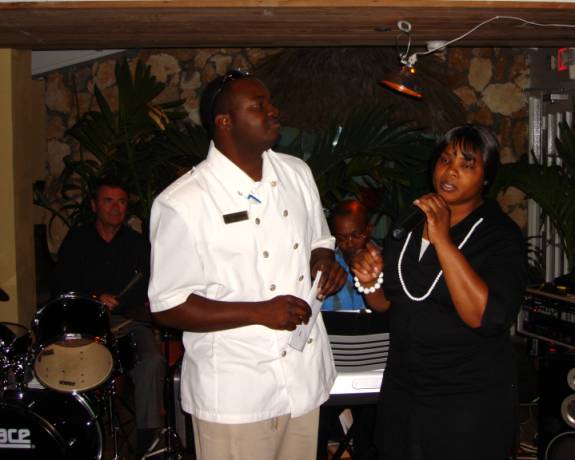 Carl Lantz (PUFFIN) can really belt out a tune. He used to be a member of a "barbershop quartet".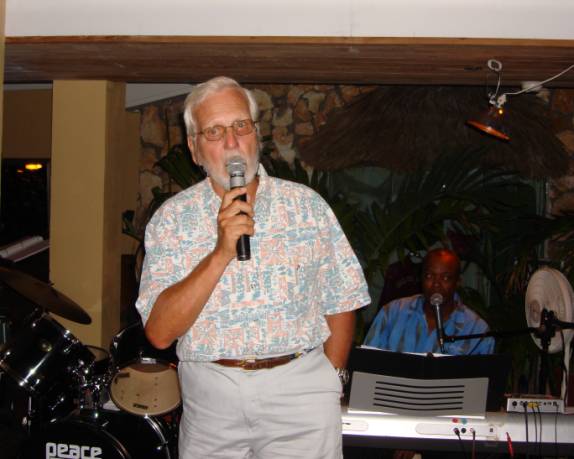 The dining room hostess charmed the audience with her spirited performance…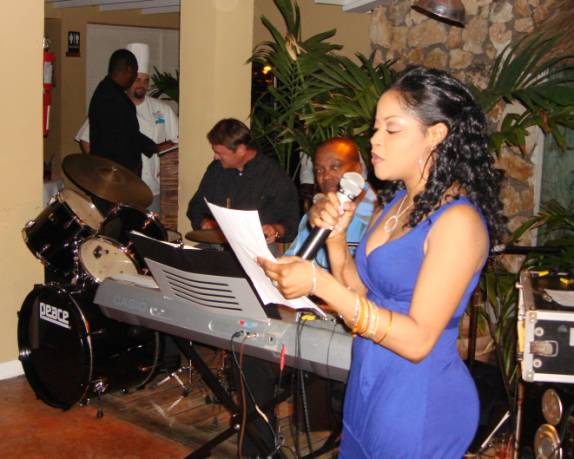 Della, or "Della-licious" as she is affectionately called, is a star performer…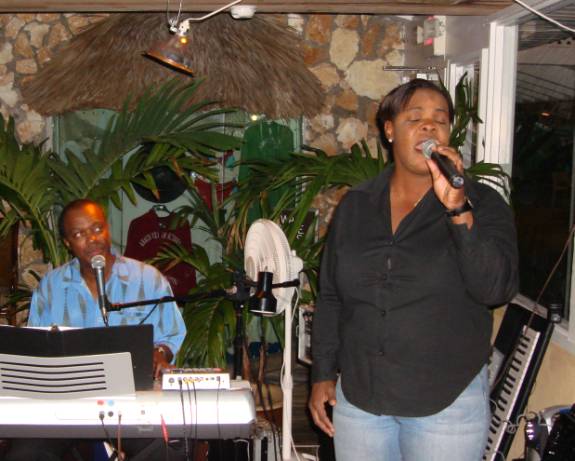 Judy Law (AMARSE) stepped up to mesmerize the crowd with a sparkling rendition of a Bette Midler tune entitled "The Rose". Everyone certainly enjoyed her beautiful voice singing a favorite tune.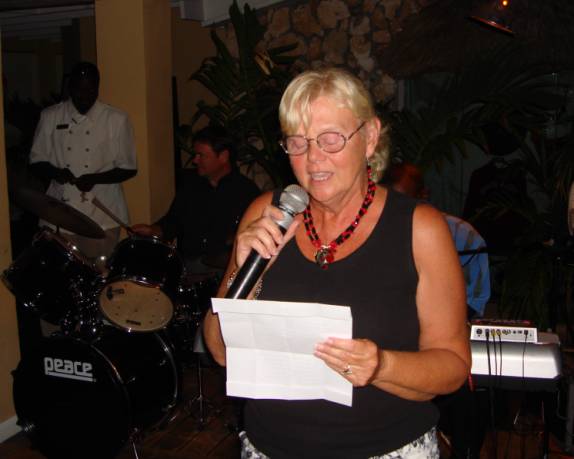 Carolyn Wilson (SEA ISLAND GIRL) held us quietly spellbound with her acapella version of a complex song about New York…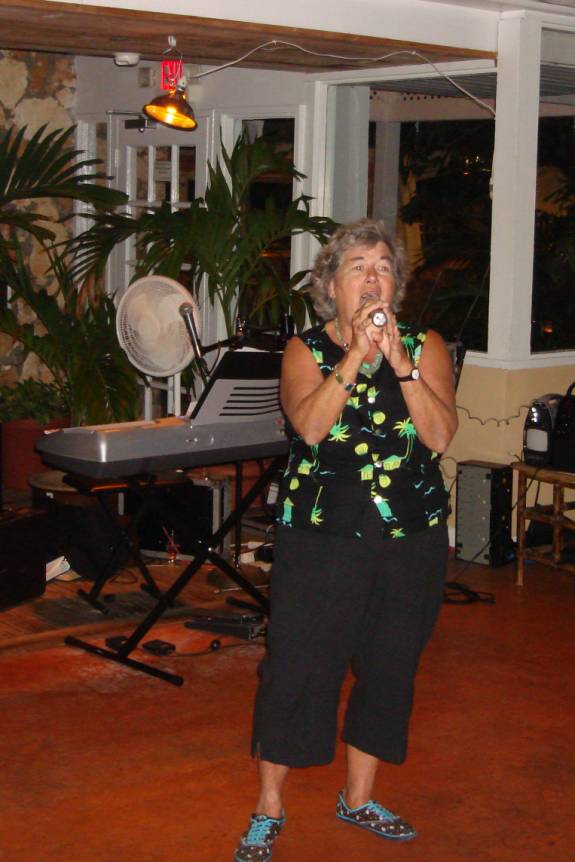 Mike Beneville (LIBATIONS IV) hit us with the familiar song about "King of the Road"…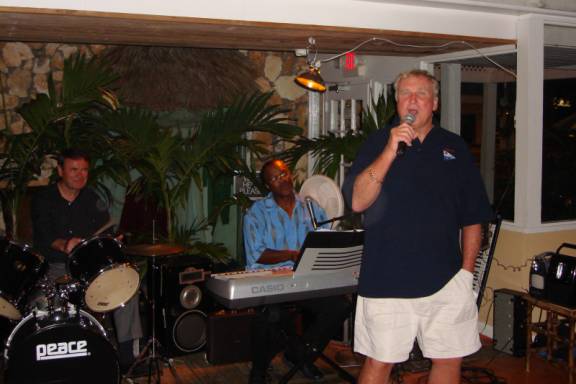 One of the Chef's assistants did a fine job with her choice of songs…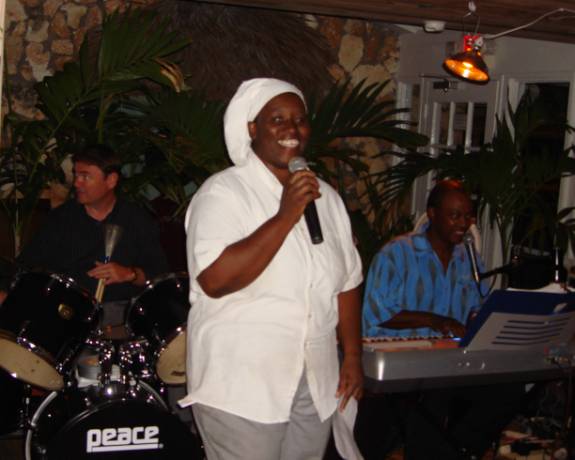 The Director of Human Resources picked a great song for her turn at the microphone…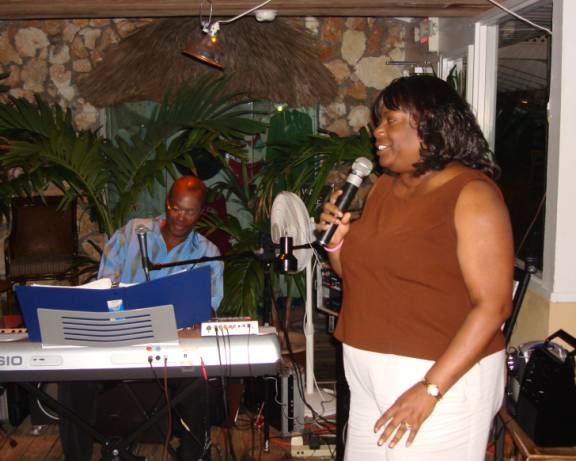 The Angler's Restaurant hostess was terrific again…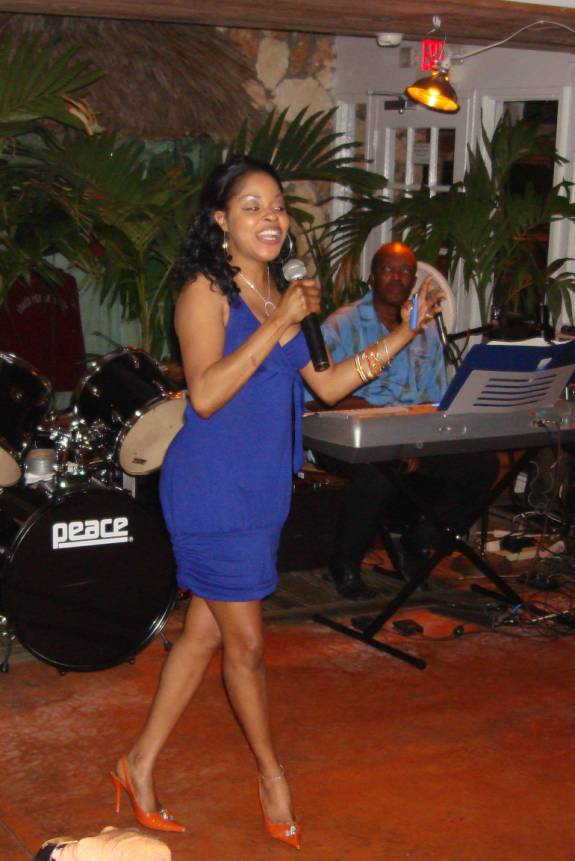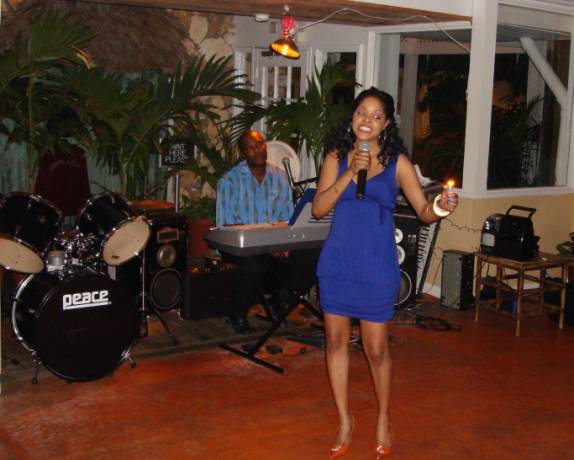 Commodore Jim Fenn and RMHYC First Lady, Kathy, were in touch with the music. Some people only hear the music; it is clearly evident that they truly feel the music...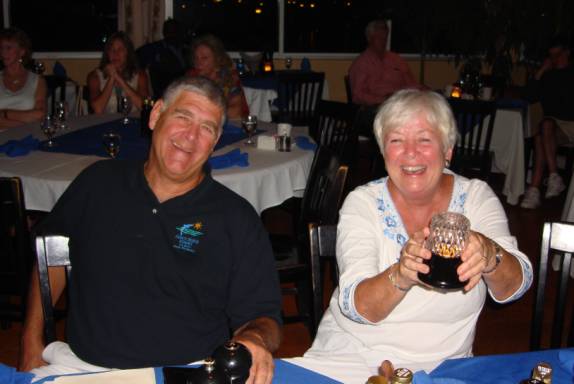 When the employee group gathers to harmonize a few gospel favorites, the room comes to their feet…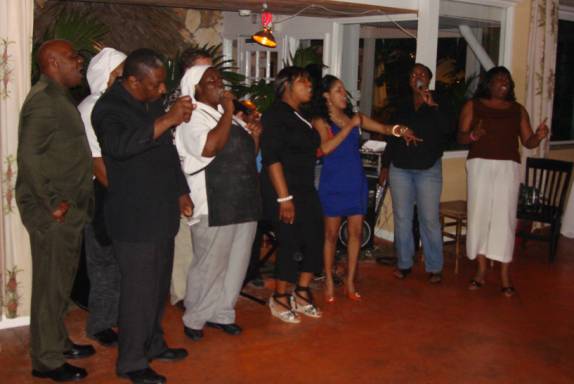 Robert Wilson (SEA ISLAND GIRL) is always a welcome member of the gospel singers group…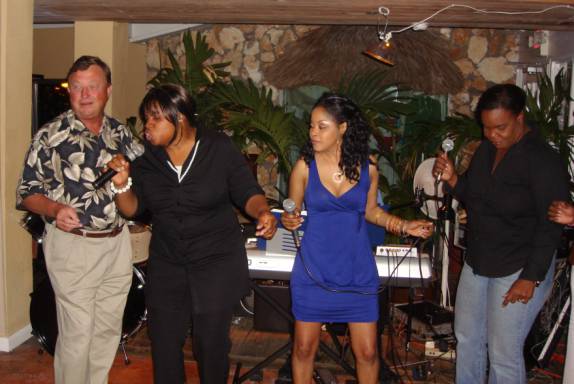 Peter Sweeting recognized the wonderful contributions of the resort staff for their participation in making these evenings such a joy for everyone present.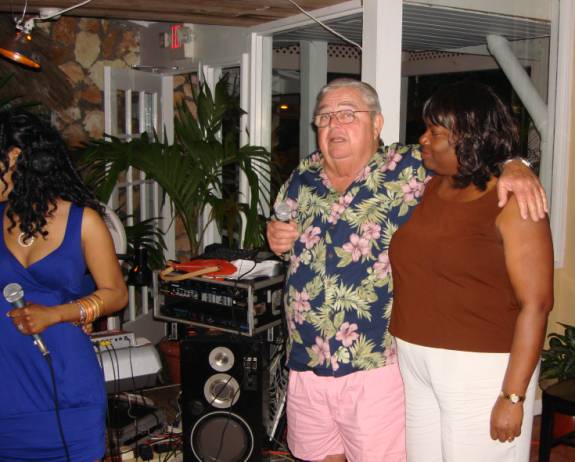 Judy was out to "strut her stuff" as the singers entertained.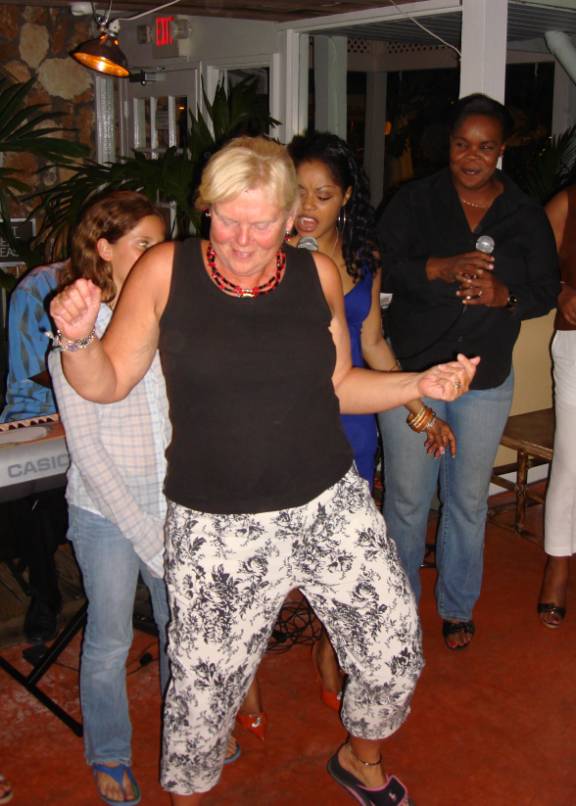 Electric Slide, anyone?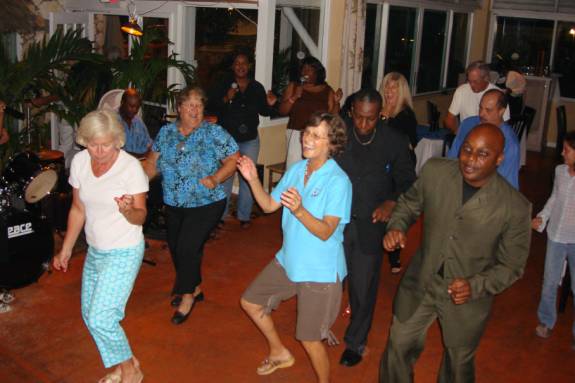 Peter Sweeting (ABACO BEACH RESORT) and Fred Reed (AMARSE)…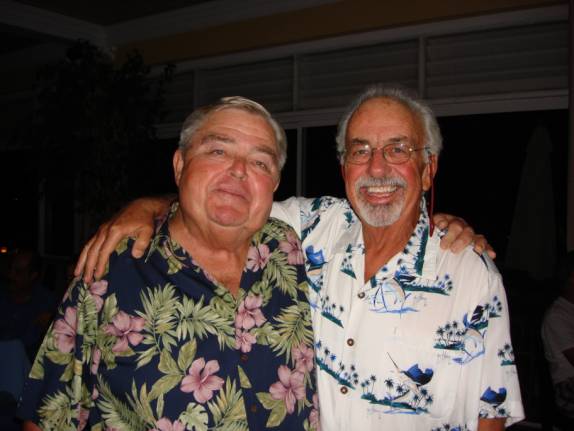 Joan and Jim Elliott (CHRISTINE)…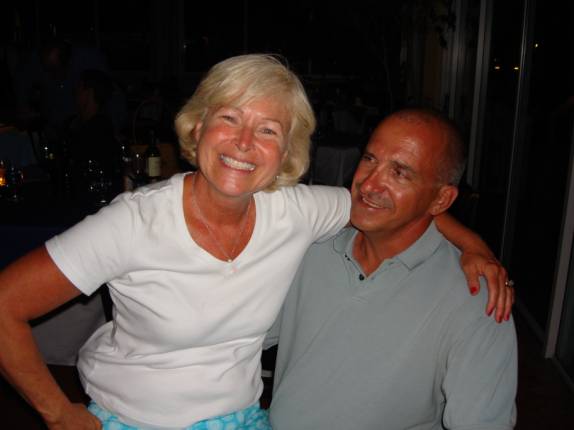 Visiting from Nassau, Manny's daughter played some beautiful music on the electric piano.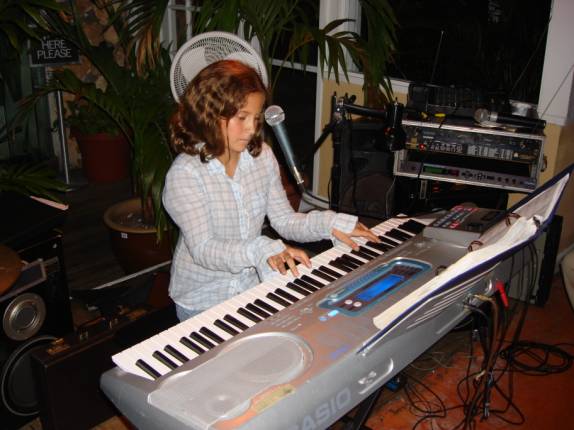 The dinner special was Linguine Alfredo with a Pesto and Red Sweet Pepper twist. Of course, the cocktails were wonderful too. The chef's and staff have been doing a great job for everyone. These dinner and talent show nights have become quite popular with the RMHYC folks. It is great to have so many talented folks surrounding us her at Boat Harbour.
CONTINUING UPDATES ARE IN PROGRESS…
WATCH FOR THEM, COMING SOON…
POST SCRIPT:
We sincerely hope that you will review the previous years of compilations to give context to the current editions. Please let us know if you have any special suggestions and thoughts.
REMEMBER: The website is now fully active and you can visit it at any time. You can review any of the 2006, 2007, or 2008 logs and learn more about the crew and our plans. Enjoy.
ATTENTION: SPECIAL NOTE:
You may contact us via email anytime.
Thanks for allowing us to share our life and adventures with you.
Lotsa Luv,
Fred Reed and Judy Law
AMARSE
MT40
"AMARSE" is pronounced "AM-ARE-SAY".
Our website is: www.amarse.net .