UPDATE#05 02
/01 thru 02/

11

Howdy Everybody,

The adventures of 2006, 2007, 2008, and 2009 through 01/31/09 have been published on the website. We continue with the latest edition.

UPDATE 2009 #05 02/01/09 thru 02/11/09

At last update, we were aboard AMARSE at the Abaco Beach Resort and Boat Harbour Marina in the Bahamas.

02/01/09 SUNDAY BOAT HARBOUR

Judy agreed to implement her "dock beautification" program by giving me a haircut and trimming my beard. She does such a great job even with limited subject material.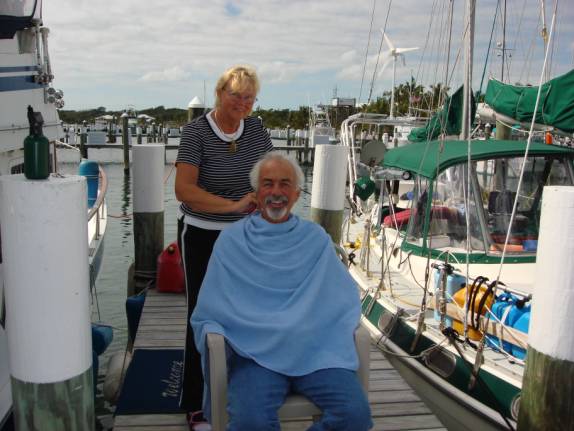 Sue Graham (ODYSSEY) stopped by with her grandson, John, and daughter-in-law, Kris, to observe her progress.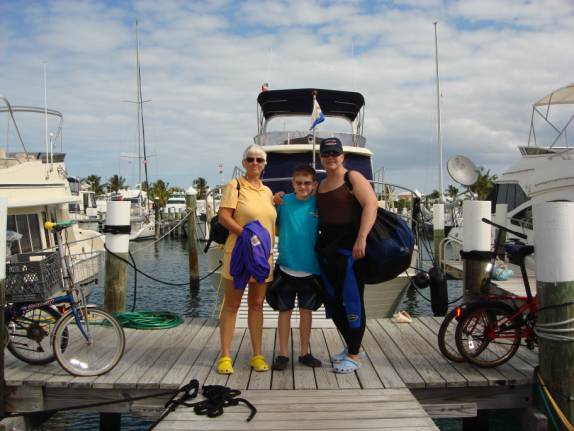 Next in the chair of honor was John Thomassen (OUR TIME). He always has a million dollar smile for everyone here in our neighborhood.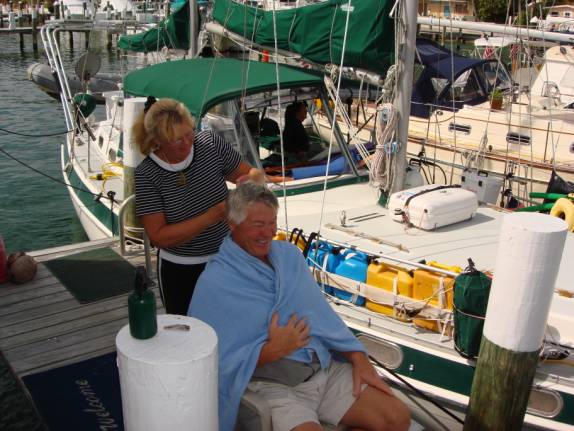 As a reward, John prepared a couple of these fantastic "Coco Loco" coconut drinks loaded with various liquors creating the perfect mix with the natural coconut milk inside. Yummy!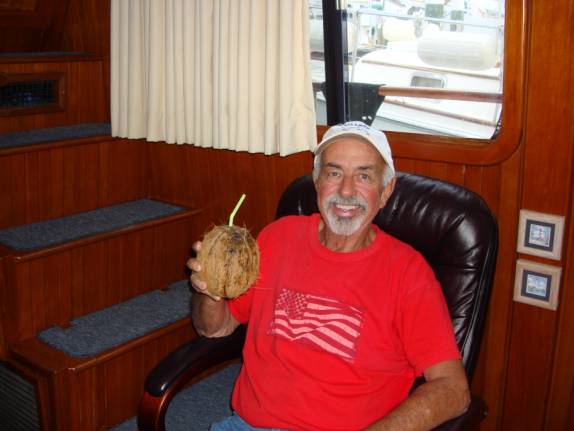 These drinks are so potently good that nobody ever says, "Make mine a double"…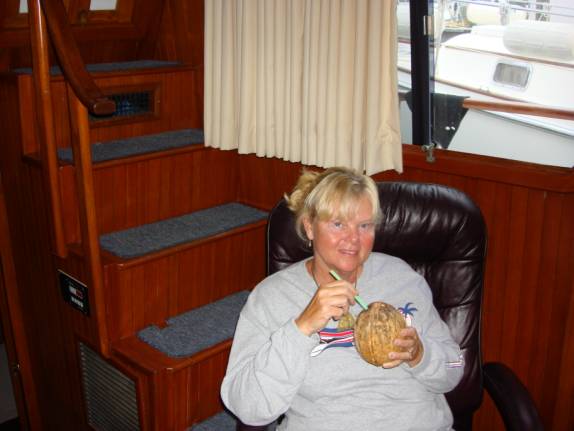 Tonight was Superbowl XLIII. The squeaker of a game had Pittsburg Steelers fans elated and Arizona Cardinal fans disappointed at the 27-23 final game score.
02/02/09 MONDAY BOAT HARBOUR
HAPPY BIRTHDAY, KRIS
As most of you know, boats require a bit of rather unpleasant maintenance every so often. My chore today was to repair a slow flushing "head" (toilet). The mechanism is an electrically operated piston pump that uses seawater to flush the effluent into a holding tank through a series of 1-1/2 inch hosepipes. The high salt content of these tropical waters causes a salt residue build up in the components that require a messy clean-out effort. I disassembled the entire mechanism and found that the main hoses were restricted down to around 3/4-inch diameter. After cramped removal, they were fairly easy to clear by rapping them sharply on the wooden dock and flushing out with a fresh water hose. The pump required the replacement of the rubber joker valve (sometimes called a "duckbill valve") and extensive scraping and lubing of the piston and cylinder components. The vented loop mechanism, providing an anti-siphon protection, needed a lot of scraping and reaming. Its small, rubber valve was plugged with salt. After re-assembly, everything worked like new. I also did some spot painting of the pump and motor housings to top off the job. I am always surprised at how very quickly that residue buildup can occur. Many folks swear by the regular use of white vinegar and mineral oil treatments to delay the repairs. It is hard to say how well this works. For us, it has not been particularly successful. I guess we'll just have to suffer through the unpleasant maintenance process to keep everything running smoothly.
After a good, personal cleanup, we were set for a fun evening get-together. Folks from dock 3 came over to celebrate with the dock 4 crowd. Judy decorated a beautiful birthday cake for Kris (Sue Graham's daughter-in law).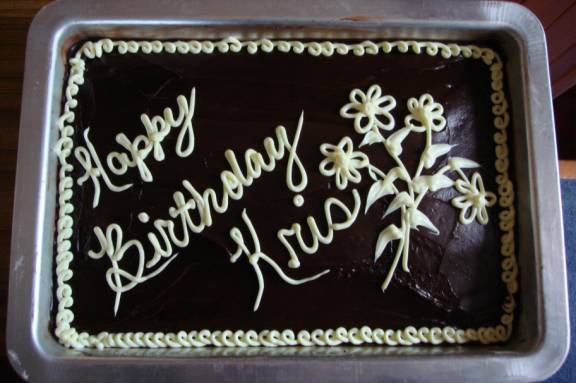 Sue Graham (ODYSSEY), Kris, and John. The kids are visiting from Pittsburg. As you might guess, they were still reeling from the Steelers win at yesterday's Superbowl victory.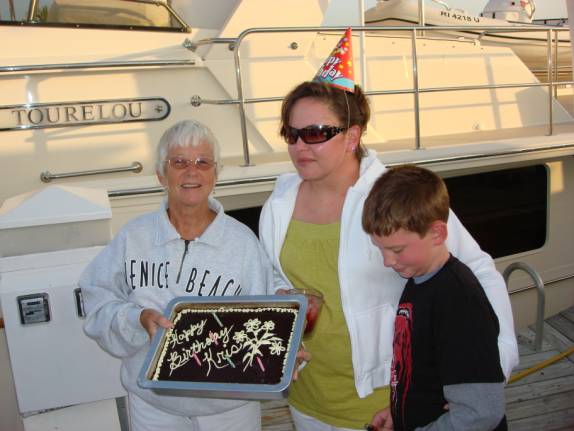 Folks from SEA ISLAND GIRL, ODYSSEY, CHIPKA FIRE III, M/V TALLY HO, S/V TALLY HO, LO QUE SE A, JOHN HENRY, CHRISTINE, PROPINQUITY, TAR HEEL, PUFFIN, KINJA KAT, SEA SMOKE, OUR TIME, SILVER FOXES, TOUCAN, TOURELOU, DARLING, SALTY DAWG, AND AMARSE…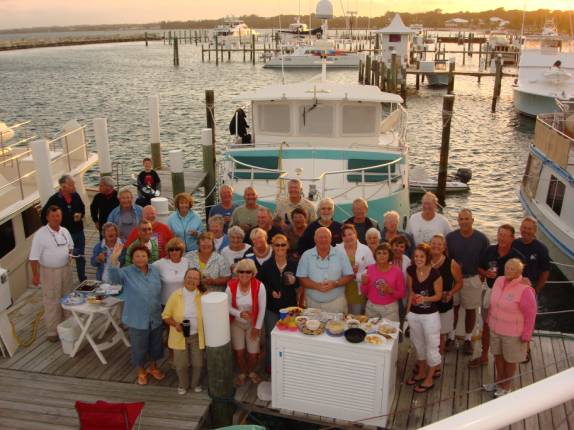 Sue and Paul Graham (ODYSSEY) along with grandson, John, and daughter-in-law, Kris...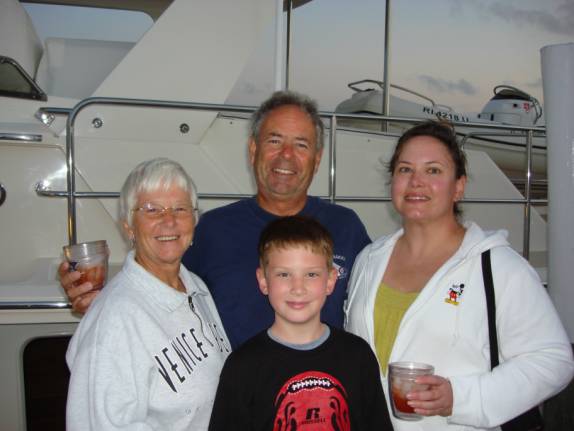 02/03/09 TUESDAY BOAT HARBOUR
All day long, the Crock-Pot slow cooker simmered a beautiful chunk of corned beef and chunks of locally-grown, jumbo carrots.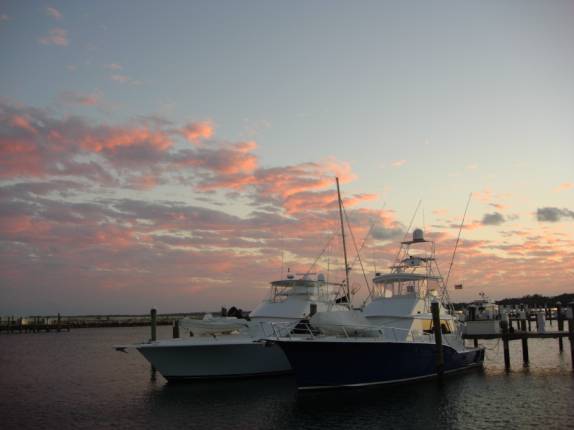 After sunset, our dinner guests aboard AMARSE were John and Gail Thomassen (OUR TIME). These wonderful Canadian friends are such a joy to be with. We started out with "Bloody Caesars", a cocktail commonly enjoyed in Canada. Similar to a "Bloody Mary", this drink is a bit lighter in texture using Clamato juice instead of the normal tomato juice base. I prefer this blend to the more traditional Bloody Mary.
The corned beef was delicious served with Judy's hash-brown casserole along with a medley of carrots, celery, and onions cooked in the meat juices. Judy made chocolaty brownies for our dessert.
After a wonderful dinner together, seating was converted to create the "AMARSE Theatre Complex". Appearing on the AMARSE big screen, the movie "Chicago", starring Richard Gere, Katherine Zeta-Jones, and Rene Zelweiger, turned out to be a very entertaining choice.
02/04/09 WEDNESDAY BOAT HARBOUR
The weather was a chilly, blustery day that to us feels very cold with temperatures only in the 50's and low 60's. It was a good day to stay inside and work on picture files and update logs. Judy kept busy with her craft items.
Our dinner guests aboard AMARSE were Dave and Barb Bluto. We are fortunate to have them in our group of most-loved friends. We started the dinner with Mexican-style shrimp cocktails. Judy prepared her famous Chicken breast in mushroom sauce dish. I still think this is my favorite meal that she makes and it was the perfect choice for these honored guests. Side dishes of mashed potatoes along with sliced, freshly cooked carrots brought the meal together. For dessert, Judy served her homemade Mexican Flan dessert that was a certain hit.
Along with a great bottle of wine, Dave brought a loaf of his personal specialty, artisan bread. Each of his loaves is stunningly beautiful.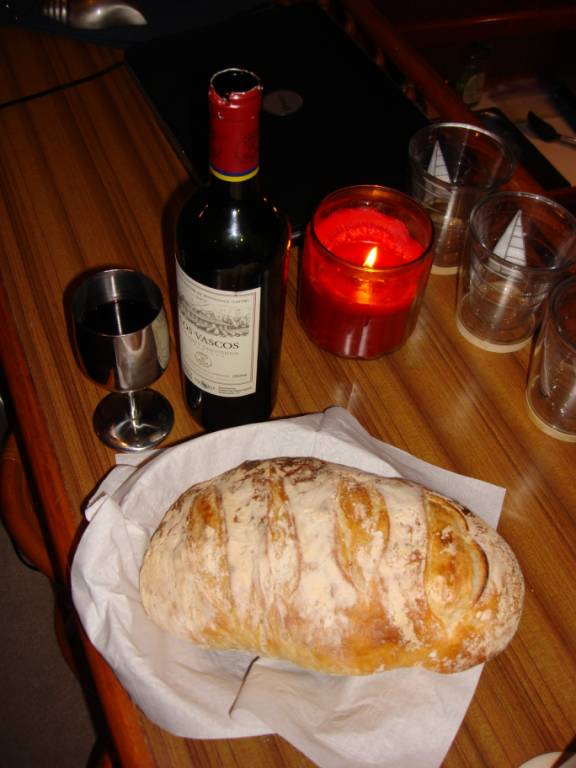 Together, we watched my 2008 Junkanoo DVD presentation. Dave has been making some excellent DVD picture presentation too, so we enjoyed sharing ideas and techniques. Our evening was a totally enjoyable one of sharing and chatting about a range of interesting subjects.
02/05/09 THURSDAY BOAT HARBOUR
After additional entries and considerable effort, I finished and published the update log #2 to the website.
Thursday nights are scheduled for "Talent Night" at the Angler's Restaurant here at the Abaco Beach Resort and Boat Harbour Marina. We shared the table with Gail and John Thomassen (OUR TIME), and Judy and Jim Howenstine (SILVER FOXES).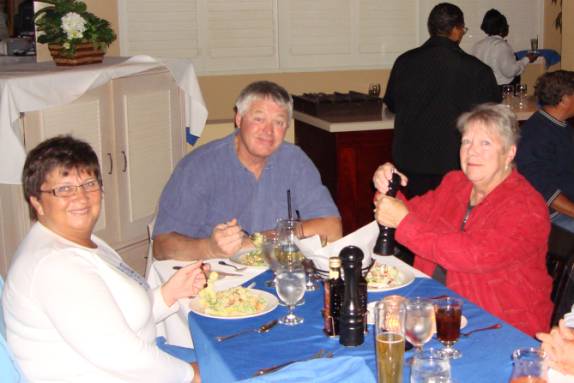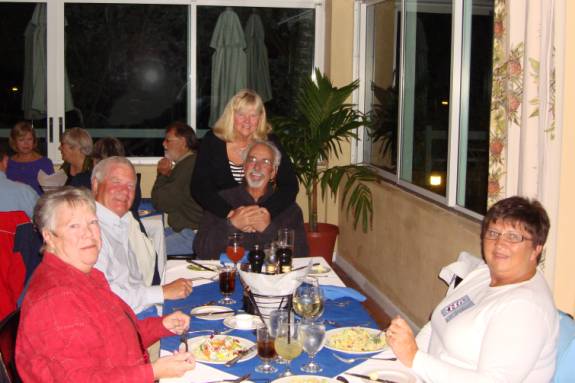 Judy Law and Fred Reed (AMARSE)…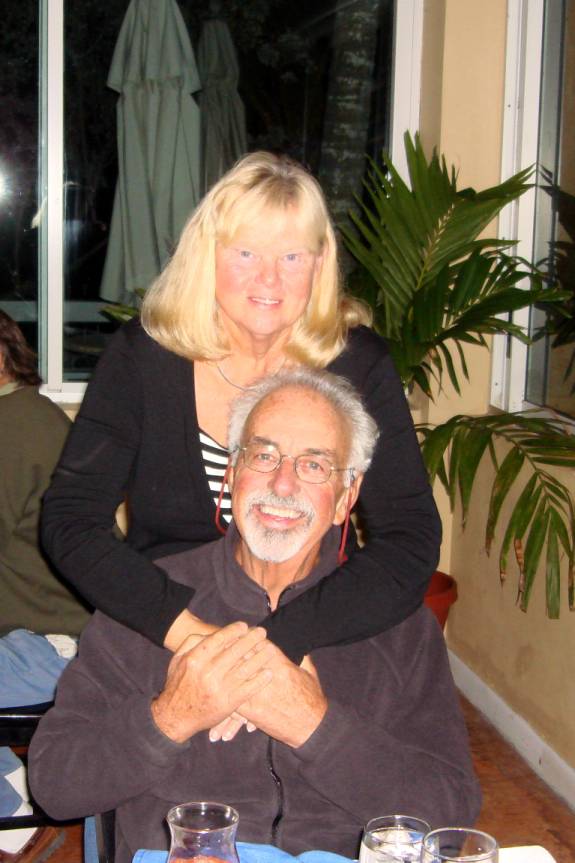 Jim Howenstine (SILVER FOXES)…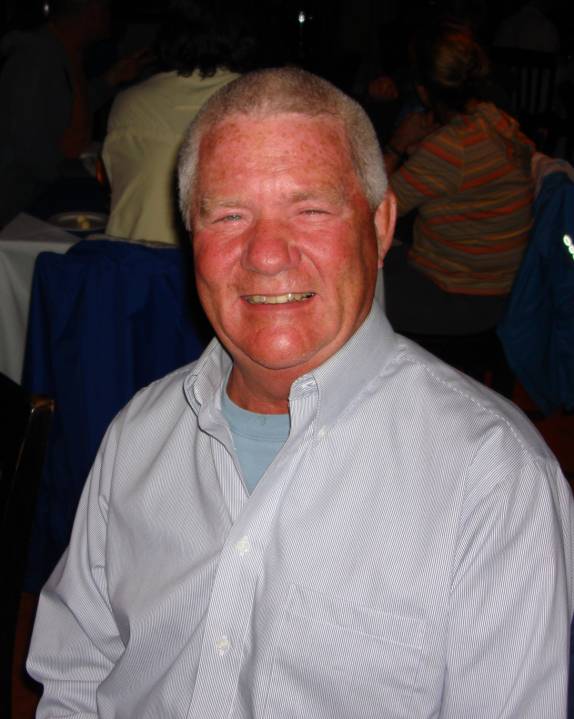 Rita Wieczorek (MAGNUM OPUS) was taking a few dancing lessons from her little granddaughter that was visiting them.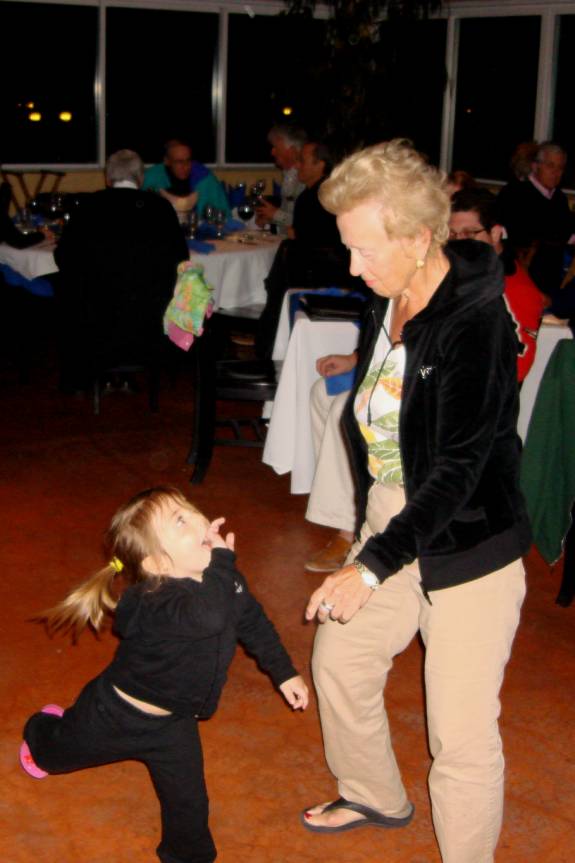 The talent here at Boat Harbour is quite amazing. Along with guests and residents, the employees of the resort delight us with their wonderful, musical expressions. Della, the poolside bar mixologist, can dazzle the auditory senses with her melodious vocals. She has been affectionately named, "Della-licious". Bob Cram, General Manager of the resort, is the percussionist. Mr. Steven Colebrook keeps the tunes alive on the keyboards.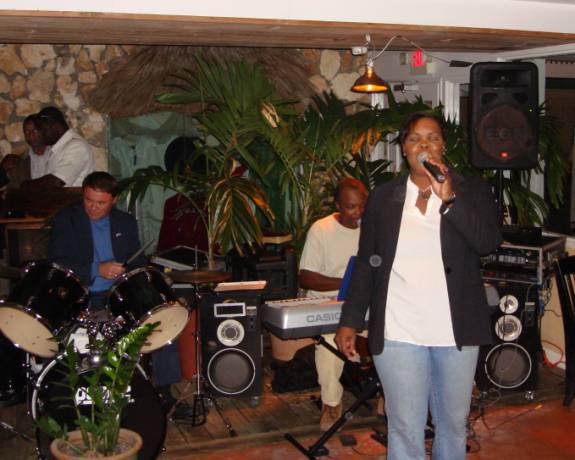 Our yacht club Commodore, Robert Wilson (SEA ISLAND GIRL), is a talented vocalist that brings Elvis back into the room.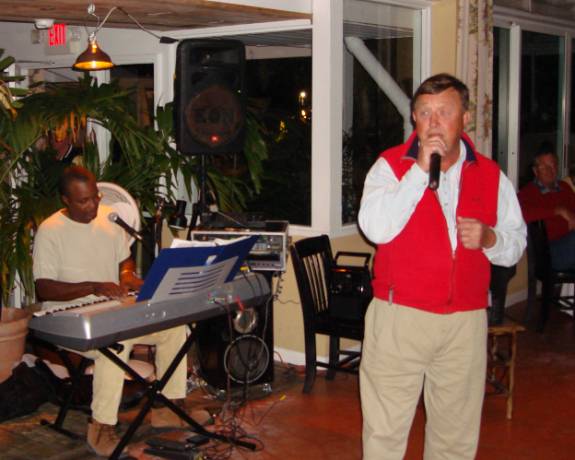 Our Vice-Commodore, Jim Fenn (FENNDERS), has a clear and powerful voice that fills the room with cheer.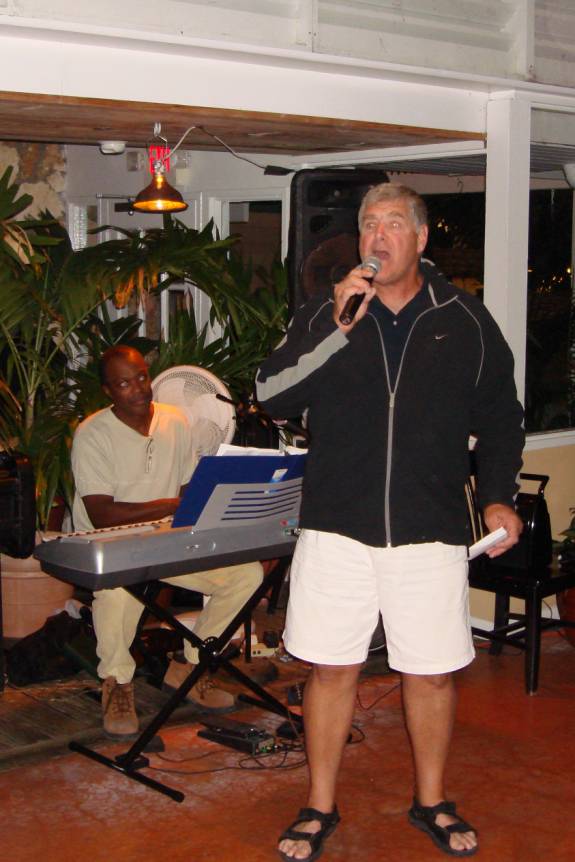 Frank Gavin (SEA SMOKE) is a natural entertainer.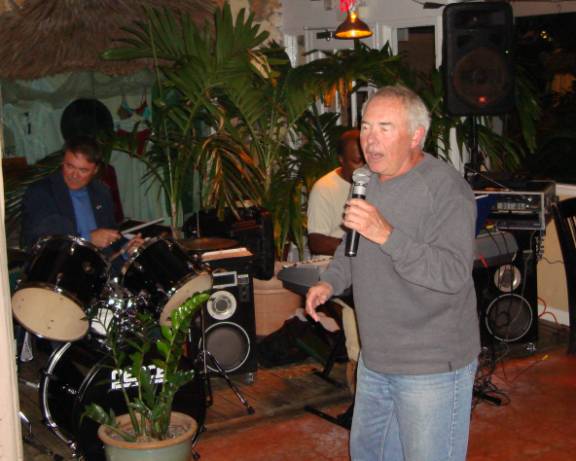 Mike Beneville (LIBATIONS IV) belts out tunes in his New York style. Sing it, man… Yah, man, sing us another…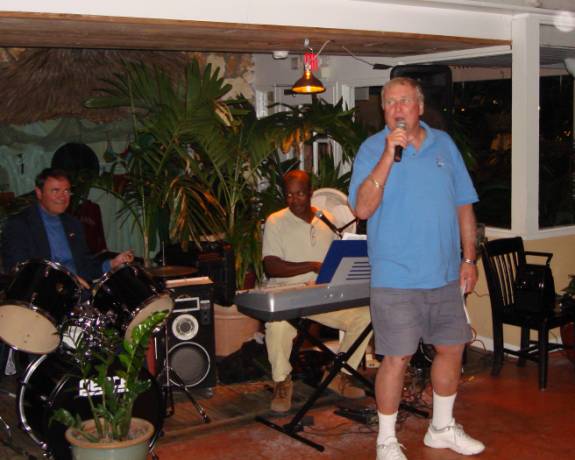 The resort bellman, Anderson, has a magnificent voice and is a true musical talent in every sense of the term.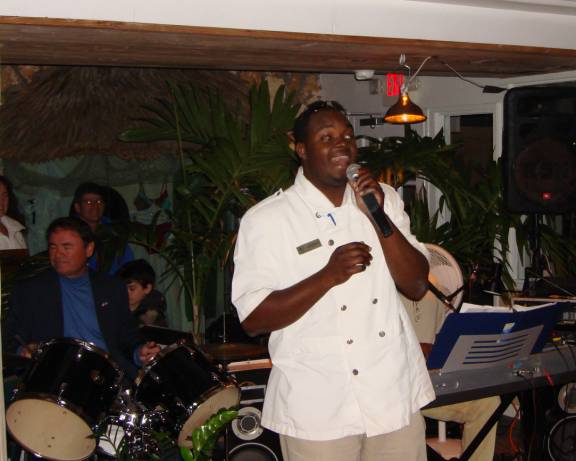 John and Gail (OUR TIME) got into the groove of the music and danced the night away.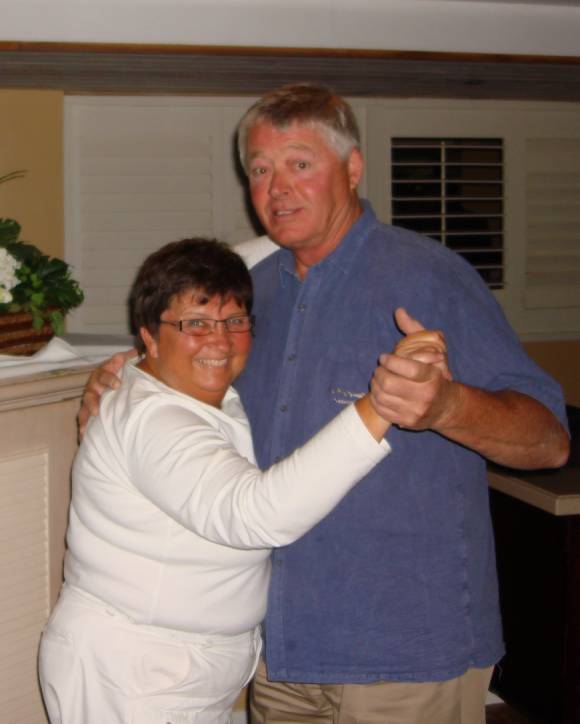 Shirley and Ed Zellers (M/V TALLY HO)…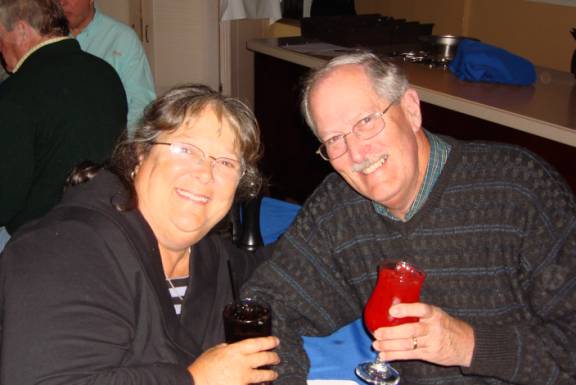 When Henry Jamrozinski (OH HENRY) breaks into song, everyone is convinced that Neil Diamond has entered the venue.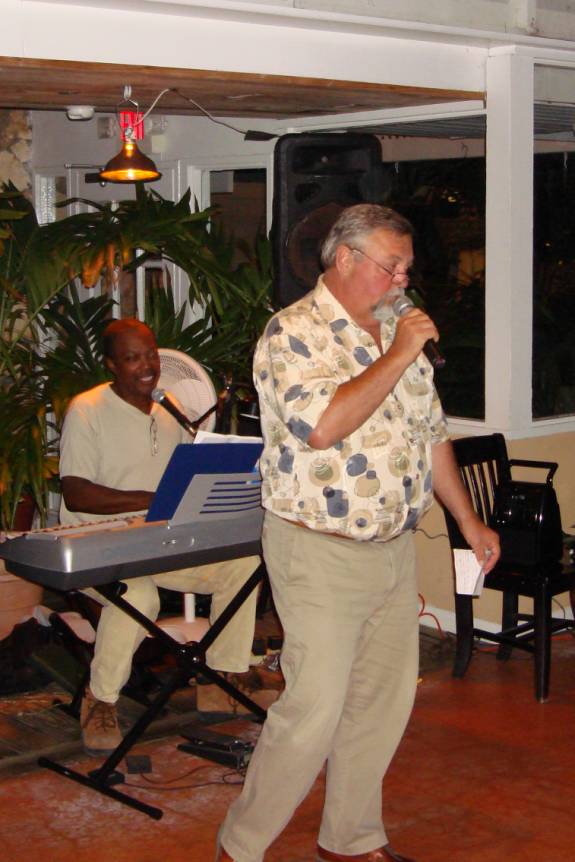 Terry Ziegler and Peggy O'Neill (MORE ATTITUDE)…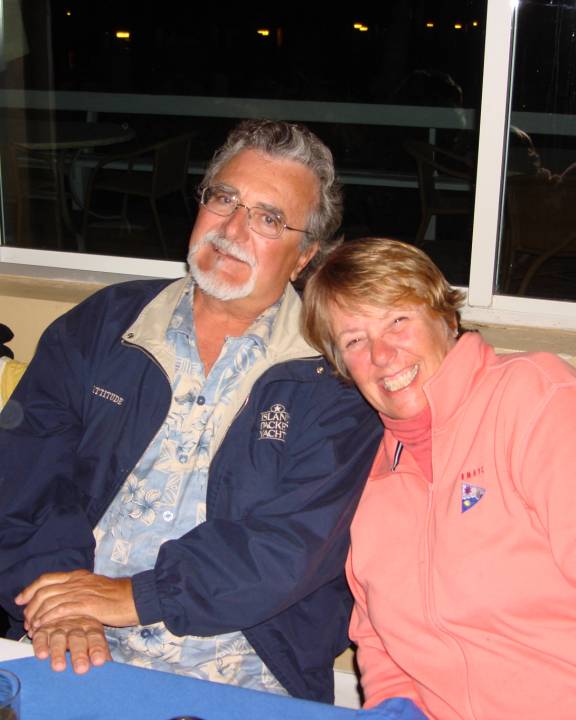 I sure love my "green vegetables"…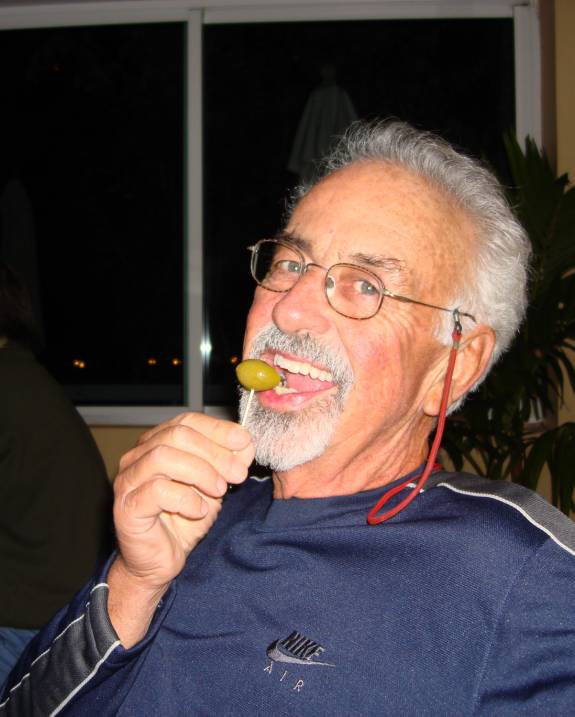 Robert Wilson (SEA ISLAND GIRL), Anderson, and Della harmonize with some rousing Gospel favorites… Sing it now, "Oh, Happy Days…"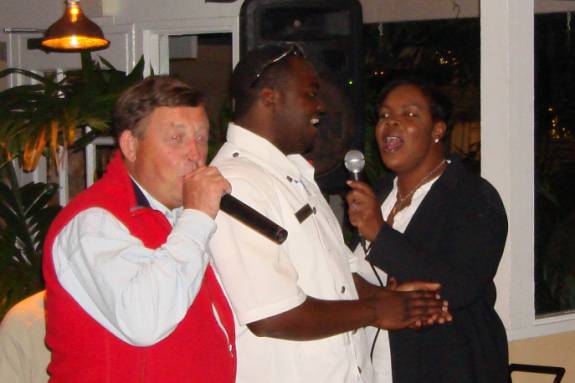 This fellow was staying at the resort hotel for a few days and took to the keyboard and microphone to astound everyone with fabulous Blues music. He must be a professional… Wow!!! We were especially enthralled by his rendition of "I'm A Steamroller, Baby"…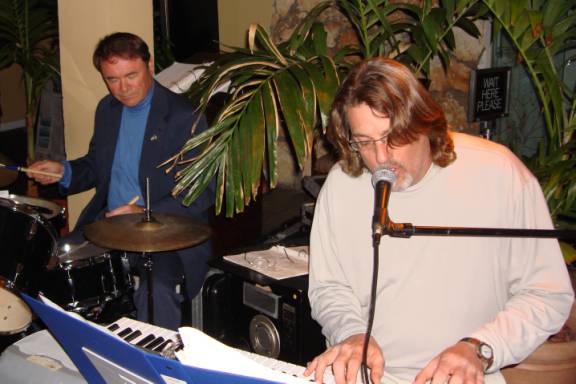 02/06/09 FRIDAY BOAT HARBOUR to GUANA CAY
Our Cajun friend, Boudreaux LeBlanc was on the radio again this morning for his 7th appearance to announce the upcoming Commodore's Ball and Mardi Gras theme party. He has become quite a celebrity around here with his mixed French and distinctly southern Louisiana accent. Although the tickets have been all sold out, Boudreaux continues to build the hype in true New Orleans style. Boudreaux always relates some tall tales of life on the bayou laced with swamp humor. Everyone seems to be having fun with this character.
I snapped this picture of the cool artwork that Bette Bauereis (TAR HEEL) made specially for us on AMARSE. She hand-painted a tropical tree bean pod with our names and a portrait of the boat. We love it and we love her.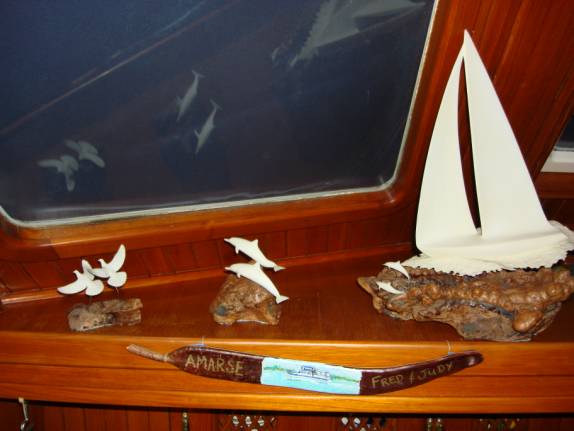 The fun and excitement for the day was an offer to join a group of folks for a run to Guana Cay in a 42-foot Sea Ray cruiser. Fred and Sidonia St. Germaine left the dock 4 complex with us on DOUBLE TROUBLE.
Andy and Annie were here on Dock 4 visiting with JOHN HENRY. Last year, Andy had his Great Harbour 37 (CEE DEE) here on dock 4. Unfortunately, he couldn't bring it over this year and we miss him.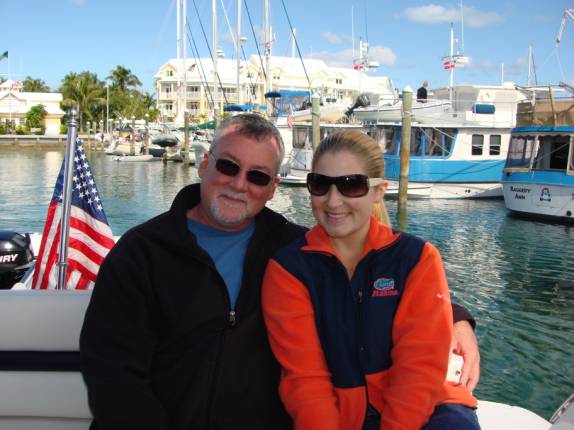 The peaceful waters of the Abaco Beach Resort and Boat Harbour Marina…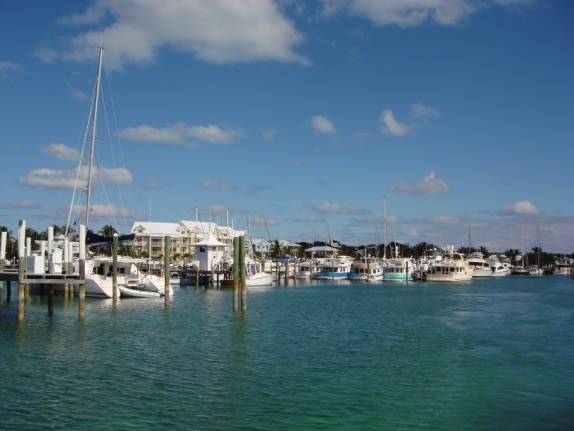 For all of us slow trawler types, the exhilaration of speed was an exciting adrenaline rush.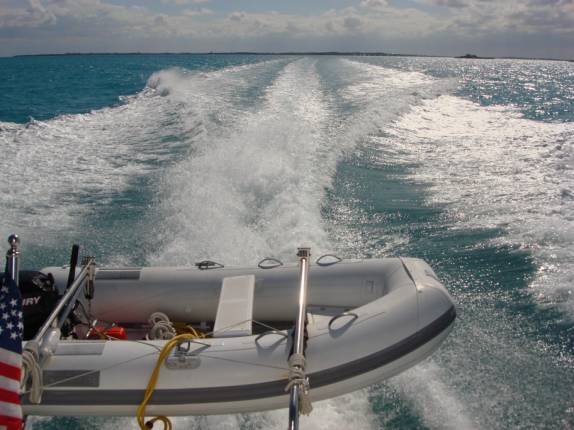 Judy Law (AMARSE), Sidonia St. Germaine (DOUBLE TROUBLE), and Wilma Thornton (JOHN HENRY)…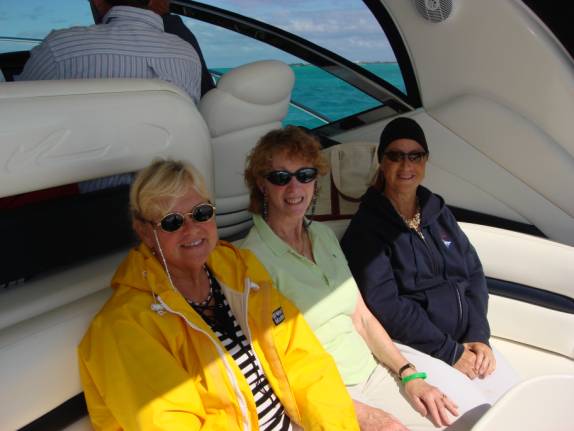 Annie, Kent Cronkhite (KINJA KAT), and Mary Shidlowski (PROPINQUITY)…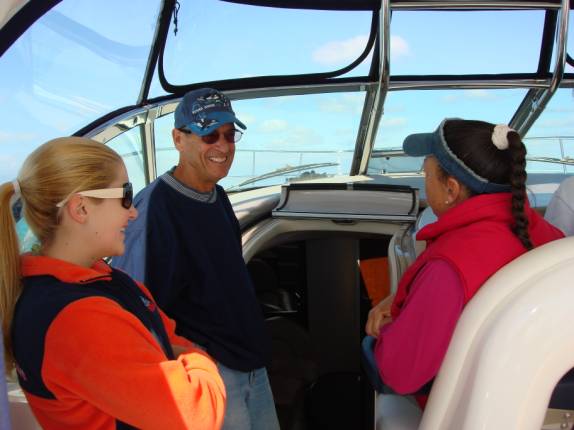 Fred Reed and Judy Law (AMARSE), Sidonia St. Germaine (DOUBLE TROUBLE), and Wilma Thornton (JOHN HENRY)…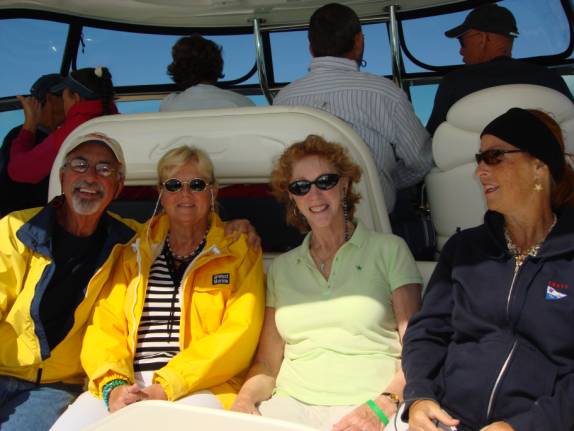 Fred St. Germaine, the skillful Captain of DOUBLE TROUBLE…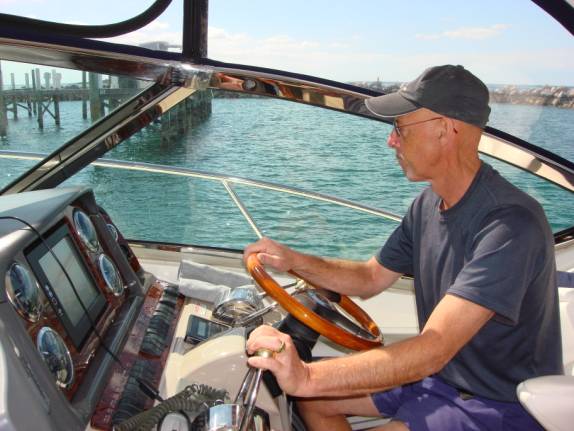 DOUBLE TROUBLE had a day slip reserved for our arrival.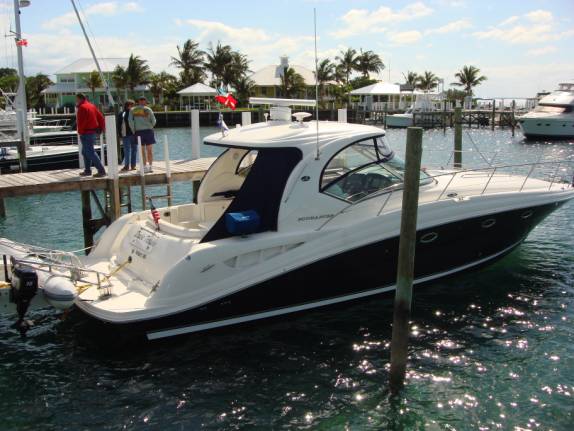 All of the fun-loving dozen gathered on the dock for a photo opportunity…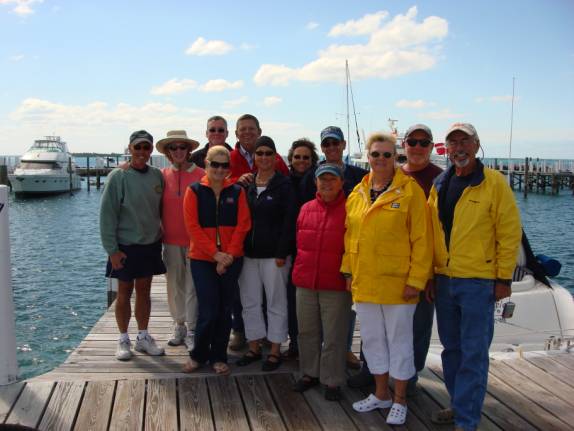 The docks at Orchid Bay Marina at Great Guana Cay harbour…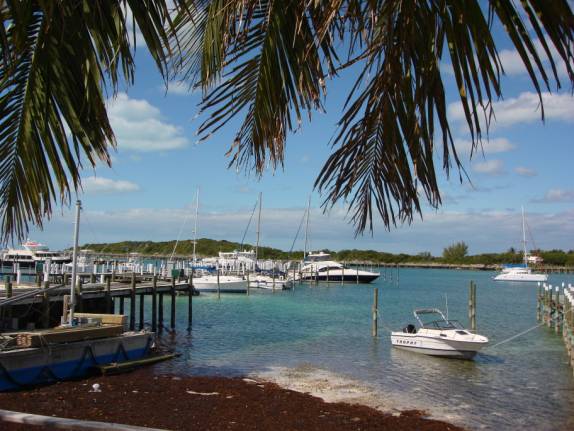 View of Guana Cay Harbour…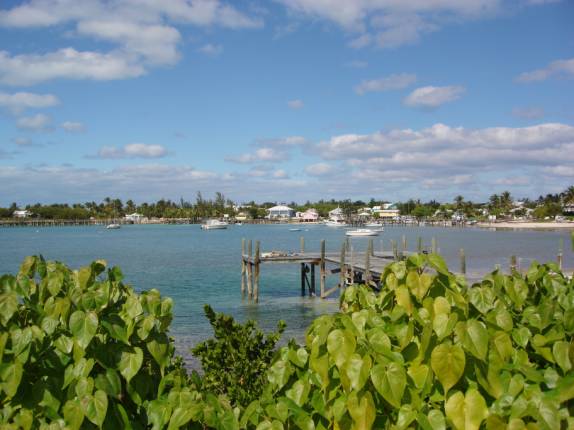 …but all you would need is a couple of quarts of Sherwin-Williams and a bottle of Windex…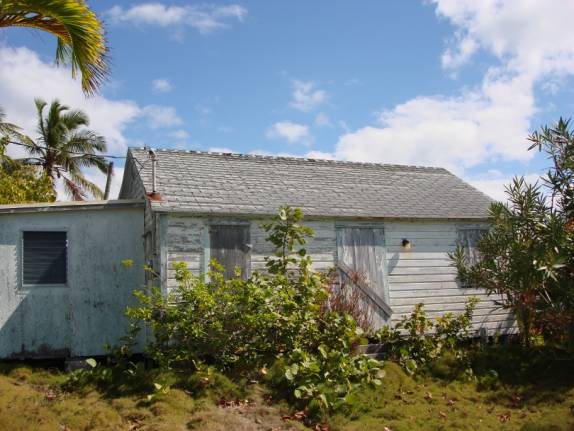 Turn right for the world famous, Nipper's Beach Bar and Restaurant…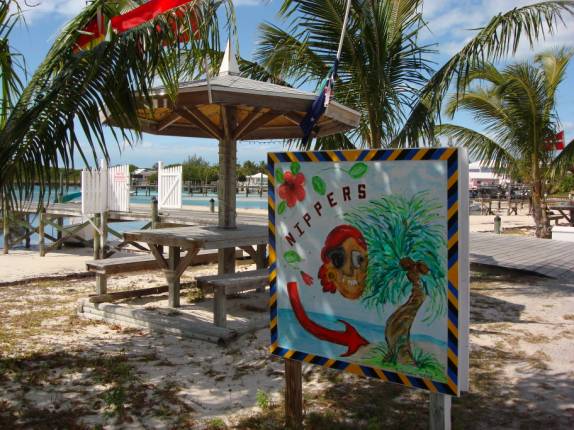 We, however, continued straight ahead toward Grabbers Restaurant set on Fishers Bay along the Sea of Abaco. Judy and Wilma…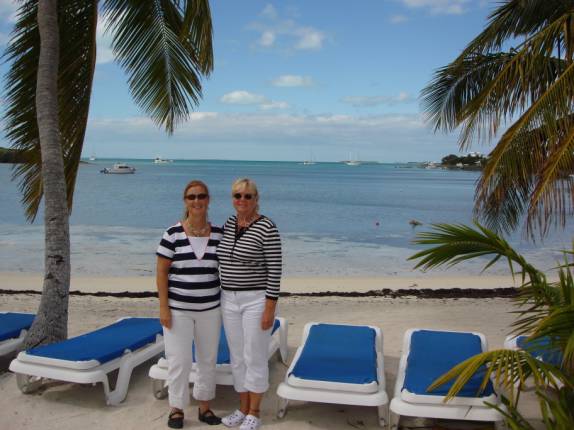 Wink and Wilma Thornton (JOHN HENRY) and Judy and Fred (AMARSE)…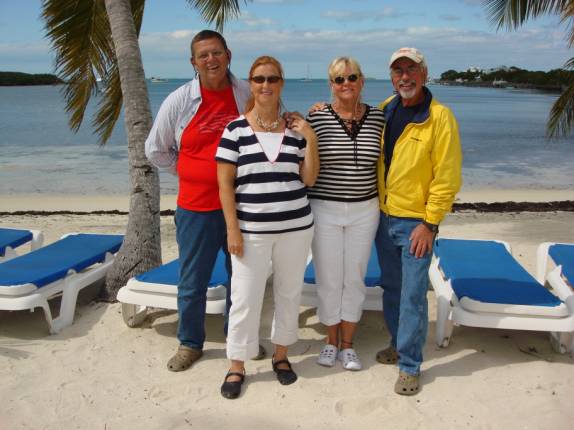 Wilma went shell hunting and came back with these treasures…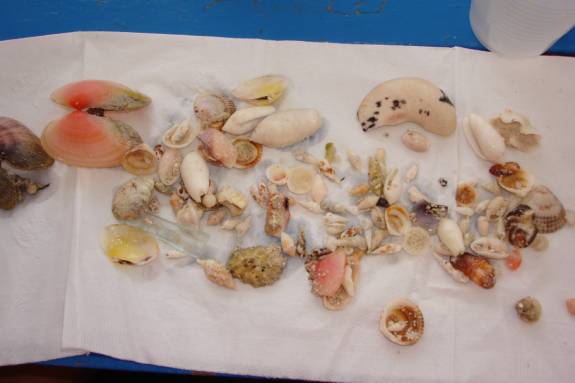 The colors of this bi-valve Mollusk are beautifully vivid…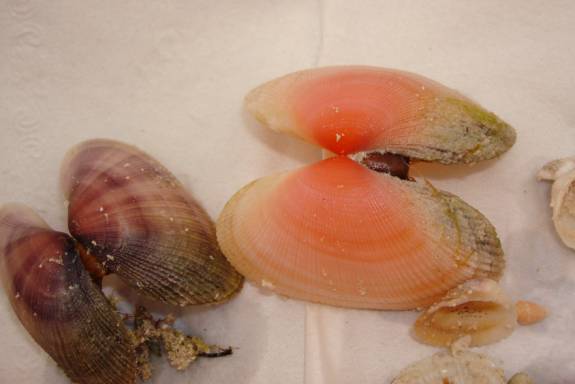 Speaking of beautiful colors, how about this golden colored Kalik, the beer of the Bahamas…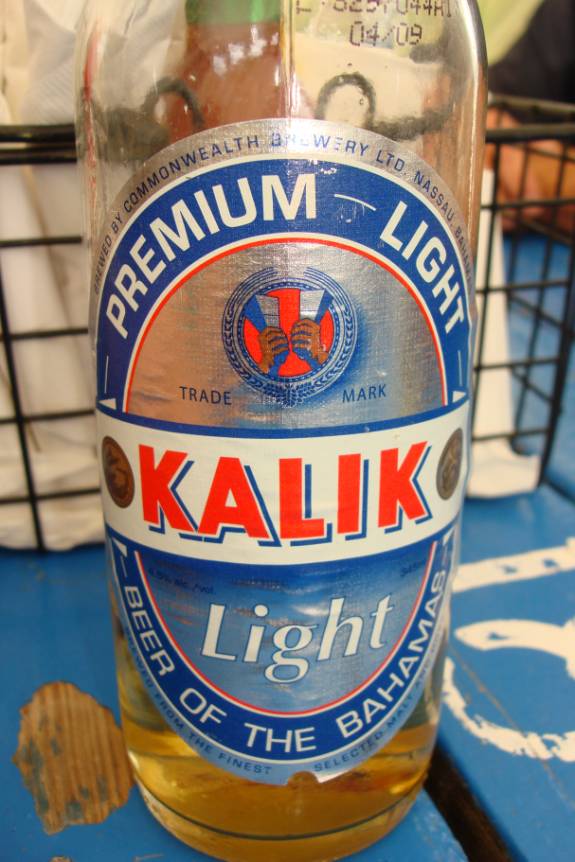 From the menu, Judy and I shared this wonder plate of seared Ahi tuna. Wonderful…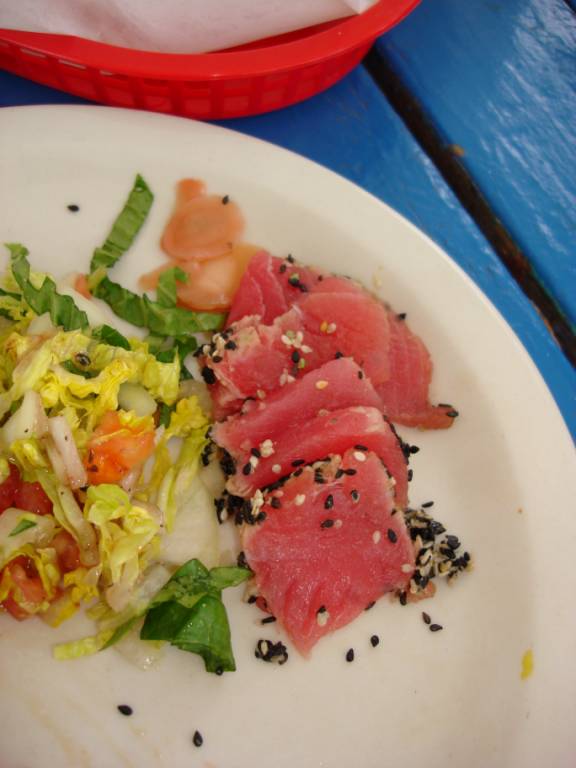 Back along the road to Nipper's, Paul Shidlowski was proud to stand with the decorated loader…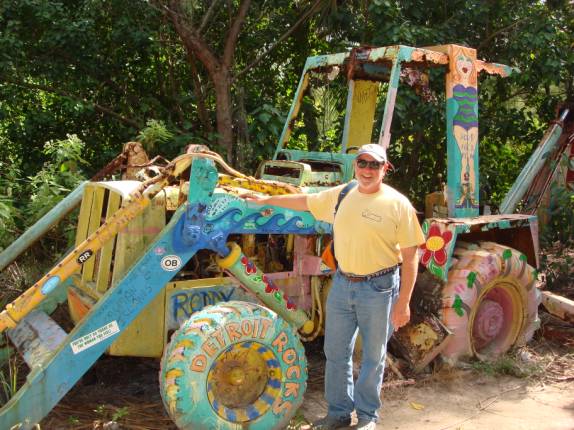 The Nipper's bar overlooks the reef and the Atlantic Ocean…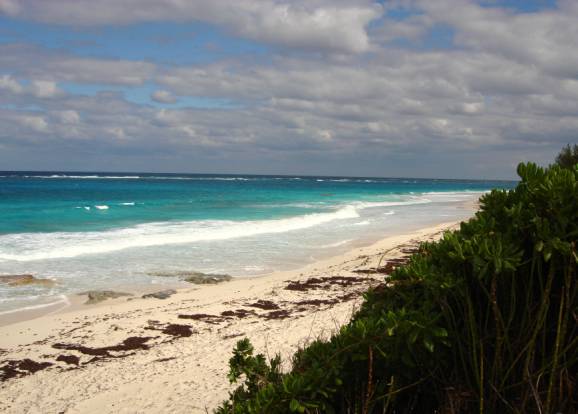 With a bit of a brisk breeze and slight chill in the ocean air had some of us in jackets.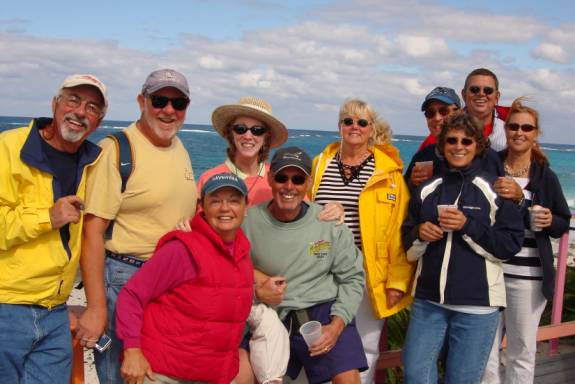 Paul and Mary Shidlowski were caught in the act… I guess the romance of the beautiful beach was too much to resist…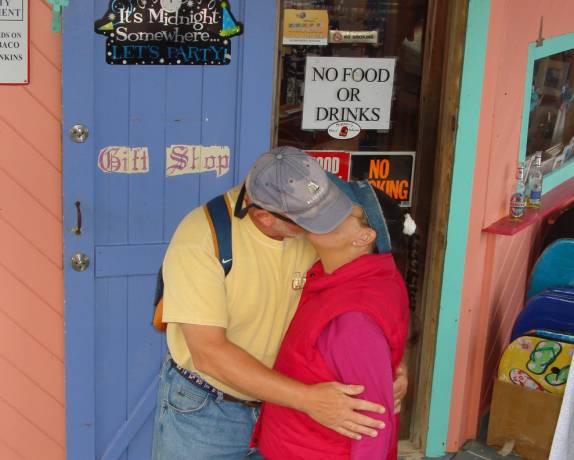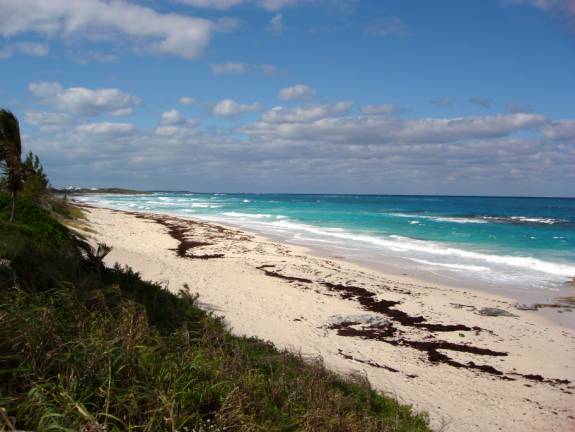 Wilma and Judy dancing to the great music…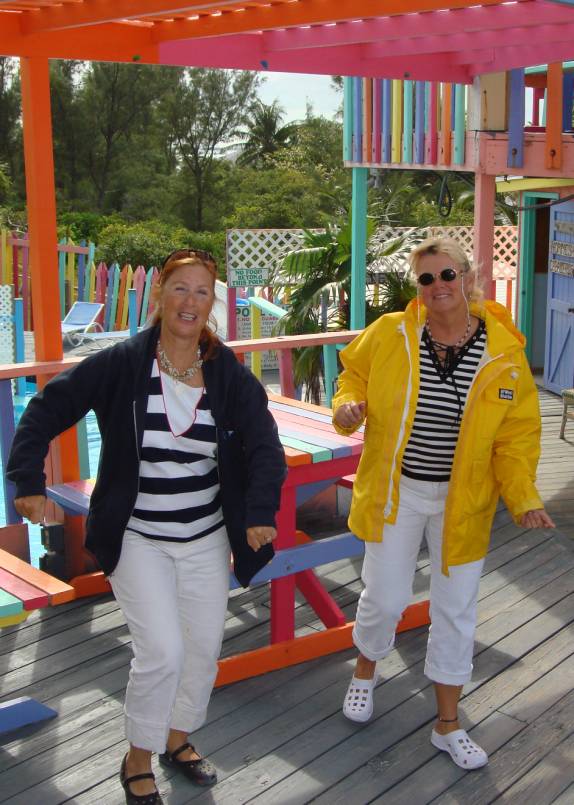 All too soon, it was time to head back to the marina.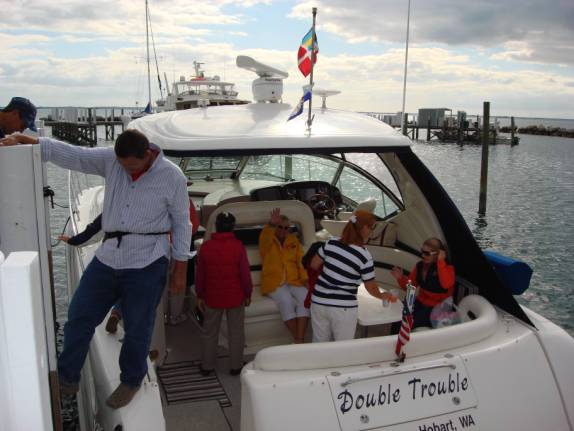 Our captain, Fred St. Germaine, Kent Cronkhite, and Judy Law…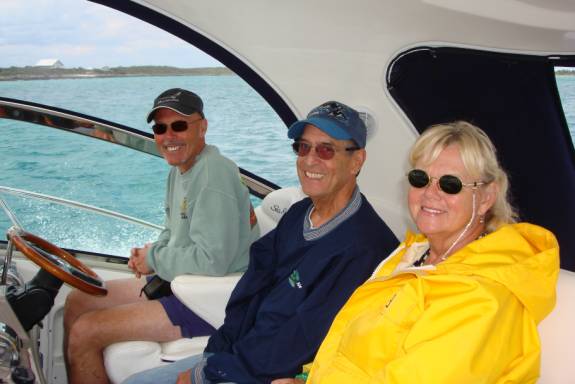 At the rapid speed of the Sea Ray, we were back at Boat Harbour in less than a half hour. Thanks for a great day to our hosts, Fred and Sidonia St.Germaine.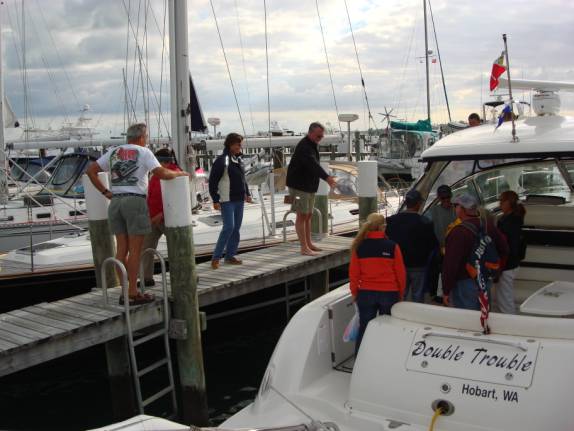 02/07/09 SATURDAY BOAT HARBOUR
It was quite chilly and very breezy all day. We chose to spend the day with inside activities. Judy enjoyed craftwork while I messed with computer stuff and iTunes. The resort held another outdoors Full Moon Party tonight. We had decided to forgo it because of the ticket price of $37 per person plus drinks. Even though the price seemed exorbitant to us, the party was a sellout. With the weather as chilly as it was, I'm very glad we were staying in tonight.
02/08/09 SUNDAY BOAT HARBOUR
Dock 4 residents were honored to attend a big, New York style hotdog party this afternoon. Fred and Sherry (CHIPKA FIRE III) had their grill on full-time duty to put out enough hotdogs to feed this famished crowd.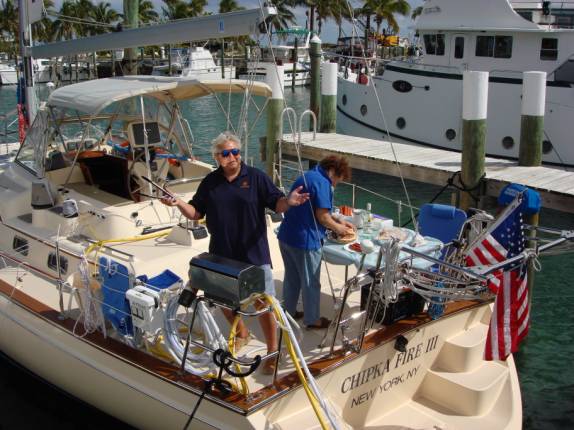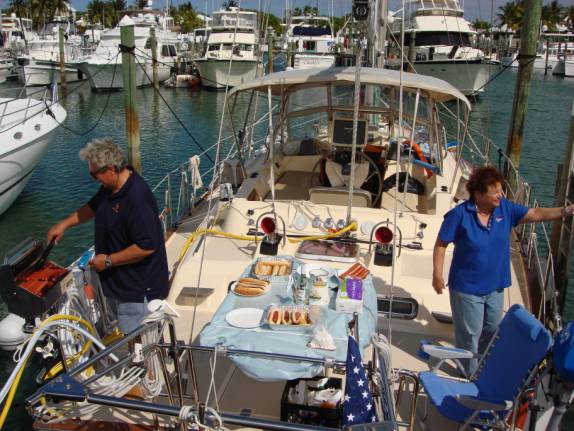 Ann Cunneen (Raggedy Ann) cheerfully brought load after load of the giant hotdogs straight from the grill to the table.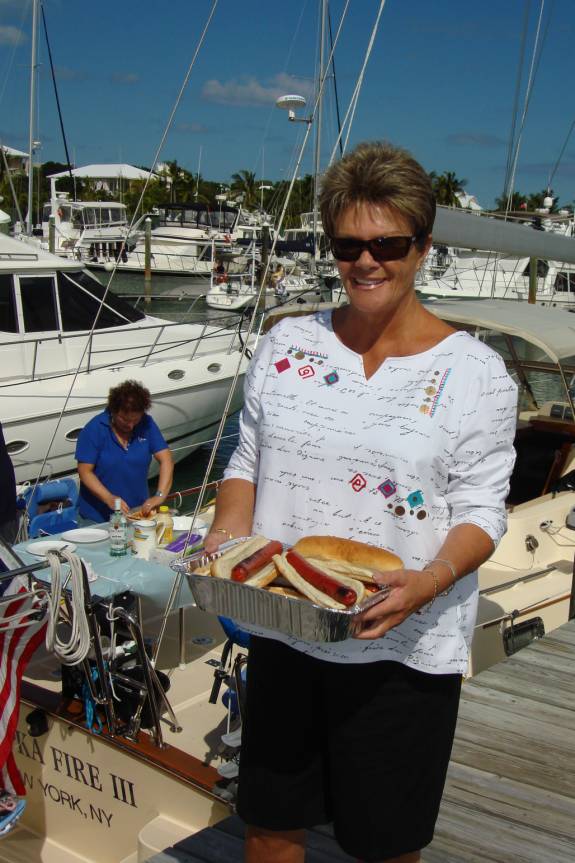 Everyone else chipped in by bringing a large variety of side dishes.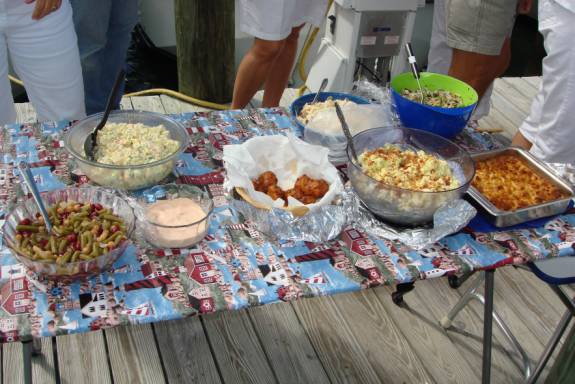 The dock hounds were going through food like "a roaming band of wild jackals"…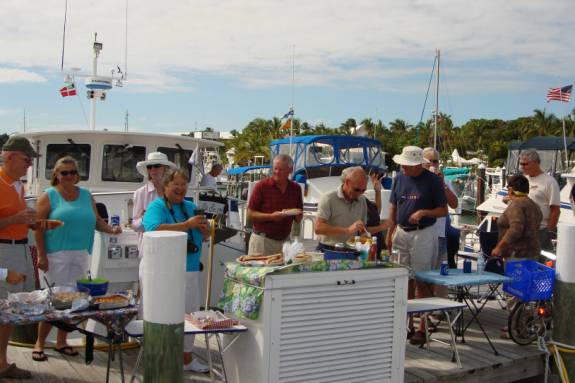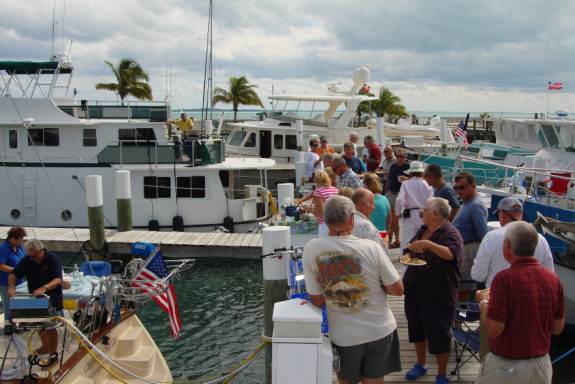 Ed, Gene, Judy, and Shirley found comfortable seating on LO QUE SE A.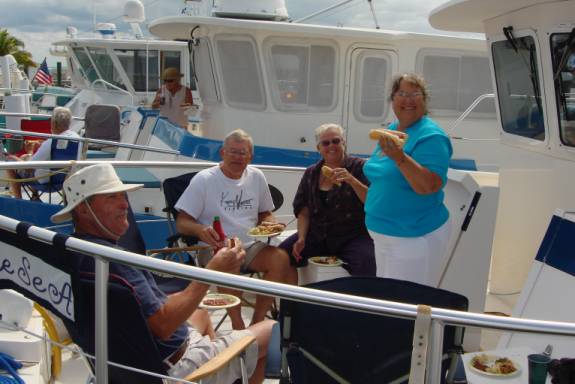 Lois and Carl (foreground) invited Jim and Joan (CHRISTINE) to chomp some of those hot-doggies aboard PUFFIN.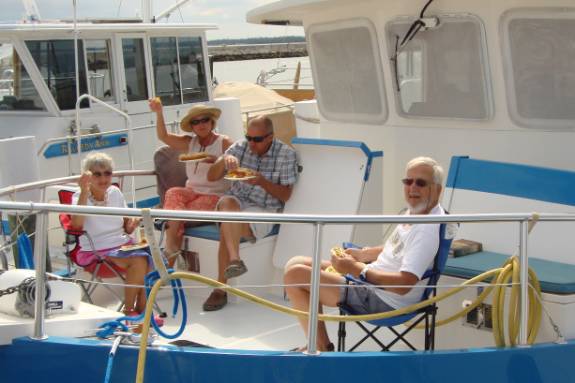 The brilliance of the rising full moon held us awestruck…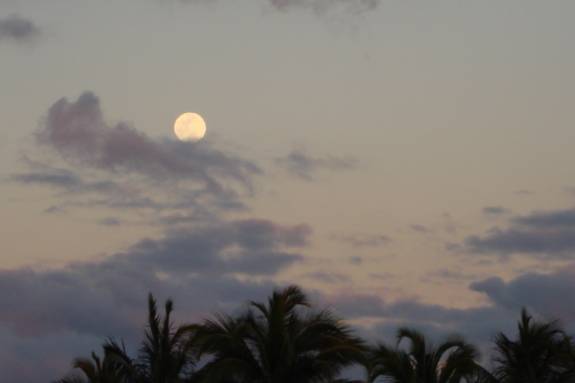 Judy framed this photo opportunity perfectly to highlight our Royal Marsh Harbour Yacht Club burgee against the gibbous moon.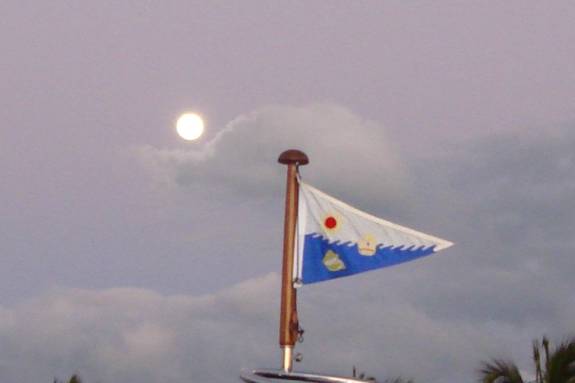 02/09/09 MONDAY BOAT HARBOUR
Boudreaux LeBlanc called in again for the morning announcement. Wait a minute, isn't that Fred Reed on the radio microphone? Oh, Oh… Perhaps his true identity has been revealed. Please keep it a secret from the rest of the crowd…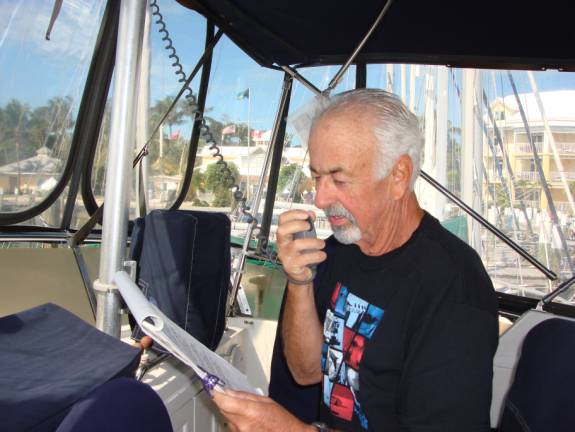 My accomplishment for the day was to install a new toggle switch and digital voltmeter in AMARSE's DC electrical panel. This improvement will enable us to better monitor the condition of our batteries and charging systems. The original analog meter was not precise enough to accurately determine how and when the batteries should be charged. The meter fit nicely, however, bit of wire changing was required to keep the installation neat and orderly. I like the display and I think that Blue Sea Systems make quality electrical products for the boating enthusiast.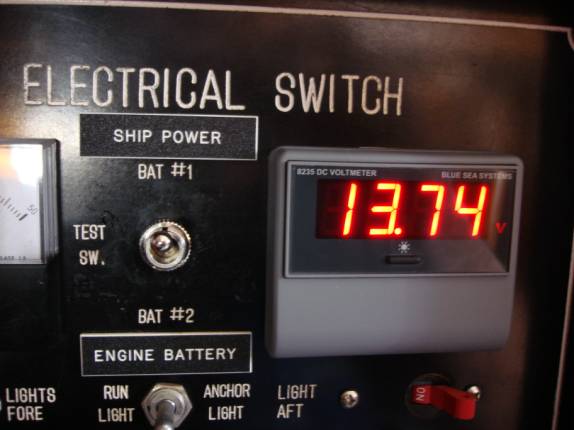 Our dinner consisted of a nice pot of homemade clam chowder. On this slightly chilly evening, the creamy warmth was a delightful choice.
02/10/09 TUESDAY BOAT HARBOUR
At 2pm, the Marquee Tent began to fill up with RMHYC members. The gals had tables set up to sell items of club regalia bearing our world recognized club logo.
At precisely 3pm, Commodore Robert Wilson called the Annual General Meeting of the Royal Marsh Harbour Yacht Club to order.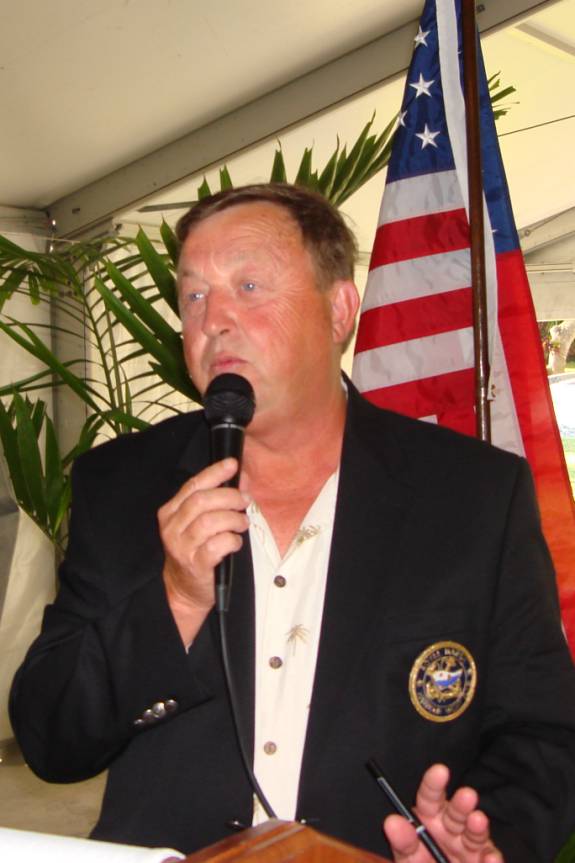 Vice Commodore Jim Fenn gave his report and remarks to the membership.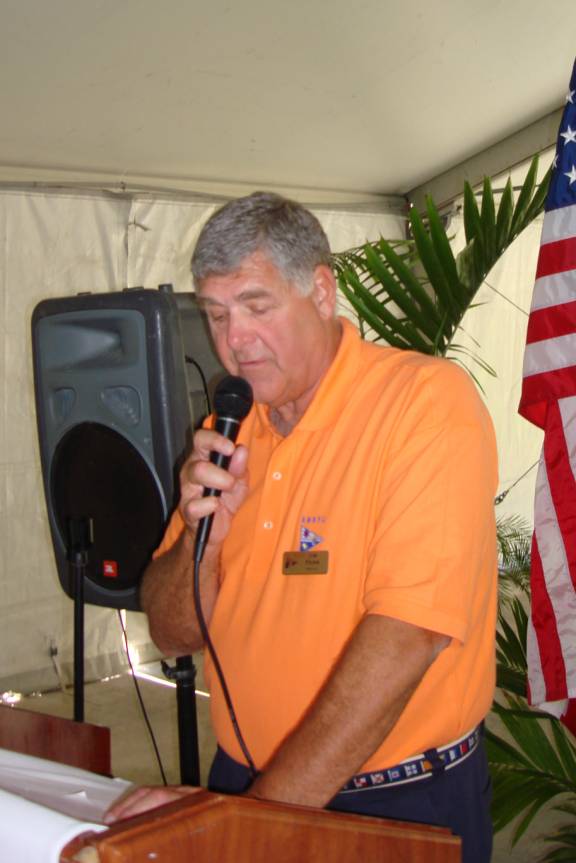 Several awards and certificates of recognition were presented to those who contributed so much to the club and members.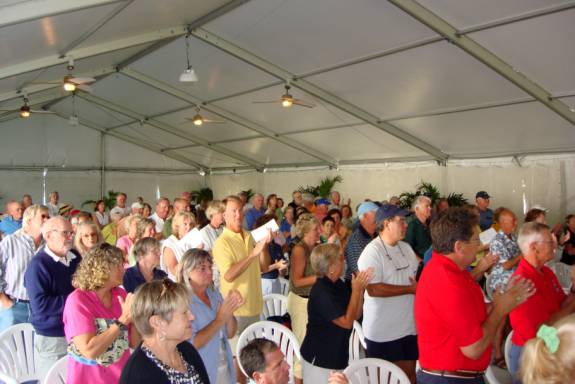 No award was more deserved than "The Commodore's Award for Excellence" presented to Bob and Judy Williams (SHADE MOR). They tirelessly devote a tremendous amount of time and effort to promote the entertainment and overall enjoyment for our members. Both Judy and I extend our personal thanks and our love to these wonderful folks.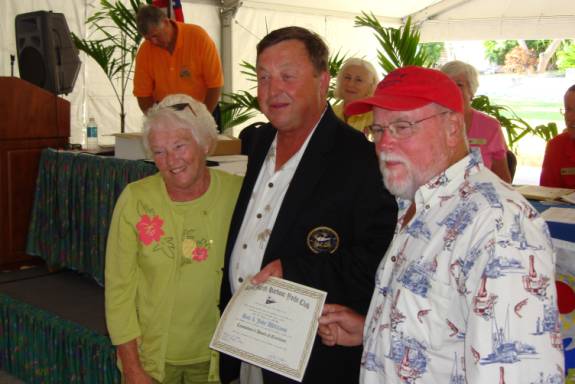 The Commodore's term is limited to two years by the by-laws. Having completed his maximum terms, Robert Wilson will turn over the reigns of leadership to the newly elected, Jim Fenn. In recognition for his outstanding service, Jim presented to Robert a wonderful surprise token of our member's appreciation. Robert's reaction was one of amazement as he unwrapped a large photograph art piece by Steve Dodge.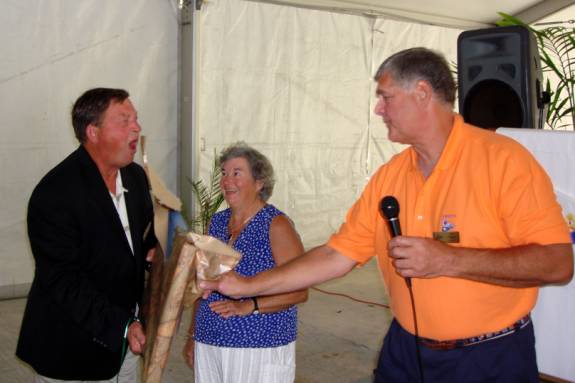 The block-framed photo done on canvas is depicted below. I took a picture of the canvas. Please understand that the quality of Steve Dodge's work is among the finest in the world and that my snap of his work is nothing compared to the original. Steve Dodge is best known for his fabulous cruising guide for the Abacos. I firmly believe that it is the definitive source for reliable information on cruising in these islands. His photography in those guides is what convinced us to visit this part of the Bahamas. I wish you could actually see this photographic artwork in its original form.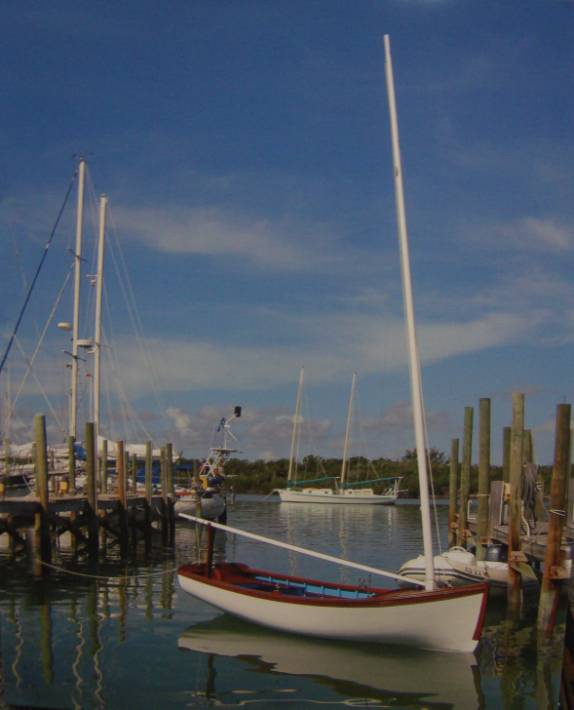 Following the nominations brought forth by the official committee, the members elected these officers as additions to the 2009 Bridge. (L to R) Wilma Thornton, (Secretary); Sue Graham (Socials); Linda Thompson (Membership); and Steven Brandt (Socials).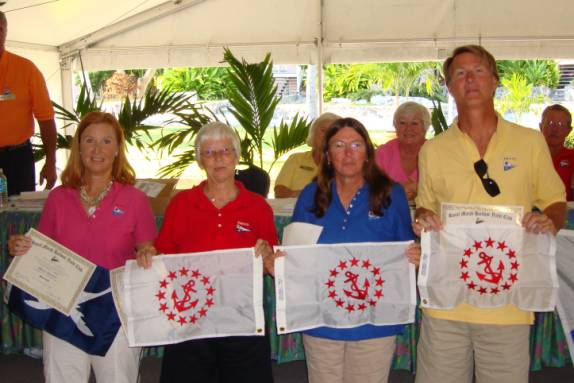 Kathy Fenn (FENNDERS) was recognized for her wonderful years of service as Secretary. Thanks, Kathy, for your wonderful contribution to our family at RMHYC. With the election of her husband, Jim, to the Commodore position, Kathy will assume the role of our club's "First Lady".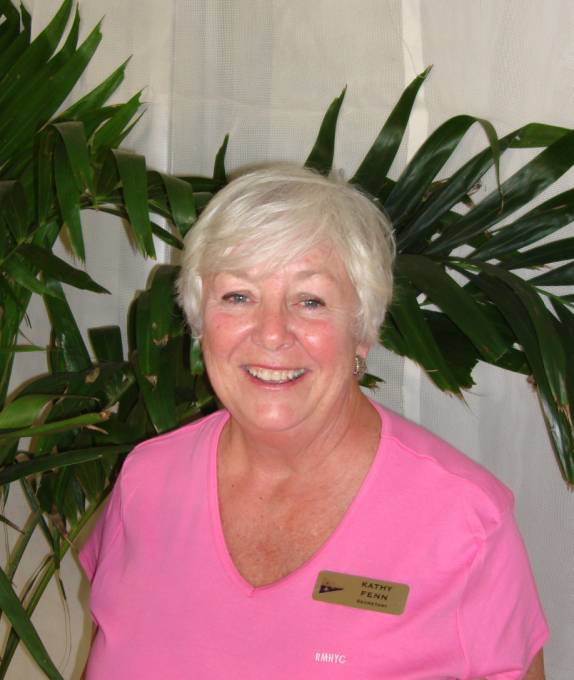 Commodore Jim Fenn dutifully accepts the transition of the club charter from the outgoing Commodore, Robert Wilson.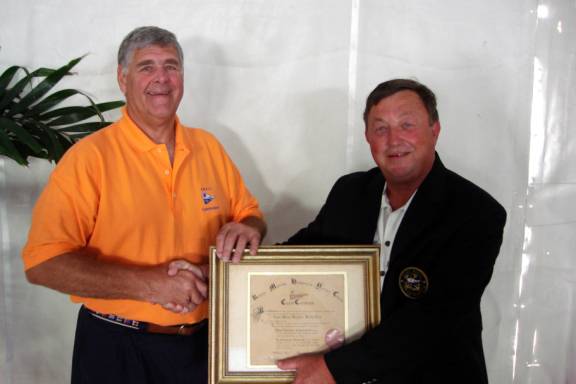 Effectively and efficiently running an organization of this size requires the unselfish efforts and time from many wonderful people. Presented here are the officers and staff of the RMHYC 2009 Bridge. (Front Row) Wilma Thornton, Margo Caldy, Karen O'Brien, Richard Fickes, Sue Graham, Rita Wieczorek, and Linda Thompson. (Back) Ray Vallerie, Robert Wilson, Jim Fenn, Ted Baker, Steven Brandt, and David Bauereis. Thanks, y'all…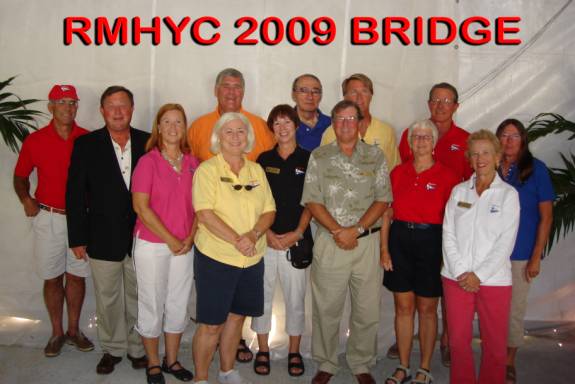 As the meeting adjourned, many members headed for Angler's Restaurant for drinks and a buffet dinner. Judy and Gene Koetitz (LO QUE SE A) enjoyed a tasty rum punch cocktail.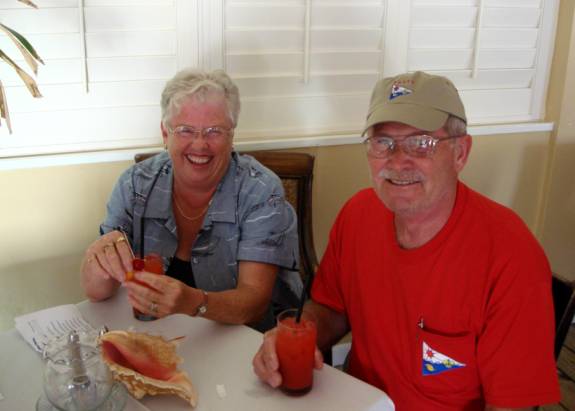 The two-for-one special on drinks presented somewhat of a dilemma for Dennis Krakow. The perplexing problem of how to choose which glass of Pina Colada, with the added delight of that floater of dark rum, does a fellow drink first. Looks like the one on his right is going down mighty smoothly…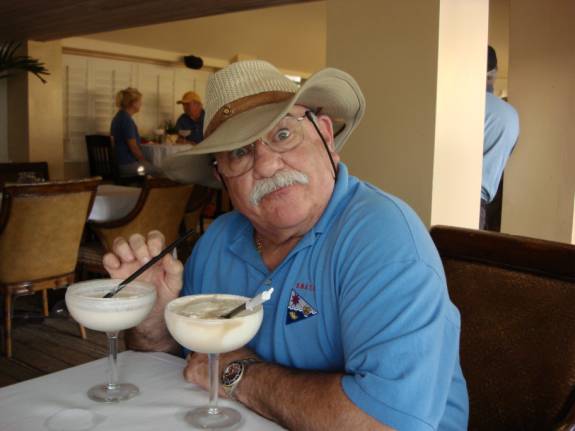 Judy selected this beautifully concocted Pina Colada.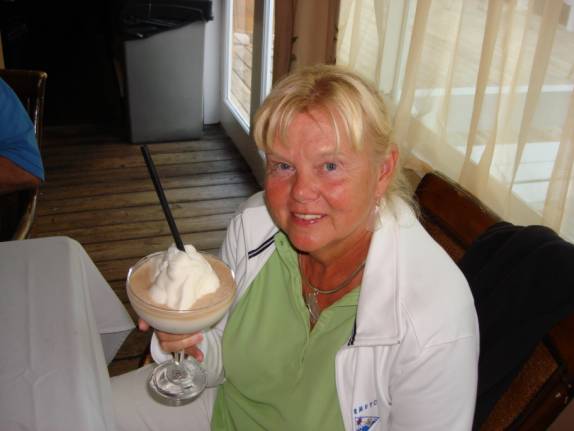 02/11/09 WEDNESDAY BOAT HARBOUR
Boudreaux called in again with a humorous tale about the gift he plans to give to Charmaine (his Cajun wife) for Valentine's Day. That one has kept some folks laughing for a while. I'm glad that people are enjoying his messages. Having fun is what this club, all these wonderful folks, and even our whole lifestyle is supposed to be all about.
Sidonia St. Germaine (DOUBLE TROUBLE) organized a road trip to go shell hunting and have a day out together. She rented a van to be shared equally and the team of six headed off for an exciting day of exploration. At Crossing Rocks Beach, Sidonia and Wilma sift through mounds of shells looking for just the perfect specimens and pieces of sea glass.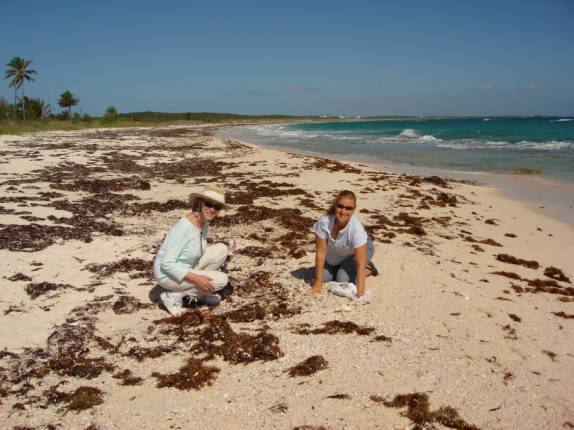 Judy's keen eyes located this bag of treasures to add to her collection of jewelry making components.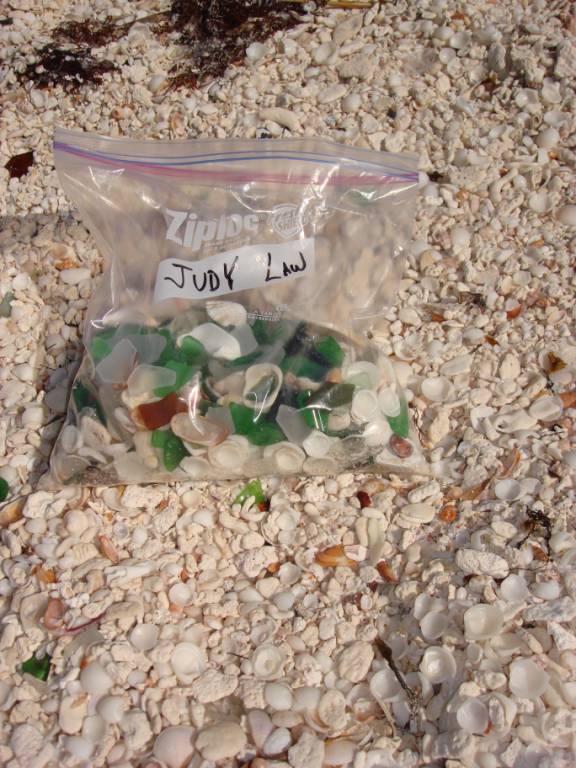 Crossing Rocks is a treasure trove of shells and glass worn down by the action of sea and sand.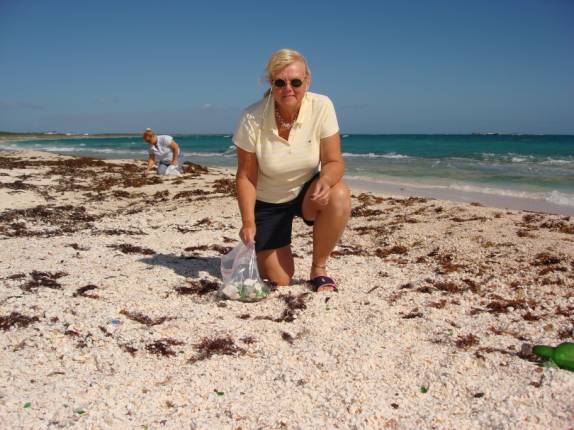 Wink Thornton (JOHN HENRY) got right down there to gently search for the best of the best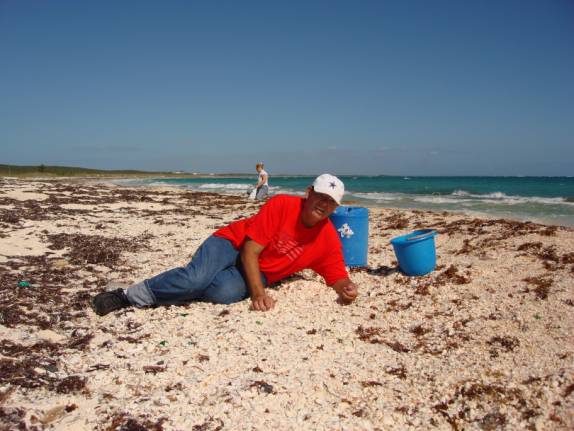 Vanessa Benjamin (S/V TALLY HO) was enjoying the perfect Bahamas weather in her quest.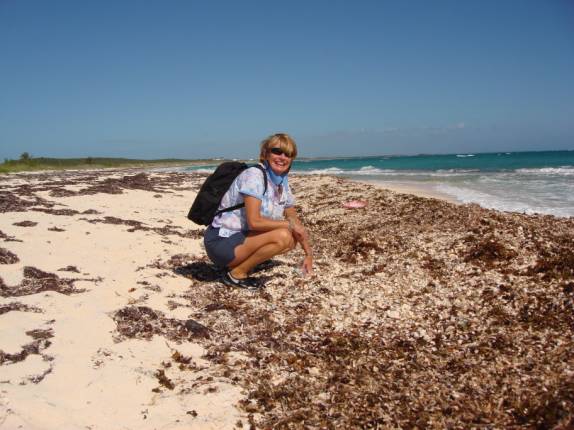 Those rocks out there at the reef line give this place its name…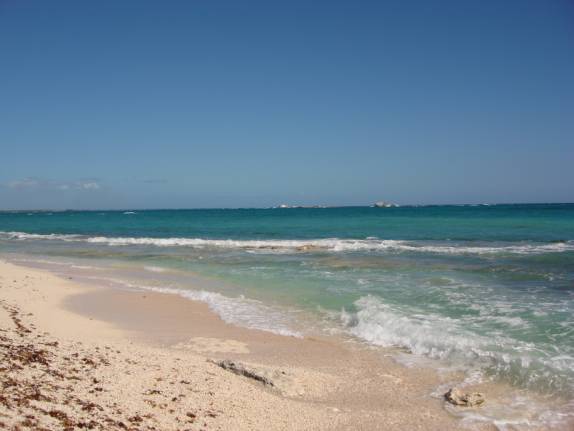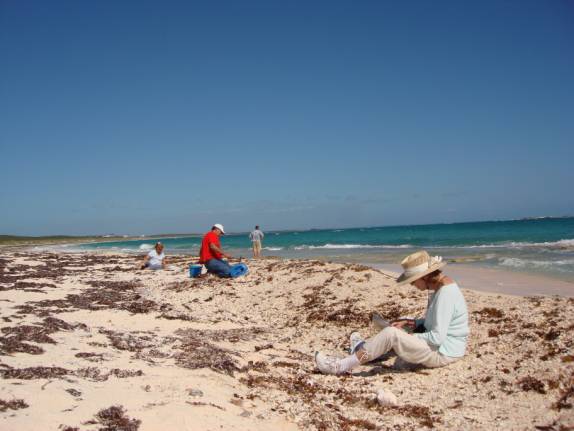 Wink, Sidonia, Wilma, Andy, and Vanessa pose for Judy's camera.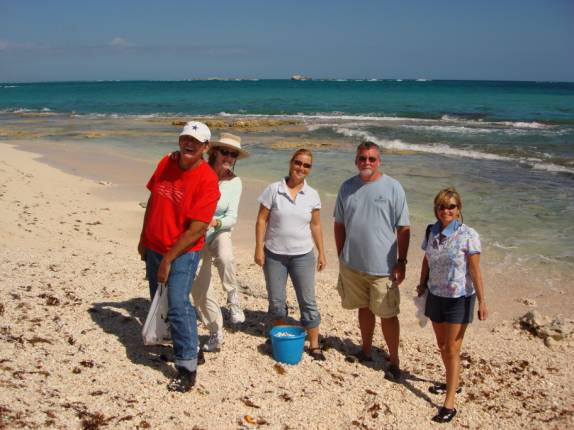 It may not have been the most idyllic spot for their picnic lunch, however, it was comfortable and convenient.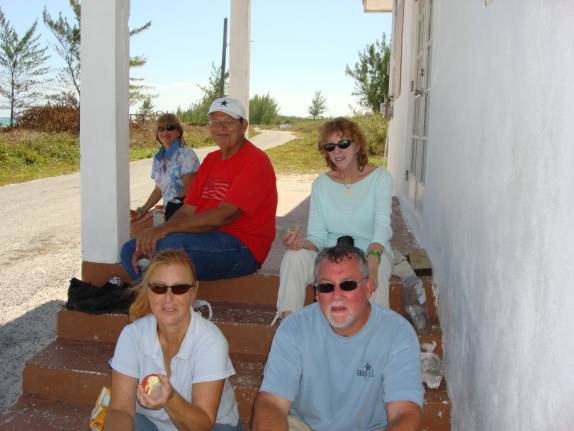 At Snake Cay, the remnants of a large lumbering operation now lie in ruin.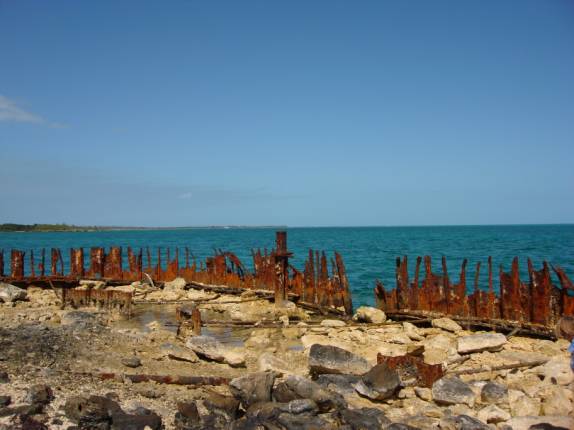 Brush fires on the island seem to occur much too often. Sometimes, these are the result of so-called, "controlled burns".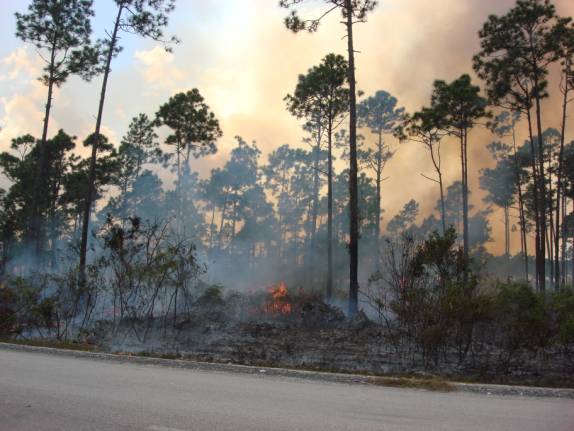 No trip south would be complete with out a visit to Pete's Pub at Little Harbour. The signature drink is called "the Blaster". Judy reported that it was quite good. The barkeeps will not reveal the ingredient mix of their special blend.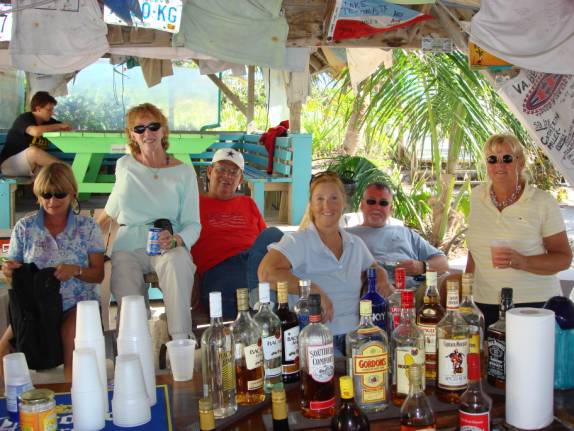 The Atlantic Ocean side of Little Harbour…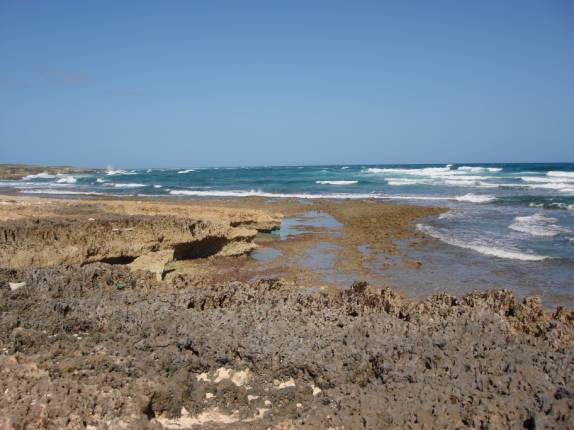 I really like this picture of Judy at the surfside beach of the Atlantic.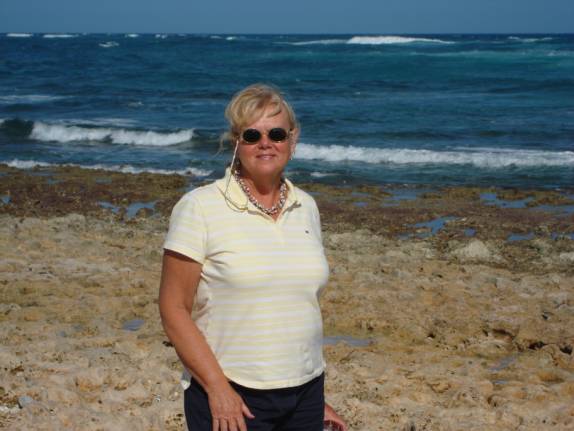 Wilma Thornton (JOHN HENRY)…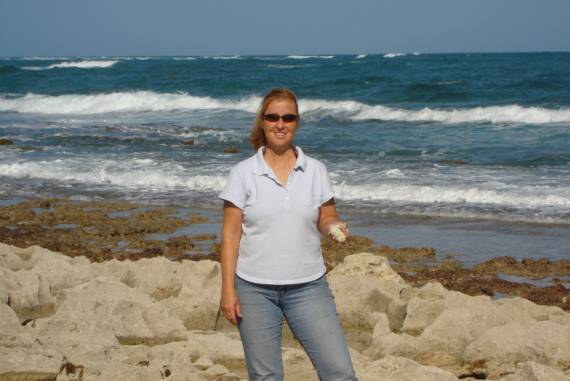 One of the mission elements was to collect a supply of special Bahamian pine needles. These will be used in creating special woven artworks utilizing a technique that Sidonia will be teaching to them. These gals are so talented and artfully minded. I think it is so wonderful to have such great friends, with so many varied and common interests, and that they are willing to share their individual skills for the enjoyment of each other.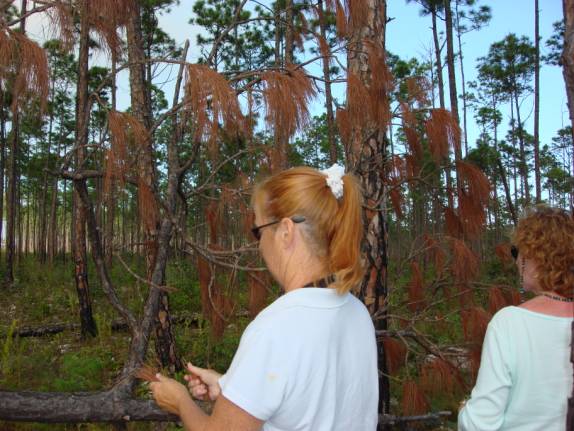 While that group was away on their tour, Margo Caldy came to AMARSE and conducted a thorough U.S. Coast Guard Auxiliary safety inspection. This year, she will only be able to spend a couple of weeks here because Dennis has been recovering from a couple of surgeries. He is doing fine and they will plan to come back again next year on their boat, PIZZAZZ. This is the third year that she has so generously donated her skills and authority to conduct the annual checkup and issue the safety sticker to AMARSE. Thanks again, Margo…
CONTINUING UPDATES ARE IN PROGRESS…
WATCH FOR THEM, COMING SOON…
POST SCRIPT:
We sincerely hope that you will review the previous years of compilations to give context to the current editions. Please let us know if you have any special suggestions and thoughts.
REMEMBER: The website is now fully active and you can visit it at any time. You can review any of the 2006, 2007, or 2008 logs and learn more about the crew and our plans. Enjoy.
ATTENTION: SPECIAL NOTE:
You may contact us via email anytime.
Thanks for allowing us to share our life and adventures with you.
Lotsa Luv,
Fred Reed and Judy Law
AMARSE
MT40
"AMARSE" is pronounced "AM-ARE-SAY".
Our website is: www.amarse.net .