UPDATE#04 01
/16 thru 01/
31
Howdy Everybody,
The adventures of 2006, 2007, 2008, and 2009 through 01/15/09 have been published on the website. We continue with the latest edition.
UPDATE 2009 #04 01/16/09 thru 01/31/09
At last update, we were aboard AMARSE at the Abaco Beach Resort and Boat Harbour Marina in the Bahamas.
01/16/09 FRIDAY BOAT HARBOUR
Every so often, an enterprising young Bahamian fellow will wander the boat docks ambitiously selling spiny lobster tails. Who can resist the allure of a lobster dinner?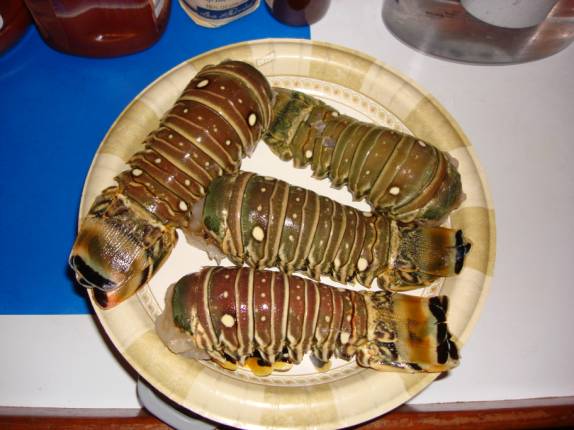 The lobsters were a perfect idea to entertain our dear friends, Robert and Patti Mitchell (ORINOCO). We had the good fortune to first meet them back in 2006. AMARSE and ORINOCO shared a downstream lockage on the Tenn-Tom Waterway. Our first conversations were by VHF radio as we transited south. In Mobile, Alabama, we had the beginnings of a face-to-face friendship that has been a wonderful addition to our lives.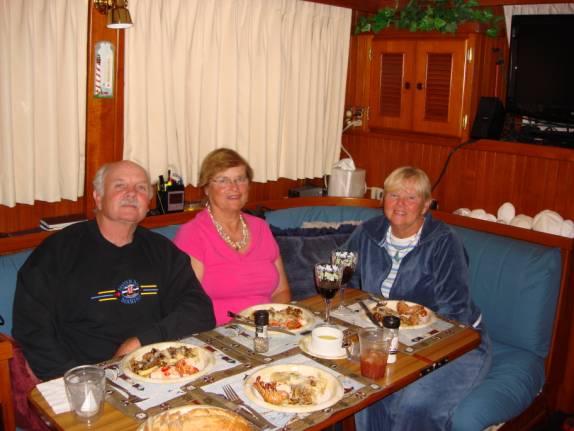 01/17/09 SATURDAY BOAT HARBOUR
Our dinner guest aboard AMARSE this night was Sherry from CHIPKA FIRE III. Judy and I always enjoy visiting with this New York City gal. Tonight's menu highlighted an Italian theme night featuring jumbo cheese ravioli and my homemade meatballs covered with a homemade, special recipe marinara sauce that had been simmering for many hours. Of course, the salad preceded the main course and artisan style bread accompanied. Sherry brought us a delightful Yellow Tail sparkling wine and cookie fixin's to be freshly baked after dinner. All of it was yummy. AMARSE was transformed to "theatre configuration" for the evening entertainment. We watched a DVD concert in Hi-Def entitled "Live From Vegas; HAREM" starring the wonderfully melodic voice of Sarah Brightman performing on a spectacularly arranged set at the MGM Hotel. Tonight was another great evening for us. Once again, it's our friends that make our life together so much more fun.
01/18/09 SUNDAY BOAT HARBOUR
The sunny, warm, and nearly windless morning beckoned us out for a dinghy day of exploration. In the company of Wink and Wilma (JOHN HENRY), with their neighbor, Sherry, we departed the harbor heading south. Wilma took the bow-watch view.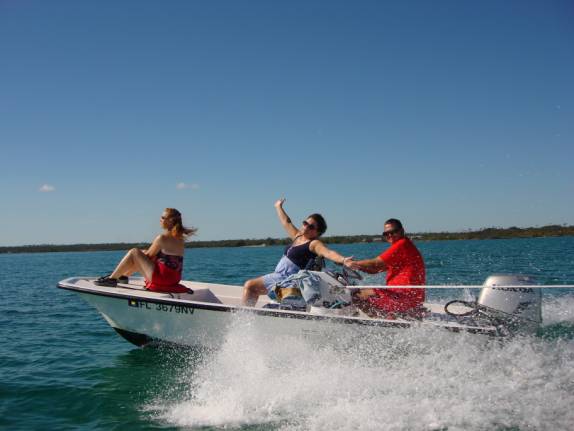 We turned westward into the shallows and passages behind Snake Cay.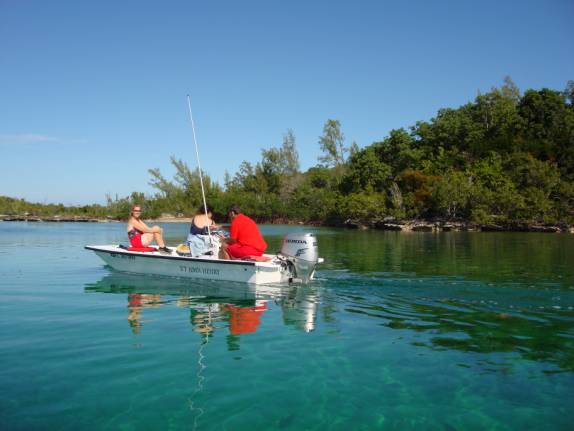 Fred (AMARSE)…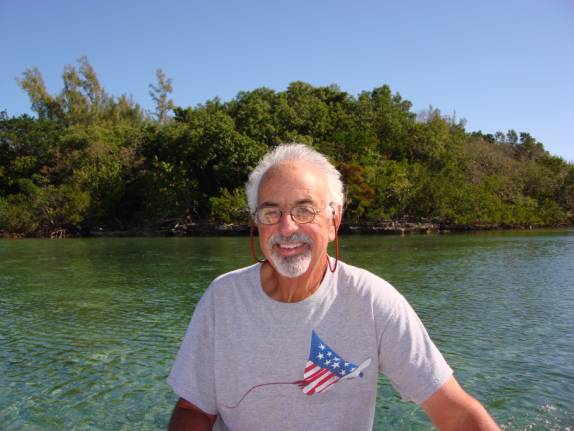 Fred and Judy (AMARSE)…
Wink and his crew decided to explore in the upper basin areas due to the shallow nature of some of the passages. Judy and I opted to meander southward to zigzag around the coral outcroppings throughout the several miles of backwater passages.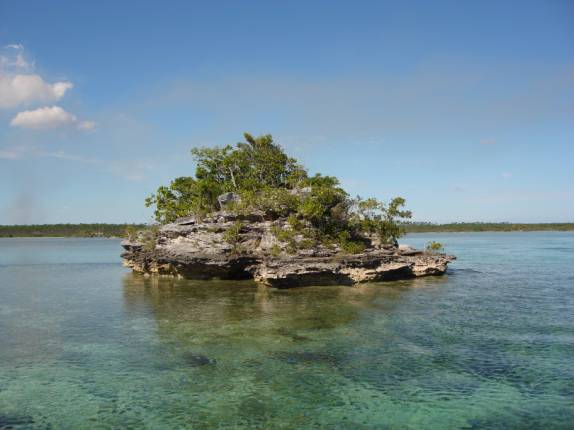 At times, the water shallows to only a foot or so requiring us to tilt up the outboard and proceed very slowly. On several occasions, we made an about-face to seek out a deeper route for passage.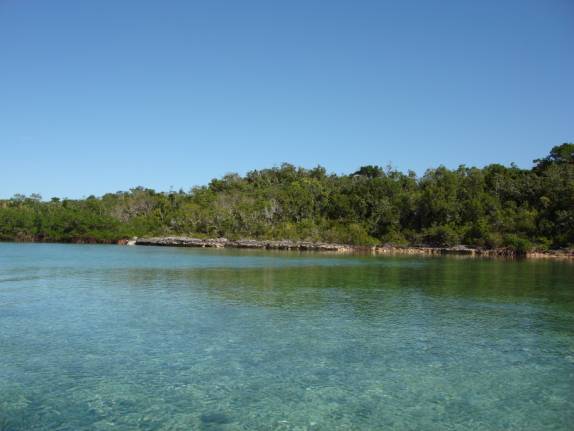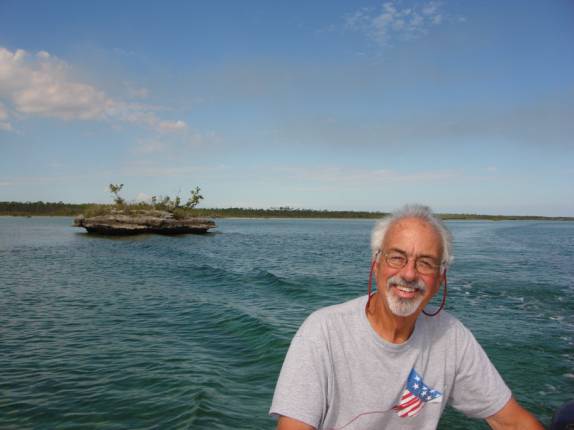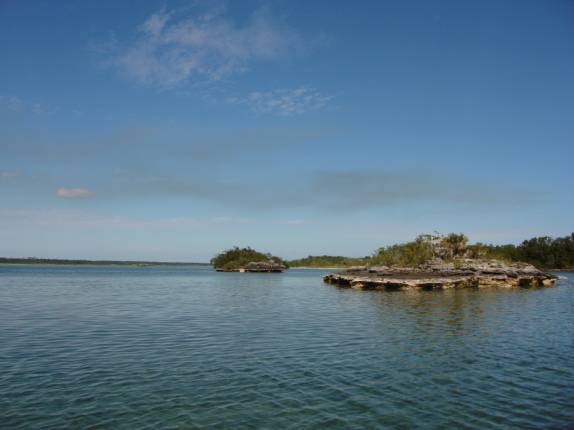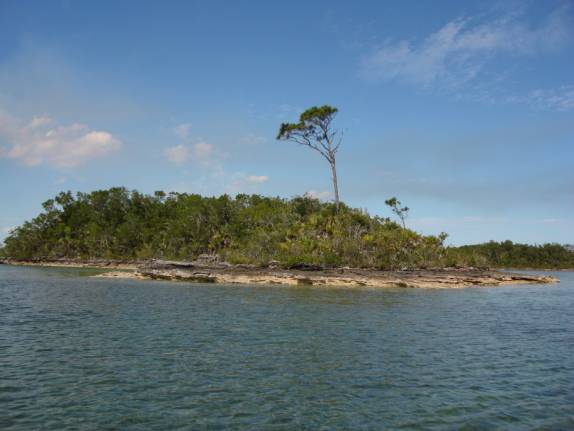 The area is being petitioned to become a National Park or Wildlife Preserve of some kind so that the area can be protected for future generations.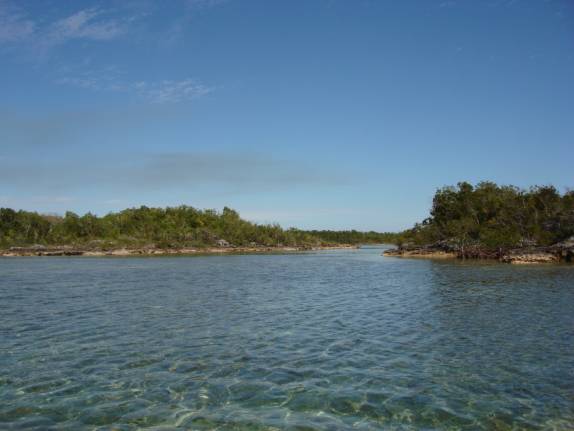 The entire area is a myriad of maze-like coves, streams, basins, and shallow channels.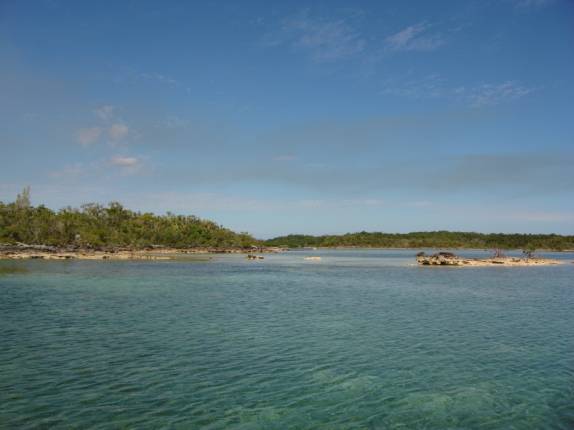 This single clump of mangrove may become the origins for a newly formed island that may build here in years to come.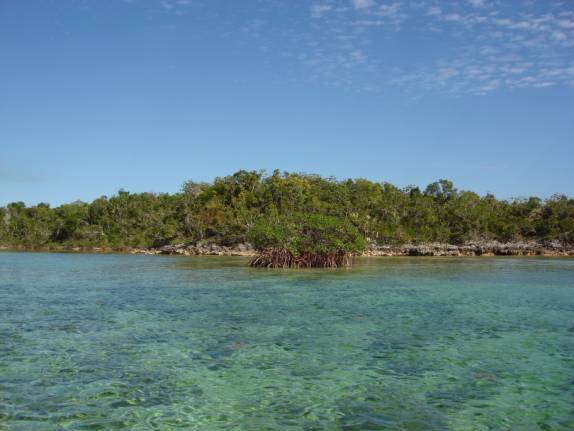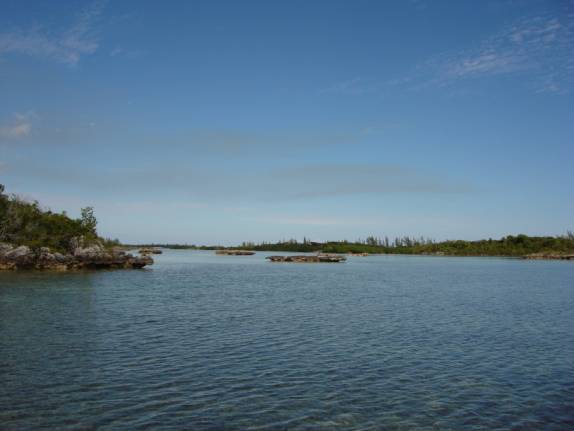 Several miles south, we located the passageway leading eastward for our return to the Sea of Abaco.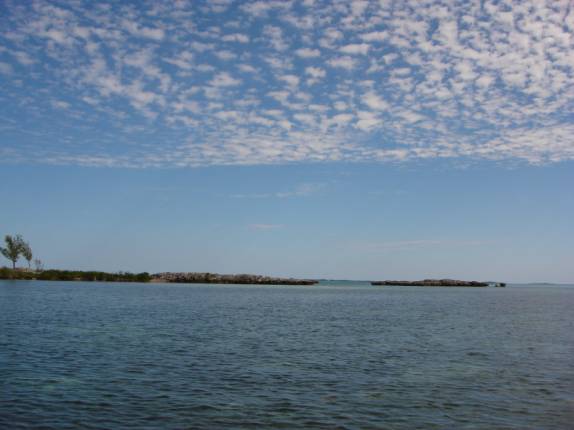 Heading east across the main body of the Sea of Abaco, we rounded the southern tip of Lubbers' Quarters Cay and into the Tilloo Cut leading to the Atlantic Ocean.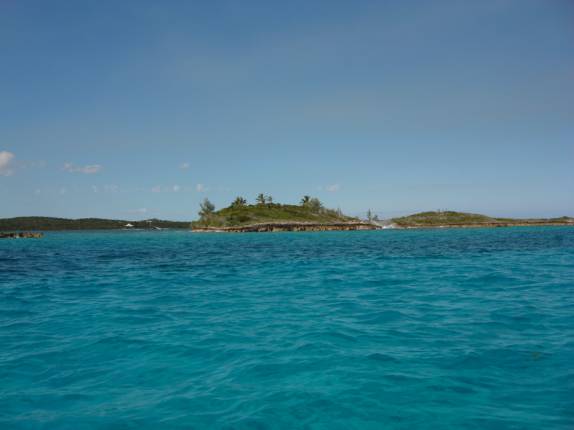 The often turbulent, narrow passage to the ocean divides Elbow Cay to the north and Tilloo Cay to the south. As we slowly motored out approaching the pass, the waves began to build to a level uncomfortable in the dinghy. It would have been imprudent for us to continue outward even in these relatively low-level sea conditions.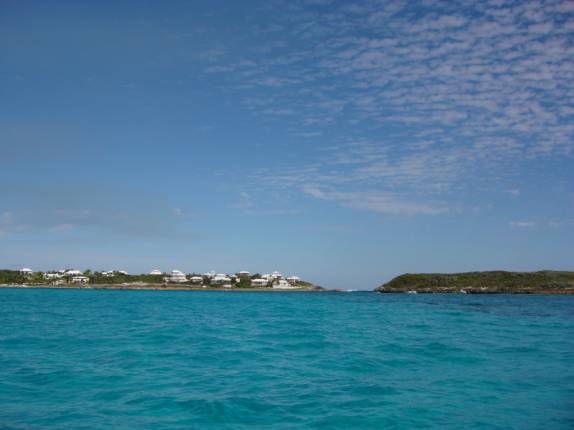 Our little dinghy cruise continued to the White Sound channel leading into Sea Spray Resort on Elbow Cay.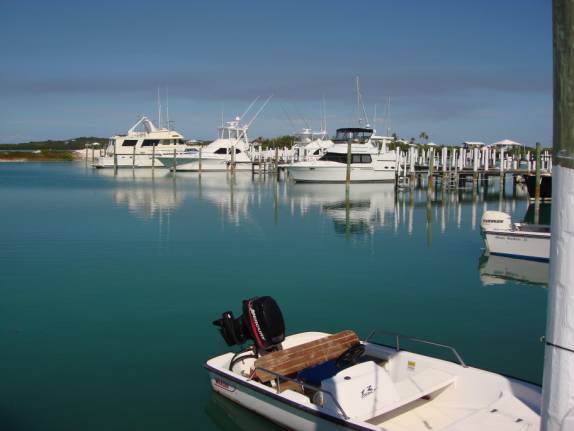 The harbor view office and restaurant facility at Sea Spray Resort and Marina...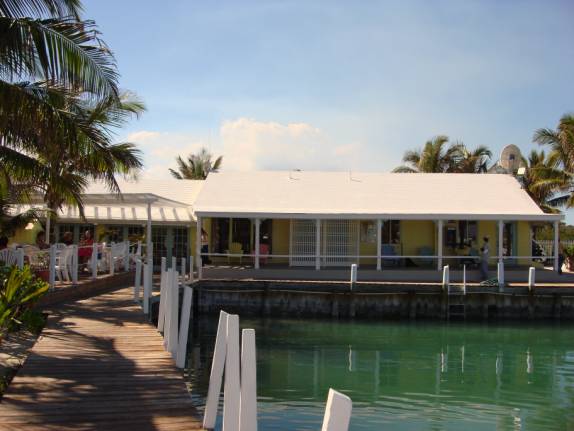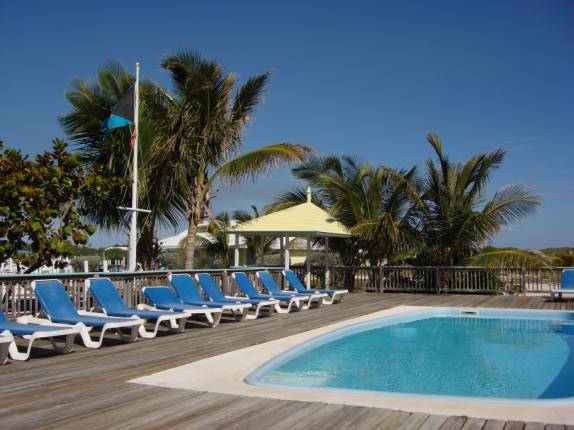 Judy Law (AMARSE)…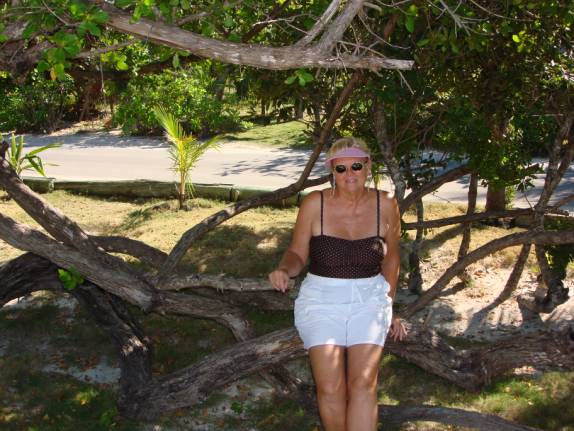 Fred Reed (AMARSE)…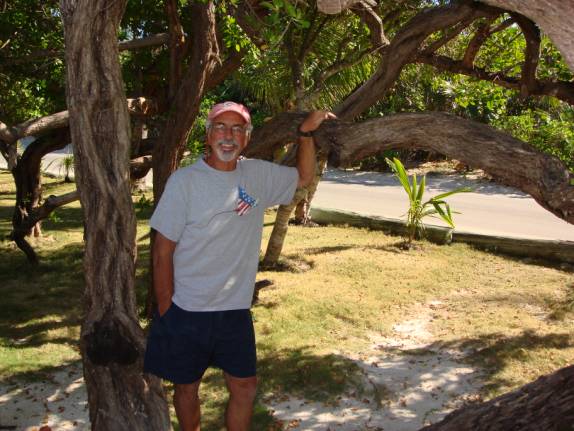 From the protected marina, it is only a very short walk over the sand dunes to the beach on the Atlantic Ocean side.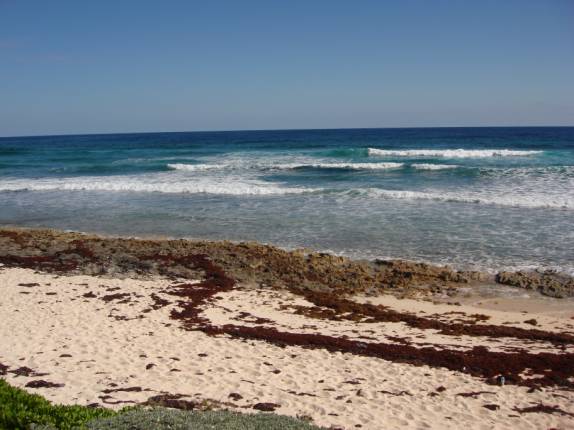 … that cute beach babe from AMARSE…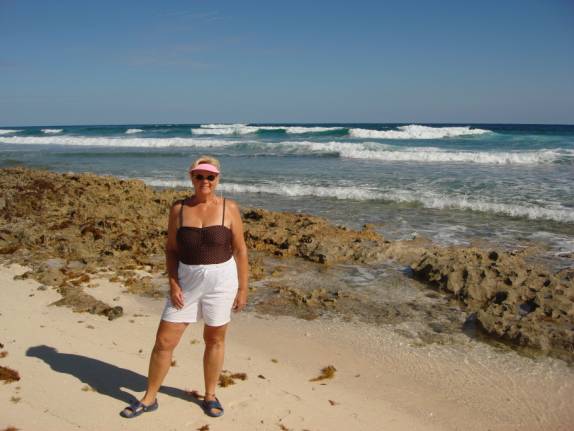 …that beach boy from AMARSE…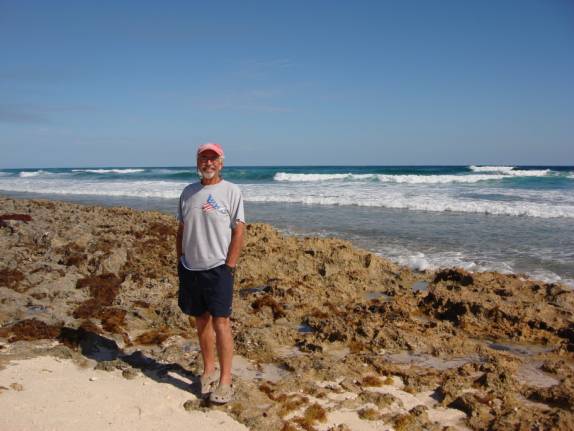 The rugged coral shoreline attests to the constant pounding action of the ocean waves.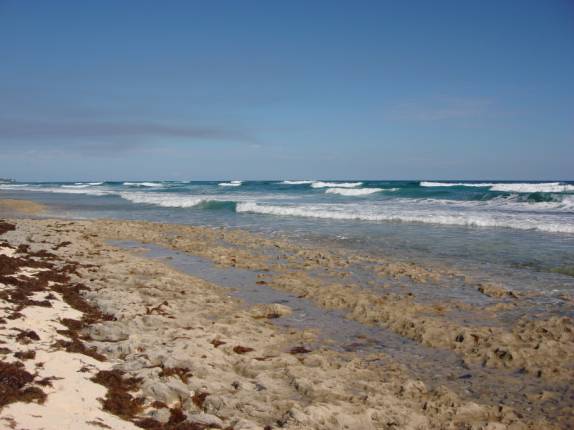 Tiny, crystal clear pools form in the cracks and crevices of the coral residue…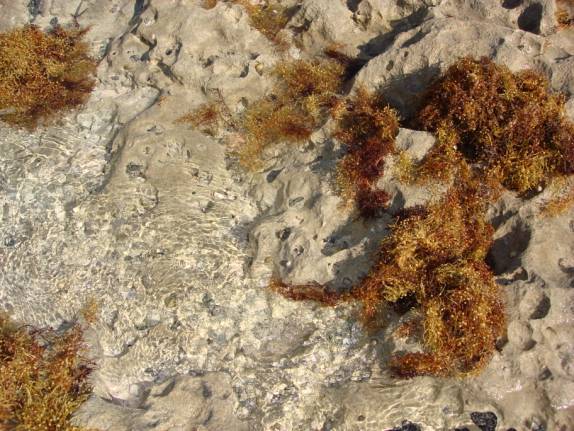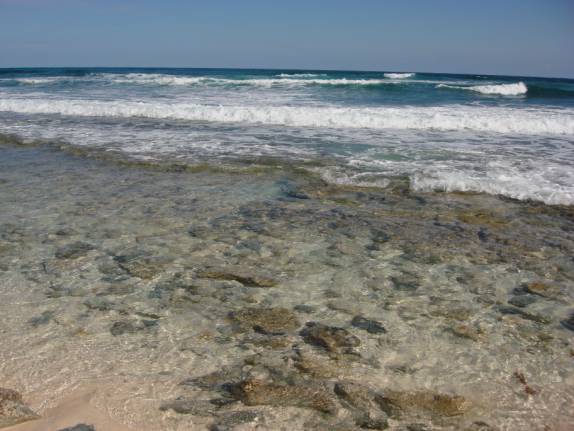 Shore birds flick and flitter about at the water's edge in search of some tender morsels…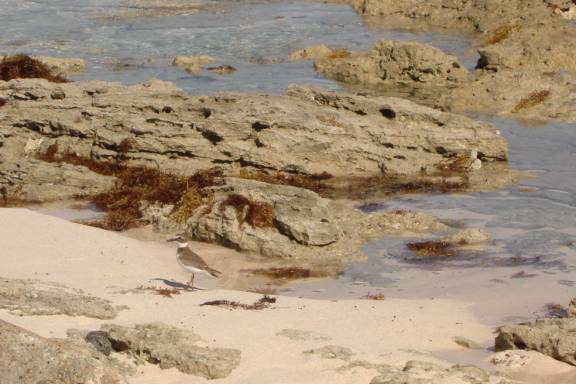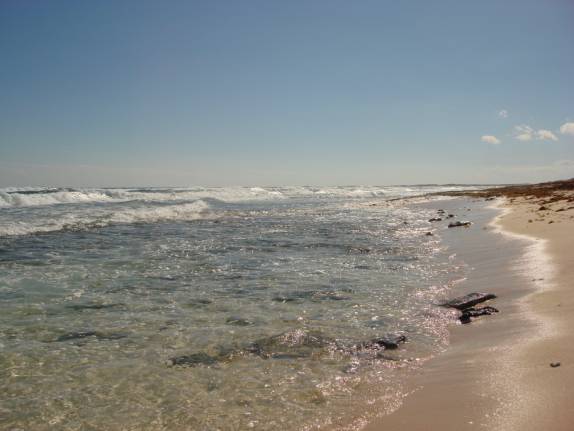 The short, steep climb over the dunes path will lead to the protection of the leeward bay. One must be careful not to trip on the surface vines…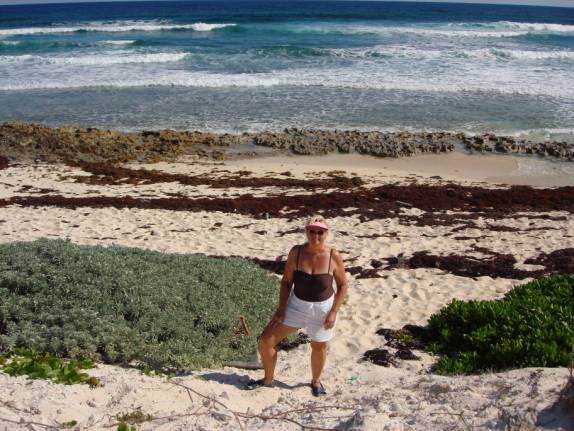 Tough economic times have had a significant impact on this resort and marina. These empty slips are evidence of the real value that our RMHYC group of cruisers brings to our marina on the other side of the bay.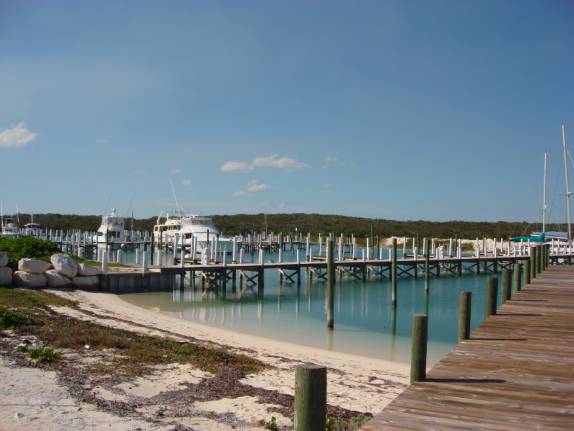 How's this for a tranquil, tropical paradise spot?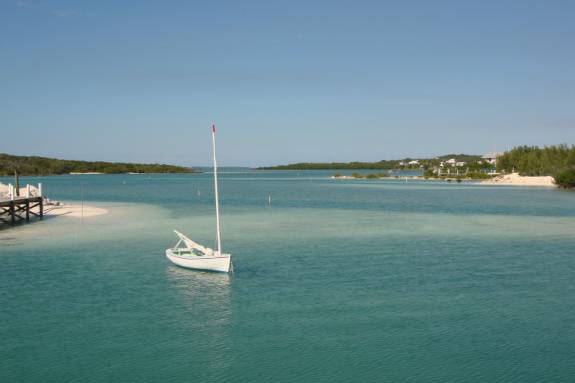 Next week, Bob and Judy Williams (SHADE MOR) will help things here by filling many of these empty slips with a flotilla of RMHYC boats planning to come here to Sea Spray Resort and Marina for a weekend rendezvous.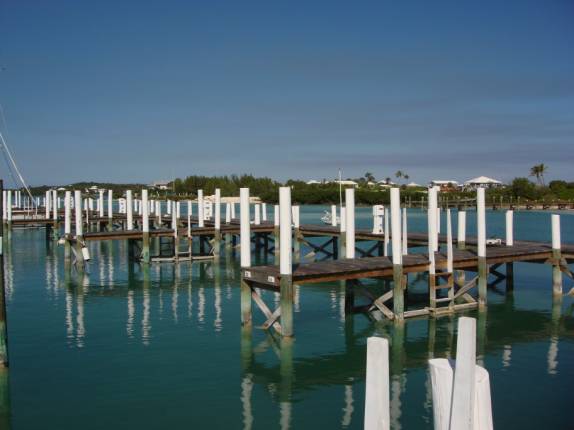 In contrast to the Atlantic Ocean side, the White Sound channel is clearly passive.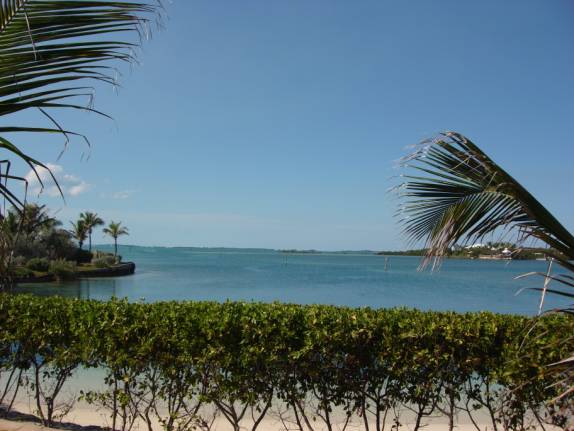 I don't know what kind of plant this is but it surely flowers beautifully.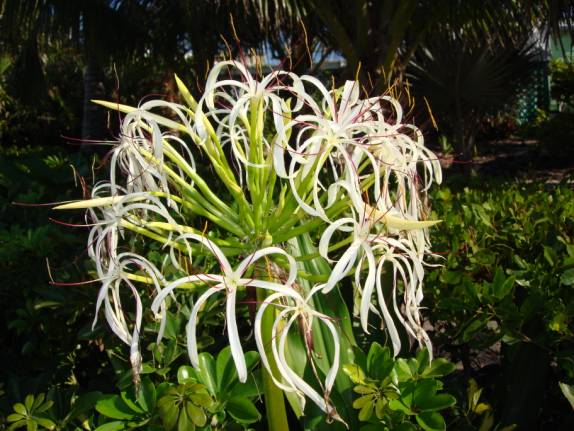 After leaving the Sea Spray marina, we motored over to the private dock at the Abaco Inn.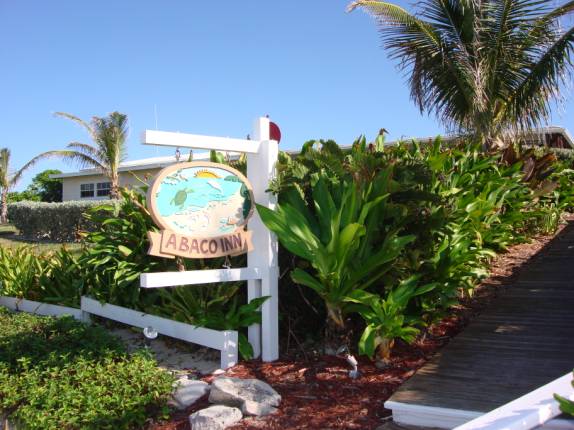 The view of the ocean from the restaurant and bar is quite impressively gorgeous.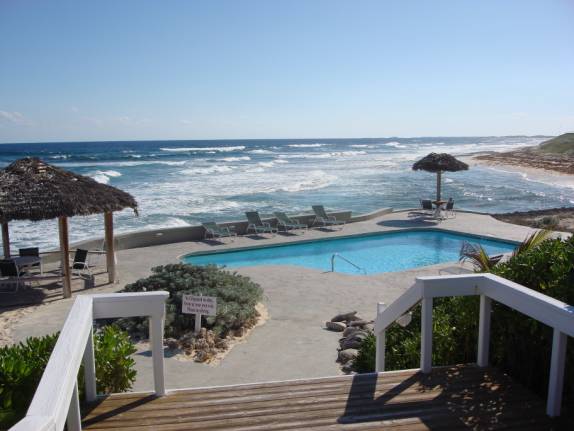 The magnificent weather made our continuing trip up to Hope Town harbour and its large mooring field in the protected bay an enjoyable experience.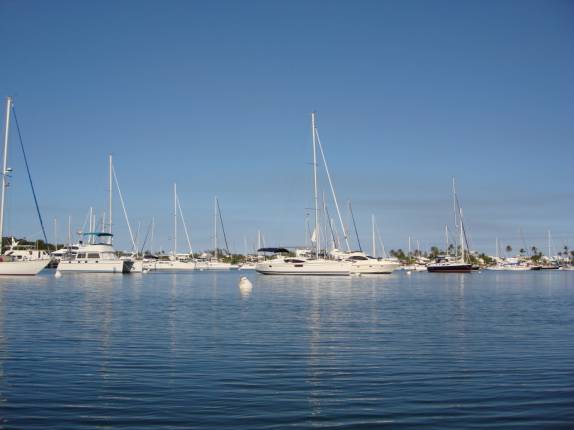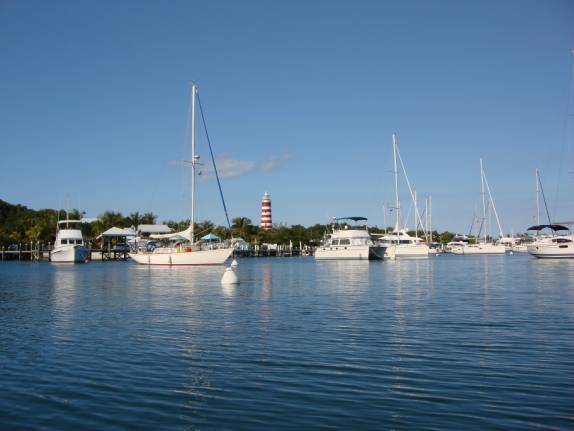 One of the smaller boats of the Albury's Ferry Service provides the link between Marsh Harbour and Elbow Cay.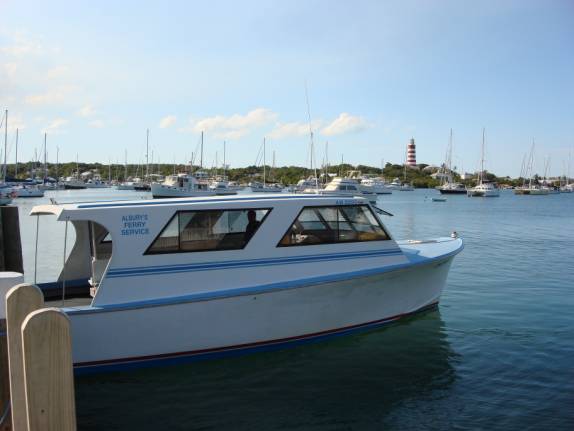 The maritime museum at Hope Town preserves the rich historical past of this island and the surrounding area.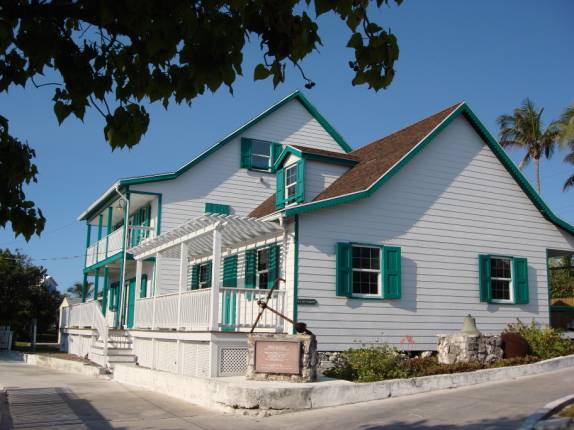 The active Hope Town Sailing Club hosts weekly races in various classes from sailing dinghies to cruising class boats.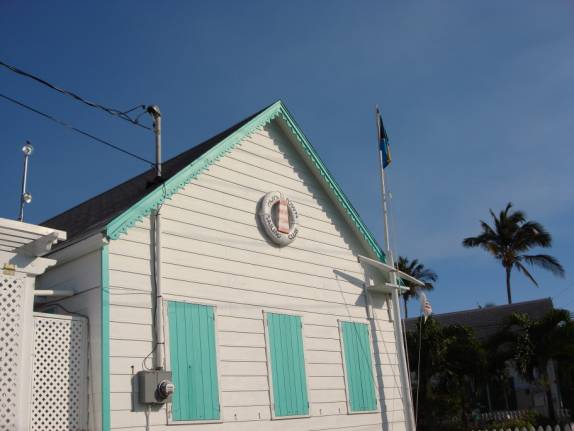 The Hope Town Fire and Rescue group is a volunteer organization. All the support funds come from fundraiser events and private donations.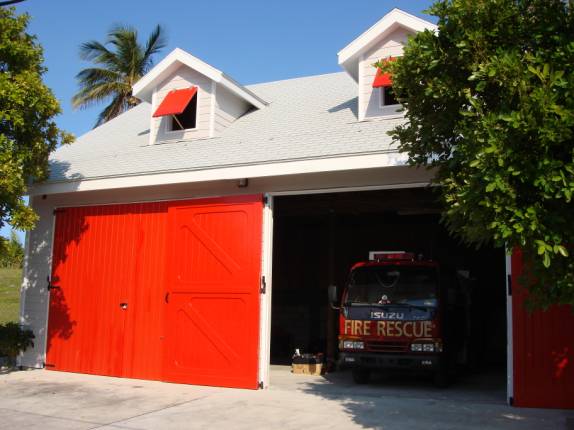 Poinsettias thrive in the tropical climate…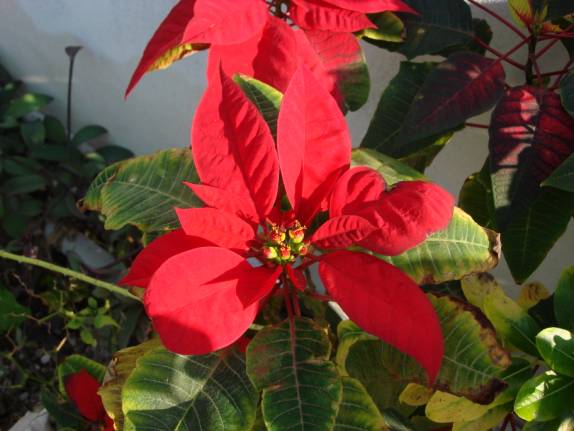 A large variety of tropical flora and fauna accent the beauty of this lovely cay…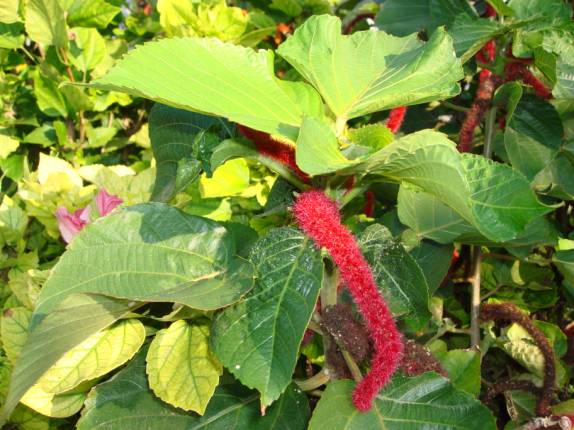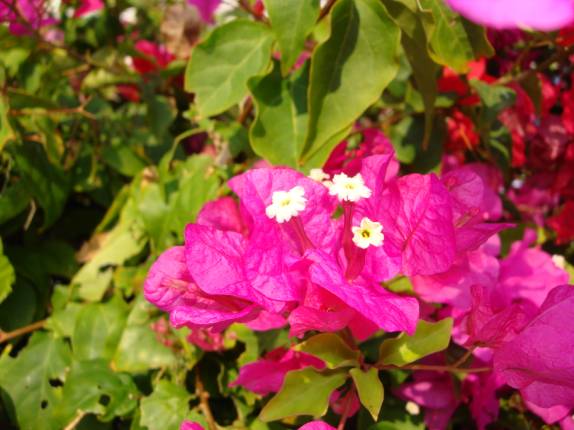 Butterflies with rapidly flittering wings move between the blossoms serving as effective pollen carriers.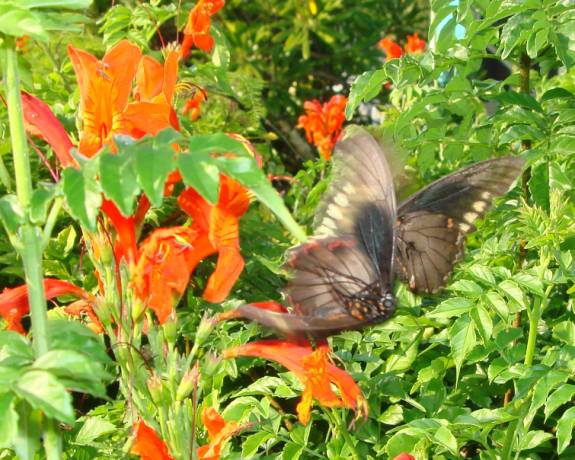 This little model of the "Lizard Lodge" fascinated me… Now there is an innovative and creative decoration idea…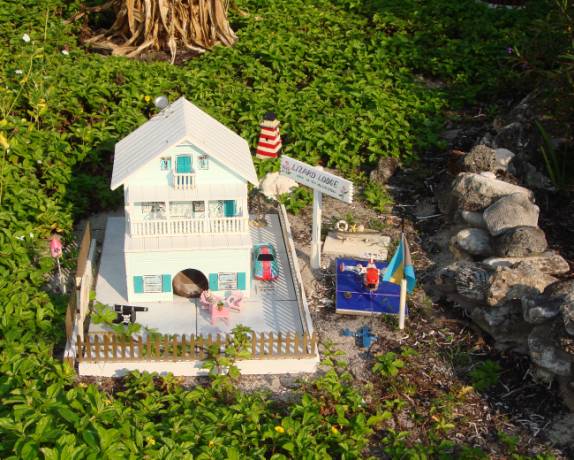 Judy Law (AMARSE) relaxes on the wooden deck and chairs of the Hope Town Museum.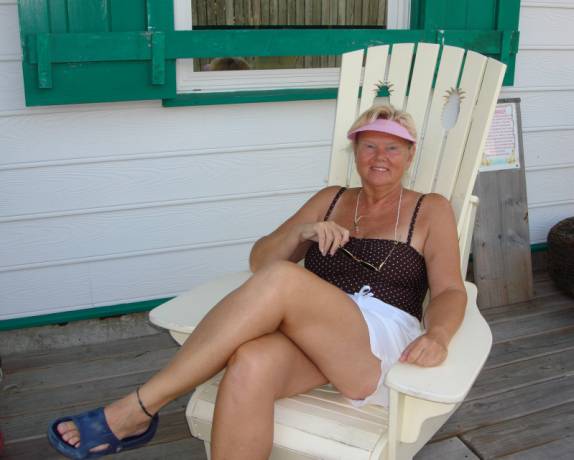 The Hope Town Lighthouse on Elbow Cay dominates the skyline and provides a prominent backdrop for the mooring field in the harbor.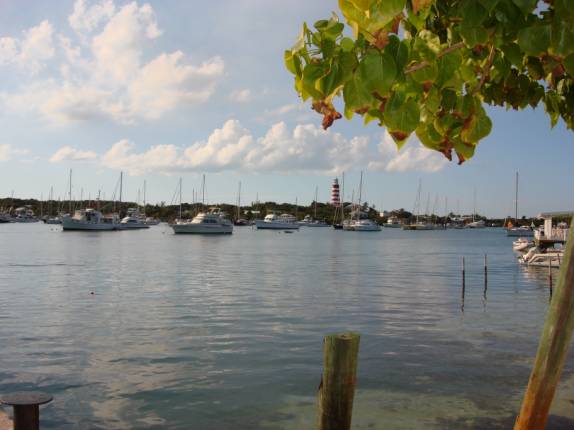 Lots of folks enjoy relaxing at the waterfront dining area of the Harbor View Restaurant.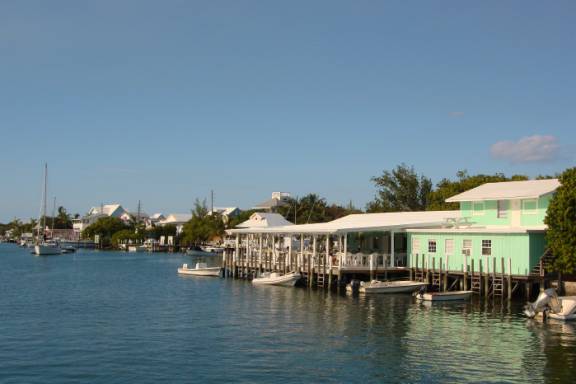 Lots of us gathered for the evening cocktail hour and snack session at sunset. Sue Graham sounded the tradition Conch Horn tones from the foredeck of ODYSSEY. You can see folks from ODYSSEY, TOURELOU, SILVER FOXES, PROPINQUITY, OUR TIME, SALTY DAWG, AMARSE, M/V TALLY HO, S/V TALLY HO, CHRISTINE, TAR HEEL, PUFFIN, LO QUE SE A, and JOHN HENRY.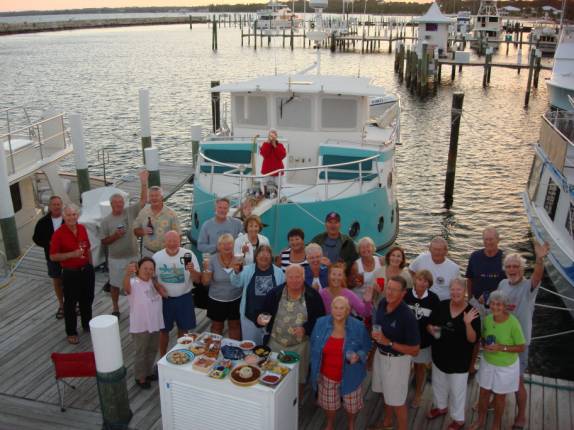 01/19/08 MONDAY BOAT HARBOUR
Boudreaux LeBlanc made another special announcement from his boat, ZYDECO, located in the Bayou swamps of Louisiana. The character is becoming quite popular around the dock circles of the Royal Marsh Harbour Yacht Club.
Judy and Sue hosted a display and preview of their jewelry collections that will be available for sale at the upcoming flea market on Man-O-War Cay during the middle of next month. Both the gals have been busy creating works of art that will grace the lovely ladies of the wintering community. They have generated considerable interest in this type of jewelry style.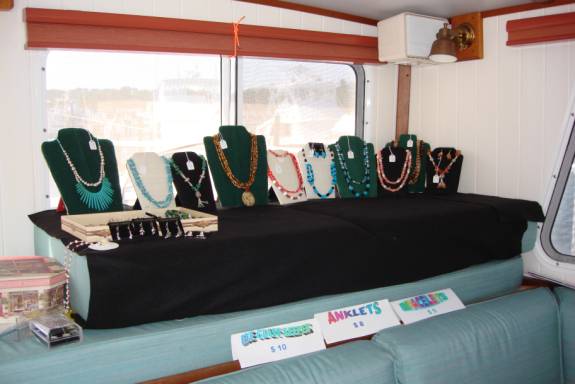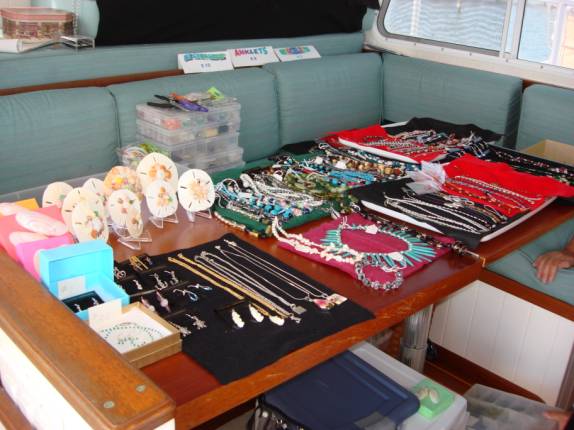 These lovely sand dollar creations are the work of Sue Graham (ODYSSEY).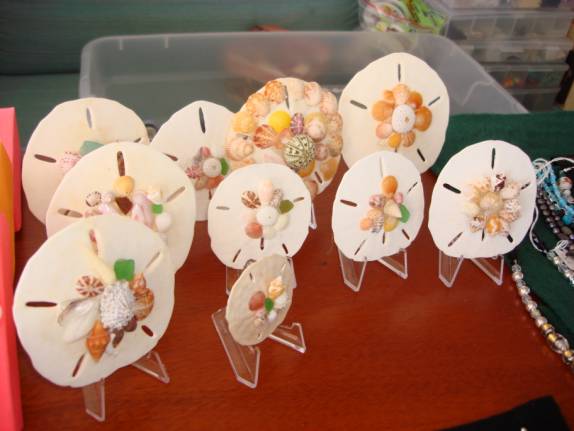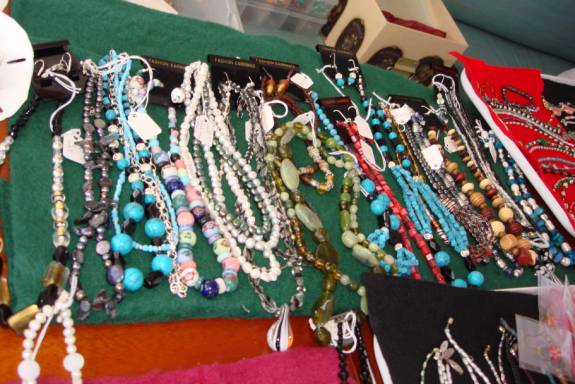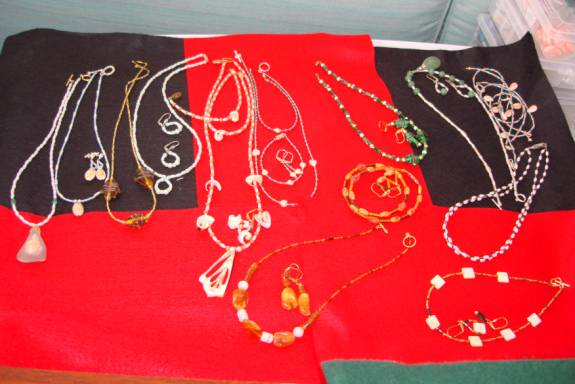 While the gals did their jewelry things, I made a wonderfully flavorful pot of Chicken Soup with rice and vegetables. Another chore was to repair one of our favorite deck chairs. Using steel bracing strap bars, I drilled and bolted the reclining seat that had inadvertently been cracked. The repair should provide improved strength and durability.
Paul and Sue were our guests aboard AMARSE for soup, salad, biscuits, and cookies. AMARSE was converted to 'theatre configuration' to watch the DVD movie, "August Rush" starring Robin Williams. In spite of some reluctance from an unwarranted preconception, we all enjoyed the movie very much.
01/20/09 TUESDAY BOAT HARBOUR
Today was Inauguration Day for the new president of the United States, Barack Obama. We watched the events unfold throughout the day on AMARSE's TV. Whatever each person has for a personal opinion, we are sincerely hoping that the people of the USA, and the world, will come together and that positive results will emerge from this new president and administration. In these, we wish all to be well.
The gals continued their jewelry crafts for much of the day. The focus was on wire-wrapping technique on pieces of natural "sea glass" that the girls have found along the beaches. Working aboard AMARSE, Judy looks on as Wilma attaches a clasp on a necklace for Sherry.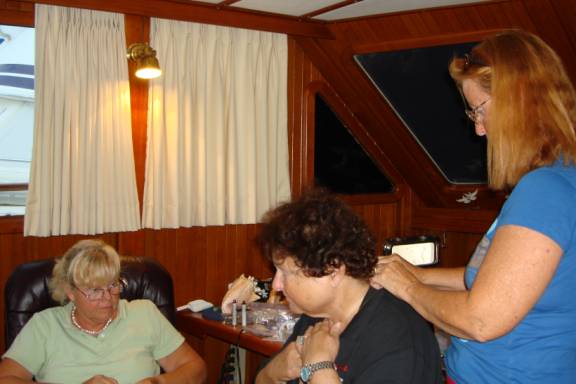 01/21/09 WEDNESDAY BOAT HARBOUR
Another cool and windy day was in store for us today. Judy and I biked to the Price-Right Grocery store and then to Bristol's Liquor store. We selected four bottles of Chilean and Argentinean red wines to serve to our dinner guests.
At 6pm, Dave and Bette Bauereis (TAR HEEL) climbed aboard AMARSE for an evening of Dinner and a Concert at the AMARSE Theatre Complex. Starting with cocktails and cheese appetizers, a salad followed with Iceberg Lettuce wedges, tomatoes, and blue cheese dressing. The entrée was Bahamian Lobster, Crabmeat, and sautéed veggies in a creamy sauce atop a bed of Linguine. I must say that it was a delicious combination especially when accompanied by a delightful glass of Chilean wine compliments of our guests. Following dinner, the salon was converted to 'theatre configuration' to view the DVD concert by Rod Stewart. His later work of singing timeless classics has brought him new fame and fortune especially with his more relaxed, present-day group of fans. Of course, no evening would be complete without a scrumptious dessert. Judy served coffee along with her homemade, chocolate pie topped with a mound of whipped cream. Another great night was shared with our wonderful friends. We sure do love them…
01/22/09 THURSDAY BOAT HARBOUR
Our Royal Marsh Harbour Yacht Club is very fortunate to have a Doctor of Psychology right here in our marina. Dr. Frank Gavin (SEA SMOKE) hosted a Personality Assessment Session in the conference room of the resort. It was really fun to learn more about how we interact with our fellow cruisers and others. To Frank: our sincere thanks for such a thoroughly enjoyable and introspective afternoon: From a couple of extraverts.
01/23/09 FRIDAY BOAT HARBOUR
Boudreaux called in again to the morning meeting of the RMHYC on VHF channel 78 at 8am. From the comments we've been hearing, people really seem to be enjoying his Cajun style of humor and manner. Ticket sales for the Commodore's Ball and Mardi Gras Theme Party have been brisk. The event was an early sellout.
It was another beautiful day here in the Abacos even though the temperatures would remain in the high 60's. At 10am, our Commodore, Robert Wilson, met with a small group of club members to discuss ways and ideas for even more events, as well as, ways to improve the economic profitability for the resort. Many solidly good ideas were presented to provide even more variety to our lifestyle enhancement.
Judy enjoys using her hair styling talents to the benefit of her friends. Having trained as a hairstylist some years ago, she still has that special flare to bring even more loveliness to the gals at her dockside salon. Judy has clipped and snipped the curly locks for many of the guys and gals just because it's another way to extend her loving friendship.
Pat (LIBATIONS) is looking real pretty for the evening cocktail hour and manager's party at the Angler's Restaurant.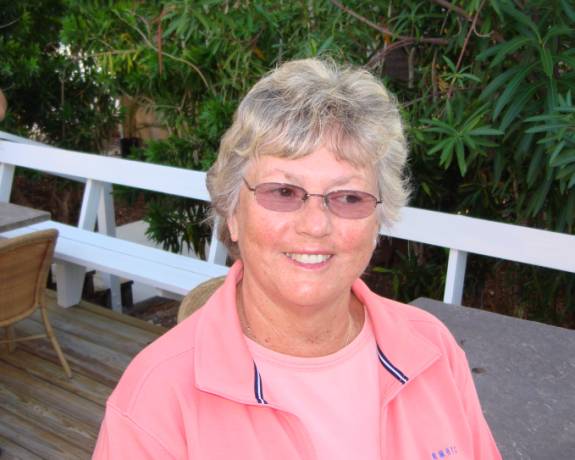 The 2-for-1 special on cocktails and snacks of piping hot conch fritters brought out a fun-loving group of RMHYC resident cruisers from Boat Harbour Marina to line up at the bar.
Carolyn Wilson (SEA ISLAND GIRL) provided a huge bowl of her fantastic Pasta Salad. She had really prepared it for her husband's Rotary Club meeting. Fortunate for us, Robert had mistaken the meeting date thinking it was tonight. That meeting was actually scheduled for next week. Oh well, unfortunately, Robert was in the doghouse but we were in our glory with the addition of the pasta salad.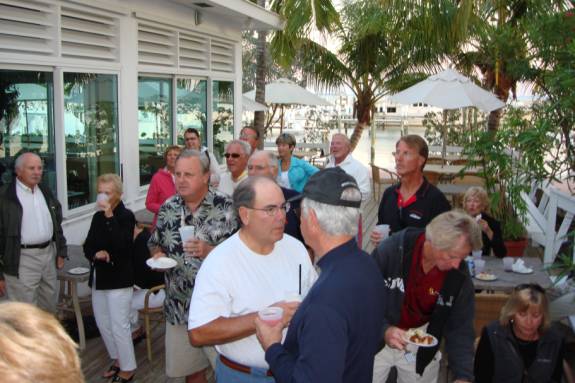 Patty Mitchell (ORINOCO) was the lucky winner of the raffle. General Manager, Bob Cram, presented Patty with a gift certificate for a Valentine's Day Celebration Dinner and Dance event, a $150 value. Congratz, Patty. Our very friendly and attentive dock-master, Chris Higgs, looks on with his ever-present smile. Everyone here is so appreciative of all he does for the cruiser residents.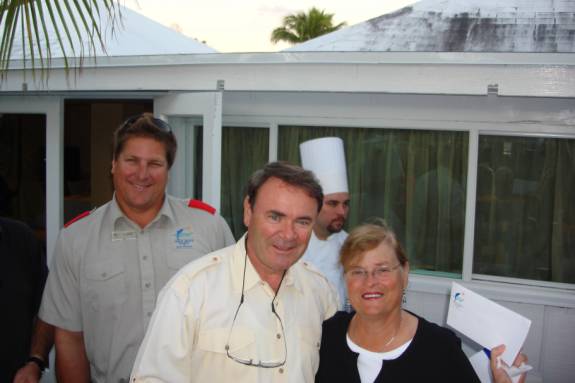 Our dear friends, Barb and Dave Bluto (CHABLIS)… We just love these guys...
More dear friends, Patty and Robert Mitchell (ORINOCO)… and we sure love these guys too…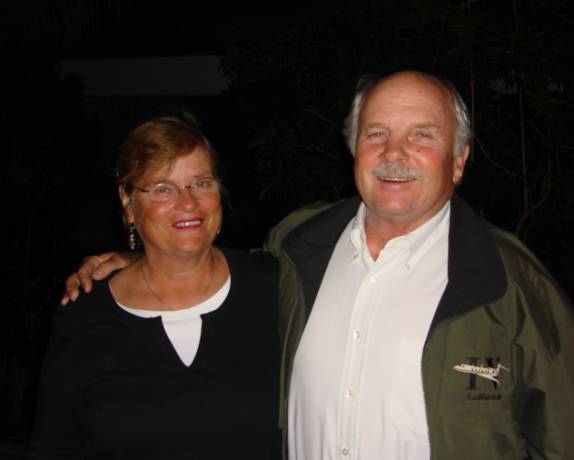 01/24/09 SATURDAY BOAT HARBOUR to LITTLE HARBOUR
HAPPY BIRTHDAY, PETE JOHNSTON…
Today marks the big event in Little Harbour. Pete's 15th Annual 50th Birthday Bash and Benefit would entertain hundreds at his famous pub location.
The day's weather and forecast were perfect for another dinghy run south to Little Harbour. Dave and Bette Bauereis (TAR HEEL) fired up their rigid inflatable for our day trip together.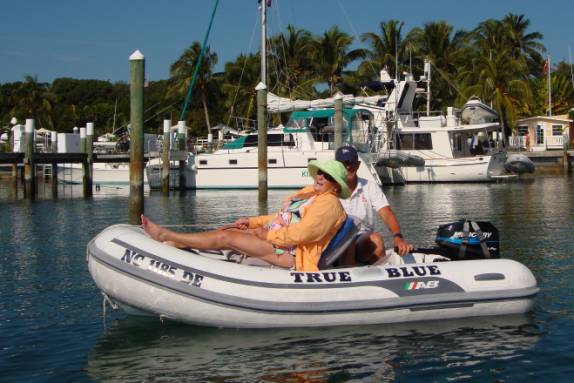 After a great ride of about an hour, we entered the harbor with Dave and Bette following us through the channel marker balls.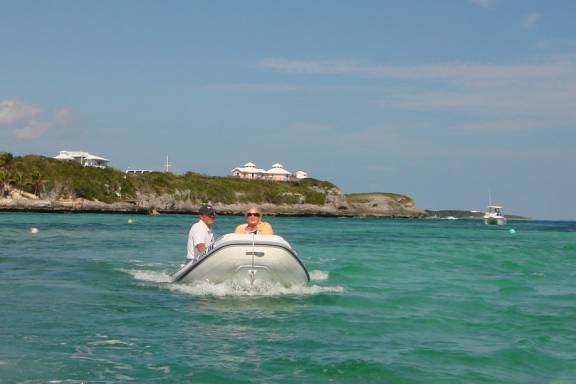 Judy and I tied up at Pete's dock…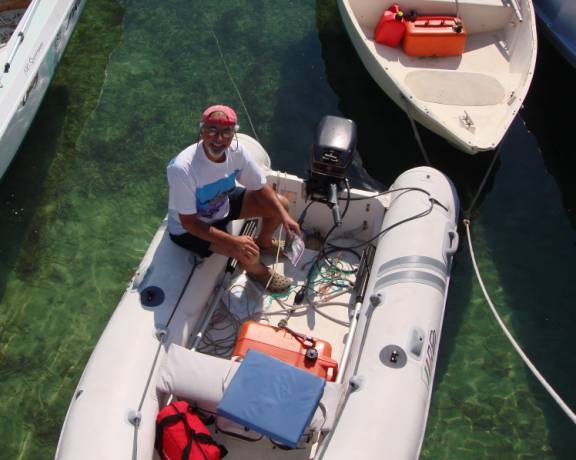 The bay is a lovely and picturesque area that has lots of very shallow spots at low tide.
Pete's museum and art gallery features some of his magnificent works in bronze sculpture.
Are you ready to party? Judy sure is…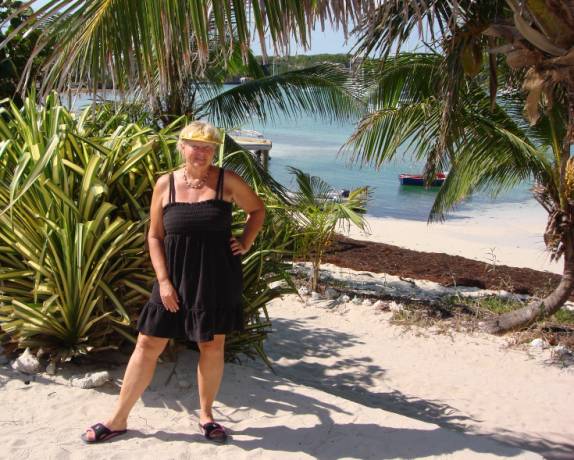 The main celebrant of the event is Pete Johnston… Pete came here to live on this island with his parents over 50 years ago.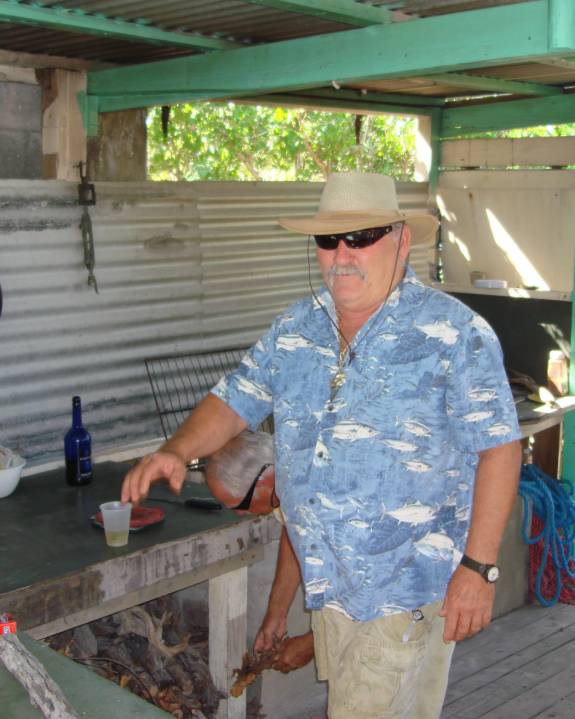 Dave and Bette added their dinghy to numerous others choosing a beach landing on the sandy patch…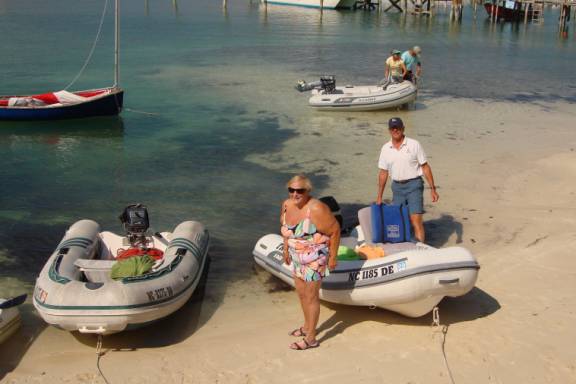 Just over the sand hills from the tranquil bay, the Atlantic Ocean is a thing of natural beauty.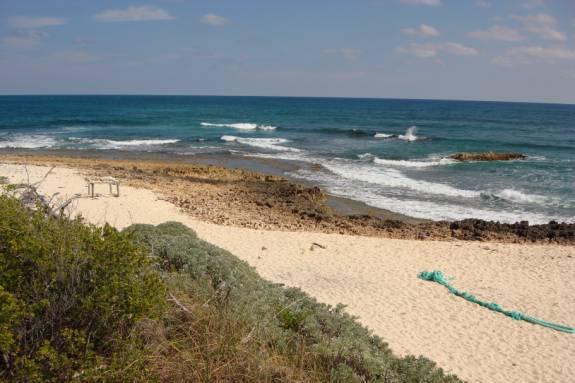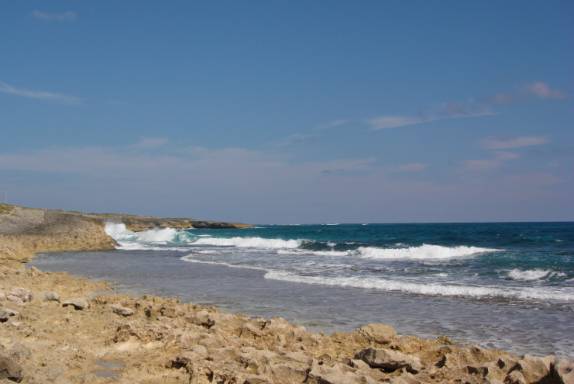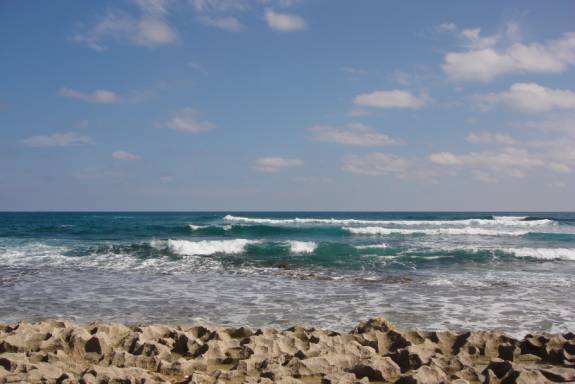 This huge chunk of iron has endured only to continuously rust away at the ravages of time, salt, and surf.
How beautiful is this?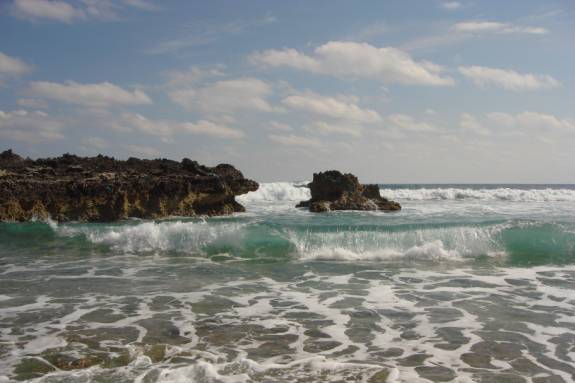 The soft coral sand feels so good between the toes…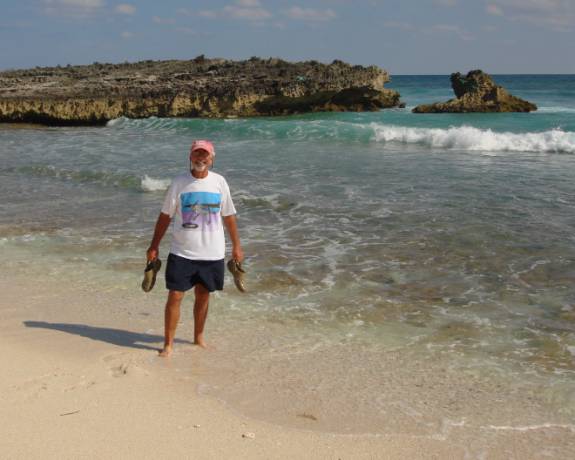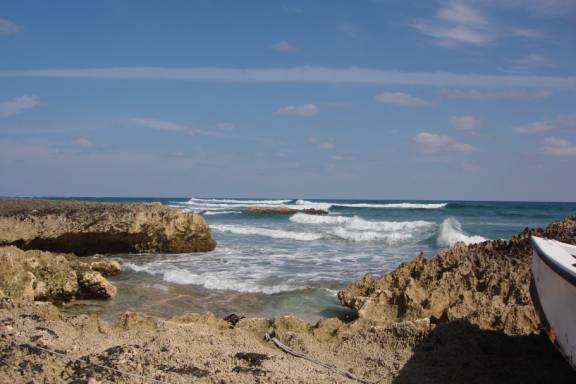 Another of Pete's fabulous sculptures adorn the area…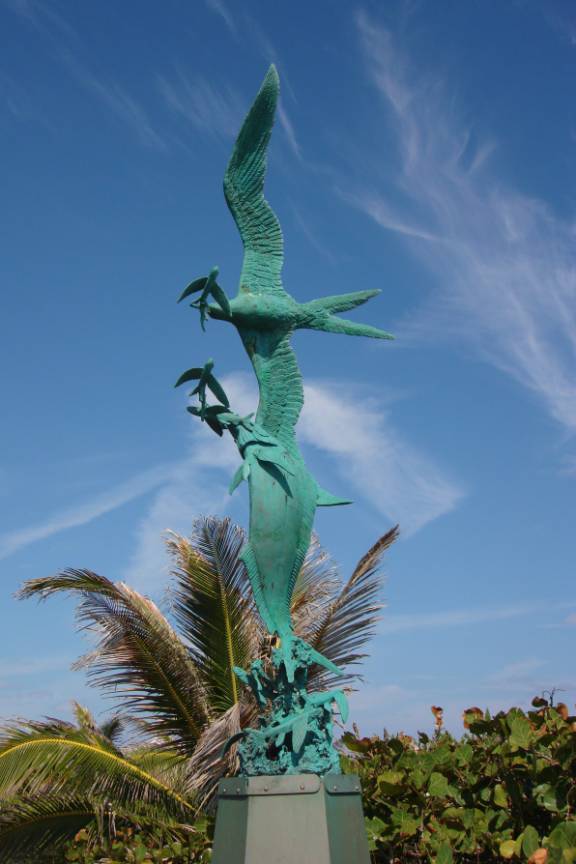 Hey, Judy, What do you see? Oh yes, she sees the sea…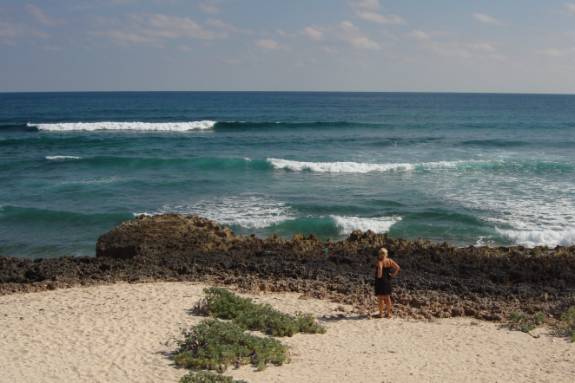 A wooden staircase and boardwalk leads back to the bay side while acting to protect the dunes integrity.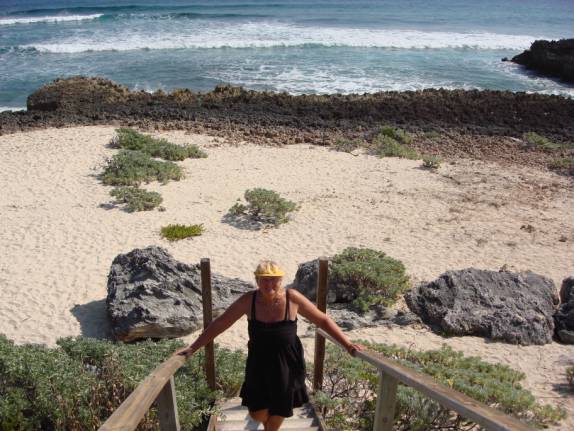 The menu specialty for the bash was pit-roasted wild boar…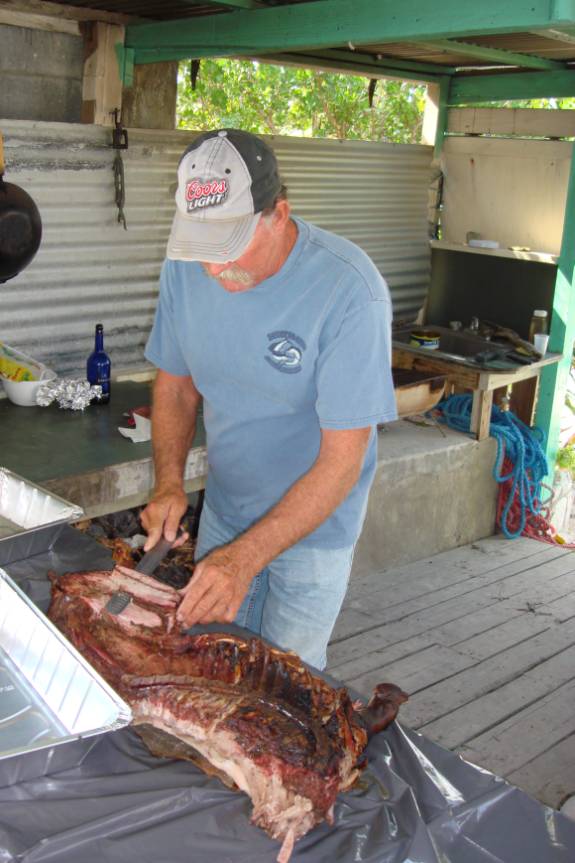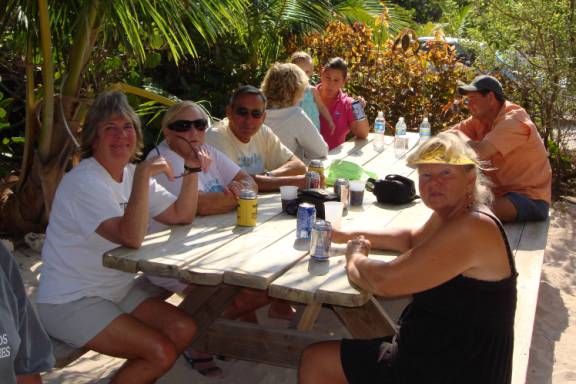 Mooring field at Little Harbour… a $15 bill will rent you a spot for the night…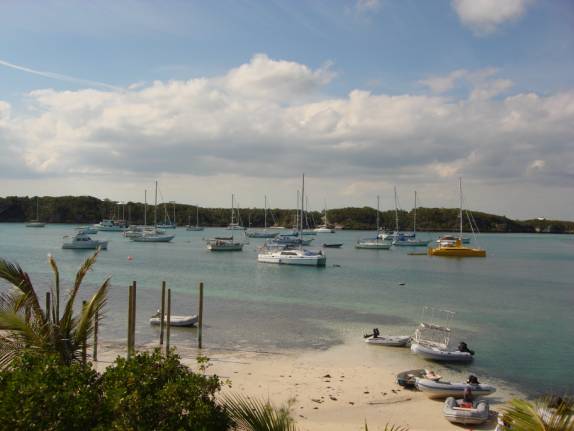 While the rock band played for entertainment, the silent auction for artworks was raising benefit money of for the J.A. Pinder Primary School of Sandy Point and Every Child Counts of the Abacos.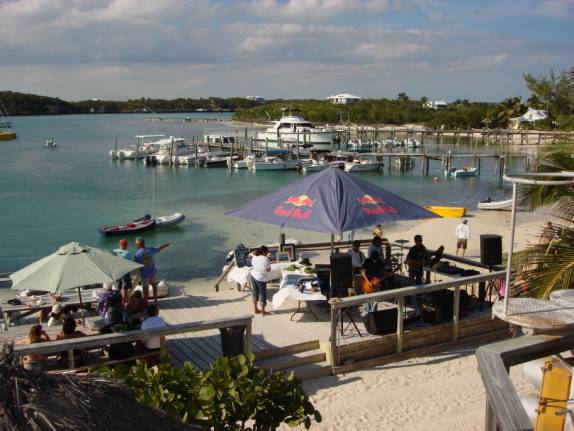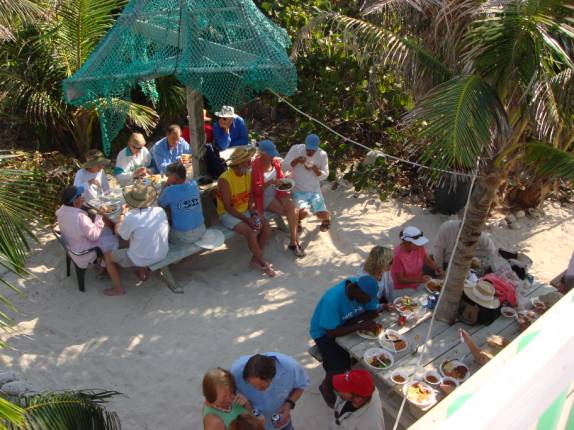 Wild boar is a delicacy treat in this island paradise…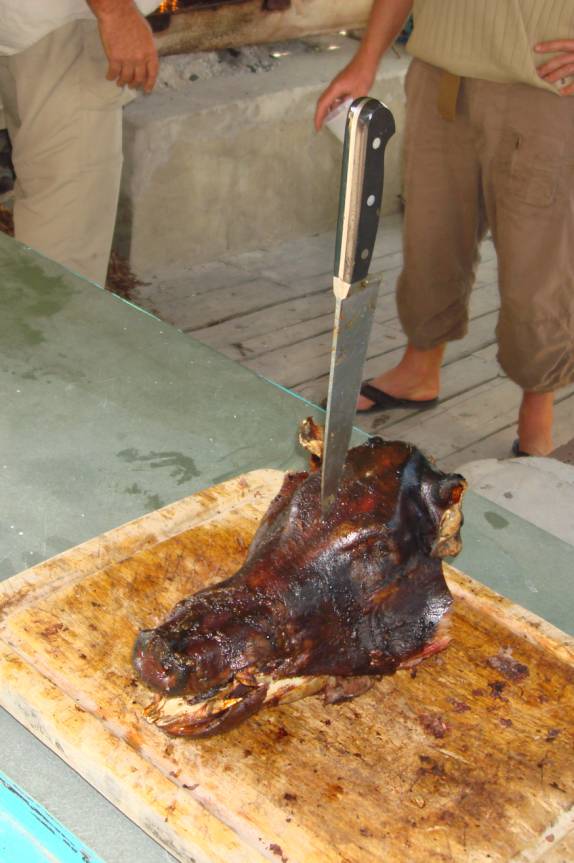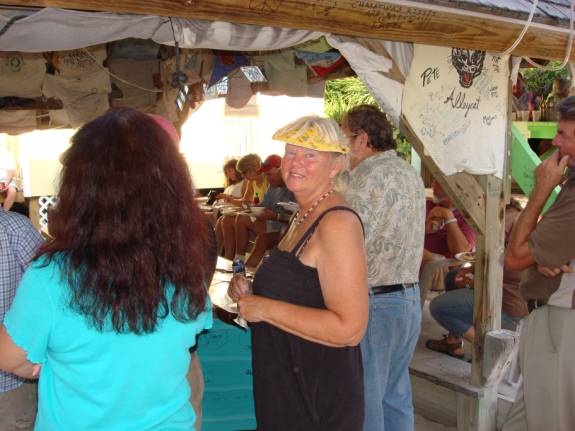 The eclectic beach bar at Pete's Pub…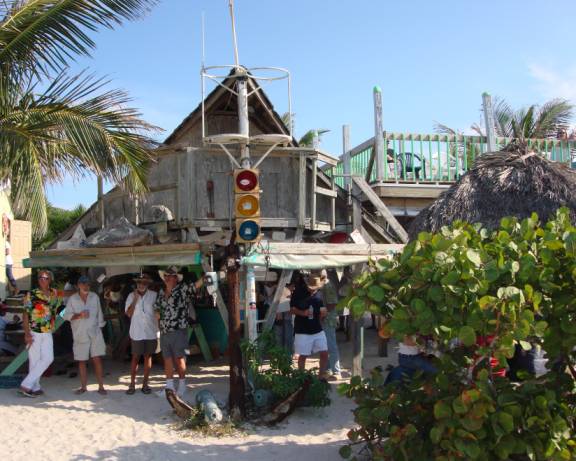 Nancy Solomon, Bette Bauereis (TAR HEEL), and Bob Solomon (MERGANSER)…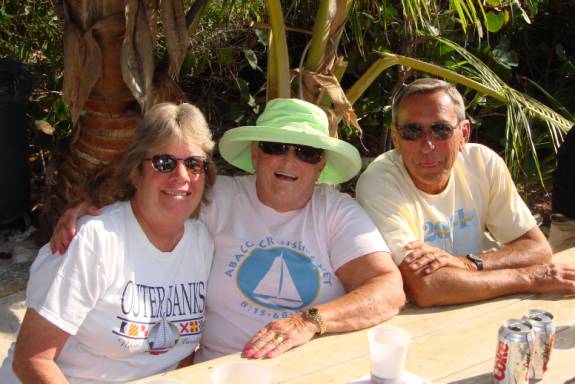 01/25/09 SUNDAY BOAT HARBOUR
SHADE MOR departed her slip at Boat Harbour Marina at 10:30am loaded up with 40 people. We were fortunate to be invited again to join this fun cruise to Guana Cay and Nipper's Bar and Restaurant. Sundays are always the busiest of times at the really cool, beachfront location. We brought a jug of mixed Bloody Mary cocktails for the group to enjoy enroute. Others brought a variety of snacking items. Unfortunately and regretfully, I forgot to bring my camera.
Judy and I shared a fabulous, seared Ahi tuna dish, as well as, several yummy drinks. One of my favorite treats at Nipper's is a choice Cuban cigar. Oh, Yah…
The weather was absolutely perfect and the seas were a flat calm. Thanks again, Bob and Judy Williams (SHADE MOR) for your continuing love and generosity.
01/26/09 MONDAY BOAT HARBOUR
Bette Bauereis (TAR HEEL) hosted another session of the water aerobics classes in the pool at the Abaco Beach Resort.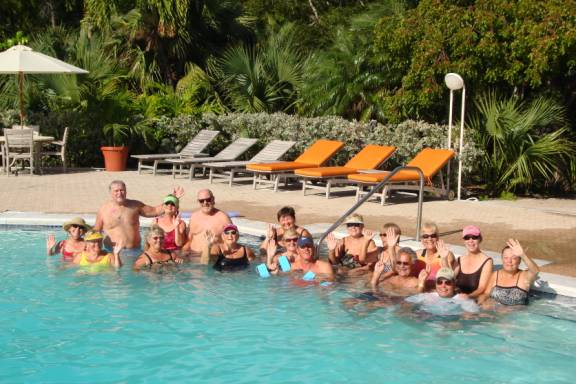 During the deep-water portion of the session, the participants us a foam noodle to provide buoyancy and stability.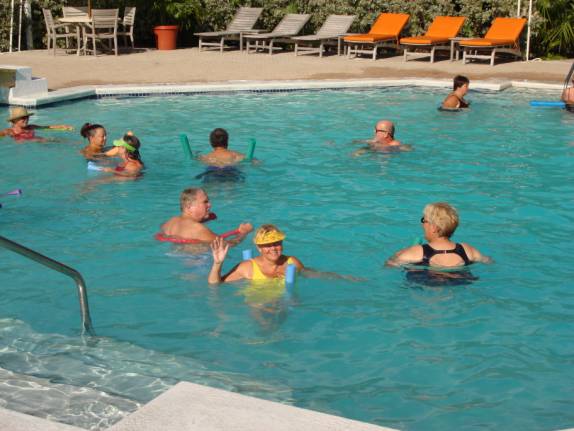 Bette (right in red cap) always offers her wonderful style of coaching, encouragement, and enthusiasm.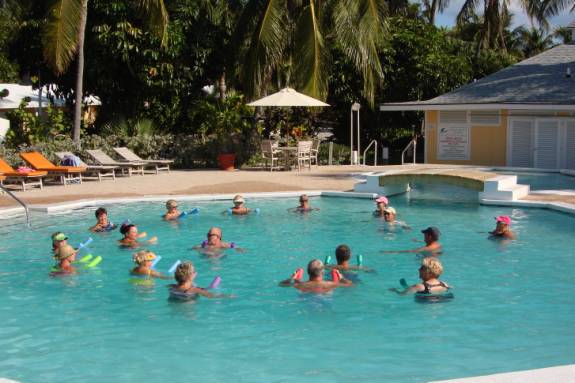 01/26/09 MONDAY BOAT HARBOUR
Judy worked her way around the hull of AMARSE from the dinghy as she washed away the remaining tarnishes with the miracle of lemon juice.
We rode our bikes to Skagg's Grocery to pick up some Ahi Tuna pieces. The scrumptious and tender fish portions have tantalized our taste buds. I cooked them on the outdoor grill on the stern of AMARSE. Just a mere two minutes per side was too much and they came out medium. Next time, those morsels will only get a minute per side; zip-zap-off…
01/27/09 TUESDAY BOAT HARBOUR
Messed around all day with music programs on iTunes. I didn't like the quality of the normal 128kbps renditions of the music file. Although the tonal quality may be all right for the small devices, the compression losses become very evident on the more sophisticated audio component systems like we enjoy on AMARSE. I have been experimenting with the Apple Lossless format and the quality is equal to the original CD. The disadvantage is the enormous size of the music file taking up an average of over 600 MB per album, which is more than 11 times larger than the other format.
There was a big party on Dock 4 for the RMHYC marina group tonight.
01/29/09 THURSDAY BOAT HARBOUR
The weather forecast was filled with doom and gloom for the upcoming weekend and well into next week. With the threat of very strong, gale-force winds, we reluctantly and regretfully walked over to SHADE MOR to inform them that we were uncomfortable bringing our beloved AMARSE to Sea Spray Resort for the annual rendezvous event. Numerous other boaters found themselves in the same cautious position of protectionism for both crew and vessel. Many of the larger boats were undaunted by the forecast and were better equipped to handle the more adverse conditions. Although a crew should never be hesitant to cancel any trip in the face of inclement weather, I must admit that Judy and I were very, very disappointed to miss out on this event that we love to attend. Bob and Judy Williams have done so much arranging and planning for this special event. I appreciate their understanding of our regrettable decision. Thanks, Bob and Judy!
Gene and Judy Koetitz (LO QUE SE A) decided to provide a pleasant evening for some of the cancellers. While Gene and Judy, Carl and Lois (PUFFIN), and Shirley and Ed (M/V TALLY HO) grilled some thick, juicy beef steaks, Judy and I seared a couple of tuna steaks. We all dined together in the salon of LO QUE SE A, a 37' Great Harbor trawler. Of course, we all wished we could be with the other RMHYC gathering at Sea Spray, however, we certainly did have a wonderful time together in this much smaller group.
At 7pm, we made our way up to the Angler's Restaurant here at Boat Harbour Marina of the Abaco Beach Resort. The talent night event features some wonderful musical renditions from Robert and Carolyn Wilson, Della, and Simone along with Steven Coalberg on the keyboards and Bob Cram on percussion. Everyone did a wonderful job of entertaining.
01/30/09 FRIDAY BOAT HARBOUR
HAPPY BIRTHDAY to PAUL SHIDLOWSKI (PROPINQUITY)
Perhaps as a matter of routine, or perhaps because of the forecasted, severe winds, the resort was undertaking the trimming of huge, coconut palms around the property. It would be a very unfortunate occurrence for one of those heavy coconuts to come crashing down on someone's head in all the wind. Ouch!!
Their hoist bucket was interestingly crafted from several wooden pallets lashed together and lifted by a big forklift device. It was a heyday and an easy-picking bonanza for the coconut scavengers.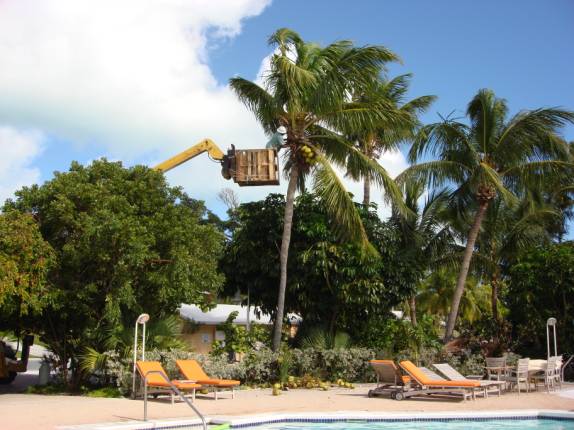 With all the inclement weather still dominating the forecast, Gail (OUR TIME) and Wilma (JOHN HENRY) utilized the resort pool for some fun water aerobics. It may be several days before anyone will be comfortable in the chillier conditions.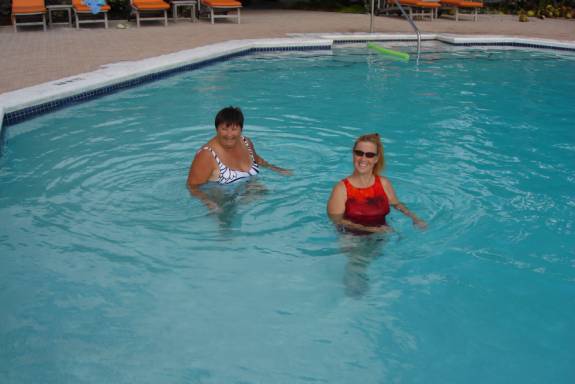 After enjoying a nice dinner of Italian style meatballs and spaghetti, we accepted an invitation to JOHN HENRY for an evening of the fun game, Apples-To-Apples. Wink won one game and Mrs. Pat (SALTY DAWG) won the second round. Once again, the game was full of laughter and questionable innuendo.
Overnight, the winds picked up significantly and it gave us comfort to be securely attached to the sturdy docks of Boat Harbour Marina.
01/31/09 SATURDAY BOAT HARBOUR
In addition to some moderately heavy rains, the winds had been significantly forceful overnight. We were somewhat surprised to learn that one of the pilings on dock #6 had been snapped like a twig with the forces imposed by a bigger boat's tugging lines. A second piling was pulled up and out on dock #1 by similar pressures and forces. Fortunately, we were quite securely snug in our slip on dock #4. We were pleased to hear that everyone was safe and secure at the rendezvous event at the Sea Spray Resort. Although relatively protected there, at least one cruiser reported a rather restless night of constantly readjusting lines and fenders at those docks.
I managed to get some preventative maintenance chores accomplished aboard AMARSE including topping off the batteries with distilled water and checking all the vessel's fluid levels. Hopefully, our ounces of prevention will replace pounds of problems…
CONTINUING UPDATES ARE IN PROGRESS…
WATCH FOR THEM, COMING SOON…
POST SCRIPT:
We sincerely hope that you will review the previous years of compilations to give context to the current editions. Please let us know if you have any special suggestions and thoughts.
REMEMBER: The website is now fully active and you can visit it at any time. You can review any of the 2006, 2007, or 2008 logs and learn more about the crew and our plans. Enjoy.
ATTENTION: SPECIAL NOTE:
You encourage you to contact us via email anytime.
Thanks for allowing us to share our life and adventures with you.
Lotsa Luv,
Fred Reed and Judy Law
AMARSE
MT40
"AMARSE" is pronounced "AM-ARE-SAY".
Our website is: www.amarse.net .