UPDATE#03 01
/12 thru 01/
15
Howdy Everybody,
The adventures of 2006, 2007, 2008, and 2009 through 01/11/09 have been published on the website. We continue with the latest edition.
UPDATE 2009 #03 01/12/09 thru 01/15/09
At last update, we were aboard AMARSE at the Abaco Beach Resort and Boat Harbour Marina in the Bahamas.
01/12/09 MONDAY BOAT HARBOUR
The weather took a little turn toward the cloudy side as a weak cold front entered the area. Overcast skies threatened rain for much of the day. This did not hamper the fun factor for a small group of adventure seekers. Robert Wilson (SEA ISLAND GIRL) had arranged for the rental of a van to tour the southern region of Great Abaco Island. Offering to share expenses with a total of eight folks, the individual cost was reduced to a minimum.
At 8:30am, we all jumped into the van and headed south through town. Since traffic follows the British pattern of driving on the left side, the flow is oddly reversed for most Americans.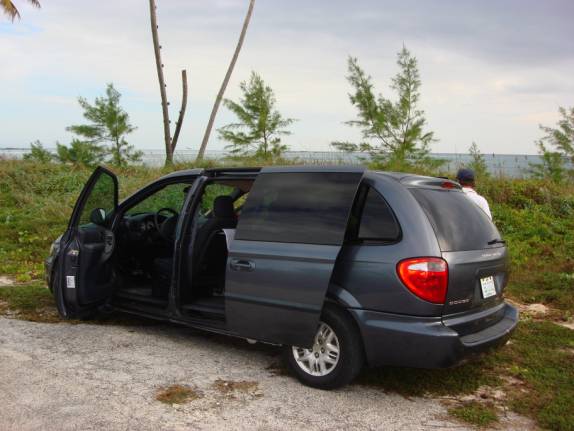 After about an hour's journey, we arrived at our first beach location. Robert was driving and Peggy O'Neill (MORE ATTITUDE) was the trip planner and navigator.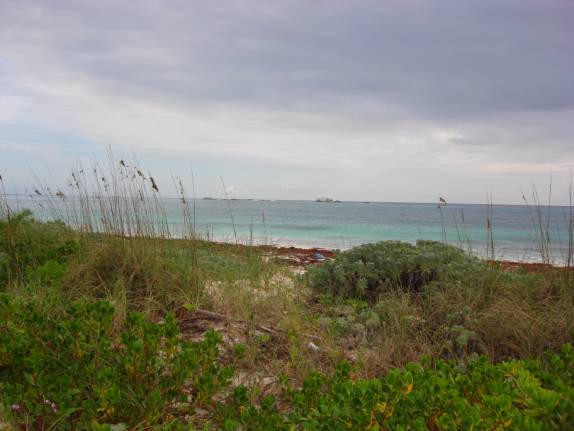 Crossing Rocks was the first location on our excursion.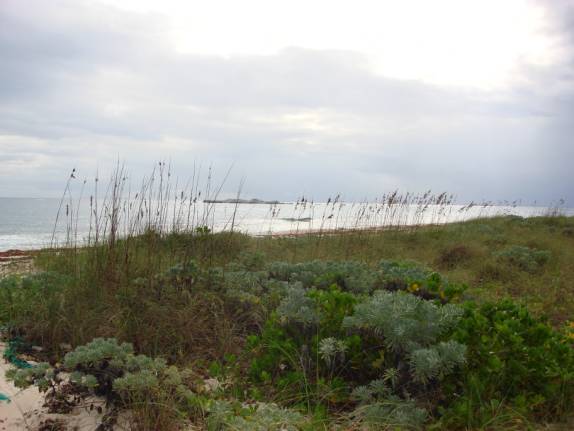 We were totally amazed by the huge numbers and varieties of tiny shells heaped up on the beach.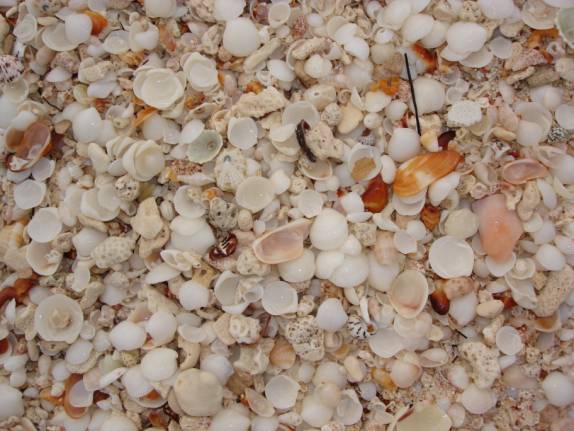 Here, the search for sea glass pieces was very successful.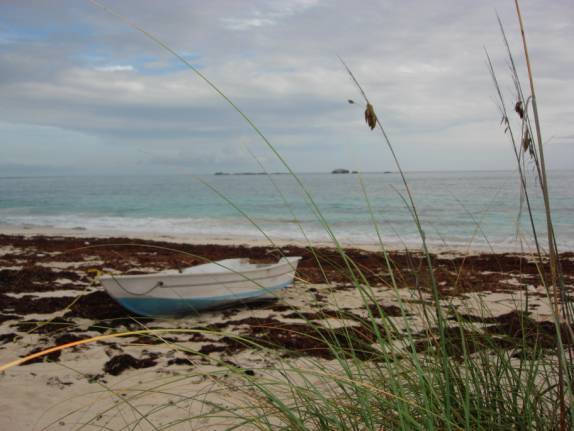 The various plants and flowers were visually captivating.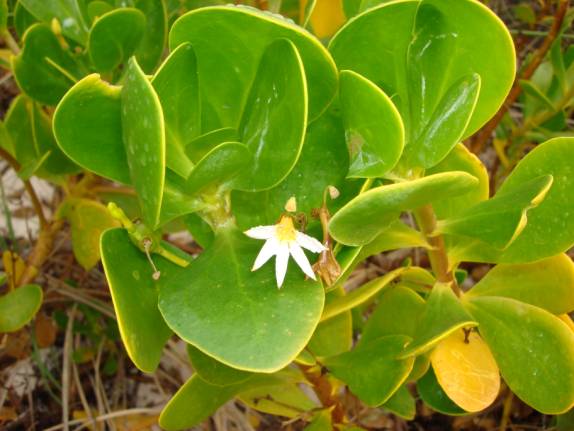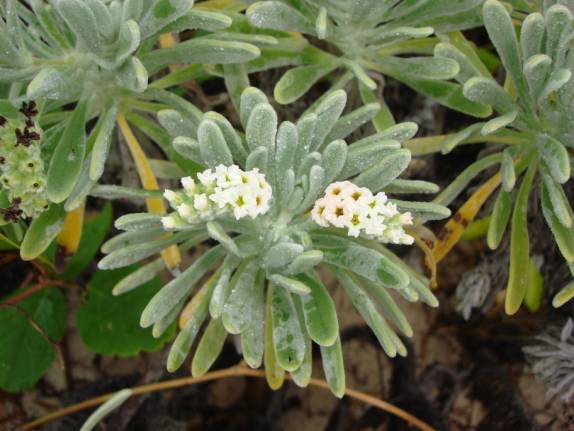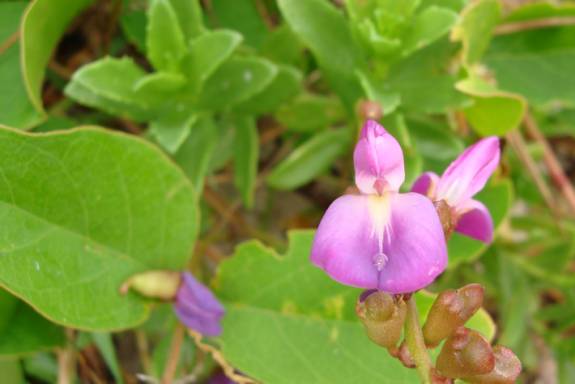 Our chauffer, Robert Wilson…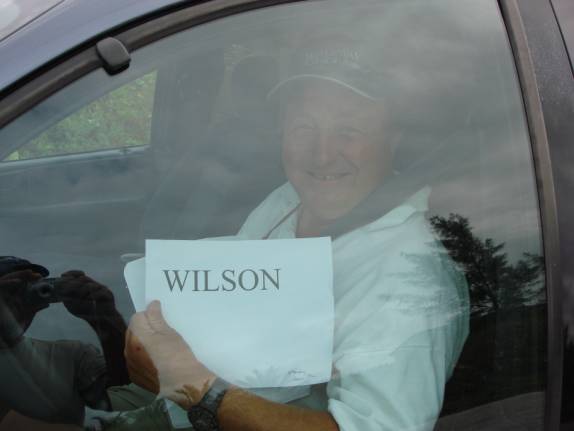 Leaving our southern most point, we headed back north, leap-frogging to numerous beaches along the way.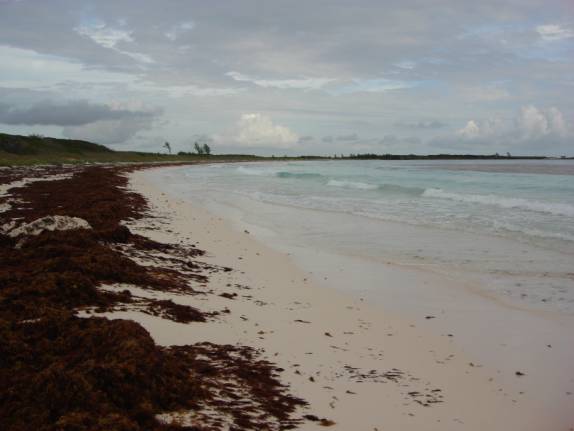 Each different beachfront had an individual character all of its own. No two were the same and unique treasures were found at each succeeding location.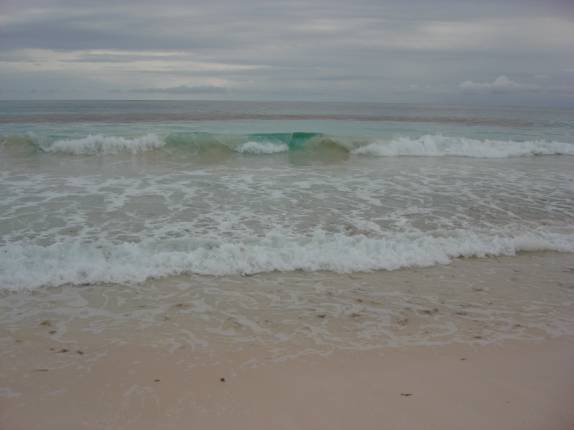 Sifting carefully through the seaweed clumps, Peggy O'Neill found a beautiful "sea bean".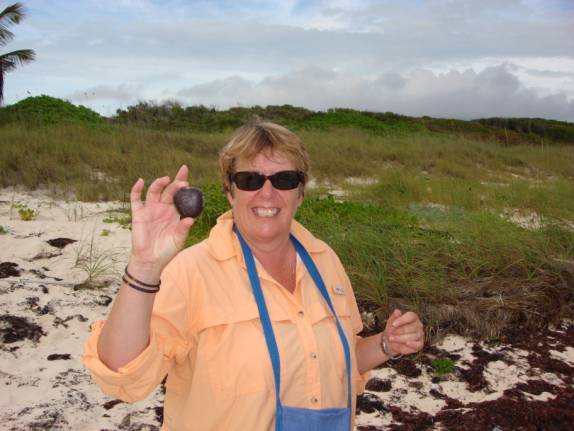 Her ultra-sharp eyes spotted this highly coveted "hamburger bean". These little treasures are so cool. No one else in the clan was fortunate enough to snag any.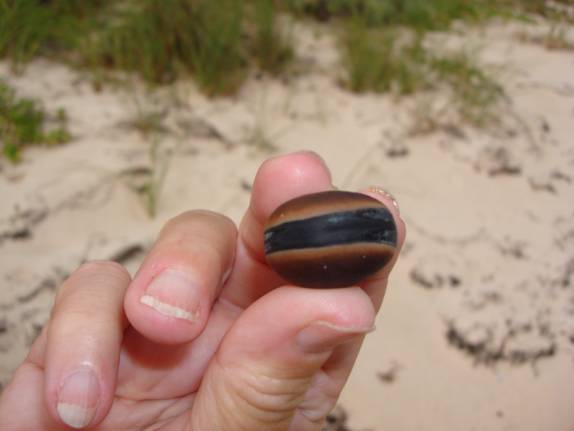 I crawled up through some brush growth to take a peak inside this little cave.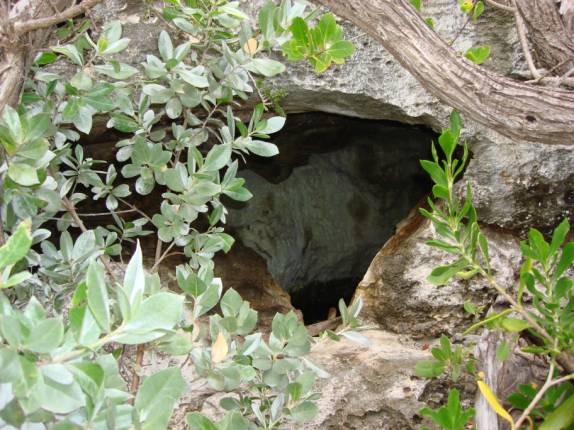 Peggy O'Neill (MORE ATTITUDE) and Judy Law (AMARSE) continued their beachcombing…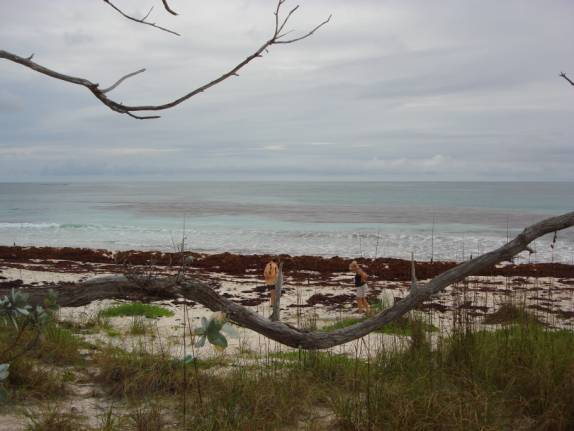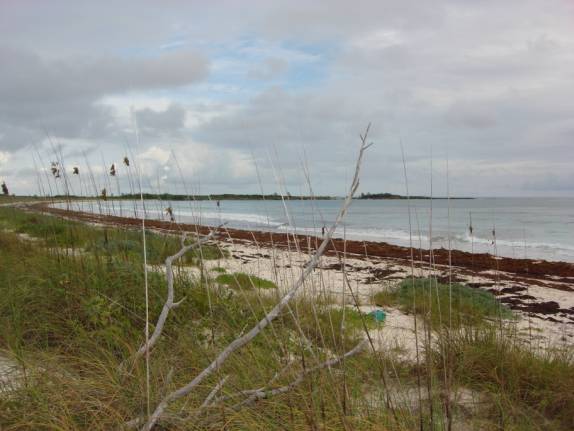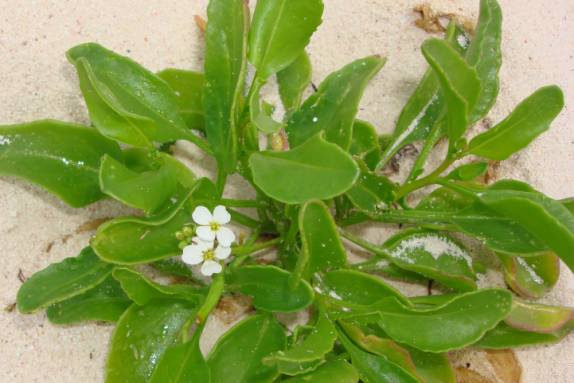 Our chauffer and tour director, Robert Wilson (SEA ISLAND GIRL) was ready to move along to the next exciting vista point.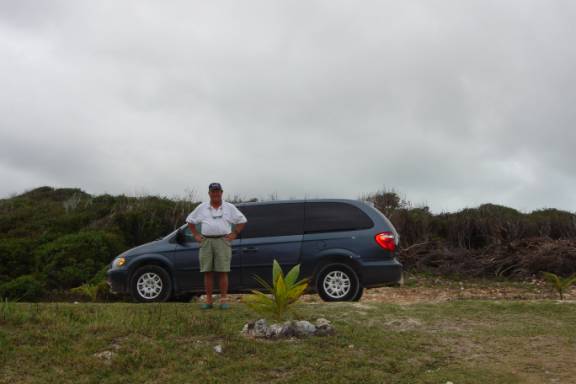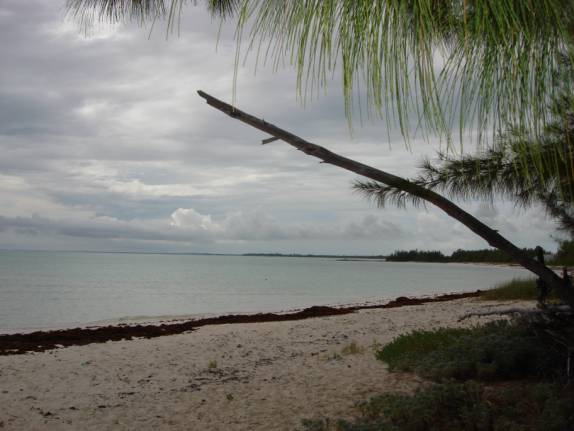 This shallow area along Casuarina Point beach is world famous for its bone fishing excellence.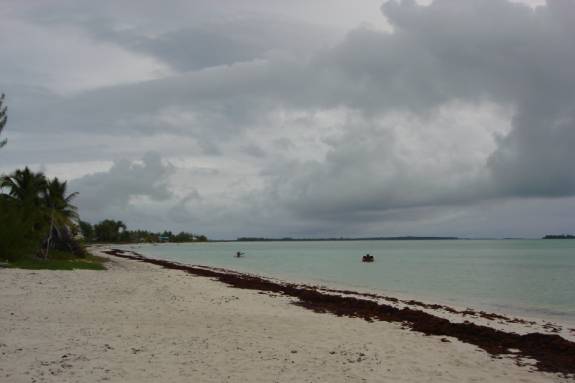 Simple arrangements of driftwood and flotsam fishnet become esthetic works of art…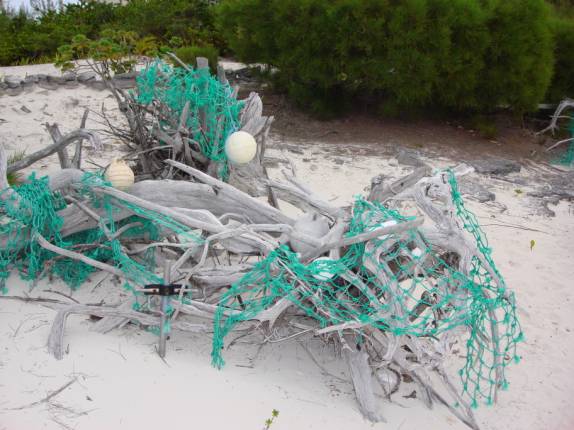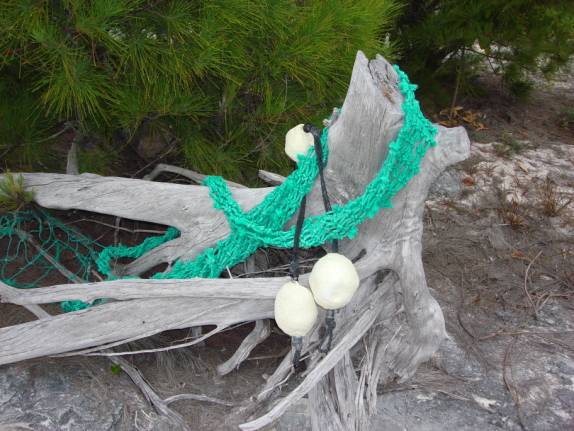 Come on, Judy, Robert is ready to move along on schedule…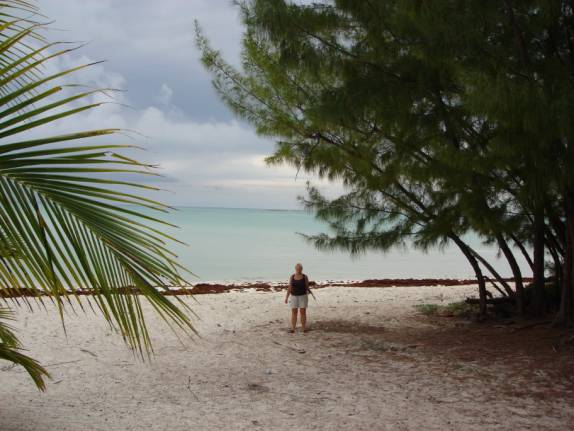 A short visit to a former bone-fishing camp held interesting sights…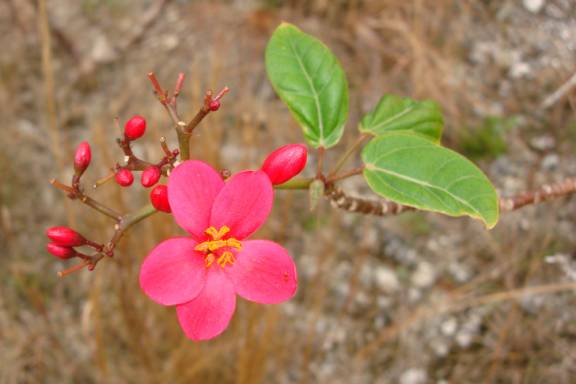 Male peacock…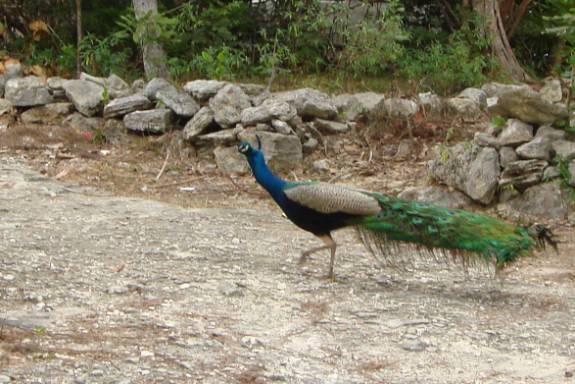 Now here is a sight you won't see often… Please, Robert, allow me to explain… The song is "Row, Row, Row Your Boat, Gently Down the Stream; Not "Mow, Mow, Mow Your Mower, Gently down the Street…"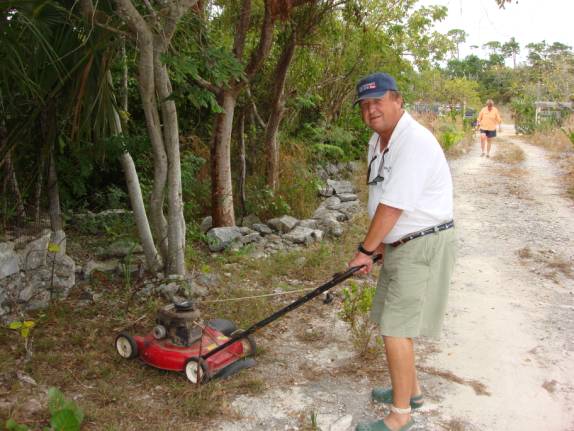 I like this picture and I LOVE this gal…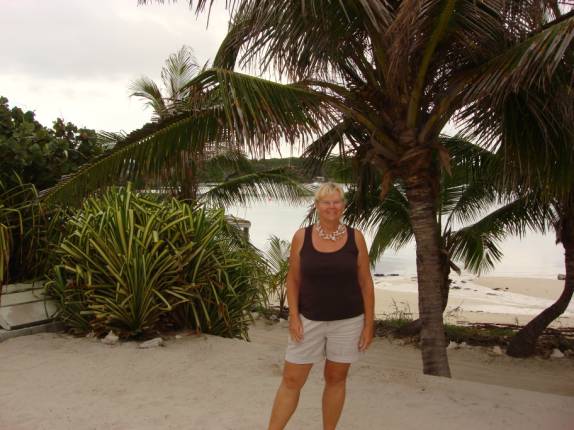 For our lunch break, the group elected to visit Pete's Pub at Little Harbour. (L to R) Robert Wilson, Judy Law, Gary and Lillian Zelinski (TOUCAN), Terry Ziegler and Peggy O'Neill (MORE ATTITUDE)…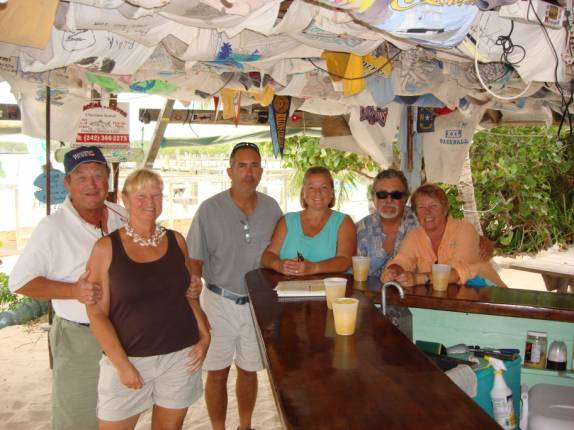 Fred Reed (AMARSE) on the ocean side of Little Harbour…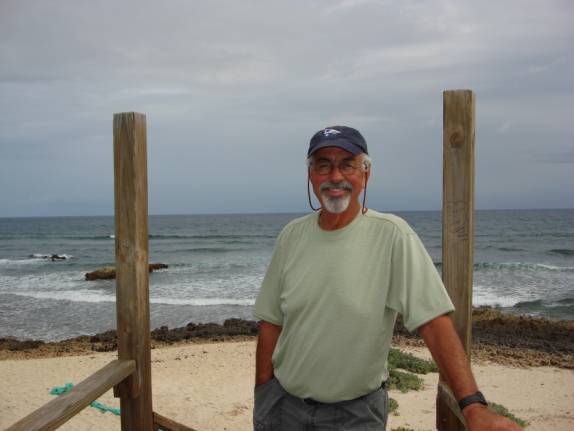 What a lovely bunch of coconuts…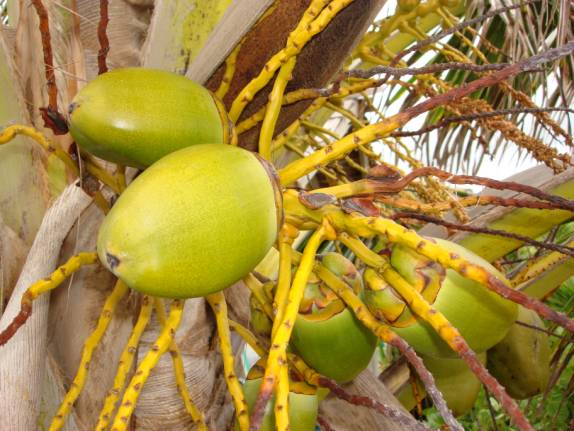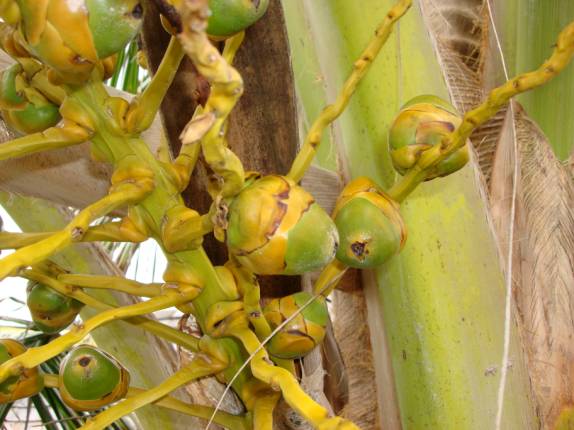 Hermit crab…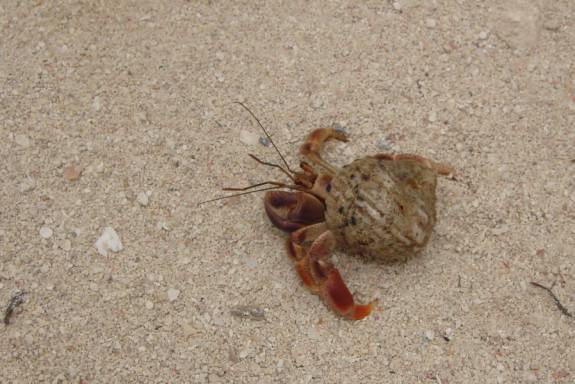 The mooring field in Little Harbour is tranquil under threatening skies…
Heavy rain and virga are ominously evident in the northern sky…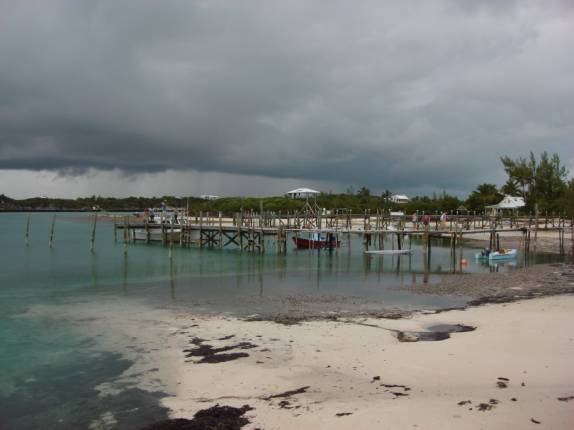 Bar area of Pete's Pub…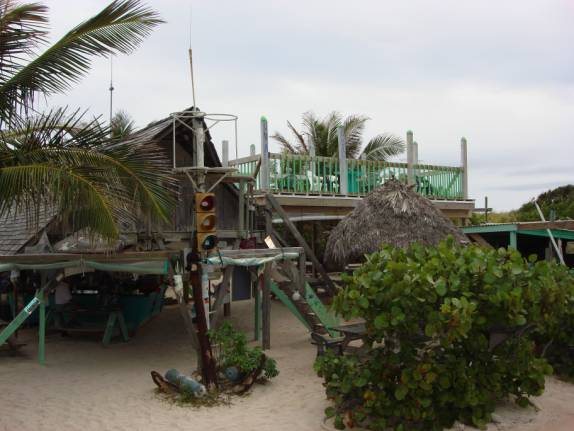 Sculpted bust in the art studio of Pete Johnston's workshop…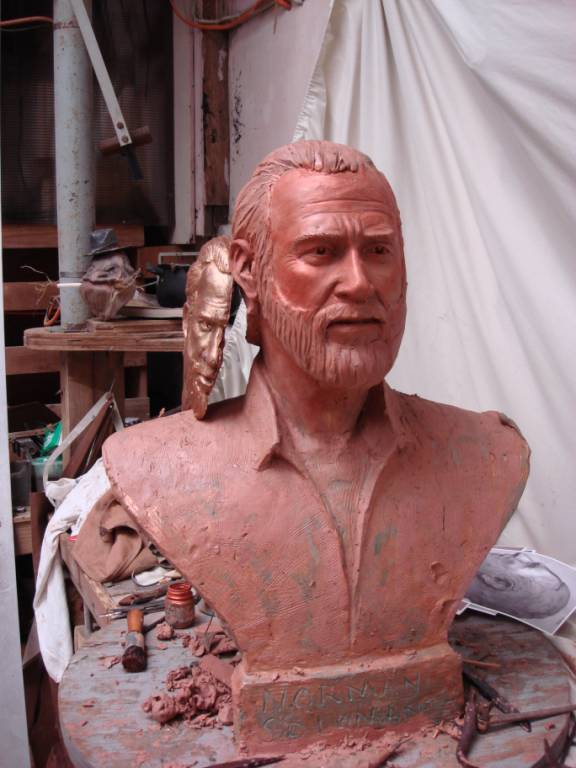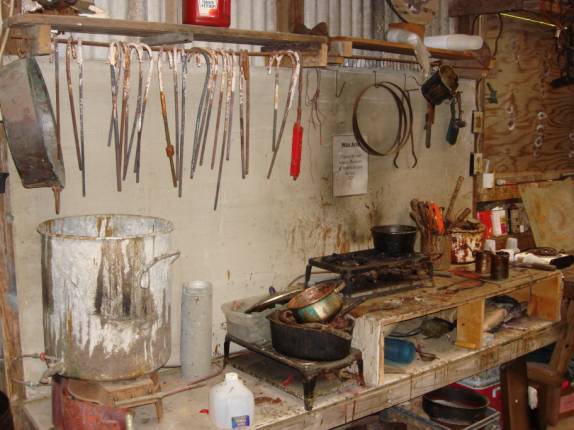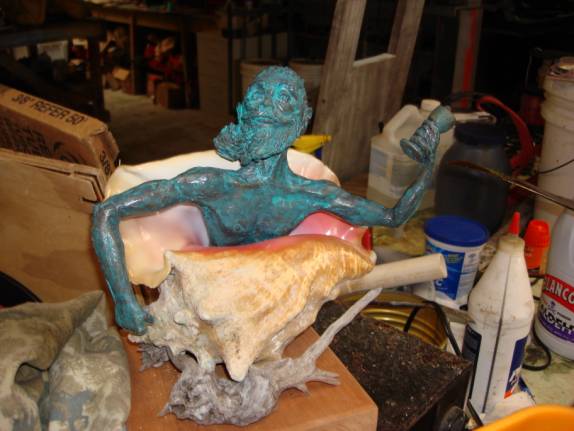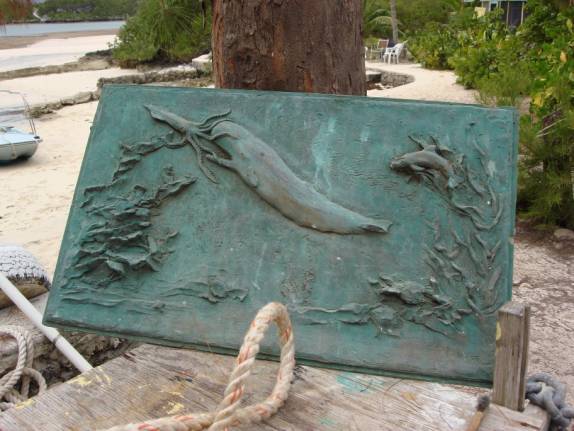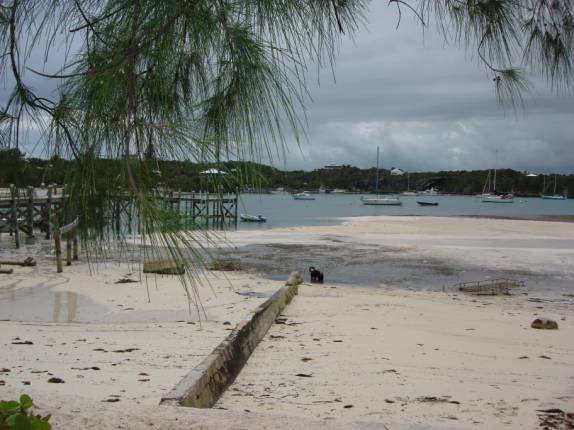 Make sure that you check the security and condition of the mooring attachments whenever you take your site choice. Of course, it is your ultimate responsibility for the safety of your vessel…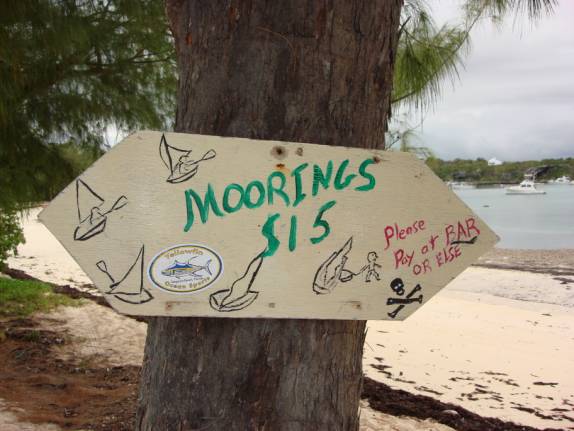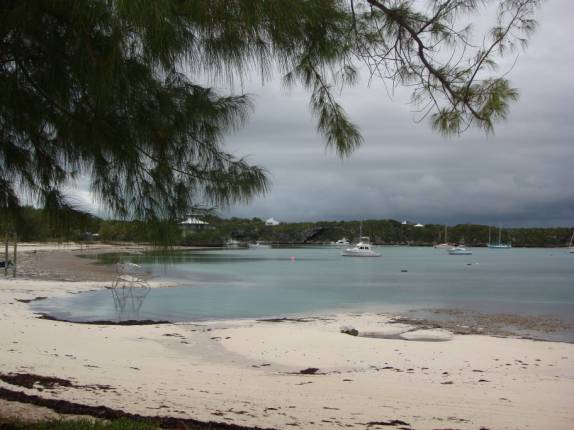 Lots of interesting artworks are available in the museum and salesroom…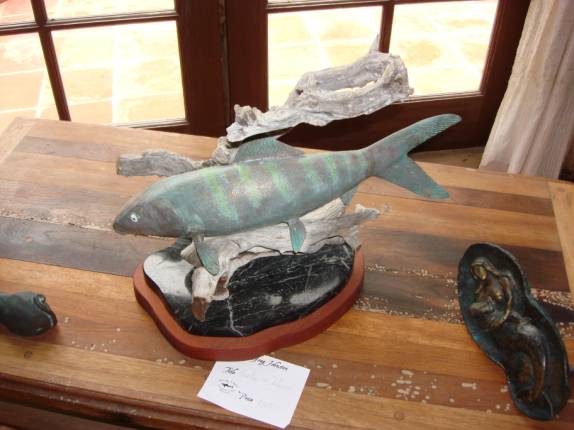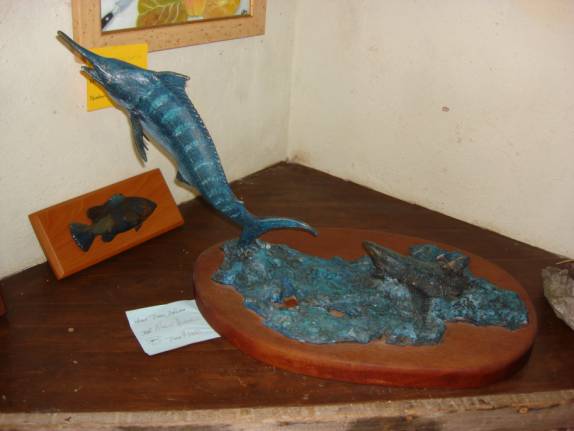 Modeling one of her spectacular jewelry necklaces, handcrafted in her signature-style, crocheted technique, I am more convinced than ever that Judy Law (AMARSE) looks stunningly gorgeous. The shells are of the "limpet" variety that she has personally found along the tropical beaches here in the Abacos.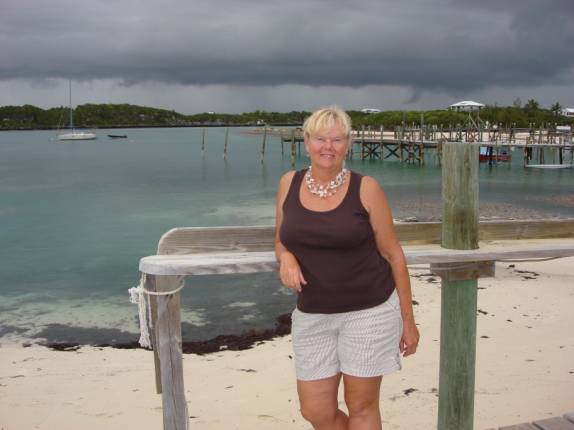 The adventurers… (L to R) Gary, Carolyn, Robert, Judy, Fred, Lillian, Terry, and Peggy…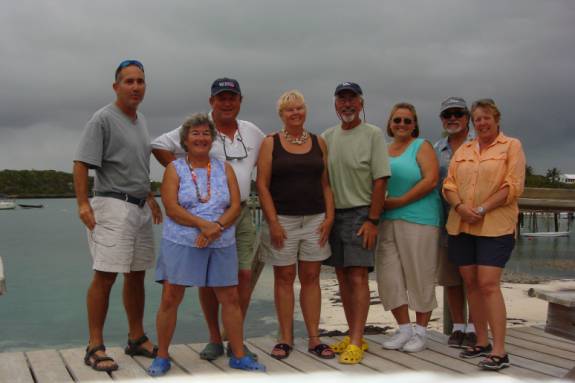 Look what Peggy found… No, I'm not referring to the sea-fan; I'm talking about the "Blaster", Pete's Pub's infamous rum concoction made with a highly secretive, proprietary recipe…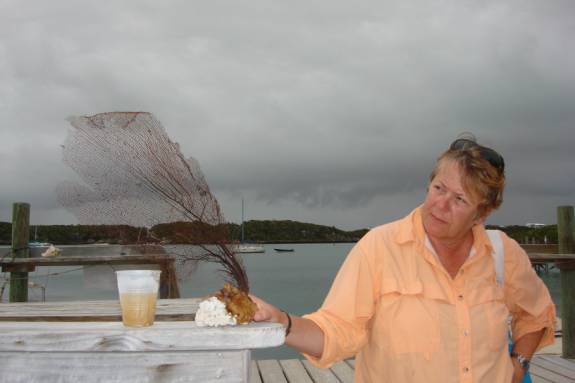 On our way back to Marsh Harbour, Robert channeled us into the Abaco Neem Store for the review of the special skin care products manufactured here in the Abacos. Many folks rave about the miraculous powers rendered from the little beans' extract.
If you think that we'd had all the fun we could stand for one day, you'd be wrong. Back at the marina, our friends on JOHN HENRY had been highly successful in their quest for spiny lobsters. We were fortunate to have been invited to share in their bounty.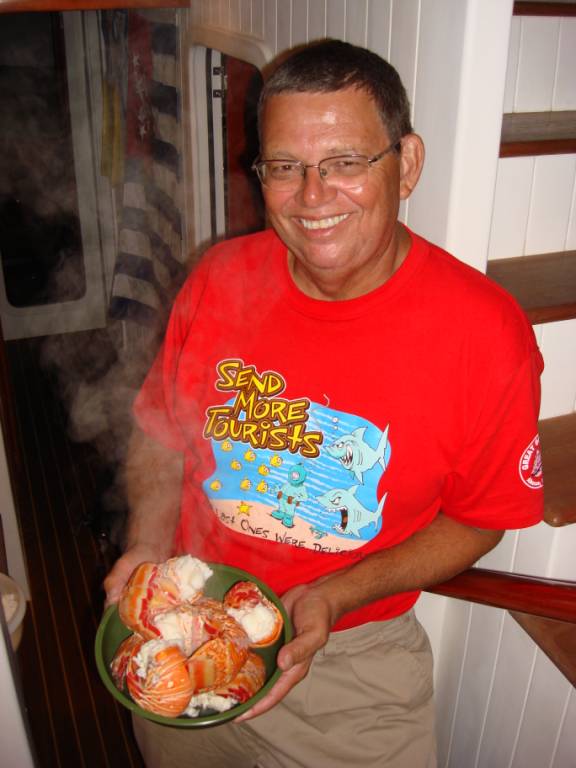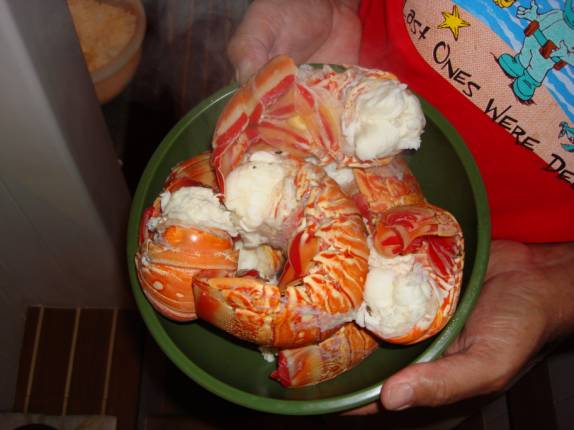 They were marvelous… too marvelous for words…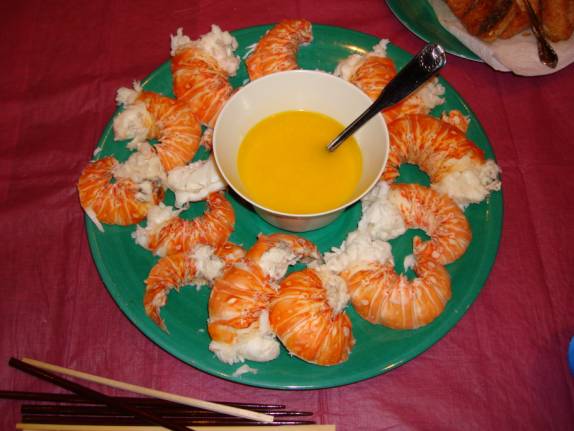 (L to R) Paul Graham, Wink Thornton, John Thornton, Sue Graham, Sherry, Judy, Wilma Thornton, and Stephanie Thornton. It was the combined efforts from the Thornton clan that harvested the limit of fresh lobsters today.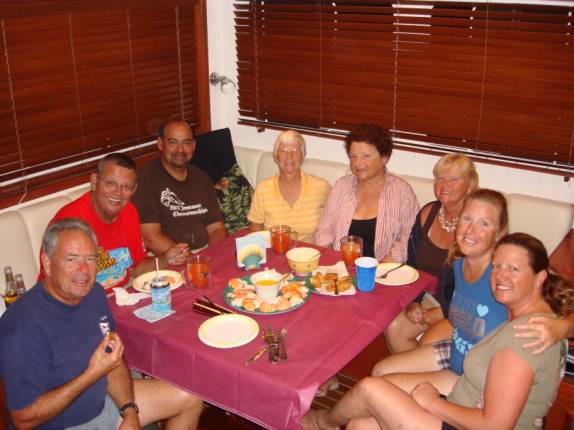 Everyone enjoyed a few rounds of the card game, Apples to Apples.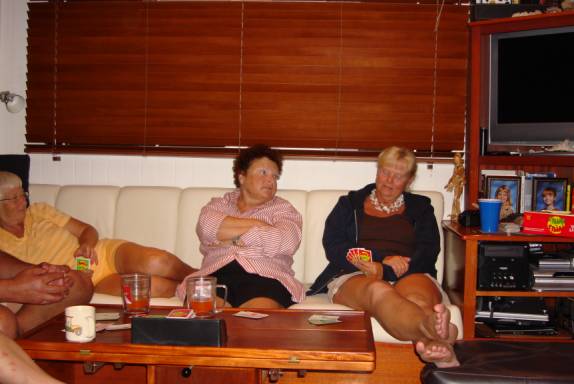 Stephanie and John Thornton (Wink's brother) are visiting from San Diego, California. Thankz guyz…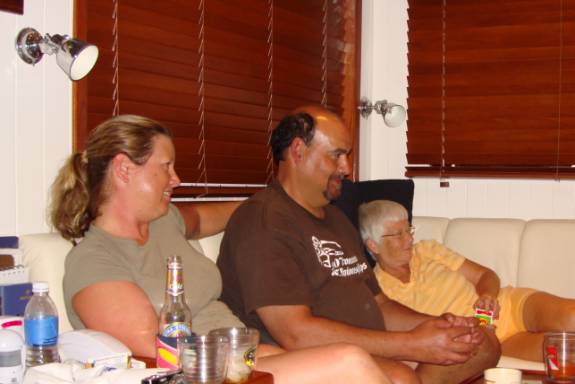 01/13/09 TUESDAY BOAT HARBOUR
The majority of the day was occupied in preparations for the annual RMHYC Chili Cook-Off. 29 eager chefs vied for top honors in this year's competition. In four categories (mild, medium, hot, and unusual), the masters of the galley formulated their individual variations of the hardy specialty.
One of Dock 5's entrants, David Crone (JAFTICA) rests patiently awaiting the results of the discerning judges.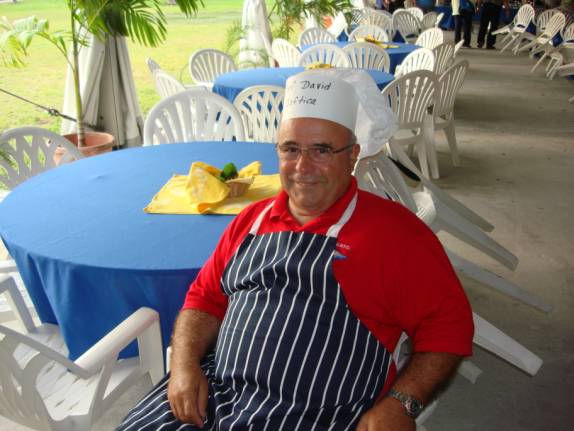 When is a "Baker" considered a "Chef"? Of course, it is when that "Baker" happens to be none other than Ted Baker.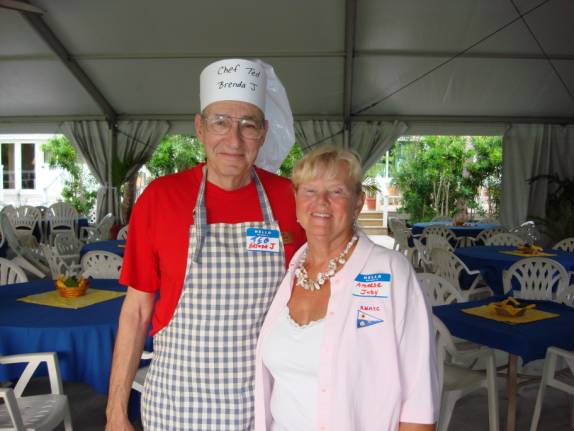 The RMHYC "Director of Intoxicants", Mr. Paul Graham, taste tests a sample while overseeing his understudy mixologist, Mr. Tom Thompson (TOMLIN TOO).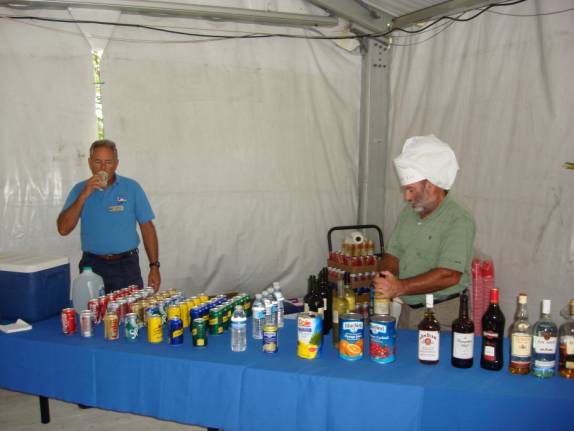 Tables lined with shiny pots filled with signature dishes warm gently over candle heaters while awaiting the verdict derived from the judges' due diligence.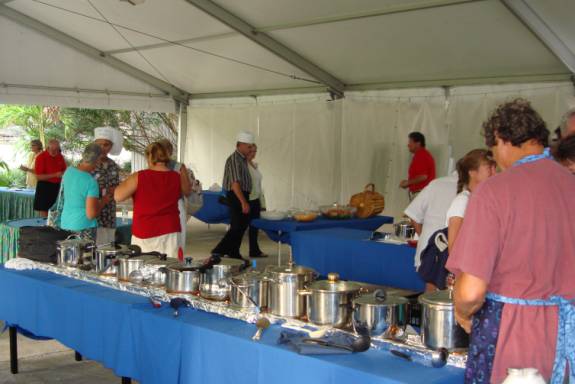 With hopeful aspirations for a winning selection, Wink and Fred gaze on from the sidelines. With their chef's hats proudly donned, Wink somehow more typifies a Chinese cook than a French Chef. Perhaps we should rename him, Hop-Sing-Wink.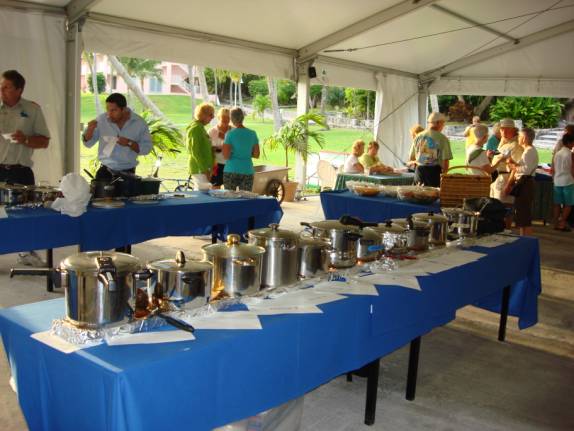 As the judging progresses, approximately 200 hungry guests arrive at the Marquis Tent. Audrey (JAFTICA) and Rita (MAGNUM OPUS) were the cheerful vendors of the club regalia. Joan and Jim Elliot (CHRISTINE) couldn't resist one of these colorful, logo emblazoned satchels.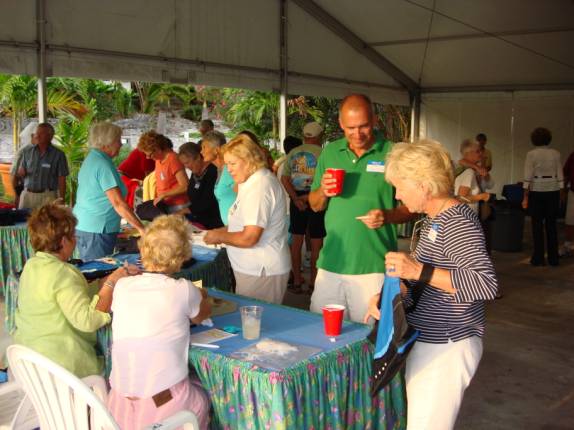 Before heading for the open bar, most folks tilted over a chair to reserve their favorite seat. Gene (LO QUE SE A)(L), Lois (PUFFIN), and Judy (LO QUE SE A) hoist a glass in the Marquis Tent.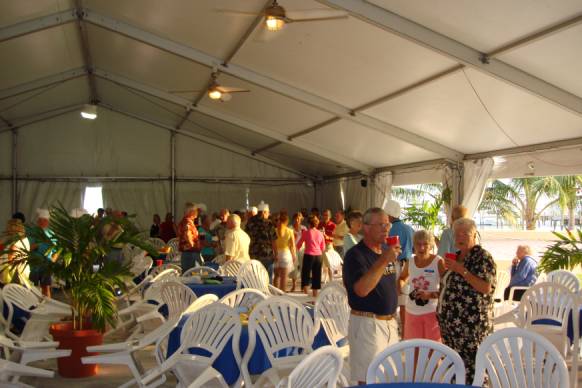 Cocktails, anyone?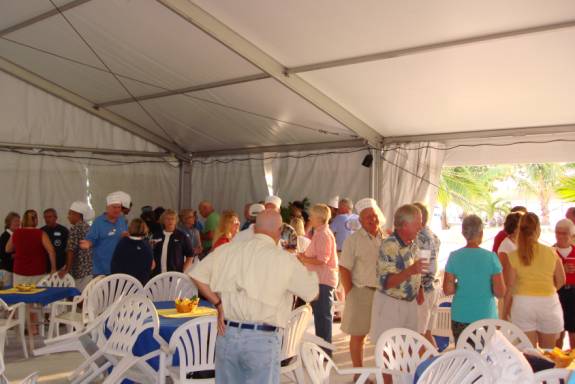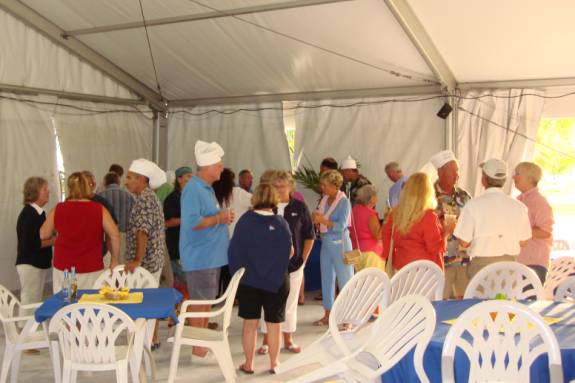 The honored winners of each specialty category smile with intense pride in their accomplishment. (L to R) David Bauereis (TAR HEEL) for "Unusual": Terry Ziegler (MORE ATTITUDE) with his "Mild" entry: Jack (guest on WILD ROSE) with his blistering "Hot" blend: and Bill Gravelle (GUANA CAY) secured the "Medium" trophy position. In the overall win of top-honors, Terry Ziegler won hands down. From my viewpoint, every entrant was a clear winner. The RMHYC guests were, of course, the real beneficiaries.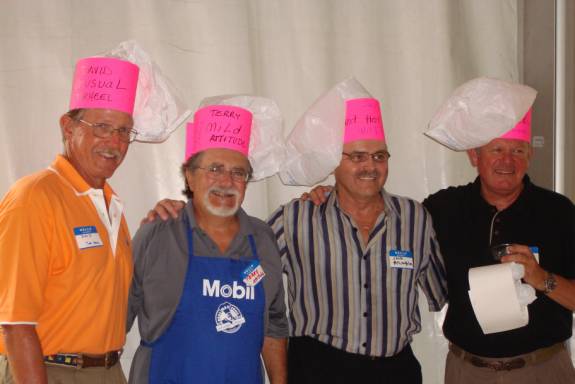 My entry must have tempted the judges. AMARSE's CHILI-CHILI BANG-BANG, touted as being a concentrated "SKID MARK IN A BOWL", was nothing less than "Super-Chili-Fragilistic, Expi-Chili-Docious…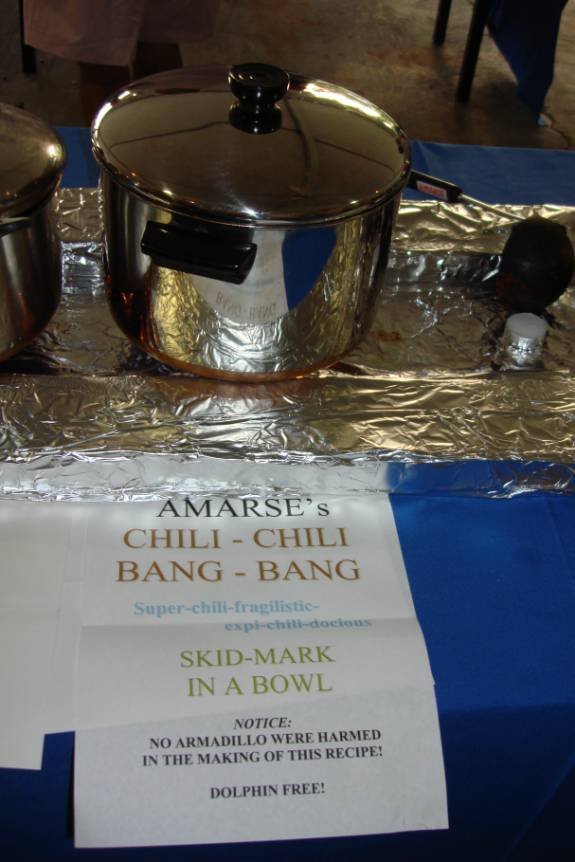 Robert Wilson's "Sweet PotCake Pride Chili" could easily have been a winner…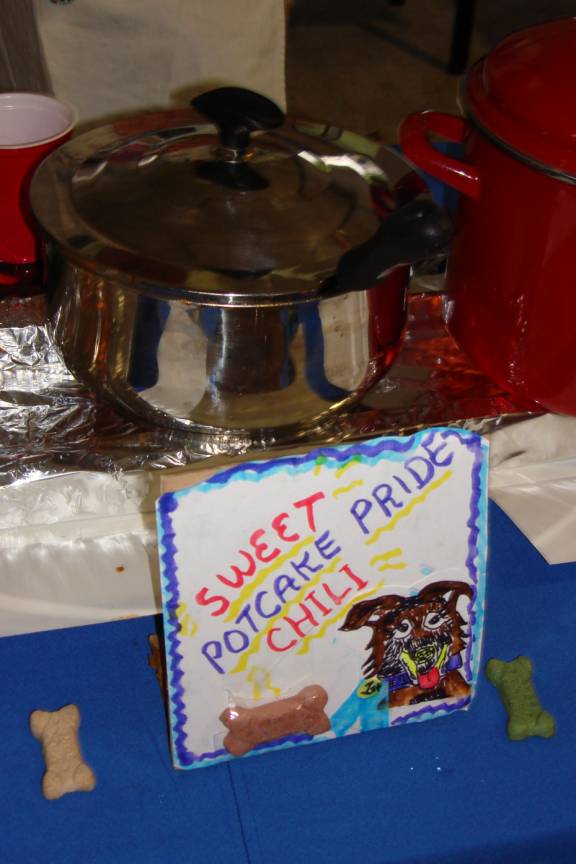 All the fixin's were arranged through the services of the Abaco Beach Resort.
Robert Mitchell (ORINOCO) entered the "Unusual" category with his unique "Buzzard Breath Chili" that featured venison imported from their home in Montana. Check out their cost accounting explanation…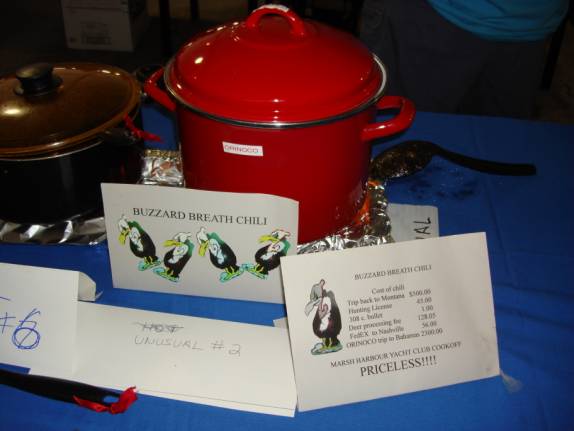 Chef David Bauereis (TAR HEEL) managed to sway the judges into his corner with "Carolina White Lightning Chili".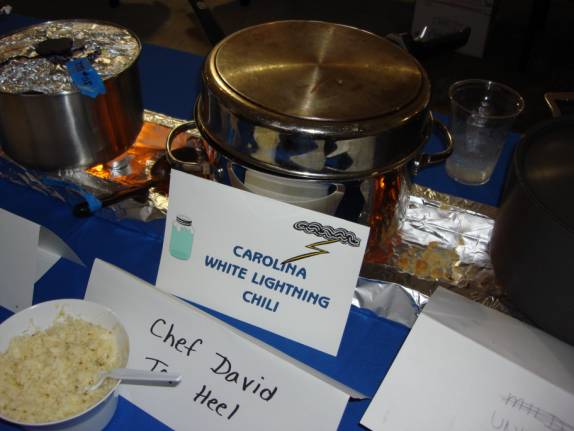 Everyone had the perfect opportunity to check out his or her favorite selection from the vast array… I wonder if anyone needed a handful of anti-acid pills after unmercifully stuffing themselves with just one too many spoonfuls of spiciness.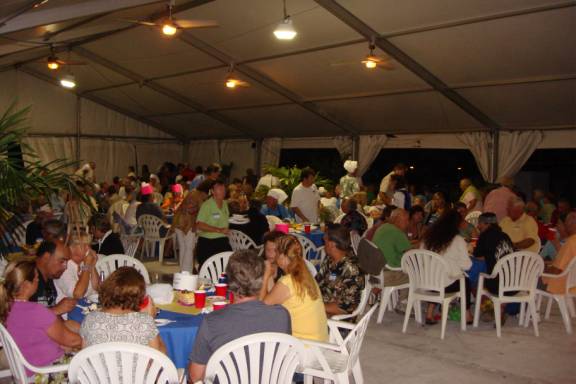 01/14/09 WEDNESDAY BOAT HARBOUR
With the Chili Cook-Off behind us, everyone's attention was turned to the upcoming "RMHYC Commodore's Ball and Mardi Gras Theme Party". An interesting character, named Boudreaux LeBlanc, claimed to be calling in from his boat "ZYDECO" moored in the bayous of New Orleans. He called in to the morning radio meeting to tout the event. With his deep southern, Cajun accent with French undertones, his enticing spiel had many members hustling to secure their tickets for the limited seating event. Although not scheduled until February 13th, the tickets were selling out at record pace. Like Ol' Boudreaux says, "Laissez Les Bon Temps Rouler", which means, "Let The Good Times Roll"…
Intrigued with Judy's beautiful, handcrafted necklaces, Stephanie Thornton was pleased to select a few to take home to California with her.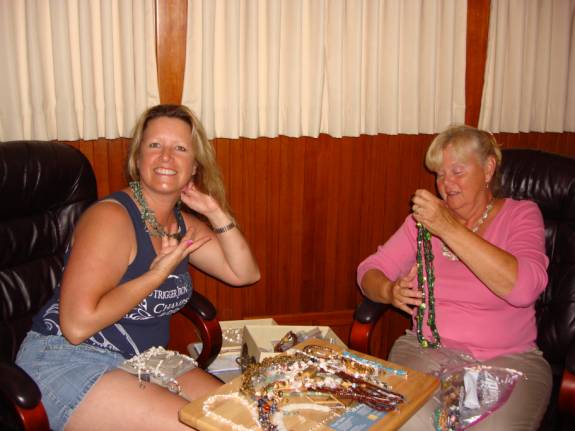 Judy and I were delighted with an invitation to dine aboard S/V TAR HEEL with Bette and David Bauereis. In keeping with the New Orleans theme, they served a wonderful Gumbo and homemade biscuits. Yummy, Yummy, Yummy…
01/15/09 THURSDAY BOAT HARBOUR
Rita Wieczorek hosted a ladies luncheon aboard their lovely yacht, MAGNUM OPUS. Judy was enticed to teach a class on crocheted wire techniques. Peggy O'Neill and Kathy Sales skillfully taught the gals how to wrap sea glass with wire. Jewelry making has become a popular pastime for many of the boaters here in our community.
Most of my day was occupied messing with computer stuff centered on the iTunes program for iPod music.
CONTINUING UPDATES ARE IN PROGRESS…
WATCH FOR THEM, COMING SOON…
POST SCRIPT:
We sincerely hope that you will review the previous years of compilations to give context to the current editions. Please let us know if you have any special suggestions and thoughts.
REMEMBER: The website is now fully active and you can visit it at any time. You can review any of the 2006, 2007, or 2008 logs and learn more about the crew and our plans. Enjoy.
ATTENTION: SPECIAL NOTE:
You may contact us via email anytime.
Thanks for allowing us to share our life and adventures with you.
Lotsa Luv,
Fred Reed and Judy Law
AMARSE
MT40
"AMARSE" is pronounced "AM-ARE-SAY".
Our website is: www.amarse.net .