UPDATE#02 01
/09 thru 01/
11
Howdy Everybody,
The adventures of 2006, 2007, 2008, and 2009 through 01/08/09 have been published on the website. We continue with the latest edition.
UPDATE 2009 #02 01/09/09 thru 01/11/09
At last update, we were aboard AMARSE at the Abaco Beach Resort and Boat Harbour Marina in the Bahamas.
01/09/09 FRIDAY BOAT HARBOUR
It was another picture perfect day in the top of the Bahamas. At 10am, we got the word that a group of folks would be taking their dinghies to Tahiti Beach. It is a wonderful place on the southern tip of Elbow Cay near Tilloo Cut. At the lower end of the tide schedule, it is a really magical place.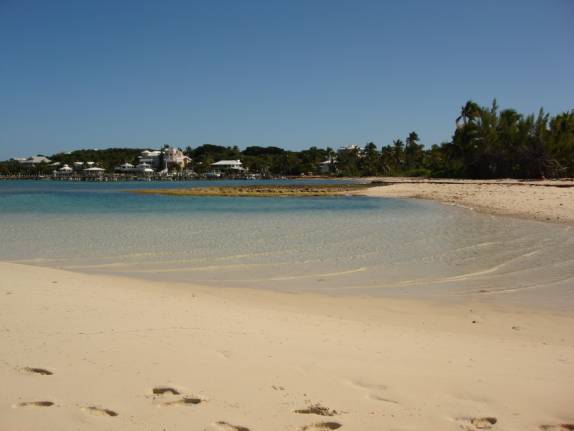 Judy (AMARSE)…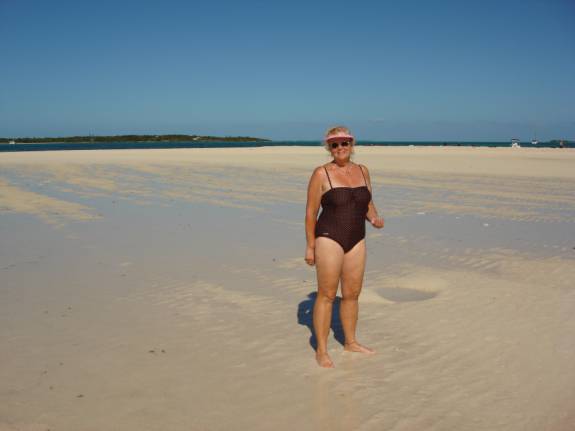 Joan and Jim Elliot (CHRISTINE) are suited up to snorkel along with Paul Graham (ODYSSEY)…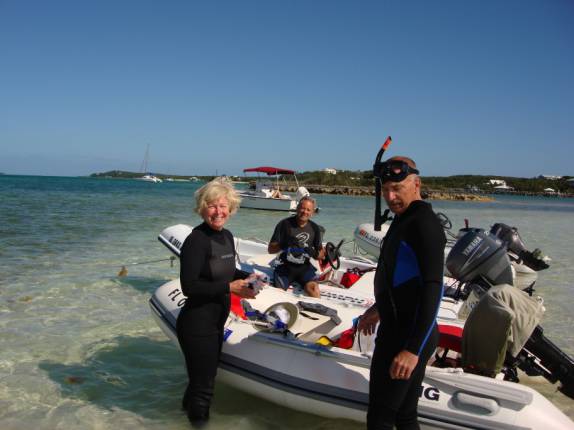 Fred (AMARSE)…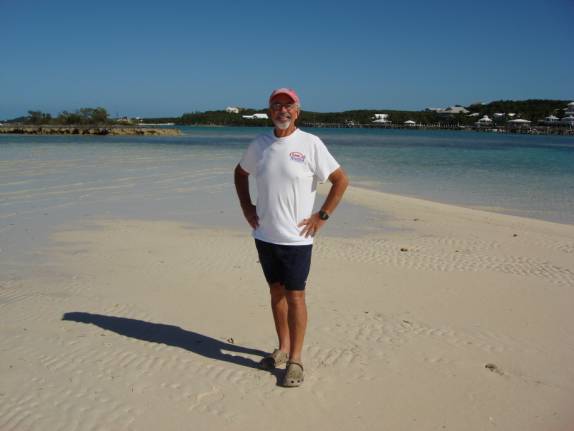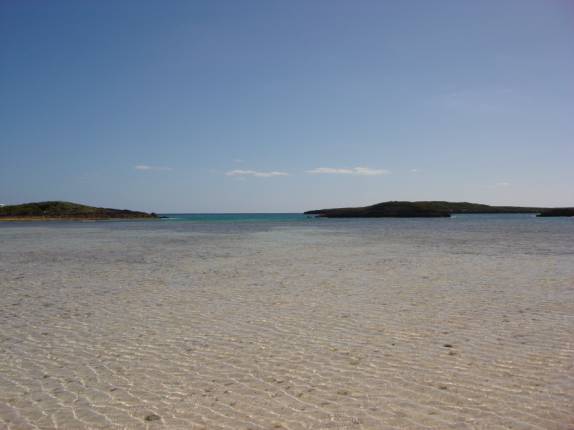 Ed Zellers (M/V TALLY HO) found these two, gorgeous species of conch (pronounced, "konk"). He holds a "King Helmet Conch" in his right hand and a "Horse Conch" in his left. Generally speaking, most conchs live on sandy bottoms among beds of sea grass in warm tropical waters.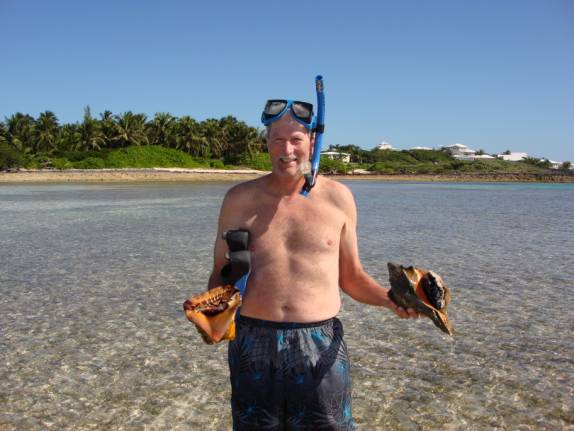 Look at the magnificence of this King Helmet Conch, a true marine gastropod mollusk. Legend has it that a giant King Helmet seashell was used to protect King Neptune from his enemies. I'm not sure exactly why or how, but that's the strangely wonderful thing about legends; they don't have to make a lot of sense if you believe.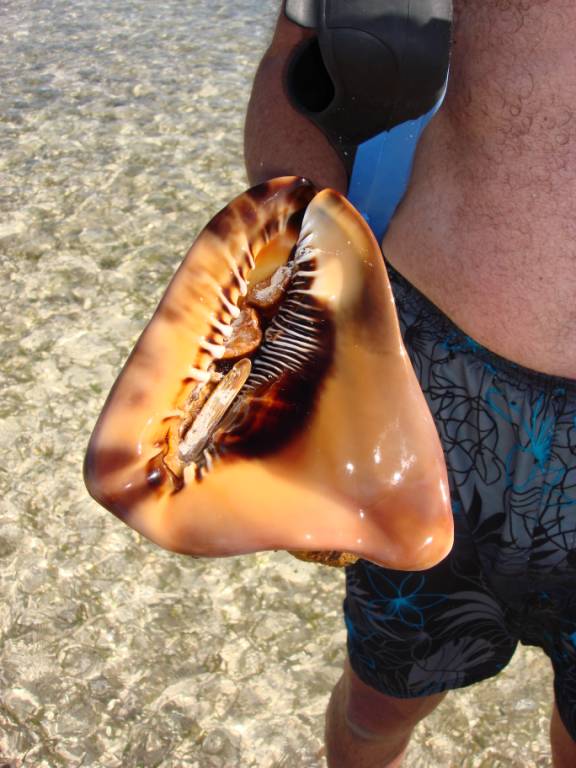 Is this a tropical paradise, or what?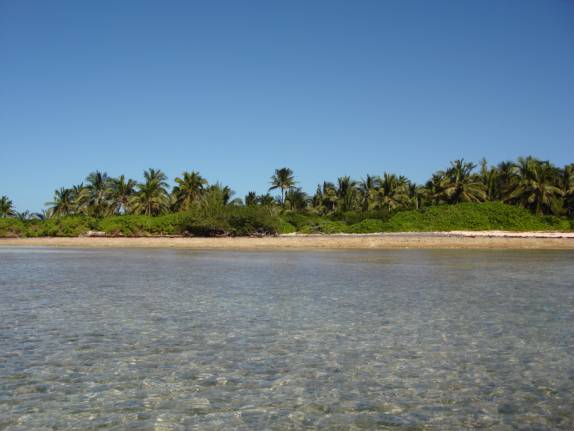 The shallow water is so clear that this starfish seems almost magnified…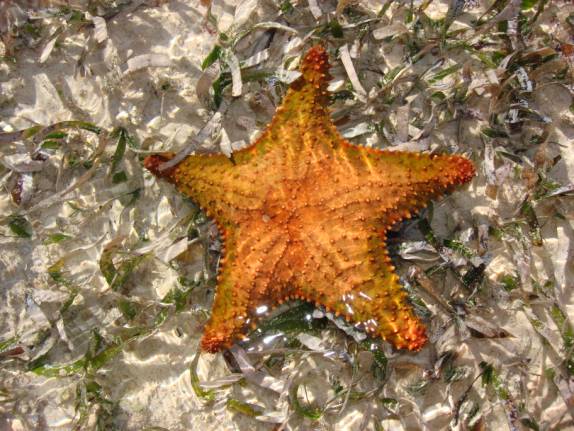 Look how this submerged sea urchin utilizes his surroundings to camouflage himself… Better be careful where you step and it is always best to wear some kind of footwear.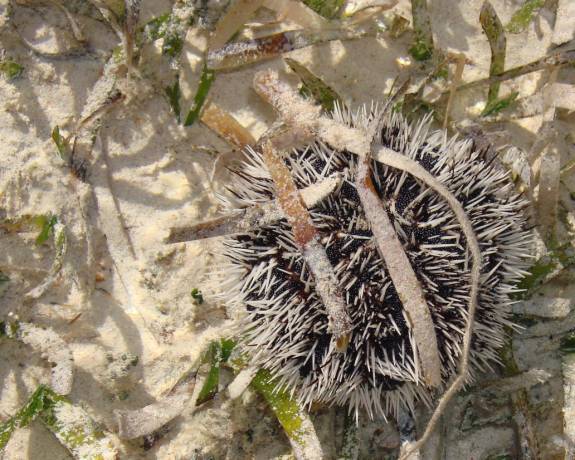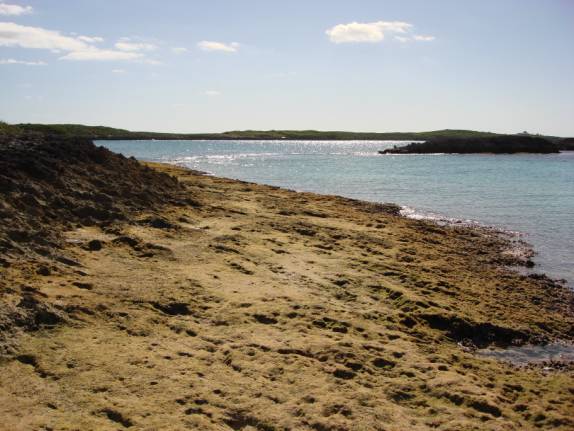 Thousands of these tiny periwinkles have found a comfortable home around the driftwood…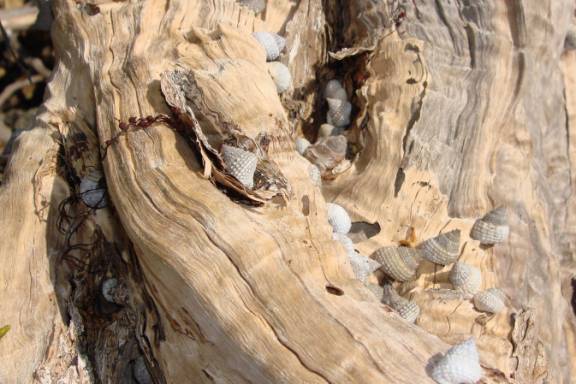 View out past Tilloo Cut to the Atlantic Ocean… This is abnormally calm today…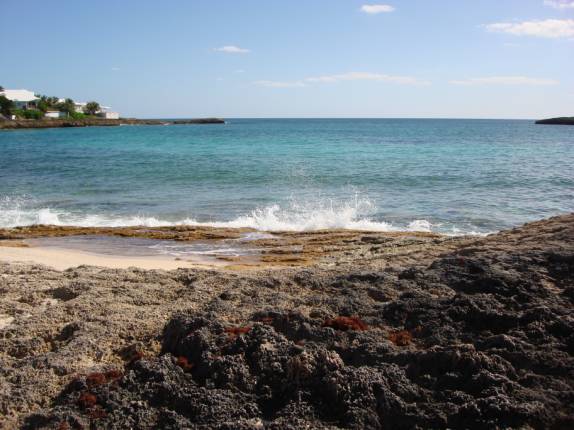 After splashing up on the shoreline, the receding ocean water carves channeling niches into the rock.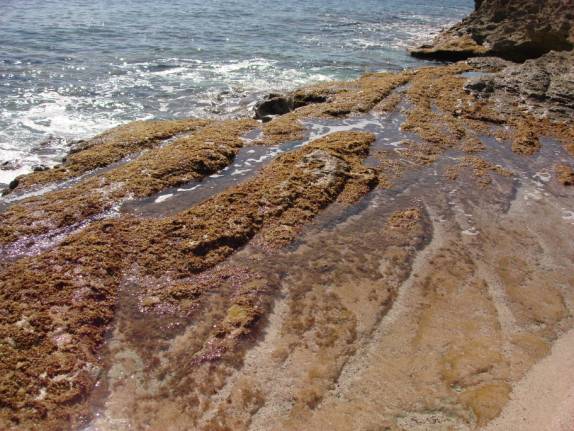 Low tide looking along the coral shore toward Tahiti Beach and Lubbers' Quarters beyond…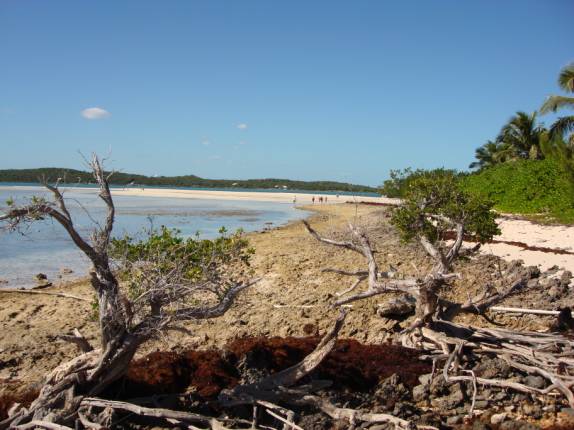 Tropical paradise…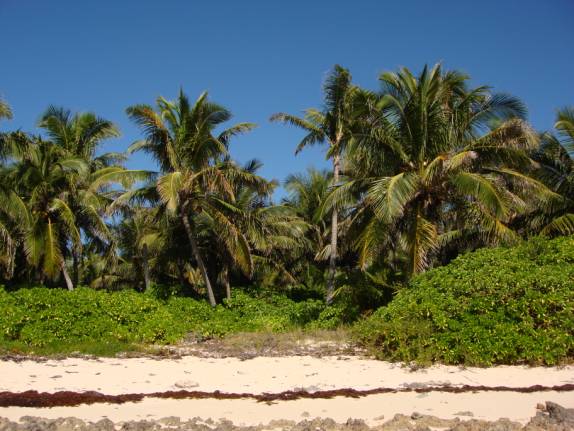 We found lots of lovely, little shells including these tiny sea urchins and limpets. Judy will use the limpets to make island jewelry.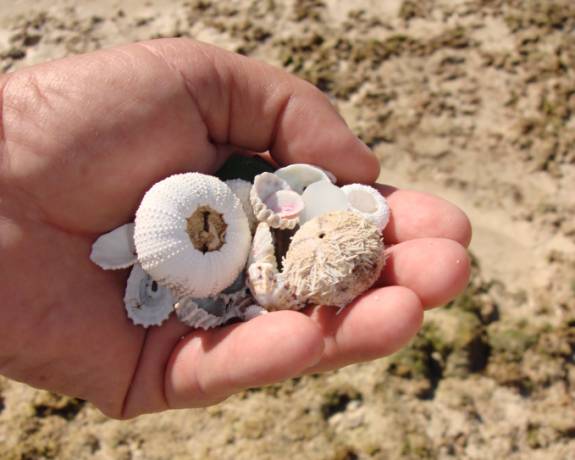 That wonderful bunch of "Kidz" just playing at the beach…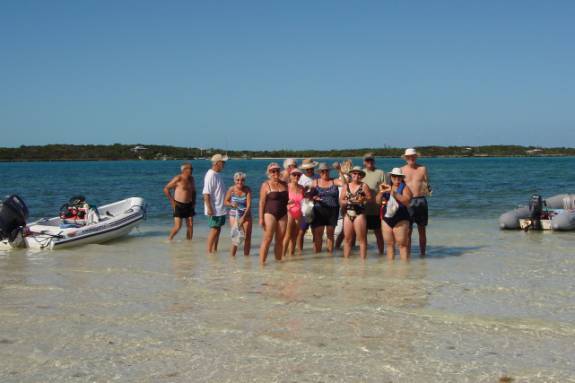 All that beachcombing worked up an appetite. The dinghy parade headed toward Cracker P's Restaurant on Lubbers' Quarters.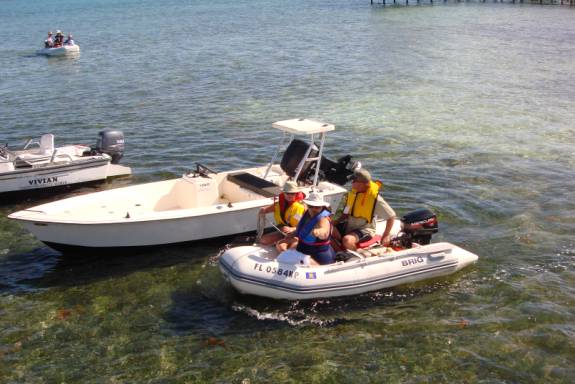 Sue Graham (ODYSSEY) and Judy (AMARSE) at Cracker P's Restaurant…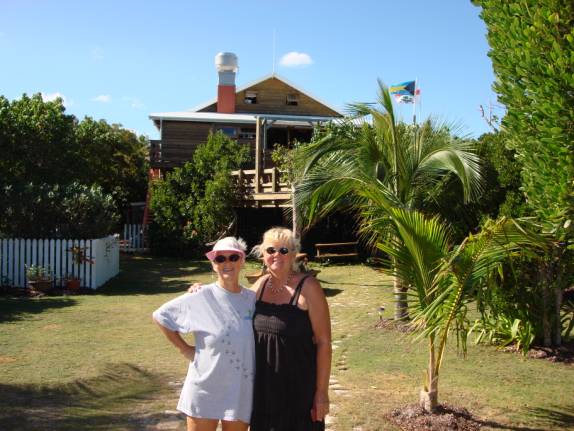 (L to R) Sue and Paul Graham (ODYSSEY), Paul and Mary Shidlowski (PROPINQUITY), Ed and Shirley Zellers (M/V TALLY HO), Lois and Carl Lantz (PUFFIN), Gene and Judy Koetitz (LO QUE SE A), Jim and Joan Elliot (CHRISTINE), and Judy Law (AMARSE)…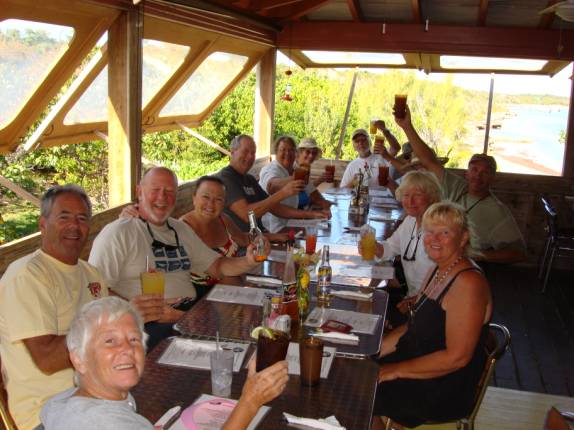 Beautiful view from the Cracker P's inside dining area…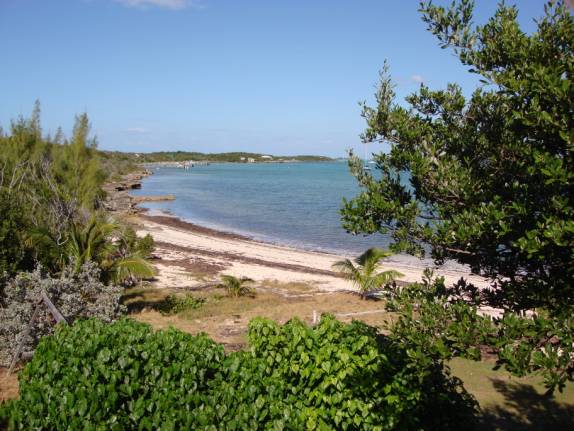 Cracker P's Restaurant was named for an interesting, reclusive character that lived here on this cay many years ago. With a somewhat shaded past, his story intrigues visitors today…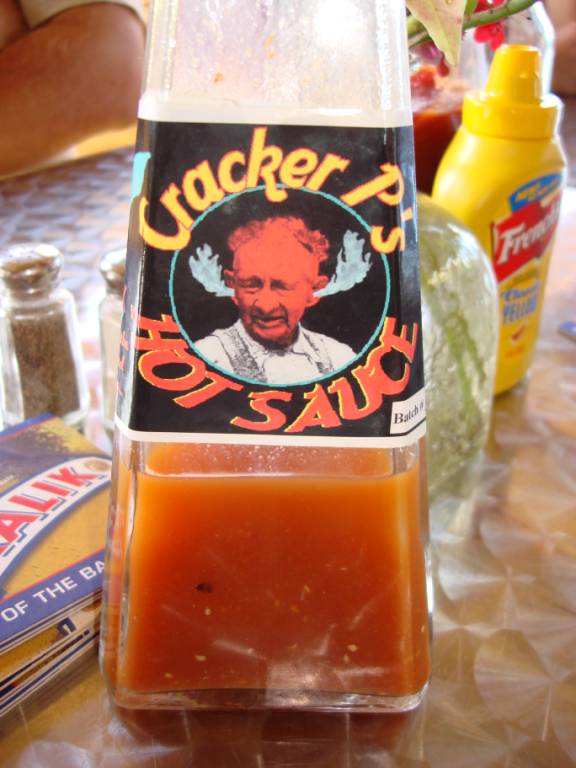 Lois and Carl (PUFFIN) have been married for over 50 years… They still playfully enjoy every moment of their togetherness.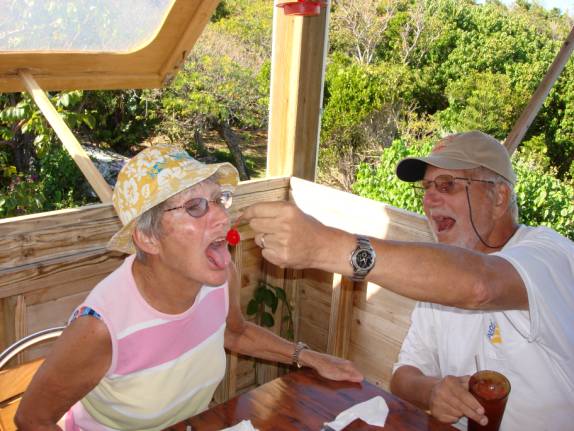 Belly up to the bar, folks…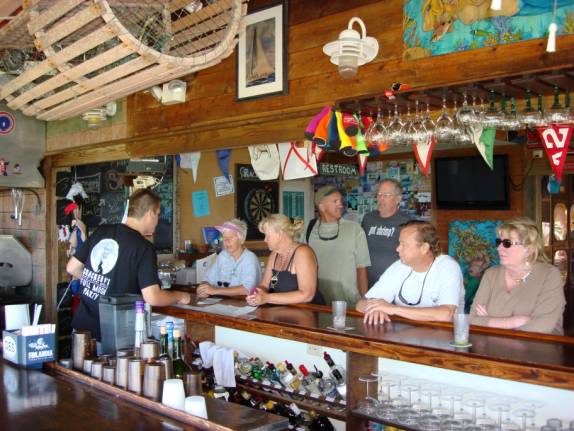 ...a section of Cracker P's outside dining area…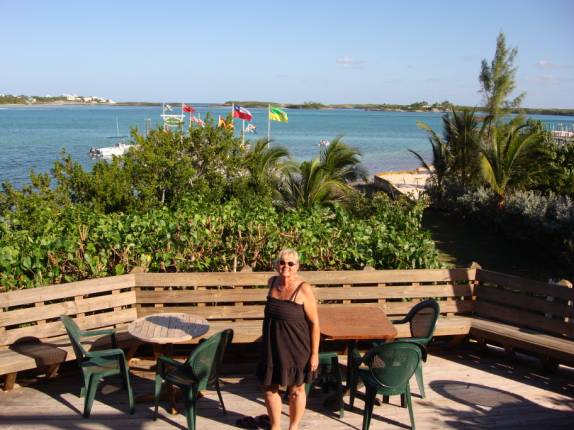 As we were returning to Boat Harbour Marina, we spotted ORINOCO gliding across the Sea of Abaco. Robert and Patty Mitchell and their guest, Susan from Nevada, gave us their friendly waves.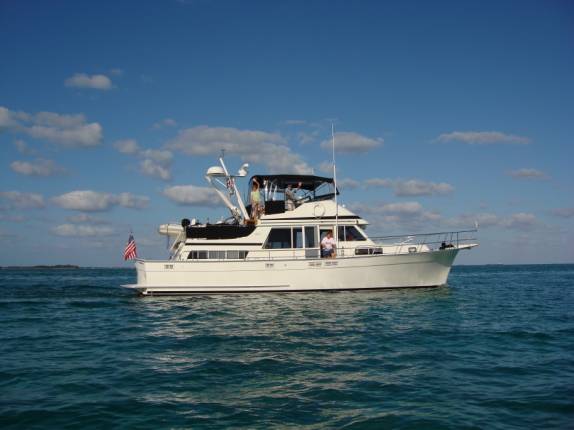 The grounds of the Abaco Beach Resort and Boat Harbour Marina are beautifully landscaped with some tropical flowers. For all of you enduring the hardships of a cold winter, just imagine how great it is to gaze upon these magnificent blooms around here in the middle of January. Wish you were here…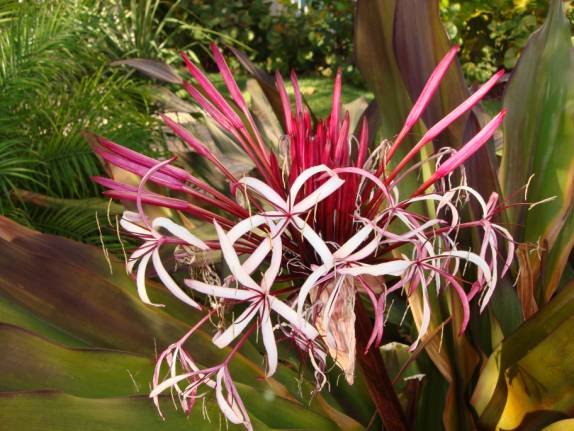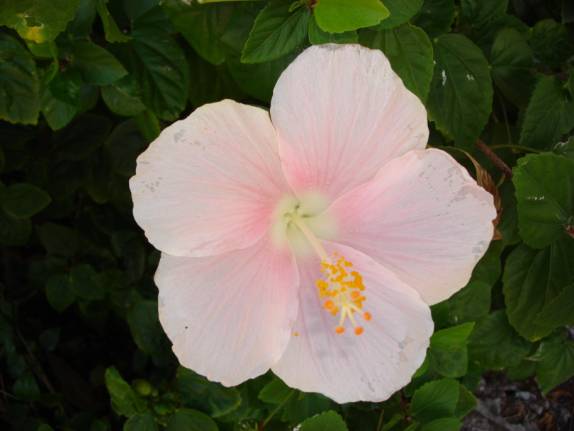 Wink and Wilma are hosting his brother, John, and wife, Stephanie from San Diego. Wink and John were quite successful in capturing these large, spiny lobsters from under their rock ledges. Yep, there are more of them in that big, insulated cooler…
01/10/09 SATURDAY BOAT HARBOUR MARINA
Some of the fun-loving cruisers organized a "Full Moon Party" on Dock 7 for this evening. Most everyone gathered at the Gazebo at the edge of the Sea of Abaco for friends, food, music, and dancing.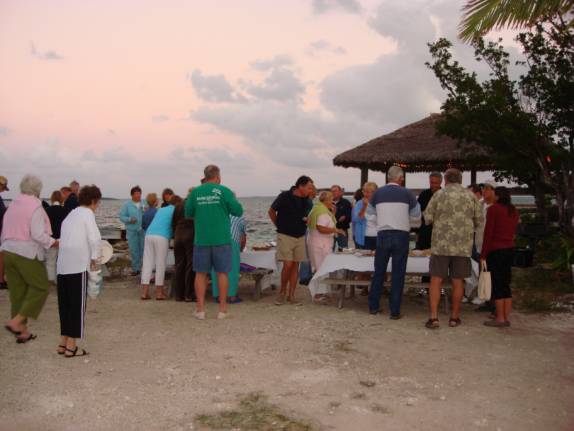 The deep-sea fishing experts, Jim and Kathy Fenn (FENNDERS), caught some giant Wahoo. Kathy turned the succulent fillets into this artistic and scrumptious platter of smoked Wahoo salad… If you've ever tried it, you would surely agree that it is even better than albacore tuna salad. Just a few crackers and, "Wahoo…"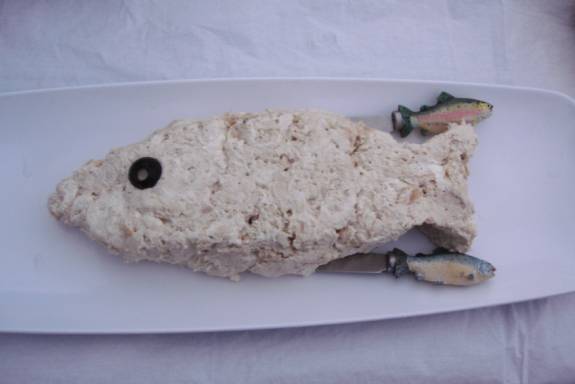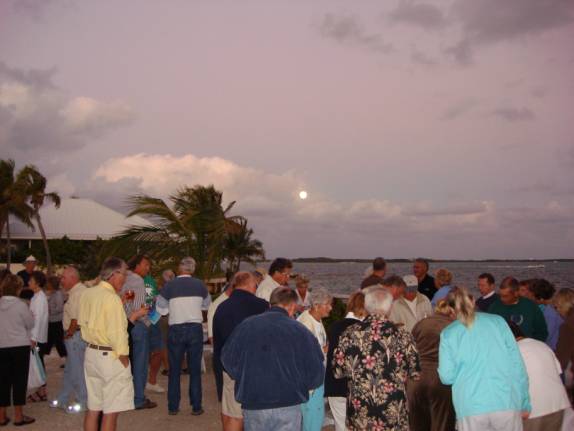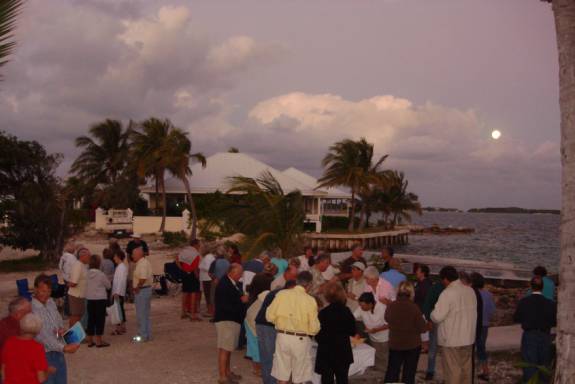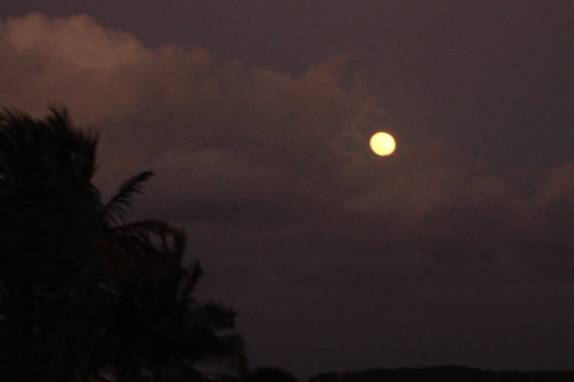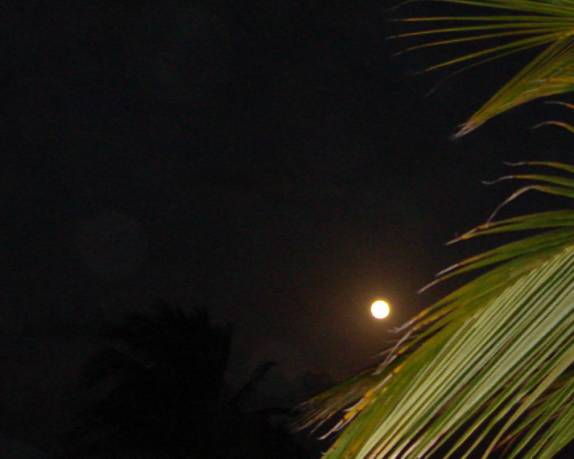 Ray Vallerie (LAST DANCE) set up the music using his fantastic selection of dance tunes stored on his computer. The amplifier and speakers then pump out plenty of beat to shuffle your feet. Dave Bluto and friends put up the festive lights.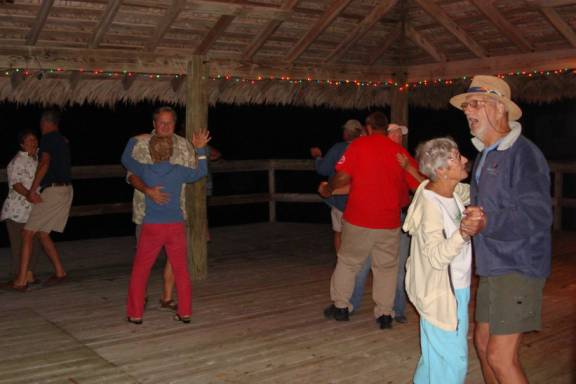 Wink is an accomplished dancer. Judy was eager to learn some new dance steps from him.
Dock 7 is around on the other side of the marina from AMARSE. We rode our bikes over and back.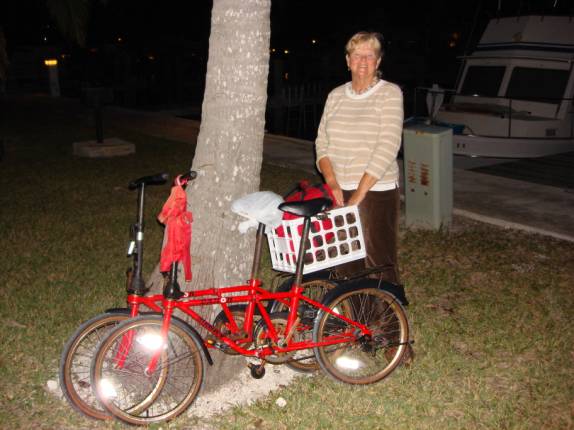 01/11/09 SUNDAY BOAT HARBOUR to LITTLE HARBOUR
The weather and sea state were very cooperative for an extended dinghy adventure. With our dinghies all fueled up, Paul and Sue Graham led the way for our day outing to Little Harbour and Pete's Pub.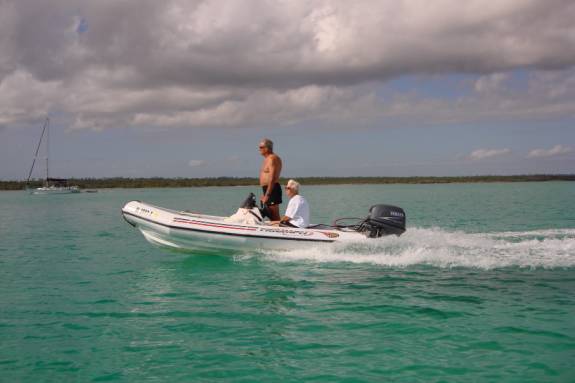 Little Harbour is about 16 miles south of our marina. The picturesque location has been made world famous by its premier resident, Pete Johnston. Pete has lived here since he was a very young lad. When his family came here in 1952, they lived a subsistence lifestyle and even lived in a cave adjacent to this bay. The story of Pete's adventuresome family has been published in a very interesting book entitled "Artist On His Island".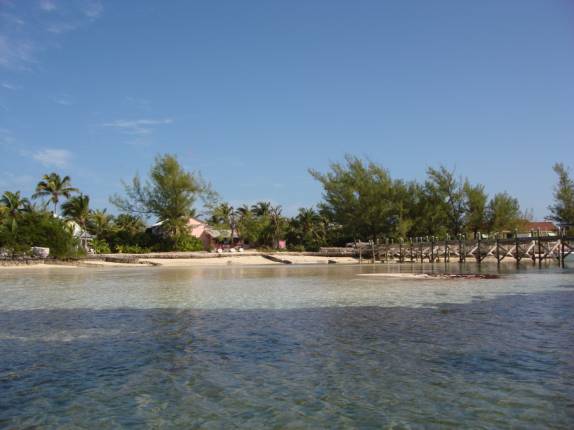 Pete owns and operates a very successful, beachfront pub and the art gallery that carries his magnificent sculptures that are created and foundered right here.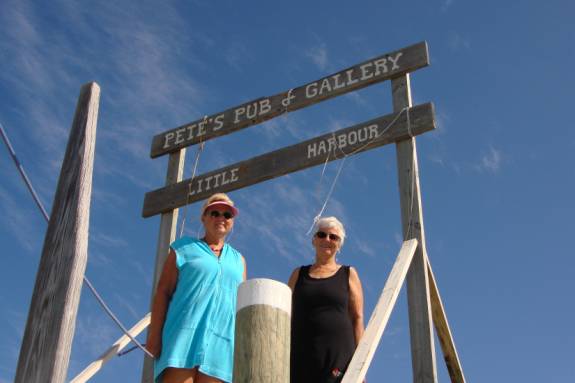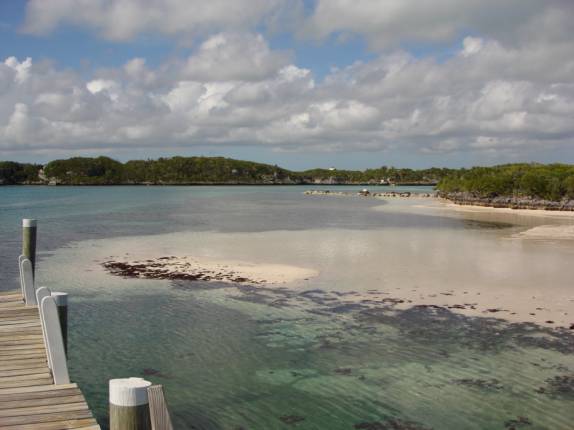 This is Pete's art workshop.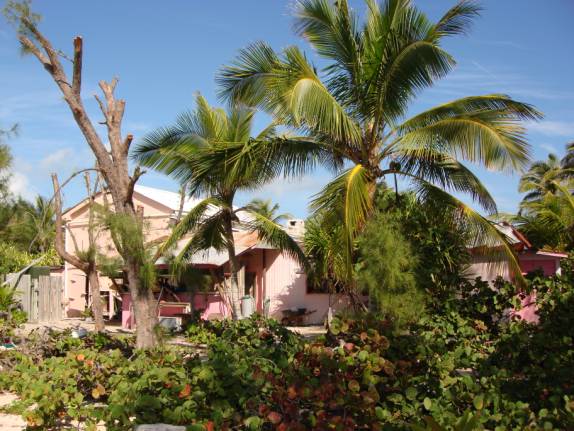 Examples of his talent are located around the area.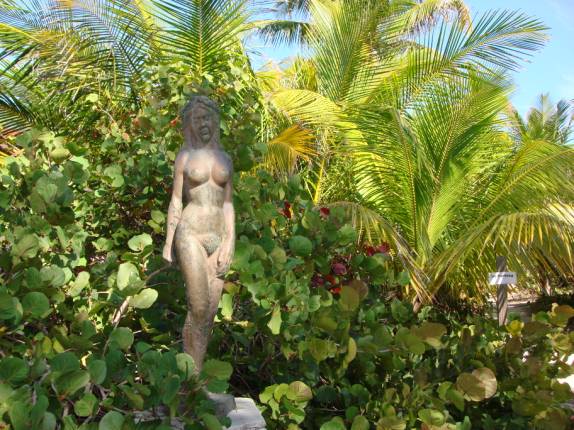 His favored medium appears to be bronze cast in wax. I love this stingray.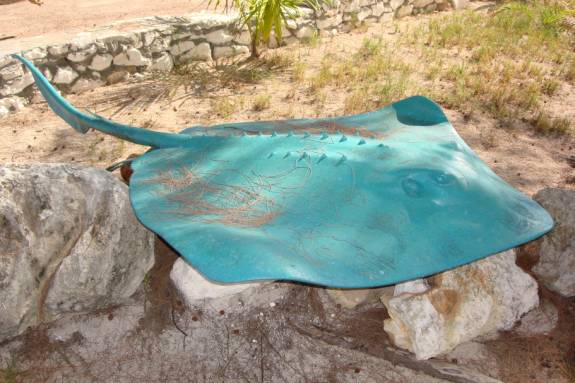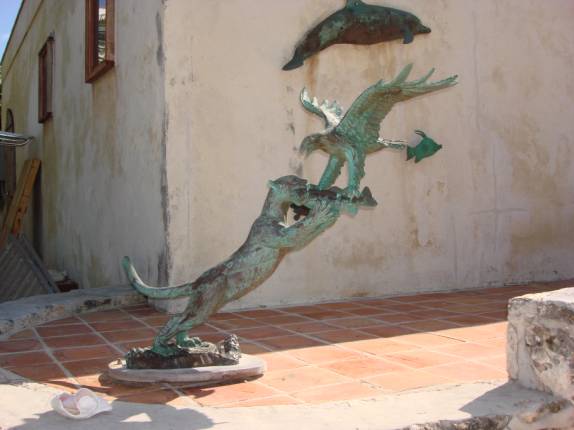 Hammerhead shark…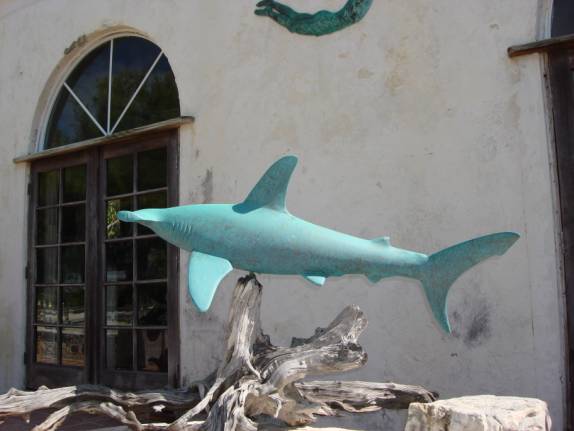 Inside the museum and salesroom…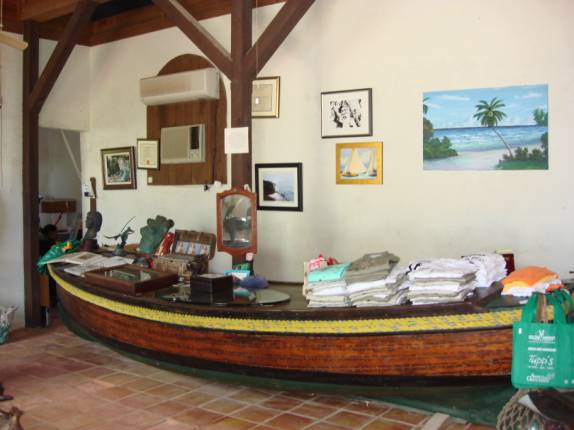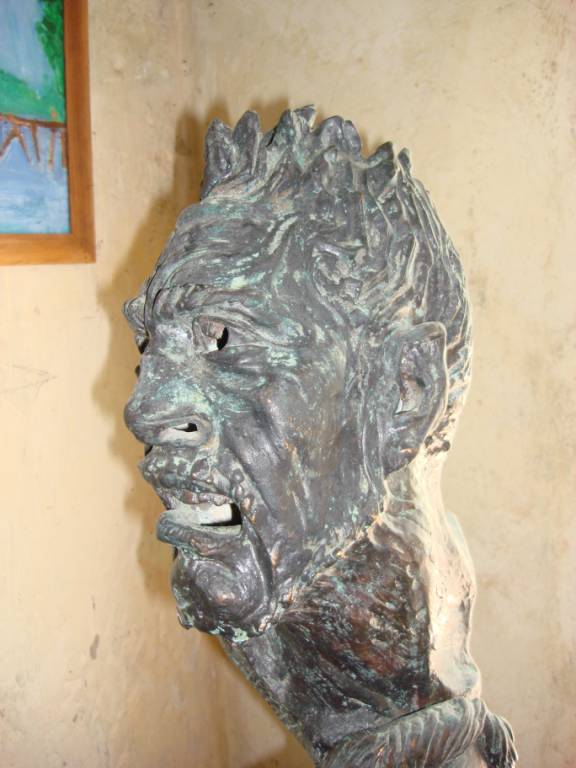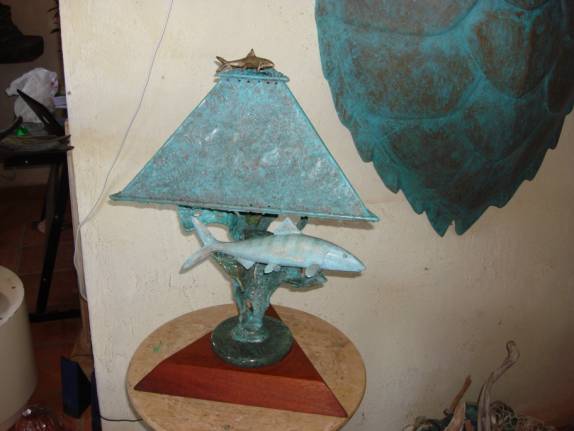 The eclectic bar is adorned with loads of customer T-shirts with interesting inscriptions. Paul and Sue wasted no time in finding the friendly barkeep. A nice, cold Kalik beer was just right to wet the whistle.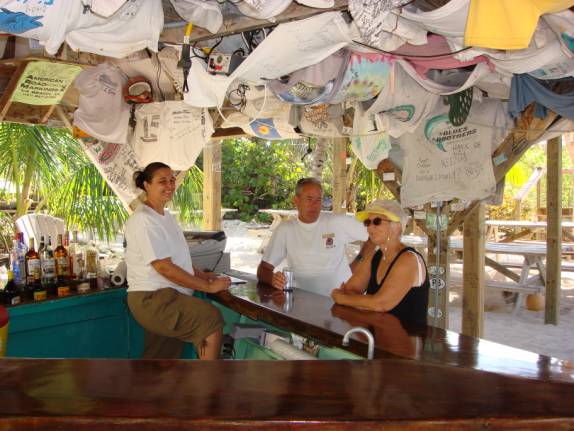 Sea turtle in patinated bronze…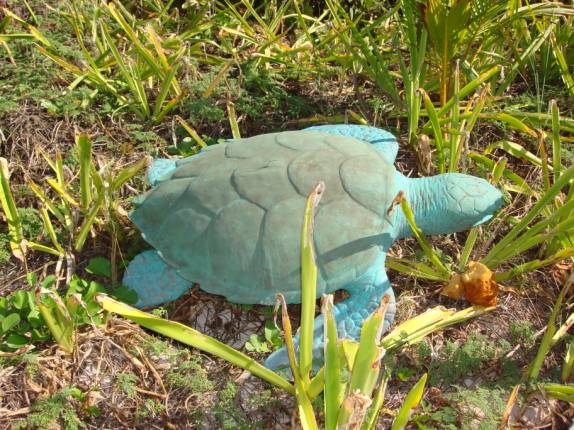 Just on the other side of the sand dunes, both the enormity and magnificence of the Atlantic Ocean are breathtaking.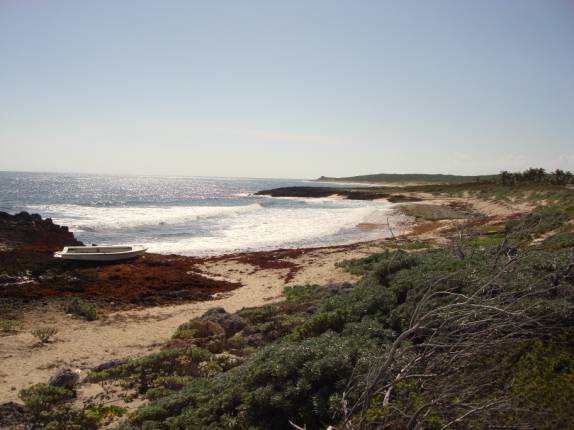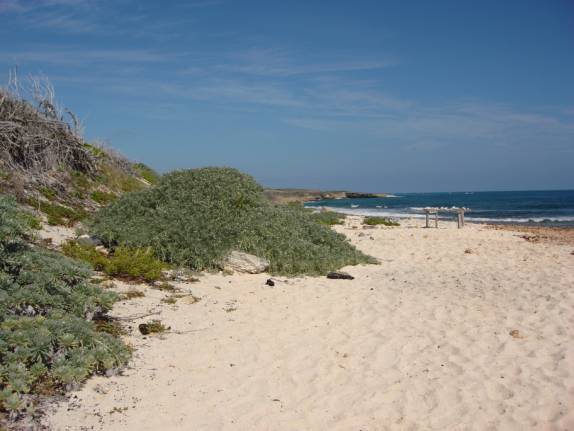 The intricate nature of the flora is a feast for the eyes…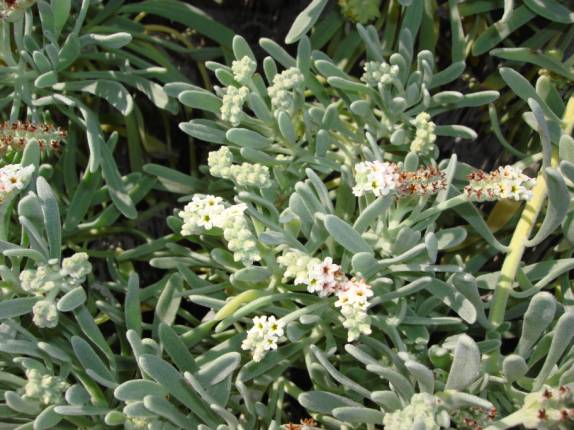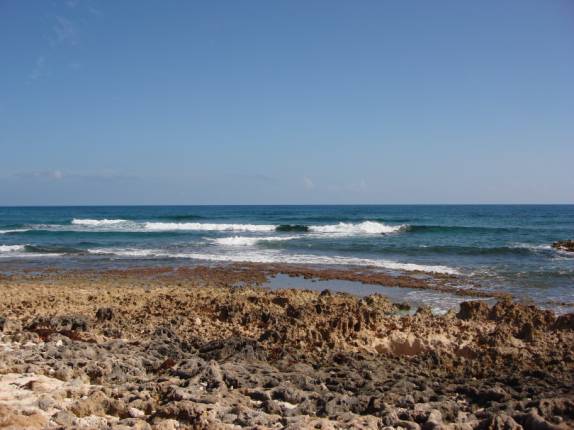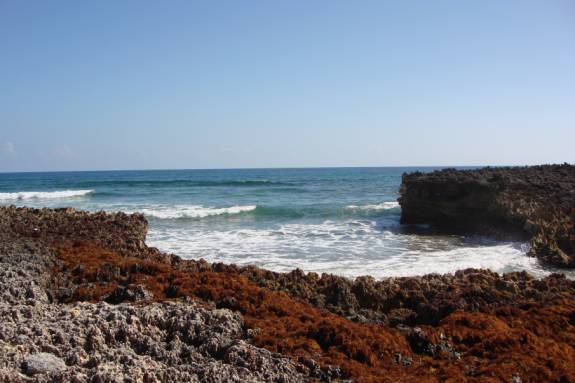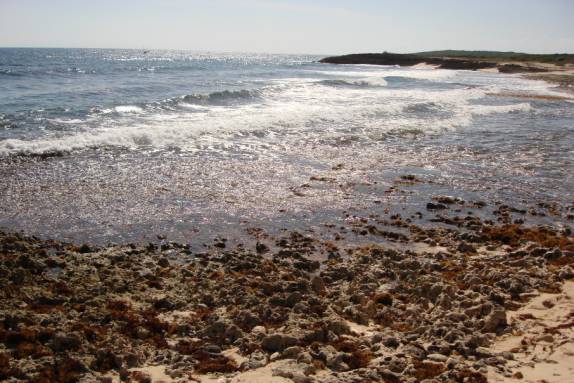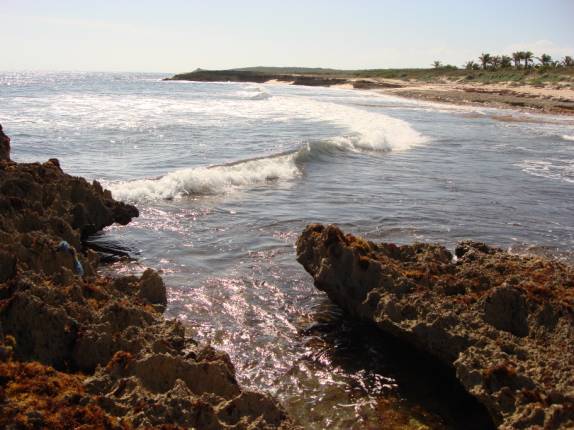 Small pools form in the jagged coral rock as the waves crash relentlessly at the shoreline.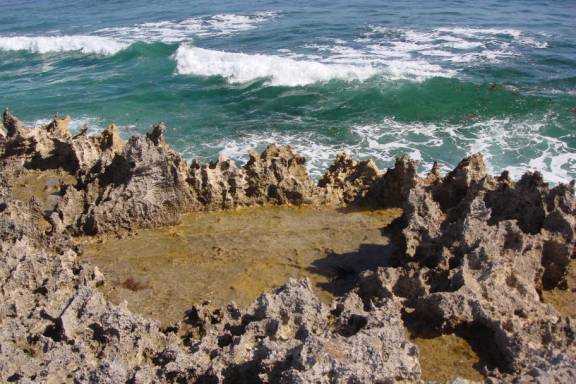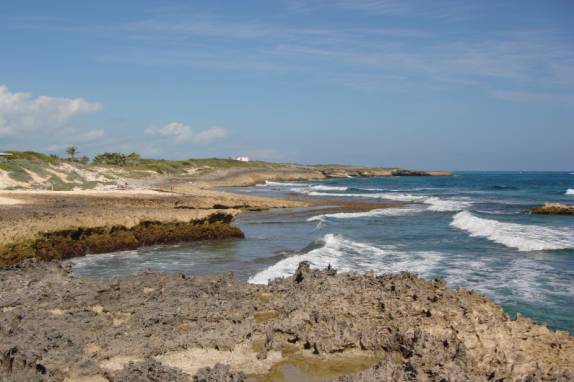 Paul Graham had the best seat in the house to observe the beauty of the ocean action.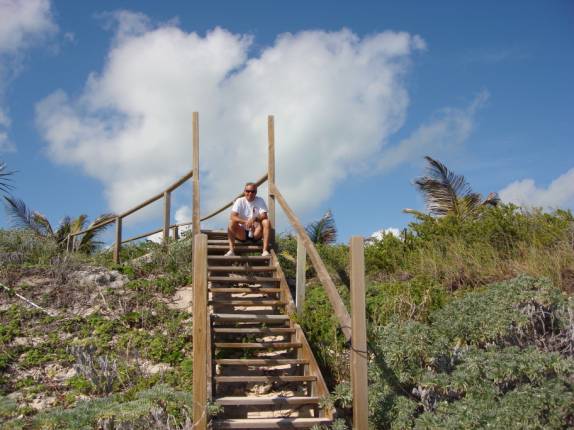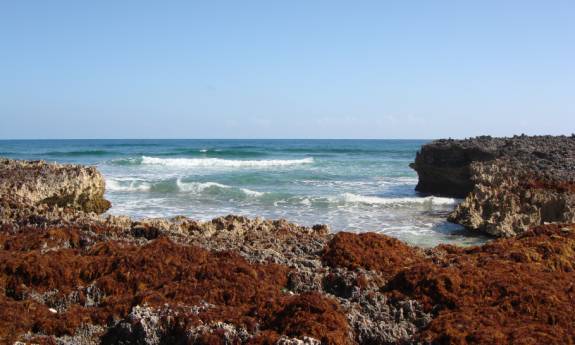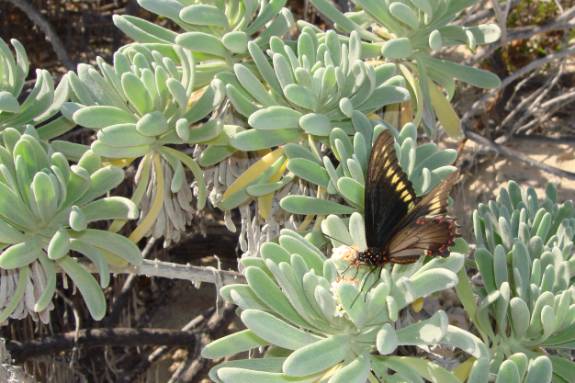 The turbulent ocean claimed another victim here on the coral rocks. A careless boater found himself at a serious disadvantage when trying to match wits with an angry ocean.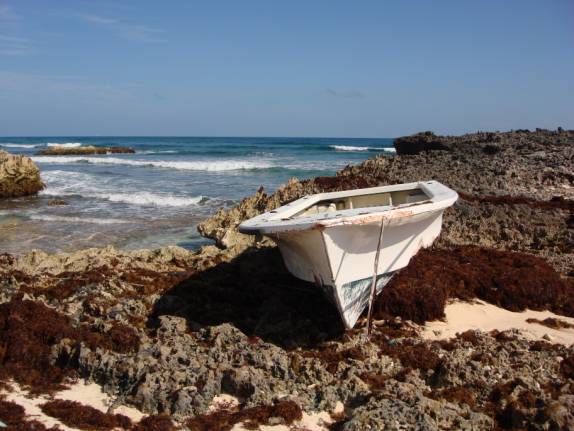 The remnants of his nearly new, 150-horsepower outboard lay in a shallow pool after being ripped from the stern.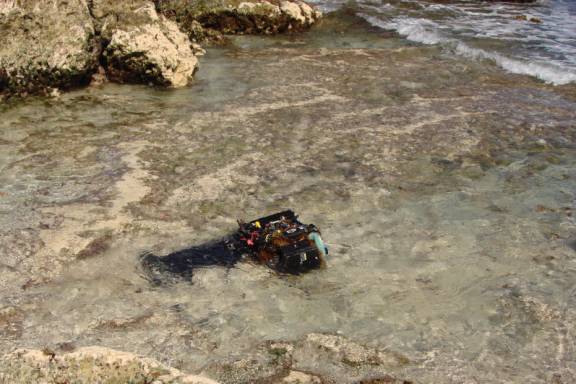 A boarded walkway leads back from the ocean side to bay side and the pub.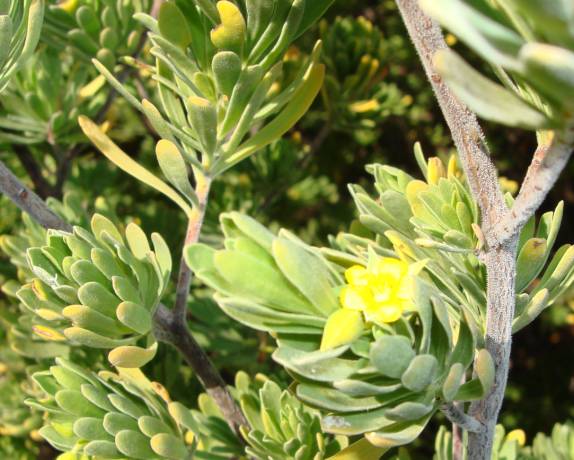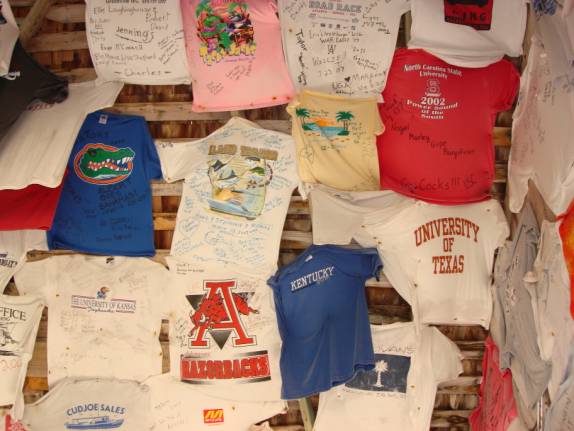 There are only two stoplights on this entire island. You won't get a ticket for running this one. At the other in downtown Marsh Harbour, you will.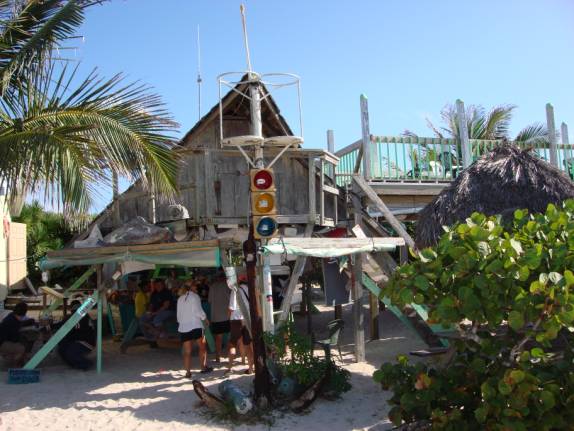 Judy, Paul, and Sue chat with Kay Politano, owner and operator of the scuba diving school and guide service known as "Above and Below Abaco". Headquartered at Boat Harbour, she is well regarded as the very best around these parts. Everybody loves Kay.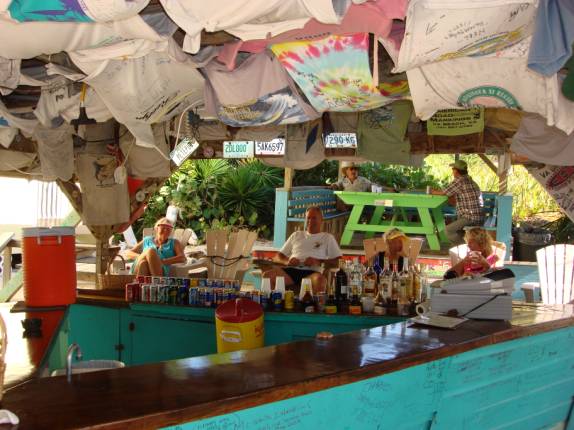 This better be a "green light" cause there 'ain't no stopping' for these two…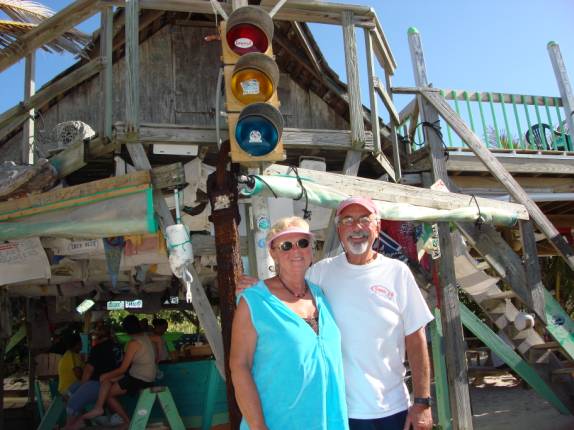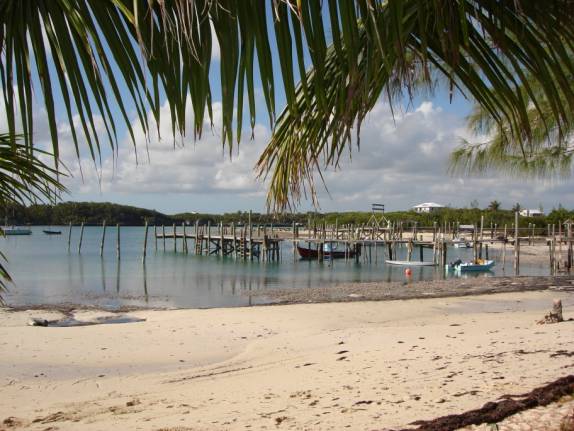 Pete's workshop, studio, and foundry…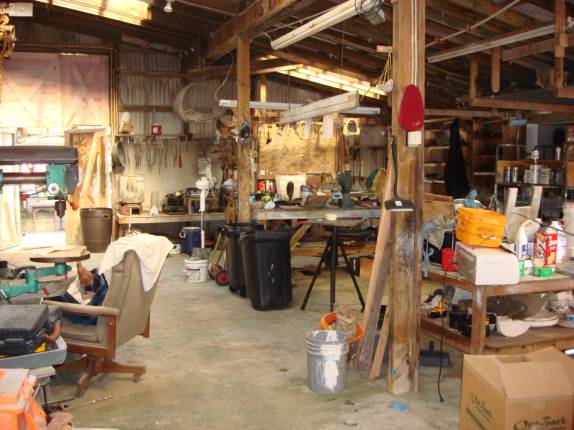 It takes a clever artist's eye and imagination to create a simple work of art like this…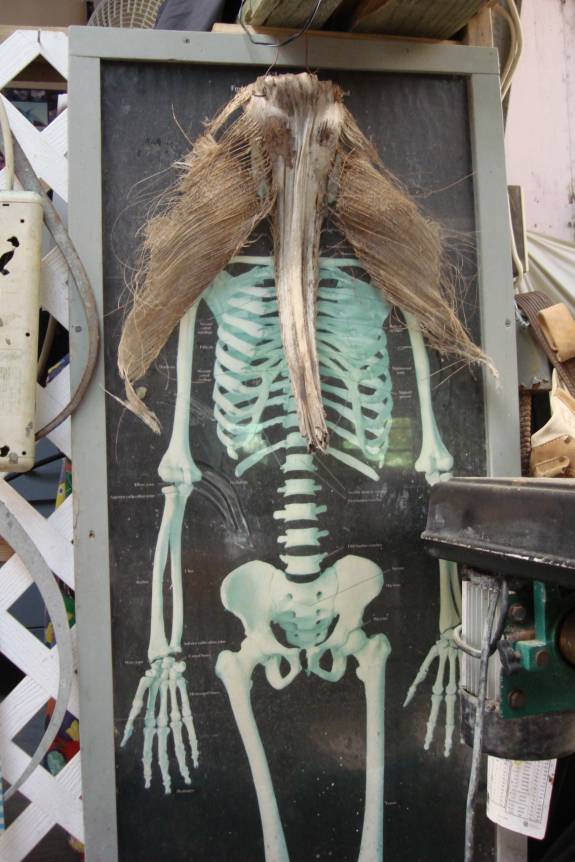 Judy and Sue pose with Pete Johnston.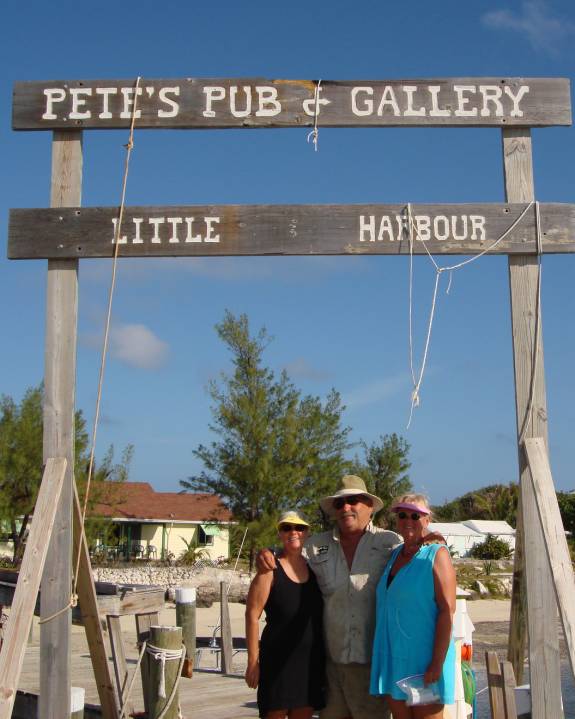 The return dinghy trip was a bit rougher as the winds were picking up. Fortunately, they were from our stern and the spray was mostly diverted forward keeping us from getting totally drenched. It took us about an hour to get back to the marina.
I estimate that the dinghy gets about 10 miles per gallon while running at approx. 90% power and yielding about 17-18 mph. Over smooth water, we can achieve slightly over 20 mph at full blast. Hold on to your hat…
CONTINUING UPDATES ARE IN PROGRESS…
WATCH FOR THEM, COMING SOON…
POST SCRIPT:
We sincerely hope that you will review the previous years of compilations to give context to the current editions. Please let us know if you have any special suggestions and thoughts.
REMEMBER: The website is now fully active and you can visit it at any time. You can review any of the 2006, 2007, or 2008 logs and learn more about the crew and our plans. Enjoy.
ATTENTION: SPECIAL NOTE:
You may contact us via email anytime.
Thanks for allowing us to share our life and adventures with you.
Lotsa Luv,
Fred Reed and Judy Law
AMARSE
MT40
"AMARSE" is pronounced "AM-ARE-SAY".
Our website is: www.amarse.net .