UPDATE#01 01
/01 thru 01/
08
Howdy Everybody,
The adventures of 2006, 2007, and 2008 through 12/31/08 have been published on the website. We continue with the first edition of 2009.
UPDATE 2009 #01 01/01/09 thru 01/08/09
At last update, we were aboard AMARSE at the Abaco Beach Resort and Boat Harbour Marina in the Bahamas.
01/01/09 THURSDAY BOAT HARBOUR
HAPPY NEW YEAR…
It was a nearly perfect weather day to start off the New Year. AMARSE is equipped with an electrically operated crane that is perfect for launching the inflatable from her sundeck top cradle. Judy usually handles the tasks at water level and I usually work atop the sundeck roof with the crane. This specially-made, aluminum frame interfaces the crane to the dinghy through snap clips. It really helps to align the dinghy and cradle.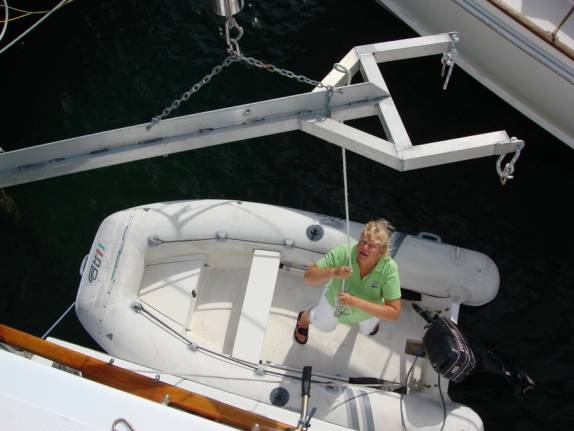 We enjoyed a very nice dinner aboard ORINOCO with our friends, Patty and Robert Mitchell. Everything was delicious including the scrumptious chocolate meringue pie.
01/03/09 SATURDAY BOAT HARBOUR
It was another fabulous day here in the Abacos Islands of the Bahamas. I changed out some fuel fittings on the outboard's fuel tank and hose line. After a bike ride to the parts store, I changed out the two spark plugs on the outboard.
The Sea of Abaco beckoned us to enjoy a great dinghy ride to the cay of Lubber's Quarters.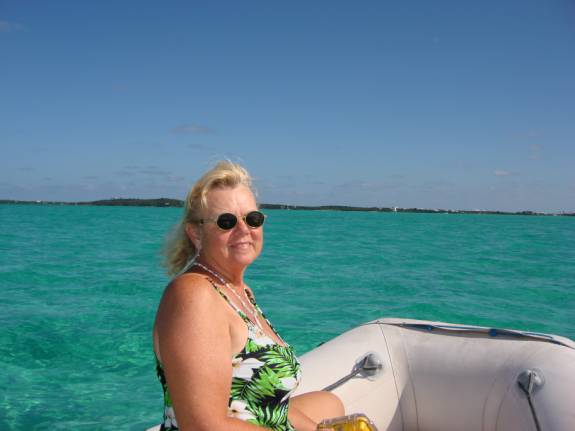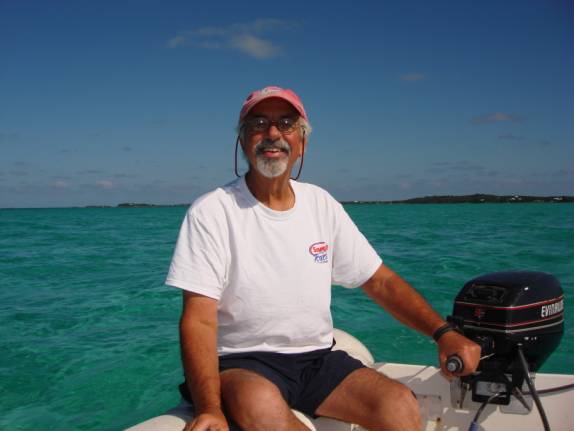 Miss Rachel, the outboard runabout with Bob and Judy Williams and their visiting guests, was tied to the dock at Cracker P's Restaurant.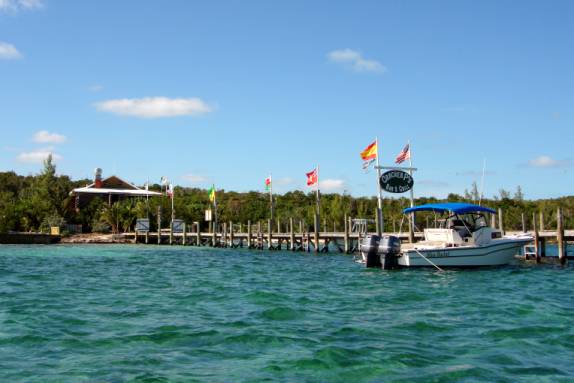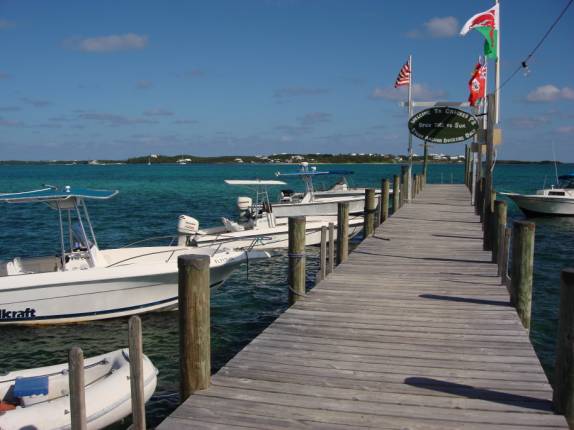 This eclectic sign gives mileages to all sorts of interesting places…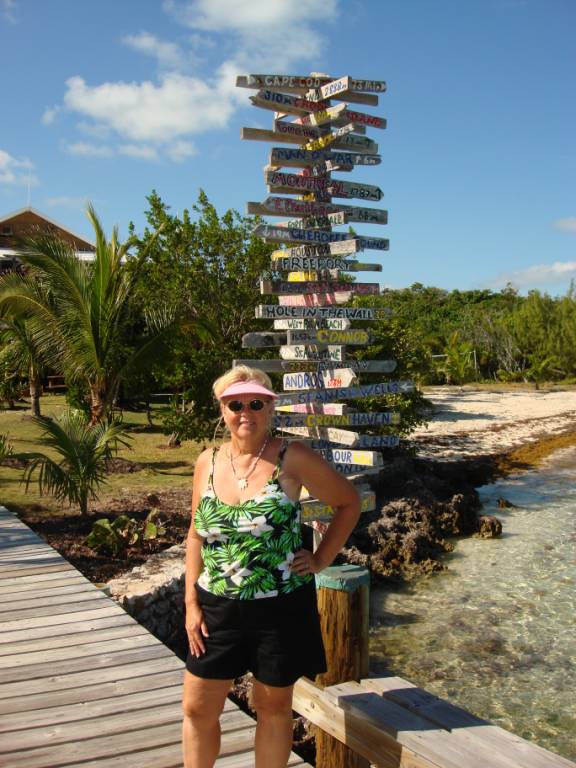 Judy Williams was soon getting ready to cast off the bowline for their return to Boat Harbour.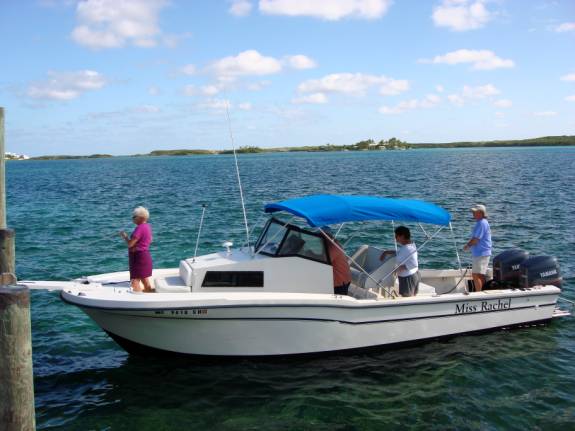 The scenic view from the raised deck of the restaurant looks across the Sea of Abaco toward Elbow Cay.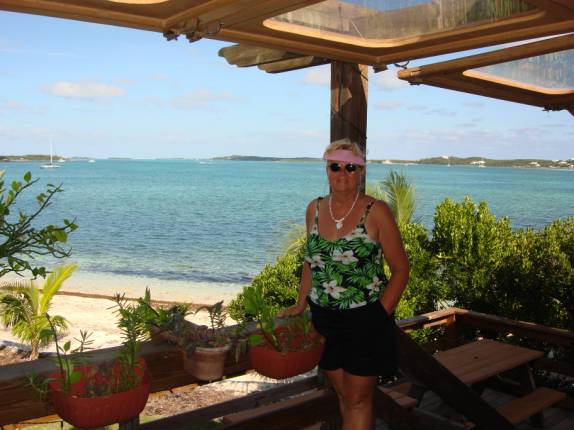 On our returning trip to Boat Harbour, we spotted a pair of familiar trawlers heading in the opposite direction. The Nordic Tug 37, MORE ATTITUDE, with Terry Ziegler and Peggy O'Neill, gently made way eastbound.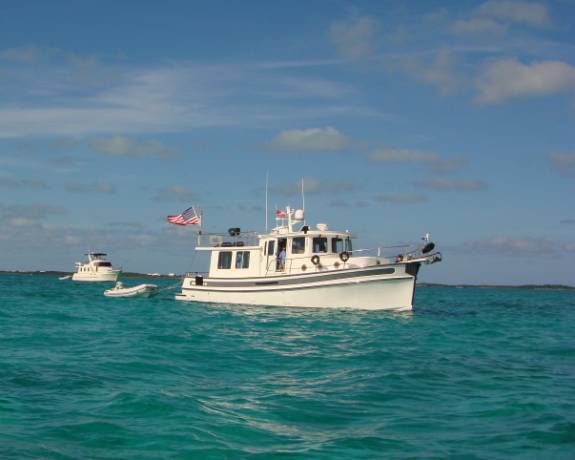 Close in trail, SEA ISLAND GIRL, a North Pacific trawler with Robert and Carolyn Wilson aboard, was enjoying the gentle seas.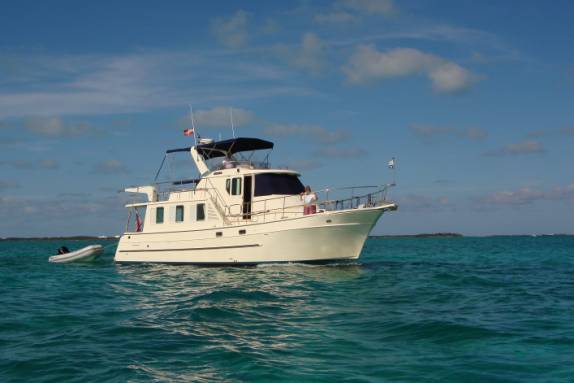 Ready for an evening outing, Rita and Robert Wieczorek were looking "marvelous"…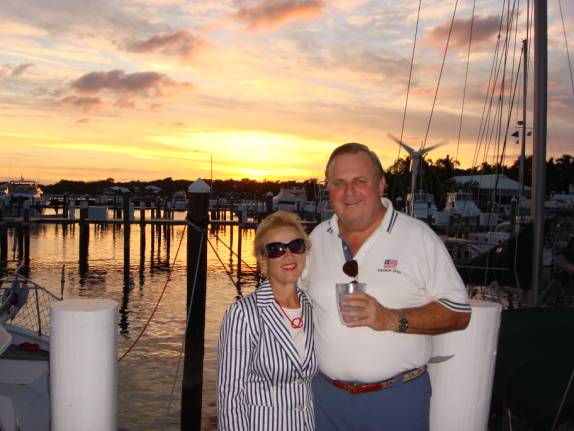 01/04/09 SUNDAY BOAT HARBOUR
The day offered another chance for some dinghy riding fun. We zipped over to the boat yard area and the small harbor that contains some smaller boats.
We always enjoy every opportunity to join with our dock friends for the evening cocktail hour and sunset snacks. Represented in this picture are JOHN HENRY, CHRISTINE, S/V TALLY HO, M/V TALLY HO, LO QUE SE A, CHIPKA FIRE III, TAR HEEL, AMARSE, SUN N' A BEACH, and ODYSSEY.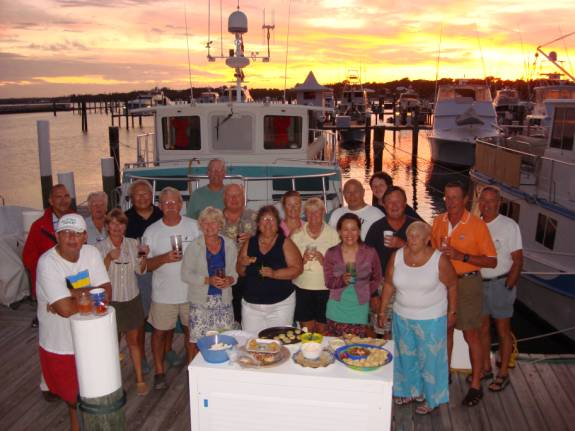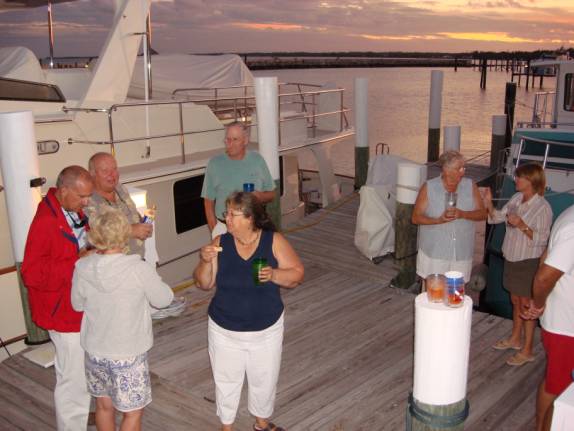 What a fabulous sunset to signal the end of another day in paradise…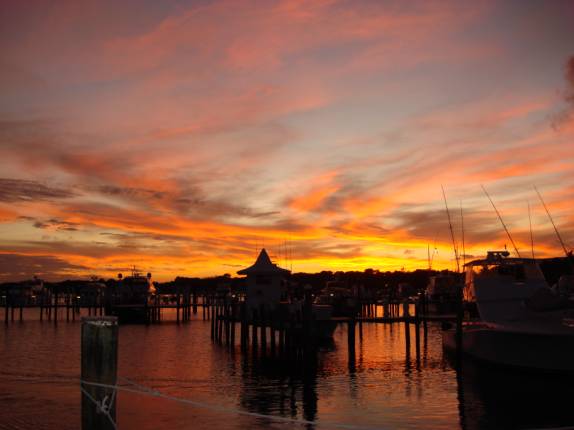 Wink Thornton, M/V JOHN HENRY, in his stylish cap custom designed by his wife, Wilma…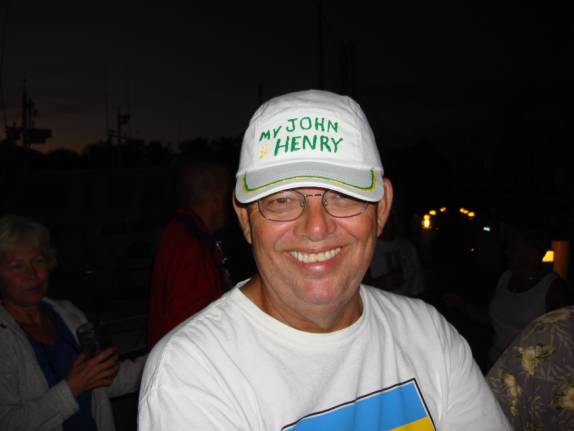 01/05/09 MONDAY BOAT HARBOUR
The great weather held on yet another day. The crew of M/V TALLY HO headed out for an excursion of fishing in the Atlantic Ocean beyond the Man-O-War passage cut.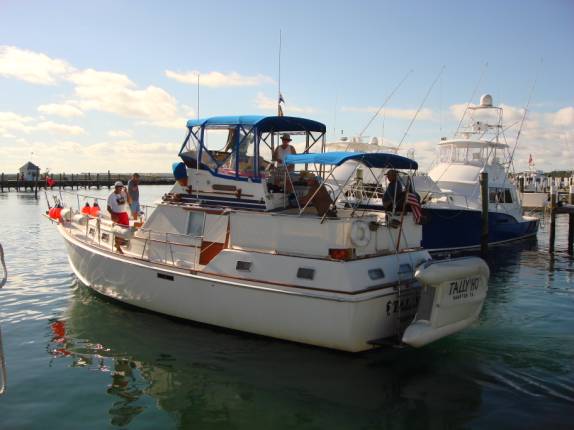 AMARSE and her tender…
S/V TAR HEEL was seen at the fuel dock taking on a bit of the fossil fuel. In these very light wind conditions, that "cast iron jib" will probably come in very handy.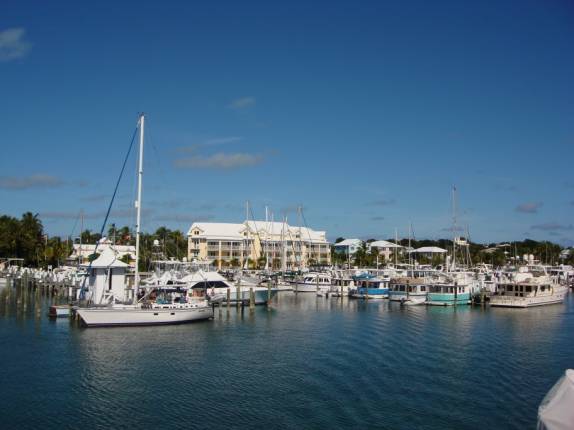 A group of us were invited to join Bob and Judy Williams aboard SHADE MOR for a trip to Guana Cay. We all appreciate and enjoy their loving hospitality.
Check out the smiles on Peggy and Judy… It is very clear that they are having a wonderful time aboard this beautiful yacht.
The Sea of Abaco is so colorful and tranquil today…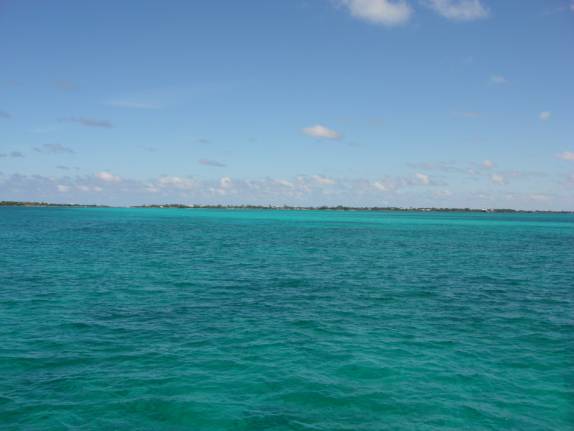 Captain Bob always ably mans the helm to give us a comfortable and safe ride…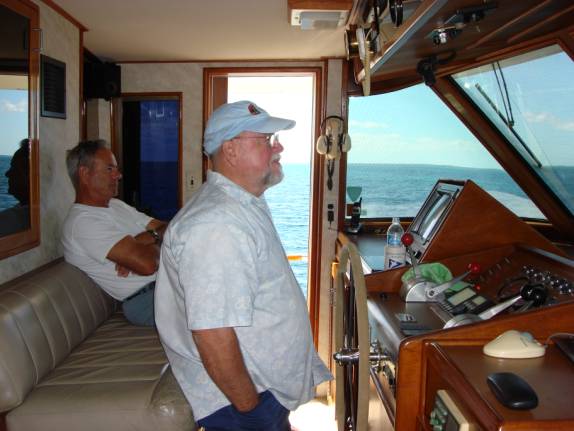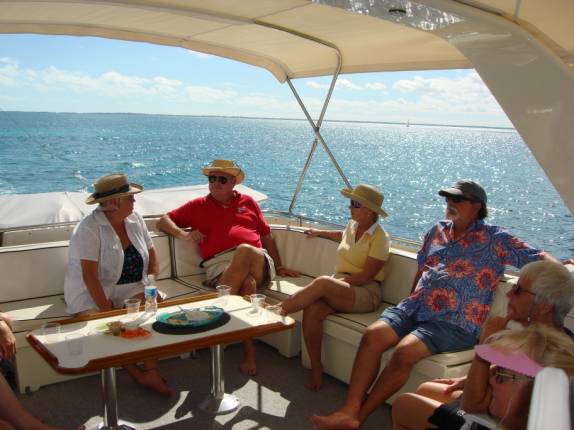 Sue Graham and Judy Law… auditioning for the new movie spectacular, "Girls in Black"…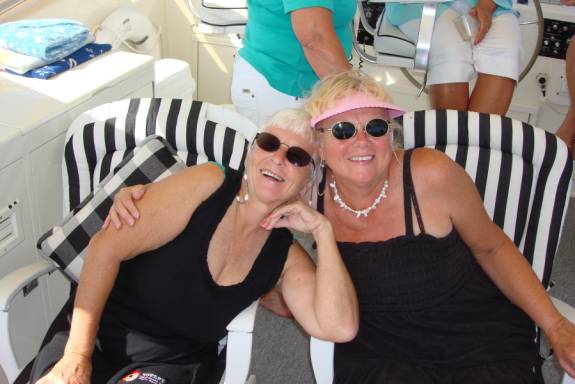 Patty Mitchell (ORINOCO), Diane Brenneman (LADY DI), and Peggy O'Neill (MORE ATTITUDE)…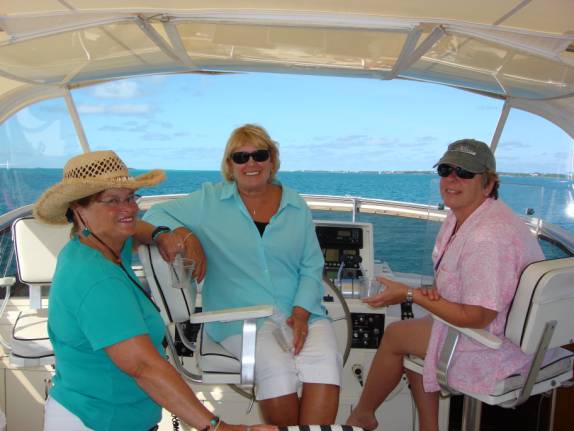 Robert and Patty Mitchell (ORINOCO)…
Time to disembark at Guana Cay…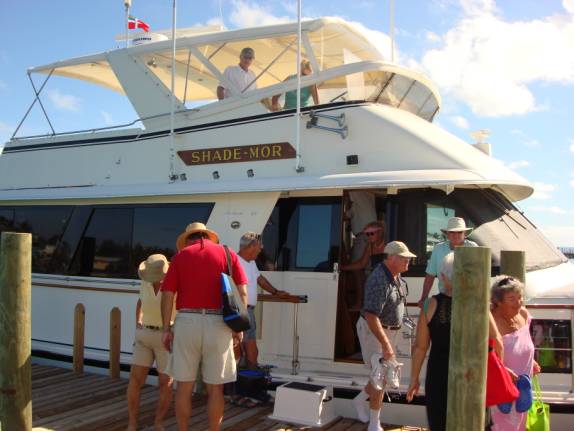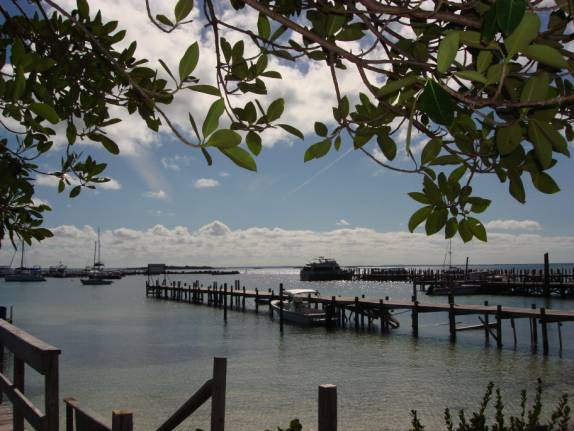 …That sandy road to Nipper's Bar and Grill made famous in a song by The Barefoot Man.
Beach (looking north and west) from Nipper's Bar and Grill…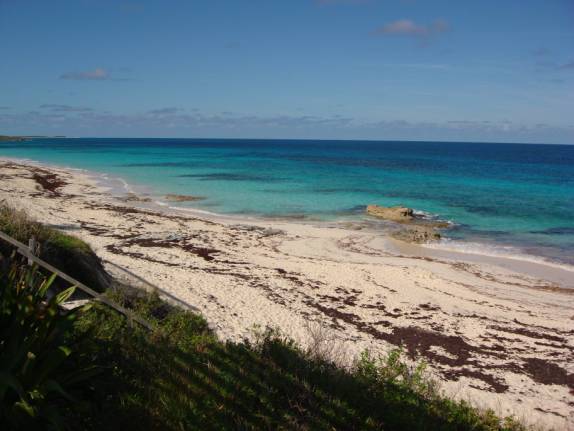 (Looking south and east)…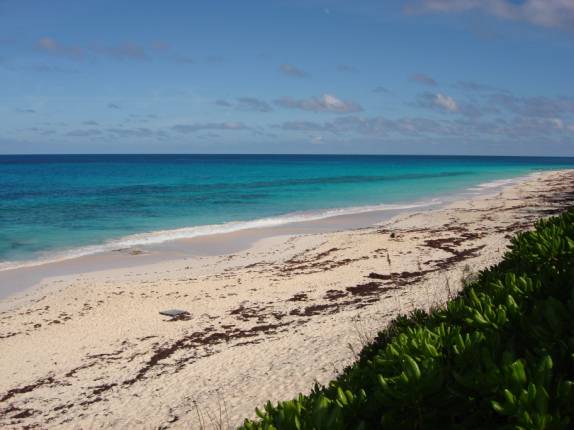 Robert and Carolyn Wilson (SEA ISLAND GIRL) at the Nipper's bar…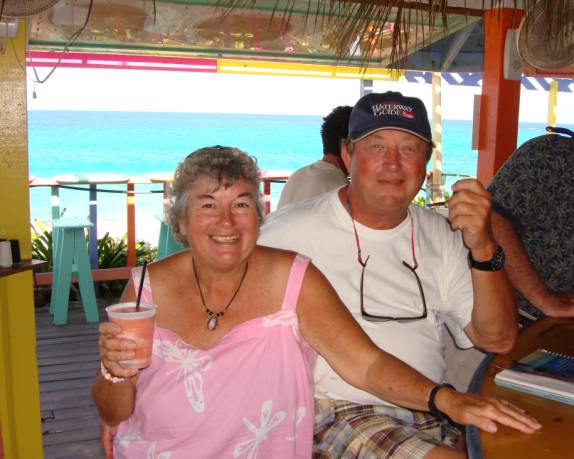 Robert and Patty Mitchell (ORINOCO)…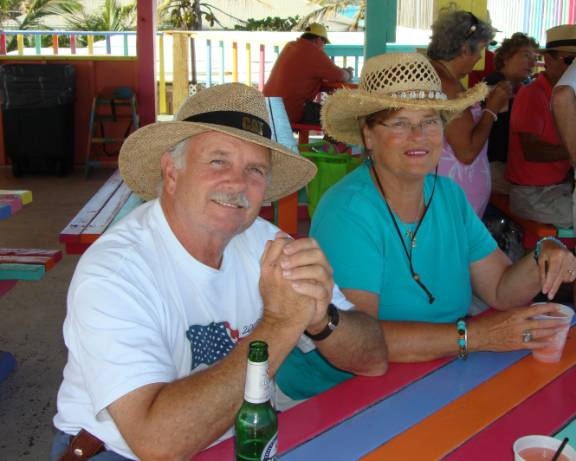 Hey… What's that guy, Paul Graham, doing with my gal, Judy? Oh, Okay… I guess they're just dancing and having fun.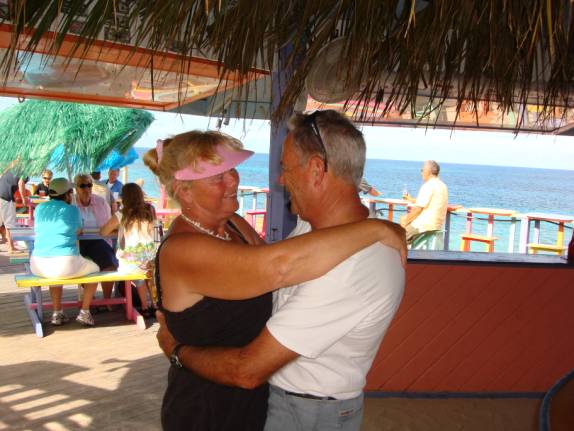 The shore birds like to pick through the seaweeds to get some tidbits…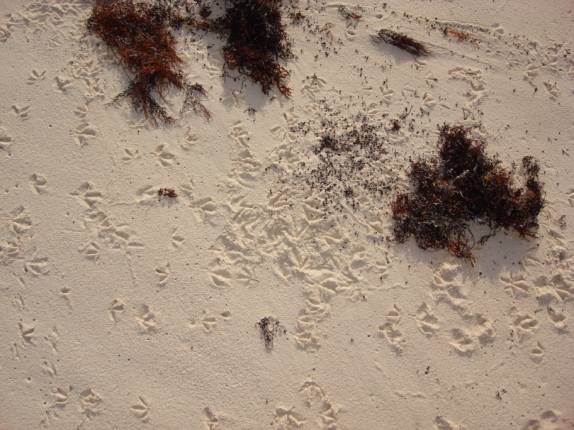 Judy and Fred (AMARSE) at the beach on Guana Cay…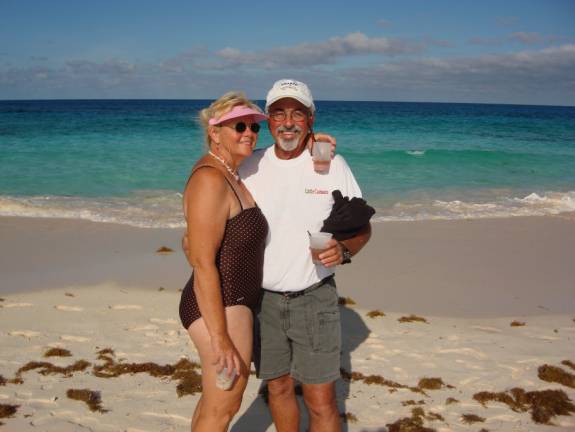 Nothing like a nice Cuban cigar… this one is a Cohiba from Havana. Smo-o-o-o-oth..!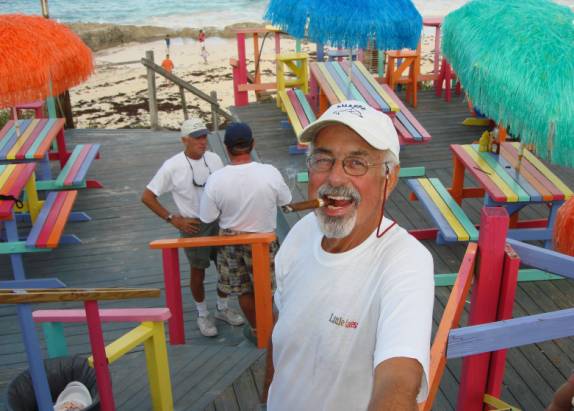 Terry Ziegler and Peggy O'Neill (MORE ATTITUDE)…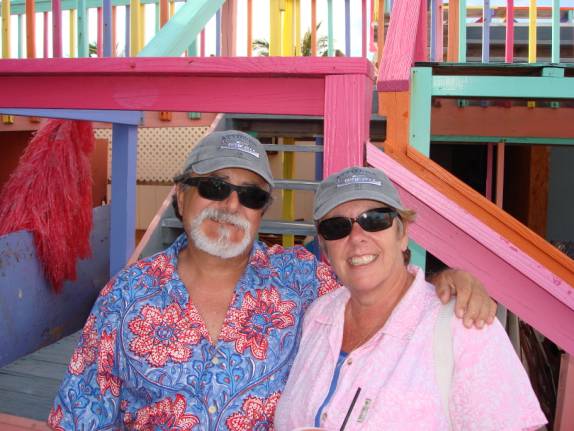 The P and J Variety Store is very, very small and very, very island cutesy. For some strange reason, I've never seen it open.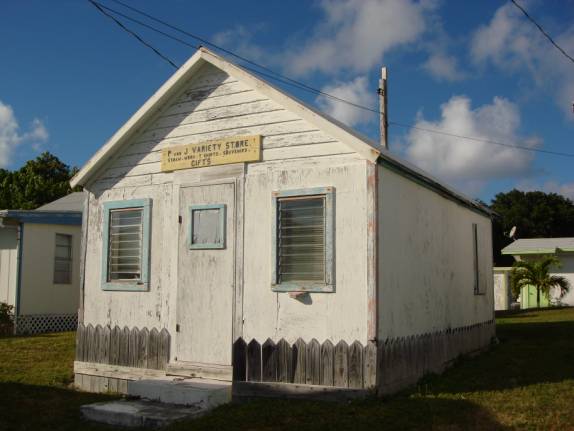 Take it from Robert Wieczorek (MAGNUM OPUS), there are only a few things that make a man's life more enjoyable than a fine Cuban cigar savored by the picturesque seaside.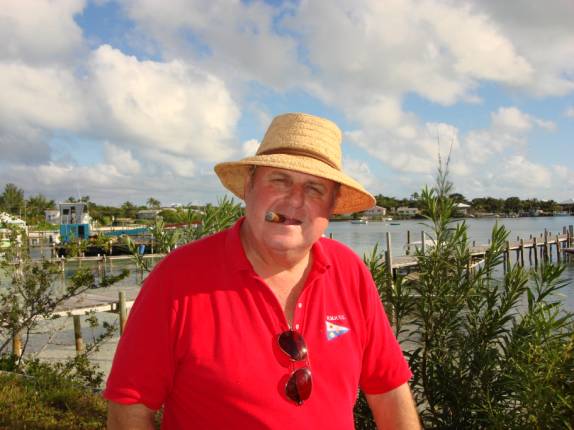 Judy Williams welcomes the group back on board for our afternoon departure cruise…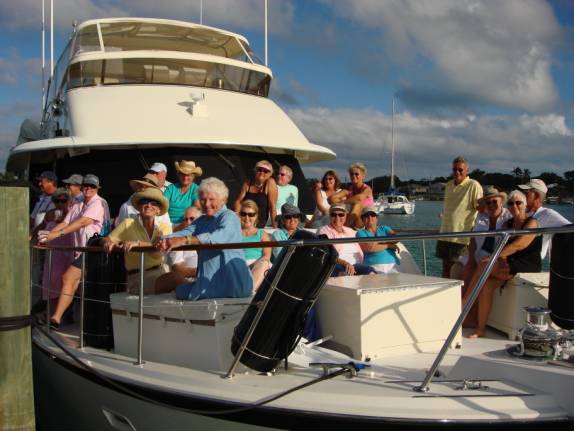 Exiting the Guana Cay harbor…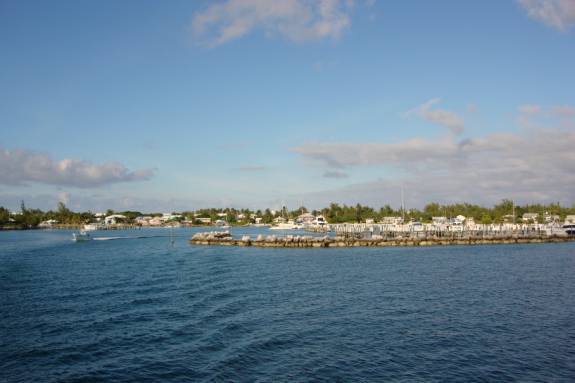 Robert Wilson (SEA ISLAND GIRL)…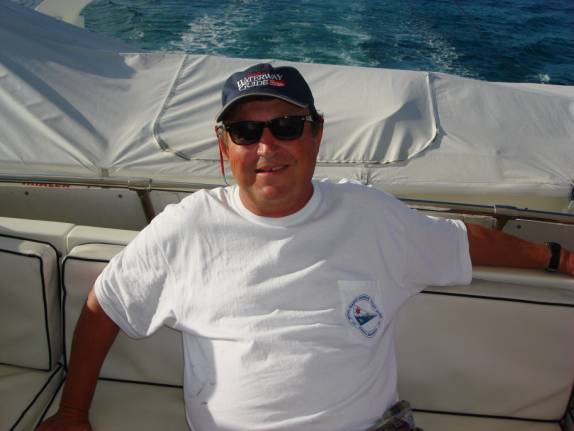 Some kids just need an afternoon nap to re-energize the soul…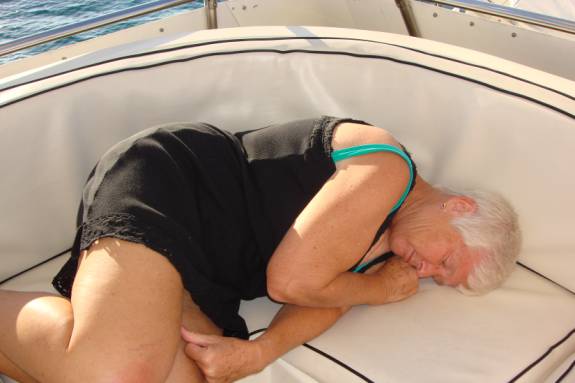 Judy and Gene Koetitz (LO QUE SE A)…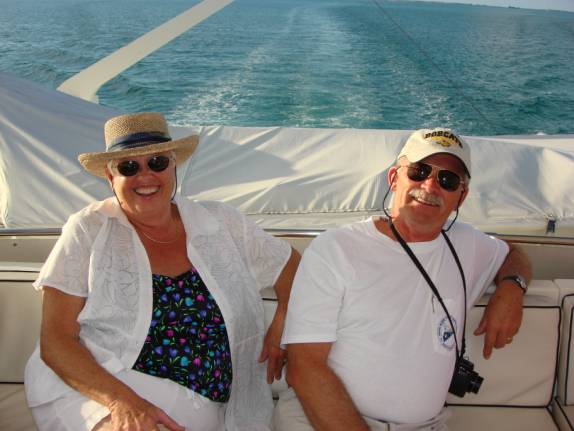 Judy Williams is such a great storyteller… She had everyone on the edge of his or her seat for this tall tale.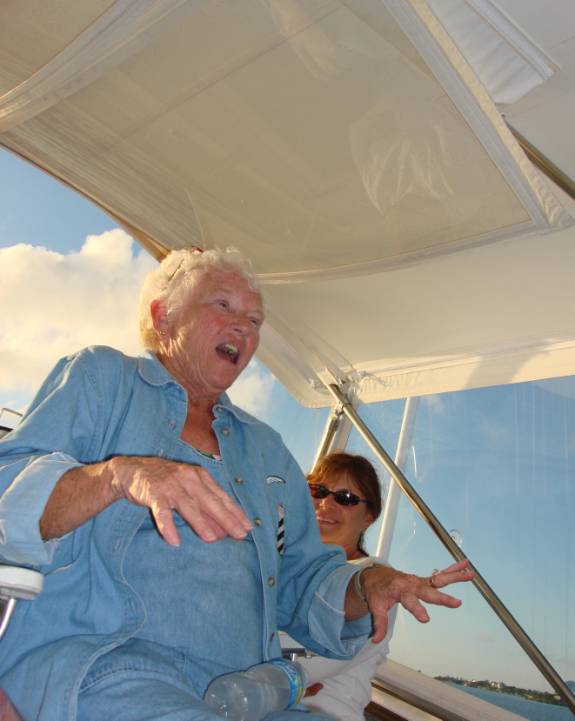 The hour and a half cruise had us all back at Boat Harbour Marina by 5pm. Once again, we offer our grateful thanks to Bob and Judy for making our day so very enjoyable. Thanx, thanx, and more thanx…!
01/06/07 TUESDAY BOAT HARBOUR
Judy hosted a special class in jewelry making focusing on the crocheted wire technique. She has instilled a lot of interest for this style crafting. Numerous gals in the boating community are anxious to learn from her.
With the winds expected to pick up significantly at an approaching cold front, we put the dinghy safely back up on the sundeck roof cradle.
01/07/09 WEDNESDAY BOAT HARBOUR
Judy's creative talents are expressed in many ways and in several mediums. I am really enjoying seeing her watercolor painting talent come to life.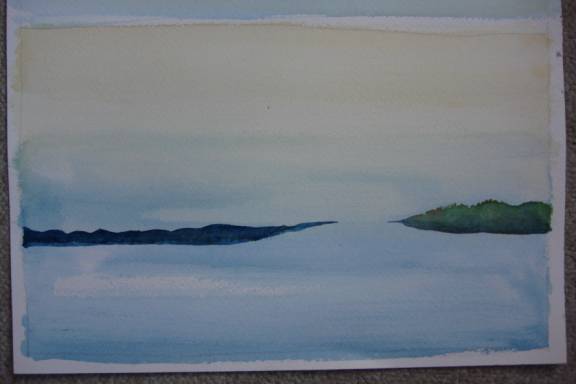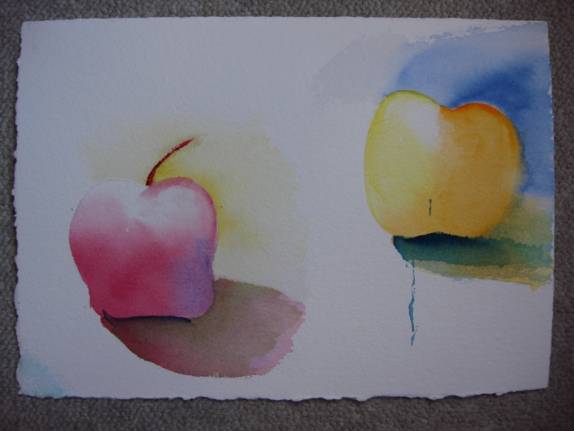 A little bit after 2pm, Judy, Wilma, Wink, and I straddled our bicycles to pedal east for a big afternoon party.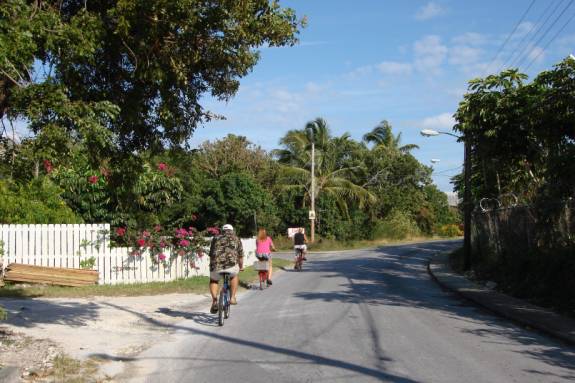 Our generous host, Doug Fay, welcomed us to his fantastic, seaside home. Located only a couple of miles east of the marina, the gate of "Slip-A-Way" was opened for about 100 honored guests.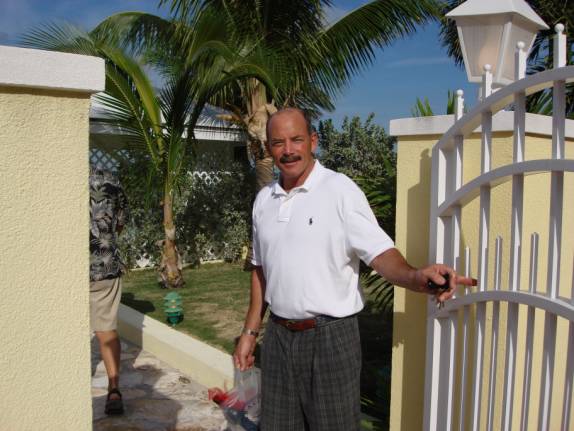 Judy Law and Wilma Thornton…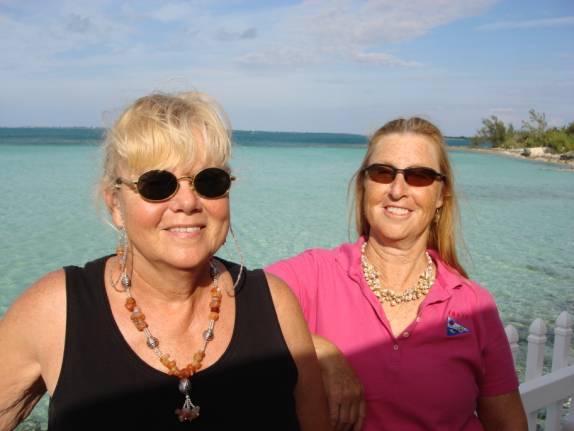 Everything goes better with a coke…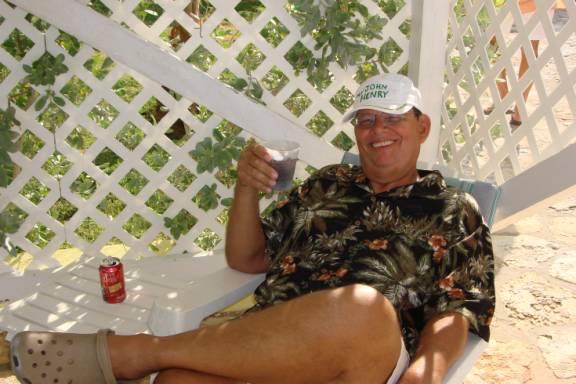 …especially rum…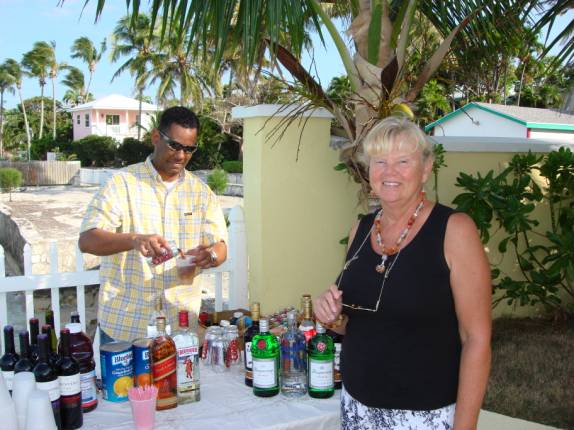 The cottage side of the home looks out over the Sea of Abaco. Vanessa and Andrew (S/V TALLY HO), Judy (AMARSE), and Shirley (M/V TALLY HO) hoist a glass as the line forms at one of the three open bars…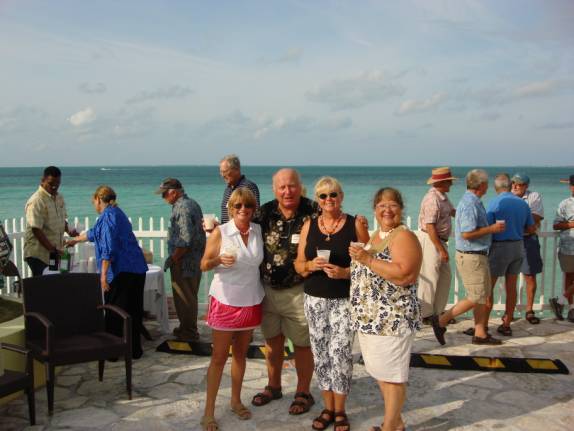 There was a spectacular array of food at the catered event for the members of the Royal Marsh Harbour Yacht Club. Chicken/Veggie Kabobs were just one of the many treats…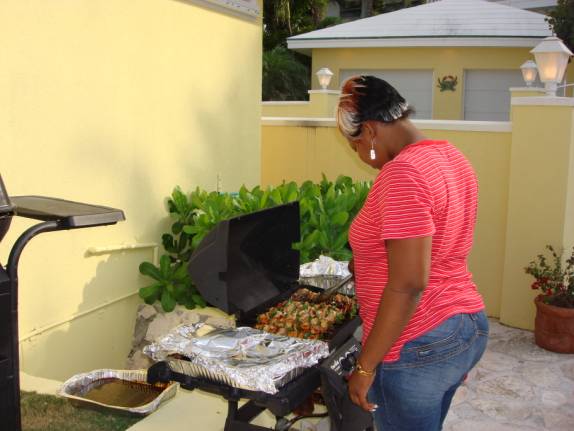 Judy and Fred (AMARSE)…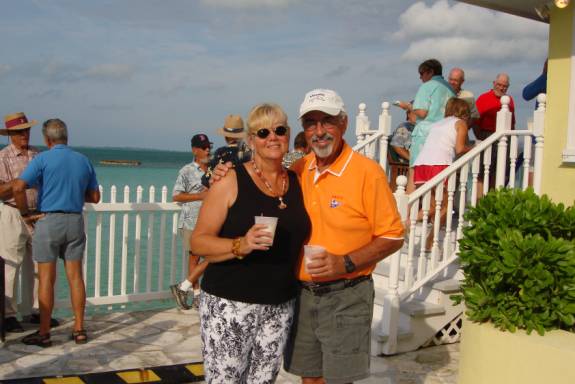 Love those fresh strawberries…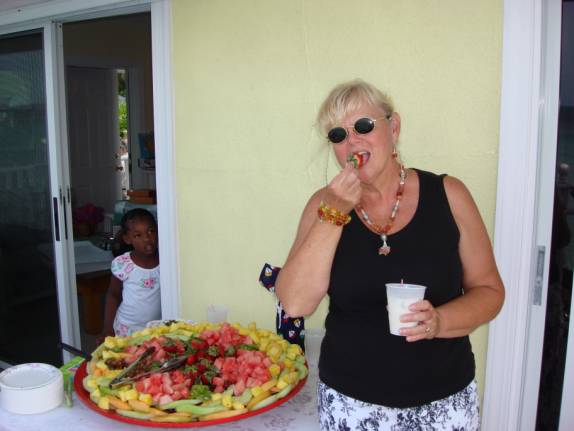 The live musician was perfect for dancing or just relaxing and enjoying…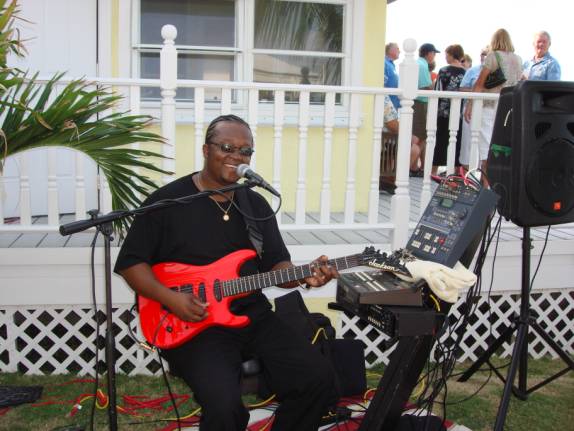 This interesting fountain near the big house is very unusual and fun…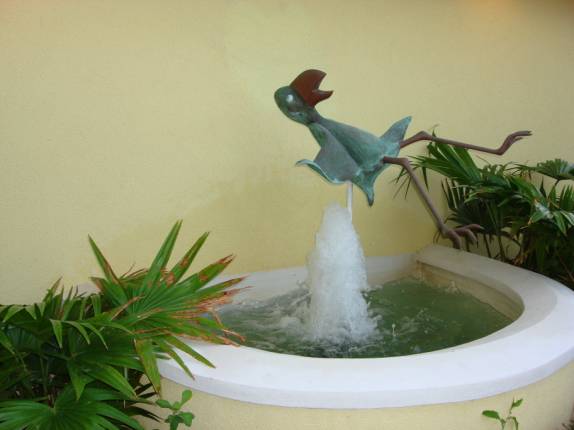 The walkway up to the big house provides a lovely view of the cottage and Sea of Abaco.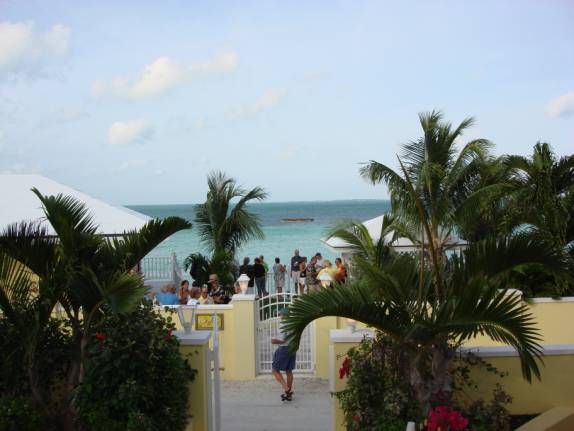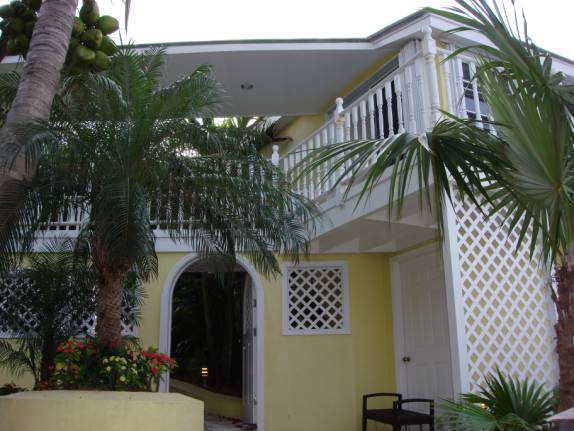 This little sign explains so much about our life around here…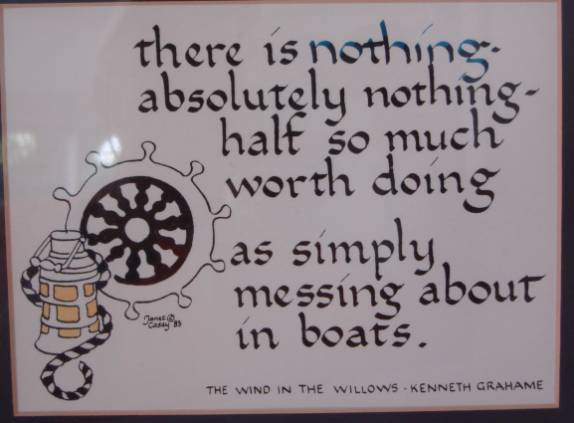 The big house faces water on two sides. From this veranda, a northeasterly view is delightfully relaxing…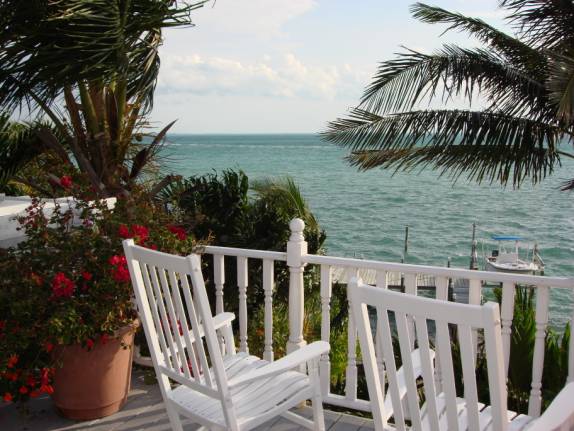 Dan and Barbara Lindsey (IOLAR NA MAR)…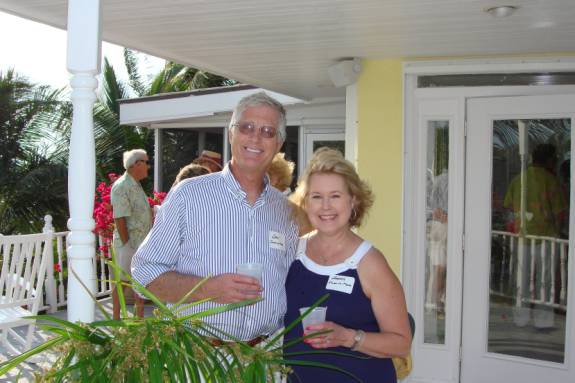 Judy Law (AMARSE)…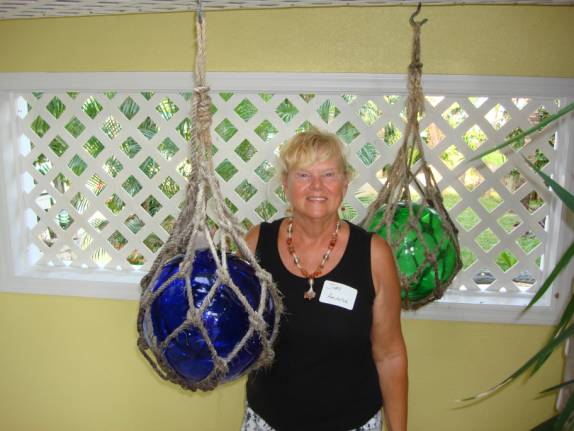 The selection of food was plentiful, the drinks were flowing, and the dancers were fluidly smooth…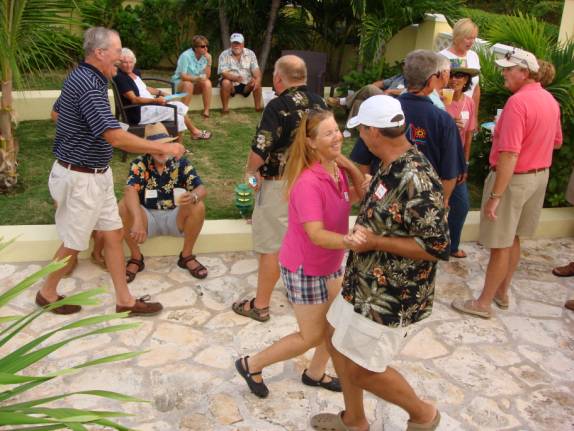 Our host provided for our every comfort and enjoyment. There was even a box of Cuban, Cohiba cigars available.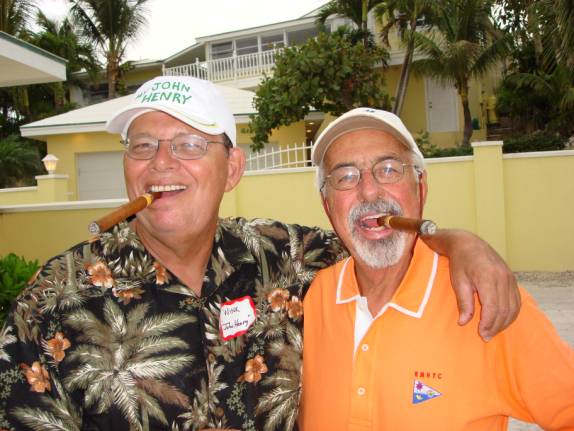 Wilma, "…what is going on here?"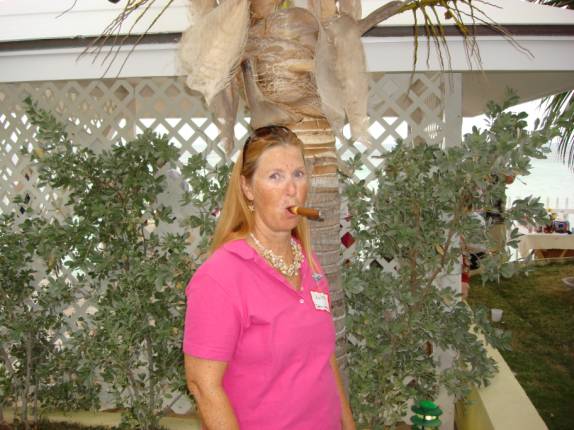 Yes, that right. Doug even served huge, Stone Crab claws… How cool is that? Wow!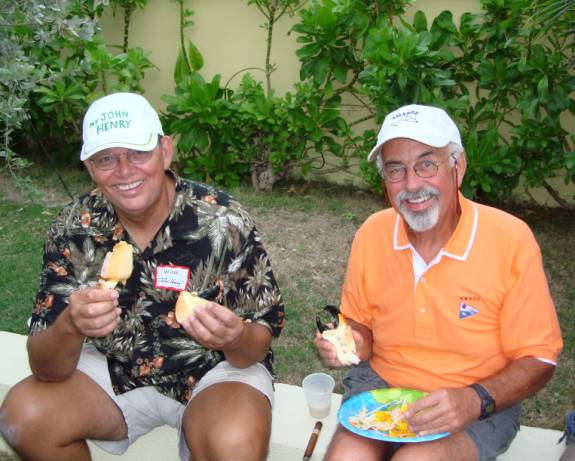 Kathy Fenn (FENNDERS) and Judy Law (AMARSE)…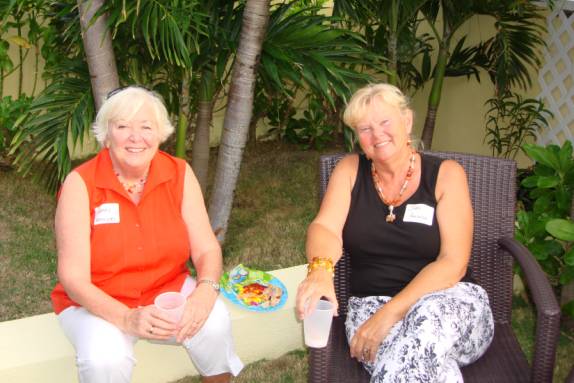 Joan and Jim Elliot (CHRISTINE)…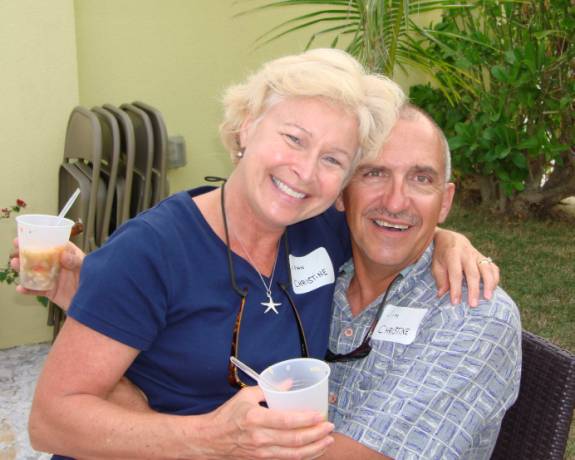 Judy and Jim Howenstine (SILVER FOXES)…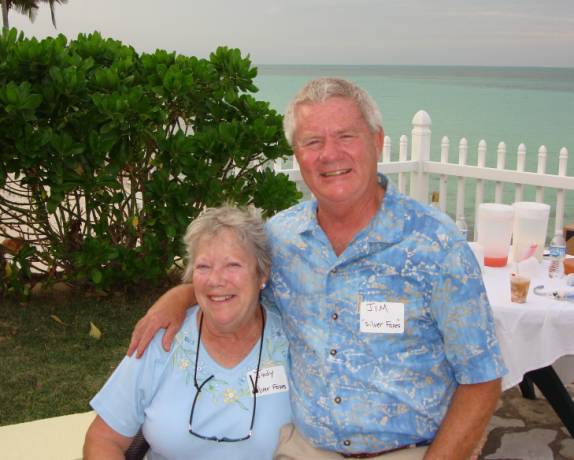 Freshly frying Conch Fritters were coming out hot and delicious…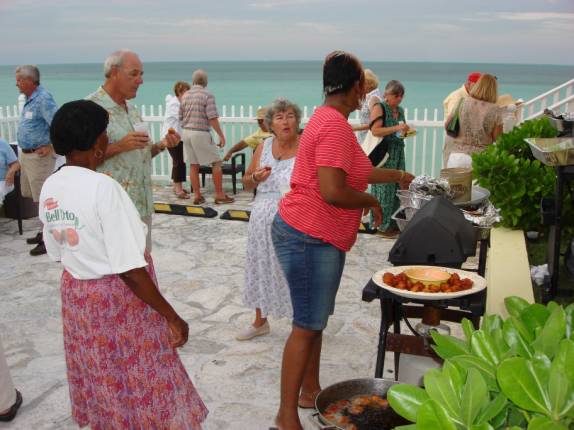 Robert Wilson, Commodore of the Royal Marsh Harbour Yacht Club, took to the microphone to express our sincere appreciation to Doug for hosting this magnificent afternoon event…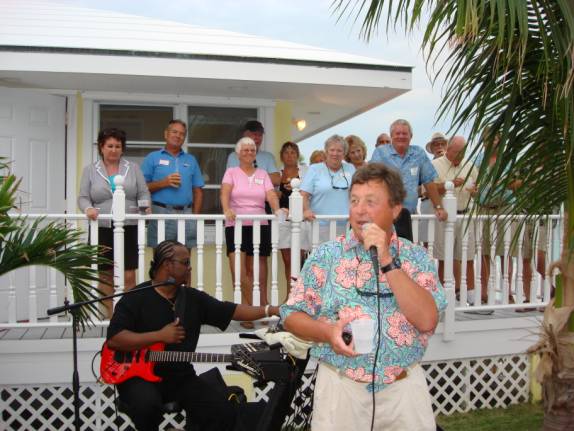 Did someone say, "CONGA LINE…?"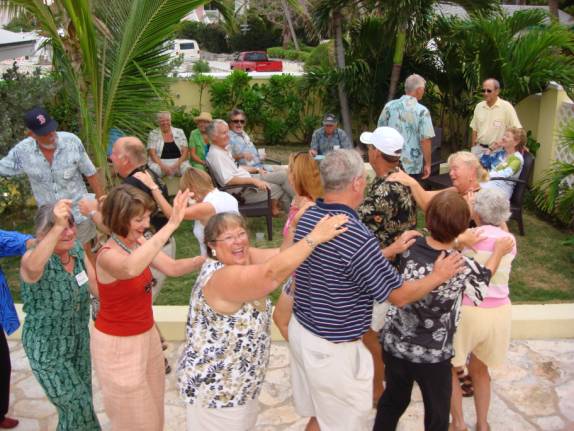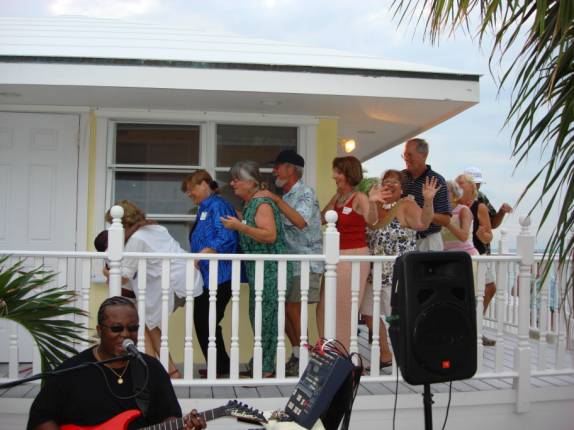 These delicious looking fruit-filled desserts were going fast. With those fast moving fingers, it looks as if yet another one will be history in just another nano-second.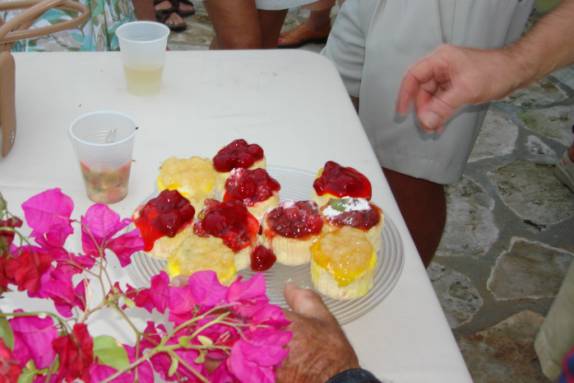 Sue Graham beckoned our host, Doug, to the mic to lead us in singing Happy Birthday to her husband.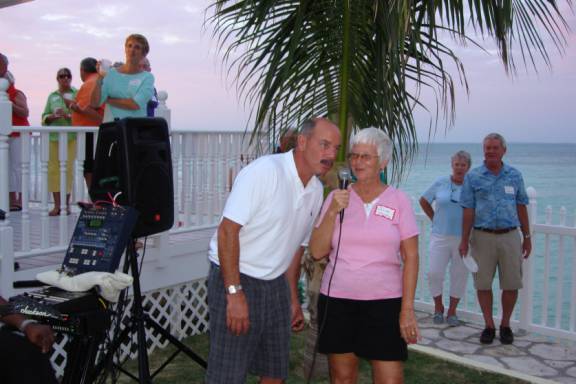 Paul Graham wielded the blade to slice off hunks of his birthday cake.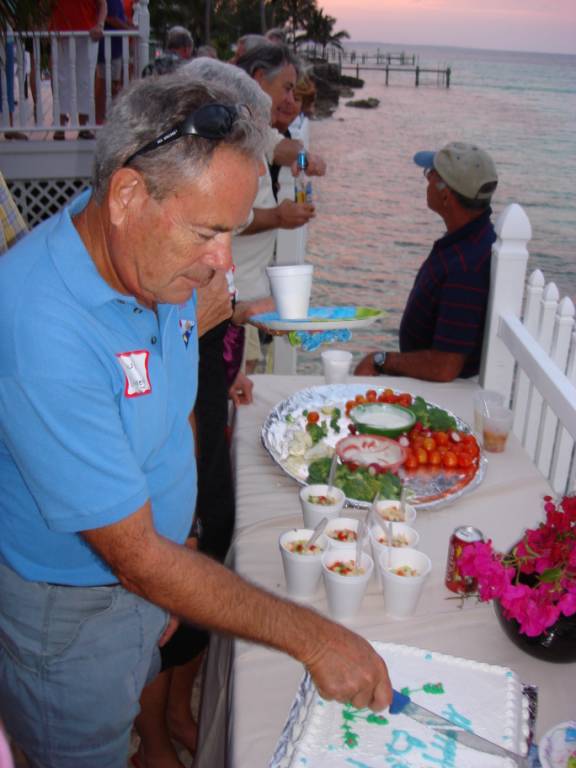 A few of those feisty, dock 4 dancers…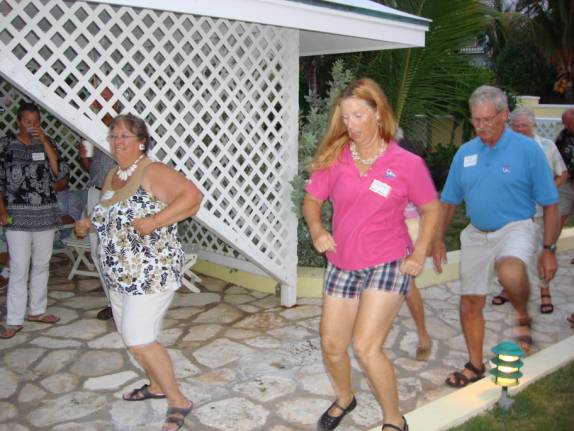 Dance fever was unanimous accepted as the social disease of choice…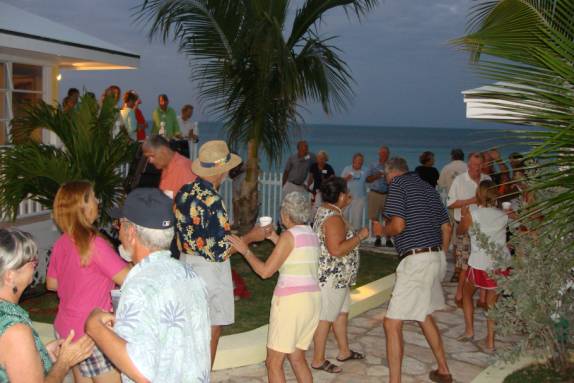 Ray and Pat Halperin (REFLECTIONS) intently watch the dancing girls, Judy and Wilma…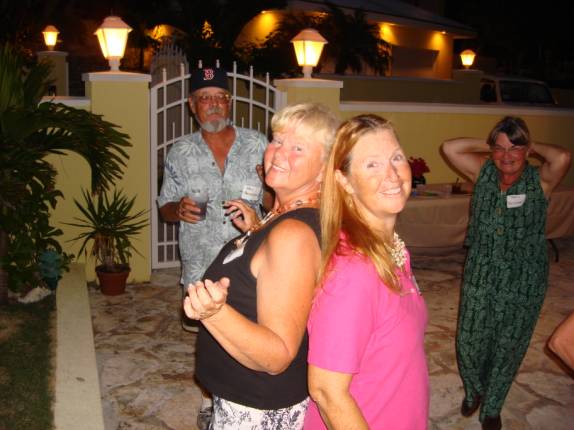 Lois Lantz (PUFFIN) shows Ed Zellers (M/V TALLY HO), and the rest of the world, exactly how to 'get-down and get-funky'…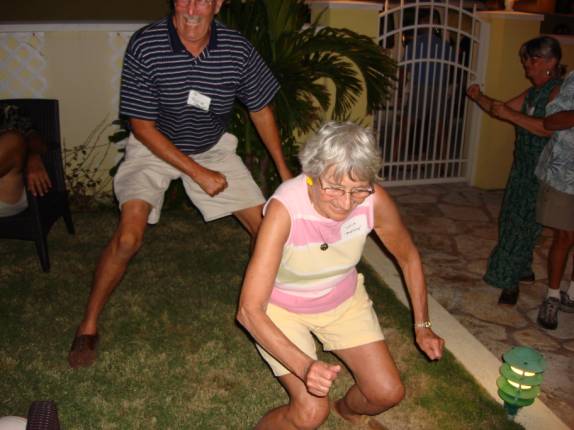 Like all good things, the big party had to come to end, however, the fun did not have to end. The dock 4 crowd gathered around to chat about all the fantastic facets of Doug's Party. Rumor has it that it could become an annual event. I, for one, hope so…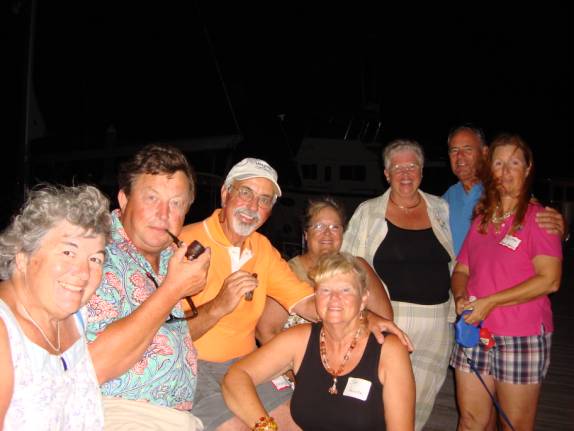 01/08/09 THURSDAY BOAT HARBOUR
HAPPY BIRTHDAY, PAUL GRAHAM…
For Paul Graham (ODYSSEY), cutting the cake yesterday was just a dress rehearsal for today. Since this is his actual birthday, Judy made his favorite flavor of cake for the dock celebration. She did a fantastic job of decorating the festive confection. Years ago, Judy was a professional cake decorator; so many talents…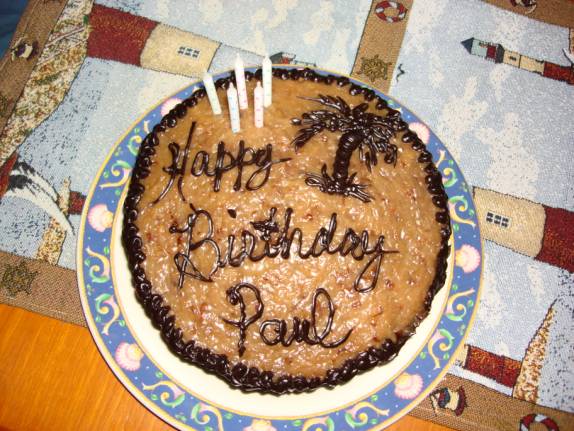 Coming by in their dinghy, Robert and Patty Mitchell, their dog Maggi, (ORINOCO), and their special guest, Sue from Nevada, motored by to say hi and wish Paul a happy birthday.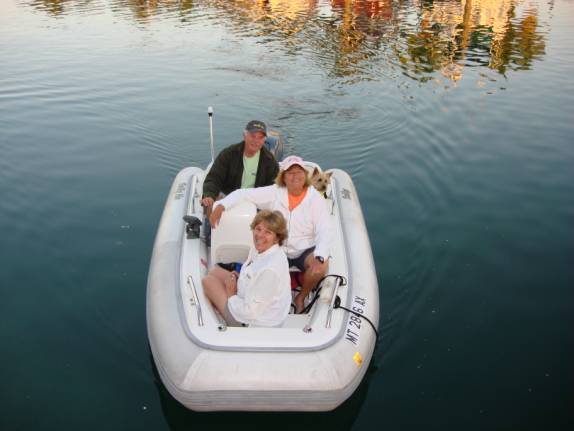 Everybody wave for the camera…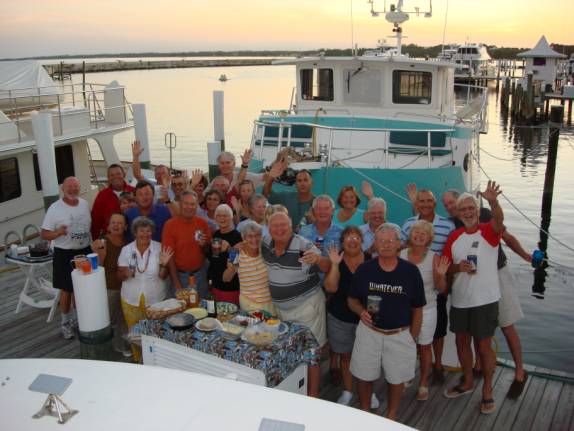 The poet laureate of dock 4, Carolyn Wilson (SEA ISLAND GIRL), read her own composition of poetry in honor of Paul's birthday.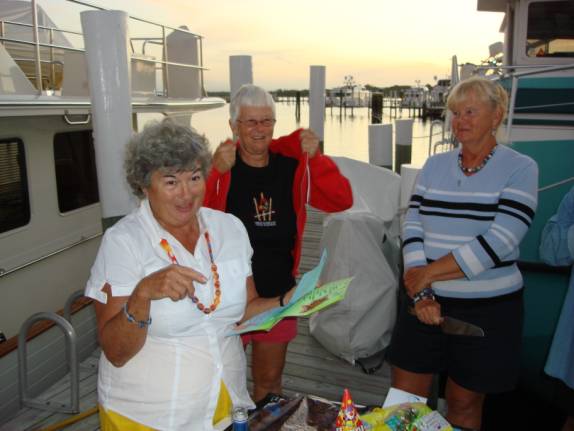 Now there is a lucky guy, two cakes in two days. I wonder what else he could possibly "wish for" when he blows out those candles?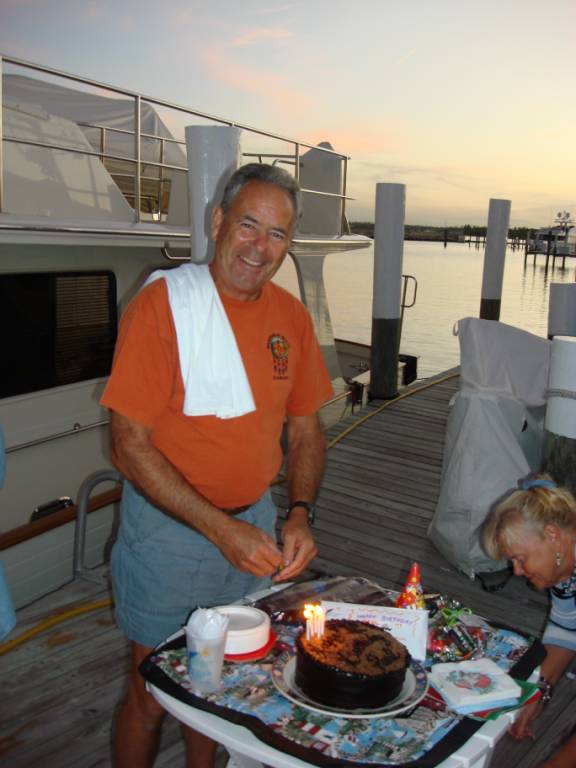 After the dock party, Robert and Carolyn Wilson came to AMARSE for dinner. After dinner, we played a few rounds of the dice games, 'Farkle' and some 'Ship, Captain, and Crew" while sipping some Irish Cream.
CONTINUING UPDATES ARE IN PROGRESS…
WATCH FOR THEM, COMING SOON…
POST SCRIPT:
We sincerely hope that you will review the previous years of compilations to give context to the current editions. Please let us know if you have any special suggestions and thoughts.
REMEMBER: The website is now fully active and you can visit it at any time. You can review any of the 2006, 2007, or 2008 logs and learn more about the crew and our plans. Enjoy.
ATTENTION: SPECIAL NOTE:
You may contact us via email anytime.
Thanks for allowing us to share our life and adventures with you.
Lotsa Luv,
Fred Reed and Judy Law
AMARSE
MT40
"AMARSE" is pronounced "AM-ARE-SAY".
Our website is: www.amarse.net .