UPDATE#13
07
/01 thru 07/31/08
Howdy Everybody,
The adventures of 2008 from 1/1/08 through 6/30/08 have been published on the website. We continue with this latest edition.
UPDATE 2008 #13 07/01/08 through 07/31/08.
At last update, AMARSE was peaceful and secure in her berth at Brunswick Landing Marina in Georgia. We had just returned to Georgia from our land trip to Missouri.
07/01/08 TUESDAY BRUNSWICK LANDING MARINA, BRUNSWICK, GEORGIA
HAPPY CANADA DAY TO ALL OF OUR FRIENDS AND NEIGHBORS NORTH OF THE BORDER. AS MANY OF YOU KNOW, MY MUM WAS CANADIAN BORN AND RAISED.
Our wonderful friends, Sue and Paul Graham, arrived in their Great Harbor 37, ODYSSEY. We have eagerly awaited their arrival and have missed them so much since our last time together in Boat Harbour, Marsh Harbour, Abacos, Bahamas.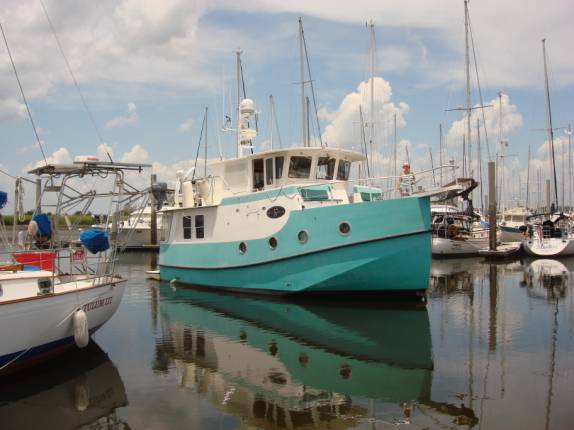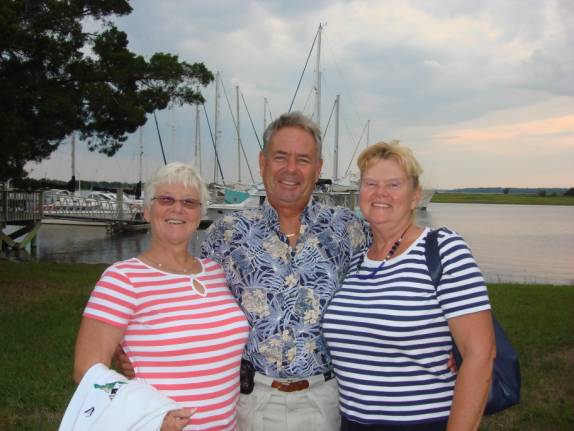 Our Commodore, Robert Wilson, had chauffer duty. I sat up front with him; Paul, Sue, and Judy sat in the back seat; Mrs. Commodore, Carolyn, volunteered to sit in the aft compartment of the Jeep Cherokee. Now, that is service with a smile.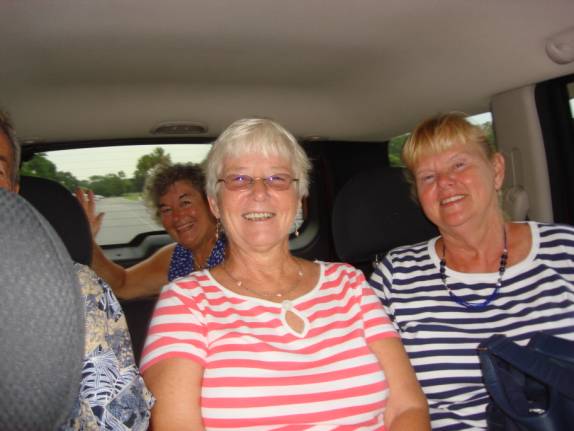 Of course, the decision was unanimous, we all voted to go to Barbara Jean's Restaurant on St. Simon's Island. As always, the food was delicious and plentiful.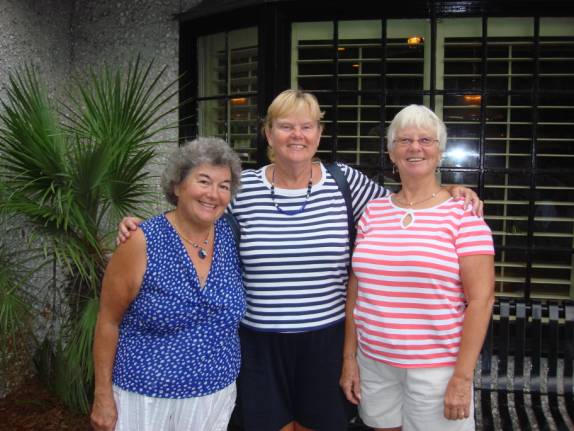 07/03/08 THURSDAY BRUNSWICK LANDING MARINA, BRUNSWICK, GEORGIA
HAPPY BIRTHDAY to ROBERT WILSON!!!!
Carolyn Wilson organized a surprise party for her husband, Robert. A large bunch of us gathered at the dock house of #13. Carolyn had arranged for a feast of grilled shrimp, grilled chicken, and seared steak. Carolyn always hand makes her especially designed greeting cards and places her loving touch on everything she does. It is easy to see that the Commodore is enjoying his special day.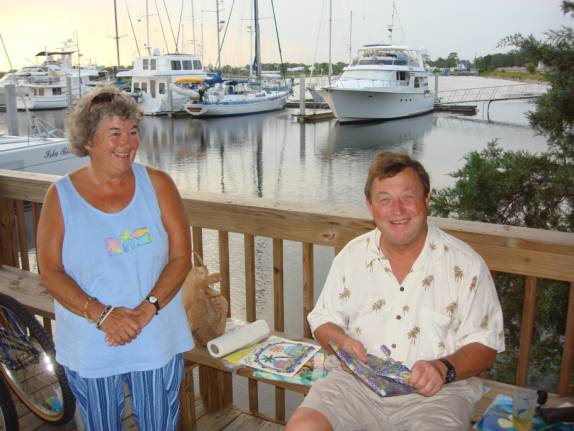 We all enjoyed raising a glass to the man who puts so much into making life wonderful for so many of us. Happy Birthday, buddy!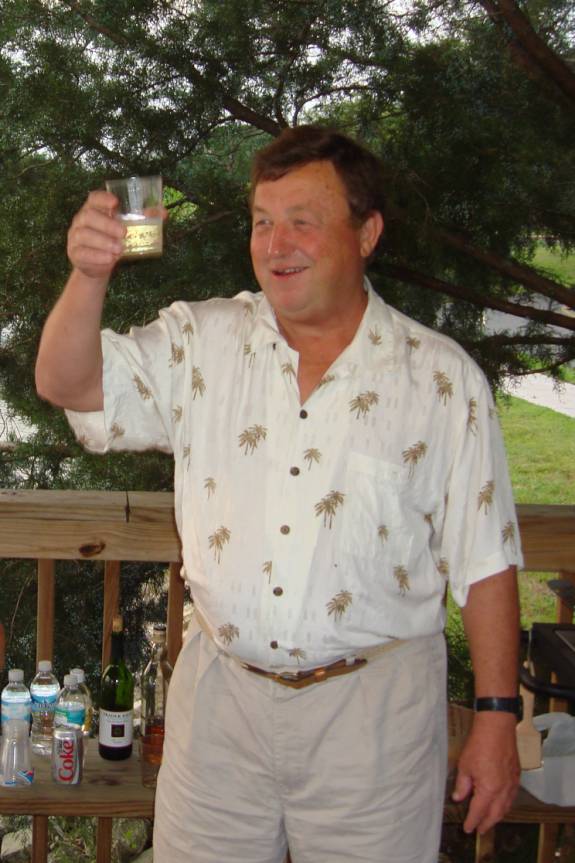 07/04/08 FRIDAY BRUNSWICK LANDING MARINA, BRUNSWICK, GEORGIA
HAPPY BIRTHDAY to the UNITED STATES OF AMERICA.
HAPPY BIRTHDAY to DEAN ORDIWAY (Judy's brother).
Today is the day we celebrate the independence of this great nation. The national holiday has long been the time when friends gather to barbeque and picnic together. George carefully tended the smoker containing eight huge pieces of Boston Butt roasts. Since early, early this morning, the smoky goodness was easing its way into the tender hunks of pork.
Another grill gently cooked these succulent strips of salmon to a mouth-watering goodness. The skipper of MISTLETOE brought the savory fillets and skillfully wielded the spatula.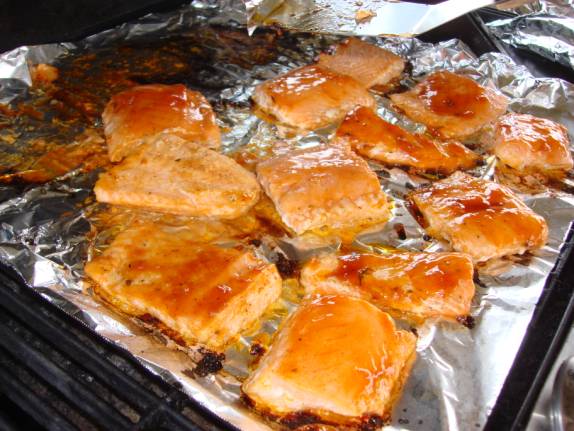 By mid-afternoon, the marina guests arrived to the holiday event hosted by the marina staff. Each boater brought their favorite contribution to the long serving table. Sherry and George made sure everyone had plenty to eat. Somebody brought an awesome platter of marinated sweet red peppers with garlic pieces. I loved them!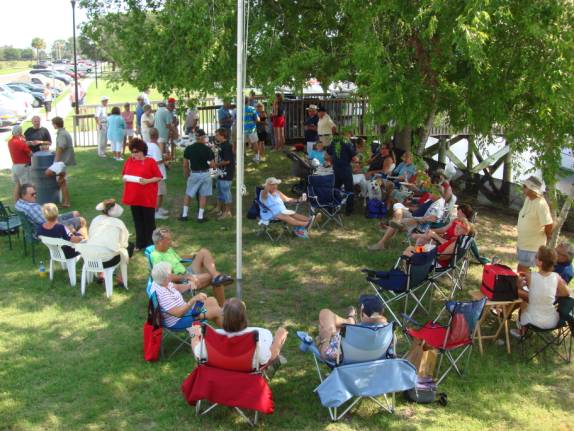 The old city hall is a stately edifice located in the heart of historic Brunswick. The walking parade was scheduled to pass by the gorgeous, brick and stone structure.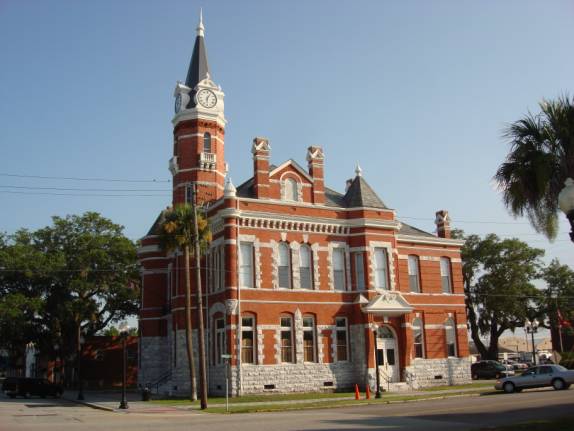 In fulfillment of our sense of civic and national pride, we decided to join the parade event. Perhaps, just perhaps, this might have been one of the smallest parades we've ever seen. It consisted solely of one police car, about eight little red wagons, three horses and riders, and perhaps a couple of dozen walkers. I don't have an explanation for the very few spectators along the route.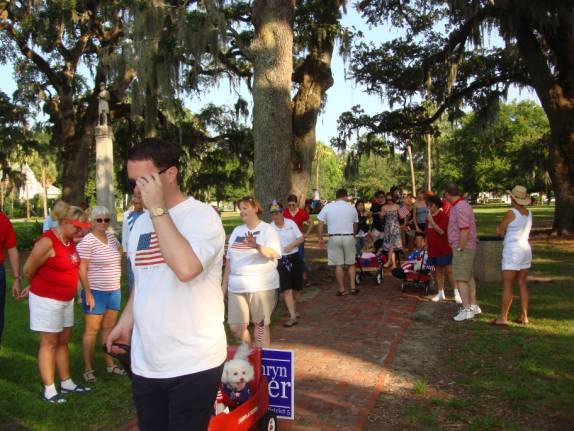 The participants, although few in numbers, paraded proudly and patriotically to Mary Ross Park along the Brunswick waterfront.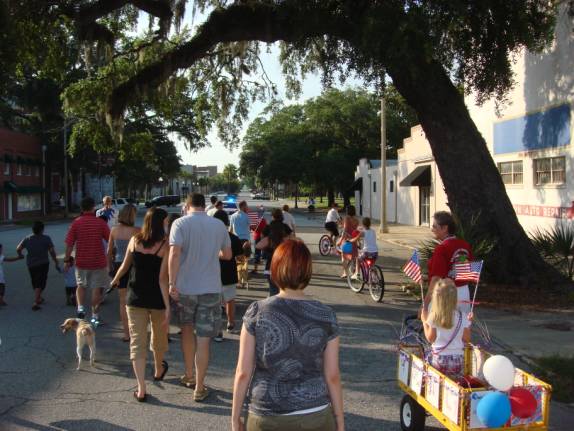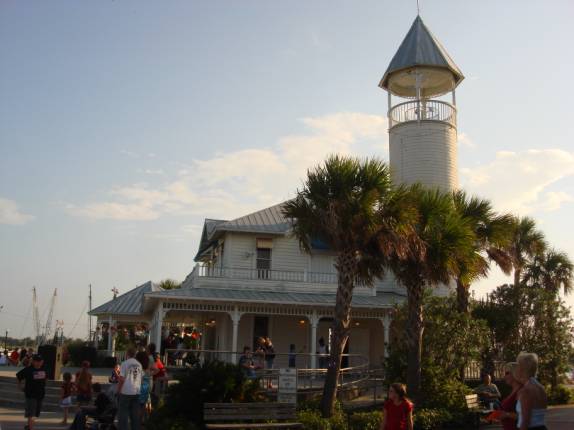 Could any holiday be complete without a game of "hop-scotch"? I think NOT! Do you remember how the game is played?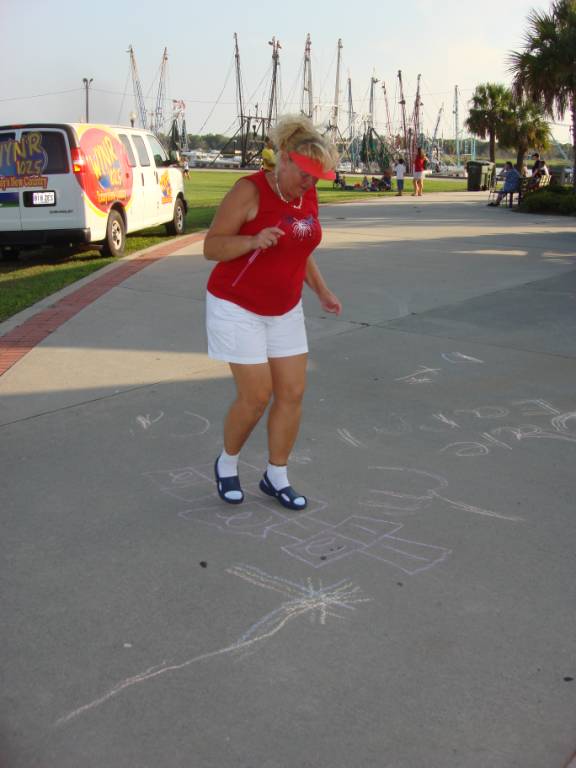 The end of our dock #5 is the perfect place to watch the fireworks. We had a clear view of every burst occurring very close by.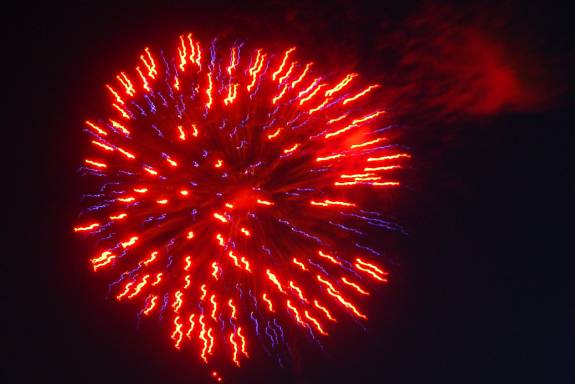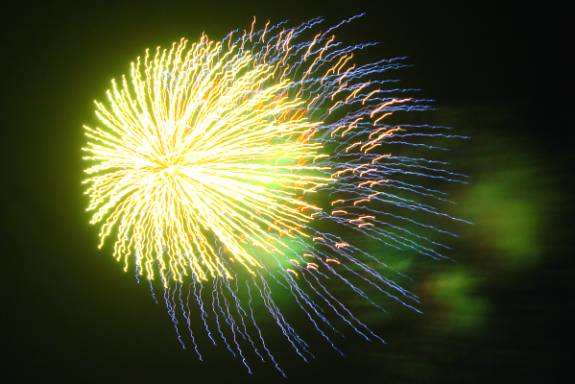 07/05/08 thru 07/09/08 BRUNSWICK LANDING MARINA, BRUNSWICK, GEORGIA
Much of our time these days is consumed with planning and preparations for our upcoming trip to Peru. This trip will be totally planned by us and there is much to do. We are planning a full month in that South American country and will travel extensively throughout the area.
07/10/08 THURSDAY BRUNSWICK LANDING MARINA, BRUNSWICK, GEORGIA
On July 10th, the Georgia Department of Natural Resources conducted a full-scale inspection of the marina property. They stayed the whole day. Paul and Sue went to visit Paul and Connie Murgo in Melbourne, Florida for a few days. Judy and I managed to fit in an evening at the Ritz Theatre. The historic theatre hosts a series of Summer Classic films during the season. Tonight's classic was "Butch Cassidy and the Sundance Kid."
07/12/08 SATURDAY BRUNSWICK LANDING MARINA, BRUNSWICK, GEORGIA
Most of this day was totally occupied with the repair and reconditioning of the "head", or toilet, in the aft stateroom. The old unit had a leak in the shaft seal and was operating poorly. I found that the joker valve was damaged and the sanitation hoses were very encrusted with a solid buildup of salt residue. It is rather shocking since the hoses were changed out just a year ago in May of 2007. I replaced the entire pump assembly, disassembled and cleaned all the hose lines, scraped and painted the motor unit and floor panels, and cleaned and secured the vented loop. After all the work, it was still not working correctly. Troubleshooting led to the "intake ball valve". It was clogged with weeds. I had to clean and re-clean it out at least a half dozen times. The good news is that it works OK now. I am a tired puppy right now though.
07/13/08 SUNDAY BRUNSWICK LANDING MARINA, BRUNSWICK, GEORGIA
Our resident diver, Roger, came over to harvest the massive growth from the bottom of AMARSE. We definitely were harboring an entire ecosystem of plants and critters on the under-hull and around the props. Clearing the extensive mass of weeds required more than a full tank of air. He found one shaft zinc in need of immediate replacement on the 1-3/4 inch shaft. A spare CAMP X-8 was attached securely with Allen hex screws.
The evening drew us to St. Simon's Island for the Golden Isles Arts and Historical Association program of "Jazz in the Park" at the lighthouse grounds.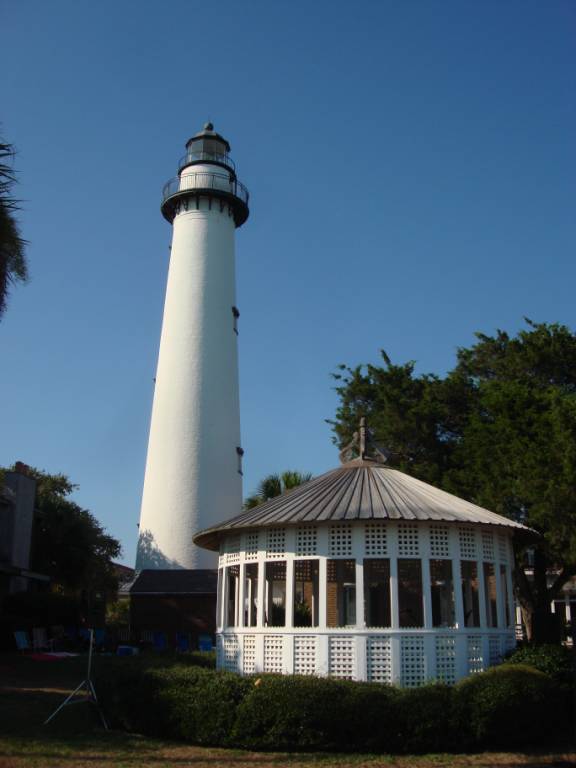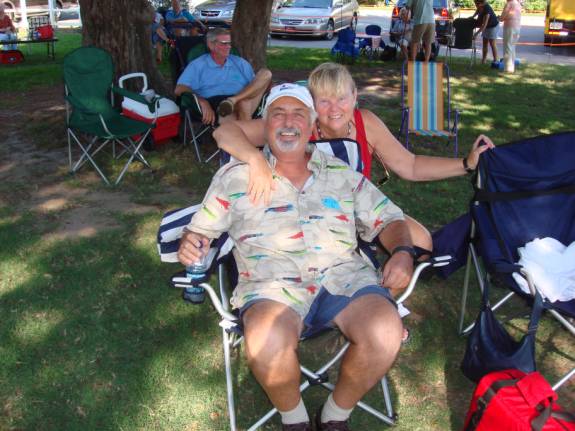 We always look forward to these evenings when folks gather with their lawn chairs and picnic meals. The scenic setting is lovely and the people watching lends an air of enjoyment to the musical program.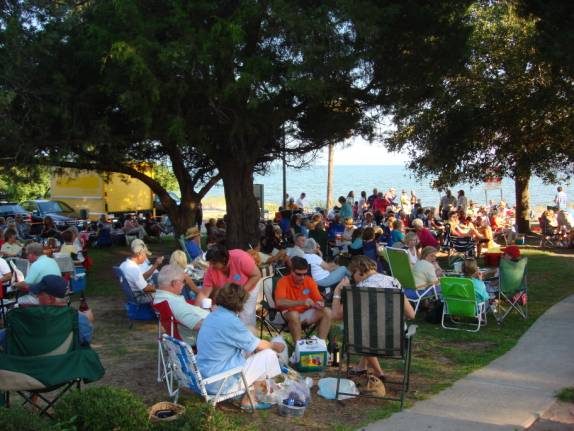 The Rob Dentry Trio consisted of a saxophone, bass guitar, and drums. Rob, now hailing from Chicago, is a local boy made good. Remembering his roots, he tries to make an annual appearance for the hometown crowd. Although quite enjoyable, Judy and I get a bit lost with the musical style when it gets too esoteric. We definitely prefer the traditional Jazz styling to an improvisational and progressive jazz arrangement.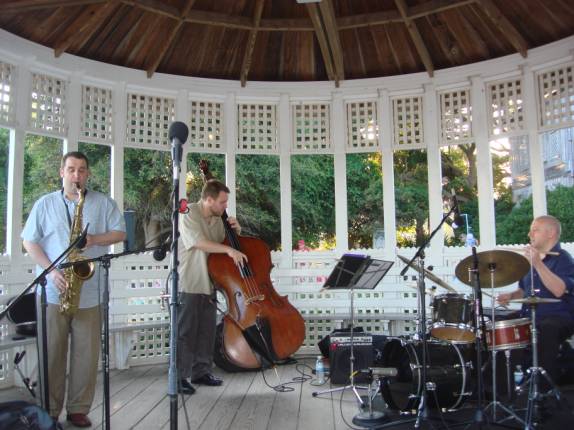 07/14/08 MONDAY BRUNSWICK LANDING MARINA, BRUNSWICK, GEORGIA
Paul and Sue returned from their road trip to Paul and Connie Murgo's in Melbourne, FL today. When we drove up to the marina in our car, it was raining "Cats 'n Dogs". Now, how's this for a kind and considerate friend? Paul scurried out to our car, dressed in his rain gear, and brought us a couple of umbrellas so we would not get soaked. That's just the kind of great folks that they are. It's no wonder that we love them!
07/20/08 SUNDAY BRUNSWICK LANDING MARINA, BRUNSWICK, GEORGIA
The chore list included the repair of the hatch access door located in the floor of the aft cabin stateroom. With a series of 10-24 x 2 ½ " stainless machine screws, nested in finish washers and secured with fender washers and ny-lock nuts, made for a neat and sturdy fix.
Paul and Sue agreed to join up for dinner at Longhorn Steakhouse. Judy chose her favorite with the Baby Back Ribs. A chopped steak with sautéed mushrooms filled my plate.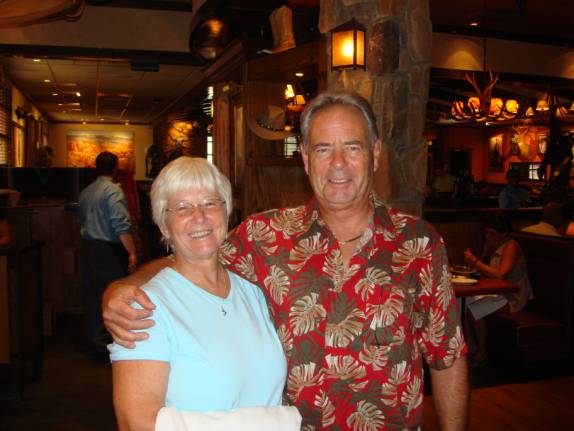 This is what friends look like.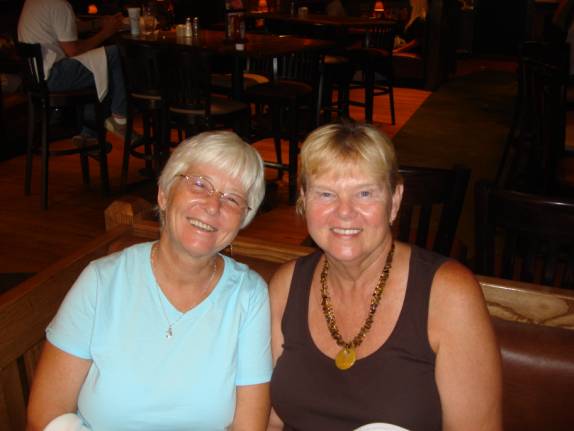 07/24/08 THURSDAY BRUNSWICK LANDING MARINA, BRUNSWICK, GEORGIA
About 3pm, Paul and Sue called announcing that their scooter had just quit running. We were off to help them in any way we could. It was very, very hot and humid. Paul is an excellent mechanic and troubleshooter. It was just too hot to make much progress.
We had been invited to CHABLIS for cocktails. Leaving the scooter in a parking lot, we went back to the marina to relax and cool down. I wasn't feeling very well, but Judy, Paul, Sue, and Pauline and Arthur from FREEDOM enjoyed the invite very much.
About 7:45pm, we took Paul and Sue back to the scooter. I thought they were going to do more troubleshooting; Oh, no! They promptly began to push that stubborn, two-wheeled beast back toward the marina. I had measured the miles on the odometer that added up to 4.3 miles. The outside temperature was still registering 90 degrees. At 9:25pm, they called to inform us that they had succeeded in their quest. Wow, Wow, is all I could say. Where did they muster all that energy and stamina. I know that I could not have done it. Congratz!, I guess.
07/25/08 FRIDAY BRUNSWICK LANDING MARINA, BRUNSWICK, GEORGIA
Paul and I spent the morning driving around looking for parts for the scooter. After rounding up suitable substitutes, Paul set to his magic and soon had the scooter purring like a kitten.
07/26/08 SATURDAY BRUNSWICK LANDING MARINA, BRUNSWICK, GEORGIA
Just for her special buddy, Judy opened the AMARSE beauty salon. Girls will be girls and, soon, they looked better than a million bucks.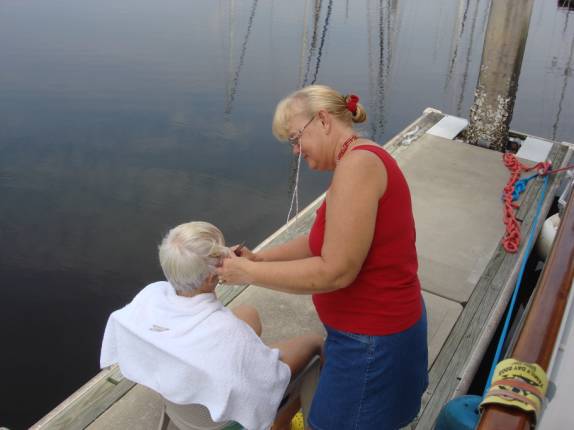 07/27/08 SUNDAY BRUNSWICK LANDING MARINA, BRUNSWICK, GEORGIA
Most of the day was consumed with the preparation of Update #12 for the AMARSE website.
Tonight's concert at the St. Simon's Island lighthouse commenced a bit after the crowds had gathered to enjoy their picnic style dinner on the lawn.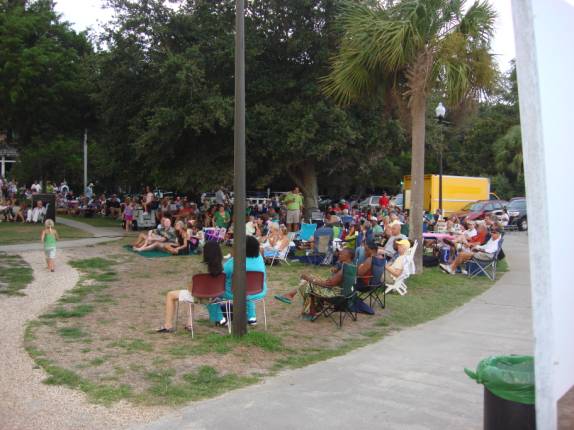 Paul enjoyed a cold brew along with his gourmet sandwich. Judy and Sue like to nibble on their favorite fried chicken breasts from Publix Markets.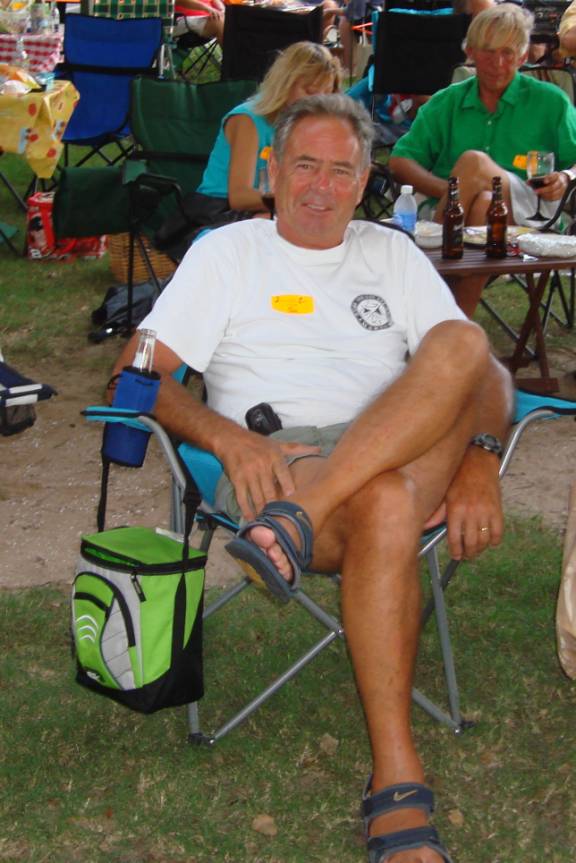 "Jazz in the Park" featured the jazzy styling of Ms. Jonnie Eason. We enjoyed the evening and the concert very much.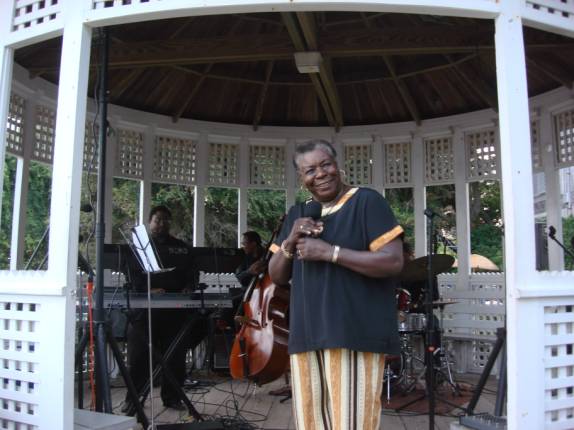 I wonder if it is distracting to the performers when the loud, blasting horn signals from these auto-carrier ships interrupt the band music.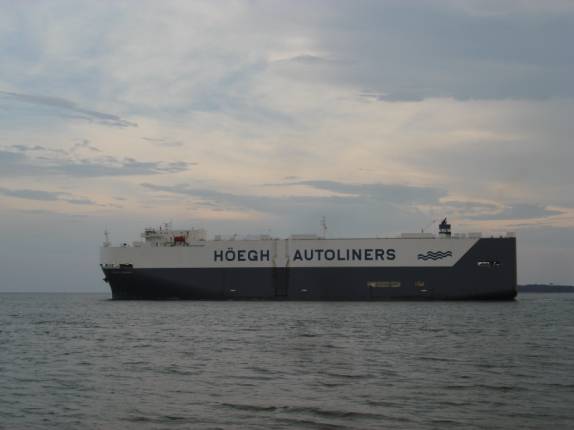 07/28/08 MONDAY BRUNSWICK LANDING MARINA, BRUNSWICK, GEORGIA
With another day of work and input, Update #12 was published to the website and available for our readers.
Although quite warm and humid, the day was clear and lovely. The Brunswick Landing Marina was pretty and peaceful.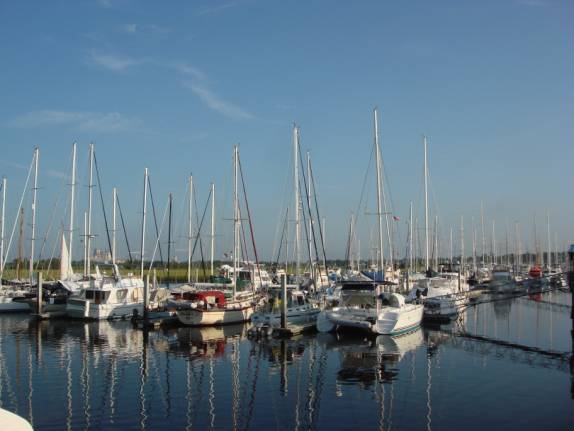 Just a short way from the marina, the Port Authority of Brunswick was a bustle of activity with the exchange of cargo aboard the STAR GRINDANGER out of Bergen. A connecting rail line will shuttle much of the cargo to and from the warehouse.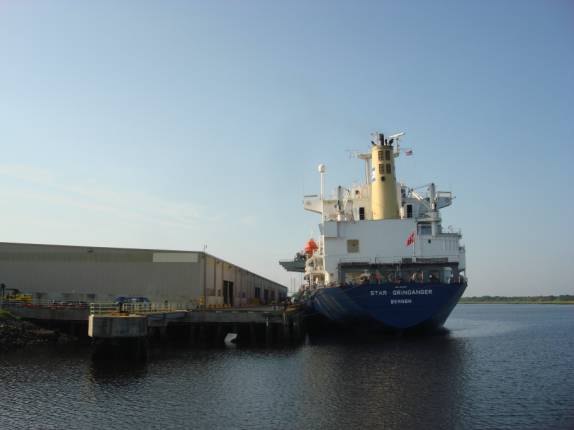 In the adjacent area, Mary Ross Waterfront Park is being adorned with some special artwork. A group has received permission to build this unusual exhibit. Using empty beer bottles that have been collected from the marsh lands, the group is recycling the glass containers into a this display to emphasize the numbers of haphazardly discarded bottles cluttering up the public lands. Nested in colored concrete, the display is an interesting expose to the ecologically sensitive surroundings.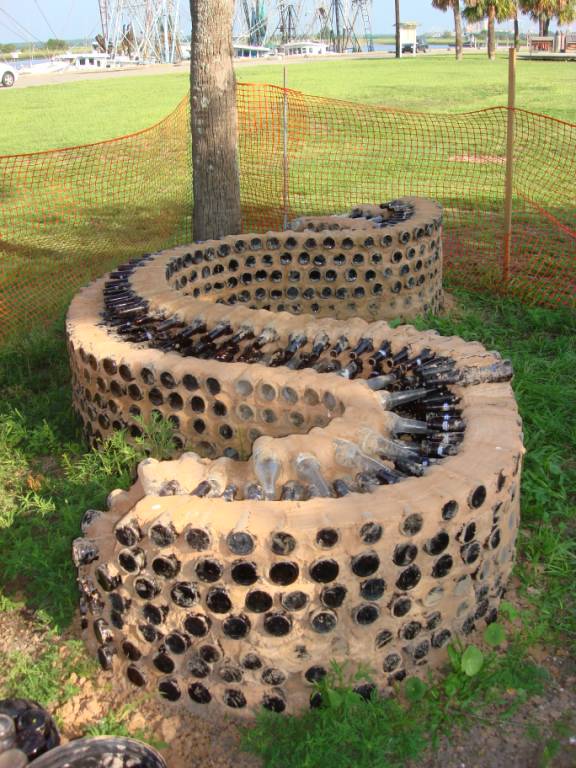 At 7pm, we attended an interesting lecture about DNA research on Loggerhead Sea Turtles. I had no idea that research occurred at these levels of sophistication. Even though most of it was a bit technical and surged beyond the ordinary layman's expertise, we came away with a new level of understanding about these magnificent creatures of the sea.
07/29/08 thru 07/31/08 BRUNSWICK LANDING MARINA, BRUNSWICK, GEORGIA
The final days of the month were, in the main, fully occupied with planning, and even more planning, for our upcoming trip to Peru. It seems like I'm woefully behind in the plan, however, ready or not, "here we come". The bags are packed, the outline of the trip is ready, what is done is done, and what's not is not.
We did manage to sneak in a movie at the GTC11. The feature was BATMAN: DARK KNIGHT.
The boat has been readied for our absence. Extra dock lines have been strategically attached, engines and transmissions have been exercised, thru hulls have been closed, electrical circuits have been isolated, and everything that we could think of was made ready.
The bags are in the car and we are as ready as we can be to commence our South American Adventure to Peru. Tomorrow morning, August 1st, we head out to Hollywood-Ft. Lauderdale, Florida to spend a few days with my daughter and son-in-law, Sharyn and Jeff Cassidy. After the weekend, we leave on August 5th for a month in Peru. We are excited about this trip and believe that we will see a lot of wonderful things. In the succeeding updates, we will recap the experiences and the trip. As they say in Espanol, Bien Viaje (good trip) and Hasta Luego (until later).
WE LUV Y'ALL!!!!
This concludes this edition of the AMARSE Update logs. We hope you will join us again soon for more of our activities, including our exciting Peruvian adventures, in the month of August and beyond.
POST SCRIPT:
We sincerely hope that you will review the previous years of compilations to give context to the current editions. Please let us know if you have any special suggestions and thoughts.
REMEMBER: The website is now fully active and you can visit it at any time. You can review any of the 2006, 2007, or the upcoming 2008 logs and learn more about the crew and our plans. Enjoy.
ATTENTION: SPECIAL NOTE:
You may contact us via email anytime.
We will have internet where ever we find WiFi service.
Our cell phones have been turned back ON. Judy has AT&T/CINGULAR service. Fred has VERIZON service. Email us if you would like our phone numbers.
"AMARSE". is pronounced "AM-ARE-SAY". Our website is: www.amarse.net .
Thanks for allowing us to share our life and adventures with you.
Lotsa Luv,
Fred Reed and Judy Law
AMARSE
MT40