UPDATE#14
08
/01 thru 08/07/08
Howdy Everybody,
The adventures of 2008 from 1/1/08 through 07/31/08 have been published on the website. We continue with the latest edition.
UPDATE 2008 #14 08/01/08 through 08/07/08.
At last update, AMARSE was peaceful and secure in her berth at Brunswick Landing Marina in Georgia. We have been diligently planning our adventure trip to the South American country of Peru.
08/01/08 FRIDAY BRUNSWICK, GEORGIA to HOLLYWOOD, FLORIDA
The 5am alarm awakened the crew of AMARSE to the excitement of beginning another adventure. We were already packed and ready to roar. Judy and I made the final preparations to the boat for our nearly six-week absence. The car pulled out of Brunswick Landing Marina at 5:40am headed for my daughter and son-in-law's home in Hollywood, Florida. Hollywood is located between Ft. Lauderdale and Miami.
We were successful in beating the morning traffic through Jacksonville as we pressed to the south on Interstate I-95. At about 12 o'clock noon, we pulled into the Bass Pro Shop at Sheridan and Griffin in Ft. Lauderdale. We had some last minute items to pick up for our big trip. A couple of sleeping bags were included on our shopping list. I was concerned that we would need them in Peru in as much as it is wintertime south of the equator and I had read other travelers' recommendations to make sure to have them. Since we will be carrying everything we take, we needed the type that would be very lightweight and compact. I wanted to be able to compress them sufficiently to fit inside our small luggage bags. Of course, Bass Pro had just what we needed.
Knowing that Jeff and Sharyn had work commitments for the whole day, we continued to puttz around the area and do some more shopping. We strolled around Historic Hollywood and visited a Cuban grocery store on Route 1, called Presidente Supermarket, finding the selection of products very interesting.
The clock had slipped around to 4:15pm by the time we were welcomed into the fabulous home of Jeff and Sharyn. It is so wonderful to be able to have this time together with them. The panorama from their 17th floor veranda provides spectacular views of the enormous Atlantic Ocean to the east and the protected waters of the IntraCoastal Waterway (ICW) to the west. Today, the Atlantic Ocean was as peaceful and calm as a Vermont millpond.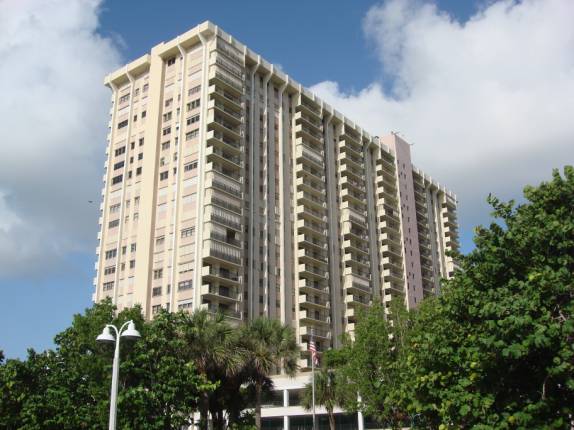 Once again, dining was a pleasure at Mundi's Italian Restaurant on Dania Boulevard. The small, rather intimate eatery has become a favorite for Jeff and Sharyn.
Just across the street is located one of my favorite places. There, Dania Jai Alai is played at a rather furious pace. I am intrigued by the loud, cracking report of the rapidly slung, goatskin ball slamming hard into the fronton wall. After two and a half hours of competitive match-ups, these four, tired spectators were ready to head for their beds.
08/02/08 SATURDAY HOLLYWOOD, FLORIDA
The charm of Hollywood Beach's oceanfront Broadwalk is one of the town's most popular beach attractions. People from all over the world have congregated here for more than 80 years. Of course, everything has been renovated and upgraded to the finest standards. This scenic walkway is Florida's only beachside pedestrian promenade and offers over two miles of auto-free enjoyment in a beachside setting.
On any given day, the ocean breeze can have a delightful cooling effect on those strolling along the walking path area. Bicyclists and skaters can cruise comfortably on a bike path designed just for them.
Since this delightful Broadwalk passes directly in front of their home, we merely exit the building onto the walkway. In keeping with our "training" regimen, we enjoyed a pleasant, 3.3-mile stroll.
Needing a few more trip items, we visited some other shopping spots including a return to Bass Pro Shop. As you can clearly see, we were brutally attacked by this giant, great white shark. Danger lurks in every corner.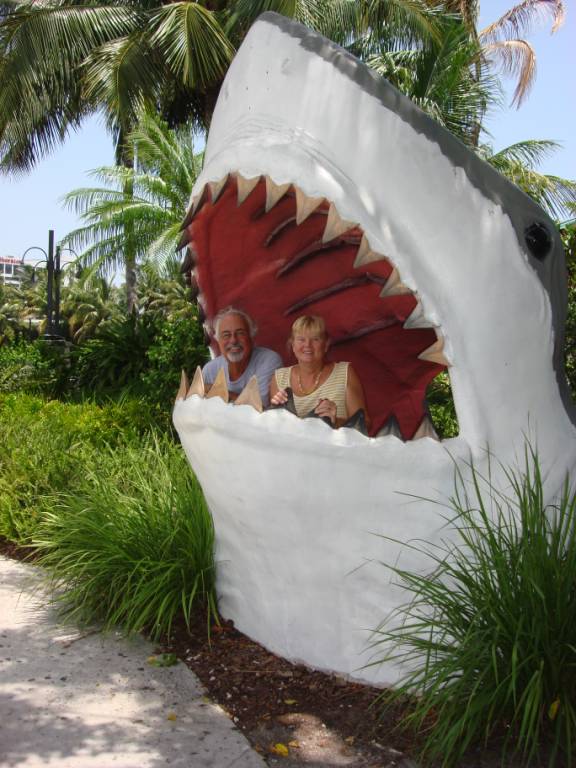 At night, we returned to the Broadwalk to join many couples walking hand-in-hand in the tranquil lighting from the new, historically themed, streetlight fixtures. In this unique seaside setting, lots of folks can chose to savor a myriad of American and ethnic cuisines or to pause, listen and, perhaps, dance to a variety of musical sounds. How about your favorite flavor of Italian Ice to the rocking sounds of the "King", Elvis himself?
Although not directly on the Broadwalk, we selected the eclectic "Le Tub" saloon and restaurant for our dinner choice. It is located right along the ICW side of route A1A adjacent to the Broadwalk.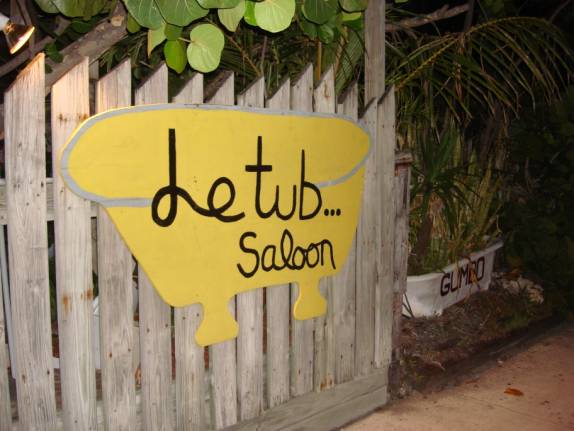 This place has lots of dedicated admirers including Oprah Winfrey. The weird collection of decorative items may seem odd, however, they succeed in creating a rather unique atmosphere not commonly found.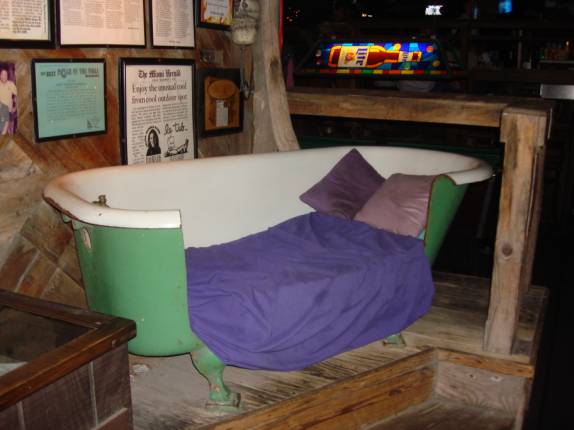 Have you ever considered decorating your own front yard with any of these items?
The covered, outdoor dining area is quite rustic.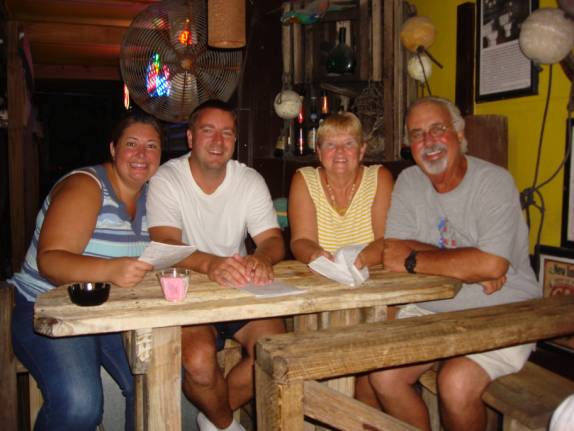 The real calling cards of this place are their giant burgers. Even Jeff can't believe his eyes.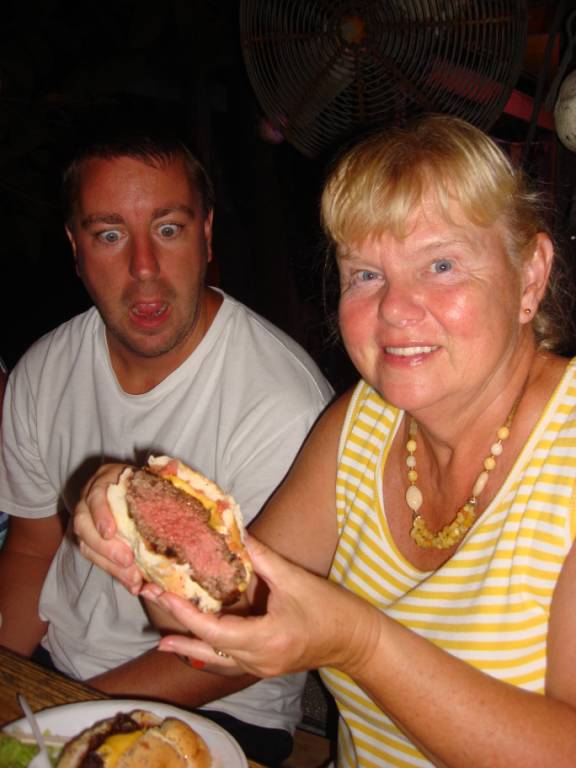 Remember to bring plenty of cash along with your hardiest appetite. This place absolutely will not accept checks or credit cards.
According to Judy, this may be the most comfortable seat in the house. Which do you like best, the "red" or the "blue"?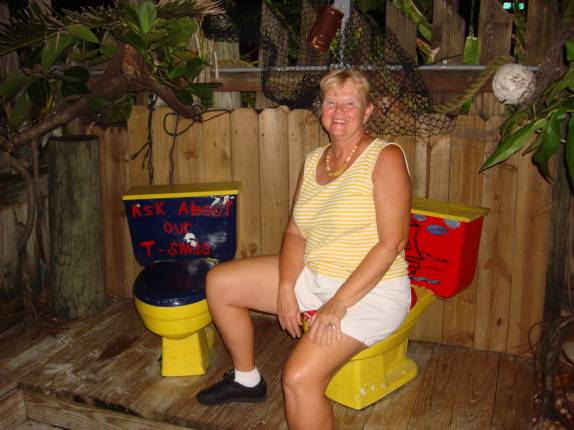 At the end of the day, my pedometer indicated that we had walked a respectable 9.16 miles.
08/03/08 SUNDAY HOLLYWOOD, FLORIDA
At 8:15am, the four of us were out on the Broadwalk for our morning exercise program. As you might imagine, the scenery was wonderful as we gazed out over the ocean waters.
Jeff and Sharyn attended their church in a new location. This was the first session to be held at the Hollywood Performing Arts Center located very near their home. The parent congregation meets some 45 minutes away. This satellite group is wonderful for them to meet lots of friends that live closer by. They are both very excited about the possibilities.
On the first Sunday of each month, a jazz music event is hosted at the Ft. Lauderdale Park adjacent to the New River. We were able to enjoy the last set of music for the day. Of the 4 or 5 bands playing, we enjoyed this one the most.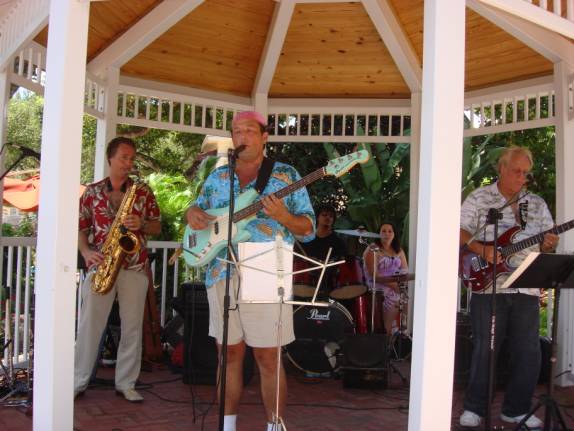 Of the many choices for lunch along the park riverfront, Jeff and Sharyn chose to treat us at the Briny Irish Pub.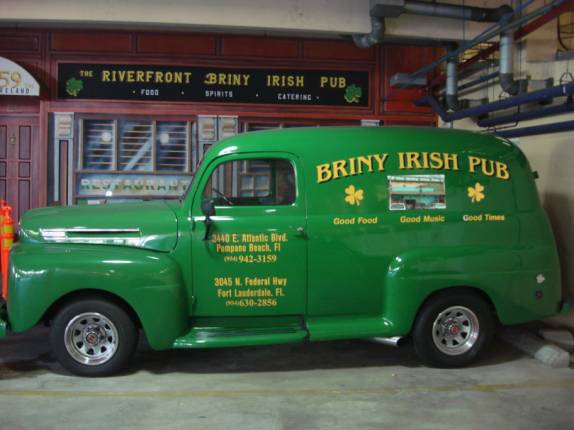 A huge collection of "Jetsam" and "Flotsam" adorns the entire roofline of the restaurant.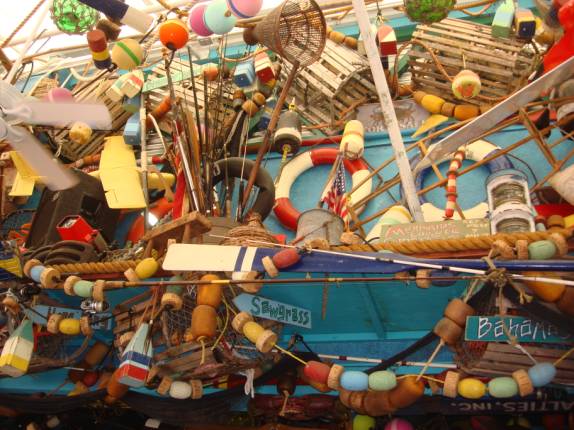 We had a great table in the outside seating area. The weather was nearly perfect.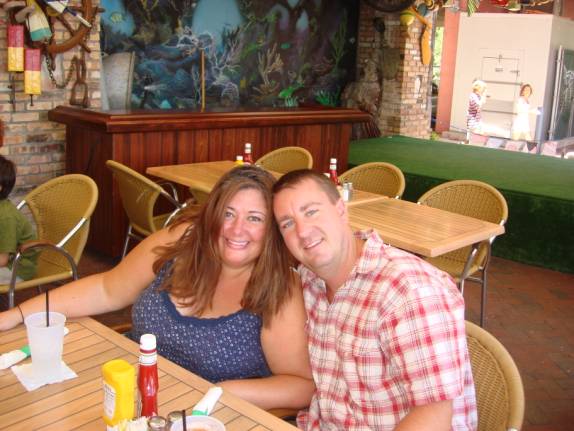 The creamy clam chowder was delightfully delicious. Others enjoyed their fresh, crispy salads of various flavors.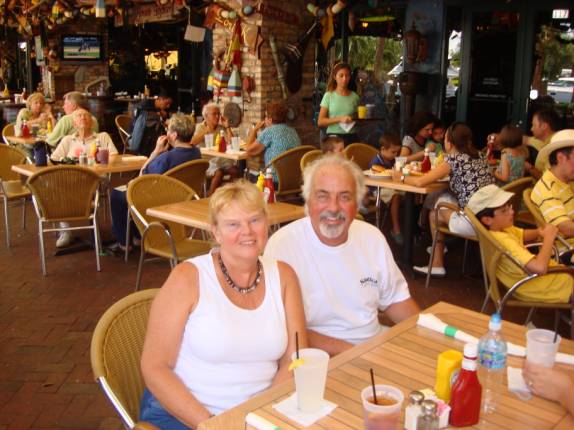 Jeff caught up on Sunday afternoon sports, I managed to sneak in a nap, and the girls got involved with some quality time for their jewelry-making stuff.
We enjoy watching the beautiful sunsets from the veranda that overlooks the now tranquil ICW.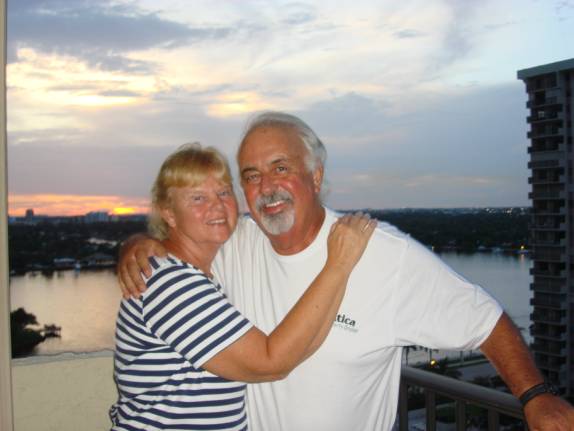 Are we lucky, or what? This is definitely the good life!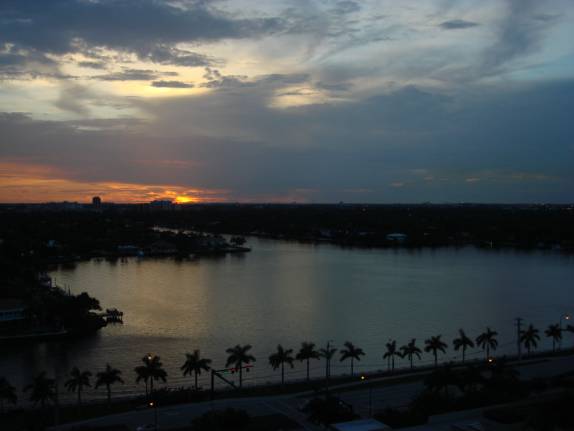 After dark, we returned to the Broadwalk for an evening stroll. Another of Jeff and Sharyn's favorites, Venice Pizza, beckoned for us to partake of the icy cold, Blue Moon beer and some piping hot slices.
The pedometer registered 6.14 miles today.
08/04/08 MONDAY HOLLYWOOD, FLORIDA
Being a Monday, Jeff and Sharyn had work obligations. It was a bit tough on them since the building was undergoing extensive maintenance on the air conditioning system. The noise was a bit disruptive to their sessions. Judy and I tried to stay out of their way as not to further complicate their schedules.
The evening dinner choice was the famous Jaxson's Restaurant on Route 1. Try, as you might, you'd be hard pressed to find a tastier place to dine. It soon becomes obvious why this place has been in business for so long.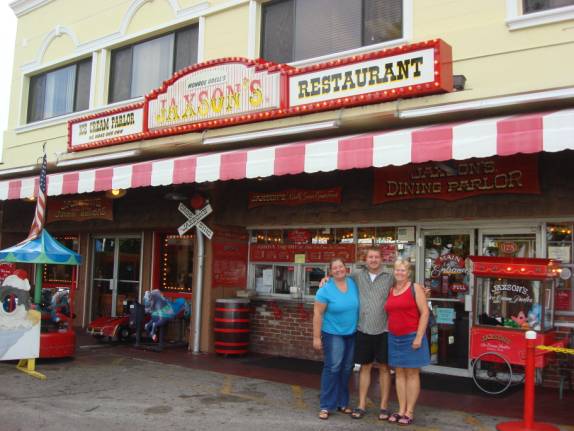 Famous for their ice cream dishes, this is what they call the "Junior Sundae".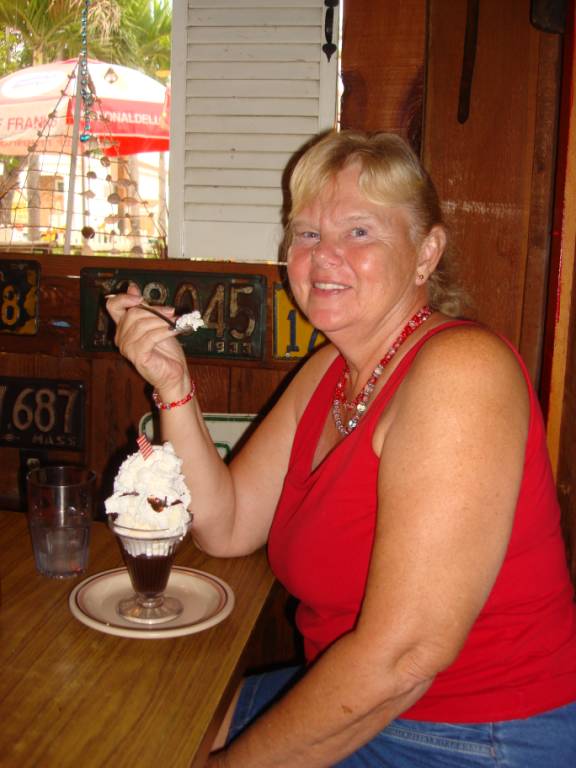 08/05/08 TUESDAY HOLLYWOOD, FL to MIAMI, FL to BOGOTA, COLUMBIA to LIMA, PERU
When the alarm wailed its blaring blast at 4:15am, we jumped right up out of bed. The eager anticipation of our continuing adventure fueled our adrenaline rush. Sharyn was awake in hopes of accomplishing some of her work requirements before the construction projects resumed. Jeff helped us load the car and, at 4:55am, cheerfully whisked us to the Miami International Airport. Less than 30 minutes later, we joined the growing lineup for AVIANCA Airlines check-in counter.
By 6:30am, we had cleared the final stage of TSA security and proceeded to the gate. On time, the Boeing 757-200 jetliner pushed back from her jet way. Almost three hours later, the full airplane landed at Bogotá, Columbia. The flight had been smoothly and professionally operated. The delightful cabin crew even served a nice, hot breakfast. Now, that is something you won't likely find on our US domestic air carriers.
Even though we were only in transit for a connecting flight, the Bogotá airport security required that we be rechecked three times before being allowed to board our succeeding flight. With about 4 hours between our flights, we perused some of the airport shops. Although I should have expected it, we were surprised to see this famous Columbian coffee symbol so proudly displayed.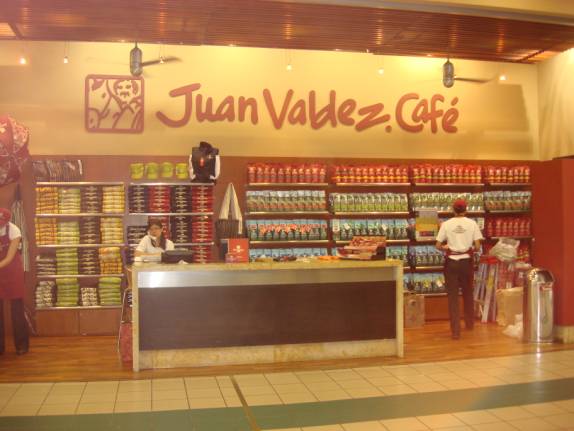 Our flight to Lima boarded and departed on time.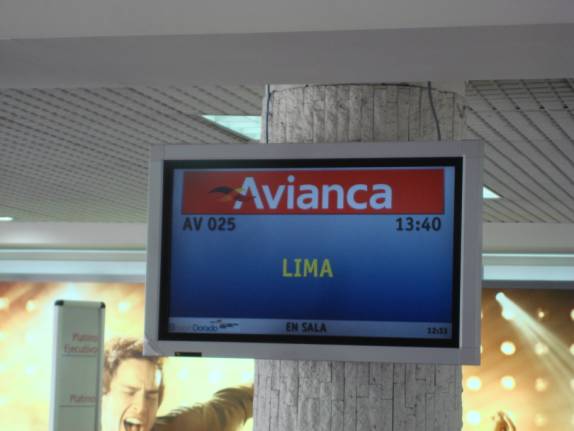 Another tasty, hot meal was courteously served aboard the fully packed, but comfortable, Airbus 320 aircraft. The 2 hour and 40 minutes flight arrived at Lima International Airport at 4:20pm.
An efficient immigration and customs procedure took much less time than we expected.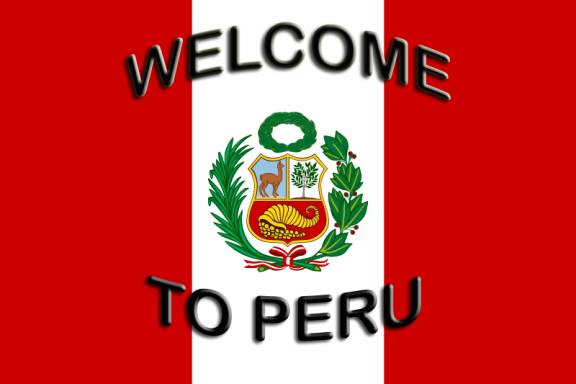 Facts and Figures



Name Peru


(long form) Republic of Peru


Population 27,925,600


Capital City Lima (6.9 mil)


Currency Nuevo Sol (PEN)


Languages Spanish, Quechua, Aymara, others


National Day July 28


Religions Catholic (81%), others

Geographic Coordinates


Latitude/Longitude (Capital City)


10º 00' S, 76º 00' W


Relative Location Peru, just to the south of the Equator, is positioned in both the western and southern hemispheres. It's located on the western coast of South America, and bordered by Ecuador, Colombia, Brazil, Bolivia, Chile, and by the Pacific Ocean.

Land Statistics


Coastline 1,500 miles (2,414 km)


Land Areas


(land) 494,211 sq miles (1,280,000 sq km)


(water) 2,015 sq miles (5,220 sq km)



(TOTAL) 496,226 sq miles (1,285,220 sq km)



Landforms The rugged Andes Mountains cover almost 40% of Peru. Hundreds of snowcapped peaks jut skyward here, with many exceeding 20,000 ft.


Fronting the Andes - from Ecuador to Chile - there's an arid and rocky narrow coastline; in essence, it's a sandy mountainous desert dissected by dozens of small rivers that flow into the Pacific.


In the east, the Andean Highlands slope gently down into the rivers and jungles of the Amazon; a heavily forested, relatively flat area, that stretches to its borders with Brazil and Chile.



The lowest part of Peru is in the far northeast; here, tributaries of the massive Amazon River irrigate the fertile land and jungles.



And speaking of rivers, Peru is drained by many, including the Apurimac, Maranon, Napo and Ucayali - to name but a few.



Note that Peru shares control of Lake Titicaca with Bolivia, the world's highest navigable lake.



Highest Pt. Nevado Huascaran - 22,205 ft.
(6,768 m)



Lowest Pt. Pacific Ocean - 0 ft. (0 m)



Land Divisions 25 regions and 1 province. Regions include: Amazonas, Ancash, Apurimac, Arequipa, Ayacucho, Cajamarca, Callao, Cusco, Huancavelica, Huanuco, Ica, Junin, La Libertad, Lambayeque, Lima, Loreto, Madre de Dios, Moquegua, Pasco, Piura, Puno, San Martin, Tacna, Tumbes and Ucayali; the Province is Lima.
Now that you have some basic background information on the Republic of Peru, I will continue with the tales of our adventure.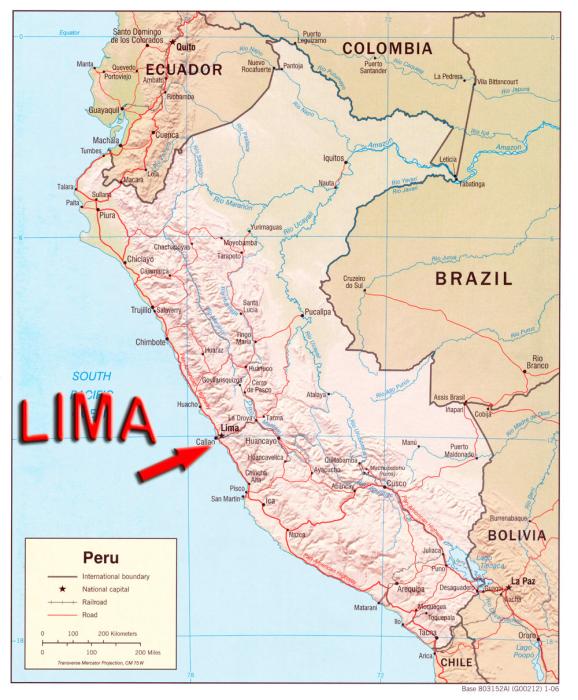 We had made a hotel reservation via internet before leaving the US. I had even sent a reminder note reconfirming our arrival. In the arrival vestibule, representatives from numerous hotels and hostals held up signs bearing the names of guests. Our searches of the signs showed nothing resembling our names. Still confident that they would be there soon, we paced the floors constantly looking for a familiar placard. After an hour, it was quite clear that we had been forgotten. I arranged for a taxi to take us to the Miraflores area of Lima. We managed to negotiate the officially sanctioned, airport taxi service for the reduced, bargain price of $20 US. Much of the advice we received was to pay a little more at nighttime for the official, so-called "secure" taxi services.
When we arrived at our destination (about a 40 minute ride) , it was already dark out and the street where our arranged hostal was located was blockaded due to construction. We exited the taxi and walked to the hostal entrance. The staff of the "Stop'N Drop Hostal" was very apologetic that they had messed up (without actually admitting it). The room that we had reserved was also not available because another guest had been delayed and couldn't vacate the room. I inspected an alternate room and, believe me, it was a "dump"! The room had a musty, unpleasant air and the condition was unacceptable. Although I would not personally recommend this hostal, I must say that the staff was understanding and helpful to us in locating another place to stay. A couple of staff even carried our bags to a several of other places in our quest for acceptable accommodations. Fortunately, we located a delightful little hostal that turned out to be quiet and conveniently positioned for our needs. All in all, everything worked out for the best and we enjoyed our stay there much more than we would have if the original plan had worked out. I have to believe that Judy is the "Good Luck Charmer" for this adventure.
Anxious to begin exploring, we walked out to the beautiful park setting of central Miraflores. It is a very secure area of the city that boasts lots of restaurants and touristy facilities. The architecture and night lighting yield a spectacular welcome to this South American destination.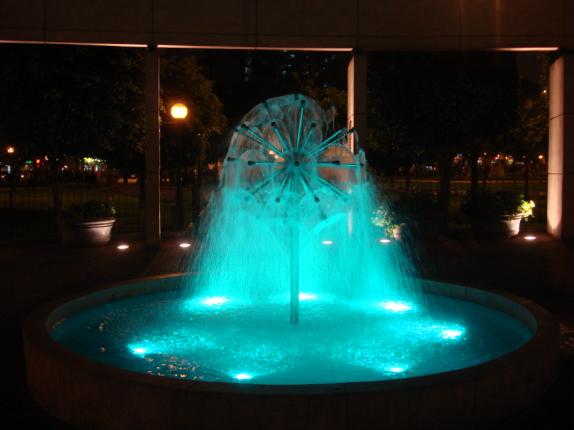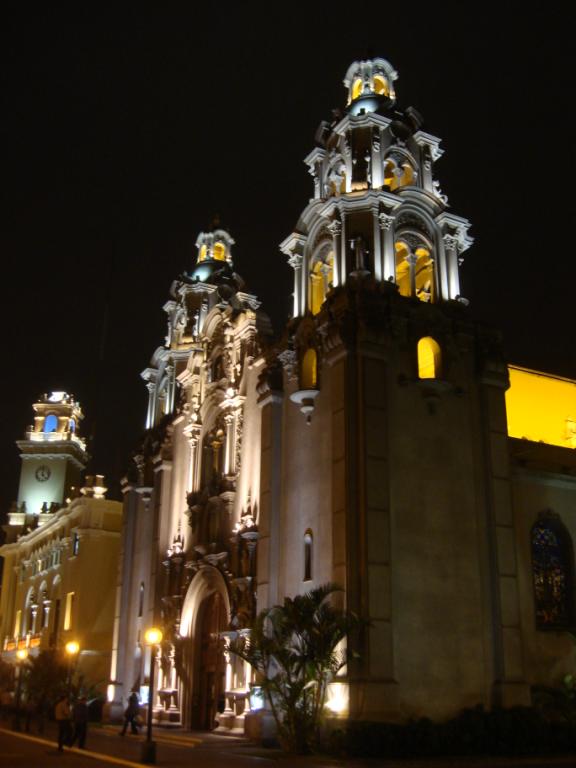 For dinner, we selected the outdoor setting of the "Café de la Paz." The beautiful setting overlooking the picturesque views was somewhat diminished by numerous European tourists that seem to smoke incessantly. Being a reformed 'smoker', I can't stand the foul odor of cigarette smoke. Oh, well, the food was tasty.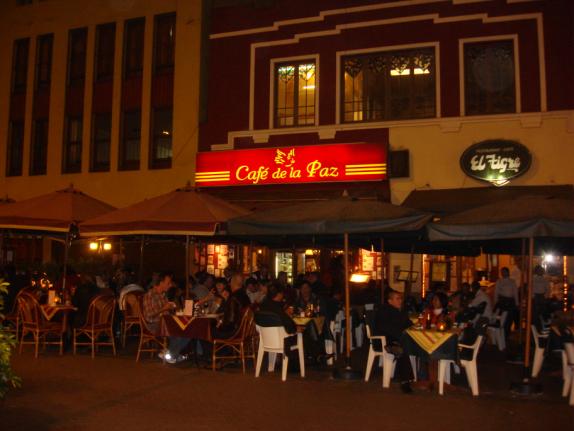 The Iglesia at Miraflores is a real spectacle at night. We walked and walked and walked.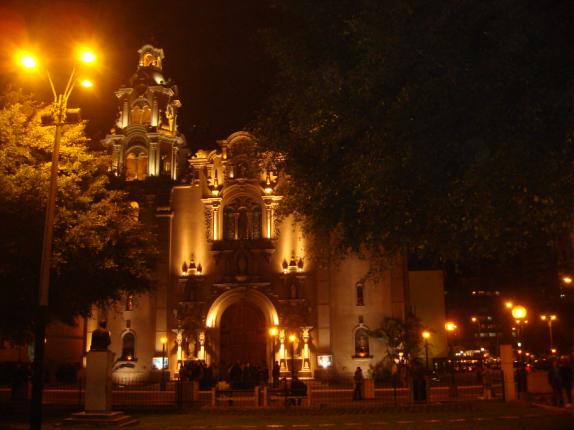 08/06/08 WEDNESDAY MIRAFLORES, LIMA, PERU
Our night at the Casa de Los Sanchez was restful and comfortable. I am so glad that we are staying here instead of the original hostal. In Peru, accommodations are classed in the three categories of (1) Guesthouse (Hospedaje), (2) Hostal, and (3) Hotel. It has nothing to do with the quality of accommodations, rather, it is based on the type of food or restaurant service associated with the accommodations. Our hostal bears a three-star rating and serves only an included breakfast of juice, coffee, and bread rolls.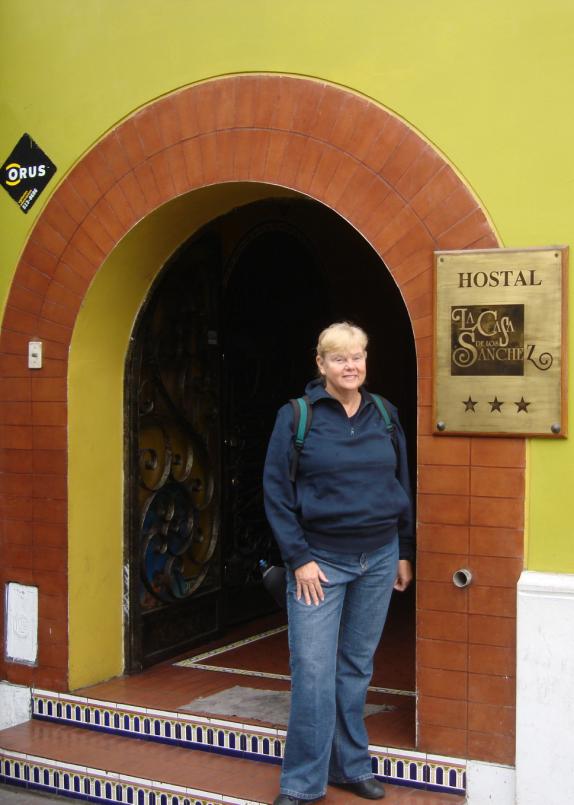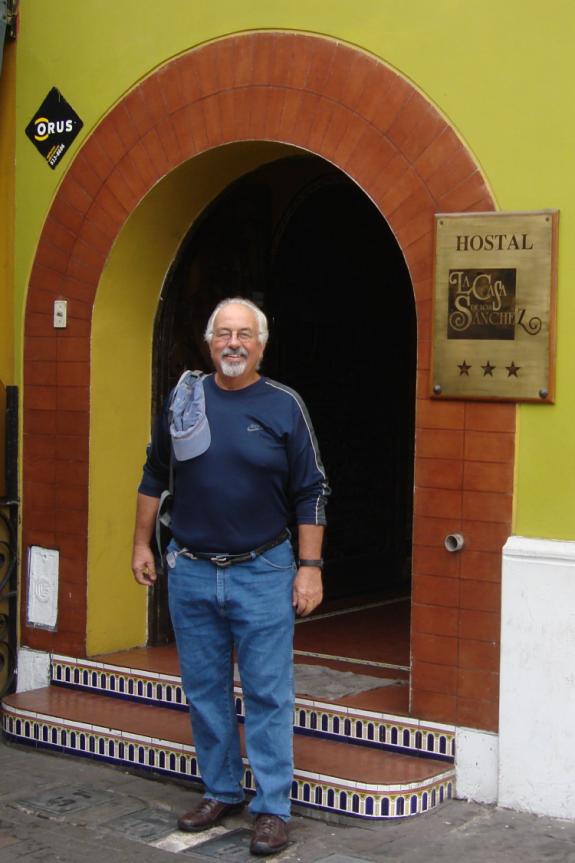 Looking significantly different than under night lighting, the Miraflores church, that overlooks the major park area, still boasts its fantastic architecture.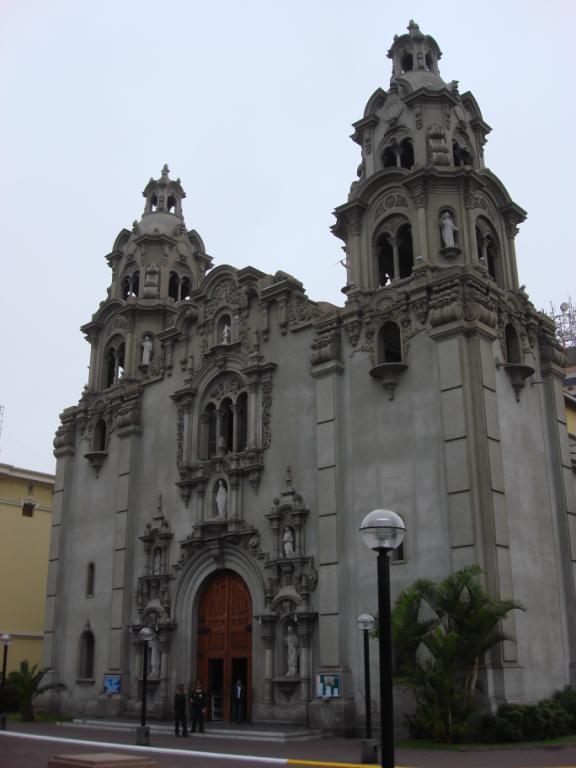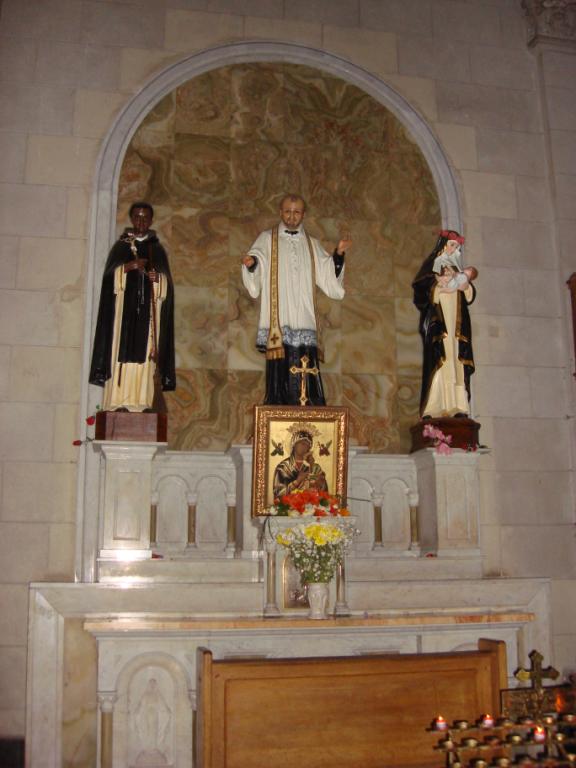 This beautiful government building doesn't reveal its true beauty under the constantly gray skies that hover over the entire Lima area every day.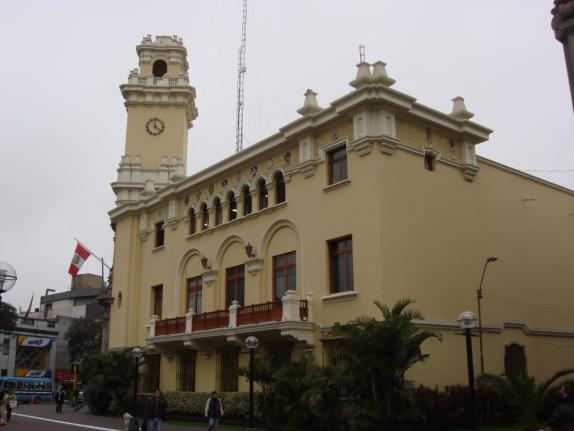 We boarded the Mirabus tour of the city and historic Lima at 9:30am. Being first in line gave us prime seats on the upper deck of the sightseeing bus.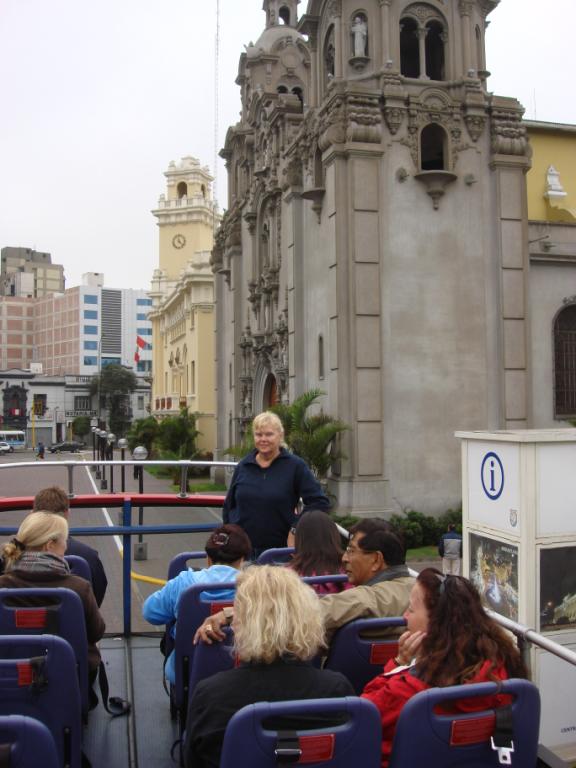 Lover's Park overlooks the Pacific Ocean near the upscale district of Miraflores, a southern suburb of central Lima.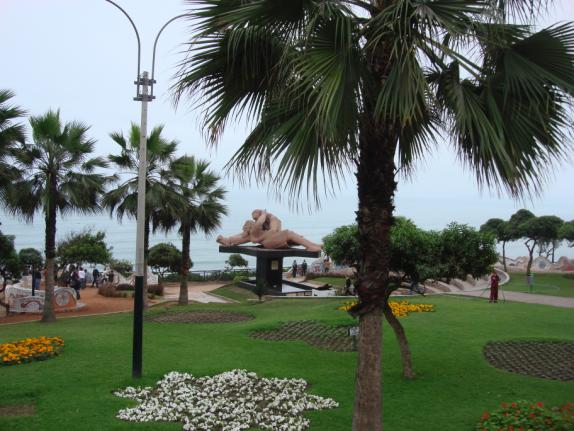 Strikingly precipitous cliffs drop sharply down to the ocean level. This famous restaurant is renowned for its upscale dining and Peruvian ceviche.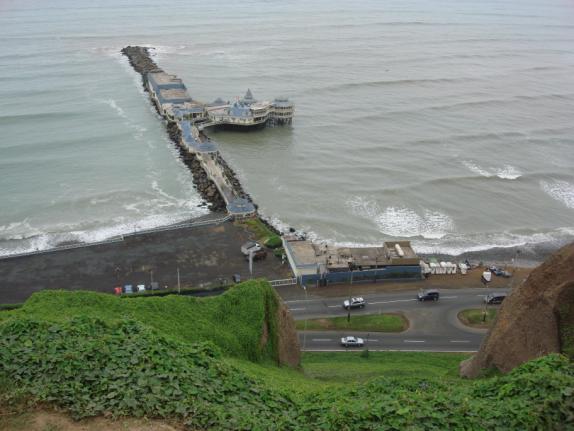 The Miraflores district is home to most of Lima's upscale hotels and business high-rise buildings.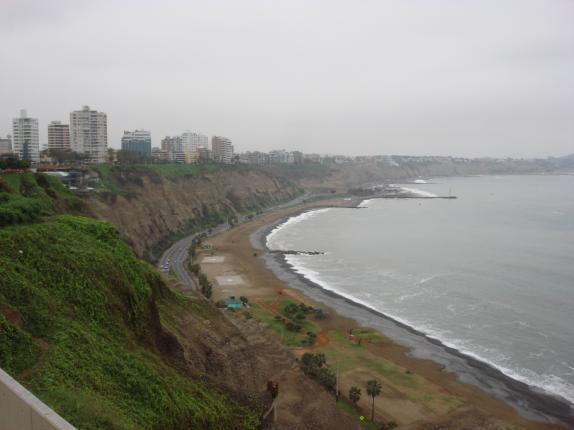 Near the heart of Lima lie the remains of Huanca Pucllana. The adobe, pyramidal structures date back to 400 AD and were remodeled over the next three centuries. Vigorous excavations are being conducted on a continuing basis.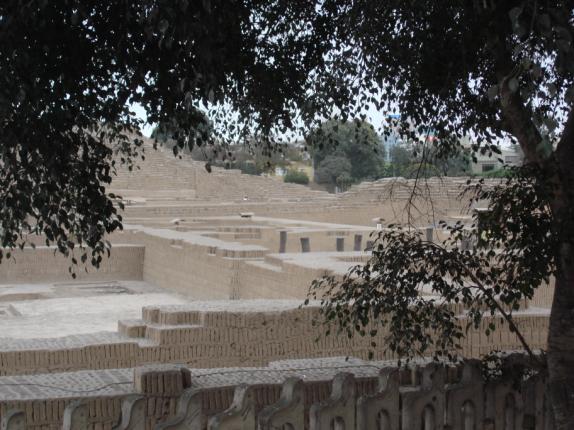 Lima has many park areas gracing the city. This one commemorates one of the Inca leaders depicted with this statue.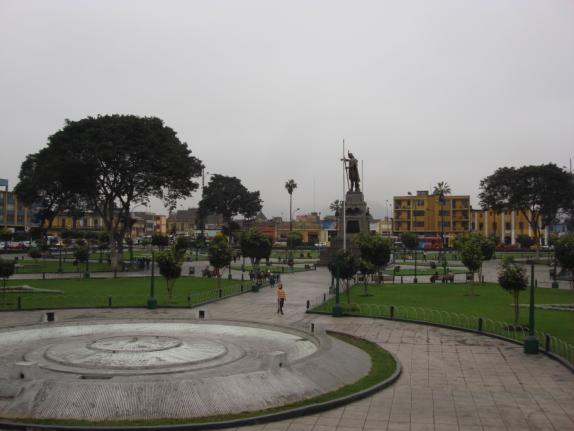 Traffic conditions in central Lima are atrocious. Horns blare, drivers cut in and out, and every intersection is jammed. This local bus driver seems to have found an effective way to deal with the stress.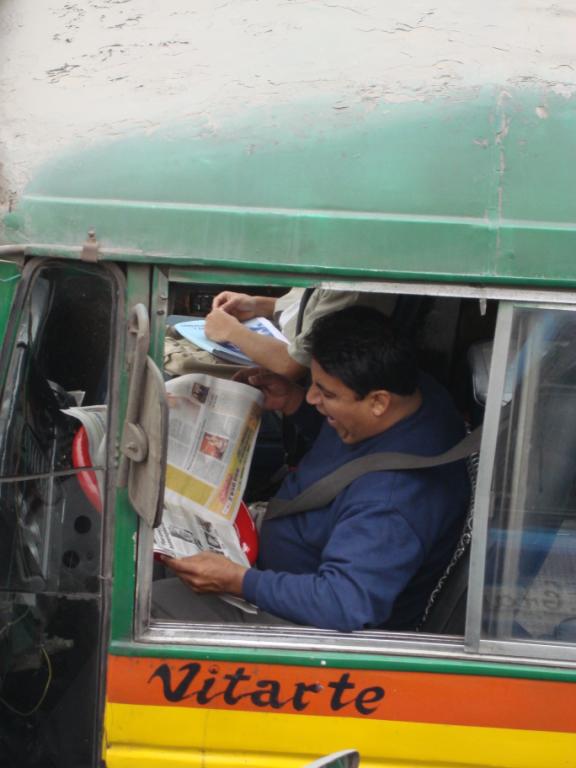 Every conceivable method of transportation can be found somewhere along the city streets. Salad, anyone?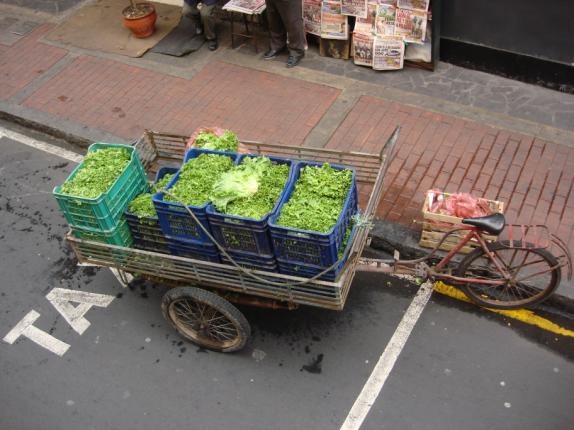 In central Lima, the historic district is the shining star. Most often dulled by the perpetual gray skies, the fantastic architecture radiates with sheer beauty. The Plaza De Armas is the focal point of activity. Although none of the original buildings remain intact, the oldest is the Cathedral that was reconstructed after the 1746 earthquake.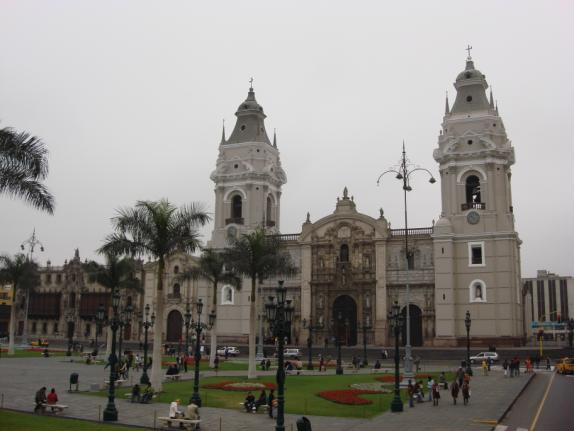 Adjacent and attached to the Cathedral is the exquisitely balconied Palacio Arzobispal (Palace of the Archbishop) dating back only to 1924.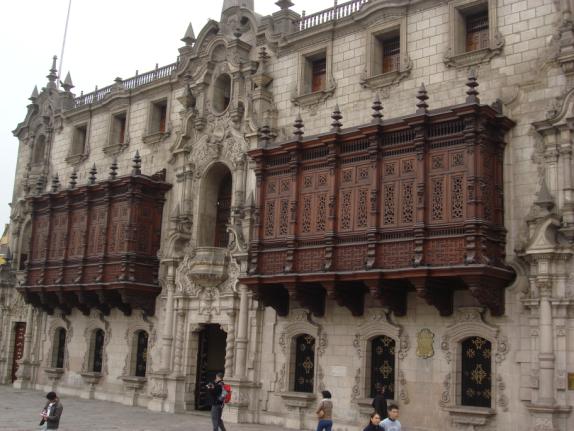 The Palacio de Gobierno was built in 1937 and is the residence of Peru's president.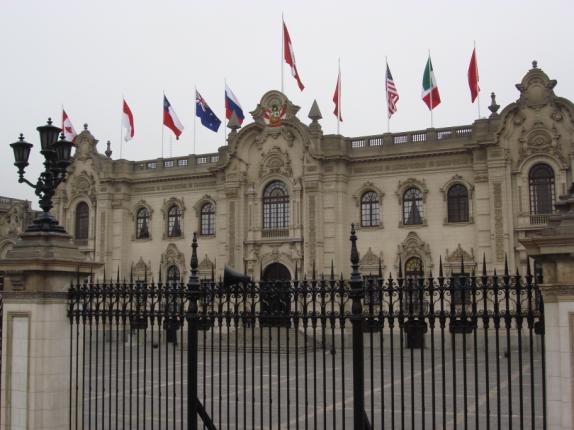 More magnificently balconied buildings surround the Plaza De Armas, also known as the Plaza Mejor. These former "Casas", or "mansions", are now filled with numerous government offices and businesses.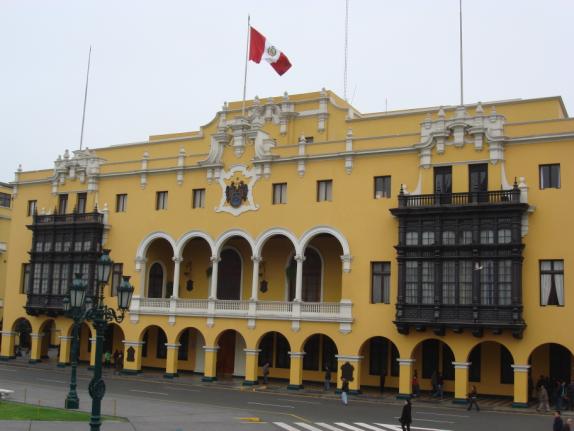 The windowed balconies are constructed of ornately carved wood.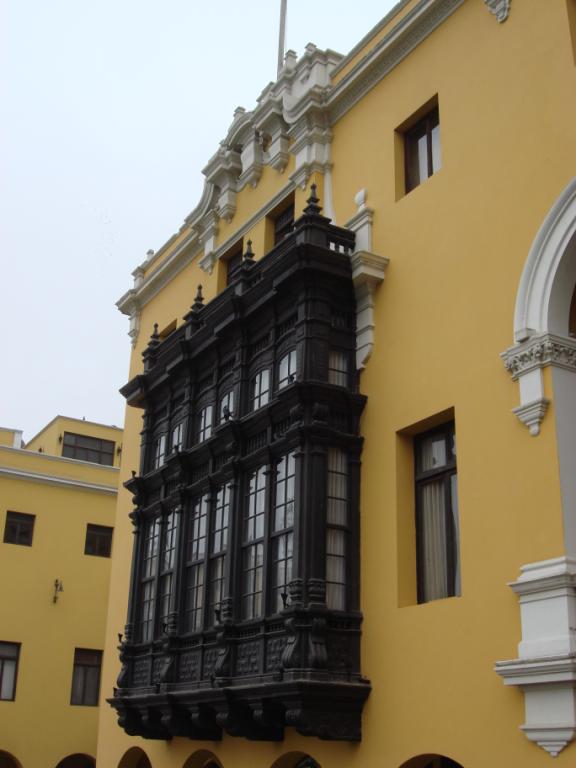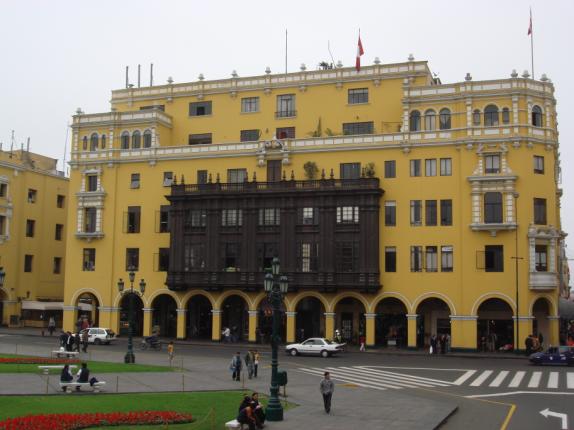 The fountain in the center of the Plaza is the oldest feature constructed in 1550. Almost the full width of the Presidential mansion can be seen in the background.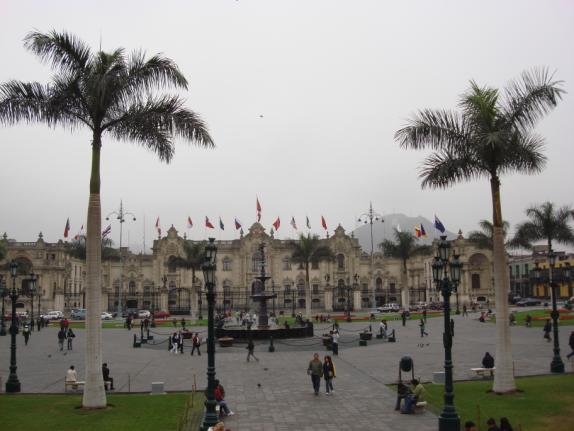 Desamparados is the historic Lima train station. The only remaining passenger service now runs only twice per month from Lima to Huancayo located in the central highlands of the Andes Mountains. We are planning to ride aboard on August 15th.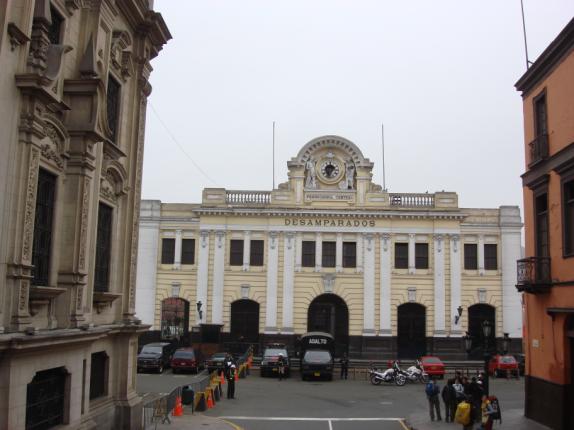 The Monastario de San Francisco retains its heritage of the Franciscan Order. It is most famous for its catacombs.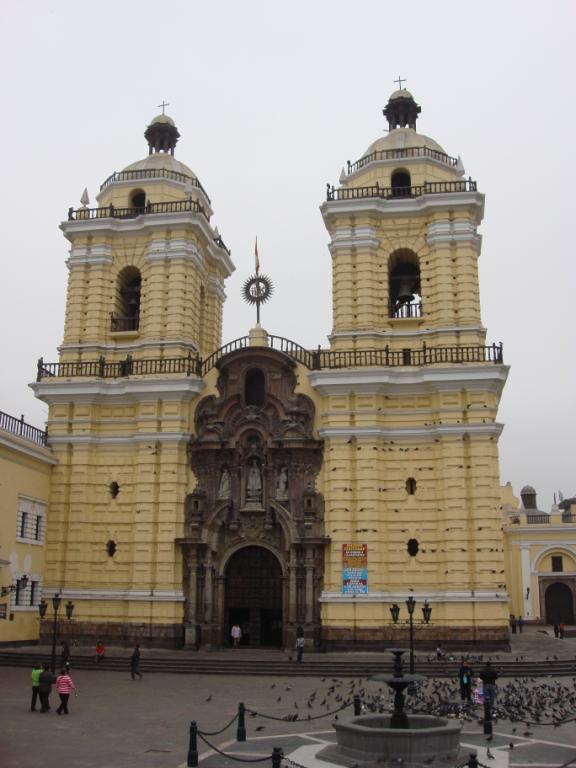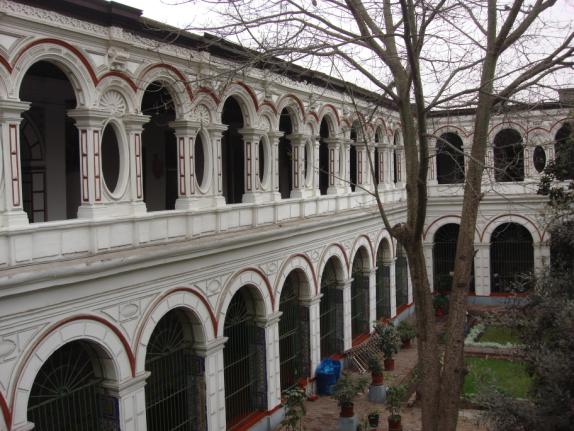 The underground catacombs are the site of an estimated 70,000 burials now stored within the crypts. Note the rather bizarre arrangements of the skulls and femur bones.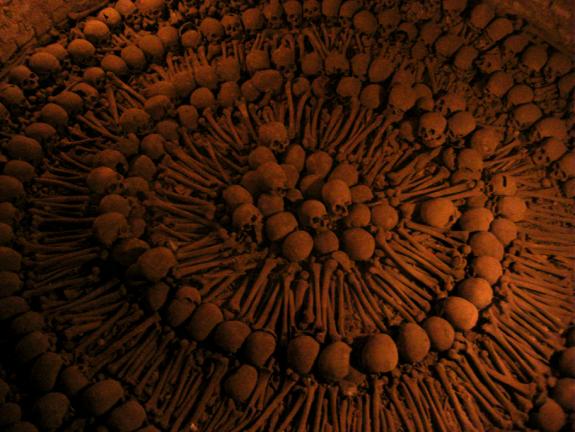 Many hundreds of pigeons flock all over the monastery and into the courtyard.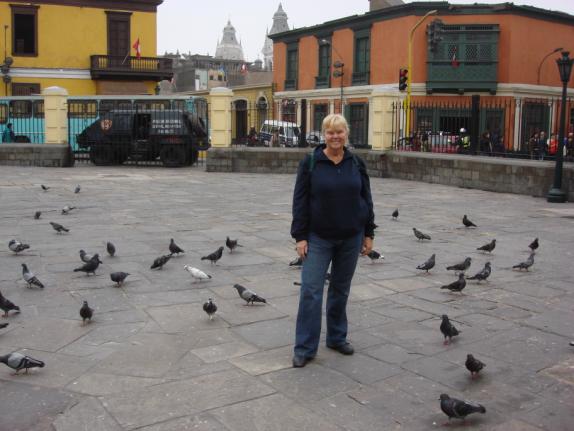 Peruvians are passionate about their country and passionate about their causes and beliefs. It is quite common to find large groups demonstrating and proclaiming their political viewpoints.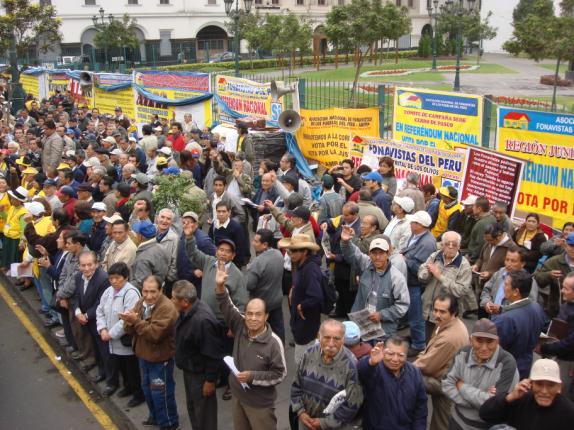 Plaza San Martin is surrounded by beautiful, French-influenced architectural marvels. Erected in 1921, a huge bronze statue depicts liberator General San Martin atop his mount. These stately white buildings create an atmosphere as lovely as any I've seen.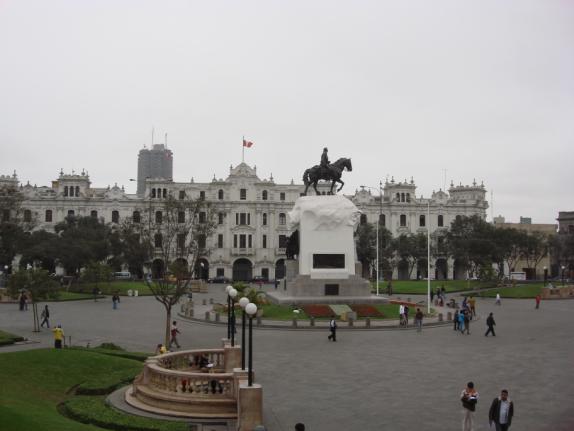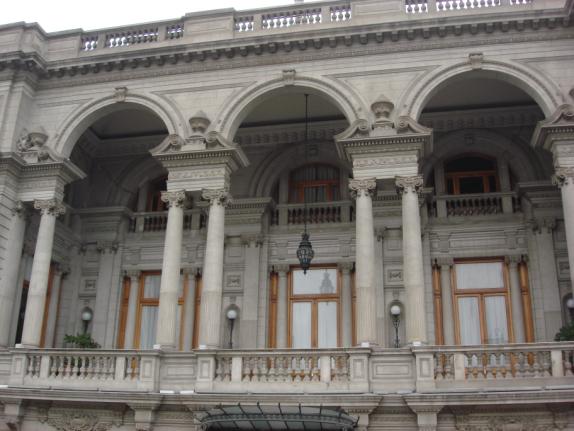 Away from the Plaza, the Palacio De Justica (Palace of Justice) is nicely designed.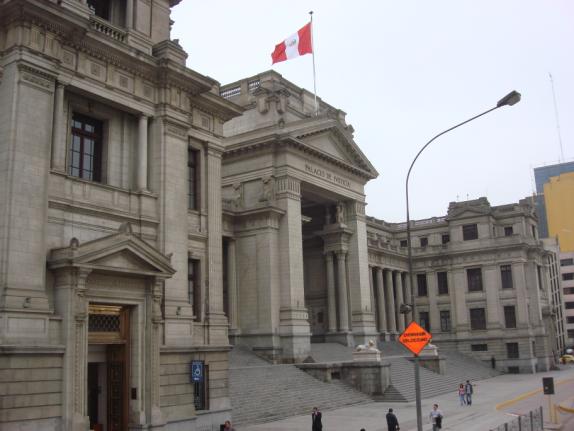 Near Plaza Grau, you can find the Museo de Arte de Lima (Lima Art Museum). The exhibits span 400 years of Peruvian art collections.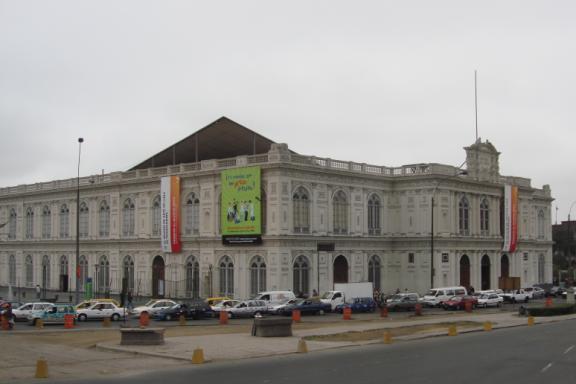 After slightly more than three hours, the tour bus returned to the Parque Central in Miraflores. With a good overview of the city and its environs, we were ready to expand our sightseeing experiences.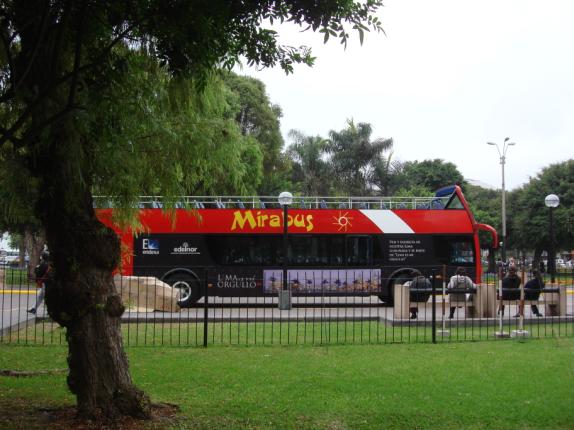 We were comfortable enough with the city layout to attempt the local city buses. This intra-city mode of transportation emulates the old college trick of "how many human bodies can you stuff into a compact vehicle?" There are literally thousands of these Combi MiniBuses running bumper to bumper. Destinations are painted on the sides, however, be sure to ask the driver because things are not always as they seem.
Needing tickets for our bus trip tomorrow, we made our way to the Linea bus terminal and secured our seats and tickets. Lima does not have a central bus terminal, therefore, finding the exact service that you desire is somewhat of a challenge.
Our extensive walking tour continued with a return to the picturesque, Plaza San Martin.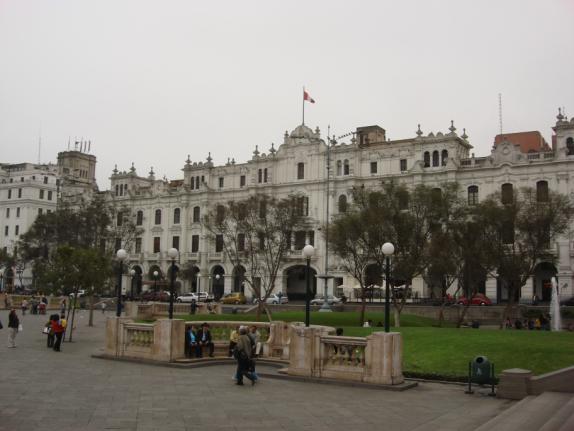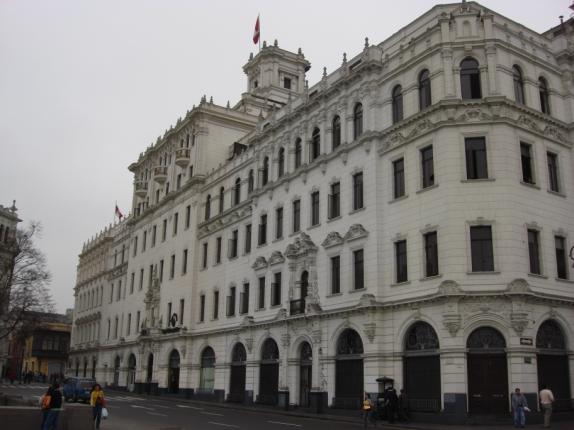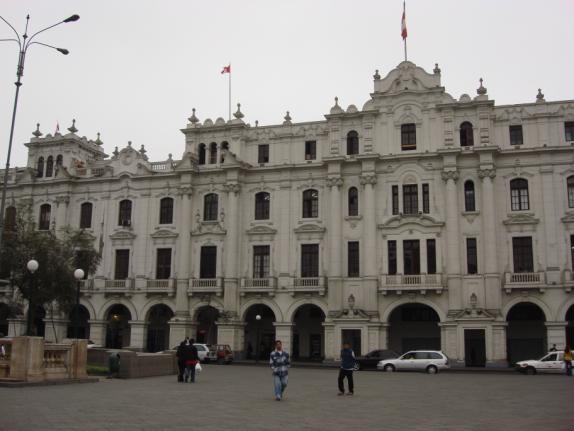 Branching off of the Plaza San Martin, the "Jiron de la Union" has been designated for pedestrian walking only. The interesting street, lined with various shops, runs five full blocks to the Plaza de Armas.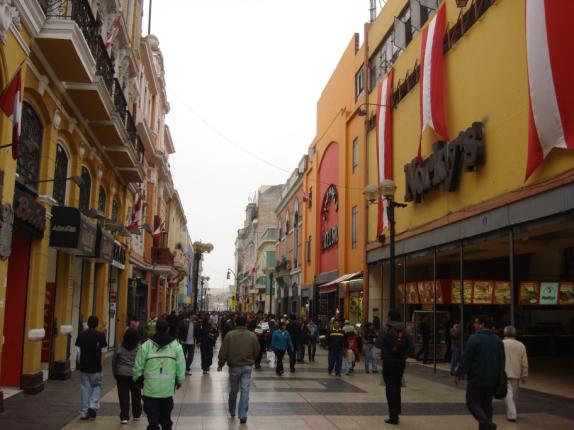 The Iglesia de la Merced, with its extremely ornate décor, is an interesting attraction found along this fascinating street.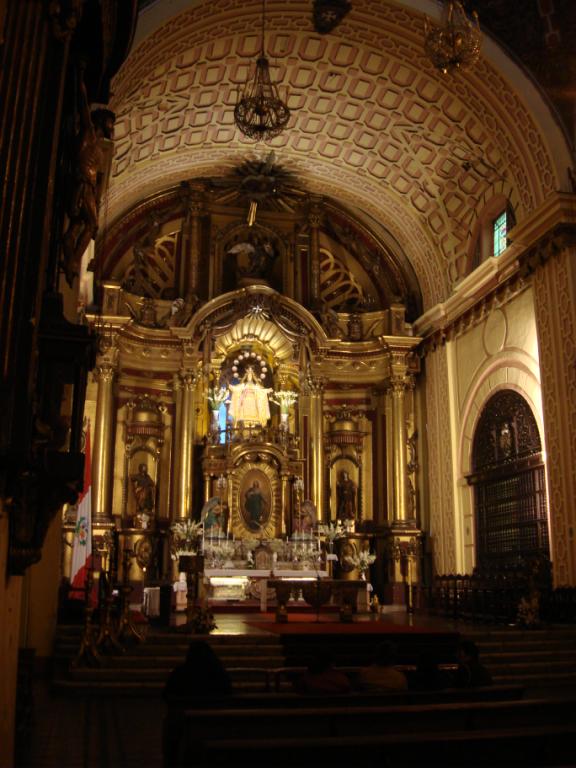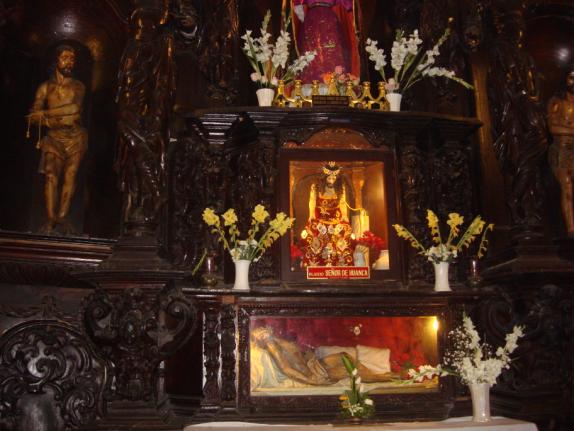 It was back to the main Plaza de Armas for more stunning views of the Cathedral.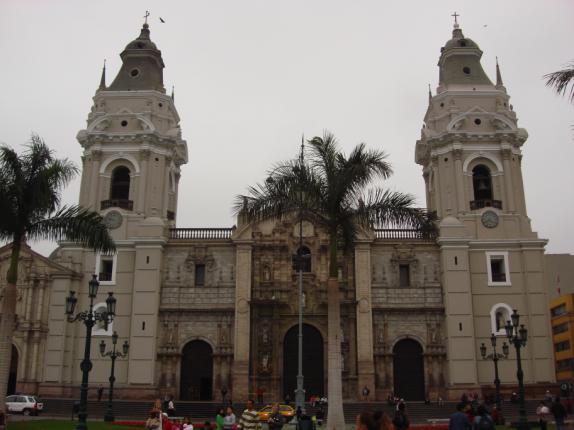 ….and the Presidential Palace.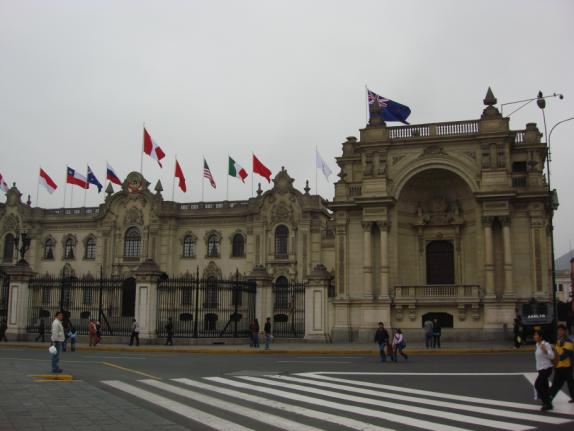 …..and the historic fountain gracing the Plaza de Armas.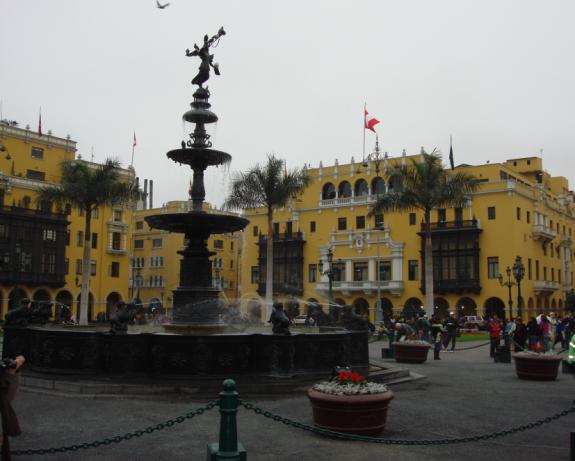 Having been a bit rushed on the city tour, we took a bit more time to peruse the Monasterio de San Francisco. Like many European cathedrals, the carved statues and golden adornment is strikingly awesome.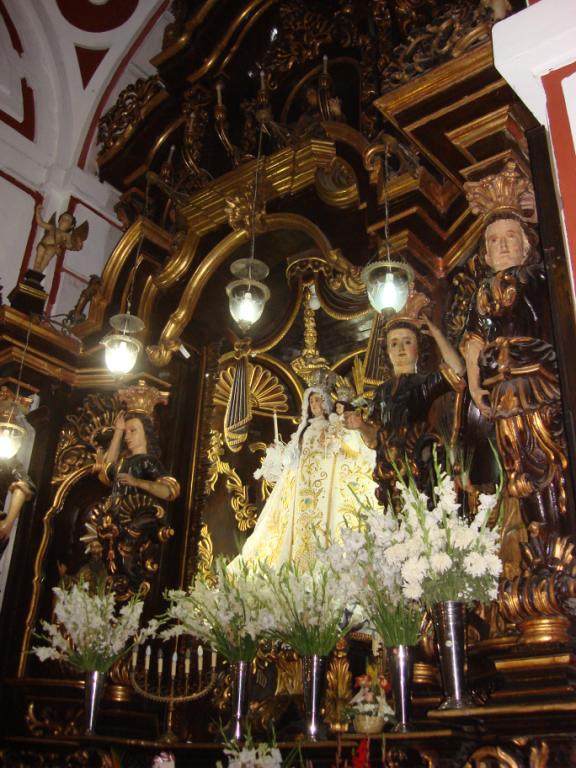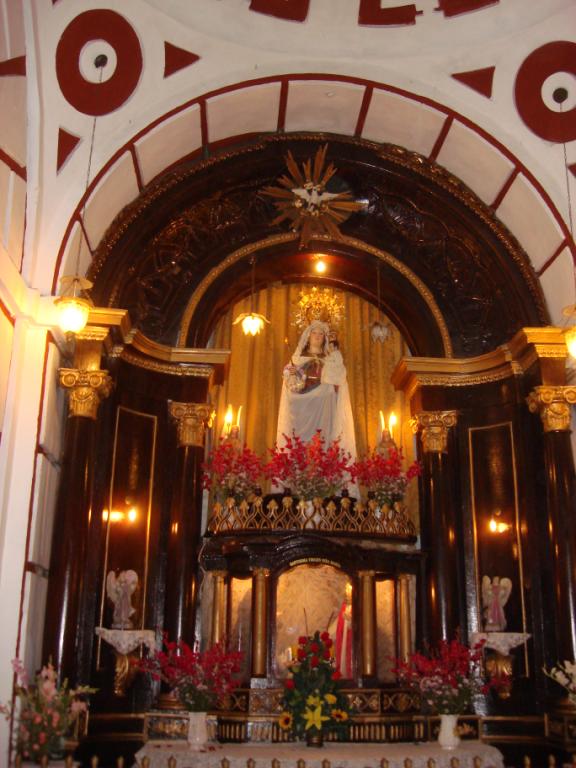 In the courtyard, this young boy finds absolute delight in feeding bits of cracked-corn to the hungry flocks of pigeon swarming at his feet.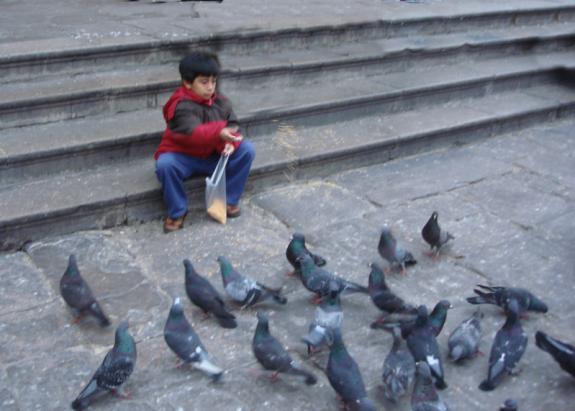 At the Palacio de Gobierno, the flags of countries friendly with Peru are proudly flown.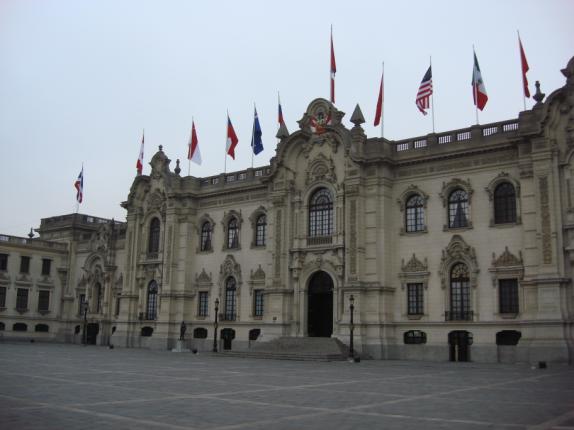 The style and construction of Pizza is significantly different in this part of the world. Having owned and operated five pizza restaurants, Judy easily determined that she had never seen a range of ingredients to match these. She was aptly convinced that these would, probably, have limited appeal in the US markets.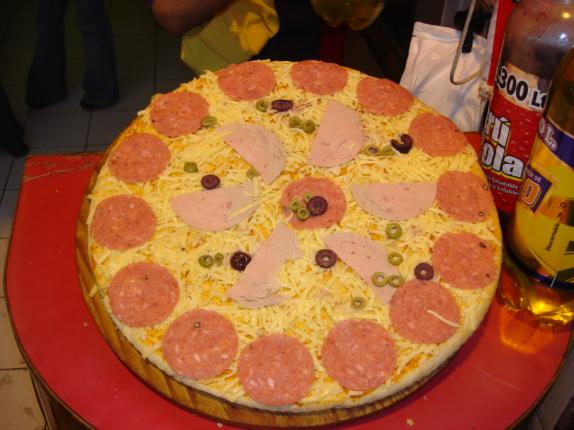 Street vendors can be found throughout the city. A regional specialty is Picarones. They are hand formed rings of dough that are deep-fried. You might think they are like donuts, however, they are really quite different.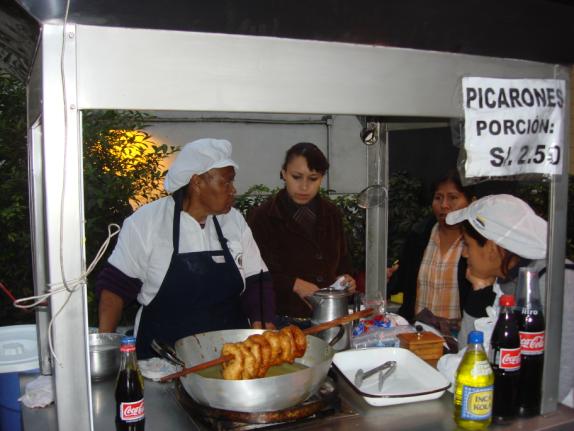 The ultimate, national dish of Peru is "Cuy" (pronounced "kwee"). It is really skinned and barbequed "Guinea Pig". Neither Judy nor I seemed to be able to work up enough courage to try it. Second hand reports have claimed that it is a bit greasy and boney. I, for one, will take their word for it. What do you think?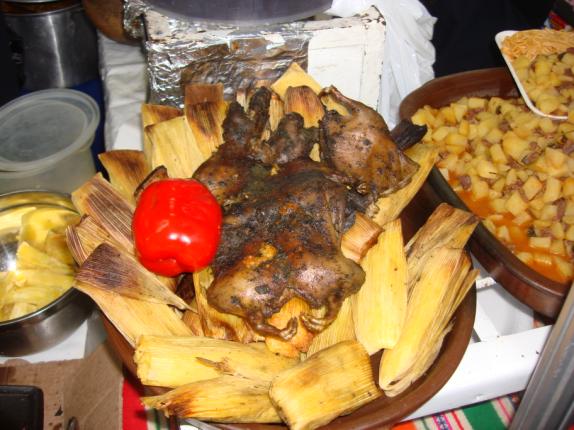 A municipal type band played rousing favorites for the evening strollers.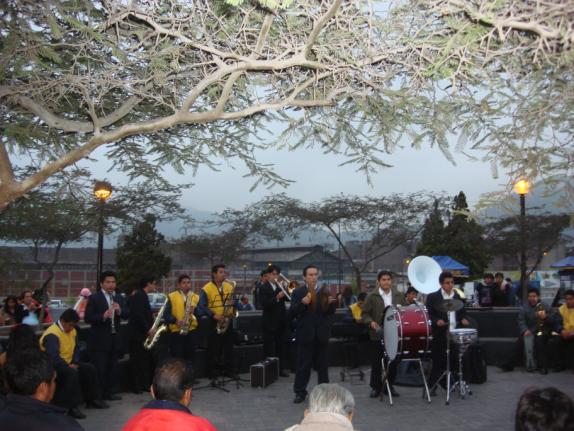 The colorful bell tower of the Convento and Basilica Rosario beams under the evening lighting.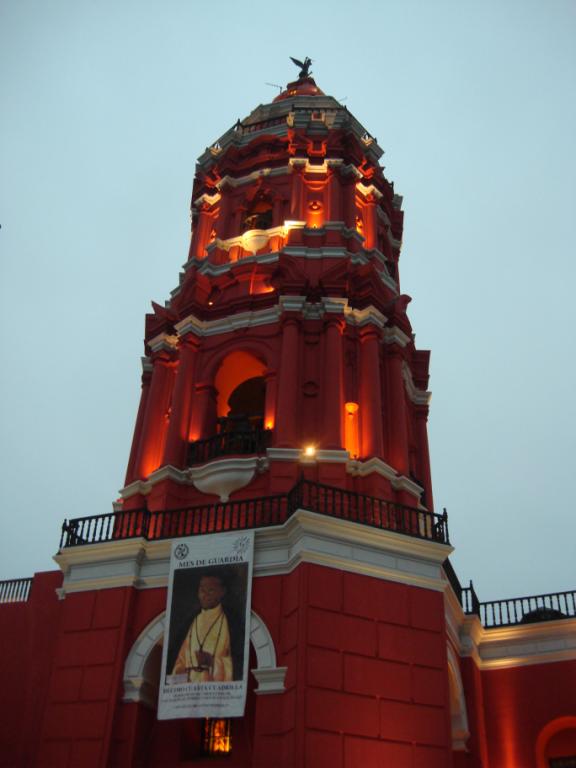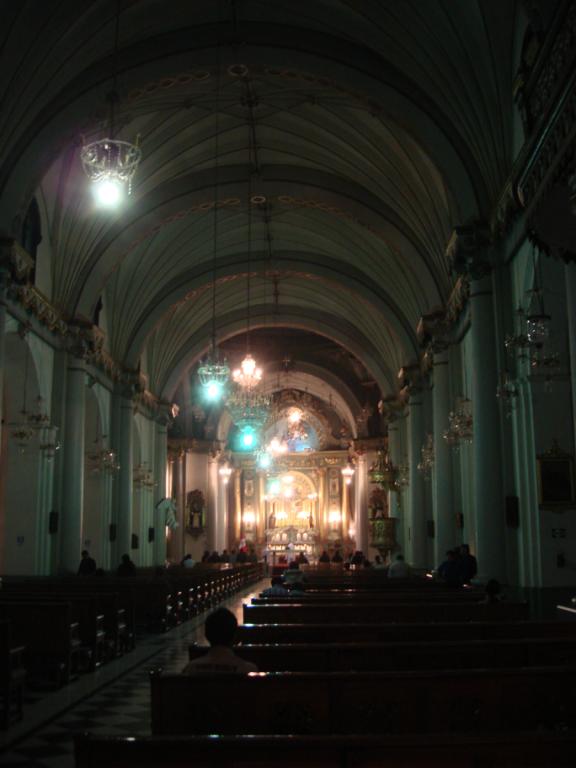 If you think the city was beaming brightly, you should have seen the look in Judy's eyes when she spotted groups of jewelry bead shops along a side street. She was like the proverbial "kid in a candy store".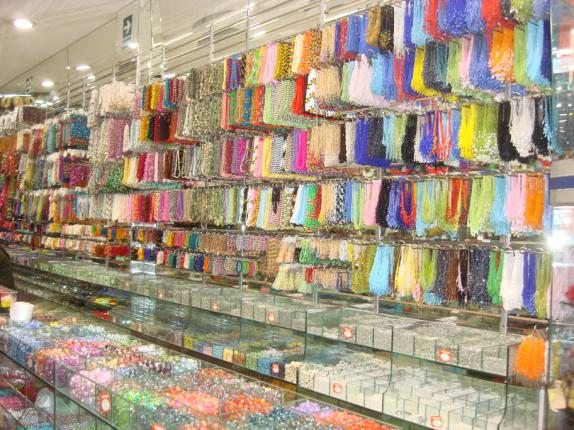 An interesting phenomenon found in many Central and South American countries is that many stores dealing in similar types of merchandise seem to congregate within a few blocks and, mostly, in rows with each other. There must have been 50 bead stores in this one little area. So tell me, "what's a girl supposed to do?" Yep, you guessed it!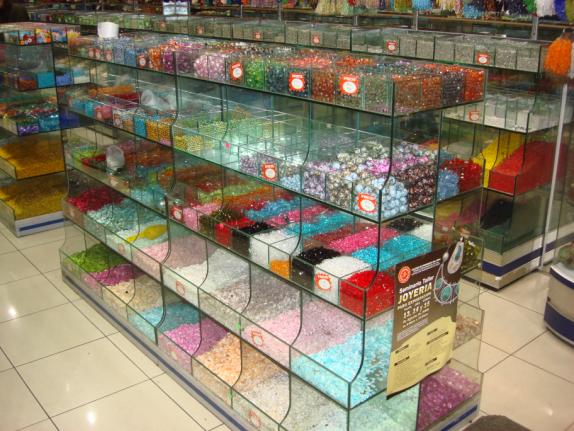 Central Lima was illuminated in all its glory. One of our most memorable experiences has to be "Lima by Night". Many tour groups specialize in their few moments of this sight. As independent visitors, we had the unique opportunity to enjoy each site for as long as we wanted.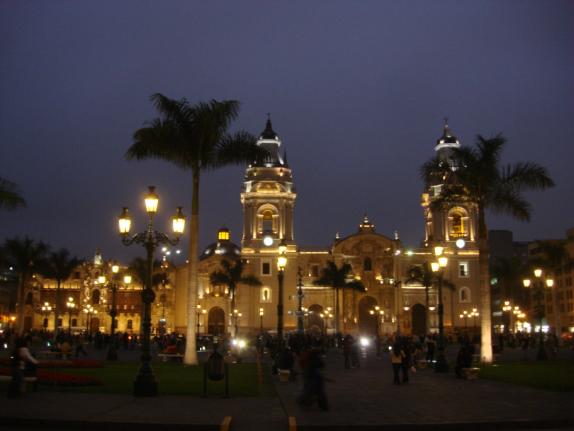 It seems as if each building is more beautiful than the last.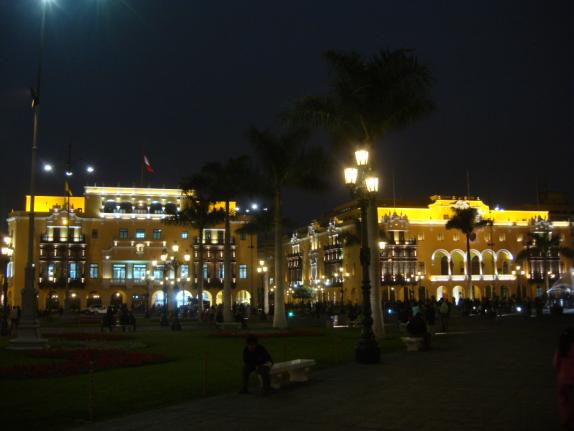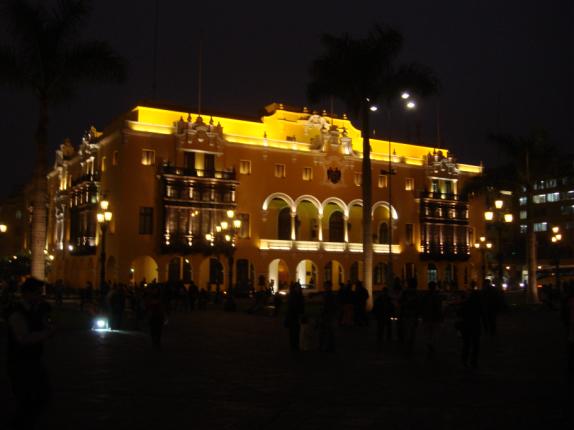 It was a bit of a long walk to the nearest bus stop on Tacna Street. Buses are not allowed near the central historic zone. With a little less traffic now, our bus ride was about 40 minutes.
For dinner, we chose a small Chifa in Miraflores. Chinese restaurants in Peru are called "Chifa". The often specialize in "Arroz Chaufa" or fried rice. Meals in these simple establishments are often quite reasonable. Wanton Soup, Chicken Fried Rice, and a soft drink costs under the equivalent of $3 US.
The pedometer clocked our walking distance at 11.09 miles. Is that all? I'm dog-tired.
08/07/08 THURSDAY LIMA to CHIMBOTE, PERU
When traveling, I recommend that you ask as many questions about prices and local customs as you can manage. Ask the locals about fair taxi prices, or fair local merchandise prices, etc. The vendors will often inflate prices to make a little more off of the foreign tourists. Usually, the local folks will be very helpful. Our hotelman was able to help us get our taxi for much less than we would have been quoted (s./10)(about $3.50 US). With very little traffic at this early hour, we arrived at the Linea bus station at 8am. As you can see from the picture, this is not the tourist bus line. Judy is definitely the only blond, blue-eyed traveler in this area. You won't find many white-haired, hazel-eyed travelers either.
Everything was clean and comfortable. The security measures include a passport check, movie pictures of each individual traveler, a metal detector check, and everyone must place their fingerprint on a special card and in the box indicating their respective seat number.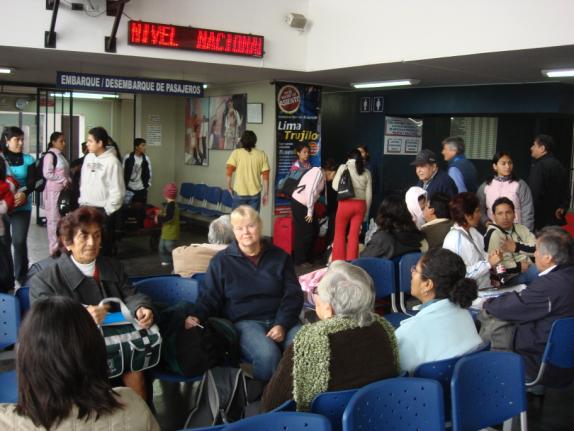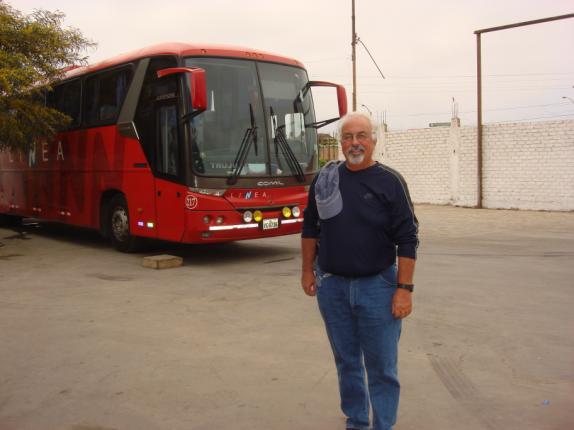 The 9am bus departed at 9:15am. The trip from Lima to Chimbote was reported to take 6 hours. In actuality, most bus lines vastly underestimate the travel time. Our trip took 7 hours 40 minutes. These buses, in the Economic class, are quite reasonable. The tickets cost the equivalent of about $12 US.
The bus route followed the Pan American Highway northbound.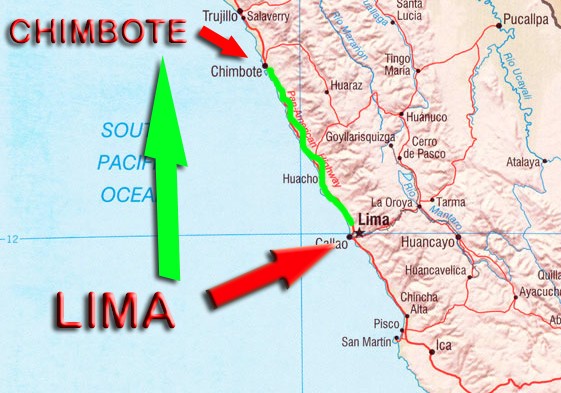 Following the Pacific Ocean coastline, the terrain features were varied and quite startling. Huge sand mounds dominated the route.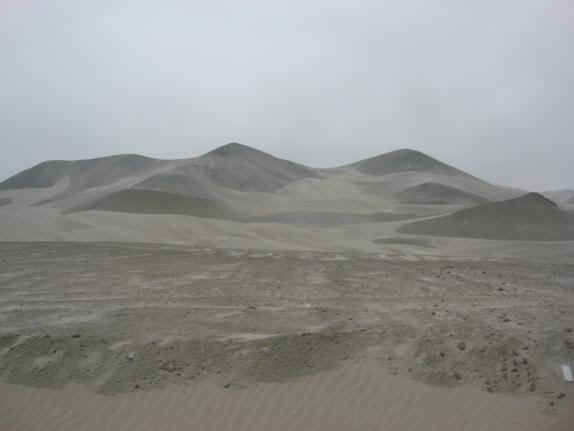 The bus had no toilet facilities, however, the bus would make a stop about every two hours. We found these signs for the bathrooms to be particularly unusual and interesting. Have you ever seen these symbols before?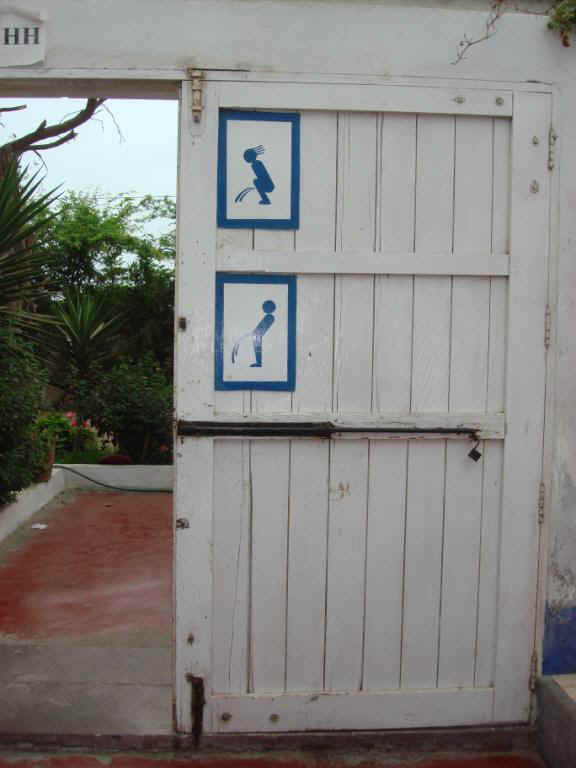 As we moved northward away from Lima, the hint of blue sky returned and the sun peaked out. Lima is almost always enshrouded with gray skies and often a light mist. They say it never rains in Lima, just heavy mist.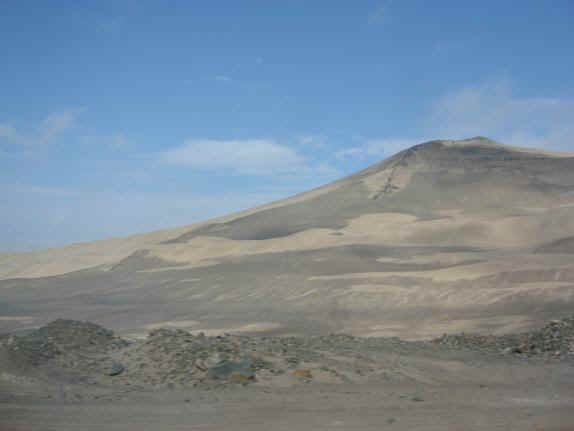 The buses all arrive in Chimbote at the "Terminal Terreste" or central bus terminal. It is about a 10-minute taxi ride to the center of town.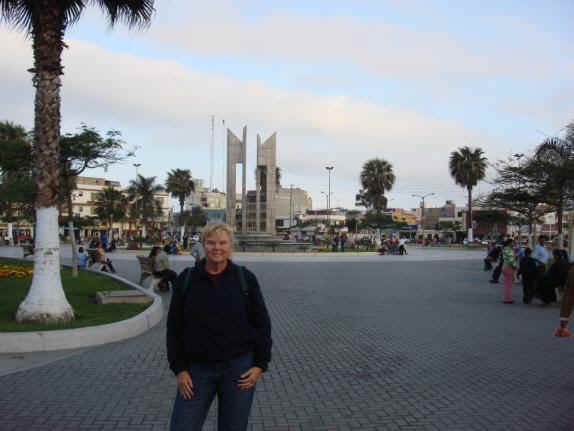 The smelly odor of fermenting fish pervades the entire area. Chimbote is home to Peru's largest fishing fleet. Numerous fish processing plants line the waterfront area near the bus terminal. The locals said the smell is very light now because it is off-season for the fleet. One can only imagine the pungent air in high season. Fortunately, the city center doesn't smell fishy with these prevailing winds. Much of the fishing fleet rests idly in the large bay near the waterfront.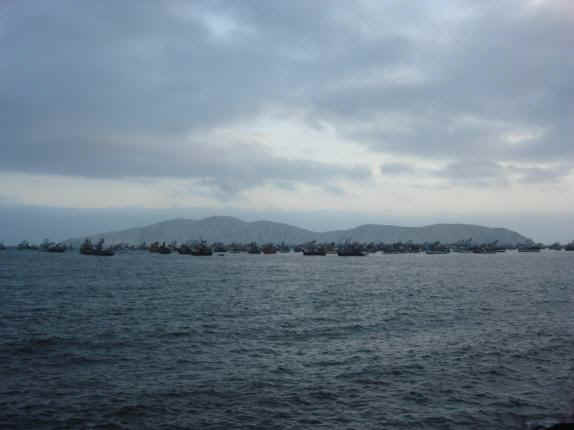 We will only visit this town for one night before heading to the north-central, mountainous region of the Department of Ancash (in Peru, a "Department" is the equivalent of a "State"). Our planned route will take us through the spectacular "Canon del Pato" or Canyon of the Duck. The destination will be the town of Huaraz located in the snow-capped mountains of the Cordilleras Blanca (White Mountains). We purchased our tickets for the morning bus of the "Empresa de Transportes Expreso Yungay". We expect this to be another highlight of our trip.
The roasted chicken dinner at Mirko's Pollos, near the main square, was tasty and economical. We managed to leave a few "Soles" and "Centavos" in the slot machines of the casino. They are called "Tragamonedas" in Peru, which loosely translated means "brings money". Enjoyably, you can play for quite a long time for only a few bucks.
Our night in the "Hostal Residencial El Parque" was quiet and comfortable.
TO BE CONTINUED………SOON.
This concludes this edition of the AMARSE Update logs. I hope to have more of our activities ready for publication soon, including the continuation of our exciting Peruvian adventures. We took a great many pictures and have so much we want to share that the process will be quite time consuming and may take a while. We hope you enjoy.
POST SCRIPT:
Please let us know if you have any special suggestions and thoughts.
"AMARSE". is pronounced "AM-ARE-SAY". Our website is: www.amarse.net .
Thanks for allowing us to share our life and adventures with you.
Lotsa Luv,
Fred Reed and Judy Law
AMARSE
MT40