UPDATE#12
06
/01 thru 06/31/08
Howdy Everybody,
The adventures of 2008 from 1/1/08 through 5/31/08 have been published on the website. We continue with this edition, UPDATE 2008 # 12.
UPDATE 2008 #12 06/01/08 through 06/30/08.
At last update, AMARSE was berthed peacefully at Brunswick Landing Marina in Georgia. We were enjoying our times in Georgia.
06/01/08 SUNDAY BRUNSWICK LANDING MARINA, BRUNSWICK, GEORGIA
Today, we got a late start to our morning. We had been up very late at the dirt track auto races at Golden Isles Speedway. This just meant that the chore of fixing the shower sump began and ended a bit later in the day.
06/03/08 TUESDAY BRUNSWICK, GEORGIA
I really overdid it today and almost reached the point of exhaustion. My project started with the simple objective of checking the Y-valve. Taking it apart, I found that it was severely clogged with a build-up of concrete-like salt crust. The seal of the valve was torn and that was allowing water to continuously leak into our holding tank. The task was complicated by the need to change out two entire sections of 1-1/2 inch sanitation hose providing the connections to the Y-valve and anti-siphon loop. Even the loop, which had been replaced merely a year ago, had to be cleaned of the tenacious encrustation. It is amazing how much clogging occurred in that short time. I was also astonished at how much I was able to accomplish in this project.
06/04/08 WEDNESDAY BRUNSWICK, GEORGIA
I began the serious and concentrated effort of planning our big, end-of-summer adventure. Although AMARSE will have to stay here in Brunswick for the summer, we will be traveling to South America. We booked our airline tickets today. You will hear all about the trip in future update editions.
06/09/08 MONDAY BRUNSWICK, GEORGIA
We have purchased new walking/hiking shoes for our upcoming adventure. We started our walking regime to develop some fitness for the lots of walking to come. On this first day out, Judy got a blister, on her little toe, from the new shoes. I guess we'll have to find her a different type of shoe.
There are dozens of shrimp fishing boats in the Brunswick harbor area. It is ironic that it seems like the sun may really be setting on the small fishing fleet. Day after day, night after night, these workboats sit idle at the docks. Have astronomical fuel prices halted the roar of these draggers? Has the impact of foreign shrimp farming permanently scuttled this local industry? Will darkness fall upon these rusting and rotting hulls never to make another wake? I shudder at the very thought.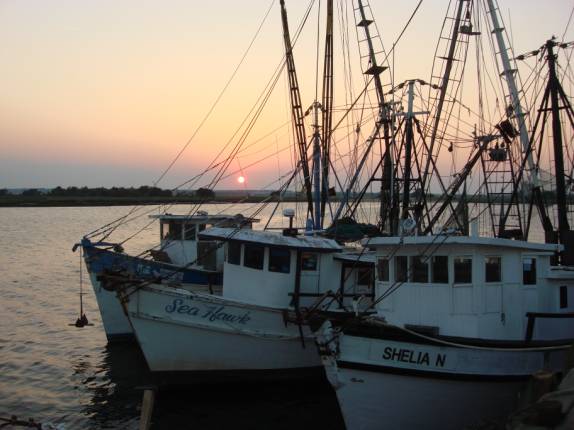 I hope that these nets will, once again soon, be overflowing with fresh, wild, Georgia shrimp.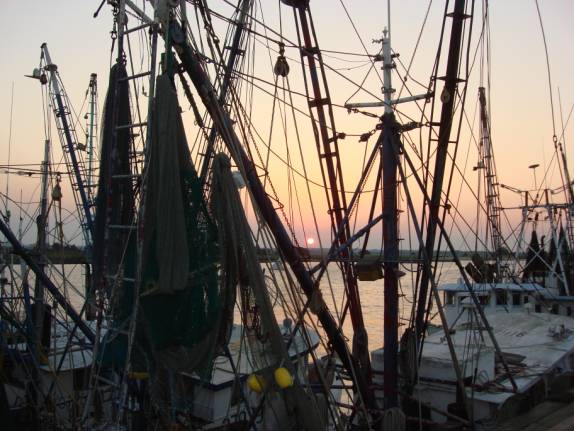 Of course, the most beautiful flower in this picture is my beloved Judy. She is always in full bloom, whereas, these yucca plants only flower occasionally.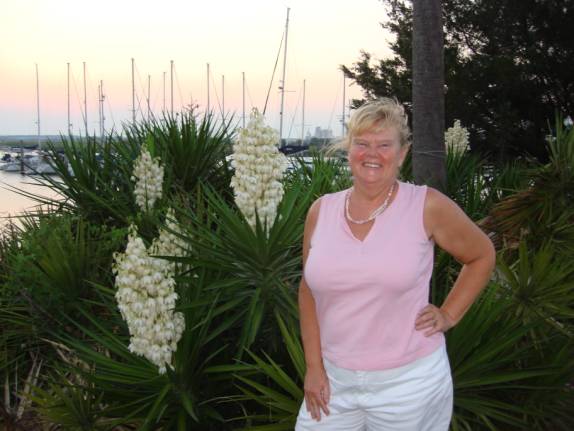 Notice how beautifully each blossom is formed and how delicate the petals appear.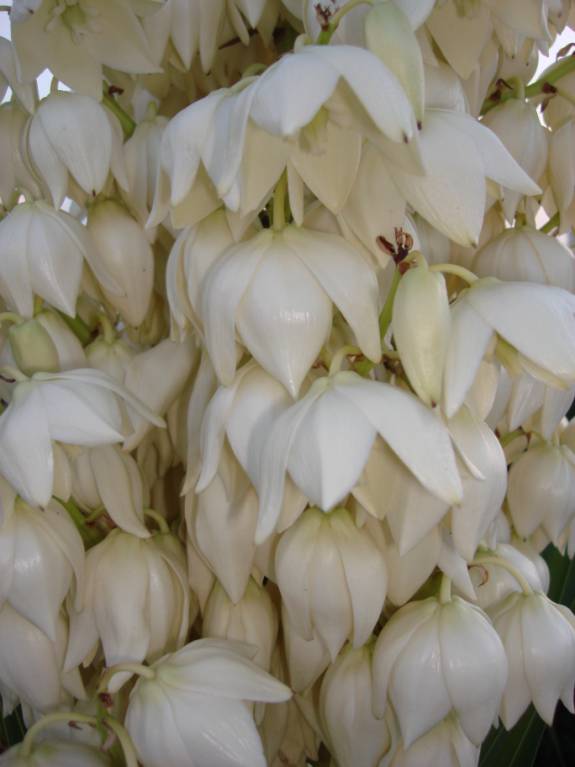 06/10/08 TUESDAY BRUNSWICK, GEORGIA
HAPPY BIRTHDAY to TYLER LAW (Judy's oldest grandson)(12 years old)
We endured both morning and evening walks. Judy's blister hurts and has forced her to walk in her loose fitting Crocs. Our walks take us along the shoreline of the marina and make for pleasant views and a welcome breeze.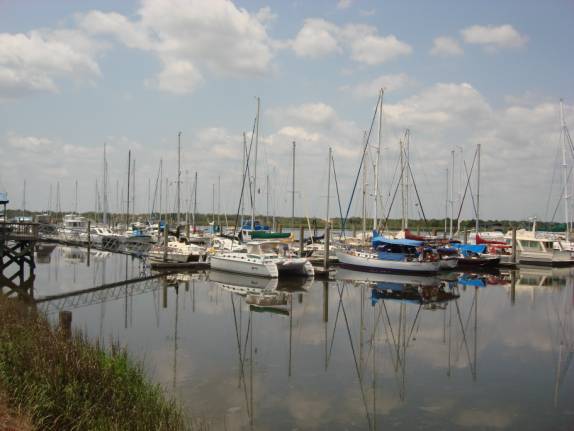 The walk continues to the shrimp boat docks and to Mary Ross Park. This nicely restored building is used infrequently for social functions and, the open-air stalls to the right, host the Farmer's Market three times a week.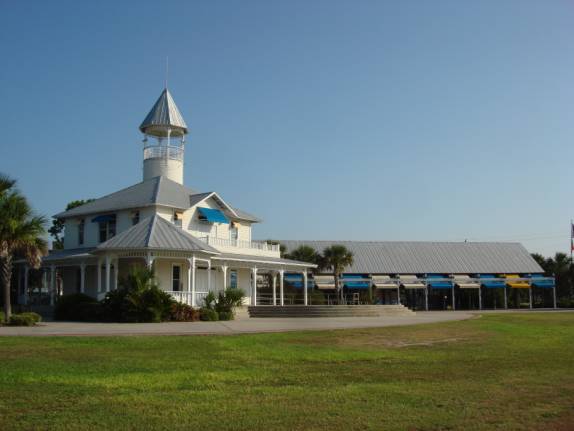 Dave and Barb Bluto invited us to their beautiful boat, CHABLIS.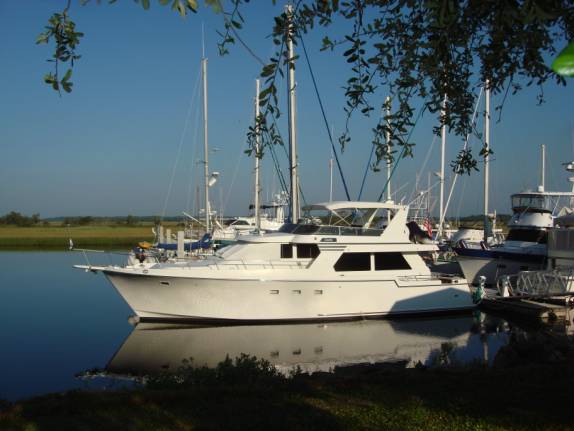 They taught us a card game called "Golf". Of course, the idea is to get the lowest scores from your hand of nine cards. It was a lot of fun and, to top it off, Fred had beginner's luck for the game win.
06/11/08 WEDNESDAY BRUNSWICK, GEORGIA
Wednesday evenings are often fun with a cocktail party get-together at the marina clubhouse. We joined the small group of cruisers to chat and snack until almost 9pm. It is lots of fun to listen to the adventure tales of these experienced cruisers (MIDORI) and all the others.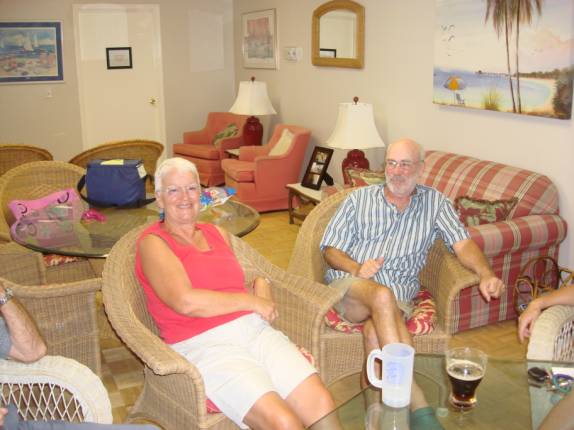 06/12/08 THURSDAY BRUNSWICK, GEORGIA
Thursday morning means the local Farmer's Market is happening at the stalls of Mary Ross Park in Brunswick. This farmer/vendor had a unique and interesting machine for shelling peas.
Fresh cucumbers, fresh tomatoes, and fresh cantaloupe melon, straight from the farmer's market, turned this plate into a festival of taste and color.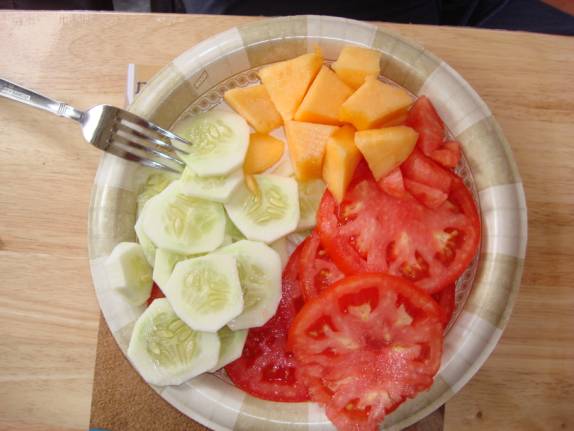 Dave and Barb Bluto (CHABLIS) joined us for dinner at Mudcat Charlie's Restaurant located at Two-Way Fish Camp in Darien, GA. We have always enjoyed the food there and being with these two wonderful people made everything even more enjoyable.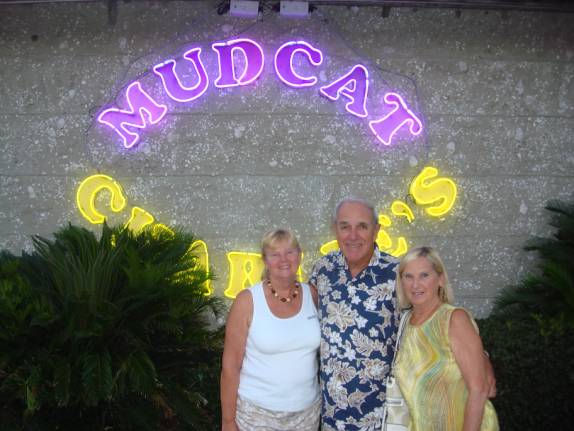 06/13/08 FRIDAY BRUNSWICK, GEORGIA
While I endeavored to finish authoring and publishing our update #11 for the month of May, Judy tackled a myriad of chores and projects around the boat. She is so fabulous and talented. She polished all the stainless steel rails and stanchions around the boat. As if that wasn't enough, she refinished the varnished, teak brightwork on the interior window trims in the main salon. Her choice of a satin finish looks great and blends perfectly with the other woodwork.
Together, we extended the anchor and chain onto the dock. I wanted to thoroughly wash it down to get the salt and dirt off that might hasten corrosion. We took the opportunity to repaint the bright red mark on the 75-foot position of the chain. This will assist us in determining the best holding length for our anchoring positions and conditions.
06/16/08 MONDAY BRUNSWICK to ATLANTA, GEORGIA
It was very early when we departed the marina for our north-westbound trip. By mid-afternoon, we arrived at the lovely home of Robert and Carolyn Wilson (SEA ISLAND GIRL). Robert is the beloved Commodore of the Royal Marsh Harbour Yacht Club. They have become dear and valued friends over the last couple of years.
To make the stay even more wonderful, Dave and Barb Bluto (CHABLIS) had been invited to stay tonight too. They arrived several hours after we did.
Carolyn prepared a marvelous dinner of succulent salmon and delectable side dishes.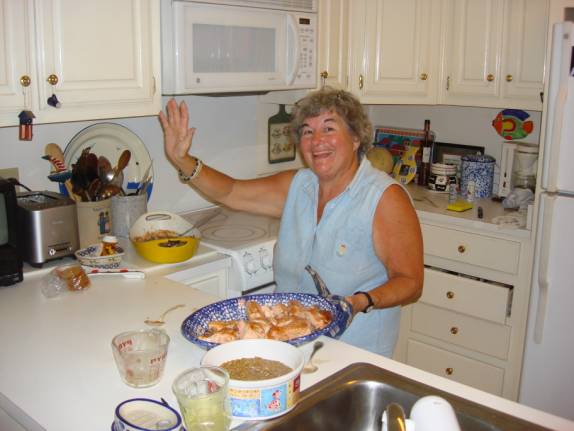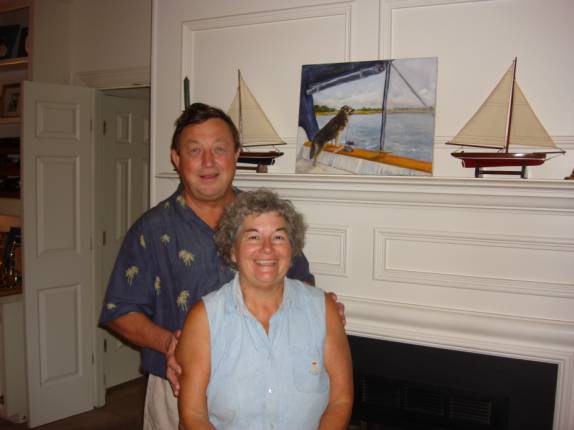 Maggie was on-hand (on-paw?) to greet and welcome everybody.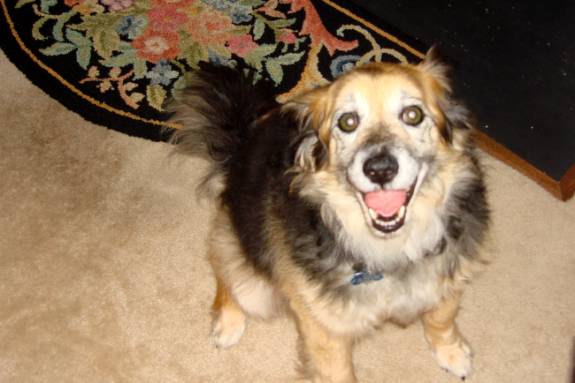 Their daughter, Jessica, (we met in the Bahamas this past winter) came over for a visit. It was great to see her again.
No evening with the Wilson's is complete without a game or two of Farkle. I was lucky to be a winner again (even with the Wilson's Loaded Dice, Ha-ha).
06/17/08 TUESDAY ATLANTA, GA to LITTLE ROCK, ARKANSAS
The alarm sounded at 6am signaling the time to rise and shine. Robert was up to make sure we didn't oversleep and to help us get things organized to head out just 20 minutes later at 6:20am. Of course, our goal was to beat some of the heaviest traffic in the country. The timing was great for that purpose and, with expert directions from Robert, we were west of the city in good order.
Making good time along the interstate, we arrived at our motel in North Little Rock at 3pm. This gave us enough time to do some sightseeing in the capitol city. Little Rock is a pretty city lying along the Arkansas River. There are lots of beautiful buildings and, of course, the William Jefferson Clinton Presidential Library is located here.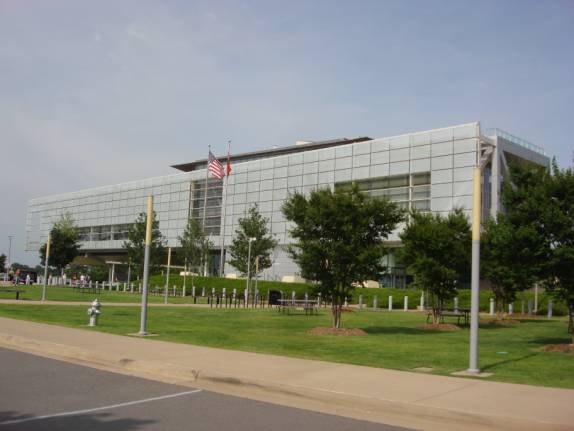 The lovely, restored brick building from "The Choctaw Route" now serves as the continuing education center for the Clinton facility.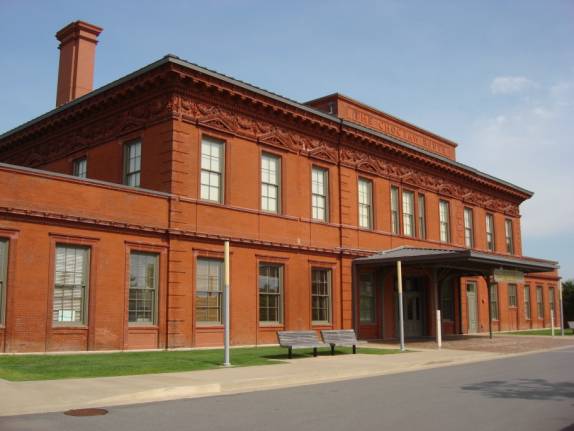 After our driving tour of the city, we chose a wonderful dinner spot called Browning's Mexican Restaurant at 5850 Kavanaugh. They have been serving excellent, South of the Border cuisine since 1946. As you can guess, it was excellent.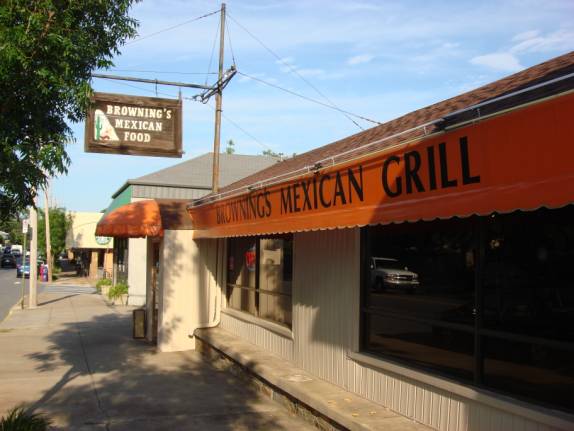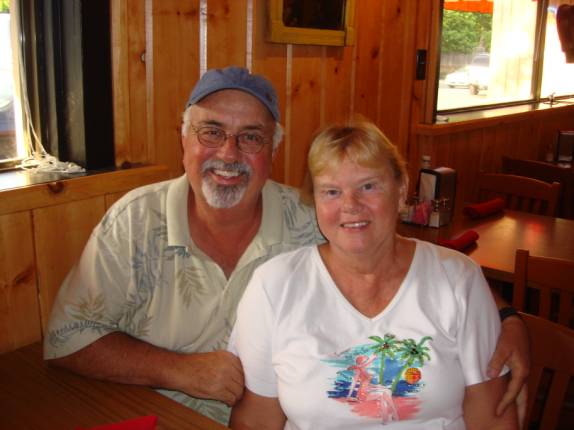 06/18/08 WEDNESDAY LITTLE ROCK, AR to BRANSON, MISSOURI
Judy and I were up and out on the road early. Our drive took us along secondary roadways to southern Missouri and to the town of Branson. Over the years, Branson has become world famous for the large number of country music shows and wholesome, family-oriented entertainment venues. My sister, Donna, and Gordon Pratt were married just last weekend in northern Maine. Although we couldn't attend the wedding, we decided to "crash" their honeymoon. Of course, they thought this was a great idea too (or so they said). My daughter, Sharyn, and her husband, Jeff, have a fabulous Condo there that overlooks the larger lake, Table Rock Lake. The use of the Condo was their wedding gift to Donna and Gordon.
We arrived at 11:30am for our first introduction to Donna's terrific husband, Gordon. Right away, it was easy to see that we would enjoy our time together very much. It is so great to see them both so happy.
After a whole bunch of chatting, we set off to see the sights. Judy and I have been to Branson several times before and were happy to act as pseudo-tour guides. A slow drive down through the main drag lined with show theatres brought us to Branson Landing. The area has been recently developed over the last couple of years to cater to a younger, affluent crowd and boasts an outdoor mall of upscale shops and restaurants. Along the riverbanks of Lake Tanycomo, the mall has a delightful fountain display that erupts with music, synchronized water jets, and explosive fire cannons on a regular schedule.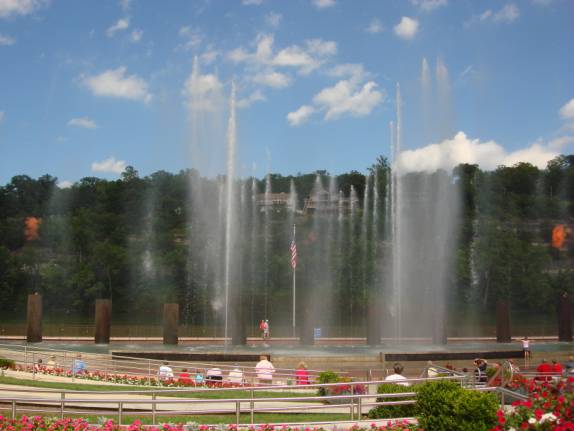 It's enough to make you want to dance.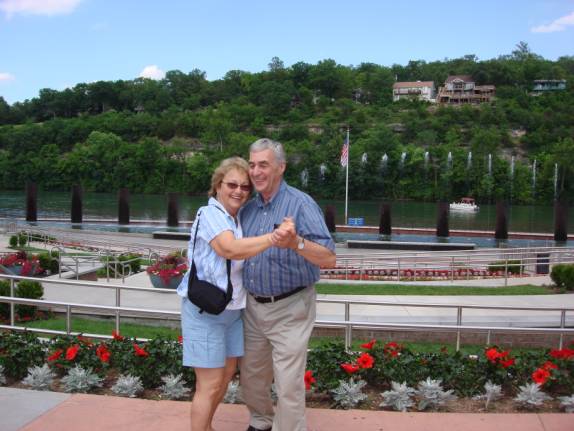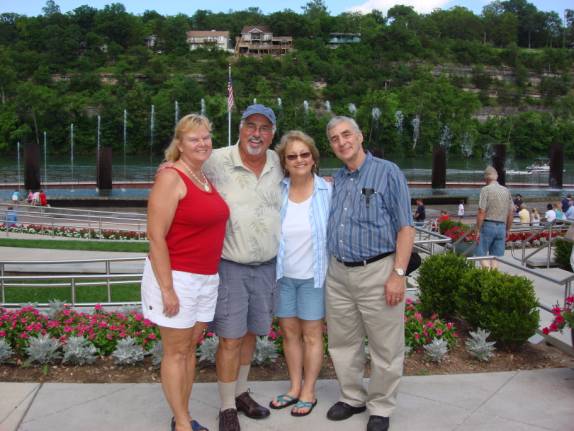 We enjoyed lunch at Dave's BBQ. It was ok, albeit, a little on the dry side. We, however, could not have enjoyed each other more. Like the sign says, "Having a Great Time" in Branson, Missouri, explained it all.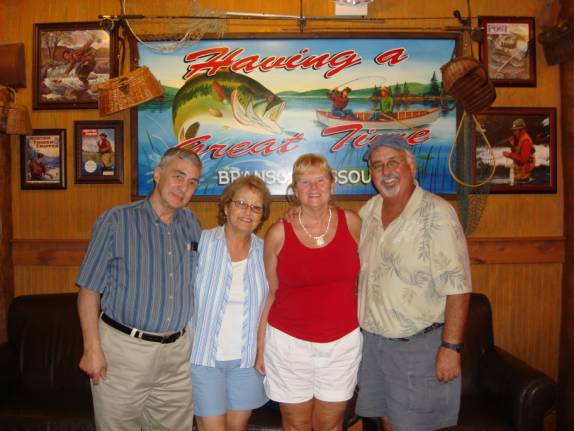 The evening has been planned for weeks. We had tickets for the extravaganza spectacular, "Noah", being portrayed at the Sight and Sound Theatre.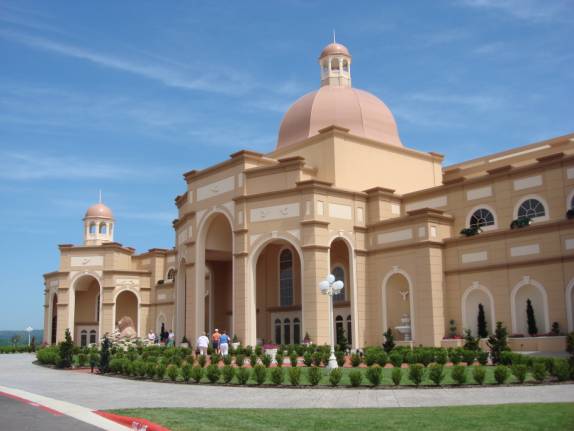 Everything about the theatre and the show is geared for spectacular impact.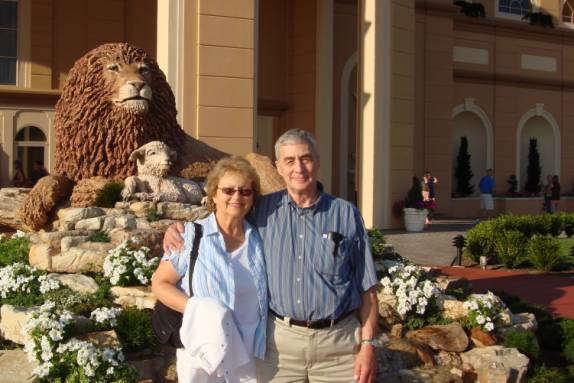 The musical play depicts the events of Noah and the building of the Ark. The theatre has one of the most dramatic and spectacular stages of any show that I've ever seen. The cast is large and the stage is filled with live animals. We may well have had the best seats in the house. Our assigned place was in the Center section, Aft, in the 3rd row of CC. Donna and Gordon sat just two rows in front of us along the aisle. The show was delightful and I urge anyone in the area to attend. These shows seem rather expensive, however, I think they represent a good value.
06/19/08 THURSDAY BRANSON, MO
One of the most enjoyable and relaxing times in Branson is morning coffee on the veranda of the Condo. The view is awe-inspiring and you gain a peaceful contentment just resting there. We had a chance to get to know Gordon better and we couldn't be more delighted.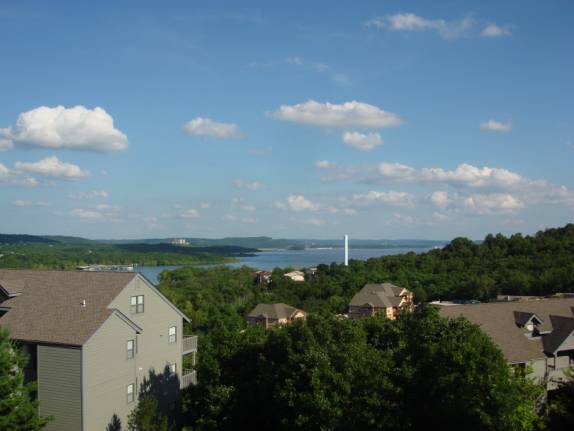 The call of lunch led us to Shorty Small's BBQ. The fact that we had a coupon for a free loaf of onion rings helped sway our decision. It was enjoyable but not remarkable.
The outlet mall beckoned and we were interested in the Crocs Outlet. Of all the outlet malls we've seen, this is the only one we know of with a Crocs store. We just had to talk Gordon into a pair. I bought several pairs and we found some neat specialty models for my grandkids.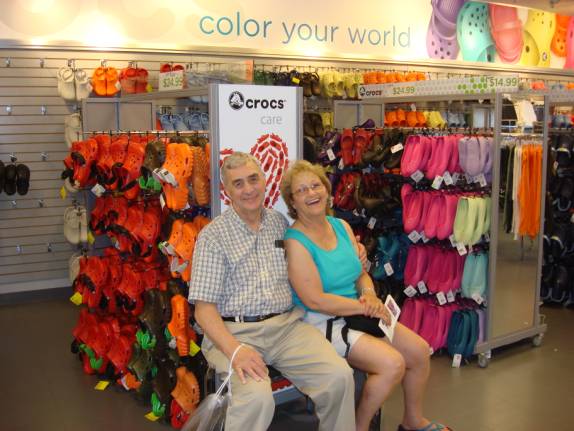 Judy and I bought tickets for the four of us to the musical "Broadway" at the Branson Variety Theatre.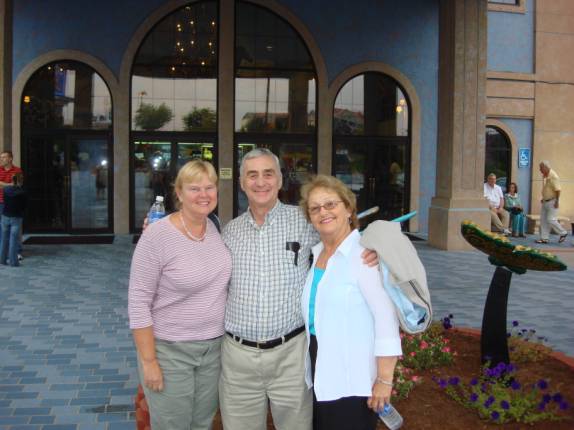 I really enjoyed the show that featured hits from a large number of Broadway smash productions, some of which I've had the pleasure to see on Broadway in New York over the years. The male lead singer had, what may be, one of the finest show voices that I've ever heard. Bravo!!
And now, the real stars of Branson, Missouri, Gordon and Donna. Do you think there might be some kind of significant message on this stuffed animal?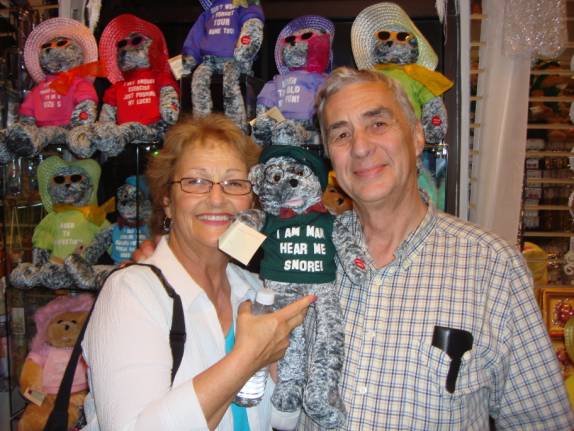 06/20/08 FRIDAY BRANSON, MO to LAKE OF THE OZARKS, BARNETT, MISSOURI
It was another relaxing morning with breakfast and coffee on the veranda. All too soon, our time here is expiring. It is time for us to move along and leave these two lovebirds to their honeymoon.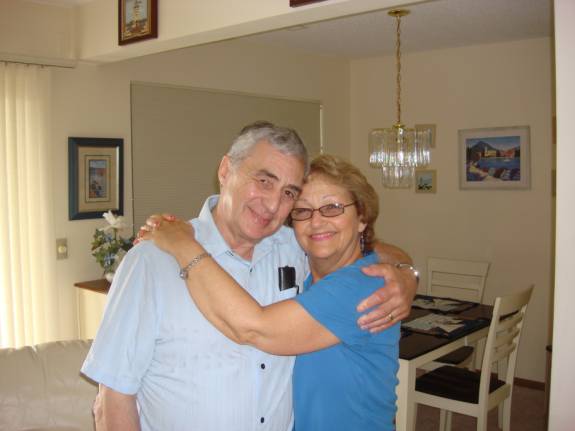 With lots of hugs and love, we had to say farewell for now. Our heartiest congratulations and fondest wishes will hopefully indicate our thoughts for their lifelong happiness and joy together. Gordon and Donna, WEZ LUVZ YAZ!!!!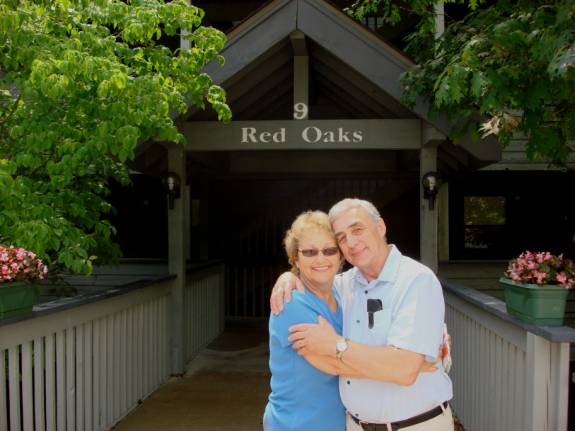 The Buick Riviera was back on the road at 11am. The drive to Osage Beach at the Lake of the Ozarks went quickly and we arrived there a bit after 3pm. We were meeting Judy's brother, Dean, for the weekend. At 3:30pm, Dean was right on schedule and we headed for our favorite lake haunt called Backwater Jack's.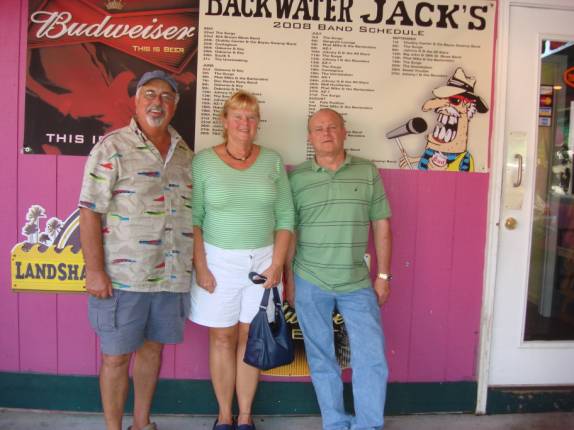 When we got there, we had our pick of the patio tables. The docks started to fill quickly as the arriving Friday afternoon crowd was anxious to start the weekend. By the time we left, all of the dock slips were full of party time revelers.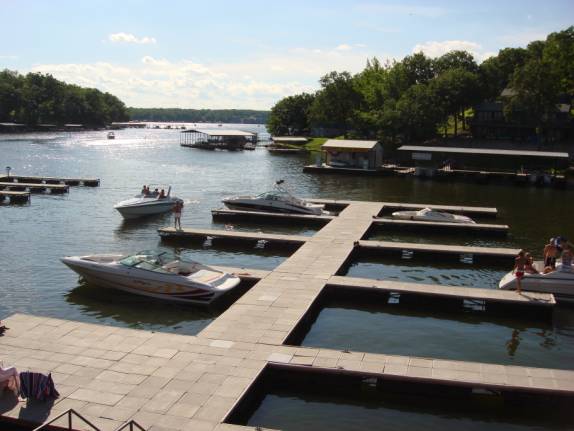 Judy and I are still convinced that this place serves the best Grouper sandwiches in the land. They also have a specialty side called "fried potato salad". It sounds strange but is really quite good.
After a bit of grocery shopping for the weekend, we headed off toward the lake house of my son, Doug, and my daughter-in-law, Lisa. It was rapidly turning from dusk to dark as we slowly drove in to the section of gravel road leading to this fabulous location. The road was a bit rough due to washed out ruts from the recent heavy rains. Doug kindly drove out to guide us in.
My lovely little granddaughter, Ashley, was a bit shy to begin with. Before long, she started to warm-up to both Judy and me. What a joy!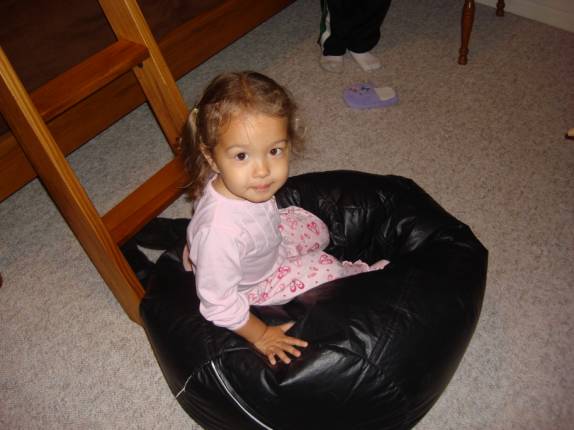 I think that Austin was jumping for joy that Paw Paw Fred and Judy were here to visit.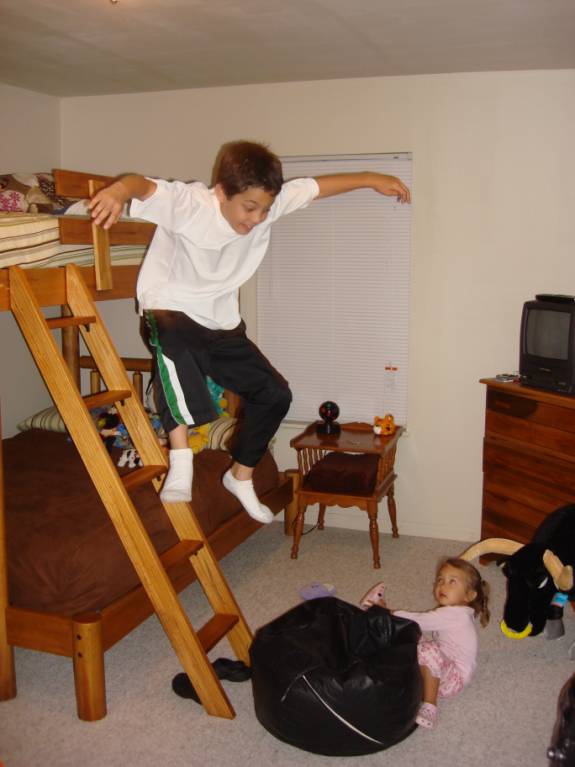 06/21/08 SATURDAY LAKE OF THE OZARKS, MO
The morning tranquility of the lake provides a sense of peacefulness along with its gorgeous view.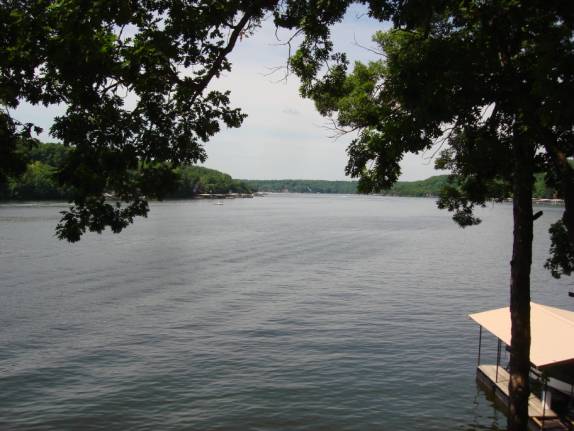 The huge deck overlooking the lake is a great place to just sit and enjoy each other.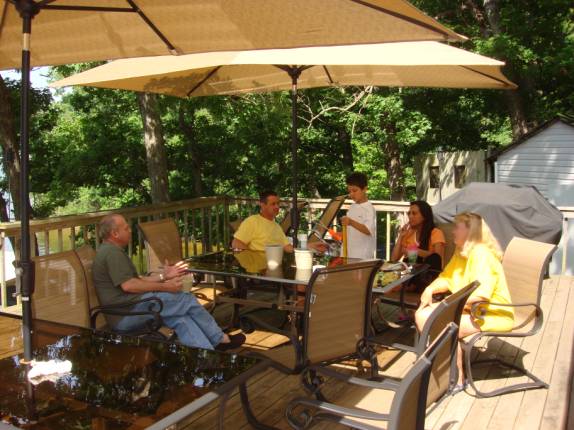 For Austin, we had a pair of NASCAR signature Crocs with the #48 logo of Jimmie Johnson. Ashley absolutely loved her new, stylishly pink, Minnie Mouse Crocs.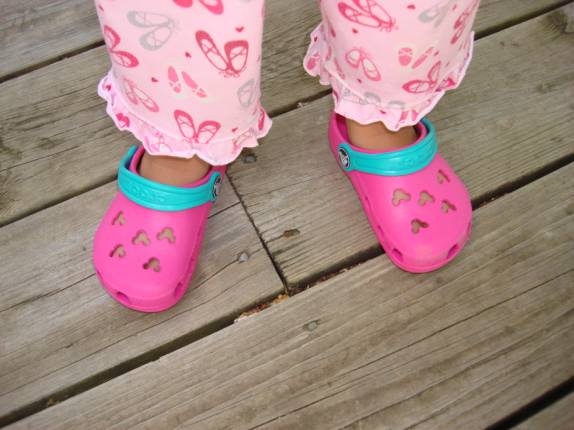 My Daughter-in-law, Lisa, is so beautiful and such a great gal. I love her so much!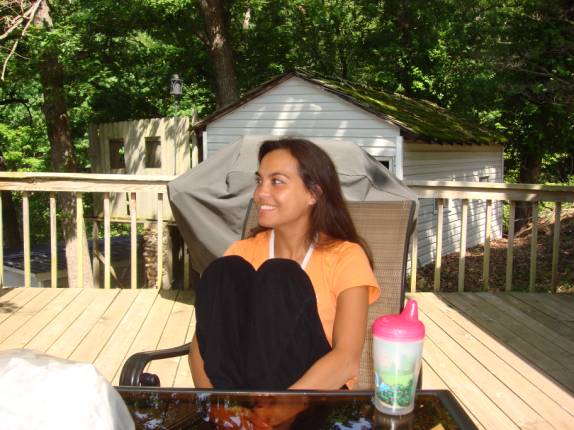 My son, Doug, makes it a great honor to be his Dad. He continues to make great choices for his life and the lives of his family. He makes me proud.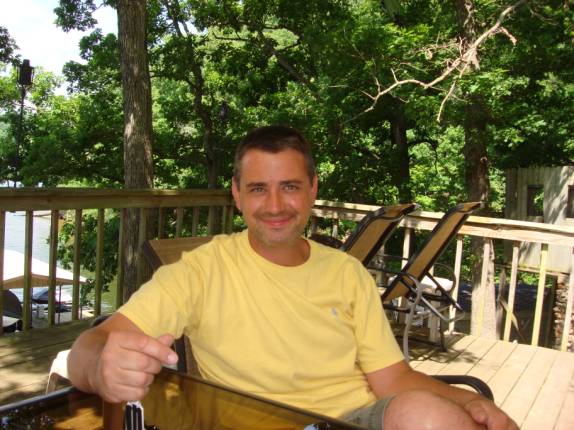 We had gotten this giant bubble maker for the grandkids, however, it seemed to bring out the inner kid in Dean. Soon, he was the "Master" of the humungous bubble. I had always though he meant something else when he said that he loved playing with "Bubbles".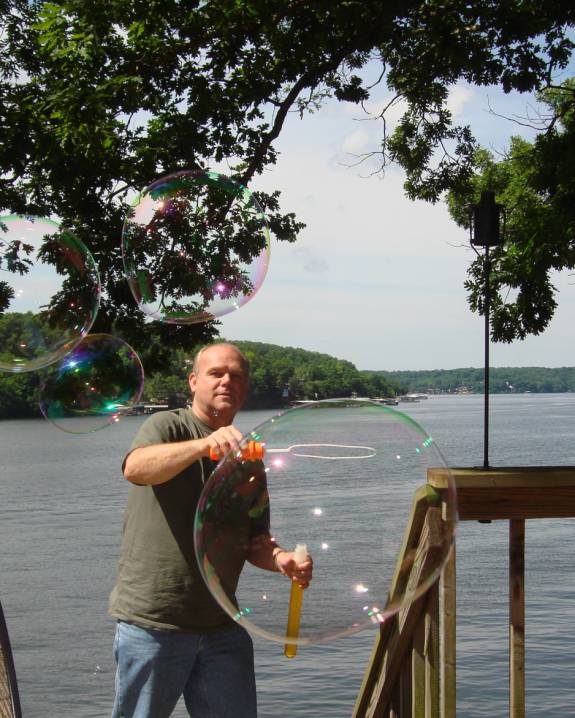 Dean and Austin were expertly creating giant globes of soapy film, much to everyone's delight.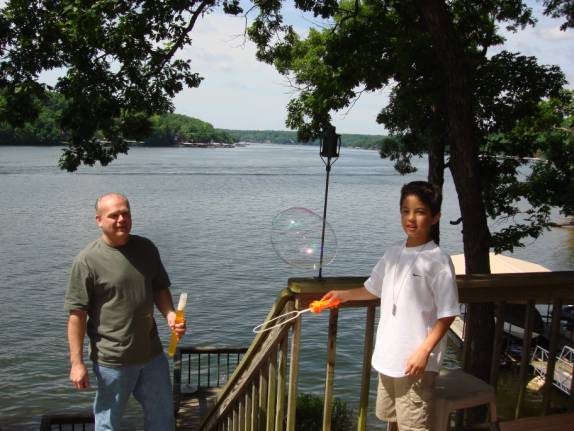 The gravel driveway had gotten quite rutty and rough with the recent heavy rains. Doug has fashioned a makeshift grader to smooth the steep driveway.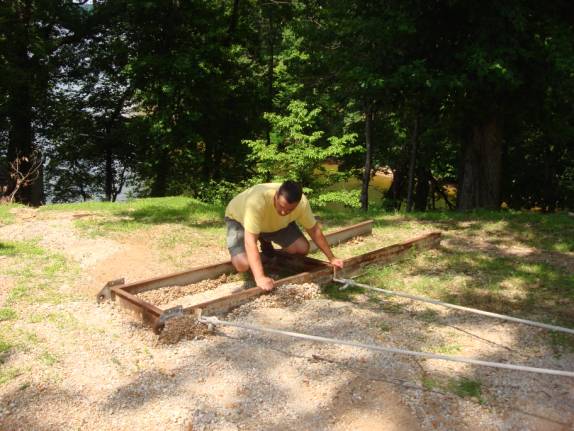 Lisa skillfully maneuvers the SUV while Doug does the grader duty. The ingenious rig works pretty well.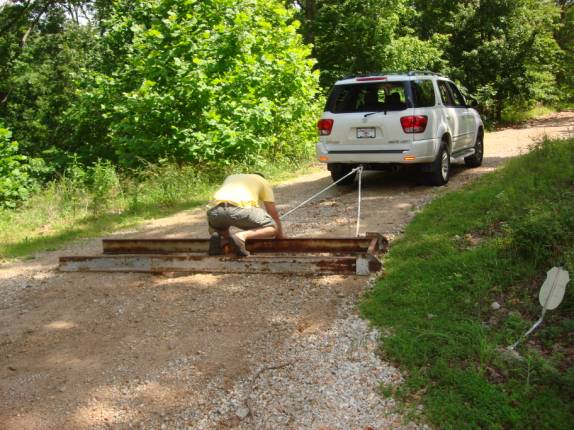 Ashley sure seems to like the #8 hat of NASCAR hero, Dale Earnhart, Jr., along with her bright pink, Minnie Mouse Crocs.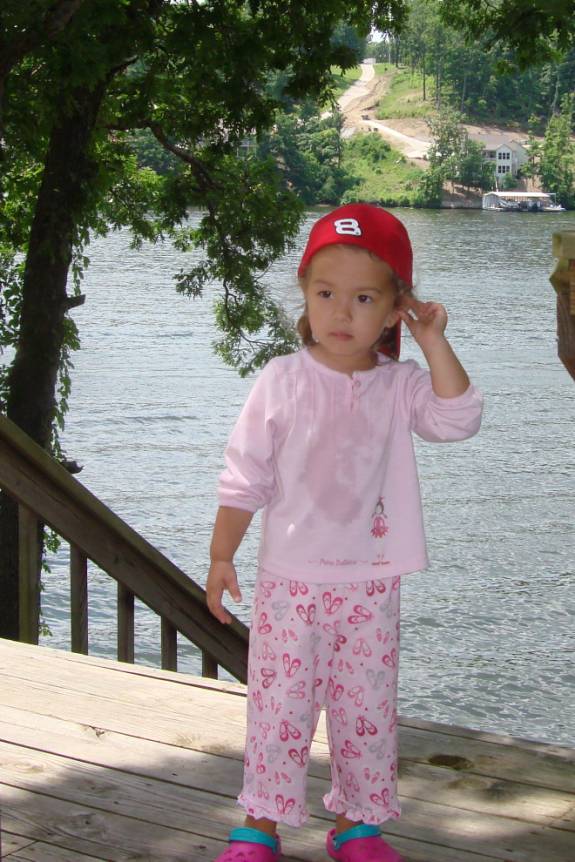 Ashley and Paw Paw Fred are becoming much closer friends all the time.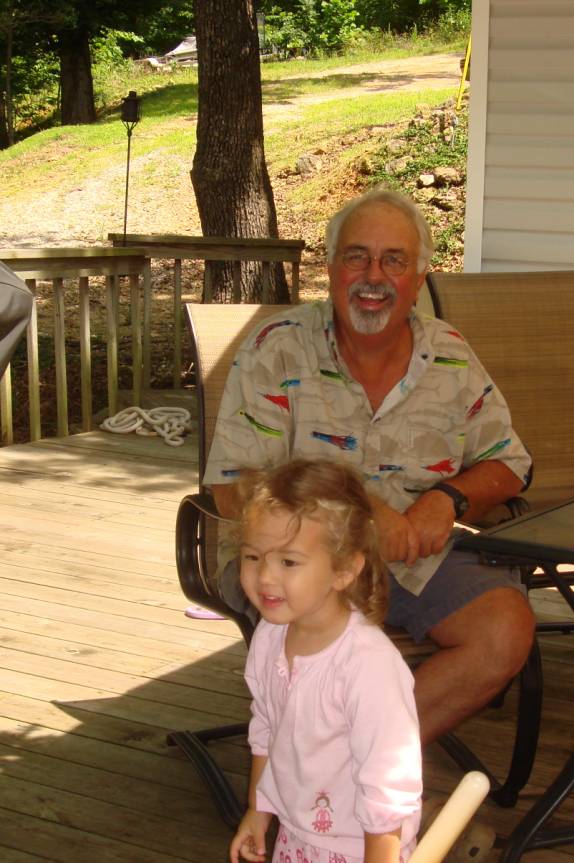 She loves to look out and watch the passing boats. She is sharing the finer points of observation with Paw Paw Fred.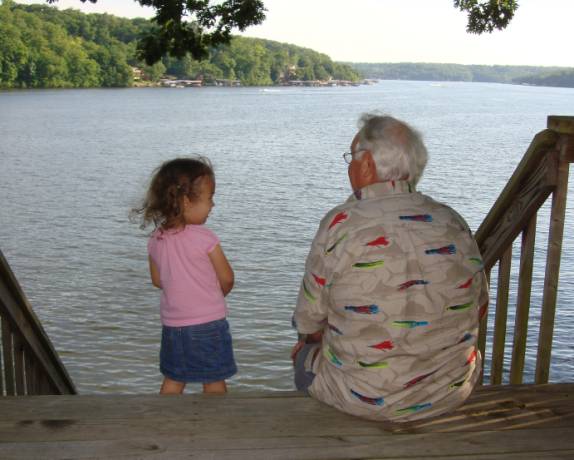 Dean brought tender slabs of meaty ribs from the Kansas City area. Judy assisted her brother with the, attractively presented, barbequing.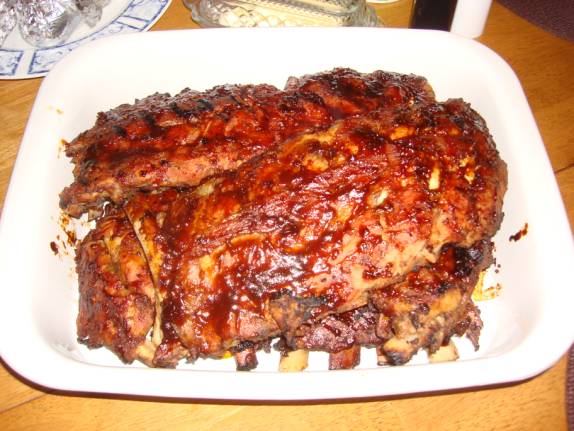 06/22/08 SUNDAY LAKE OF THE OZARKS, MO
Doug has gotten a new water toy for the kids of all ages. It is called a "Mega Bowl". Ashley and Austin are all ready for some Rock-N-Roll aquatic trills.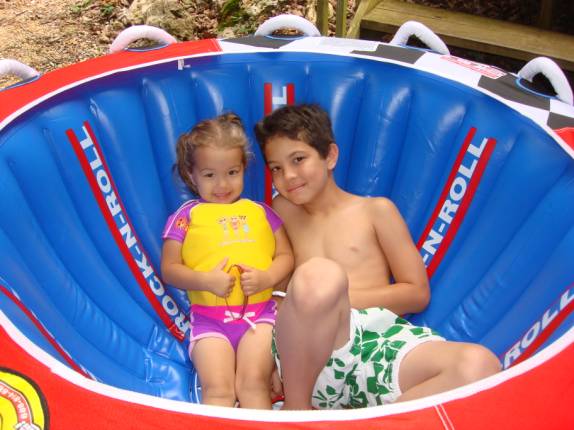 Austin sounds the signal to "let's get this show on the water".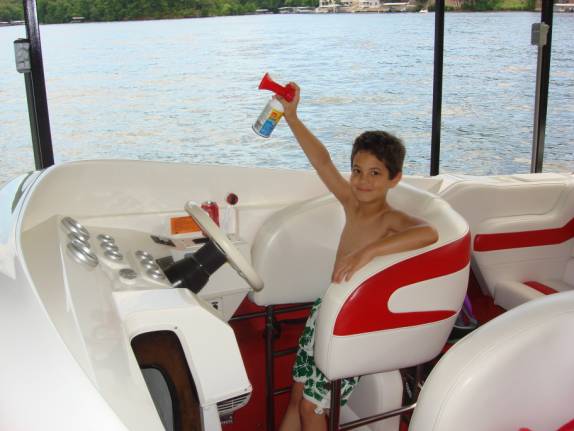 Austin and Paw Paw Fred are ready to get underway.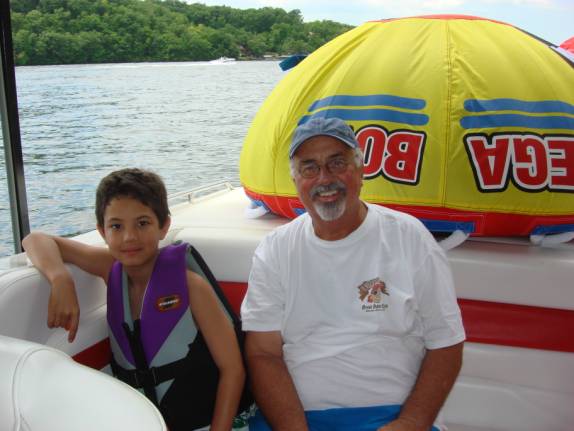 The lake house is so great and ideally located. Judy and I are so grateful and delighted to have this opportunity to share in the fun.
The girls are ready. It's the chicks that make boating even more fun.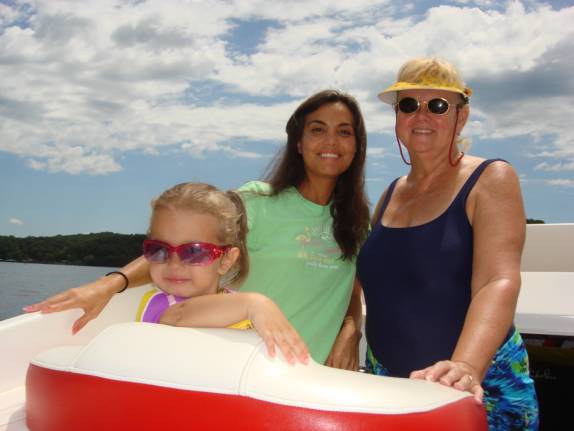 Austin takes the inaugural run and quickly gets the hang of things. How's that for confidence?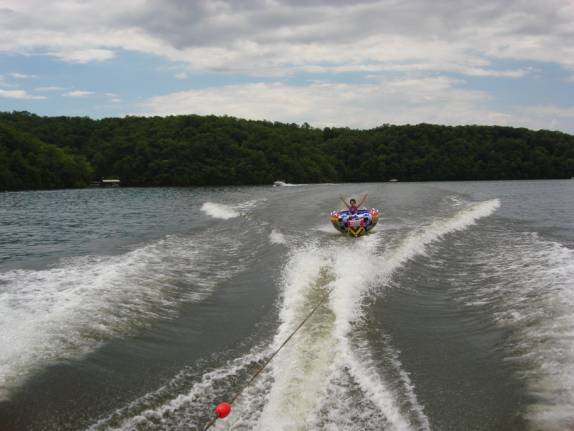 Dean was next in the barrel. Do you think that might be a bit of a worried look on his face?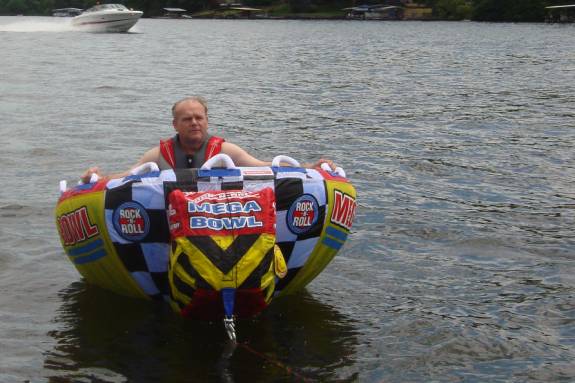 Dean had lots of fans keeping a very close eye on their adventuresome hero.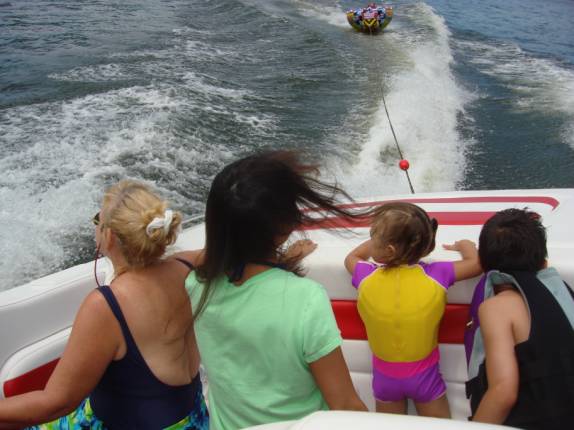 Now, to add to his list of credits, the Dean guy is the obvious "Master" of the Mega Bowl.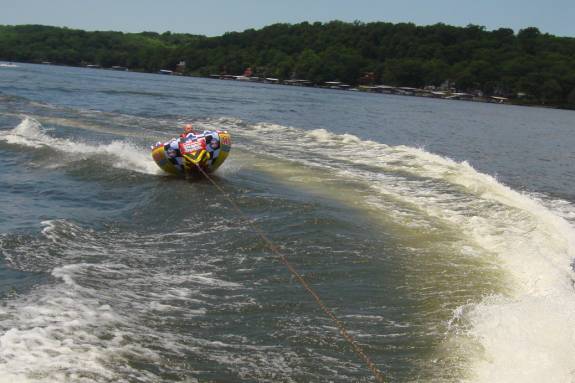 Not to be outdone by her little brother, Judy took to the waves for the thrill ride.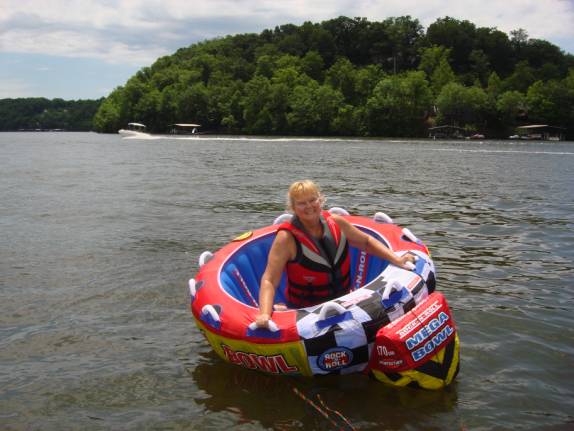 Yee-Haw!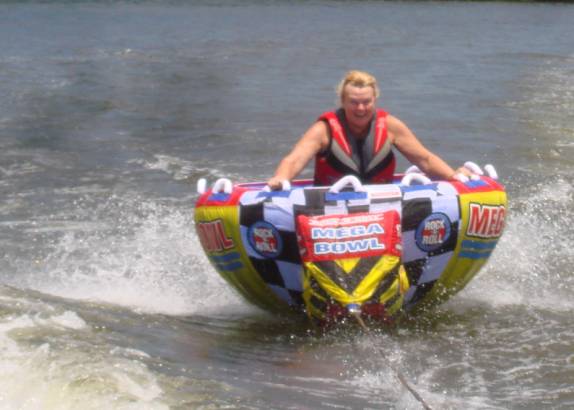 It was time for Doug to get a "whoopin'" from his Daddy. As I took the wheel and throttle, Doug might have been regretting any hard times he might have given his 'old man' in years past.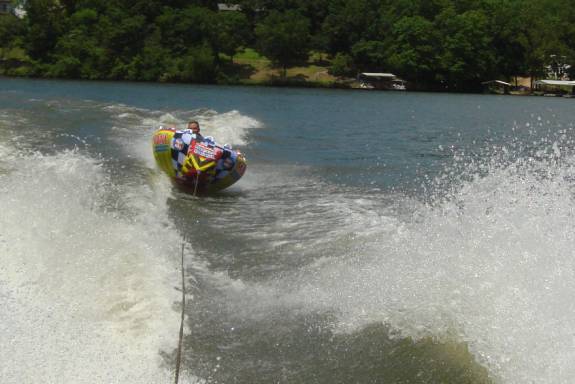 No mercy will be shown!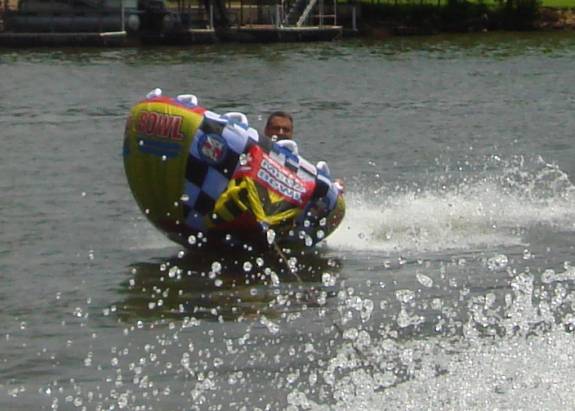 Hold on, boy, this is one wild pony!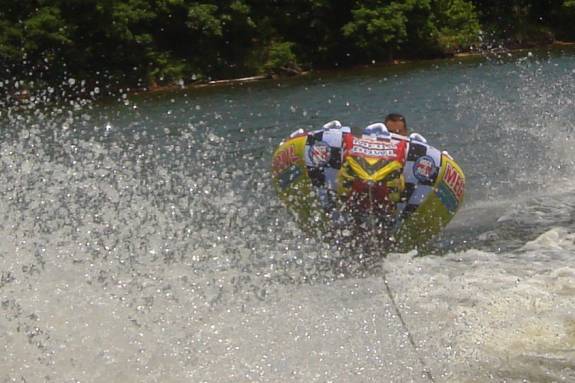 Soon, it was Austin taking the pounding in the Mega Bowl from his Dad.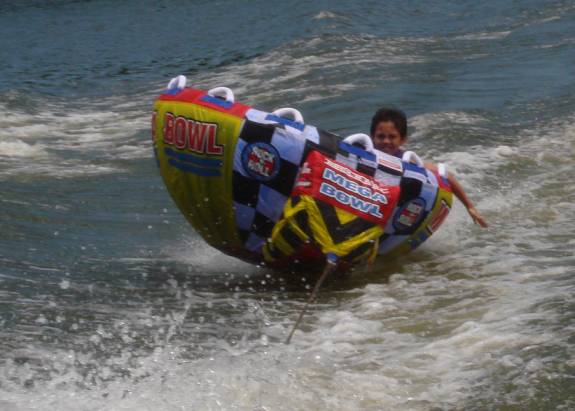 Guess who's having fun now?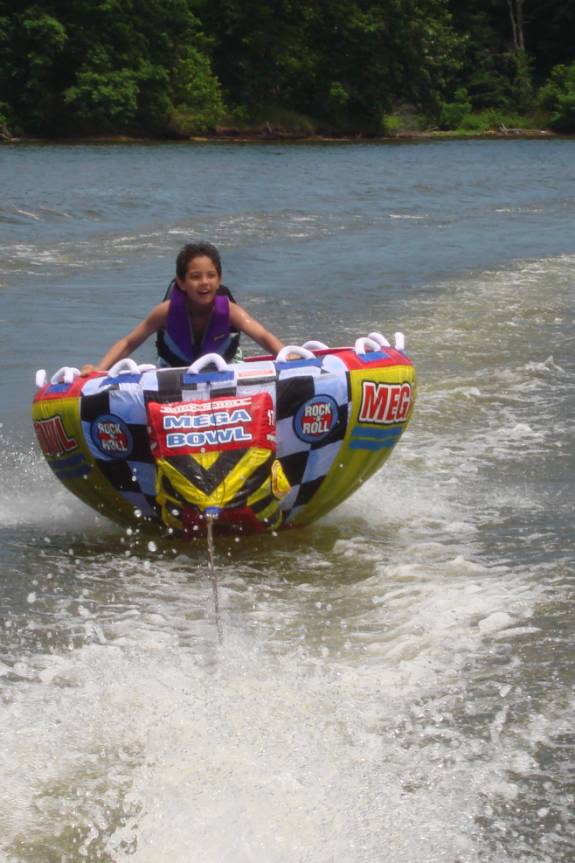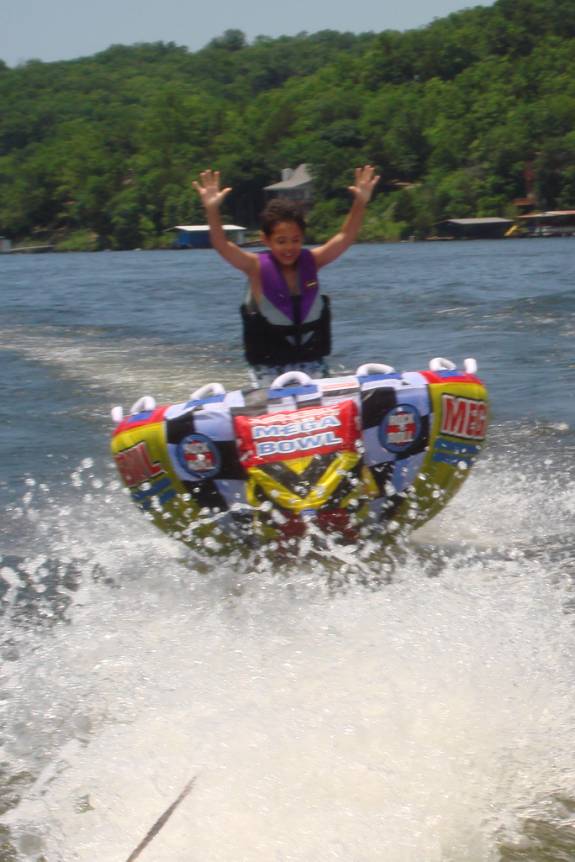 Can you "feel the need for speed"?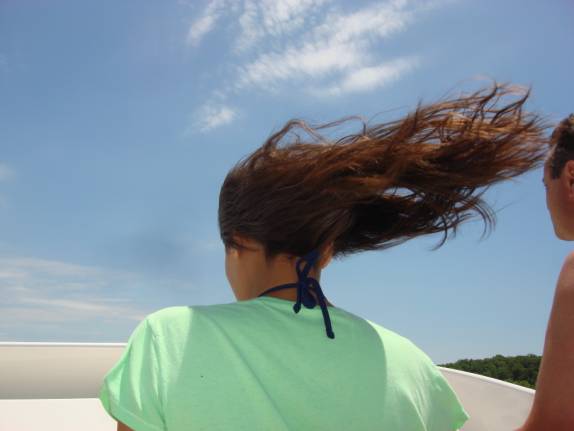 It's easy to see that Ashley loves boating.
Well, now let's see, Dean is the "Master" of the "Bubbles". Dean demonstrated that he was the "Master" of the "Mega Bowl". Now he is showing the world that he is the "Master" of the "Grill". The grilling expert himself brought those beefy hunks of prime steak here from the Kansas City area.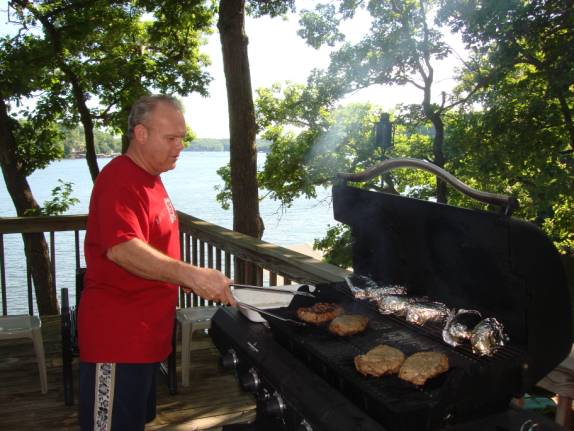 I love relaxing and just enjoying these wonderful friends and family.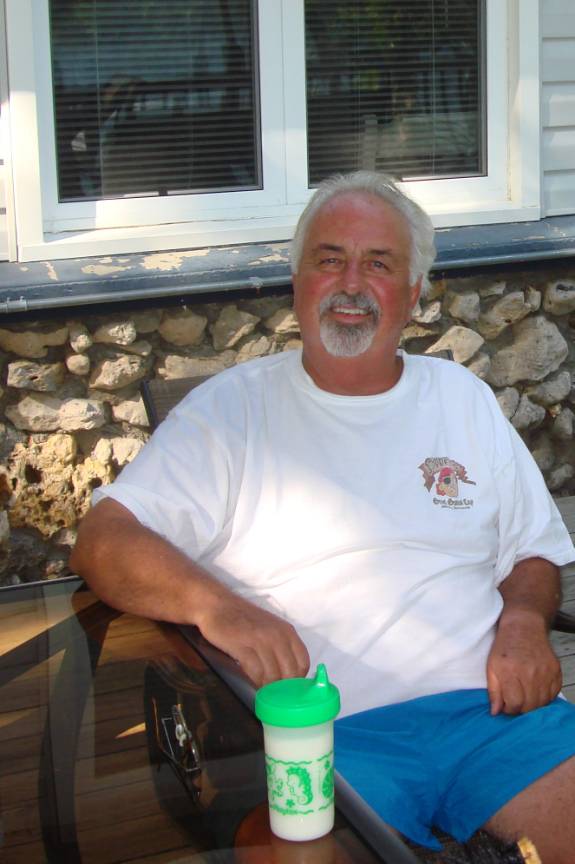 The three generations of those Reed boys sure make a handsome bunch.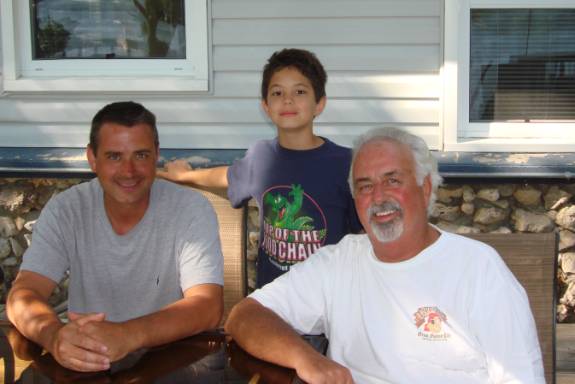 There is nothing easier to spot than a father's love.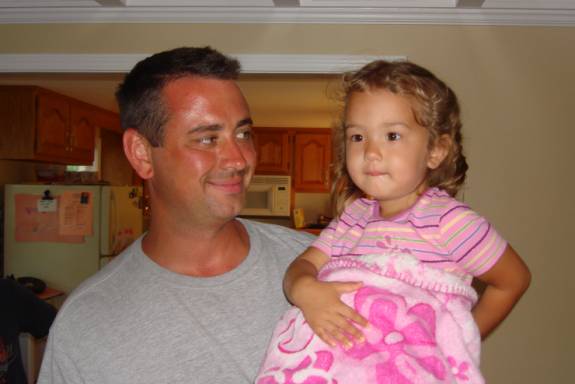 We hated to see Dean leave us. He has brought a lot of fun to the group for the weekend. Perhaps, we will get to see him in the fall.
06/23/08 MONDAY LAKE OF THE OZARKS, MO
The hydro-lift does a great job of protecting the boat (CHECK THIS) from passing boat wakes, as well as, keeping the hull bottom clean and smooth.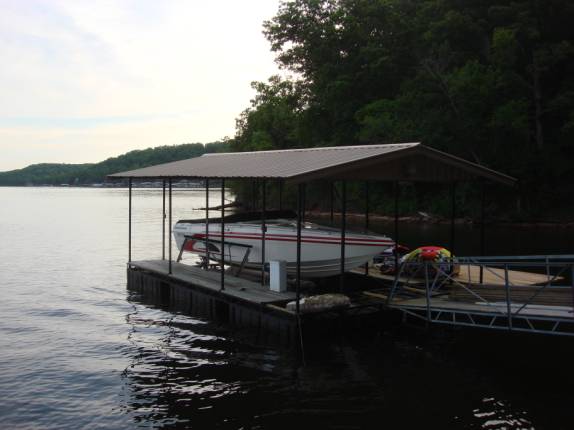 So what can I say, " a picture is worth more than a thousand words".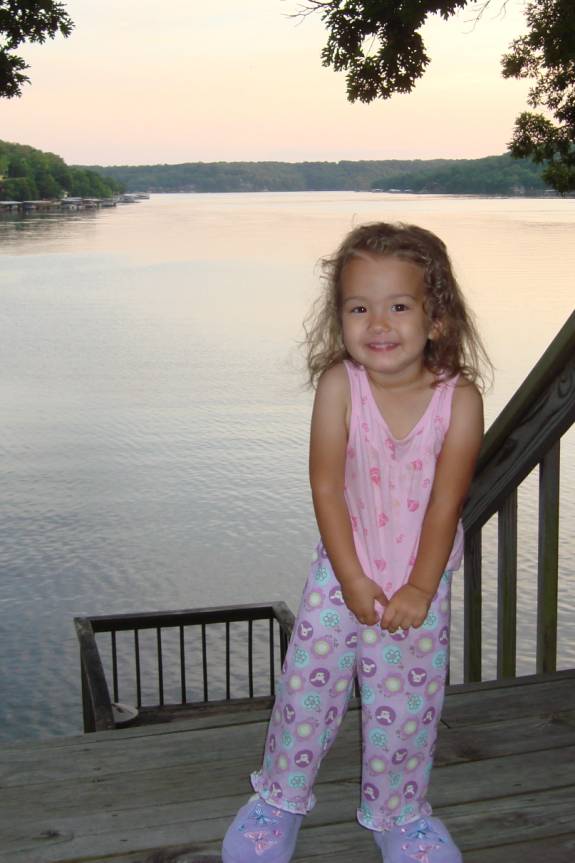 The blanket may say "Princess", but I think she is much, much more.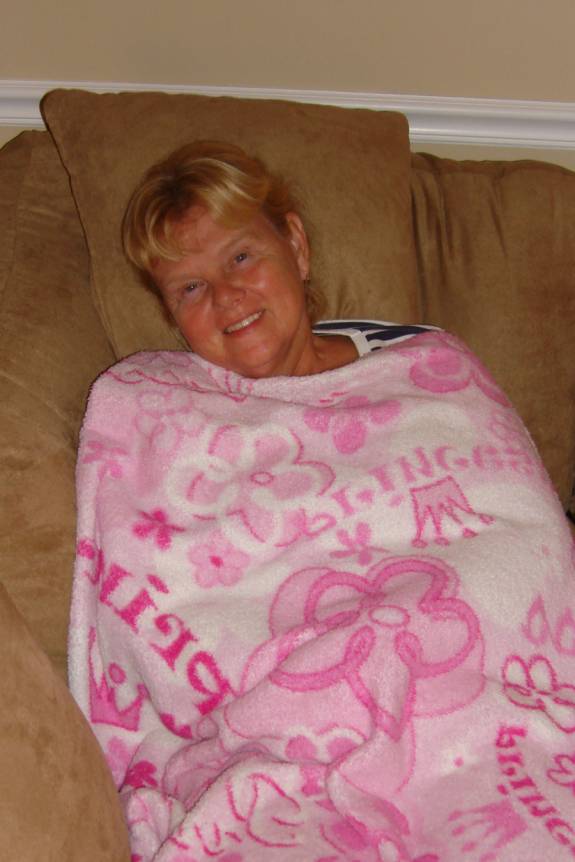 06/24/08 TUESDAY LAKE OF THE OZARKS, MO
A trip to the Rebel Arcade, near the Bagnell Dam in Osage Beach, satisfied Austin's urges to try the batting cages.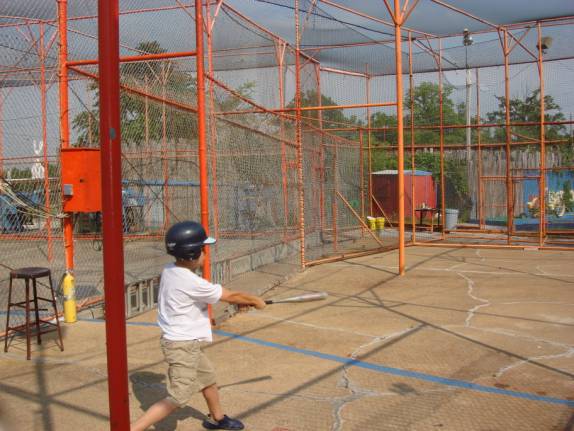 This is the gal that I love to "test my passion" with.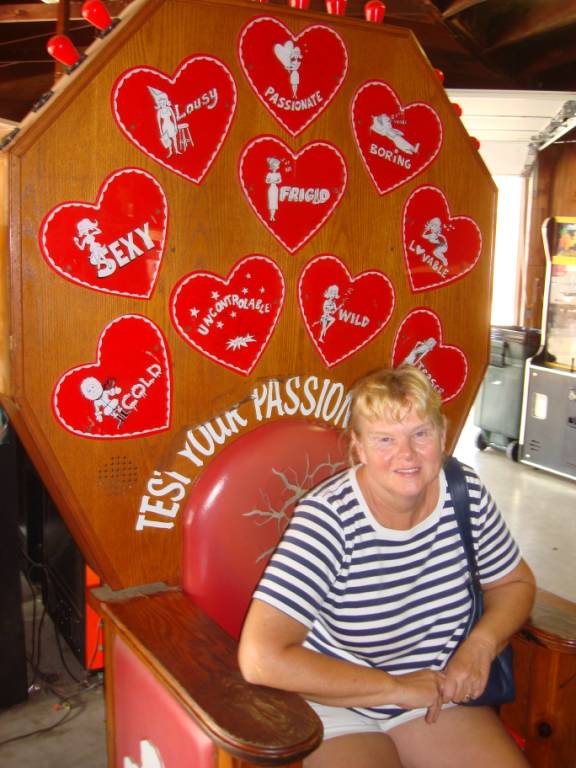 This arcade has been in this location for many, many years. Some of the game machines are originals that are still operating. Do you remember the Skee-Ball challenge? You can still win tickets to exchange for gift merchandise.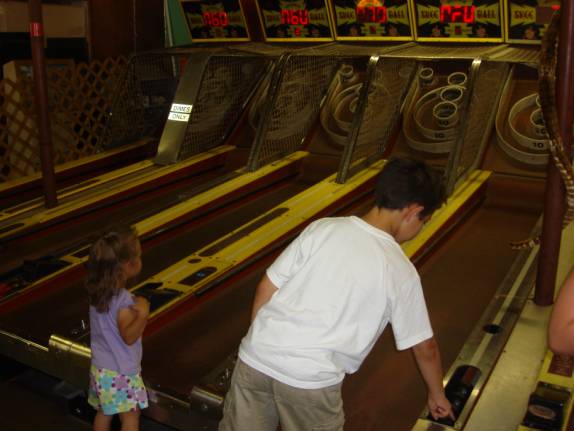 06/25/08 WEDNESDAY LAKE OF THE OZARKS, MO
Austin is back in the Mega Bowl.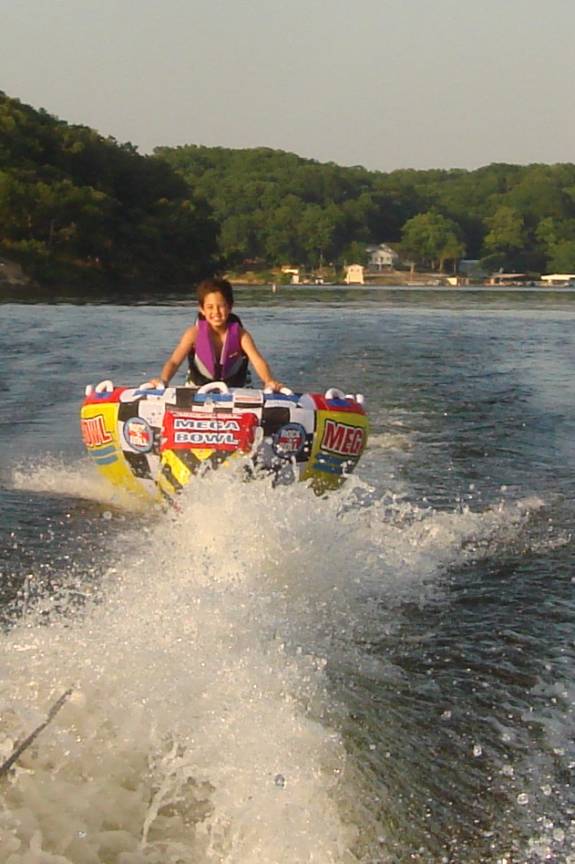 The wilder the ride, the better he likes it.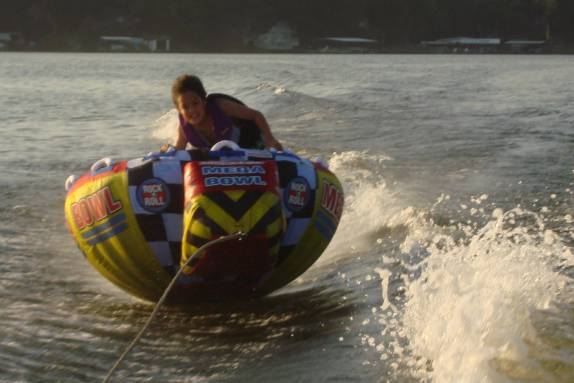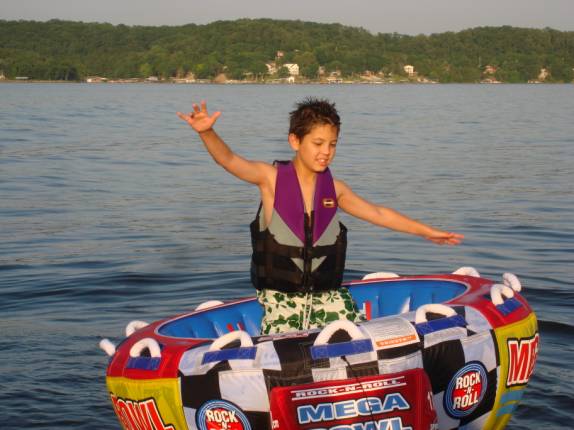 Now, that's really gorgeous! The sunset is quite pretty too.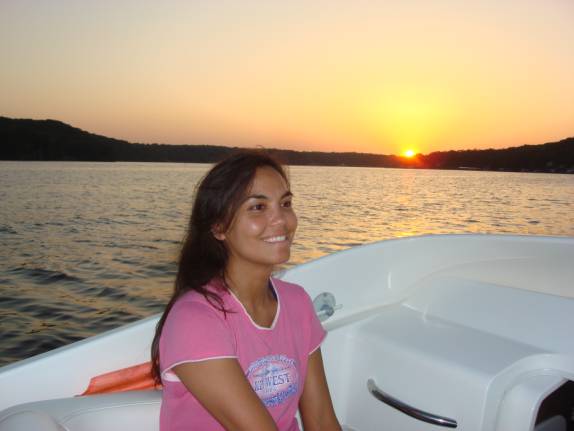 06/27/08 FRIDAY LAKE OF THE OZARKS, MO
HAPPY BIRTHDAY to my terrific son, DOUG. He is a great joy in my life!
What could be more fun on a birthday than seeing the joyful expressions on the faces of your loved ones?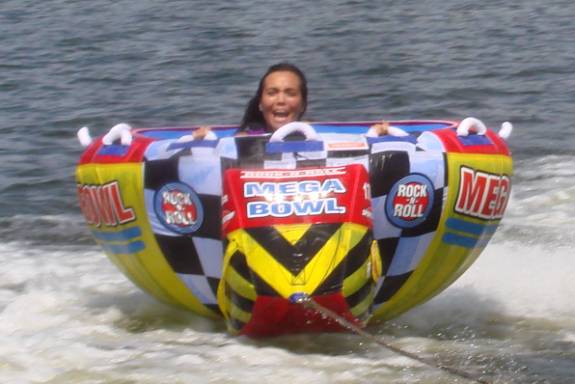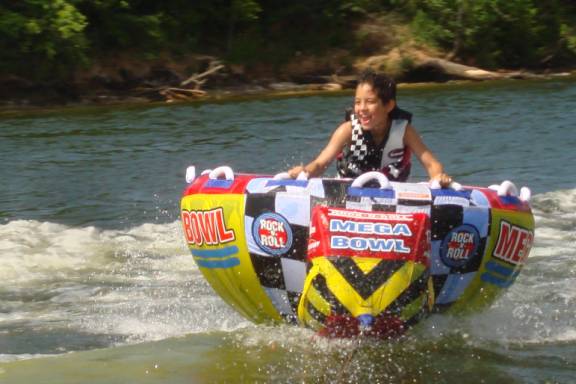 We were all wondering what he wished for. He wouldn't even tell his Dad. What ever it was, I hope it comes true.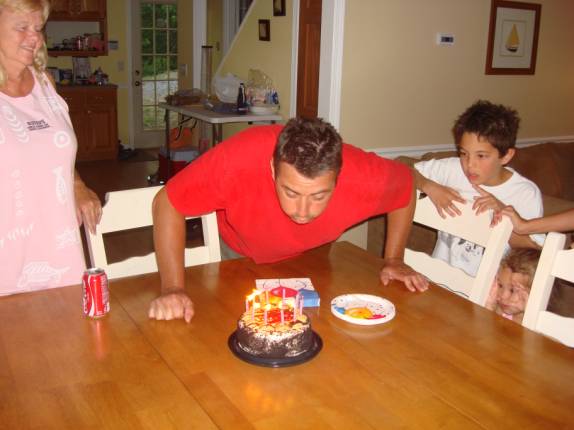 06/28/08 SATURDAY LAKE OF THE OZARKS, MO
It was an extra special treat for all of us when my daughter, Sharyn, and my son-in-law, Jeff, came to the lake house to share the rest of the weekend. It made it feel like a family reunion with both of the kids together.
Austin wanted to drive the race go-karts at Osage Beach. He goes like a streak.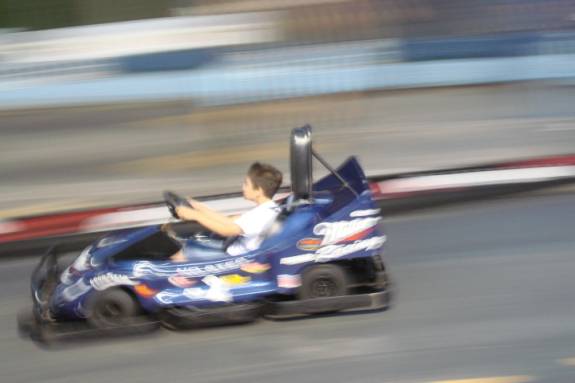 Along with a bunch of others, Jeff, Lisa, Doug, and Austin were all on the track together. The real battle for position was between father and son.
The photo finish clearly shows the winner of this heat. Lots of intensity was evident at the checkered flag.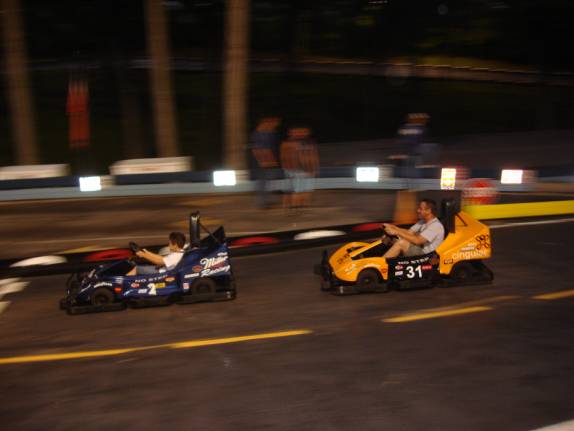 Sharyn and Ashley watched the match-up closely.
Ashley even got her chance to try her hand at the wheel of this static display car.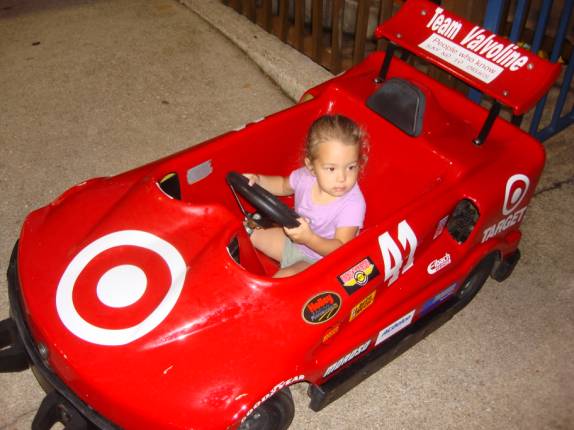 06/29/08 SUNDAY LAKE OF THE OZARKS, BARNETT, MO to O'FALLON, MO
This will be our last day at the lake. I will miss this fabulous view and the joyful time we've had here.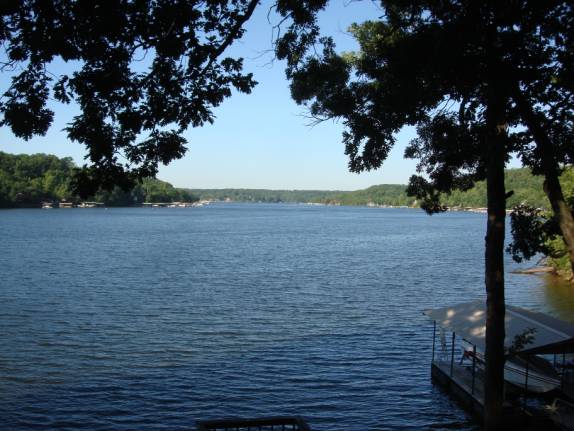 The girls cooked up a "lumberjack" breakfast this Sunday morning.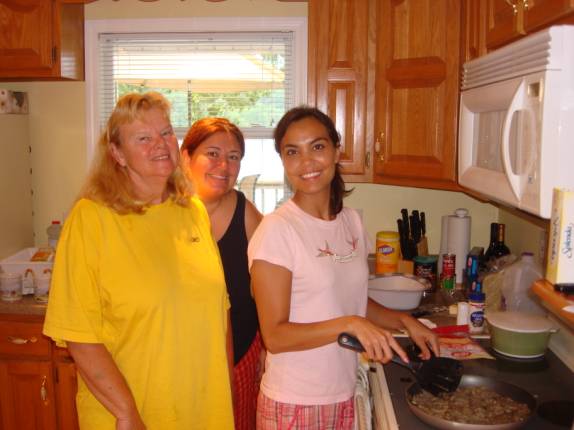 What a great family! Ashley must still be sleeping.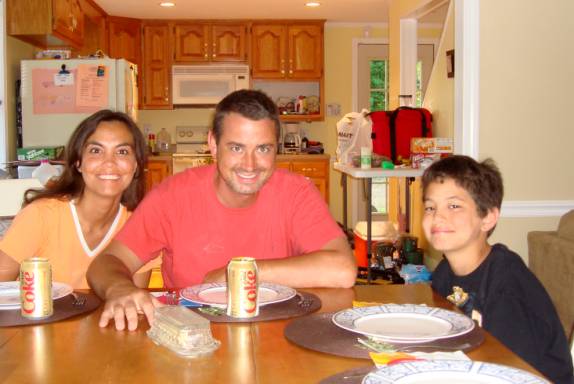 I was so great that Jeff and Sharyn could come here for the weekend.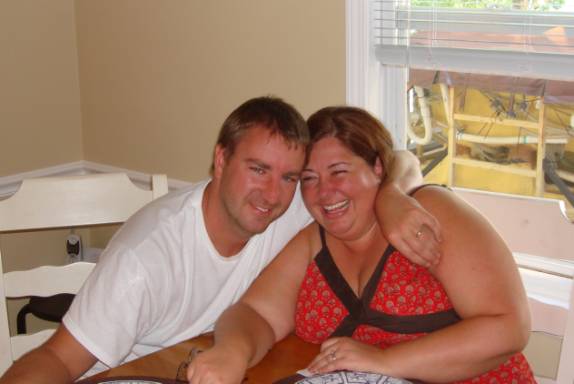 Lisa and Paw Paw Fred joined forces to create a huge tub of sumptuous Lasagna. Two great chefs, One great meal (with lots of great leftovers).
Sharyn and Jeff departed shortly after dinner. They still had work to do after they got home.
With full bellies, the toys put away, and the house cleaned up, we headed out for the drive to Doug and Lisa's home in O'Fallon. It was already late when we got there and, after some heartfelt hugs and kisses, we all welcomed our beds. Tomorrow, we would leave for Brunswick.
06/30/08 MONDAY O'FALLON, MO to BRUNSWICK, GA
At 4:30am, the alarm, and a knock on the door from Doug, had us moving about. Doug has to get up every workday morning at this time.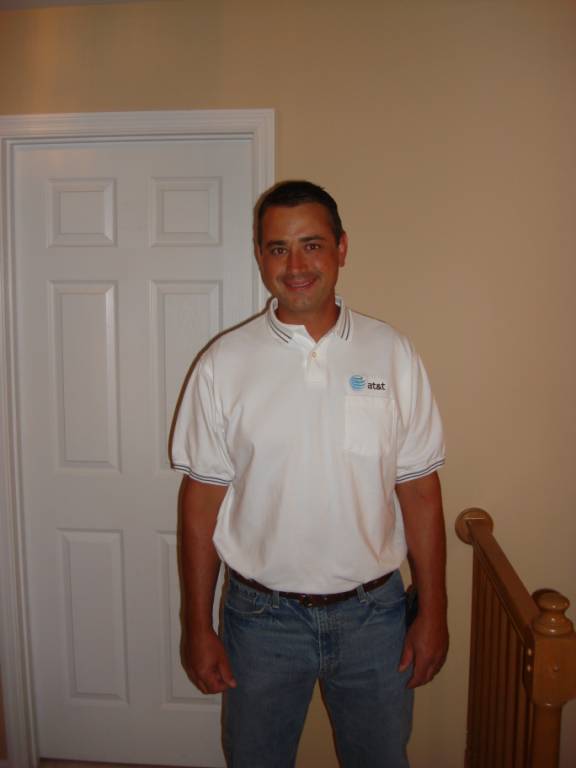 Just before we left, Lisa and Austin came downstairs to tell us how much they love us and to wish us a good trip. I can feel the love!
At 5am, we left the house together with Doug. At the main intersection, Doug turned right and Judy and I turned left. Doug was headed for his work office while we headed for Interstate 70 toward St. Louis.
Our routing carried us through southern Illinois, Paducah, Kentucky, Chattanooga, Tennessee, and Atlanta, Georgia. We had hoped to beat the Atlanta traffic bottleneck and we were successful at traversing smoothly at 3pm. Interstate 75 took us to Macon, GA where we took a break to visit the Bass Pro Shops' Sportsman's Warehouse.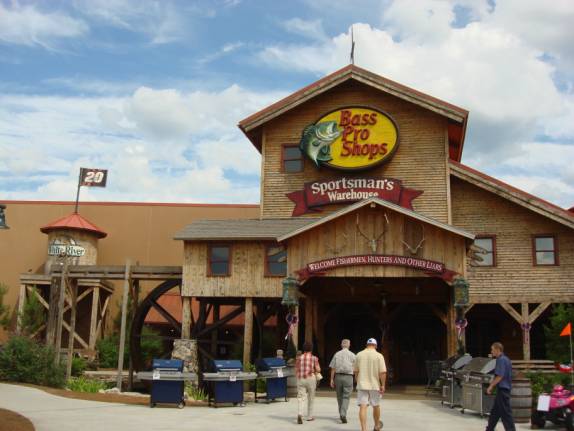 We continued to Brunswick on Interstate 16 and the cutoff using secondary roads through Lumber City that Robert Wilson clued us into. At speed limits, I'd guess it takes an additional 15-20 minutes, however, the mileage is less and the scenery is certainly more interesting than the interstate.
The month of June has been wonderful. We have enjoyed our visits with friends and family, as well as, the other wonderful aspects of our trip. Special THANX are due to Robert and Carolyn for hosting us. Luv, Kissez, and Best Wishez to Donna and Gordon. To my kids, kids-in-law, and grandkids, our love and thanx for making us feel so wanted and loved. Thanx to Dean for joining us for the weekend. WE LUV Y'ALL!!!!
This concludes this edition of the AMARSE Update logs. We hope you will join us again soon for more of our activities and adventures in the month of July and beyond.
POST SCRIPT:
We sincerely hope that you will review the previous years of compilations to give context to the current editions. Please let us know if you have any special suggestions and thoughts.
REMEMBER: The website is now fully active and you can visit it at any time. You can review any of the 2006, 2007, or the upcoming 2008 logs and learn more about the crew and our plans. Enjoy.
ATTENTION: SPECIAL NOTE:
You may contact us via email anytime.
We will have internet where ever we find WiFi service.
Our cell phones have been turned back ON. Judy has AT&T/CINGULAR service. Fred has VERIZON service. Email us if you would like our phone numbers.
"AMARSE". is pronounced "AM-ARE-SAY". Our website is: www.amarse.net .
Thanks for allowing us to share our life and adventures with you.
Lotsa Luv,
Fred Reed and Judy Law
AMARSE
MT40