UPDATE# 8
03
/11 thru 03/21/08
Howdy Everybody,
The adventures of 2008 from 1/1/08 through 3/10/08 have been published on the website. We continue with the latest edition, UPDATE 2008 # 08.
UPDATE 2008 #08 03/11/08 through 03/21/08.
At last update, AMARSE was at our winter home at ABACO BEACH RESORT and BOAT HARBOUR, in sunny Marsh Harbour, Abacos, Bahamas.
03/11/08 TUESDAY ABACO BEACH RESORT AND BOAT HARBOUR, MARSH HARBOUR, ABACOS, BAHAMAS
SOCK HOP DAY.
Today will be a very busy day. Along the edge of the dock seawall, this stingray meandered through the harbor and between the boats.
Numerous boats yielded to the urge to depart from the harbour. A rare weather window has presented itself and the skippers felt compelled to take advantage of the forecast conditions. I am sure that all will miss a great evening and, even sadder, we will miss sharing the evening with them. However, as fellow boaters, we understand their dilemma and respect their choice. Among the departing vessels, we assisted CHABLIS, PELICAN, and SEA DEE get under way.
The determined walking gals had Judy right along with them for the 4-mile jaunt. With barely enough time to cool down, she was heading off to the Marquis Tent for the 10am gathering of the decorating crew. The dedicated volunteers worked steadily and in harmony to create and develop an atmosphere reminiscent of the 50's and 60's.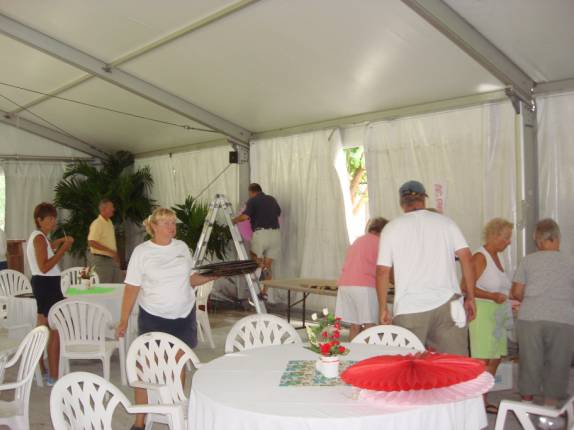 This was the main centerpiece for the sock hop theme. It was placed on the main stage. I love the way Judy developed the "bobby socks" concept.
Having the distinction of being the tallest gal, Mary Coles (MASCOT) was a natural at reaching the high places. Helping hand her the records, Rita Wieczorek (MAGNUM OPUS) may have the distinction of being the shortest gal on the crew and being one of the most helpful.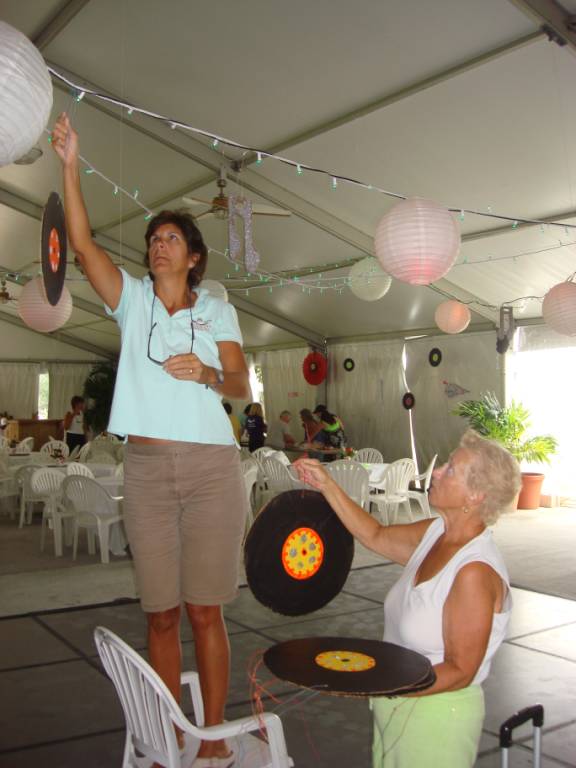 Carolyn Wilson (blue tank top) was the driving force of the decorating team. Her artistic skills and detailed planning resulted in a magnificent effort to transform a plain, canvas tent into a surrounding aura reminiscent of Town Armories or School Gymnasiums on dance night.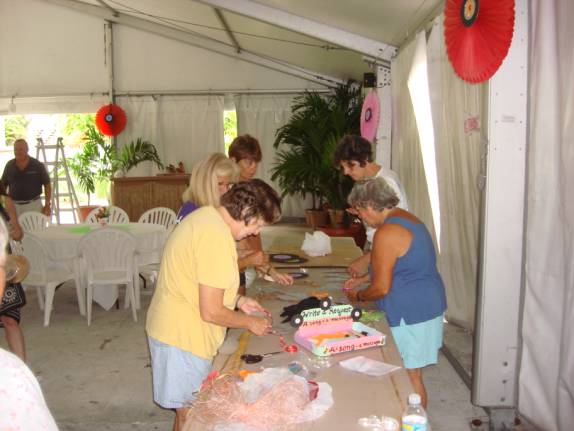 Carolyn's attention to creative detail was evident right down to the special request box.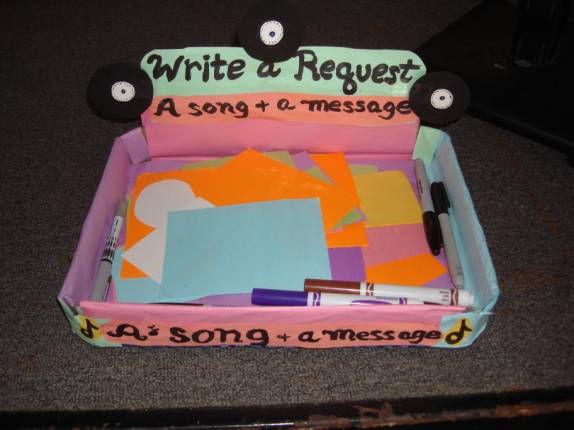 Each table had its own centerpiece inspired by Judy's original design. Just too Cool!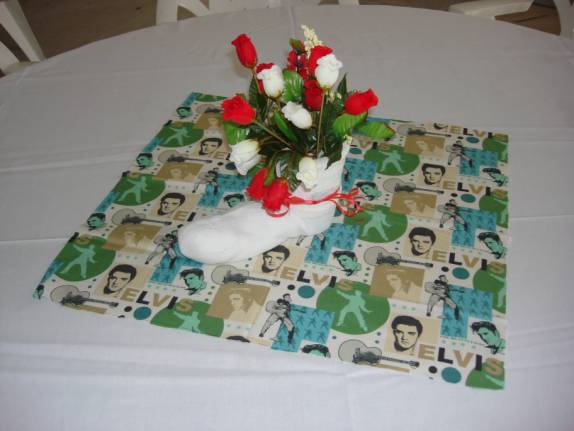 With all the preparations completed, the folks began to arrive for the RMHYC Sock Hop and Rock 'N Roll Party.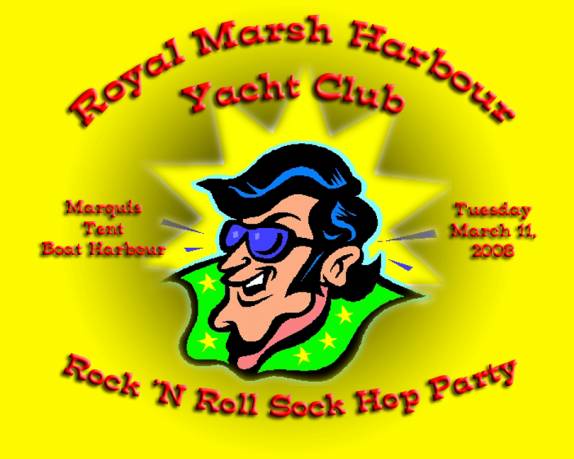 We may not look exactly the same as we did 50 years ago, but, I assure you, we felt as though we had taken a giant leap back in time.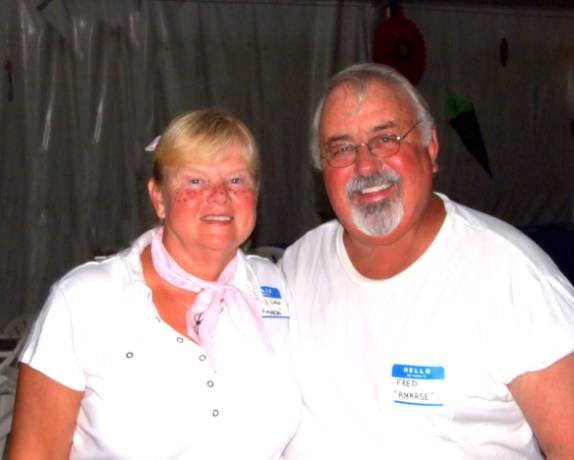 Milton and Fran Ohlsen (SEA FOX) headed up the registration crew. They were already accepting guests at 4:30pm.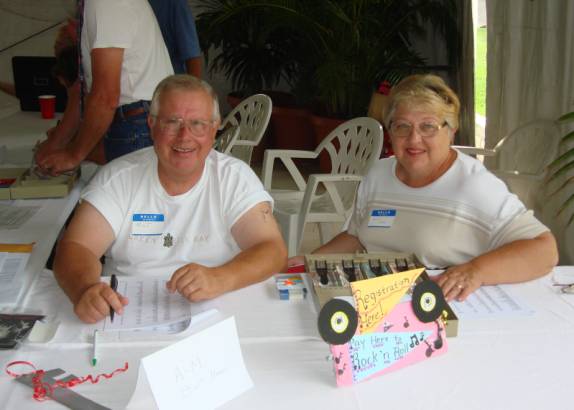 From the very moment you walked in, you knew that this was going to be a night to remember. Greeting everyone was our roller-skating, Car Hop, Wilma Thornton. Complete with her cute uniform and milkshake tray, she recreated those feelings of years past. Thoughts and memories of those early days immediately flooded into everyone's mind. I felt like I had just pulled up in my old, red and white, '55 Chevy Convertible. Wow!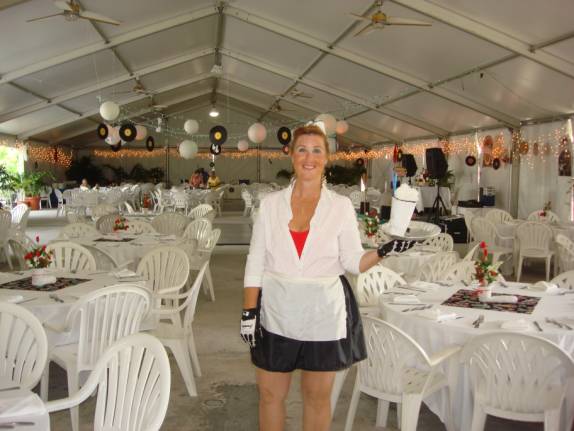 The incredible costumes were so much fun and the gals have had lots of fun together making them.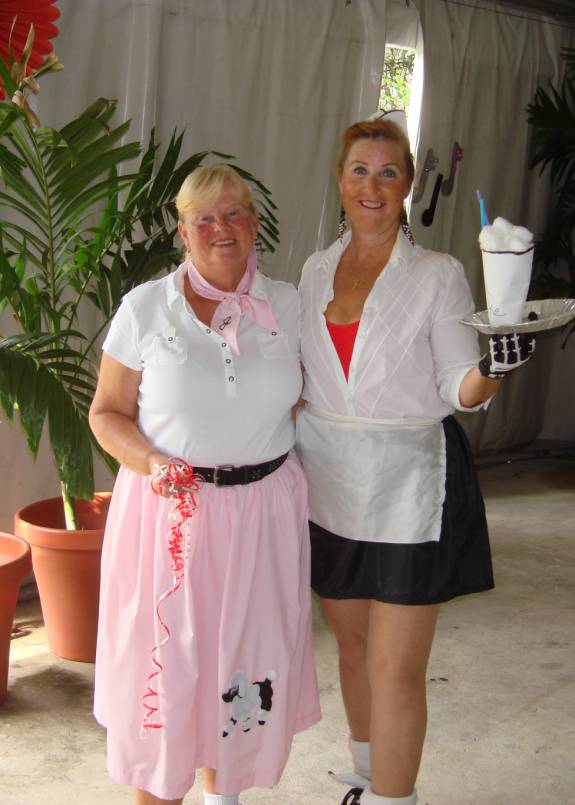 Tony and Fran Relouw (TOURELOU) look just the part of that special era when Poodle Skirts were all the rage.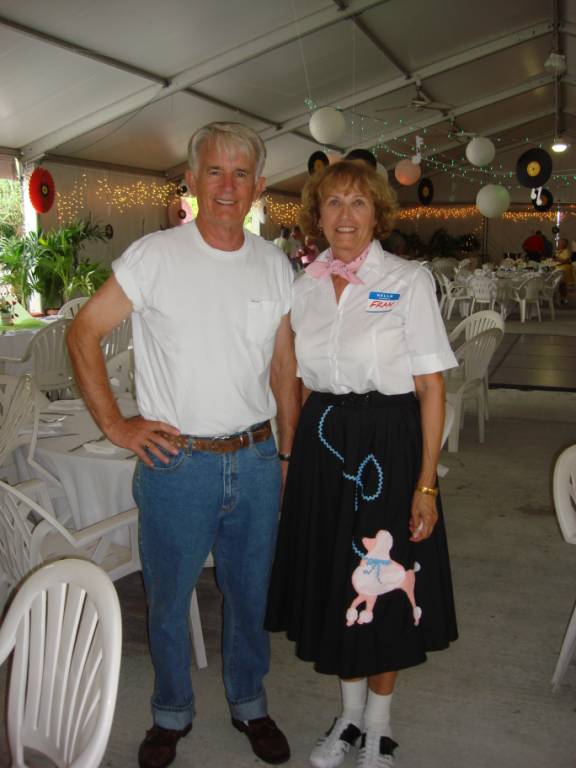 Zipping around on her skates, she was, definitely, "Miss Shake, Rattle, and Roll."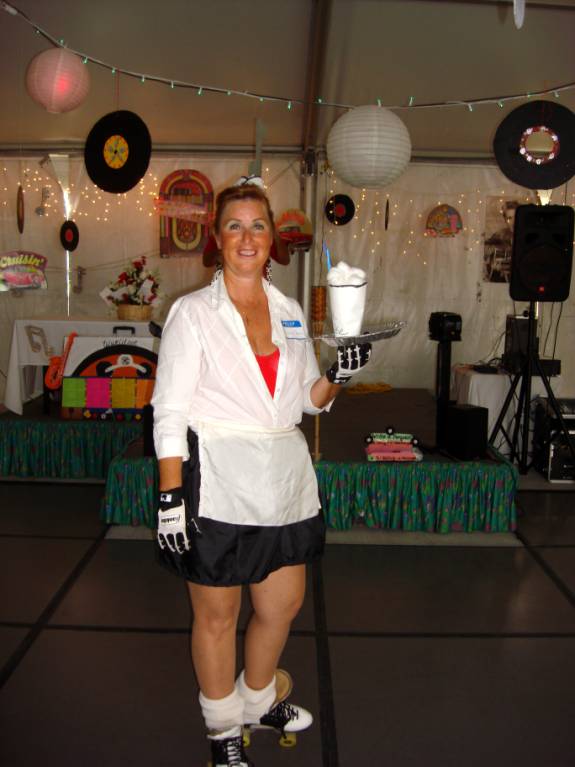 Check out the COOL glasses and poodle skirt on Rita Wieczorek (MAGNUM OPUS). Bob had his blue jeans rolled up just like we used to do.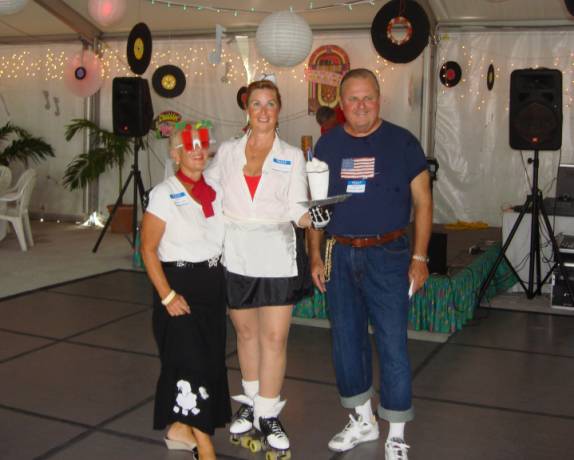 A key part of the success of this great party belongs to Paul Graham (ODYSSEY) at the Open Bar. He and Bob Mueller poured a lot of powerful "lubricants" to loosen up those "rusty" dancers.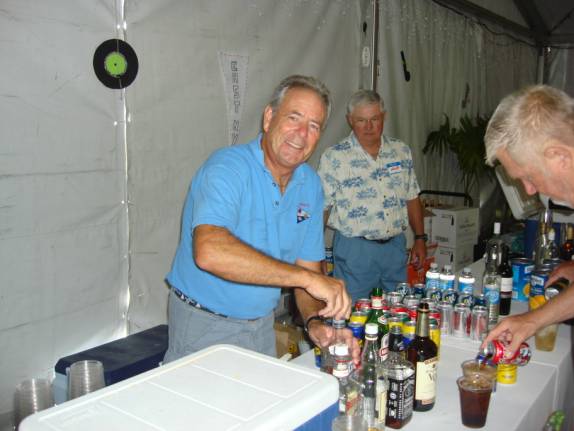 Steve O'Brien (CHRISTMAS) looked mighty cool with that dynamic hairstyle. He toted lots of ice and made many a drink for the members and their guests at the "Legendary Open Bar".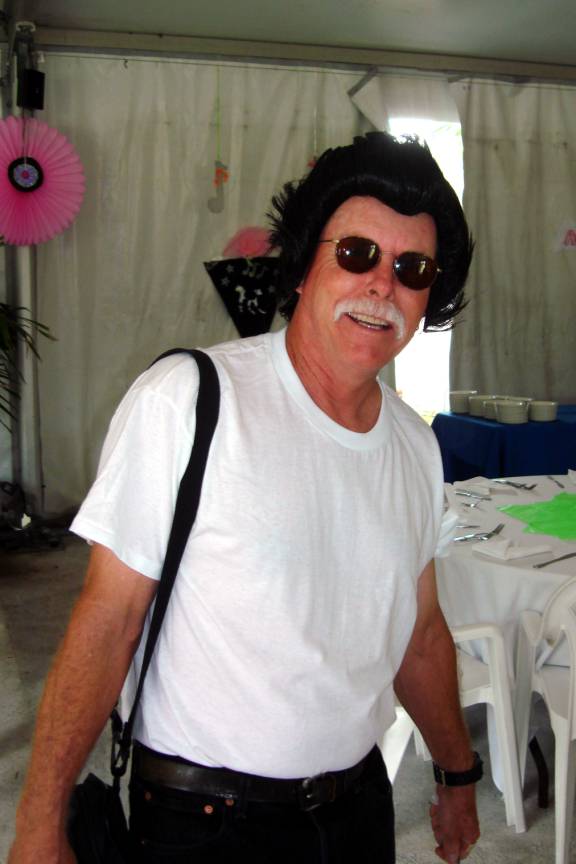 Is that Joe DeMaris (ADAMAS DE MARIS) or the original "Wild One", Marlon Brando? Check out his babe, Eileen Ambrosini (ADAMAS DE MARIS).
This stylish trio delighted everyone with their Poodle Skirt Costumes. At first, I didn't even recognize Karen O'Brien (CHRISTMAS) in her sexy, blond coiffure. Judy Law (AMARSE) had the cutest freckles, and yellow is the perfect color for that perky, cheerleader-type, Sue Graham (ODYSSEY).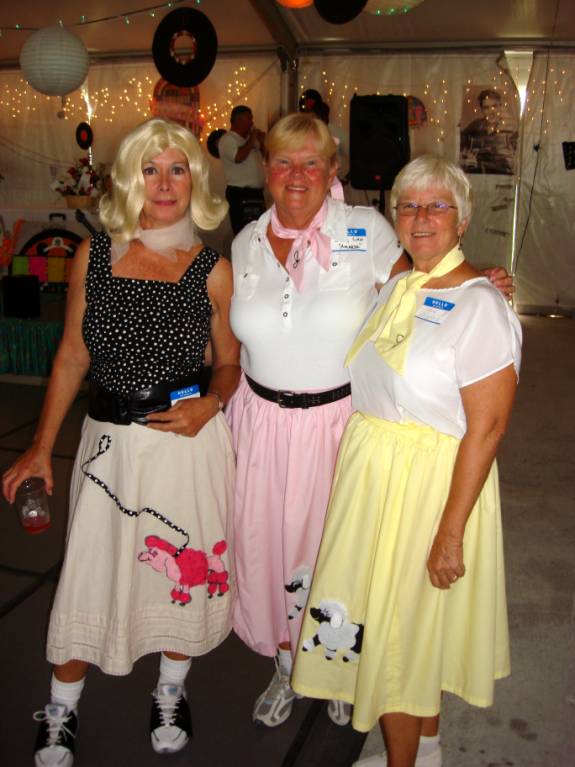 When Milt and Kathy Sales (LO KEE) showed up, all eyes were on them. Kathy's outfit was wonderful and Milt's was amazing. The designated "Nerd" came complete with bow tie, plaid shorts, ink pen (with an actual ink spot on the pocket), and a "Slide Rule" strapped to his belt. There was even tape on his nerdy glasses. You know, it's true; the Nerds DO get the pretty girls.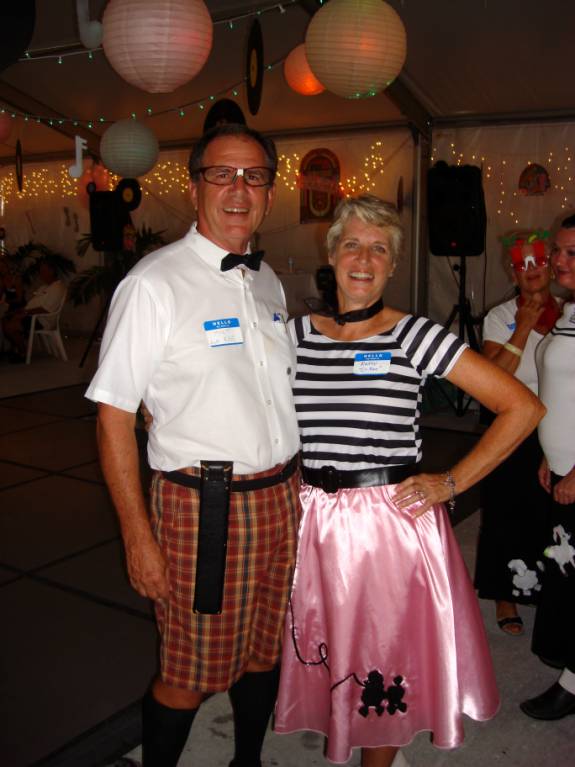 The Balladeers (mostly dock 7 and 4 folks) belted out an old Statler Brothers tune, "Do You Remember These".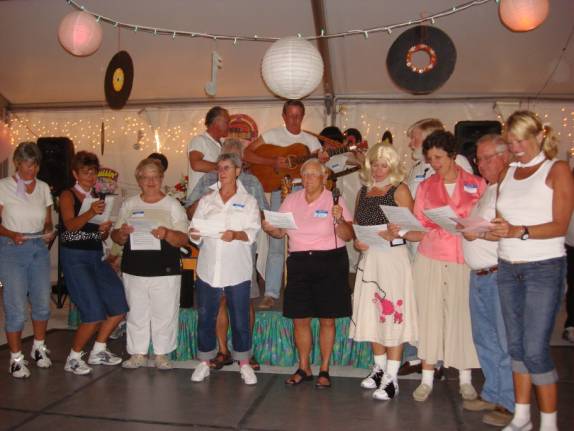 The members and guests were having so many special moments dancing to all those old, familiar tunes. We owe a great debt of gratitude to Ray Vallerie (LAST DANCE) for compiling the enormous playlist and perfect mix of dancing music.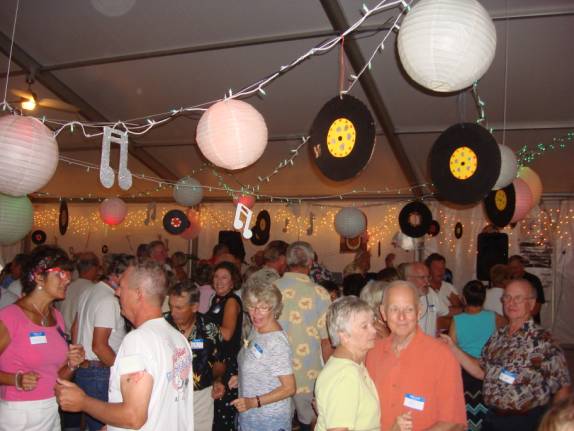 Mary and Scott Coles (MASCOT) looked COOL and they knew every word to every song. Perhaps, Mary's favorite song might be, "I Only Have Eyes For You".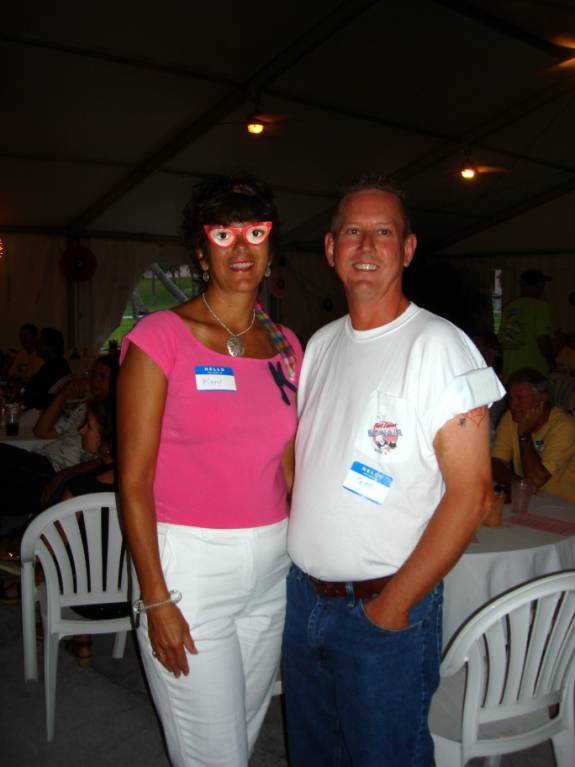 I loved Scott's T-Shirt from Fast Eddies. I have personally enjoyed many, many fantastic nights in that famous burger joint and watering hole located in Alton, Illinois.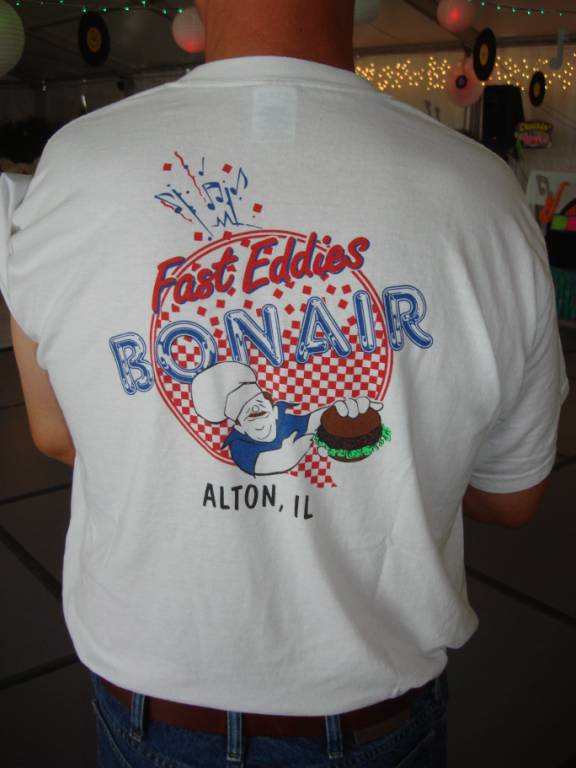 Joe and Eileen (ADAMAS DE MARIS) were "cuttin'a rug" on the old dance floor.
Sherry (CHIPKA FIRE III) was dancing a blue streak with Judy, Wilma, and Sue.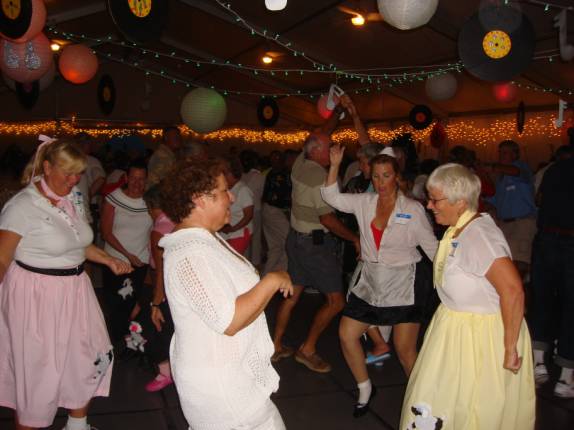 Let's Twist and Shout, Just Like in those Good Ole' Days………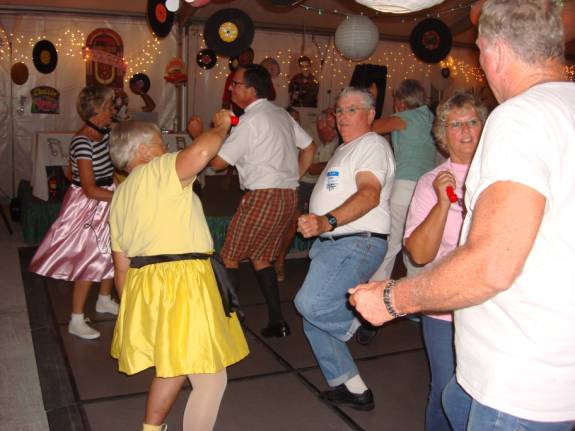 It may have been a while since their shoes and hips made these fancy moves, however, it was easy to see that Connie and Galen Siler (R-JOY) were, and are, obvious masters of the "Twist."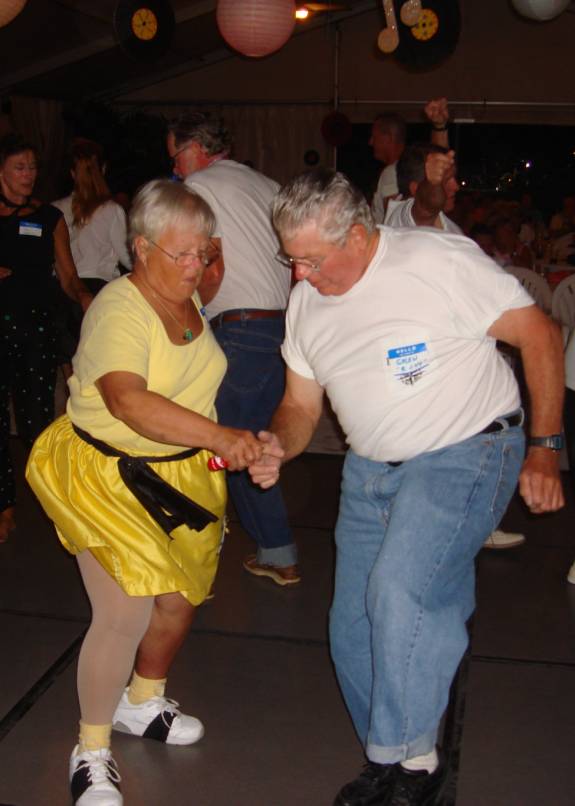 It was a tough, tough decision by the panel of distinguished judges, however, when the votes were tallied, Milt and Kathy Sales had whooped the competition in the Twist Contest. Not only did they look the part, they danced the part. Enjoy that First Prize bottle of Bacardi Gold.
When Henry Jamrozinski took the stage, the clear, smooth music of Neil Diamond filled the room. Everyone was spellbound. His second song, "Sweet Caroline", held everyone intently focused as they sang along to the familiar chorus.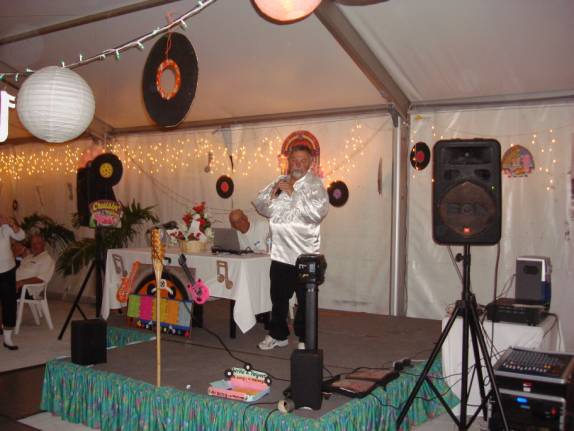 When the speakers blasted the music of "Sprach Zarathustra" (2001 Space Odyssey), all eyes were focused on the entryway as the deep, bellowing voice of our Master of Ceremonies, Jim Fenn (FENNDERS), harkened, "Ladies and Gentlemen; Now, In A Special, Live Appearance to the Bahamas, Direct from Memphis, Tennessee…….." Simultaneously, a uniformed security guard ushered the undisputed "King" into the hall. The crowd screamed, yelled, shouted, howled, whistled, and cheered boisterously. Did anybody faint?
The mellow tones emanating from the man from Graceland had the women swooning and the men spellbound. Everyone in the house was delighted by the sights, sounds, and dynamic gyrations unique to Mr. Elvis Aaron Presley.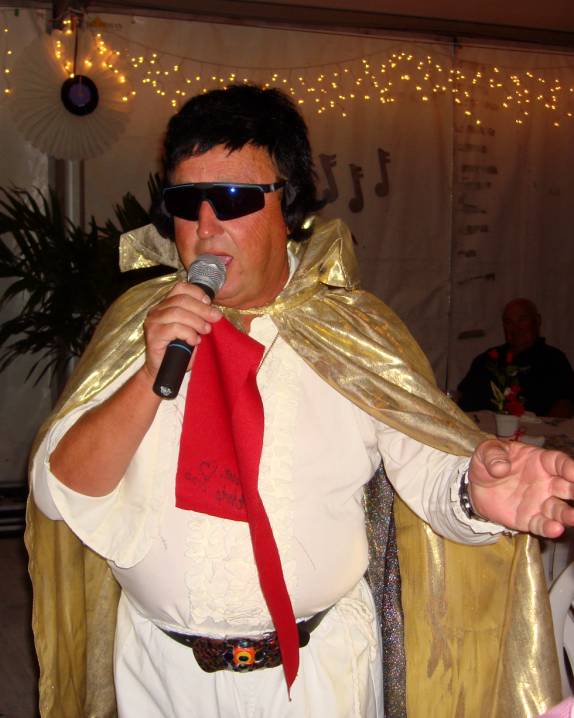 The benevolent performer thrilled this swooning fan with an autographed, red scarf.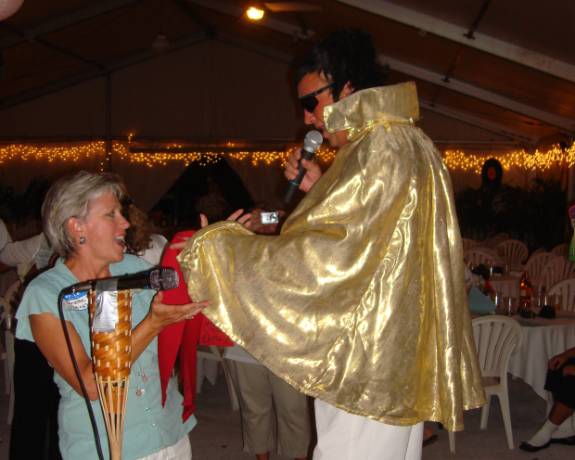 I was truly convinced that this was the real, live Elvis. I was shocked to hear some inconsiderate, insensitive, skeptic trying to dissuade others into thinking that this was our Commodore, Robert Wilson (SEA ISLAND GIRL). I'm not falling for that absurdly ludicrous, farcical heresy. I know the real Elvis when I see him!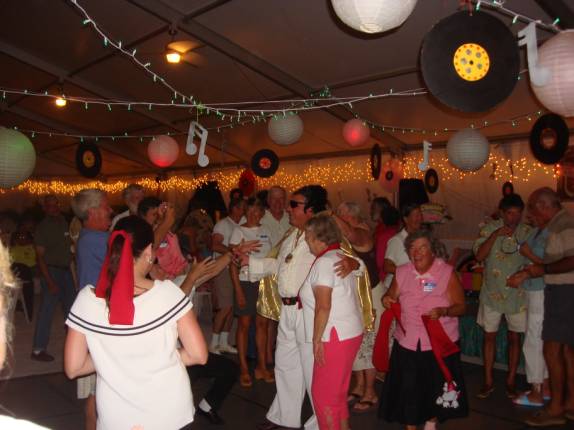 Wink and Wilma (JOHN HENRY) danced the night away. Most of the time, Wilma was on skates.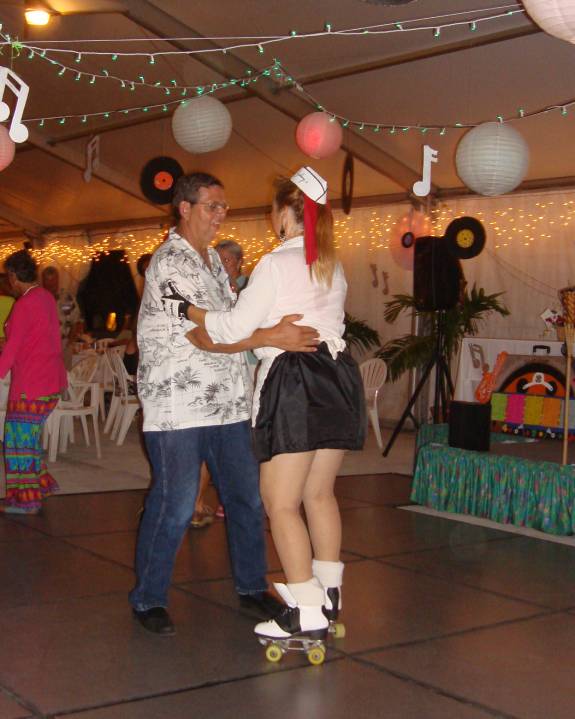 When the distinguished panel of judges presented the result of the "Costume Contest", everyone applauded the fairest of choices. Wilma Thornton (JOHN HENRY) had dressed, acted, and skated her way into everyone's fondest memories of the 50's and 60's. Congratulations, Wilma!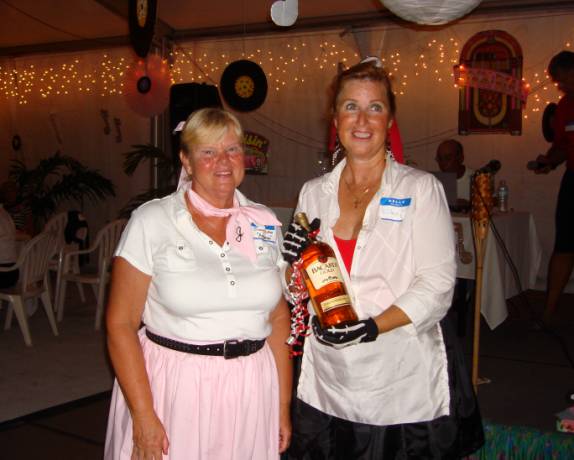 Even the most resolute "wall-flowers" were coaxed into shuffling their feet and shakin' their "tail feathers".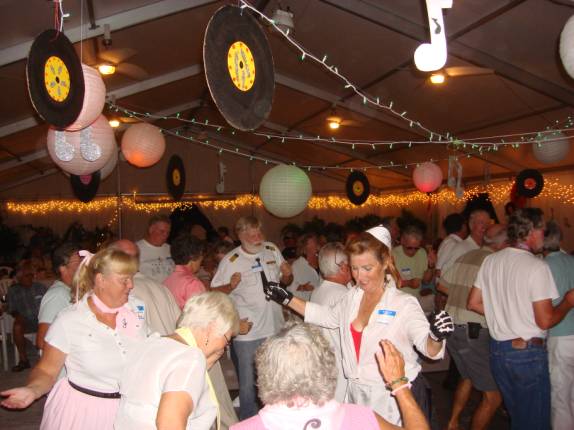 Eileen and Joe (ADAMAS DE MARIS) were definitely "in the groove" and in their element. When you see smiles like these, you can be sure that "It don't git better'n this".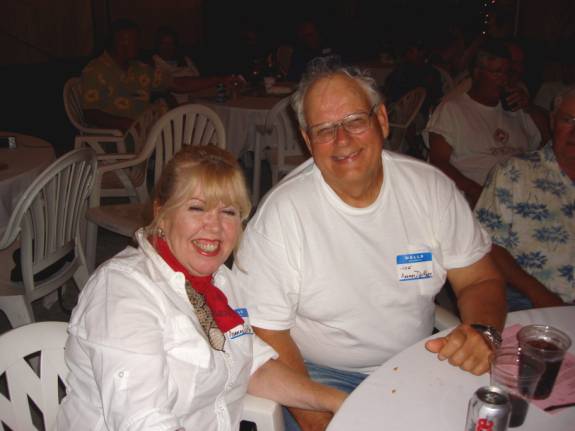 Bob took time of from his mixologist duties to be with his lovely wife, Joyce Mueller (SHEETLESS).
In a rare moment, I managed to corral these high-steppin' kids in seated position. Connie and Galen (R-JOY) danced, and danced, and danced the night away.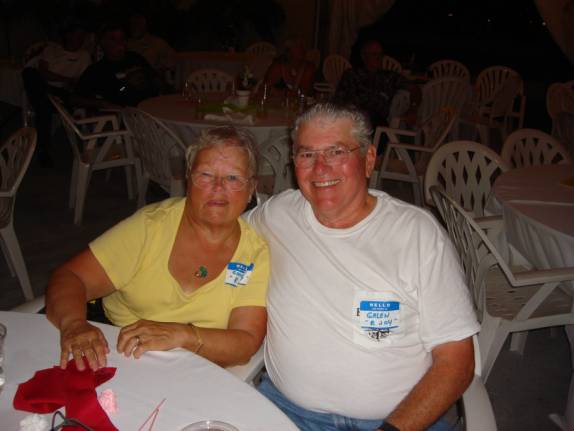 Pat and Pat Dwyer (SALTY DAWG) might have been voted "cutest couple" in the senior yearbook. Mr. Pat was so cool that he needed to wear his sunglasses at night.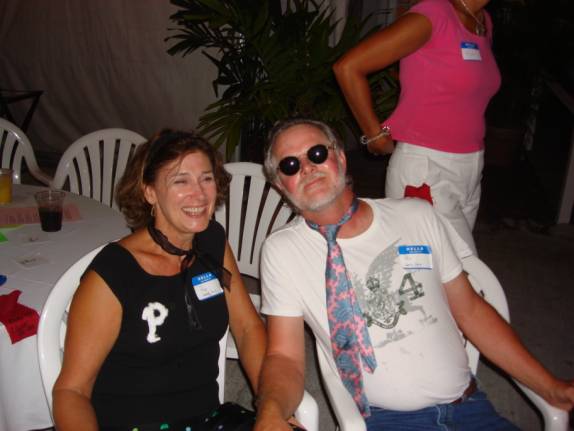 Sherry (CHIPKA FIRE III) and Sandi (CRITCHER CAT) twirled and swung around the dance floor until they were both too dizzy to see straight.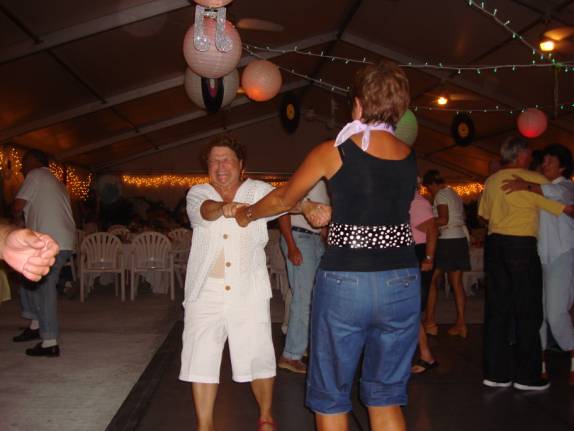 Sue (ODYSSEY) danced continuously until she was totally soaked with dripping sweat; so much so that the poodle on her skirt could have used Scuba gear. We should have had a "wet T-shirt contest", but we didn't. Those outfits that she and Judy (AMARSE) made were just fantastic.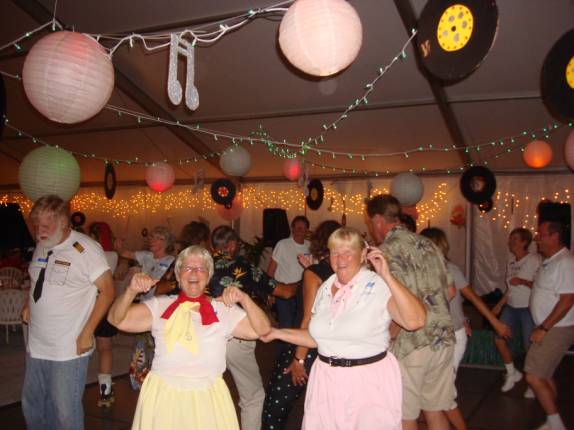 Isn't this a hoot? Can you imagine? Robert Wilson (SEA ISLAND GIRL) was strutting around trying to impersonate the real Elvis just to impress Jessica Hart (Carolyn Wilson's Daughter). Who does he think he is? It just won't fly, we have actually seen the REAL, LIVING Elvis perform here less than an hour ago.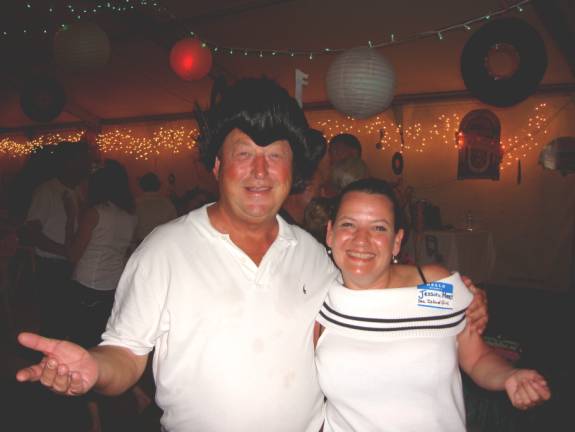 As you can plainly see, the gals have much more stamina than the guys. Only Galen Siler and Milt Sales could muster enough strength at this point.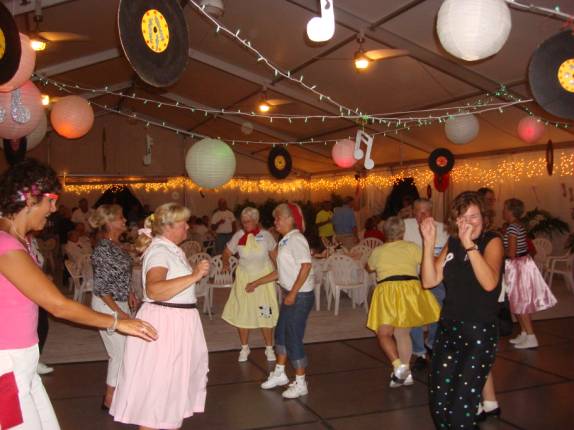 Maynard and Marnie Goette (GRAND MARNIE) showed us the kind of fancy footwork that made them famous in Canada.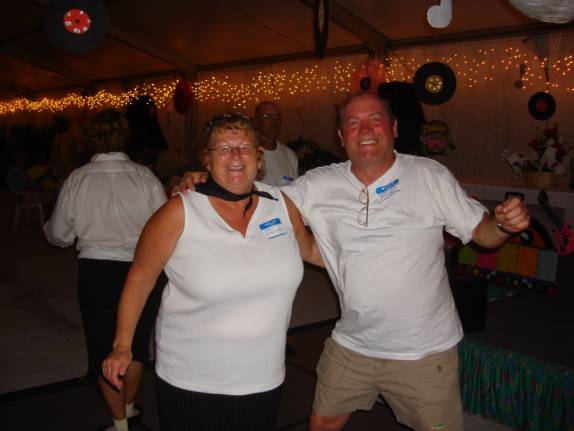 Henry and Lilly Jamrozinski (OH HENRY) gave their all to the music and the dancing.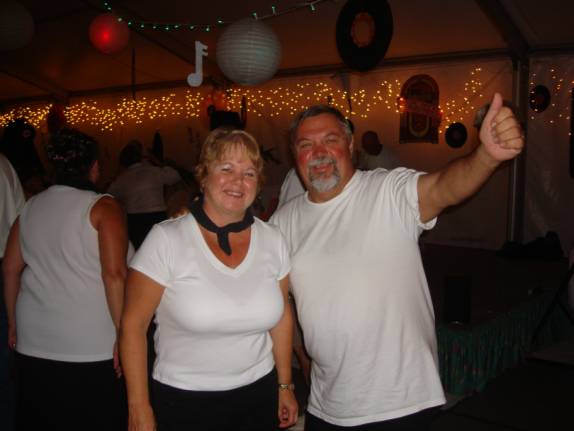 As Ray and Susan Vallerie (LAST DANCE) select the perfect tunes behind the Wurlitzer Juke Box, Joe DeMaris and Eileen Ambrosini (ADAMAS DE MARIS) pose as the "Biker and Biker Babe" from the Wild Ones.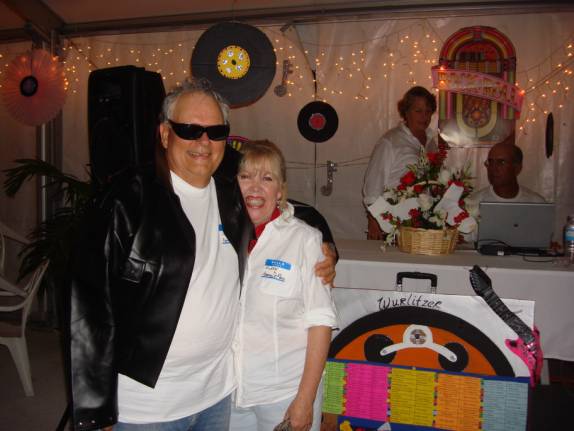 When the music came to a close, the party was over. Many could have, and would have, danced the night away. Elvis had left the building; Neil Diamond must have snuck out the back door too. Everyone now has at least one more fabulous memory to add to "the times of their lives".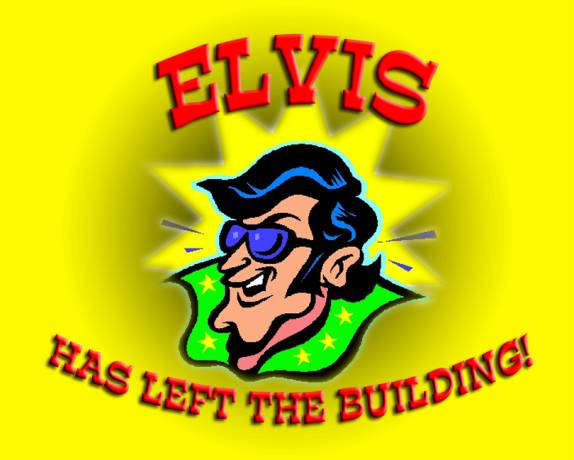 03/12/08 WEDNESDAY BOAT HARBOUR, MARSH HARBOUR, BAHAMAS
When the VHF radio was tuned to channel 78 for the morning program of the Royal Marsh Harbour Yacht Club, I was compelled to offer a lyrical message of "Thanks" to all the wonderful folks that helped make last night's party such a huge success. Their efforts and contributions helped to make nearly 200 folks very happy. Here is how it went:
Did you dance till your feet and legs hurt so much that you wondered if you could walk back to the boat?
Did you make more than a few trips up to the legendary open bar?

Did you fill your plate with culinary delights?

Did the music and decorations whisk you off to those magical years of the 50's and 60's?

And how about those special appearances? And all those fabulous costumes?
If you had as much fun as Judy and I did, then please join us in thanking everyone that made it happen for you.
Thanks to everyone that helped in so many different ways!
Thanks to those Foxes and Hound, You know, Sea Fox, The Silver Foxes, and Salty Dawg for registration and checkin!
Thanks Ray Vallerie for the perfect mix of music!
Thanks to Carolyn Wilson and her crew of many volunteers for creating just the right artistic ambiance!

Thanks to Paul Graham, Steve O'Brien, and Bob Mueller, our dynamite trio of mixologists!

Thanks to Jim Fenn for his overall guidance and fantastic MC hosting!
But Most of all, a special thanks to all of you that jumped from your seat, latched on to the beat, and kept shuffling your feet.
I can't remember when I've seen so many folks smiling that much. You were all definitely TOO COOL.
Once again, the members of the Royal Marsh Harbour Yacht Club have demonstrated, beyond a shadow of doubt, that this is the most fun and fantastic yacht club in the world.
Even after all that dancing, Judy and the gals still mustered enough energy to proceed with the Walk 'N Talk. At 10am, a willing volunteer crew assembled at the Marquis Tent to disassemble and pack-up all the beautiful decorations. There is no sock hop scheduled for another two years, however, hopes are that some of the creative designs and artwork can be used if and when.
Several more boats made their spring departure from Boat Harbour headed back to the States.
In addition to overstressing my leg last night, I seemed to be developing an adverse reaction to the adhesive bandages and telfa pad bandages. I will switch to a no-tape, no latex method of bandaging.
03/13/08 THURSDAY BOAT HARBOUR, MARSH HARBOUR, BAHAMAS
It is nice to be able to relax without the pressure of event planning. Dave and Bette Bauereis (TARHEEL) made their departure this morning. We waved goodbye confident that we would see them again next winter.
Sometime after doing her walk, Judy took off for poolside sun and fun. I worked on pictures for submission to the RMHYC newsletter and The ABACONIAN newspaper by Rita Wieczorek, Rear Commodore of Communications.
Milton and Fran Ohlsen (SEA FOX) came by for a nice relaxing visit. Milt made a special trip back from Dock 7 to share his rendition of Sock Hop photos.
Of course, we enjoyed the cocktail party along Dock 4.
03/14/08 FRIDAY BOAT HARBOUR, MARSH HARBOUR, BAHAMAS
Another fabulous morning enhanced Judy's desire to walk with the gals. I, of course, kept busy working on pictures, logs, and copy changes for Rita and friends.
After lunch, Judy biked to town and brought back some fantastic chopped steaks for dinner. Served with savory mushroom gravy and a Baked Potato, it turned out delicious.
Hot, fresh baked chocolate chip cookies and cold milk made a great snack while we watched some episodes of the Sopranos.
03/15/08 SATURDAY BOAT HARBOUR, MARSH HARBOUR, BAHAMAS
BEWARE THE IDES OF MARCH!
For Julius Caesar, the solemn warning of the soothsayer to "Beware the Ides of March" foretold of his assassination by a group of conspirators, including his beloved Brutus and Cassius. As told by Shakespeare, Caesar ignored the soothsayer's warning, some fearsome thundering, his wife's dreams of his murder, and so on. Caesar would venture forth on the "Ides" to meet his doom.
The soothsayer's onerous warning to Julius Caesar, "Beware the Ides of March," has forever imbued this date, March 15TH, with a haunting sense of foreboding. For us, the day was totally enjoyable.
The upcoming convention of the MTOA (Marine Trawler Owner's Association) is scheduled for mid-April in Jacksonville, FL. Being members, we received the list of seminars to be held there. One seminar is entitled, "Women in the Engine Room." Judy has always had an interest in AMARSE's mechanical components. We decided to have our own seminar and, together, removed the floorboard to gain access to the engine room. With a little direction from me, Judy turned on the fluorescent lights, opened the battery compartments and refilled the ship's batteries with nearly 3 quarts of distilled water, checked both engines' oil level and topped them off with fresh oil, checked the fluid levels in both transmissions, and confirmed the fluid levels in the generator. She reset the circuit breaker on the Generator and started it from the engine room panel. Moving aft in the cramped spaces, she proceeded to bleed the circulating system of the aft air conditioning unit. She cleaned up the engine room, turned off the lights, and helped me close up the hatches. Now, tell me, how's that for a seminar? She was absolutely fantastic and I'm so proud of her. One of her girlfriends, however, scolded her saying that Judy is ruining it for all the other gals here. I'm saying, "THANX, Hon!"
The annual Pathfinder's Auction drew a large crowd to the invitational event. This auction raises funds to foster the higher education of some Bahamian student seeking a scholarship. In previous years, the Sea Spray Resort manager, Junior, was enabled the opportunity to attend college in the US to study Hotel/Restaurant Management. Now, we all benefit from his education when we visit Elbow Cay.
The Silent Auction occurs simultaneously with drinks and snacks. Anxious bidders peruse the numerous items seeking to outbid each other.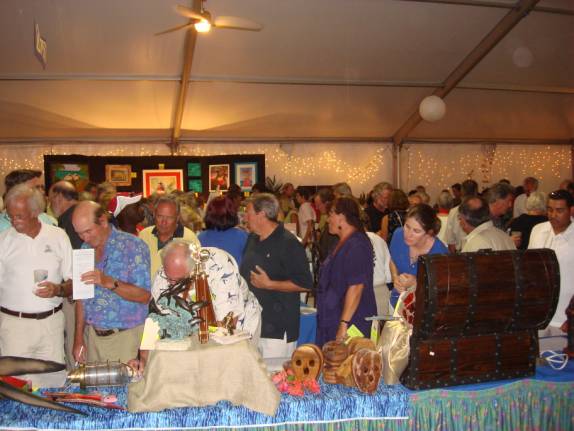 The buffet line served roast beef, pastas, and assorted appetizers. The open bar seemed to loosen the purse strings of many attendees.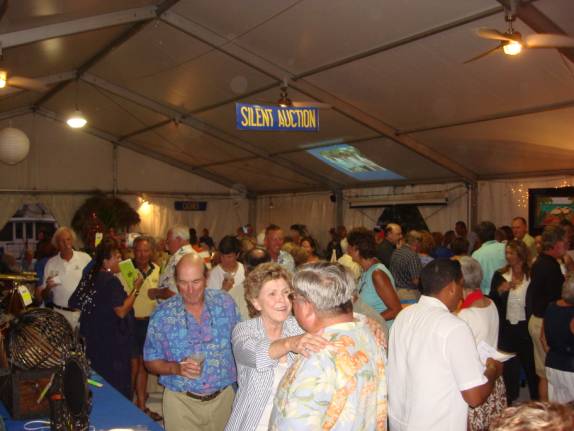 A live auction was conducted following the 7:30 pm closing of the silent portion. Fabulous items, like books of 8 to 10 airline tickets, weeks in ski resorts, accommodations in Paris, Washington, DC, New York City, and Atlanta, were highly sought after. Vacations in Canada, Cape Cod, and elsewhere, intrigued bidders from the surrounding islands. Boats, artwork, and, even sculptures from Pete Johnston's Gallery, were on the block to the highest bidder. It was not unusual to hear bids of ten, fifteen, or twenty thousand dollars being bantered about. Tonight, the wealthiest of the wealthy in Abaco were feeling generous to the Pathfinder's cause. I'd guess that upwards of a half-million dollars was raised at the event.
03/16/08 SUNDAY BOAT HARBOUR, MARSH HARBOUR, BAHAMAS
Early this morning, the telltale whirring of R-JOY's bow thruster informed everyone that they were underway. The crew of four will seek a weather window from West End sometime later this week. Bon Voyage, Galen and Connie, we will miss you.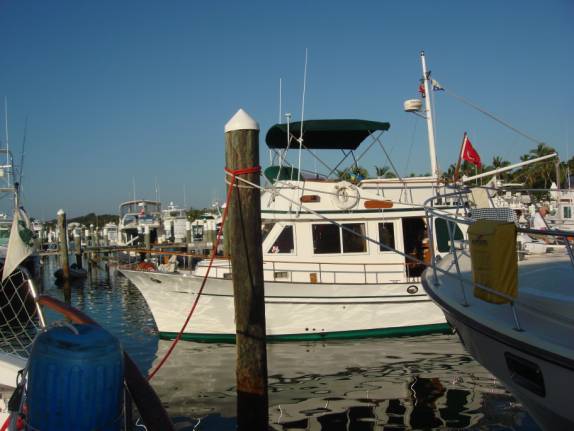 The dock 4 evening cocktail party was well attended and lively. We combined a celebration for Sallie (1 OLIVER 2) with libations and friendly conversation.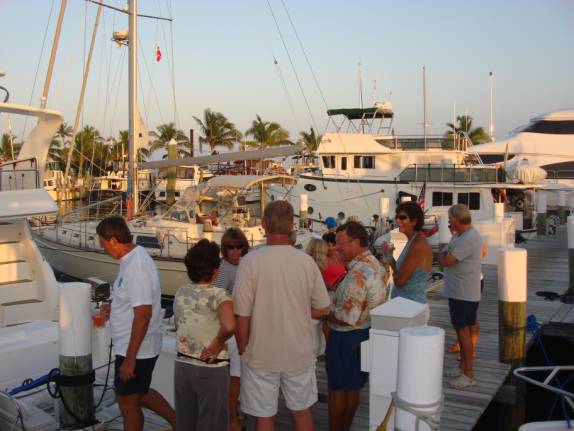 I think Oliver might get jealous if he sees Brian Beckwith (ROVING SEAS) snuggling in that close to his wife, Sallie.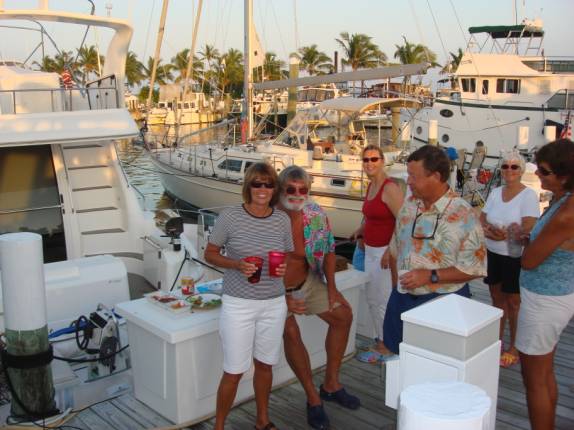 No dock 4 birthday party would be complete without a cake. Sallie hands out generous portions of the sweet delicacy. Ahh, there's nothing quite like a Gin and Tonic along with frosted birthday cake.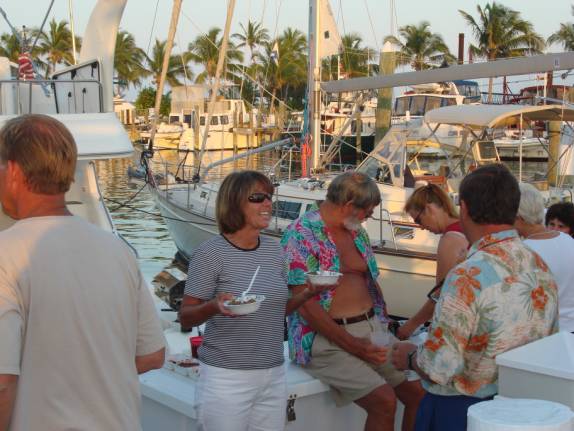 At sunset, Sue (ODYSSEY) hoisted the conch horn for the traditional sounding. That's Jan Dennis, with drink in hand, (ROVING SEAS) chatting with Judie Jenkins (DOUBLE JJ).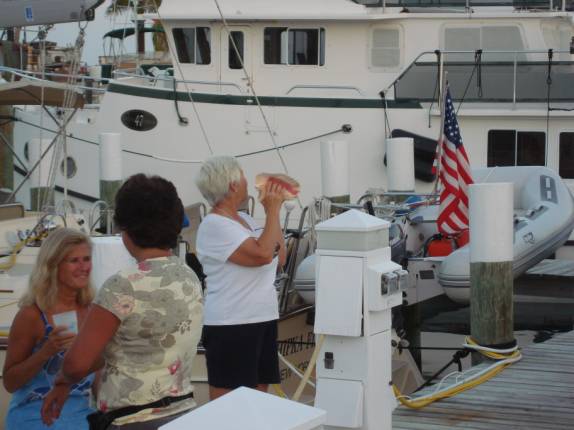 Joe and Eileen (ADAMAS DE MARIS) accepted our invitation for dinner. The bill of fare led off with a wedge of iceberg lettuce, an entrée of Cheese Ravioli sauced with toasted walnuts in a butter-balsamic reduction and shredded Parmesan cheese, and finished with warm, chocolate brownies.
Joe displayed his lucky streak in a game of FARKLE.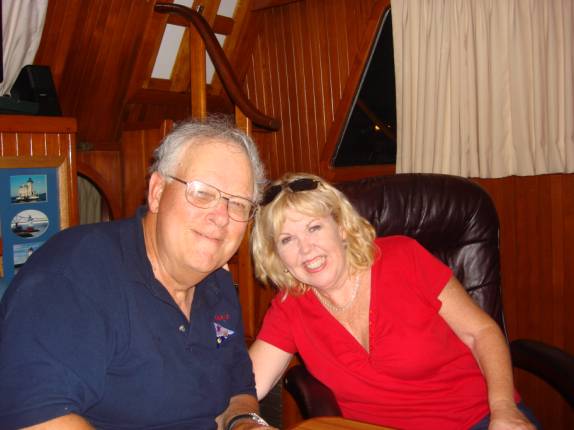 03/17/08 MONDAY BOAT HARBOUR, MARSH HARBOUR, BAHAMAS
HAPPY ST. PATTY'S DAY.
HAPPY BIRTHDAY, JUDIE JENKINS.
Jonathan Jenkins hosted a special adventure walk this morning. He had discovered an old, abandoned path with a cut carved out of the island limestone. Folks being ferried from Nassau to Marsh Harbour used this pathway in former times. The ferry terminal and government dock has been relocated within Marsh Harbour itself. Now abandoned, the path has become overgrown and infrequently used. No one saw any snakes, so, perhaps, St. Patrick drove all the snakes off of this island too. What think you, Mon?
We had indications in the forecast that were hinting that we leave Boat Harbour in the next couple of days. I spent a good portion of the day trip planning and programming the GPS navigation systems.
Judy rode to town on her bike and located a new, more firm stocking with a 20-30mm compression factor. This should improve the circulation to my leg wound.
The Marquis Tent was bustling with the "wearing of the green". About 100 folks have been putting together their versions of an Irish feast. There was all manner of Corned Beef, piles of Cabbage, boiled potatoes and carrots. Several people made Irish Soda Bread while others contributed desserts. A few couples even went as far as to have green beer and cocktails. As Kermit always said, "It isn't easy being Green".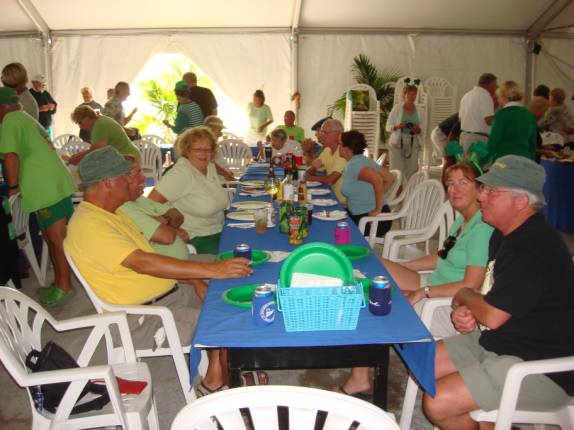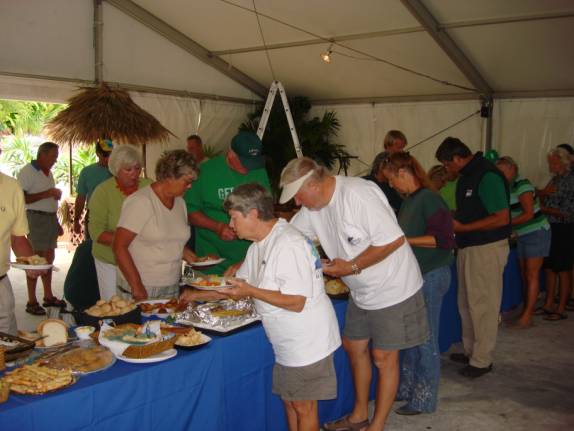 Milton and Jimmie Neitsch proved that on St. Patty's Day, everyone is Irish.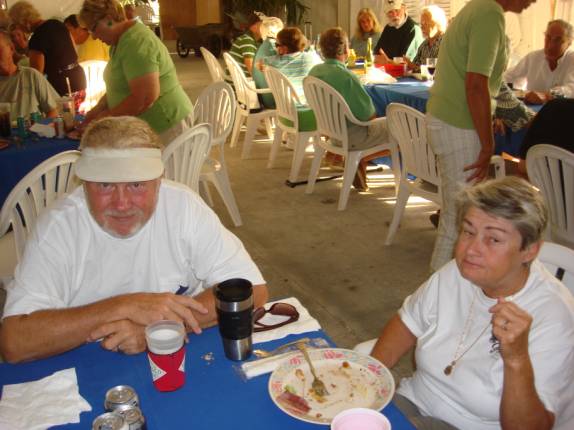 It was great that Fred (CHIPKA FIRE III) could come back to the island today for the party. Actually, he just traded one island for another island, i.e. Manhattan Island for Abaco Island. Look how happy Sherry is to have him back. We are happy too.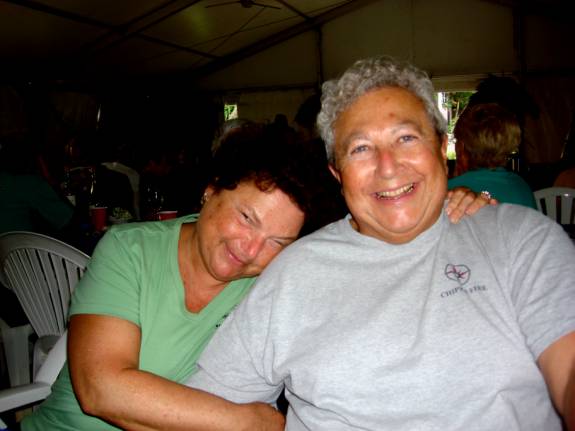 I don't know if there is any direct connection with St. Pat's Day, however, these are our saints, Pat and Pat Dwyer (SALTY DAWG).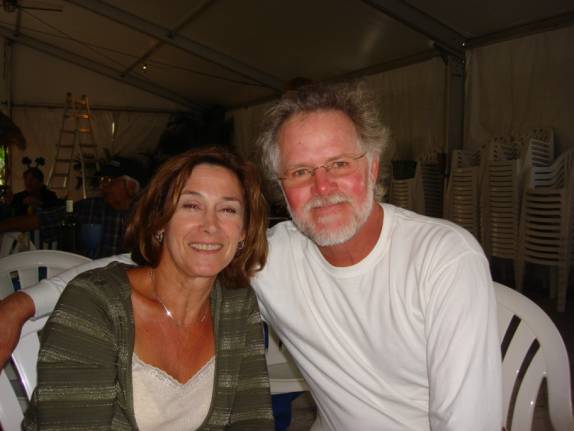 Ah, yes, me laddy. The man in green is none other than Milton Ohlsen. Irish?? Maybe not, but even his boat hull is colored GREEN!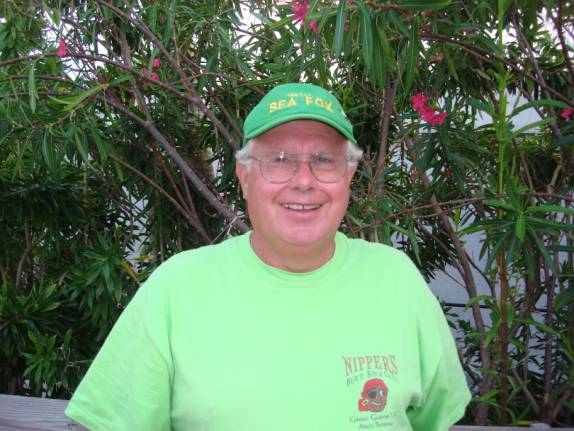 Joe and Eileen (ADAMAS DE MARIS) are as Irish as Irish can be (BUT ONLY FOR TODAY).
Jonathan Jenkins (DOUBLE JJ) didn't want his lovely wife Judie's birthday to be shadowed by the other celebration. He managed the prime table with the premier view at Angler's Restaurant to share a special dinner in her honor.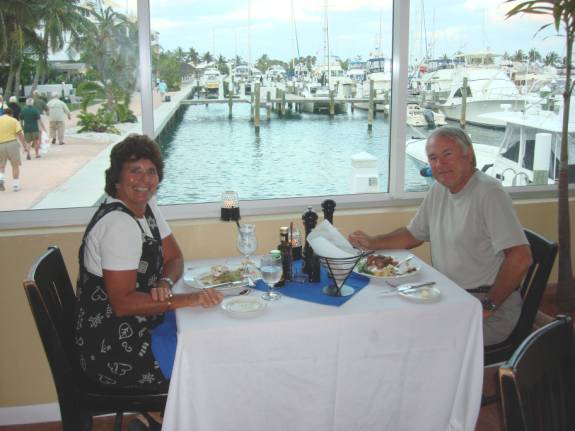 Judie didn't suspect that a large contingent of her friends was secretly gathering about her boat to surprise her when they came back from dinner. A sampling includes, (L to R) Chris Johnson (CRITCHER CAT), Wilma Thornton (JOHN HENRY), Sandi Johnson (CRITCHER CAT) and Sherry (CHIPKA FIRE III).
Judie was definitely surprised to see that so many well-wishers had invaded her boat.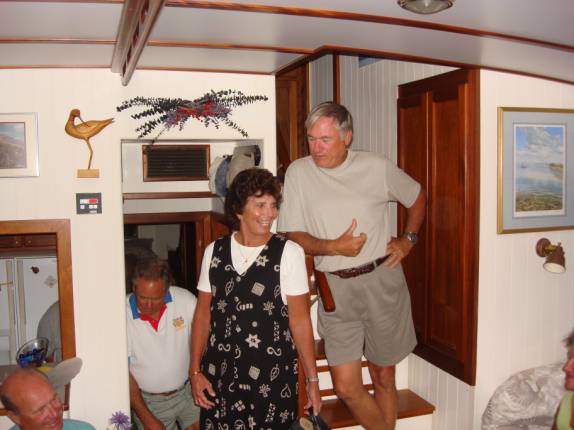 She enjoyed the cake.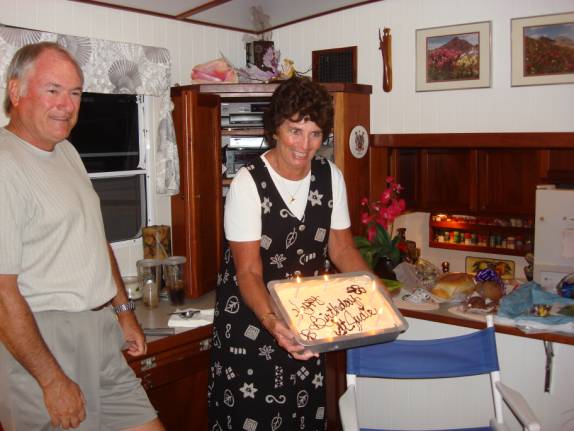 Other folks present were: Wink Thornton (JOHN HENRY), Fred S. (CHIPKA FIRE III), Fred and Judy (AMARSE), Paul and Sue (ODYSSEY) with guest, Ryan, Milt and Fran Ohlsen (SEA FOX), and Robert and Carolyn (SEA ISLAND GIRL).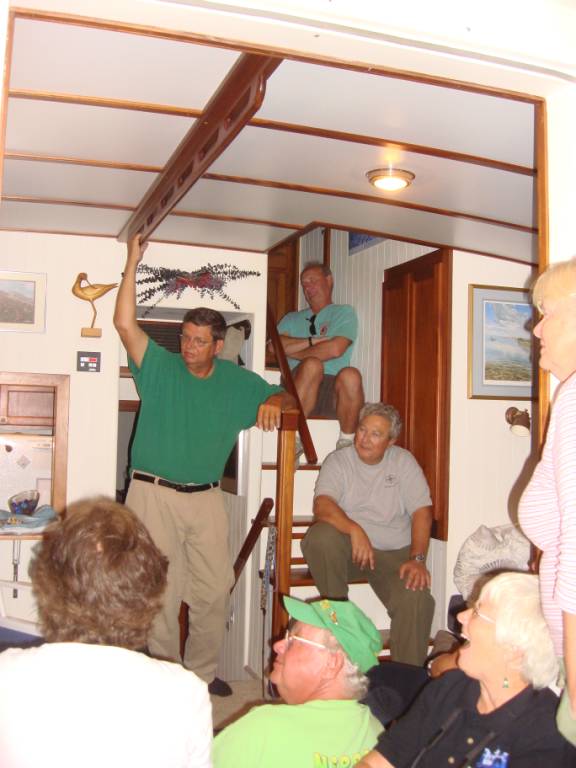 Robert offered a proclamation declaring this as Judie Jenkins Day. Her husband, Jonathan, read a fantastic tribute to his wife recognizing the many ways he loves her. It's been quite a special day for the birthday girl.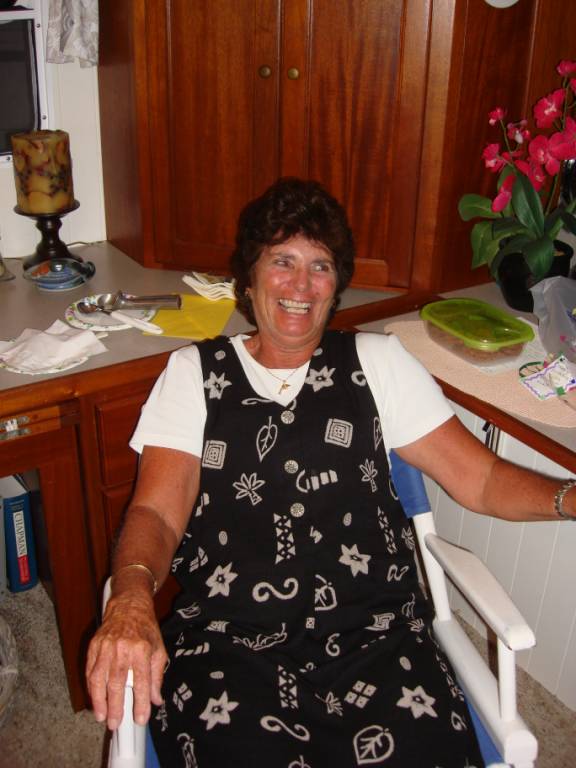 03/18/08 TUESDAY BOAT HARBOUR, MARSH HARBOUR, BAHAMAS
Of course, Judy did the walk first thing this morning. Not long thereafter, she gathered up all the laundry for what might be the last loads here at Boat Harbour. I engaged in serious trip planning and weather following trying to determine whether or not we would have a sufficient weather window to accomplish the passage to Florida. It is a difficult undertaking planning that far into the future because forecasts are historically inaccurate out this far. We need three full days of suitable conditions to make the voyage. It can possibly be broken down into a two-day block needed to reach West End, Grand Bahama Island, followed by another day to cross the sometimes treacherous, gulfstream of the Atlantic Ocean. We are not heroes, we are not adventurers, and we are not thrill-seekers when it comes to the Gulfstream. Our type of boat is designed for cruising, not crunching big seas.
A possible window for the Gulfstream is forecast for this coming Saturday. The conditions for the Sea of Abaco and the Little Bahama Bank might be possible, albeit, slightly uncomfortable. One major hurdle is the Whale Passage about 3 hours west of here. Frequently, this area becomes impassable due to raging sea conditions that preclude any manner of safe boat handling. The turbulence there can quickly render a vessel uncontrollable. At certain higher tide levels, there is sometimes an alternative slot called "Don't Rock". It is very shallow and can be impassable too. We will try for the alternative slot.
I wanted to be sure that my leg was healing effectively. Judy scheduled a 1pm appointment for me with Dr. Hull to examine my condition and to do another surgery if needed. We are guessing that medical care in the US will be difficult. It seems like every doctor there just wants to refer you to another specialist. Dr. Hull was pleased with the improvement and found no infection. He diagnosed that healing should continue at a slow pace and that the increased compression from the new stocking was having beneficial results. He acknowledged that the adhesives and latex barrier on the bandages were causing a reaction with the new, tender skin. We will avoid those items. This was the kind of news we wanted to hear. We will rest easier for a while as we continue to watch for problems.
Although it was quite windy, we met for cocktails on Dock 4. Anticipating that a couple of us might leave tomorrow, everyone opted to go to Jamie's Restaurant for a kind of farewell dinner. There were thirteen of us arranged precariously about a mish mash of connected tables and chairs. It was fun.
The late evening check of the weather indicated that we could try early in the morning. Along with MASCOT, we proceeded to tally our bills at the resort with the caveat that we could stay if the forecast changed overnight. Our plan was a daybreak departure.
03/19/08 WEDNESDAY BOAT HARBOUR, MARSH HARBOUR, BAHAMAS
Sunrise was to occur at 7:13am. The alarm sounded at 5:45am and we scurried around and commenced the last minute check of the weather. It was just as we should have suspected, the window for the Saturday crossing had been altered and would no longer allow safe conditions. After careful deliberation and discussion, the two captains decided that we should remain here in Boat Harbour until all around conditions improve. Many of our friends had awakened early to help us get underway. They seemed relieved that we opted to cancel the departure. By 6:30am, they had all disappeared back to their boats.
Judy went back to bed. I was too hyped to think about sleep. The adrenaline fade would catch up with me that afternoon. There are no suitable windows in the foreseeable future. Maybe next week, Mon, Maybe next week.
03/20/08 THURSDAY BOAT HARBOUR, MARSH HARBOUR, BAHAMAS
HAPPY BIRTHDAY, BOB ALLEN.
The gals were extra energetic and decided to make it a longer walking route this morning. We had received an email from Jean Turnbull on OCEAN FLYER. Now back in the Florida area, they realized that she had left her camera on Man-O-War Cay. Fortunately, an honest resident found it and turned it over to the marina folks. Fanny Albury at the marina was willing to help in anyway she could. Jean asked if we could retrieve the camera, containing all the pictures that she had taken in the Abacos, and send it on to her via DHL. Judy jumped to the occasion to help our looper friends. She coordinated the transfer of the camera to Marsh Harbour by ferryboat, and then rode her bicycle all the way to the ferry landing to pick it up. The next complication arose when we checked for a DHL office. The local knowledge gurus thought that they had gone out of business here in Marsh Harbour. Judy proceeded to track them down and found that they had transferred to another agency and location. With Jean's addresses and account numbers in hand, she set off on her trusty bicycle again to find the offices of Trinity Customs Brokers. She put in a lot of time consuming hard work and lots of miles, but she got the job done. We think Jean will be appreciative. One more example of how "Loopers" become such close friends. On a similar note, isn't nice to see the honesty and caring of the islanders here in the Bahamas? Do you think that the odds would favor a camera would be returned if found in the US?
I was able to publish Update #7 to the website today. Tonight, we viewed the 10th episode of Season 6, Part 1 of the Sopranos. Dinner consisted of delicious, stuffed green peppers. Add a couple of meatballs and you've got a very memorable meal.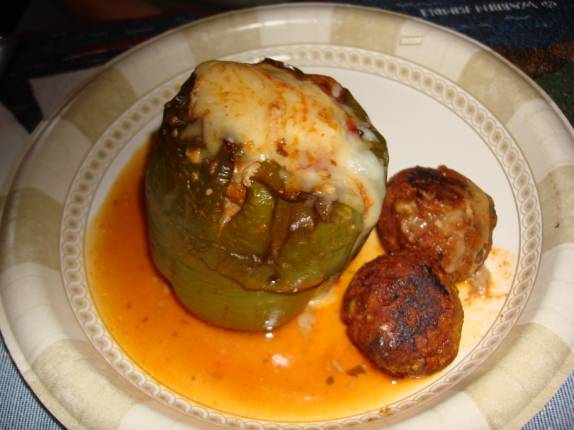 03/21/08 FRIDAY BOAT HARBOUR, MARSH HARBOUR, BAHAMAS
Remember when TGIF meant a lot? Remember when the start of the weekend came with great anticipation? In our present lifestyle, neither concept garners much attention. Here, every day is a holiday, every day is special, and every day if filled with anticipation of what will happen next. The sun is shining, a breeze is blowing, and people are out and about having fun.
Eileen has taken off for points north. For the life of me, I don't understand why she would possibly leave here voluntarily for the cold and harshness of New Jersey. Yes, we tried to convince her otherwise but to no avail. I think next year will be a different situation all together. She seems to have found a home here with lots of caring friends and things to do all the time. ADAMAS DE MARIS now rest quietly while Joe prepares to make way for the US later this month.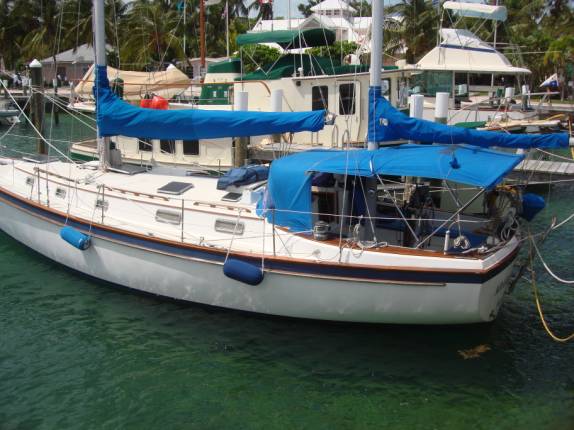 This photo shows the southern side of Dock 4. It is difficult to pick out ADAMAS DE MARIS or AMARSE in the mass of fiberglass.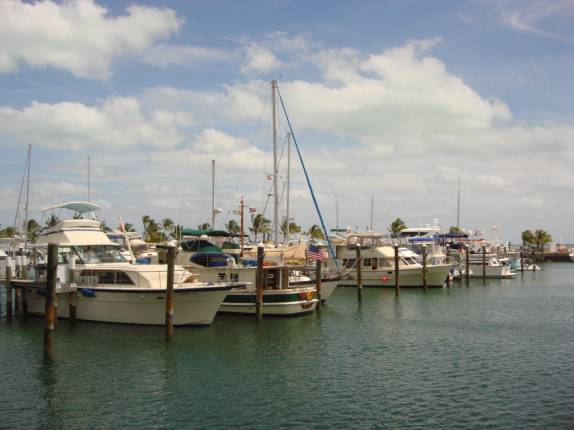 This beach bunny has soaked up enough sun, sand, and sea for this day. Sherry (CHIPKA FIRE III) definitely has sand in her shoes guaranteeing that she will return here soon. Resting under the palapa, her husband, Fred, just has to finish reading that next chapter.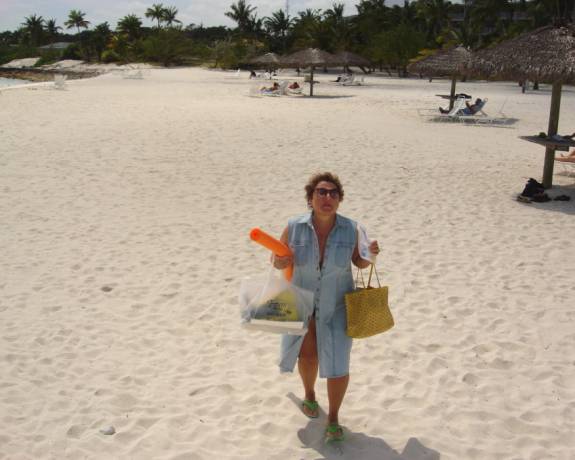 Behind the palms rises the Abaco Beach Resort hotel. The boardwalk leads to the sandy beach and to the volleyball court on the right.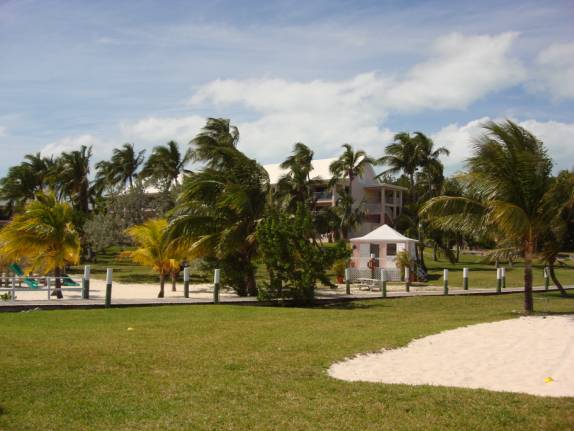 After a nice spaghetti (Linguine) and meatballs dinner with hot, fresh baked bread, we arrived at JOHN HENRY at 8pm. Eleven dock 4 friends were assembled to play a couple rounds of the game, "Apples to Apples." Pat (SALTY DAWG) claimed that she had just baked those OREO's, however, there is a look of guilt on the other Pat's face that tells me otherwise.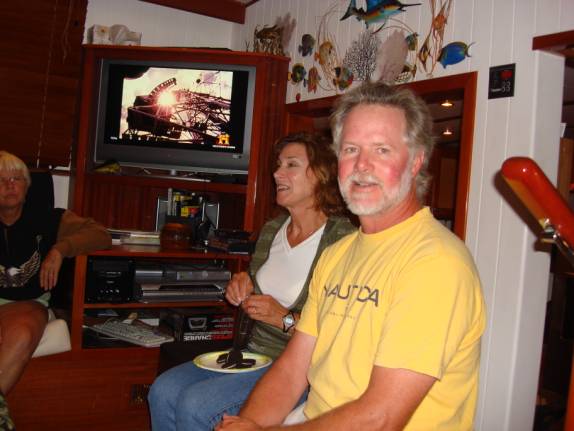 It's Sherry's turn. She has chosen a green card with an action word on it. Each other player selects a card from his or her hand of six red cards. Each is trying to come closest to matching how Sherry thinks. Believe me, all those comical responses, and the hysterical laughs, are incredible, and sometimes, even shocking. I think the game is best played by a sizeable group of close friends that have an open sense of humor.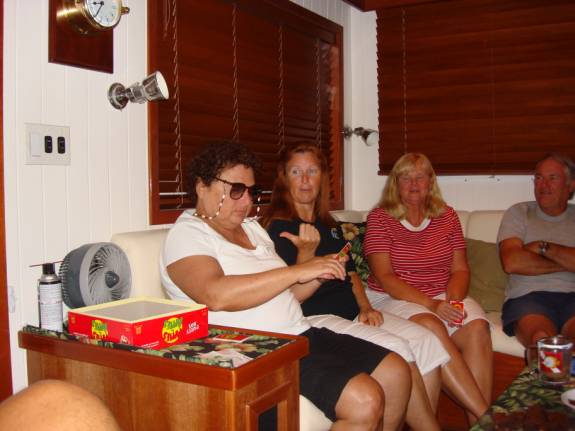 As Pat (R) tries to make sense of the red response cards; Judie and Sue act the tough guys with their cookie cigars and Harley Shirt. Jonathan can only chuckle at their silly antics.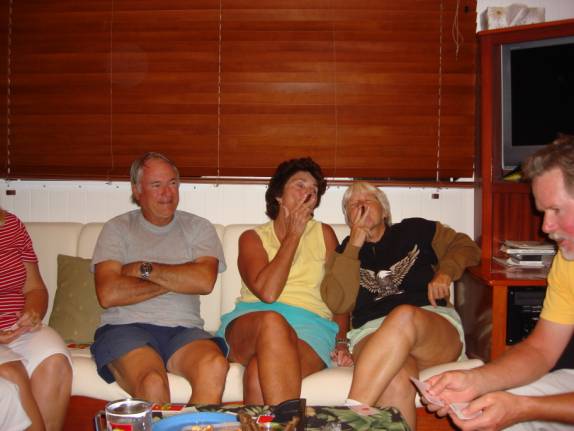 When the games first started, Wink predicted that Judy (AMARSE) would be a big winner tonight. You know, he was right on; she won both games by securing 4 green cards in each game. Wink proclaimed it as a first. It was noticed that the couple that won last time were not present tonight. Do you think Judy will be banned henceforth too? I sure hope not!
This concludes this edition of the AMARSE Update logs. We hope you will join us again soon for more adventures in the closing days of March.
POST SCRIPT:
We sincerely hope that you will review the previous years of compilations to give context to the current editions. Please let us know if you have any special suggestions and thoughts.
REMEMBER: The website is now fully active and you can visit it at any time. You can review any of the 2006, 2007, or the upcoming 2008 logs and learn more about the crew and our plans. Enjoy.
ATTENTION: SPECIAL NOTE:
You may contact us via email anytime while we are still in Boat Harbour.
Our cell phones have been turned OFF while we are in the Bahamas.
We do have occasional SKYPE connections at 'amarse1'.
"AMARSE". is pronounced "AM-ARE-SAY". Our website is: www.amarse.net .
Thanks for allowing us to share our life and adventures with you.
Lotsa Luv,
Fred Reed and Judy Law
AMARSE
MT40