UPDATE# 9
03
/22 thru 03/31/08
Howdy Everybody,
The adventures of 2008 from 1/1/08 through 3/21/08 have previously been published on the website. We continue with the latest edition, UPDATE 2008 # 09.
UPDATE 2008 #09 03/22/08 through 03/31/08.
At last update, AMARSE was at our winter home at ABACO BEACH RESORT and BOAT HARBOUR, in sunny Marsh Harbour, Abacos, Bahamas.
03/22/08 SATURDAY ABACO BEACH RESORT AND BOAT HARBOUR, MARSH HARBOUR, ABACOS, BAHAMAS
It's just another fabulous day in Paradise. Judy went for her morning walk leaving me in a vegetative state. Coffee and breakfast got me going and I worked most of the day on logs and publishing the previous update. Judy went to the store and we had the ingredients for a pork sausage-based chili, Fritos, and shredded Mexican cheese.
03/23/08 SUNDAY ABACO BEACH RESORT AND BOAT HARBOUR, MARSH HARBOUR, ABACOS, BAHAMAS
HAPPY EASTER SUNDAY.
Judy stayed aboard this morning to make French Toast with some Coconut Swirl Bread that she got fresh from the bakery yesterday. We waved goodbye to MASCOT, WINGS, and SUPERIOR LADY as they made their final way out of Boat Harbour enroute to Green Turtle Cay.
For most of the day, we experienced very heavy rain. We utilized the inside time to do logs and trip planning for our own return trip to the Florida coast.
Aboard JOHN HENRY, the guests of Wink and Wilma gathered to share an Easter dinner as a boating family. Everybody brought his or her contribution to the gathering. Our hosts had fruit, ham and gravy; AMARSE carried in a Roast Beef and Penne pasta casserole and a Green Bean Casserole; SALTY DAWG brought great mashed potatoes and an Apple Crunch dessert; ODYSSEY came over with salad and fresh, yeast rolls; CHIPKA FIRE III brought snacks, candy, and fruit. Needless to say, there was a huge variety and quantity of food, fun, and camaraderie.
Wink does the slicing thing as "Mango Man".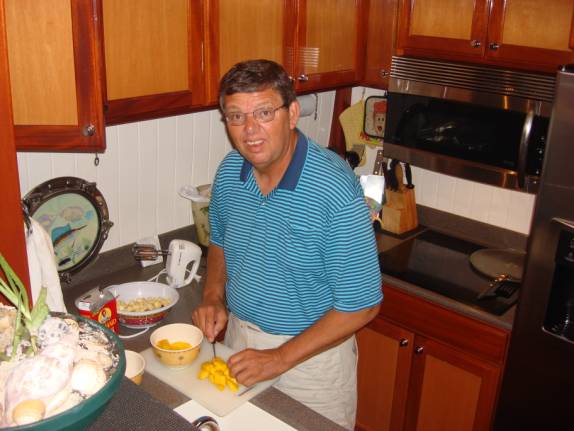 (Back L-R) Judy Law, Sherry and Fred, Pat Dwyer. (Front L-R) Pat Dwyer, Wilma Thornton.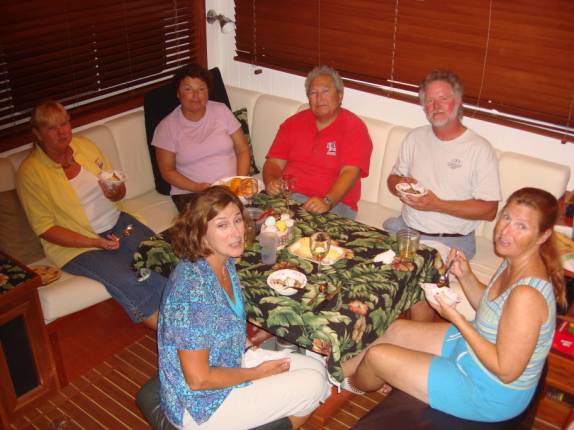 Wink Thornton relaxes in his Ekornes recliner chair.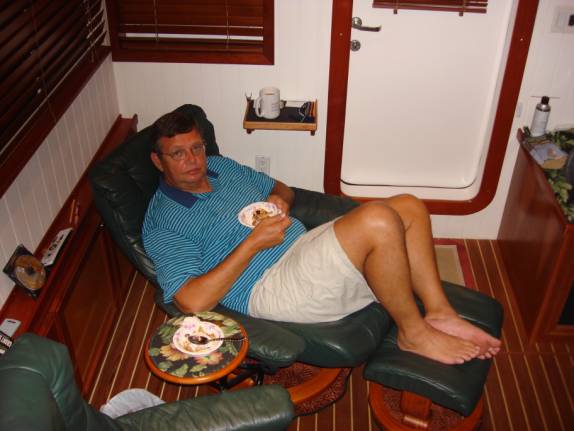 They had been busy all day getting charterers settled on SIEMPRE FI, a rented Great Harbor N37. Paul was tired and feeling a little goofy. Even Sue looks shocked at his silly, fun antics.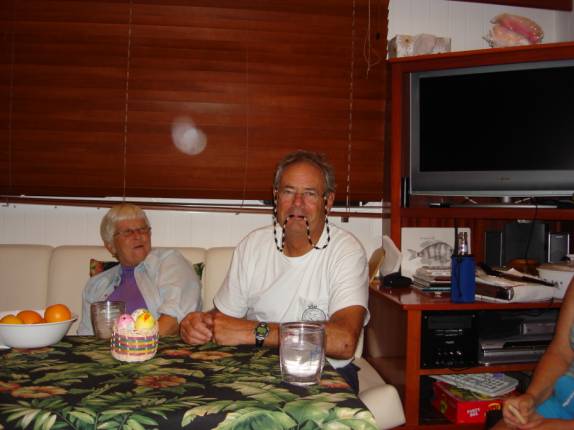 03/24/08 MONDAY BOAT HARBOUR, MARSH HARBOUR to GREEN TURTLE CAY, ABACOS, BAHAMAS
The final tab tallied, hoses stowed, electric cords disconnected, and all lines were aboard AMARSE at 7:20am, as we eased from Dock #420 for the last time this year. A group of good friends helped and waved goodbye with promises to see each other again soon. All will be missed very much until we meet again. We have developed even stronger and more wonderful bonds of friendship this winter season.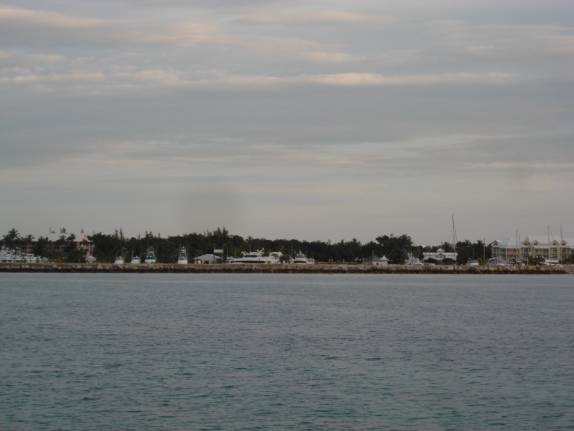 The rising sun in the east promised of a beautiful morning. The weatherman, however, forecast for upcoming nasty weather commencing sometime this afternoon.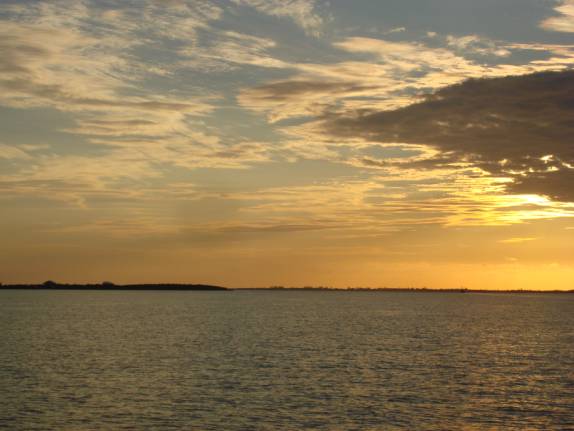 We chose to make our passage through the "Don't Rock" routing. With the tide only 20 minutes before high, smooth seas, calm winds, and good visibility, the choice was made wisely with depths of 6 to 6.5 as minimums. Other vessels were actively crossing through the Whale Passage without problems this morning.
With threatening skies to the west, the showers were only slight when we docked at Green Turtle Club on the Cay of the same name. Fellow AGLCA "Loopers", were nearby to greet us. (L-R) Bill Stone, Susan Hauge, Jane Stone, and John Hauge holding his personally designed DECL pennant. He made them up to help identify those cruisers doing the Down East Circle Loop. Of course, that's Judy Law in the yellow rain slicker.
The bar in the Green Turtle Club is unique and eclectic. The walls are covered with dollar bills from around the world with people's names scrawled on them.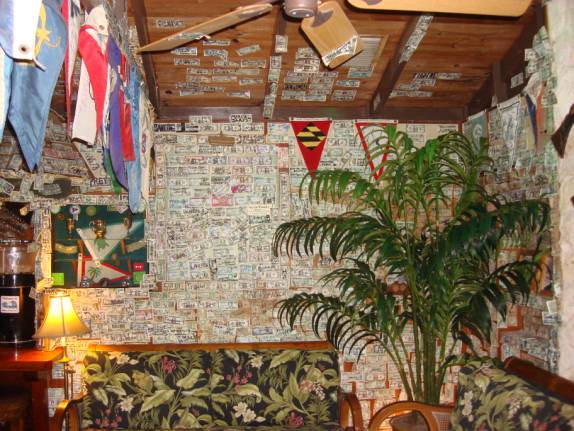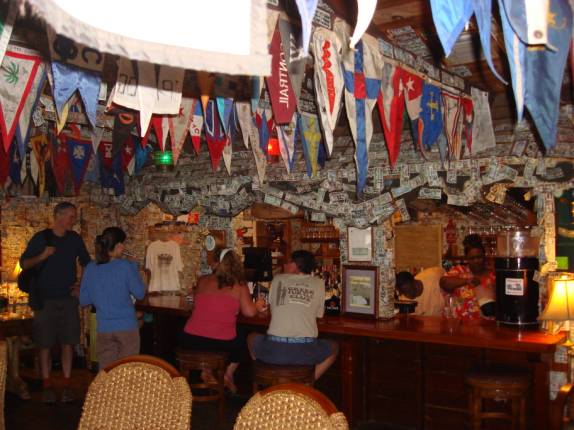 A TV and sitting room is provided at the resort building.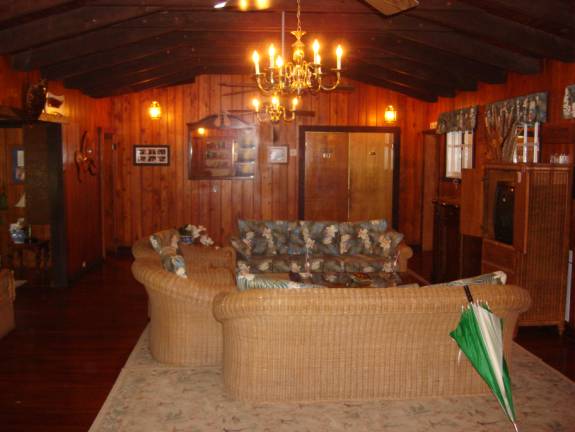 The dining facilities are lovely and the food has the highest reputation.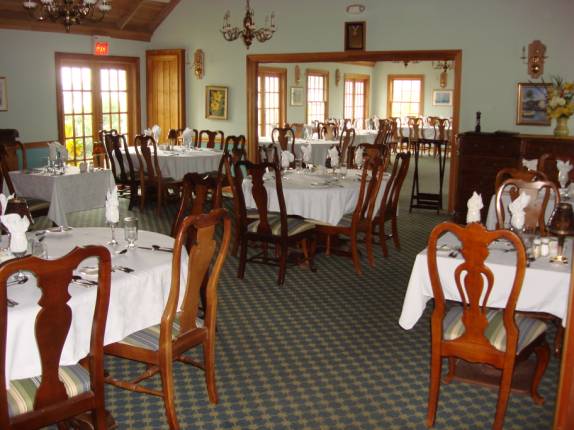 Under the rainy, gloomy skies of afternoon, it was comforting to be securely berthed here at the GTC.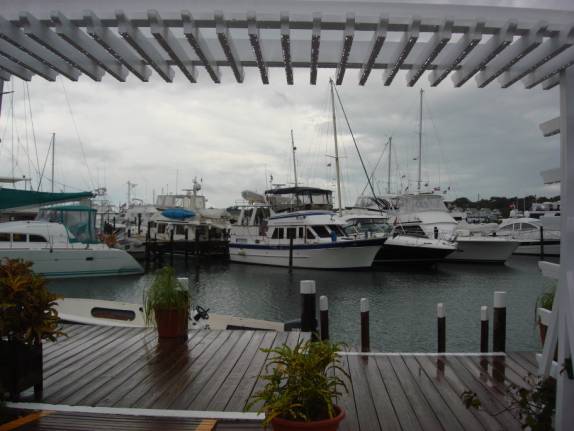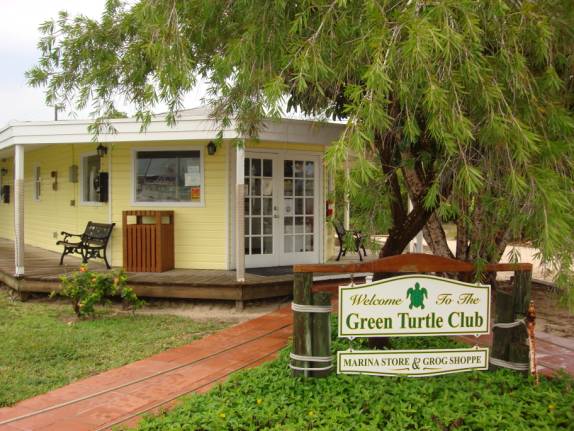 The resort building as viewed from AMARSE. The dining rooms and lounges are hidden behind the building in this photo.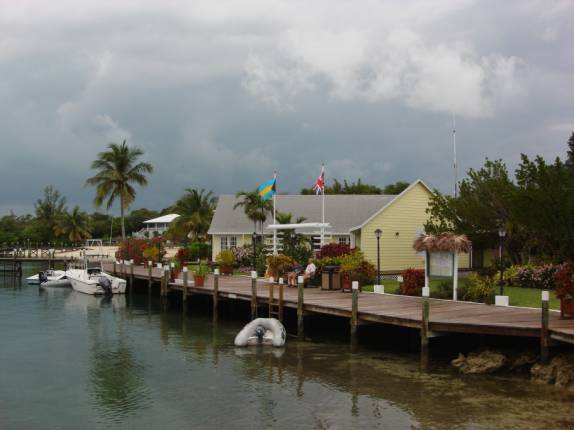 Bill and Jane Stone (LOOSE STONES) hosted a cocktail party aboard their lovely 49 foot Krogen Express yacht. Five couples, all loopers, enjoyed the gathering.
Frank and his brother are here awaiting a weather window to continue taking SEA SMOKE west to Florida.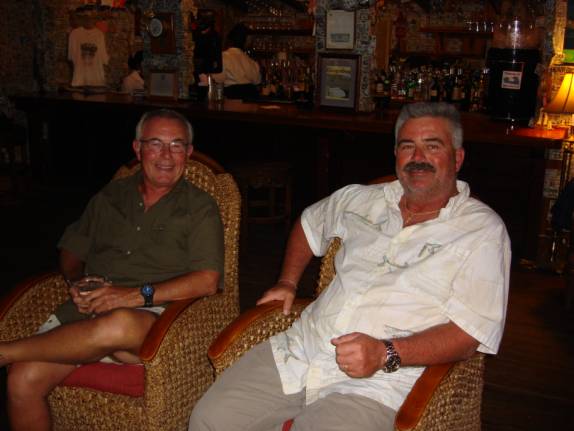 Dinner reservations and selections must be conveyed to the resort prior to 5pm. At our 7:30pm seating, we were served this sumptuous dish of Fresh, Baked Grouper stuffed with Stone Crab. Awesome!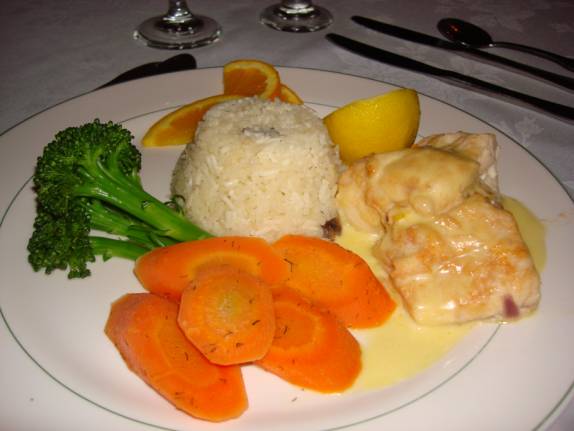 We had the good fortune to dine with looper friends, John and Susan Hauge (LA GARZA VERDE) (translated as "The Green Heron").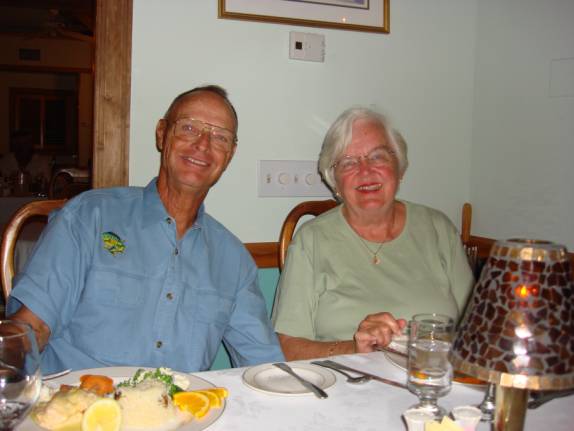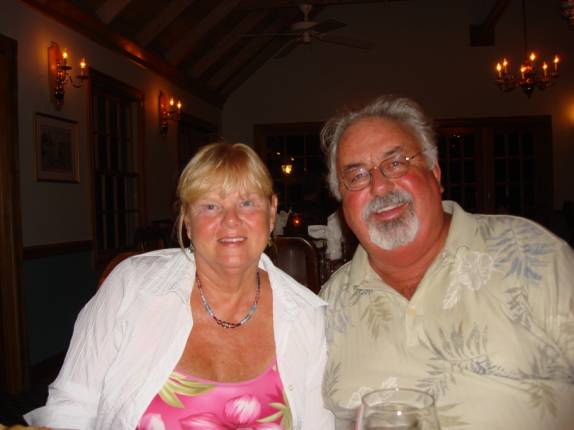 Judy looks like a million dollars.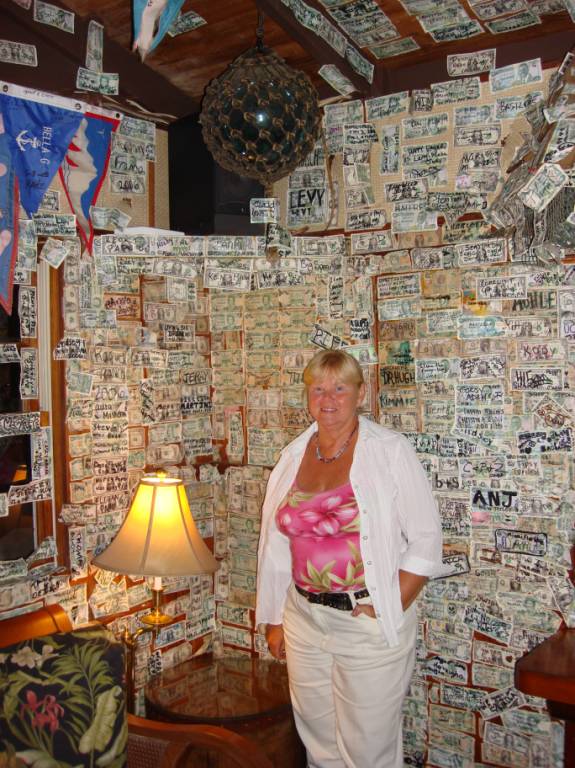 03/25/08 TUESDAY GREEN TURTLE CLUB, GREEN TURTLE CAY, ABACOS, BAHAMAS
After a night of clocking, gale force winds that reached 40 to 45 miles per hour, the morning sky was blue and sunny. The winds, now out of the north, continued to blow around 25 to 30 mph. Fortunately, we are fully sheltered in here.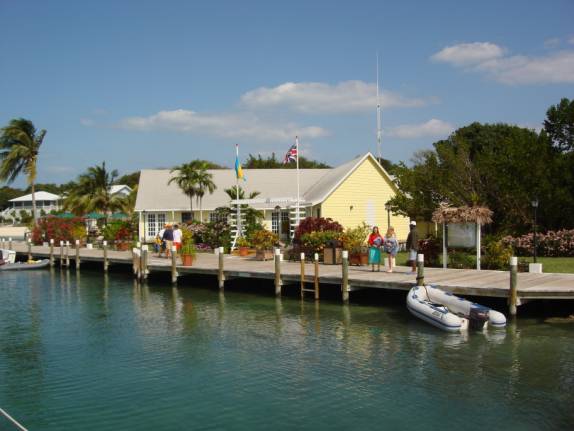 The lagoon beach at the resort is very picturesque.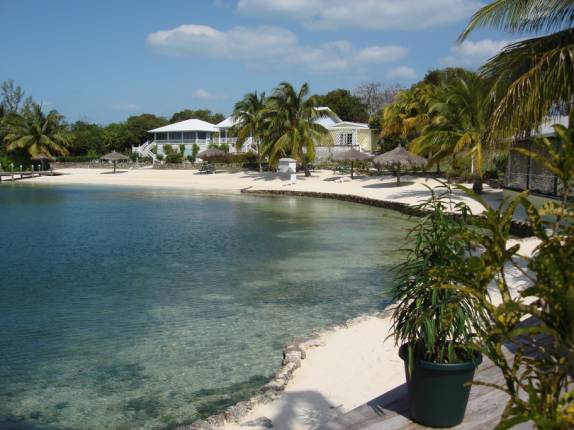 We tried to rent a golf cart to do some island exploring, however, all the units were previously rented. Good fortune followed when Ken and Peggy Watton (CIDERELLA) offered to take us with them in their cart. Ken did a wonderful job of driving us around the island and showing us points of interest. This view of the Sea of Abaco comes from the harbor at New Plymouth, Green Turtle Cay.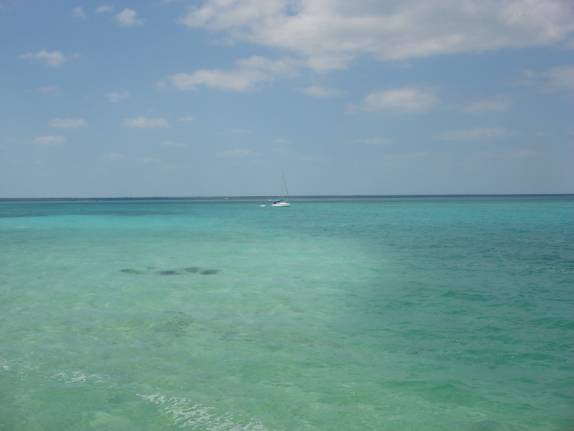 Ken, Peggy, and Judy pose by the government freight docks.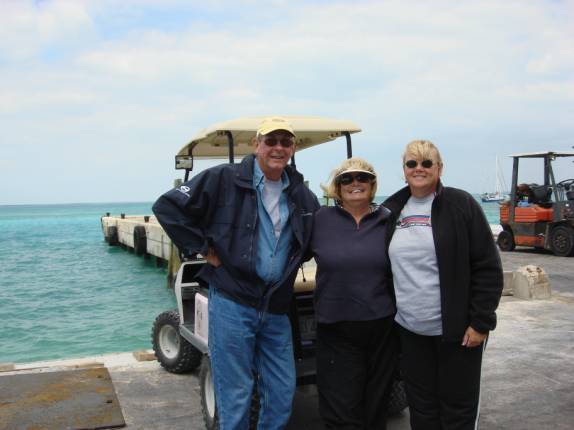 This liquor store has a dining counter and has the reputation for good burgers and fries. Ken and Peggy are Canadians from Midland, Ontario. There, all of the liquor stores are government operated; therefore, this is a very unusual situation for them.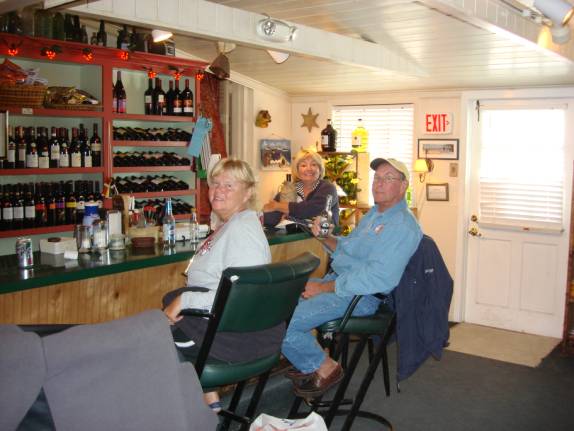 In Canada, booze is very expensive because of extremely high tax assessments. These low prices amazed Ken and Peggy.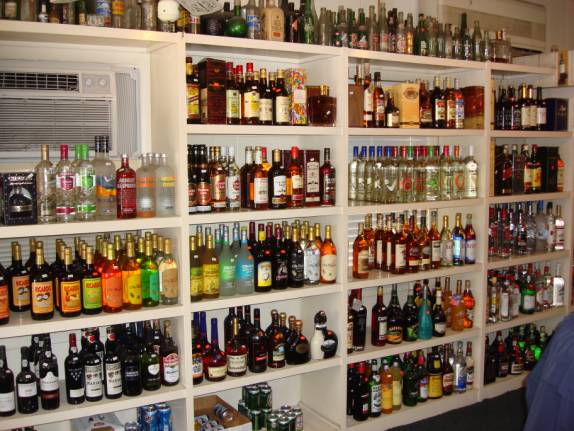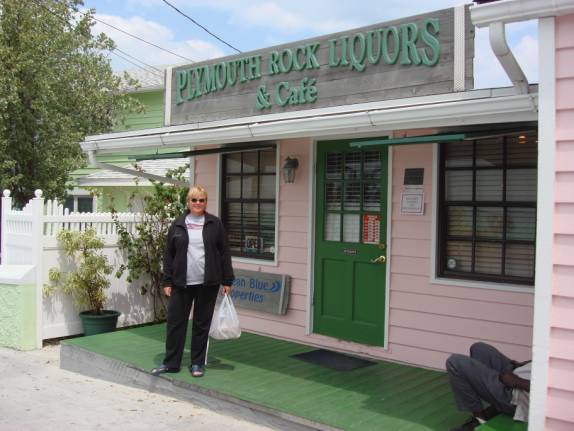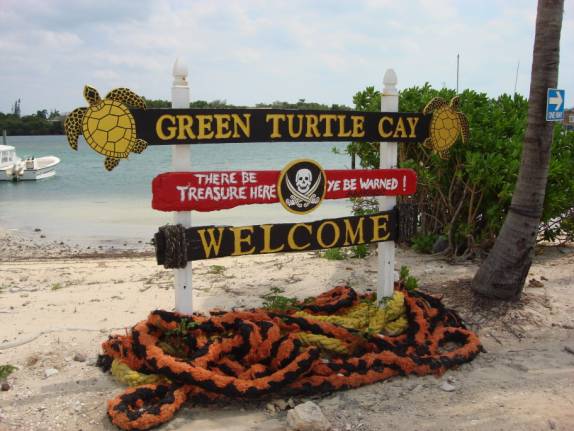 Up on a hillside overlooking Black Sound, the Albert Lowe Art Gallery sets in an area filled with lots of flowers and foliage. The artwork displayed is wonderful. Unfortunately, everything was well above my price range.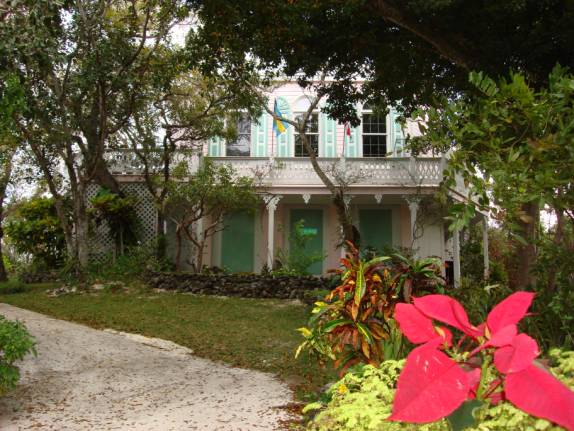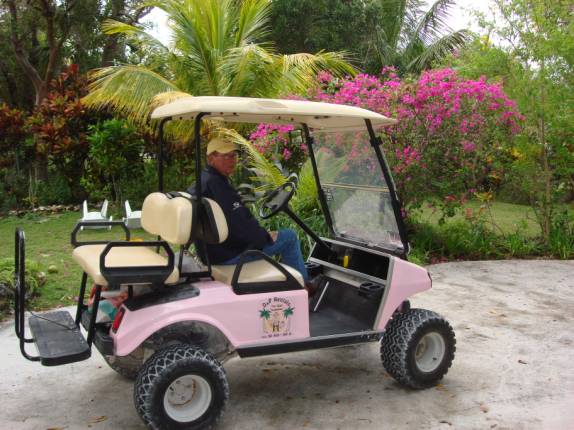 This small beach and adjacent cove provide a tranquil setting to the boisterous Atlantic seen in front of the reef.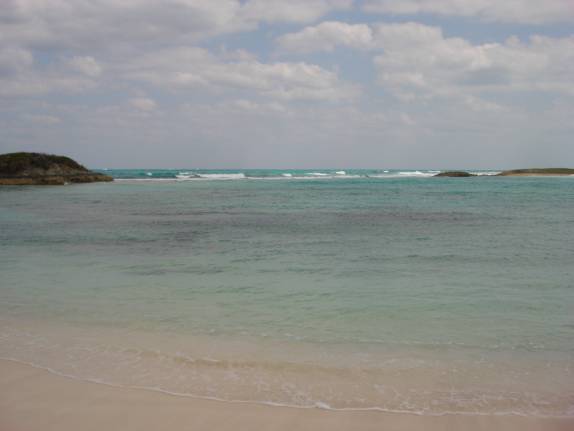 Judy and Peggy became instant friends. After that cold front, those jackets were welcome.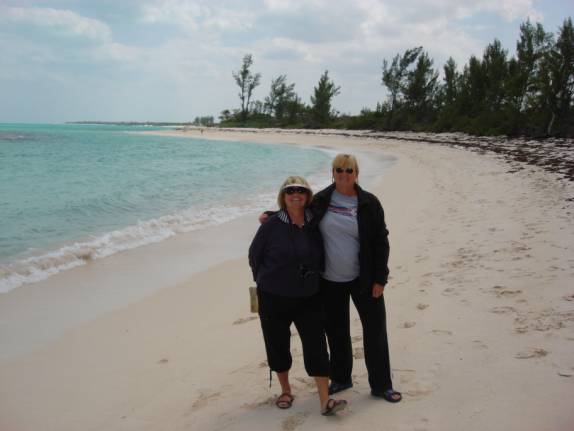 This hermit crab scurried across this piece of driftwood. The small shell on the sand hosts a very small hermit crab.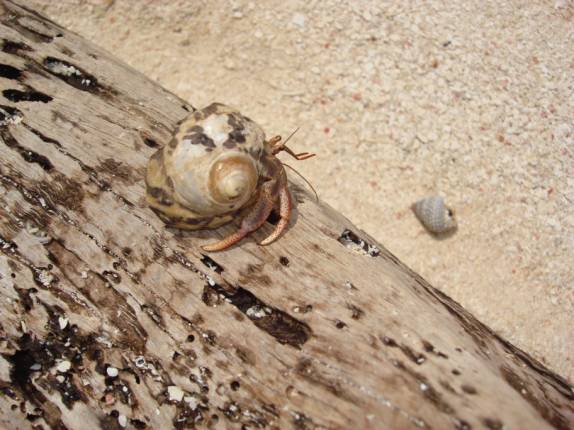 At another beach, more open to the ocean, the breeze was stronger and the beach rougher. Note my lovely, medical "compression stocking" as ordered by my doctor. It provides 15-20 mm of compression to foster better circulation to improve my wound healing. By the way, everything is healing well, however, I have been informed by the doctor that it could take six months to fully heal.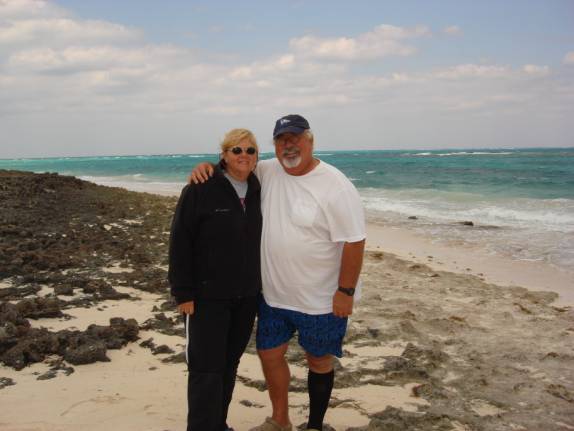 Even in the harshness of this rugged beach, nature places something very beautiful.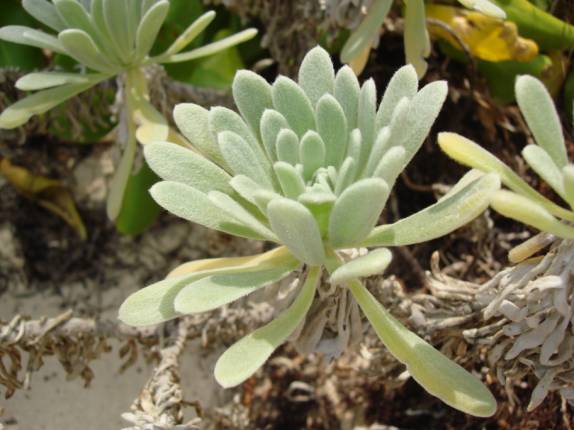 This view of the Sea of Abaco is as seen from the deck of the Bluff House.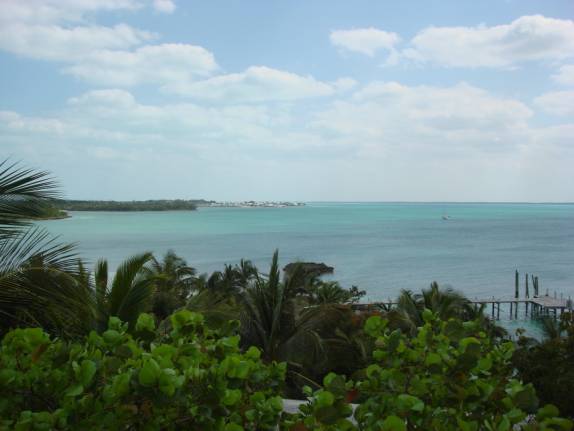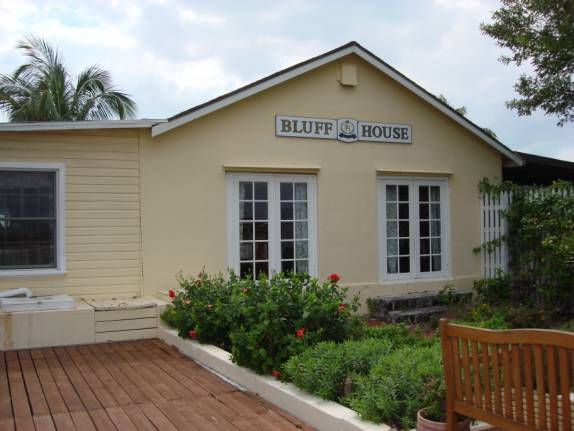 This resort located on the opposite side of the White Sound harbor is quite lovely.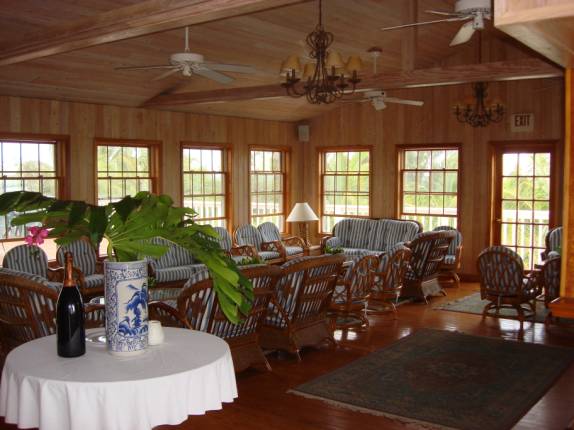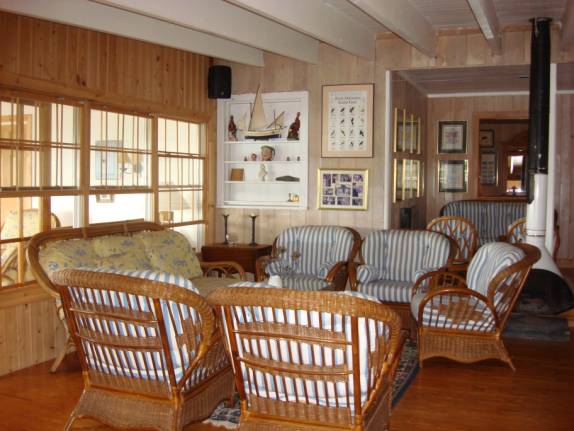 At harbor side, this café and bar sit atop a solid teakwood deck. In this day and age, the use of that kind of wood is almost unimaginable.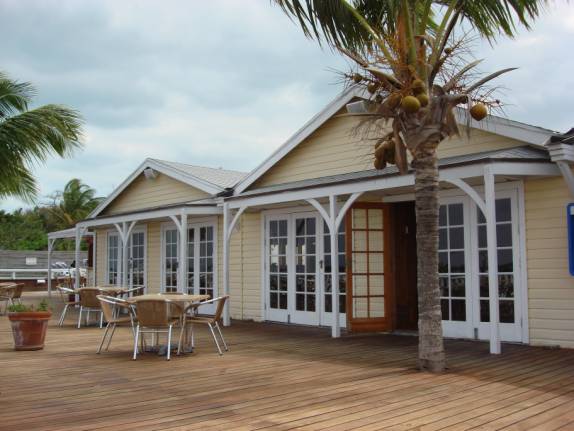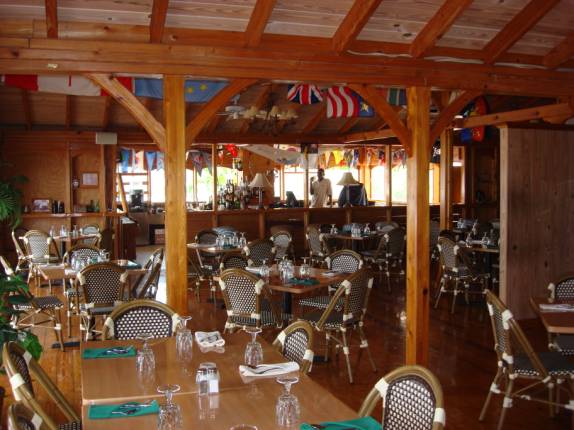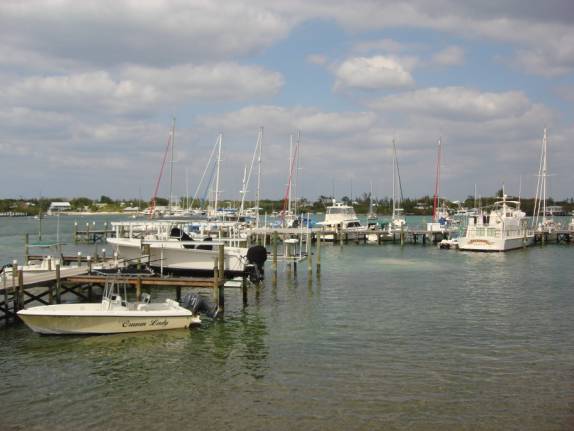 Even the steps are made of solid Teak wood.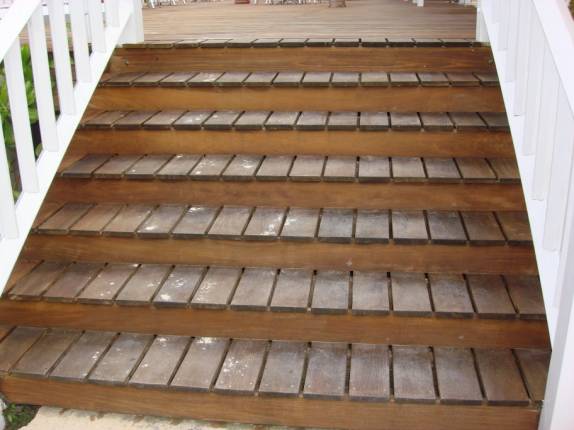 This lovely flower is only one of many lining the walkway at the Green Turtle Club where AMARSE is berthed.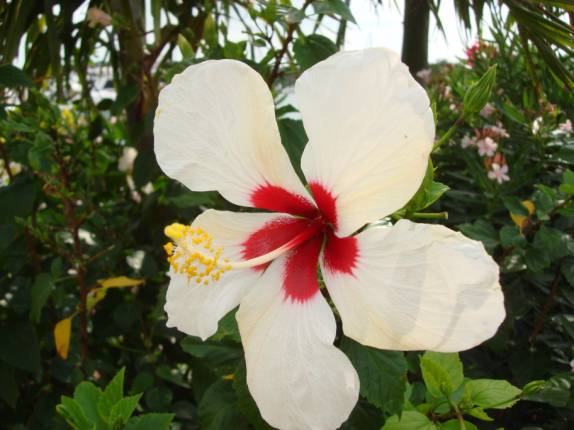 John Hauge, Bill Stone, Susan Hauge, and Jane Stone sit chatting while awaiting their dinner call.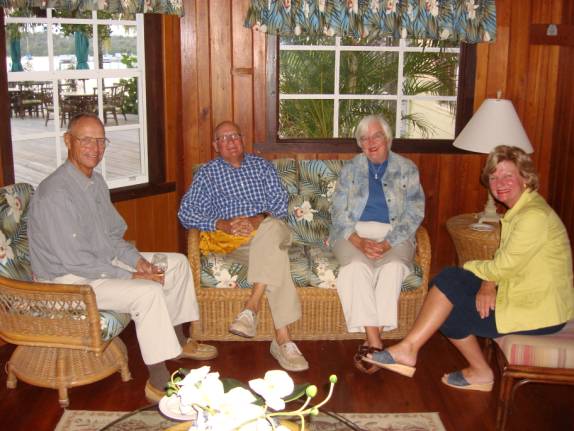 We joined Ken and Peggy Watton (CIDERELLA) at our 7:30pm seating.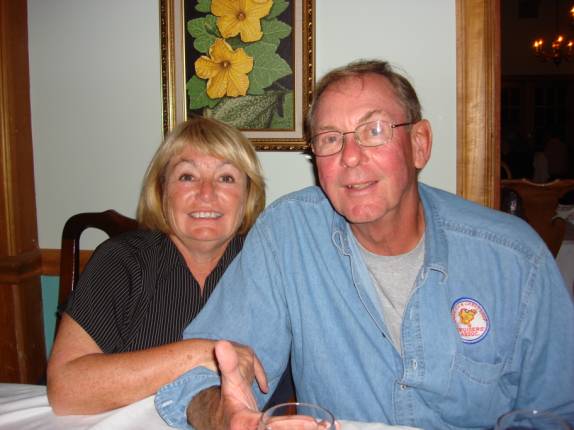 Tonight, we chose the Roasted Chicken entrée. It was delicious.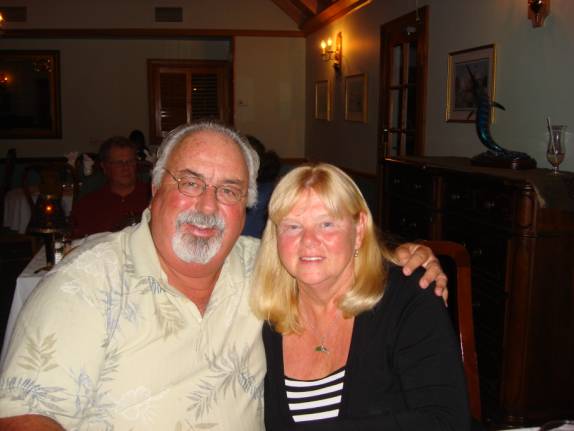 This is a picture of a picture that is hung in the hallway of the resort. It would be unbelievable to think that this pounding sea did not destroy this yacht. We don't know whether this was taken at the infamous "Whale Passage" nearby or not. I'm certainly glad it wasn't me!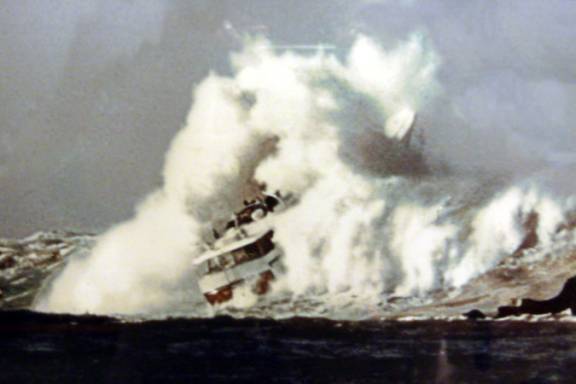 This picture of a picture was taken on the same hallway wall. It shows Hurricane Floyd from 9/14/1999 approaching the Florida coast. Imagine the destructive power of this monster located over the Bahamas. Now that is a classic hurricane photo.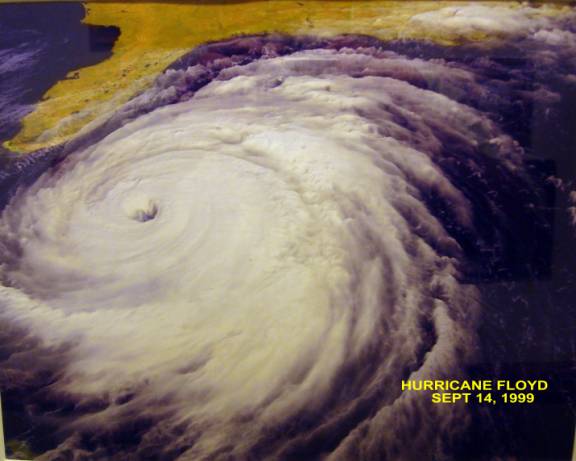 03/26/08 WEDNESDAY GREEN TURTLE CLUB, GREEN TURTLE CAY, ABACOS, BAHAMAS
Susan Hauge manages the fly bridge while John handles the lines.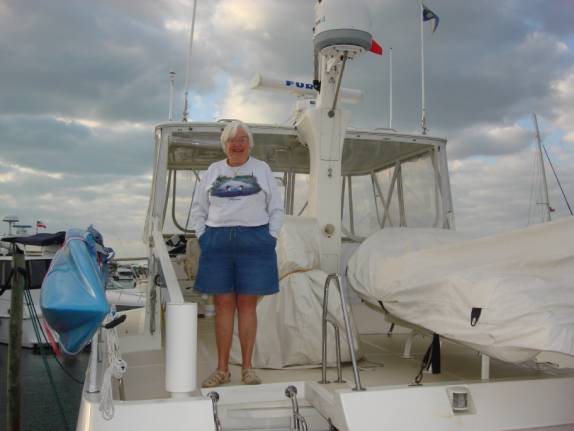 They are leaving this morning for an anchorage at Great Sale Cay located about 60 miles west.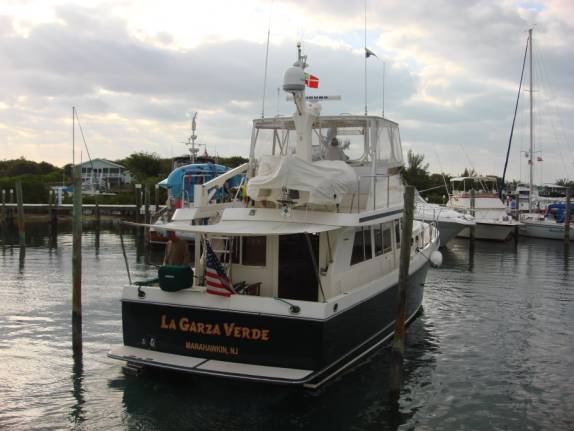 LOOSE STONES is departing for points east. They have been here at GTC for 2 weeks and will now visit Marsh Harbour and other cays on the east side of the Whale. This vessel is fully fitted with powerful engines and a special stabilizer system.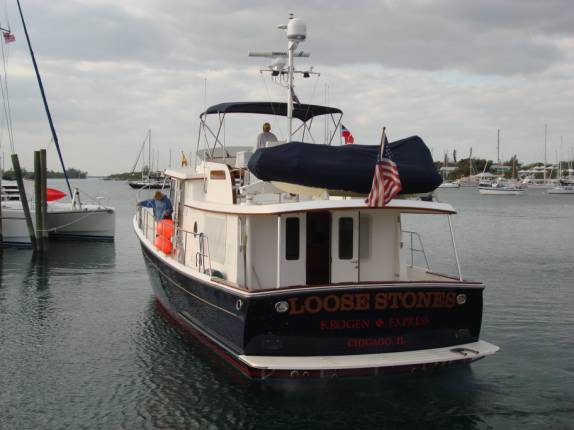 Berthed next to us is BOBCAT. The fishing boat owned by the Jung's. Bob is a renowned orthopedic surgeon and Cathie holds the Guinness Book of World Records title for having the smallest waist in the world.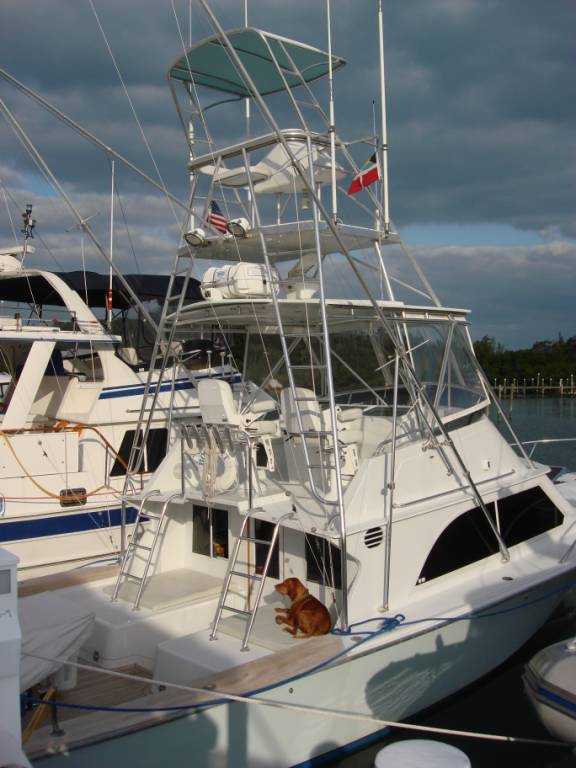 For many, many years, Cathie has devoted herself to strict "waist training" using corsets. She wears the constrictive garments for at least 23 hours a day. All of her internal organs have assumed alternate locations and she has been able to attain a 15" waist. Now in her 70's, she maintains her diminutive waist and figure. This picture was taken from her website, http://www.cathiejung.com , and is only a few years old. We enjoyed having the opportunity to chat and visit with Bob and Cathie.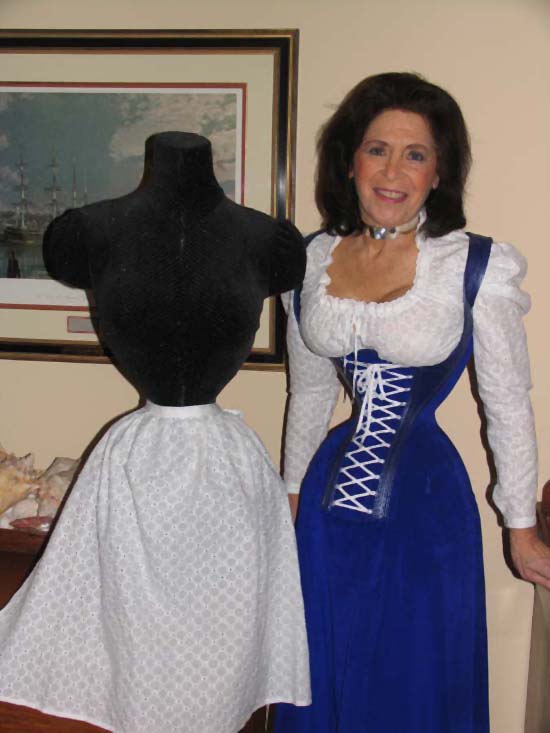 With her cup of coffee and her terrific smile, this beautiful and wonderful gal could easily earn me the Guinness title for "the Happiest Man in the World."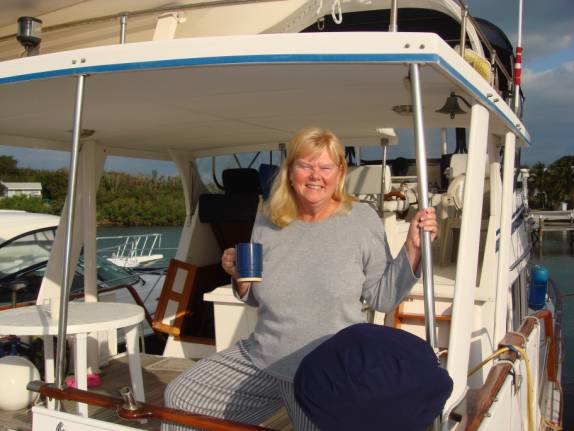 During my engine checks enroute to GTC, I had noticed higher than normal readings on my fuel filter gauges. Not wanting any problems with clogging fuel filters on the passage to Florida, I decided to make a precautionary change of the Racor filters. The portside was pretty gunky looking and the starboard one was quite dark. I use the very fine 2-micron size filters hoping to trap any contamination before it can reach the main engine filters. They are much more time consuming to change.
The exodus continued as Frank and his brother motored out toward Great Sale Cay. With these breezy conditions and the forecast for crossing conditions later in the week, we opted to stay right here and enjoy the wonderful hospitality, meals, and friendships at the Green Turtle Club.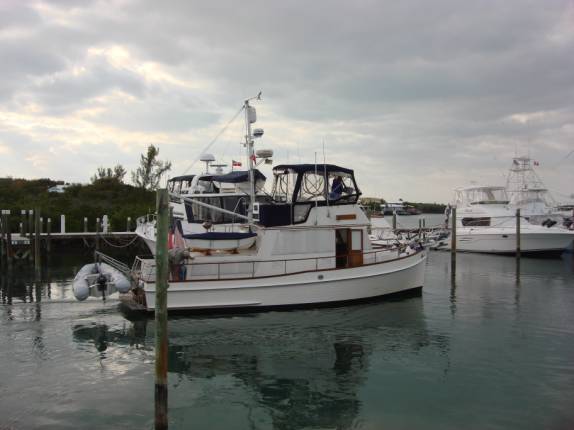 The docks here at Green Turtle Club are rather unique. They have no finger piers; therefore, boarding must take place off the stern to a ladder mounted on the dock pier. Sometimes you can step across, other times, you are safer to go down the boat ladder and up the dock ladder.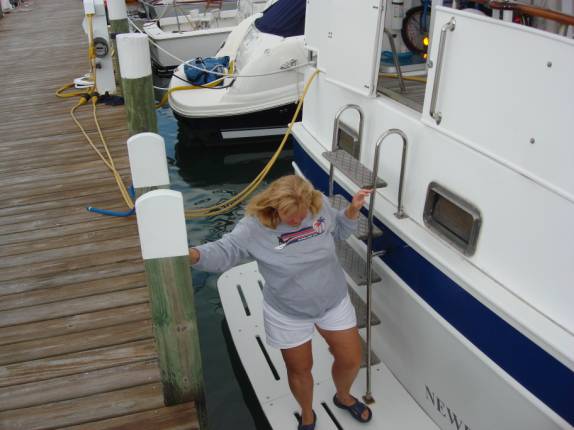 By afternoon, Robert and Carolyn Wilson were arriving on SEA ISLAND GIRL. They have had an unpleasant experience in the whale passage.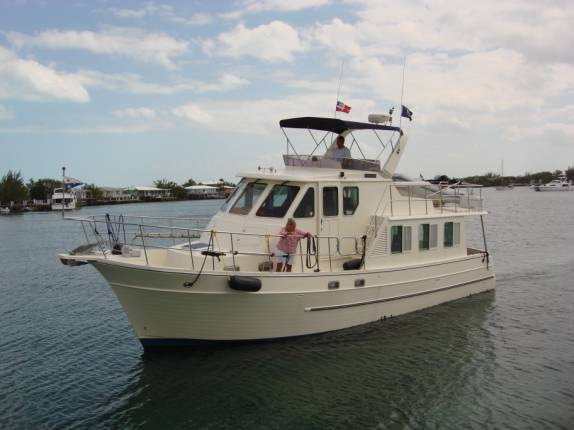 Robert described the experience in his email as follows:
"FYI "the Whale" is a 3 mile passage from South to North Abaco that has direct access to the Atlantic, reefs and the Sea of Abaco. It is where Disney literally walked away from a resort they built because the sea conditions often made it impossible to get their cruise ships through the passage. Well Thursday was our day, and it seemed that all was well. We were leaving early in order to get back home to attend a wedding in Naples. The Whale, and hurrying, do not go together!
Thought you might like to see what we were faced with after we got docked at Green Turtle Cay only two miles north of the passage.
Sea Island Girl required hand steering for about an hour as she fought six to ten foot waves. We would head into them and the next one would push us over on her side as we slid down the previous wave at record speed.
The boat did remarkably well, we learned something and we discussed what we would do next time after we cleaned up.
Robert invited me on board to view the mess. I snapped these pics and recalled the smooth passage we had encountered just two days before. Fortunately, they were safe and unharmed. For them, it is pick up the pieces and move on.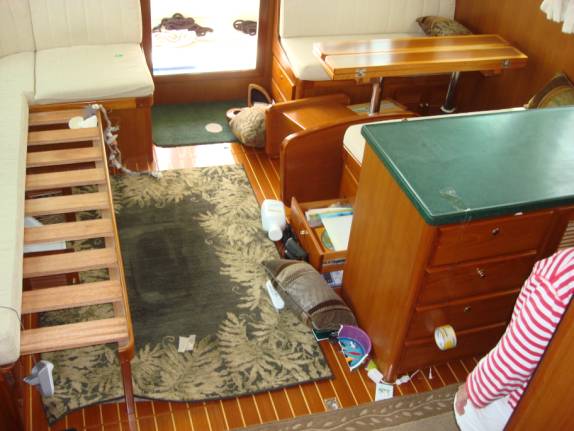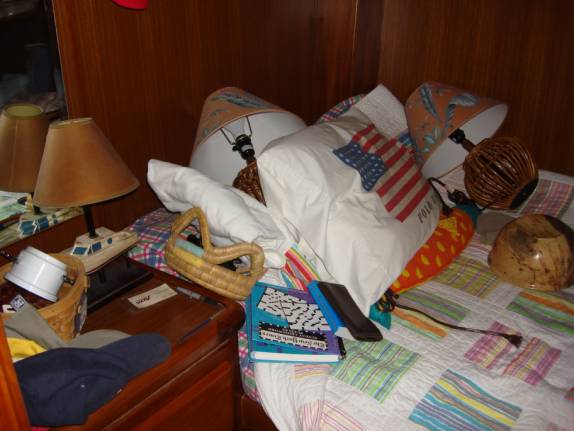 Many folks meet at the lounge bar for cocktails and appetizers while waiting for their dining room seating assignment.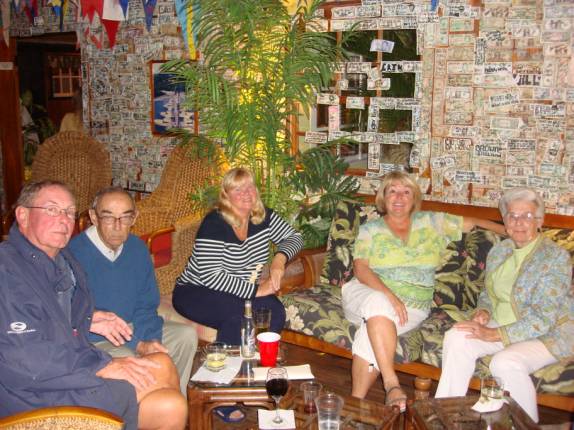 Robert and Carolyn have regained their composure and donned their best smiles after cleaning up from their morning ordeal in the Whale Passage.
Along with Ken and Peggy Watton (CIDERELLA) and Carolyn and Robert Wilson (SEA ISLAND GIRL), we enjoyed an absolutely magnificent culinary experience.
The meal was even more elegant than its description. Check it out! Sesame Encrusted Lobster with mild vanilla sauce, crisply sautéed veggies, and saffron rice. This may have been one of the greatest meals I've ever enjoyed.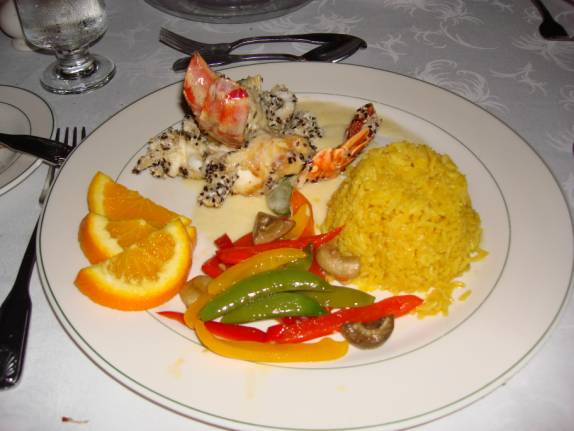 The entertainment commenced at 9pm when the "Gully Roosters" took to the outside stage. Resort goers and boaters joined in for dancing to many familiar Bahamian tunes.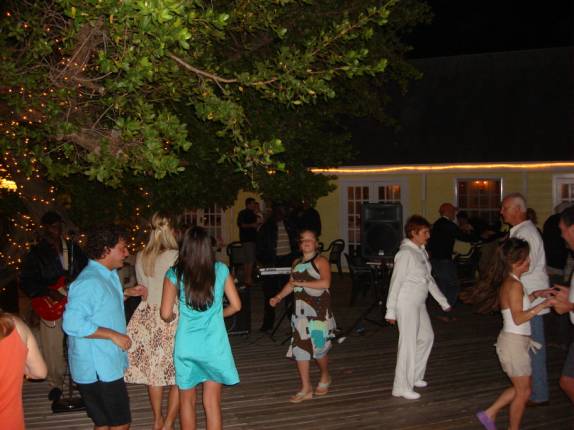 03/27/08 THURSDAY GREEN TURTLE CAY, ABACOS, BAHAMAS to MANGROVE CAY ANCHORAGE
The alarm at 7 am signaled the message to get everything ready for a morning departure. The office opens at 7:45am for our checkout giving us time to pack away all our equipment and ready for sea. In the company of SEA ISLAND GIRL, we were underway at 8:10am through the shallow channel and out into the Sea of Abaco. With 10-15 knot, northerly winds, the seas remained relatively calm because of the protection of the outer islands and cays.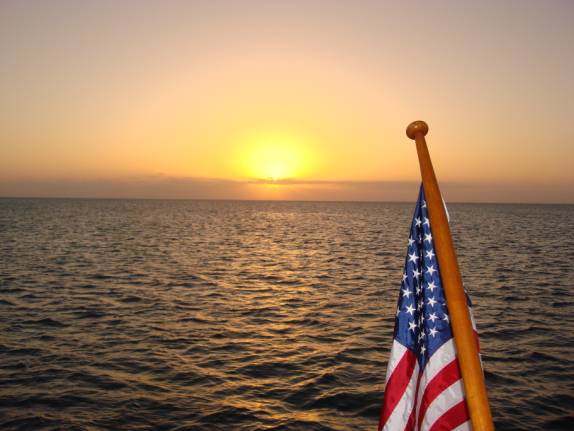 Being a faster cruiser, SEA ISLAND GIRL took the lead and was beyond visual range in a few hours. Slightly before 4pm, we passed the GTSALE waypoint marking the southern region of Great Sale Cay. SEA ISLAND GIRL made way for the anchorage behind that cay. AMARSE opted to continue on to Mangrove Cay. With the changing weather forecast, we felt that tomorrow offered the best opportunity to cross the Atlantic Gulfstream to Florida. We were able to receive weather updates from WX Channel 3 on VHF reporting out of Palm Beach. By 7:17pm, we were securely anchored along with about 10 other boats. Sunset occurred a few minutes later at 7:29pm. It was a lovely, tranquil evening with only very light easterly winds. The stars were incredible.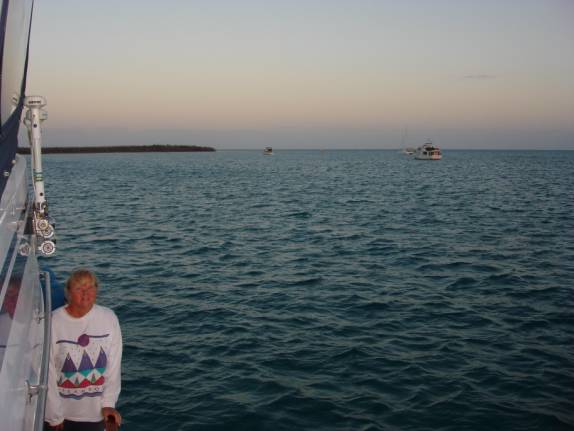 We traveled 86.8 statute miles at a moving average of 7.8 mph. Our normal cruise is about 8.5 mph, however, the average is often lower due to tidal currents and slow speeds in harbor channels and anchorages. We have traveled 117 miles since leaving Boat Harbour.
Of course, we were quite tired and wanted to go to bed early. Supper consisted of Albacore Tuna Salad on Ritz Crackers. Lights were out at 8:30pm so that we could "rise and shine" early tomorrow.
POSITION: N 26 54.962 W078 37.346 Mangrove Cay anchorage.
03/28/08 FRIDAY MANGROVE CAY ANCHORAGE, BAHAMAS to NETTLES ISLAND MARINA, JENSEN BEACH, FLORIDA.
At 4:15am, the alarm bleated out the buzzing needed to arouse us from a sound sleep. Judy wakened me up several times in the night when she heard the "anchor alarm" sound. I had set the range to 100 feet. When the wind went calm, the tidal current gently swung the boats around in the opposite direction. With nearly 100 feet of rode, we exceeded the range that I had anticipated. I had thought we would stay headed east. We were secure at anchor and I reset the anchor alarm to 120 feet, however, a second current change caused the anchor alarm to sound again. Fortunately, we were not dragging so I merely reset the alarm again with the expectation that we would not swing again before wake up time.
At 5:05am, we had the anchor raised. It had been set very well in thick, clay-like sand that was difficult to clean off the anchor flukes. We had agreed to depart with two other vessels headed west. ANCHORS AWEIGH, a Krogen 42, and GOT THE FEVER, a DeFever 44, took the lead positions at speeds comparable to ours.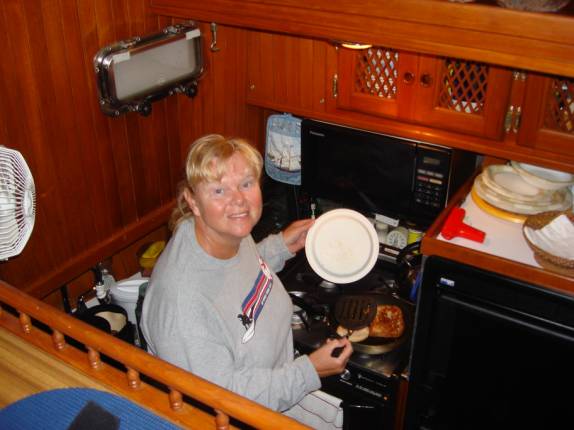 The trip departed under star-studded skies waiting for the sunrise at 7:13am. In light easterly winds and seas only slightly more than 1 foot, we continued west to cross just south of Memory Rocks into the Atlantic Ocean waters.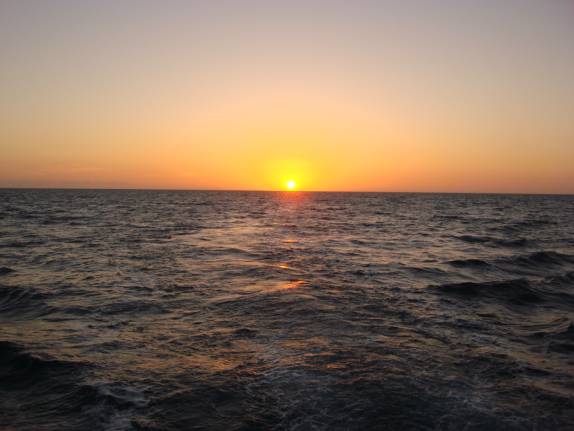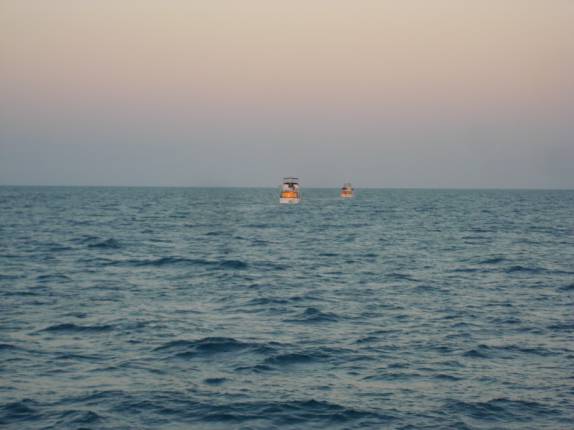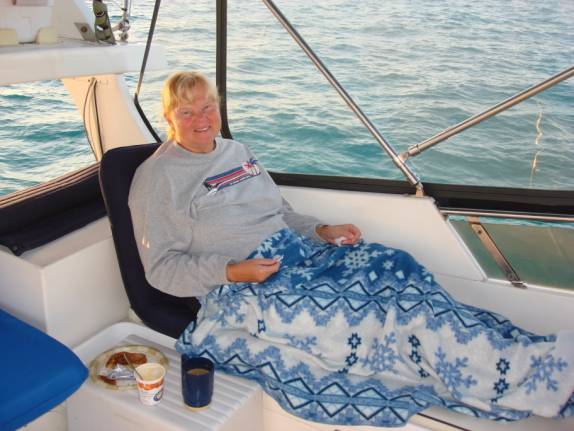 The other two vessels headed more Northeasterly toward Ft. Pierce Inlet while AMARSE followed a course to St. Lucie Inlet. At noonsite, we recorded our progress as Bearing 291 degrees, Course Over Ground 295 degrees, Speed Over Ground 8.5mph, Distance to STLCY 38.5 miles, Magnetic Heading 265 degrees, Coordinates N27 01.048 W079 31.995. The seas were following at 2-3 feet with occasional 4-footers. Everything onboard was stable and nothing was moving around. These were nearly ideal crossing conditions.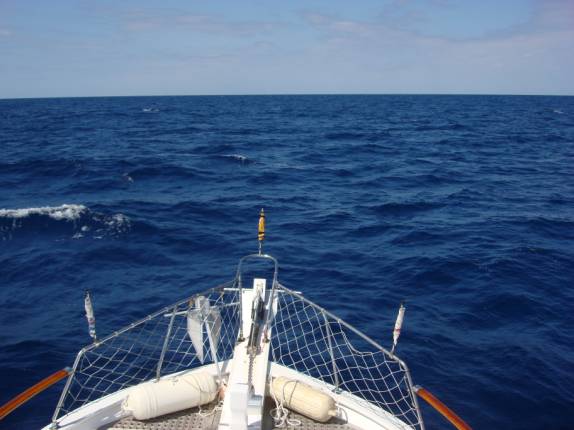 About 20 miles offshore, Judy's AT&T cell phone started to have signal. We made a call to Dave Elliot to see what he could arrange for docking. At first, we thought we might be located behind a private home way up on the St. Lucie River. We were reluctant at that since tides have been running very low this time of spring and the electrical service there is less than desirable. Judy had gotten a nasty shock last year while we were there. Dave went out of his way to help us find a marina on the ICW that would provide better accommodations.
At 4:35pm, AMARSE rode through the St. Lucie Inlet with a confused following sea. There was a bit of turbulence that made it necessary to hand steer the boat to keep on course. The channel follows a sinuous path and meanders back and forth between the markers. I would be uncomfortable trying to navigate this pass during darkness. You can see the force of the waves breaking on the jetty and on the sandbar beyond.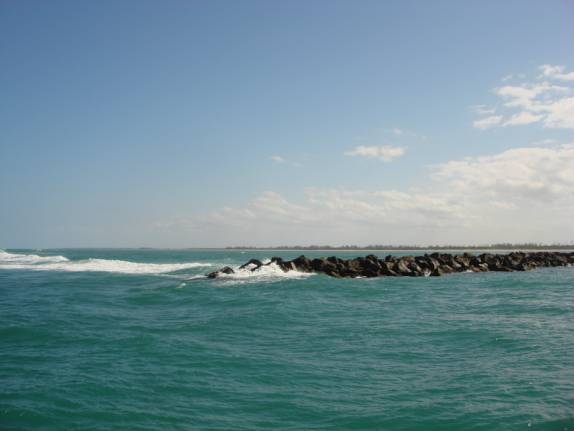 We entered the ICW at mile 987.8 and turned north. At mile 979.3, we turned into a narrow channel leading into and behind Nettles Island. As instructed, we backed into a slot on the lay-along Dock D. Several very helpful boaters assisted us with lines. These pelicans were going about their business on the pilings adjacent to our dock.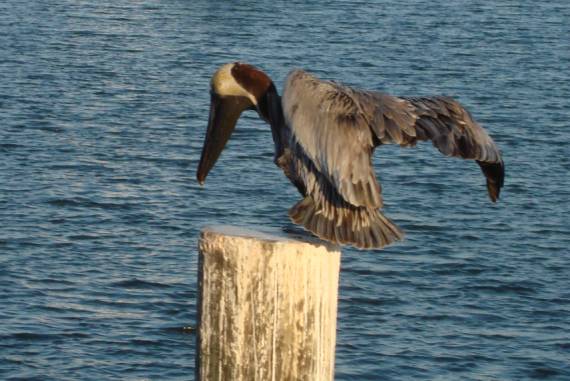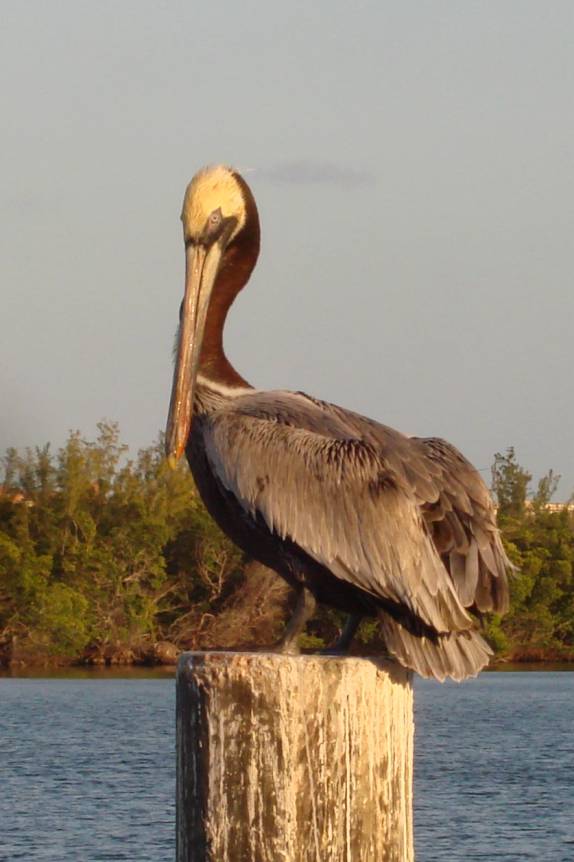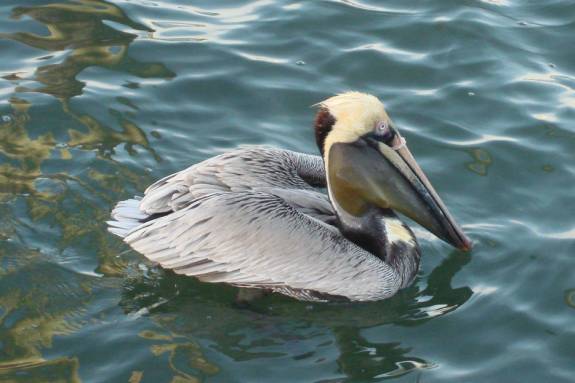 We were tied securely at 6:35pm. At 6:45pm, I started calling US Customs and Border Protection (CBP) to obtain clearance back into the US. The on-hold message advised that all calls would be answered in the order received. After almost 1 hour, the call was dropped. I called again and began receiving the same message. After 4 calls and over two and a half hours of hold time, an agent finally answered and politely took my phone number promising to call back as soon as he could. True to his word, he called back at 10:15pm. The clearance process was very efficient because we had applied for a special "Local Boater Option" (LBO) number for each of us. With the vessel numbers, Customs sticker number, and our LBO numbers, the agent could issue our clearance number. We would not need to appear at the Customs Office because we had accomplished that when applying for the LBO numbers. Cool!
We had traveled 108 miles in 13hrs 35minutes yielding an average speed of 8.0mph. We have traveled 226 miles since leaving Boat Harbour.
It was late and we were tired. We had eaten a sandwich for dinner because we couldn't leave the boat prior to clearance. Off to bed…..
POSITION: N27 17.108 W080 13.069 Nettles Island Marina mile 979.3
03/29/08 SATURDAY NETTLES ISLAND MARINA, JENSEN BEACH, FLORIDA
The alarm was set for 8 am, however, I was up at 7am because the fenders had slipped off the post and the rub rail was squeaking on the piling. I was awake now and couldn't go back to bed.
We finished our showers just moments before Dave Elliot arrived at 8:45am. After chatting over a cup of coffee, Dave drove us over to retrieve Judy's Riviera from the storage lot near Ft. Pierce. The car started right up after hooking up the battery and we were on our way about 10:15am. Dave is in the real busy season and had a full itinerary for the next week or so. He promises to get to us when he can. As he headed off, we drove to the Cracker Barrel for a nice breakfast.
When we returned to the marina about 11:30am, Andre helped us move AMARSE from D Dock to a slip on A Dock in close proximity to the restaurant. It is very nice and tranquil here in this protected area. The restaurant closes at 8:30pm and will not present any problem.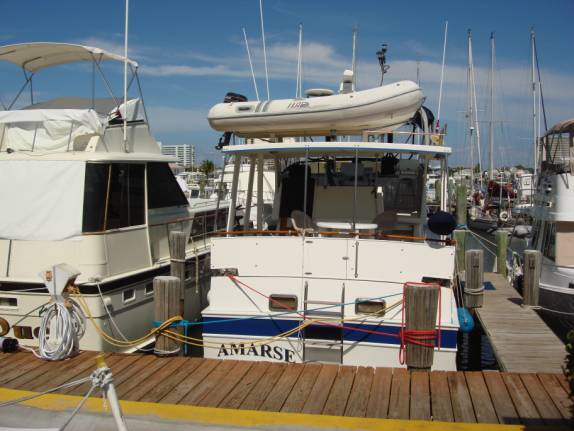 We made lots of phone calls and set up the internet on WiFi.
Late in the afternoon, we headed over to Sam's Club. Hoping to eat around 7pm, we called the Longhorn Steak House at 6pm for addition to the waiting list. We were informed that the wait was running about 85 minutes. We rode around a while and finished the wait at the crowded restaurant. The wait was well worth the time and we enjoyed a great meal. I selected a delicious Filet Mignon as Judy yielded to the temptation of the Baby Back Ribs. We both agree that Longhorn has the best ribs we've ever tried.
03/30/08 SUNDAY NETTLES ISLAND MARINA, JENSEN BEACH, FLORIDA
Although the alarm faithfully sounded at 8am, we decided to just lie around and snuggle. Sundays are for relaxing and we had a wonderful breakfast on the sundeck.
Most of the morning was spent planning our trip to San Antonio. We made reservations to fly from Ft. Lauderdale after a couple of days visit with my daughter, Sharyn.
We made it just in time for the Sunday brunch at The Landing Restaurant just steps from our back deck. They only serve until 2pm on Sundays and then close all day on Monday. Judy had the Tilapia Fish N' Chips and I tried their New York Ruben on Grilled Rye. It was very enjoyable in the open-air table area.
The marina gang met at the Tiki Hut for afternoon and evening drinks and conversation. For dinner, we had shaved, Perdue Oven Roasted Turkey heaped on a fresh Hoagie Roll. Both items come from Sam's Club and are wonderful products.
03/31/08 MONDAY NETTLES ISLAND MARINA, JENSEN BEACH, FLORIDA
With strong storms and very heavy rains, the cold front came roaring through last night. We are thankful to be secure here in this slip and not out anchored somewhere. It was a bit windy and cooler this morning making our breakfast of French Toast taste even better.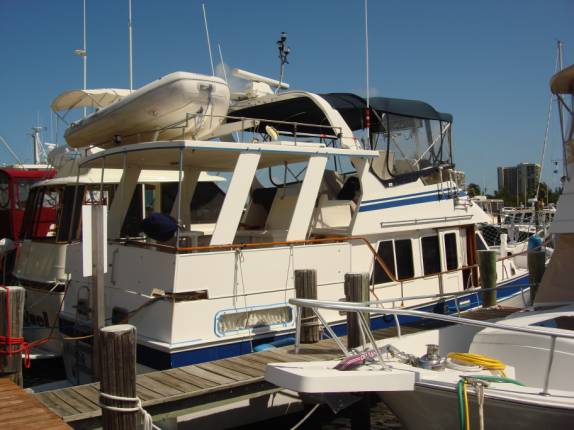 We did some shopping at Publix and Sam's for ingredients needed for our special dinner for invited guests, Ivor and Susan Nathan. These are wonderful friends from our looper experience and we feel very close and bonded to them. Although they have since traded their boating lifestyle for a Motorcoach lifestyle of traveling, we find ourselves missing them all the more. When they arrived at AMARSE at 5pm, the table was all set on the sundeck for appetizers and cocktails. A tray of Colossal sized shrimp and tangy red sauce took the edge off while cocktails and wine were enjoyed. By 6:30 pm, I had the dinner ready to be served. The entrée consisted of Jumbo Sea Scallops pan seared in a buttery, balsamic reduction with sautéed fresh mushrooms, red pepper strips, and sun-dried tomatoes. Fresh green beans steamed with red pepper strips offered color and great vegetable taste. The dessert was fresh strawberry slices topped with whipped cream and pecans. The positive comments were well received. It was great to see our friends again.
This concludes this edition of the AMARSE Update logs. We hope you will join us again soon for more of our activities and adventures in the month of April and beyond.
POST SCRIPT:
We sincerely hope that you will review the previous years of compilations to give context to the current editions. Please let us know if you have any special suggestions and thoughts.
REMEMBER: The website is now fully active and you can visit it at any time. You can review any of the 2006, 2007, or the upcoming 2008 logs and learn more about the crew and our plans. Enjoy.
ATTENTION: SPECIAL NOTE:
You may contact us via email anytime.
We will have internet where ever we find WiFi service.
Our cell phones have been turned back ON. Judy has AT&T/CINGULAR service. Fred has VERIZON service. Email us if you would like our phone numbers.
"AMARSE". is pronounced "AM-ARE-SAY". Our website is: www.amarse.net .
Thanks for allowing us to share our life and adventures with you.
Lotsa Luv,
Fred Reed and Judy Law
AMARSE
MT40