UPDATE# 4
02
/01 thru 02/10/08
Howdy Everybody,
The new adventures of 2008 from 1/1/08 through 1/31/08 have been published on the website. We continue with this edition, UPDATE 2008 # 04.
UPDATE 2008 #04 02/01/08 through 02/10/08.
At last update, AMARSE was at our winter home at ABACO BEACH RESORT and BOAT HARBOUR, in sunny Marsh Harbour, Abacos, Bahamas.
02/01/08 FRIDAY ABACO BEACH RESORT AND BOAT HARBOUR, MARSH HARBOUR, ABACOS, BAHAMAS
Consistant with her daily routine, Judy headed off with the girls on the morning walk. After a short rest, she hopped on her bike and went grocery shopping. What a gal!
I spent most of the day working on the updates and logs. Again today, we are plagued with poor internet reception. Although the leg is very slowly getting better, it still oozes a little clear, yellowish fluid. I am told that this is a good sign of the body doing its job of tissue repair. It is a surprisingly deep hole at the wound sight.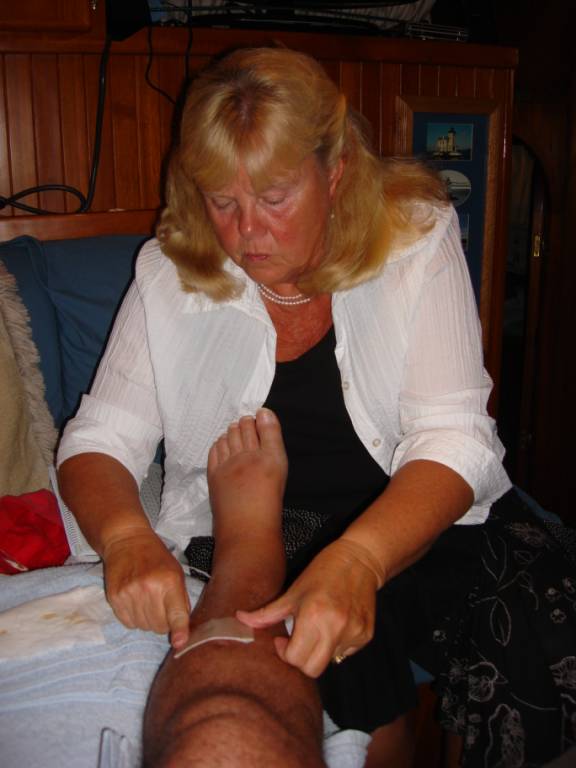 We had received an invitation to the 11th Annual Art Show at the Marquis Tent located on the grounds of the Abaco Beach Resort. To properly prepare the eye for art, the resort served a choice of wines and delicious hors'dourves. Dennis and Georgia Ojard (SUPERIOR LADY) seem to have their pick from the red wine table.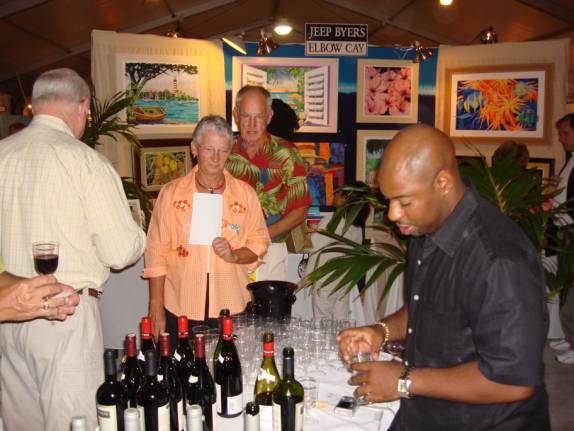 Although the paintings were very beautiful, I must say that Judy is my favorite 'work of art'.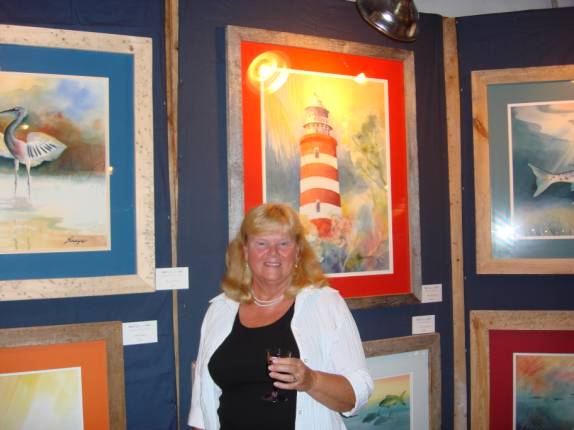 The Abacos are home to many accomplished artists. The community does a lot to support culture and the arts.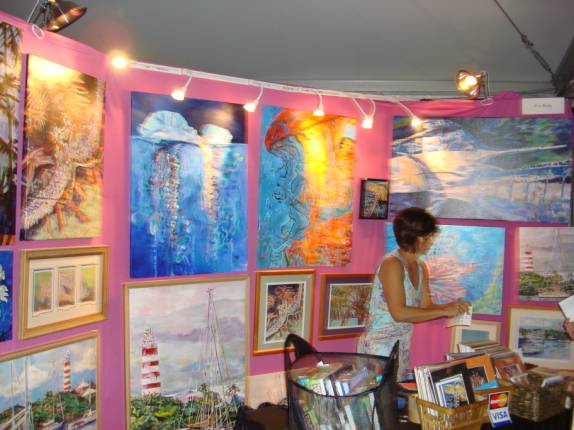 Artistic expression could be found in a myriad of assorted media.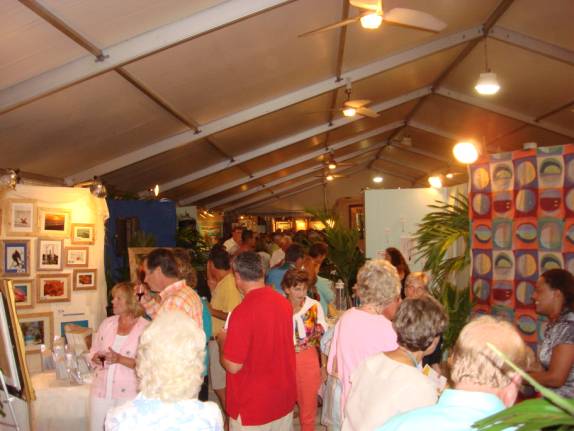 Mother Nature prepared this fabulous combination of texture, form, and color.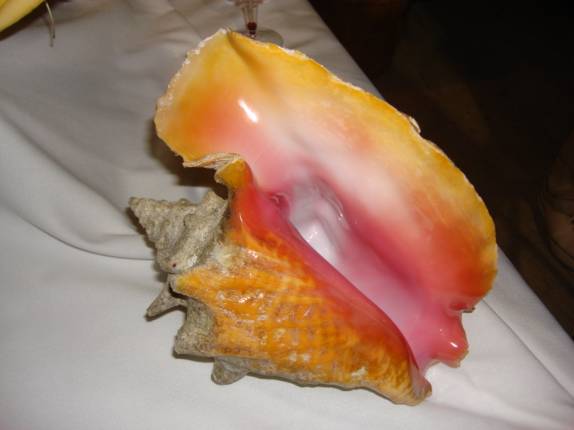 The Angler's Restaurant offered a Grand Buffet Dinner in their luxurious dining room. There were two huge Steamship Rounds of Beef being sliced.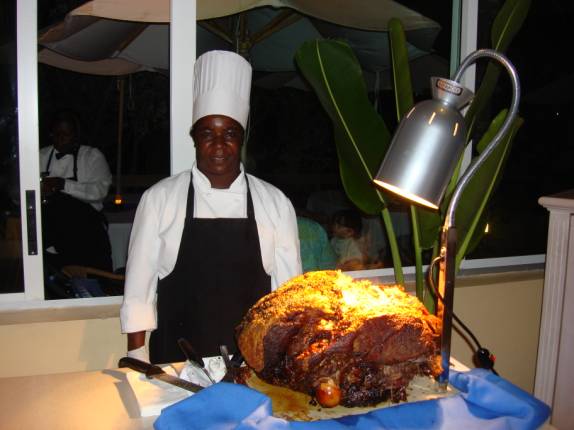 Other choices included Salmon and Pork Tenderloin. Paul and Sue Graham (ODYSSEY) raved about the culinary extravaganza.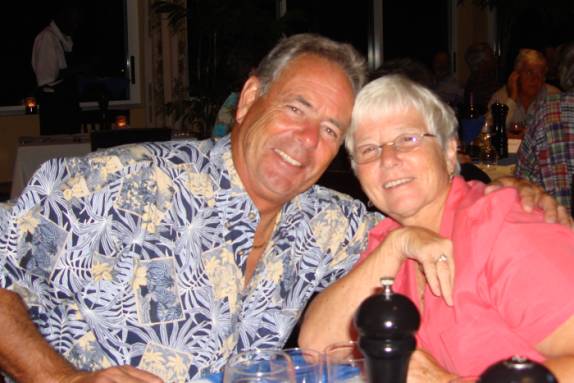 Also seated at our table for eight, Jonathan and Judie Jenkins (DOUBLE JJ) enjoyed the flavors and presentation.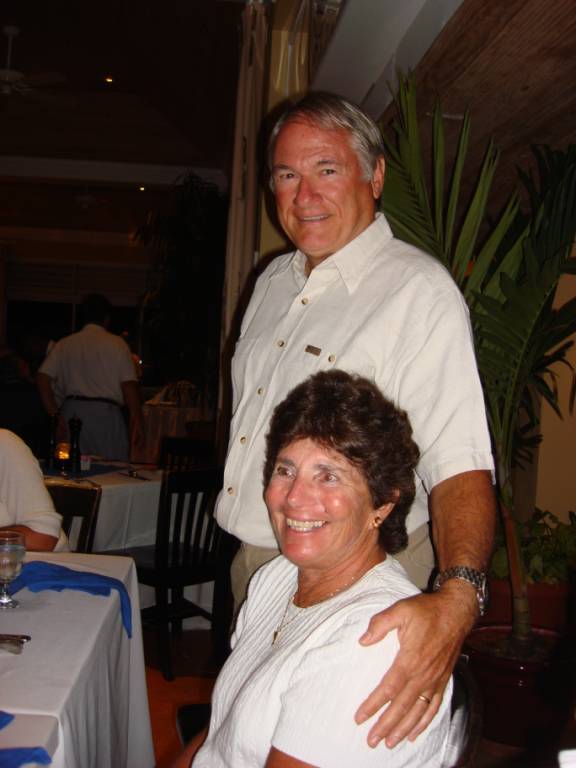 Joe DeMaris and Eileen Ambrosini were seated at a table for four.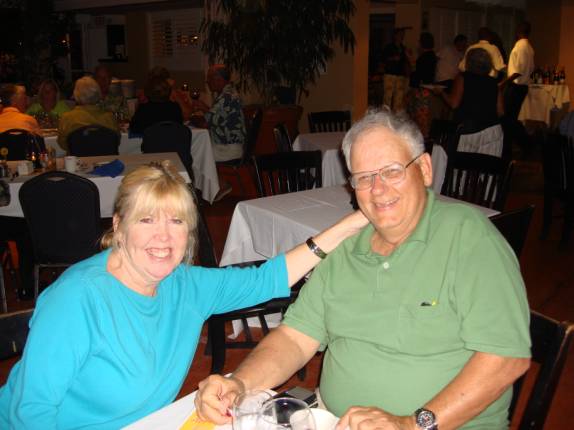 Galen and Connie Siler (R-JOY) enjoyed the meal and the conversations with Joe and Eileen.
The Tour d' Art continued after the evening dinner.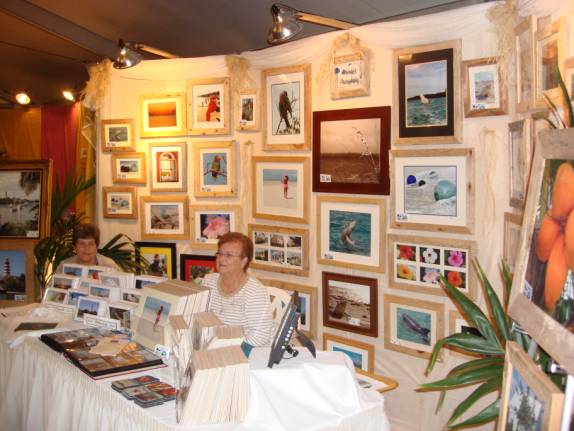 Later, many folks enjoyed the sounds of "Rake 'n Scrape" beside the pool bar under the lead of Brown Tip.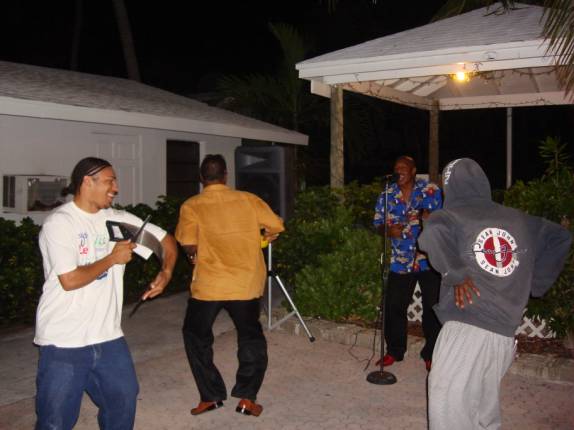 Judy had a great evening. It is great to be in the Bahamas where the activities are so much fun.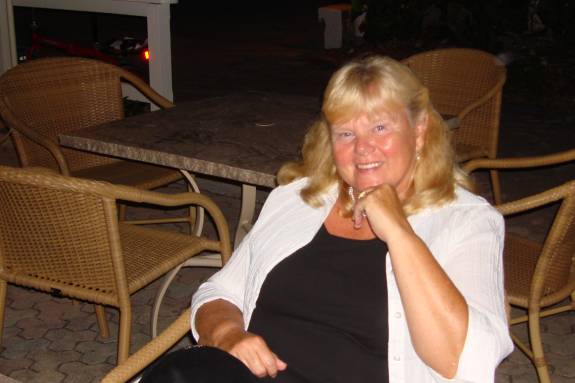 02/02/08 SATURDAY BOAT HARBOUR, MARSH HARBOUR, ABACOS, BAHAMAS
It was a beautiful morning with lots of sun and tranquil breezes. The walkers stepped out in stride. Robert and Carolyn Wilson agreed to tow a couple of extra dinghies on a sightseeing trip. Their plan was to join up with DOUBLE JJ and CRITCHER CAT at Snake Cay for an overnight at anchor. We would be day guests and then have to dinghy back to Boat Harbour.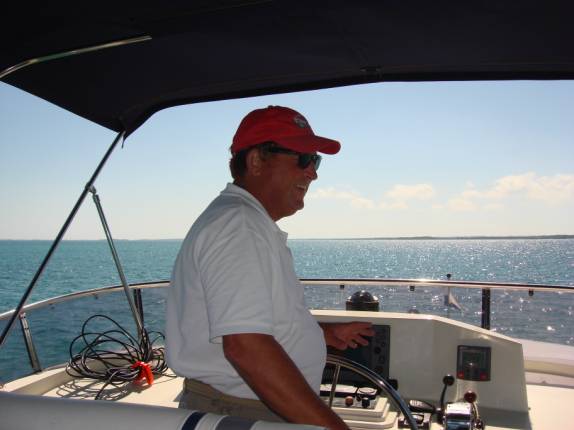 The color and clarity of the Sea of Abaco was striking as we headed south.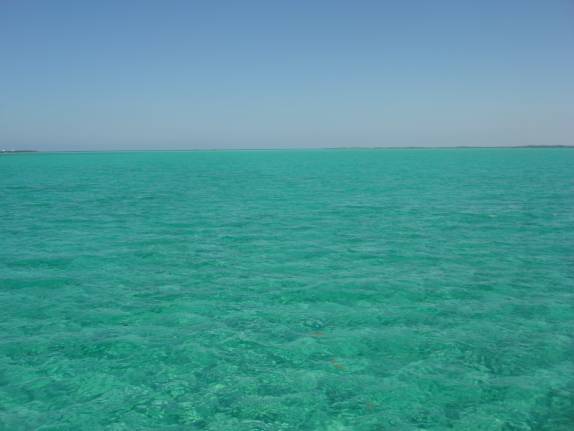 The dinghy painters were stretched tightly as the three RIB (Rigid Inflatable Boats) trailed in the wake of SEA ISLAND GIRL.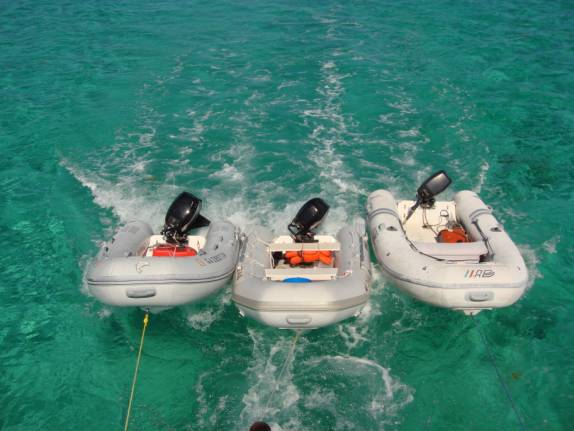 Scott and Mary Coles (MASCOT) were the other couple lucky enough to be guests this afternoon.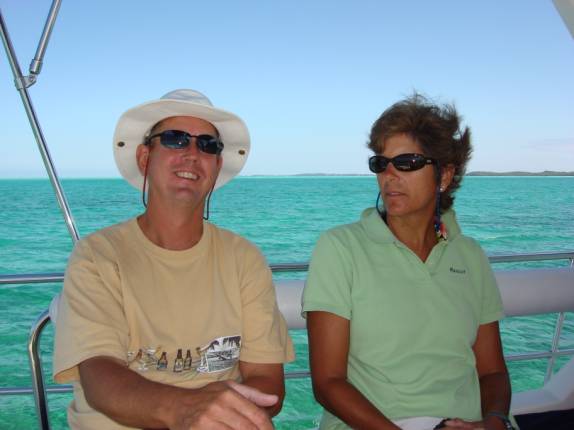 It was a gorgeous trip to Snake Cay about an hour and a half south.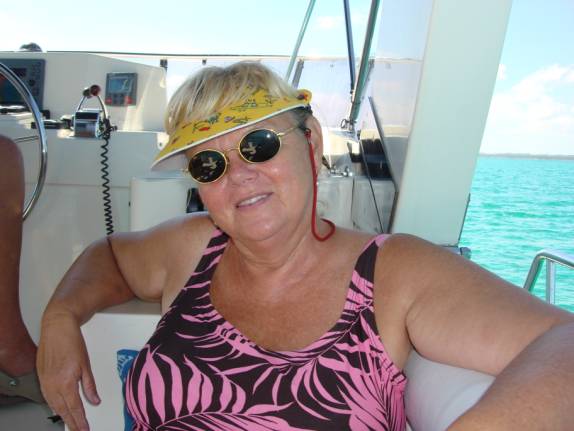 The other two boats were well anchored and their crews were in the dinghies anxious to begin exploring.
Jonathan led the mini-flotilla of 5 dinghies to the area behind and south of Snake Cay. The passage is very shoal and can only support the shallow draft of dinghies or kayaks. The meandering route is displayed in the Steve Dodge Guide to the Abacos.
The area behind the barrier is loaded with interesting features.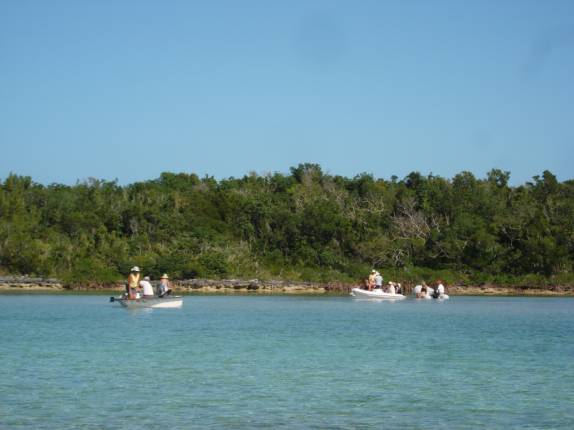 The shallows are home to various forms of sea life. Especially nice finds are the delicate 'sea biscuits'.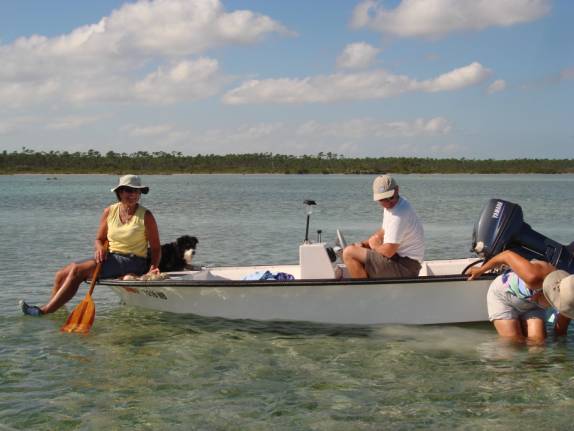 Don't forget to wear protective footwear. Sea Urchins can inflict painful wounds.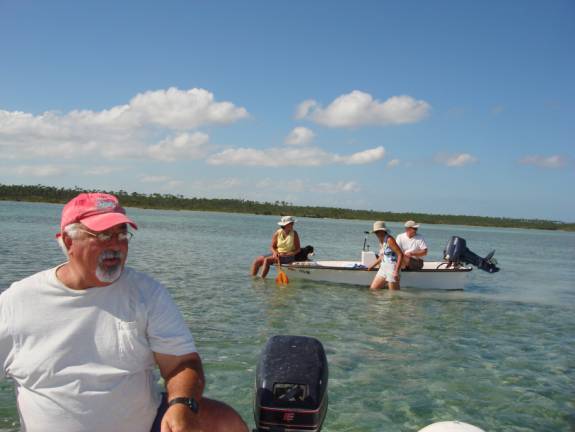 Scott holds his treasure find of a sea biscuit. When they are cleaned up and bleached white, they display unique and beautiful designs and features.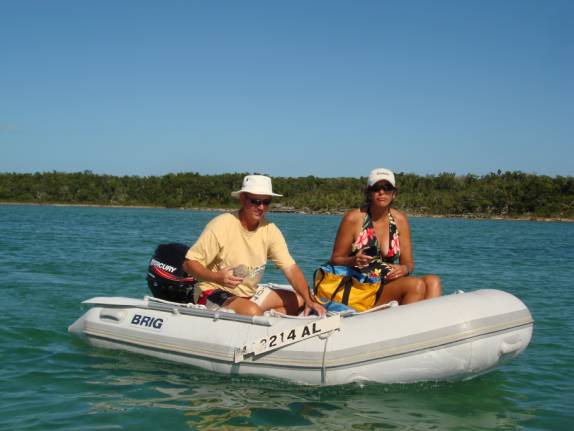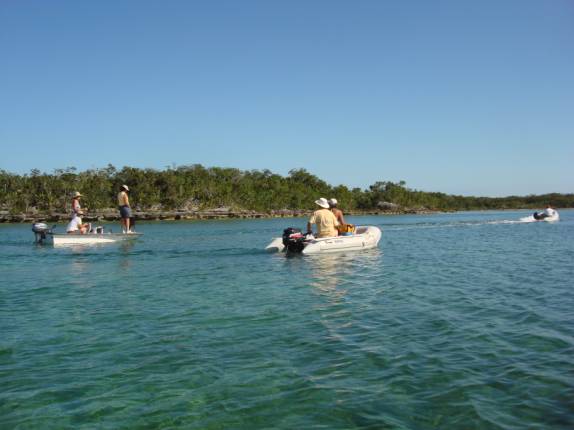 Judie maintains a bow watch and Sandi measures depths with the boat paddle.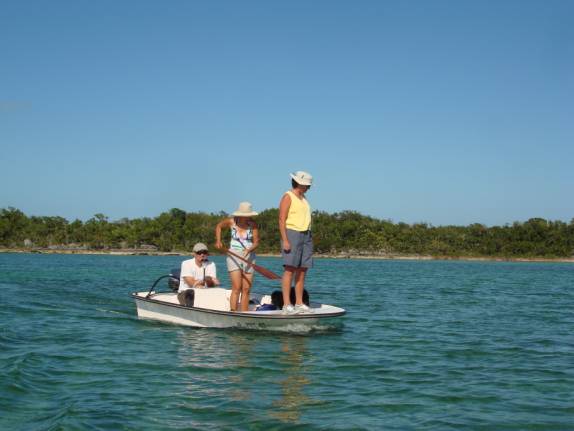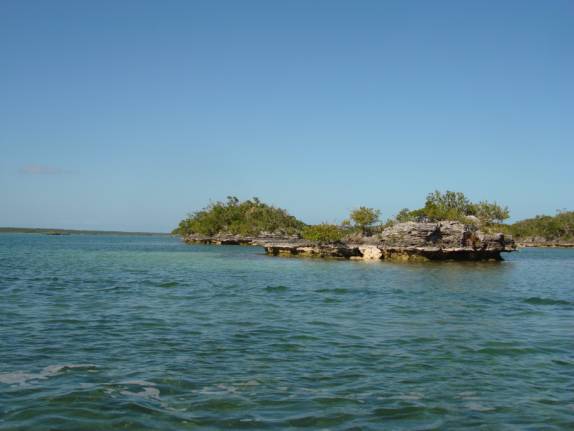 The rusted remains of an old industrial lumbering enterprise now litters the mangrove area. Once a thriving business on Great Abaco Island, the decaying remnants provide only a few moments of casual interest.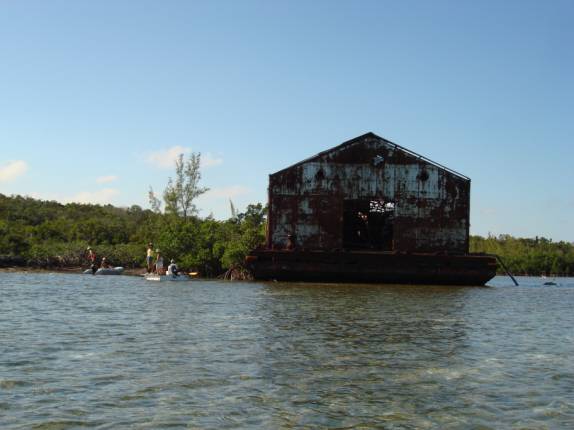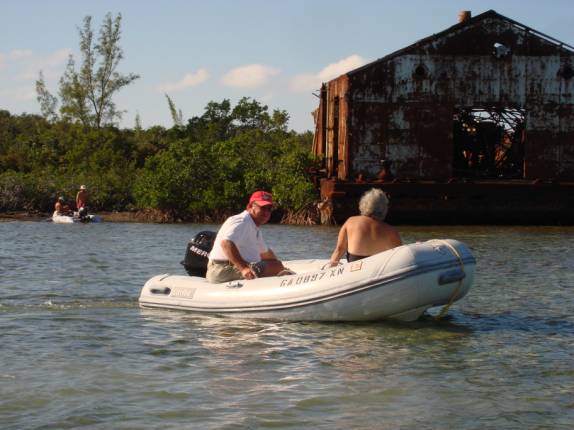 Upon our return to the mothership, SEA ISLAND GIRL, the guests were pleased to hear that Robert and Carolyn would head back to Boat Harbour with the dinghies in tow. Good news, we would have had to bounce a lot and would have been soaked. It was much more fun to enjoy snacks and drinks during the leisurely trip home.
Dock four hosted an evening cocktail hour. My leg was a bit sore from a busy day so I quit early. Judy said folks from Dock 5 came over to join in. What fun.
02/03/08 SUNDAY BOAT HARBOUR, MARSH HARBOUR, ABACOS, BAHAMAS
On Sunday mornings, Judy stays home and makes a special breakfast for "lil ole' me". The fresh waffles were topped with pecans and whipped cream and served with a rasher of bacon.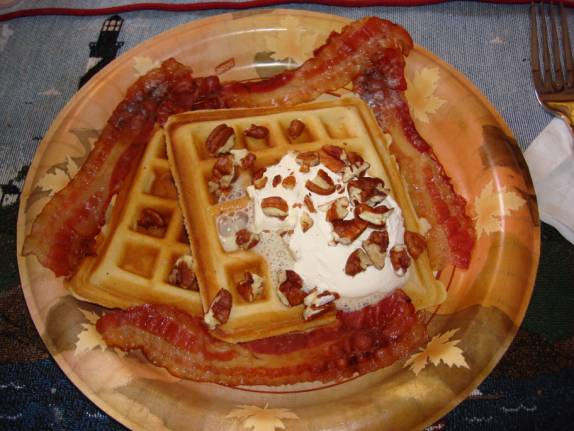 I spent most of the day taking care of the leg wound. I hope that the rest and elevation will help speed up the very slow healing process. The injury is about a quarter inch deep and continues to seep a little fluid. Fortunately, there is no apparent sign of infection. Once again, I am totally frustrated with the poor internet connections this year.
At 5:15pm, a group of us circled our reserved table to enjoy the Super Bowl Party. A burger and hot dog food service buffet was set up and drinks flowed from the pool bar.
A large screen was erected adjacent to the pool and a TV projector cast the picture large enough for everyone to see. It was an exciting game with lots of fourth quarter tension. In the end, the New York Giants took the honors over the New England Patriots. The local football pool chart showed Paul (ODYSSEY) choosing two of the lucky winning scores at both the 2nd Quarter and Half-time tallies. Dennis and Margo (PIZZAZZ) took home the big prize money as the Giants score of 17 exceeded the Patriots score of 14.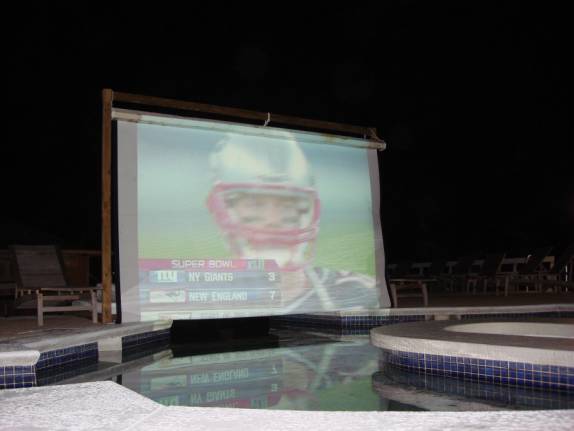 Giants' fans, Joe DeMaris and Eileen Ambrosini (ADAMAS DE MARIS), were thrilled at the final outcome.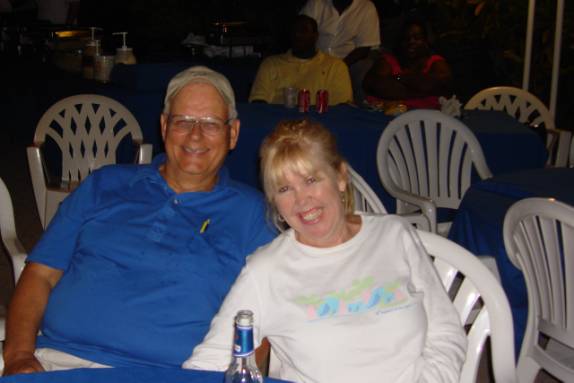 02/04/08 MONDAY BOAT HARBOUR, MARSH HARBOUR, ABACOS, BAHAMAS
A continuous string of great weather is spoiling the heck out of us. Calm and sunny conditions make life around the water fantastic.
I continue to try to rest and elevate my sore leg. The internet service is frustrating me with the miserable connections. A visit from Connie and Galen (R-JOY) did a lot to brighten my spirits. It is great to have friends like these as neighbors.
It didn't take much to convince us to do some dinghy exploring. Bob and Joyce (SHEETLESS) and Galen and Connie headed off toward Mermaid Reef. Robert and Carolyn (SEA ISLAND GIRL) lead the way to Matt Lowe Cay where construction continues on an exclusive marina development. Individual lots, complete with a 100-foot boat slip, are reportedly listed at around $5 MILLION dollars. Doesn't it make you wonder why only one of them has been sold? If you act now, they might be able to find something for your next home and boat.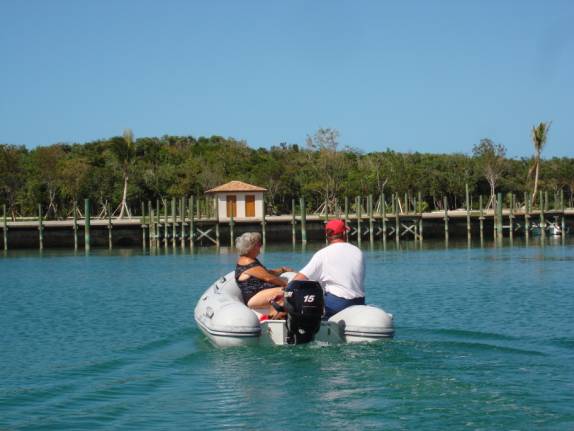 Yes, it is very nice. With the lot prices as such, we wondered what the homes might be like in the future.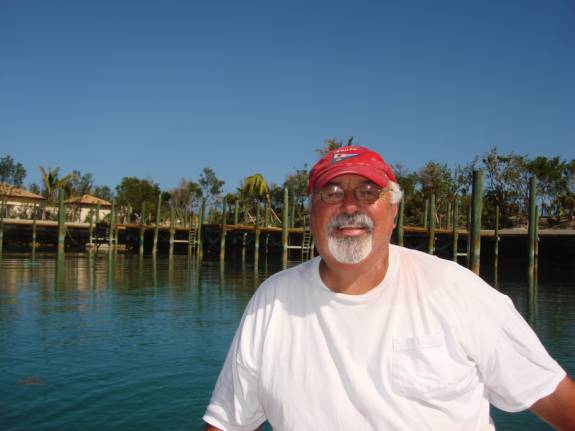 After passing Point Set Rock, Robert headed for Mermaid Reef. Judy and I headed toward the gap between Garden Cay and Sandy Cay that would allow us access to the entrance point for Man-O-War Cay harbour. We turned right and entered into the Eastern Harbour. This picturesque cottage lies nestled in the mangroves at the southeastern end of Eastern Harbour.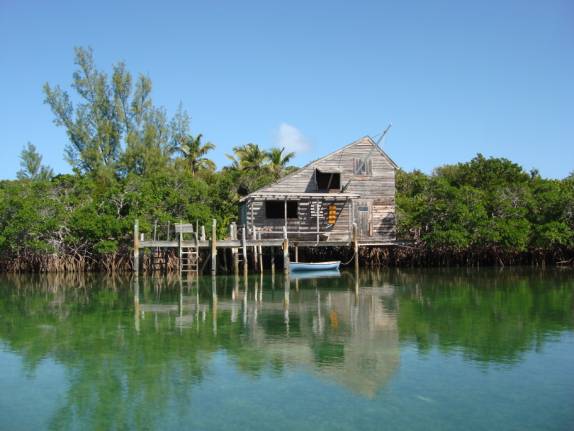 Numerous vessels rest peacefully on their moorings.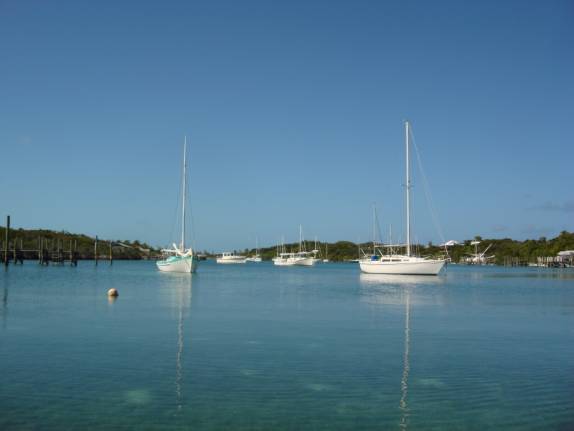 This lovely maintained vessel is a fine example of the classic wooden sailboats that were once built in a small, but thriving, industry. The Albury's have been a highly revered family group residing and working on this island for a great many years. Many a sturdy hull resulted from their skills and expertise.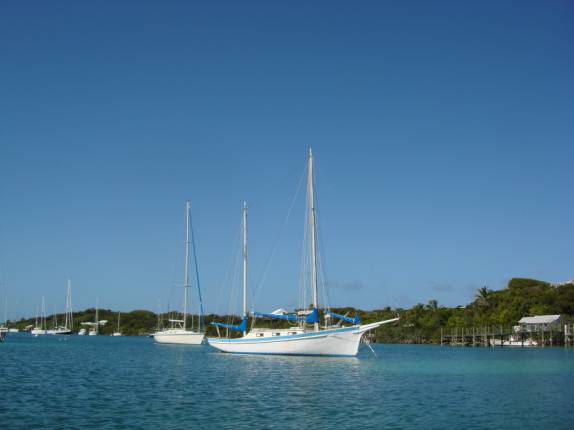 To the left of the entrance channel, the main harbour is the real heart of the island cay.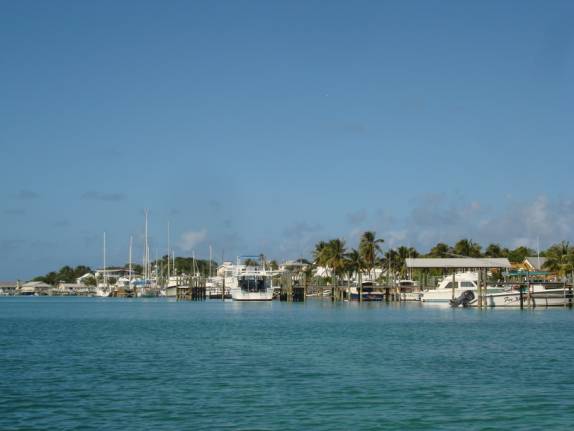 Albury's Sail Shop is more than a sail loft. They make quality canvas articles and bags for the active tourist trade.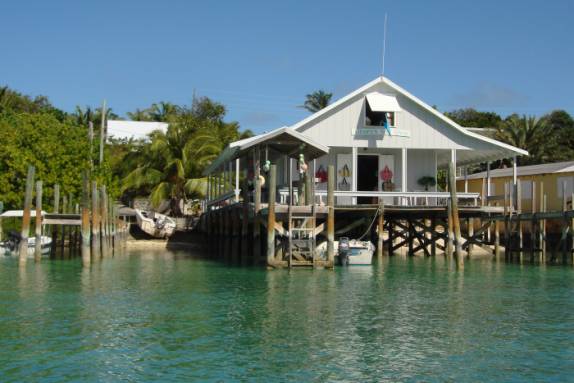 Albury's Grocery Store offers a large selection of essentials for the residents and boaters. We tied the dinghy up to the adjacent dock and strolled a little of the town. Many establishments were closed for a special funeral of a beloved citizen, Uncle Bill.
We found it interesting that, on Man-O-War Cay, there is no place to purchase beer, liquor, or drinking alcohol of any kind. Drinking is not prohibited, only the sale is restricted.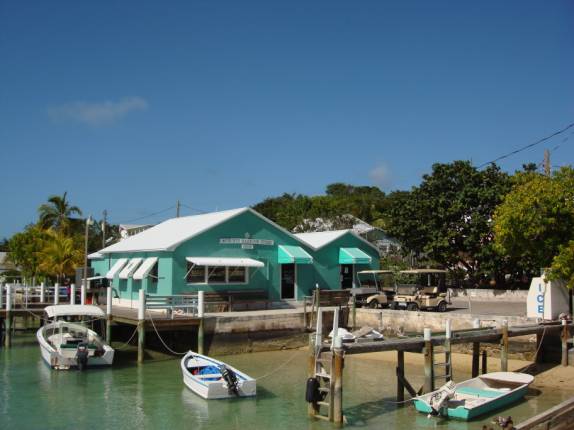 We headed out across the Sea of Abaco in the direction of Mermaid Reef. By the time we got there, our friends had already left. We zipped along at almost 20 mph. The channel that bifurcates Matt Lowe Cay and Sugar Loaf Cay from the main island was calm and comfortable allowing us good speed on our return to Boat Harbour. As we entered the breakwater entrance, the four dinghies were again together.
With almost still wind conditions, I was able to light the grill to cook a length of smoked sausage. With scalloped and applesauce, we were reminded of numerous, similar meals enjoyed at anchor.
At 7pm, the Farkle dice rolled aboard SEA ISLAND GIRL. Sipping after-dinner liquor, I managed to win my first game against these masters. It was already past Robert's bedtime when we left at 9:45am.
We are nearing the end of Season 3 of the Sopranos series.
02/05/08 TUESDAY BOAT HARBOUR, MARSH HARBOUR, ABACOS, BAHAMAS
We have been experiencing absolutely fabulous weather for some time now. There is a little more breeze today clocking around 15 mph. For some strange reason, the internet worked better today than since we've arrived here. I certainly don't understand it. I just know that it has been extremely frustrating.
Judy did the walk and I continued to take things on the easy side. The leg is still oozing a little. My favorite gal, Judy, put even more effort into the varnish work today. She will have it shining and beautiful real soon. It takes a lot of work and a lot of coats to maintain a nice finish.
Joe and Eileen have been anxiously awaiting the arrival of their dear friends, Tom and Madeline O'Mara, to join them aboard the ADAMAS DE MARIS. Jeff in Taxi #11 was on hand to bring them from the airport by early afternoon.
We decided to finish up Season 3 of the Sopranos DVD's this afternoon.
One of our favorite meals has become pan-grilled Tilapia Loins. With a squeeze of lemon and a side of Rice Pilaf, it is a taste sensation.
I think we are becoming addicted to the Sopranos. This evening, the first three episodes of Season 4 brought us up to bedtime.
02/06/08 WEDNESDAY BOAT HARBOUR, MARSH HARBOUR, ABACOS, BAHAMAS
A dominant high-pressure area is controlling the beautiful conditions throughout the Bahamas. With a breeze out of the southeast at 15 mph, the temperature climbed into the 80's. This has been great weather for the gal's walking time.
Amy, a US pediatrician that winters here in the harbour, took a quick look at my leg wound as a courtesy. Her opinion is that it looks OK, however, it might be well to have the local physician, Dr. Hull, take a look and perhaps he might have some special dressings to promote faster healing. Fortunately, there is no evidence of infection and keeping it elevated and clean will help. She says that Epsom salts are not particularly useful in my case since it might irritate some of the healthy tissues as well. Thanks for all the friendly advice, Amy.
While resting, I finished the book, "Artist On His Island". It excerpts from the journals and diaries of Randolph Johnston, his growing family's efforts to make a life for themselves in the relative wilderness of the Abacos Islands from the 1950's. I don't think that I would have endured as many hardships and sacrificed as much as they were required to seek his dream. It made for an interesting read and gave me insight into a different Abaco than we see today.
Wednesday is rib night at the Jib Room Restaurant. Seated at a table of six, Joe and Eileen introduced Tom and Madeline to the tradition of Marsh Harbour. Following dinner, the "Rake N' Scrape" music had the girls shaking more than a leg. Desmond was on hand to foster the energy.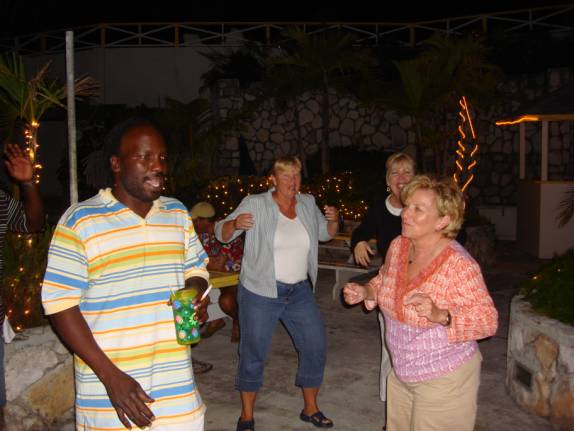 For Joe and Tom, the allure of wine and rum n' coke had more interest than dance fever.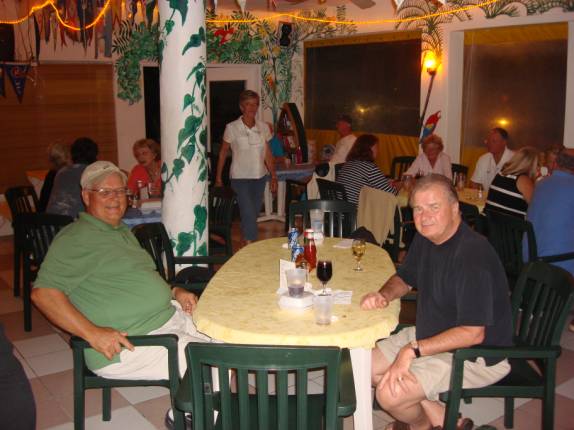 The wild trio gave new meaning to the term, "Shake Yo Booty". Eileen, Judy, and Madeline were having a great time together.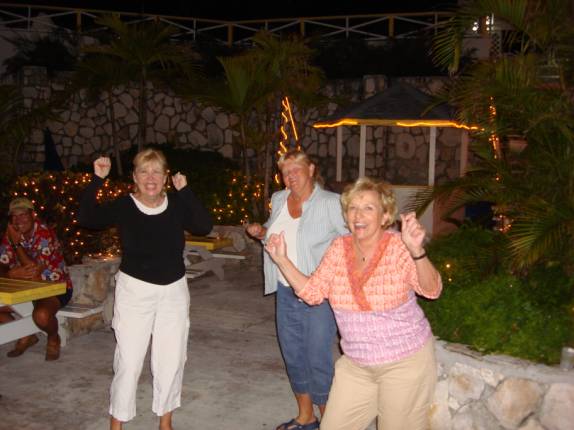 The sound of "Rake N' Scrape" is unique to the Bahamas.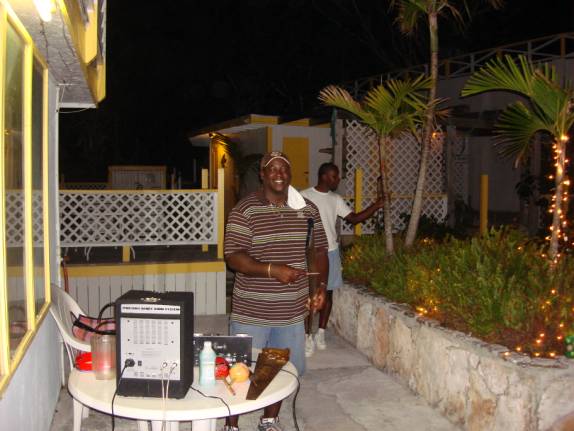 Need I say more?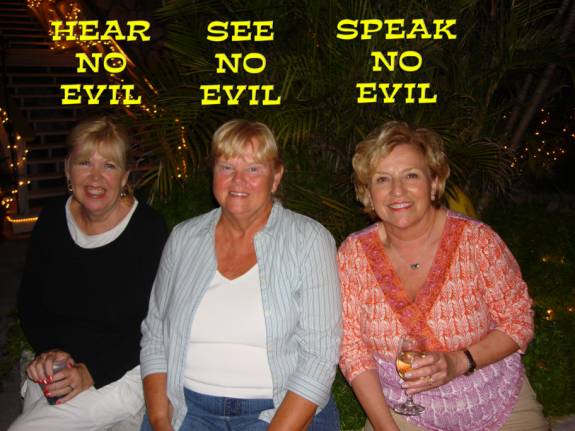 Do that limbo, girl, do that limbo!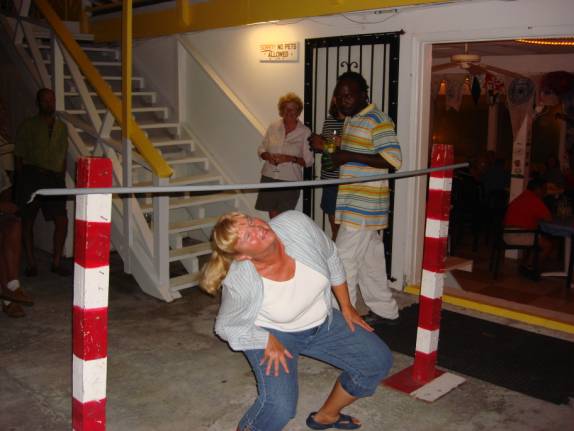 Madeline wouldn't do it herself so Desmond tried to carry her under the limbo stick.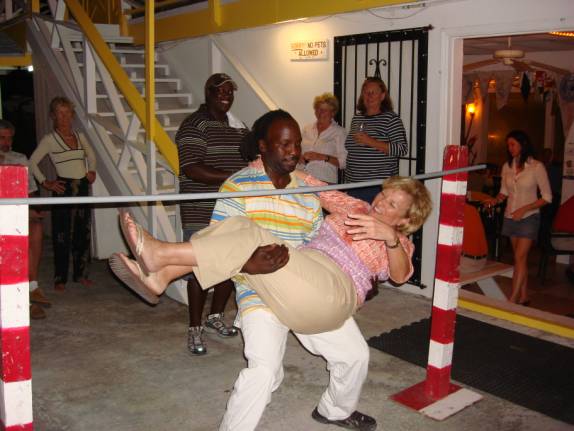 Desmond is the undisputed "Limbo King".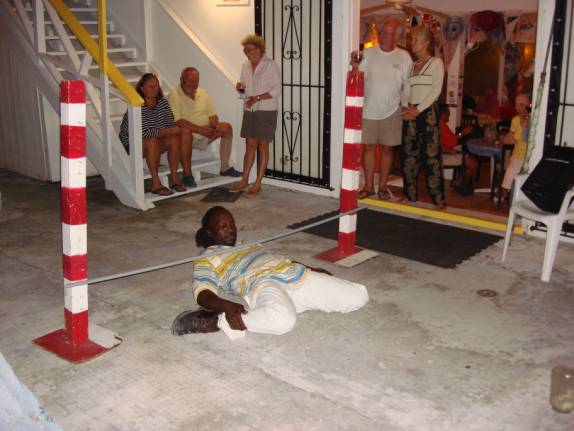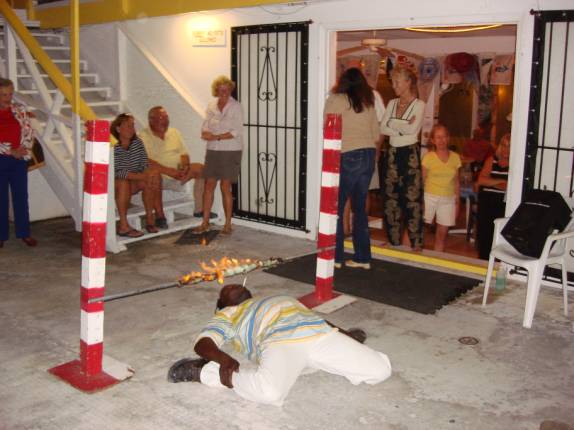 02/07/08 THURSDAY BOAT HARBOUR, MARSH HARBOUR, ABACOS, BAHAMAS
Another great day of fabulous weather was making the gal's walks most pleasant. Connie and Judy had been given some fresh lobster tails from some guys on the other dock. It seems that the girls were doing laundry and were ready to use the dryers. Those guys had not returned to pickup their stuff out of the completed dry cycle when the machines stopped. Being good neighbors, Connie and Judy removed and folded the clothes before putting their own laundry in. When the guys returned, they were surprised and appreciative. As a way of saying thanks, the guys said they'd been lucky and caught extra lobsters and gave them to the girls.
I agreed to do the cooking if someone else would make a store run to get some necessary supplies. Galin volunteered to ride his bike to Maxwell's Grocery. After 6pm and happy hour on the dock, I started dinner. Lobster is not something that you can prepare ahead of time. In about 45 minutes, the magnificent dinner was ready. I had begun by lightly sautéing finely chopped onion, sweet red peppers, sundried tomatoes, mushrooms, and bacon. After removing the shells, I cut the tails into cubes and sautéed them in a little butter. Using a pint of heavy cream and seasonings, I stirred together the entire list of ingredients into a savory cream sauce and spooned it over strands of linguine cooked al dente. With a little wine and served with a loaf of fresh baked French baguette, the meal was a tremendous success. I must admit, I don't know of anyway it could have been made better. Judy had made a fresh Key Lime Pie for dessert that topped off the dinner with a tropical flair. Our dinner guests, Galin and Connie Siler (R-JOY), seemed to enjoy every bite.
02/08/08 FRIDAY BOAT HARBOUR, MARSH HARBOUR, ABACOS, BAHAMAS
Today is the kind of day that remains in your pleasant memories for a long, long time. While Judy was out walking, Bob Williams (SHADE MOR) came by to invite us to join them today for a day cruise to Guana Cay. It was a perfect day and I was excited to tell Judy when she returned.
At precisely 11am, SHADE MOR gently and smoothly glided away from the end of Dock #5.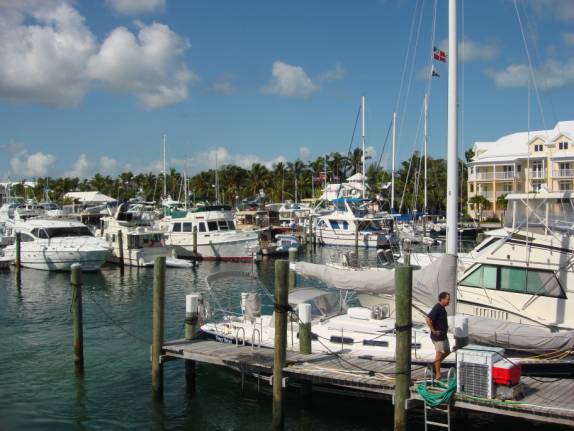 There were 44 very happy folks onboard for the delightful voyage of one and a half hours. The vessel is a wonderful 65-foot Hatteras Motor Yacht. We were amazed that even with that many people, there was absolutely no feeling of crowding. We had a couple of great seats on the upper deck sofa.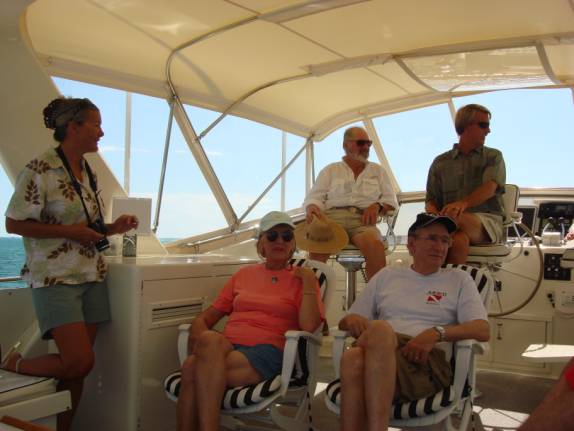 Captain Bob brought SHADE MOR smoothly up the dock at Guana Cay.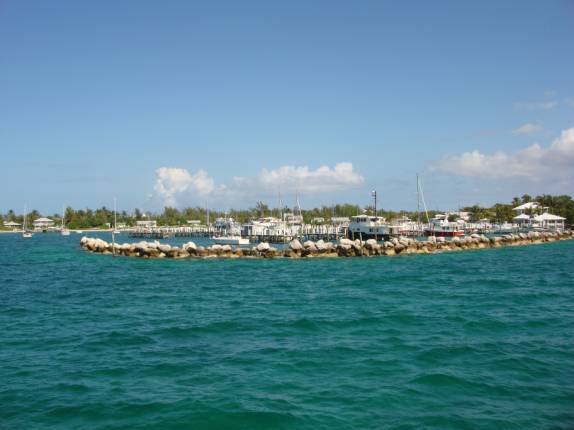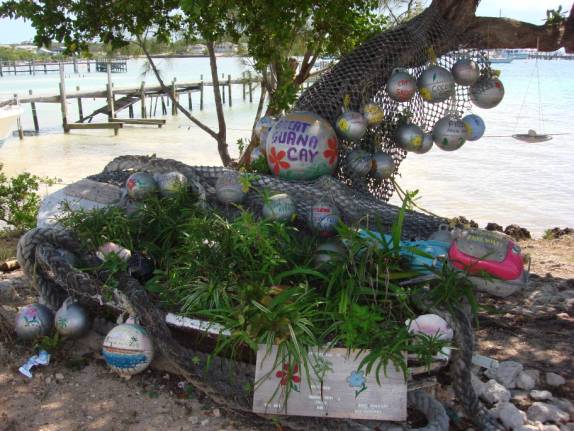 Our destination of the day was the world famous Nipper's Bar and Grill. Several golf carts had been dispatched to scoot the guests up to the restaurant. There are no cars on the island.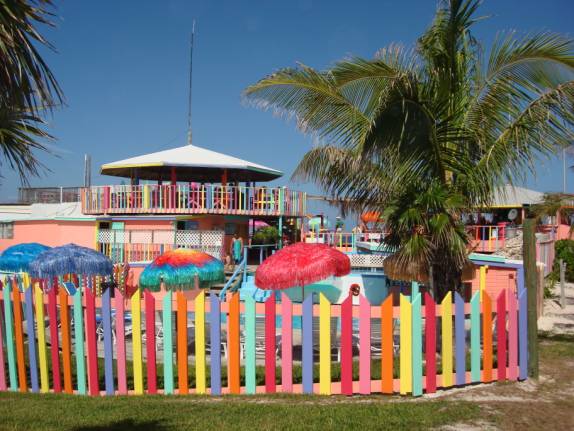 The views of the reef and the Atlantic Ocean are nothing less than spectacular from this hillside vantage point.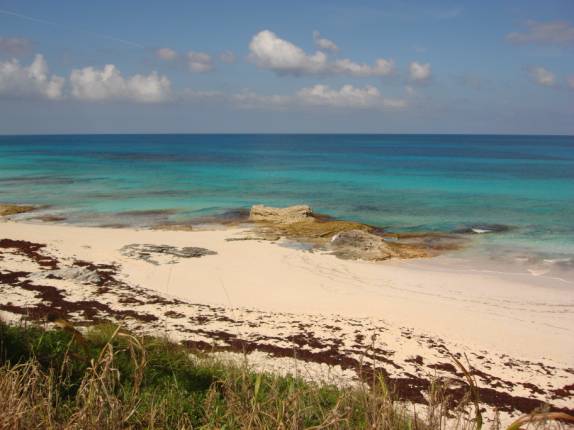 This is the kind of place your Mama warned you about.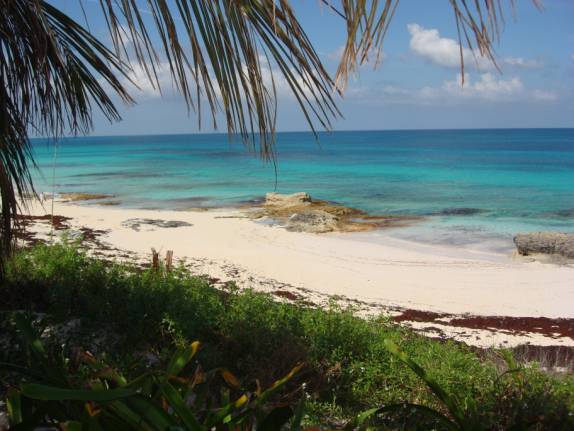 A great time with food and drinks enhanced our visit with wonderful friends under the shaded, rooftop seating especially reserved for the RMHYC group.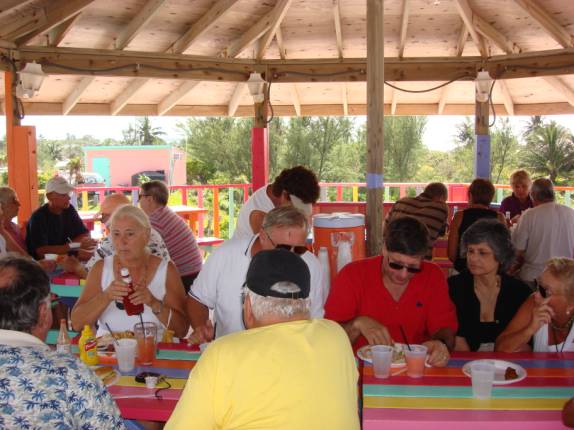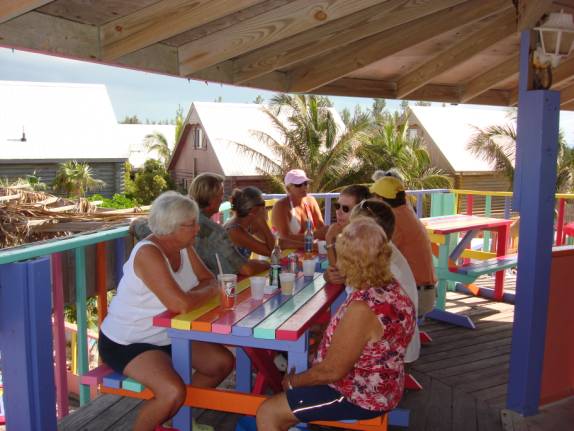 The soft, sugar-like sand beckons to be sifted through your toes.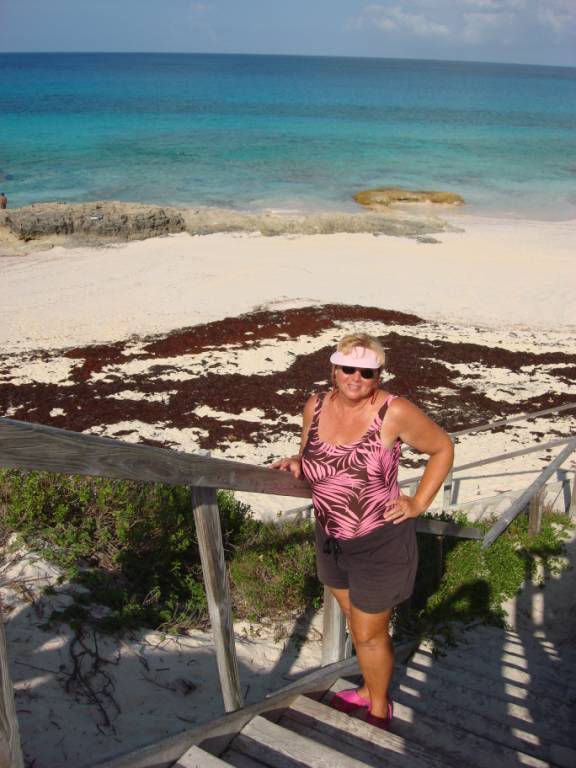 SHADE MOR waited patiently at the Guana Cay dock as the golf carts shuttled our group for our scheduled 3:45pm departure time.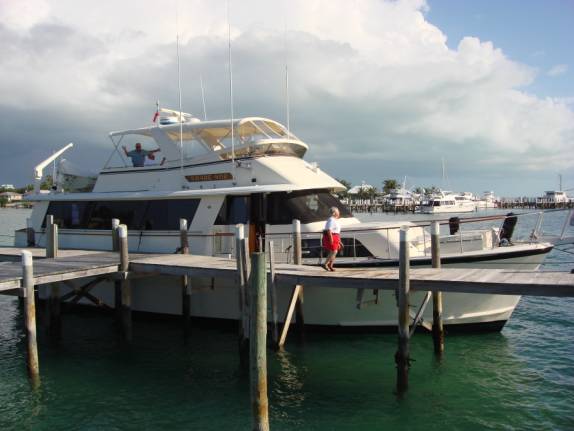 All of the guests had a wonderful time. Thank you very, very much, Bob and Judy Williams, for making this a permanently etched memory for us to re-enjoy at a mere moment's thought.
As we returned to AMARSE, I was able to capture this image of the "luminescent" Dave Bauereis, along with Bette, aboard their sloop, S/V TARHEEL.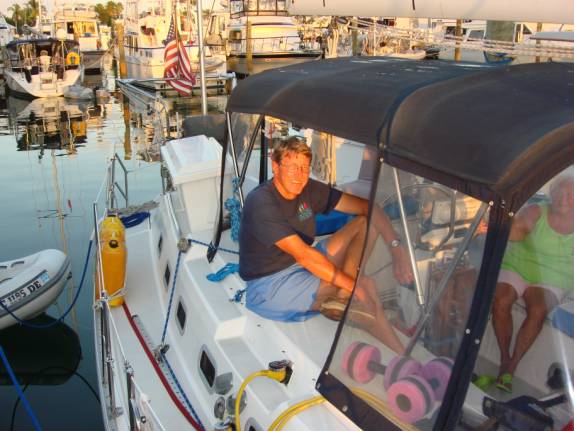 02/09/08 SATURDAY BOAT HARBOUR, MARSH HARBOUR, ABACOS, BAHAMAS
The fabulous weather held on for the morning hours. Judy enjoyed her walking group and we helped the S/V ADAMAS DE MARIS get tied up when she returned to her slip from an overnight trip to Hopetown, Elbow Cay.
A loud commotion on the docks had folks staring into the clouds looking at the strange funnel cloud associated with a waterspout. I managed to capture a few pictures of the distant cloud form.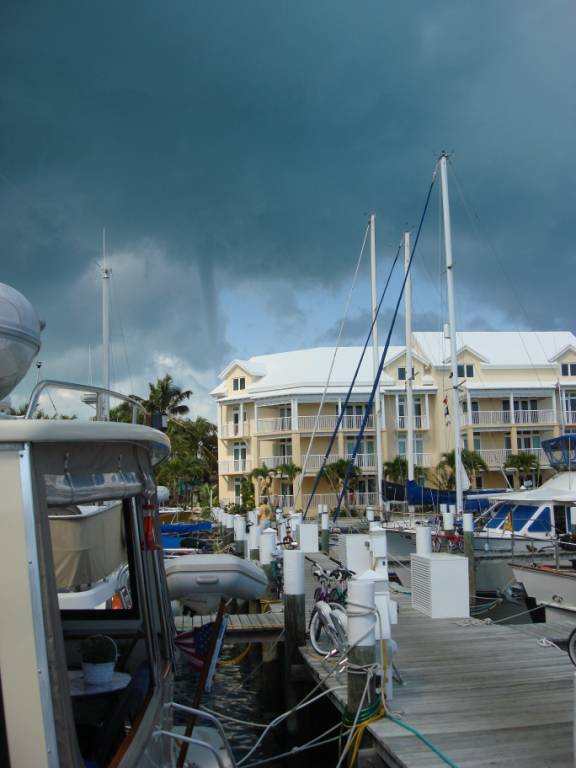 I hustled around the back of the condo buildings hoping for better view.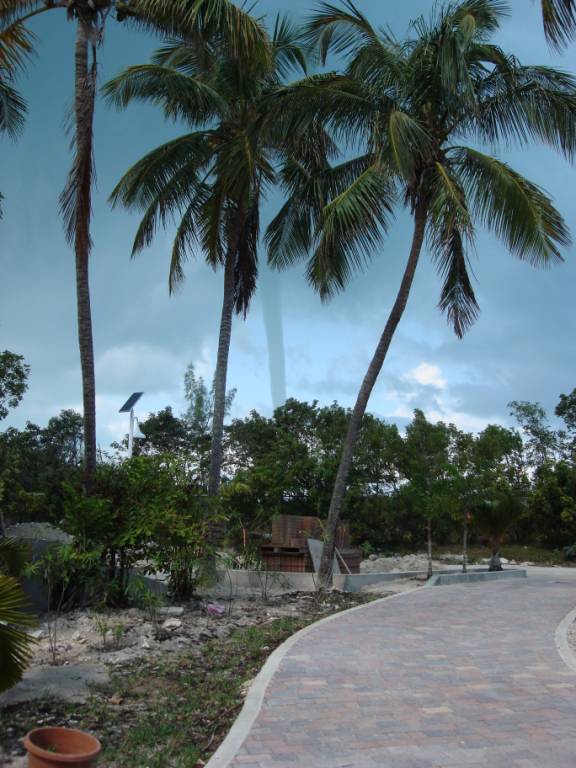 I was fortunate to be able to zoom in for this shot framed between the palm trees. Although they resemble the appearance of a tornado, these cloud phenomenons are only mildly powerful. They are formed in a different manner than tornadoes and lack the huge destructive power. Of course, boats and people are well advised to keep clear of them. Before very long, the formation dissipated and faded from sight. A short time later, very large water droplets began to fall and it rained a significant amount thereafter.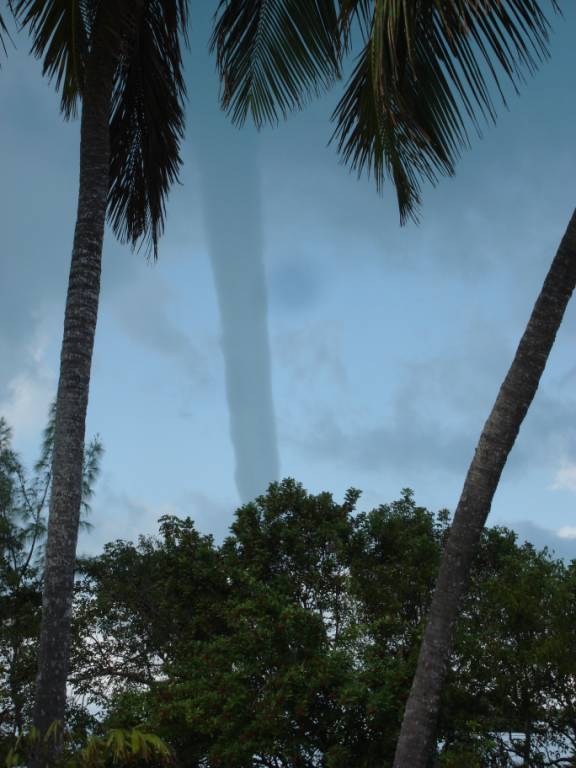 As the rain pelted against AMARSE, we rested in comfort watching our current TV series. Judy had requested a Mexican foods night and I was pleased to put together a dinner of Crispy Tacos and Burritos to satisfy her cravings.
Our continuation with the showing of the Sopranos continued in Season 4. It was somewhat amazing to note that after the rainstorms, the skies had a partial clearing and the evening winds were totally calm. There was nary a ripple to be seen on the harbour waters.
02/10/08 SUNDAY BOAT HARBOUR, MARSH HARBOUR, ABACOS, BAHAMAS
Overnight, the frontal weather boundary evidenced itself with the 5:30am switching of the wind to its Northerly component. Fortunately, Boat Harbour is so situated as to provide excellent protection from these fronts.
Once again it is Sunday morning meaning that Judy stays home and fixes a special weekend breakfast. She gladly fulfilled my request for her special French Toast.
A chunk of beef was placed in the crock-pot along with some course cut onions. We visited our friends on ADAMAS DE MARIS for a while before Judy pumped out the many gallons of rainwater that had collected in the dinghy. I opened up the wrapper from the Elton John 60th birthday album. We enjoyed listening to a bit of it. The music is good but much of Elton's flamboyance has been lost to age.
The Skype connection was pretty good from the upper helm bridge. We chatted with family that we could reach.
At 5pm, a group of musically talented cruisers join together in a jam session to have a friendly pickin' n' grinnin' time. Something happened to make it a production. The Marquis Tent was approved for the venue due to inclement weather forecasts.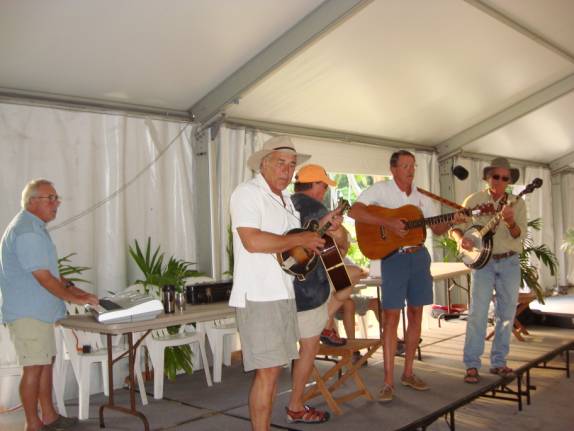 Lots of fellow boaters came to support their musical brethren and turn this thing into a party. Loads of snacks and hors' dourves (some elegant) began to arrive along with brimming glasses of libations.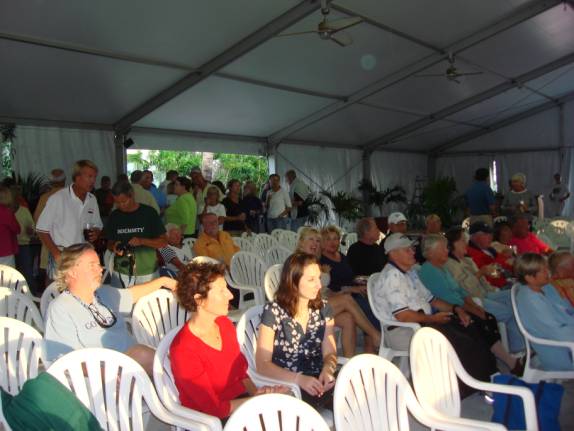 Judy Williams joined in keeping the rhythm with the soothing tones from the "Magic Green Egg" marimba. Shake it, Judy, Shake.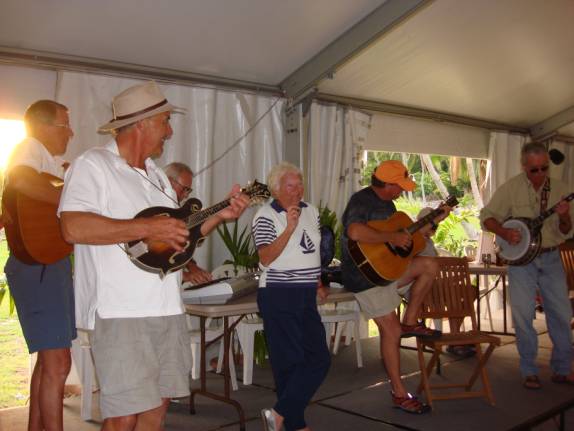 And now, Live from Radio City Music Hall, the fabulous "Rockettes" chorus line. One, Two, Three, Kick! One, Two, Three, Kick!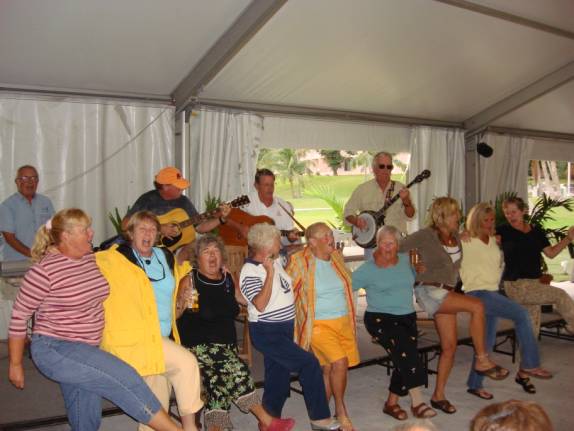 Jim Fenn led the audience group in a sing along of old standard tunes. The original intent of the get together had changed significantly, but, I for one had a wonderful evening and I thank the musicians and everyone that helped make me smile and have a good time. To me, that's what this is all about.
When Madeline and Tom O'Mara (guests aboard ADAMAS DE MARIS) got their bar tab at Angler's, I think I overheard their conversation this way…..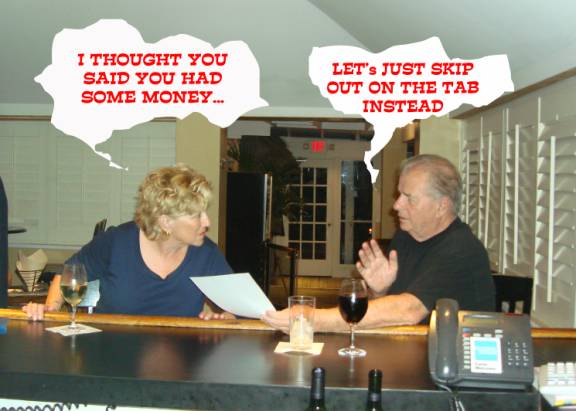 This concludes this edition of the AMARSE Update logs. We hope you will join us again soon for lots of continuing adventures during the month of February.
POST SCRIPT:
We sincerely hope that you will review the previous years of compilations to give context to the current editions.
Please let us know if you have any special suggestions and thoughts.
We thank those of you who have contacted us recently.
REMEMBER: The website is now fully active and you can visit it at any time. You can review any of the 2006, 2007, or the upcoming 2008 logs and learn more about the crew and our plans. Enjoy.
ATTENTION: SPECIAL NOTE:
You may contact us via email. Our cell phones have been turned OFF. We do have occasional SKYPE connections at 'amarse1'.
"AMARSE". is pronounced "AM-ARE-SAY". Our website is: www.amarse.net .
Lot of Love,
Fred Reed and Judy Law
AMARSE
MT40