UPDATE# 5
02
/11 thru 02/20/08
Howdy Everybody,
The new adventures of 2008 from 1/1/08 through 2/10/08 have been published on the website previously. We continue with the latest edition, UPDATE 2008 # 05.
UPDATE 2008 #05 02/11/08 through 02/20/08.
At last update, AMARSE was at our winter home at ABACO BEACH RESORT and BOAT HARBOUR, in sunny Marsh Harbour, Abacos, Bahamas.
02/11/08 MONDAY ABACO BEACH RESORT AND BOAT HARBOUR, MARSH HARBOUR, ABACOS, BAHAMAS
HAPPY BIRTHDAY, GALEN SILER.
In keeping with her exercise routine, Judy headed off with the girls on the morning walk. After a short rest, she went over to ODYSSEY to help her friend, Sue Graham, with her jewelry making projects.
I spent most of the day working on Updates and Logs for the website. This is good work for me, as I still need to keep my leg elevated as much as possible. It is getting better but the progress is extremely slow.
At 5pm, we gathered on dock #4 for a party celebration for Galen Siler from R-JOY. Judy did the cake decorating.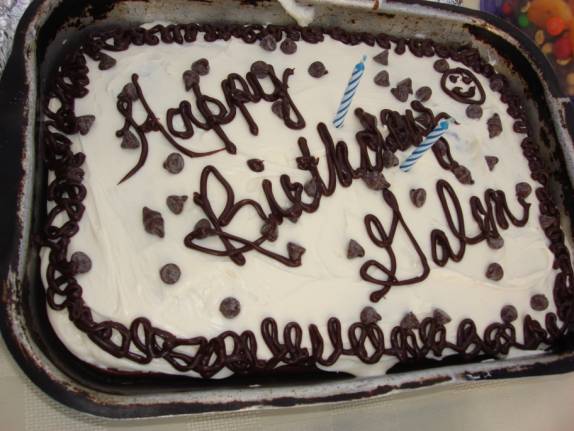 Galen and Connie Siler (R-JOY) celebrating his birthday.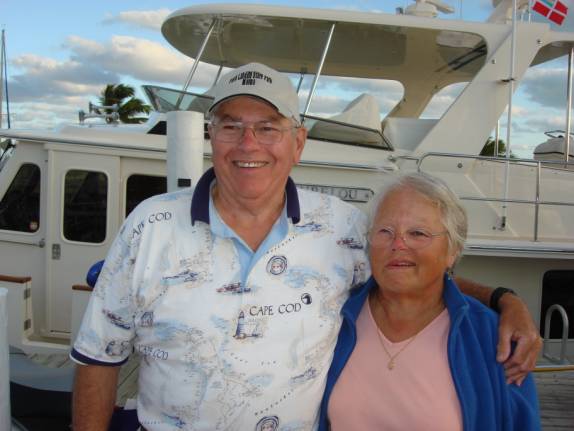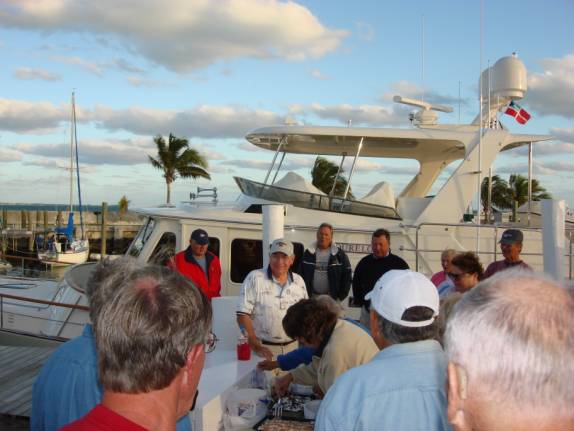 Bill Tweedle from CONCH PEARL made this little bird ornament by cutting and bending a palm frond. Galen loved his gift.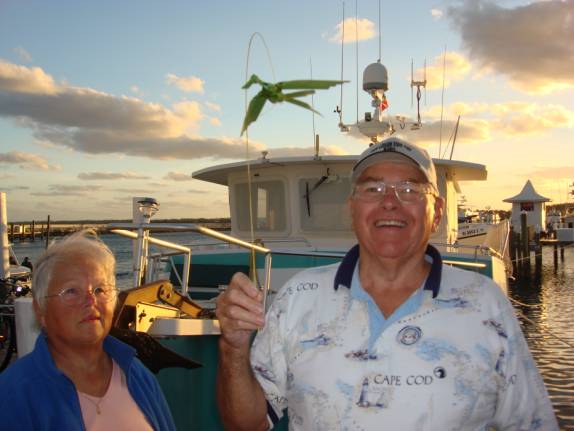 02/12/08 TUESDAY BOAT HARBOUR, MARSH HARBOUR, ABACOS, BAHAMAS
It was quite windy with occasional rain showers throughout the day. Judy managed to get her daily walk in.
Dr. Amy (KIMBERLY ANN) came by for another look at my leg wound. Again, she highly suggested that I see the local physician, Dr. Hull. We walked to the office and waited about 2 hours. I must say that I am very impressed with his skill and demeanor. He takes plenty of time so ensure that you understand all the factors that affect your condition. He then used a scalpel and tweezers to remove non-productive tissue that was down deep and hiding under the edges. The increased blood flow should foster better healing. The good news is that no infection was evident and I won't need to take antibiotics right now. The doctor explained that when the body senses a wound, it instructs the kidneys to release more salt and allow the retention of fluids in anticipation of a loss. The result can be increases in fluid build up in the legs called edema. This condition can result in the decrease of circulation. Dr. Hull recommended that I wear a compression sock to help reduce the fluid buildup and promote the circulation that will enhance healing. Dr. Hull's office is in the Memorial Plaza in Marsh Harbour. If you need medical attention, I highly recommend that you see him.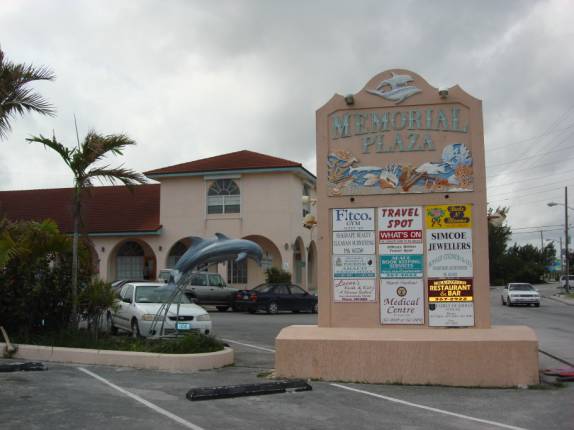 While in town, we looked for compression socks to no avail, bought some bandages and medical supplies, and did our grocery shopping.
02/13/08 WEDNESDAY BOAT HARBOUR, MARSH HARBOUR, ABACOS, BAHAMAS
Our meeting with Kevie, the resort activities manager, was postponed from 9am to 9:30. As we stood in front of the office, Judy saw a small boat that appeared to be bumping into AMARSE's bow. We ran out to assist only to find that the runabout had lost power and was blown in against the pilings with its t-top caught on our bow anchor. Fortunately, there was no apparent damage to either vessel.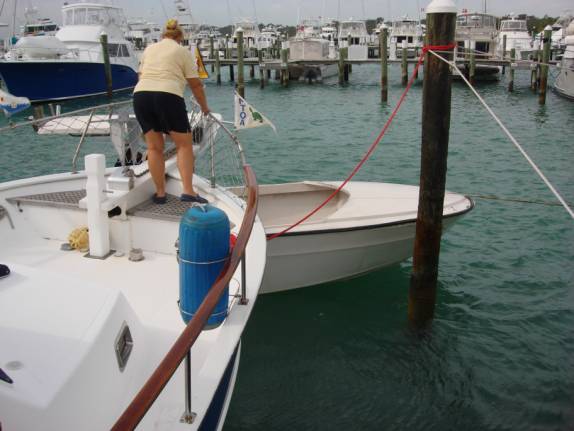 The dockhands managed to pull it free using this Boston Whaler. All's well that ends well.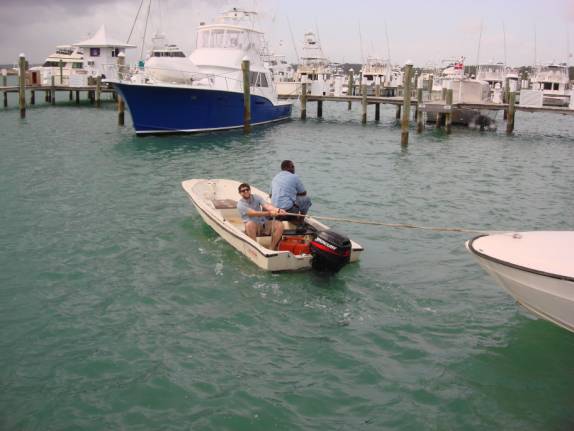 Along with Jim Fenn (FENNDERS), Judy and I proposed the meal menu and setup for the March Sock Hop party. Kevie will coordinate and price the suggestions and get back to us.
Judy was at ODYSSEY doing jewelry making while I rested my leg. We had been unable to find any compression stockings in town so I have been using an ACE bandage to provide the tension and compression helping to control the edema.
This afternoon, the Annual General Meeting was called to order. A large number of members attended the event. Fred and Sherry from CHIPKA FIRE III, a fabulous center-cockpit Island Packet, were on hand to get the latest club news.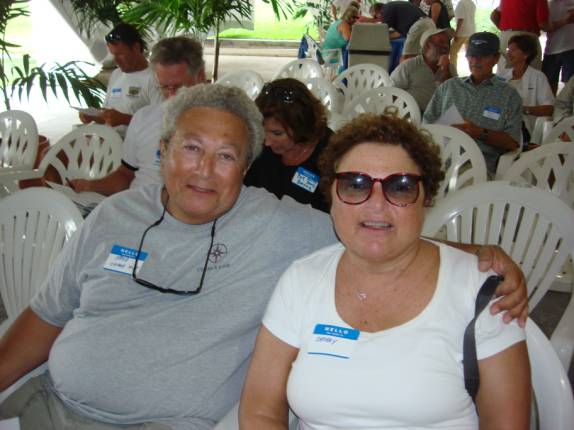 The members of the "Bridge" gave their annual reports to the membership.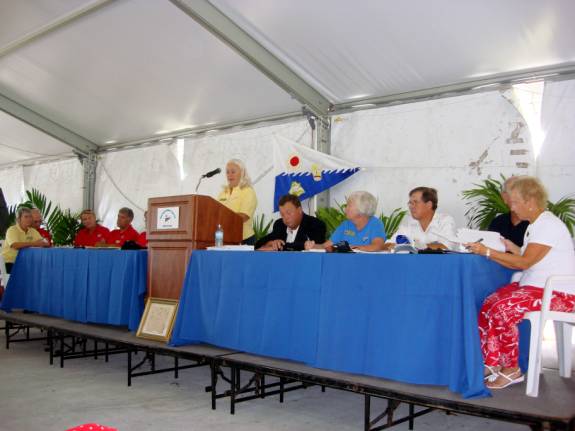 Vice Commodore, Margo Caldy, (PIZZAZZ), guided the meeting under the direction of Commodore Robert Wilson (SEA ISLAND GIRL).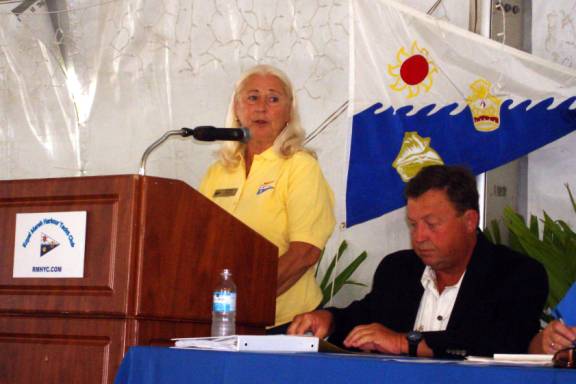 After many years, Linda Gassman (LINDA G II) resigned from her role as Rear Commodore of Membership. We owe Linda a special debt of gratitude, as she was our guiding light into the yacht club. We had met her in the Solomons, Maryland where she touted the joy of membership and gave us our application papers.

Linda (L) stands with Margo as Commodore Robert reads her the well-deserved award certificate. Thanks, Linda!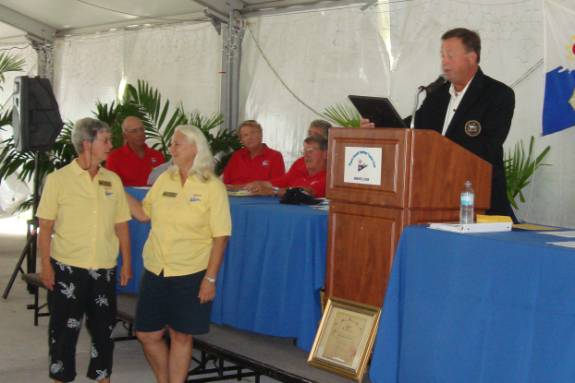 This is the Bridge for the 2008 year.
(Front L-to-R) David Bauereis, Karen O'Brien, Rich Fickes, Jim Fenn, Ray Vallerie.
(Rear L-to-R) Ted Baker, Margo Caldy, Commodore Robert Wilson, Kathy Fenn and Rita Wieczorek.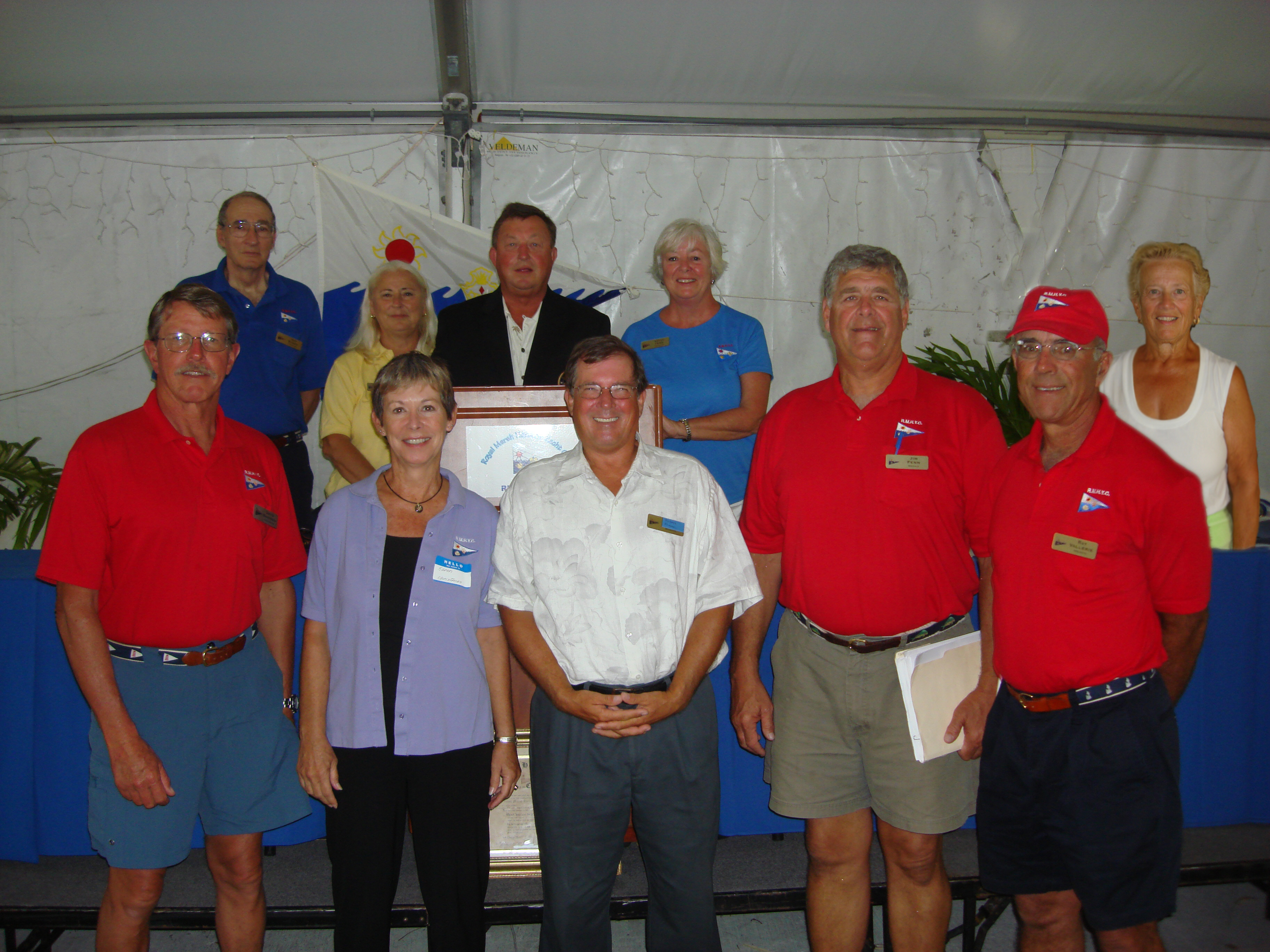 Following the meeting, Steve, Paul, and Tom served soft drinks and wine. Cheese and cracker trays were provided for snacking.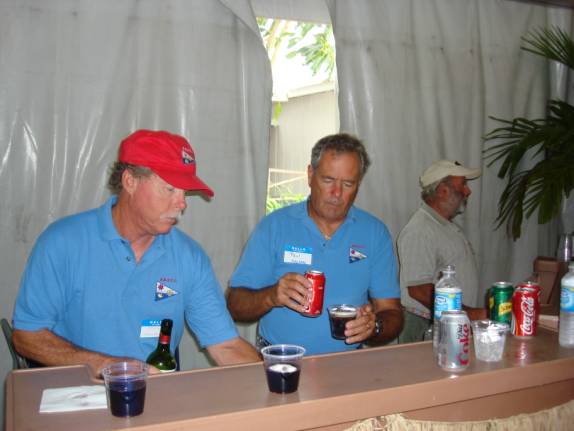 Later that afternoon, I watched the cartoon DVD feature of ROBOTS. Judy was busy working on the jewelry projects aboard ODYSSEY.
02/14/08 THURSDAY BOAT HARBOUR, MARSH HARBOUR, ABACOS, BAHAMAS
HAPPY VALENTINE'S DAY
Another gorgeous day greeted the Abacos this morning. After her morning walk, Judy and I put the dinghy atop the sunroof with the able help of Paul Graham. Paul is always ready, willing, and cheerful about helping the fellow boaters.
While Judy and Sue crafted the jewelry items, Paul got us sandwich lunches from the Corner Deli and served them in the pilothouse of ODYSSEY. You should see downstairs, the tables are full of jewelry stuff. It is fun to see Judy and Sue having so much fun together.
As you know, I've been frustrated with lousy internet connections here. Paul rode his motor scooter into town to pick up a WiFi Booster for me. Hopefully the pricy little item will improve our service and slow down the stomach acids.
I submitted the pictures of the AGM to Rita (MAGNUM OPUS) for use in the newsletter.
We were right on time for our dinner reservations at The Angler's Restaurant here at the Abaco Beach Resort. We were fortunate to be seated with Robert and Carolyn Wilson (SEA ISLAND GIRL). Judy and Carolyn are the real flowers in this picture.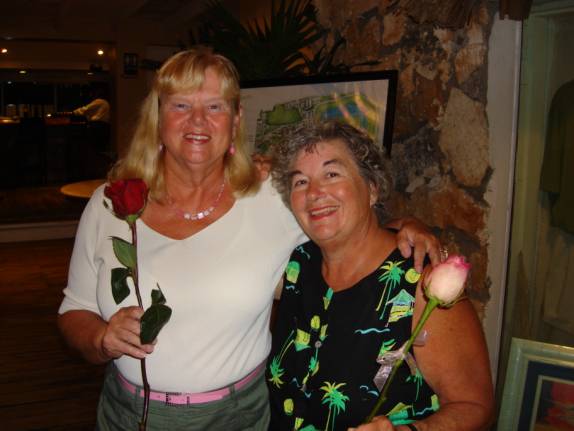 For us, everyday is Valentine's Day.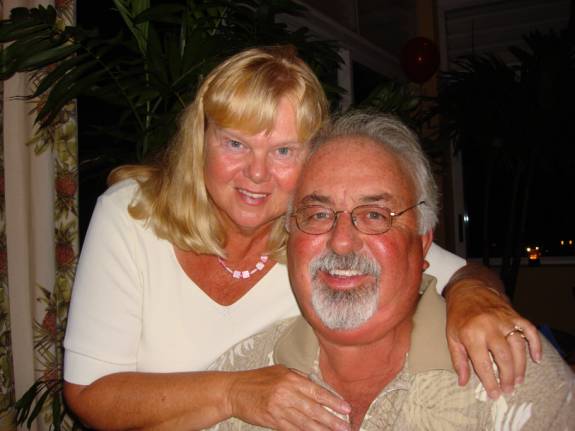 The resort chefs prepared a wonderful and special menu for this Valentine's celebration. Starting with a fresh Lobster Bisque and followed by a Carpaccio of Tomato and Mozzarella, the main entrees of Lobster or Filet Mignon were wonderfully presented. Set on the dessert plate was a richly decedent chocolate treat resting on decorative raspberry swirls.
Robert and Carolyn have so much to smile about, the best being each other.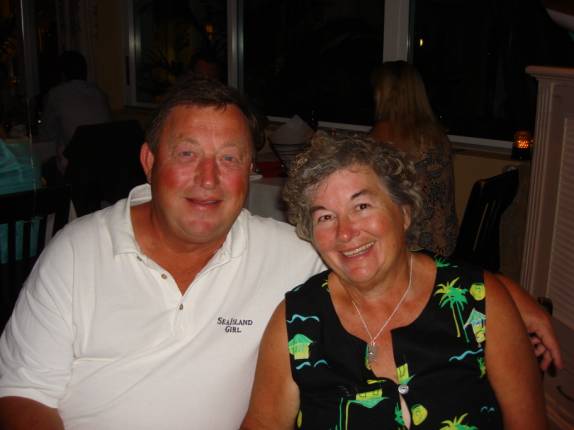 Madeline and Tom O'Mara (front) and Eileen Ambrosini and Joe DeMaris enjoyed dinner and wine at their table.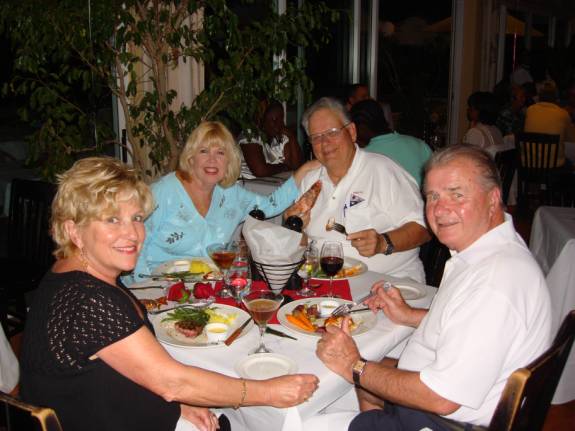 Judy is my very special love and Valentine's dream. She always makes me feel like I'm the luckiest man in the world.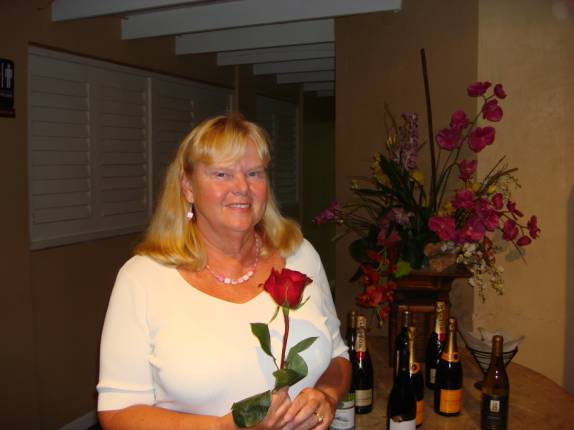 Back aboard AMARSE, we enjoyed the first two episodes of the Sopranos DVD, Season 5 series.
02/15/08 FRIDAY BOAT HARBOUR, MARSH HARBOUR, ABACOS, BAHAMAS
The daytime was occupied with walking and jewelry making for Judy.
Here in Boat Harbour and with the Royal Marsh Harbour Yacht Club, the days go by but the parties never end. Tonight was the Big One. The Commodore's Ball was the spectacle that everyone was waiting for. The event has been sold out for weeks now and those fortunate enough to get some of the 166 tickets donned their outfits to represent the theme of "Black and White". Now in this yacht club, it doesn't necessarily mean society dinner styles or tuxedos and gowns. If you wore anything in Black and White, you were in good company. Many were elegant and all were tasteful.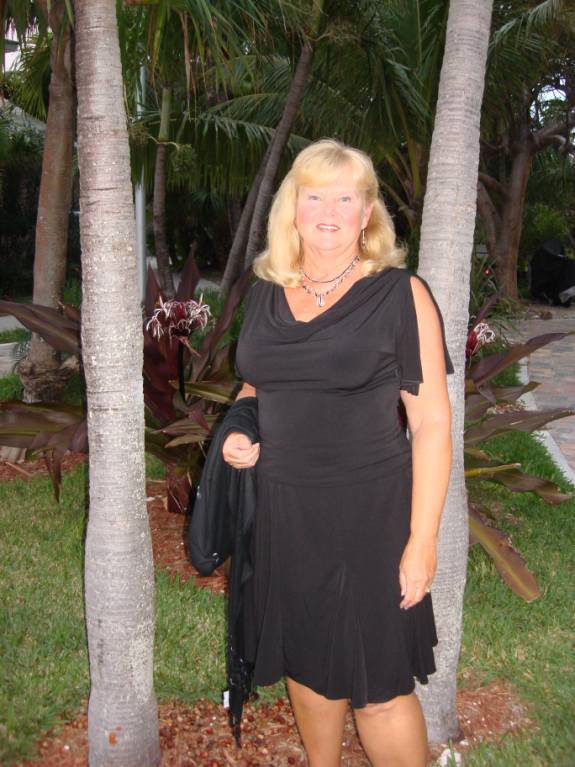 Judy and Rita Wieczorek (MAGNUM OPUS) represented and defined the elegant.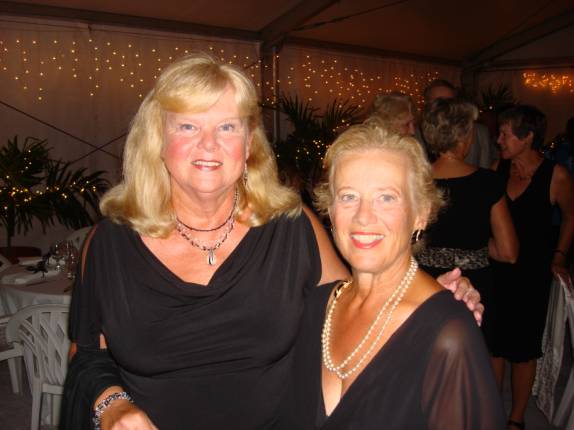 Robert and Rita Wieczorek (MAGNUM OPUS) are always very active and they are adored by all the members of the RMHYC group.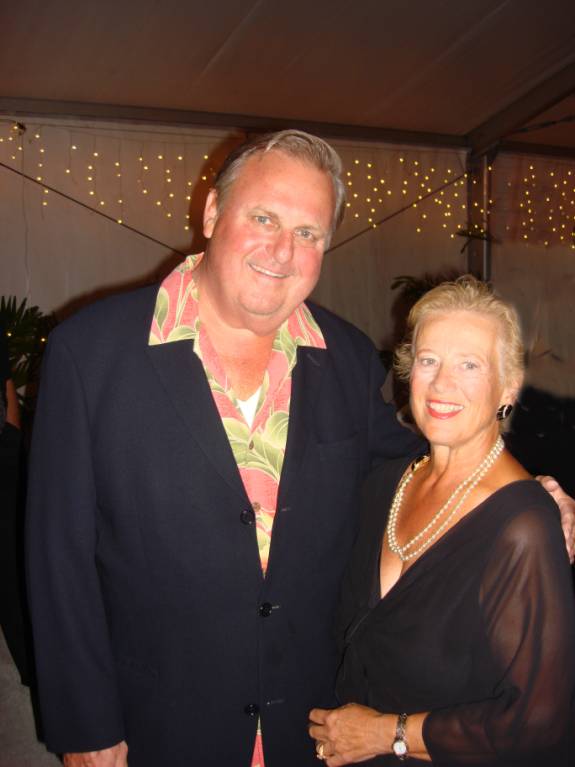 Fred Reed and Judy Law (AMARSE) enjoyed the entire "black and white" theme event.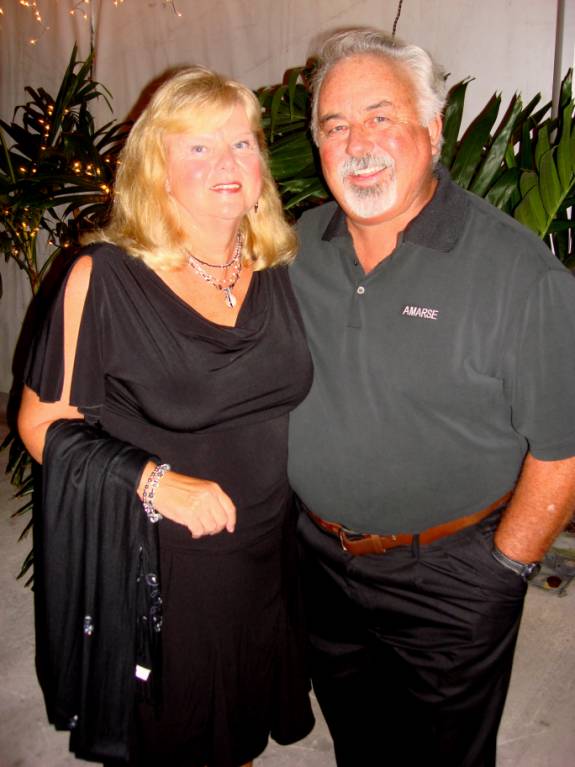 The decorative arrangements gave the Marquis room a light and charming flair.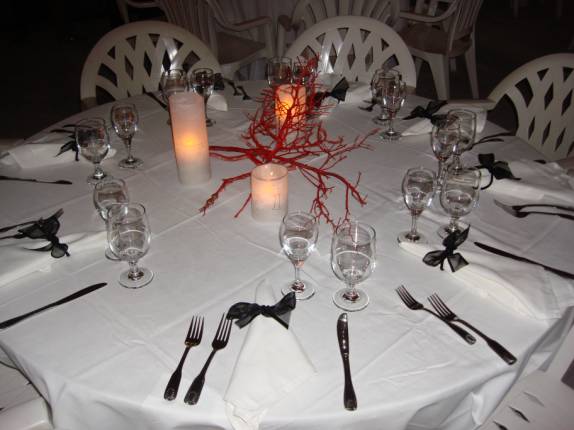 Bob and Judy Williams (SHADE MOR) always spread happiness and cheer with their delightful smiles.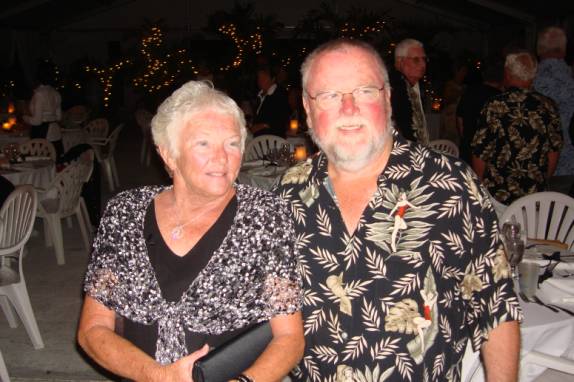 While maintaining the Black and White theme, Jim Fenn (FENNDERS) dressed with a unique, nautical style. An avid fisherman, Jim always manages enough time and energy to direct all of the club's social events. You gotta love his style!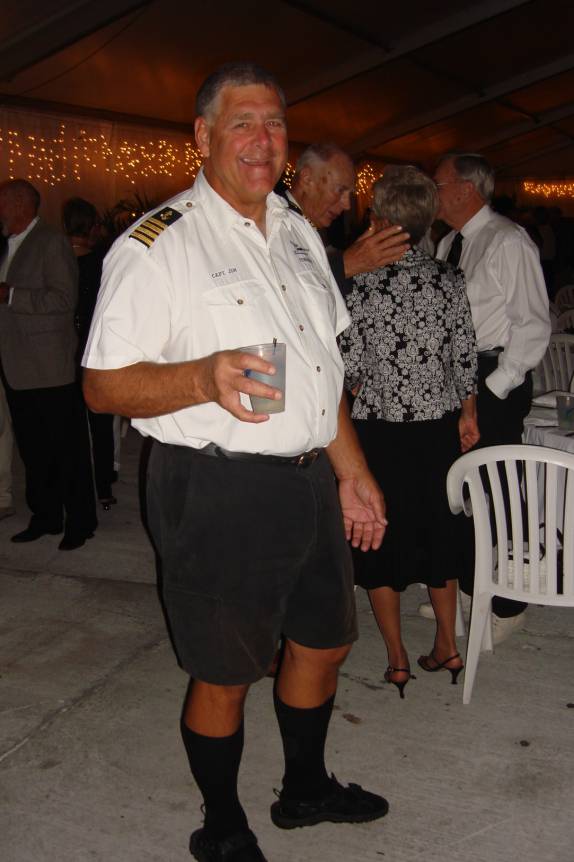 Joe, Eileen, Tom, and Madeline savored the Chicken Marsala dinner, enjoyed the wine and cocktails, and danced the night away to their favorite tunes.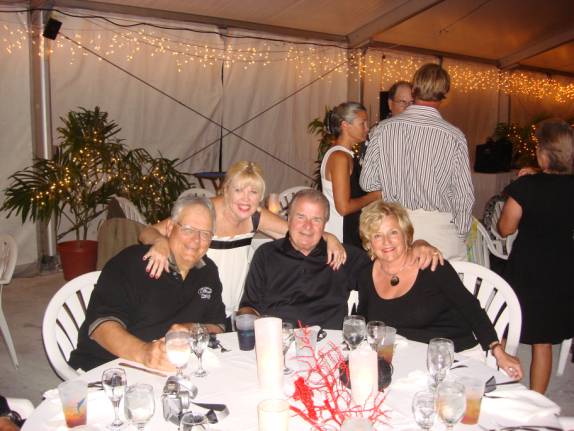 With a beautiful babe on each arm, Paul Graham is the envy of the crowd. What do you think he's got to make these gals smile like this?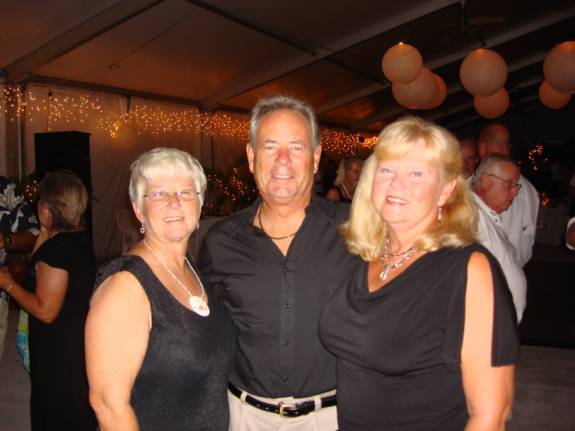 As the music played on, the dancers filled the floor.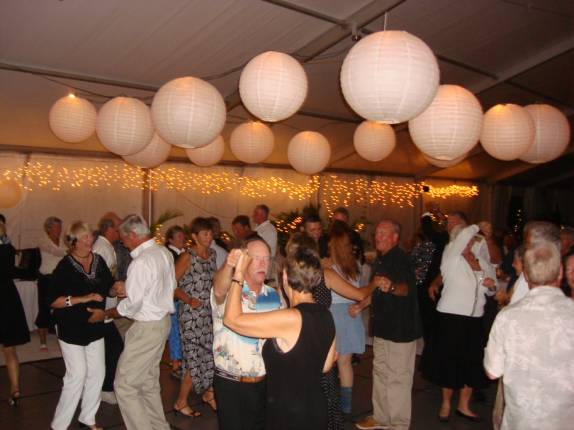 Wilma Thornton (JOHN HENRY) has some inexhaustible source of dancing energy. Her husband, Wink, can hardly get a moments rest before she drags him out again.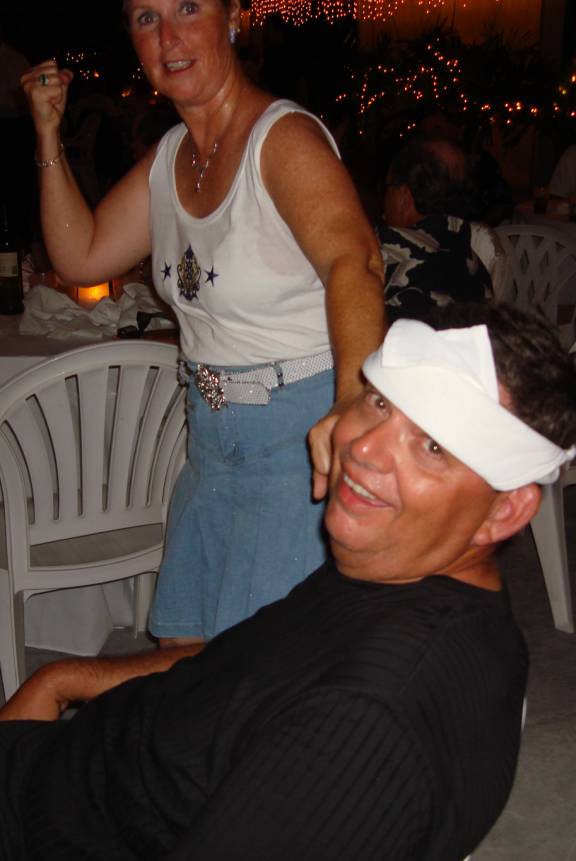 When Wink nearly collapses, Wilma and Judy shake it up.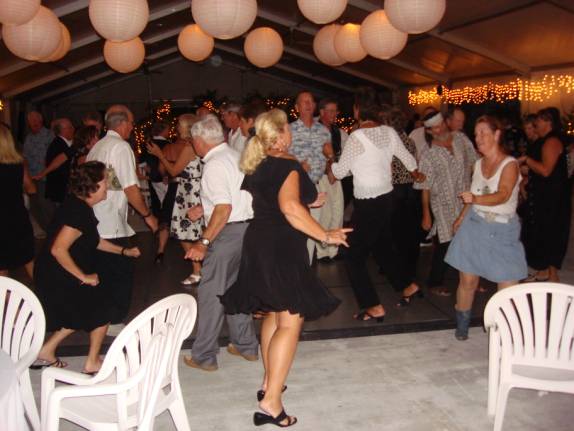 Everyone had such a great time. The organizers, Kathy Sales (LO KEE) and Susan Vallerie (LAST DANCE) did such a magnificent job with all the setup and planning. Thanks! Thanks! Thanks!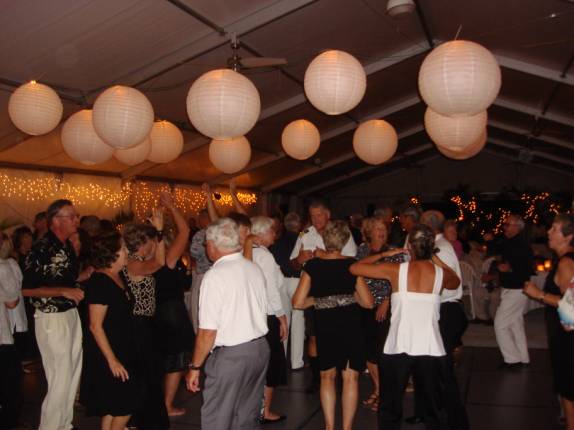 Judy jumped at the coveted opportunity to dance with the Commodore at his special night. A great party for a great Commodore.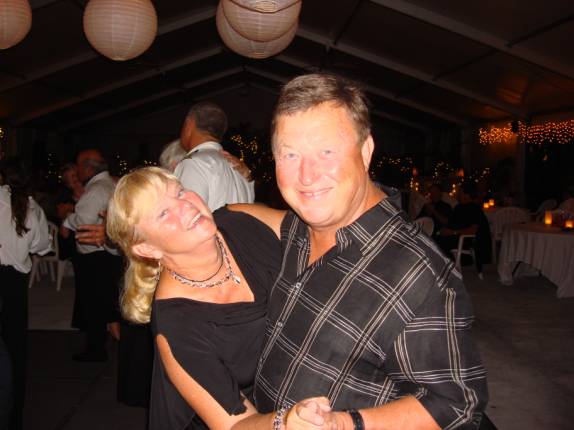 02/16/08 SATURDAY BOAT HARBOUR, MARSH HARBOUR, ABACOS, BAHAMAS
The fact that we had been out quite late last evening did not deter us from being ready at 8:20am for a ferry to Man-O-War Cay. Two boatloads of folks left Boat Harbour on special ferry runs to attend the annual town fair.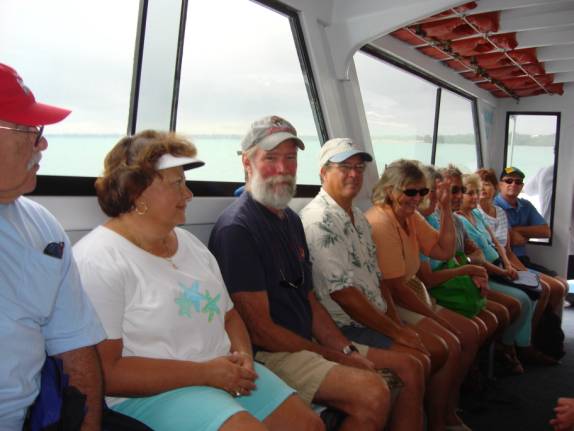 The DONNIE VII from Albury's Ferry Service embarked us at their main dock.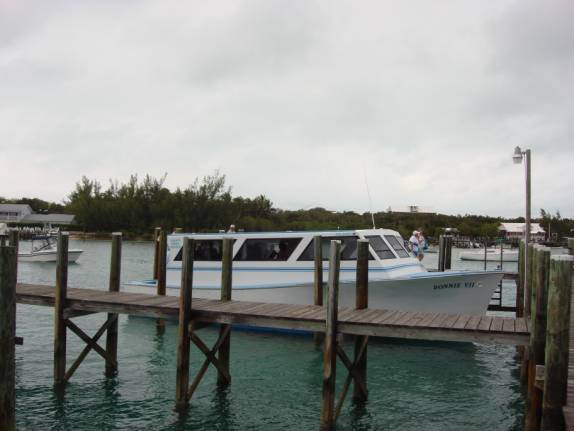 The event touted a couple of hundred vendors and a couple of thousand visitors for this special fund raising occasion. Vendors donate a portion of their sales to the charity. Sue Graham (ODYSSEY) was there early to secure a prime location for her table of jewelry. Judy had help make some of those pretty items.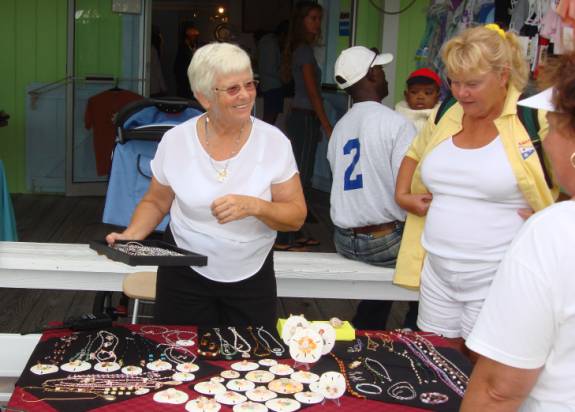 These sand dollars have been artistically adorned with bits of sea glass and colorful little shells. Sue makes some of them into delicate necklaces.
Lovely, isn't it?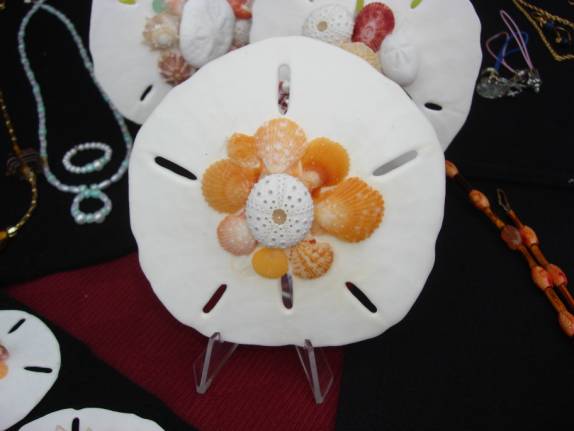 The food vendors did a brisk business and the event was considered a success.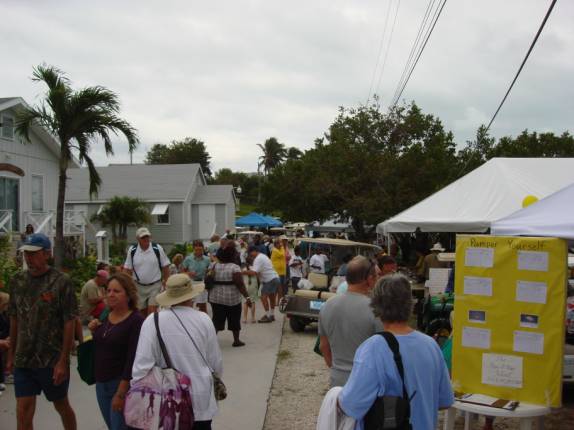 Judy and I, along with Joe and Eileen, had lunch together at the Hibiscus Café. This is the only restaurant on the island. It might also interest you to know that there are no alcoholic beverages sold on this small island cay.
Judy returned to help Sue with customer sales for a while. It was a pleasant surprise to meet up with Dave Elliot at the fair. He is our favorite boat mechanic and lives in Port St. Lucie, Florida. He and his wife are spending a week on Elbow Cay with friends.
We caught the 1:30pm ferry bound for Boat Harbour. I was tired enough for a lengthy nap in the afternoon.
02/17/08 SUNDAY BOAT HARBOUR, MARSH HARBOUR, ABACOS, BAHAMAS
On Sunday mornings, Judy usually stays here with me for a nice breakfast together. I decided to cook up a skillet of "Rosti". It is traditionally prepared in a heavy skillet for pan grilling chunks of diced potatoes. Rösti is a potato dish from Switzerland. It was originally a common breakfast eaten by farmers in the canton of Bern, but today is eaten all over Switzerland. Many Swiss people consider rösti a national dish. We first fell in love with it during our visit to Switzerland some years ago. This time, I grilled some slices of Spam as a meat side.
With a generous invitation from Scott and Mary Coles, we boarded MASCOT, a Mainship 390 trawler, departing at 11am for the 1 ½ hour trip to Great Guana Cay.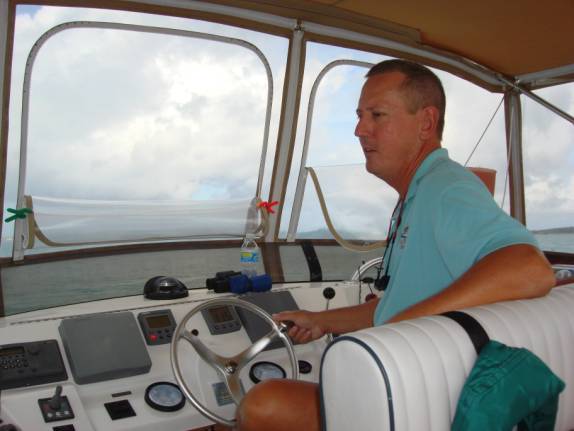 Judy and Mary helped secure the lines to the dock pilings.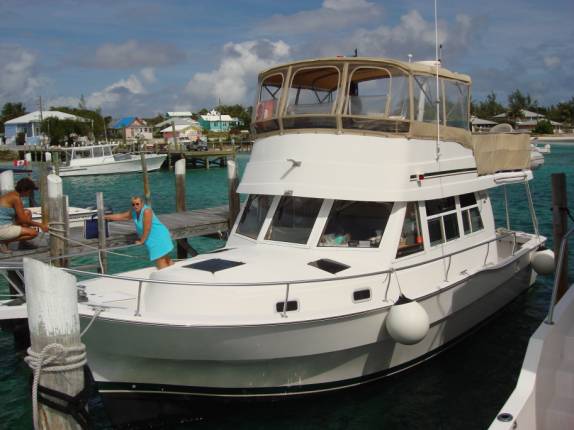 Sunday's at Nipper's Beach Bar are always special because of their weekly pig roast. Today was extra special because of an appearance by Bahamian singer, Stone McEwan. The folks love this guy and he will be the opening act for the huge Barefoot Man Concert scheduled for March 2nd.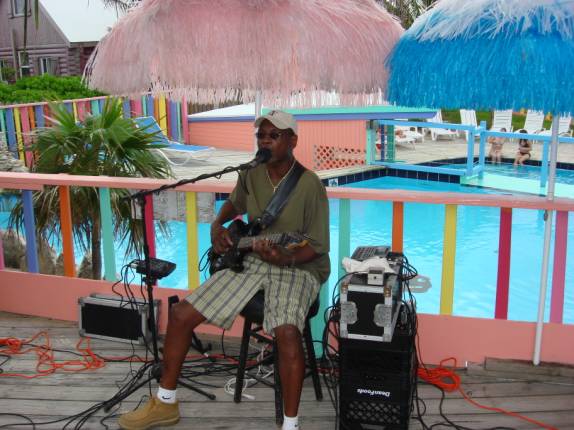 Even the beach was active with swimmers on this warm, sunny afternoon.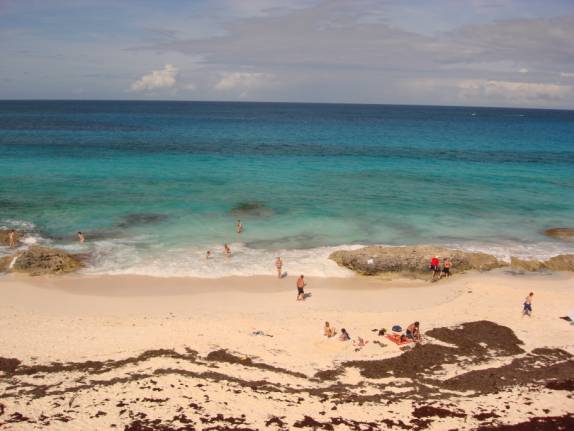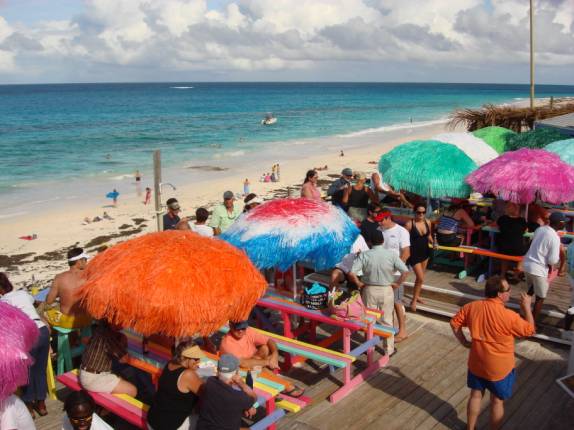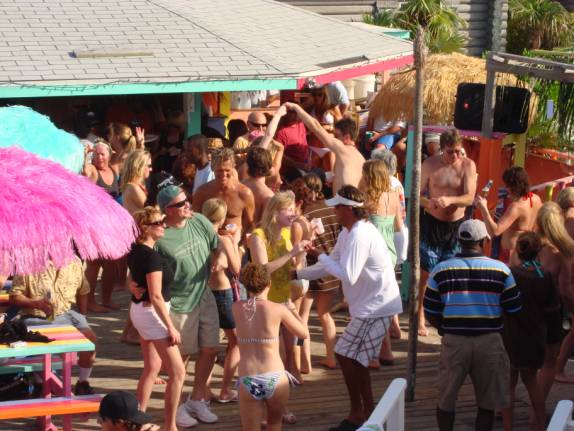 With a souvenir t-shirt for me and a nice, pink cover-up jumper for Judy in the carry bag, we re-boarded MASCOT at 4pm for the return to Boat Harbour.
This is a view of Great Guana Cay harbour as taken from our transient dock. The long dock is where private vessels and the ferry can unload passengers.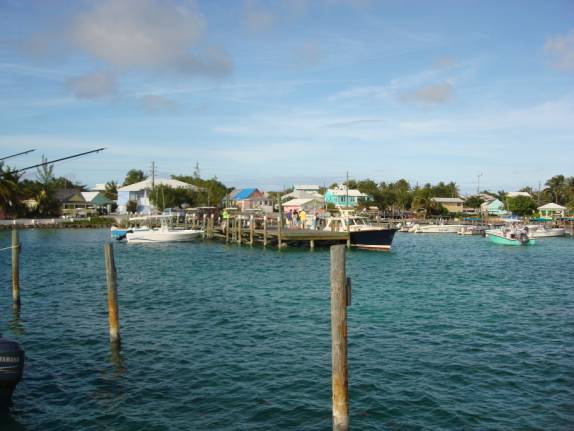 Mary took her stint at the wheel on the trip back.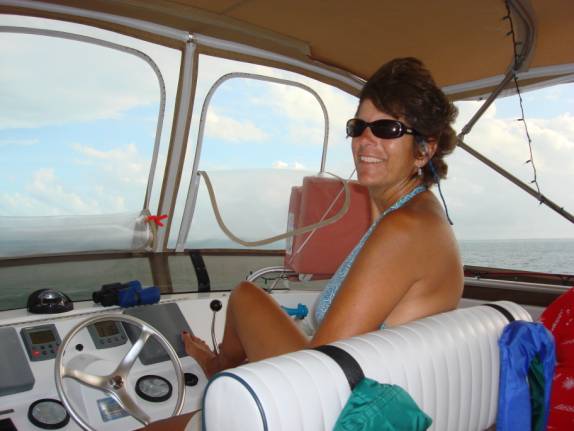 For dinner, I prepared linguine in a light, creamy butter sauce. Although I preferred mine plain, I added some breast of chicken to Judy's.
As chairperson for the upcoming Sock Hop, I prepared copy material for broadcast and had the draft OK'd by Jim Fenn.
02/18/08 MONDAY BOAT HARBOUR, MARSH HARBOUR, ABACOS, BAHAMAS
HAPPY PRESIDENTS' DAY (USA only)
Shortly after 8am, the RMHYC radio program anchor called for my broadcast over the VHF radio on Channel 78. Having written the advance copy, I placed the invitation for the big Sock Hop Party to be held on March 11th. I received numerous positive comments on my style and presentation. The most important thing will be for us to have a huge turnout for the event. It's going to be fun!
We were on time for my 10:30am appointment with Dr. Hull. He recognized a slow, positive improvement without any complication of infection. He skillfully removed additional non-productive tissue called "sluff" using a scalpel and tweezers. He also prescribed a diuretic to reduce fluid build up. Sounds like good advice to me.
While in town, we located Lowe's Pharmacy. Because their sign is down, only a large banner advertising furniture is visible. Fortunately, they had a pair of black, men's size, medium compression socks. Just what I wanted. The other pharmacy, The Chemist Shop, filled my prescription.
I purchased two more USB cables in 10-foot increments for the WiFi Booster. When I went to install the unit on AMARSE, I determined that both new cables were defective. Paul came to the rescue again. He and Judy rode the motor scooter to return the cables in exchange for a 15-foot and a 6-foot. Unfortunately, when they returned, they had picked up the wrong 6-foot cable with two male ends. Oh well, we'll return that one another day.
Just back from a local cruise here in the Abacos, Fred S. tidies up CHIPKA FIRE III. This is the only center-cockpit Island Packet that I have ever seen. It is beautifully equipped including electric winches, roller furling mainsail, and even a washer/dryer.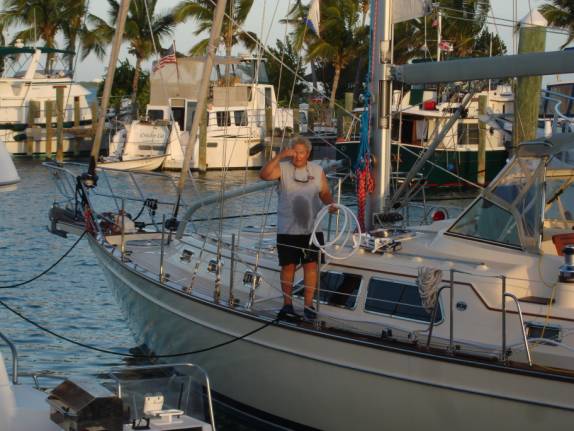 Following cocktail time on the dock, we were invited aboard TARHEEL for dinner. After a mixed greens salad, Bette Bauereis prepared a sumptuous meal of Shrimp Creole served on a bed of grits. This is down south cooking at its finest.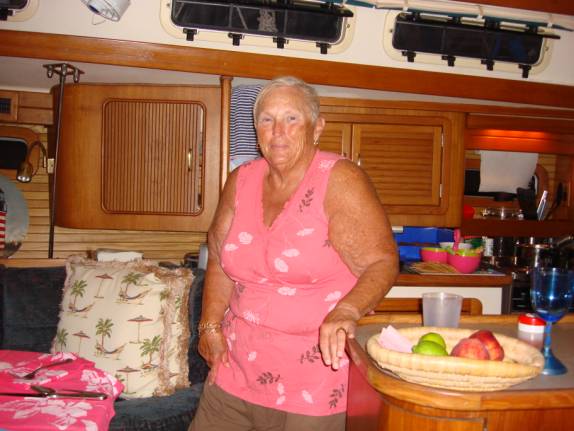 Sue Graham (ODYSSEY) made the warm, fresh bread at the center of the table. (Note the colorful Shrimp Creole presentation.) Judy made fresh, warm brownies topped with whipped cream for our dessert.
Bette is the anchor for the Cruisers' Net broadcast on Friday mornings. The other day, I heard her cleverly announce him as, "…My dishwashing husband, David."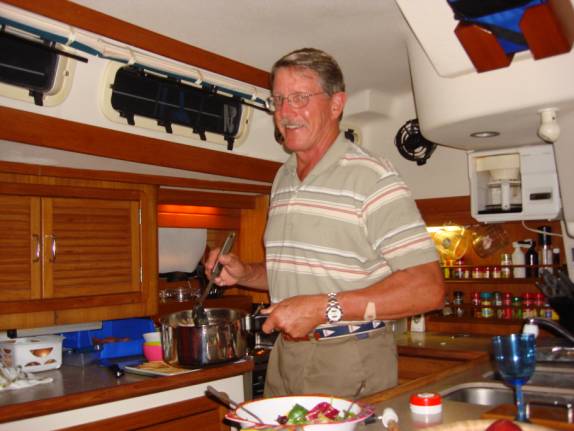 02/19/08 TUESDAY BOAT HARBOUR, MARSH HARBOUR, ABACOS, BAHAMAS
While Judy was out for her morning exercise walk, Eileen Ambrosini, Tom, and Madeline O'Mara were busy packing up to return to southern New Jersey and all that icy cold weather. As their plane was leaving, another plane was bringing Joe and Phyllis Newkirk to Marsh Harbour for their week with Joe DeMaris aboard ADAMAS DE MARIS.
Most of the day, I helped Galen Siler with computer stuff like transferring and storing photos. With all the different operating systems and special programs that each computer uses, it is a challenge to figure it all out.
Judy went with Paul on the scooter to exchange the cable and came back with the correct one. There is a marked improvement in the internet with this Power Booster.
At 5:30 pm, the dock members had a very nice cocktail hour. Dinner was nothing less than spectacular. Robert Wilson had shared some fresh Dolphin fillets with us. I pan grilled them in butter with lemon. Judy made rice pilaf for our side dish. It was fantastic. Need I say more?
We have already completed two episodes from the Sopranos series, Season 5.
02/20/08 WEDNESDAY BOAT HARBOUR, MARSH HARBOUR, ABACOS, BAHAMAS
There was no interruption in Judy's walking routine today. I wish I could say the same for the internet service. It has been terrible to non-existent all day. Apparently, the WiFi wireless signal has been OK, however, no one has had much success with the Network Connection to the Internet Provider (IP).
With our old friend, Joe Newkirk, here on ADAMAS DE MARIS, I spent quite a bit of time visiting with them. I took the opportunity on this peaceful day to run the engines for over a half hour just to circulate some oil and fluids.
When evening approached, Sue Graham came out of ODYSSEY all dolled up to beat the band. They have been invited to attend a lovely anniversary party for Amy and John Piperato (KIMBERLY ANN). The event was being held at Winding Bay Resort south of Marsh Harbour. Doesn't she look terrific?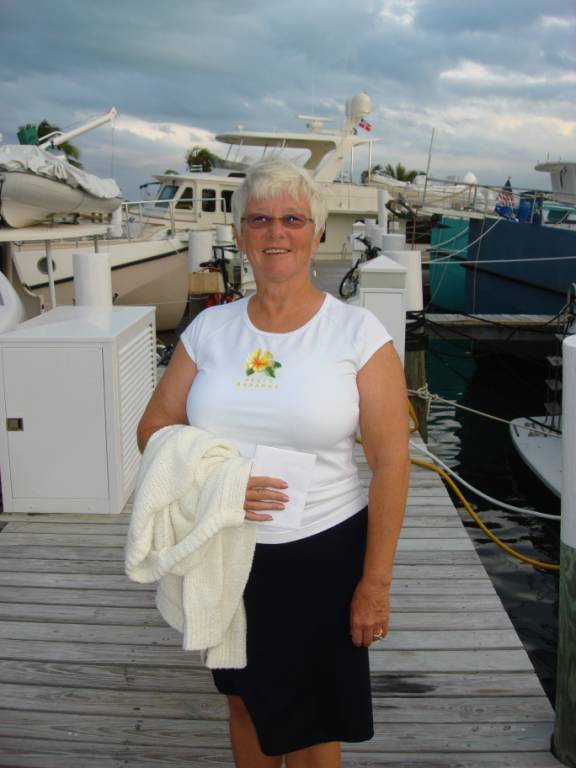 The Commodore, Robert Wilson, was dressed to the hilt in his sharp tropicals for a special evening somewhere.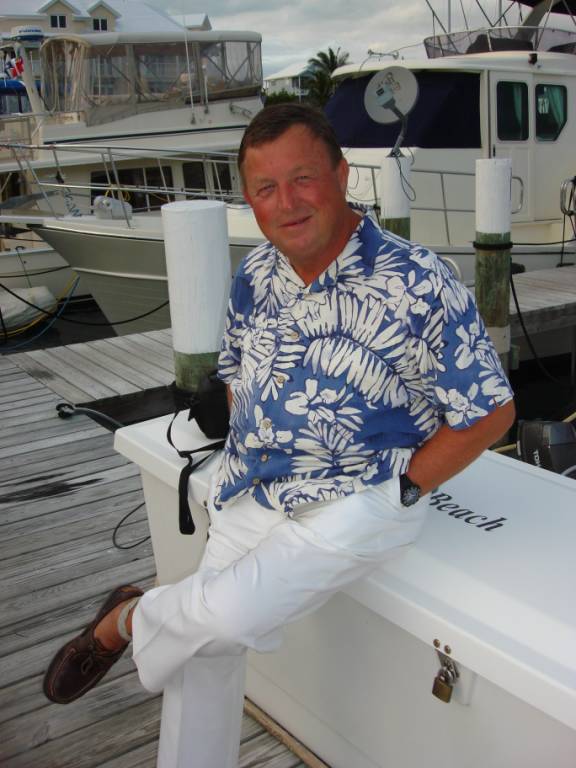 Judy and I were invited aboard JOHN HENRY, a Great Harbor 47, to help celebrate the birthday for Jim. Jim is a guest of Andy Allen aboard SEA DEE, a Great Harbor N37.
(L-to-R) Judy Law (AMARSE), sea dog "Sara" (JOHN HENRY), Oliver and Sally (1 OLIVER 2), and Mary Coles (MASCOT).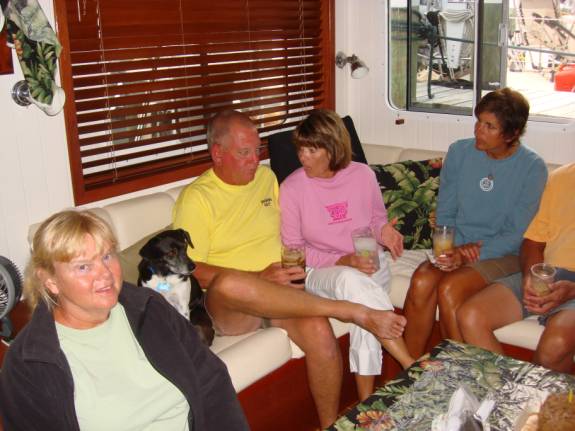 (L-to-R) Scott Coles (MASCOT), Pat and Pat (SALTY DAWG), and Judy Law (AMARSE).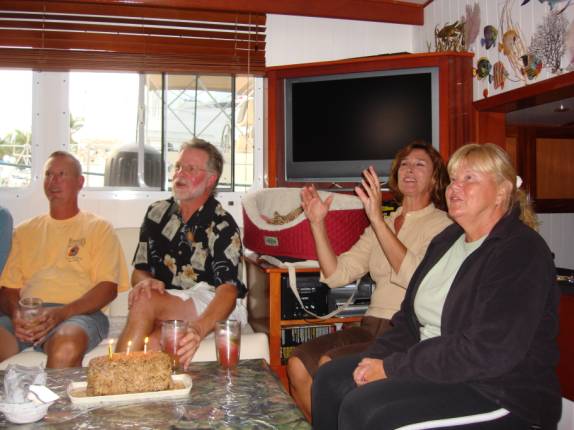 Wilma and Wink Thornton (JOHN HENRY) provided this nice German Chocolate cake.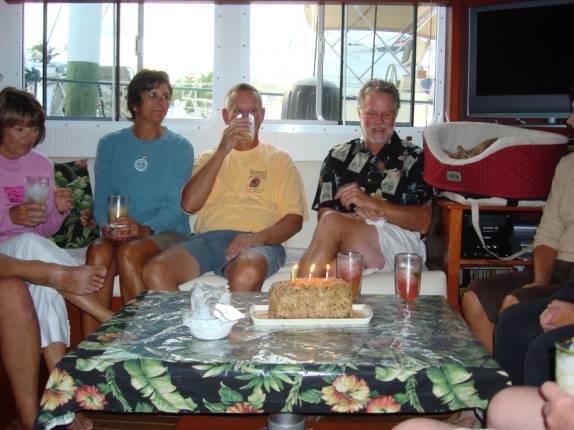 Although I didn't manage to get a picture of the birthday boy, I did manage to get this shot of his host Captain, Andy Allen (SEA DEE). Take a good look because he has since cut off his beard and cut his hair real short.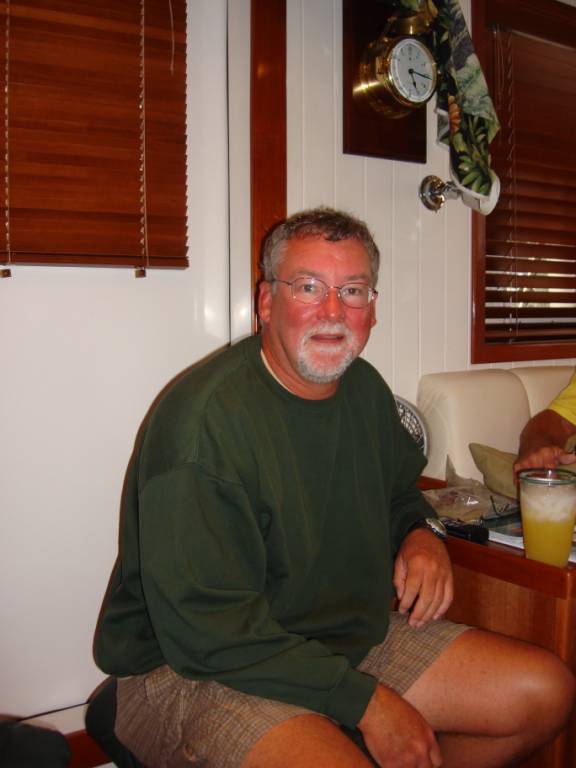 The rest of that gang went to the Jib Room for Wednesday evening Rib Night. Judy and I decided to stay in tonight and I cooked large, cheese raviolis served with a walnut, butter, and balsamic vinegar reduction.
Sometime after 8 pm, the initial effects of the maximum lunar eclipse could be seen with the naked eye. My attempts to capture it with my small camera were not exactly stellar, as shown by my result.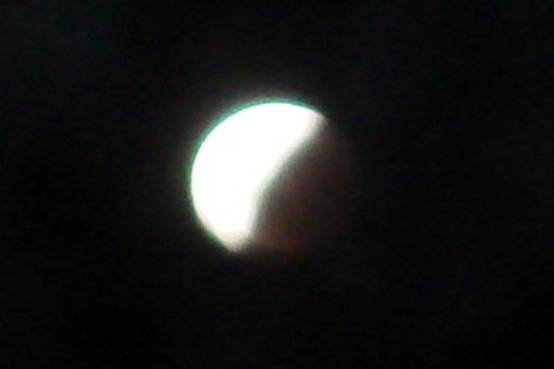 Taken from an internet file photo of a previous lunar eclipse, the overall event would have appeared much like the arc-shaped time progression. At about 10 pm here in the Bahamas, the orangish-golden color was clearly evident. The eclipse totality lasted about 50 minutes. With good optics, it would probably have looked like the center of this photo. Reportedly, the whole event took 3 hours and 26 minutes. It was really cool since we won't have another opportunity for many years.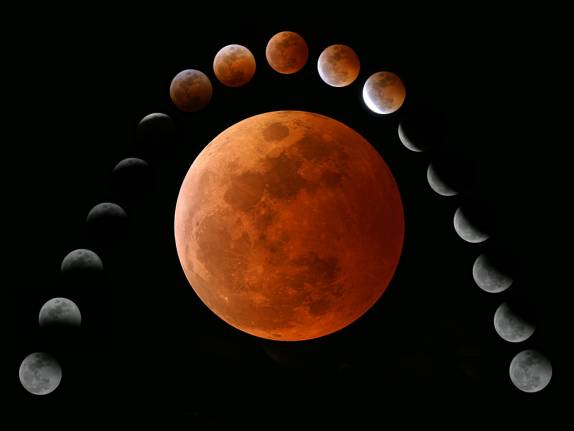 This concludes this edition of the AMARSE Update logs. We hope you will join us again soon for more adventures during the month of February.
POST SCRIPT:
We sincerely hope that you will review the previous years of compilations to give context to the current editions. Please let us know if you have any special suggestions and thoughts.
We thank those of you who have contacted us recently and we are looking forward to hearing from each of you in the near future. Thanks for allowing us to share our life and adventures with you.
REMEMBER: The website is now fully active and you can visit it at any time. You can review any of the 2006, 2007, or the upcoming 2008 logs and learn more about the crew and our plans. Enjoy.
ATTENTION: SPECIAL NOTE:
You may contact us via email. Our cell phones have been turned OFF. We do have occasional SKYPE connections at 'amarse1'.
"AMARSE". is pronounced "AM-ARE-SAY". Our website is: www.amarse.net .
Thanks
Lot of Love,
Fred Reed and Judy Law
AMARSE
MT40