UPDATE# 3
01
/25 thru 01/31/08
Howdy Everybody,
The new adventures of 2008 from 1/1/08 through 1/24/08 have been published on the website. We continue with the latest edition, UPDATE 2008 # 03.
UPDATE 2008 #03 01/25/08 through 01/31/08.
At last update, AMARSE was at our winter home at ABACO BEACH RESORT and BOAT HARBOUR, in sunny Marsh Harbour, Abacos, Bahamas.
01/25/08 FRIDAY ABACO BEACH RESORT AND BOAT HARBOUR, MARSH HARBOUR, ABACOS, BAHAMAS
Judy set off with the morning Walk N' Talk group for their daily 4-mile exercise time under cool, breezy, and overcast skies. Somehow, we missed breakfast and settled for an early lunch of Tuna sandwiches at 11:15am.
We hailed Taxi #11 with driver Jeff Key. He has become a favorite of the local boaters on dock 4 because of his honesty and attentiveness. We had him drop us at the Price Right Grocery. After picking up some items there, we walked over to Maxwell's Grocery. Of the two, Maxwell's is the nicer and prices are often a little bit lower. With the supplies we needed for our upcoming boating weekend and the Potluck breakfast loaded in the taxi, #45 took us back to Boat Harbour.
For dinner, we tried the whole-wheat version of penne pasta with meat sauce and meatballs ladled over the top. I sure like the traditional, semolina based pasta a lot more.
Judy baked some fresh, hot chocolate chip cookies for us to enjoy while watching more of the Sopranos Season 3.
01/26/08 SATURDAY BOAT HARBOUR, MARSH HARBOUR to SEA SPRAY RESORT, ELBOW CAY, ABACOS, BAHAMAS
At 8:30am, Judy joined the walkers for the morning stroll. By 9am, the boats were beginning to depart the marina in mass. I hustled to get AMARSE ready by filling water tanks, re-arranging lines, and disconnecting our electrical umbilical cords. When Judy returned about 9:30am, she didn't have much chance for rest and pitched right in securing the vessel to get underway.
We invited Joe DeMaris and Eileen Ambrosini to join us aboard for the weekend trip. They cheerfully accepted and left their guests, Joe, Jr., Melody, and Tim to make their own way to the airport for their flights back home.
Near 10am, AMARSE's twin engines powered her away from Slip #420 and out to the Sea of Abaco. The scene appeared much like a parade with a steady line of boats headed for Sea Spray Resort and Marina. Located in White Sound at Elbow Cay, the facilities are hosting the RMHYC (Royal Marsh Harbour Yacht Club) for our weekend Rendezvous.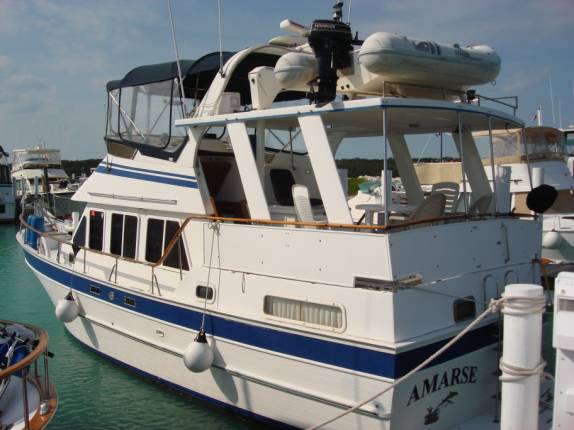 As arranged by Bob and Judy Williams (SHADE MOR), resort manager, Junior, had assigned slips and positions to the arriving vessels. The vessels were called in sequence and directed to their reserved spots. AMARSE soon backed into slip #55 and appreciated the help with lines and hookups.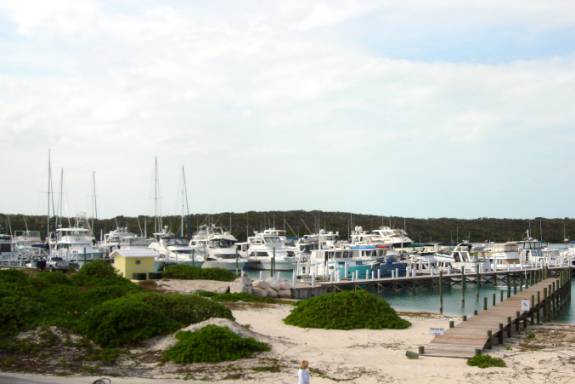 On the other side of our dock, this lovely little sailboat bobbed peacefully in this tranquil and remote setting.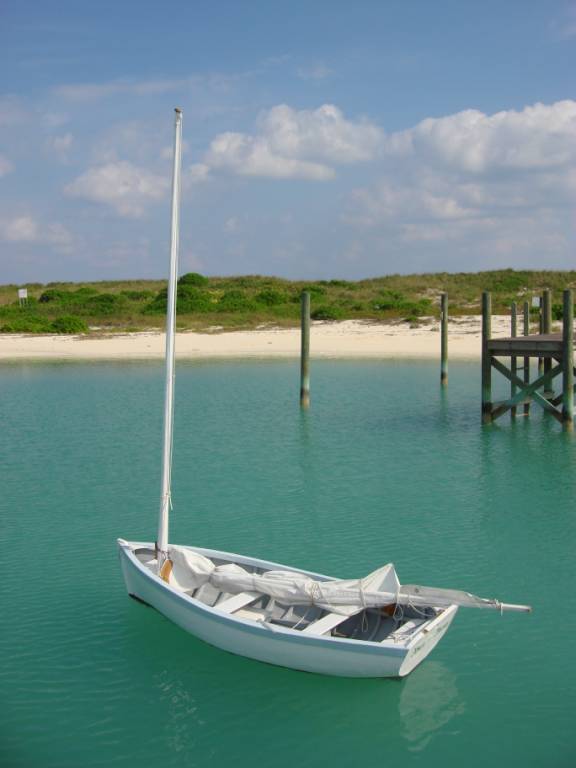 After helping several others with their docking lines, we took a stroll across the dunes to the ocean beach. It is a favored pastime of many to hunt for small pieces of "sea glass" and to find a variety of shells that have washed up on the beaches.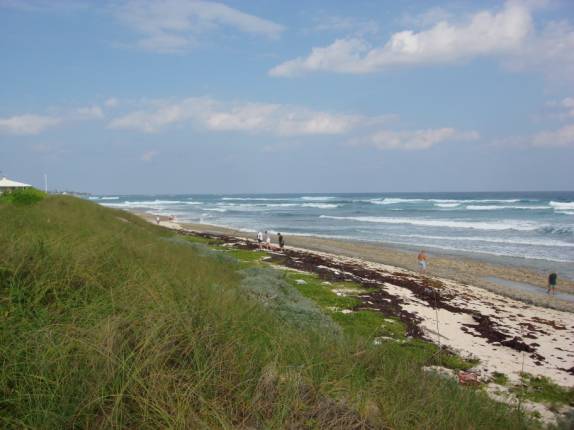 Joe DeMaris and Eileen Ambrosini were soon in the swing of the tropical scene.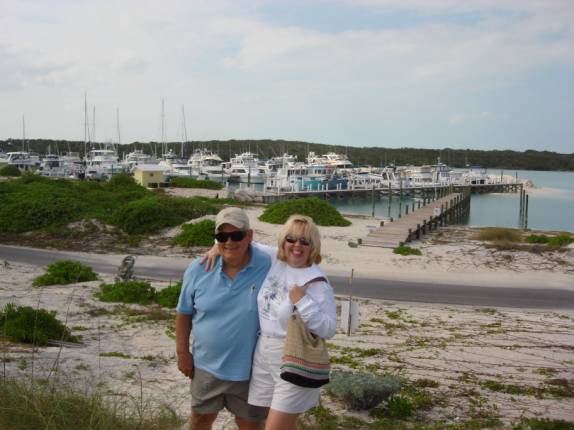 It always amazes me that something this lovely and delicate can survive in an otherwise harsh environment.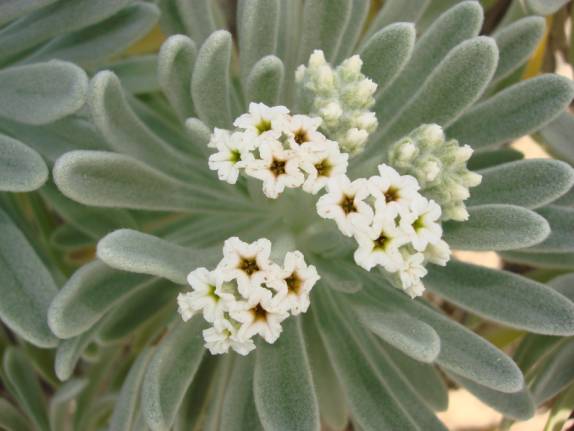 Before long, it was cocktail hour.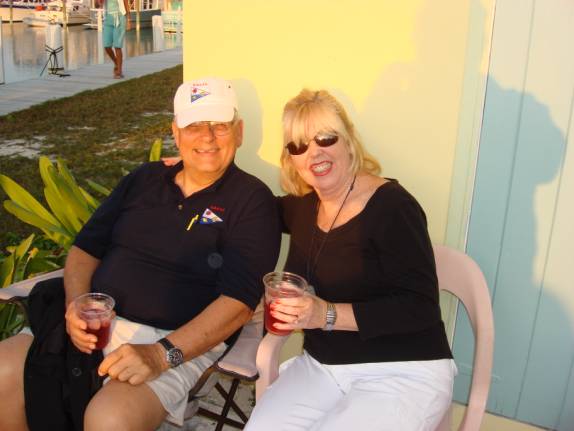 The members of the RMHYC joined together to chat, laugh, sip, and snack. Judy Williams had arranged for all the boats from "Odd" numbered slips to provide the snacks and appetizers. It was the plan that the "Even" numbered slips would host tomorrow evening.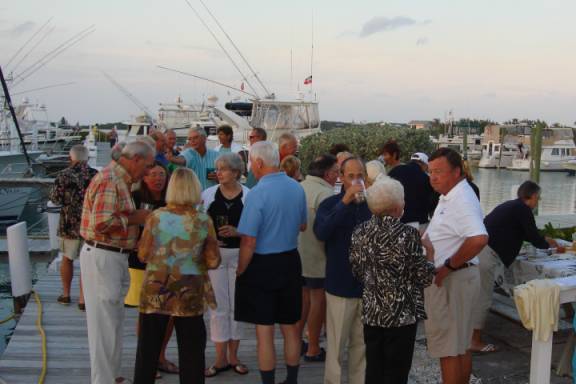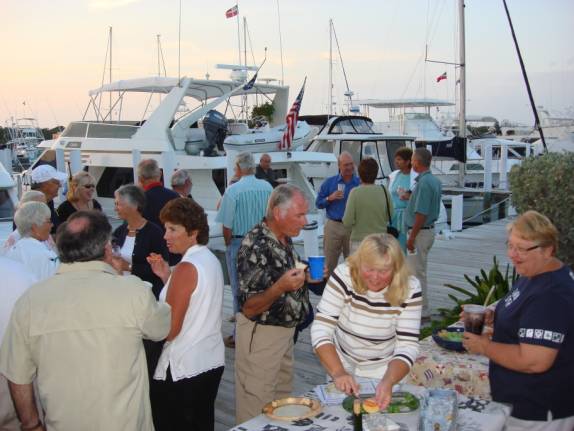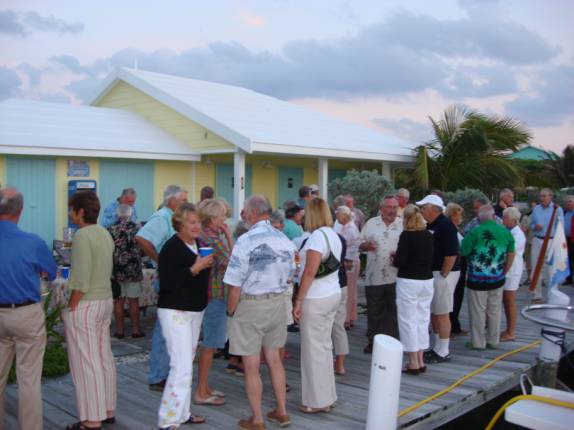 The resort had assigned seating, alphabetically by boat name, for over 60 club folks.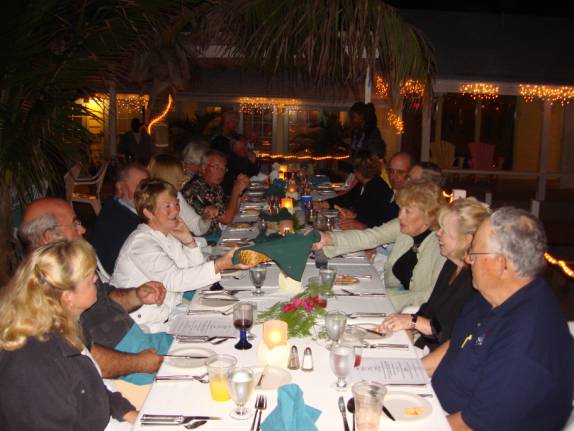 There were three, long tables set in parallel, plus several smaller tables.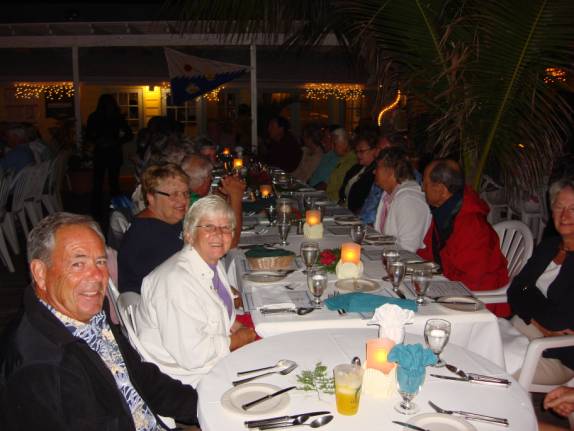 Guests had the choice of either a full course, fixed priced plan or they could dine ala carte from the extensive menu.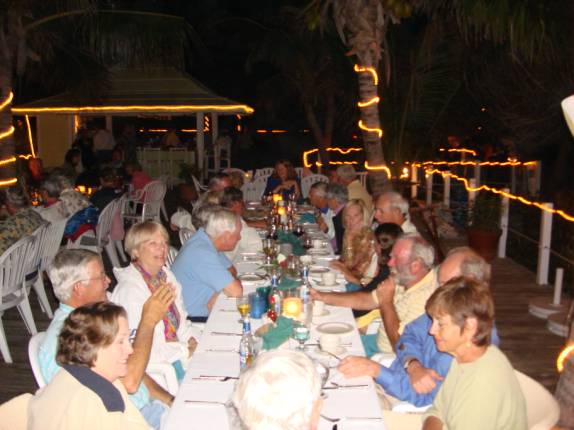 It is wonderful to see Eileen and Joe enjoying this event so much.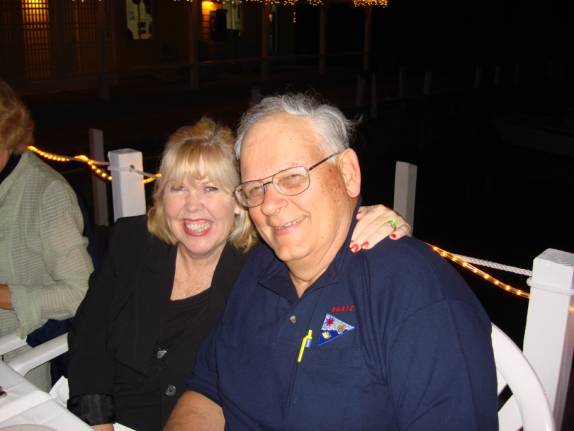 "The Islanders Band" played a wonderful selection of tunes for our pleasure during the dinner program. Junior, the resort manager, is the percussionist and leader of the band.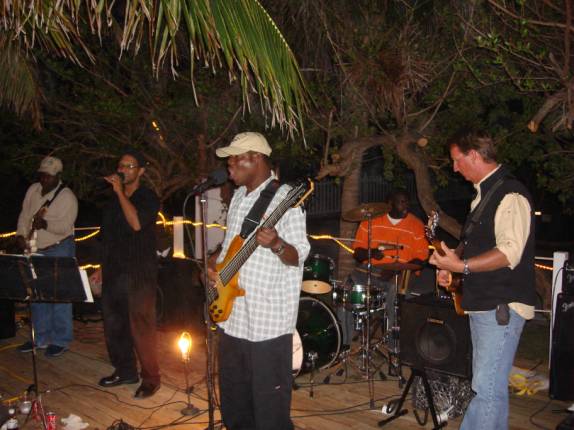 After dinner, the tone and tempo changed significantly for guests to get up and shake a leg. Robert and Carolyn Wilson were in the party mode and felt the rhythm of the beat.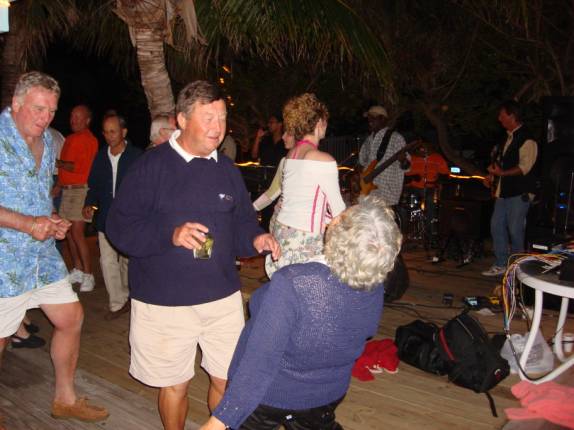 It all seemed to end too soon. The weather had been perfect, the dinner enjoyable, the Pina Coladas at the top of my list, and the group of people were absolutely wonderful. What a great time!!!!!
01/27/08 SUNDAY SEA SPRAY RESORT, ELBOW CAY, ABACOS, BAHAMAS
The expert chefs aboard the boats have been planning for the perfect breakfast items to share at the Rendezvous Potluck breakfast event. Chez Fredo from AMARSE had begun several hours of preparation last night. His unique, slow-cooked soufflé required 10 hours of cooking time to be ready for the 10:30am gathering.
Now, you might think that the continuous, pouring rain that morning would have wrecked everything. Thanks to the ingenuity of Judy Williams, our organizer, she made the suggestion to break into smaller groups aboard various boats to visit and dine. Paul and Sue Graham aboard ODYSSEY hosted our dock. The showers subsided enough to allow us to make it around without getting drenched. The idea was a complete success and we all had a wonderful time.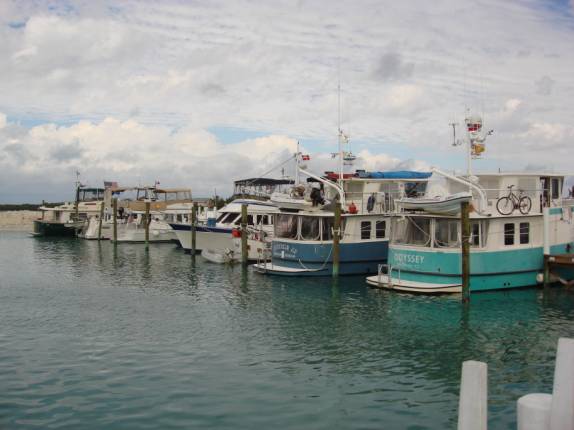 TOURELOU, SHADE MOR, and BRENDA J hosted groups on the other docks.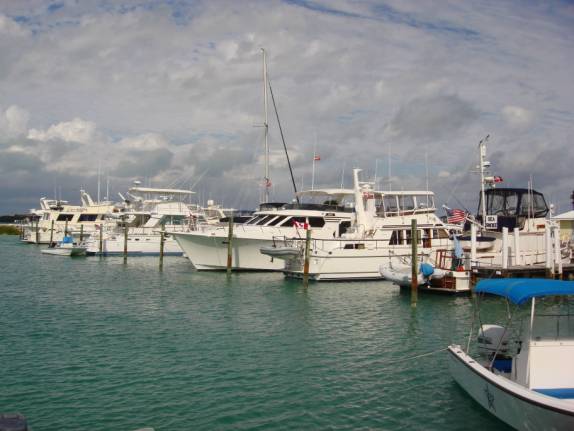 With several hours of free time, the AMARSE crew enjoyed watching the DVD concert of Jimmy Buffett at Wrigley Field. At 2pm, Judy Williams had arranged for the use of the inside restaurant for drinks and games. About 10 of us joined together for a highly competitive game of Farkle. As lucky Connie (R-JOY) rolls out the five dice, Sandi (CRITCHER CAT) and Scott (MASCOT) keep a close eye on her to ensure a fair play.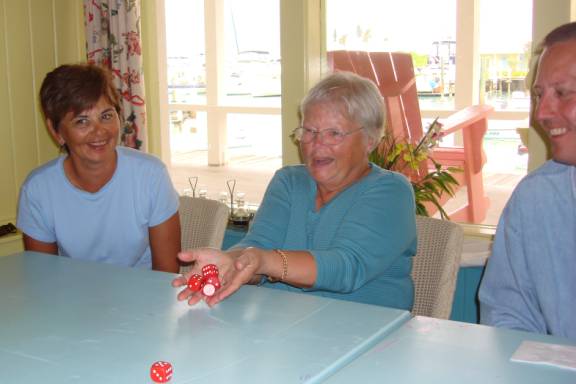 Scott seems relieved that Mary (MASCOT) did not sling a high rolling hand.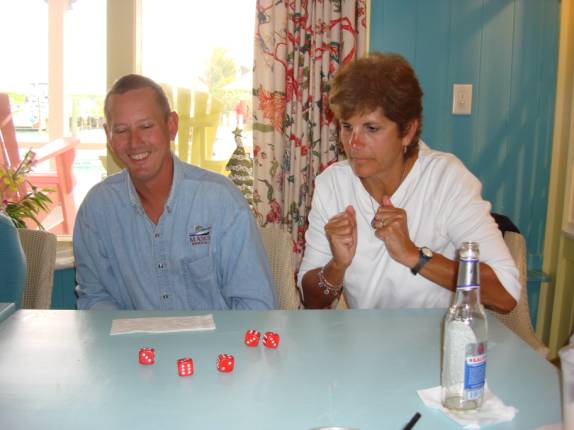 Eileen Ambrosini, (ADAMAS DE MARIS) and serving as weekend guest aboard AMARSE, looks for the perfect combination of ones or fives. The games were fun and the Pina Colada drinks were rated tops in the Bahamas.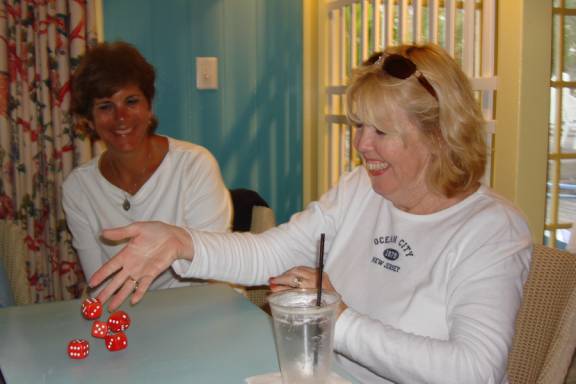 To add even more to the fun of this exceptional Rendezvous, about 40 members alternated in vans to Hopetown Harbour Lodge. This elegant dining establishment lived up to its finest reputation for service and culinary excellence.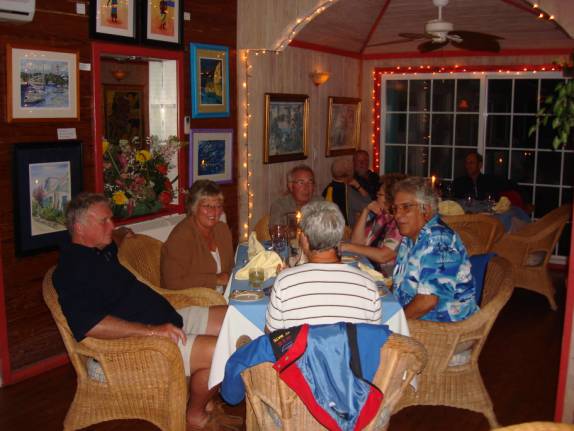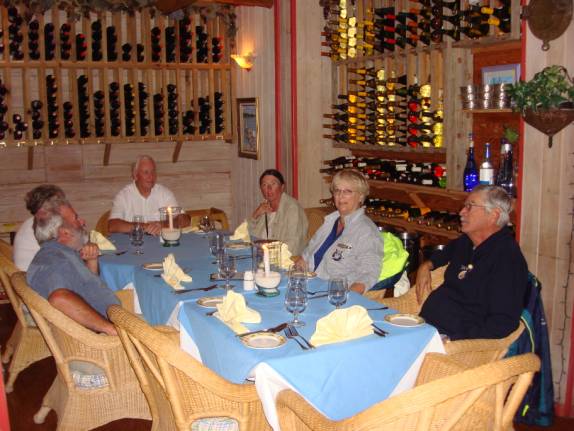 Everyone looked so nice in his or her tropical island finery.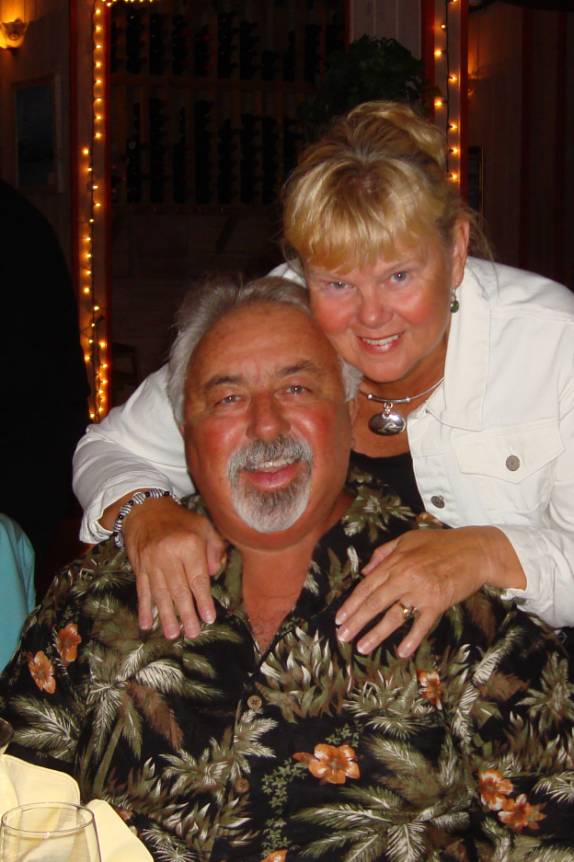 Eileen and Joe are having a great evening.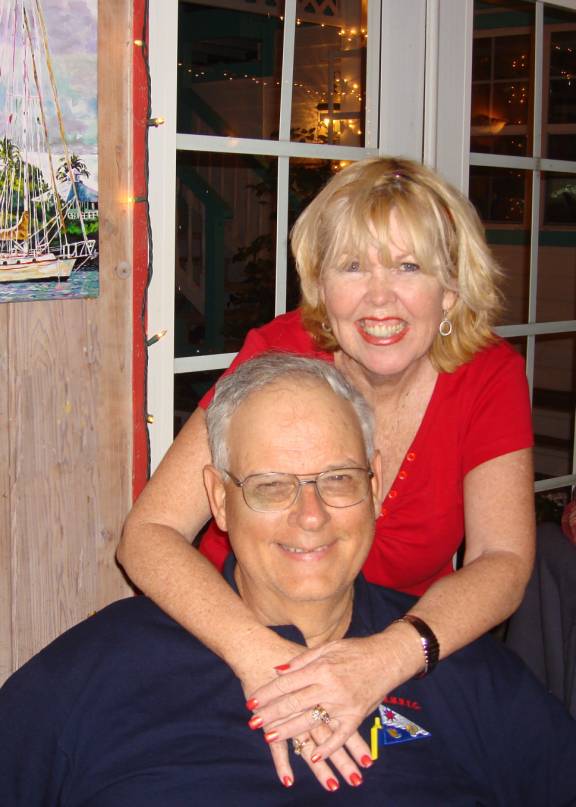 The meals get exceptionally high marks for both flavor and presentation. Judy enjoyed this serving of Chicken Marsala.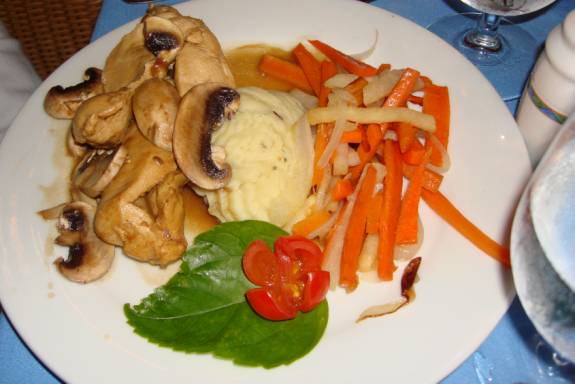 Following a bowl of the absolute best creamy Conch Chowder that I've ever experienced, my entrée of Prime Rib exceeded my every hope.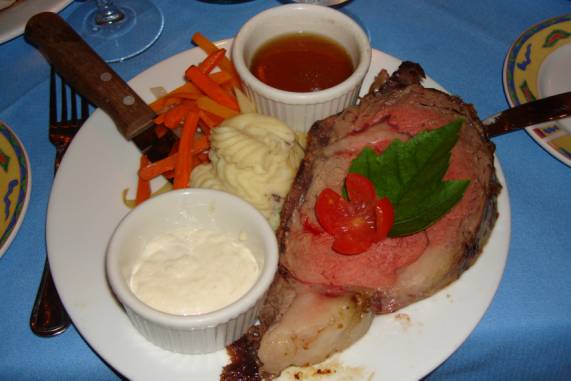 Joe and Eileen chose distinctly different preparations of Grouper fish that reportedly delighted their palates. All too soon, the vans were whisking us back to the marina. Some more Jimmy Buffett concert filled out the rest of the evening.
01/28/08 MONDAY SEA SPRAY RESORT, ELBOW CAY to ABACO BEACH RESORT AND BOAT HARBOUR, MARSH HARBOUR, ABACOS, BAHAMAS
Our breakfast consisted of leftover Casserole Soufflé and warm cinnamon buns. It was a nice morning to just sit and chat with our guests. By noon, the steady column of single file boats headed out of White Sound and across the Sea of Abaco toward our permanent slips at Abaco Beach Resort and Boat Harbour. We were fortunate to have lots of help with lines at both docks. Of course, we reciprocate when boats come into the docks and we can be of assistance. As you can guess, it was a busy afternoon of returning boats.
I had banged my leg again in the van last night. This caused the deep cut to start bleeding and oozing again. I've had to keep it elevated and rested again this afternoon.
Since the cocktail party hosted by the "Even" numbered docks had been cancelled last night, some boats had already prepared snacks available. The decision to hold a welcome home party came easy. At near sunset, numerous boaters sound their Conch horns just as Sue (ODYSSEY) is doing.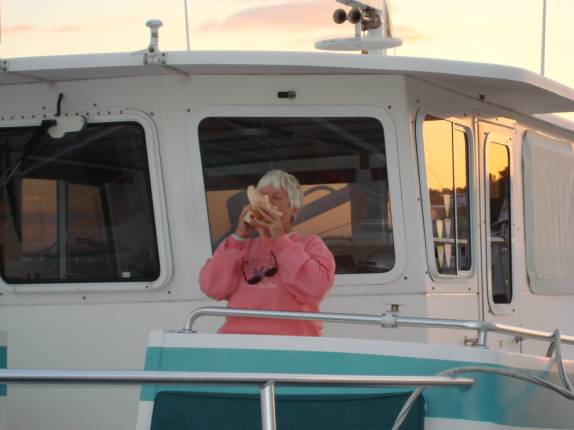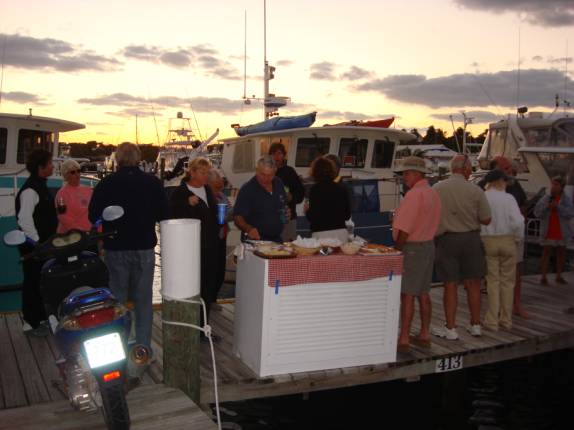 I needed much of the evening to assemble pictures from the Rendezvous to forward to Rita, our terrific newsletter editor. It was nice that she could use some of them for the RMHYC website and the local newspaper, The Abaconian.
01/29/08 TUESDAY BOAT HARBOUR, MARSH HARBOUR, ABACOS, BAHAMAS
I finished assembling and delivering the pictures to Rita this morning following our breakfast of cereal and yogurt. Of course, Judy was ready for her morning stroll with the gals.
About 8am, the electric power went off. You might know it since I had prepared a piece of beef to be cooked in the Crock Pot. Fortunately, the outage lasted only a couple of hours.
Judy worked on the teak rails readying them for a varnish treatment. Several of the men were working with Conch shells.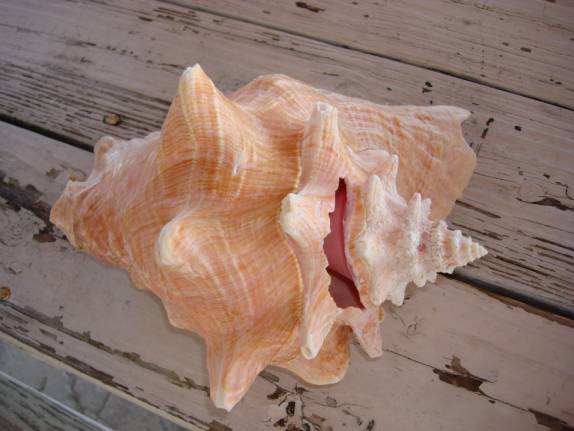 Tony Relouw (TOURELOU) holds a shell while Dennis Ojard (SUPERIOR LADY) operates the circular saw to cut off the conical end in the first step toward making a Conch horn.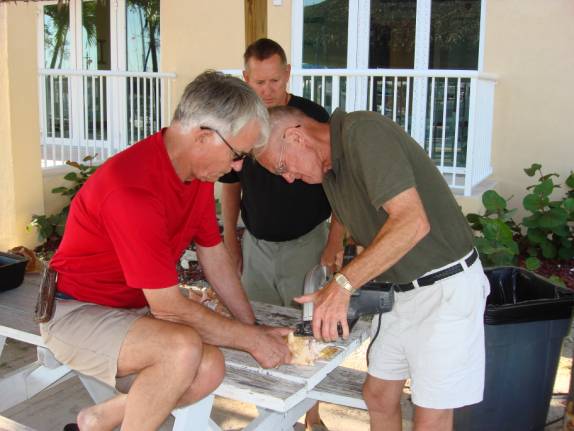 While I maintain a firm grip on the shell, Dennis makes the precision cut in just the right place.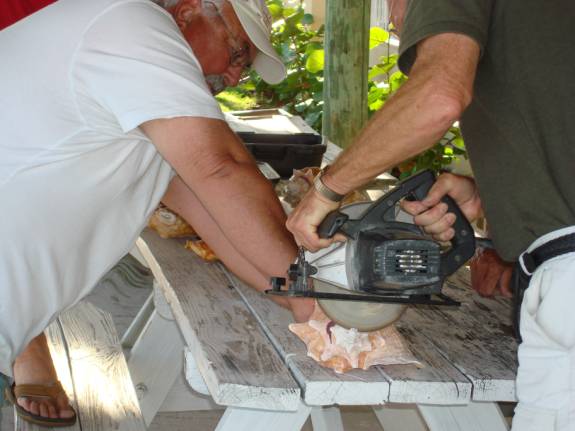 Scott Coles (MASCOT) takes his turn to grip the shell firmly. There will be many hours of work to be done before the first tones will emit from the horn.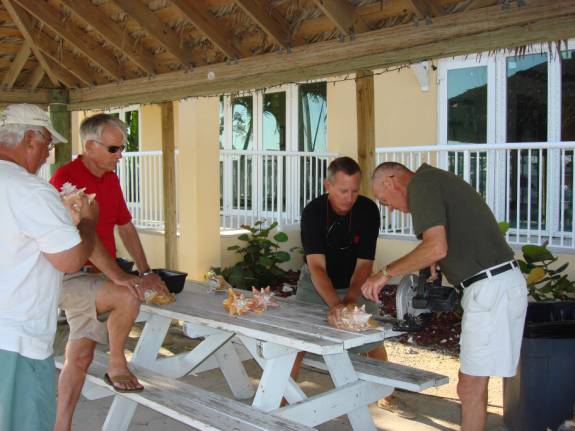 Evening cocktails were enjoyed aboard ADAMAS DE MARIS. There wasn't much activity out on the dock tonight. Most folks probably needed a respite evening. Judy and I enjoyed a quiet evening dinner of Pot Roast and mashed potatoes.
01/30/08 WEDNESDAY BOAT HARBOUR, MARSH HARBOUR, ABACOS, BAHAMAS
It was another nice, calm morning for Judy's daily exercise walk. With ABACO LADY out of her slip, we decided to lower the dinghy off our port side. It is a much easier task without the beamy catamaran beside us.
The relative calm gave us the perfect excuse to entice Joe DeMaris and Eileen to dinghy along with us on an afternoon excursion. We followed the inland channel between Sugar Loaf Cay, Matt Lowe Cay, and the mainland out to the Sea of Abaco where we hugged the shore toward Mermaid Reef. Unfortunately, we didn't have any snorkel equipment or a viewing bucket to take advantage of the underwater sights.
I tried to keep my leg elevated while watching TV tonight. The deep wound is tough to heal up.
01/31/08 THURSDAY BOAT HARBOUR, MARSH HARBOUR, ABACOS, BAHAMAS
Today's weather was partly cloudy, warm, and the breeze freshened in the afternoon. At the urging of my friends (some nurses), I took it slow and relaxed with the leg elevated. This must be how people get cabin fever.
Our dock neighbor, ABACO LADY, came back in from her week cruise to the out islands nearby. Of course, lots of us came to help with the tie up lines. Sue Graham went the extra distance to help by stuffing a fender between the boat and the dock. To accomplish this, she sat on the dock and used her feet to push the boat away enough to fit in a fender. Guess what? She managed to get a butt full of splinters from the dock. I had to snap this picture of Judy Enter (ABACO LADY) trying to pull splinters out of Sue's butt. Oh, how embarrassing.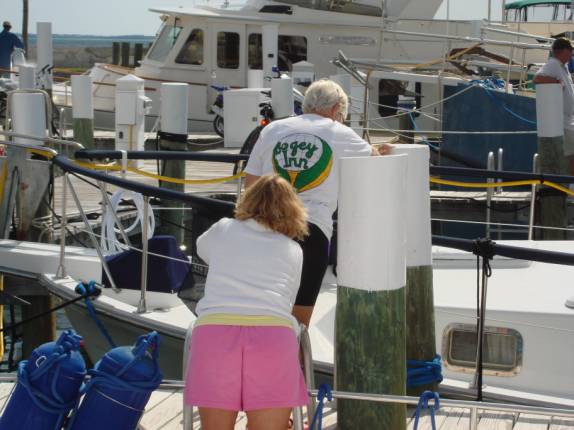 Judy and I got an invitation to R-JOY for dinner.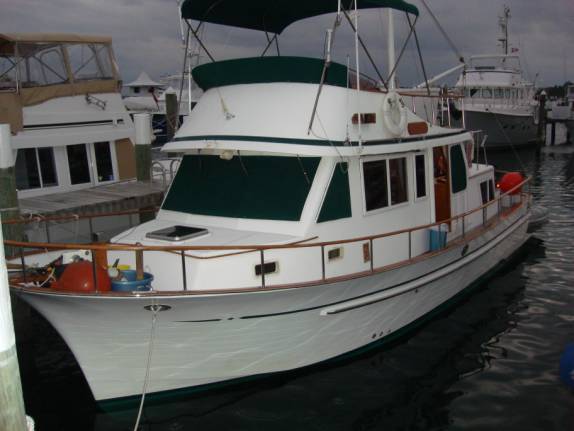 Galen and Connie Siler were gracious hosts and Connie treated us to wonderful Baked, Stuffed Pork in a Mushroom Cream Sauce. The side was a special German delicacy of purple, pickled cabbage. With a nice Merlot wine and dessert of Chocolate Brownie with mounds of whipped cream, we knew we had been treated royally. Thanks, y'all.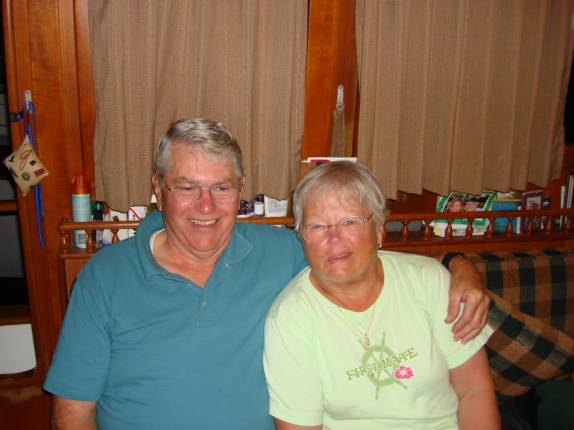 Another episode of Sopranos played while I elevated my leg hoping to keep the swelling down and to promote healing. It is hard to believe that we have already sped through another month. Time is but a mere flash anymore.
Join us again soon for more adventures during the month of February.
POST SCRIPT:
We sincerely hope that you will review the previous years of compilations to give context to the current editions. I look forward to publishing the upcoming 2008 Updates as our year unfolds. Please let us know if you have any special suggestions and thoughts.
REMEMBER: The website is now fully active and you can visit it at any time. You can review any of the 2006, 2007, or the upcoming 2008 logs and learn more about the crew and our plans. Enjoy.
ATTENTION: SPECIAL NOTE:
You may contact us via email. Our cell phones have been turned OFF. We do have occasional SKYPE connections at 'amarse1'.
"AMARSE". is pronounced "AM-ARE-SAY". Our website is: www.amarse.net .
Lot of Love,
Fred Reed and Judy Law
AMARSE
MT40