UPDATE #4
02
/12 thru 02/19/07
Howdy Everybody,
We are very interested in hearing from ya'all. If you have missed out on any of the previous emails and would like us to re-send them, please let us know.
Please let me know if these emails containing pictures are too large and we will send you a version with text only.
We certainly hope you will enjoy the Website and that you will visit it frequently. If you "BOOKMARK" or "ADD TO YOUR FAVORITES", you will have easier access to the Website. You will find it at: www.amarse.net .
At the website, you can read about our aspirations for 2007, including our plan to do the loop trip again this year. Please let us know you thoughts, comments, and suggestions.
The period 01/19/07 thru 02/11/07 has been covered in Updates 1 through 3. We continue with UPDATE07 #4.
UPDATE07 #4 02/12/07 through 02/19/07.
Welcome back to the new Adventures of the trawler AMARSE. At last update, we were basking in the natural beauty of Caladesi Island State Park near Dunedin, Florida.
02/12/07 MONDAY CALADESI ISLAND STATE PARK, FLORIDA
Our first look at the morning found very light rain and temperatures in the low 60's. Triton's Trumpet departed her slip headed south. Within a few hours, the skies turned brilliant blue and the weather was perfectly warmed to the 70's.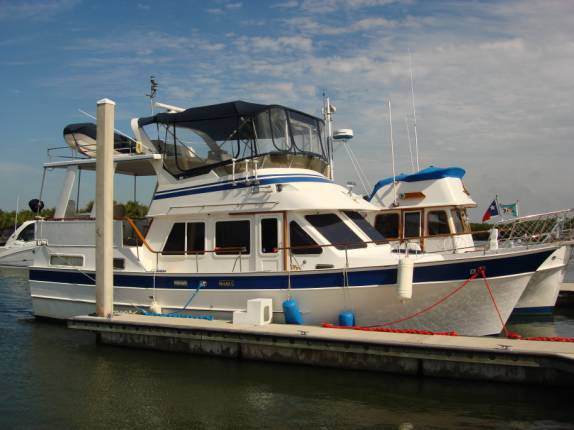 After a leisurely breakfast, we headed to the beach. Caladesi Island has the distinction of being the second best beach in Florida. The sand is like sugar and stretches for miles in either direction. The island is undeveloped and retains its pristine nature.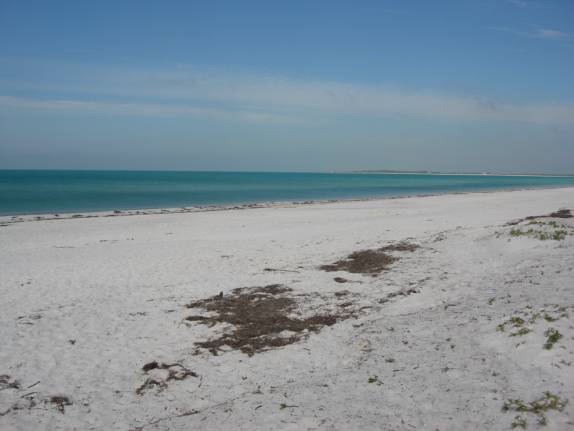 Bill and Mary Russell strolled barefoot squishing the powdery granules between their toes. They have found some beautiful shells and sand dollars to add to their collections.
The island supports many groves of lovely "cabbage palmetto." Although technically a type of grass, it is known as the "Florida State Tree".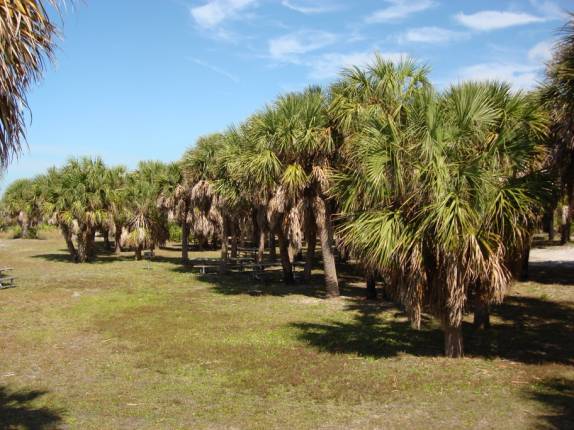 Bill and Mary were destined to Clearwater, Florida. They wanted to anchor in the Mandalay Channel and dinghy to a nearby restaurant. We helped them slip their lines and waved good-bye with hopes that we would see them again soon. These are fine folks and we thoroughly enjoy being with them. We know that they will return here soon. They have accepted the positions as "park volunteers" for the month of March. Nice gig.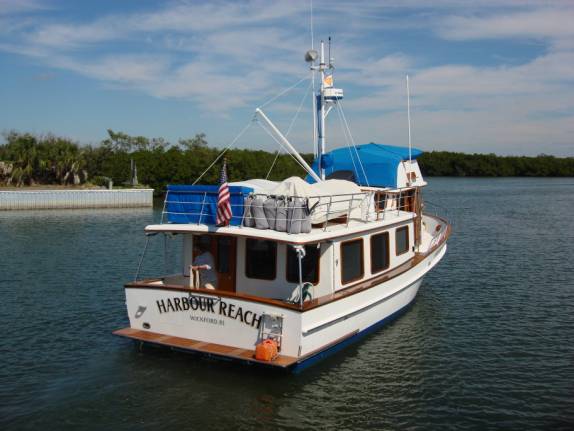 Look at these beautiful "cabbage palmetto" trees. Along the winding paths of the nature trail, we marveled at the many varieties of tropical plants. The parks department works hard to eliminate "exotic"(not native) plants from the area to allow the natural growth of the native varieties. If left alone, the natural plants would be slowly overpowered by the invading exotics.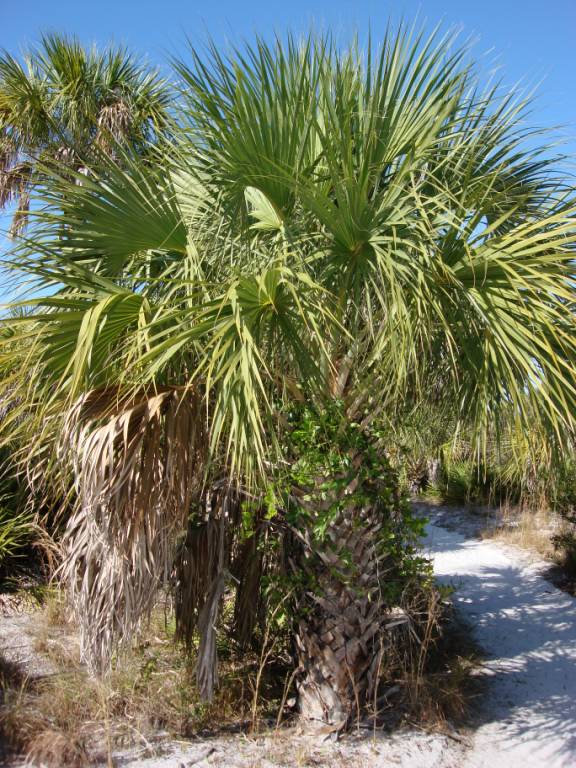 Now, let's test your botanical knowledge. How many of you can identify this pervasive, natural plant?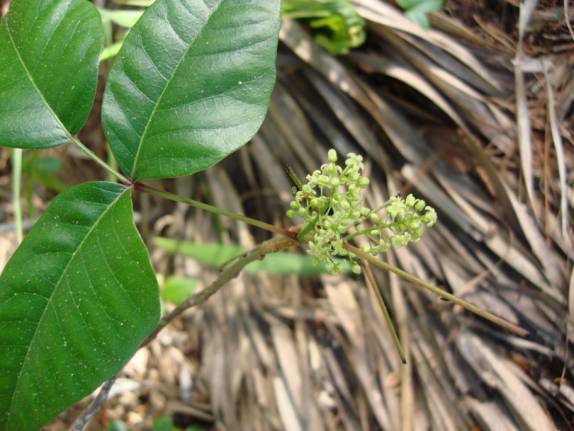 If you guessed "poison-ivy", you would have been correct. Did you notice the small white berries of the plant? I have seen many poison ivy plants, but I don't remember seeing the berries before. According to some park literature, these are a natural food source for some birds and animals that are not sensitive to the poison.
How about this docile, young Heron? He seemed to be unafraid and almost posed for several close-up pictures before winging away through the wetlands.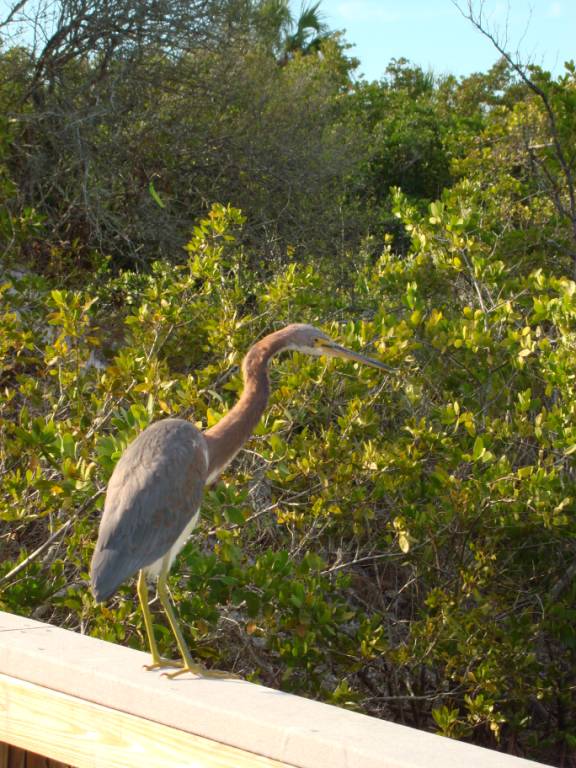 I have yet to identify these lovely buds. Perhaps one of you can. I'm not sure if they are an exotic or native.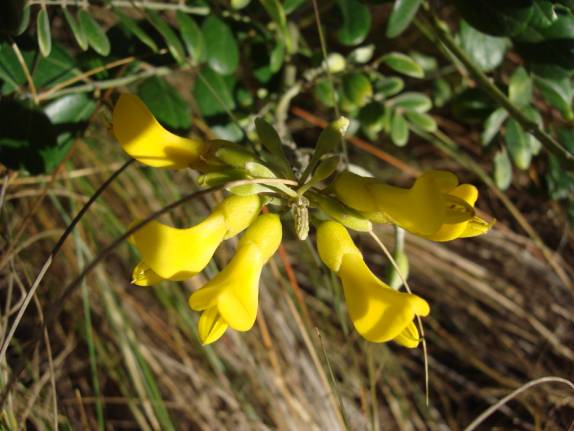 The long nature walk takes the visitor through dense areas of saw and cabbage palmetto, sturdy pines, a wooded hammock, a natural fresh water hole, and culminates in a trail that leads to the beach. The pure white sand and calm, glistening waters of the Gulf of Mexico charm the senses.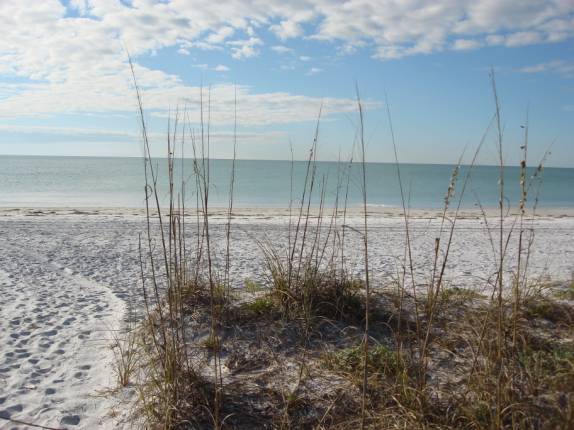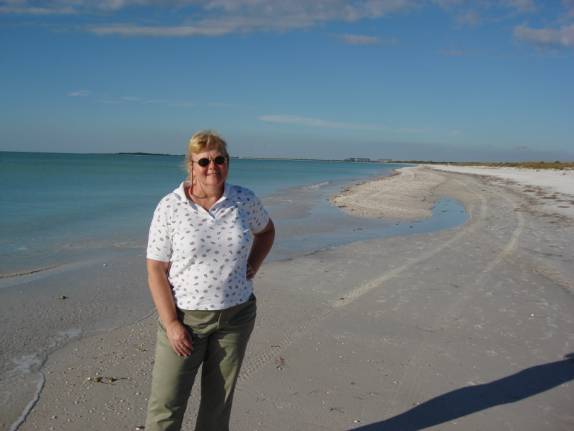 Most of the visitors to this lovely park come on the weekends. The marina is nearly full on those days, however, during the winter, the marina is largely vacant. On one night, there were only three boats here to occupy the 109 slips. As the seasons warm up, the place will be full. There is no camping here, therefore, the only overnight visitors come by boat. During the day, hourly ferries and small boats bring a lot of daily visitors.
For dinner, we prepared a pot of Cajun Chicken Soup. The grilled, French baguette accented the savory soup.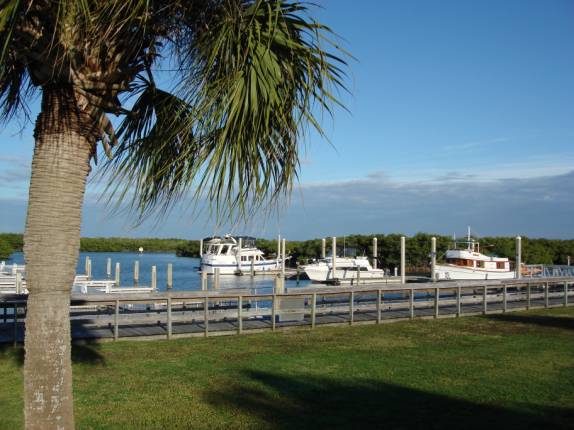 02/13/07 TUESDAY CALADESI ISLAND STATE PARK, FL
As forecasted, the rain poured heavily throughout the day. The lightning and thunder that accompanied made us glad to be comfortably tied securely to the dock. Judy cleaned and defrosted the refrigerator. She works hard to make everything nice for us. I hope she knows how much I appreciate all her love and her efforts.
In the late afternoon, we enjoyed a clearing trend. A trip to the beach for the sunset provided the opportunity for some lovely sights.
Our dinner plan included a delicious meatloaf, baked potato, and Judy baked a chocolate pudding cake for dessert.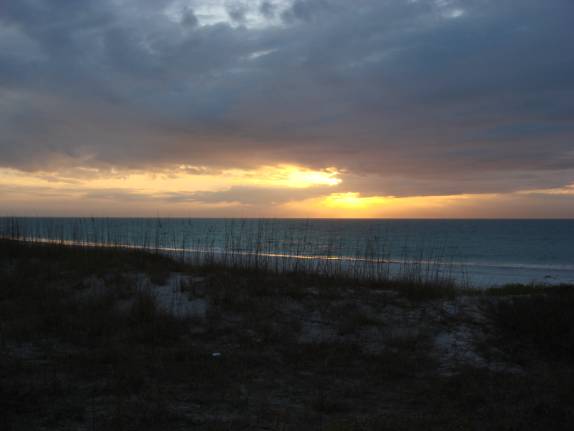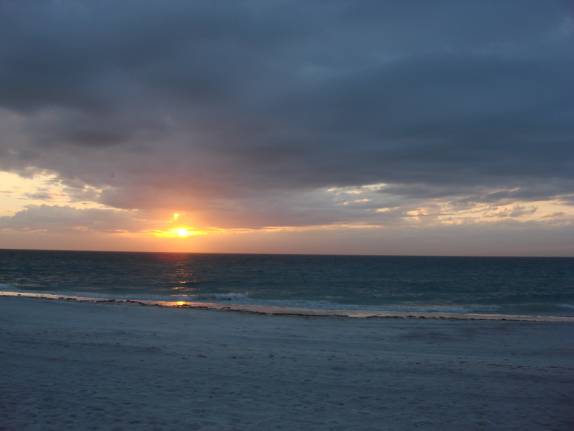 02/14/07 WEDNESDAY CALADESI ISLAND STATE PARK, FL
HAPPY VALENTINE'S DAY.
The Florida weather has turned colder. Today would be partly cloudy with temperatures in the low 60's. We exchanged Valentine's Day cards that echoed our sentiments of love for each other. As we walked along the deserted beach, I couldn't help drawing another Valentine message in the sand. I want you all to know that I love Judy very, very much. She makes my life wonderful!!!!!!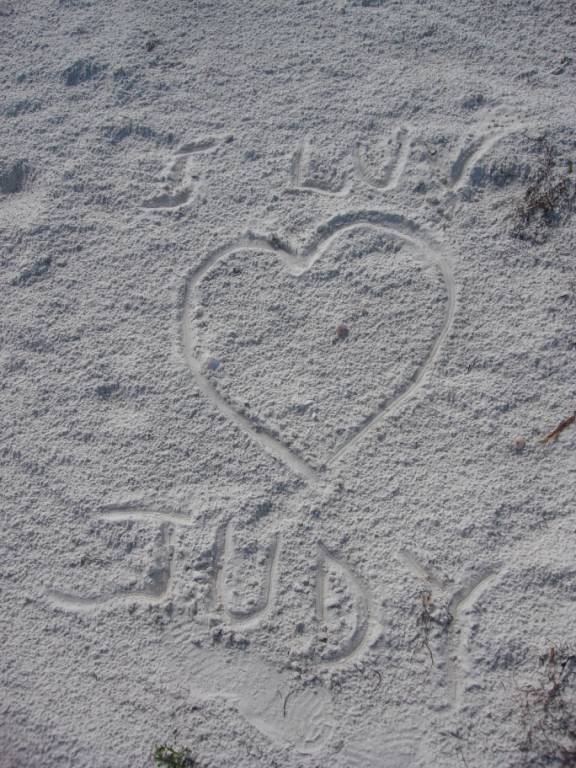 The northerly breeze has changed the look of the water. The color is a different blue and the waves now splash harshly upon the sand.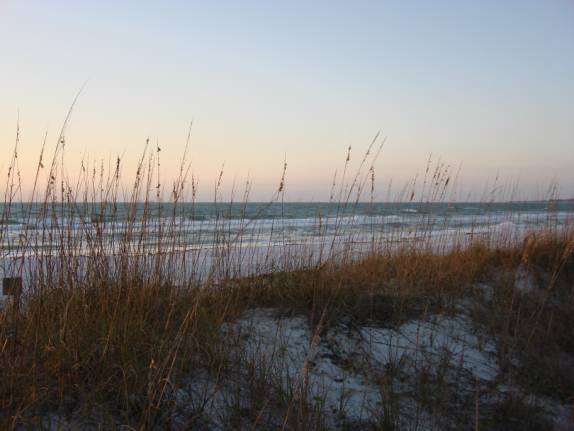 Neil and Pat are park volunteers. They live aboard their Carver named "L'Chayim". They have been involved with the Florida Parks department for many years. Their efforts help to make this fabulous park such a desirable place to visit.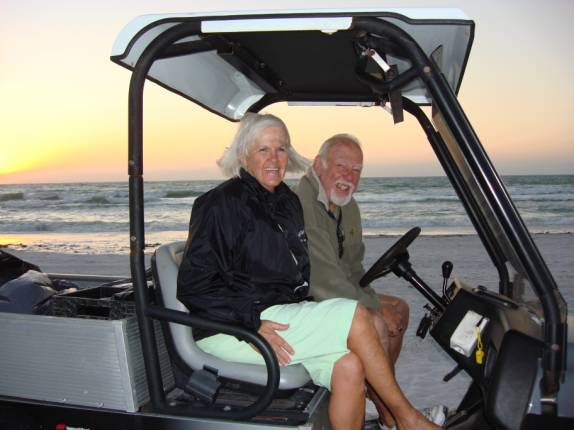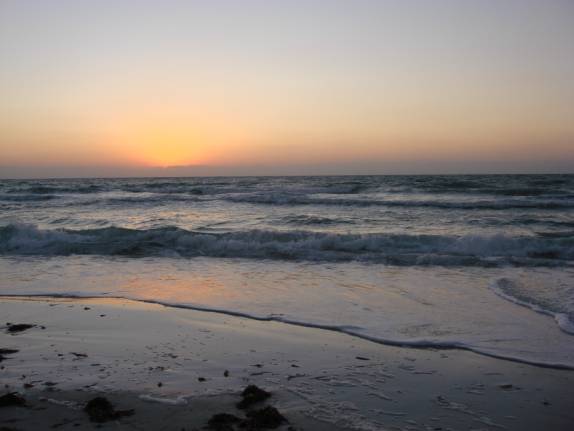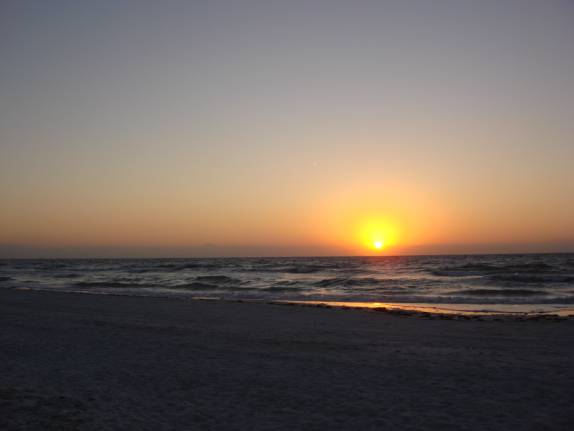 02/15/07 THURSDAY CALADESI ISLAND TO MADEIRA BEACH, FL
Our friends, Bill and Mary Russell aboard Harbour Reach, called to tell us that they had talked with the dockmaster at Madeira Beach Municipal Marina and had arranged for a special rate for us too. With the weather forecast to be cold and windy for much of the upcoming week, we decided to relocate there. At 10:25am, with the rising tide, we eased away from the beautiful, concrete floating docks. It took 30 minutes to rejoin the main GIWW channel at mile 141.6. We passed by Clearwater and made the starboard turn just past the Welch Bridge at mile 122.0. The Russell's and a dockhand guided us into the assigned slip. The marina is not at all fancy. We needed to bow in due to shallow water close to the wall. The very short finger pier made getting on and off the boat a real challenge. What makes this a great place to be is that we are here with Bill and Mary. We are close to bus and trolley service, restaurants, beaches, and shopping.
Judy and I took a walk and had lunch at a recommended place. The Daiquiri Deck served up a nice grouper sandwich. The crinkle cut, sweet potato fries were quite good. We welcomed the delicate taste of the fresh fish. This place was in sharp contrast to the distasteful grouper that we had at Snooker's in Tarpon Springs.
An invitation to enjoy fresh Key Lime Pie aboard Harbour Reach resulted in another great evening with Bill and Mary. She made the pie with juice imported from Key West. It was unquestionably the best I've ever tasted.
Once again, it was well after cruisers midnight when we returned to AMARSE. It was raining and the high tide made it very difficult and quite hazardous to get back on the boat. We ended up a bit wet after crawling between the life-rail and the soaked toe-rail.
02/16/07 FRIDAY MADEIRA BEACH, FL
By morning, the rain had subsided, however, the blustery winds made the chilly temperatures feel downright cold. We bucked the wind to walk to the trolley stop. For $3.50, you can buy a day pass for the trolley/bus system. Our first ride took us north to Clearwater Beach. It didn't take us long to realize that this was not a beach day. Even the seagulls sought relief from the wind by hiding behind the trash receptacles. The fine blowing sand and cold air drove us away quickly.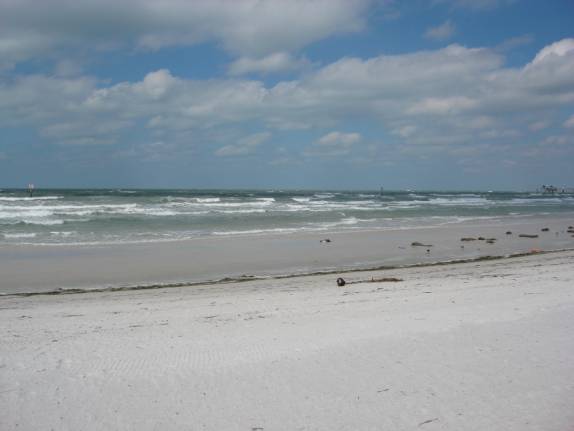 When the next trolley came by, we were on it. The piercing cold had broken our spirit to walk around very much. The 23-mile stretch of the Pinellas County Suncoast was about an hour ride aboard the trolley. Gulf Boulevard passes along a variety of small businesses, large and small condos, and numerous restaurants all the way to Pass-A-Grille. The beach there was much too cold and windy to enjoy so we returned to the marina.
We had agreed to meet Bill and Mary Russell for dinner at the Leatherback Island Grill nearby. For those willing to dine early, many local restaurants have the "Early Bird Specials". Mary made reservations to avail us of these significant savings that run only from 4 to 5 pm. It was a delightful place and the food was delicious. Judy chose Chicken Marsala with mashed sweet potatoes; Bill and Mary selected Panko coated Crab Cakes served respectively with Garlic mashed potato and mashed Sweet potato; and I thoroughly enjoyed the Shrimp Scampi on Angel Hair Pasta.
We all adjourned to the AMARSE "concert hall" for the evening's entertainment. Tonight's performance was Sarah Brightman, the Harem concert from MGM in Las Vegas. What a voice; what a spectacular display of showmanship. We really enjoy these music DVD videos.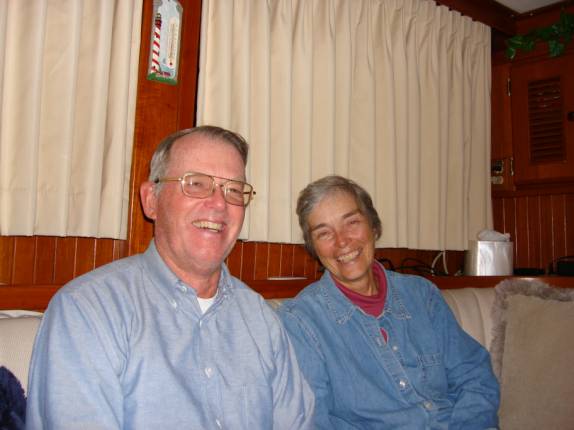 02/17/07 SATURDAY MADEIRA BEACH, FL
Our first visitor of the morning was this beautifully colored, Green Heron. In Spanish, it is called "La Garza Verde". Friends of ours actually named their boat after this handsome bird.
It turned out to be a lazy morning. Overnight was quite cold dipping down to 40 degrees. It was a good morning for doing chores. As the day warmed into the low 60's under clear blue skies, we wanted to explore more of the area. We hopped the trolley to St. Petersburg Beach and then to Pass-A-Grille beach. Still a little to chilly and windy to really enjoy the beach, we returned to St. Petersburg Beach. Dockside Dave's is a local restaurant that boasts having the #1 Voted Grouper sandwich in the area. We had to gain first hand knowledge. The waitress schmoozed us into starting off with their specialty onion rings. That is where we should have stopped. They were huge and very good, however, we were filled up completely even before our sandwiches arrived. They were huge, huge, huge. When we left, we were nearly bursting and knew that we had gorged excessively. No dinner for these kidz tonight.
Tonight's entertainment was at the AMARSE Cinema 30. We gave Bill and Mary the opportunity to choose from our DVD movie library containing about 30 titles. Bill opted for "Legends of the Fall" starring Brad Pitt and Anthony Hopkins. It was nice of them to bring the snacks. Mary solicited Bill to blend the ingredients including butter pretzels and chocolate chunks. These kidz know how to live and live well.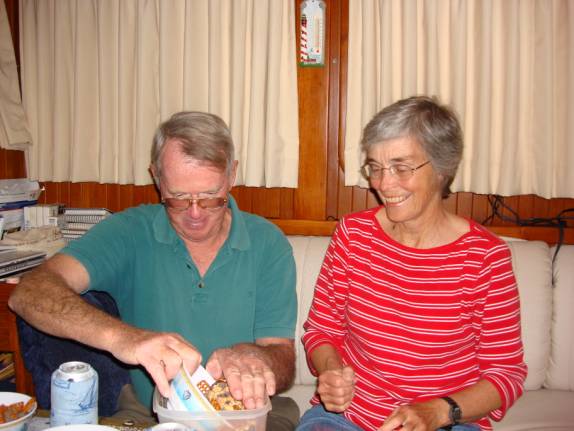 02/18/07 SUNDAY MADEIRA BEACH, FL
All night it had been quite cold, windy, and the rain poured steadily. For the morning, the rain subsided, however, the continuing, stiff breezes amplified the chill. Judy was very ambitious and accomplished a lot of chores including cleaning all the interior of AMARSE and doing all the laundry. The other guy, however, was just plain lazy. I was fixated on watching the Daytona 500 and avoiding the chills outside. I never got off the boat and stayed in lounging clothes all day. Are you proud of me now?
For those of you that missed it, Kevin Harvick just barely won over Mark Martin as much of the field wrecked in the positions behind. It was a great NASCAR racing event to kick off this year's season.
02/19/07 MONDAY MADEIRA BEACH, FL
What a beautiful morning. We were excited that our "Looper" friends, Phil and Rose Stewart were driving up from Bradenton to visit with us. We first met them in Bobcaygeon, Ontario in Canada last summer. We developed a wonderful friendship from then on and it continues now. They finished their loop voyage in December and have sold their boat, "WINGS". They came over about 11am. After a short visit aboard AMARSE, we squeezed tightly into their pickup truck and headed for St. Petersburg.
At the Pier, we watched a kid feeding the pelicans from a pedestal stage. An enterprising bait company sells small fish to be thrown to the voracious birds.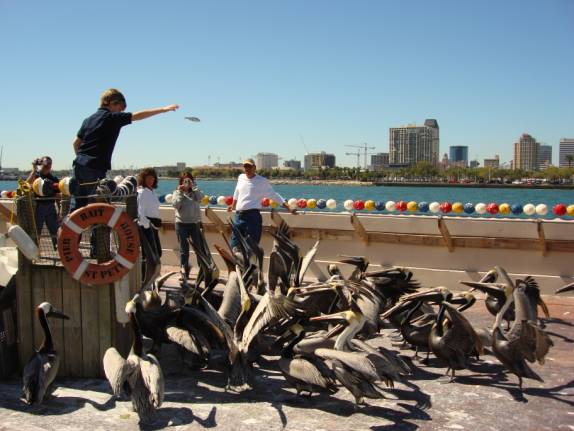 It is wonderful to share the day with this marvelous couple. Phil and Rose, those two lovebirds, are very devoted to each other and they enrich each other's life continuously. What a joy to see folks so happy with each other and that makes them a special joy to be with. In "Columbia", the rooftop restaurant, we enjoyed the fine tastes of Cuban cuisine. Phil was raised in Panama and has experienced lots of great Spanish style cooking. This establishment is one of his favorites. It was great.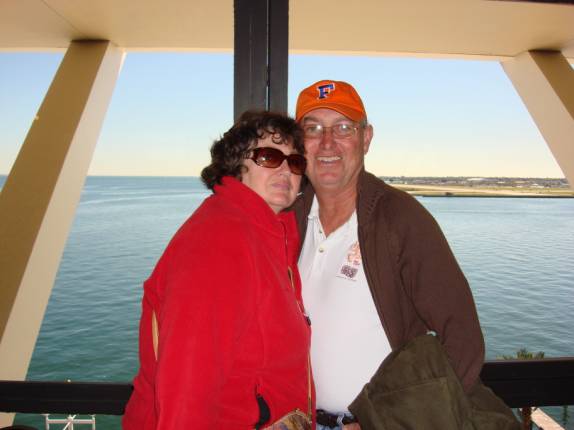 When we returned to AMARSE, the Stewarts headed home and Judy and I relaxed on the sundeck. How do you like the view we had?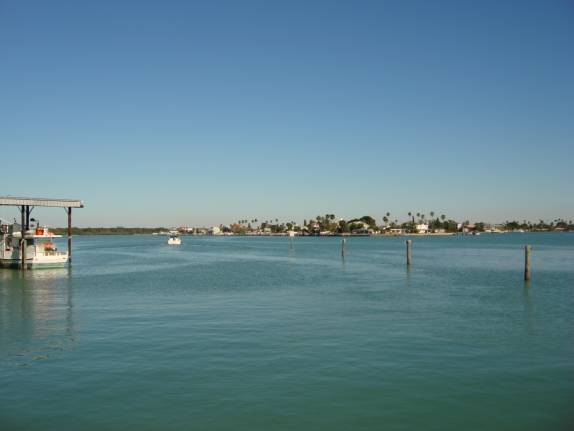 After cocktails, we enjoyed gourmet Chicken Pot Pies. This is the life, my friends, this is the life.
POST SCRIPT:
Our plan is to enjoy Madeira Beach for a few more days before heading further south. Please let us know if you have any special suggestions and thoughts.
We sincerely hope that you enjoy these email UPDATES. We thank those of you who have contacted us recently and we are looking forward to hearing from each of you in the near future. Thanks for allowing us to share our life and adventures with you.
REMEMBER: The website is now fully active and you can visit it at any time. You can review any of the 2006 or 2007 logs and learn more about the crew and our plans. Enjoy.
ATTENTION: SPECIAL NOTE:
Judy can be reached at 361-550-5353 and Fred can be reached at 210-296-4933. We can be reached at either number. Please call us if you like, we'd really like to hear from you.
"AMARSE". is pronounced "AM-ARE-SAY". Our website is: www.amarse.net .
Check it out while we will attempt to keep you informed via email
We would like to hear more about what is happening in your lives. Let us know as we very interested in what's going on with our friends and family. Please call or email us with your thoughts and comments and ideas too. Thanks
Lot of Love,
Fred Reed and Judy Law
AMARSE
MT40