UPDATE #3
02
/04 thru 02/11/07
Howdy Everybody,
We are very interested in hearing from ya'all. If you have missed out on any of the previous emails and would like us to re-send them, please let us know.
Please let me know if these emails containing pictures are too large and we will send you a version with text only.
We certainly hope you will enjoy the Website and that you will visit it frequently. If you "BOOKMARK" or "ADD TO YOUR FAVORITES", you will have easier access to the Website. You will find it at: www.amarse.net .
At the website, you can read about our aspirations for 2007, including our plan to do the loop trip again this year. Please let us know you thoughts, comments, and suggestions.
The period 01/19/07 thru 02/03/07 has been covered in Updates 1 through 2. We continue with UPDATE07 #3.
UPDATE07 #3 02/04/07 through 02/11/07.
Welcome back to the new Adventures of the trawler AMARSE. At last update, we were enjoying the wonderful port of Tarpon Springs, Florida.
02/04/07 SUNDAY TARPON SPRINGS, FLORIDA
A loaf of fresh Challah bread was sliced for Judy's delicious French Toast. It was a perfect beginning for a wonderful day. We lazed around and visited with our dock neighbors. The discussion centered on the big event for the day, Super Bowl XVI. Two of the looper boats are from Indianapolis so we had definite opinions about the odds on this match. Back in San Antonio, we knew that our friends Jack Kelly and Cindy Eisman were busily setting up for a big get-together. We would have loved to have been there, but Florida and Texas are two different countries.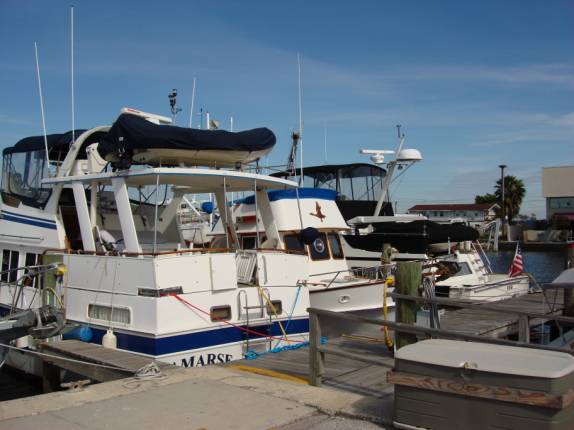 Another interesting feature of this town is the shops that display every kind of sponge imaginable. Sponging has been a mainstay industry for this community since its inception many years ago. Gift store after gift store line the quaint streets of Tarpon Springs.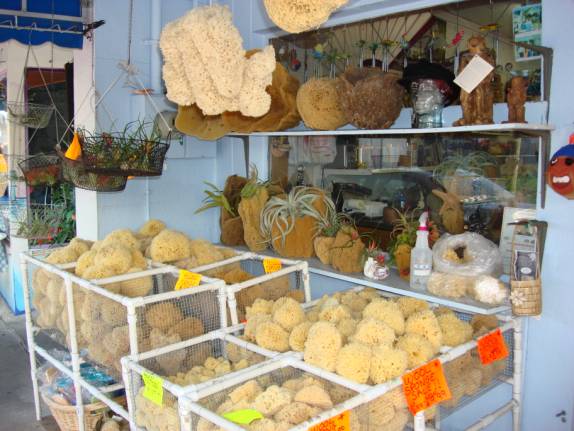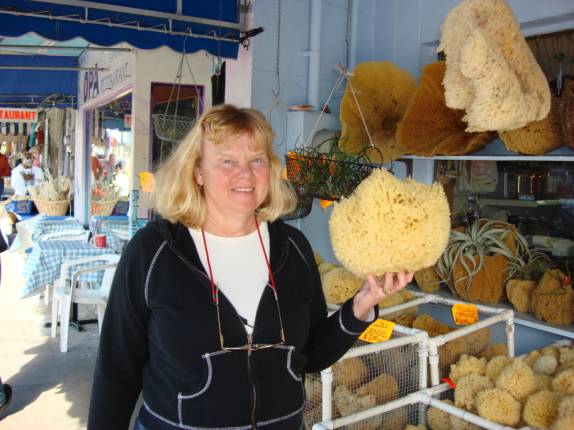 At 3:30pm, Ken and Georgia Bray picked us up for the short trip to their home. Ken masterfully grilled our burgers perfectly while Georgia prepared awesome Scalloped Potatoes. We finished off dinner with some yummy, Greek desserts from the National Bakery in Tarpon Springs. These folks put the sweet in sweets.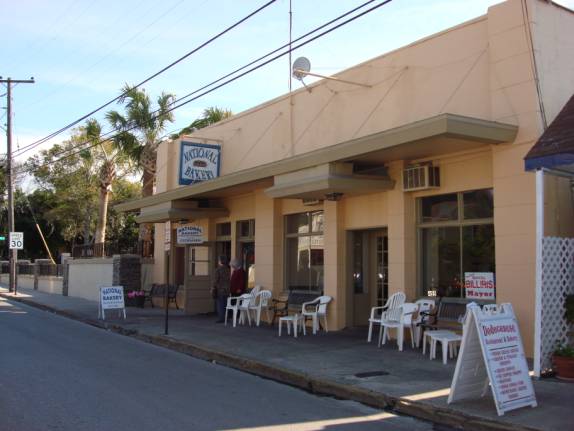 We all sank deep into the cushions of the sofa and chairs to watch the culmination of the Pro-football season. Over the next few hours, the Indianapolis Colts trounced the Chicago Bears. Ken and Georgia were happy for the coach that previously led the Tampa Bay Buccaneers. Our dock friends were happy and we were happy to be a part of this fun day.
02/05/07 MONDAY TARPON SPRINGS, FLORIDA
I had noticed a little accumulation of engine coolant in the drip pan of the starboard engine. I crawled all around trying to find the source. It took a while to find the illusive drip but it could not escape. I found the slight crack hidden in the bend of a copper tube that connects to the hot water heater. Hot engine coolant is routed through the coils of our water heater providing the source of heat while the engine is running. (The water heater also operates on 120 volt AC electric current from the generator or shore power.) My agile and capable buddies Glenn and Robert helped me remove the fittings to effect the repair. The nearby ACE Hardware store was ready to assist. I was going to buy a flaring tool and cutter, however, the man said he could fix this problem. Within a few minutes, he had trimmed the tube and flared it perfectly. He graciously offered his complimentary service by saying, "try to get that kind of service at Home Depot". They certainly lived up to their motto, "ACE Hardware, the Home of the Helpful Hardware Man." If you are in the Tarpon Springs area, please be sure to patronize this wonderful local business. This is the same store that helped us out last year too with a pressure switch that we needed.
By noon, we were waving good-bye to our friends, Bill and Mary Russell aboard HARBOUR REACH. Hopefully, we will get to visit with them again soon. We have really enjoyed the week with them.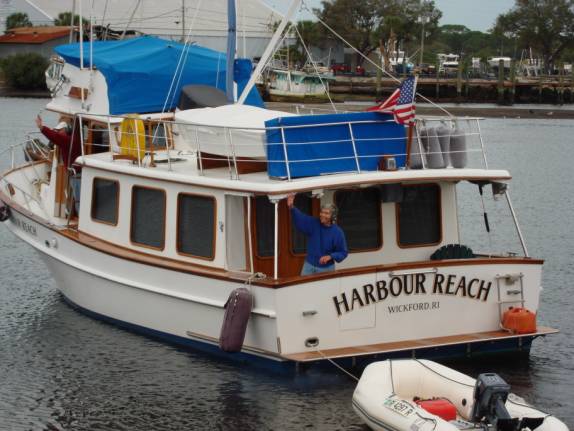 Our evening was a quiet one just enjoying each other. Judy prepared Pot Roast of Beef and Baked Potato. It was a relaxing time watching the luxury of cable TV.
02/06/07 TUESDAY TARPON SPRINGS, FLORIDA
The toaster-oven browned the Challah bread slices while Judy scrambled up fresh, jumbo eggs. It was beautiful and clear outside this morning as the temperature was slowly warming from the 53-degree mark.
The NAPA auto parts store called that my order was ready for pickup. With very little coxing, Glenn offered to take us, along with Robert, in his Blazer if we would do lunch together. With another visit to the "Lucky Dill" Deli Restaurant set in all of our minds, our mission was clear. Robert's choice was the overstuffed Brisket sandwich and apple-strudel, Judy ordered the Baked French Onion Soup, and I selected the combo Ruben sandwich with Pastrami, corned beef, and sauerkraut piled high on grilled rye bread. Now for Glenn, this guy is the smallest and thinnest of us. We are convinced that he has a tapeworm or something. His appetite is enormous and he packs away the chow without gaining a pound. He gave the waitress writers cramps when he ordered a full order of fried green Tomatoes, a triple-decker, skyscraper sandwich with Pastrami, Corned Beef, and Chopped Liver. He kept her running for several glasses of Ginger Ale and that slice of Cheesecake with strawberries. It surely doesn't seem fair, does it?
The afternoon warmed nicely to near 70 degrees and the sun felt great. We began to feel a little sorry for all those folks up north and northeast suffering in heavy snows and cold, however, we quickly dismissed those stray thoughts as we relaxed in the rays of the Florida sun. It's tough to feel much pity when you are squinting in bright sunshine.
This is the marina office at the City Marina of Tarpon Springs.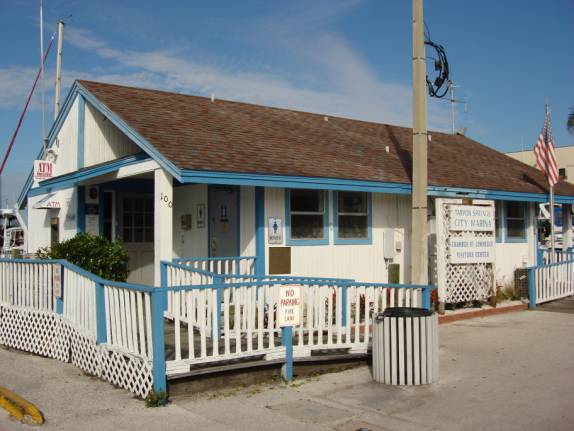 Please allow me to introduce you to one of the dockmasters. Ted is a very enjoyable and helpful person that greatly enhanced our visit to Tarpon Springs.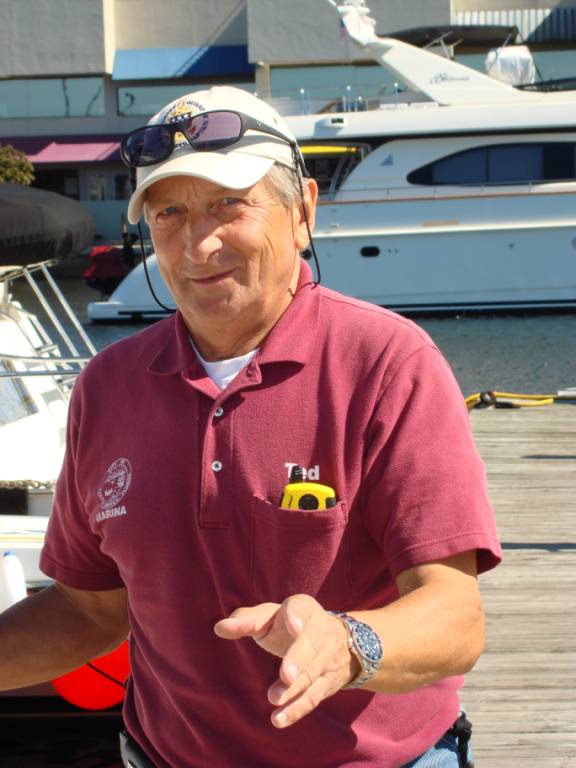 We were still nearly bursting from lunch and couldn't face a big dinner tonight. I had some plain noodles and Judy grilled cheese on Challah bread. Another Cable TV night entertained us into the wee hours.
02/07/07 WEDNESDAY TARPON SPRINGS, FLORIDA
The sky was clear, the wind was calm, and the morning 55 degrees would warm nicely into the low 70's. Once again, we had slept like a couple of lazy cats. This place is great. Please don't ask me what we accomplished this beautiful day because I have no earthly idea. I just know that I had a great day, at a great place, with great friends.
Patty has been suffering with the flu or something for the last couple of days. She feels better today and wants lunch. Robert asks us to join them at the Lucky Dill Deli. Our motto is "Never Say No". Patty chose the Chopped Sirloin Dinner, Robert bit deeply into another brisket sandwich, Judy savored her favorite, the Brisket dinner with Potato pancakes, and a rare Roast Beef sandwich tantalized my taste buds.
We were pleased that Ken and Georgia Bray accepted our invitation to dinner aboard AMARSE. They have been so gracious and generous to us during our stay. Ken had put in a special request for my interpretation of Jambalaya. I don't think any two chefs make the same recipe. My rendition was concocted with a medley of Sausages, browned rice, and seasonings. It was most enjoyable to share the evening with them.
Judy and I stayed up till well after 1am watching a DVD Video of the Nordhaven Atlantic Rally. This group of about 25 pleasure yachts made the Atlantic crossing in a Flotilla. These stout Nordhaven vessels are specifically designed for open ocean travel. Judy and I agreed that we enjoy our type of adventure aboard AMARSE more. Their boats are not suitable for our loop voyage and our vessel is not designed for their oceanic excursion. It was fun to watch the video.
02/08/07 THURSDAY TARPON SPRINGS, FLORIDA
Dense, early morning fog enveloped the harbor this morning. As temperatures warmed from the 50's toward the 70's, the skies brightened blue. Another day in paradise consumed us as we puttzed around and chatted with friends.
Patty and Robert were glad to be rid of the sailboat that had moored next to them last night. The solo skipper travels with his huge German Shepard dog indiscriminately defecating on the boat decks. The odor was so foul that they were forced to close all their windows. Fortunately, the prevailing breeze ushered the stench away from us. It is too bad as a good friend of ours once lovingly owned this boat. Dick Strassel made the Gulfstar sailboat, SPINNER, his home for many years. Judy and I enjoyed many hours with him at Key Allegro Marina, Rockport, Texas. A couple of years ago, our friend, Dick, was taken from us by cancer but our fond memories of him will remain with us.
Patty completed her ground school recurrent training for scuba recertification this afternoon. We were a bit worried that she might run off with her young dive instructor. She probably would have but he had the nasty habit of chewing tobacco. He had recommended a nearby restaurant called "Snookers". Nine of us assembled for dinner there. We had a great time together and the beer was icy cold. Our appetizer of Conch Fritters was tasty but I didn't find much conch meat.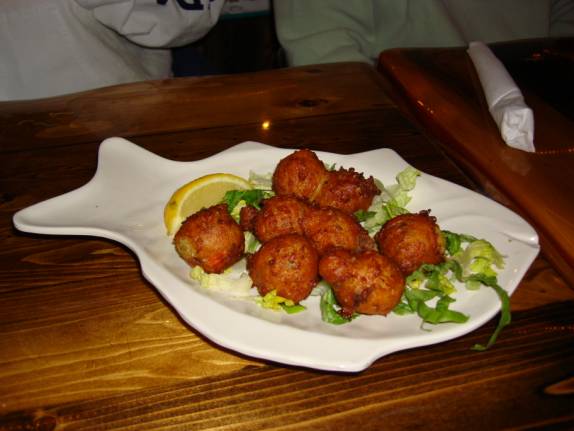 Robert gulped down the oysters like he had a plan for later this evening.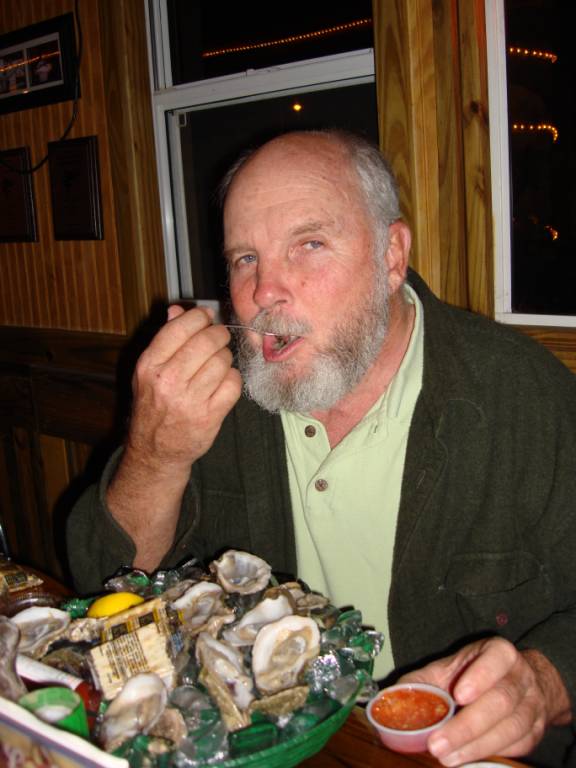 The rest of the food, however, was another story. Glenn had a nice Filet Mignon steak. Of the fish-eaters, Judy was the only one smart enough to send her grouper back in exchange for a burger. The grouper was much to fishy smelling and strong tasting. Mine was not very good but I foolishly ate it anyway. Patty just ate a couple bites before covering it up with a napkin. Jane ate the shrimp stuffing from hers and left the fish. Paul had his prepared Cajun Blackened, so, no one could discern whether it was bad or not. Bruce and Jeannie, from ADVENTURE, didn't complain much so I can't attest to their experience. All in all, it was great fun; lousy food.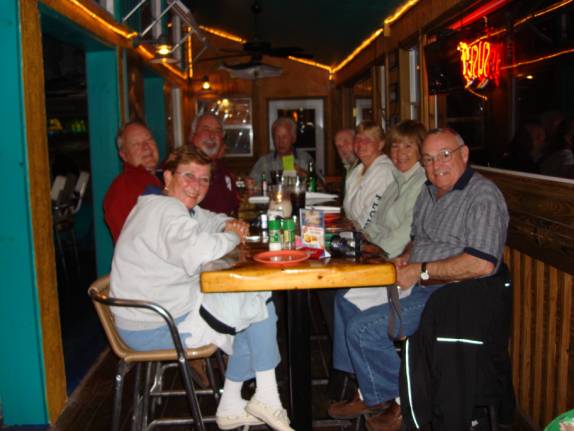 02/09/07 FRIDAY TARPON SPRINGS, FLORIDA
Paul and Jane Cowhig, aboard HAPPY DESTINY, left us this morning for St. Petersburg. They will leave the boat there for a while during their visit to family in Costa Rica.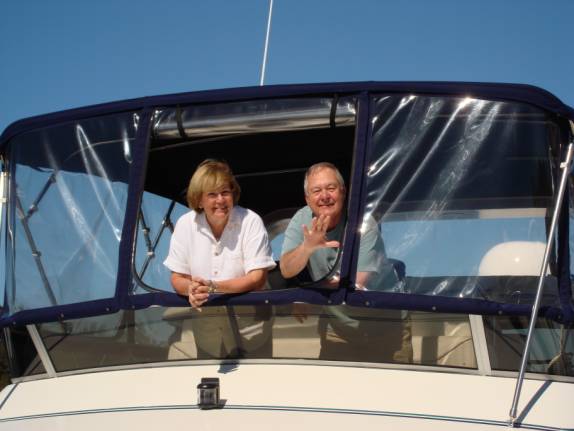 Glenn was going cruising for errands and supplies and invited us to join him. Patty was off diving with her little "Cabana Boy" dive instructor, so, Robert agreed to join us too. We took care of some boat paperwork and, then, Glenn suggested the Lucky Dill for a luncheon. How long do you think it took to say, "Yah, baby"? Perhaps, only a New York minute.
Judy and I visited the Spongearama Factory and Museum. They offer a movie describing the entire process of sponge gathering and preparation for market. A museum dedicated to the history of the Tarpon Springs sponging industry fills the back area of the building. Out front, they sell almost every variety of commercial sponge that you can imagine.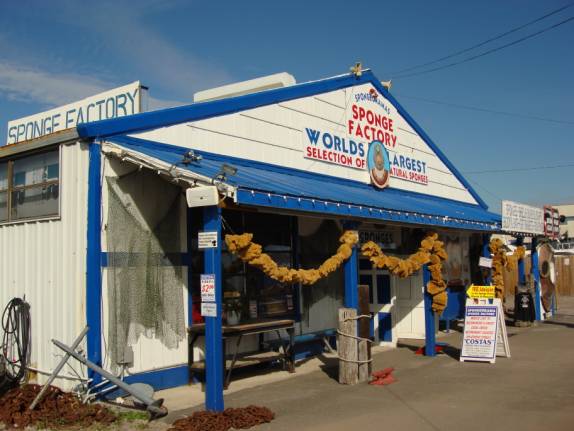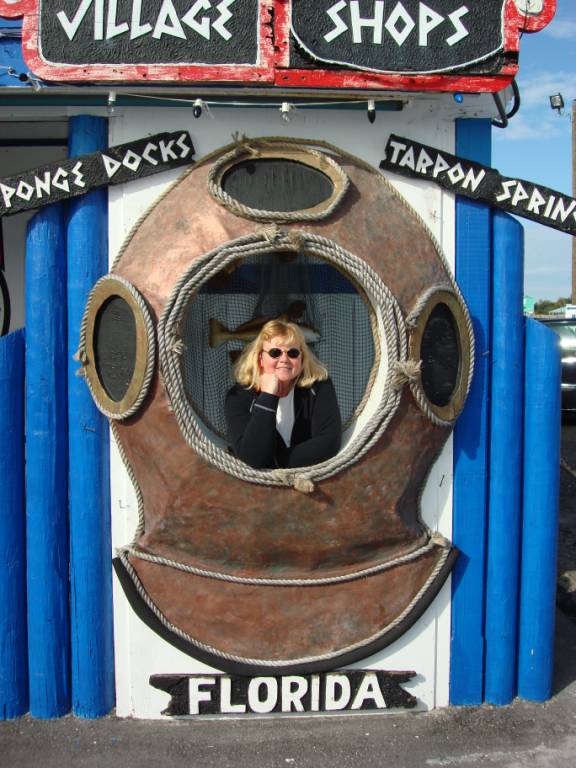 We spent much of the afternoon hanging around the marina waiting for Roy, the Coast Guard Auxiliary fellow, to come and inspect our boats for safety. Disappointingly, he didn't show up.
Once again, our much appreciated friends, Ken and Georgia invited us to dinner at their home. At our special request, Ken grilled up some of his famous burgers. With salad, French Fries, and Baked Squash, we found ourselves stuffed again. It is always such a treat to be with them.
02/10/07 SATURDAY TARPON SPRINGS, FL to CALADESI ISLAND STATE PARK
The morning was occupied with preparations to get underway. We have been here for two weeks and reached the maximum limit for a continuous stay. We are being evicted. We delayed our departure in hopes that Roy would show up this morning. No such luck, so, at 12:00 noon, our friends helped us with the lines as we slid away from the dock. The respite was delightful in every way. This will rate high in our folder of memorable times.
The idle speed limit in the Anclote River permits a great opportunity to soak in the beauty of this area.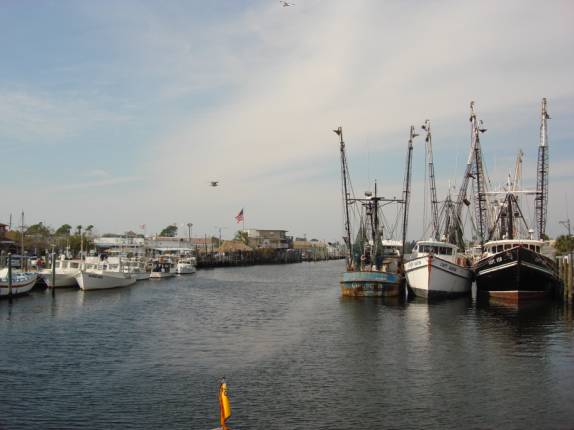 It takes nearly an hour to reach the intersection of the GIWW at MileMarker 152.4 as measured from Ft. Myers. The turn southward follows a narrow, dredged channel to the Dunedin-Honeymoon Island Bridge. Close by, a channel branches off at Mile 141.6 leading to the Caladesi Island State Park. We proceeded slowly along under a rising tide toward the park. The charted water depth is only shown as 4 feet at low tide. We gingerly advanced and were fortunate to see waters of about 6 feet for most of the several mile channel.
A lovely natural harbor surrounded by beautiful mangrove leads to the island marina. Our friends, Bill and Mary Russell, from Harbour Reach, had pre-arranged a slip for us at the nearly new, concrete floating dock facility. They greeted us from a rented kayak that had taken them through the dense, mangrove trail.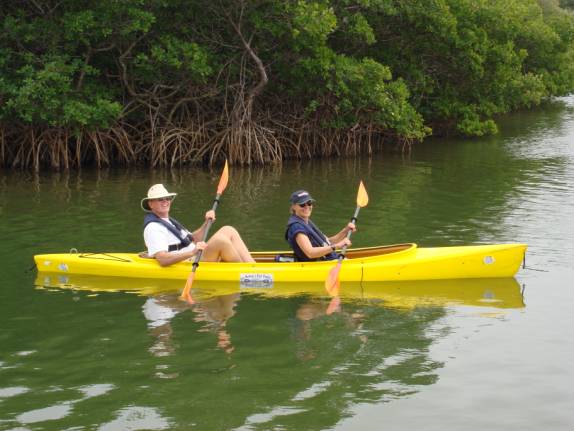 Far nicer than we could have ever expected, the Park Volunteers and fellow boaters helped us slide into the tightly spaced slip #104. We secured at 2:25pm between "HARBOUR REACH" and "TRITON'S TRUMPET", another looper boat from Canada. There are 109 slips here, most of which are designed for smaller sized boats. There are only about 5 spaces adequate for our width of 14 feet.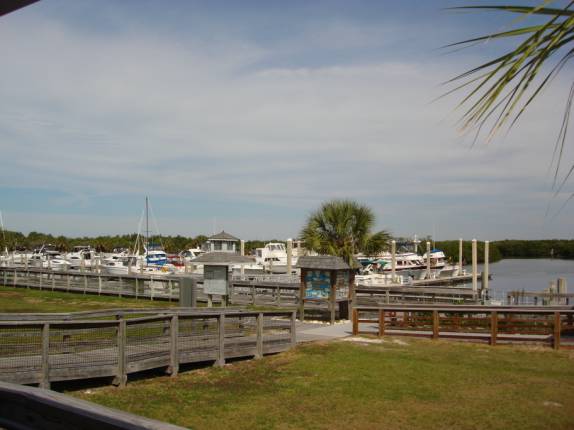 This awesome park has the distinction of having been voted the "Best State Park in the Country". If you think that is a great honor, consider the fact that this park is the only one to have been honored, not once, but twice.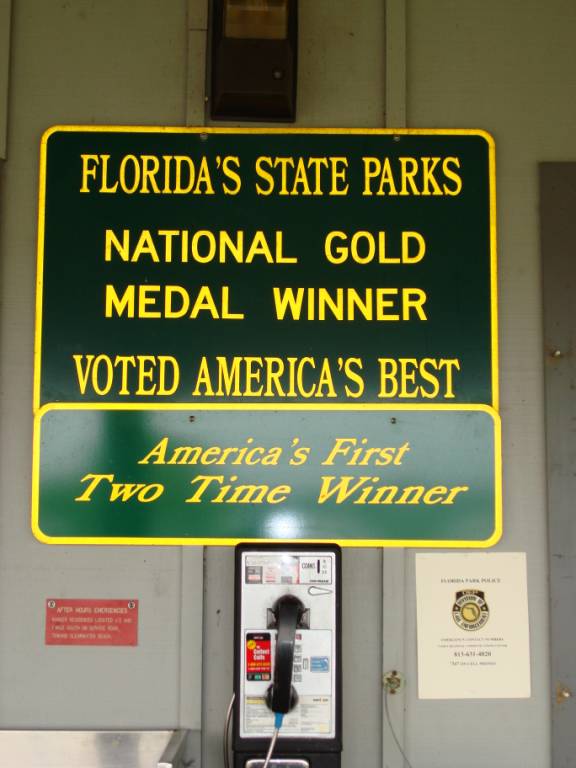 It is only a short walk to one of the most pristinely natural beaches in Florida. As the afternoon chill set in, Judy and I strolled along a short section of this "sugar-sand" paradise.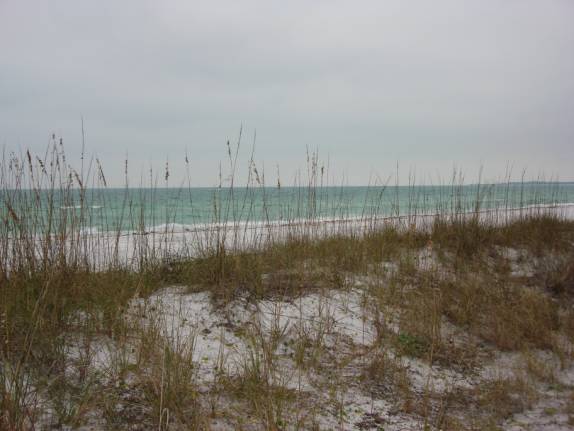 Unfortunately, it is winter here in Florida and the water is only about 60 degrees and the air temperature is not much more. For us, it's too chilly for swimming.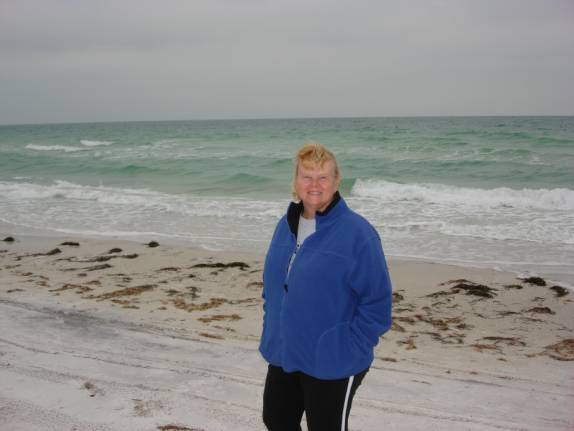 A hot shower and a short nap rounded out the afternoon agenda.
We had reservations for dinner at "Russellino's Boat of Pasta". Bill and Mary graciously invited us to share the evening repast by serving us a wonderful Lasagna casserole. It was delicious and the crusty loaf of bread that we brought from National Bakery complimented the meal. For dessert, a scoop of "Moose Tracks" ice cream and a frosted, chocolate cupcake topped it all off. Our hosts have had a life full of adventures and we enjoyed the tales of travels and experiences. Before we knew it, we had well exceeded "cruiser's midnight" and didn't get back to AMARSE until almost 10:45pm. Still spiked on chocolate, we stayed up watching TV until well after midnight. We will certainly add this day and evening to our growing list of wonderful memories.
POSITION: N28 01.942 W082 49.162 (YOU CAN VIEW THE SATELITE PICTURE OF THIS ISLAND ON "GOOGLE EARTH".)
02/11/07 SUNDAY CALADESI ISLAND STATE PARK
The cool morning temperatures in the 50's made it pleasant to sleep late. A few cups of coffee later and a bit of work on these logs pushed the digits of the clock past high noon. Just before 1pm, Judy, Mary Russell, and I assembled at the ranger office to embark on a nature walk.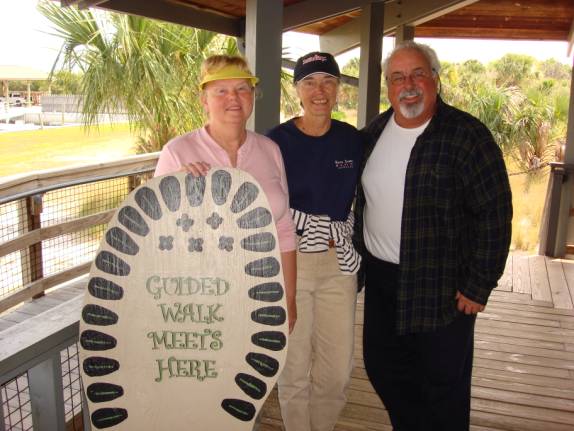 Florida Park Ranger, Bill Gruben, led us along a sandy trail continuously educating us on the history, flora, and fauna of this pristine island paradise. His nearly 2-hour presentation was very informative and thoroughly enjoyable. He has a true love for this nature setting and his enthusiasm is clearly evident.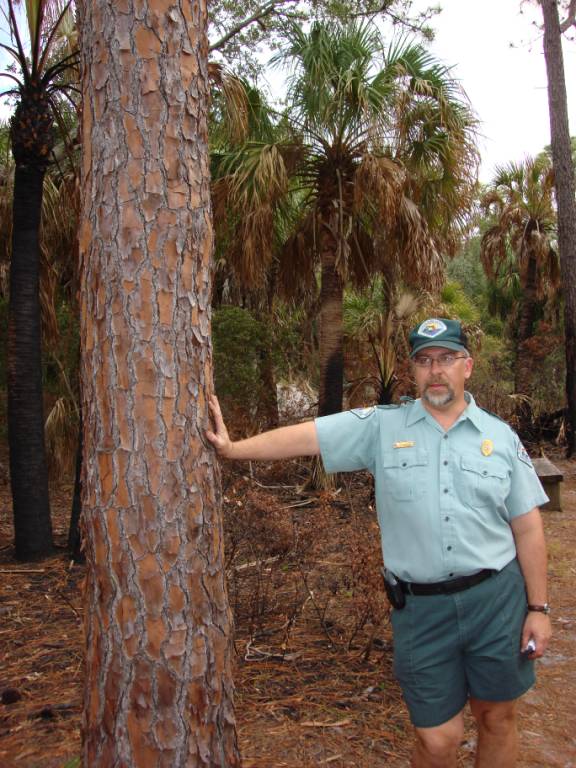 I found his explanation of "prescribed burning" of the area to be very interesting. Although it seems to scar the area for a short term, the overall result is a more healthy and productive life for the plants and wildlife.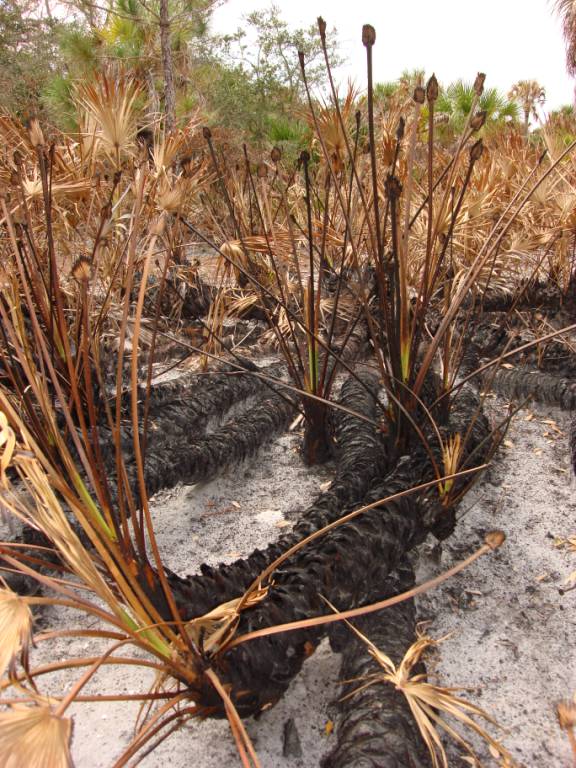 Again this afternoon, the temperatures seemed to cool all to rapidly. I worked a lot more on these logs as Judy readied the boat and began preparations to host dinner with Bill and Mary coming to AMARSE at sunset.
The menu featured my favorite, Judy's special Sautéed Chicken in Mushroom Cream Sauce, Mashed Potatoes, herb stuffing, and then dessert. Lots of wonderful story telling is really the sweetest after-dinner treat. The conversation led to music and we all enjoyed the Rod Stewart, "American Songbook" DVD video. For those of you unfamiliar with Rod's latest music venture, I urge you to "look, listen, and feel" his renditions of the old standards. This is a fun, fun life! I love it!
POST SCRIPT:
Our plan is to enjoy this fabulous Island paradise for a few more days before heading further south. Please let us know if you have any special suggestions and thoughts.
We sincerely hope that you enjoy these email UPDATES. We thank those of you who have contacted us recently and we are looking forward to hearing from each of you in the near future. Thanks for allowing us to share our life and adventures with you.
REMEMBER: The website is now fully active and you can visit it at any time. You can review any of the 2006 or 2007 logs and learn more about the crew and our plans. Enjoy.
ATTENTION: SPECIAL NOTE:
Judy can be reached at 361-550-5353 and Fred can be reached at 210-296-4933. We can be reached at either number. Please call us if you like, we'd really like to hear from you.
"AMARSE". is pronounced "AM-ARE-SAY". Our website is: www.amarse.net .
Check it out while we will attempt to keep you informed via email
We would like to hear more about what is happening in your lives. Let us know as we very interested in what's going on with our friends and family. Please call or email us with your thoughts and comments and ideas too. Thanks
Lot of Love,
Fred Reed and Judy Law
AMARSE
MT40