UPDATE #2
01
/28 thru 02/03/07
Howdy Everybody,
We are very interested in hearing from ya'all. If you have missed out on any of the previous emails and would like us to re-send them, please let us know.
Please let me know if these emails containing pictures are too large and we will send you a version with text only.
The period 01/19/07 thru 01/27/07 has been covered in Update 1. We continue with UPDATE07 #2.
UPDATE07 #2 01/28/07 through 02/03/07.
Welcome back to the new Adventures of the trawler AMARSE. At last update, we had just arrived at Tarpon Springs, Florida.
We certainly hope you will enjoy the Website and that you will visit it frequently. If you "BOOKMARK" or "ADD TO YOUR FAVORITES", you will have easier access to the Website. You will find it at: www.amarse.net .
At the website, you can read about our aspirations for 2007, including our plan to do the loop trip again this summer. Please let us know you thoughts, comments, and suggestions.
01/28/07 SUNDAY TARPON SPRINGS, FLORIDA
Our night at Ken and Georgia Bray's home was delightfully restful. They have opened up their lovely home and their generous hearts to welcome us again. Being with them brings us great happiness and joy.
Ken was up early to read the paper. He was being so quiet that we thought they were still sleeping. Even while preparing his signature, homemade biscuits, we heard nothing. Everyone was up and around by 9 am eager to enjoy the sumptuous breakfast of biscuits, bacon, eggs, and Crème Brule French Toast. Georgia had done the initial preparation last night so that the flavors could meld together overnight. By morning, the baking pan was ready to be finished in the oven. These folks know how to do it right.
After lazing around the rest of the morning, Judy and I returned to the boat while Ken and Georgia headed off to the Home Show. We doubted that the show would feature very much that would compliment our "home".
For the evening, Ken and Georgia picked us up and took us back to their home. Their plan for dinner included Filet Mignon, Baked Potato, fresh Brussels Spouts, and, of course, the rest of that French Silk Pie. Wow. Wow. Woweeeee.!
Since our visit last April, they have made some super changes to their house. They completely remodeled the pool area and installed beautiful, new tiles and edges to the pool and installed a spa that connects to the lighted pool. Paving stones surround the deck area and patio. They enlarged the screen enclosure and modified the drainage system. The patio furniture is beautiful and delightfully comfortable. We are so fortunate to have this invitation to share their home. Thanks Ken and Georgia!!!!!!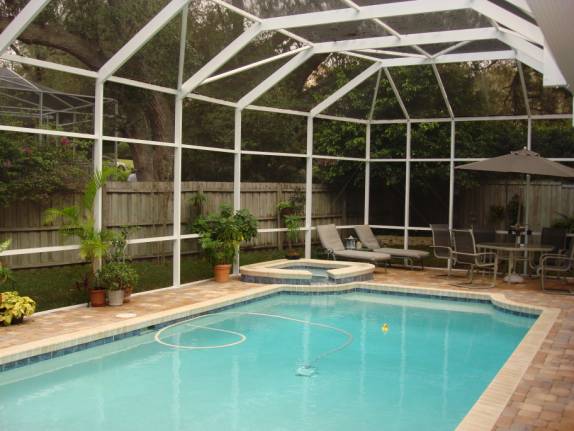 Our room was peaceful and quiet while the outside weather blew hard and the rain poured heavily.
01/29/07 MONDAY TARPON SPRINGS, FLORIDA
Georgia is off on Mondays. Ken rearranged his schedule to go in late and take time to visit a little more over another delicious, leisurely breakfast.
On his way to work, Ken dropped us off at AMARSE at 9:30am. When a bunch of "Loopers" get together, you can bet they will chatting about almost anything and everything. It is such a wonderful group of folks here now.
Robert and Patty from Orinoco,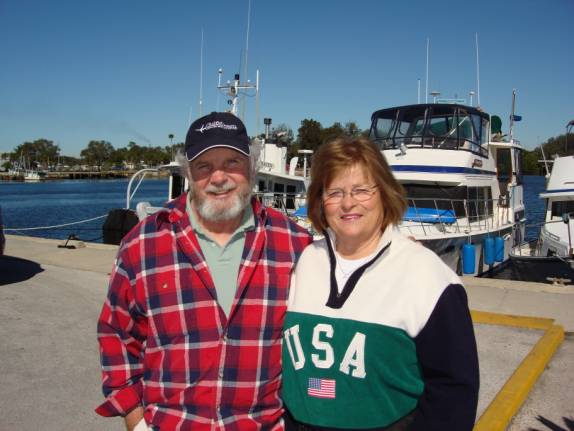 Bill and Mary from Harbour Reach,
Tom and Marbeth from Change of Pace,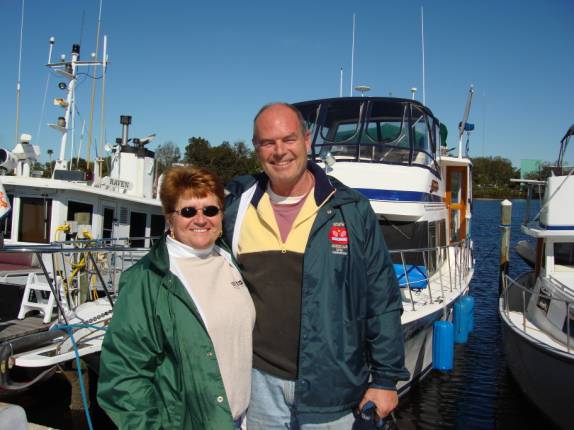 Fred and Judy from AMARSE,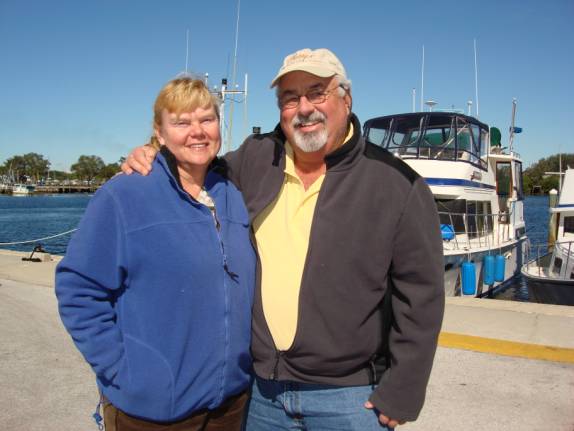 and Glenn from "Mother Schucker", a Schucker 438 trawler.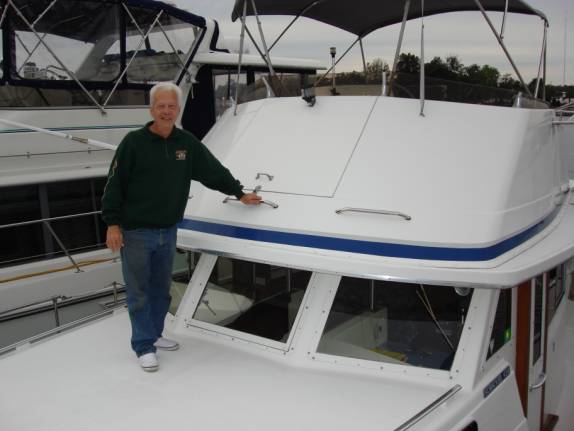 We are all in a row here at the dock. The pleasant afternoon beckoned us to stroll along the historic sponge docks. A statue commemorates and salutes the tradition of sponge diving that fostered the growth and livelihood of this community.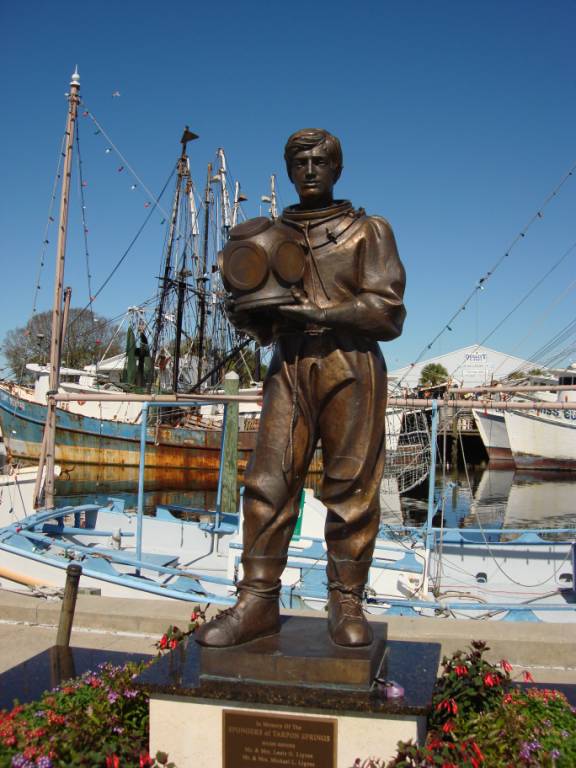 The cold front ushered in a blast of frigid air threatening to drop temperatures down into the mid 20's making it the coldest night of the year here in Tarpon Springs. A bunch of us got together to enjoy dinner at one of the local Greek restaurants. The Dodecanese Restaurant and Bakery has been lauded by previous loopers as being very friendly and as serving up excellent Greek fare.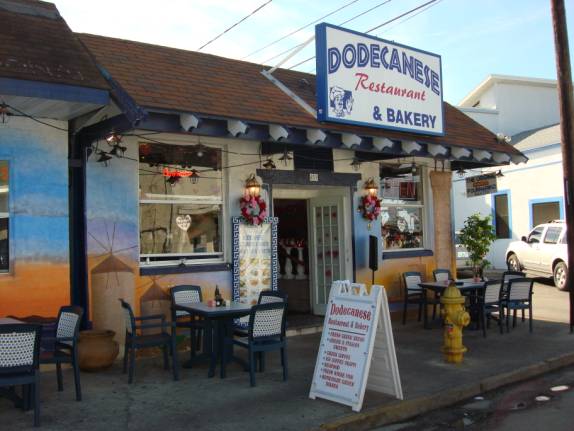 They lived up to their fine reputation and everyone enjoyed the evening. Judy selected the "Gyro" platter. This is a meat blend that is formed and then rotisseried on an upright spit before being shaved off in thin slices. I chose the "Keftedes", a Greek style meatballs. Others had Lamb, stuffed tomatoes, Mousaka, and other Greek specialties. Everyone had Greek salad with Feta cheese. The restaurant even brought us complimentary seafood salad and a Greek dessert that looked like shredded wheat filled with nuts and honey.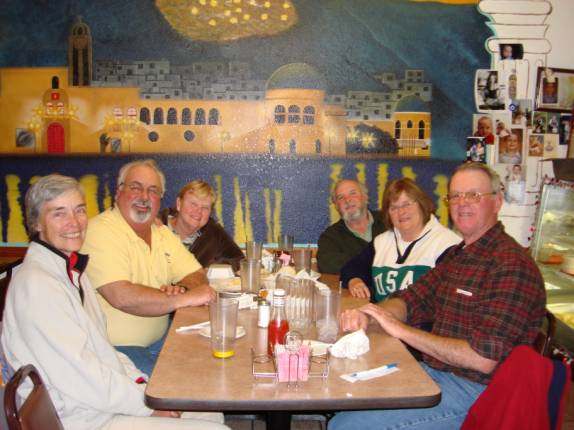 It was a chilly walk back to the boats, however, we warmed up quickly in our heated cabin.
01/30/07 TUESDAY TARPON SPRINGS, FLORIDA
Breakfast onboard was casually enjoyed before emerging onto the dock this chilly morn. Along with Robert and Patty, we boarded the city bus that would take us to the Tarpon Mall. We wandered through West Marine, K-Mart, and Radio Shack. The dock has cable TV outlets, however, we did not have a connector cable on the boat. A 50-foot model should be just about right in most cases. Some 3M sealant 4000 found its way into the bag, as well as, miscellaneous items from other shops. The return bus dropped us off at the "Bally Ho" restaurant near the marina. They serve a mighty fine, half-pound cheeseburger that is cooked just the way we like 'em.
The remainder of the afternoon was occupied with chores and working on the log and update pages.
Ken and Georgia, after a long day of working, picked us up for dinner at a really neat place. Casually set in the hamlet of Ozona, "Molly Good Heads" Bar and Grill is renowned for good grub and grog. The grouper dinners were delightful, the beers were cold, and the company was most enjoyable. This is a great life!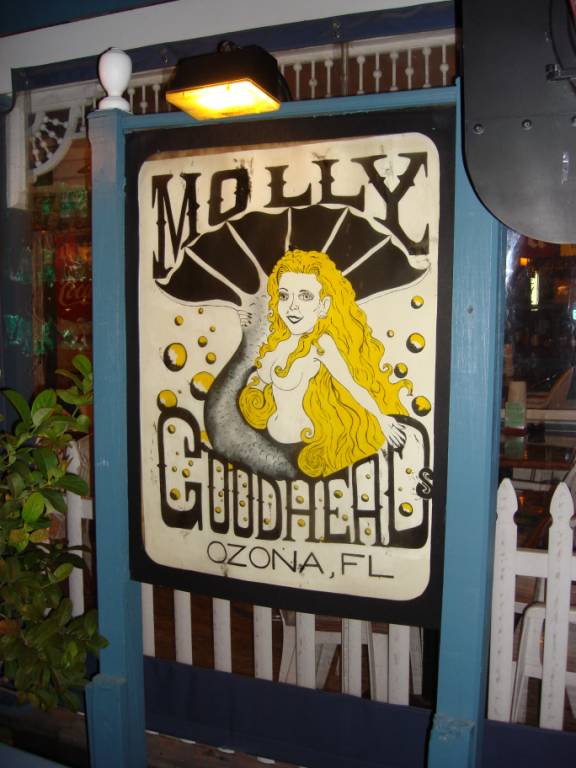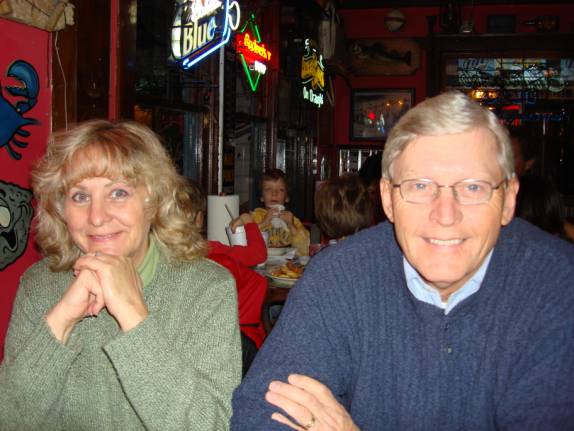 Back at the boat, I worked on log updates until almost 1am. The process is very time consuming and I always seem to be a bit behind. All the effort will be worth it if you are finding them enjoyable. We certainly wish that all of you could be here with us to enjoy and we feel fortunate to be able to share with you a bit of our happiness.
01/31/07 WEDNESDAY TARPON SPRINGS, FLORIDA
What a beautiful morning. Finally, the sunny weather will brighten into the 70's with a cooperative light breeze. The smell of freshly brewing coffee wafts freely as Judy prepares a sumptuous breakfast of eggs, biscuits, sausage, and cheese. This is what its all about, Alfie.
Judy took advantage of the nice weather to beautify the neighborhood by trimming Robert's hair. They turned the aft cockpit into a stylist salon. We warned him, however, within less than an hour, he had several, seemingly innocent visits from women just passing by and asking him little questions. Perhaps it was coincidence, perhaps it was his cologne, or perhaps it was his "stud-muffin" magnetism. I guess "only his hairdresser knows for sure".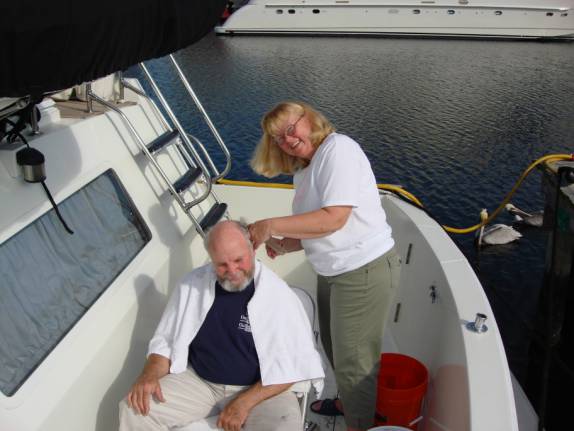 This weather break allows the opportunity to hunt down a pesky little leak. Suspecting that it may be seeping in around a stateroom window, I scraped, taped, and re-caulked the main area and seam on the port side. Time will tell if we have been successful. Small leaks are terribly insidious and nearly impossible to track down. I do feel confident that this one has been eliminated.
In late afternoon, our friends aboard Ladyhawke arrived in the harbor. They were looking for a complimentary dock that no longer exists. Even though the city marina was full, the dockmaster let them attempt to fit into a smaller slip. Unfortunately, their beam (width) was too large and they couldn't get between the pilings. They were able to find a slot behind an adjacent restaurant for the night. It was great that we were all here to help with lines and directions and such.
Patty and Robert organized a Pot Luck dinner to be hosted aboard ORINOCO. Eleven hungry loopers converged upon the 48-foot Tollycraft with their arms filled with their special contribution to the feast. The hostess prepared beef and spatzel (homemade noodles) in cream sauce served with cornbread sticks. Bill and Mary's Chicken Pot Pie was yummy. Paul and Jane Cowhig brought a huge bowl of angel hair pasta salad. Dick and Lynne from Ladyhawke brought snacky stuff, Judy and Fred arrived with a Cajun Jambalaya. I had learned this recipe many years ago from a professional chef in New Orleans. I think it was as much of a hit then as it was tonight. Glenn brought us a box full of huge pieces of Black Forest Cake. Hellas, the wonderful Greek bakery here in town, does a wonderful assortment of sweets. It bet this is one of their very best.
AGLCA Looper boats here now are:
ORINOCO, a 48' Tollycraft

HARBOUR REACH, a 37' Pacific Trawler

HAPPY DESTINY, a Carver 430 Motor Yacht

MOTHER SCHUCKER, a Schucker 438 trawler

LADYHAWKE, a Krogen 42 Standard

AMARSE, a Marine Trader trawler
02/01/07 THURSDAY TARPON SPRINGS, FLORIDA
The morning started out fairly warm, however, the breeze was freshening rapidly. Actually, it became downright windy, with gusts of over 40 mph. Our boat neighbor, Glenn Bruyn aboard "Mother Schucker", is a neophyte looper. He has just recently acquired his beautiful, dream vessel. Following the guidelines of guru Skipper Bob, he finally found just what he was looking for. To add his own touch, he is renovating and outfitting the boat in a very complete manner. He has chosen the top of the line electronics navigation and communications systems from Raymarine. He received the phone call that his pickup was ready in Sarasota. I agreed to ride south with him to load up all the stuff. Wow, what a system! I look forward to seeing it all installed. Glenn will be here for a couple more months completing his modifications. It took us almost 6 hours to get there and back in his car.
When we arrived back at the docks, the gang was getting ready to head for dinner. Paul's Shrimp House is nearby and 10 of us gathered around a long table to enjoy a variety of traditional seafood dinners.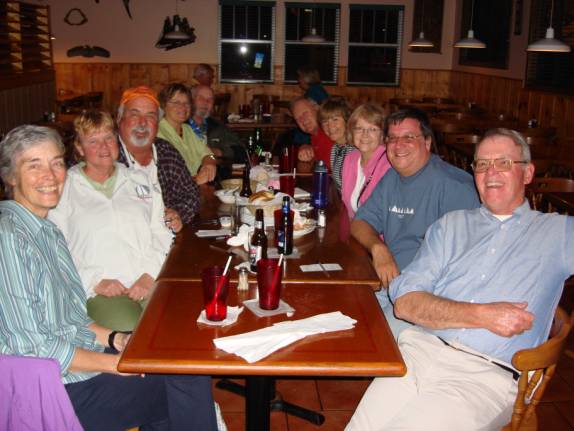 Judy and I both enjoyed the Haddock. Others dined on shrimp and grouper. The New England style Clam Chowder was tasty, however, I didn't find many clams. Dick and Lynne Davenport, from LADYHAWKE, rode over on their bikes from a nearby marina (city marina was full).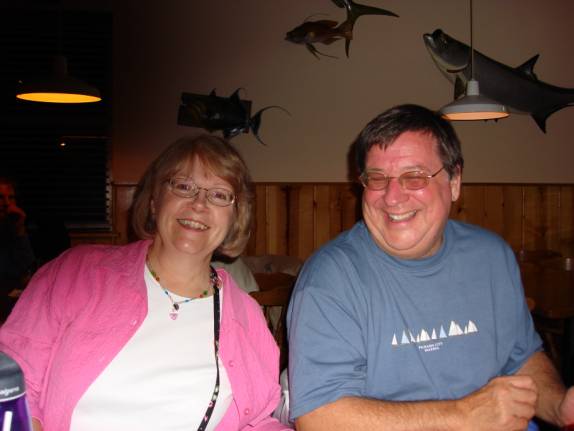 Tides in this area generally range about 1.4 feet. We were somewhat surprised to find exceptionally high tides this evening. They were running about 3 feet higher than normal. The combination of strong winds and a nearly full moon resulted in a big rise. We actually had to step off the fixed docks onto our swim platform and climb the ladder into AMARSE. The boat was stretching tight against the taut dock lines. Sometime after midnight, I had to go on deck to slacken the dock lines that had tightened to near guitar string levels. We could have walked the tightrope or played music on the heavy lines.
02/02/07 FRIDAY TARPON SPRINGS, FLORIDA
The day's weather would stay partly cloudy with near normal temperatures of 60's to low 70's. The tides have receded and the torrential rains have passed. Across Florida, treacherous weather and tornados resulted in 22 deaths. Fortunately, that isolated area passed away from us.
It is another day of "Looper-izing", that is, breakfast followed by lots of fun just talking with our fellow loopers. I seriously doubt that our conversations solve any of the world's problems, however, this enjoyment makes them fade away rapidly. After all, we have a lot in common. Not only are we "loopers", many of us share the very same job title, "Social Security Recipient". Here in this small, touristy community, people often visit us from the street that are very interested in our lifestyle and have an endless list of questions. I think many of them envy our adventurous lifestyle and inwardly wish that they could share the wonderful camaraderie.
After lunch aboard, we borrowed Glenn's car to make a Sam's Club run. I'm getting scared to drive around here. There seems to be all too many opportunities to get into a fender bender. Everyone warns of hazardous situations, especially among the elderly drivers, that demands extreme vigilance. One such driver, just in front of us, slammed on his brakes right in the middle of the intersection when the light turned yellow. We not only worried about smacking him, but also worried about the car behind us barreling to beat the red. Lady luck was with us again. With all the traffic, it took us about 2 hours just to pick up a few items.
As we pulled back into the parking lot at the marina, we were overjoyed to see our dear friends, Jean and Pricilla, from OCEAN FLYER, standing there chatting with the others. Lots of hugs and the telling of tales brought us up to date. They had driven up to the Crystal River area to swim with the manatees. On the drive back to their boat, located at Ft. Myers, they took the time to just drive by this marina to visit with any loopers that might be here. Everyone was delighted to see them.
We had seen a restaurant the other night that interested me. With their recommendation, Ken and Georgia picked us up to dine at the "Lucky Dill". This place is an authentic Jewish, New York Deli. For those of you fortunate enough to have visited the famous Carnegie Deli or the Stage Deli in New York City, you know what I am talking about. The places are famous for wonderful, overstuffed meat sandwiches, Matzo ball soups, dinner specials, and desserts to die for. The Lucky Dill measures up to the level that made them famous. The Friday special was a fish plate. Even though it was excellent, I was drooling over the sliced meat entrees that passed by on their way to others. I had to vow, then and there, to return soon. A small slice of marble cheesecake was just right to top off the total experience. Being with Ken and Georgia made it even more fun. We are so thankful and appreciative of all they do to make our visits so very enjoyable.
AMARSE was comfortable and warm throughout our restful night.
02/03/07 SATURDAY TARPON SPRINGS, FLORIDA
This time of year, the cold fronts seem to march through in rather rapid succession. A day or two of comfortable weather is rudely interrupted by another round of brisk winds and chilling temps. Today, the rain intermittently fell to keep everything damp and chilly.
A nice hot breakfast of English muffins, eggs, cheese, and bacon warmed the body and the soul. During temporary times of clearing, the loopers would emerge from their boats and continue with another round of fellowship. Judy and I took a walk around the dock frontage and bought a "Bahamian ensign" for us to fly on our upcoming trip to the islands. The local fish market had a cutesy sign.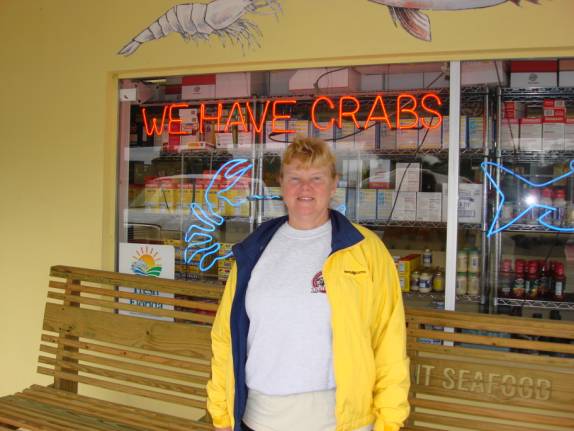 As we headed back to the boat, the onset of drizzle prompted us to hasten our steps. A hot Cajun Chicken Soup warmed us of the dampness and chill.
During our afternoon chatting, we told Glenn about our great experience at the Deli last night. He, of course, is from New York and had been looking for a good Deli style place to satisfy his hankerings for his favorite fare. We quickly agreed to join him for an encore dinner at the Lucky Dill. Glenn studied every line of the extensive menu before selecting a bowl of Chicken Vegetable soup, a triple-decker sandwich with Corned Beef, Pastrami, and Chopped Liver. Judy had a plate dinner of brisket with potato pancakes. Very thinly sliced, she proclaimed it the best she'd ever tasted. My overstuffed Kaiser Roll swelled with layers of Pastrami and Corned Beef. This restaurant will lure us back very soon and Glenn's name will probably be on the waiting list here more than once.
POST SCRIPT:
Our plan is to enjoy this lovely community of Tarpon Springs for another week. The marina is located in an active area that has access to lots of services and activities. It is a city very proud of its Greek heritage. The Greek influence is evident everywhere from the sponge museums to the variety of restaurants. Please let us know if you have any special suggestions and thoughts.
We sincerely hope that you enjoy these email UPDATES. We thank those of you who have contacted us recently and we are looking forward to hearing from each of you in the near future. Thanks for allowing us to share our life and adventures with you.
REMEMBER: The website is now fully active and you can visit it at any time. You can review any of the 2006 logs and learn more about the crew and our plans. Enjoy.
ATTENTION: SPECIAL NOTE:
Judy can be reached at 361-550-5353 and Fred can be reached at 210-296-4933. We can be reached at either number. Please call us if you like, we'd really like to hear from you.
"AMARSE". is pronounced "AM-ARE-SAY". Our website is: www.amarse.net .
Check it out while we will attempt to keep you informed via email
We would like to hear more about what is happening in your lives. Let us know as we very interested in what's going on with our friends and family. Please call or email us with your thoughts and comments and ideas too. Thanks
Lot of Love,
Fred Reed and Judy Law
AMARSE
MT40