UPDATE#35
12
/01 thru 12/15/07
Howdy Everybody,
The period 01/19/07 thru 11/30/07 has been covered in Updates 1 through 34. We continue with UPDATE 2007 # 35.
UPDATE 2007 #35 12/01/07 through 12/15/07.
Welcome back to the new Adventures of the trawler AMARSE. At last update, we were in Port St. Lucie taking care of preventative maintenance items and upgrades to AMARSE.
12/01/07 SATURDAY PORT ST. LUCIE, FL
It was a peaceful Saturday morning and for the first time in a week, we could sleep late. Dave was taking the day off to be with his son who came to visit last night. They even hoped to get some sailing in with their friends. I thought that this was great. He works so hard and when there is a chance to play, take it.
Our breakfast (brunch) plan included the local Cracker Barrel Restaurant. Ivor came to join us for coffee. We followed him to the storage yard to see his beautiful RV. It is really nice and has a style and floor plan much like I would like someday.
We worked together to install a tow bar made by Blue Ox. All went well except the lights had been wired incorrectly.
To facilitate future maintenance, we went to the local NAPA store to order filters and oil. I was a bit shocked by the prices. If NAPA stores everywhere are starting to gouge, I will certainly find other sources. For instance, the fuel filter for my generator Yanmar costs $4.40 from Yanmar. NAPA had charged us around $11.50 after claiming to have given us 50% off. What's that all about?
At 5:30pm, we met Ivor and Susan Nathan at the nearby Longhorn Steakhouse. Judy and I had the fabulous Baby Back Ribs with a baked sweet potato. Ivor savored the large T-bone steak. Susan had a large salad with a grilled fillet of Salmon.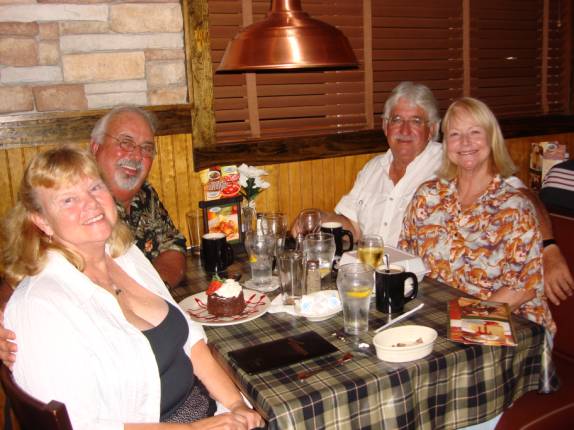 What a delightful evening with really great friends. We sure will miss them out on the waters this year.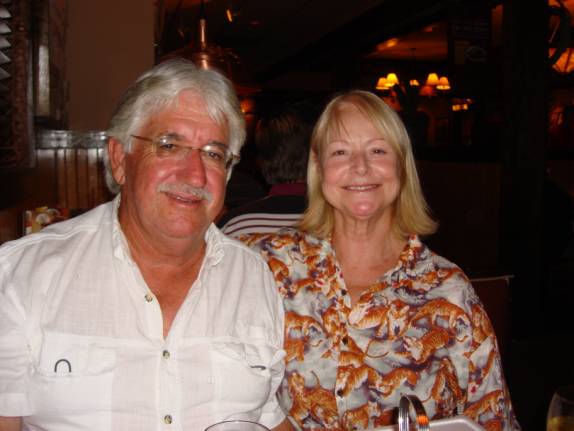 12/02/07 SUNDAY PORT ST. LUCIE, FL.
Our lunch plan today was a visit to Charlie's Flashback Diner. Judy tried the Madison Burger (mushrooms/grilled onions); my choice was the Chopped Steak plate with mashed potatoes.
We did some shopping at Wal-Mart and Harbor Freight Tools. A stop at Panera Bread Company allowed me to access the internet over their free WiFi connection.
An evening of DVD's of Stargate SG-1 followed leftover pizza and some chicken rice soup.
12/03/07 MONDAY PORT ST. LUCIE, FL.
Dave was at the dock at precisely 8am. He re-installed the fuel injectors on the port engine and we adjusted the valves on both engines to the prescribed value of .015.
He then set to installing the replacement battery cables to ground on both engines. A modification recommended by Bob Smith had special 1-5/8 inch expandable plugs inserted under the blue rubber plugs of the main engine coolant pumps. We added 2 plus gallons of fresh anti-freeze at 50/50 concentration. We used long-life Prestone with a different orange color. We accomplished a lot today.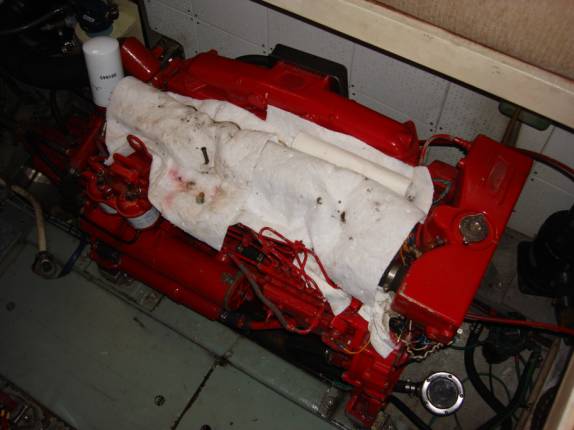 We had a tough time deciding were to dine tonight. Our first choice was Charlie's Flashback, however, it was closed on Monday. I had read about a famous place in Ft. Pierce called Dale's BBQ. We tried their Baby Back Rib special at $9.95. What a disappointing mistake that place was. The ribs were not even on the good list. Stay away, far away from that place.
There is no regular broadcast TV at our dock so we enjoyed another few episodes of Stargate SG-1, Season 8.
12/04/07 TUESDAY PORT ST. LUCIE, FL.
It's 8am and Dave is ready to get things done. We found stripped threads on the aluminum secondary filter housing. The unit was removed and taken to the Diesel Service place for new helicoils.
The holding tank pump was not operating properly. Disassembly of the pump revealed badly distended duckbill valves. If you ever work on a Sealand bellows pump, keep in mind that the barb fittings are 'Left Hand Threads." We had to check several places before we obtained replacement parts from Whiticar Boat Yard.
We had lunch at Charlie's Flashback where Judy had an open roast beef sandwich and I tried the Chicken Philly sandwich. We like this place. Our timing was nearly perfect as we received a call that our filter housing was ready for pickup. This diesel service located on Monroe St. in Stuart is very highly recommended. Call John for your engine needs.
Attempts to start the reassembled port engine were unsuccessful. We repeatedly bled the system but without success. It became obvious that air was trapped in the injectors and that we would need to use some fluid to get the initial start. That is what tomorrow is for.
Dinner consisted of tuna sandwiches on board.
12/05/07 WEDNESDAY PORT ST. LUCIE, FL.
Dave was there again promptly at 8am. With a couple of shots of diesel start fluid spayed into the intake, the port engine came to life quickly. We whittled away at a few more of the list items today.
The flock of Ibis continued their pecking search for food.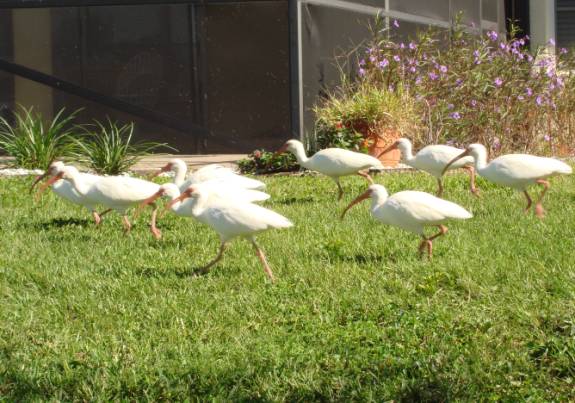 A well-deserved break was in order.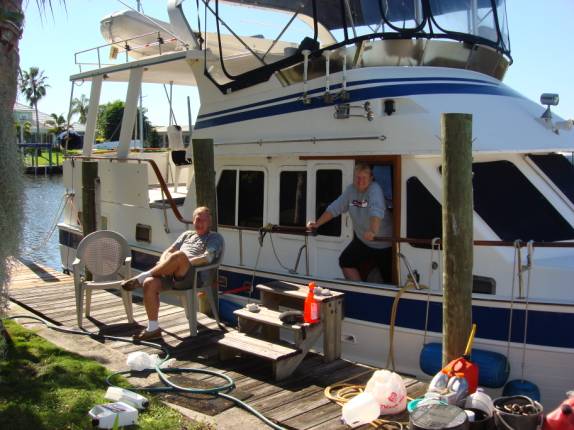 12/06/07 THURSDAY PORT ST. LUCIE to MANATEE POCKET, STUART, FL (Port Salerno)
Dave worked on the cabinet door at his shop early this morning. We went to Panera Bread for internet service. Our check of the weather indicated an opportunity to cross the Gulfstream would exist tomorrow. This short window would close the next day and get progressively worse for the forecast period. We made the decision to take the leap across tomorrow. This would necessitate that we relocate to Manatee Pocket in Stuart, FL this afternoon. We would need to be there early enough to take on fuel today before 5pm closing.
Dave worked on the cabinet door aboard but we ran out of time before he could finish. Once again, I am so pleased to have Dave work on AMARSE. He is a terrific person and a pleasure to know and be around.
He helped us relocate the car to a storage facility yard on US-1. We contracted for 4 months at $45/Mo. Plus tax for $191.70 prepaid until 4/6/08. Subsequent days would be prorated on the monthly rate. Dave brought us back and helped us clear the dock at 2:45pm.
We were into Manatee Pocket and up to the fuel dock at 4:20pm. The tanks took 202.2 gallons. The price for fuel was $3.5722/gal including all taxes and the 4 cent per gal discount for Boat/US members. Calculations of the fuel burn showed 3.393 gal/hr. We had been just in time as we pulled away at 5:05pm. We found a secure place to anchor further into the pocket.
We had some great turkey sandwiches on hoagie rolls for supper. Late weather reports confirmed our decision to depart easterly early tomorrow morning.
12/07/07 FRIDAY MANATEE POCKET to LITTLE BAHAMA BANK ANCHORAGE
A 5:30a alarm had us awake and starting the muddy anchor retrieval by 5:55am. It was still very dark and well before sunrise at 6:11a as we moved out of the anchorage. In the growing dawn, we reached the St. Lucie Inlet jetties at 6:50a. As forecasted, it was clear, warm, and the wind was light with seas running 2 feet or less. We were not alone in heading to sea. Today started a huge fishing tournament that had the eager fishermen racing for the fertile ridges in quest of the illusive "big one".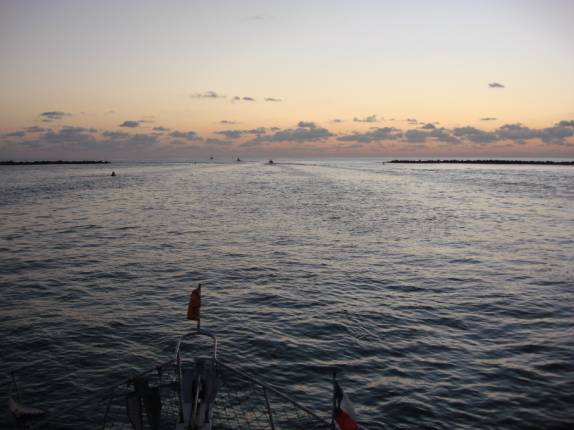 A beautiful sunrise greeted us as we met the sea.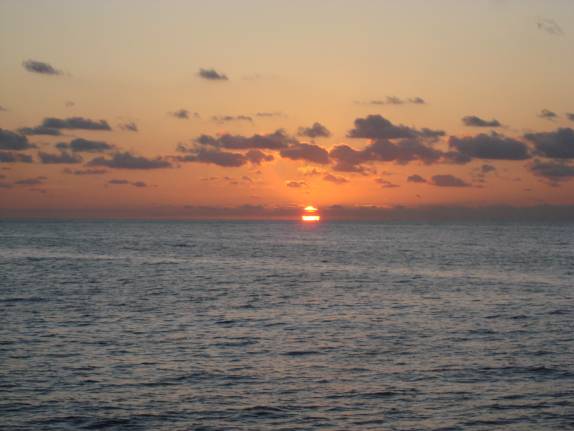 Soon it was AMARSE alone in the gulfstream except for the occasional sighting of a freighter or cruise ship.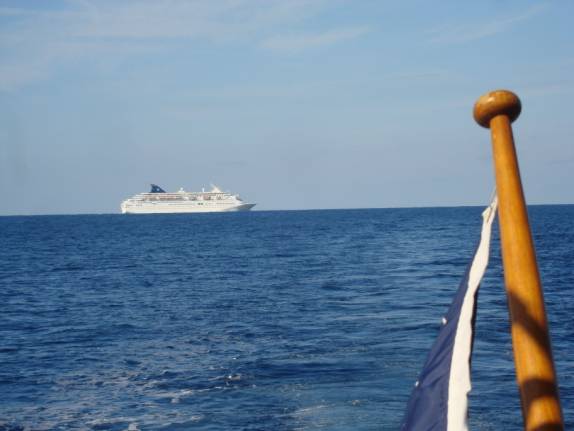 What a surprise to find this little gecko or lizard riding on the sundeck rail. He was constantly gazing back toward Florida and we imagined that he was saying to himself, "Oh, Crap! What have I gotten myself into this time?" He rode there for quite a few hours and then we didn't see him again. Do you think he made a swim for the coast? (PS: We saw him again a couple of weeks later hiding behind the outboard motor of our dinghy. He made it to the Bahamas but we don't know where he went now. The little lizards here in the Abacos are called, 'Curly Tails' and are a little bit smaller. Perhaps he'll find some friends, maybe even a little romance.)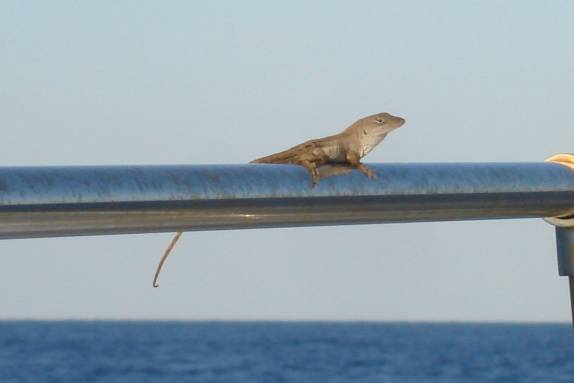 There were lots of flying fish and Portuguese Man-of-War jellyfish spotted along the way. In the core of the Gulfstream, the current is reported at 3-1/2 knots or about 4 miles per hour. The highest water temperature that we saw was 79.2 degrees F. Our noonsite placed us at N27 08.500 W079 29.793 with a speed over the ground of 7.6 mph; Distance to WSRIDG (White Sand Ridge waypoint at the edge of the Little Bahama Bank) was 19.7 miles; Course over the ground was 095 degrees while the heading was 120 degrees. The effect of the current is readily evident on our instruments. The deep blue of the Atlantic Gulfstream is hypnotically alluring in the churn of AMARSE's wake.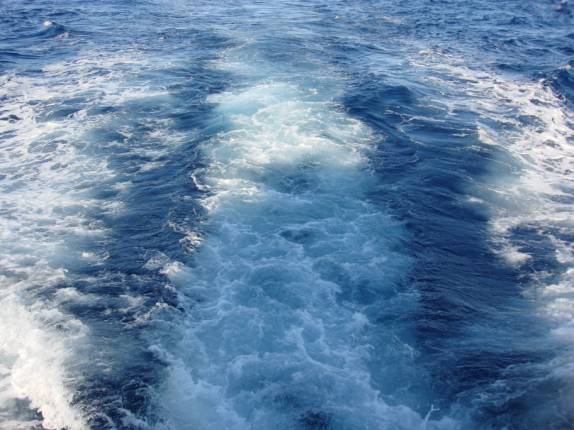 On the right day with the right weather, the crossing is a wonderful pleasure. When winds pipe up and come from a northerly direction, the sea becomes angry and confused making the passage very uncomfortable and even extremely hazardous. The wise mariner picks the crossing conditions very carefully.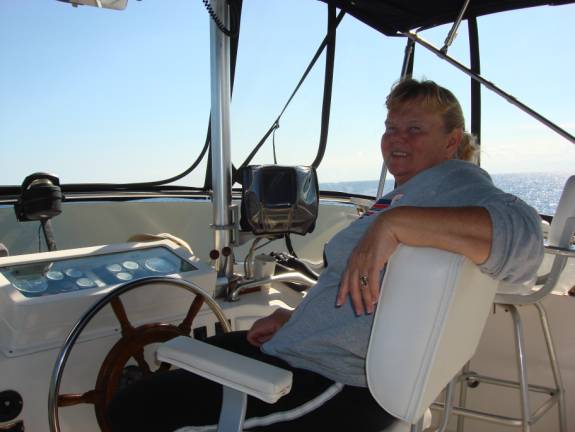 Compare this picture taken in the Atlantic Gulfstream……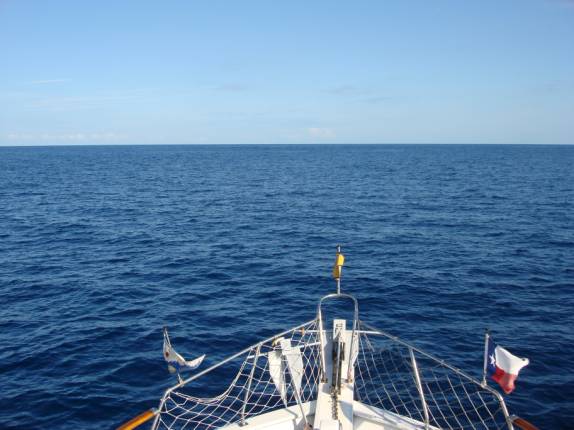 ….with this next photo taken over the Little Bahama Bank. Notice the vast difference in the colors. They are both so very beautiful.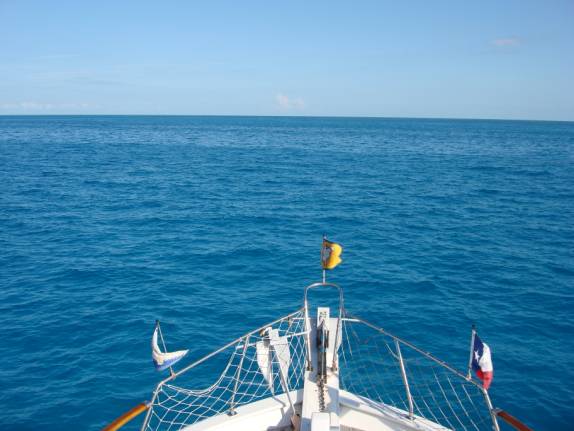 At 2:19pm, we crossed onto the Little Bahama Bank. As the sun set in the west, we were out of sight of any land around us. All alone, we dropped our anchor in about 15 feet of water at 5:40pm. Our GPS reported our location as N27 03.831 W078 41.106.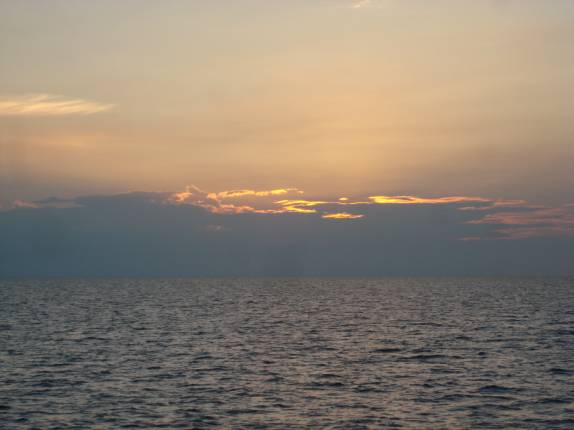 Our supper plate sported a delightful, turkey sandwich. The generator hummed for a while to charge batteries, cool the fridge, and let us watch another episode of Season 8, Stargate SG-1.
With no other ambient lights, the number of visible stars was incredible. It boggles the mind to think of all that is out there on this clear, calm night. Wouldn't it be great if we really could travel to other worlds and galaxies through a Stargate?
12/08/07 SATURDAY LITTLE BAHAMA BANK to SPANISH CAY to MANJACK CAY
The 5:30am alarm rousted us from a sound sleep. Within a mere 15 minutes, we were in the process of retrieving the anchor and were making headway by 5:55am. The temperature was already 72 degrees under clear, star filled skies. Only a very light east wind kept the water from becoming a mirror. It was, in fact, a perfect morning. As the dawn broke, we could see numerous crab pots about. This is something that we have never seen before in these waters.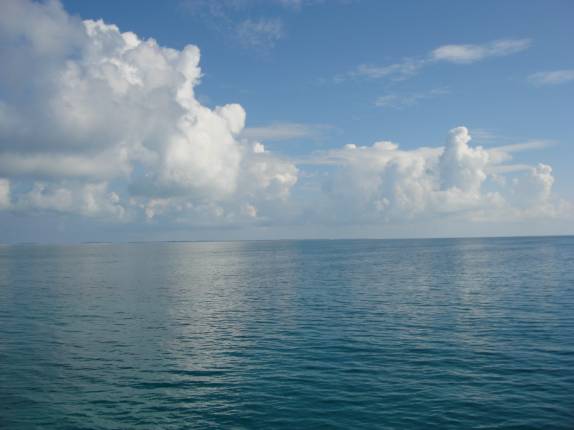 Our noonsite made our position at N26 58.981 W077 51.917 and 21.3 miles west of Spanish Cay. Being just North of Veterans Rock, our engines, at 1700 to 1800 RPM's, were yielding a rapid 8.9 mph over the ground. We were enjoying a bit of fair current. The shallower waters of the bank show a lighter, more turquoise shade of blue here in the Bahamas.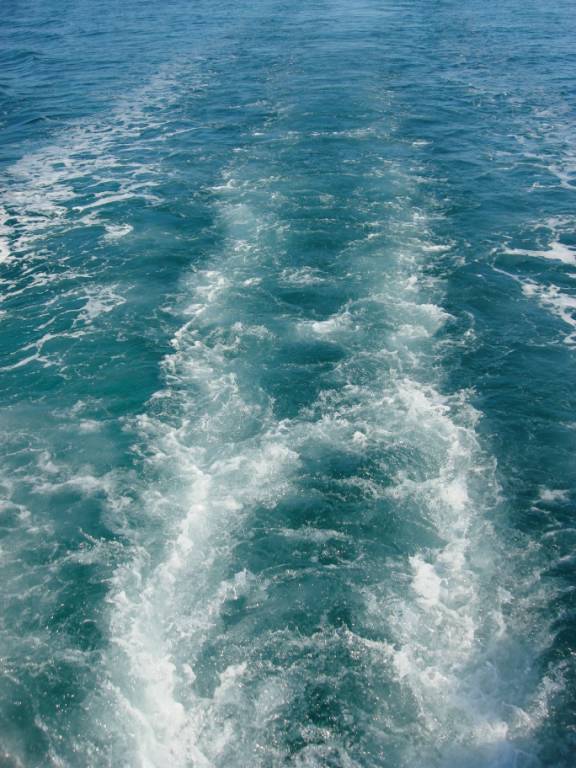 At 2:40pm, we tied to the Spanish Cay Marina dock. Almost immediately, the cooperative customs lady was there to assist us with check-in. With the payment of $300, we were issued our Cruising Permit plus fishing licenses, as well as, our personal documents to remain in the Bahamas. She was only allowed to issue 120 day permits so we will have to extend that time in the Marsh Harbour office. A little tip helped to make everything flow smoothly and she even filled out most of the papers. Our stay was short, but sweet, at only 15 minutes.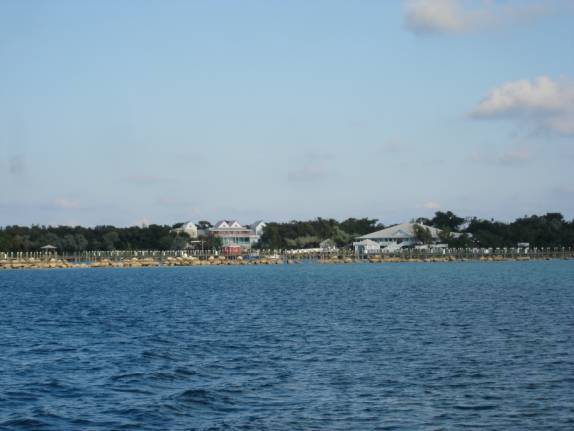 The quarantine flag was exchanged for the beautiful Bahamian courtesy ensign.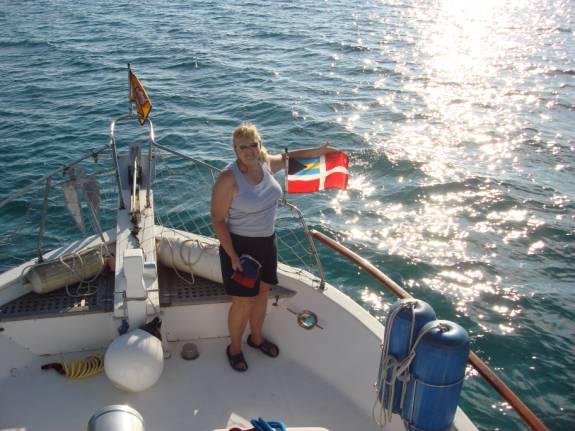 Relocating to Manjack Cay made us closer to our destination. Under dwindling daylight, we attempted anchoring three times before the Fortress found in sand. Weeds fouling and tangling the anchor had been our problem, however, Judy's keen eye guided us to a nice patch of sand at 5:20pm.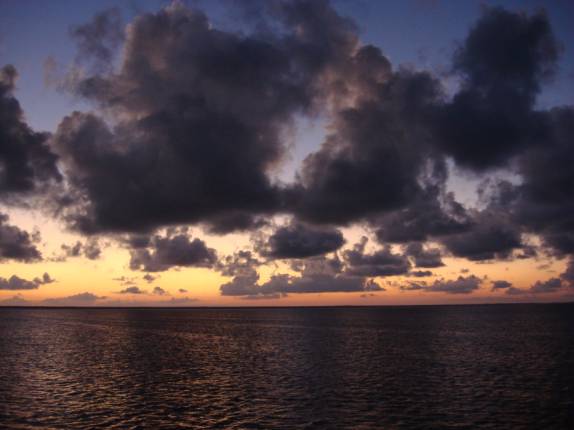 LOCATION: MANJACK CAY N26 49.353 W077 22.551
12/09/07 SUNDAY MANJACK CAY to BOAT HARBOUR, MARSH HARBOUR, ABACOS, BAHAMAS
The morning was a bit windy but nice. We had reset the alarm to 6:30am to give us daylight for the departure. A check of the engine room confirmed that all the oils and fluids were A-OK.
When we went to start the starboard engine, we couldn't get any rotation. Fortunately, I messed with it a while and it finally kicked over. I suspect a relay or interlock switch is becoming troublesome. By 7:20am, the anchor was stowed and we were headed out.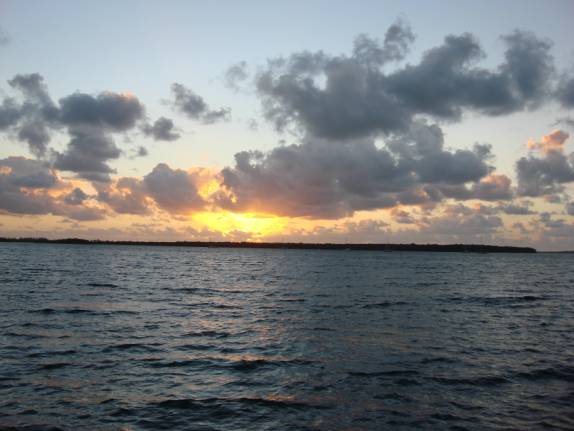 With the wind kicking up, we decided to traverse the Whale Cay passage. This notorious stretch of ocean water is often cause for problems. At times, a "Rage" condition occurs that makes passage impossible. The rough water thrashes between the reef and the cay causing extreme turbulence and unmanageable waves. Fortunately for us, the wind still had enough of an easterly component to make it passable. The waves were about 3 to 4 feet with an occasional 5 footer. Today was the last day that folks could get through for almost a week.
At 11:40am, we backed into Slip # 420. To greet and assist us were Paul and Sue Graham (ODYSSEY), Dave and Bette (TARHEEL), Robert and Carolyn (SEA ISLAND GIRL), Judy Enter (Abaco Lady), and Troy (the dock handler).
Carolyn and Robert Wilson invited us for a 'Welcome Home' dinner. "Judy-Cat" from ABACO LADY made up the quintet to enjoy a delicious Crock-pot Meatloaf, scalloped potatoes, salad, cookies, and glasses of Bailey's Irish Cream over ice.
The Farkle Queen (Carolyn) retained her throne in tonight's games.
12/10/07 MONDAY ABACO BEACH RESORT and BOAT HARBOUR, MARSH HARBOUR, ABACOS, BAHAMAS.
The wind has freshened and backed to a more northerly component. Reports are not favorable for the Whale Cay passage today. We were glad that AMARSE transited through there yesterday. Many boats will be remaining in their ports for several days.
The first order of business was to wash the seemingly tons of salt from the boat. Everywhere you looked, the dried crystals coated the whole exterior. There was lots of interior cleaning and re-arranging to be done too. Somehow, Judy even found enough energy to do several loads of laundry. You can believe that we were a couple of tired puppies.
Along with Judy Enter (ABACO LADY), we were invited to join Paul and Sue aboard ODYSSEY for a wonderful dinner. She served salad, baked Wahoo fish with Rotel and Cheese (Paul caught the fresh fish himself), baked potato, and her wonderful homemade bread. Sue even served cheesecake for dessert. It sure is fantastic to have such great friends that are such great cooks and great fishermen.
12/11/07 TUESDAY ABACO BEACH RESORT and BOAT HARBOUR, MARSH HARBOUR, ABACOS, BAHAMAS.
Judy joined the girls for the morning walk n' talk. They generally cover 4 miles every morning at 8:30am. I took care of paying some bills and reconciling my accounts.
It was an active morning for Judy. She cut Sue's hair and then turned the shears on me. Beginning to feel the Christmas spirit, she set about decorating AMARSE with ribbons and bows and holiday trinkets.
I set about repairing the bow netting that stretches around the bow pulpit.
The Annual RMHYC (Royal Marsh Harbour Yacht Club) Christmas Party was scheduled for this evening. The fantastic event was planned and organized by Barb Bluto (CHABLIS) and her faithful team. It was nothing less than spectacular. It started with an open bar and social time from 4:30 to 6pm.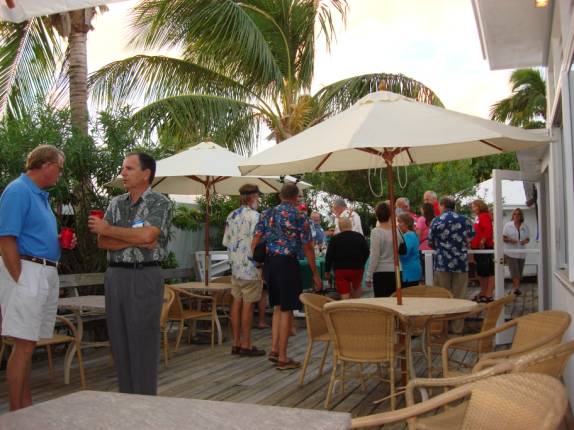 Dave and Bette Bauereis from the S/V TAR HEEL were festively dressed in their holiday finery. Bette is a frequent host of the Cruisers' Net radio program and sometime sportscaster. Dave is often heard in the newscaster section of the net held daily on VHF Channel 68.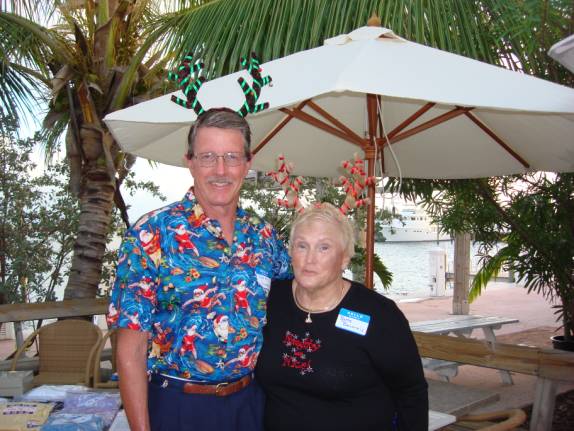 The Angler's Restaurant located at the Abaco Beach Resort was beautifully decorated for the holiday event. Some one hundred members and guests joined together at the fabulous sit-down dinner. Beginning with the mixed greens salad with balsamic vinaigrette, the sumptuous entrée of Chicken Cordon Bleu, Scalloped Potatoes, and fresh green beans was savored by everyone in attendance. Key Lime pie was the perfect dessert to top it all off.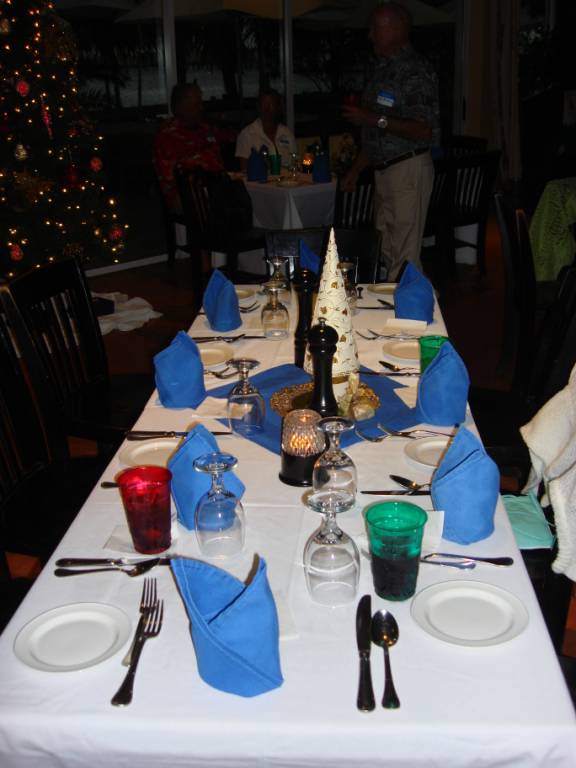 Bob and Judy Williams from SHADE MOR are always ready to share their warm and friendly smiles. Their considerable efforts are always appreciated as they are often responsible for arranging many of our social activities. Thanx, Thanx, and more Thanx!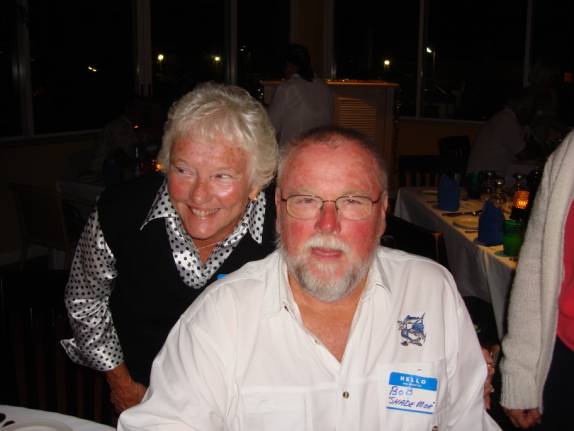 Following dinner, someone from each table had the opportunity to win the decorative centerpieces. There are lots of Judy's around here. By finding the lucky ticket, Judy Law (AMARSE) won this lovely centerpiece. Another Judy, Judy Enter ( I call her "Judy Cat" ) is our neighbor on the power catamaran, ABACO LADY.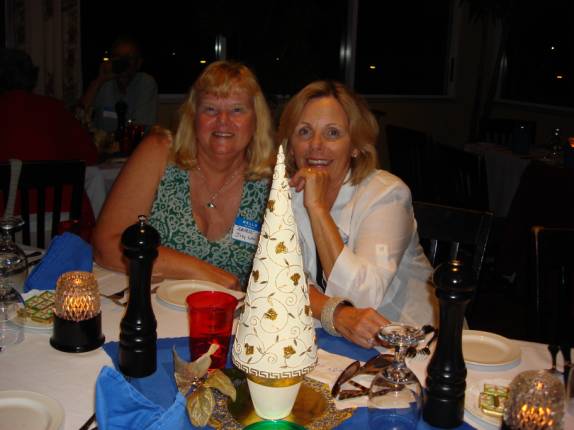 Our renowned Commodore, Robert Wilson, is always ready to have his picture taken with the pretty girls.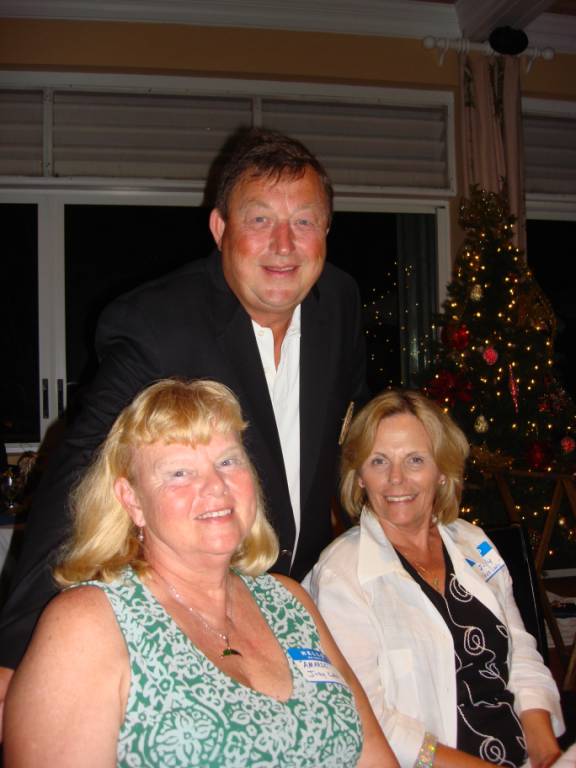 I was able to grab this picture of Paul and Sue Graham during dinner. Most of the evening, Paul has been faithfully serving the members with ample amounts of Christmas Cheer. Paul leads a team of mixologists that work very hard to inebriate the members.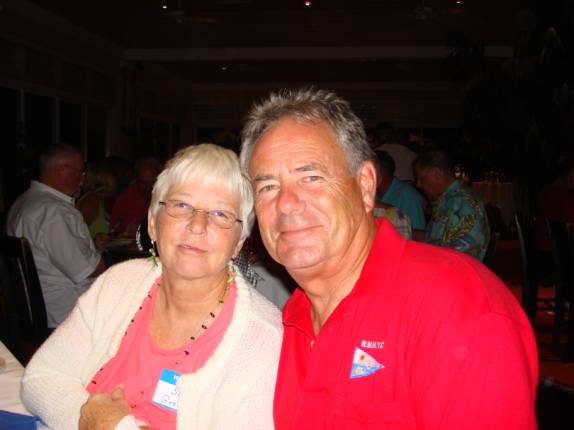 In the spirit of giving and community support, Commodore Robert Wilson presented, on behalf of the RMHYC, a check for $1000 to the Marsh Harbour Volunteer Fire Department. He presented a second check for $1000 to BASRA, the Bahamas Air Sea Rescue Association. In the Bahamas, neither of these agencies receives any support from government funds. The club is proud to be able to contribute back to the community that brings all of us so much happiness.
Later, Brown Tip played his Bahamian blend of "Rake n' Scrape" music at the pool bar. Unfortunately, a few sprinkles of rain put a damper on many dancing guests.
12/12/07 WEDNESDAY ABACO BEACH RESORT and BOAT HARBOUR, MARSH HARBOUR, ABACOS, BAHAMAS.
Judy and I walked to town to check out the shopping facilities. Fortunately, Bristol's Liquors was having a nice sale and we stocked up on some of the island prerequisites.
An afternoon swim in the resort's wonderful pool preceded the evening cocktail hour on Dock 4. Robert Wilson (SEA ISLAND GIRL) joined us for a dinner of Cajun Jambalaya. Unfortunately, his wife, Carolyn, wasn't feeling well.
Judy and I watched another episode or two from Season 9 of Stargate SG-1.
12/13/07 THURSDAY ABACO BEACH RESORT and BOAT HARBOUR, MARSH HARBOUR, ABACOS, BAHAMAS.
Judy joined the gals for the morning "walk n' talk". Later in the morning, we walked around the bay to Skaggs's Store. They have enlarged it somewhat and now have a greater variety of goods than ever.
Following my afternoon nap, we enjoyed a swim in the resort pool. The pool here is so nice and has become one of my favorite parts of our lifestyle.
Dinner consisted of my Cajun Sausage and Rice Soup served with hot, fresh baked biscuits.
12/14/07 FRIDAY ABACO BEACH RESORT and BOAT HARBOUR, MARSH HARBOUR, ABACOS, BAHAMAS.
We listened to the RMHYC morning meeting radio program broadcast every Monday, Wednesday, and Friday at 8am on VHF Channel 78. While Judy went off on the Women's Walk, I listened to the Cruisers' Net on VHF Channel 68.
At around 11am, the S/V ADAMAS DE MARIS arrived at the Boat Harbour fuel dock. As many of you know, the Captain, Joe DeMaris, has been a great friend for more than twenty years. I have had the privilege of sailing with him and his fine vessel on many, many occasions. He has been a major influence on my love of boats and he has taught me much of my seamanship skills.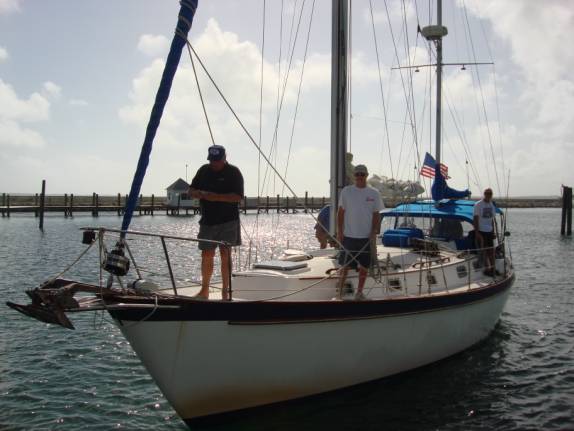 Joe will be enjoying the Abaco Beach Resort and Boat Harbour from Slip 424 until early spring. His crew on board consisted of (L-to-R) Bernie, Capt Joe DeMaris, Bill Fowler, Paul, and Skip McCarty (file photo). Obviously, they are "The Crew That Saw It Through".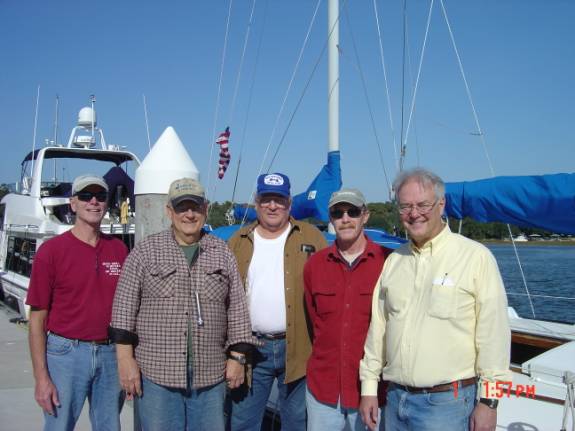 Lots of folks arrived at Boat Harbour today. The Whale Cay Passage settled down enough to permit the east bounders to arrive. Jonathan and Judy Jenkins (DOUBLE JJ) filled their slip reservation on dock 4 too.
I managed to get some kind of insect bite on my neck today. I don't know if it was a spider, an ant, or what. It was quite sore and swollen. I seem to have exceptionally bad reactions to insect bites.
Joe and Bill joined us on the AMARSE sundeck for evening cocktails. For dinner, Judy and I enjoyed an excellent Pot Roast served with Yukon Gold Potatoes.
12/15/07 SATURDAY ABACO BEACH RESORT and BOAT HARBOUR, MARSH HARBOUR, ABACOS, BAHAMAS.
Judy joined the gals for the 4 mile morning jaunt. I walked with Joe DeMaris and Bill Fowler on their indoctrination tour to downtown. The majority of stores in Marsh Harbour close on Saturday at noon. We made it to the essential places like the liquor store, bakery, and Maxwell's Grocery.
For lunch, Judy and I had Bahamian Meat Pies from "Da Best Bakery". The crusts are very good, however, the meat filling has too much curry flavor for our liking.
An obligatory nap was followed by a refreshing swim in the pool. The water is seemingly cool at first but soon feels comfortable and delightful.
Many of us from the harbour group walked to Tuff's Liquor store for their holiday wine tasting party. It was very nicely arranged. The upscale store has a large selection of fine wines and spirits. There were lots of snack items to balance the wines. I was delighted to have the opportunity to meet Patti Toler. She has lived in Marsh Harbour for many years. Together with her husband, Bob, recently of late, they wove the fabric of the cruising community in the Abacos. She carries on the tradition of "BarometerBob.com", a weather service that provides local cruisers with up to date information vital to our safety. She has been the driving force behind the Cruisers' Net radio broadcast that has observed its 17 year anniversary of continuous coverage. Patti is always available to help the cruisers with her vast local knowledge. Thanks Patti! We all love you!
It was a beautiful, warm night to walk back to the marina. It's so great to be here in this climate when so many of our friends and family are enduring the bitter cold snap gripping the US mainland. Let me ask y'all, "Why? Why? Why? WHY do you do it?"
POST SCRIPT:
As I publish this edition, we are comfortably settled in the Bahamas for the winter aboard AMARSE.(early Jan '08 already). Hopefully, I will be more punctual with future editions. Whatever will be will be, however, we sincerely hope you enjoy these compilations. Please let us know if you have any special suggestions and thoughts.
We thank those of you who have contacted us recently and we are looking forward to hearing from each of you in the near future. Thanks for allowing us to share our life and adventures with you.
REMEMBER: The website is active and you can visit it at any time. You can review any of the 2006 or 2007 logs and learn more about the crew and our plans. Enjoy.
ATTENTION: SPECIAL NOTE:
You may contact us via email. Our cell phones have been turned OFF. We do have occasional SKYPE connections at 'amarse1'.
"AMARSE". is pronounced "AM-ARE-SAY". Our website is: www.amarse.net .
Check it out while we will attempt to keep you informed via email
We would like to hear more about what is happening in your lives. Let us know as we very interested in what's going on with our friends and family. Please call or email us with your thoughts and comments and ideas too. Thanks
Lot of Love,
Fred Reed and Judy Law
AMARSE
MT40