UPDATE#34
11
/16 thru 11/30/07
Howdy Everybody,
IMPORTANT NOTE: I did NOT send any email versions of UPDATES 26, 27, 28, 29, 30, 31, 32 or 33 because of the file sizes. I included a lot of our Alaskan cruise pictures in those updates and I was concerned that some email programs would be jammed up. Please go to the website at www.amarse.net to view those updates and learn more about AMARSE. I have had several people request that I send those volumes to them via email because they have been saving them on their computers. If you desire, I can arrange to send them to you too. Thanks.
The period 01/19/07 thru 11/15/07 has been covered in Updates 1 through 33. We continue with UPDATE 2007 # 34.
UPDATE 2007 #34 11/16/07 through 11/30/07.
Welcome back to the new Adventures of the trawler AMARSE. At last update, we were in Brunswick Landing Marina getting ready to head south for the winter.
11/16/07 FRIDAY BRUNSWICK, GA
HAPPY BIRTHDAY TO ME, YEP, HAPPY BIRTHDAY FRED!
I was shivering cold all night. When I took my temperature and it showed a fever of 101.7, I could easily understand why. What ever was going on, it made me feel weak and cold.
For lunch, I had some Chicken Noodle soup. My Mommy had always said that it would make me feel better. You know, she was right again. I continued to rest while Judy took the crews from RHUMB LINE and SEA FOX for a grocery run.
My temp had dropped considerably to 98.6 but I was still weak. My BP was running a bit low, maybe that was why.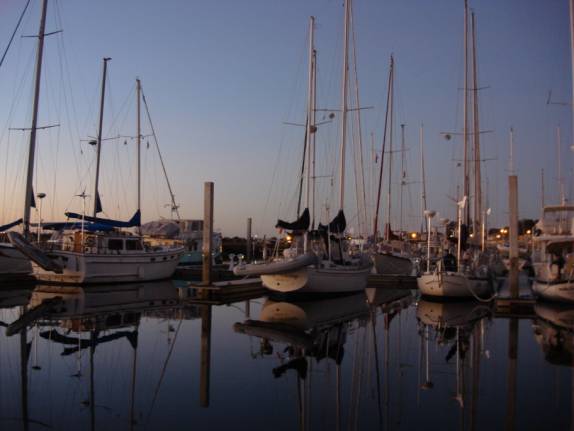 By dinnertime, I was ready to go out to celebrate a bit. My first choice was Longhorn Steakhouse, however, the expected wait of 70-75 minutes was more than the group could handle. Back into the cars and off to St. Simons Island and Barbara Jeans Restaurant. It is off-season on the island so we could be seated immediately. Helping me celebrate were Jay and Maryann from RHUMB LINE;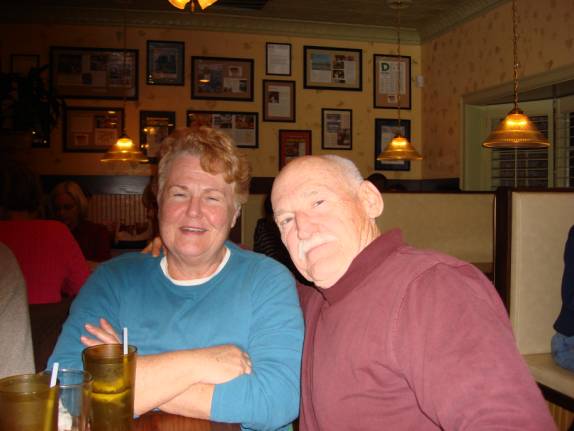 Judy and Jonathan Jenkins from DOUBLE JJ;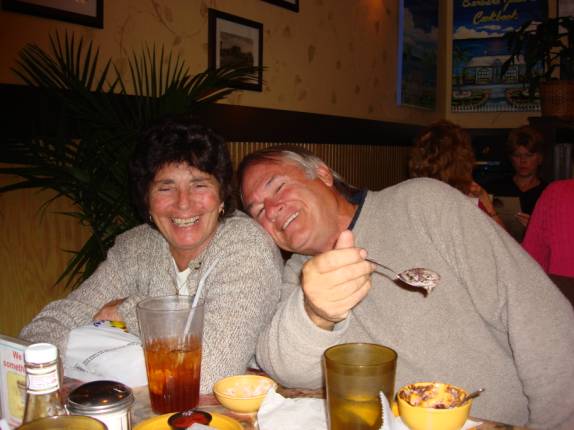 Milton and Fran Ohlsen from SEA FOX;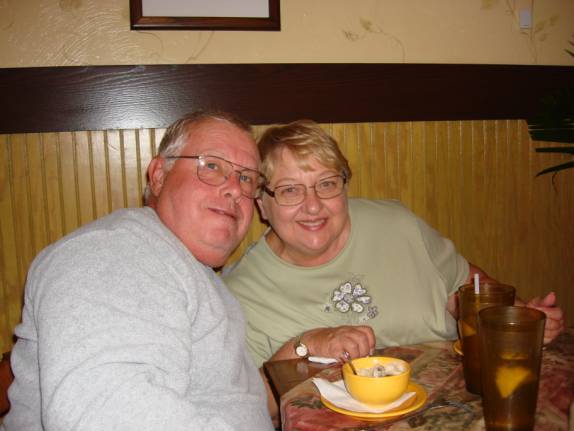 .....and, of course, the birthday boy, Fred, with Judy Law, from AMARSE.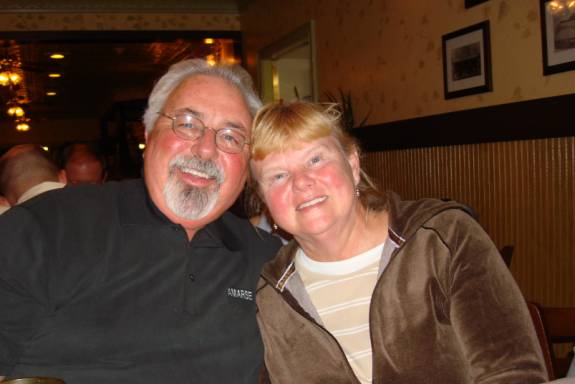 Everyone seemed to enjoy the evening and I was endeared to them for an engaging rendition of the Happy Birthday song; such harmony, such talent.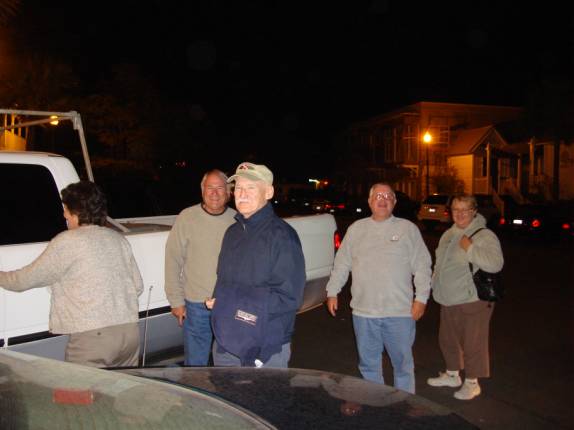 Back at the boat, Judy surprised me again with a nice triple chocolate cake and she even sang to me again.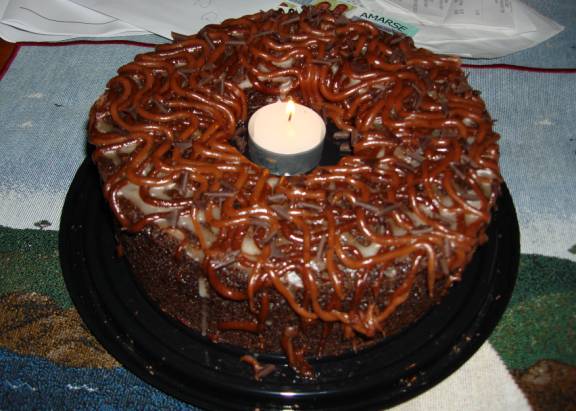 11/17/07 SATURDAY BRUNSWICK, GA to FERNANDINA, FL
The alarm sounded early and we made preparations to make way. A trip to the marina office had our final bill tallied and we made reservations for a return to BLM in May of 2008.
By 9:35am, we had brought aboard our last dock lines and had the twin propellers idling us out of the marina.
As we motored away, we had an excellent view of the Brunswick Bridge on our way toward Jekyll Island Cut. It was 10:53am when we rejoined the ICW waterway at mile 685.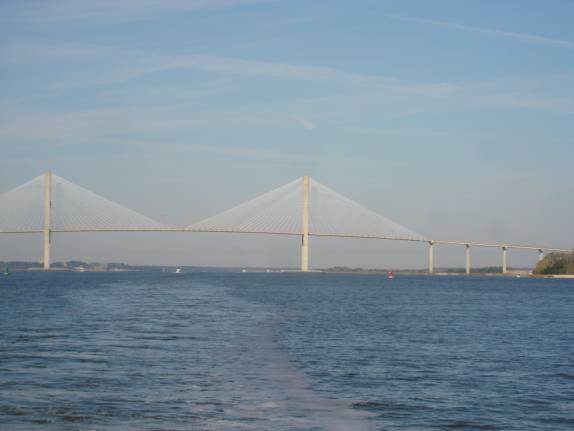 By 2:30pm, we were easing up to the dock at Fernandina Marina to pay for our overnight mooring. In less than 20 minutes, we were secure in the mooring field on mooring ball # 10 at mile 716.5. We were fortunate to have had favorable currents for almost the entire trip.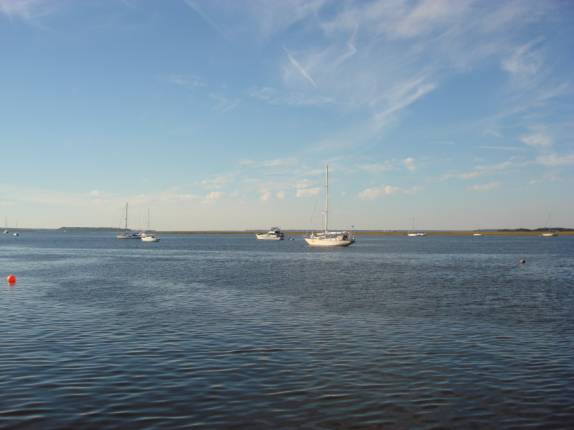 Being quite early in the day, I decided to cook a small turkey in the oven. This is the first time that we have used this oven for cooking dinner. Usually, we use our small toaster/convection oven for what we need. Not wanting to make too big a mess, we used one of those Reynolds Cooking Bags. The oven was being a bit finicky at first and didn't want to stay lit. I finally realized that closing the door too fast would extinguish the pilot light. So goes the learning curve.
As the bird slowly roasted, I took a nap. I still had a 100.7-degree fever and didn't feel all that energetic. Cooking a turkey in the bag doesn't allow the bird to brown very nicely, however, it tasted great and the cleanup was much, much easier. We have decided that the cooking bag method is best for the small sized oven and galley despite its drawbacks. To accompany this wonderful first meal on our voyage south, we added Mashed Potatoes, Stuffing, and Gravy. A special note of thanks to Judy for cleaning up in the wake of the 'Mess-Maker'.
11/18/07 SUNDAY FERNANDINA, FL to ST. AUGUSTINE, FL
The alarm sounded its wakeup call at 6am. A half hour later, under still dark skies, AMARSE cleared her mooring at mile 716.5. The weather was cooperative and beautiful. The forecast was for near ideal anchoring conditions tonight. At 2:30pm, we had found a secure spot in the south anchorage at St. Augustine, FL. Looking around the tranquil harbor, we commented on the vast difference from the last time at St. Augustine when the wind was tossing the boats around like toys. Our neighbors seem to be all sailboaters. I guess most yachties and power cruisers prefer the security of a marina. For us, these short overnights are great on the "hook" and we save considerable money in marina fees. If the weather is lousy, I will try to get a dock since these trawlers have a lot of windage that makes them a bit uncomfortable on heavy winds and waves. The low profile design of a sailboat makes it more conducive for anchoring.
Tonight would be placid and calm here at mile 778.1 and coordinates N29 53.133 W081 18.197.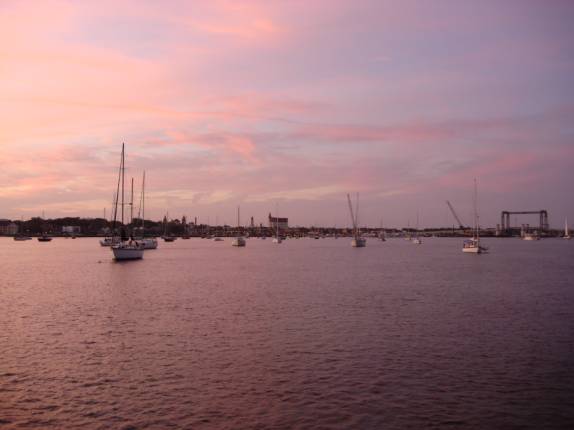 The leftovers from last night's turkey were reheated to make for another excellent dining experience. In a tradition handed down from my father, I slathered hot gravy over a slice of white bread to top off the meal. Oh, so very yummie!!!! 'Me Pappy wuda bin sew prowd o' me'.
We ran the generator to charge batteries and watch a bit of local TV. Still not feeling real well, my slight fever made for a restless night even after going to bed as early as 8:30pm.
11/19/07 MONDAY ST. AUGUSTINE, FL to NEW SMYRNA BEACH, FL
The familiar sound of a 6am alarm had us up and, with power from the generator, making coffee. By 6:40am, we had the anchor aweigh with no sticky mud residue. Judy served a breakfast of cereal on the bridge as we motored along.
The ICW has stretches of open, rural setting interrupted by residential areas and boat docks. Judy was down below as we passed one community with boats tied up to their piers. I was somewhat shocked when a rather shapely lady came out of her boat door in black lace bra and underwear. Do you think it was real or was I having a fever-induced hallucination? I'm sure it was real.
The lighthouse at Ponce Inlet stands tall by the channel outbound. A cutoff route provides a more protective route for the ICW traveler.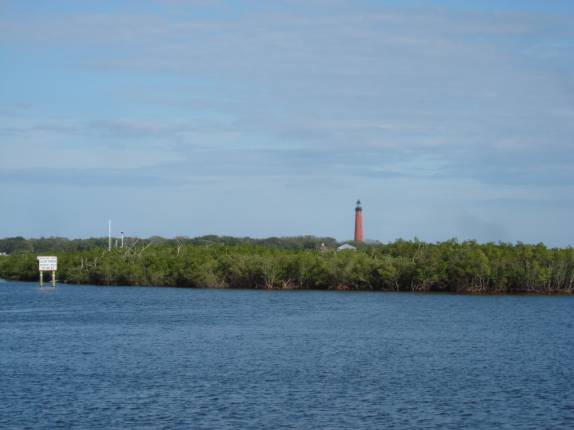 We chose an anchorage just south of New Smyrna Beach and just south of the high bridge. By 3:45pm, our firmly set anchor held us at mile 846.4 and coordinates N29 00.989 W080 54.789.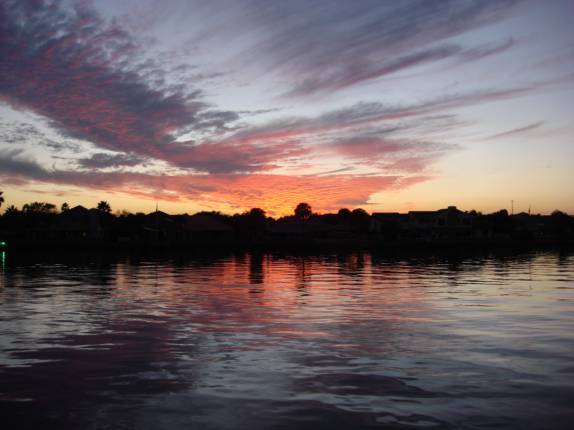 Using the carcass from the turkey, we boiled it with onions and seasoning to make a rich, hearty broth. When you add shredded meat and rice, you have some of the best soup known to mankind. Every since I was a young boy, I have revered this recipe as one of my favorites.
11/20/07 TUESDAY NEW SMYRNA BEACH, FL to DRAGON POINT
The familiar sound of the morning alarm allowed us to have the anchor in the chocks by 6:35am. The skies lightened with a magnificent sunrise. Today's temperature would top out in the high 70's followed by lows in the upper 60's. The water temperature indicated 67 degrees on our instruments. Friends, this is what cruising is all about.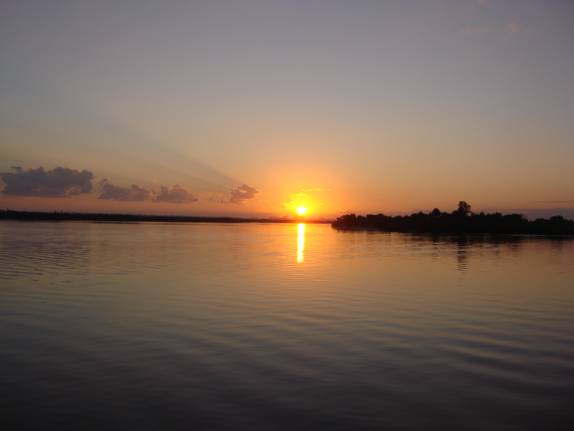 The ICW traverses Haulover Canal from Mosquito Bank to the ICW north of Titusville. A proud contingent of Pelicans and other shorebirds stood guard along the rocks lining the canal.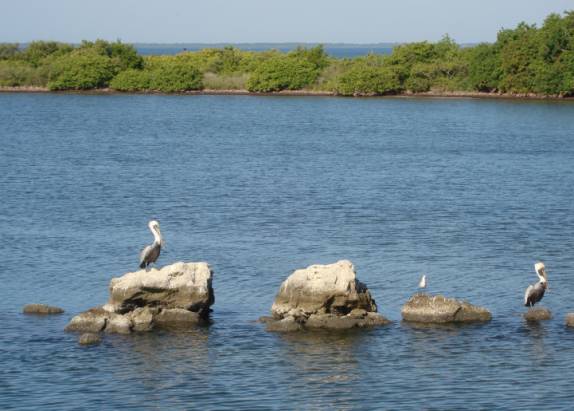 The swing bridge at Titusville rotated on its pivot point to allow several of us to pass through. This bridge leads out to Cape Canaveral.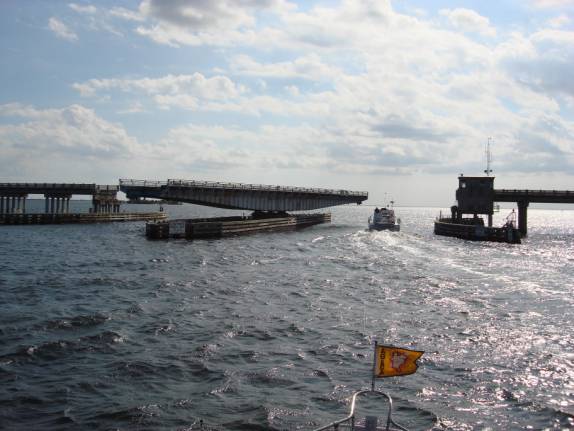 At 3:30pm, we anchored near a low bridge in Eau Gallie. It was quite noisy and shallow without much swinging room. The marina operator suggested that we move over toward the public park. After several tries, we could still not get the anchor to set properly in the muddy ooze. Tired of cleaning off the muddy chain and anchor with each try, I decided to exit this small bay and relocate to another place. This is one of the advantages to an early start in the morning. It gives us the option to readjust our plan at the end of the day's cruise.
Behind Dragon Point at Indian Harbor Beach, a place made famous by a huge, concrete form of a dragon, we found our secure anchorage. Although the massive dragon now lies in shear ruin, it still bears the reminder of its once held glory. I have fond memories of this location from many years past. At 4:40pm, our anchor was well found for the calm night ahead.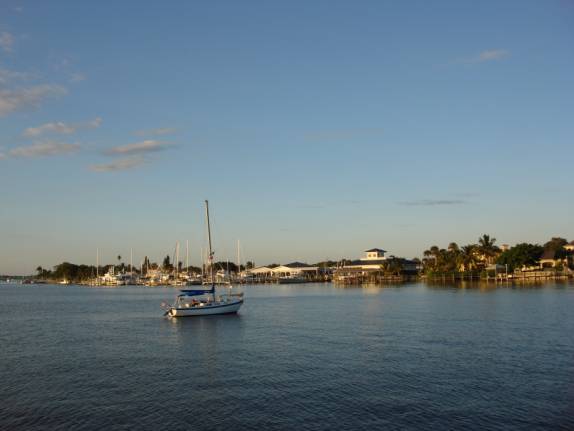 LOCATION: Mile 914.2 N28 08.510 W080 36.098
11/21/07 WEDNESDAY DRAGON POINT, INDIAN HARBOR BEACH, FL to VERO BEACH, FL.
The alarm issued notice in the still dark morning. Judy found that we had gotten water into the forward stateroom and that the mattress was wet. A closer examination revealed that the anchor washdown hose that passes through a locker just forward of the mattress had cracked and was spraying water whenever the washdown pump was activated. We cleaned up the water and removed the mattress to the outer sundeck to dry out. I rigged a couple of trash bags as a shield to deflect the pump spray away from the bulkhead and direct it into the bilge. This would allow us to use the pump to retrieve the muddy anchor and chain. We also reduced the leak pressure by leaving the nozzle full open. Everything worked well and the anchor was retrieved without much mud.
By 6:50am, the anchor was up and we were underway. Judy rearranged the sundeck to promote the drying of the wetted items.
The waters were smooth and calm as we slowly cruised the ICW. A family of porpoises or dolphins joined in our wake as if to escort us through their home waters.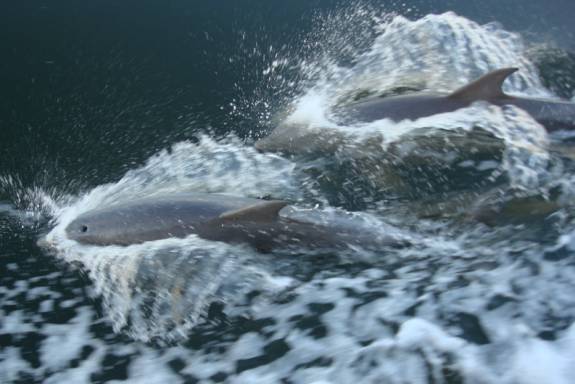 Their agility and aquatic skill always amaze me.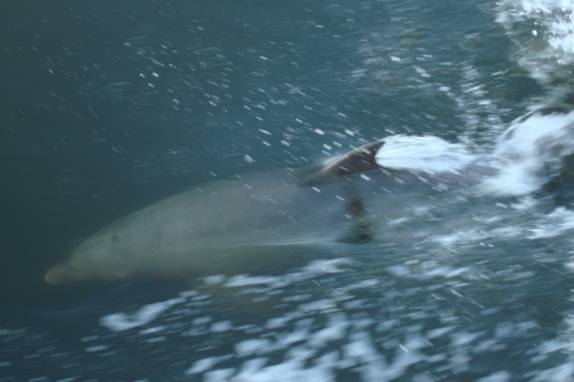 This one seemed to cast a cheerful glance and the hint of a smile as if to say, "Welcome Friends, Everything is cool; You're traveling with us now".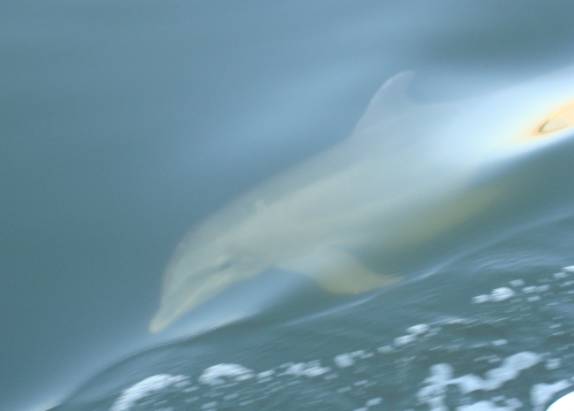 It was only 11:40am when we approached the fuel dock at Vero Beach. We filled our water tank and moved to our assigned mooring ball #14. We were surprised that the pennant was missing from the ball. We summoned a passing dinghy and asked him to feed our line through the eye and back to us. By 12:15pm, we were made fast. We had secured the last empty mooring and had been informed that we could expect additional vessels to come soon and raft themselves to us. The rule here in Vero Beach allows up to three similar sized boats to occupy the same mooring ball.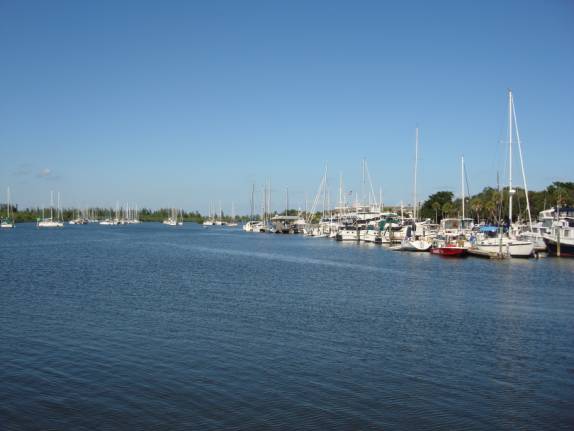 We put out fenders on both sides of AMARSE to cushion the arrival of any rafting boat. With the dinghy lowered from the sundeck roof, we were free to move about the area. Of course, we would have to use effective power management and be sure to use the auxiliary generator to recharge the batteries used for lighting and refrigeration.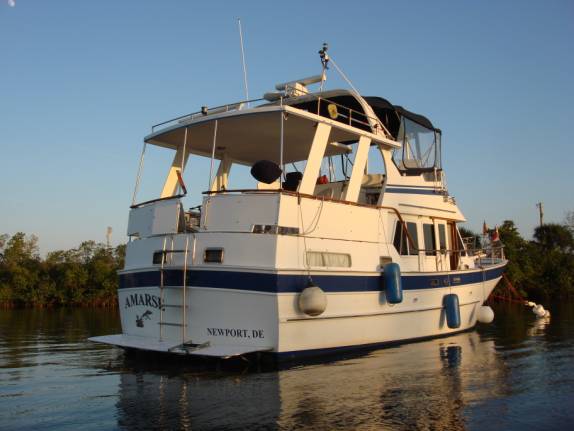 Fortunately, public transportation in the form of a small bus makes regular runs between the marina and city shopping. Needing a few things, we took the 10-minute ride in the 2:05 pm bus to the Publix Grocery. We hustled around to make the 2:40pm return bus.
Using leftover turkey, I combined the meat with stuffing and gravy to make a delicious casserole. While the generator recharged our batteries, we took advantage of the AC power to watch TV and DVD Season 8, episodes 1 & 2 of Stargate SG-1.
The trip from Brunswick, GA to Vero Beach used 38.1 hours of engine time according to the tach hour meter.
LOCATION: N27 39.361 W080 22.203 Mile Marker 951.7 as measured from Norfolk, VA.
11/22/07 THURSDAY VERO BEACH, FL
HAPPY THANKSGIVING DAY.
This is the kind of day that everyone can be thankful for. For us, we are constantly thankful of all of life's bounty and are thankful to each other for all we do to make each and every day a day of thanksgiving. The weather is absolutely perfect and the Chamber of Commerce can be proud of living up to their word.
The peaceful tranquility of the mooring location was made even more enjoyable with coffee and filo, cheese bear claws served on the sundeck. We took some time to call friends and family to thank them for their love and caring.
At 11am, we dinghied around to the landing for the annual nautical flea market.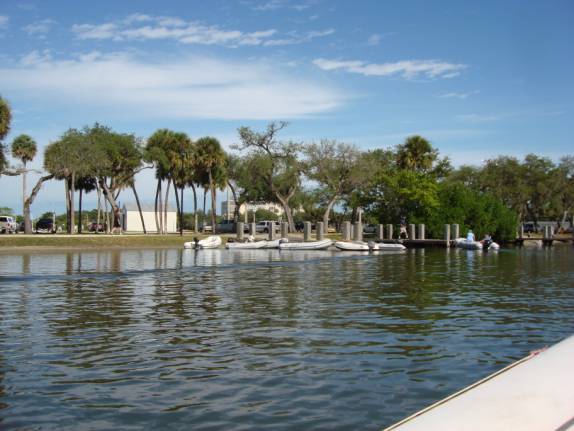 Each year, cruisers from all over come here to Vero Beach to join in the Thanksgiving day events. Miscellaneous items are brought out for sale. It's just the guys cleaning out those unwanted, unneeded used items that are just occupying space. Robert Wilson had a bunch of surplus gear from his sailboat days. Now a trawler guy, he doesn't have much use for the stuff. Robert is a natural born salesman and just loves the marketplace.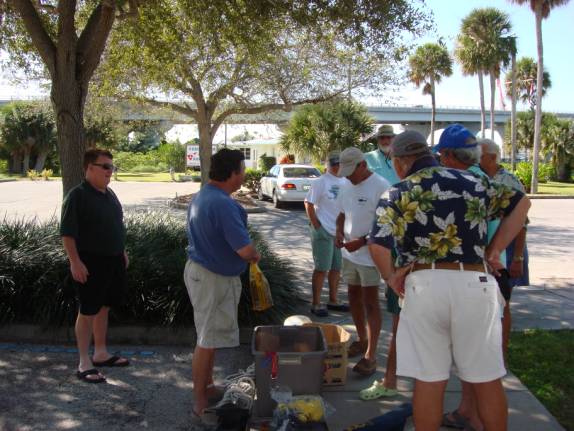 The best salesmen need to know their products and their competition. Robert carefully studies the supply house catalog to get info and price structures.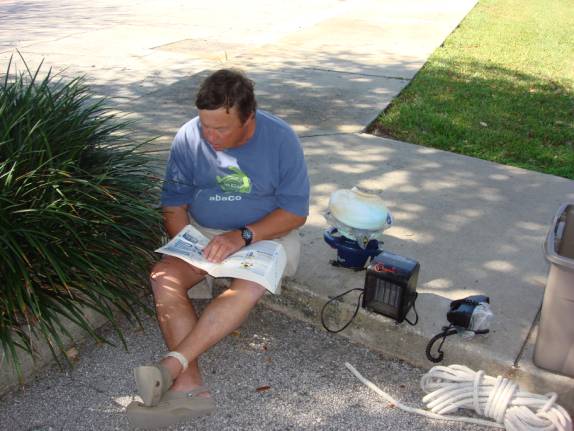 Meanwhile next door, the folks are busy setting up for today's big feast and get-together. Nearly 200 people will bring their contribution dishes for the famous, annual festivities.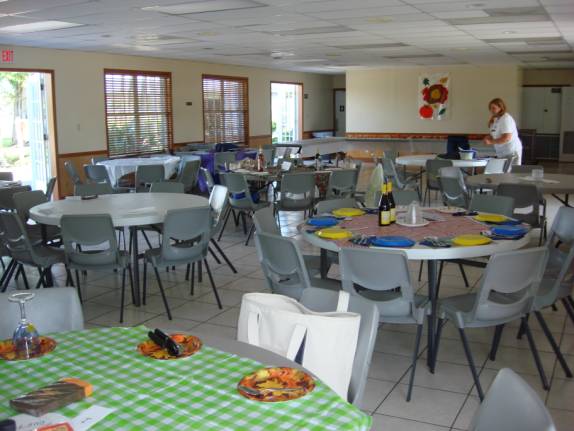 Robert and Carolyn Wilson were delighted that their longtime friends had driven over from Orlando to be with them on this Thanksgiving Day. Bucko Reese, Dixie, and their daughter, Katie, all wore the huge smiles of a thankful group.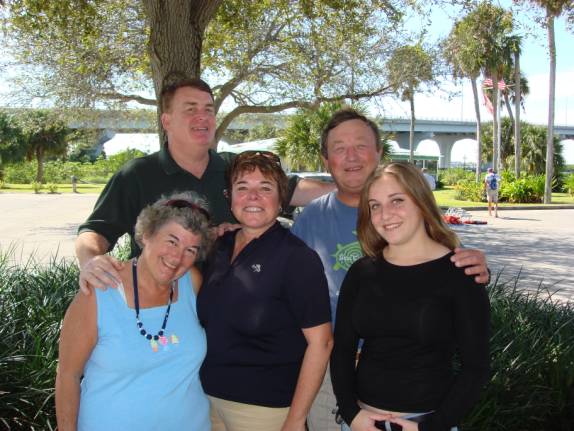 Before long, the food tables began to fill up with a myriad of culinary delights.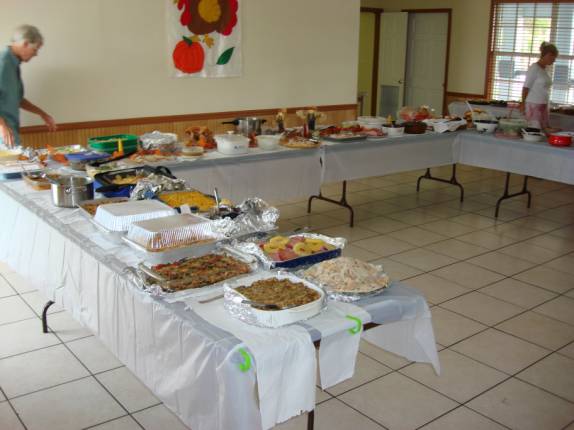 Many folks brought their favorite family traditional dishes prepared just like Mom used to do. Judy prepared her specialty of Pecan Sweet Potato Casserole. My contribution was Golden Kernel Corn in a Butter and Balsamic reduction sauce.
This whole table was reserved for those sweet tooth items.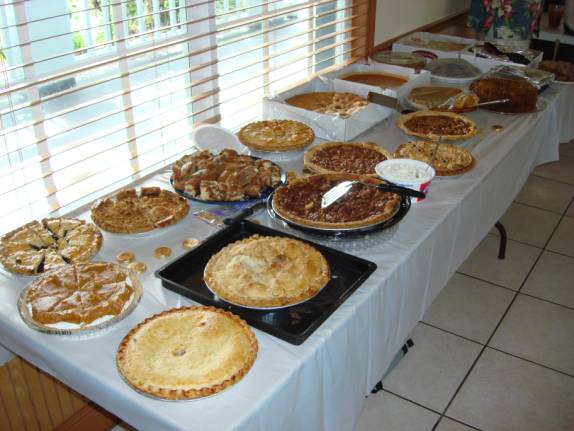 The actual dinner started precisely at 1pm.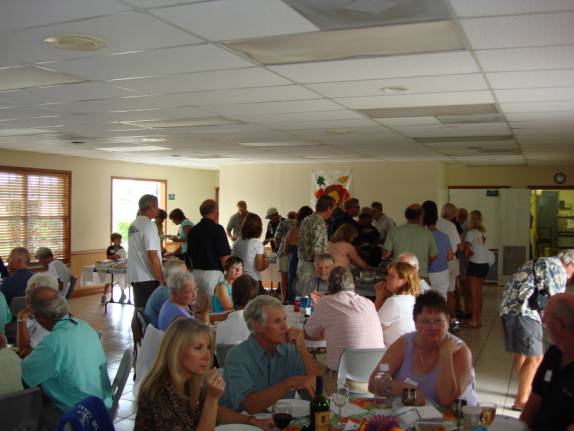 To maintain some semblance of order and to keep the wild jackals at bay, the organizers devised a method that worked quite well. Each table was assigned a number that was written on a piece of paper. In lottery fashion, the drawing table would be called as the previous table line dwindled. Unfortunately, our table was one of the last ones called. Oh well, there was plenty for everyone. Our table sat the Wilson's (SEA ISLAND GIRL) and friends, the Reese family, and the crew of MERGANSER. Special thanks to Carolyn for snagging us the table early.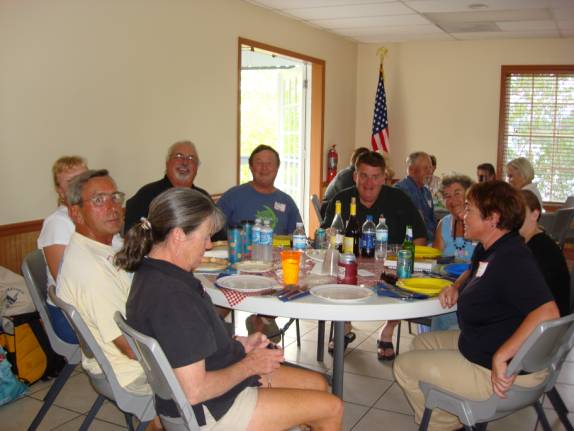 We took an after dinner ride around the crowded harbor. We came across a very unusual sight. This gorgeous sailboat was equipped with two enormous yellow bags hanging from its masthead. This will take some explaining since I had never seen the likes of it before. This vessel is reported to have a 7 –1/2-foot draft, as well as, an 80 foot mast height. In as much as the majority of ICW bridges are fixed at a height around 60 to 65 feet, the vessel would be unable to transit in its normal configuration. What these ingenious folks have done is to hang two huge bags of water weighing 2000 lbs each from the mast. The underway vessel is turned sharply causing the heavy bags to swing outward by centrifugal force. The off-center weight causes the boat to be dragged over sideways until the bags reach the water level where they stop. The boat is now leaned way over on its side in excess of 30 degrees. This changed the effective height of the mast to be low enough to clear the bridge. Once on the other side, they are somehow able to right the vessel and continue along the straight path. It was absolutely amazing to watch the process play out before our very eyes. I salute their ingenuity.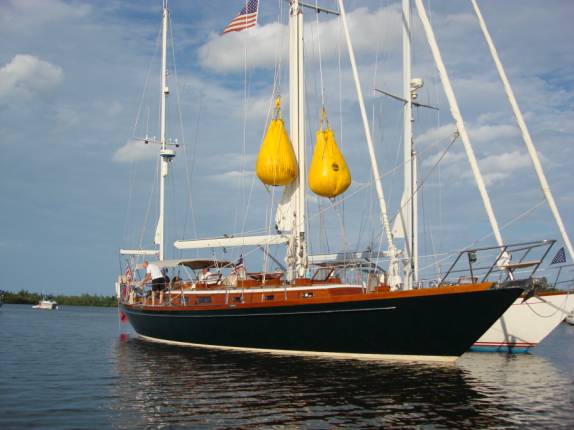 No Thanksgiving day would be complete without the obligatory afternoon nap that lasted a couple of hours. What a great day.
For dinner, we opted for a lighter entrée of toasted tuna sandwiches.
11/23/07 FRIDAY VERO BEACH, FL
Although there were more clouds in the sky, it was still a beautiful day in the 70's. A leisurely breakfast out on the sundeck consisted of scrambled eggs with Mexican cheese and fried onions served with hot biscuits.
The municipal marina provides a special dinghy dock for the moored boats. It is most often as crowded as a mall parking lot with two and three rows deep.
We took a bit of a bus tour around and finally got off at the ABC liquor store and Publix market. We had lunch at Kelley's Deli and Pub. Judy chose the turkey sandwich and I tried the grilled corned beef on rye. We can recommend this place.
I signed up and paid for the "Yacht Spot WiFi" internet service. Believe me, this expensive service was junk. Their tech support was absolutely no help and there are no refunds. It was a rip-off.
Robert and Carolyn joined us on AMARSE for our dinner Mexican Fiesta. Picadillo was the main meat dish served with tomatoes, lettuce, sour cream, salsa, and corn chips. I made mine into a burrito. Everyone seemed to like the frijoles dish with 3 kinds of beans all sautéed with fresh baby 'bellos (mushrooms) and onions.
They taught us a new dice game called FARKLE. Actually, the game dates back to Elizabethan days. Judy won and it was a real fun game.
11/24/07 SATURDAY VERO BEACH, FL
It was another absolutely perfect day. I can't say that we did anything extra special but I know that we enjoyed the day.
11/25/07 SUNDAY VERO BEACH to PORT ST. LUCIE, FL (Greyhound from Ft. Pierce to Jacksonville)
Good Morning, Sunshine.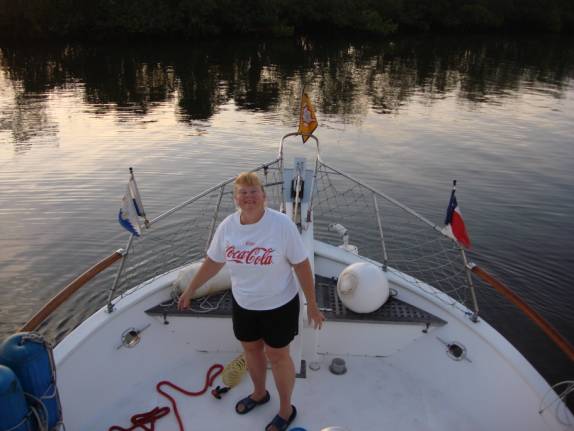 As the sun peaked over the horizon, we slipped the mooring line from the ball under partly cloudy skies and temperatures forecasted to reach the upper 70's.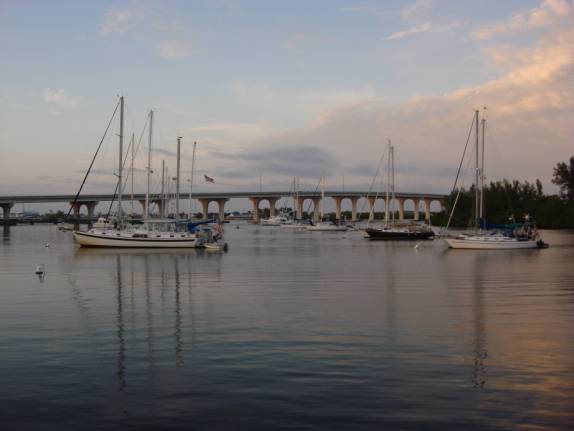 Our course followed the ICW from MM 951.7, past Ft. Pierce, to MM 987.9 where we turned west toward Stuart, FL on the Okeechobee Waterway. After passing under the Roosevelt Bridge, we turned up the St. Lucie River to find our Dock at 13:45pm. Dave Elliott, our super maintenance expert and all-around nice guy, had arranged for a temporary dock behind a private home. This would be home for the next couple of weeks while Dave made repairs and did our fall preventative maintenance.
Dave was busy for Monday so I figured that it would be a good time to go get the car from Brunswick. Dave dropped me at the Greyhound Bus stop at I-95 in Ft. Pierce. I had planned for an easy trip up scheduled to arrive about 11:30pm. I could not have been more wrong. I had not anticipated the extra crowded conditions in as much as this was the Sunday following a Holiday week. The actual bus I wanted (3:10p) was already full so they put me on an earlier bus (2:55p that was already running late). I actually thought that this was better, however, they had put me on a local bus with lots of stops. With the extra delays, the bus arrived in Orlando at 6:40pm. I should have connected with the 6pm bus for Jacksonville, however, it had already departed. The next bus (8:15pm) was already full. To handle the extra crowds, they put on another bus that departed at 9pm going direct to Jacksonville. That bus pulled into the Jacksonville station at 11:30pm. Although the same bus was scheduled to continue northbound along I-95, they would not stop at Brunswick because that station was closed at night. I was informed that my next option was a bus leaving at 6:30am. This meant a long night sitting on a hard metal bench for 7 hours. Oh well, the joys of "ridin' da 'hound".
11/26/07 MONDAY PORT ST. LUCIE, FL (Greyhound Bus from Jacksonville to Brunswick; Car from Brunswick, GA to Port St. Lucie)
It was a long, long, long night in the bus terminal. They allow you to sit, however, you can not lie down on the floor and sleep. At 6:15am, the boarding process began for the 6:30am departure. An hour and 15 minutes later, I stepped down to begin the walk to the marina. The still air and foggy conditions were perfect for the "No-See-Ums" to be out in force. They had a fine time chewing and chomping at my legs and ankles. By 8:30am, the car was pulling out of the marina parking lot headed south.
Out of Georgia and into Florida, I had an idea that I would stop in New Smyrna Beach and try to find the latest edition of "Guide to the Abacos 2008" by Steve Dodge. I had heard that it was hot off the press located in that town. When I got there, nobody seemed to have ever heard of White Sound Press. Come to find out later that is operated from a small, private building. With time for lunch, I had wasted 2-1/2 hours of travel time. Within a couple of hours, I was back safely on AMARSE.
It was nice to have some good food with a Mexican style dinner of Burritos and Frito Pie. Why don't you ask me if I was tired enough to sleep well?
11/27/07 TUESDAY PORT ST. LUCIE
At 8am, Dave was right on time to begin work on the lengthy list of items. He is great to work with and is very reliable. If he says he'll be there at 8am, you can set your watch by it. He goes about the work cheerfully, efficiently, and competently.
The first item on the list was to remove the fuel injectors so that we could send them out for servicing. Although we were not experiencing any specific problem, we agreed that since the starboard injectors were dirty, it would be wise to recondition the port ones now and gain the side benefit of better fuel economy too.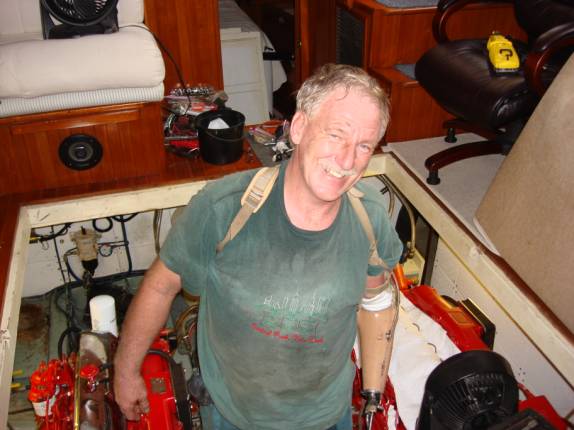 Another big project was the changing of both exhaust mufflers. Several hairline sized cracks were evident on the top of the fiberglass that allowed the smallest of water seeps to escape. Although they had been noticed when we bought the boat, they had not been problematic, however, we decided that we would take the best care of our AMARSE and do what we could to keep her in top-notch shape.
11/28/07 WEDNESDAY PORT ST. LUCIE, FL
Once again, we greeted Dave at 8am. He continued with the project list. Each morning, over a cup of coffee, we would start by planning the day's projects. All the panels of the floor would have to be removed and stored in the aft stateroom. If Dave needed parts or supplies, we would run around in the car and pick them up. It was extremely handy to have the car available.
Just beside the boat, this flock of Ibis would wander around pecking up food from the lawns.
11/29/07 THURSDAY PORT ST. LUCIE, FL
Another project day with solid progress on AMARSE. During the afternoon, the diesel shop called to let us know that we could pick up the reconditioned fuel injectors.
For supper, we went to Sam's Club for a pizza. Seems that after a day of working around, we are just too exhausted to prepare our own dinner.
11/30/07 FRIDAY PORT ST. LUCIE, FL
Today, we cleaned all the sea strainers for the engines and generators, changed fuel filters in the primary Racors and secondary engine double-units, and the generator. We tightened a couple of loose bolts on the genset, rodded out the main heat exchangers, and changed the pencil zincs. Dave found that the insulation covering the main battery grounding cables was in poor condition. We decided to replace both cables with 2/0 tinned marine cable. A trip to the marine surplus store in Ft. Pierce provided the raw materials. Dave would fabricate the cables in his shop.
We went to Charlie's Flashback Diner and found it a very good place to eat. I had broiled Scallops and Judy had Prime Rib.
POST SCRIPT:
As I assemble this edition, we are already in the Bahamas for the winter aboard AMARSE. (it's early Jan '08 already). I offer my apology for being so tardy in putting the log updates together. While I am catching up on these late editions, you will probably notice some changes in the format. Hopefully, these will allow me to be more punctual. Whatever, we sincerely hope you enjoy these compilations. Please let us know if you have any special suggestions and thoughts.
We thank those of you who have contacted us recently and we are looking forward to hearing from each of you in the near future. Thanks for allowing us to share our life and adventures with you.
REMEMBER: The website is now fully active and you can visit it at any time. You can review any of the 2006 or 2007 logs right now. Soon, the 2008 logs will begin. Learn more about the crew and our plans. Enjoy.
ATTENTION: SPECIAL NOTE:
You may contact us via email. Our cell phones have been turned OFF. We do have occasional SKYPE connections at 'amarse1'.
"AMARSE". is pronounced "AM-ARE-SAY". Our website is: www.amarse.net .
Lot of Love,
Fred Reed and Judy Law
AMARSE
MT40