UPDATE#36
12
/16 thru 12/31/07
Howdy Everybody,
The period 01/19/07 thru 12/15/07 has been covered in Updates 1 through 35. We continue with year's finale edition, UPDATE 2007 # 36.
UPDATE 2007 #36 12/16/07 through 12/31/07.
Welcome back to the new Adventures of the trawler AMARSE. At last update, we were at our winter home at ABACO BEACH RESORT and BOAT HARBOUR, in sunny Marsh Harbour, Abacos, Bahamas. AMARSE, and her crew, loves this clean, clear water and sunshine.
12/16/07 SUNDAY MARSH HARBOUR, ABACOS, BAHAMAS
It was quite windy and overcast this morning. Judy made her famous recipe French Toast using fresh coconut bread dipped in egg batter laced with both coconut and banana rums. It was sooooo gooooood!
I prepared our dinner in the late afternoon so that we would have plenty of time to enjoy a group cocktail party at the palapa hut. Rita from MAGNUM OPUS traveled the docks earlier to spread the word. As usual, the idea was a complete success with lots of folks bringing an assortment of snack appetizers.
The plump green peppers stuffed with seasoned beef filling just needed reheating to become our delicious dinner.
Our progress through the complete series of Stargate SG-1 has already moved through the first eight episodes of Season 9. I think that this series has been wonderfully exciting and I've enjoyed every season so far. It has been the longest running sci-fi series in history.
It rained heavily overnight and the wind switched to out of the North announcing that the cold front had come through.
12/17/07 MONDAY MARSH HARBOUR, ABACOS, BAHAMAS
We awakened to cooler and much windier conditions. Judy still went out for the women's walk. Along with Joe DeMaris, our discussion sought to solve most of the world's problems. Waffles made a good breakfast for this morning.
Judy did several loads of laundry today. The marina has a nice coin-operated laundry room up near the main office.
12/18/07 TUESDAY MARSH HARBOUR, ABACOS, BAHAMAS
The morning walking group left at precisely 8:30am. If you are even one second late, they'll leave you behind in a heartbeat.
I ran the engines on AMARSE for about a half hour just to exercise them and circulate the oils and fluids. It gave me another chance to assess the starter problem on the right engine. My troubleshooting is narrowing it down to a starter, a relay or a switch problem.
My swim in the pool lasted too long today. After over an hour in the cool water, I knew that I had gotten way too chilled. After a couple of hot dogs for dinner, I was still feeling too chilled. I went to bed at 8pm with my body temperature still down to 97 degrees F. Please remind me not to stay in the water that long again.
12/19/07 WEDNESDAY MARSH HARBOUR, ABACOS, BAHAMAS
After a delicious French Toast breakfast, Judy and I walked to town to look for someone capable of rebuilding a starter motor. We asked plenty of questions but almost no one had any ideas. Several of the auto parts shops are employing young gals that have very little mechanical or automotive knowledge. One mechanic gave us a suggestion but the guy was outside of town.
We finished up our trip with a stop at the grocery store and then took a taxi back to the marina. Judy used her special trick of spraying concentrated Lemon Juice on the hull to remove the "waterway smile" from the bow. This stain caused by tannins in the inland and ICW waters can seriously detract from the boat's appearance. Other methods can be harsh and require lots of work, however, the lemon juice works beautifully leaving a nice white surface.
Our dinner meal included delicious meatloaf and a baked potato. We went and visited with Paul and Sue on ODYSSEY until 9pm (well after Paul's bedtime).
12/20/07 THURSDAY MARSH HARBOUR, ABACOS, BAHAMAS
Judy is a regular on the walking group now. They make their 4-mile trek in about an hour and have fun doing it. The crew from ADAMAS DE MARIS piled into Taxi # 11 with driver Jeff Key. Their voyage was now complete and each of them was ready to return home for the holidays.
Judy and I walked to town for groceries and picked out the frozen turkey that would fill our plates on Christmas day. In the afternoon, a group of the gals gathered at the palapa hut to make jewelry. Sue from ODYSSEY is quite knowledgeable and enjoys teaching the others how to assemble a variety of different bead items.
I worked in the galley preparing dinner for our guests, Paul and Sue Graham. I put together a delicious, Super Chicken Pot Pie. This is one of those special dishes that takes such a variety of ingredients that it becomes more expensive than fine steak. It was well worth it though and when Judy served her special Key Lime Pie made with ingredients from Key West, Florida, we all knew that we'd dined in excellence.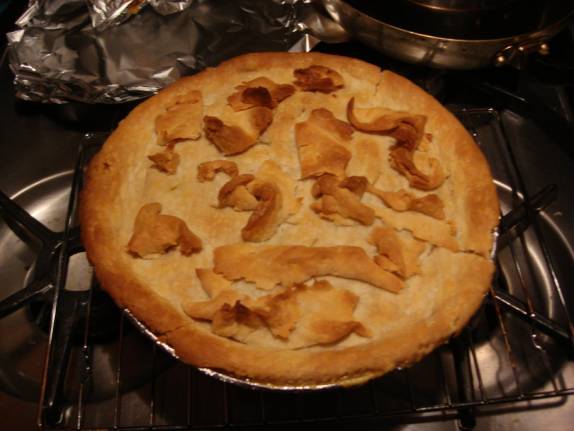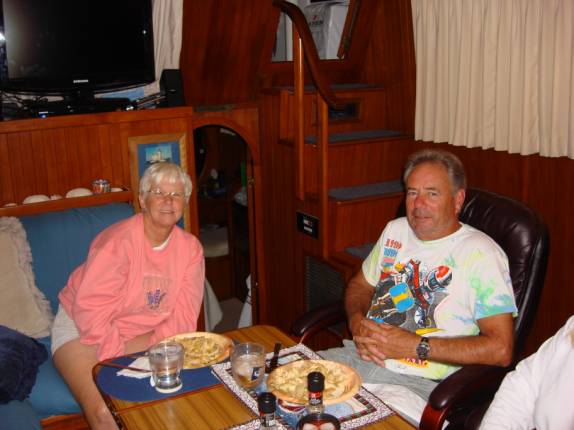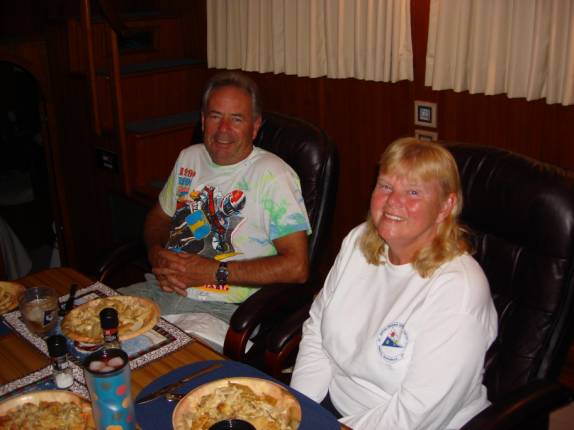 12/21/07 FRIDAY MARSH HARBOUR, ABACOS, BAHAMAS
While Judy was out doing the walk n' talk, I started work on more logs and updates for the website. I am going to diligently apply myself to try to catch up on the tardy editions. I continued all day with Update #31. I am ashamed to admit that I have fallen almost 3 months behind. Hopefully, my readers will forgive me.
Fortunately, it was windy and rainy all day. It has helped me concentrate on the computer tasks indoors and not be tempted by outside activities.
There has been an ongoing saga about a "hose nozzle" that was allegedly pirated from the Commodore. A long story, including outrageous ransom demands, has entertained the entire boating community. Tonight, at 5pm, there was to be a special cocktail party to witness the release and return of the hostage "Nozzle." Unfortunately, the current reports have placed the nozzle in Hopetown and, thus, not available for immediate return. Even against my personal counseling, Robert was agreeing to meet the demands of the pirates. Urging against negotiating with pirates, I had suggested a "swift and decisive action to be accomplished at a time and place of our choosing". My pleadings obviously fell on deaf ears.
A pot of my homemade, creamy, New England style Clam Chowder served with crispy oyster crackers was the perfect dinner on this cool evening.
12/22/07 SATURDAY MARSH HARBOUR, ABACOS, BAHAMAS
For the most part, today weather was absolutely fabulous. With the exception of a short-lived, afternoon shower, the forecast met or exceeded expectations. Judy set off with the girls for the morning stroll. I was hungry and made myself a grilled cheese sandwich for breakfast.
The start problem of the right engine continued to occupy my thoughts. I was not thoroughly convinced that it was simply a starter motor problem. The only way to find out was a lot more troubleshooting techniques. My first test had me connect jumper wires directly from the battery to the starter motor connections. When the motor turned freely, I eliminated the basic motor problems such as brushes, bearings, commutator, and armature windings.
A second test placed jumpers directly to the relay and starter resulting in no rotation. Next, my remote jumper was connected directly between the starter hot and the solenoid hot resulting in an engine start. My diagnosis was established that the starter relay was failing to make adequate contact and would need to be replaced. I ran both engines for about a half hour to exercise and lubricate them.
I enjoyed some pool time during the afternoon. With a stronger internet signal up on the bridge, I was able to connect for some phone calls over Skype with good reception. It was a pretty sunset over the tranquil harbour.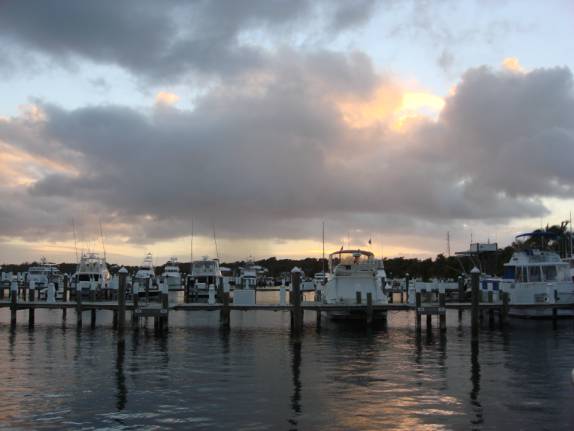 Tilapia loins pan grilled with lemon and baked sweet potatoes made for a scrumptious dinner. Fortunately, there were a couple of slices of Judy's Key Lime Pie for dessert.
Season 9 of Stargate SG-1 is now completed. I am thoroughly enjoying every episode, however, I think Judy may be getting a little tired of the continuing series. Oh well, we will start the 10th and final season of episodes soon.
12/23/07 SUNDAY MARSH HARBOUR, ABACOS, BAHAMAS
I worked continuously all day on the logs and updates for the website. Slowly, but surely, I am closing the time gap and publishing more volumes to the website Log List.
One of the local churches was hosting a special holiday service especially for the cruising community. The assembly took place at Long's Landing located at water's edge of Marsh Harbour. Judy joined a group that attended.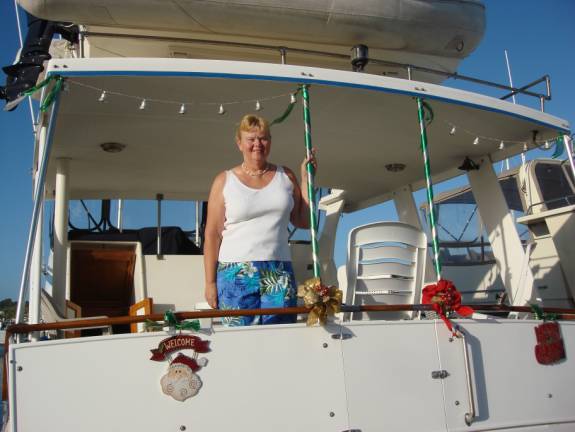 Robert and Carolyn participated on this lovely Sunday morning.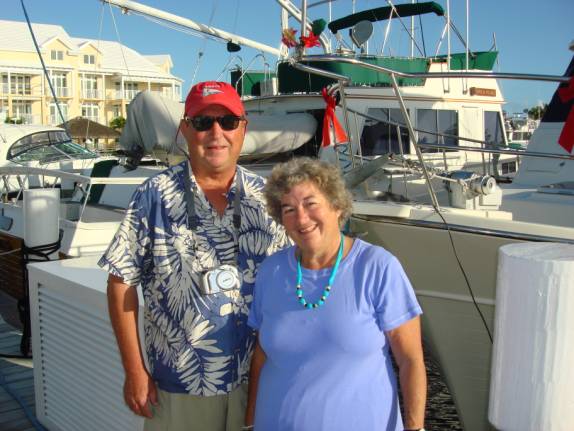 Dave and Bette Bauereis (TAR HEEL), and Connie (R JOY) walked together with them. Everyone was impressed and enjoyed the event.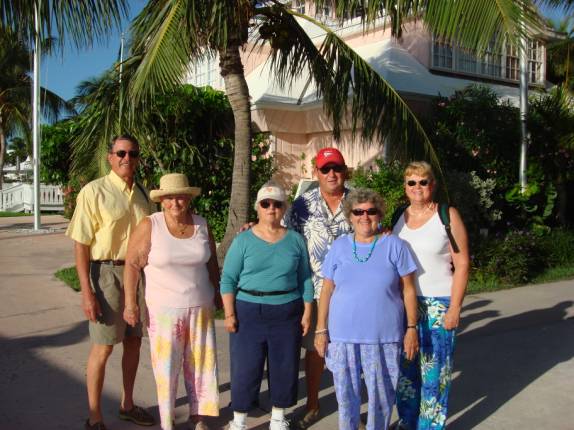 Paul Graham (ODYSSEY) was in his Sunday finery to attend the Presbyterian Church service.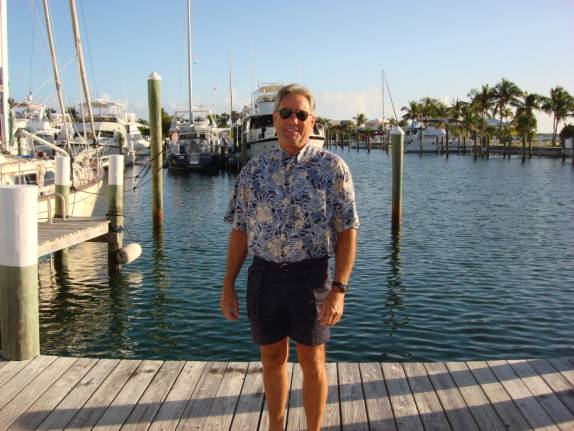 Judy Jenkins kept a sharp lookout from the bow of DOUBLE JJ, a Great Harbor 37.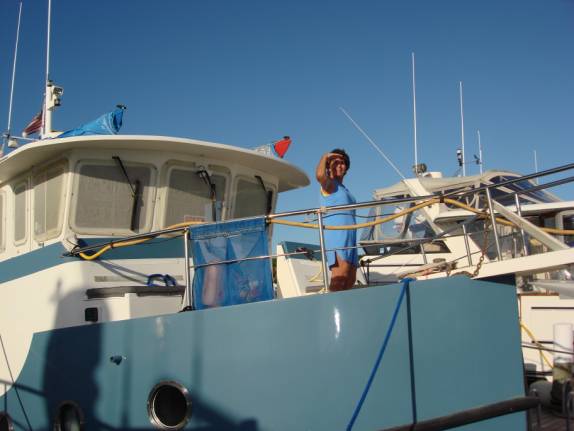 Judy Law made her famous chicken breast in mushroom sauce for dinner. Served with a stuffing side and pie for dessert, it maintained its number one standing on my list of favorites.
12/24/07 MONDAY MARSH HARBOUR, ABACOS, BAHAMAS
Judy put together a nice breakfast of taquitos. For those unfamiliar, they are rolled-up flour tortillas filled with bacon, scrambled eggs, and cheese.
Once again, I placed my efforts on the logs, updates, and website duties. Still needing a few key ingredients for our holiday dinner, I walked with Robert Wilson to town. We split up to accomplish our individual necessities, however, we teamed up to share a taxi back to the marina.
I took advantage of this peaceful afternoon to take a restful nap. The group from various docks joined together at the big tent for a Christmas Eve cocktail party complete with everyone's contribution to the appetizer treats. I prepared a gourmet pasta/cheese dish interlaced with cubes of turkey breast meat. For us, the occasion was being with our much-loved cruising family getting together to share this special evening.
12/25/07 TUESDAY MARSH HARBOUR, ABACOS, BAHAMAS
MERRY CHRISTMAS AND HAPPY HOLIDAYS TO ALL.
It is Christmas Day and the temperature is 78 degrees F. For a white Christmas, we look no further than the beautiful beach and its pure white sand. The forecast called for a few intermittent showers. Using a pretty good Skype connection, we were able to call a number of our family and friends.
Our thawed 15-pound turkey was placed in a Reynolds Cooking Bag nestled in a double layer of aluminum pans. This is the maximum size turkey that we would ever be able to cook in the small-sized oven aboard AMARSE. Operating on bottled propane, the oven is temperamental about maintaining a constant temperature. We were constantly monitoring and adjusting the thermostat in hopes of the perfect bird. We have learned that closing the oven door too fast will blow out the pilot flame. We can learn, you know.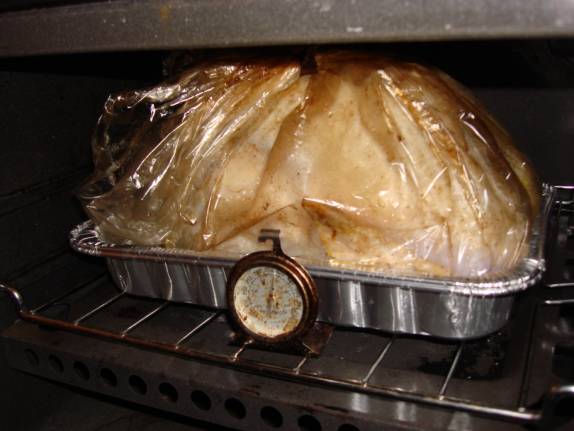 Although the turkey does not brown up as evenly and nicely when cooked in the bag, it does make for easier handling and clean up. The galley space on most boats is limited and requires the chef to modify many techniques. Rachael Raye and Emeril would have a tough time adjusting to the compact galley. We, however, have adjusted well and are proud to prepare a huge variety of great meals.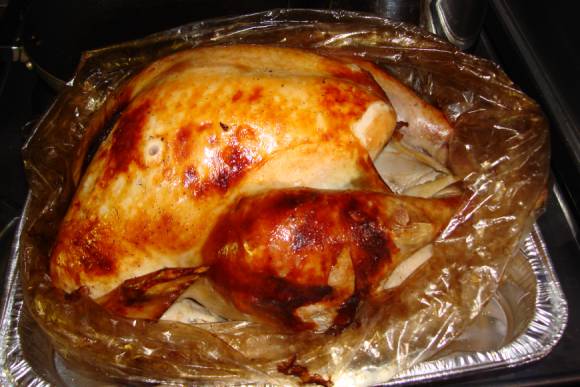 My stuffing recipe was innovative and contained diced apricots. Although it was delicious, I think it added a little too much sweetness to a savory dish. When guests, Jonathan and Judy Jenkins (DOUBLE JJ) joined us, they were seated at Judy's nice decorated table on the sundeck of AMARSE. Dinner was enjoyed at about 3:30pm. Jon and Judy brought an olive/relish tray, sweet potatoes, and the mashed potatoes. It was a great feast and a great time.
Feliz Navidad and Buen Provecho, Mi Amigos.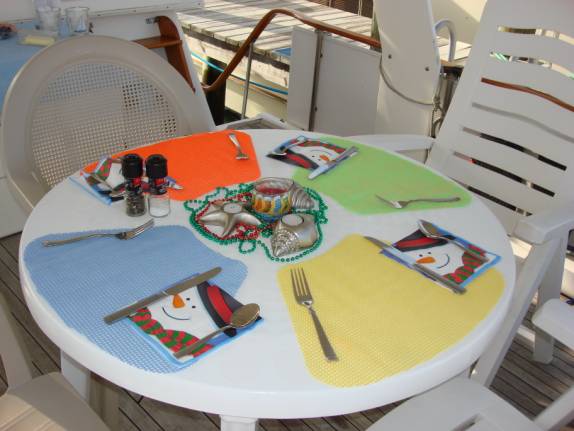 Judy stripped the carcass and began the slow simmering of the bones to make turkey broth. We put in the wonderful DVD of Sarah Brightman's "Harem" concert from the MGM Hotel in Las Vegas. This show is one of my favorites and has to be one of the all time best productions ever.
Sue and Paul Graham joined us all aboard DOUBLE JJ for desserts. Sue brought a chocolate/pecan pie and Judy Jenkins served pumpkin pie, cookies, fudge, and Hot Chocolates laced with peppermint schnapps. It was, indeed, a great holiday occasion.
12/26/07 WEDNESDAY MARSH HARBOUR, ABACOS, BAHAMAS
HAPPY BOXING DAY in the BAHAMAS.
Boxing Day is a traditional celebration dating back to the middle ages, of which the primary practice is the giving of gifts to employees or to people in a lower social class. The name has numerous folk histories. One explains that because the staff had to work on such an important day as Christmas by serving the master of the house and his family, they were given the following day off. As servants were kept away from their own families to work on a traditional religious holiday and were not able to celebrate Christmas dinner, the customary benefit was to "box" up the leftover food from Christmas Day and send it away with the servants and their families.
Although I am not in a lower social class, I am regarded as Judy's "Love Slave". Perhaps that's why I had "leftover" french toast and a waffle for breakfast.
I continued the troubleshooting process on the starter issue. I am more convinced that the problem exists in the Start Relay. Here is a picture of the culprit unit.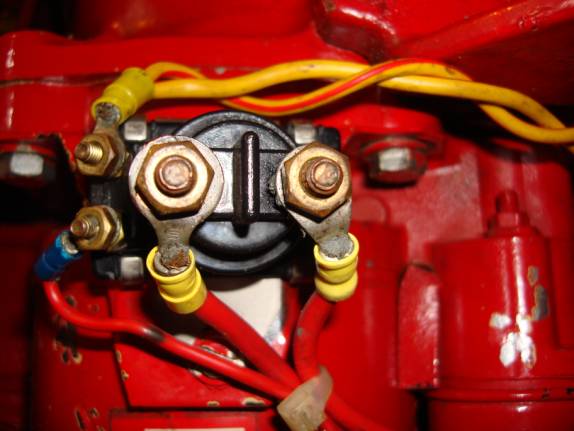 Judy defrosted the refrigerator. Unfortunately, these boat fridges are not automatic defrosting. I did some computer stuff today. A major effort was put into finishing up our big pot of Turkey Soup. Yummie, Yummie!
It was Judy's turn for an afternoon nap. I took the opportunity to take a refreshing dip in the resort pool.
Rita (MAGNUM OPUS) organized a group of us to go out for drinks and dinner at Snappa's Restaurant. It is a neat little place with an open view toward the central part of the harbor. About 25 of us walked there from Boat Harbour.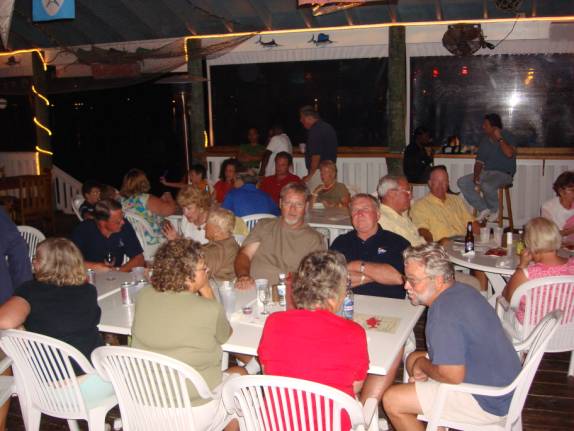 My grilled Mahi Mahi sandwich was terrific. Judy enjoyed an Angus Cheeseburger and a Kalik, the local beer of the Bahamas.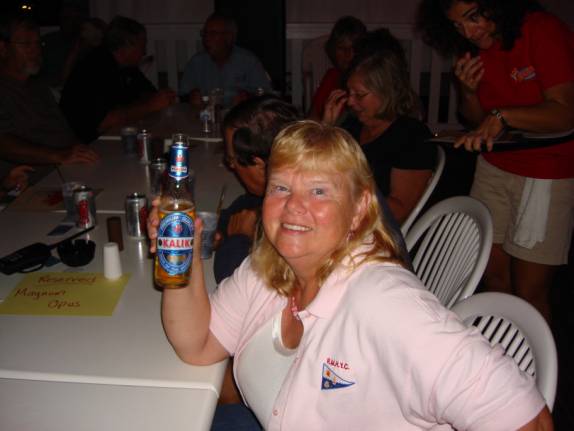 After the fun evening, our walk back to the marina allowed us to see some of the lovely holiday decorations.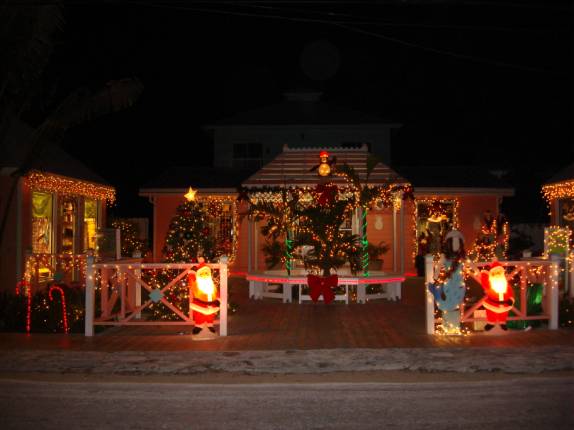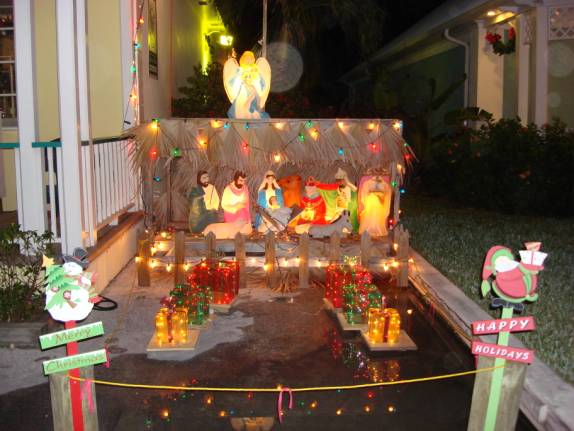 12/27/07 THURSDAY MARSH HARBOUR, ABACOS, BAHAMAS
The 4-mile women's walk included Judy this morning. For me, it was a very frustrating day on the internet. There were constant drop-offs and poor connection speeds. I don't know what has changed, however, last year's service was much more reliable.
I managed to get an email note off to American Diesel that was replied to with information about a substitute relay kit. I decided to check with the local NAPA Auto Parts store hoping that they might stock a suitable generic truck starter relay. I was in luck and had a choice of two units. We did some grocery shopping and loaded up on stuff. After being frustrated at getting a taxi back and drivers wanting to stick it to the tourists, I decided to walk back to the boat. Unfortunately, it is just too far to carry all that stuff and we were exhausted.
The last slices of turkey meat and various other leftovers made for a delicious dinner. The first 3 episodes of Season 10 of Stargate SG-1 entertained us on the flat screen.
12/28/07 FRIDAY MARSH HARBOUR, ABACOS, BAHAMAS
While Judy hiked with the women this morning, I crawled around in the engine room replacing the starboard starter relay with the NAPA part. It required some minor modifications and I had to drill out the primary terminals to fit. The new unit is more heavy-duty and works great. It is nice to have a success story.
As usual, I always enjoy my dips in the resort pool.
Turkey Rice Soup, served with fresh baked biscuits, was delicious. Ever since my childhood days, I have thoroughly enjoyed homemade soups.
12/29/07 SATURDAY MARSH HARBOUR to ELBOW CAY, ABACOS, BAHAMAS
At 9:40am, AMARSE departed Boat Harbour for an anchorage off Elbow Cay and near Tahiti Beach. We made numerous tries at anchoring but continuously fouled the anchor in grassy weeds. With Judy on the bow giving precise directions, we found the anchor in a clear patch of sand. The anchor set securely at 11:10am. The first step was to lower the dinghy from atop the sundeck roof. Robert and Carolyn (SEA ISLAND GIRL) had anchored nearby and we followed their dinghy into White Sound to the Abaco Inn. Judy, Carolyn, and I had Grouper fish plates while Robert chose the Cracked Conch plate. Carolyn's Pina Colada was fabulous; the meals were mediocre at best and the service was poor. We suspect the management or kitchen staff has changed since it used to be a well revered place.
An afternoon at Tahiti Beach was fun with lots of folks enjoying the sun, sand, and sea. Fortunately, I still had time for a little nap on this tropical afternoon. The lovely sunset had us relaxing on the sundeck with a Pina Colada in my hand and a Fuzzy Navel drink for Judy.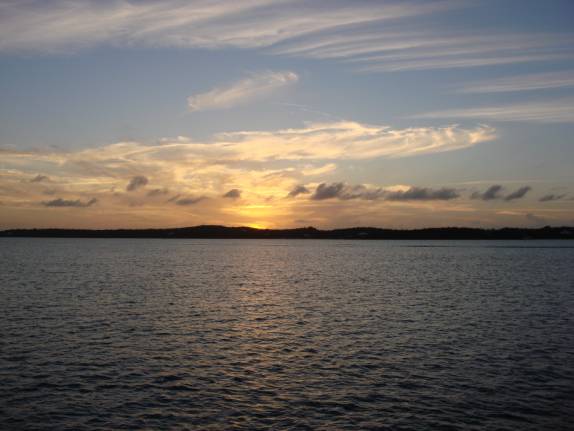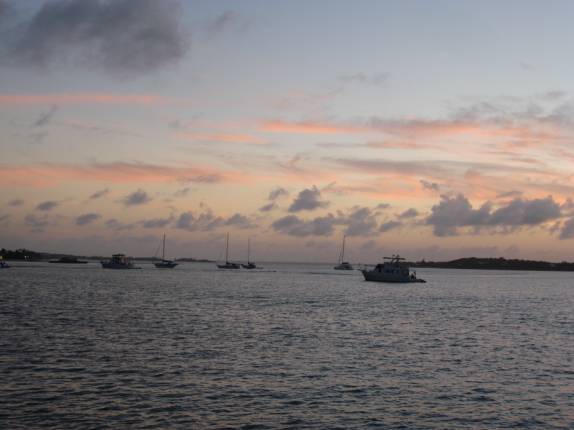 A local jewelry shop planned a huge annual fireworks show near Lubber's Quarters Cay. The John Bull Company discharged lots of aerial displays from a barge moored to our nearby south. As we had hoped and planned, we had the ideal viewing location.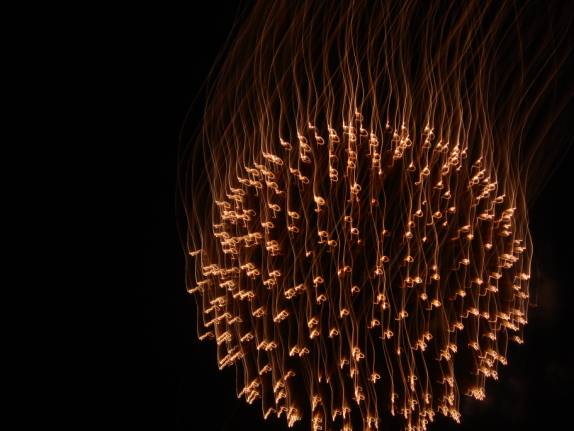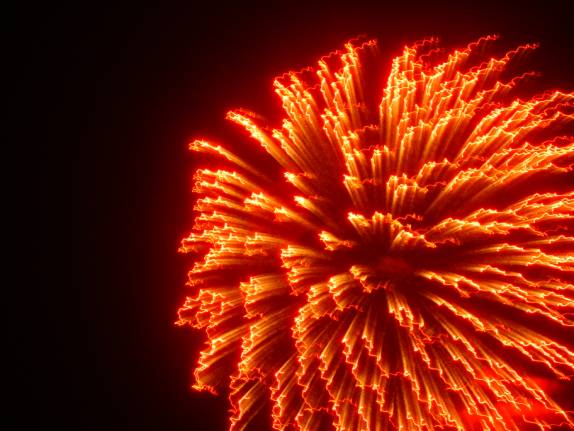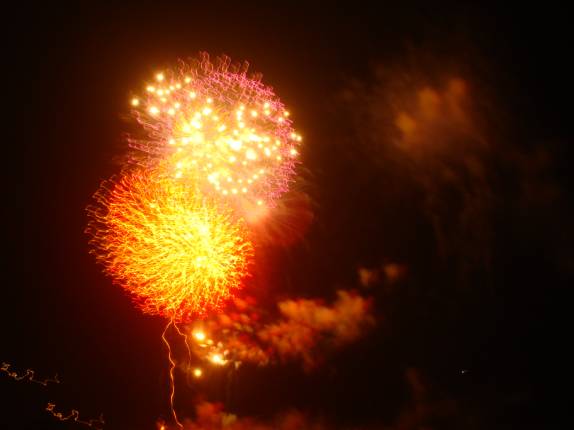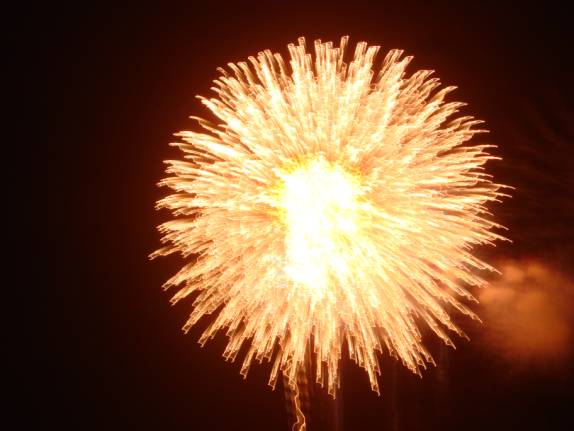 12/30/07 SUNDAY ELBOW CAY ANCHORAGE to BOAT HARBOR, MARSH HARBOUR, ABACOS, BAHAMAS
Coffee and a light breakfast while relaxing on the sundeck started out the day perfectly. We raised the dinghy up and weighed anchor at 10 am.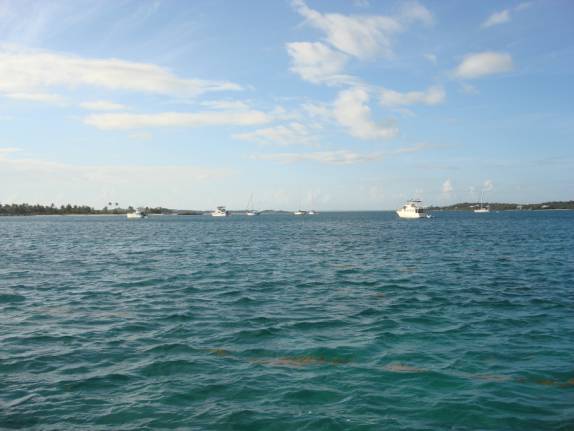 This is a wonderful anchorage location with constantly changing water colors that fluctuate with the light conditions and direction of your view. It is about 7 to 10 feet in depth here.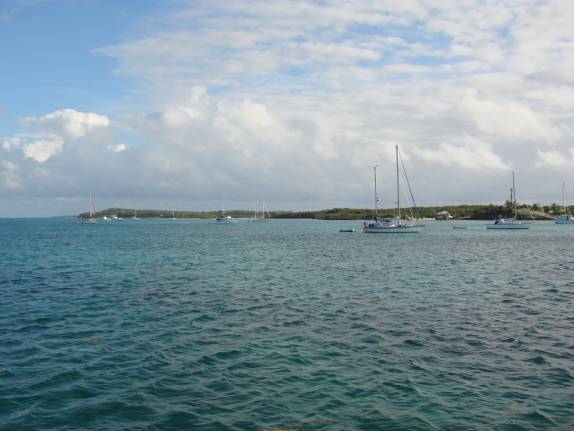 SEA ISLAND GIRL rides peacefully on her anchor rode.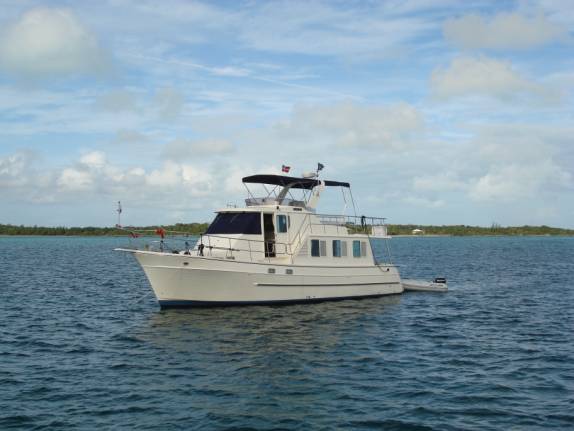 As the water shallows, the color lightens and takes on a more turquoise hue.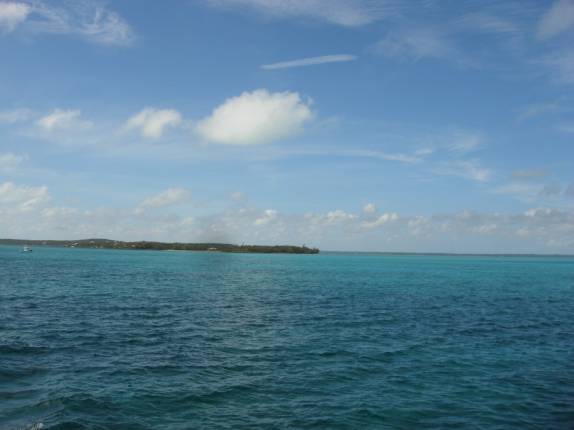 Within an hour, we were being assisted with our tie-up at Boat Harbor. It is wonderful that our friends and dock neighbors are always ready and willing to help with the lines. Many hands make light work and make us look good too. Thanks everybody.
Our whole trip mileage may have been only 12.2 miles and 2.8 hours on the engines tachs, but it seems like we had been transported to a whole other paradise.
Lots of other boats were returning throughout the afternoon. We scurried around attempting to assist as many as we could. Of course, there was plenty of time for a paradisiacal nap, a refreshing swim, and the chance to chat with our numerous friends.
Much to my delight, we still had some leftover Turkey Soup. Judy made herself a big plate of salad. While I worked on Logs and Updates, Judy focused her attention reading her latest novel. What a great life we have here in this wonderful place.
12/31/07 MONDAY MARSH HARBOUR and HOPETOWN, ABACOS, BAHAMAS
Judy laced up her sneakers and went strolling off. My hope to catch up fully on these logs and updates continued to remain beyond my reach. Although making significant progress, it will take several more weeks to reach parity. Your patience is appreciated as I press on to keep our friends and family informed.
Of course, today is the final day of 2007. To help make the evening even more memorable, Frank and Peggy (NAUTILADY) organized a cookout of Hot Dogs and Hamburgers. They provided the buns and meats while others brought pot luck style side dishes. I created a tasty dish consisting of Penne pasta with a delicate sauce with sour cream, tomatoes, vodka, and mild seasonings. I love this kind of get together.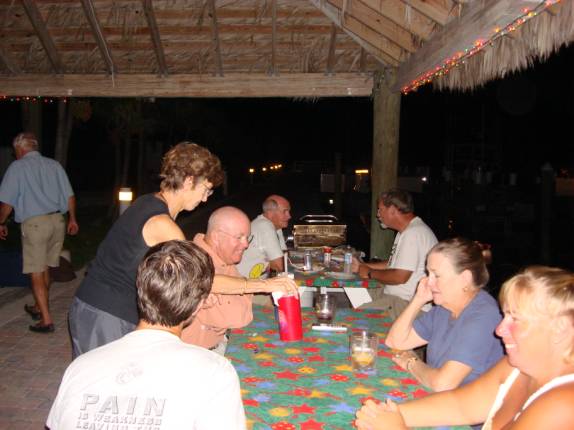 At 8:20pm, we took a taxi to the ferry docks. A whole bunch of folks took a special 9pm ferry to Hopetown for the annual New Year's Eve celebration.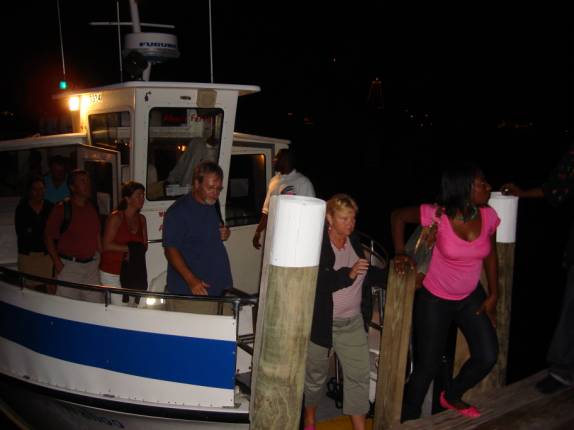 Unfortunately, we were surprised to find everything reserved for special parties. We couldn't even find a place to get a drink. From 9:30p until midnight, we were limited to walking or sitting around people watching. Although it was fun, we sure could have used a bit of spirits to help send out the old year. Fred and Pat from ROYAL SERF, chatted with us for quite a while.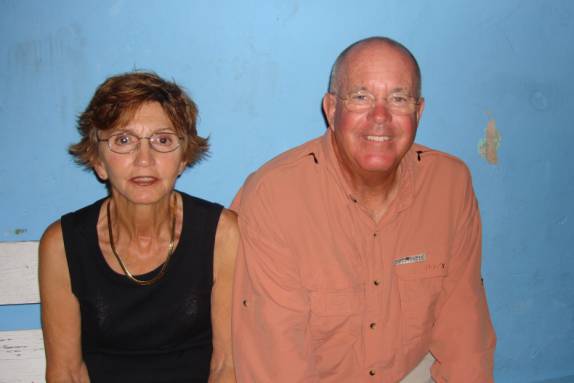 Pat and Mike (LIBATIONS) and Frank (SEA SMOKE) waited patiently for the big time of midnight to ring in.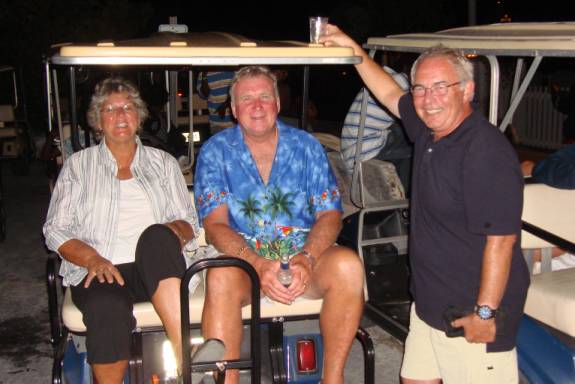 As midnight grew closer, the crowds began to flood the main square in Hopetown. The event planners promised a spectacular fireworks display followed by an authentic Bahamian Junkanoo parade. It is billed as the biggest New Years celebration anywhere in the Abacos.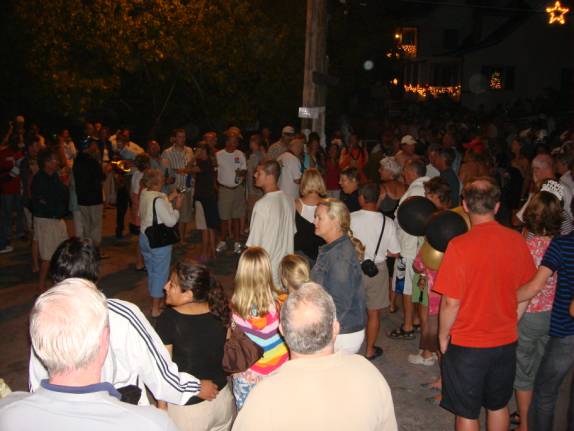 Although you will read more in the next edition of the Update logs and first update of 2008, I will tell you that the fireworks were fantastic and worth every minute of the wait. At 12:30am, the Junkanoo parade was fun and entertaining despite with its small size. The ferry left at 1:30am and dropped us at Boat Harbour. We were tired out when we got back on the boat at 2:10am.
The year 2007 has been absolutely fabulous for us. We thank all those that we have had the good fortune to be with over the year. Our family, friends, neighbors, and acquaintances are what have made all the difference. We have found our happiness most rewarding while sharing with you. We wish you all the very best in the coming year. Our hopes are to have lots more opportunities to be with each of you. FELIZ ANO NUEVO!
POST SCRIPT:
As I assemble this last edition of 2007, we are in the Bahamas for the winter aboard AMARSE. I thank you for your patience with the tardiness of these latest editions. We sincerely hope that you have enjoyed the years of compilations. I look forward to more timely publishing for the upcoming 2008 Updates. Please let us know if you have any special suggestions and thoughts.
We thank those of you who have contacted us recently and we are looking forward to hearing from each of you in the near future. Thanks for allowing us to share our life and adventures with you.
REMEMBER: The website is now fully active and you can visit it at any time. You can review any of the 2006, 2007, or the upcoming 2008 logs and learn more about the crew and our plans. Enjoy.
ATTENTION: SPECIAL NOTE:
You may contact us via email by simply clicking on "CONTACT" button located in the left column of every page. Our cell phones have been turned OFF while in the Bahamas. We do have occasional SKYPE connections at Skype Name 'amarse1'.
"AMARSE". is pronounced "AM-ARE-SAY". Our website is: www.amarse.net .
Thanks
Lot of Love,
Fred Reed and Judy Law
AMARSE
MT40