UPDATE#33
10
/16 thru 11/15/07
Howdy Everybody,
IMPORTANT NOTE: I did NOT send any email versions of UPDATES 26, 27, 28, 29, 30, 31, or 32 because of the file sizes. I included a lot of our pictures in those updates and I was concerned that some email programs would be jammed up. Please go to the website at www.amarse.net to view those updates and learn more about AMARSE. I have had several people request that I send those volumes to them via email because they have been saving them on their computers. If you desire, I can arrange to send them to you too. Thanks.
The period 01/19/07 thru 10/15/07 has been covered in Updates 1 through 32. We continue with UPDATE 2007 # 33.
UPDATE 2007 #33 10/16/07 through 11/15/07.
Welcome back to the new Adventures of the trawler AMARSE. At last update, we were in Texas at our house in San Antonio.
10/16/07 TUESDAY SAN ANTONIO, TEXAS
HAPPY BIRTHDAY TO F. SCOTT KEE, ACE PILOT AND ALL-AROUND GOOD GUY.
Today is the official birthday of Scott Kee. We had all celebrated his party this past Saturday night at Paloma Blanca Restaurant. As you may remember, we worked together for many, many years and took our first-time retirements on the same day.
At 8:30am, I was scheduled for a checkup with my cardiologist, Dr. Randal White. My BP was a little too high and they hooked me up for a resting EKG. I had complained of some chest pain or discomfort so he scheduled me for more tests on Thursday, Friday, and again on Saturday. Of course, he had to add another BP medication to the already staggering list of junk I cram into myself each day.
Down to the Lab for more blood work and then to radiology for a chest x-ray. Thank goodness this still left enough time to go to Teran's Mexican Restaurant for a late breakfast.
Somehow, I managed to squeeze in a peaceful afternoon nap. Dinner consisted of some Chicken Soup and Quesadillas.
10/17/07 WEDNESDAY SAN ANTONIO, TX
Breakfast was a bacon and cheese omelet. I spent a lot of time reading some of the many articles concerning the maintenance and repair of Lehman Diesel Engines. Bob Smith, of American Diesel and MTOA (Marine Trawlers Owners Assoc), is all knowing and has been involved with these marine engines since their original installations and use in trawlers. He has written hundreds of interesting articles that have been compiled on a CD ROM.
Otherwise, it was a quiet day around the house.
10/18/07 THURSDAY SAN ANTONIO, TX
Breakfast consisted of egg, bacon, and cheese on an English muffin. Judy prefers her cereal.
At 12:45pm, I began my appointment for a Resting Cardiolite test. As usual, the nurses had problems inserting the injection tube into my veins. It seems to be a constant challenge for some.
By 2:30 pm, the tests were completed. Judy drove us to Hung Fung Chinese Restaurant in Alamo Heights. We had missed out on the luncheon specials, however, the Lemon Chicken and Moo Goo Gai Pan combination, served with fried rice and egg rolls, was quite good. Of course, we had to have soup; egg drop for me and hot n' sour for Judy.
A few shopping stops on the way to the house and a quiet night finished out our day.
10/19/07 FRIDAY SAN ANTONIO, TX
We had to leave the house at 7 am to be at the Medical Center across town at 8am. The nurse struck a vein the first time in my left forearm. Under Dr. White's supervision, they administered the Treadmill Stress Test. With one minute remaining on the treadmill, they injected the radioactive isotopes into my veins. After an hour of waiting for the stuff to penetrate all through the heart, they took another set of radiological pictures while connected to only three electrodes. By 11:45 am, I was walking out the door.
Another of our favorite restaurants is The Little Fish Factory. Family owned and operated, they have a loyal and happy bunch of customers. Judy usually orders the Giant Fish Sandwich; I prefer the Jumbo Fish Filet plate with a side order of fresh spinach.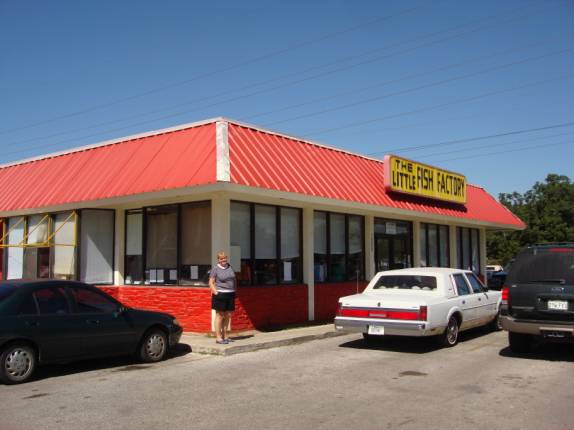 My readings of Bob Smith's articles have prompted me to make several modifications to my Lehman Engines aboard AMARSE. I contacted Brian at American Diesel to have the mod kits sent to Brunswick. After mailing in my MTOA application and dues, I headed for the library for a wireless connection to the internet.
We had wanted to go to Texas Roadhouse Restaurant for dinner, however, the crowds were unbelievable. We opted for a takeout pizza and beer at the house.
10/20/07 SATURDAY SAN ANTONIO, TX
Back again to the Medical Center for an Echocardiogram. This relatively simple procedure uses sound waves to measure the thickness of arteries, measure the walls of the heart, and observe the functioning of the various heart valves. It was done in about an hour.
The truck had been dormant in the garage for numerous months. With a fully charged battery, she started easily and ran smoothly. We have been putting Sta-Bil product in the fuel to keep it fresh. In our experiences, the stuff works very well.
We arranged to meet Scott and Mary at the downtown parking lot to shuttle to the Greek Festival.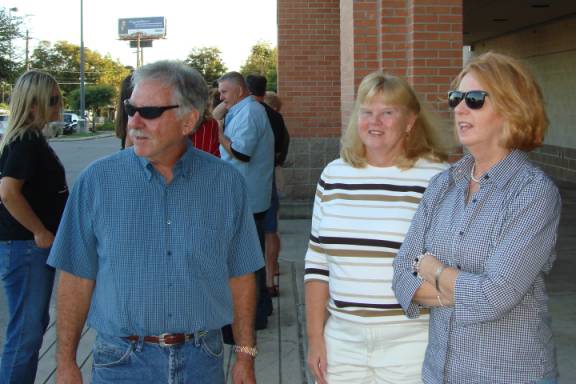 Joe Fugate, our great friend, has been involved with the Greek Orthodox Church for many years. We have worked together in aviation for about three decades. Although he retired with us as one of the "Three Amigos", he immediately returned to work as Chief Pilot for a prosperous San Antonio company.
We are here to be with Joe even more than to visit the festival. Joe volunteered for grill duty. It's "Joe-Bob" makin' "Ka-Bobs".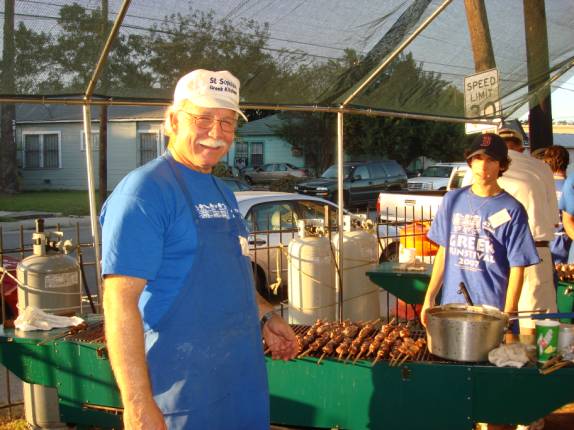 Tradition is very important in this Greek community. Children learn their culture and heritage early on in life.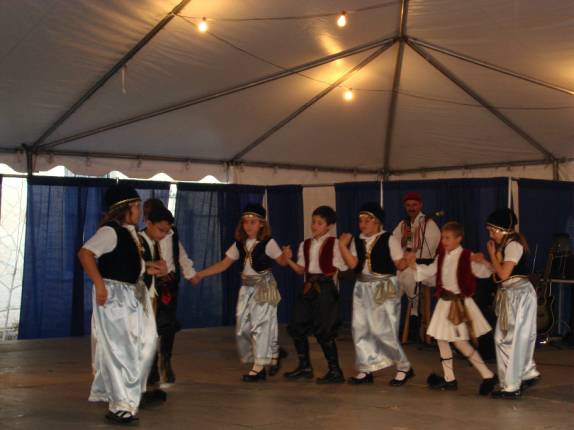 Soon, they become very accomplished dancers.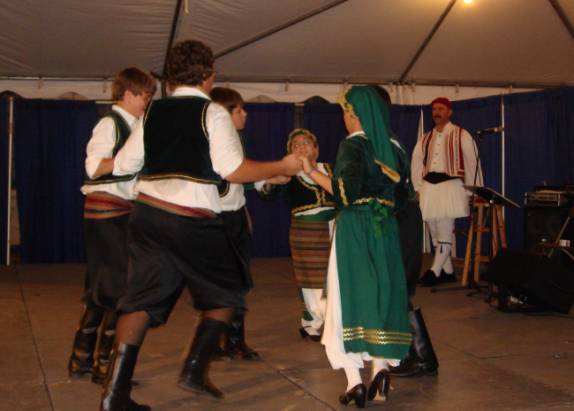 Dance is very powerful means of communication and entertainment. It keeps the culture alive.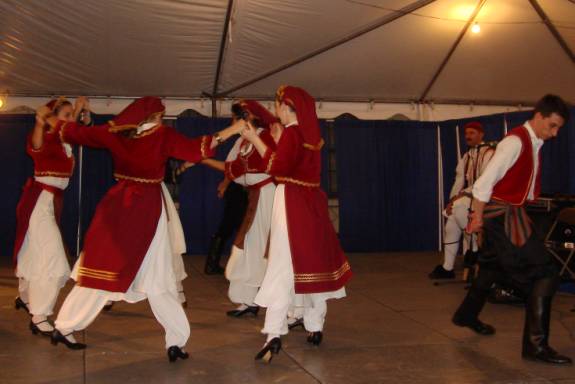 And who among you could resist the delicious Greek delicacies? Think about the cold beer, the roasted corn, the Keftedes, the Gyros, the Kabobs, and, of course, the Baklava.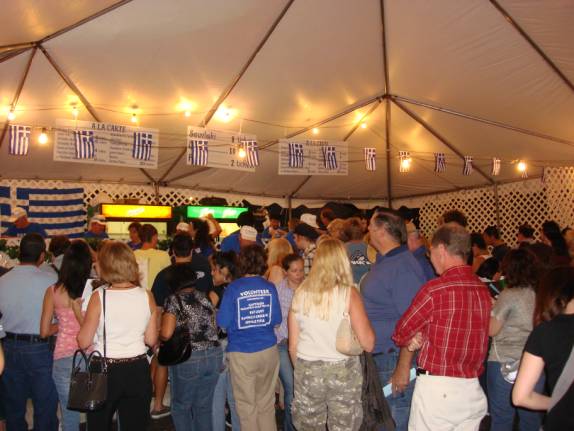 We were back at the house by 9pm. We could only take so much of a good thing.
10/21/07 SUNDAY SAN ANTONIO, TX
We occupied most of this Sunday calling lots of friends and family on the phone. Some more Bob Smith articles took us to NASCAR time. Following the race, we watched the movie, Men of Honor, starring Cuba Gooding, Jr. and Robert DeNiro. This is a great movie worth seeing over and over.
Our house is called a Patio Home. Unlike a Condo, we own both the unit and the grounds. It gets its name from the individual patio areas at the rear of each of the four homes in each unit. We like our southwest style landscaping that requires very little maintenance. This unit is a two-story with 3 bedrooms. It is ideal for us as we can easily pack up and leave for long periods of cruising. If you've noticed, we call this our house; Our home is aboard AMARSE.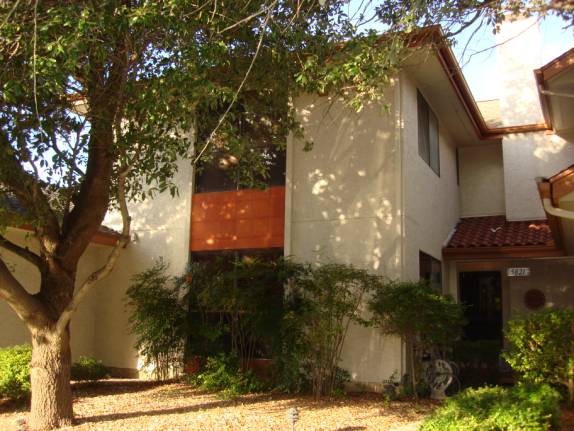 We eagerly accepted the invitation to Mary's house for dinner with her and Scott. She prepared a culinary delightful dinner of Salad, Lasagna, nice wine, and topped it off with homemade Banana Pudding. Our great evening lasted until 10:30pm. Sorry you have to go to work tomorrow Mary.
10/22/07 MONDAY SAN ANTONIO, TX
A cold front pushed through Texas leaving temperatures only in the high 60's for today. We managed to make it to Teran's Mexican Restaurant for a late breakfast.
At 2:15pm, Diane called from doctor's office offering an opening for my follow-up at 3:45pm. Dr.White reviewed all the blood work with good reports. The nuclear stress test revealed no abnormalities. The echocardiogram was inconclusive due to low-resolution returns, however, the test did not reveal any observed problems. After some discussion, we decided that the real measure would be decided with an Angiogram Catheterization. He made some changes to my BP medicines and scheduled me for Friday at 6:30am at Methodist Hospital. The building in this photo houses the Cardiology Clinic of San Antonio.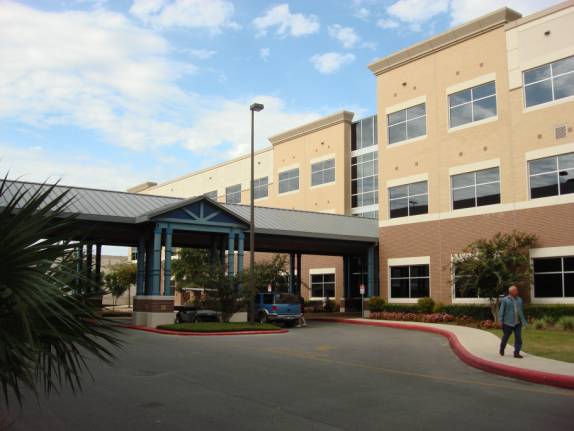 Our dinner consisted of leftover Eggplant Parm and Judy had a Chicken Pot Pie. Joe Fugate dropped by for paperwork on the Avon Roll-up and 8-HP motor. Good news that Roxanne came home from the hospital this afternoon.
10/23/07 TUESDAY SAN ANTONIO, TX
Judy and I spent the morning in planning session to revise our travel plans, foods ideas, and various lifestyle stuff. We had to call Continental Airlines to cancel our reservations for 10/24 San Antonio to Jacksonville. The ticket values will be good until September 2008.
A call to Bob Smith at American Diesel had some more Lehman parts and upgrade kits on their way to Brunswick to await our arrival.
The dinner menu consisted of grilled chicken breast, broccoli, and plain penne pasta. My evening consisted of a trip to the public library for internet service.
10/24/07 WEDNESDAY SAN ANTONIO, TX
Judy dropped me at the library in the morning. I began the many hours of recurrent education and testing programs to renew my Flight Instructors Certifications. The Gleim FIRC (Flight Instructor Refresher Clinic) program fulfills the requirement for the bi-annual renewal.
Judy washed the car, got it state inspected, had the tires re-balanced, and did some shopping. At 6:15pm, she picked me up at the library. Our dinner plate had 5-cheese Ravioli with Diced Tomatoes, Roasted Red Pepper, and Broccoli sauce. Judy had a chicken breast with hers.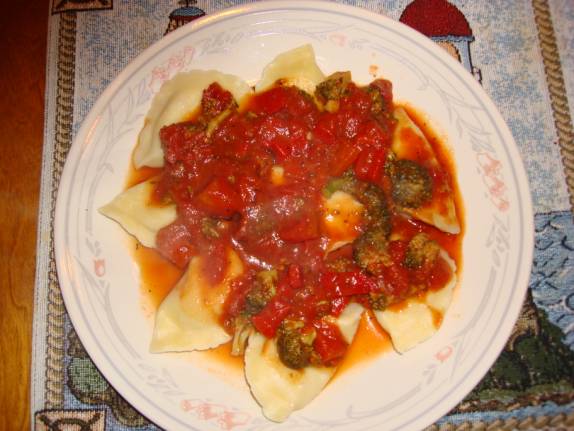 After dinner, I headed back to the library for a couple more hours of computer lesson time.
10/25/07 THURSDAY SAN ANTONIO, TX
Early this morning, I was back at the library immersing myself in the FIRC program. At early evening, Judy picked me up from library. I think my brain was turning to Jell-O after spending so much time studying. It sure is a good thing that I enjoy this stuff.
Tonight's dinner was delicious and the presentation was delightful. A grilled chicken breast accompanied by steamed, fresh, baby green beans. The raviolis in a special, stock reduction tasted awesome.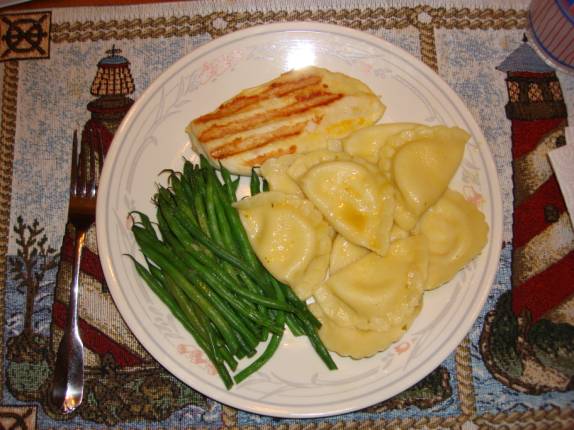 10/26/07 FRIDAY SAN ANTONIO, TX
The alarm sounded at 5:15am. Forty minutes later, we departed for Methodist Hospital where I was scheduled to undergo a catheterization of my heart to determine the condition of my cardiovascular system. By 6:25am, we were filling out the reams of paperwork required. Just 20 minutes later, I was on the 6th floor being prepped for the procedure. The head nurse, Tabitha, seemed to find the right veins effortlessly and started the IV's. The wheels of the gurney turned at 8:15 as I was transferred to the Cath Lab. Dr. White was ready to begin at 8:30am. The painless procedure begins with a small cut into the femoral artery at the groin. A special scope catheter is guided all the way up to the heart area. An iodine solution is injected and pictures are taken that clearly show any blockages or restrictions. The process is repeated a number of times highlighting different sections of the heart and arteries. When the catheter is finally removed, a special plug developed by St. Jude's Hospital is inserted into the entry point. This seals the site and allows faster healing. The plug will eventually dissolve over the next several months.
Now, the good news. Dr. White was pleased to indicate that there was only minimal blockage that is within the normal range. They did not require any special work or a stent. This was the news we were all hoping for.
I was returned to recovery where I was not allowed to move at all for 2 hours. They certainly don't want any complications at the main artery. The pain meds made it easier to relax and they even gave me a flu shot while they were at it. These are fine professionals and very competent at their craft. By 11:15am, I was up for a walk. My primary physician, Dr. Wiesenthal, came by for a quick visit and by 12:00 noon, I was released to be driven home by Judy.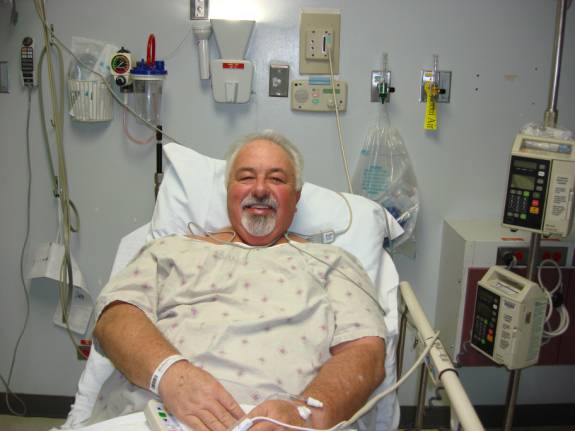 With doctor's orders to take it easy for a few days, I found it easy to take an afternoon nap. I was happy to be awake for a delicious dinner of grilled Tilapia loin, penne pasta, and more of those wonderful, fresh, steamed, baby green beans.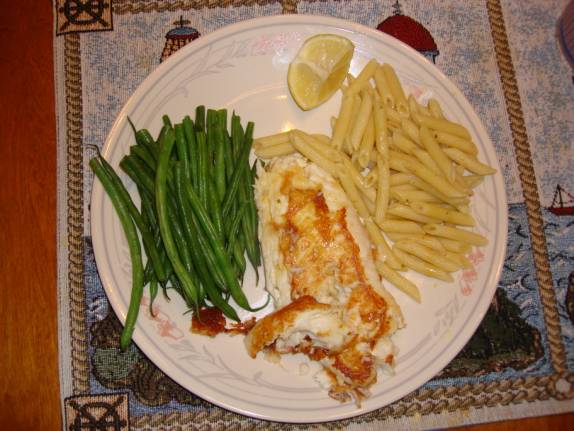 10/27/07 SATURDAY SAN ANTONIO, TX
Still moving a bit slow and cautiously, we did some shopping for items to take back to the boat. Since we would be driving, we could pick up some items here. From Lowe's, we got a new boarding ladder, some GFIC outlets, and a large, double bulb, fluorescent trouble light.
We had enjoyed last night's dinner so much, and since we had more in the refrig, we repeated the menu from last night. Those Tilapia loins are fabulous. I had a nice long phone call with Bob Allen in Mexico tonight. We were on the phone till after midnight. Finally, I got myself into bed at 1:45am. Good thing I had that afternoon nap.
10/28/07 SUNDAY SAN ANTONIO, TX
Another spectacular day of Texas weather. 70's for the day highs and 50's for the nightly lows have made it very pleasant. Judy worked very hard to get stuff organized and packed up for our trip east. Fortunately, I had WiFi from a nearby neighbor for a little while. I still have to take it easy so I had no trouble complying with an afternoon nap.
Our friend, Joe Fugate, called to see if we would go out to dinner with him. Unfortunately, Roxanne was back in the hospital and I think he was lonely. We decided on going to Smokey Bones Restaurant for dinner. When we arrived there, we were shocked that they were closed up and out of business. Damn the luck! We drove together to the riverwalk area downtown for Tony Roma's. Their byline is "the place for ribs". Turned out we had very lousy service, the ribs were tough and dry, however, the only thing excellent about this place was the three friends at the table. Remind me never, I repeat, never, to go back to TR's.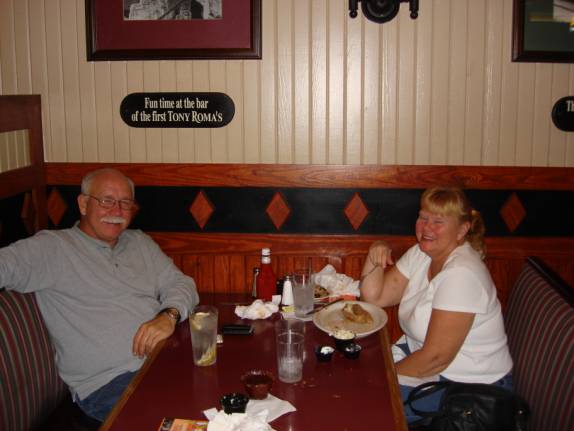 The San Antonio RiverWalk is such a pretty place. (note the sightseeing barge that tours the riverwalk area.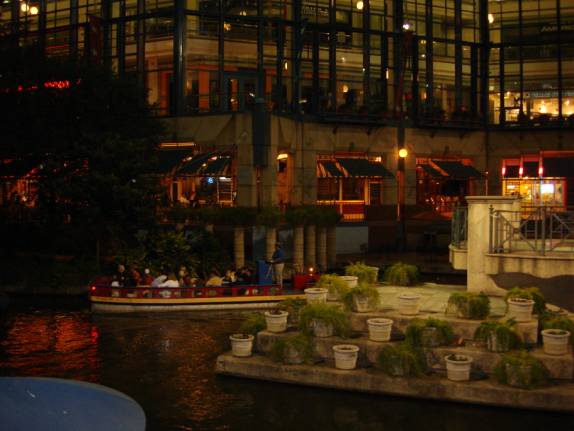 10/29/07 MONDAY SAN ANTONIO, TX to GAUTIER, MS
In order to get a decent start ahead of the local traffic, we set the alarm for 5:15am. Now the chores of closing up the house; the trash had to be collected, the gas turned off at the street, the water turned off at the street main, the electric power disconnected at the breaker box. Judy devised a method of covering the toilets with heavy plastic wrap. This stops evaporation that could leave the traps open and allow critters access. It works remarkably well. Once again, that kid is a genius.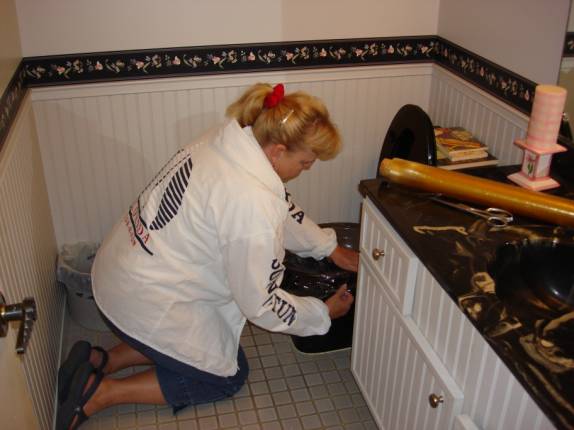 The car was loaded and we bade farewell to our house as we headed off toward our home. To minimize our time on the road, we only made quick stops for gas and McDonald's fast food for breakfast and lunch.
At 4:30PM, we pulled into Jimmy Ethridge's driveway in Gautier, MS. Once again, he was gracious to make us feel welcome with his Southern, gentlemanly manner and genuine hospitality. Jimmy had several places that he wanted us to experience, however, it was Monday and they were all closed. We went to Big R's in Moss Point. Jimmy and I had the special Hamburger Steak with gravy and onions. Judy had the special Spare Ribs. Everything was quite delicious. We stayed up till after midnight chatting and reminiscing. It was too bad that Betsy was still in Washington, DC.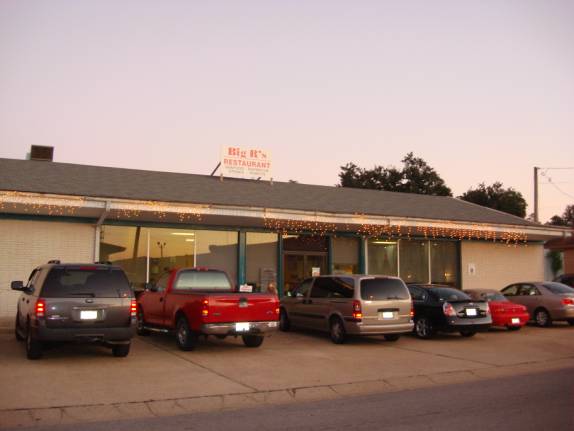 10/30/07 TUESDAY GAUTIER, MS to BRUNSWICK, GA
The alarm rang 6:30am and Jimmy rapped on our door. In an hour, we were waving goodbye to a great guy and friend. We hope to meet again soon. Perhaps next summer when they undertake the another adventure on their boat, SIMPLY SOUTHERN.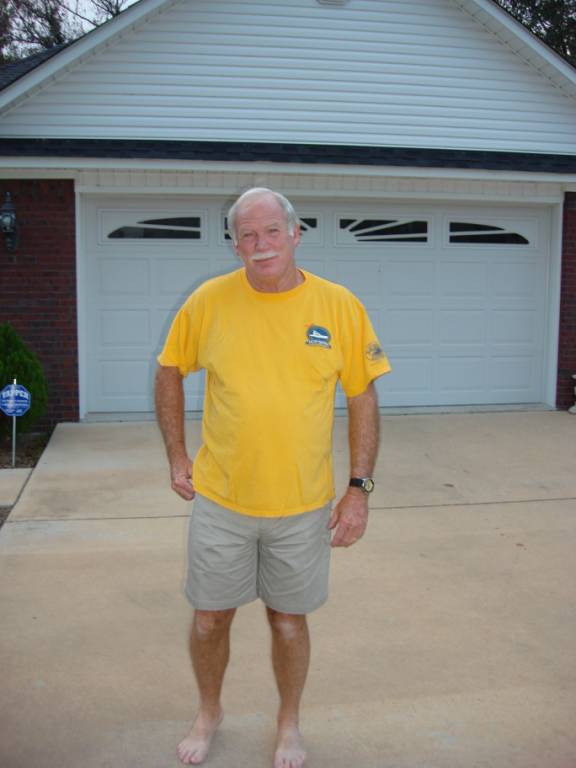 Fortunately, we are having great travel weather. We stopped at Pensacola for a Waffle House brunch. By 5pm EDT, we were parked at the Brunswick Landing Marina. We were "Home Again" aboard our beloved AMARSE. It was a bit windy but nice.
We decided to go to MudCat Charlie's Restaurant at Two Way Fish Camp in Darien, GA. Judy had a grouper finger basket with sweet potato fries while I enjoyed a delicious grouper sandwich with a side of onion rings. This is a highly recommended place.
10/31/07 WEDNESDAY BRUNSWICK, GA
HAPPY HALLOWEEN
Although somewhat breezy, the weather is delightful with highs in the 70's and lows in the 50's. It is Halloween and there is something a little scary going on out there. Tropical Storm NOEL is tracking toward the Bahamas. This strikes fear into us that if it develops into a powerful hurricane, it could damage our harbor and wreck our plans for the winter. Let's hope it stays benign and tracks elsewhere.
John and Judy Jenkins are here in their 5th Wheel trailer. They are back to their Great Harbor 37, DOUBLE JJ. After cooling their heels in Colorado this hot summer, they are back to get ready for another winter in the Bahamas.
For lunch, we went to the newly opened "Five Guys-Burgers and Fries" restaurant. They are very good and serve fresh cut fries cooked in peanut oil. Later, we made some arrangements for the installation of the new refrigerator that was waiting in the back room of West Marine.
Tonight, we just had a late dinner snack of cheese quesadillas. On TV, we watched Criminal Minds and CSI-NY. The following basketball game in Hi-Def was fantastic to watch.
11/01/07 THURSDAY BRUNSWICK, GA
Judy put a nice cut of Bottom Round beef in the crock-pot to slow cook for the day.
The diver that we had arranged for arrived to scrape and clean the boat bottom. It seems that all manner of mollusks, crustaceans, algae, and miscellaneous other forms of sea life are very attracted to boats. I guess they are somewhat like us and want to live the really great lifestyle of a cruiser.
Roger effectively and gently worked to return the bottom to a more efficient platform for cruising. Using a gasoline powered breathing unit, he could easily travel around and under the boat without being encumbered by heavy tanks.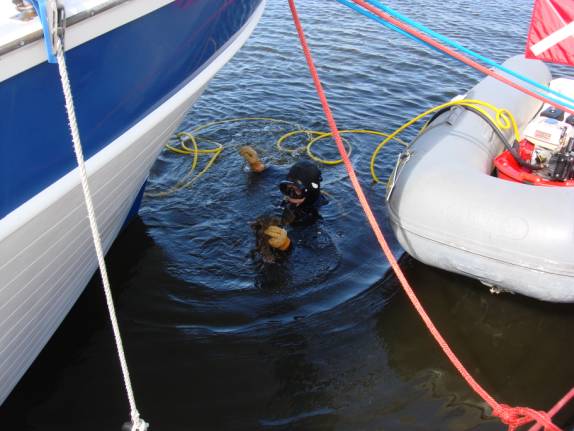 His first find was several strands of rope loosely caught around the propeller. When brought to the surface, they had some kind of a strange sea growth attached to the lines. It was very weird looking stuff.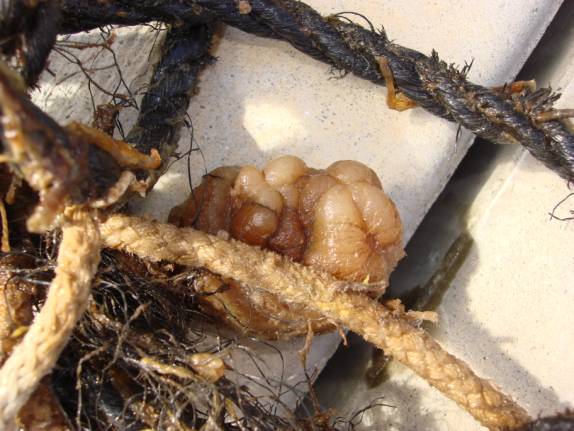 Our friend, Henry McCoy from MAHUAKINE, dropped by to say hi and to give moral support. He always has a great smile for us.
The diver noticed that a couple of the zincs were deteriorating rapidly. We obtained a couple new ones that he installed. In the picture, you can see the erosion of the metal. Boaters put these sacrificial pieces on their propeller shafts and other underwater metal items. The idea is that if electrolysis takes place (and it will), the more sacrificial zinc will transfer first thus protecting the valuable metal components. These zincs were installed new in April of this year.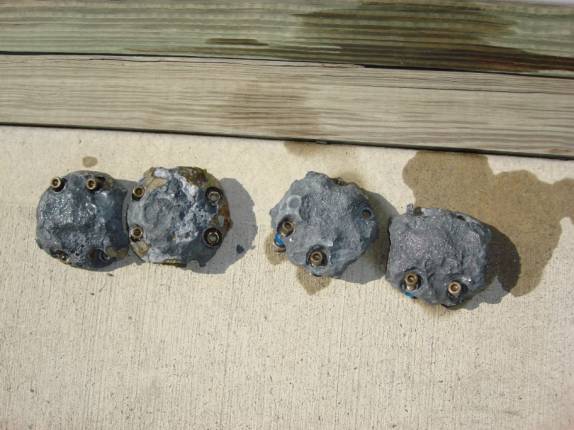 Our lunch choice was the famous Willie's Wee-Nee Wagon. The place is a Brunswick landmark that has been dishing up their "tube-steaks" for many years. Their sign clearly displays their unique motto.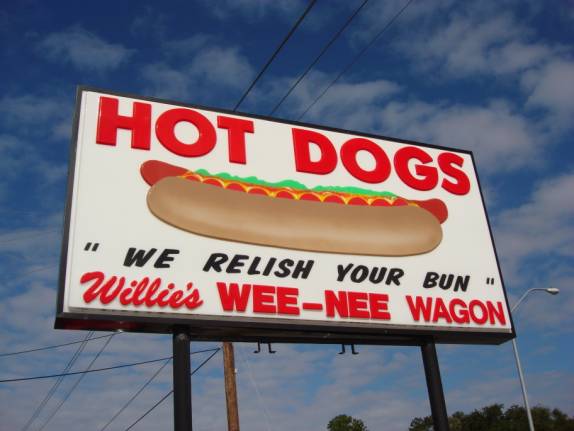 The walk up window lists the many varieties of Wee-Nee's offered.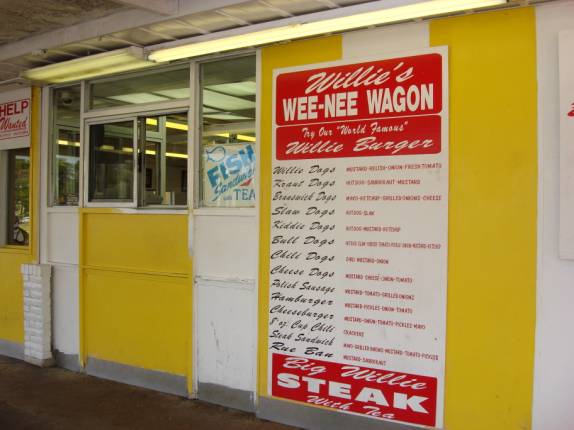 We took 8 more shirts to the shop to be embroidered with AMARSE 's logo. It helps people remember us and serves as an introduction.
Friends, Harry and Karen Field, called to tell us that they were in town. We were neighbors at Elm Creek Residential Airpark in Seguin, Texas. Although they summer in Madison, Wisconsin, they find the winters to be much more pleasant in Texas.
They have been visiting Georgia to attend a BlueBird Motorcoach rendezvous. Their vehicle is both classic and pristine.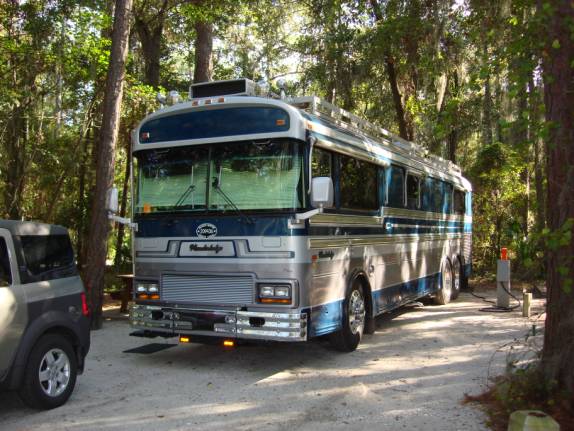 At 3:30pm, we met them at their beautifully, wooded campsite spot #8 at the Blythe Island Regional Park. It is a lovely place. They tow their Honda Element behind the Motorcoach and find it gives them great mobility. Harry has long been interested in boats and was anxious to tour AMARSE.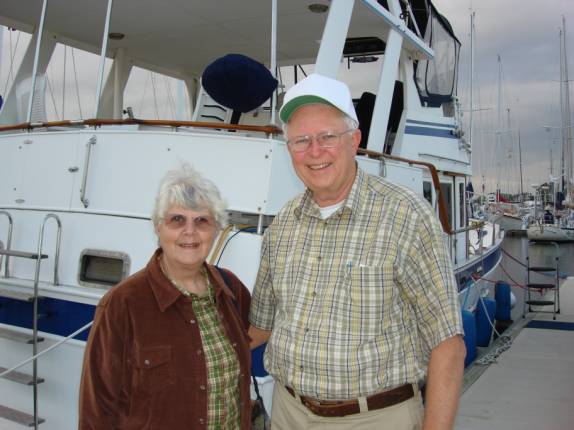 I know that they enjoyed their dinner at MudCat Charlie's restaurant. We all found the grouper selections to be very tasty.
11/02/07 FRIDAY BRUNSWICK, GA
Another fantastic weather day had arrived and Carl and Trey were on hand to remove the failing refrigerator. With the help of a few neighbors, we were able to ease it up and out the front center windshield window that we removed and set aside.
A cooperative boating neighbor was talked into helping us with his truck to pick up the new unit at West Marine. Upon opening the sealed carton at the dock, we found that the new unit had been damaged in what we suspected was a dropping incident. This unit would have to be returned.
We also found out that the rear assembly was different and that the opening for the forward air-conditioning ducts could no longer pass up behind the unit. We would deal with that problem another time. For now, Trey took the damaged fridge back to the store. The next problem was that there were none in stock and that the main inventory showed zero. Although they were on order, they couldn't estimated a delivery date. They suggested that we check back on Monday to see if the stock had been updated.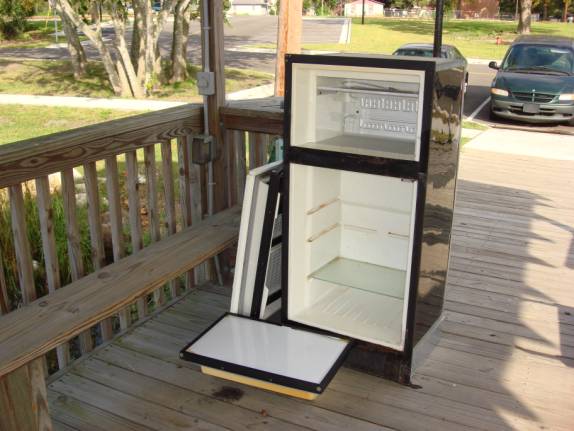 We were faced with the predicament of no refrigeration. We managed by icing down our efficient cooler and storing a minimum of supplies.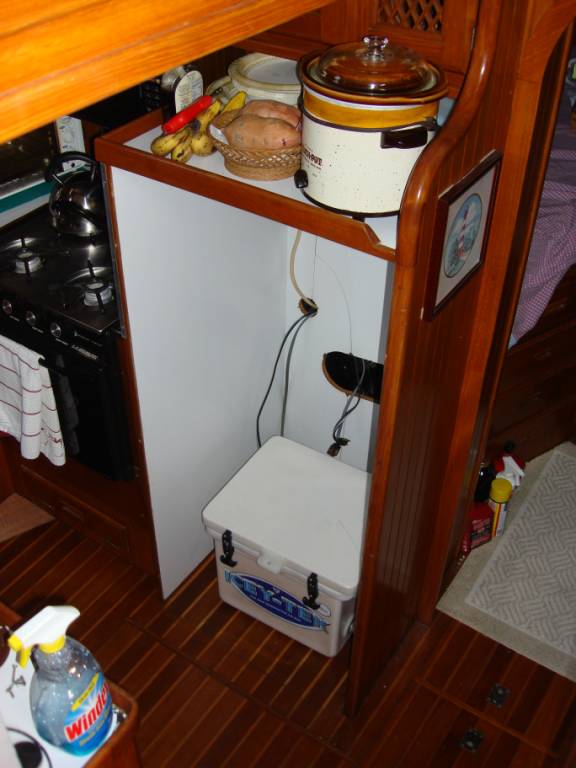 Harry and Karen came over and drove us all to St. Simon's Island to Barbra Jean's Restaurant. For Harry, the choice was their famous Crab Cakes; Karen's plate came with huge Coconut Shrimp; Judy even had leftovers from her Pecan Crusted Chicken Tenders; and my choice of the Cod was quite nice. We all enjoyed the evening together catching up on our life events.
11/03/07 SATURDAY BRUNSWICK, GA
The West Marine computer showed unchanged with a zero inventory in their system for another refrigerator. Competitor, Boaters World, promised delivery by Wednesday. We decided to wait until Monday to make any more decisions to see if WM could come up with a viable solution to the problem.
We opted for another visit to "Five Guys-Burgers and Fries" for lunch. They have really come up with a great concept and tasty food.
After a full day of sightseeing on their own, Harry and Karen accepted our invitation to a lighter dinner aboard AMARSE. This was fine with them since they had returned to Barbra Jean's again today for lunch. I guessed that they liked it that much.
We served savory Beef Barley Soup that was prepared using my special recipe. The corn muffins by Judy were a great compliment to the meal. Most important was our chance to be together again. We had a wonderful evening of conversation and pictures. These are wonderful folks and I am so pleased that we could have this much time together. Tomorrow morning, the Field-mobile will head east toward Texas and another winter there.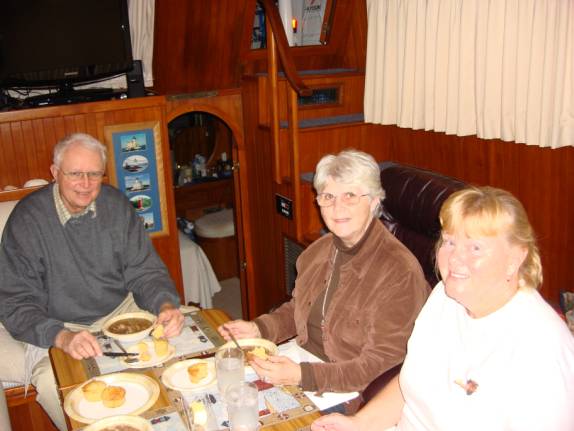 Here is a picture of our new salon chairs aboard AMARSE. We find them both to be a comfortable and attractive compliment to our cruising lifestyle.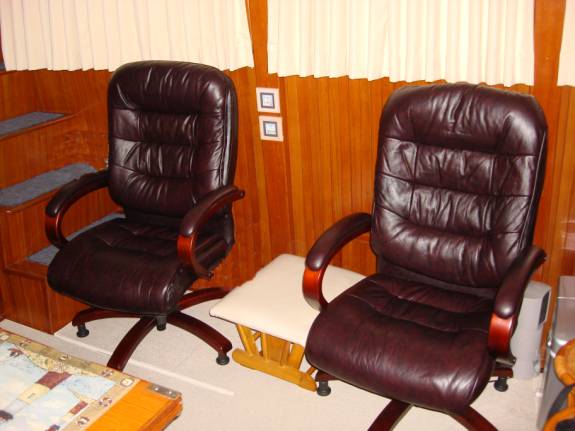 11/04/07 SUNDAY BRUNSWICK, GA
Judy made fresh waffles for breakfast this morning. I worked for a while to fix and repair Judy's bicycle. The salt air environment has taken a harsh toll on the components and cables. We decided to go shopping for another bicycle replacement.
Another bowl of that delicious Beef Soup made with rice was our dinner. I tried a novel idea by cooking Pillsbury Butter Biscuits on the waffle iron. It needs only 2-3 minutes to cook a pair. Different style, however, we prefer the traditional method of cooking in the oven better.
11/05/07 MONDAY BRUNSWICK, GA
At 5am, Henry McCoy was rapping sharply on the hull of our boat. I had agreed to take him to the airport this morning and I had forgotten to reset my alarm. In a minute, I was ready and we were on our way to the Golden Isles Airport for his flight to his home in Hawaii. He wasn't anxious to go, but his wife, Susan, has lost any interest in the boat and she had returned to Hawaii months earlier. Henry's loves his life on the boat, unfortunately, he doesn't know if and when he can return to Georgia. We can only hope for him and his dream.
Meanwhile, the dream is alive and well on our neighbor's boat. They are tirelessly working to get it fixed up enough to go cruising. They've come a long way and still have a long way to go. The dream will give them the power.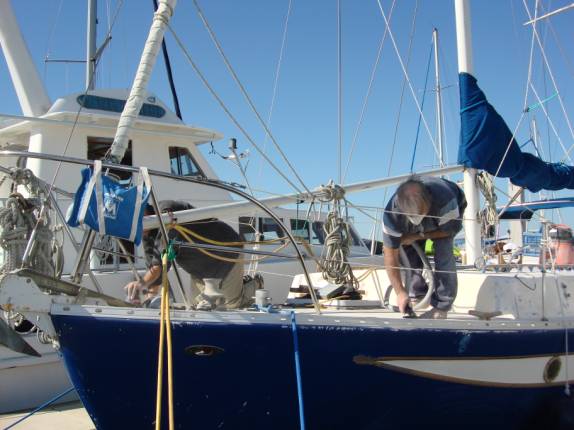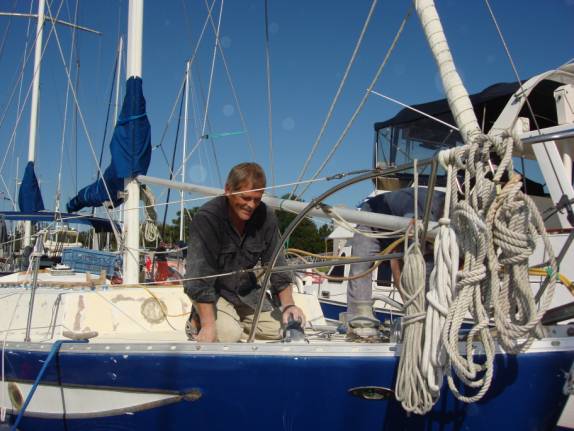 At 9:30am, we went to see if there was anything that West Marine could do to supply our refrigerator need. They still have no inventory and no estimate on the delivery of their order. We are in a predicament now.
At 10am, we went to Boaters World. They ordered the new Norcold unit with a guaranteed delivery date of Wednesday 11/7. We will see if they can perform as promised.
I spent much of the afternoon making my famous chili. It takes well over 4 hours to make it right. Judy did up the laundry chores and even washed the starboard curtains from the salon.
11/06/07 TUESDAY BRUNSWICK, GA
We took care of a lot of chore items around the boat. Judy cleaned and sorted through the forward food lockers weeding out any outdated supplies. Jonathan and Judy Jenkins, DOUBLE JJ, came by for a nice visit. We decided to go to MudCat Charlie's for some seafood. They enjoyed it as much as we did.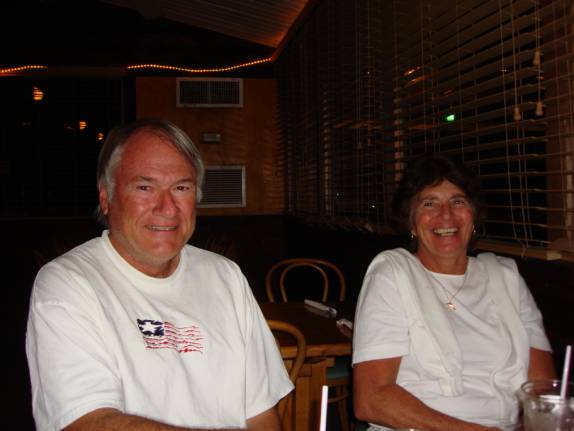 11/07/07 WEDNESDAY BRUNSWICK, GA
Another lovely clear day with highs forecasted to be around 60 degrees. Evening lows would dip into the low 40's. I like this cooler weather.
We waited around all day for the fridge delivery. As you might guess, it never arrived. Although it was agreed to be delivered to the boat, we made several trips to the boatyard to check there.
Judy washed the remaining sofa cushions. I did some engine and generator set runs.
Robert Wilson, SEA ISLAND GIRL, and Commodore of the RMHYC, joined us for dinner aboard AMARSE. We had some of my Chili and Hot Bratwursts. I found out that there will be a big Chili Cook-off in the Bahamas this winter. I also found out that Robert was a former winner. I hope he doesn't steal any of my ideas either.
Tonight's NBA game between the Miami Heat and San Antonio Spurs was very enjoyable in HiDef. It was actually chilly cold in the boat with the inside temp at 62 degrees. For some reason, it felt colder. Good snuggling weather aboard AMARSE.
11/08/07 THURSDAY BRUNSWICK, GA
Yep, another day of waiting for the refrigerator. I called Boaters World and was told that it was shipped by truck on 11/06, however, it would not be two-day delivery. I was to now expect it on Thursday or Friday.
I made some repairs to the Propane Tank pipe mounting and the rack that rests in the locker by the bridge. Charging the hoist battery was followed by the repair/replace of 2 dome lights manufactured by Whitecap.
For dinner, we went to Five Guys. Tonight's NBA featured the winning Bulls VS Pistons. Still no refrigerator in sight.
11/09/07 FRIDAY BRUNSWICK, GA
This is getting frustrating. Once again, we spend the day waiting and waiting for any sign of the refrigerator. Judy cleaned around and I did paperwork stuff. We did a bunch of chore related stuff including banking, post office, and filing for NVDC document renewal by fax.
Lunch was quesadillas topped with crabmeat. Next time, I will omit the crabmeat and choose another filling. I didn't like the combination.
Surprise, surprise; About 4pm, I found that the Refrigerator had been delivered to the boatyard. I had been checking there frequently since deliveries are often made there for the ease of the truckers. Fortunately, there was a nice guy at the yard that helped bring the box to the dock and even wheeled it to the boat slip.
We went to the grocery store for a head of lettuce and ended up buying $38 of stuff. Well, so much for impulse buying. For dinner, I grilled some John Morrell Bratwursts (Bigger than the Bun size) and topped them with chili, cheese, and onions. Now I tell you, my friends, that is some mighty good eatin'.
11/10/07 SATURDAY BRUNSWICK, GA
"Ya gotta luv" this streak of fantastic weather. Once again, the highs will be in the low 70's then dipping into the lower 40's at night under clear skies. The alarm sounded at 8am. We started out organizing the cabin for the installation process. Our original installation crew had lost interest with all the delays and setbacks. Judy and I figured we could accomplish the job if we could enlist some strong arms to lift the unit through the front window.
We were ready at 9:30am and 3 folks from our dock and Jon Jenkins gently eased the 105 lb unit through and then down into the narrow galley area. I had removed the doors, hinges, and all the trim pieces to lighten and provide more clearance area. Thanks to our friends for the help. I am still restricted from heavy lifting so their help was even more appreciated.
Judy and I spent hours re-assembling the unit and then installing a drain hose into the floor of the under the forward berth. The former unit did not have this drain attached and we had been required to manually empty the tray. Attaching the outer trim pieces was much more time consuming than I had expected. It sure is nice to have a fully functioning refrigerator again. We still need to get the decorative front panels. We had expected to use the old pieces, however, they had different dimensions and new ones need to be ordered. It sure looks strangely ugly without them, as shown in this picture.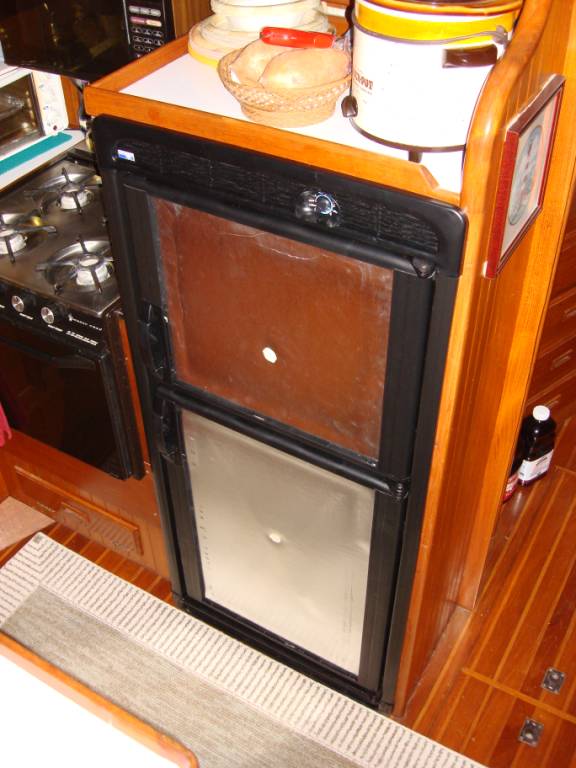 11/11/07 SUNDAY BRUNSWICK, GA
Our search for a particular bicycle for Judy took us to St. Mary's, GA. They had only one display model in stock and it was pretty well beat up. We continued by shopping for groceries and then stopped by Blythe Island Regional Park to visit with Jonathan and Judy Jenkins. She told us about a special sale on T-bone steaks at the local Harvey's Grocery. Who could resist at $3.98/lb? You guessed it, we had steaks, scalloped potatoes, and pecan pie with whipped cream. We must be some kind of "Royalty".
11/12/07 MONDAY BRUNSWICK, GA
HAPPY VETERANS' DAY
Judy and I would like to personally thank all of those that served in the forces of the United States of America. Too many had to make the supreme sacrifice. To them, we promise never to forget. To those who returned, we offer our sincere thanks for your personal sacrifices and contributions to our freedom. Without you brave men and women, we would not be able to live our dreams. Thank You! Thank You! Thank You!
I tried a new, original recipe for breakfast. I called them, "Cinn-ffles." Purchased from the refrigerator section of the grocery, I tried cooking Pillsbury Cinnabuns on my waffle maker. It only takes slightly over 2 minutes to cook then spread with creamy frosting. They are pretty good.
We worked hard cleaning the bridge and sundeck areas of AMARSE. Still unable to find a suitable replacement bike, we decided to take the old bike to the bike shop to see what they could do. It was a nice, expensive DAHON folding bike. The amicable owner quickly moved the bike into his shop, twisted some cables, sprayed some miracle fluids, and, voila, he had the bike fully operational. We thanked him very much as he provided his services complimentary.
LINDA G II had arrived and we were delighted to see Fred and Linda Gassman. She is very active in the RMHYC (Royal Marsh Harbour Yacht Club) and her recommendation led us to join this wonderful group. We had first met in the Solomons, Maryland in 2006. We were fortunate to be with them last winter in Marsh Harbour, Bahamas.
How is this for Veterans Appreciation? The nationwide chain of Golden Corral Restaurants offered free buffet meals to any person that had served in the US military. Fred and Linda agreed to join us in the long line of people eager to participate. It was well worth the wait and we had fun reminiscing with other folks in the line. It gave us a chance to thank them too.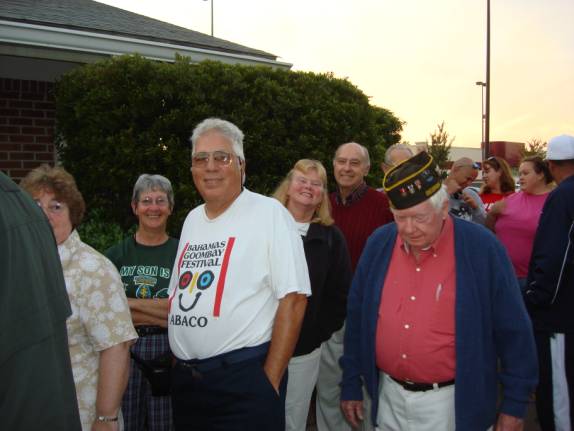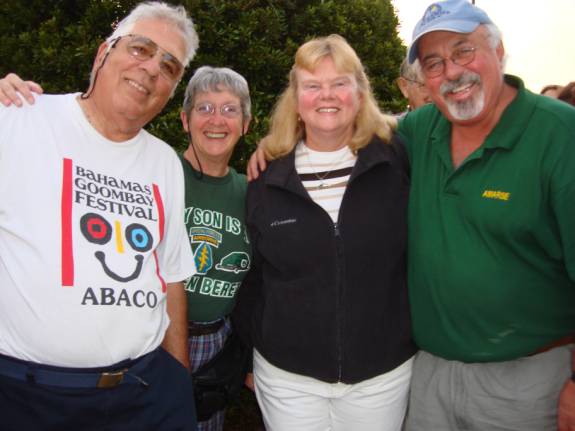 11/13/07 TUESDAY BRUNSWICK, GA
Even though there was some early morning fog, LINDA G II powered up to continue southbound. We went over to the West Marine store to apply for our refund on the refrigerator. The manager, Gary, was not real happy about having to refund the money, however, they could not supply our needs and there was no other choice.
Judy did laundry and we took a side trip to Kingsland Honda to look at scooters.
Carolyn and Robert Wilson are here at their boat, SEA ISLAND GIRL, and are packing and provisioning for their departure south. It was no problem convincing them to share an evening at MudCat Charlie's. The boys chose the Oyster plates and the girls enjoyed the Grouper fingers baskets.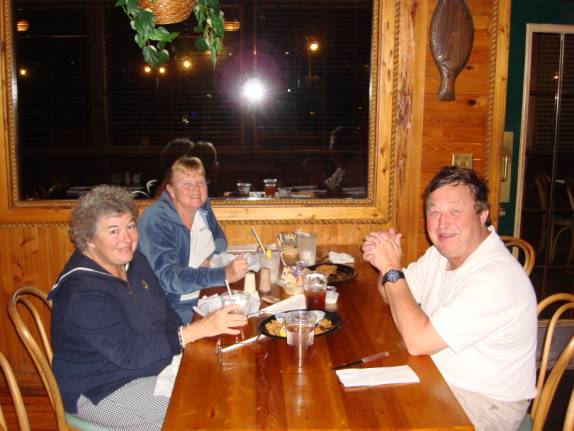 11/14/07 WEDNESDAY BRUNSWICK, GA
Judy washed down the outer isinglass on the bimini enclosure. After drying, we proceeded with polishing the surfaces with Boeing B210 product. After a lunch of quesadillas, we went to Lowe's for a Convection Oven. Upon installing, we found that the oven fan was inoperative. What is the deal with all this broken stuff? Don't the manufacturers test anything anymore? Oh well, we will just return it for a replacement.
Judy took the floor rugs to be washed today. She is so good about doing stuff to make our lives better. She is wonderful and beautiful in everyway! I love her so much.
11/15/07 THURSDAY BRUNSWICK, GA
After breakfast, we returned to Lowe's to exchange the convection oven. Our friends from RHUMB LINE and SEA FOX arrived today.
I had found a small scooter on Craigslist.com that I was interested in. We drove all the way to Middleburg, Florida, which is south of Jacksonville, to see the Yamahopper 49cc scooter. It was OK and we would have bought it except we could not figure out how to get it to the boat. It would cost too much to rent a truck and the coast was too far to drive it. Oh well, if it was to be this difficult, it probably wasn't meant to be.
POST SCRIPT:
As I assemble this edition, we are already in the Bahamas for the winter aboard AMARSE. (End of December already). I offer my sincere apology for being so remiss in putting the log updates together. I won't bore you with excuses since it narrows down to my lackadaisical character flaw. As I attempt to catch up on the tardy editions, you will probably notice some changes in the format. Hopefully, these will allow me to be more punctual. Whatever, we sincerely hope you enjoy these compilations. Please let us know if you have any special suggestions and thoughts.
We thank those of you who have contacted us recently and we are looking forward to hearing from each of you in the near future. Thanks for allowing us to share our life and adventures with you.
REMEMBER: The website is now fully active and you can visit it at any time. You can review any of the 2006 or 2007 logs and learn more about the crew and our plans. Enjoy.
ATTENTION: SPECIAL NOTE:
You may contact us via email. Our cell phones have been turned OFF. We do have occasional SKYPE connections at 'amarse1'.
"AMARSE". is pronounced "AM-ARE-SAY". Our website is: www.amarse.net .
We would like to hear more about what is happening in your lives. Let us know as we very interested in what's going on with our friends and family. Please call or email us with your thoughts and comments and ideas too. Thanks
Lot of Love,
Fred Reed and Judy Law
AMARSE
MT40