UPDATE#32
09
/24 thru 10/15/07
Howdy Everybody
IMPORTANT NOTE: I did NOT send any email versions of UPDATES 26, 27, 28, 29, 30, or 31 because of the file sizes. I included a lot of our Alaskan cruise pictures in those updates and I was concerned that some email programs would be jammed up. Please go to the website at www.amarse.net to view those updates and learn more about AMARSE. I have had several people request that I send those volumes to them via email because they have been saving them on their computers. If you desire, I can arrange to send them to you too. Thanks.
The period 01/19/07 thru 09/23/07 has been covered in Updates 1 through 31. We continue with UPDATE 2007 # 32.
UPDATE 2007 #32 09/24/07 through 10/15/07.
Welcome back to the new Adventures of the trawler AMARSE. At last update, we were comfortably situated aboard AMARSE in Brunswick, Georgia.
09/24/07 MONDAY BRUNSWICK LANDING MARINA, BRUNSWICK, GA
Today we visited with Ralph and Bonnie Small on their 44-foot Endeavor Cat dubbed AMY BOO. Various stores and parts places occupied our shopping day.
Paul and Sue Graham joined us for Burgers on the grill. Sue likes them Well-done while Paul likes them Medium.
09/25/07 TUESDAY BRUNSWICK LANDING MARINA, BRUNSWICK, GA
Judy and Sue took off shopping while I messed with the computer stuff. Later we went to West Marine to discuss the refrigerator issue. AMARSE still had the original Norcold refrigerator that it came with originally. We suspect that one of the cooling elements is not functioning properly. Our thinking is to replace the unit rather than repair the existing one. I have the fear that we will experience further problems soon and that would be very bad in the Bahamas.
For dinner, I prepared Eggplant Parmesan served with Spaghetti in Butter Sauce.
09/26/07 WEDNESDAY BRUNSWICK LANDING MARINA, BRUNSWICK, GA
I continued my work backing up files and picture albums onto DVD discs. Many of the discs were failing and causing numerous headaches. A trip to Staples solved that problem. While we were there, we looked at leather chairs that were very nice.
Sue joined us for lunch at the City Buffet for the Chinese food. Paul doesn't enjoy any Asian style food.
Back at the boat, I worked on more backup chores. I am running out of space on my hard drive and have a great fear of loosing any of our picture files. We are backing to an External Hard drive and to DVD discs.
A snack type supper of Ritz crackers with seafood salad spread was just enough after the big lunch.
09/27/07 THURSDAY BRUNSWICK LANDING MARINA, BRUNSWICK, GA
After brunch at the Waffle House, we looked high and low for a new boarding ladder for AMARSE. We had no luck in finding what we wanted. Our present one had developed some rust areas that we felt might compromise the integrity. The last thing we want is for anyone to get hurt. Safety must always come first.
We had come to the decision that the leather chairs from Staples would work nicely in our Salon. We placed the order to be delivered to the boat.
For some reason, I wasn't feeling very well and opted for a nap. I could even work up an appetite for dinner.
Sometime in the middle of the night, the Propane warning alarm went off. I went topside and turned the valve off and ventilated the compartment. Seems that the alarm sounds when the tank pressure is low. I had always thought it only sounded when it detected gas.
09/28/07 FRIDAY BRUNSWICK LANDING MARINA, BRUNSWICK, GA
Paul and Sue came over to chat about the plans for the Bahamas and other stuff. Staples called to say that our chair selections were out of stock and that they would not be getting any more. We went over to see David at the Staples Store to see what he could do. Once again, he was great. He set us up with a new one from his inventory and then located another one to be shipped from the Savannah store. Now how can you beat service like that?
I called Taylor Diesel Service to inquire about our injectors. They said that the parts were on backorder. Fortunately, they called later to say that they had re-ordered the parts for overnight delivery on Monday.
After years of avoiding them, we gave Taco Bell another try for lunch. Of course, we were very disappointed, as we should have expected. They are off the list again.
We disassembled and assembled chairs this afternoon. ODYSSEY will enjoy the comfort of the glider rockers now. AMARSE will sport the new leather chairs with fixed glides for feet. After assembling one chair on ODYSSEY, Paul decided he wanted the other one for him. They look great in their salon and they love them. Cool!
We enjoyed a fabulous dinner aboard ODYSSEY commencing with mixed salad with Vidalia onion dressing. Sue made her yummiest homemade yeast rolls. For the main entrée, how about Bahamian Lobster in Butter Sauce and a baked potato. The meal was topped off by homemade brownies with chocolate sauce and whipped cream. Tell me now, "just how good life can be"!
09/29/07 SATURDAY BRUNSWICK LANDING MARINA, BRUNSWICK, GA
Weather-wise, it was a perfect morning. I guess in every other way it was too. We called Paul and Sue to go out for breakfast. Along the river, we saw some small sailboats setting up for a race. Nearby, the shrimp boat, TREMALEE, had a sign offering fresh shrimp for sale. At $3.50 per pound, I bought 6 lbs of head-on, jumbo-sized crustaceans.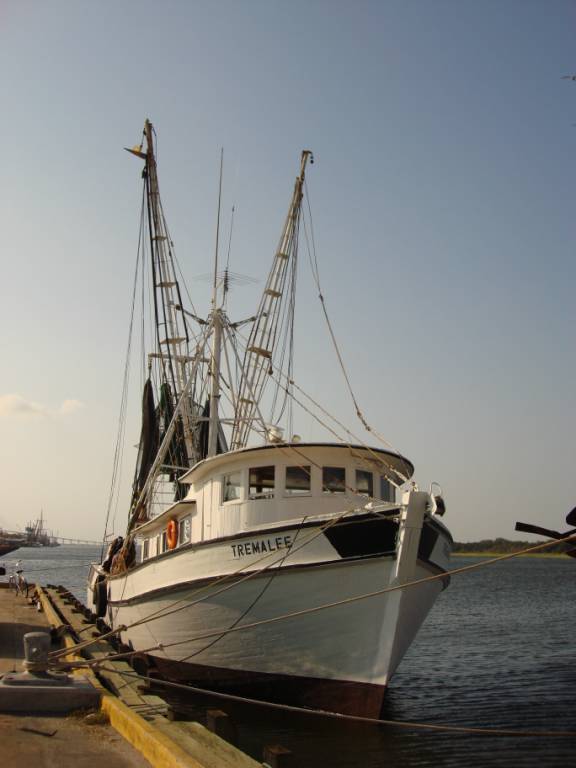 The local Farmer's Market and a produce truck provided additional fresh goodies for our dinner plan tonight. After putting the shrimp on ice, we finally got to the Waffle House for a late breakfast.
The only downside to fresh shrimp is the sizable effort required to prepare them. First, the heads have to come off.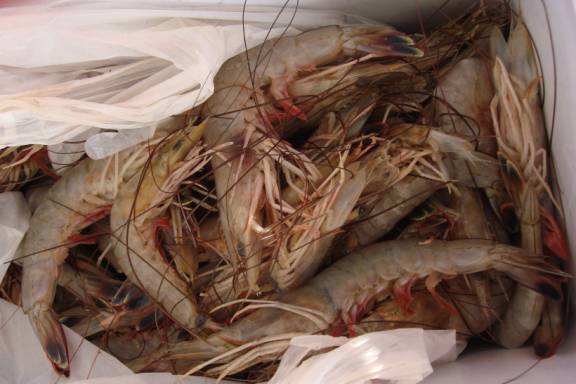 We worked together, but Judy's nimble fingers were much faster than mine.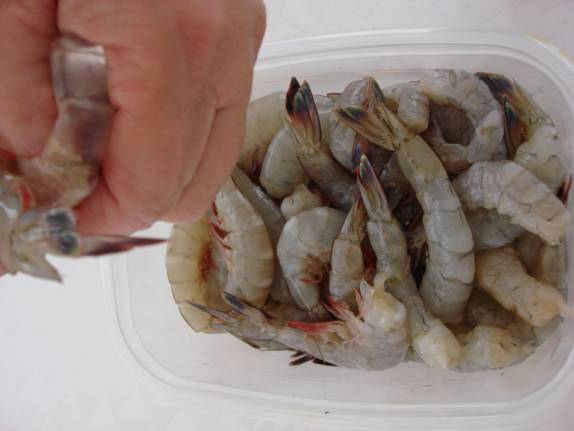 A third of the shrimp were steamed and chilled for shrimp cocktail. The rest were marinated all afternoon in a mixture of Orange Juice, Italian Dressing, Salt, and Olive Oil. Judy and Sue headed off to the craft store but hustled back before the NASCAR Busch Race.
At 6:30pm, the feast commenced with Bloody Mary cocktails and chilled shrimp cocktails. The main course consisted of Skewered Shrimp grilled to perfection on the BarBQ. Pictures like these tell the story quite well.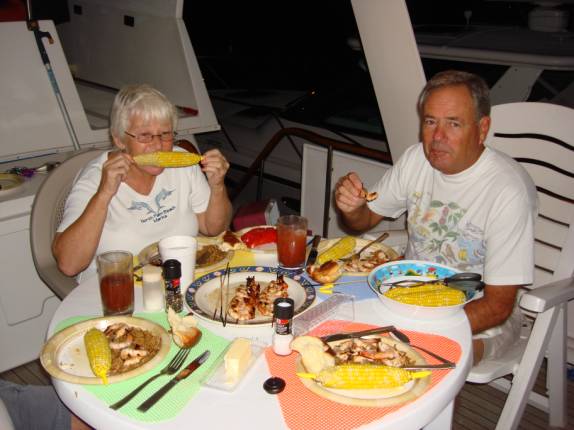 There was warm Challah bread, rice pilaf, and fresh chocolate chip cookies. Can you believe that there was leftover shrimp?
09/30/07 SUNDAY BRUNSWICK TO AUGUSTA, GA TO BRUNSWICK
Paul had been interested in more information about the boating conditions and marina at Augusta, Georgia. Since it was such a beautiful day, we headed out for the 196-mile jaunt. We took our time checking out the Riverwalk Marina by walking around and talking with the residents. The prices are economical but the marina is short on services. It has easy access to the downtown area on the plus side. Unfortunately, the marina is home to a lot of lower end houseboats and some derelict vessels that make it rather unappetizing to me. Paul's shallow draft Great Harbor 37 would not have much problem navigating the river, however, AMARSE would need to have some more rainy weather in central Georgia to overcome the shallow draught conditions.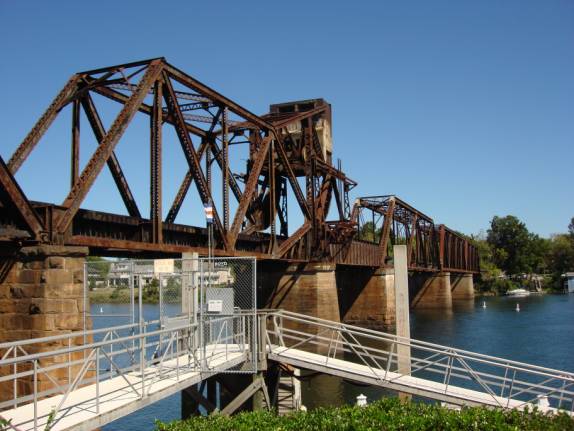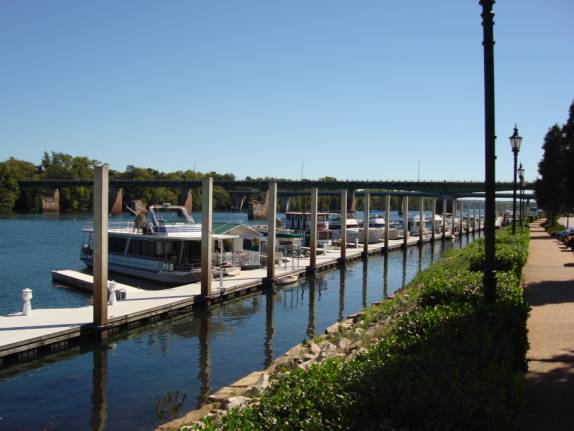 We decided on the Cotton Patch Restaurant for our Burger lunch. Although we didn't know about it, there was a huge, statewide marching band competition going on. We watched the long parade of baton twirlers, flag wavers, and synchronous band groups strut their finest moves.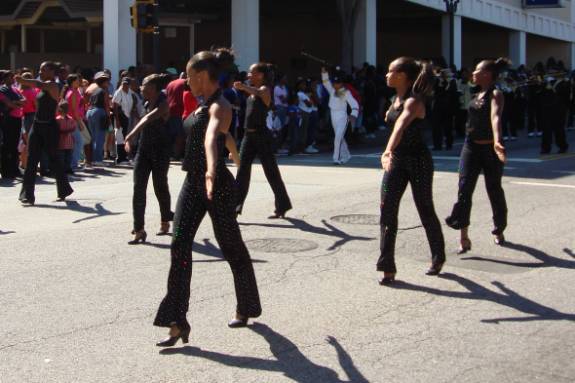 Many of the outfits were quite ornate.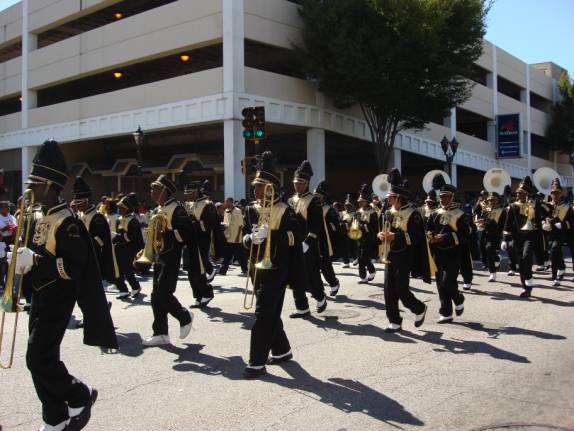 Our guess is that these were high school bands.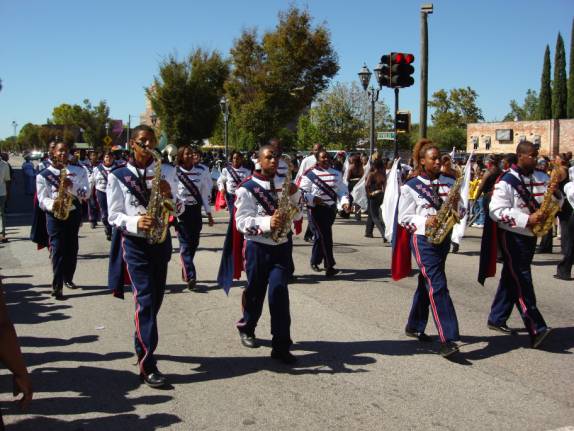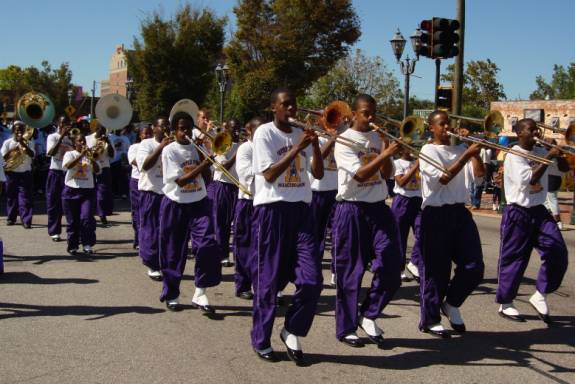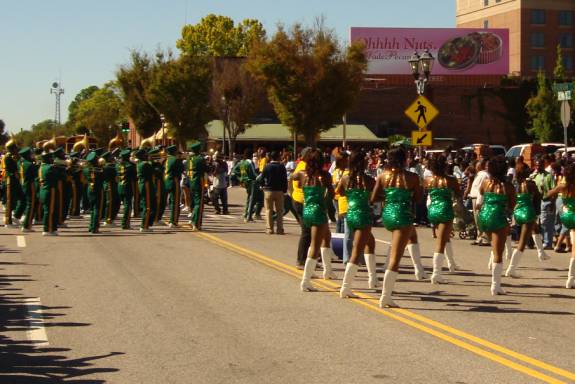 Cheerful onlookers eagerly took in all the sights and sounds.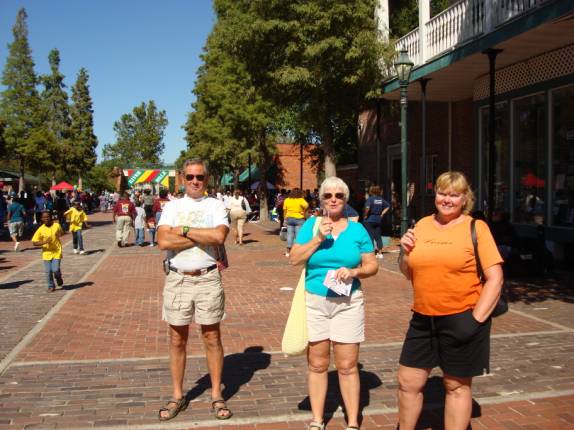 The couple of hundred miles of road passed quickly in the company of good friends. A stop at the DQ provided a nice interim break. By 7:30pm, we were safe and snug on our boats.
A quesadilla was all I needed for my supper. Judy was happy with a bowl of popcorn.
10/01/07 MONDAY BRUNSWICK LANDING MARINA, BRUNSWICK, GA
We waited all day for the Staples truck to make their promised delivery of our second chair. As you can guess, it didn't come today. Judy did numerous loads of laundry and started her packing chores for her trip to Texas.
By early evening, the Beef Pot Roast had finished the day long simmering in the crock-pot. It turned out to be delicious.
10/02/07 TUESDAY BRUNSWICK LANDING MARINA, BRUNSWICK, GA
At 8:30am, we set out for the airport in Jacksonville. Judy would fly to Houston Intercontinental Airport where her son would pick her up for the hour and a half trip to Lufkin.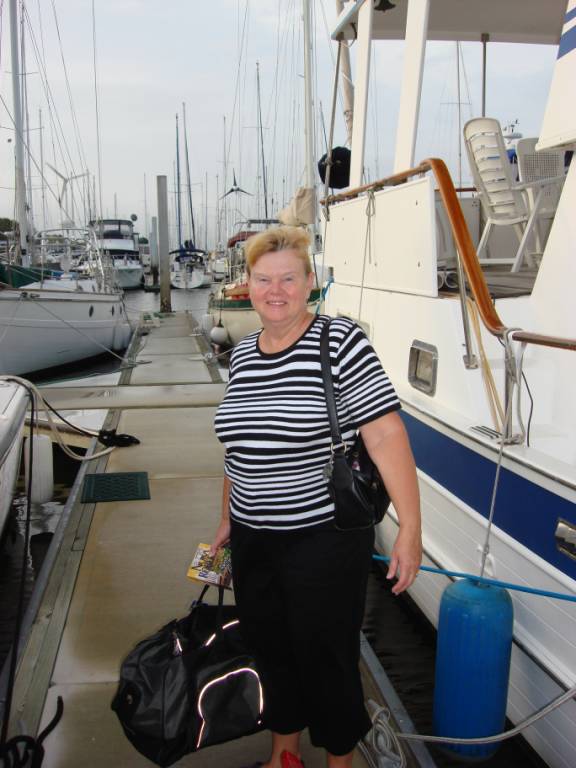 Sue had volunteered to come along for the chance to visit Sam's Club. The fuel injectors for AMARSE were finally ready for pickup at Taylor Diesel Service. The bill was a bit more than I had expected but should provide better performance from the engine.
It was raining cats and dogs all day. I talked Sue into going to Maggiano's Little Italy for lunch. I had the Lasagna; Sue had the Chicken and Spinach Manicotti. As always, the food was absolutely fabulous. This has to be my favorite restaurant.
On the way back to Brunswick, the car was making an unusual wheel noise. What now? We certainly don't need any more problems with this car.
10/03/07 WEDNESDAY BRUNSWICK LANDING MARINA, BRUNSWICK, GA
It was another rainy, overcast day in Brunswick. My diesel mechanic, Jack Dickey, has severely damaged his right arm in a fall at work. They suspect torn ligaments or worse. Although he could not do the actual wrench turning, he brought his helper, Chip, to follow his expert guidance. They arrived at 8am and set to work installing the injectors and re-assembling the engine. We had to resort to the aid of Starter Fluid to get the entire system going. When the engine started, the hose was disconnected from the exhaust elbow. With our well-lubricated cylinders, the smoke and residual oils filled the engine room and boat within seconds. This picture may look of poor quality, however, the visibility was near zero in smoke. We quickly reattached the exhaust hose, hooked up the raw water system, and ran the engine for a while. By 11:30am, their work was done and off they went. I was left with the cleanup job of the century. The entire engine room had to be cleaned from top to bottom. At least I had a cheerful heart that the engine was again running smoothly.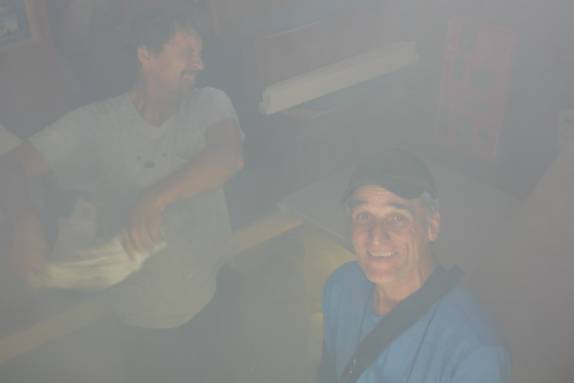 I turned my attention to the wheel noise problem on the car. I called an auto mechanic friend and he came over to take a look. He found a huge bubble in the sidewall of the right front tire. He suggested that I check with Kendall James Automotive for a used tire. Fortunately, they had a great tire for only $30 installed. Paul went with me in case I might have a blowout on the way. Fortunately, everything went well.
I went to Staples store because the second chair had still not been delivered. The manager promised to check it out.
By the time I had the floorboards back in place aboard AMARSE, I was totally and completely exhausted.
10/04/07 THURSDAY BRUNSWICK LANDING MARINA, BRUNSWICK, GA
It was another rainy night in Georgia. I ran the engines for another half hour to exercise them. Sue and I went to the Waffle House for breakfast. Paul doesn't much care for breakfast meals.
Another trip to the Staples store had me demanding them to track down my order. The result was a promise for a Friday delivery.
The next nasty chore on my list was the nastiest of all nasties. I settled down to work on my taxes. I HATE THEM!!!! After a while, I was frustrated enough to talk myself into a nap that I managed to make last for 2 hours. When I finally woke up, I continued the distasteful chore that would consume me for the next while.
Paul and Sue brightened my day with an invitation to dinner. Wonderful pork chops in a mushroom sauce and baked sweet potato followed the crisp salad with Vidalia onion dressing. It is so nice to have such considerate and loving friends.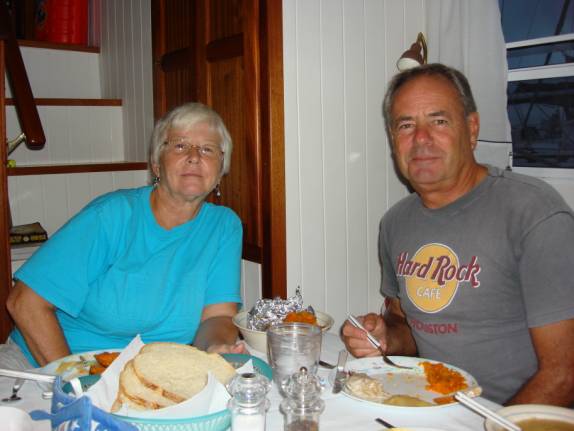 Of course, I worked more on the taxes after dinner.
I must tell y'all that I really miss Judy. She is so much of my life and I love her so much. (Yes, I admit it, I need her too.)
10/05/07 FRIDAY BRUNSWICK LANDING MARINA, BRUNSWICK, GA
I waited impatiently for most of the morning for the chair to be delivered. Finally, Paul and I went to refill our propane tanks. Current price was $15.75 for the 20# fill.
You guessed it; I struggled with Taxes, Taxes, and more Taxes (UGH). Although promised to be delivered to the boat, I found that the chair had been delivered to the boat yard. At least, it has actually arrived. I've become somewhat of an expert at chair assembly.
There was more rain in the afternoon to add to the doom and gloom of tax preparation.
On a much brighter note, I went to ODYSSEY at 5:15pm for a cookout. I brought all the stuff and they supplied the table settings. We had some local brands of Hot Dogs that were very delicious. Robert Wilson joined us for a short while too.
I talked with friends, Ivor and Susan. They were driving about in their new RV diesel pusher. LAZY SUSAN, their boat, has been sold and they are planning a lot of land cruising. A shakedown trip is planned for next week.
10/06/07 SATURDAY BRUNSWICK LANDING MARINA, BRUNSWICK, GA
HAPPY BIRTHDAY TO MY DAD, FRED E. REED. He has been gone for many years; however, he is still loved and missed very much.
HAPPY BIRTHDAY TO MY DAUGHTER, SHARYN CASSIDY. Wish we could be together to celebrate. I love you!
Today's order of activity consisted of breakfast, taxes, and numerous phone calls. Before long, it was 6:30pm and time to go to ODYSSEY for dinner. The other guests were Robert Wilson (SEA ISLAND GIRL) and Henry McCoy (MAHUAKINE). The Graham's served a salad, delicious grilled chicken breast, baked potatoes, and brownies for dessert. It is so nice to have such good cooks for friends.
10/07/07 SUNDAY BRUNSWICK LANDING MARINA, BRUNSWICK, GA
With Judy far away in Texas, I met Robert Wilson and Henry McCoy for breakfast at Waffle House. All too soon, I had to get back to the reality of income tax preparation.
I took Sue for a provisioning run. I replenished my anti-freeze and distilled water supplies for the boat.
Another Great Harbor 37, THE ROSE, with Paul and Connie Murgo, arrived at the marina about 4:15pm. They were loopers last year and they are the Rear Commodores of the Royal Marsh Harbor Yacht Club. Today was Paul's birthday so now we had even more of a reason to celebrate. At 6:15pm, we headed out for the Longhorn Steak House. We had to wait quite a while but it was worth it. I had the Baby Back Ribs and they were exceptionally delicious. Everyone enjoyed the evening together. The celebrants were (L to R) Paul Graham, Sue Graham, Henry McCoy, Paul Murgo, Robert Wilson, and Connie Murgo.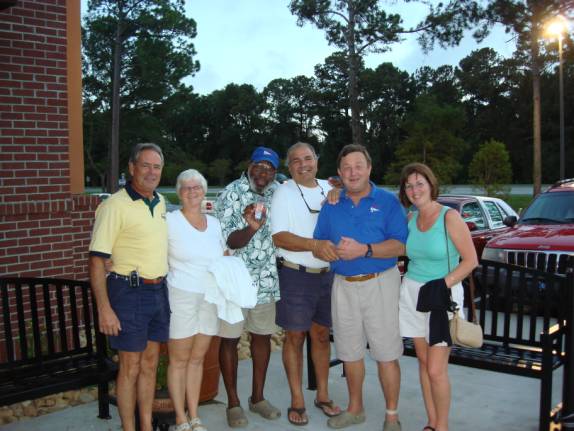 10/08/07 MONDAY BRUNSWICK LANDING MARINA, BRUNSWICK, GA
The car shimmy problem was worrying me and I felt that it was too dangerous to drive to Texas this morning as planned. My neighbor, Richard McKinna on LATE FEES, recommended another trip to Kendall James Tire Service. These folks are great and quickly diagnosed the problem of a bad tie-rod end. Within a couple of hours, they had me up and running. They were very honest and fair. I postponed my departure until tomorrow.
At West Marine, I ordered and pre-paid for a new Norcold, DE-0061, refrigerator for AMARSE. As you may remember, we suspect that the original unit is failing. The order should arrive before we return from Texas.
Supper consisted of a cheese and bacon quesadilla.
10/09/07 TUESDAY BRUNSWICK TO GAUTIER, MISSISSIPPI
At 7:15am, Paul and Sue slipped the lines on ODYSSEY for their continuing trip enroute to Green Cove Springs, FL. A little after 8am, I departed the marina by car for Texas to rejoin my wonderful Judy. The routing took I-95, I-210, and I-10 to Exit 61 in Gautier, MS. At 3:45pm, I pulled up to the home of good friend, Jimmy Ethridge. We had shared good times together in the Bahamas last winter. He and Betsy were at Boat Harbour aboard SIMPLY SOUTHERN. Betsy is in Washington, DC recuperating from knee surgery.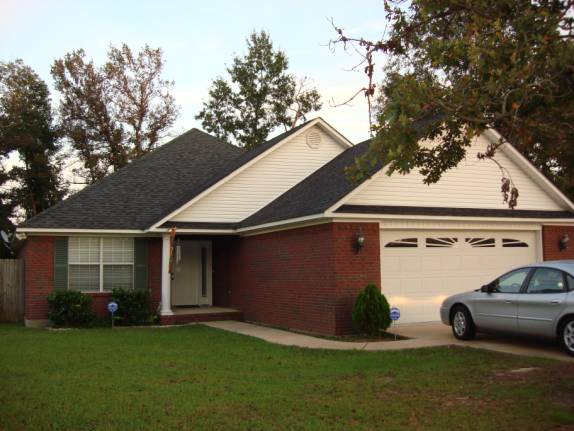 We had lots of chatting to catch up on and he took me to see where Hurricane Katrina had totally destroyed his old home. It was quite a story, to say the least. We drove over to Mossy Point just north of Pascagoula to enjoy some fried oysters, fried corn and fixin's. These Southerners sure know what's good.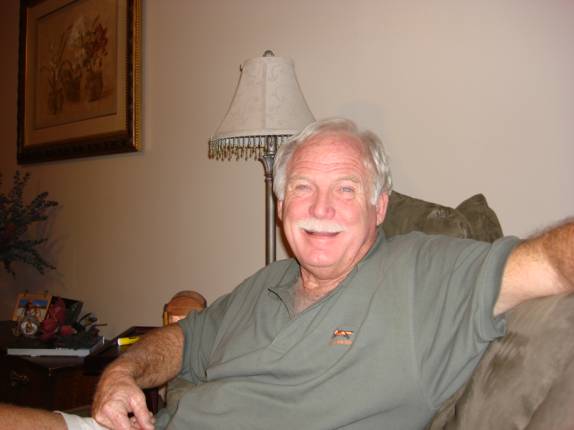 10/10/07 WEDNESDAY GAUTIER, MS to LUFKIN, TX
By 7:30am, I was back on the road traveling I-10, I-12, I-10 toward Beaumont, Texas. Thanks Jimmy for all your truly Southern Hospitality. West of Baton Rouge, the highway department was spraying for mosquitoes along the Achafalaya Basin. It caused a huge traffic backup that really slowed the trip.
Texas highway 69 turned off I-10 at Beaumont and headed for Lufkin. I stopped in a great little Mexican restaurant in Huntington.
By 4:30pm, I was turning into the driveway of Judy's family, Mark and Dawn Law. They are putting the final touches on the construction of their new house. Built on 10 acres, it is beautiful.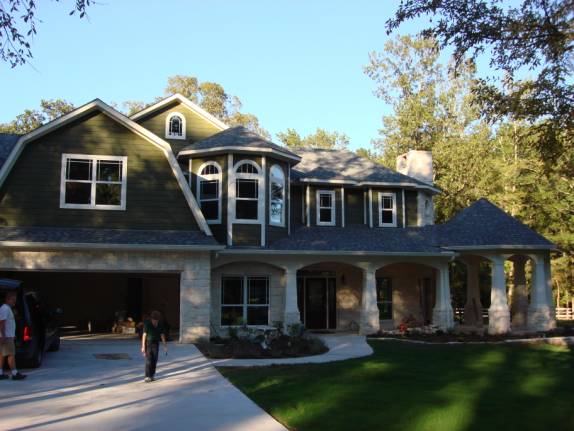 Judy made these wonderful flower/plant arrangements for the interior window areas.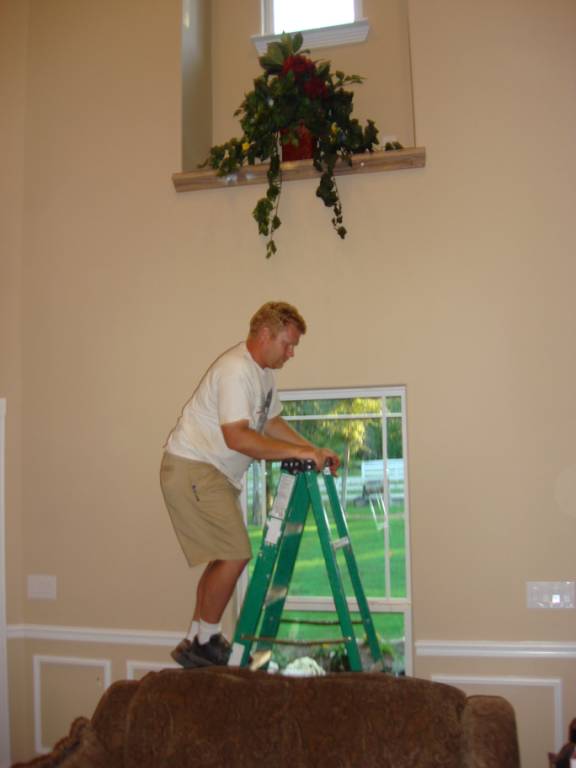 The kitchen area is both beautiful and very functional.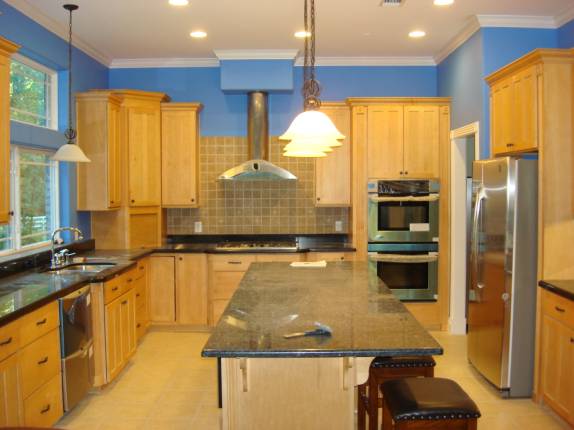 The gang assembled to go out for (you guessed it) Pizza. To check the competition, we went to this new place called UFO Pizza. Mark owns and operates a couple of Little Caesars Pizza stores. We all agreed, Little Caesars product is far superior and much more economical.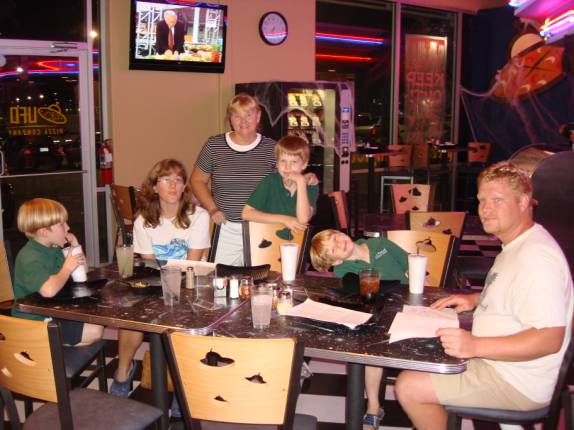 I decided to have some fun with the boys using a special feature on my camera. I started with the youngest, Alex.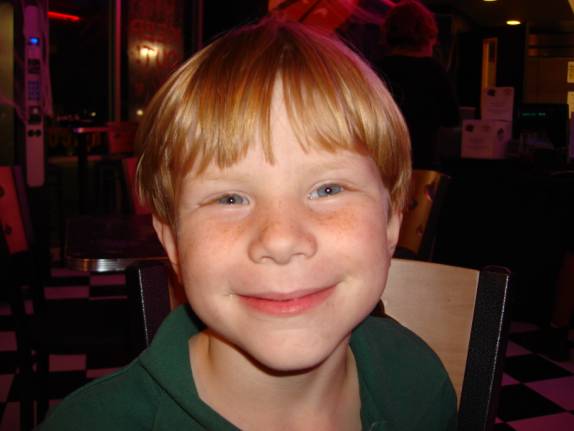 They were amazed and got a good laugh out of these modified pictures. How did you do that? Oh, the "Captain Was Here".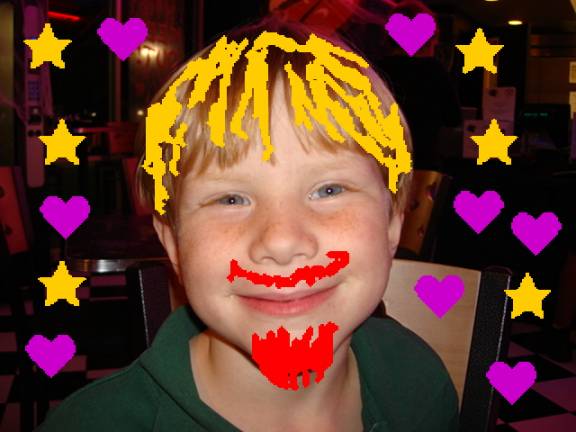 Middle son, Nick, was next.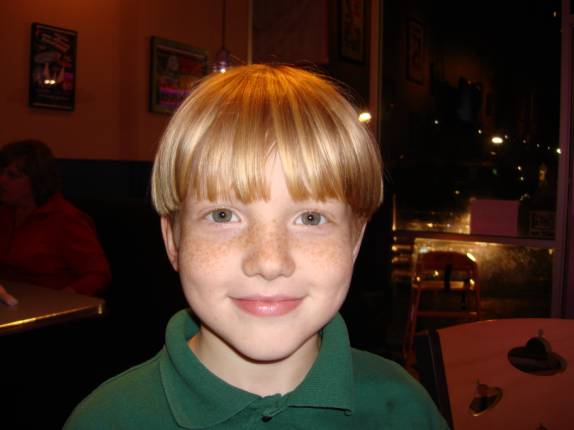 Avast, Ye Motley Mates, the "Captain Strikes Again".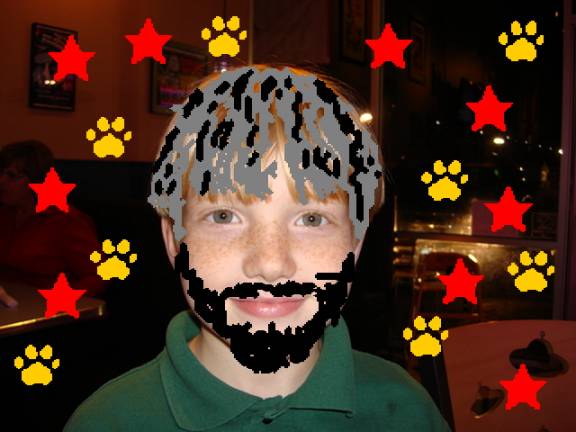 The oldest of the boys, Tyler, was really anxious for his turn.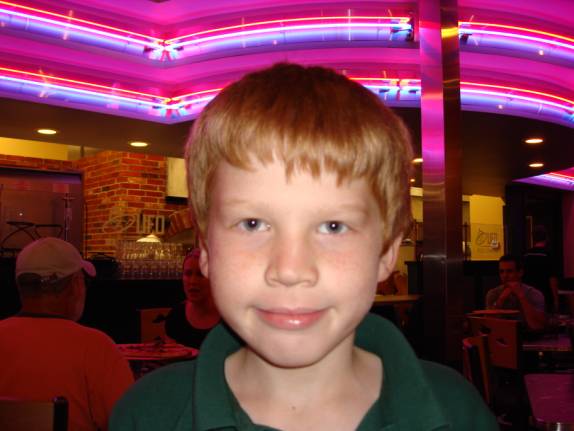 ARGGHH!!! Yep, the "Captain is Ruthless".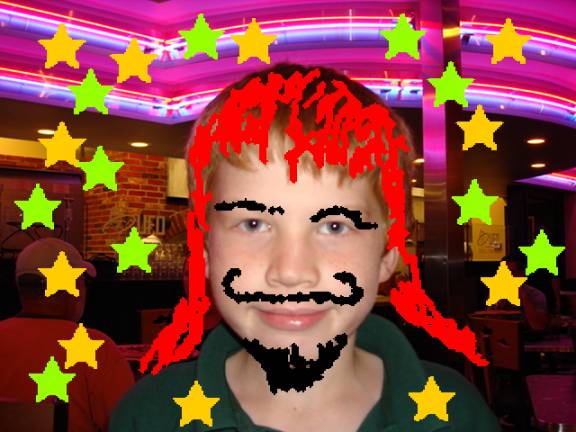 Back at their old home, we watched the movie, Wild Hogs, starring Tim Allen. It was quite funny. We inflated the air mattress and settled down for the night's sleep.
10/11/07 THURSDAY LUFKIN, TX to SAN ANTONIO, TX
By 9am, we had said our farewells in the kitchen of Mark and Dawn's old house.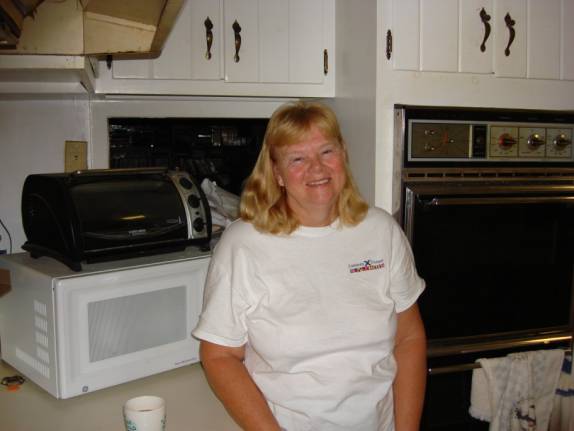 We headed south on Texas 59 toward Houston. I-10 would take us to San Antonio from there. By 2:30pm, we were at the house.
We opened up the house that has been dormant for many months. There was the usual clean-up stuff as well as a lot of salt residue from a leaky water softener. Oh well, everything has faired quite well and we were pleased at the overall condition of everything.
10/12/07 FRIDAY SAN ANTONIO, TX
One of the great things about a visit to San Antonio is the choice of great, family operated, restaurants. Teran's Mexican Restaurant has been one of our absolute favorites. It sure doesn't look like much from the outside, but inside, they are the greatest.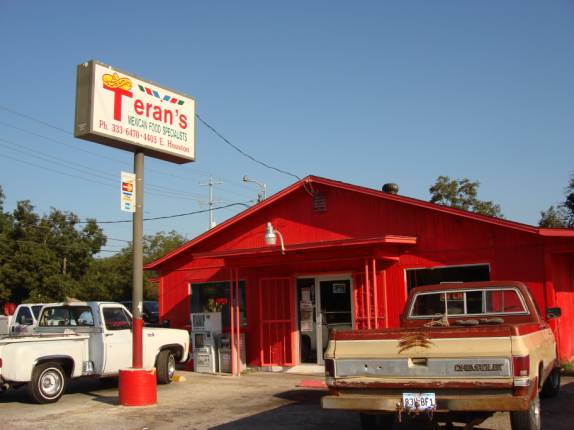 I am convinced without a doubt that they make the best flour tortillas in the whole world. The fillings in these beauties are Chorizo, Egg, and Cheese, while the other, is Picadillo (seasoned ground beef) and cheese. Yummie!!!!!!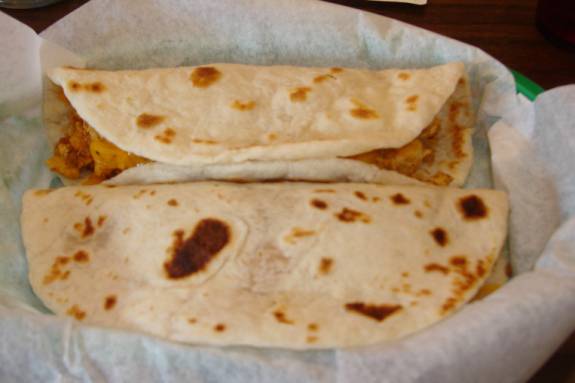 The people here are fantastic too. Always happy and wearing a big smile, Gabriella, serves her customers from 5:30 am till early afternoon. She has worked there for over a decade that I know of.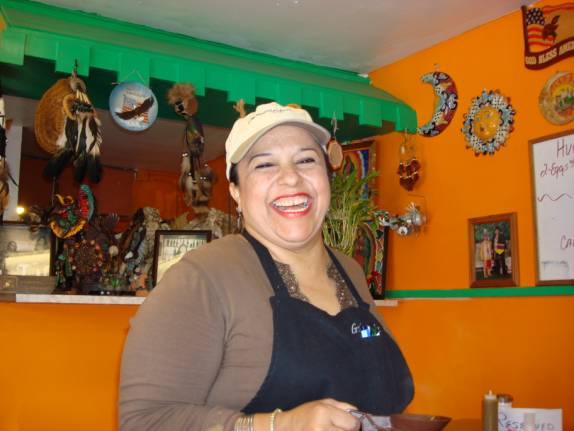 Along with shopping, making doctor appointments, and going to the library for internet to pay bills, the day was quickly shot. We went to try a new place at Firehouse Pub and Grill. We ordered a Blue Moon Ale but since they allow smoking in that small community of Windcrest, we said "bye-bye" and quickly left. The several other places that we tried were so crowded with Friday night diners that we decided to just go to the house for Mexican delights and have a quiet night at home.
10/13/07 SATURDAY SAN ANTONIO, TX
Another favorite restaurant, Taco Cabana, started our day off right. Various puttzing around used up most of the day but I managed to sneak in a nap to rest up for tonight.
The evening plan was to celebrate the birthday of a great guy. Francis Scott Kee has been a revered friend for many, many years. We have worked together for over a quarter of a century. Our retirements came on the same day several years ago but we have stayed close. Along with Joe Fugate, we were long known as the "Three Amigos".
Scott and his lovely lady, Mary, were already at the Paloma Blanca Restaurant when we arrived.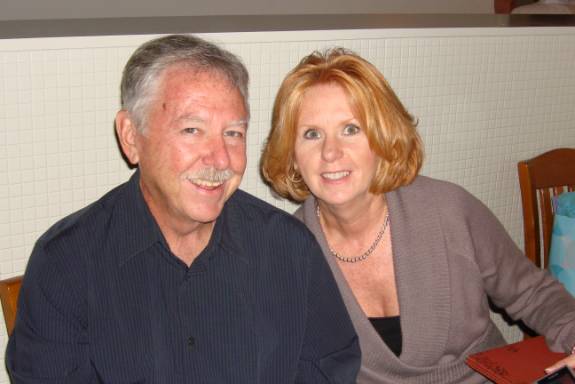 Kyle and Annette Kimmel were there to enjoy the party. Kyle was formerly a pilot for the same department and Annette was one of our Flight Attendants.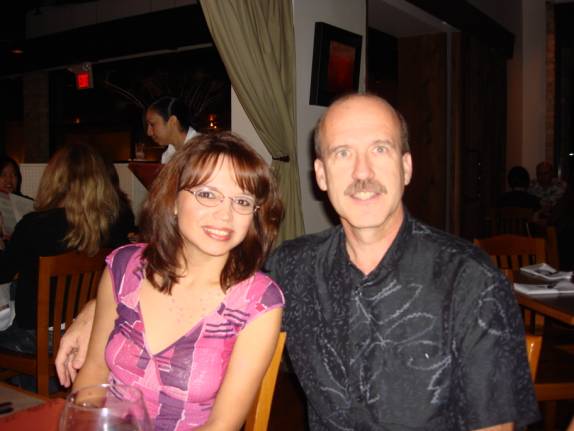 Scott was pleased that his son, Brian Kee, chose to join in the celebration.
Judy enjoyed being with friends and the food was excellent. The margaritas went down very smooth.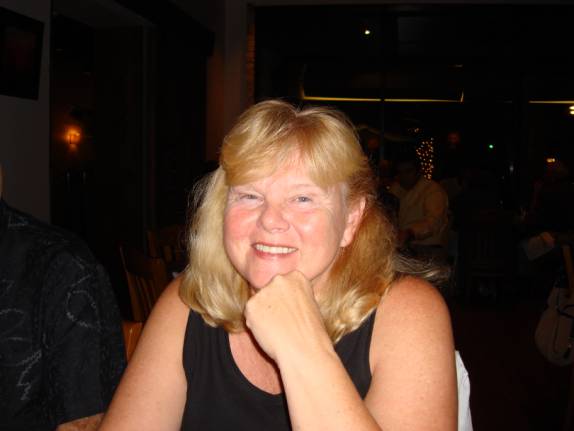 The fire department would not allow a full compliment of candles for each of his years. Al Gore thought that it would cause too much global warming. Thankfully, a single, symbolic candle proved suitable.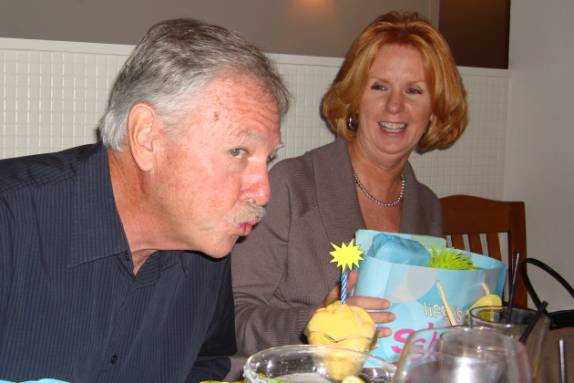 The kid has all the toys. We waved goodbye as Scott and Mary drove off in his shiny, Corvette convertible. Happy Birthday, Scootzie!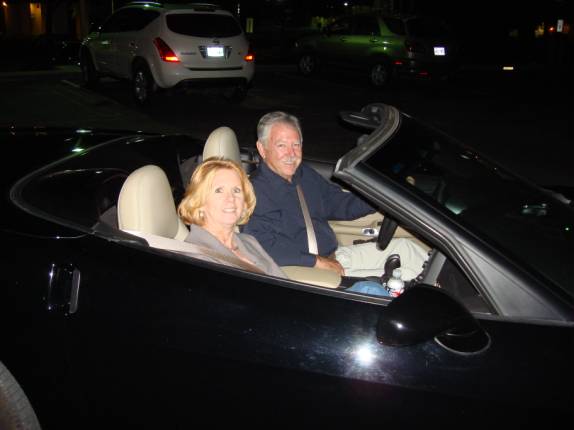 10/14/07 SUNDAY SAN ANTONIO, TX
Taco Cabana seemed the perfect place for a brunch meal. I enjoy the Eggs Mexicana con Queso. I'd guess it was a day of puttzing and I went to the library to use the internet.
A trip to Sam's Club had one of their Roasted Chickens ready for our dinner. Twice baked potatoes and stuffing made the best of dinners. The leftovers went into a pot to be cooked down for soup stock.
10/15/07 MONDAY SAN ANTONIO, TX
Today is October 15th and marks the last day to file income tax returns. Delayed as long as possible, I slipped the fat, white envelope into the mail to bear today's postmark.
At the Medical Center, I was scheduled for the extraction of large quantities of my precious blood for the doctor's analysis. Since I had fasted before, we found a little Mexican restaurant for breakfast on the west side. It was only in the OK category.
Judy's middle son, Chris, and his wife, Becca, came from Victoria to San Antonio for lunch. Judy suggested the Cheesecake Factory in the North Star Mall. The meals were wonderful as were the delicious cheesecake desserts.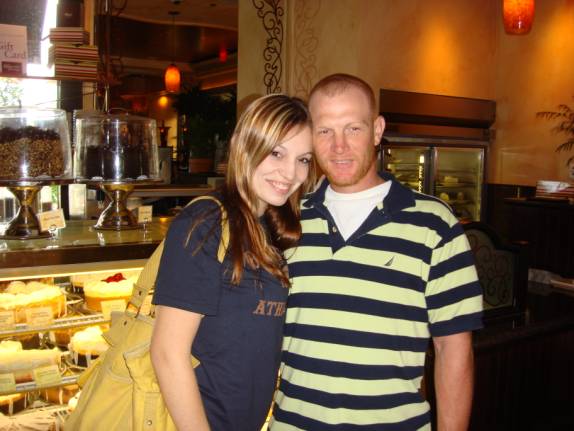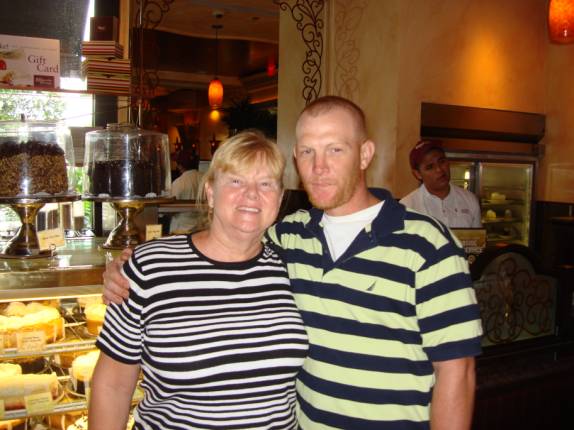 It was a short visit but it helped to make a Mom very happy to see her boy. We made up a batch of homemade chicken rice soup for supper.
POST SCRIPT:
As I assemble this edition, we are already in the Bahamas for the winter aboard AMARSE.(December already). I offer my sincere apology for being so remiss in putting the log updates together. I won't bore you with excuses since it narrows down to my lackadaisical character flaw. As I attempt to catch up on the tardy editions, you will probably notice some changes in the format. Hopefully, these will allow me to be more punctual. Whatever, we sincerely hope you enjoy these compilations. Please let us know if you have any special suggestions and thoughts.
We thank those of you who have contacted us recently and we are looking forward to hearing from each of you in the near future. Thanks for allowing us to share our life and adventures with you.
REMEMBER: The website is now fully active and you can visit it at any time. You can review any of the 2006 or 2007 logs and learn more about the crew and our plans. Enjoy.
ATTENTION: SPECIAL NOTE:
You may contact us via email. Our cell phones have been turned OFF. We do have occasional SKYPE connections at 'amarse1'.
"AMARSE". is pronounced "AM-ARE-SAY". Our website is: www.amarse.net .
We would like to hear more about what is happening in your lives. Let us know as we very interested in what's going on with our friends and family. Please call or email us with your thoughts and comments and ideas too. Thanks
Lot of Love,
Fred Reed and Judy Law
AMARSE
MT40