UPDATE#31
09
/01 thru 09/23/07
Howdy Everybody,
IMPORTANT NOTE: I did NOT send any email versions of UPDATES 26, 27, 28, or 29 because of the file sizes. I included a lot of our Alaskan cruise pictures in those updates and I was concerned that some email programs would be jammed up. Please go to the website at www.amarse.net to view those updates and learn more about AMARSE. I have had several people request that I send those volumes to them via email because they have been saving them on their computers. If you desire, I can arrange to send them to you too. Thanks.
The period 01/19/07 thru 09/08/07 has been covered in Updates 1 through 30. We continue with UPDATE 2007 # 31.
UPDATE 2007 #31 09/09/07 through 09/23/07.
Welcome back to the new Adventures of the trawler AMARSE. At last update, we were enjoying a delightful evening with our friends from CHABLIS.
09/09/07 SUNDAY BRUNSWICK LANDING MARINA, BRUNSWICK, GA
Under clear, blue skies, the 57 foot Tollycraft, CHABLIS, powered away from her slip on dock #14. We waved goodbye to Dave and Barb Bluto, and their guest crew, Marnie and Pat Bowlds. Hopefully, we will have many more opportunities to be with them in the Bahamas this winter.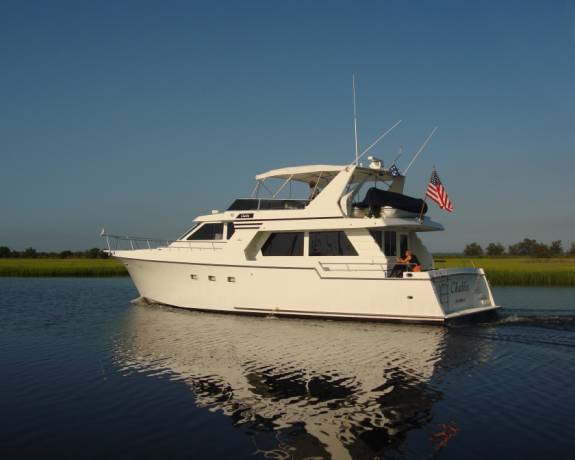 After a morning visit with our Commodore, Robert Wilson, we went shopping for some clip on fans. Fortunately, I was able to repair on of our good ones.
For lunch, we chose the Waffle House. We hadn't had much breakfast and decided to make it a late brunch day. While we rested and relaxed this Sunday afternoon, a nice chunk of beef was simmering all day in the crock-pot. Pot Roast and mashed potatoes make one of my favorite combinations.
09/10/07 MONDAY BRUNSWICK LANDING MARINA, BRUNSWICK, GA
A bowl of cereal with nuts and raisins started off the day for us. Between TV, Computer stuff, and general chores, the day flew by before we knew it. A light lunch of Toasted Tuna sandwiches held us until dinner. Using the leftover pot-roasted beef, I made my special version of hardy Beef Rice Soup. Yummie.
09/11/07 TUESDAY BRUNSWICK LANDING MARINA, BRUNSWICK, GA
WE REMEMBER!!! OUR THOUGHTS ARE WITH ALL THOSE SO DEEPLY DEVASTATED ON 9/11/01.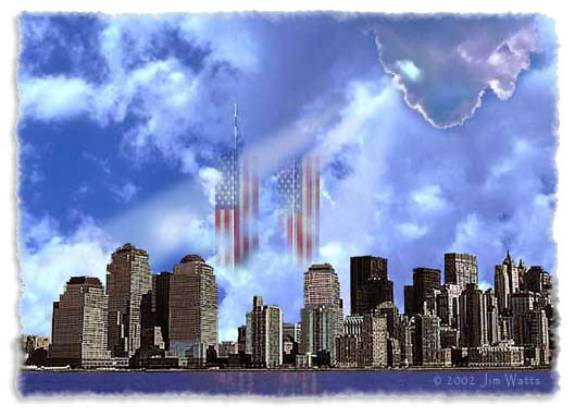 We lazily worked around the boat today. Judy did several loads of laundry. Fortunately, this marina has a great laundry room facility that is fully air-conditioned and even has a TV lounge with satellite service and comfy chairs. Our ship stores (food provisions stored aboard) were overdue for inventory and review. We didn't get very far, but we sure had to throw out a lot of outdated supplies. Life is too short to eat stale food. We seem always over provision the boat.
Lunchtime was occupied at Michael's Deli and Seafood. Judy had a Chicken Pita and my choice was the Scallops plate. Quite a tasty lunch place, it was.
A light supper and TV programs filled out our day and evening.
09/12/07 WEDNESDAY BRUNSWICK LANDING MARINA, BRUNSWICK, GA
Today was kind of a quiet day of various chores. We went out for lunch at La Fuente Mexican Restaurant. We have been so spoiled by the authentic flavors both in Mexico and San Antonio. This place was a bit of a disappointment for us.
09/13/07 THURSDAY BRUNSWICK LANDING MARINA, BRUNSWICK, GA
This morning, the Farmer's Market hosted only two vendors. Upon our return, we observed this remarkable sight. Carol King was towing George as he perched on the dock float. The buckboard style of control was not exceptionally efficient but it sure got the job done while providing a lot of entertainment.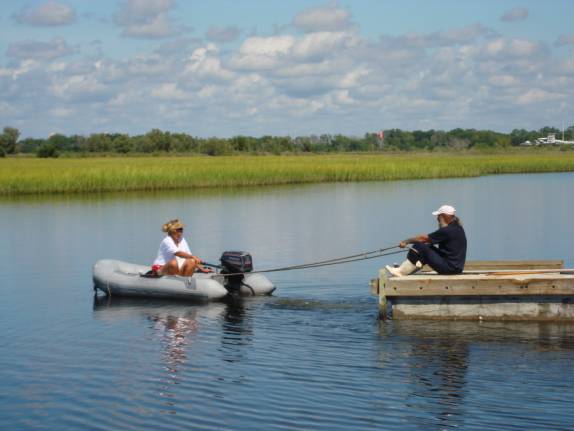 Shortly after noontime, we headed out for the drive to Jacksonville airport to pick up Judy's brother, Dean Ordiway. His flight landed around 2pm and we headed into Jacksonville to do some shopping at Sam's Club and Costco. Dean likes to dine on the finer things. Our shopping list was filled with delights.
All that shopping made everyone hungry and Dean wanted to take us to his favorite restaurant, Carrabbas. They serve a Filet Mignon that is excellent. We enjoyed it greatly.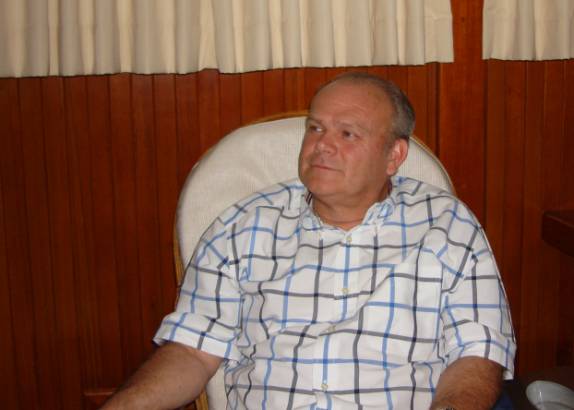 Back aboard AMARSE, we enjoyed watching the Eagle's Farewell Concert on DVD while savoring some warmed Apple Pie and cheddar cheese.
09/14/07 FRIDAY BRUNSWICK LANDING MARINA, BRUNSWICK, GA
Suspecting a starter problem, Dean volunteered to help in the engine room. We removed the starter and took it over to Griner Auto Electric here in Brunswick. Although they only performed a cursory check, they deemed the starter as operational and we re-installed it.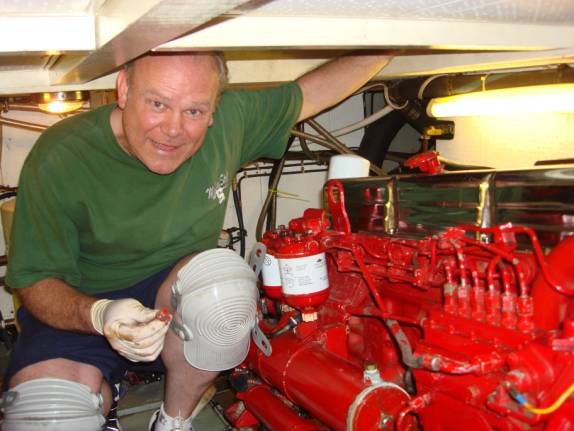 We had gotten some beautiful New York Strip steaks from Costco. Cooked to perfection on the Dock BBQ grill, I have to say it must be the best strip steak that I've ever had. Add some fresh corn from the Farmer's Market and there is a meal to be remembered.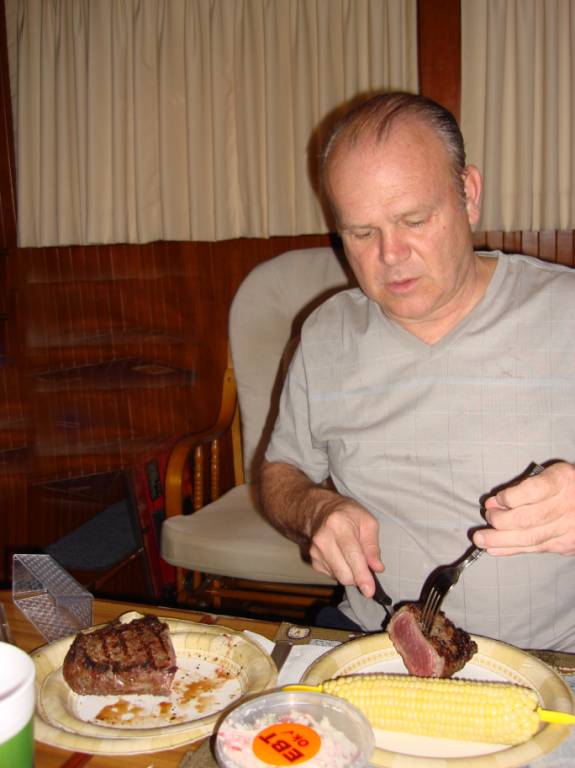 I shouldn't, but I have to chuckle when I think of Dean cooking those steaks. The timing couldn't have been more problematic. As the steaks seared, a strong thunderstorm cut loose of its torrential rains. The winds blew the pelting rain nearly sideways and literally soaked the chef. He scurried back to AMARSE dripping from every part of his body. To add to the humility, the propane gas ran out just as the steaks were finishing the grilling. It is a good thing that we all enjoy our steaks cooked this way.
The evening entertainment was very enjoyable with a showing of the "Dream Girls" DVD. It is a great story of the early days of the Motown sound. It stars Jamie Fox and Beyonce Knowles.
09/15/07 SATURDAY BRUNSWICK LANDING MARINA, BRUNSWICK, GA
Today would be a fantastic day in Georgia with clear skies and temperatures in the 90's. Judy and Dean went to the Farmer's Market only being tempted by the fresh tomatoes.
We set out for a visit to the famous Okefenokee Swamp. Along the way, we came across a field of flowers that was loaded with an assortment of colorful butterflies.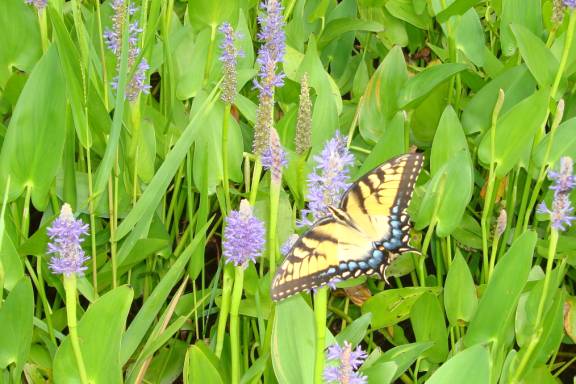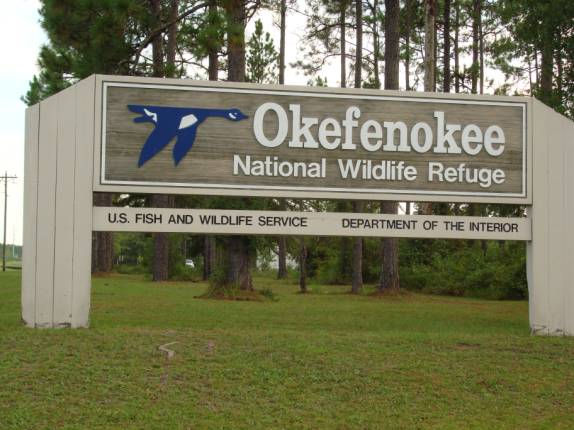 The visitor's center has numerous displays including this jukebox that plays the sound of the swamp creatures.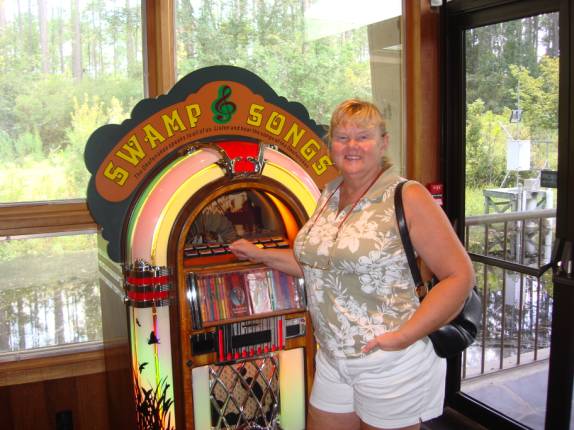 Because of the low water levels, boat rentals have been temporarily suspended.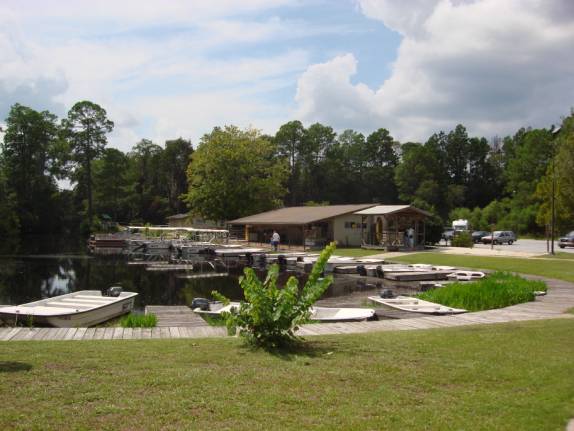 A guided tour peaked our interest and we boarded this skiff to tour the sights and sounds of the Okefenokee.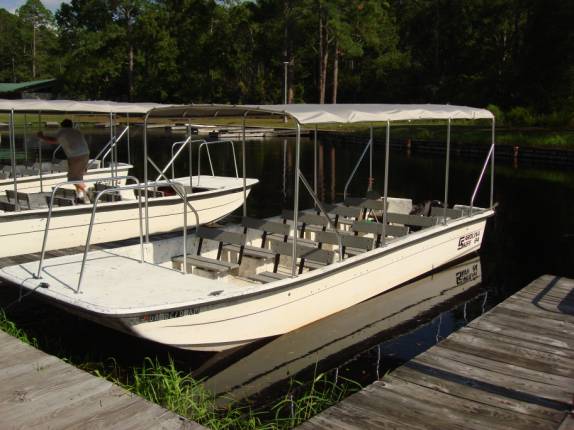 I (Fred) enjoyed the trip very much.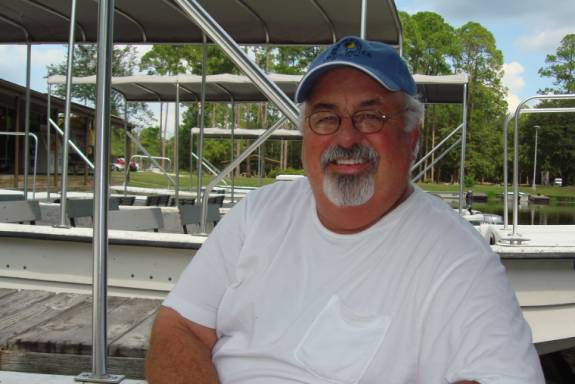 The guide angled us into an area where we heard a mother Alligator making warning noises. She was protecting her brood of baby 'gators. If you look closely, you can see a glimpse of the little ones in the upper right corner of the picture.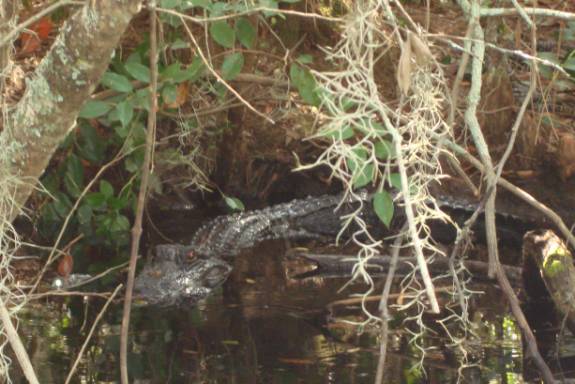 The air was as still, hot, and humid as you would expect a swamp to be.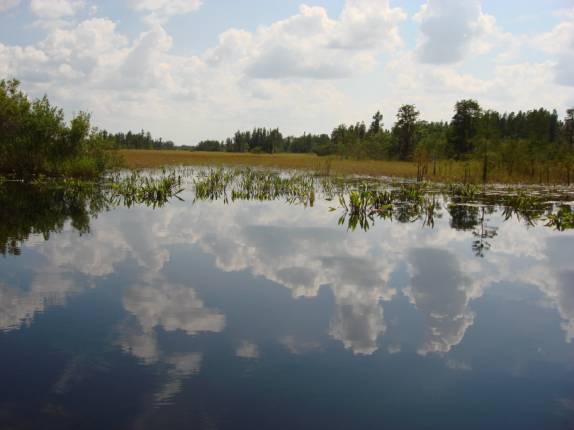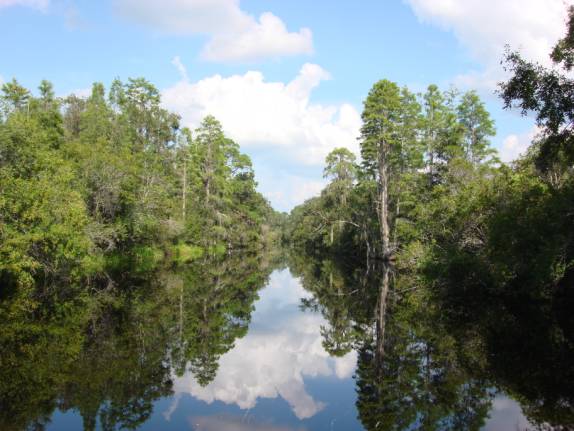 This big fellow demonstrated how fast he could move when he decided to.
During our sightseeing trip along the Wildlife Swamp Trail, Judy enjoyed a tranquil moment on the porch swing of this historic farmhouse in the park.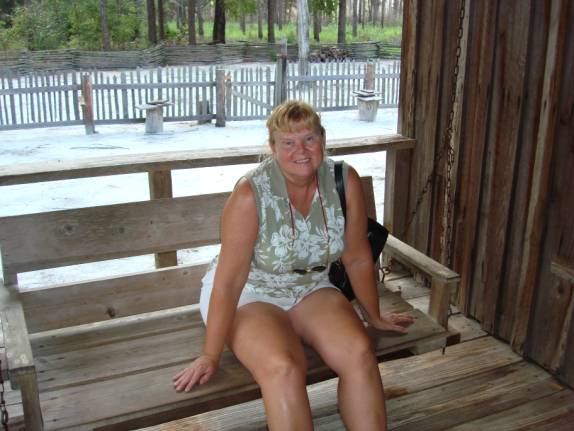 The Cresser Homestead is a lovely place to visit.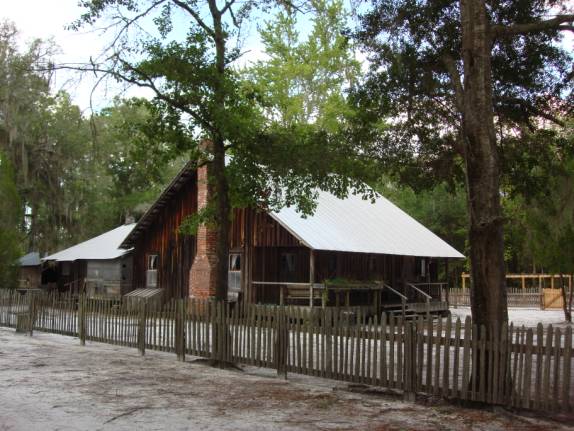 I found it interesting that the wellhead was a hollowed out log. One can only image the kind of creatures that might crawl down into the well in search of water. I would guess that a slithery snake being pulled to the surface startled more than one person.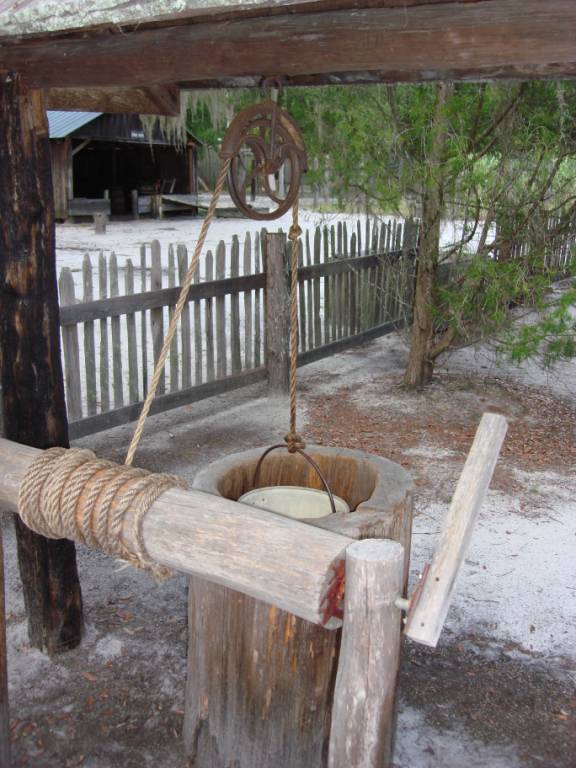 This Gopher Tortoise took up a semi-defensive stance at our cautious approach.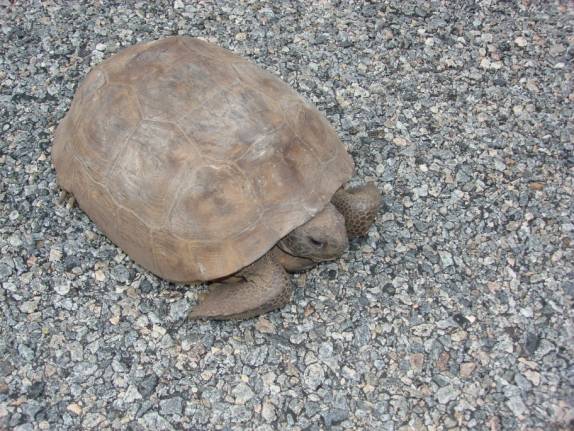 After our delightful day out, we returned to the marina for another fabulous cookout. There was only enough steaks left for Judy and Dean. They were huge and thick. We all enjoyed the Baked Potatoes, fresh cucumbers and tomatoes. Although my beef was hamburger, it was absolutely fantastic. How about another piece of that Apple Pie?
09/16/07 SUNDAY BRUNSWICK LANDING MARINA, BRUNSWICK, GA
After breakfast at the Waffle House, we headed over to beautiful Jekyll Island for the 2nd Annual Shrimp and Grits Festival being held on the fabulous grounds of the Jekyll Island Hotel.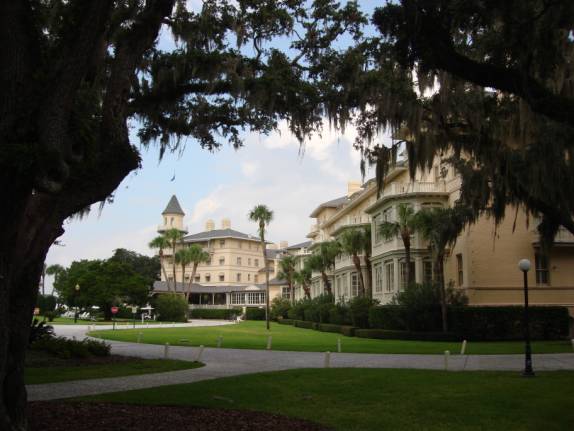 The grounds have numerous, lovely old cottages that were enjoyed by the wealthiest of the wealthy industrialists of the early 1900's.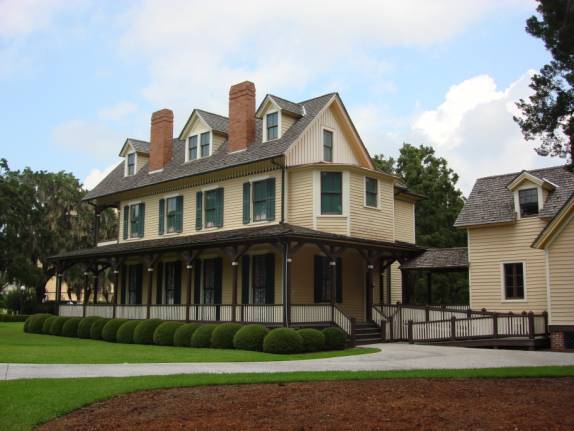 Today, the visitors would be from all walks of life that have come to experience the magnificence of Wild Georgia Shrimp and Jim Dandy Grits.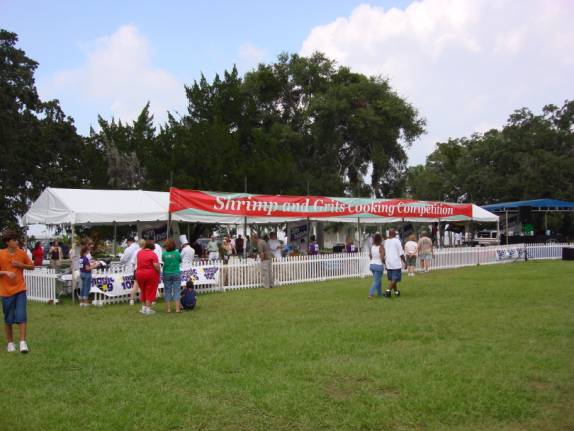 Georgia radio personalities, "Chef and The Fatman" hosted the program and organized the fierce competition for the professional chefs. Amateur chefs had competed yesterday.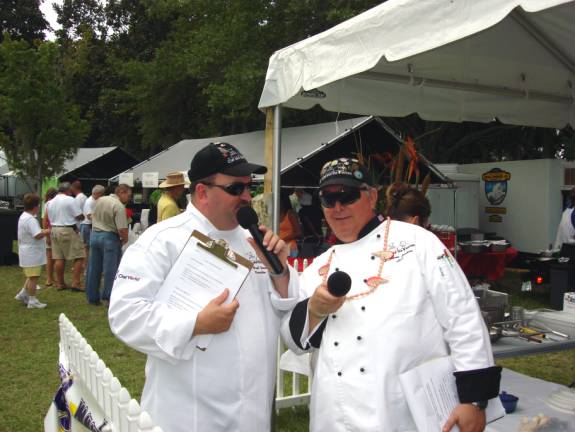 A tent booth, operated by the Jekyll Island Hotel, was preparing this shrimp dish in cream sauce and was selling it fast.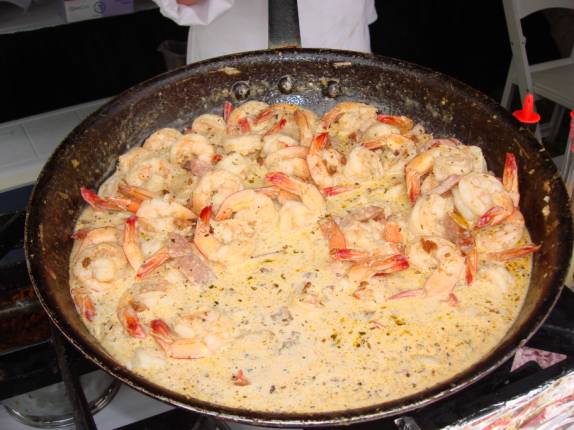 Judy and Dean chose the liquid form of substance to stave off the heat and humidity of this steamy afternoon.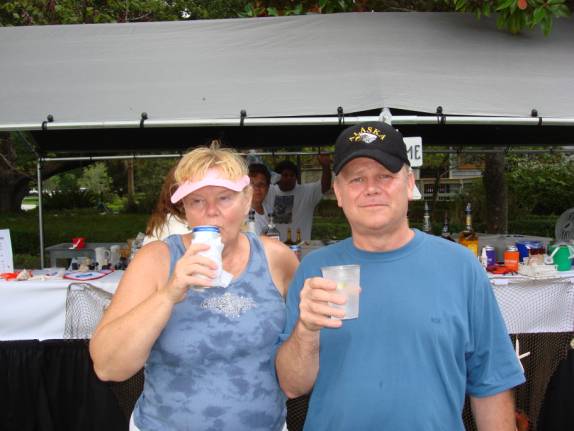 The representative of the Jim Dandy Company held a cooking demonstration.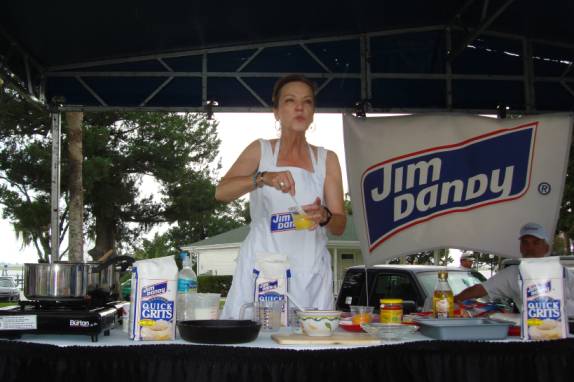 This professional chef, from Christie's Restaurant in Brunswick, prepared this beautiful shrimp and grits entry. I, personally, thought it should have been a show winner, however, the judges didn't agree.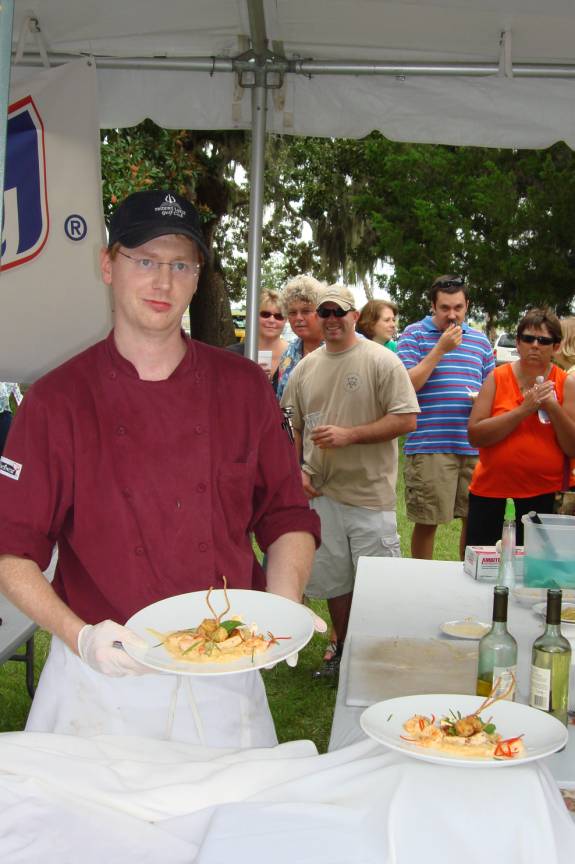 Most of the entries were very appealing.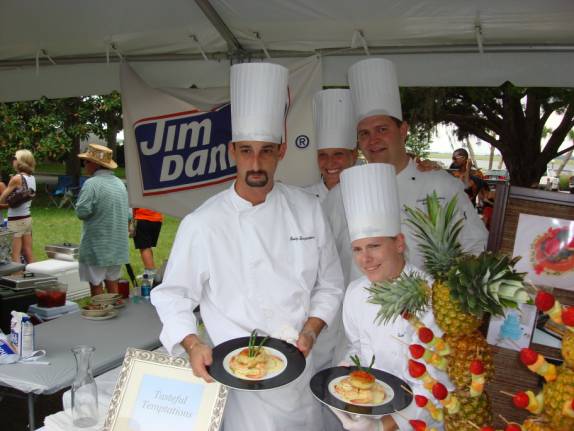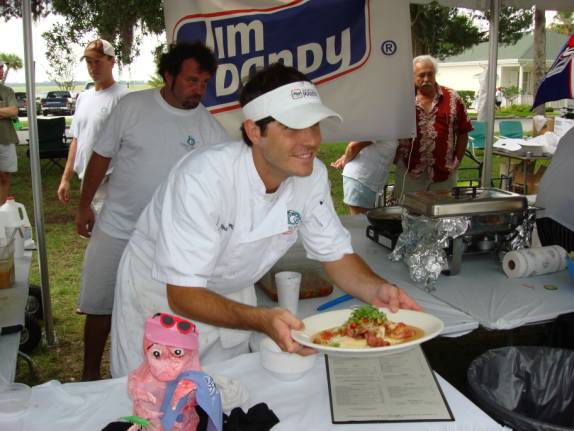 This chef took first place with his entry of "Shrimp and Grits Sushi". Oh well, I guess that's what happens when the "East" takes over the "South".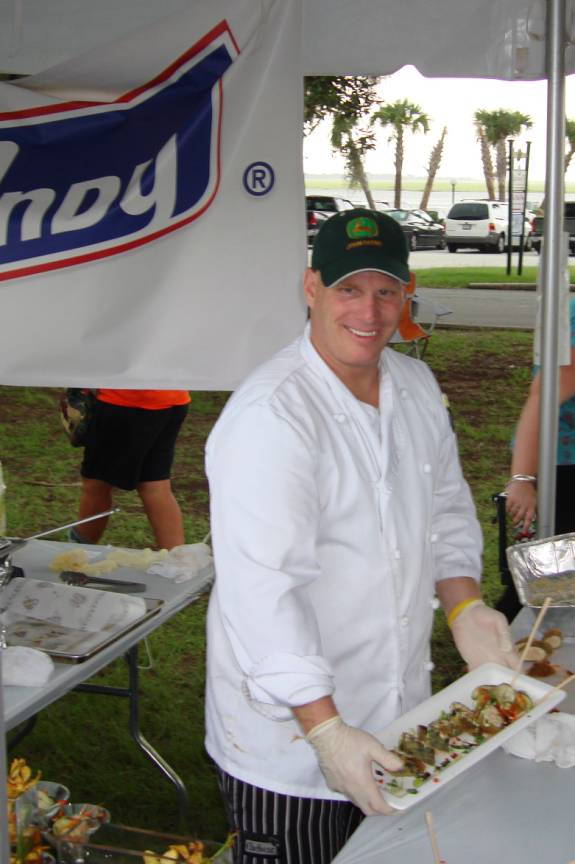 Dean was enjoying himself despite the occasional rain shower that drove us under the huge tent.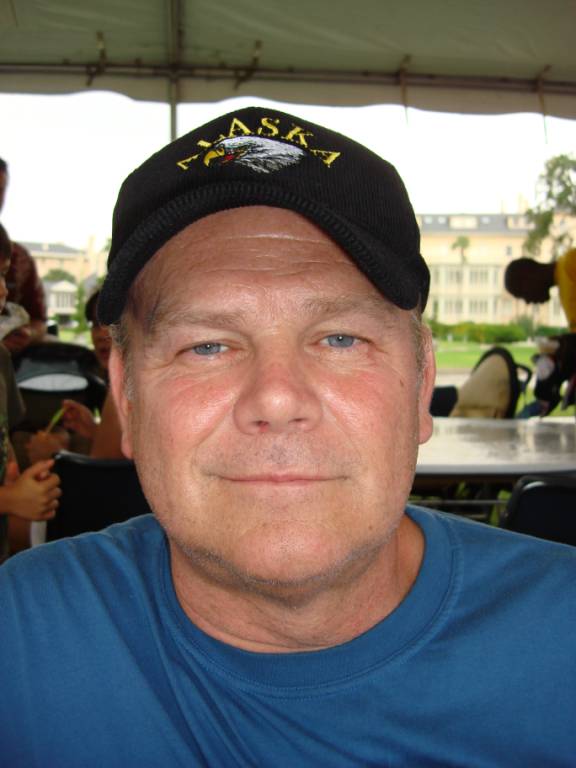 Looks like "The Captain Was Here".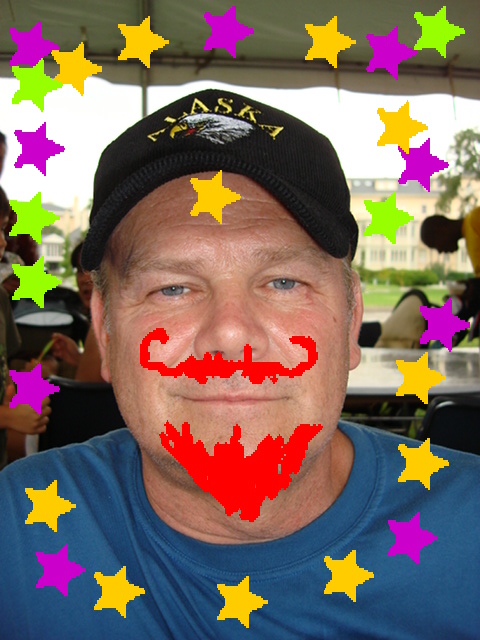 A fun event was the kids' competition in the Shrimp Eating Contest. They had two minutes to see who could consume the most "peel n' eat" crustaceans.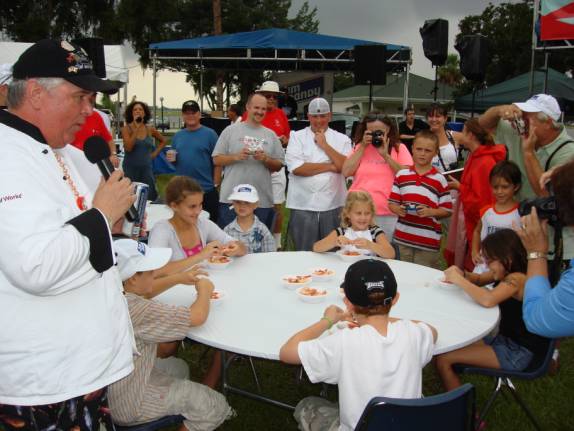 Dean was close by to cheer on his favorite competitor in the adult competition.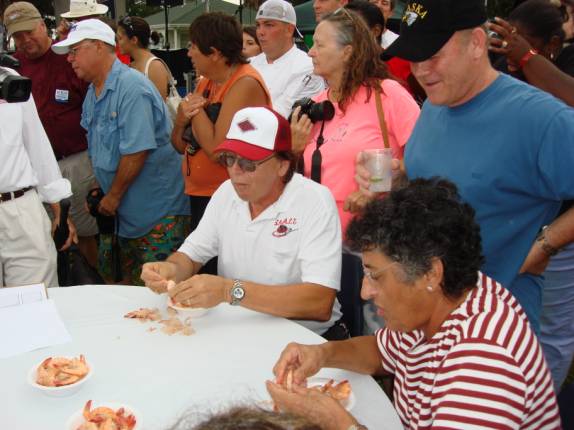 This is further evidence that 'manners' don't count. Fortunately, there were some leftover shrimp that we had the chance to enjoy
.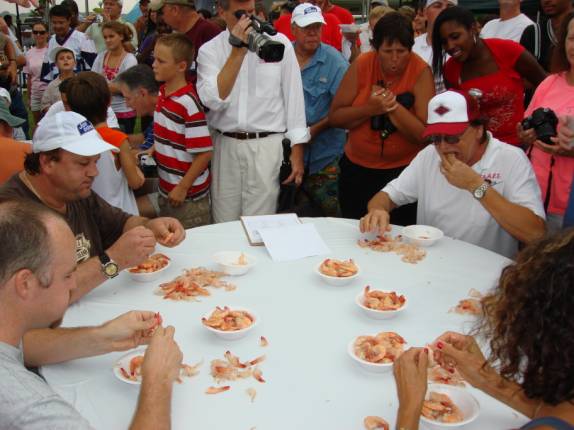 Late afternoon downpours put a damper on the festivities and we chose to return to the boat. Perdue sliced, oven roasted turkey sandwiches served with fresh tomatoes and cukes made for a perfect dinner.
The 2005 DVD of the Jimmy Buffett concert entitled "Double Header From Wrigley Field" served as the evening entertainment. Interestingly, it was the first ever concert held at Wrigley Field. It is a great, 2-disc DVD.
09/17/07 MONDAY BRUNSWICK LANDING MARINA, BRUNSWICK, GA
Having the company of Dean, we have the perfect excuse to do more local exploring. A road trip to Fernandina, Florida and St. Mary's, Georgia seemed fitting. We made a stop at the Florida Visitor's Center that armed us with lots of information, maps, suggestions, and, of course, a glass of Florida Orange Juice.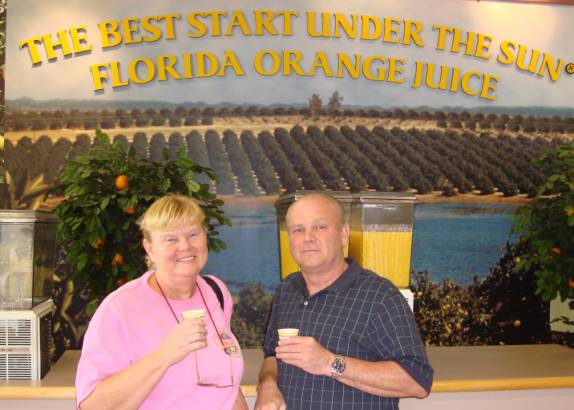 After walking the historic district of Fernandina, we enjoyed lunch at Barbara Jean's. It was Monday and things were very quiet around the towns. At St. Mary's, GA, we visited the US Parks Service Museum focusing on Cumberland Island and the War of 1812. There were some interesting displays.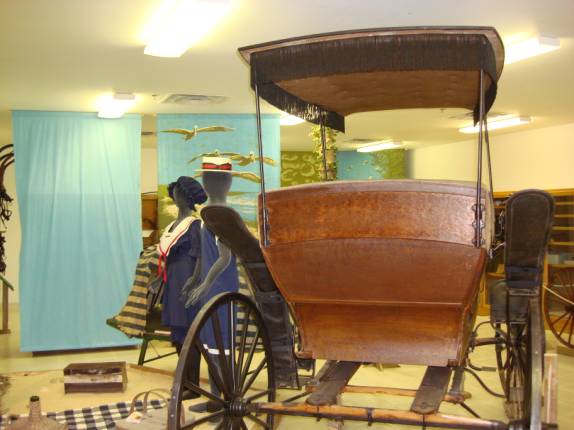 For dinner, we enjoyed some of my homemade Beef Rice Soup.
09/18/07 TUESDAY BRUNSWICK LANDING MARINA, BRUNSWICK, GA
BYE-BYE DEAN!
They say that "All Good Things Must End" and, as such, our visit with Dean must take a hiatus. It was a day of great weather with the dry, cool, clear conditions with temperatures in the 70's to low 80's.
A 7:15 alarm allowed us to get away from the marina at 8am.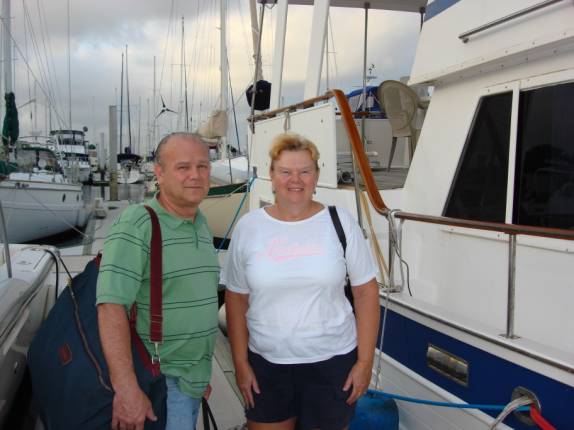 The Cracker Barrel Restaurant prepared Dean's favorite, the Ol' Timer's Breakfast. A little after 10am, we dropped Dean at the Express Jet gate at Jacksonville airport for his 11:50am flight. Bon Voyage, mi-Ami.
We took the opportunity to go to Costco to return the Toaster Oven that was too large for our boat. The construction traffic was terrible while heading back to Brunswick.
A 5:30 pm get-together was arranged at Fox Den Pizza. Robert Wilson treated the gang consisting of Robert, Henry McCoy, Wayne, Linda, Fred, and Judy. Judy joined the dessert party aboard ISLA for cake. I was just too exhausted.
09/19/07 WEDNESDAY BRUNSWICK LANDING MARINA, BRUNSWICK, GA
It was another cool day in Brunswick. Just to the south of here, heavy rains were pelting the Florida coast generated by tropical depression Invest 99.
Mid afternoon, diesel mechanic Jack Dickey called to let me know he would be here at 3:45pm. We were having problems starting the starboard engine and he was the recommended guy to help. We pulled the rocker arm assembly and removed the fuel injectors.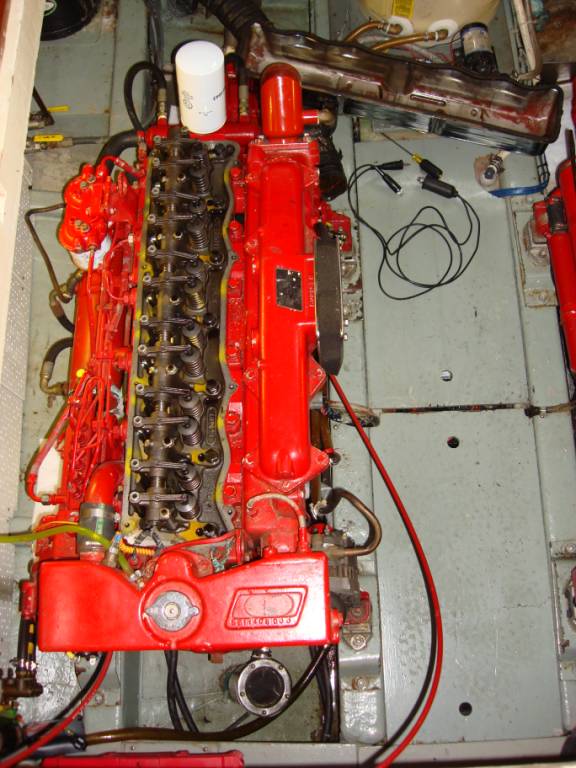 These looked in need of cleaning and reconditioning. For this, we would locate a professional shop in Jacksonville.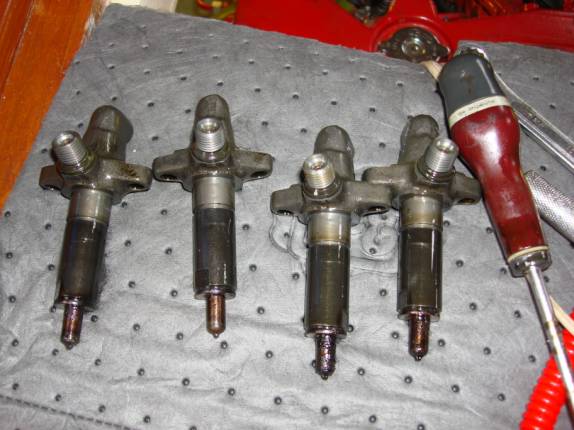 We lubed up the cylinders with PB Blaster and Marvel Mystery Oil, then covered up the engine to protect it from dust and dirt. The removal of the injectors from the Lehman Engine is a complex undertaking. Some other engines are quite simple and straightforward. Fortunately, when operating properly, the Lehman has demonstrated itself to be one of the most reliable engine designs ever. Jack Dickey does this type of work as a sideline. His everyday job is working at the King's Island Nuclear Submarine Base near St. Mary's, GA.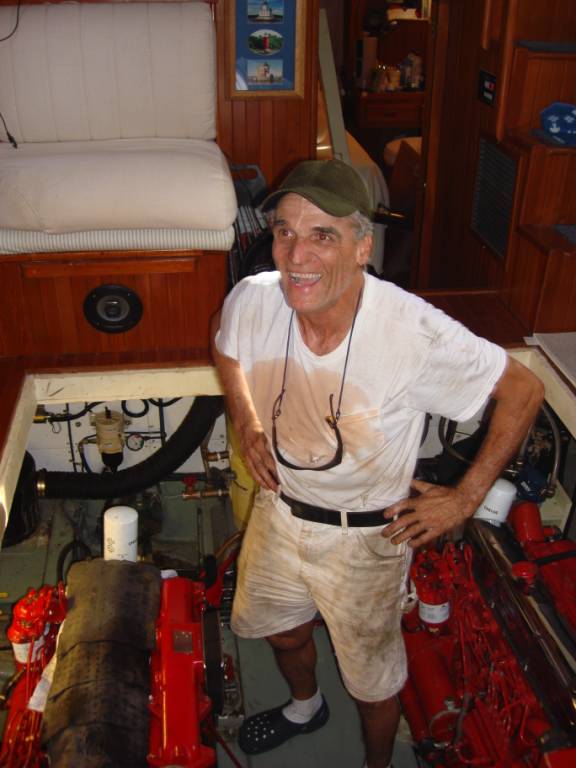 With the boat in a bit of disarray, we chose to dine at Michael's Deli.
09/20/07 THURSDAY BRUNSWICK LANDING MARINA, BRUNSWICK, GA
Local suggestions indicated that Taylor Diesel Service in Jacksonville was our best choice to re-condition the injectors. When we arrived, the tech put them on his tester and we could quickly see that 2 of the 6 were malfunctioning. One was completely plugged and another was "pee-ing" or drooling from the nozzle. Perhaps this explains part of the engine start problem. We agreed that all injectors should be re-conditioned and re-set to specification. When? Oh, depends on parts needed.
At Doug and Leslie's (HAPPY CLAMZ) suggestion, we had lunch at the European St. Café. Judy had Chicken Salad on Croissant and I chose the Pastrami/Corned Beef Ruben on Chiabatta. Shopping stops along the way back used up the rest of the day.
09/21/07 FRIDAY BRUNSWICK LANDING MARINA, BRUNSWICK, GA
Although not forecasted, the marina area was pelted with heavy rains and thunderstorms overnight. Paul and Sue on ODYSSEY called announcing that they would arrive today. We scurried off to Wal-Mart to get groceries for our dinner with them tonight. They arrived about 1:30pm and we spent hours just sitting and chatting with our dear friends.
We thought we were going to go to Jacksonville to pick up injectors but they had the wrong parts so it would be next week before they would be ready. At 5:30pm, the Grahams arrived for a South-of-the-Border dinner starting with 'una corta de lechuga' (wedge of lettuce). The main course of 'Carne Molida de Res sazonado en tostaditos de maiz con queso Mexicano Y acietunas negras. (Seasoned Ground Beef on Fritos Chips with Mexican Cheese and Black Olives). For dessert, how about 'Flan con Chantilly'. (Mexican Custard with whipped cream).
It is so great to be back together with these wonderful friends.
09/22/07 SATURDAY BRUNSWICK LANDING MARINA, BRUNSWICK, GA
Our mechanic, Jack Dickey, returned to continue work on the Lehman engines. Unfortunately, the injectors had not returned. When we rotated the engine, oil and guck from the cylinder injector holes sprayed over a lot of stuff and made quite a mess. At least, the cylinders were well lubricated.
Judy and I spent a lot of time cleaning up and closing up the engine room. Judy even had to wash some of the upholstery cushions and spot clean others.
For dinner, we had Frito Pie and beef burritos using the leftover meat from yesterday. We were both totally exhausted.
09/23/07 SUNDAY BRUNSWICK LANDING MARINA, BRUNSWICK, GA
We made a Wal-Mart and Publix grocery run for Sue Graham in the morning. Being Sunday, we knew her afternoon would be reserved for the NASCAR Nextel series from Dover, DE. Her favorite driver, Carl Edwards (99), was now sitting in 1st place in both the Nextel and Busch series standings.
Judy applied Scotchguard protection to the salon cushions.
As the big race saw the checkered flag, we piled into the car with our picnic lunches. On St. Simon's Island, the Lighthouse Music Series concert featured a night of Jazz in the Park. In the late afternoon, these two automobile carrier ships were passing each other in the passage between Jekyll Island and St. Simons Island.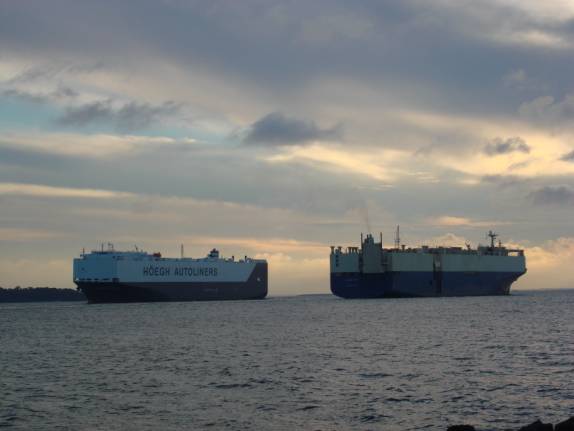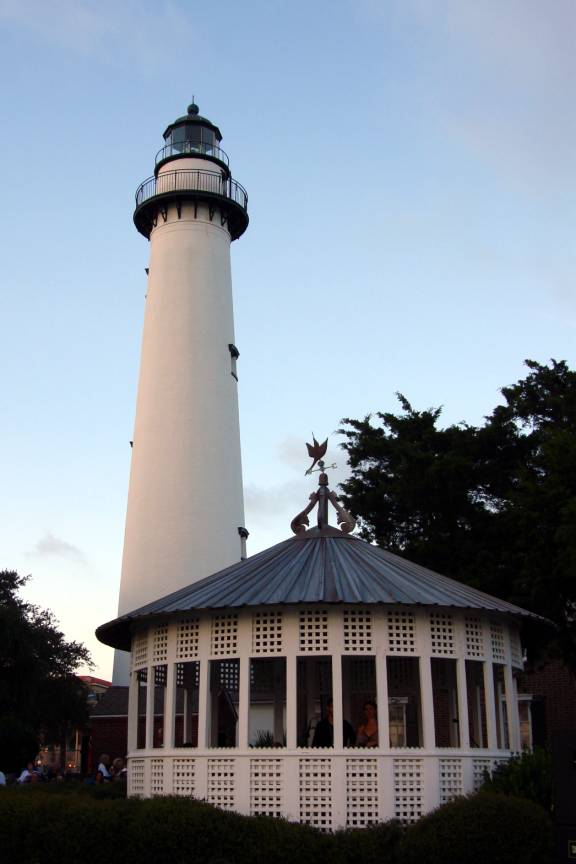 The pre-concert picnic is always enjoyable as we watch the folks assemble for the evening festivities.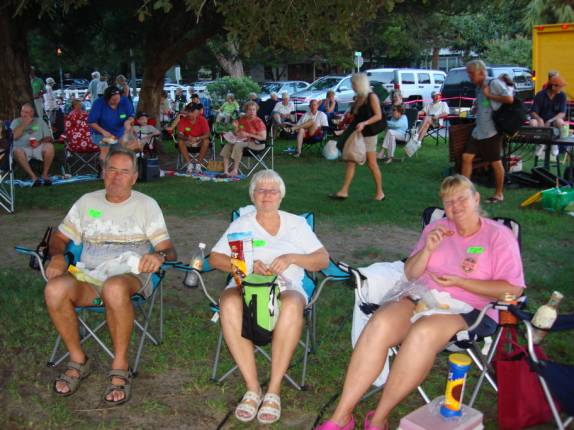 The singer, Martha B--, was very enjoyable.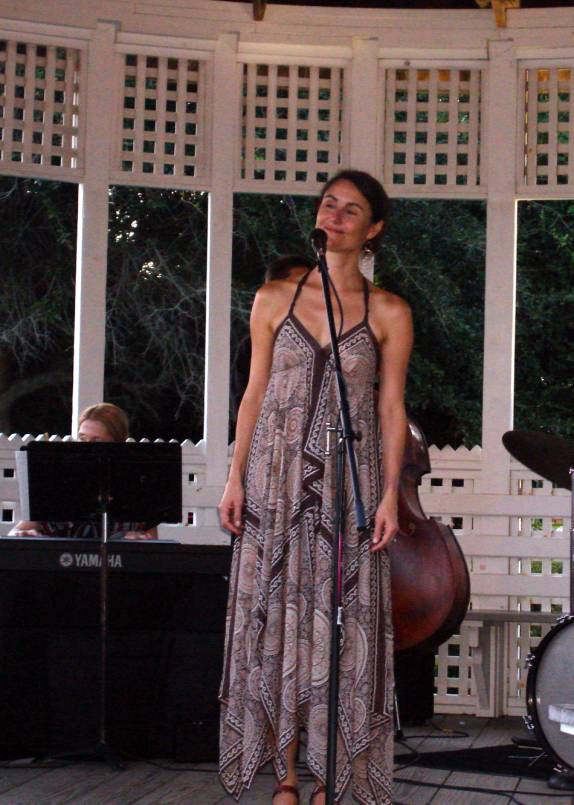 POST SCRIPT:
As I assemble this edition, we are already in the Bahamas for the winter aboard AMARSE.(it's December already). I offer my sincere apology for being so remiss in putting the log updates together. I won't bore you with excuses since it narrows down to my lackadaisical character flaw. As I attempt to catch up on the tardy editions, you will probably notice some changes in the format. Hopefully, these will allow me to be more punctual. Whatever, we sincerely hope you enjoy these compilations. Please let us know if you have any special suggestions and thoughts.
We thank those of you who have contacted us recently and we are looking forward to hearing from each of you in the near future. Thanks for allowing us to share our life and adventures with you.
REMEMBER: The website is now fully active and you can visit it at any time. You can review any of the 2006 or 2007 logs and learn more about the crew and our plans. Enjoy.
ATTENTION: SPECIAL NOTE:
You may contact us via email. Our cell phones have been turned OFF for the winter. We do have occasional SKYPE connections at 'amarse1'.
"AMARSE". is pronounced "AM-ARE-SAY". Our website is: www.amarse.net .
We would like to hear more about what is happening in your lives. Let us know as we very interested in what's going on with our friends and family. Please call or email us with your thoughts and comments and ideas too. Thanks
Lotsa Luv,
Fred Reed and Judy Law
AMARSE
MT40