UPDATE#30
09
/01 thru 09/07/07
Howdy Everybody,
The period 01/19/07 thru 08/31/07 has been covered in Updates 1 through 29. We continue with UPDATE 2007 # 30.
UPDATE 2007 #30 09/01 through 09/08/07.
Welcome back to the new Adventures of the trawler AMARSE. At last update, we were in Vancouver, BC, Canada. We had completed our two fabulous cruises to Alaska and were just starting our long, Labor Day weekend in Vancouver.
09/01/07 SATURDAY VANCOUVER, BC
Vancouver is a very big city. With parking spaces difficult to find, we opted to use public transportation for our visit. BC Transit offers a day pass for $8 each that allows unlimited use of all buses, the SkyTrain, and the SeaBus facilities through all three zones. Anxious to get on with our sightseeing, we stopped at Tim Horton's restaurant for a quick snack. Tim Horton's is a common, fast food place found all over Canada.
We boarded the SeaBus at the Waterfront Station and 15 minutes later disembarked at Lonsdale Quay in North Vancouver. The fresh market there is wonderful and fun to visit.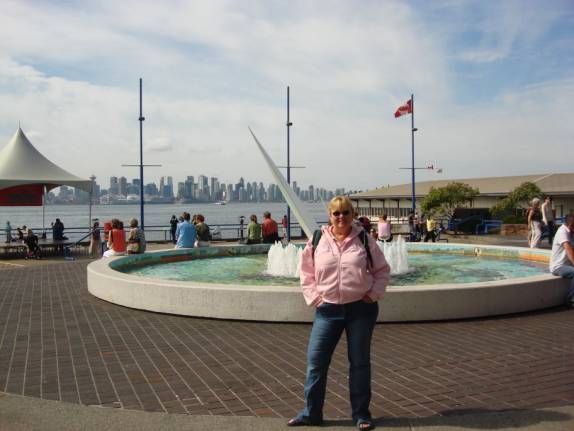 Back in the city proper, we headed for the antique car show in Gastown. We were indeed fortunate to be here for this fabulous event. There were many wonderful restorations that I had never even heard of. I hope you enjoy some of these few pictures I took.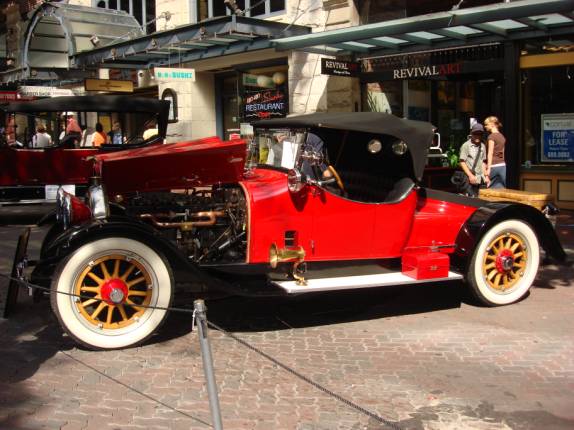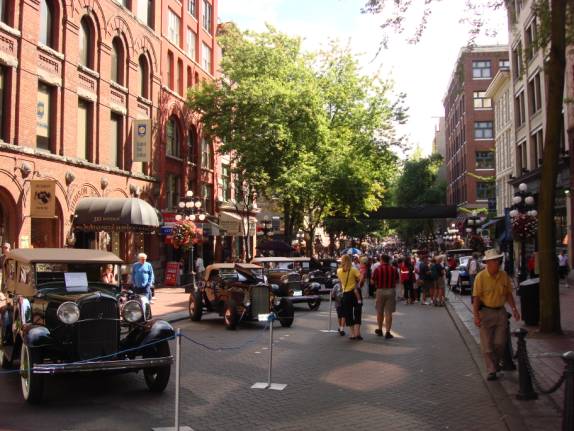 Early in the 20th Century, my grandfather was a chauffer for a wealthy family in Boston. I believe that one of their vehicles may have even been an old Packard similar to this beauty.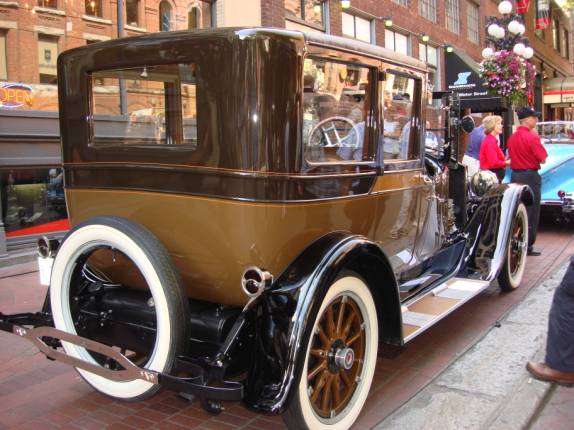 When I was stationed in Texas with Uncle Sam, I bought an Austin-Healy 3000 roadster similar to this one. Mine was a dark blue color.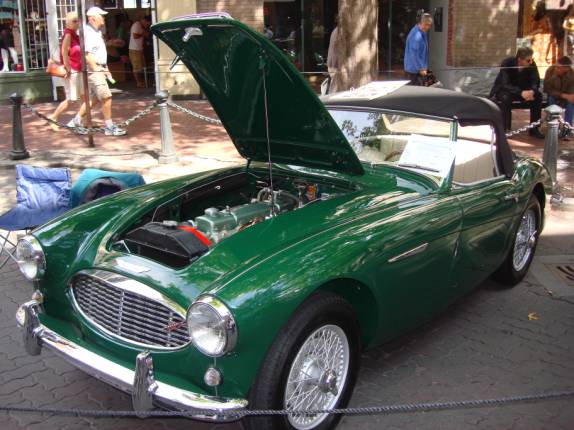 This unbelievable Tatra T87 was produced in very small numbers in 1937.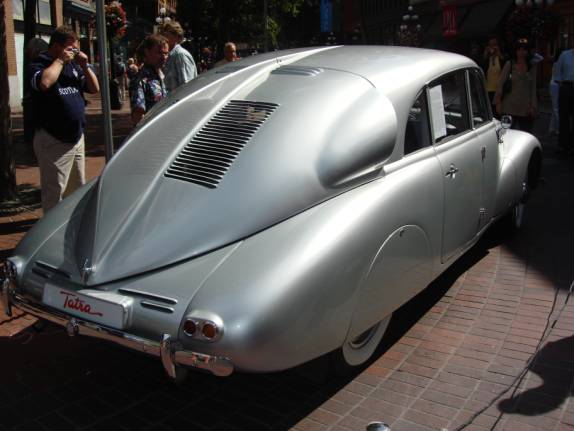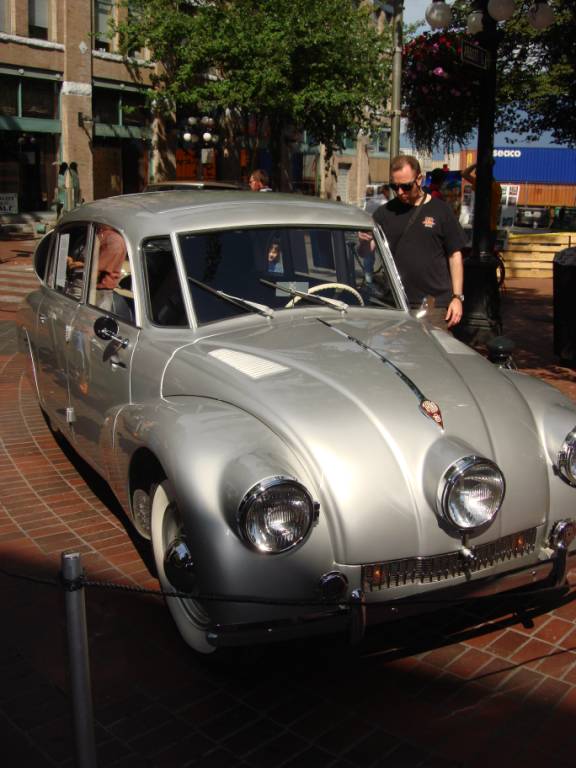 When I was a young lad in grade school, my father bought a torpedo-back Buick, similar to this one, at a special sale. It was only barely running and needed lots of engine work. He bought it from the back lot of a Massachusetts Nash dealer for $19.95. That's right, $19.95. He did a lot of work on it and, since money was very tight then, he even fashioned the bearing set by machining basic brass stock. I have always been in awe of his abilities to do anything. Dad had resurrected a 1948 model; this one is a 1947 model and in much better than new condition.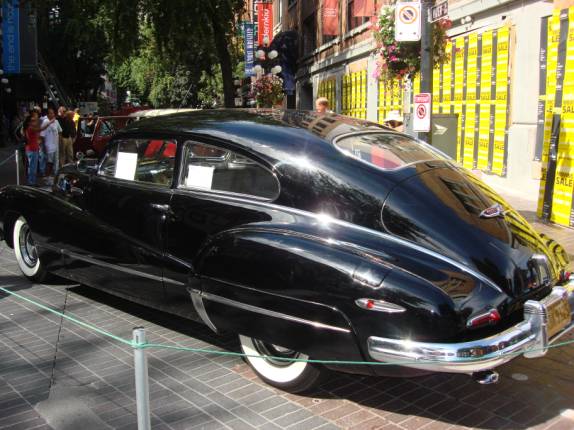 Our transit pass got us over to Granville Island on the bus. This is a fabulous collection of shops, restaurants, theatres, and, foremost, one of the nicest fresh markets we've ever visited.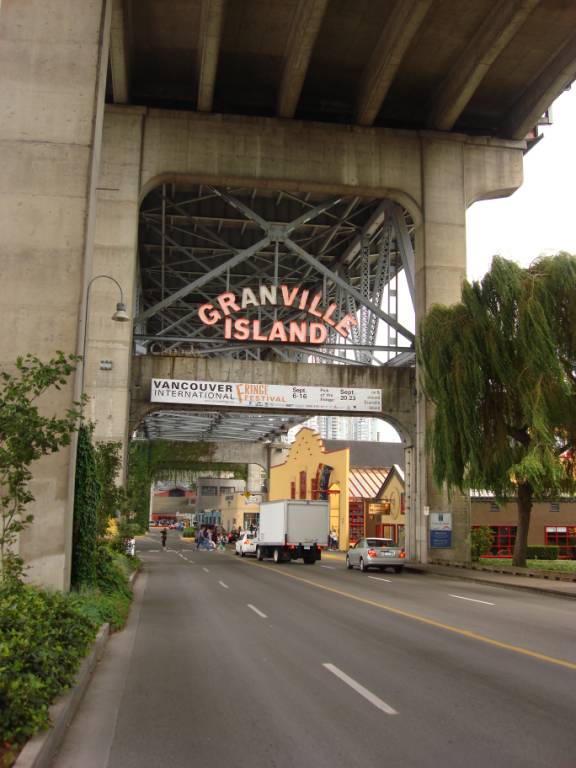 The Pacific Institute of Culinary Arts is located here. Not only can you dine here, you can even purchase desserts from this beautiful selection.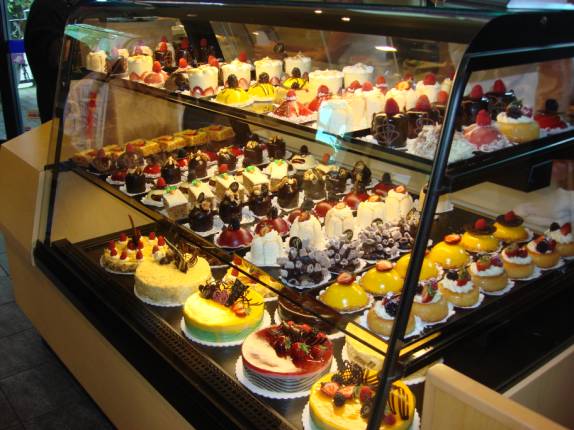 Over at the fresh market, there are many displays of gastronomic beauty filling the display cases urging consumers to "choose me". My lunch choice was a soup of Barley, Leek, and Mushroom in a Lamb stock broth. Judy went to another vendor and chose a French Onion Pot Pie. At yet another stand, I found some hummus and pita bread. Wow!
From the #19 bus window, we could see that something interesting was happening. We signaled for a bus stop and joined the crowds perusing the Chinatown Night Market.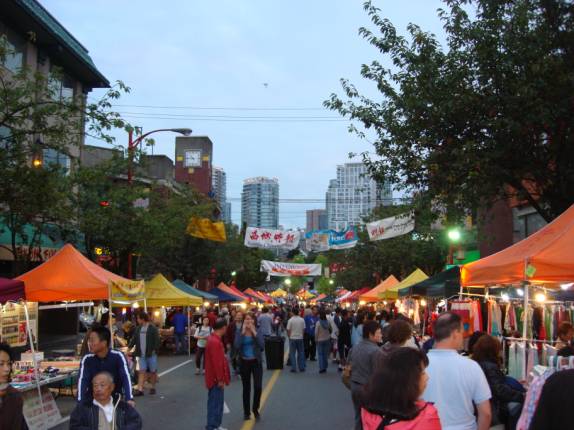 The melodic tones of Chinese tunes echoed from the stage entertainers.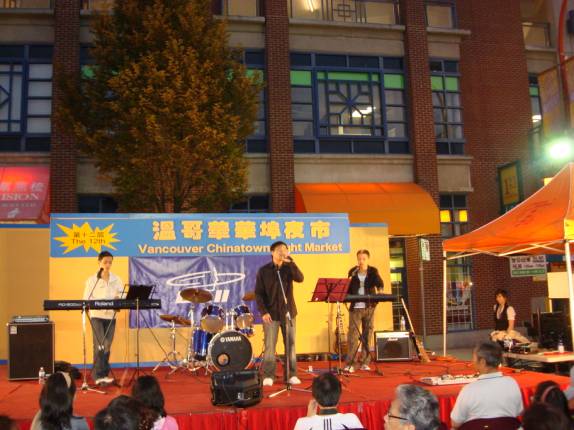 Numerous tented stands offered a huge variety of Chinese goods and food specialties.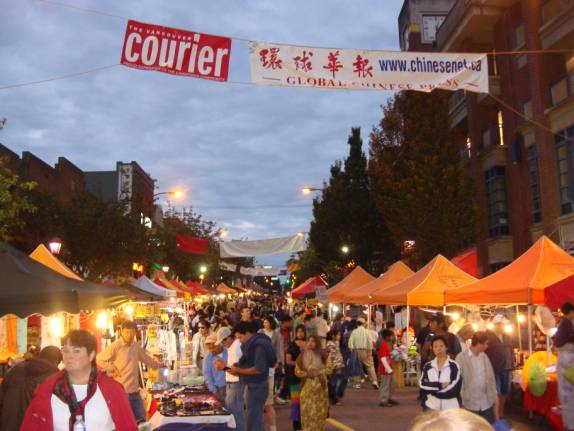 Anyone interested in the Curry Fish Balls or Imitated Shark Fin Soup?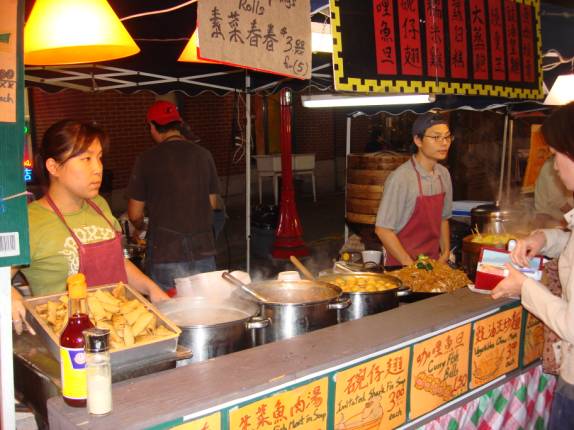 We took the #19 bus back to Metrotown Station, the SkyTrain to Broadway Station, ate a few slices of disgusting pizza, and boarded the #20 electric trolley bus to downtown. Evening brings out hoards of homeless people (hundreds, more likely thousands) who take up residence in almost every doorway and corner along the downtown route. We had been a bit shocked by the ubiquitous drug activity in this city that takes place unimpeded even during the daytime hours. Even for people that have traveled as much as we have, neither of us has ever seen this level of inhibited and open trafficking. At night, the evidence is widespread. Although we never felt in harms way, we did feel very uncomfortable at the level of societal demise.
From the downtown Waterfront Station, we took the SeaBus to North Vancouver, and back, just to see the illuminated skylines of the cities. It was approaching midnight as we walked back to the Marriott.
09/02/07 SUNDAY VANCOUVER, BC and VICTORIA, BC
Although not easily deciphered, we managed to figure out how to get to the Tsawwassen ferry terminal by public bus. I think they restrict disclosure of this information to protect and enhance the tour bus business. At 7:35am, we hopped aboard the #601 bus from Thurlow and Pender Streets. We thought we would need to transfer, however, this bus continued all the way to the terminal front door at 8:40am. We embarked on the 9am ferry headed to Victoria on the island. The route is very picturesque as the vessel winds through the fjord like outcroppings.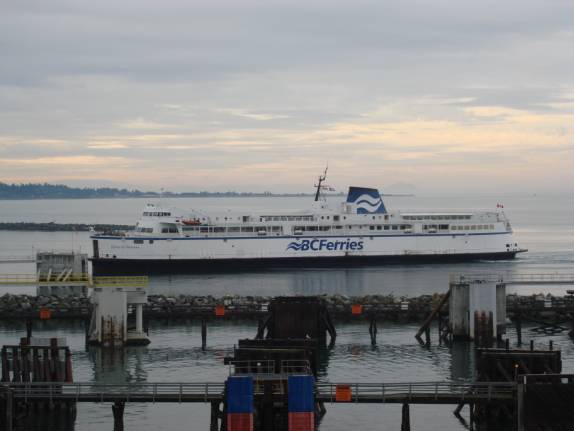 When we stepped down from the ferry at 10:45am, the 11am double-decker bus #70 took us for the hour-long ride to downtown Victoria. The waterfront is especially beautiful and an active tourist center. One of our first encounters was this redheaded gal costumed as a mermaid. It seemed humorous to us that she could only play a very few, repetitive chords on her accordion, however surprising, tourists contributed generously to her tip jar. Perhaps, she will devote a small portion of the funds toward music lessons.
The real treat of this visit was the Classic Wooden Boat Show scheduled for this weekend. A huge collection of these magnificently restored beauties had assembled from all around the Northwest for the competition and camaraderie. Our most frequent remark was, "Look at all that Varnished Brightwork". It struck a nerve of terror in Judy to think what life would be like with that much teak.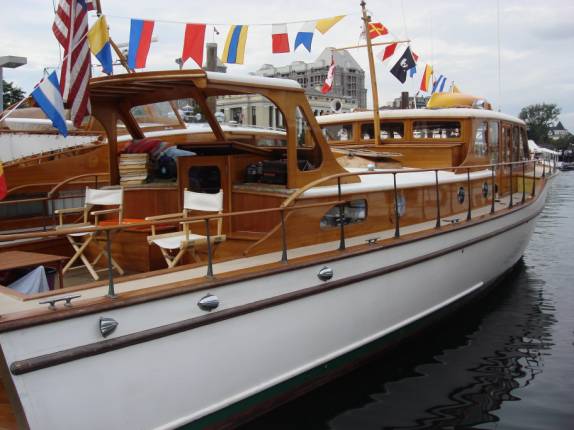 I know that a lot of my readers are just plain nuts about boats. I have included lots of pictures from this show to help appease their insatiable appetites for nautical style.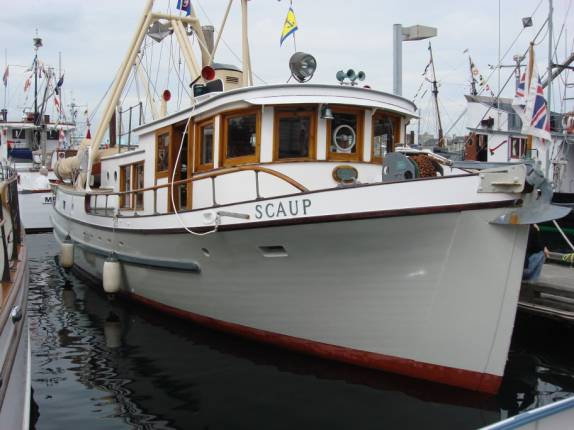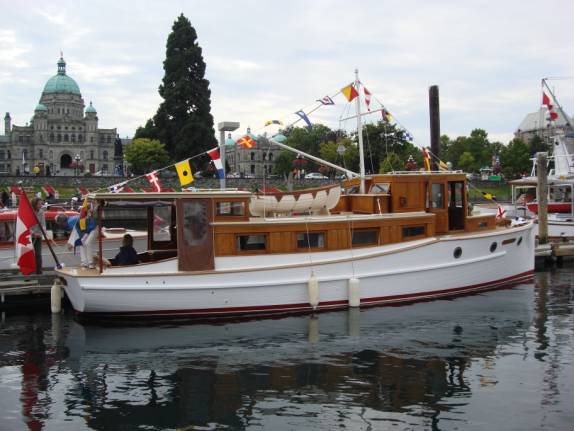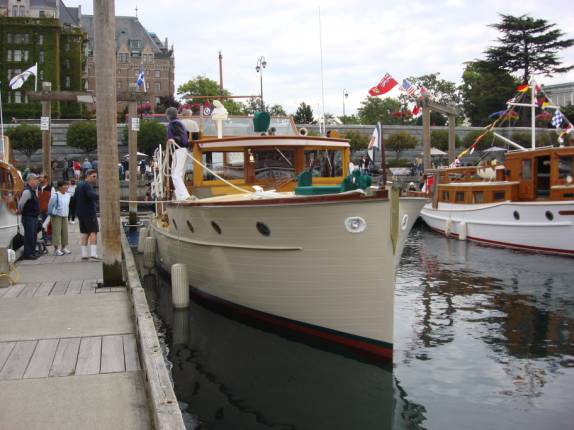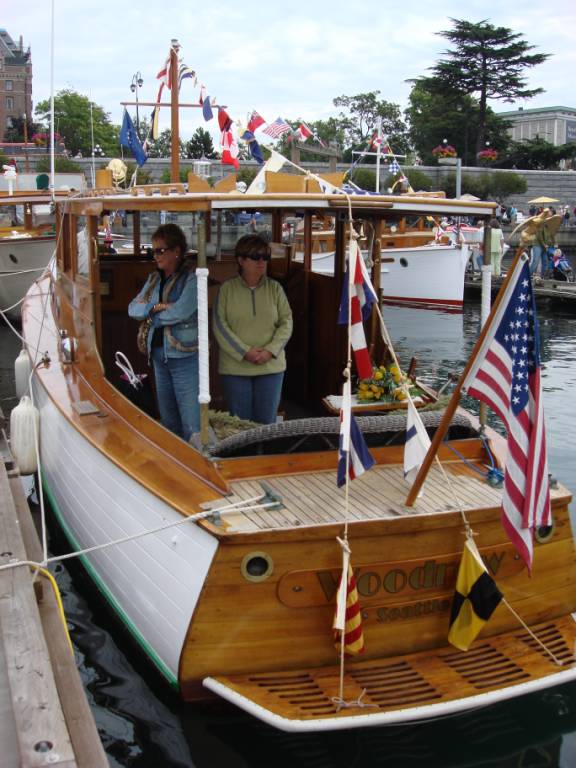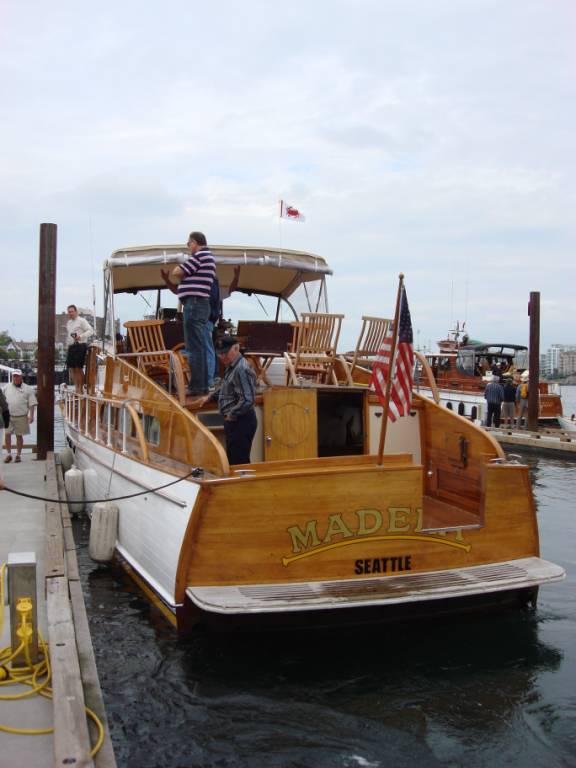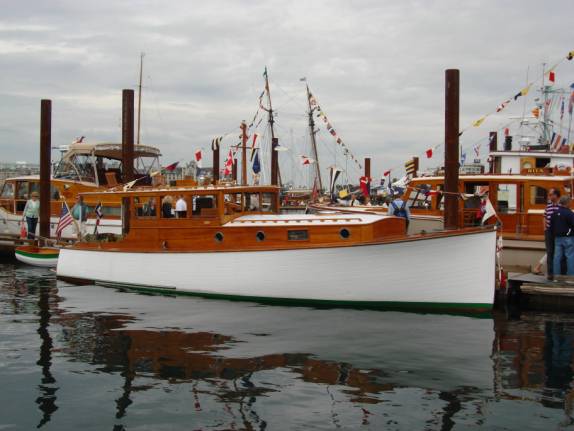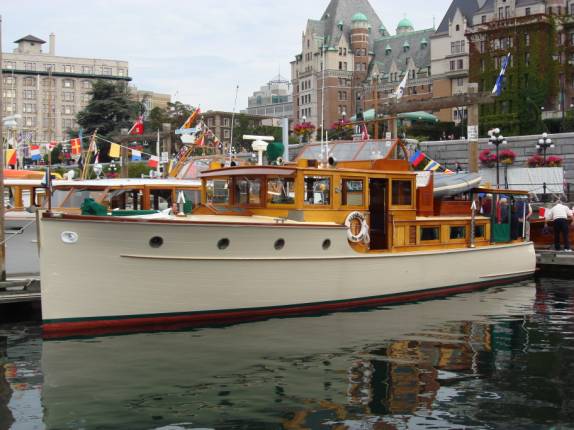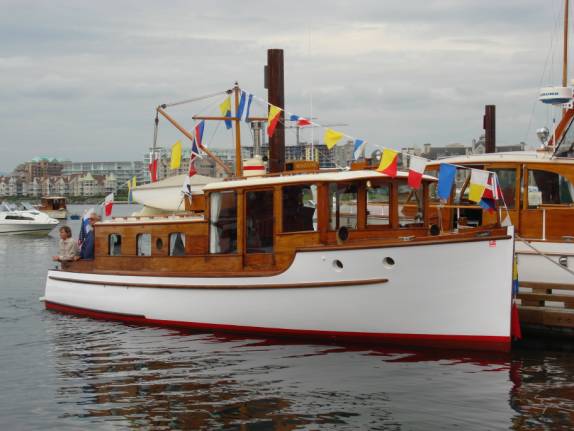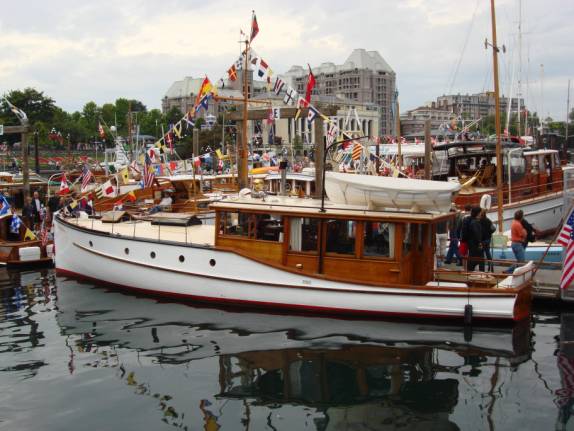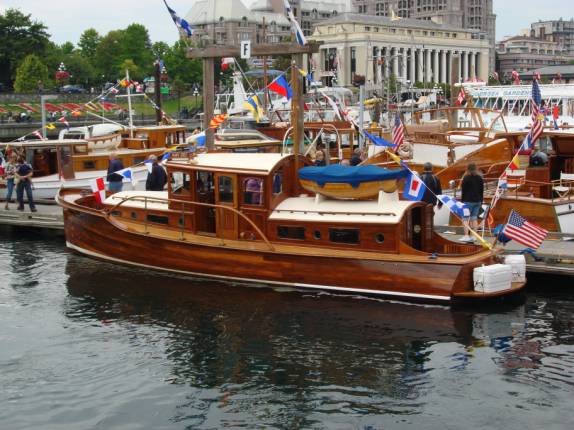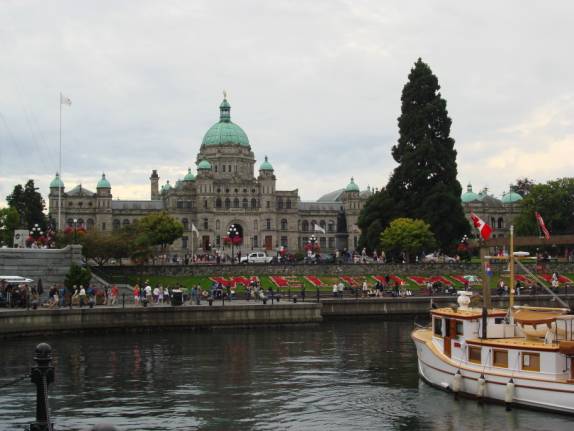 These majestic Legislative Buildings line the shores of the inner harbor.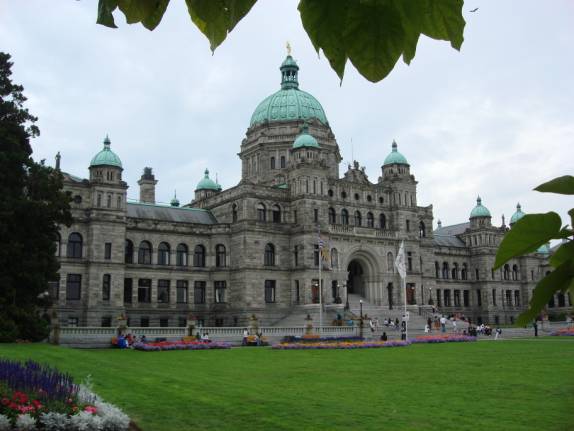 The inner harbor is filled with classic wooden boats of all types and sizes.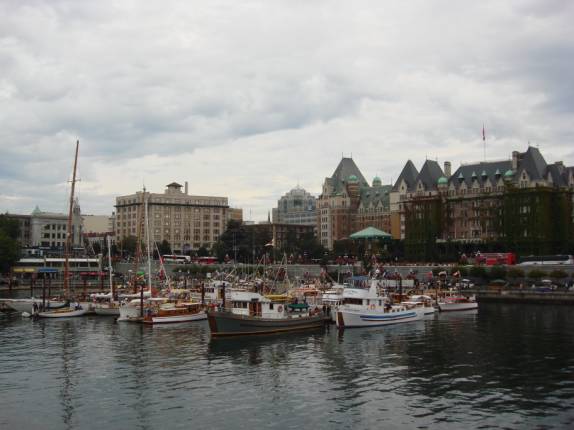 The flowerbeds are as beautiful as you can find anywhere. The yellow flowers were nothing less than magnificent.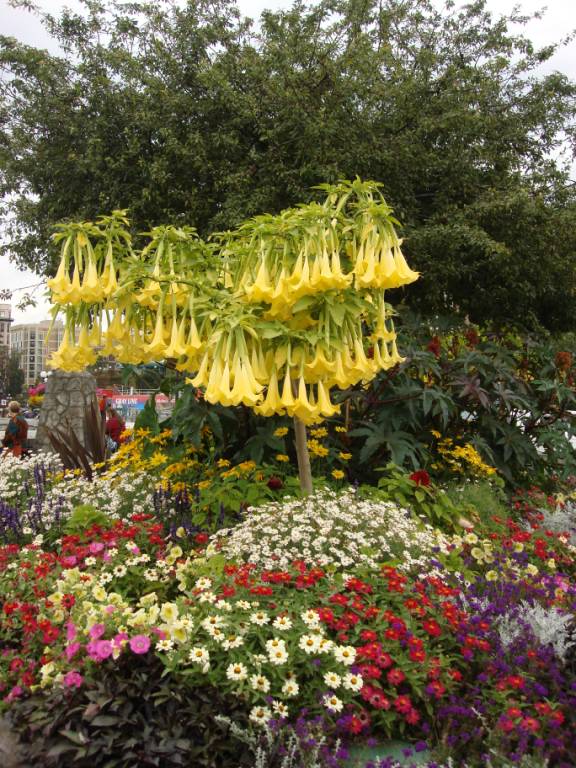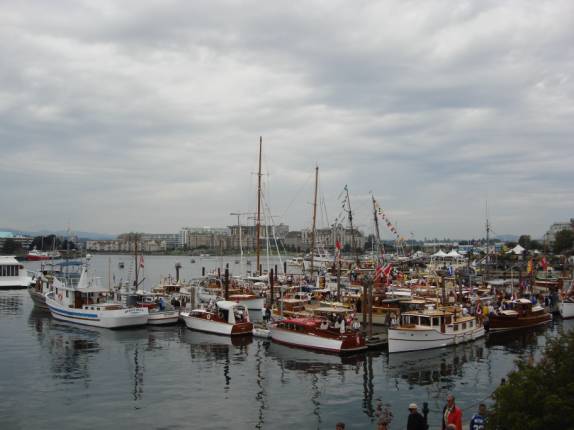 The Empress Hotel is one of the most recognizable landmarks in Canada. It fills one of the quadrants of the harbor zone.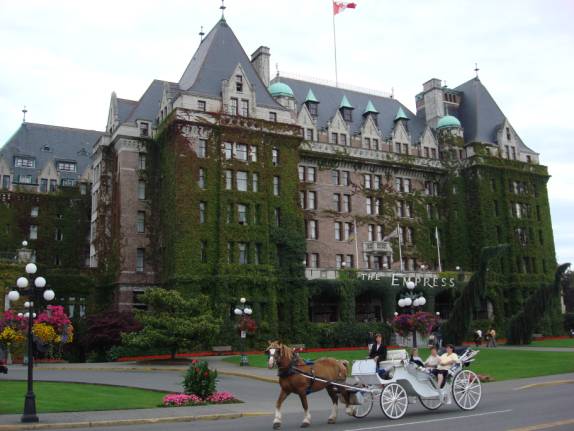 The local tourism bureaus have established walking tours around the historic center. Filled with shops and restaurants, the tourists flock to soak up the sights. With mighty tired legs and feet, our walking tour finished up in Chinatown.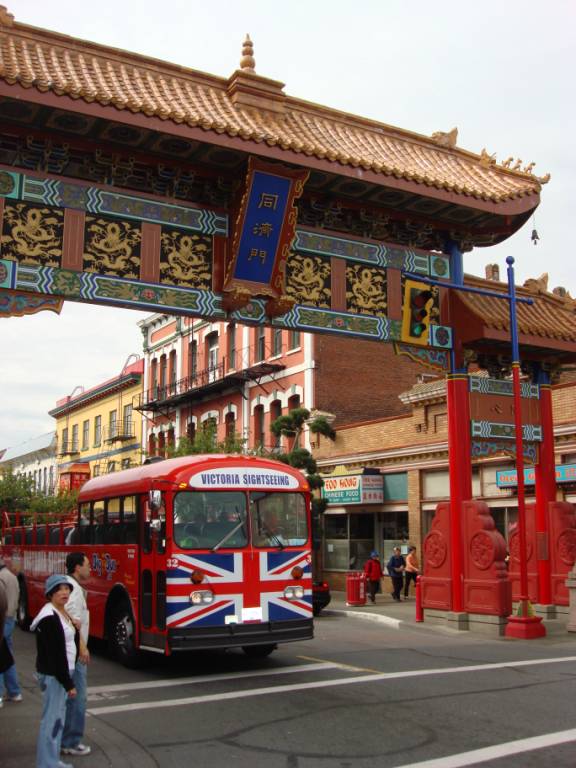 This restaurant was busily catering to their clientele. We chose it for our luncheon and we were very glad we did; great food, great prices, predominantly local crowd.
This lovely building bears a title stone above its doors that identifies it as City Hall.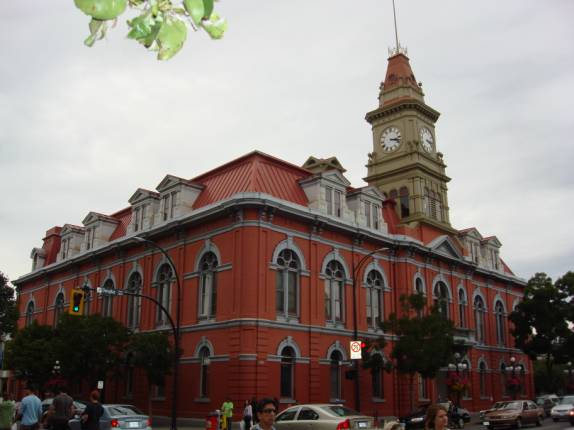 At 3:30 pm, Bus #70 had a couple of prime seats on the upper deck giving us a great view of the trip back to Swartz Bay for the ferry terminal. The 5 o'clock ferry reversed our scenic route through the islands of the British Columbia coastline.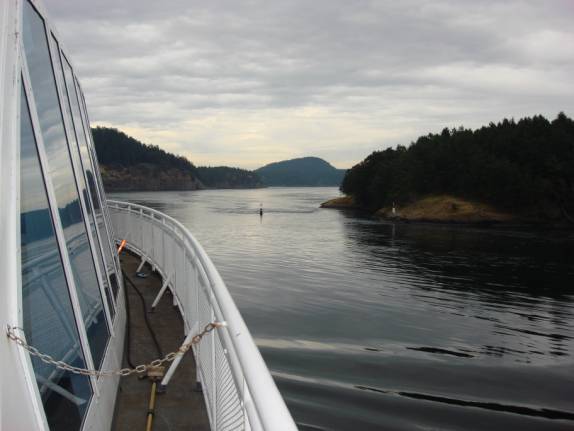 A sister ship ferry plies the waterway in the opposite direction.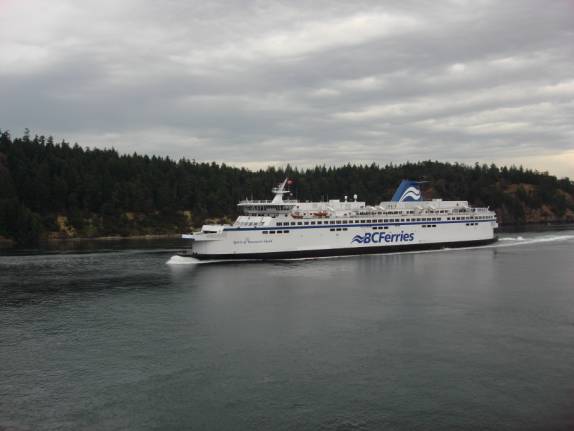 The 7pm Bus #601 provided direct service back to downtown Vancouver in just over an hour. Looking for a bite to eat, we decided to try the restaurant at the Marriott. We were disappointed at the limited selection of light meals. When they told us that they would only cook our $18 burger to well-done, we decided to try somewhere else. Even though it was late already, we headed for Gastown on foot. We had enjoyed the Water Street Café before and found a comfortable table in the little Italian eatery. We split an order of Spaghetti alla Bolognese. Tired from all the walking, we were back in the room by 10:30pm.
09/03/07 MONDAY VANCOUVER, BC
HAPPY LABOR DAY!
Today is Labor Day and both Americans and Canadians celebrate this holiday. We slowly got ourselves together for our last day of sightseeing. We purchased another Day Pass for the transit system. We boarded the SeaBus for the trip across the harbor to Lonsdale Quay market. It was too late for breakfast and things were just getting set up at the market. A shop called the Soup Meister prepares a variety of daily special soups. From today's trio, we both chose the Home-style Chicken Noodle Soup. It was certainly tasty, however, I am confident that my version is much better.
We traveled by transit bus uphill to the base of Grouse Mountain. The sky was a bit overcast and it obscured the top, nonetheless, large numbers of folks lined up the pay the $34 for a ride to the top in a gondola cable car. It wasn't for us. We enjoyed these large woodcarvings located at the base station.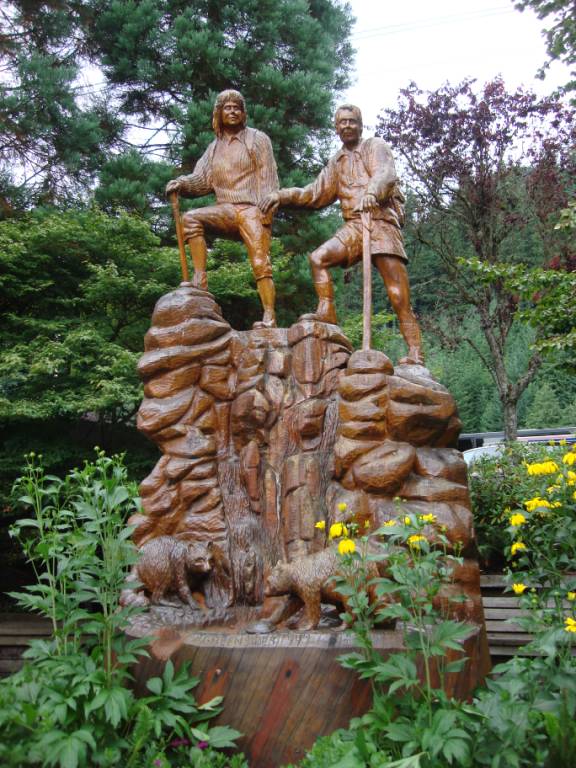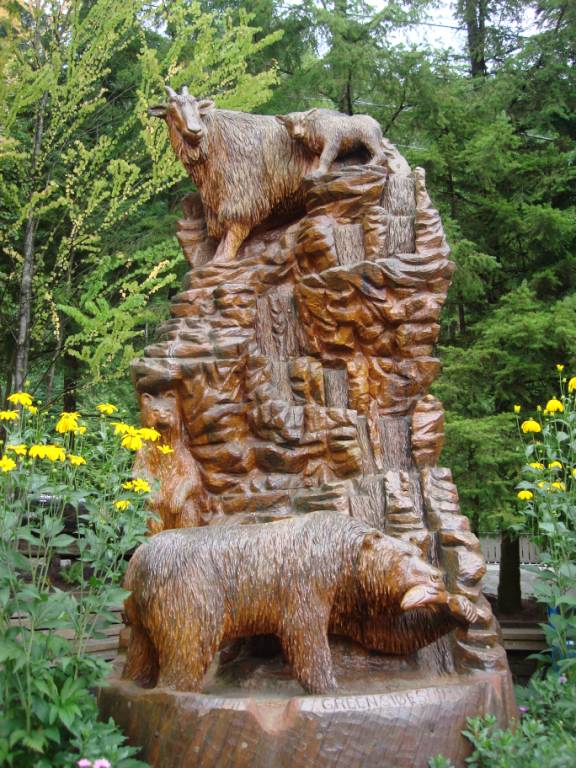 We reversed our course and returned to the main city area. From Pender St., we took the #19 bus to Stanley Park. Within several stops, the bus was cram packed with travelers, including a large group from Italy. Stanley Park is a large area that is struggling to recover from a serious storm in December of 2006. Reportedly, it rained for 55 days and then a forceful windstorm toppled hundreds of huge trees to the ground. It took months of work to just clear the roads. Evidence of the storm's destruction can easily be seen. Fortunately, a huge Red Spruce, that is believed to be the oldest in the world, was spared. We traveled around the perimeter in a trolley shuttle. Unfortunately, we were so crowded that we couldn't even get any good pictures.
While transferring from the #19 to the #250 bus on Georgia Street, we came across this very clever statue of an old woman. Entitled, "The Search", it depicts the subject searching for her eyeglasses in her purse. Ironically, they are on top of her head.
The bus carried us through some of West Vancouver's prime real estate that lines the shores. In sharp contrast to the downtown area, these are the homes of the more affluent. About an hour later, we reached Horseshoe Bay. A light rain put a damper on the desire to spend much time here.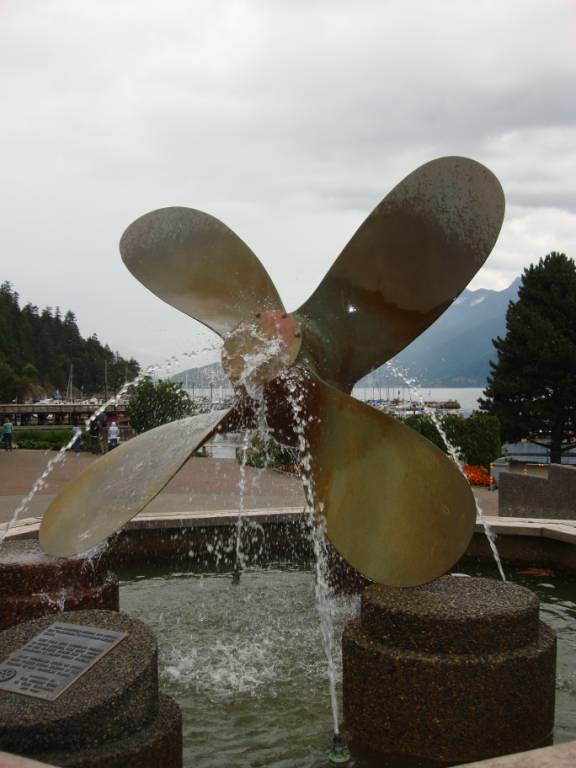 These beautiful Zinnia plants reminded Judy of her younger days in Michigan. In fact, both of our Mothers were fond of the Zinnia and had them in their gardens.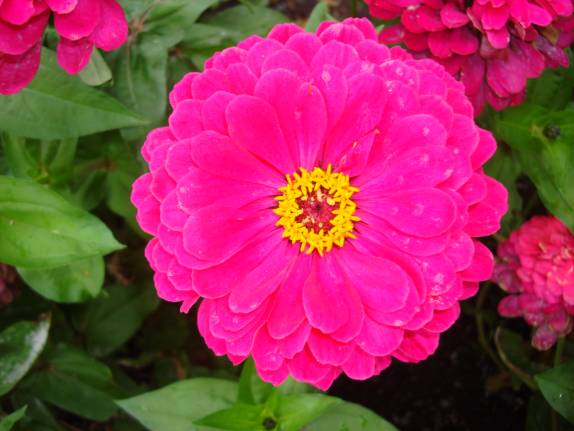 This photo shows the modern SkyTrain vehicle. Manufactured by Bombardier, the same folks that bring you LearJets, Challenger Jets, SkiDoos, and SeaDoos, the automated trains run along two routes around the city.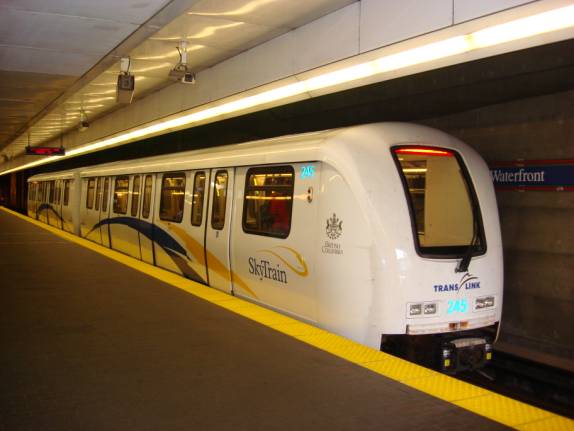 Using SkyTrain and some buses, we headed to West Broadway in search of a recommended restaurant. When Feenie's Restaurant turned out to be a bit above our price range, we chose a neighborhood place called Bennie's. Our light meal was delicious and so were the local beers.
The Day Pass allowed us to board and re-board any bus at our discretion so we continued cruising around hoping to maximize our final evening here in Vancouver. We finally made it back to the hotel around 10:30 to pack up for the trip home tomorrow.
09/04/07 TUESDAY VANCOUVER, BC to BRUNSWICK, GA
A nearby coffee shop, Moonpenny's, served us gourmet coffee and toasted bagels for our breakfast. We packed up our final items and summoned a cab for the airport run. The half hour ride came to $32. Four of those dollars were a well-earned tip for fast, safe, and honest service.
Check-in was quick and easy. US Customs and Immigration provides a service of pre-clearing passengers before they depart from Canada. It works out quite well and allows for closer connections back in the States.
For lunch in the terminal, Judy chose Tim Horton's sandwich deal; I chose the fast food Chinese specialty place.
The 1:40pm flight departed nearly on time. In Dallas, we grabbed some to-go meals at Popeye's and made the tight connection to Jacksonville. Arriving about midnight, we found ourselves without one of our luggage bags. The next half hour was spent with baggage services to track the bag. They promised to deliver it to Brunswick tomorrow.
We grabbed the last taxicab to take us to Sheltair for our car. The short ride was $10; we could only imagine the fare to the distant city. By the time we pulled into the Brunswick Landing Marina parking lot, it was 2:15am. The car had been misbehaving and we were glad to have made it without a complete breakdown. The engine was running very rough and the shifting was erratic.
AMARSE was a welcome sight and feeling. "No matter how far we roam, there's no place like home."
09/05/07 WEDNESDAY BRUNSWICK, GA
Our first order of business was to attend to the misbehaving car. We went early to Dan Vaden Buick. The car decided to operate OK this morning so we were not too disappointed when they rescheduled us for tomorrow morning.
It was a good morning for breakfast at Cracker Barrel restaurant. As usual, it was very good. Back at the boat, we paid up our bills and struggled with problems on my website and update programs. In the mean time, Judy unpacked the 3 of our 4 bags. By late afternoon, a knock on the hull indicated that our 4th bag was being delivered from American Airlines. Their little mistake had cost them a $65 delivery fee. Fortunate for us, the loss had taken place at the end of our trip and not at the beginning; that would have been a noticeable problem for our cruise.
Cheddar Broccoli Soup filled the bill for our dinner plan. It was nice to just relax around the boat and watch TV.
09/06/07 THURSDAY BRUNSWICK, GA
Today would be another day in the low 90's with generally clear skies. We were at Dan Vaden Buick for our 7:30am appointment. Their diagnostics program revealed a vacuum and air handler problem. They insisted on replacing the air cleaner (probably unnecessarily) and replacing a vacuum harness of some kind. Of course, they would have to order the parts and continue the repairs tomorrow. The car was still running OK so we headed back to the boat after picking up a few grocery items.
We were pleased to see our friends on CHABLIS had arrived at the marina in their 57-foot Tollycraft. Dave and Barb Bluto, with guests, Marney and Pat Bowlds, have been making their way south from Myrtle Beach, SC. As you may remember, one of our original plans was to join them there for part of the summer. Of course, we opted to stay here in Brunswick.
For lunch, Judy made us some toasted Tuna sandwiches. I hope these will always be on my favorites list. The afternoon hours were used for laundry and computer chores.
The invitation to cocktail hour on CHABLIS kept us punctual at 5pm. Thinking that we might go out to dinner, we sipped our cocktails while waiting for Robert Wilson to arrive from Atlanta. As the time passed, Dave and Marney decided that they would exercise their skillful culinary talents and prepare an Italian feast. Sometimes disagreeing on which was the "head-chef" and who was the "sous-chef", they came up with a magnifico Linguine in Sausage Marinara sauce. Gooey, chewy, yummy, brownies filled the craving for dessert sweets perfectly.
Robert showed up about 7:45pm but didn't stay for dinner claiming that he's already eaten on his trip here. By the time we left at 9:30pm, the sleepy yawns were taking over our hosts.
09/07/07 FRIDAY BRUNSWICK, GA
The forecast for today promised a welcome thermometer reading in the 80's. At 8:30am, the Buick dealer had us sitting in the waiting room again. The parts were due soon and they would finish the installation. In about an hour, they proudly presented us with a bill for $235. It never ceases to irritate me when they tack on all those artificial fees to run up the bill. Oh well, what choice do we have?
One of the marina residents was finishing up with his vehicle at the same dealer. He asked if we would kindly follow him to his friend's house to return a borrowed truck. Claiming that is was in Darien, we said "sure". I had figured about 15 minutes there and 15 minutes back. It turns out that the friends place was considerably further away. It took us almost an hour to get there. By the time we got him back to the dealership, it was 11:30am and we had not yet had breakfast. Hungry for breakfast, we went to the Waffle House for an Omelet. Judy preferred a lunch item and ordered a cheeseburger. Would you believe that it was 12:30pm before we got back to AMARSE?
At 5:30pm, members of the Royal Marsh Harbor Yacht Club met at CHABLIS for cocktail hour. Attending were Commodore Robert Wilson; Past Commodores, Dave and Barbara Bluto; and Vice Commodores, Marney and Pat Bowlds; and members, Fred Reed, Judy Law, and Henry McCoy.
Pat Bowlds (L) and Dave Bluto (R) are clearly enjoying the get-together.
Marney Bowlds (L) and Henry McCoy (R) sip in the comfort of CHABLIS.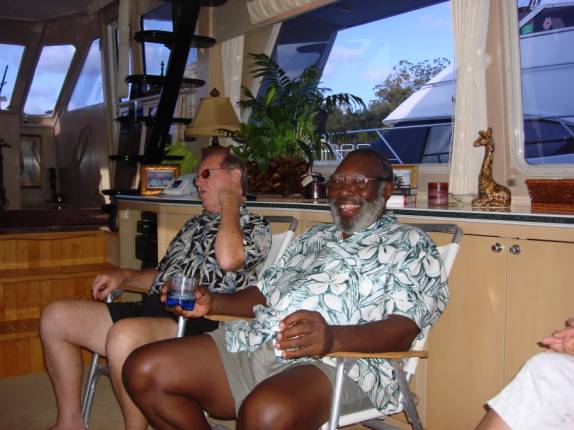 The group loaded into Robert's car and Judy's car for the trip to St. Simon's Island. Dinner at Barbara Jean's Restaurant proved to be a great choice once again. It appears that Henry (L) and Robert (R) had the right idea.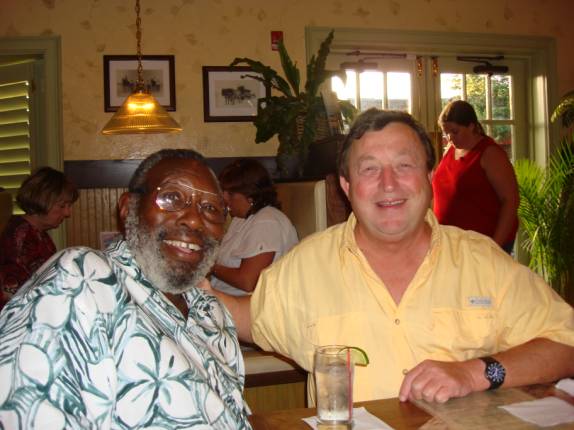 Pat (L) and Marney (R) enjoyed the wine, the food, and the fun of this wonderful group.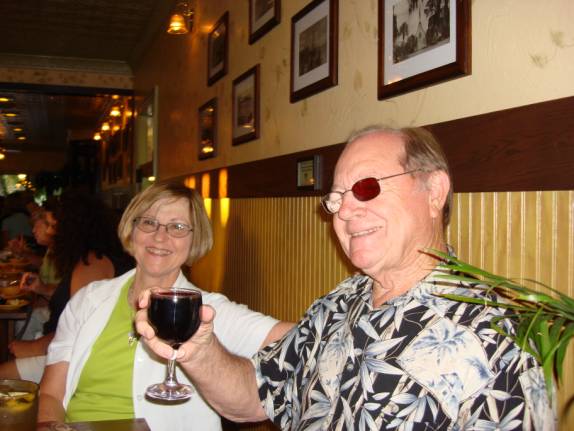 Fred and Judy always have a great time with their friends. This group is very special and lots of fun. In our lives, we appreciate that the people we meet, and have the good fortune to share valuable moments with, are the real reason for our total enjoyment of this lifestyle.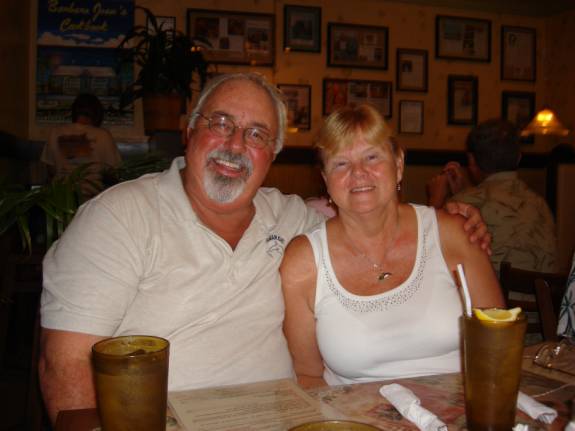 Barb Bluto is having great fun teasing the present Commodore, Robert Wilson. After many years, Dave and Barb passed the helm over to him last year.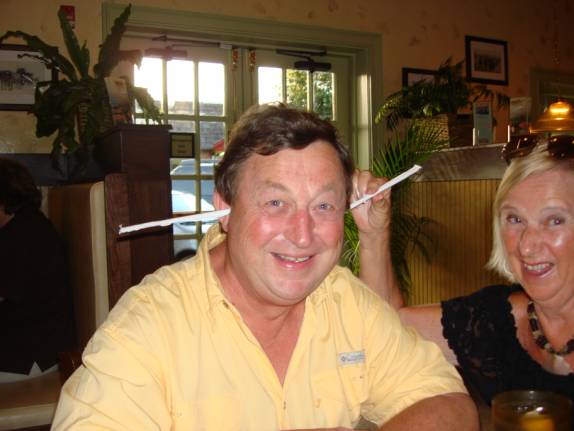 09/08/07 SATURDAY BRUNSWICK, GA
With temps in the 80's, the weather was cool enough for us to keep the boat opened up all day. Judy scrubbed and cleaned the seats at the upper helm. She continued by cleaning the upper sides of the boat.
Dave, Marney, and I went out to locate more supplies for our planned cookout. Robert had picked up 4 pounds of shrimp, however, that was the entire supply that the vendor had. We found 4 more pounds of the jumbo crustaceans down near the shrimp docks. We picked up a half-bushel of oysters at City Market, a specialty seafood market, for $17. After a trip to the wine store, we returned to the marina to prepare for the evening get-together.
The shindig got underway shortly after 6pm. The gals had been busy fixing side dishes much of the afternoon. Marney puts the final touches on the seasoned corn wrapped in foil. Onto wooden skewers, Marney lovingly placed some marinated shrimp in evenly spaced rows.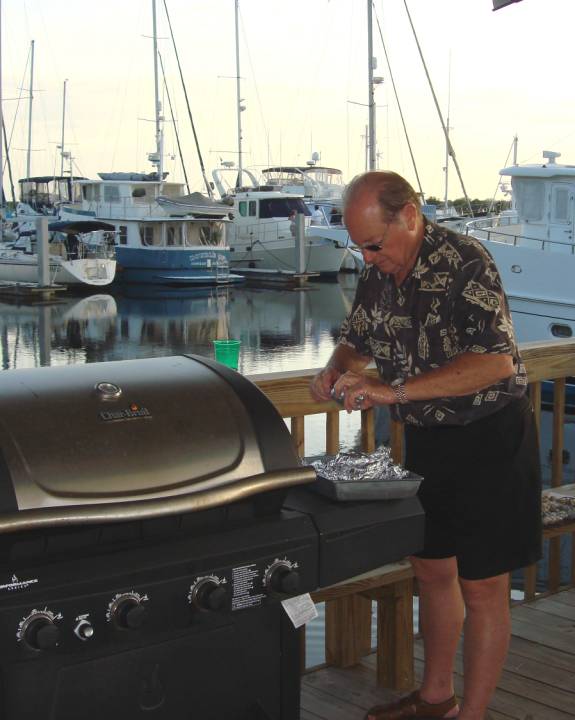 Pat is caught relaxing with a glass of the "nectar". She deserves a little rest after cleaning and peeling all those shrimp. She took on preparing the chilled shrimp and the boiled shrimp dishes.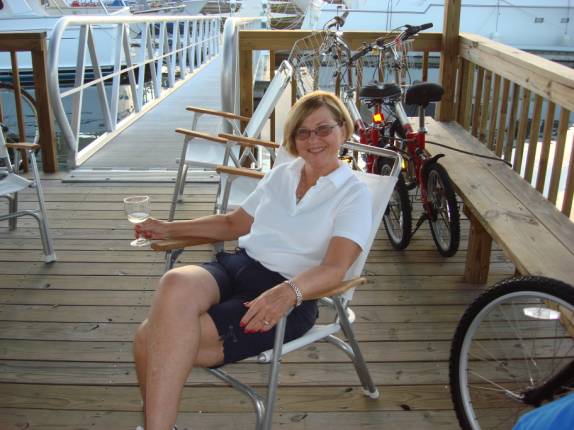 Henry is either flashing the peace symbol or asking for two more of something.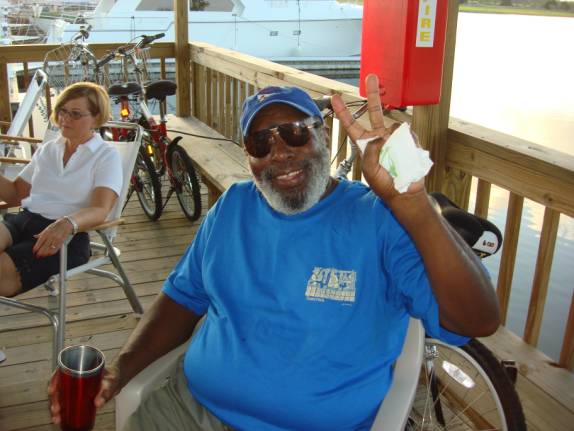 Barbara gets a couple of minutes of rest after working hard to prepare the pasta salad and arranging and organizing the whole event.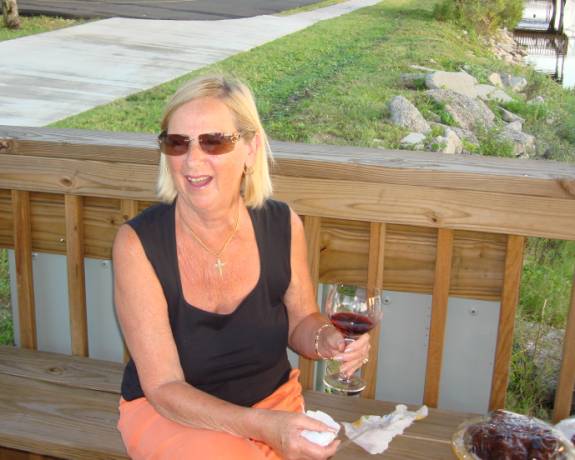 Dave introduced us to roasted oysters. It doesn't take long for these mollusks to ease their clamped shell, thus, facilitating opening. Dip them in some melted butter and WOW! Each of the men took turns as the oyster shucker. Dave was a great teacher.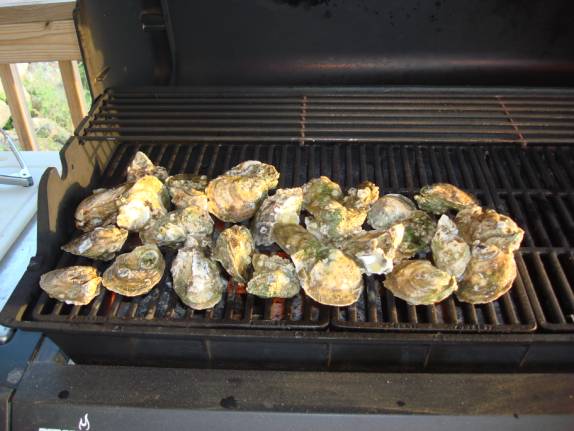 Commodore Robert was having a great time. This is what it is all about, my friends.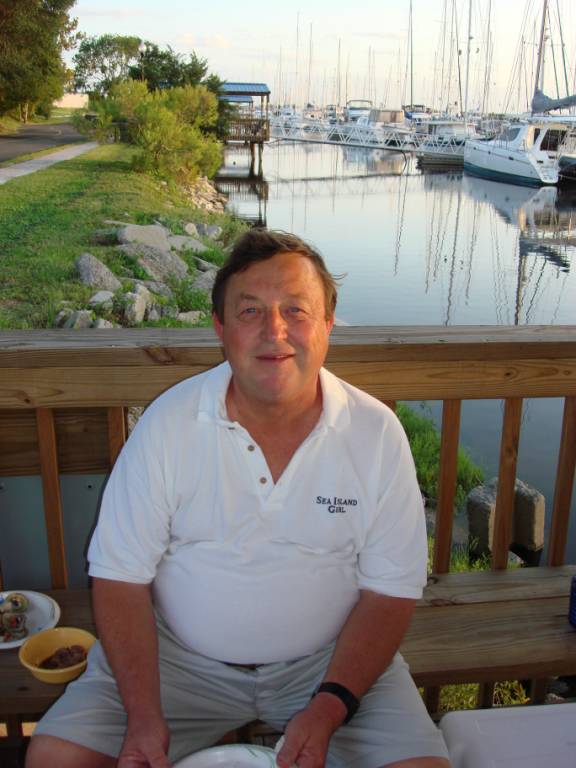 Executive chef Pat Bowlds is giving expert instructions to her Sous-Chef Dave Bluto. Just look at all those beautiful shrimp turning pinkish on the grill.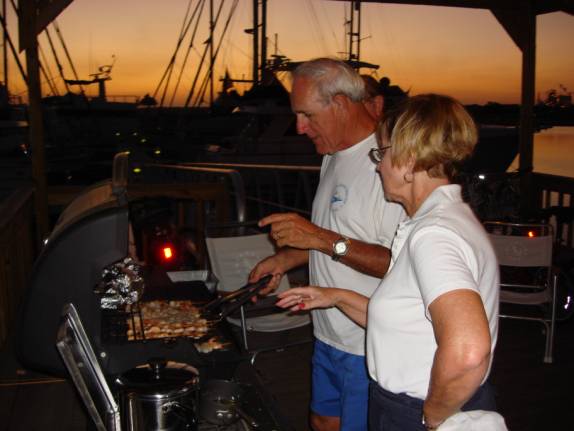 Judy's special fried rice dish was a big hit and those fantastic brownies were the perfect topper to the perfect meal. With a feast like this, the satisfied gang soon found themselves mellowing out and getting lazy.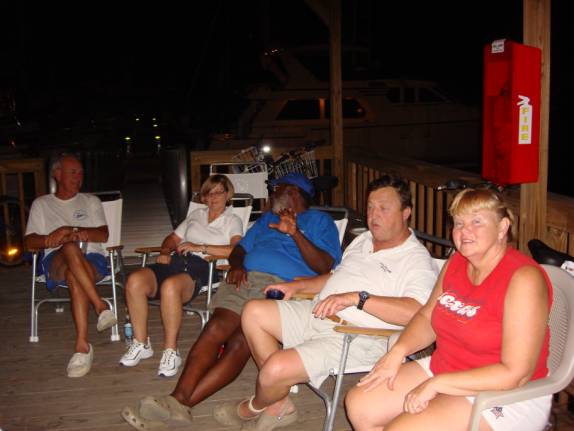 Marney told everyone that this has been one of the most memorable events in a long time.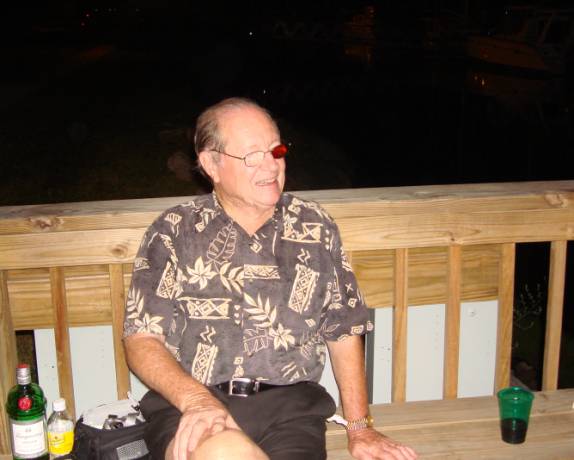 Lots of hugs were passed around. We all new that tomorrow, CHABLIS would take her crew away from Brunswick on their voyage to Florida. We will all carry the fond memories of this wonderful evening together for a long time to come. We have had a fabulous time with these friends and we look forward to being with them again in the Bahamas this winter.
POST SCRIPT:
Thanks for allowing us to share our life and adventures with you.
REMEMBER: The entire website is now fully active and you can visit it at any time. You can review any of the 2006 or 2007 logs and learn more about the crew and our plans. Enjoy.
ATTENTION: SPECIAL NOTE:
"AMARSE". is pronounced "AM-ARE-SAY".
Our website is: www.amarse.net .
Please call or email us with your thoughts and comments and ideas too. Thanks
Lot of Love,
Fred Reed and Judy Law
AMARSE
MT40