UPDATE#29
08
/28 thru 08/31/07
Howdy Everybody,
The period 01/19/07 thru 08/27/07 has been covered in Updates 1 through 28. We continue with UPDATE 2007 # 29.
UPDATE 2007 #29 08/28/07 through 08/31/07.
Welcome back to the new Adventures of the trawler AMARSE. At last update, we were already part way through the second week of our cruising vacation in Alaska.
08/28/07 TUESDAY ICY STRAIT POINT, HOONAH, ALASKA
Following a leisurely breakfast in the Waterfall Café of Deck 10, we boarded the tender for our shore trip to Hoonah. Once again, the SUMMIT Captain had brought us in much closer to the dock than the VOLENDAM Skipper had; consequently, the tender ride to the cannery was only a few minutes long.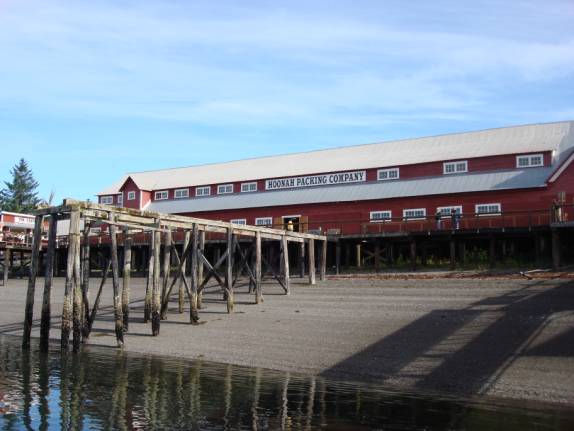 The native people of this land are the Tlingit. A few members of this tribe donned their elaborate regalia to welcome the guests. This is only the fourth year that the cruise trade has been visiting this village population of 850. Only one ship per day is allowed here. Perhaps Judy thinks these guys are "HOT".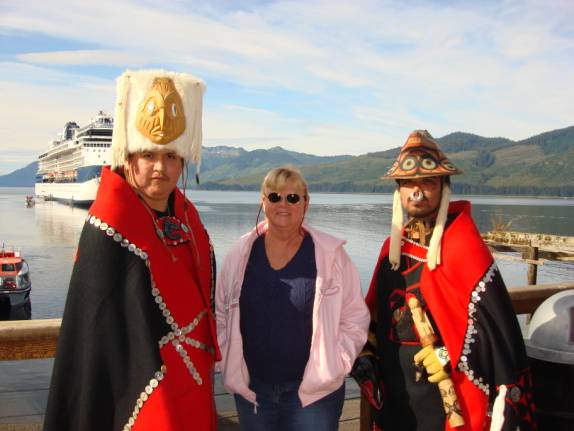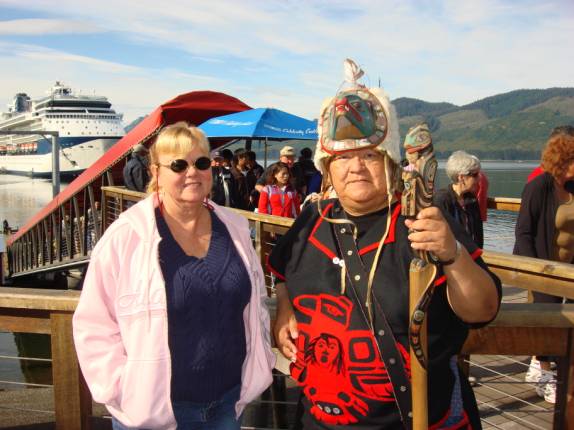 The SUMMIT is a beautiful sight lying close to these picturesque shores. Here are some facts and figures about the vessel:
A "Gas Turbine System" powers GTS SUMMIT. It was built in St. Nazaire, France in 2001.
Tonnage: 91,000
Length: 964.6 feet
Beam (width): 105.6 feet
Draft (depth): 26.3 feet
Speed: 24 knots
Bow Thrusters: 3 X 2350kw
Decks: 11
Elevators: 10
Ship's Registry: Nassau, Bahamas
Guest Capacity: 2038
Crew Size: 950
Staterooms: 1019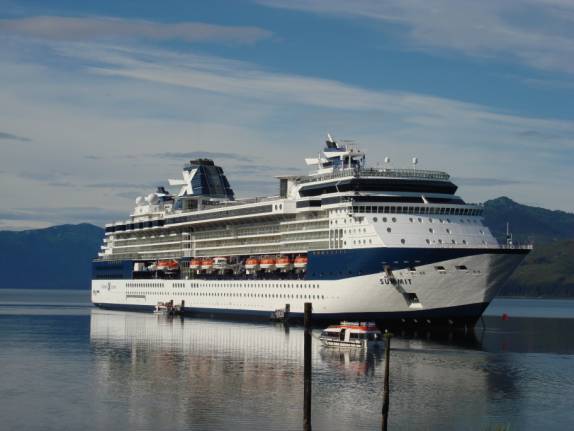 The actual village of Hoonah is located several kilometers from the cannery. We bought our round trip tickets for the shuttle that brought us there. The effects of tourism have not been hugely significant. Although not strikingly interesting, we enjoyed the tranquil nature of this place.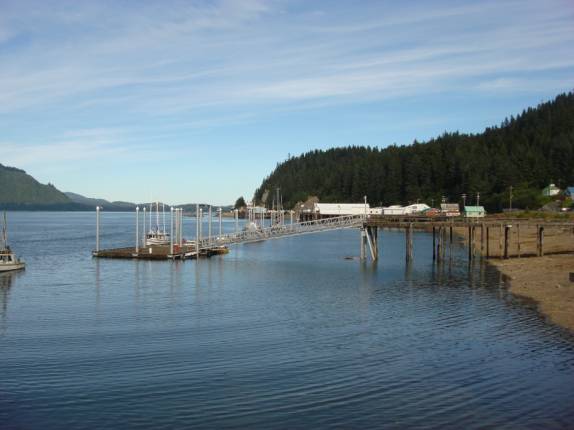 Back at Icy Point however, tourism makes its mark. They have erected the world steepest "Zip Ride". The chair-type ride rolls down a cable that stretches over one mile. Thrill-seeker tourists pay $85 for the 90 second ride. It takes 45 minutes to bus them to the top, and then off they go at speeds of up to 60 mph.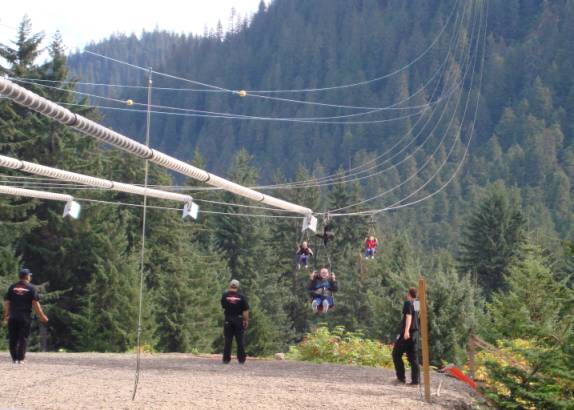 The Master is Captain Panagiotis Skylogiannis. The young, 43 year old, is of Greek nationality, as are the other members of the navigation crew. He has held the senior position of Master, with Celebrity Cruise Lines, since 2001.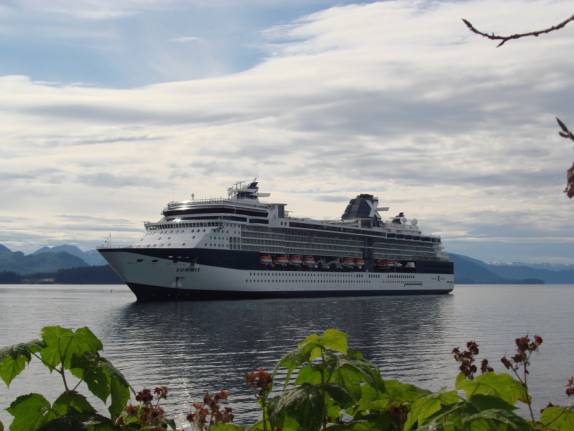 Back aboard ship, we headed up to the indoor pool area. There is a large "Thalassotherapy" pool that beckons you to gently soak in the warm waters. Thalassotherapy (from the Greek word "thallasos", meaning "sea") is the medicinal use of seawater. The properties of seawater are believed to have beneficial effects upon the pores of the skin. There are two smaller, hotter tubs adjacent to this pool.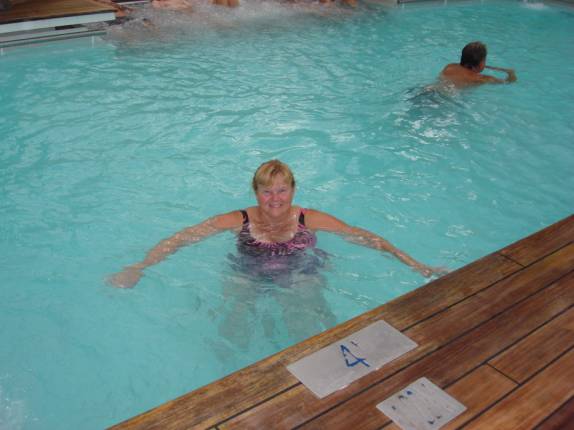 When the SUMMIT weighed anchor, we were comfortably seated on Deck 10 near the stern. The huge windows offered a spectacularly scenic view of the area terrain. We were hoping to see some whale activity, however, it just wasn't to be.
The casino was not as active on this cruise as some others that we've been on. Our spontaneous attempts for sheer luck were sadly disappointing.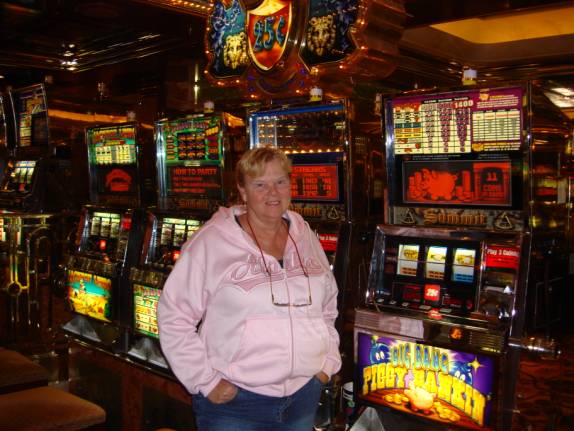 When it comes to "real luck", I can assure you that I am the luckiest guy in the world to have this magnificent lady at my side.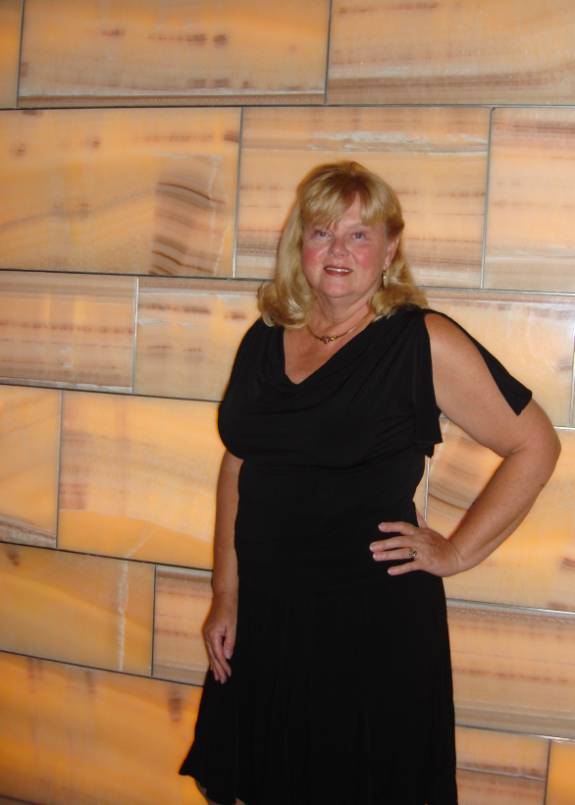 Our second, formal night dinner was set for 8:30pm.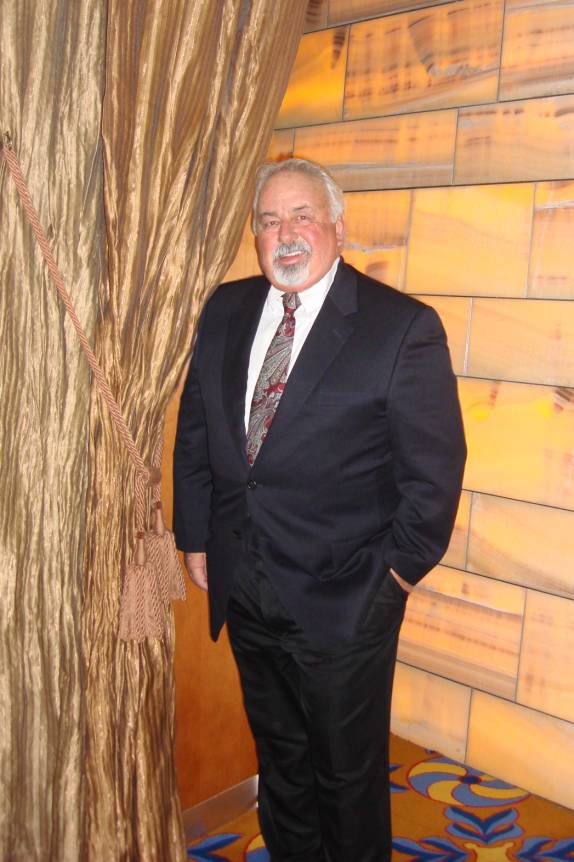 Our menu selections included Shrimp Cocktails, a Crème of Chicken Velvet and Corn Soup, Lettuce Wedge with Roquefort dressing, perfect Filet Mignon, and, of course, I had to add a lobster tail to make a wonderful Surf n' Turf. The dessert specialty was Baked Alaska that was served with flair in the Parade of the Waiters.
At 10:45pm, we were treated to the Showtime performance of Judy Kolba. Her style, reminiscent of "Charro", has the audience in tears of laughter. We had seen here before on another ship out of Galveston. That was the Royal Caribbean "Rhapsody of the Seas" voyage that my two sisters joined us for. When she twists, her tassel dress swings back and forth like a car wash brush. What a hoot!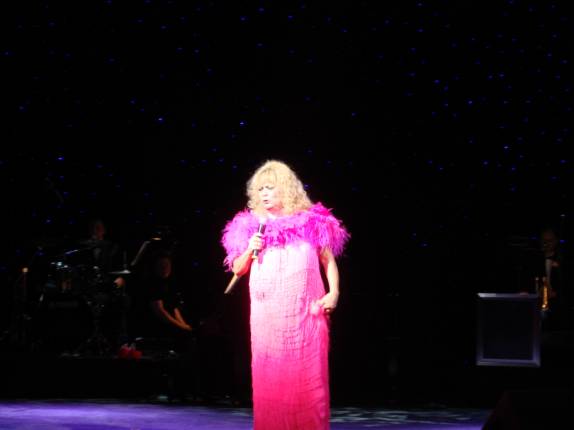 At 11:45pm, the doors for the Cosmopolitan Restaurant swung open to welcome the hoards of guests eager to photograph the Gala Midnight Buffet. My friends, I assure you that this is the most spectacular display of food that I have ever witnessed. There was table after table of artistic displays, ice sculptures, and food presentations that looked much to pretty to consume.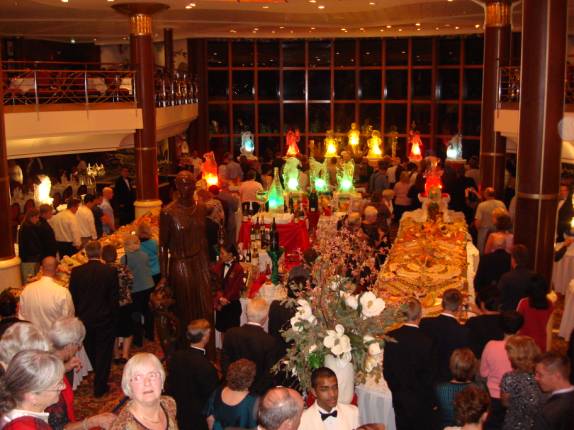 The pictures tell only the visual aspect of this spectacular display. Imagine the textures and the smells. Wow!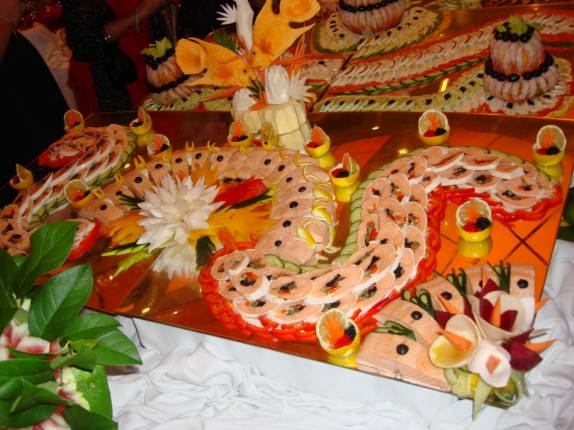 If you are not famished after looking at these photos, please, please, take your pulse to make sure you are still alive.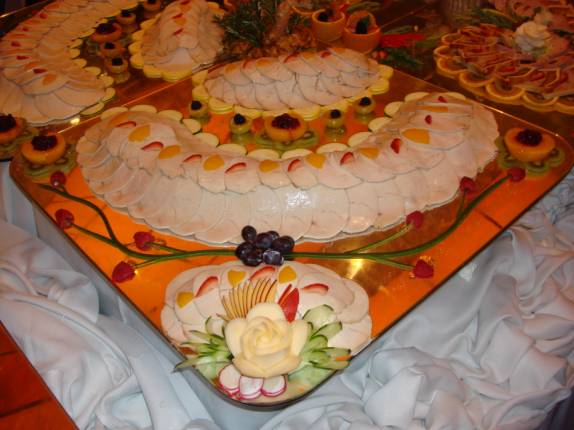 This platter is arranged with hundreds of thin slices of Roasted Beef.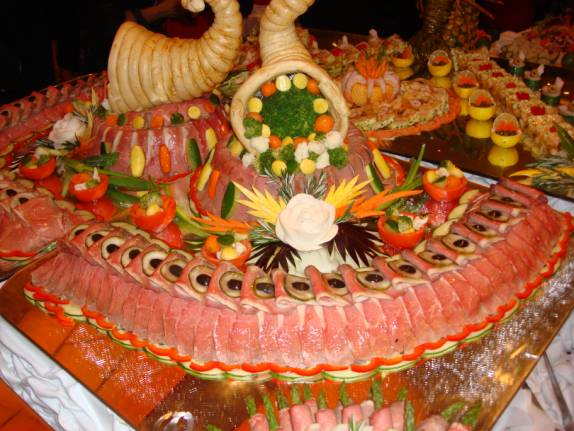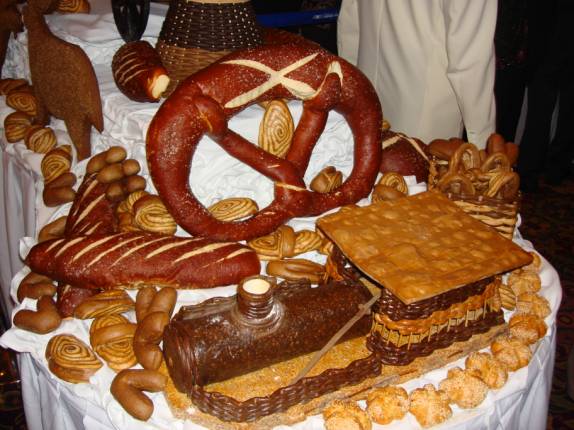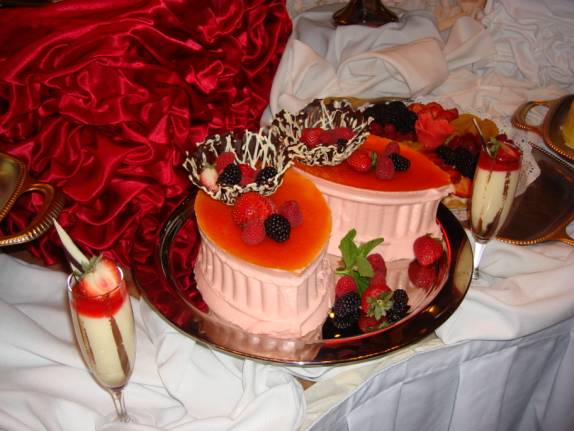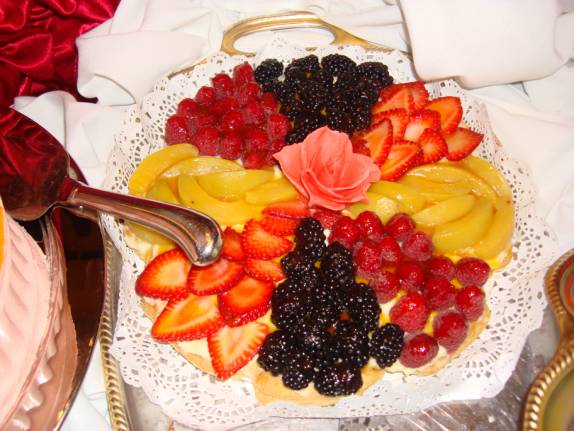 The photo session ended and the drooling guests relined up at the entrance door. When the doors re-opened at 12:15am, the band of voracious jackals swarmed the displays as if they had been locked away in the hold for a month. There was absolutely no mercy when these folks tied on the feedbag. Did I also mention that a chef was slicing off thick portions of a perfect Beef Wellington? Unfortunately, we had been at the late dinner seating so we could not do justice to this wonderful feast. The Cosmopolitan Restaurant was set up beautifully as always.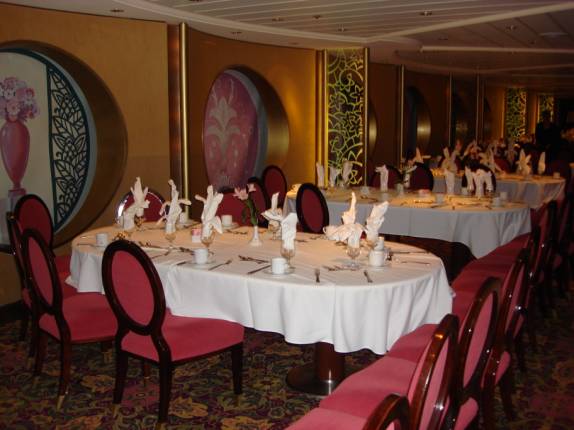 It has been another thoroughly enjoyable day and evening.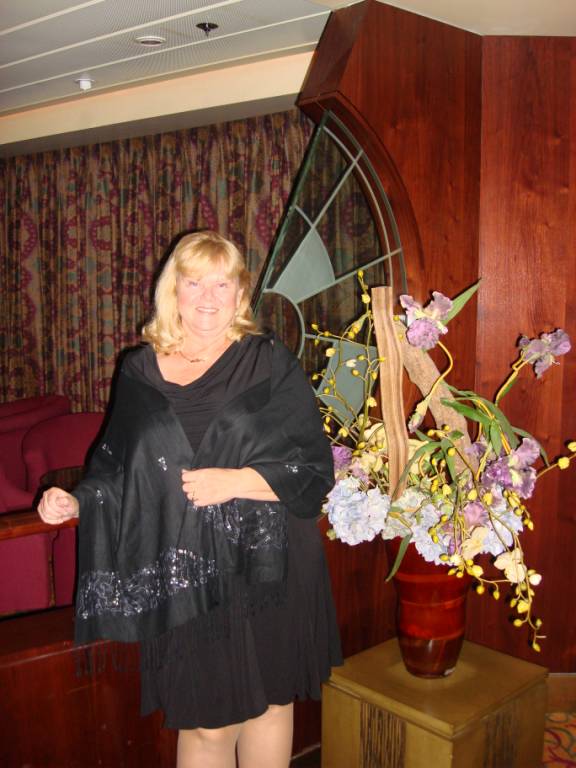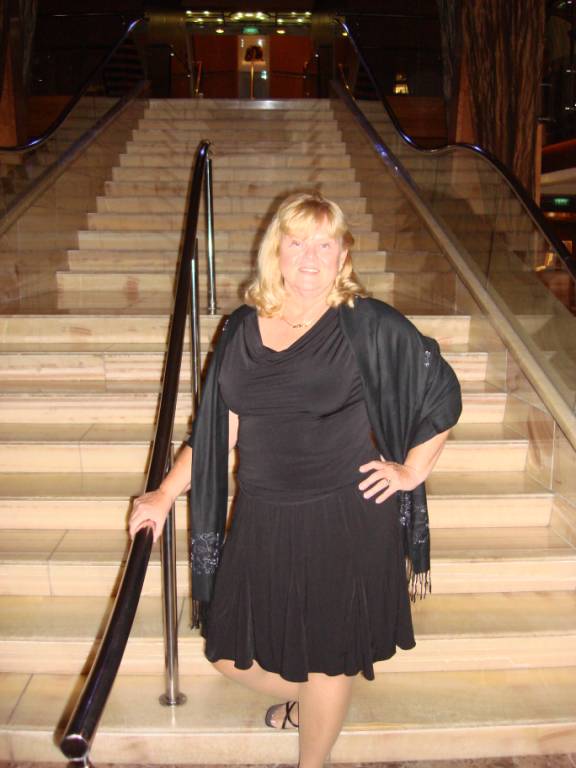 08/29/07 WEDNESDAY KETCHIKAN, ALASKA
Breakfast in the aft section of Deck 10 is wonderful. The large, picture windows look out over the Alaskan scenic treasure and the seats are the most comfortable on the ship. Outside, a low cloud deck let a steady drizzle fall to the ground. As the skies lightened, we made our way toward the center of town. In the gift stores, I bought a few hats to replace the one that blew away last week. We found a pretty jade and silver necklace of a whale fluke that I knew would look so nice around Judy's neck.
Near the mouth of the creek, a small group of fishermen were reeling in the salmon. One fellow in particular had the knack and had stowed more than twice the numbers of anyone else.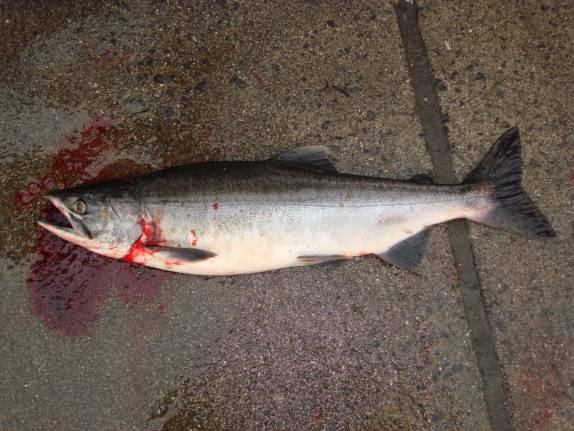 We strolled along on historic Creek Street wondering how wild it must have been in years gone by.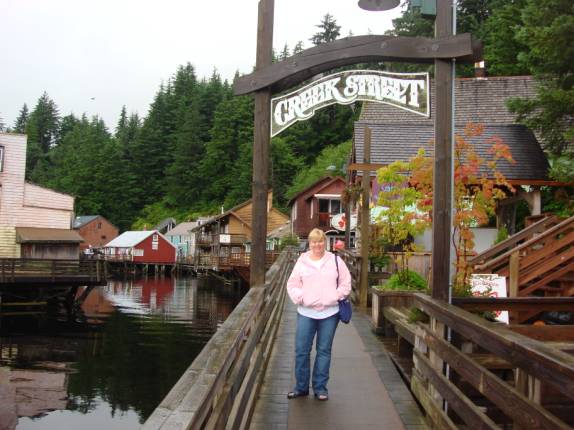 From high on the ship, you can almost capture the whole town in a camera shot.
Our restful afternoon led to Showtime in the Celebrity Theatre for the 7pm event. Entitled "Thoroughly Broadway", the fabulous singers and dancers graced the stage bringing joy and excitement to an attentive audience.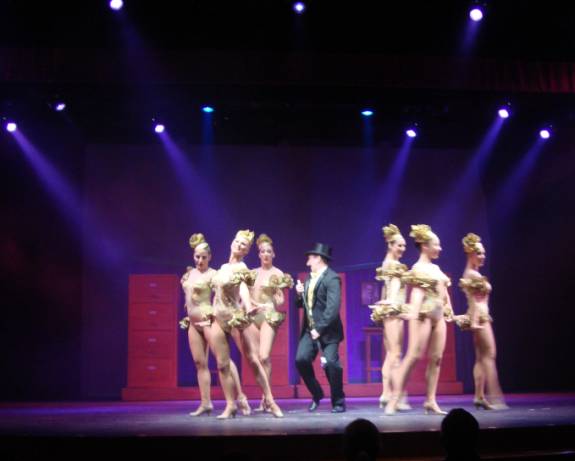 The costuming for these numbers was spectacular. Together with the expert lighting, the visual effects were captivating.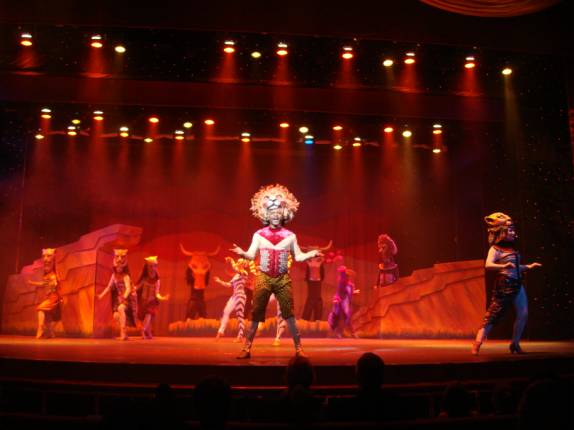 Ballet Aerialists, Alexey and Sally, dazzled everyone with their flawless execution of grace and beauty.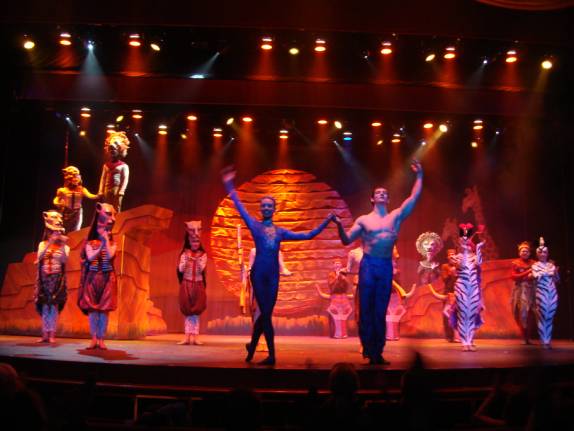 All too soon, the closing curtain fell and we were headed for the dining room for late dinner seating.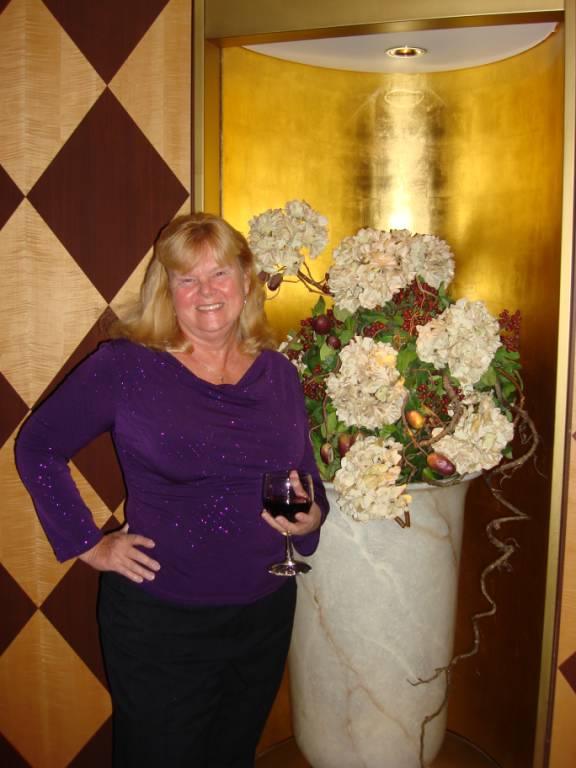 Another wonderfully prepared dinner with our choices of New England Clam Chowder, Salads, and pinkish-red slabs of tender Prime Ribs of Beef. Tonight's special dessert of Flambé of Crepe Suzettes, was prepared tableside by our Maitre' D.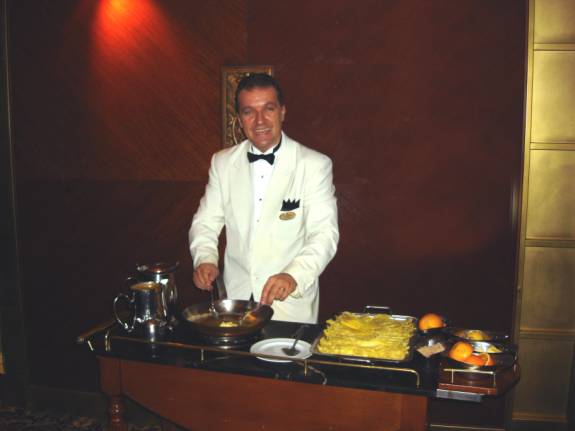 We had another delightful evening with George and Kai-Li.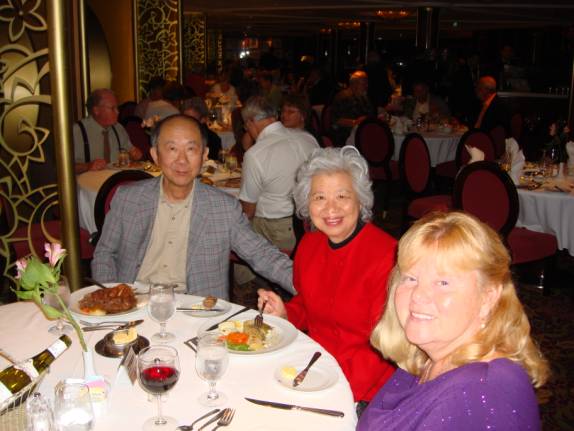 The Rendezvous Lounge hosted an evening of Karaoke. Some of the musical offers were quite good; others were only respectfully tolerated. All in all, we enjoyed the guest talent and applauded the singers until after the midnight hour. Tonight, we must move our clocks ahead one hour to Pacific Daylight Time. Oops, there goes another hour of sleep.
08/30/07 THURSDAY CRUISING THE INSIDE PASSAGE OF ALASKA and BRITISH COLUMBIA
From our favorite vantage point aft in the Waterfall Café, we savored both the spectacular view of the Inside Passage while nibbling on the selection of breakfast items so expertly prepared. I brought my computer there and quietly worked on my photos and update logs.
We were eager to attend the lecture on "Stars and Planets". Naturalist Milos Radakovic presented a wonderful dissertation in the Celebrity Theatre. I could listen to this guy talk about nature and the universe many times over.
After lunch, I remained in the windowed dining area viewing the outside pass by. I rattled away on the keys of my laptop trying to get an edge on my logs and photos. I continue to be amazed at how much time I must devote to these pages and their publishing. I'm glad that so many of you have indicated that you enjoy them.
Judy decided to go to a movie of the "Producers". It still left plenty of time for more sightseeing of the waterways.
When the curtain rose for the 7pm Showtime, Mark Merchant, the talented ventriloquist/puppeteer, kicked off his show with a puppet of George W. Bush. What a riot! I'm sure that some of the more zealous supporters of W. might have felt a twinge of uneasiness with the controversial dialog; however, we laughed aloud in the spirit of American comedy.
His next character is declared Chinese. This is my personal favorite and I loved the way they interact as if both were separate and real. Really cool stuff.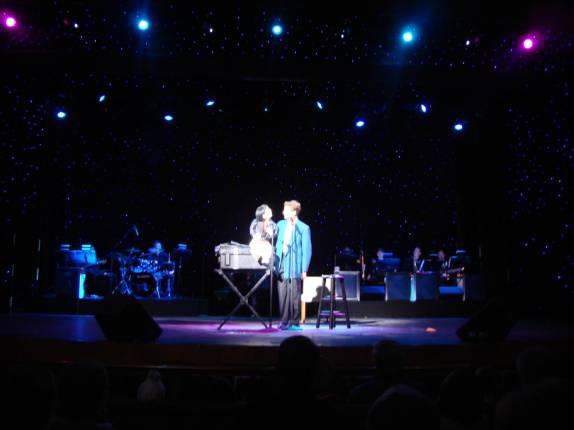 Another stunning performance from Alexey and Sally brought the entire audience to their feet for a standing ovation. They are clearly the best that I've ever seen.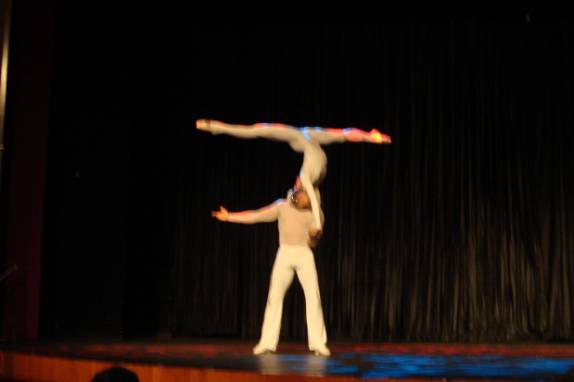 Judy Kolba gave us another hilarious set of comedy coupled with her musical talent.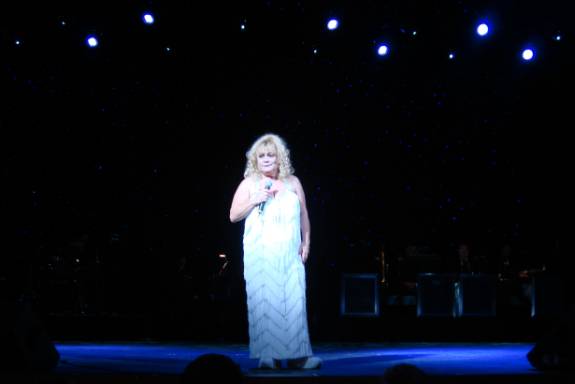 Oy Vey, I think this Yenta likes me.
Judy and Judy, looks like a fun couple of blonds to me.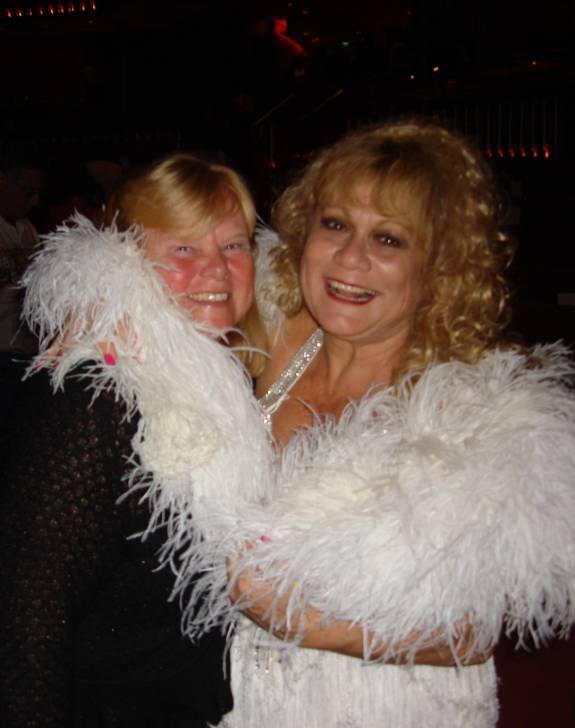 On our last evening aboard, the beauty of the Inside Passage was highlighted with a fabulous, sunset sky.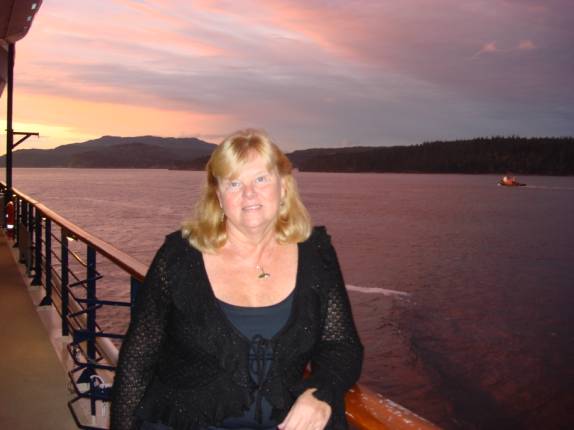 In the interim before dinner, the sounds of "Guys and Doll" entertained us in the Rendezvous Lounge.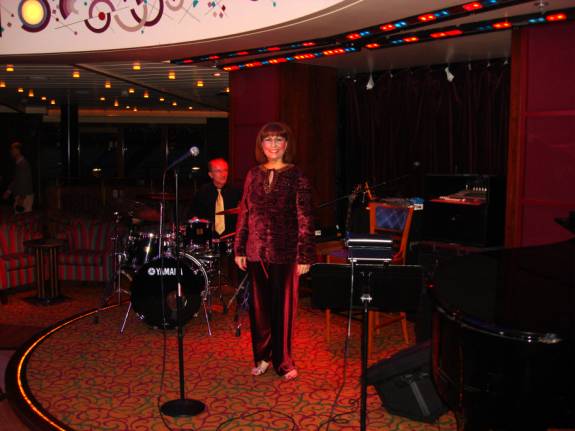 At our final dinner seating for the cruise, we said our farewells to George and Kai-Li, as well as, our attentive waiter, Jesus, from the Philippines.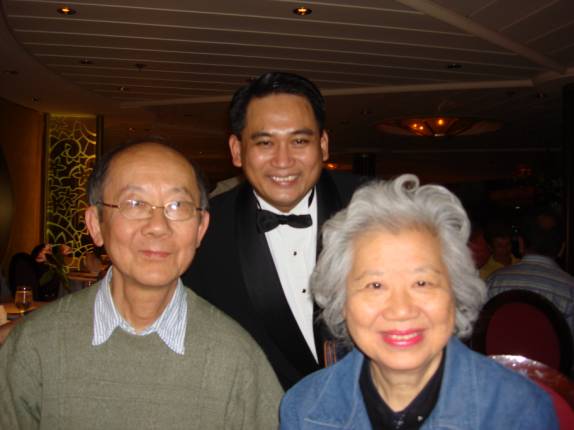 I couldn't help but have some fun with them. I can add these sketches to the picture right on my camera. Fortunately, they all had a great sense of humor and found the camera feature unique and amazing. It was good for a laugh. Thanks ya'all for a great week. By breakfast tomorrow, George and Kai-Li will have left the ship headed early for the airport and a flight home.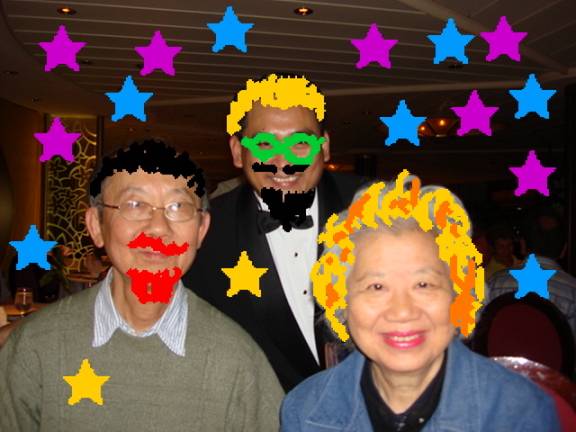 By midnight, everyone's luggage had to be placed in the hallways for transfer to the terminal. This is when the realization sets in that the cruise experience is rapidly coming to its conclusion.
08/31/07 FRIDAY VANCOUVER, BC
When we awoke, we were secure at the dock in Vancouver.
According to the ship newsletter, we have traveled 1,663 Nautical Miles, or 1,912 Statute Miles, or 3,080 Kilometers.
Have you ever wondered how much food is consumed on the average 7-night cruise? Here is the list according to SUMMIT:
9,250 pounds of Beef
2,500 pounds of Lamb
2,260 pounds of pork
2,250 pounds of veal
800 pounds of sausage
3,000 pounds of chicken
1,100 pounds of duck
2,500 pounds of turkey
6,000 pounds of fish
400 pounds of crab
650 pounds of lobster
27,000 pounds of fresh vegetables
8,000 pounds of potatoes
37,500 pounds of fresh fruit
2,750 gallons of milk
425 quarts of cream
500 gallons of ice cream
10,800 eggs (900 dozen)
2,750 pounds of sugar
2,750 pounds of rice
500 pounds of cereal
300 pounds of jelly
1,000 pounds of coffee
1,500 pounds of cookies
5,000 tea bags
100 pounds of herbs and spices
3,000 bottles of assorted wines
175 bottles of champagne
100 bottles of gin
225 bottles of vodka
200 bottles of whiskey
110 bottles of rum
33 bottles of sherry
375 bottles of assorted liqueurs
9,250 bottles/cans of beer
The figures include all supplies for cooking meals in the restaurant and buffets, as well as all baking and confectionary supplies. And you thought you had a big grocery bill every week.
The ship was docked in a different place than where we left from two weeks ago. These are the Ballantine Docks located a ways away. You can just barely see the other terminal in the picture below.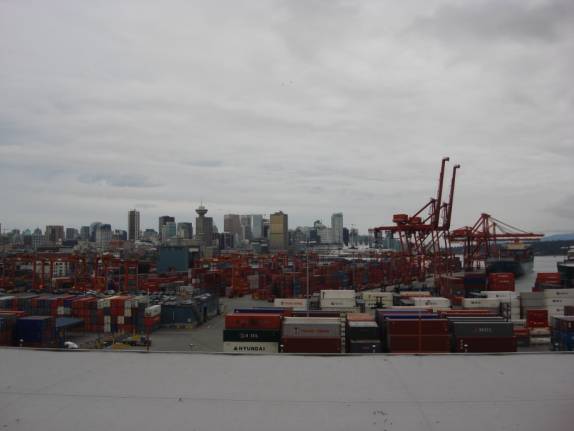 In no particular rush, we enjoyed a leisurely breakfast before disembarking the SUMMIT. The early morning harbor view seemed more tranquil than our afternoon experience.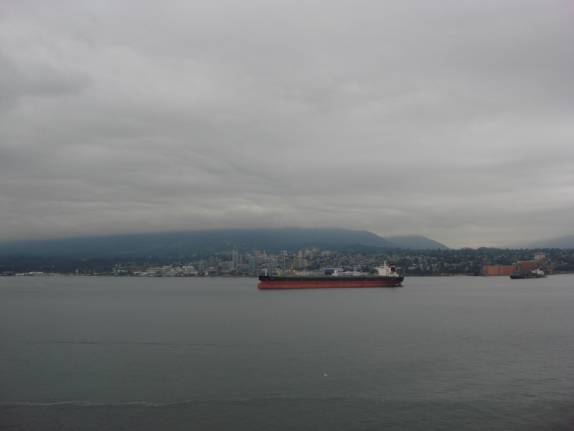 After retrieving our luggage, we found the lines waiting for taxi service to be ridiculously long. For over an hour, we inched along without much progress. Aggravated and frustrated, we jumped when a shuttle bus employee offered to take us to the hotel for not much more than a cab fare. Okay, Okay, just get us out of here, OK?
Room 2017 at the Marriott Pinnacle was not only comfortably decorated, it had a wonderful view of the Vancouver skyline.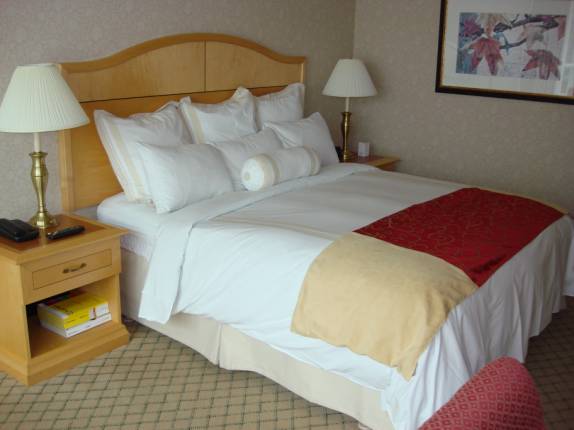 We only have a few days to enjoy this lovely city. We began the sightseeing almost immediately. Gastown is the historic and restored area hosting many upscale restaurants and shops. One of the most recognizable landmarks is this Steam Clock. Not only is the mechanism powered with steam, the steam calliope sounds each 15 minutes.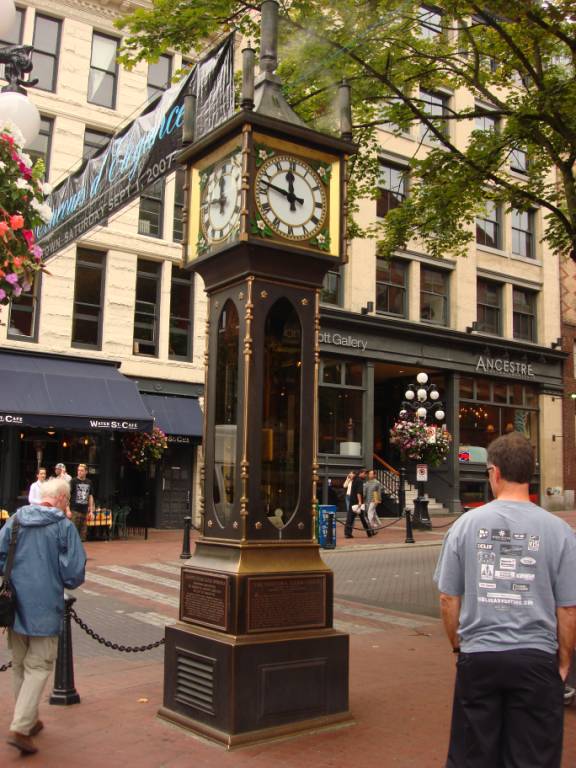 It seemed like we'd walked a hundred miles. My tootsies were complaining loudly, however, we pressed on into Chinatown. This large, tranquil Chinese tea garden sits right in the middle of this highly urbanized area.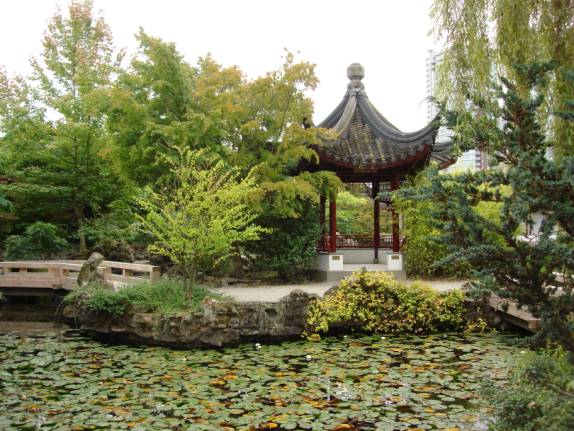 I thought this sign was really humorous. It says, "International Flight Centre"; "Become A Pilot"; "Learn To Fly"; and then, the ultimate punch line, "Enquire at Fairyland." How's that for unexpected hilarity?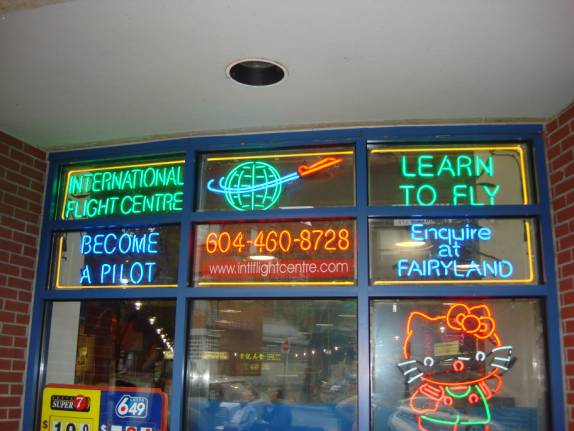 I love these outdoor displays of bulk foods in Chinatown. The variety of color and textures is visually captivating. Although I don't think that I would enjoy eating many of these, seeing them fascinates me.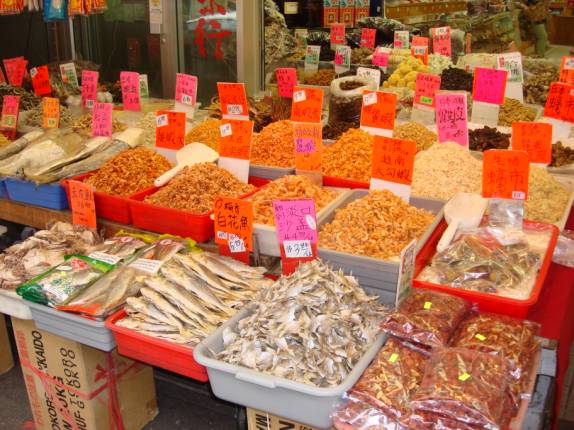 Ducks, chickens, pork, and who knows what else has been proudly displayed in this Chinese market.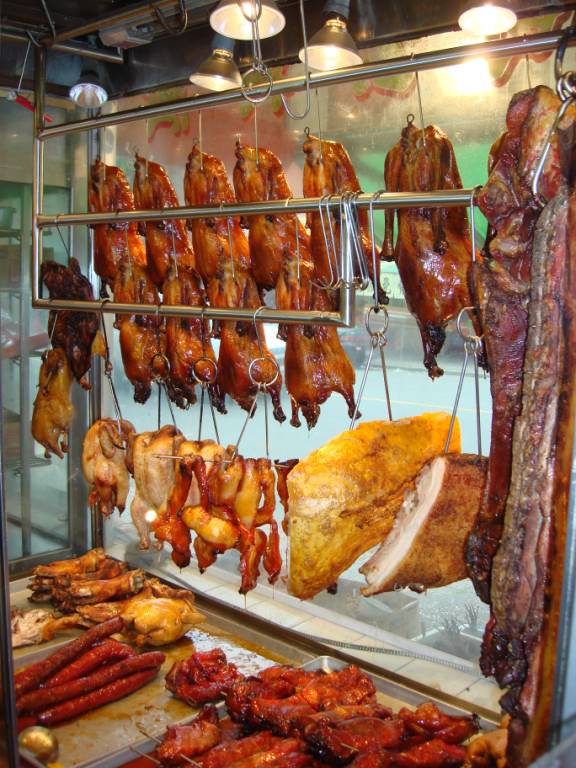 Although I am not sure, these dried items look strangely like a variety of Jellyfish.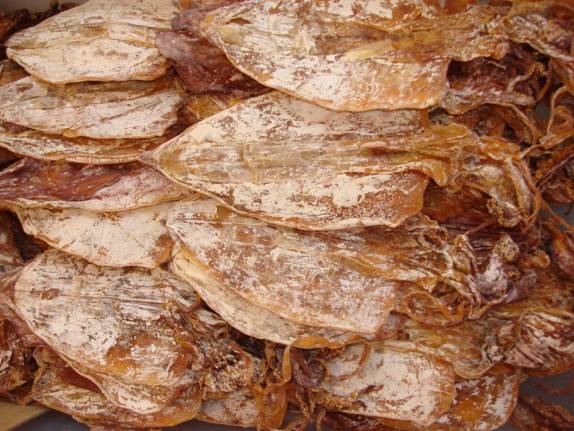 Isn't it amazing how different the variations of international culinary tastes can be? I am almost ashamed to say that I am probably afraid to even try many of these highly desired delicacies. Just when I begin to think that I have had a fairly broad exposure to international cultures, I am shocked into the reality that my actual range is very limited.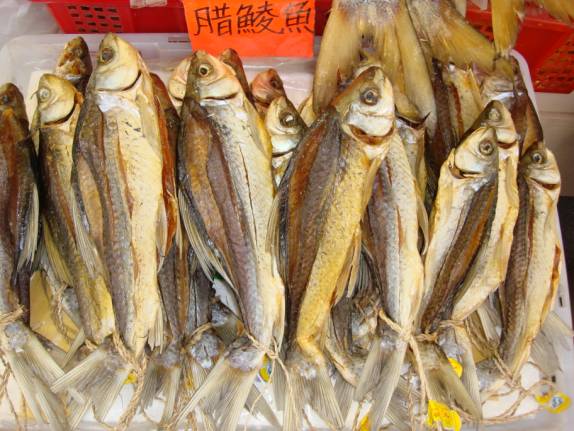 The market for fresh fish enticed a continuous line of customers. It was a shame we had no place to cook any of these seafood offerings.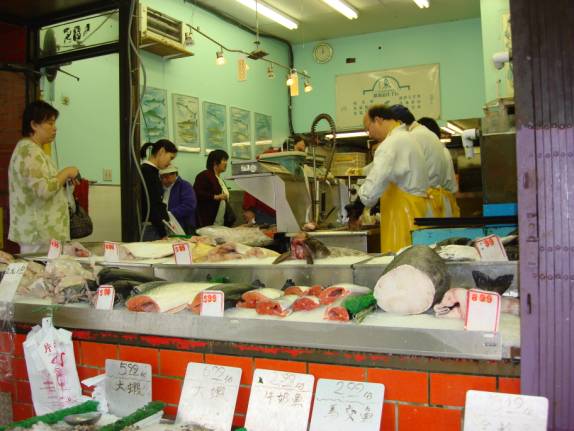 The extensive walking tour had taken a grim toll on my legs and feet. Both of us were getting very tired and decided to rest a bit back at the hotel. Nothing like one of those afternoon naps to refresh the body and restore the soul.
By early evening, we were back on the sidewalks hoofing it back to Gastown; Walking, Walking, Walking. Across from the steam clock, we sat at a small table in the Water Street Café. For dinner, we selected bowls of Portobello Mushroom soup with a basket of fresh, herb bread. It was just the perfect meal in this lovely Italian café restaurant.
The steam clock would have been sounding off at midnight as we walked back to the hotel room. Tomorrow, we will set out again to explore and sightsee the great Northwest. We will be in British Columbia until returning to Georgia on the Tuesday after Labor Day.
POST SCRIPT:
Thanks for allowing us to share our life and adventures with you.
REMEMBER: The website is now fully active and you can visit it at any time. You can review any of the 2006 or 2007 logs and learn more about the crew and our plans. Enjoy.
ATTENTION: SPECIAL NOTE:
"AMARSE". is pronounced "AM-ARE-SAY".
Our website is: www.amarse.net .
Lot of Love,
Fred Reed and Judy Law
AMARSE
MT40