UPDATE#23
07
/25 thru 07/31/07
Howdy Everybody,
The period 01/19/07 thru 07/24/07 has been covered in Updates 1 through 22. We continue with UPDATE 2007 # 23.
UPDATE 2007 #23 07/25/07 through 07/31/07.
Welcome back to the new Adventures of the trawler AMARSE. At last update, we were at home on AMARSE at Brunswick Landing Marina in Georgia.
07/25/07 WEDNESDAY BRUNSWICK LANDING MARINA, BRUNSWICK, GA
It is a pleasant morning for varnish work according to Judy. With another coat, the brightwork is looking very nice. She does beautiful work and always stays busy keeping AMARSE in such pretty shape. Lunch at the King Buffet, a Chinese food extravaganza, may not be much of a reward for all her work, but we sure enjoyed the food. I especially like the peel-n-eat shrimp.
We did some local shopping and when the afternoon showers drifted in, we seized the opportunity to catch that wonderful afternoon nap.
For dinner, a Fritos Pie with quesadilla cheese tasted great. As long as I don't make it too fiery spicy, Judy likes it quite well. In the same theme, we had chocolate flan for dessert.
07/26/07 THURSDAY BRUNSWICK LANDING MARINA, BRUNSWICK, GA
After breakfast, Judy gently brushed on another coat of fresh varnish to the exterior handrails. We are going to need to wear sunglasses to look at that railing on anything but the cloudiest of days.
Our good friend, Gwen Kulesa, knew that I had made an error in my last update. I had the mistaken impression that the movie, Wizard of Oz, was a colorized version of the original. Gwen remembered that it was one of the first movies originally done in Technicolor. A little research confirmed that I was indeed incorrect. Thanks to Gwen, I have a much-improved understanding of that great classic movie. In turn, I made some necessary corrections to the website content.
Judy has been asking me to install a better reading light for her in the main salon. We picked up some wire and connectors at Lowe's and installed a matching brass lamp on the port sidewall. She can now enjoy her reading in a much brighter light.
Sliced meatballs and chicken breast, topping a bed of butter herb farfelle noodles, filled our dinner plates.
It was Thursday night and that meant another in the summer series of "Turner Classic Movies at the Ritz". Tonight's feature presentation was one of the most well known films, "Casablanca". I wish that they had turned up the volume a bit more. I, unfortunately, missed a lot of the dialog. All in all, it was another enjoyable evening at the Ritz.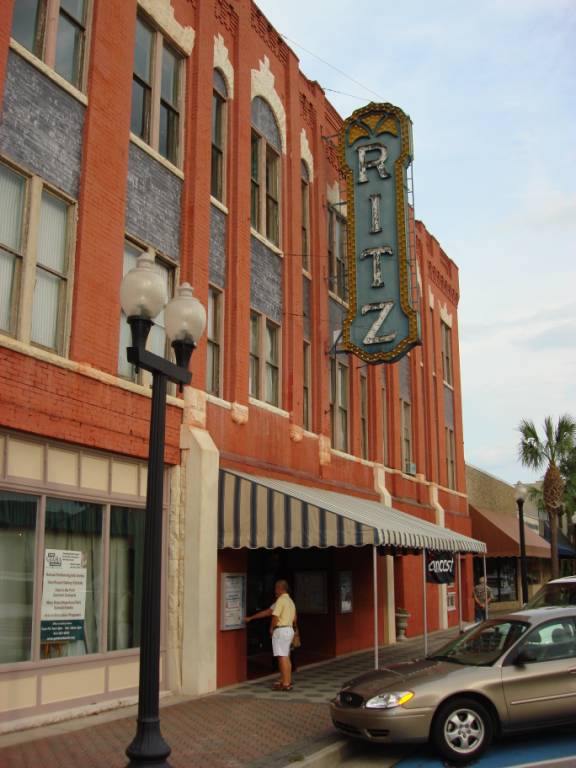 07/27/07 FRIDAY BRUNSWICK LANDING MARINA, BRUNSWICK, GA
This morning, she was at again. Soon, Judy had all the draperies taken down and packed into the canvas laundry bag. Fortunately, they are made of washable sunbrella material. When they came back, they were as clean and bright as new. Judy is always doing things to make our lives better and happier. I never know how to thank her enough.
My chore was to repair the faulty light in the galley. It has been intermittent and irritating for some time now. Hopefully, the repair will bring some sanity back to the cooking process.
We tried the Legends Grill and Bar for their lunch special. Today's listing was the Cheeseburger and fries. Although still pretty juicy, it was a bit overcooked. The only thing that we didn't like was all the cigarette smoke. I guess that why they call it a bar.
We stopped at Lowe's for the third time this week. I have wanted to install a shutoff valve to the water hose. This is the second one that we've had to return with a defect that caused it to leak. My guess is that the whole batch is bad. We'll try another store for the next one.
Today is a big day. For some time now, I've wanted a waffle maker. It started from the update logs of our friends, Andy and Dinata. When I learned that Andy was enjoying homemade waffles, I just couldn't fall behind. I would, jokingly, tell Judy that if Andy can have waffles then I should be able to have waffles. After Sue Graham gave us those homemade waffles not long ago, I just couldn't resist the temptation to find a waffle maker for us. The new Target store that just opened had just the right one with a real small size that would be relatively easy to store. Now we can have fresh waffles anytime we choose, just like our friends.
For dinner, we used the marina grill to cook some genuine Georgia-made sausage by Mr. Parks. With Asian fried rice and applesauce, it was delicious.
07/28/07 SATURDAY BRUNSWICK LANDING MARINA, BRUNSWICK, GA
Judy mixed up some batter to use with the new waffle maker. They came out perfectly and were so delicious. Along with fresh Georgia peaches, they became unbelievably good.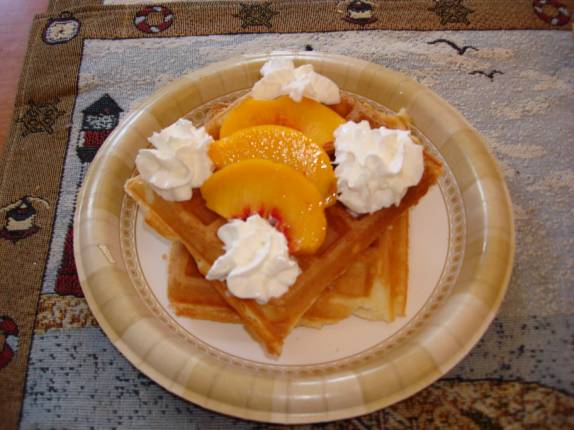 We enjoyed a lot of NASCAR racing on TV from Indianapolis. Nextel Cup series practice was held at the Brickyard track. Later, Busch and Nextel drivers qualified at their respective venues.
That marvelous expert of culinary excellence, Chez Judy, created a wonderful dinner extravaganza. With fresh chicken breasts, a medley of mixed vegetables, a thick, creamy sauce, and a light and flaky top crust made with filo pastry dough, she prepared the most beautiful and delicious potpie that you could imagine. Absolutely Yummie!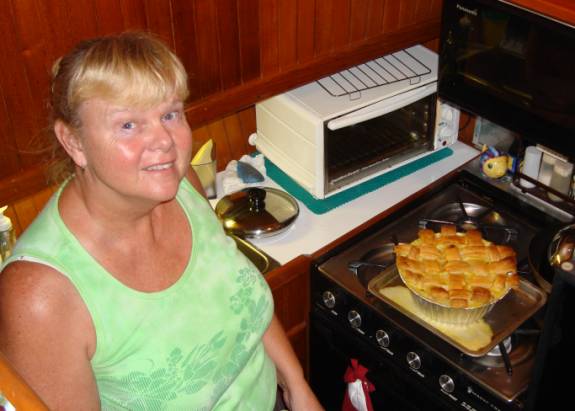 The O'Reilly Raceway Park was host to tonight's Busch Series Race of the Kroger 200. It was history being made as Jason Leffler took the checkered flag in the first-ever Toyota to win a NASCAR race.
07/29/07 SUNDAY BRUNSWICK LANDING MARINA, BRUNSWICK, GA
The day started out with waffles and sausage. It would be a day of more NASCAR racing on TV. In the Nextel Cup Series held at the famous Brickyard track, Tony Stewart swept the field in his orange, Home Depot #20.
Filets of Tilapia sautéed in a skillet and served with fried rice made a fine dinner.
07/30/07 MONDAY BRUNSWICK LANDING MARINA, BRUNSWICK, GA
In this hot, humid weather, we are finding it most comfortable to stay in with the air-conditioning keeping us cool. Our new TV has really helped to make it fun. A kind of marathon of "Walker, Texas Ranger" episodes turned hours into what seemed like minutes.
We had the plan to install a long mirror over the port dresser in the main stateroom. We planned it out and took the measurements for a custom fit. Jacobs Glass Co. took on the job of making up the mirror and making the edges smooth for mounting.
There were numerous, intermittently heavy showers during the afternoon. Heat two flour tortillas filled with white meat chicken smothered in Mexican cheese, cut it into slices, and you have an authentic, Latin American quesadilla.
07/31/07 TUESDAY BRUNSWICK LANDING MARINA, BRUNSWICK, GA
Judy's presentation for these fresh-made waffles are very picturesque. I hope we will be able to find these fresh Georgia peaches for a while yet.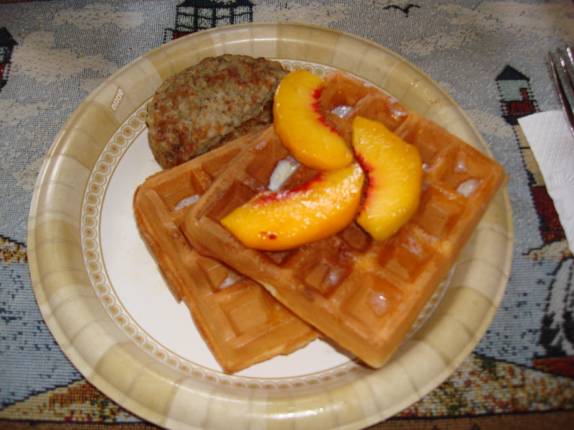 On the top floor of this building, McGarvey's Wee Pub is an Irish Bar and Restaurant. A ruben sandwich was my choice for lunch. Judy chose the daily special of ½ Chicken Salad sandwich and a bowl of potato soup.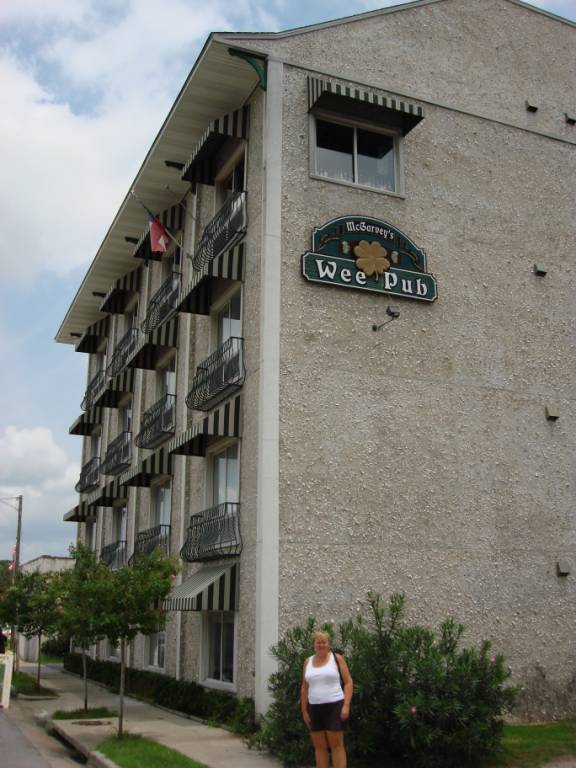 Jacobs Glass called for us to pick up the mirror. When we began to do the installation, we ran into an unexpected problem. We were surprised to find that the wall of the stateroom was not flat but slightly curved. This presented the problem of how to safely mount the large piece of mirrored glass. All of our ideas seemed to be a little too dangerous to be used on a boat. We could only imagine the eminent danger of broken glass during some of the rougher trips. We decided not to use this approach. Not wanting to waste the custom made mirror, we offered it to Sherrie, the dock manager. She had the perfect application for it in her home.
Judy put white meat chicken and turkey in chicken based sauce then topped it with biscuit dough for dumplings. It was very tasty.
Another night of TV reruns provided the evening entertainment.
POST SCRIPT:
Thanks for allowing us to share our life and adventures with you.
REMEMBER: The entire website is now fully active and you can visit it at any time. You can review any of the 2006 or 2007 logs and learn more about the crew and our plans. Enjoy.
ATTENTION: SPECIAL NOTE:
"AMARSE". is pronounced "AM-ARE-SAY". Our website is: www.amarse.net .
We would like to hear more about what is happening in your lives. Let us know as we very interested in what's going on with our friends and family. Please call or email us with your thoughts and comments and ideas too. Thanks
Lot of Love,
Fred Reed and Judy Law
AMARSE
MT40