UPDATE#24
08
/01 thru 08/07/07
Howdy Everybody,
The period 01/19/07 thru 07/31/07 has been covered in Updates 1 through 23. We continue with UPDATE 2007 # 24.
UPDATE 2007 #24 08/01/07 through 08/07/07.
Welcome back to the new Adventures of the trawler AMARSE. At last update, we were at home on AMARSE at Brunswick Landing Marina in Georgia.
08/01/07 WEDNESDAY BRUNSWICK LANDING MARINA, BRUNSWICK, GA
Judy made up a batch of fresh waffles for our breakfast. They are so good when she prepares them crisp and hot from the waffle maker. A few slices of bacon on the side and you have a nearly perfect breakfast.
Around mid-morning, Andy and Dinata Misovec called to tell us they had arrived in Brunswick. We zipped right over to the Golden Isles RV Park to join them for the day.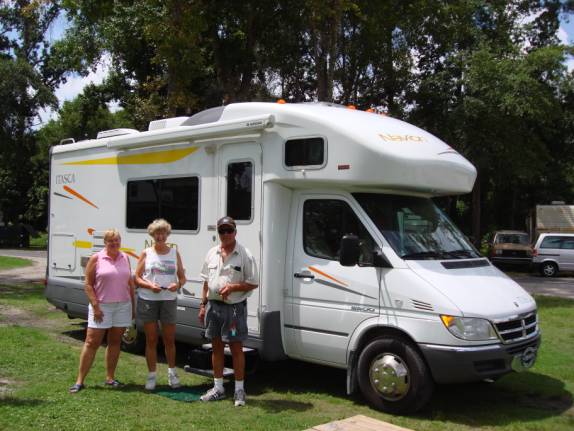 They proudly showed us all through the lovely 23', diesel powered Navion RV Camper. They have affectionately named it "Stochastic". We were pleasantly surprised to see how much storage space they have and how comfortable it is. They are off on a 4-month trip across the USA. They finished the loop last fall on their Atlantic Trawler named FROBENIUS. This is a new adventure for them.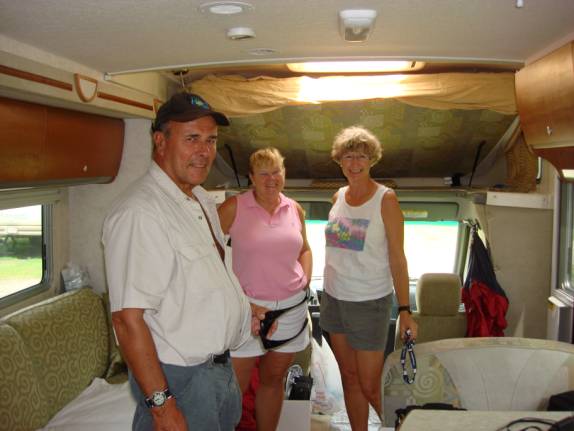 We all piled into the Buick and headed for St. Simons Island. The pangs of hunger were overtaking Andy so we set a direct course for Barbara Jeans Restaurant. As always, everyone enjoyed the wonderful variety of delicious foods.
The lure of the beautiful lighthouse caught Andy and Dinata's interest in a climb of the spiral staircase. Judy and I had already done that, so we checked out the surrounding areas.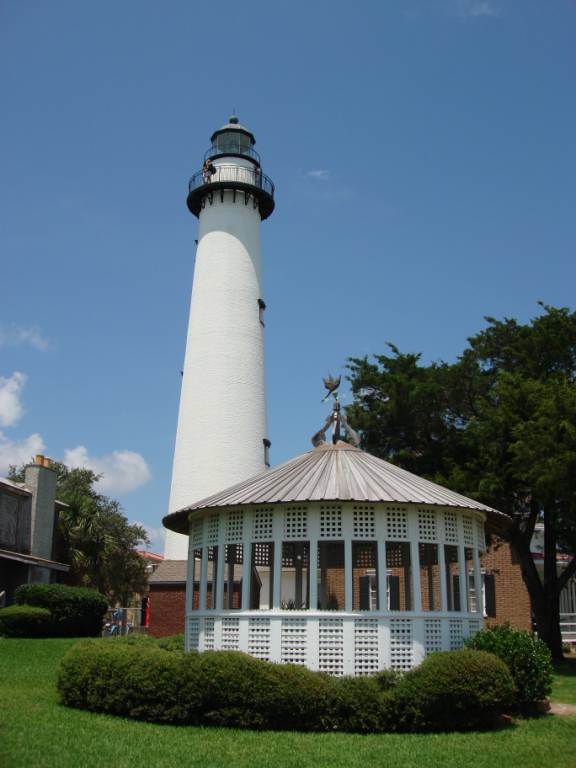 It is great to see our friends having such a good time while we are together.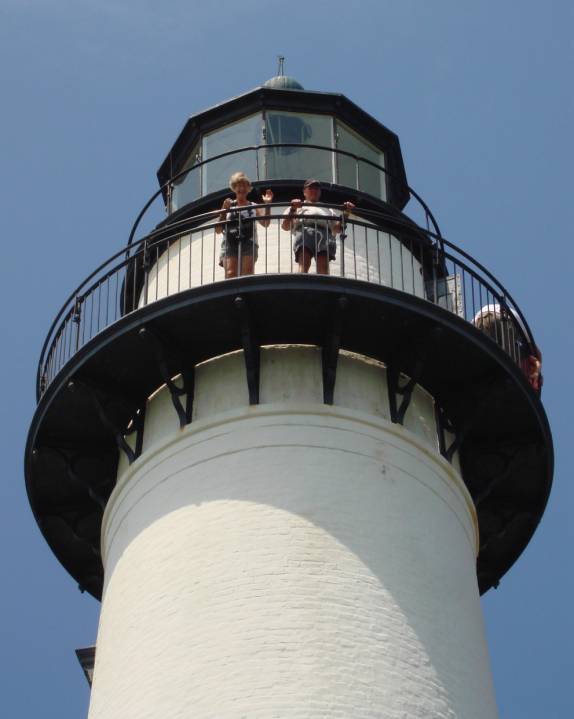 A lot closer to the ground, I found this perfectly shaped mushroom erupting from the moist soil under a huge tree in the shadow of the lighthouse.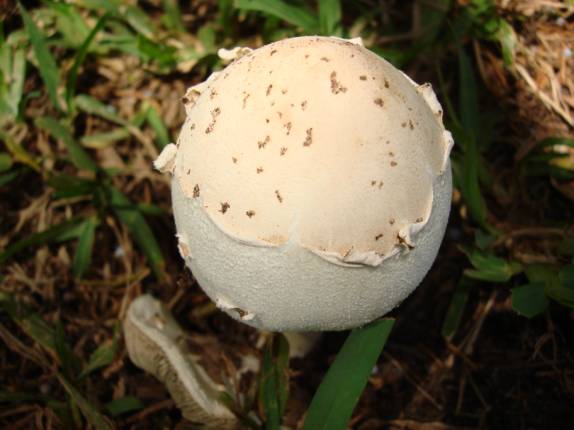 The tour continued at the restored Coast Guard Station that now serves as a maritime museum. Now operated by the local historical society, the architectural beauty captivates the eye.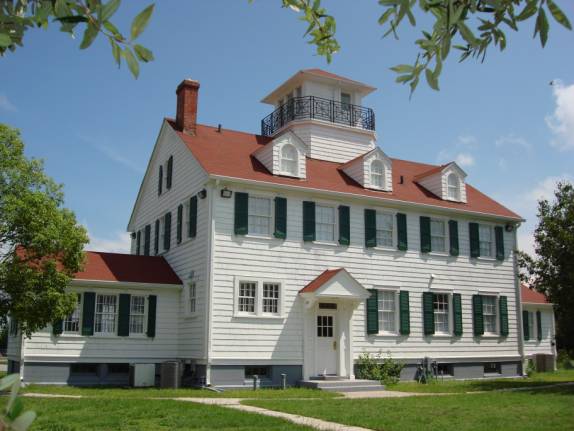 The tour continued on to the water's edge where this sandbar surfaces as a boundary between the ocean and the tidal basin. When the tide comes in, this bar will be completely submerged.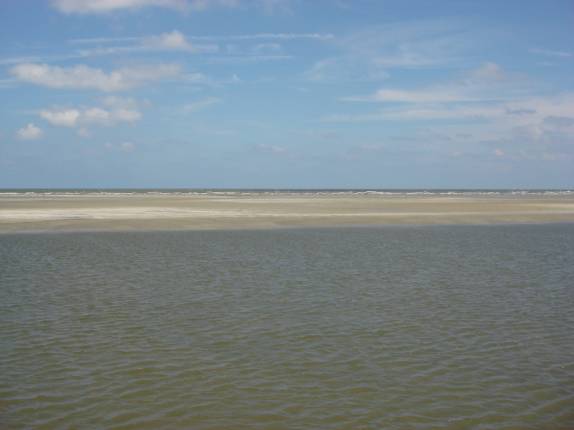 Further north on St. Simon's Island, we came to the Christ Church, Frederica. The first services on the island date back to this site in 1736, when Episcopalian Charles Wesley held services for St. Simons' early settlers at nearby Fort Frederica. Charles angered two women on the island, who quickly began spreading gossip among the settlers about Rev. Wesley. James Oglethorpe punished Charles for these rumors, although Charles Wesley may not have known why.

His brother John, who founded Methodism (but not the Methodist Church), visited St. Simons both before and after his brother's departure. Arriving in May 1736, John found his brother in ill-health and encouraged him to return to Savannah. Once there, Charles resigned his technical post (Indian Affairs) and left Georgia in July, 1736, never to return. Returning to Frederica in July and January, 1737, John Wesley worked to establish a church for the people in the town of Frederica and Fort St. Simon. John Wesley left, replaced by George Whitefield. Each of these men spoke on the site of the present-day Christ Church.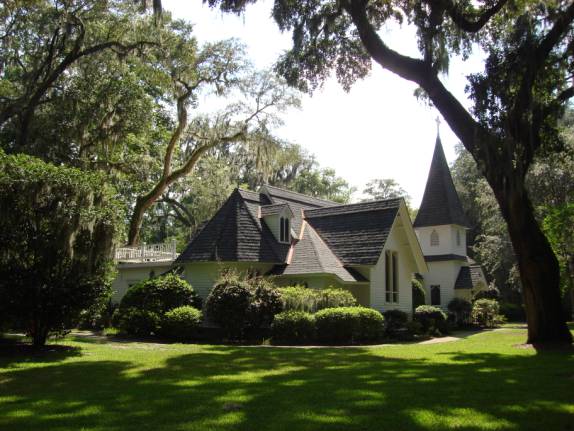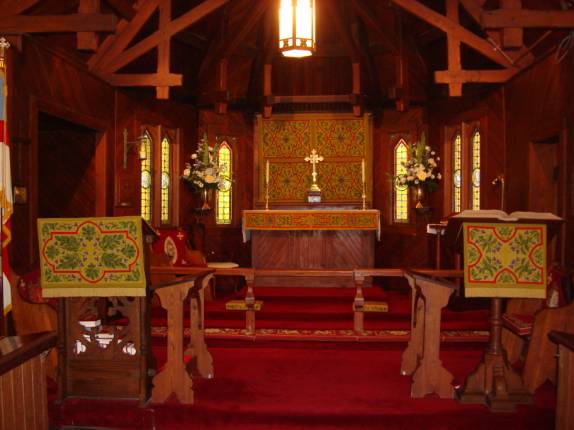 The National Park Service maintains the historical remnants of Fort Frederica. This National Monument is located on St. Simon's Island and interprets the struggle between Great Britain and Spain for domination of the New World. Fort Frederica was the focus of defense for the fledgling English colony of Georgia. The remains of the fortified settlement, established in 1736 by the founder of Georgia, Gen. James Edward Oglethorpe, includes ruins of the fort, barracks, walls, moat, and several houses. The fort was established at a time when Great Britain, France and Spain all claimed the area. In 1742, a British victory over the Spanish at the Battle of Bloody Marsh secured Britain's hold on Georgia. The battle site is six miles south of Fort Frederica. The fort and town fell into decline after Oglethorpe's regiment was disbanded in 1749 and a 1758 fire destroyed most of the buildings.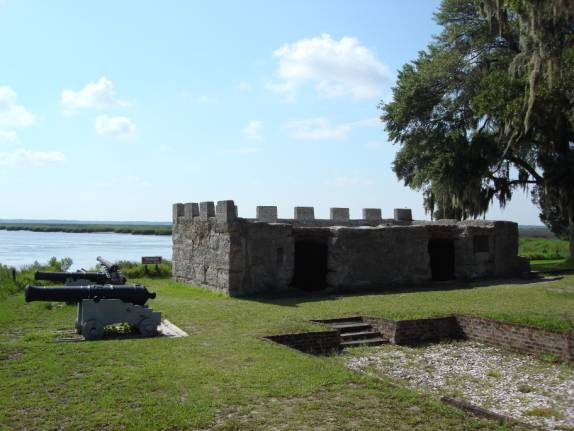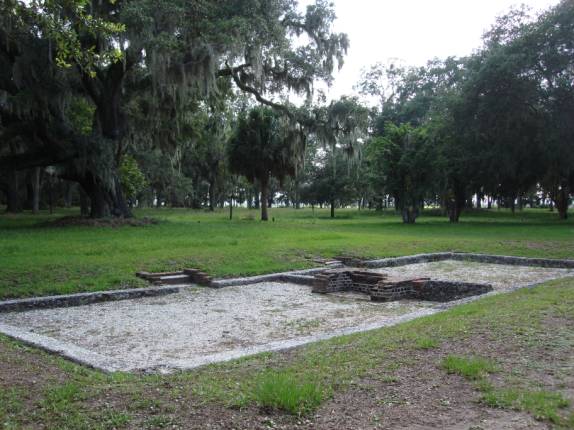 The Little St. Simons Island ferry boat departs daily from the Hampton River Club Marina on St. Simons Island.
We invited Andy and Dinata back to AMARSE for a tour of her interior. With the numerous times that we have been together, they had never had the opportunity to see inside our boat.
After a few shopping stops, including Wal-Mart and Dollar Tree, we returned our tired friends to STOCHASTIC so they could rest up to continue their journey north. We were nearly pooped out too. A light supper of Tuna sandwiches seemed just right to ease our cravings.
08/02/07 THURSDAY BRUNSWICK LANDING MARINA, BRUNSWICK, GA
Our original plans were to head for Cape Canaveral this morning. For some reason (perhaps weather), the launch schedule was postponed a day from Friday morning to Saturday morning.
Our revised plan was to have our evening meal at Fox Pizza Den and then attend another film in the classic series at the Ritz. Judy chose the Steak Stromboli and I had the daily special Meatball sandwich. Plans change quickly in our lifestyle. We decided to forgo the film showing and just go back to the boat and rest. I had a bit of trouble hearing the last film and this one didn't interest us very much anyway.
08/03/07 FRIDAY BRUNSWICK LANDING MARINA, BRUNSWICK, GA
The rain was pouring hard in the morning. A check of the Weather Underground website indicated that we could expect the pelting rains until south of Jacksonville. Another check of the NASA launch schedule indicated that everything was still a "GO" for the launch set for early Saturday morning. By 9:15am, we had gathered our wits and our things and were heading south for I-95. As promised, those rain drops pestered us for almost an hour.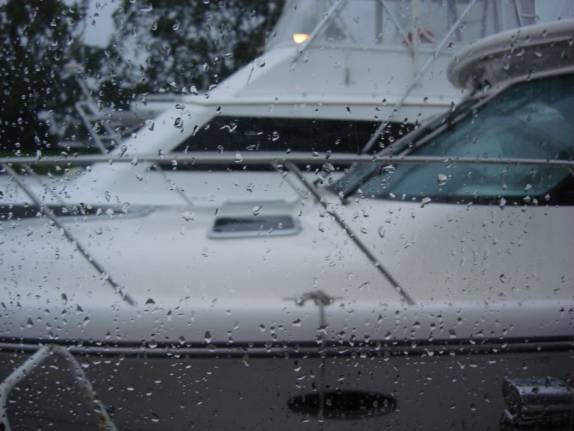 A quick stop at the Florida welcome center provided us with a current road map and some genuine Florida orange juice. Under such rainy skies, we questioned the term "Sunshine State" but I don't think they thought it was very funny.
I had found a great deal on DVD versions of some TV series on special at Costco. At the Jacksonville store, we picked up the set of Deadwood 1,2, and 3; Sopranos seasons 4, 5, and 6.1; and the complete series of Band of Brothers. These should provide some great entertainment this winter in the Bahamas.
Not too many miles south of the city, the clouds gave way to bluer and bluer skies. From our turnoff at Titusville, we followed the signs to the Canaveral National Seashore.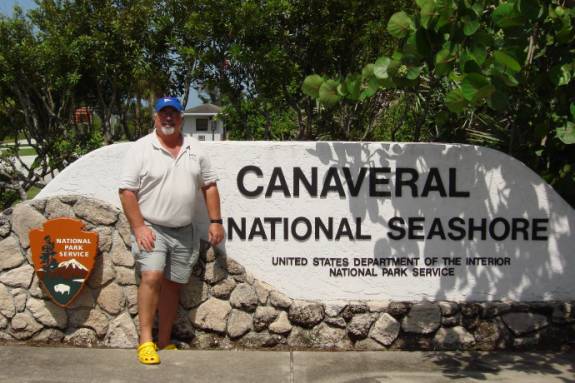 There is a series of some 14 access points to the miles long beach. The ocean is hidden behind large dunes that seclude it from the roadway. We headed all the way to the end of the group where several Ranger types were located. We asked them which beach was the nicest. They commented that most all of them were similar from a beach perspective. They went on to say that different people prefer different sections. They said that a number of the first group of accesses were popular with the family crowd while several of the mid-group were favored by the surfers. Those seeking the sun "au natural" preferred this particular access. Although Brevard County regulations prohibit nudity on the beaches, the Rangers are federal and have no jurisdiction to this statute. The authorities turn a blind eye to these folks' personal preferences as long as they contain themselves to this area and don't cause any problems.
Now friends, I certainly don't have any moral objections to these folks' choices and I actually think it is great for them. But let me tell you, this is NOT a pretty place. What they have is a beach with some 100 people sans bathing suits. Firstly, there was not even one person under the age of 50 in the bunch. Secondly, there was nothing erotic about anyone here. These were the kind of folks that you might pay to have them put their clothes ON. I am pleased that they have an uninhibited and unashamed view of their fat and wrinkled bodies, however, we had no uncontainable urges to join them by baring it all.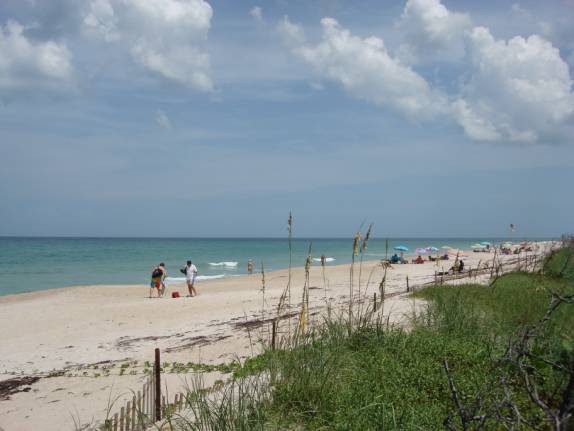 This rugged creature, a gopher tortoise, made his way shyly along the hot sandy terrain.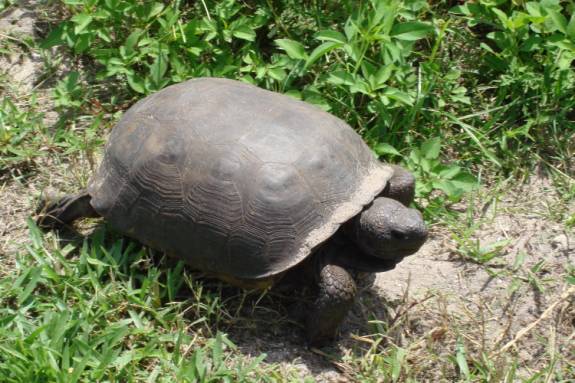 Further south, we visited Cocoa Beach. This was a lovely setting with mostly families and young people.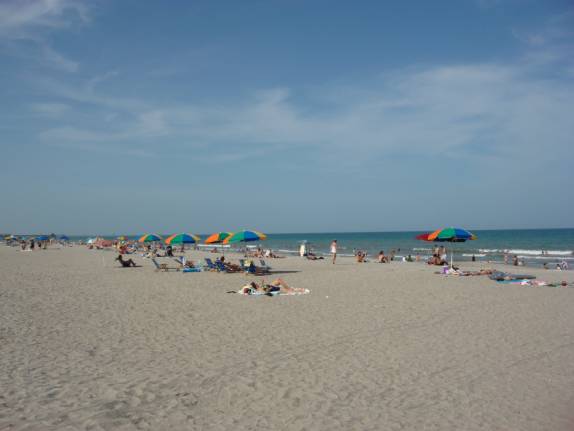 Our friends, Andy and Dinata, highly recommended a restaurant in the Melbourne/Indialantic area. They had lived here on Frobenious during one winter some years ago. Andy, a New York City boy, labeled Petrillo's as one of the most authentic Pizza and Italian places anywhere. We just had to take the recommendation of a connoisseur of this renowned fame.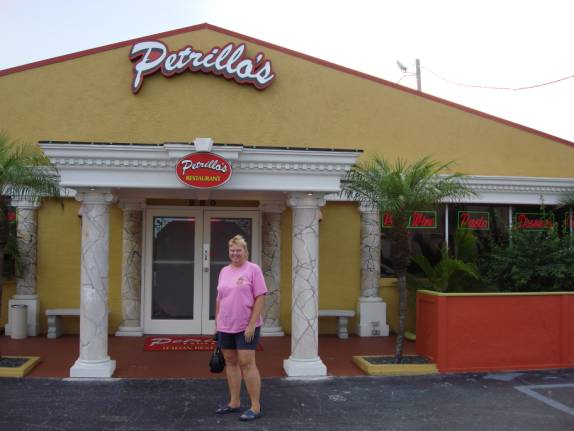 With an icy cold pitcher of amber beer, we soon found out that "Andy knows Pizza." Yes, it was just as good as it looks, maybe better.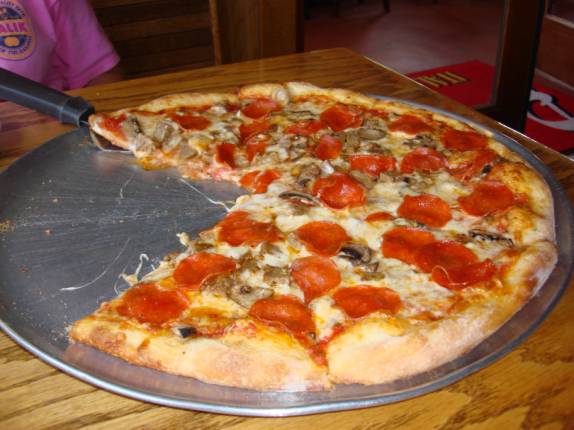 By 9:15pm, we were tucked into bed in our hotel in Cocoa Beach. Early to bed, early to rise…..
08/04/07 SATURDAY BRUNSWICK LANDING MARINA, BRUNSWICK, GA
The alarm blasted us awake at 3:15 am. We hopped into our clothes and headed for Jetty Park at Port Canaveral. The gatekeeper was already there to take our $5 park fee and direct us to the parking area at 3:45am. After careful research, we had chosen this vantage point to observe this launch of a Delta Two rocket carrying a lander to the planet Mars. A considerable walk out along the Jetty led us to a great spot to watch the launch. Patiently, we sat for the nearly two hour wait before liftoff. The crowds continued to pour out on the Jetty making us happy that we were here early.
Although this park offers the closest possible view of the rocket, we are still a couple miles away. I have added these official pictures that show the rocket much better than amateur shots.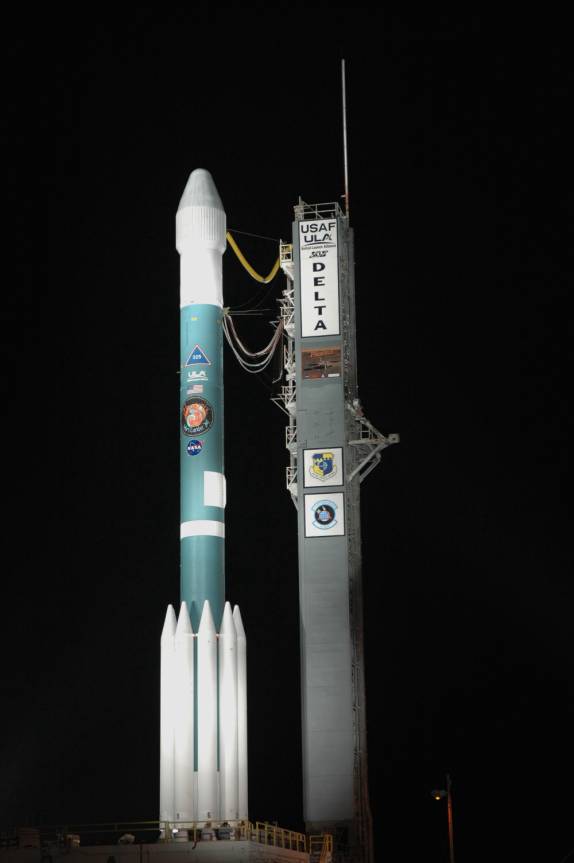 The Phoenix Mars Mission is the first in NASA's Scout Program. The Phoenix lander is designed to study the history of water and habitability potential in the Martian Arctic's ice-rich soil.
The established launch windows were precise to position the rockets trajectory on its course for the red planet. At exactly 5:26am, the powerful rocket brightly illuminated the sky. Judy was attempting to watch the initial blastoff through binoculars. Quickly, she pulled the lenses away because the brightness was blinding. As the rocket climbed, we could resume watching through the binoculars. It was really cool to see the rocket boosters separating away as the main body kept burning brightly in its quest for altitude. A night launch is truly awesome in every respect. Interestingly, you see the firing quite a bit before the shaking roar of sound reaches you. Wow!!!
Here are some interesting facts about the mission. The launch vehicle weighs 628,820 pounds. Getting this weight off the ground is no easy feat. A Rocketdyne RS-27A engine is used in combination with nine strap-on rocket motors. The RS-27A alone is capable of producing 200,000 pounds of thrust. This amount of thrust is equivalent to the force generated by compressing water from 2,000 fire hoses into a single hose less than 5 feet in diameter.
After launch, Phoenix will perform various maneuvers to make the transition to the cruise stage. The spacecraft will deploy its solar arrays and re-orient itself in space.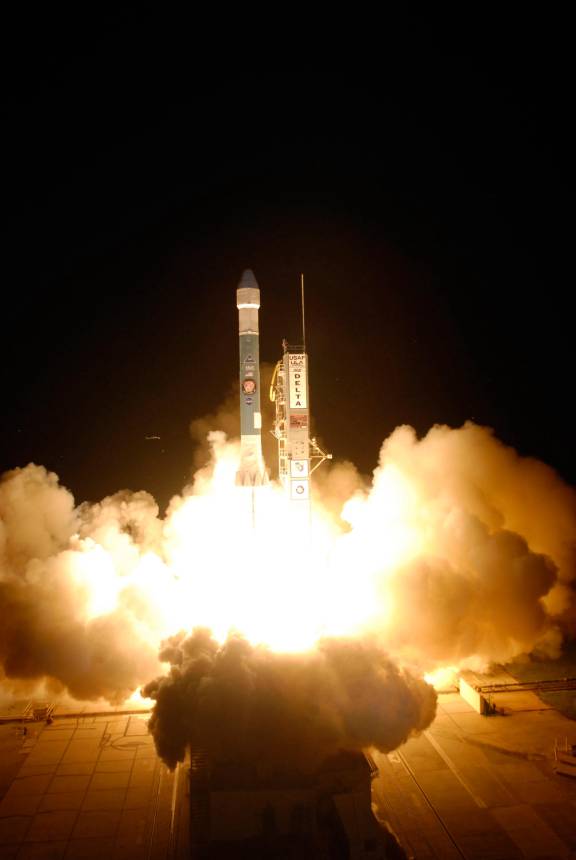 Phoenix left Earth bound for a challenging touchdown on Mars on May 25, 2008, at a site farther north than any previous Mars landing. It will robotically dig to underground ice and run laboratory tests assessing whether the site could ever have been hospitable to microbial life. Phoenix today is traveling at about 74,200 miles per hour in relation to the sun.
I took this picture of the eerie residue from the rocket blast chemical trail glowing in the pre-dawn morning.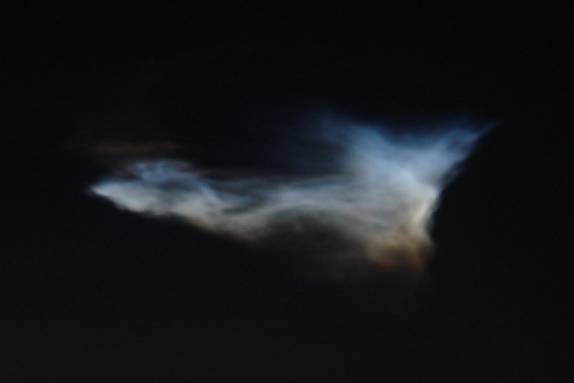 The applause from the crowd was enthusiastic and boisterous. I feel that these missions are among man's greatest accomplishments. I have been interested in this area of science since I was quite young. My Dad was one of the designers on the team that developed the Inertial Guidance System for the Apollo Missions. He worked at the Laboratories of MIT (Massachusetts Institute of Technology) at Cambridge, Massachusetts.
By 6:30am, we were back in bed at the hotel. The three hour nap brought our rest time up to par. Of course we were hungry and, fortunately, I had spotted an interesting place for breakfast. A 20 minute wait got us a table at "The Omelet Station" restaurant. They had an excellent buffet complete with custom omelet setup. You fill a bowl with the ingredients of choice from the table and the chefs assemble a magnificent egg dish.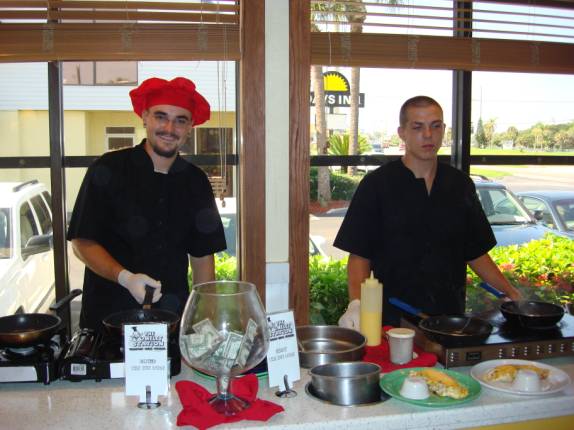 When the launch was originally scheduled for yesterday (Friday), the HAPPY CLAMZ crew of Doug and Leslie were going to come to Brunswick for a visit. We had to cancel that plan when NASA rearranged the launch. We sure wanted to visit with our good friends, so we called them to see if we could meet them this afternoon, in Jacksonville, while on our way home. Aboard their Nordic Tug, we sat and chatted with great joy. They recommended an early supper at the Trent Seafood Restaurant. I snapped a photo of this magnificent blossom. Isn't it perfect?
These are the docks of the Ortega Yacht Club in Jacksonville, FL where HAPPY CLAMZ rests peacefully.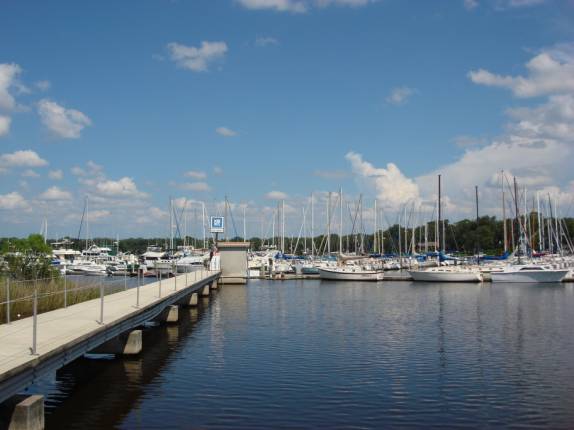 All of us chose the today's special of Grouper Fingers dinners. Time flew by and soon it was time for us to head north to Brunswick and for Doug and Leslie to head west to Gainesville. Tomorrow they will do their bike ride sport. Doug is in heavy, conditioning training for an upcoming marathon-type event. The man is driven and focused on success.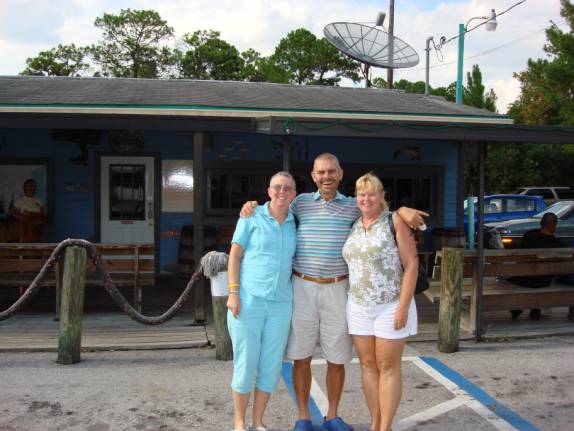 On the way home, we made a stop at Sam's Club to pick up some items including the DVD's of Sopranos seasons 1,2,and 3. Unfortunately, they were not on sale here and Costco would not have any of them in stock before the sale expired. Oh well, now we will have the entire seasons releases.
08/05/07 SUNDAY BRUNSWICK LANDING MARINA, BRUNSWICK, GA
Today was another torrid day of very high temperatures and saturated humidity. The heat index was reported to be around 105 degrees. We stayed inside the boat most of the day. The air conditioners labored continuously to bring the temps to between 75 and 78 degrees. Judy stayed glued to the TV set for the day long marathon of Nora Roberts' TV movies.
For lunch, I finished off the leftover meatball sandwich from Fox Pizza Den and Judy enjoyed a chicken quesadilla.
I did get to see some glimpses of the NASCAR race at Pocono where Kurt Busch took the Checkered Flag.
Even in this tremendous heat, the grilling of Cheeseburger on the open BBQ grill was well worthwhile. Add some grilled onions and you have the perfect summer supper.
08/06/07 MONDAY BRUNSWICK LANDING MARINA, BRUNSWICK, GA
The mercury may have only indicated 98 degrees but the heat index was reported to top out at 107 degrees. The Barque Eagle has been docked here in Brunswick over the weekend. Judy and I took an opportunity to have a look and snap some photos of this beautiful and historic sailing vessel. We had missed the onboard tours but it was a treat to get to see as much as we did.
The Eagle is a three-masted sailing Barque with 21,350 square feet of sail. It is homeported at the Coast Guard Academy, New London, Connecticut. It is the only active (operational) commissioned sailing vessel in the U.S. maritime services.
The vessel was built in 1936 by the Blohm & Voss Shipyard, Hamburg, Germany, as a training vessel for German Naval Cadets. It was commissioned Horst Wessel and following World War II was taken as a war prize by the United States. On May 15, 1946, the barque was commissioned into U.S. Coast Guard service as the Eagle and sailed from Bremerhaven, Germany to New London, Connecticut assisted by the former Nazi crew.
Eagle serves as a seagoing classroom for approximately 175 cadets and instructors from the U.S. Coast Guard Academy. It is on the decks and rigging of the Eagle that the young men and women of the Academy get their first taste of salt air and life at sea.
Sailing in Eagle, cadets handle more than 5 miles of rigging. Over 200 lines must be coordinated during a major ship maneuver, so cadets must learn the name and function of each line.
Eagle's hull is built of steel, four-tenths of an inch thick. It has two full length steel decks with a platform deck below and a raised forecastle and quarterdeck. The weatherdecks are three-inch-thick teak over steel.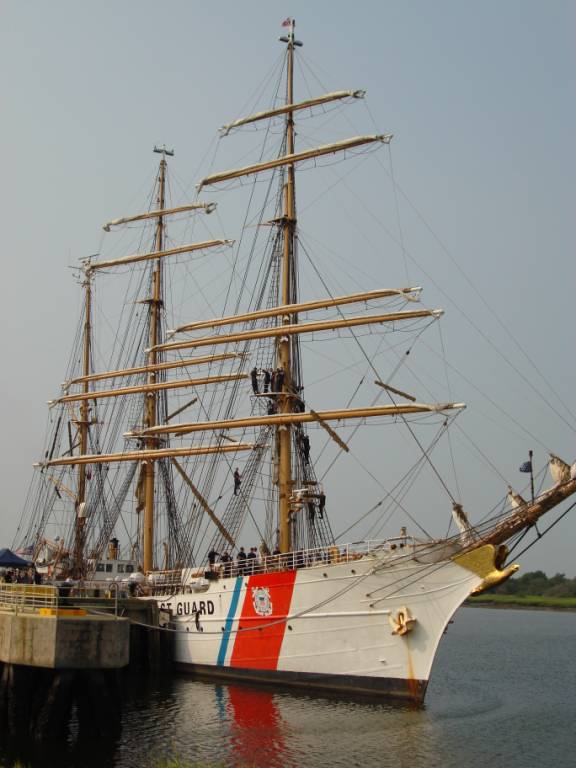 Length: 295 feet
Maximum Speed: 11-16 knots (under full sail)
Maximum Range: 5450 miles
Training Complement: 12 Officers, 38 crew, 150 cadets (average)
Major Missions: Training vessel for CG Academy Cadets
Commissioned: 15 May 1946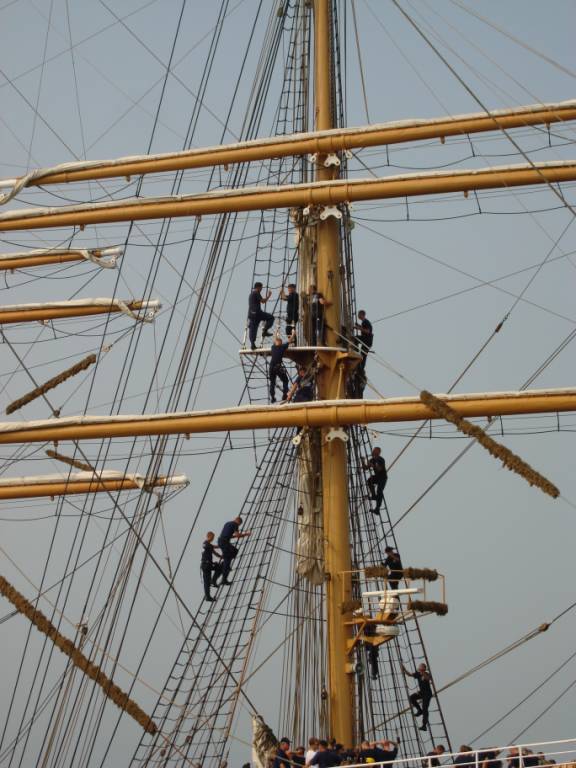 The departure of Eagle brought out a full contingent of Coast Guard and law enforcement vessels to escort her out toward sea.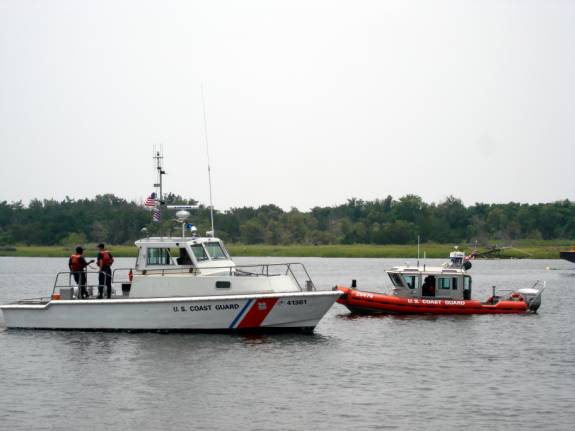 Two large commercial tugs were enlisted to assist in turning the huge vessel within the confines of the narrow waterway.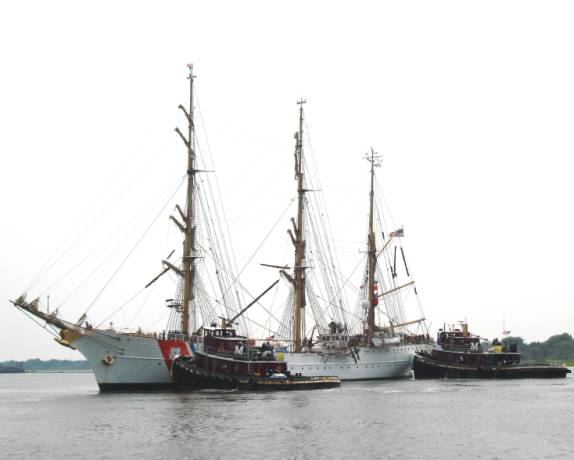 Under her own diesel power, Eagle gracefully approaches the Brunswick Bridge on her way to sea.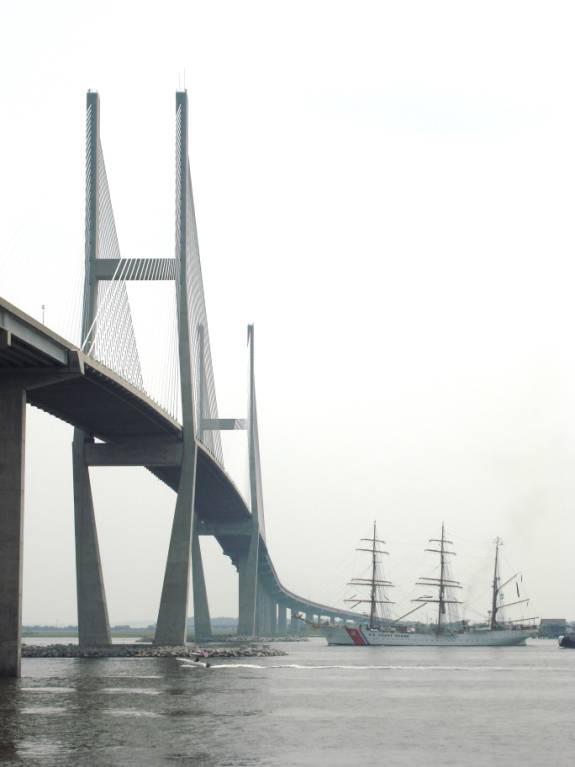 Knowing that Eagle would need to follow the channel between St. Simon's Island and Jekyll Island, we staged ourselves near the lighthouse to watch her make her transition to the open ocean. Unfortunately, she was running under bare poles.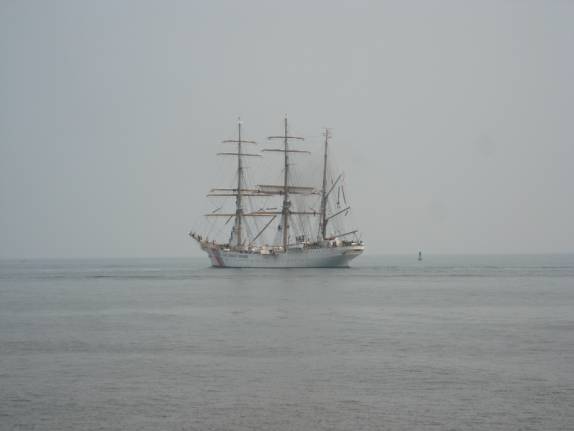 USCGC Eagle is the seventh U.S. Coast Guard cutter to bear the name in a proud line dating back to 1792. The ship was built in 1936 by the Blohm and Voss Shipyard in Hamburg, Germany, and commissioned as Horst Wessel. (Five identical sister ships were also built.)
Originally operated by Nazi Germany to train cadets for the German Navy, the ship was taken by the United States as a war prize after World War II. In 1946, a U.S. Coast Guard crew - aided by the German crew still on board - sailed the tall ship from Bremerhaven to its new homeport in New London, Connecticut. Eagle returned to Bremerhaven for the first time since World War II in the summer of 2005, to an enthusiastic welcome.
Built during the twilight era of sail, the design and construction of Eagle embody centuries of development in the shipbuilder's art. The hull is steel four-tenths of an inch thick. There are two full-length steel decks with a platform deck below. The raised forecastle and quarterdeck are made of three-inch thick teak over steel, as are the weather decks.
Eagle eagerly takes to the element for which she was designed. Effortlessly and gracefully, she drives under full sail in the open ocean at speeds up to 17 knots. Here is a stock photo of Eagle under full canvas in NY harbor in 2000. I sure wish we could have seen her all ragged out.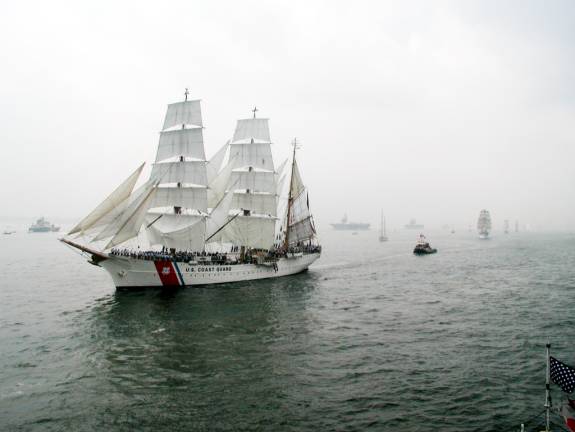 We seemed irresistibly drawn to the local DQ Dairy Queen for a cool down and Blizzard treat.
The dinner plan was a very special one. How does this sound? Whole Wheat Lobster Ravioli in a creamy Puttanesca Sauce boasting lots of chunks of Bahamian Lobster. I must say, this was truly a culinary creation worthy of the finest eatery in the world.
08/07/07 TUESDAY BRUNSWICK LANDING MARINA, BRUNSWICK, GA
We were in store for another scorcher with the brutality of a heat index hovering around 106 degrees. We tried a recipe for waffles that included the addition of Malted Milk powder to the mix. They were very delicious and we will make more using this recipe.
Judy braved the laundry duty that included washing some of the floor rugs. The air conditioners pumped cooling air into the cabin all day long in attempts to keep us comfortable. It is a demanding job in these hot conditions.
Mix Farfelle pasta with stuffing mix and top with chicken breast and sliced meatballs for a tasty dinner selection. With all these hot days, it is wonderful that Judy and I are so happy being together. We can enjoy each other whether traveling or just hanging around watching TV. Ain't Luv Grand!!!
POST SCRIPT:
As I publish this edition, it is 08/15/07 and we are continuing to enjoy our lifestyle aboard AMARSE in Brunswick, Georgia. Thanks for allowing us to share our life and adventures with you.
REMEMBER: The website is now fully active and you can visit it at any time. You can review any of the 2006 or 2007 logs and learn more about the crew and our plans. Enjoy.
ATTENTION: SPECIAL NOTE:
"AMARSE". is pronounced "AM-ARE-SAY". Our website is: www.amarse.net .
We would like to hear more about what is happening in your lives. Let us know as we very interested in what's going on with our friends and family. Please call or email us with your thoughts and comments and ideas too. Thanks
Lot of Love,
Fred Reed and Judy Law
AMARSE
MT40