UPDATE#22
07
/15 thru 07/24/07
Howdy Everybody,
The period 01/19/07 thru 07/14/07 has been covered in Updates 1 through 21. We continue with UPDATE 2007 # 22.
UPDATE 2007 #22 07/15/07 through 07/24/07.
Welcome back to the new Adventures of the trawler AMARSE. At last update, we were at home on AMARSE at Brunswick Landing Marina in Georgia.
07/15/07 SUNDAY BRUNSWICK LANDING MARINA, BRUNSWICK, GEORGIA
It is a bit over an hour drive to Jacksonville, Florida. At precisely 11am, we arrived at the Ortega Yacht Club to visit Leslie and Doug Folkerth on HAPPY CLAMZ. Now that they have returned to life on earth, they only get to come to their boat occasionally on weekends. With reservations at Maggiano's Little Italy, we had time to chat aboard their Nordic Tug 32. The restaurant menu is filled with fantastic Italian specialties. The portions are huge, so, Judy and I shared a half Caesar Salad and a Lasagna dinner. Their Lasagna is absolutely the best anywhere. Doug and Leslie shared a half Caesar salad and an Eggplant Parmesan dinner. Even just sharing the meals, we were too full for dessert.
Their boat name, HAPPY CLAMZ, fits them perfectly. They are, indeed, "Happy Clamz". Now tell me, don't you think that's exactly what they look like?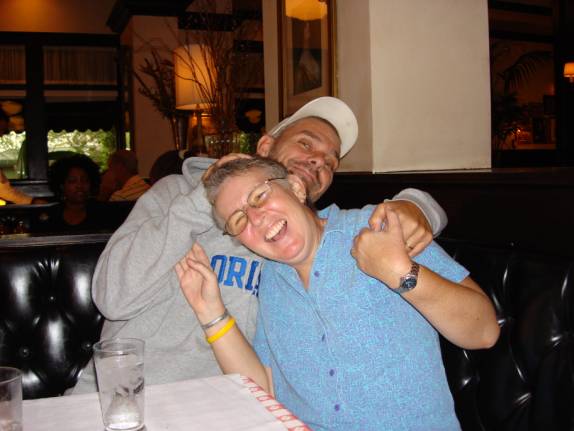 Since we had errands to do on this side of Jacksonville, we had driven separate cars. We said our goodbyes with hugs and began to miss them immediately. We shopped Sam's Club and Wal-Mart where the "Dream Girls" DVD movie found its way into our basket.
Our marina looked so peaceful and tranquil compared to the busyness of big city Jacksonville. Our evening included a part of the new Dream Girls DVD.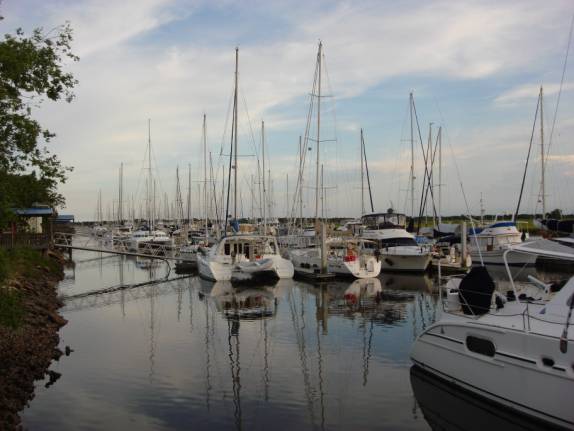 07/16/07 MONDAY BRUNSWICK LANDING MARINA, BRUNSWICK, GA
Judy set out to complete her Monday chore of doing laundry. With the WiFi back in working order, after being knocked out on Friday, I worked to publish the website updates.
We had been so busy that we somehow missed our lunch. With the outdoor temperatures soaring, we cooled ourselves with a DQ Blizzard.
Buttered Farfelle noodles topped with slices of chicken breast filled our dinner plates. The conclusion of the Dream Girls movie started our evening viewing. If you like good music and have any interest in the Motown type sound, we urge you to watch this excellent movie. It has earned some well-deserved awards for movie excellence.
An episode of Stargate SG-1, season 7, and a TV show of CSI:Miami, rounded out our evening. This new TV has such a great picture.
07/17/07 TUESDAY BRUNSWICK LANDING MARINA, BRUNSWICK, GA
Judy placed the crock-pot on the outside deck for the slow, all day simmering of a chunk of Corned Beef. The Brunswick Library has been hosting a historical series about "The Founding Fathers" of our country. Emphasis has been on Alexander Hamilton. A film presentation was offered during the afternoon that covered events leading up to the First Continental Congress. We found it to be a very interesting learning experience.
The slices of corned beef, served with scalloped potatoes, were excellent.
07/18/07 WEDNESDAY BRUNSWICK LANDING MARINA, BRUNSWICK, GA
It was sightseeing day along the South Georgia coast. Paul and Sue Graham agreed to join us for a full day of touristy stuff. Sue strapped her camera around her neck for effect and we were off.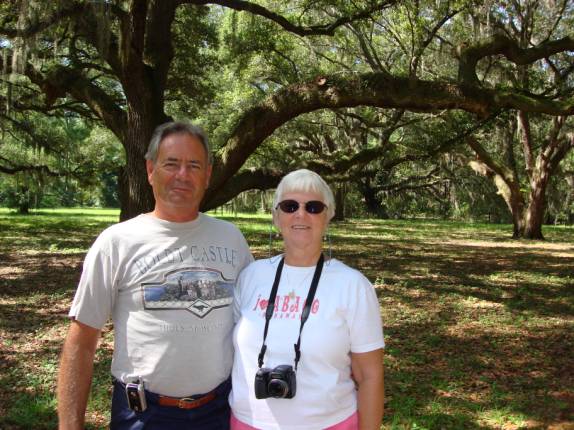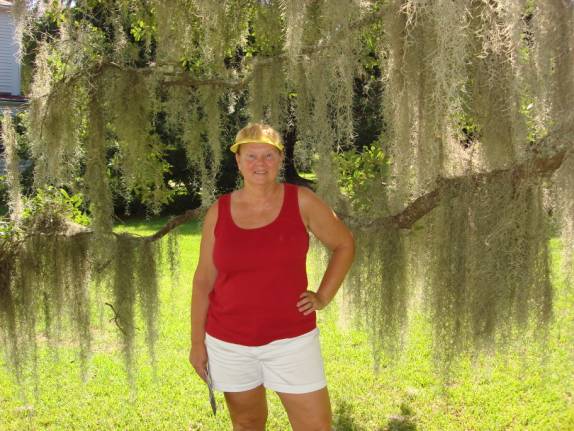 Our first stop was the Hofwyl-Broadfield Plantation. Now under the direction of the Georgia State Parks, this historic rice plantation gives visitors insight into the lives and operations of this 7300-acre facility during the early 19th century. The owners used their 357 slaves to work the rice crops and run the plantation.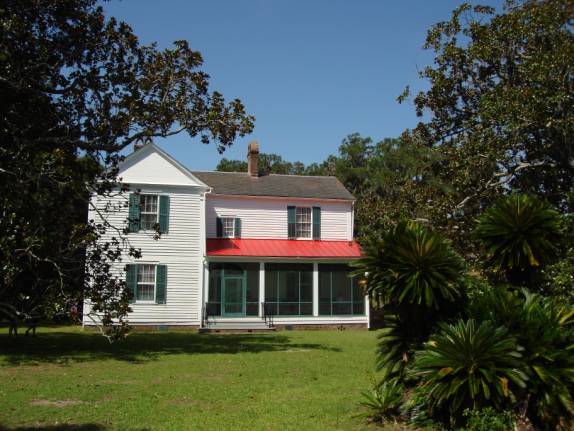 Following the Civil War and the subsequent freeing of the slaves, operations were impossible to continue and the plantation was failing. The owners attempted to convert the plantation into a dairy farm. The existing home and outbuildings date back to the 1850's and subsequent. The last of the family descendants, Ophelia Dent, passed away in 1973 after willing the property to the State of Georgia. It became a Georgia State Park almost 6 years later.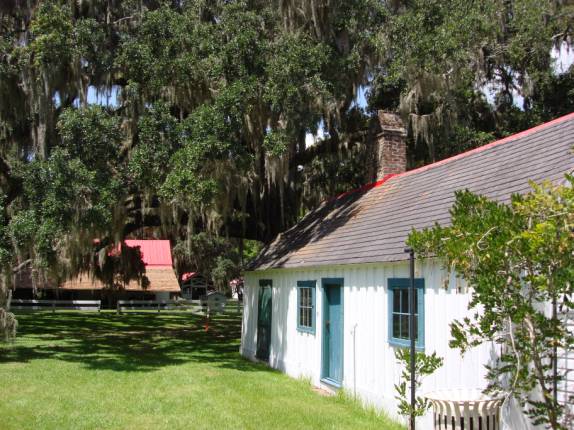 After attending the guided tour of the restored farmhouse, the knowledgeable ranger suggested several lunch spots. We headed to the waterfront to try his favorite. The greeting committee had a keen eye and a particularly toothy smirk.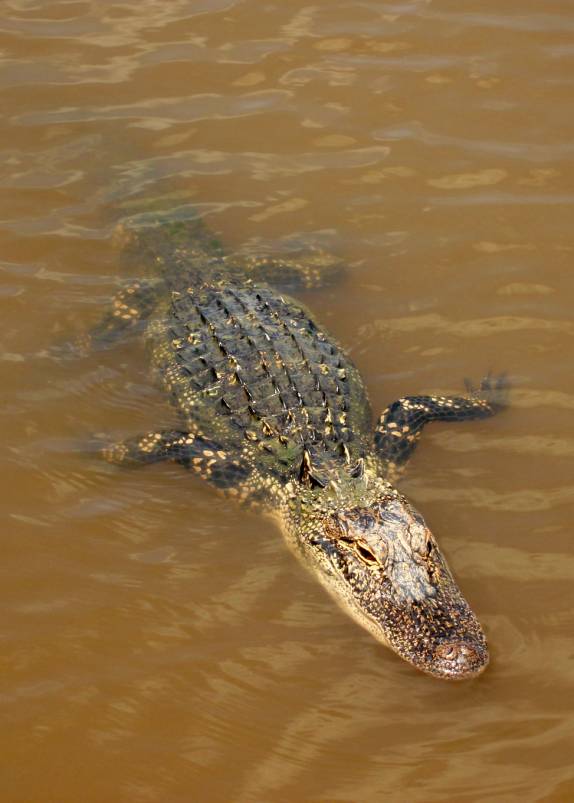 Mud Cat Charlie's, located in Darien, GA at the Two-Way Fish Camp, sitting alongside the Altamaha River, shows a menu offering some irresistible choices of Grouper fish lunches. The Grouper sandwich was excellent. It is such fun being with Paul and Sue.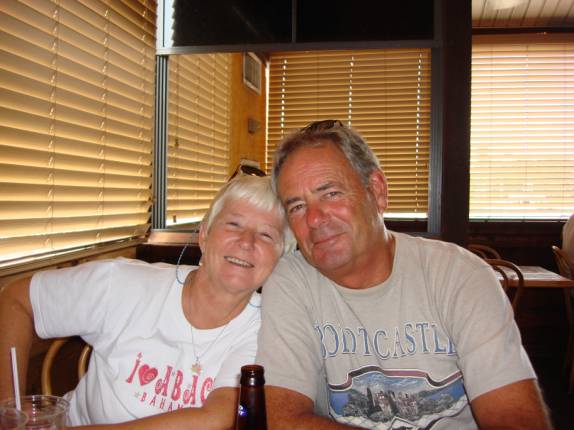 We continued further north through the historic district of Darien and out to Ft. King George. I'm quite sure that you are not at all surprised to see this group of unsavory characters incarcerated in the wooden stocks. Perhaps this public display of humility will convince them to mend their unquestionably naughty behavior.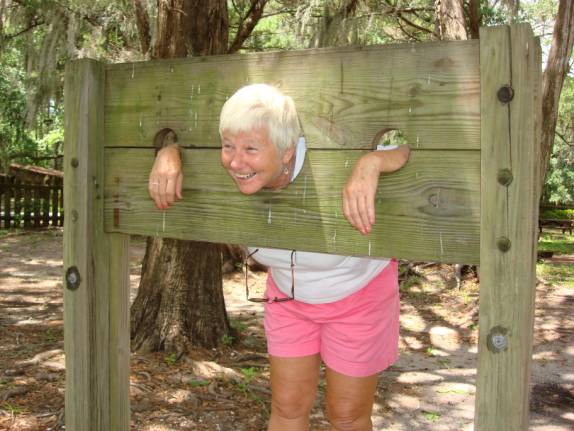 Now, what in the world could this innocent-looking young lass have done to deserve this? One can only guess.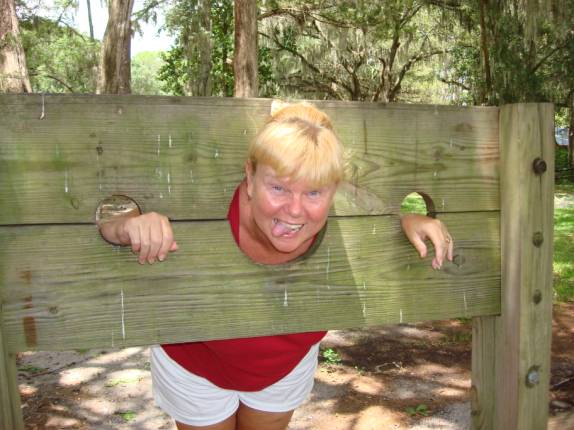 Do you think that wearing "Crocs" was a punishable offense back in the 18th century? I'd guess that a pedicure would be out of the question.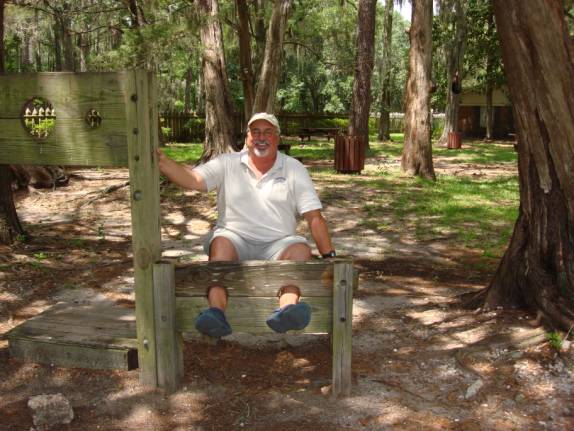 It is quite obvious that this hoodlum is very guilty of something. We just can't figure out what it was.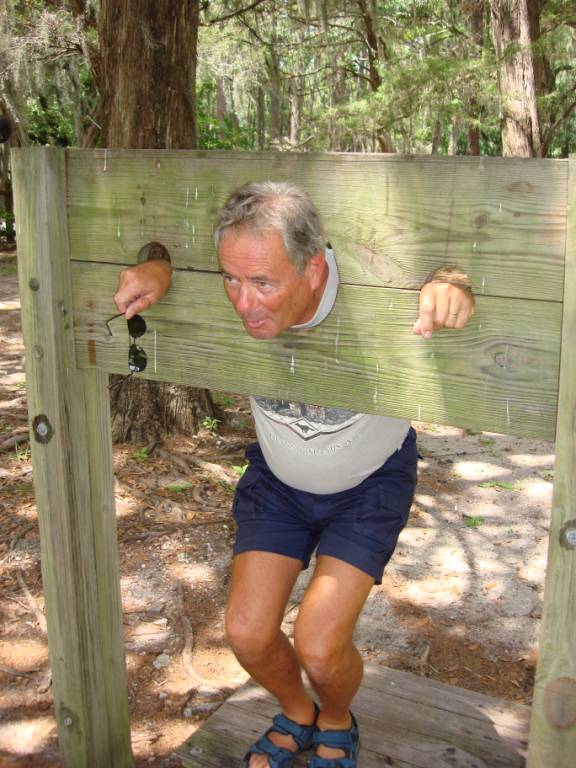 From 1721 until 1736, Fort King George was the southern outpost of the British Empire in North America. A cypress blockhouse, barracks and palisaded earthen fort were constructed in 1721. The present buildings were reconstructed from the original plans. Many historians are convinced that this is where Georgia began.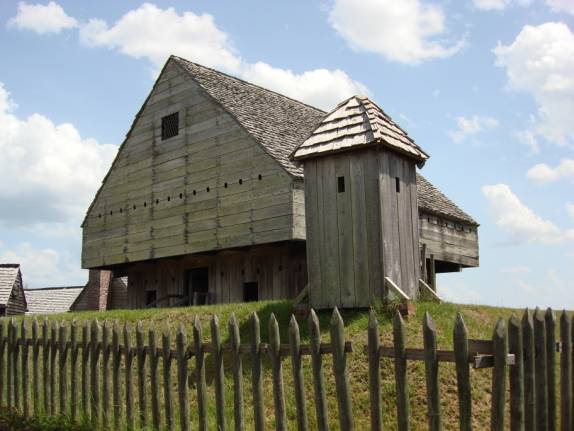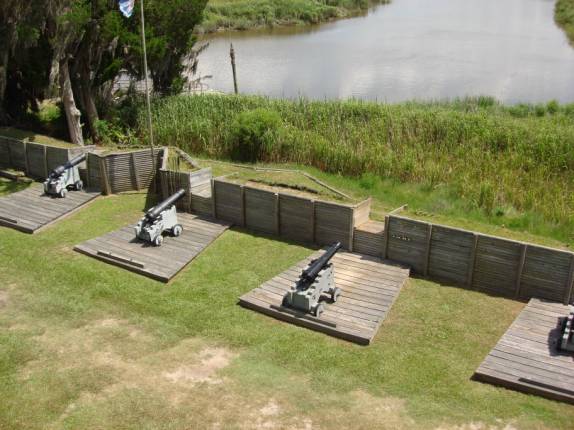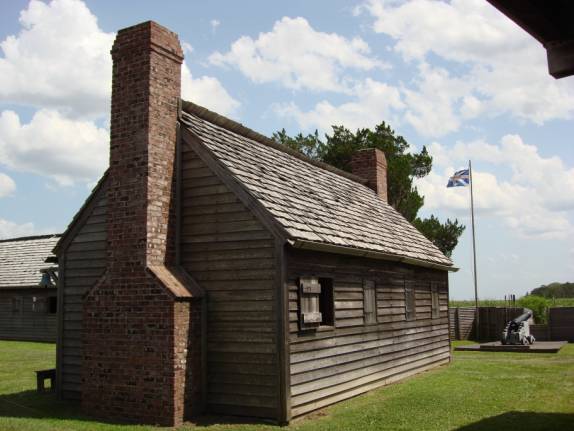 Many of these historical areas are nestled along the rivers and swamps. The British are gone, however, other venerable soldiers remains on guard awaiting unsuspecting intruders.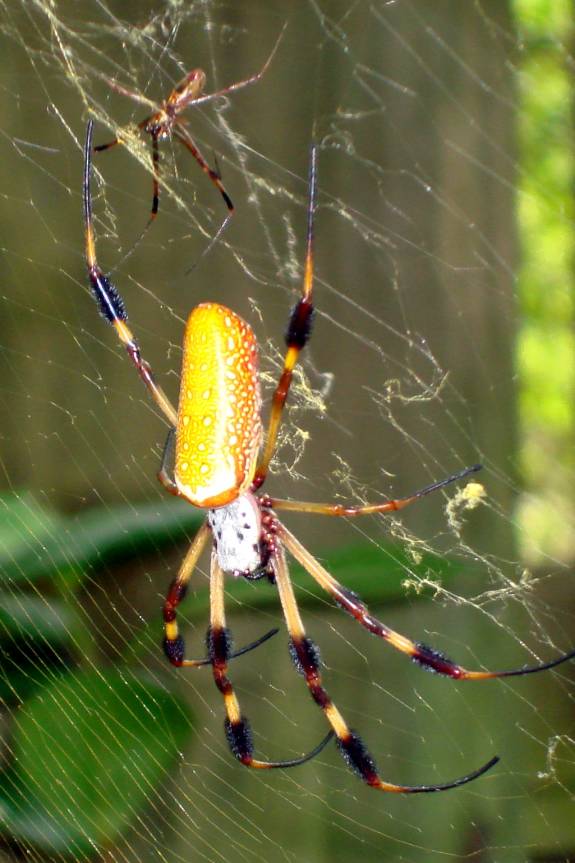 07/19/07 THURSDAY BRUNSWICK LANDING MARINA, BRUNSWICK, GA
The local Buick dealer was ready for us when we arrived for our 9am appointment. The right rear carpet area was absolutely soaked with water. Having had this problem before, Judy suspected a condensation leak in the air conditioning system. The dealer quickly found the clogged drain and cleared and flushed the overboard drain tubes.
With the A/C working better that ever and a delay of a mere 30 minutes or so, we still had plenty of time for breakfast. Jim's Corner Café in downtown Brunswick prepared a delicious Bacon/Cheese Omelet for me and the French Toast for Judy. It is an enjoyable place and highly acclaimed in the cruising guide by Claiborne Young.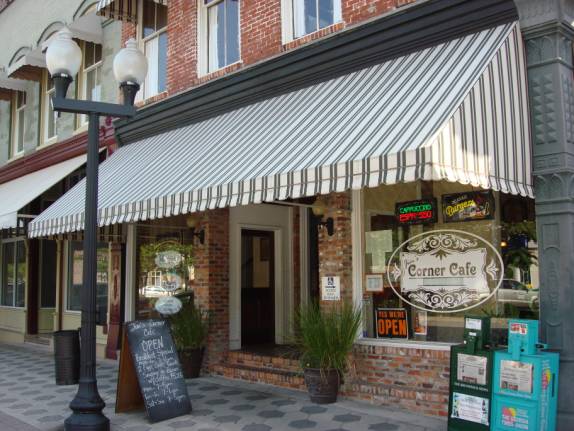 Judy used the rest of the morning deep vacuuming the auto carpets to dry out any remaining moisture. As if that wasn't enough, she did some polishing on the stainless steel rails on AMARSE. I worked on our logs and updates.
Before long, the four of us were heading to Fox Den Pizza for their happy hour special. Cold beer and a pizza always taste great. We purchased our tickets for the 7 pm showing of West Side Story. This is another in the series of "Turner Classic Movies at the Ritz" program. The film has been a long time favorite of Paul's. We enjoyed it very much and I was extra lucky that my ticket number was drawn for a gift certificate at one of the merchant shops in the downtown area.
07/20/07 FRIDAY BRUNSWICK LANDING MARINA, BRUNSWICK, GA
We received a call that Paul and Sue were out and about. They asked us to join them for some shopping and lunch. Of course, we jumped at the offer as we always enjoy being with them. We helped carry some of their goodies to give them more room on the scooter. Although they are obviously wearing matching outfits of white tops and beige shorts, I doubt that anyone would ever believe that they are displaying their motorcycle gang colors. "Hell's Angels?" I think NOT!
We enjoyed a nice lunch at Michael's Deli before heading back to the boat.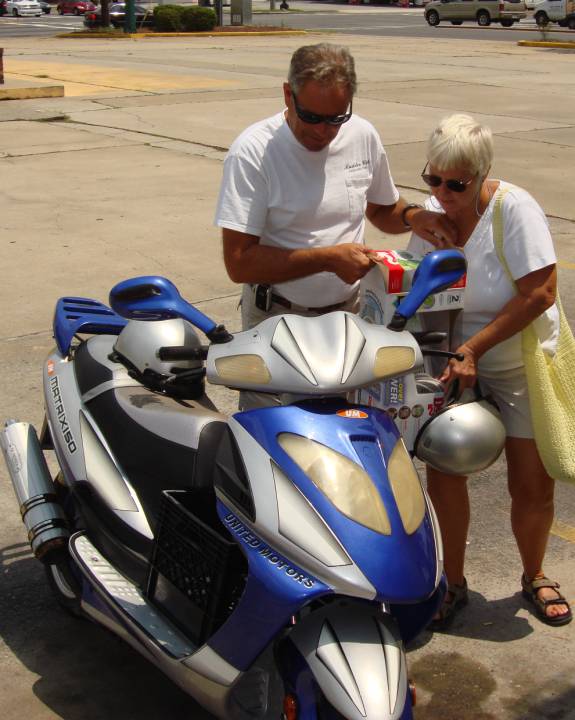 It has been torridly hot around here lately. The mercury shot up into the high 90's this afternoon. I know that it has been steamy all over the country so we are not the only ones wiping sweat from the brow. Thank goodness for AMARSE's good air conditioner.
The quesadillas that we had for dinner were made in a heated skillet by spreading shredded Mexican cheese and shredded white-meat chicken between two flour tortillas. With a side of seasoned black beans, it became a delightful, south of the border meal.
A horrendous thunderstorm dumped lots of rain and rocked our world with strong winds. Our dock lines tugged and stretched as Paul was clocking the vicious winds at 50 miles per hour. It was definitely the kind of night to stay in and watch some TV.
07/21/07 SATURDAY BRUNSWICK LANDING MARINA, BRUNSWICK, GA
After the severe storms last night, the area weather has turned dryer and cooler. Still trying to find a way to improve the space in the main salon, we tried changing the dining table position by changing the floor panels. Unfortunately, the move caused the table to be just too close to the settee. We returned everything to its original configuration.
Following an Italian Ravioli dinner, we accepted the invitation to ODYSSEY for the running of the NASCAR Busch Series, Gateway 250, broadcast from near St. Louis. One of my favorites, Reed Sorenson, took the checkered flag. During the laps, Sue assembled an eyeglasses necklace by stringing tiny beads together. It was her special gift for Judy. Those two have become such good friends.
07/22/07 SUNDAY BRUNSWICK LANDING MARINA, BRUNSWICK, GA
Several weeks ago, a concert on St. Simon's Island was cancelled due to weather. The rain date for that musical event was rescheduled for tonight. Judy made up the picnic lunch and filled the small cooler with drinks. The weather was just about as perfect as could be imagined. After paying our entrance fee, we unfolded our chairs and enjoyed the goodies that we'd brought. There were even more folks out tonight and some of the picnic setups were phenomenal. Our table setting may not have been the most elegant, however, our fare was perfect and we could share the same wonderful ambiance that everyone else enjoyed.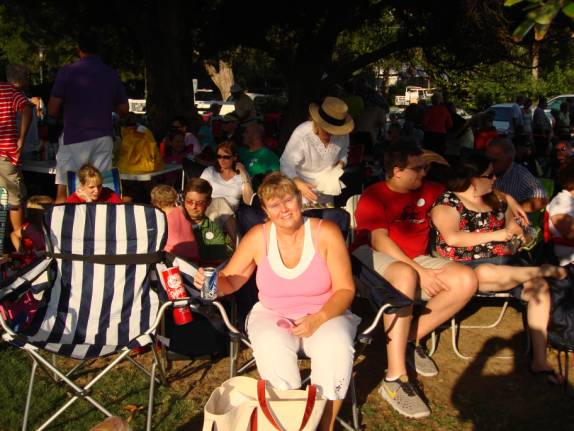 This event is such a nice way for people to enjoy each other in a family setting.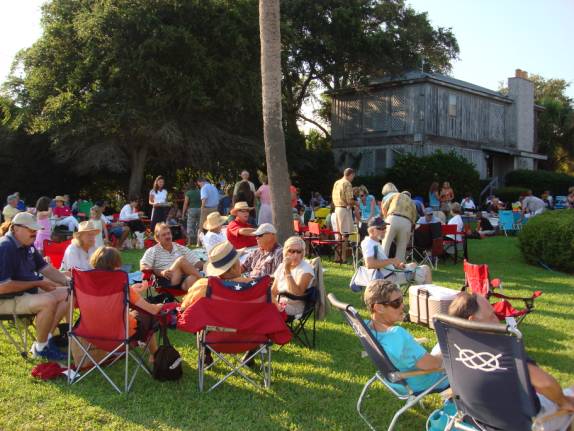 How's this for a nice view?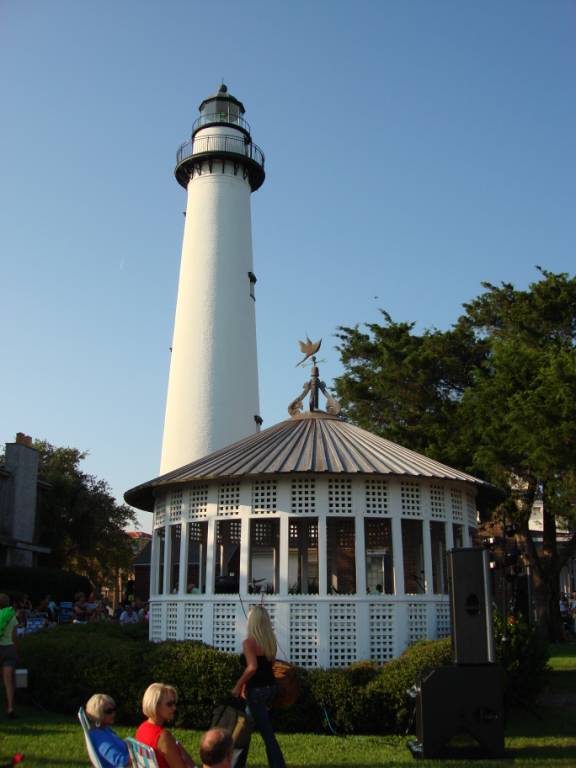 The Sensational Sounds of Motown kicked off their concert precisely on time at 7pm. When Henry Sanders, Mr. Motown, grabbed the mike to belt out those familiar tunes that many of us grew up with, the crowd came alive.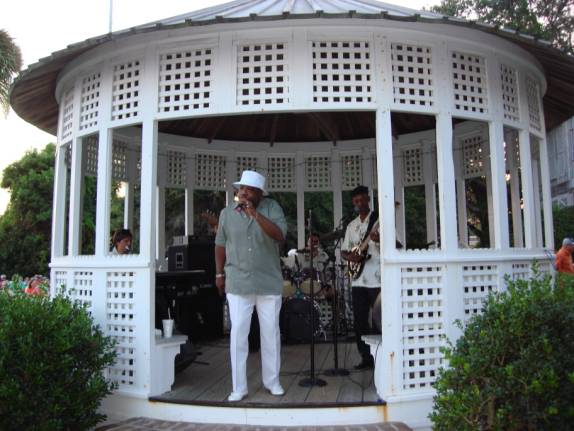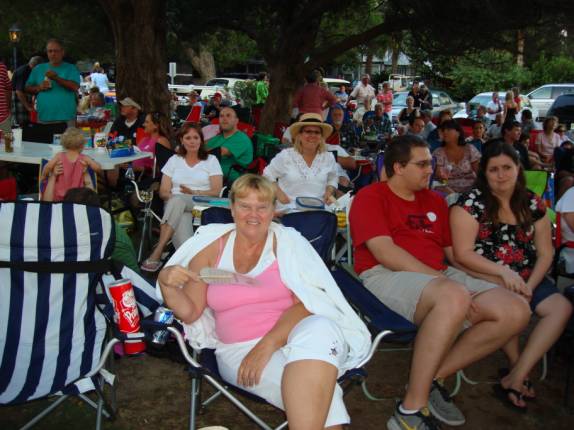 "…… and the band played on." Before long, lots of folks had the beat and the dancers surrounded the bandstand. It was fun to see so many of the younger kids singing along. They were obviously quite familiar with many of these classic songs from the Motown era.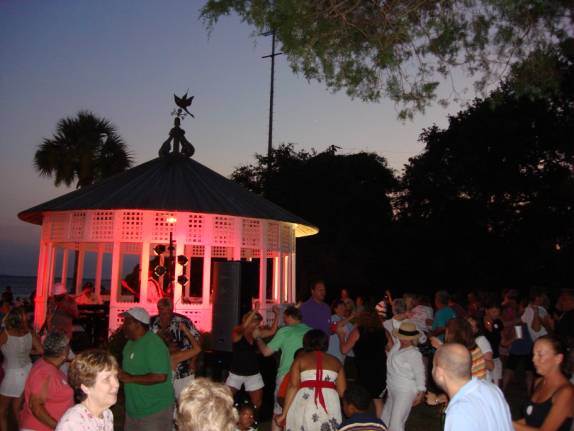 All to soon, the partiers slowly headed homeward. All had a great evening. It was too bad that Paul and Sue didn't get to see and hear the fun.
07/23/07 MONDAY BRUNSWICK LANDING MARINA, BRUNSWICK, GA
We don't usually get up at 7am, however, that is what the alarm was set for this morning. Despite all our attempts to dissuade them from moving on, Paul and Sue were determined to press north this morning. We wanted to be with them to help in any way we could.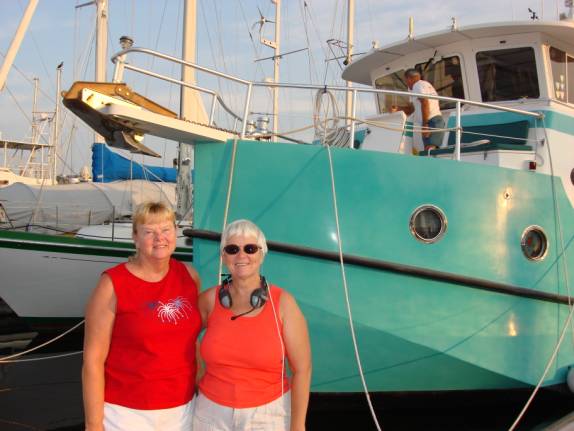 Using the onboard crane, Paul lifted the scooter into its chocks high on the upper deck.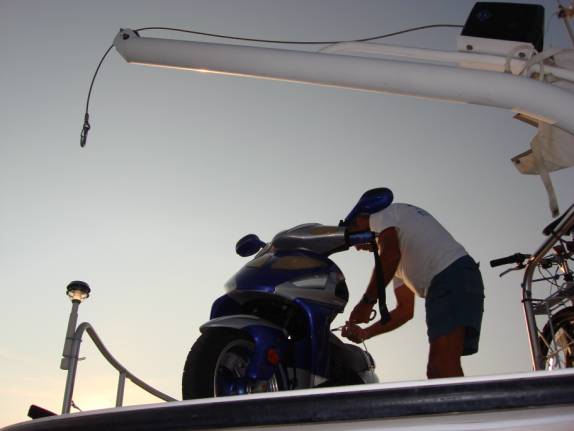 The next chore for the Paul and the crane was to lift the dinghy into its cradle.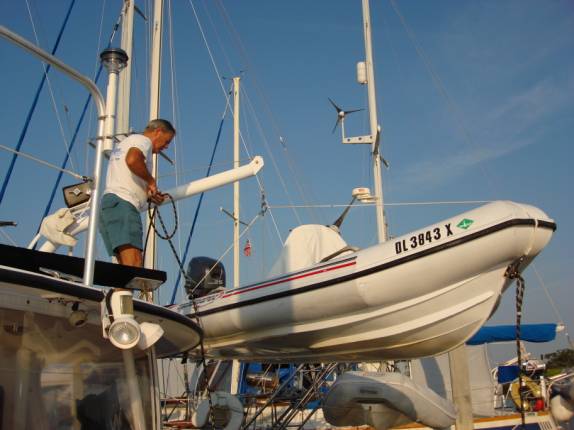 Admiral Sue assumed the command position on the bridge deck. Wired for voice-activated communications with Captain Paul, the two worked in harmony to get ODYSSEY underway.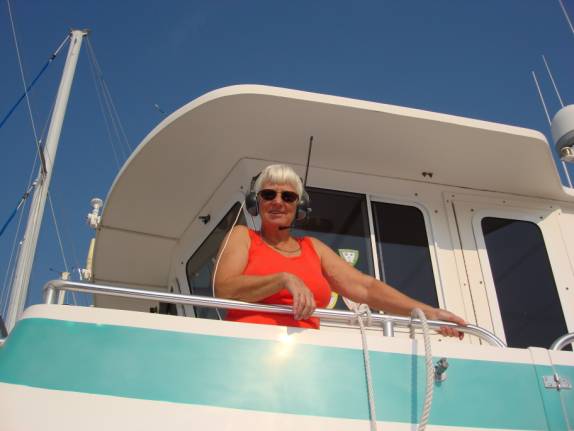 Of course, we wished that they could stay longer, however, they had places to go and people to see.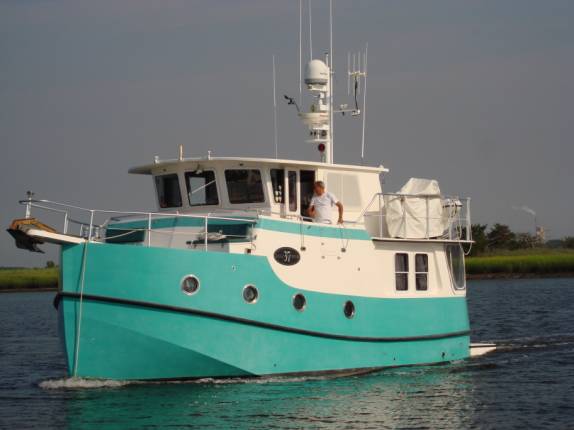 We know that our good-bye waves are not permanent. We are confident that we will see them again in a few months. I can assure you that we will miss them very much until then. Bon Voyage, mes ami, bon voyage.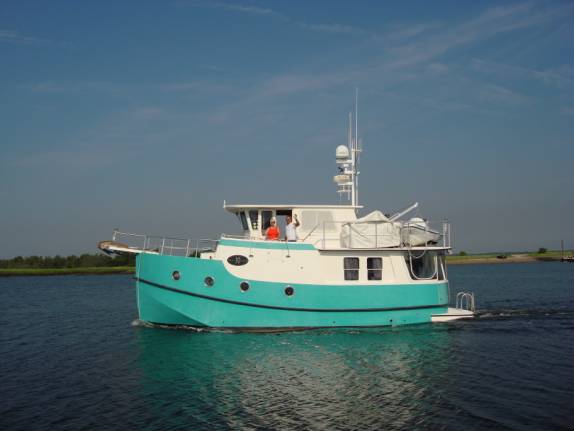 Before they left, Sue gave me some of her special, homemade waffles that were loaded with chopped pecans. Along with some sliced fresh Georgia peaches and some ripe, red strawberries, we had a great breakfast.
George, the marina maintenance man, came by to help hook up to the TV cable. The main cable had been installed under the dock. It had not been connected to the pedestal outlets. George was able to connect into the junction located under the utility cover in the dock. Soon we had the antenna connections converted to cable and we tuned the TV to accept the cable signal. With lots of channel choices, we will now be able to enjoy a variety of clear stations and programming.
Each dock row has its own BBQ grill. Unfortunately, the unit on our dock is having a problem. Using the next dock's grill, I seared a couple of beautiful and scrumptious Filet Mignons to a perfect, medium-rare pink. With cheesy scalloped potatoes and a dessert of pecan pie, we knew that it doesn't get any better than this.
07/24/07 TUESDAY BRUNSWICK LANDING MARINA, BRUNSWICK, GA
Even with the humidity returning, the weather remained pleasantly in the 80's. For dinner, we tried a chicken pot pie that came from Publix. The last time we had one of these, I wasn't feeling well and couldn't enjoy it. Tonight was another thing and I enjoyed the dinner very much.
At 7pm, we were in our seats at the Brunswick Public Library auditorium for a special lecture sponsored by the Georgia Historical Society. "When Jefferson Dined Alone: An Evening with Thomas Jefferson" was an enlightening and very interesting introspection into the man from Monticello. Dr. Stan Deaton held everyone's attention throughout the talk.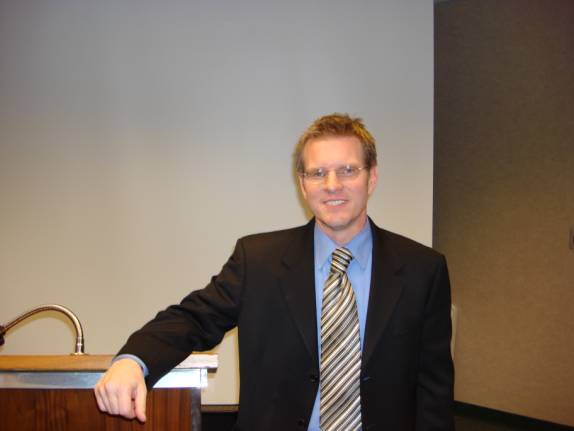 A lecture like that can really trigger your sweet tooth. Fortunately for us, it is Tuesday, which brings us $1 a scoop night at Baskin Robbins. There was no way we could resist.
POST SCRIPT:
Thanks for allowing us to share our life and adventures with you.
REMEMBER: The rest of the website is now fully active and you can visit it at any time. You can review any of the 2006 or 2007 logs and learn more about the crew and our plans. Enjoy.
ATTENTION: SPECIAL NOTE:
"AMARSE". is pronounced "AM-ARE-SAY". Our website is: www.amarse.net .
We would like to hear more about what is happening in your lives. Let us know as we very interested in what's going on with our friends and family. Please call or email us with your thoughts and comments and ideas too. Thanks
Lot of Love,
Fred Reed and Judy Law
AMARSE
MT40