UPDATE#20
06
/24 thru 06/30/07
Howdy Everybody,
The period 01/19/07 thru 06/23/07 has been covered in Updates 1 through 19. We continue with UPDATE 2007 # 20.
UPDATE 2007 #20 06/24/07 through 06/30/07.
Welcome back to the new Adventures of the trawler AMARSE. At last update, we were visiting with Fred's kids and grandkids at the Lake of the Ozarks, Missouri.
06/24/07 SUNDAY LAKE OF THE OZARKS, MO
Our visit to the Lake of the Ozarks has been wonderful so far. The chance to visit with Fred's son, Doug, his wife, Lisa, and grandkids, Austin and Ashley, has been full of proud moments and fun times. Today will be no different in that respect.
The jet skis were beckoning Judy to test their agility. She was eager to demonstrate her skills on the powerful, little PWCs.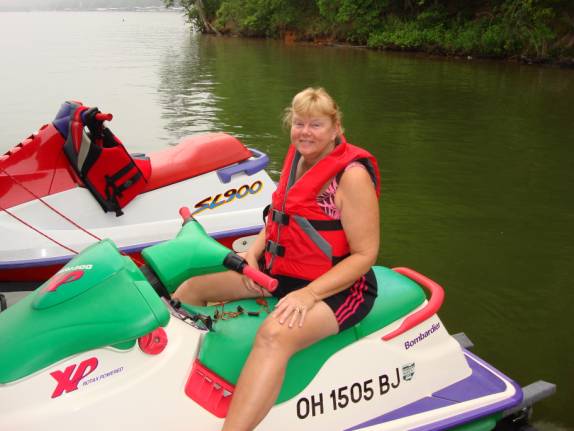 The jet ski ramps and hydro-lift mechanisms work perfectly. Doug crafted them from basic materials and just finished installing the units this weekend. The lad is such a talented guy. He makes a Dad very proud, not only for what he does, but for who he is. If you haven't guessed, I love him so very much!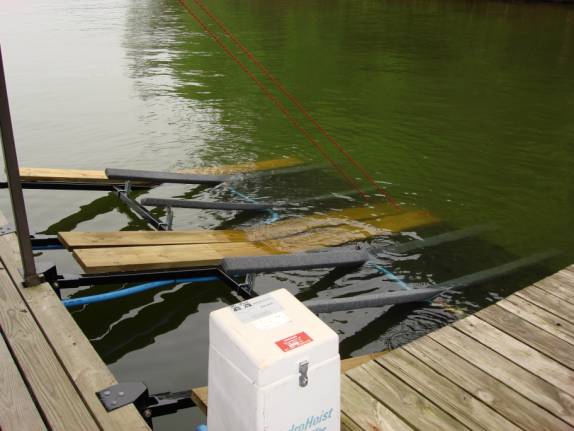 Doug was quick to jump on the red Jet ski and accompany Judy for the morning ride. The kid loves the water.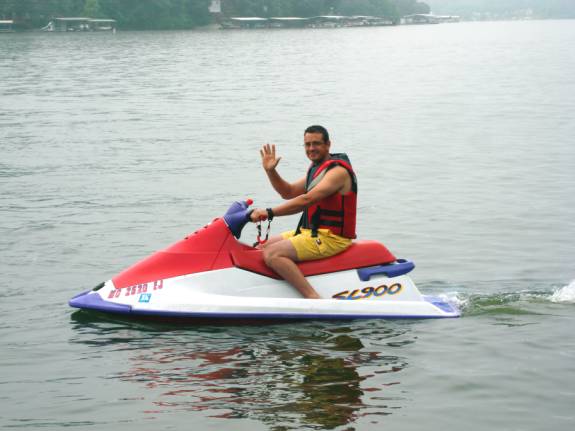 My terrific grandson, Austin, follows in his Dad's footstep with the love of water and water sports.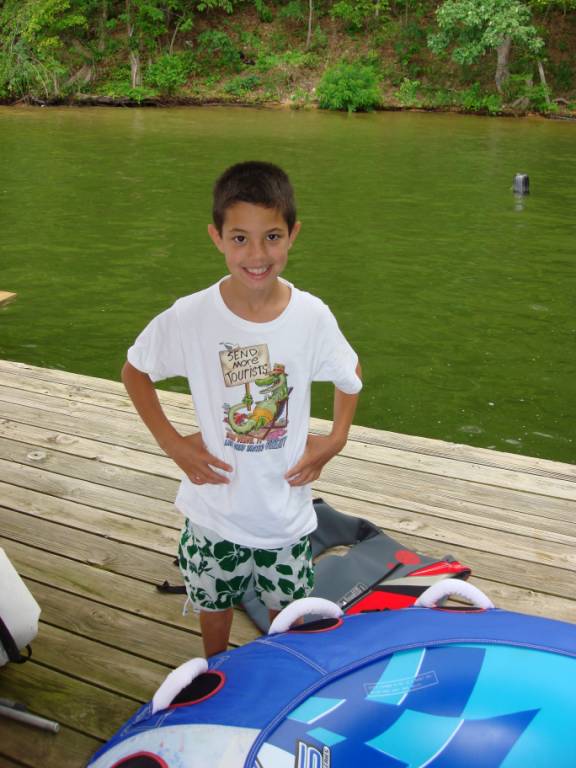 The view of the lake house from the water is lovely. This is definitely a prime location on this huge lake.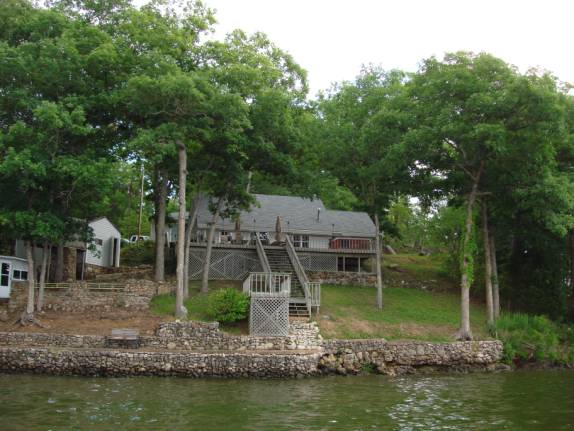 Doug fired up the fast boat to add to the thrills of the day. Austin is a natural when it comes to these things. The harder you bounce him, the faster you zip him in the turns, and the quicker you throttle up, the better he likes it.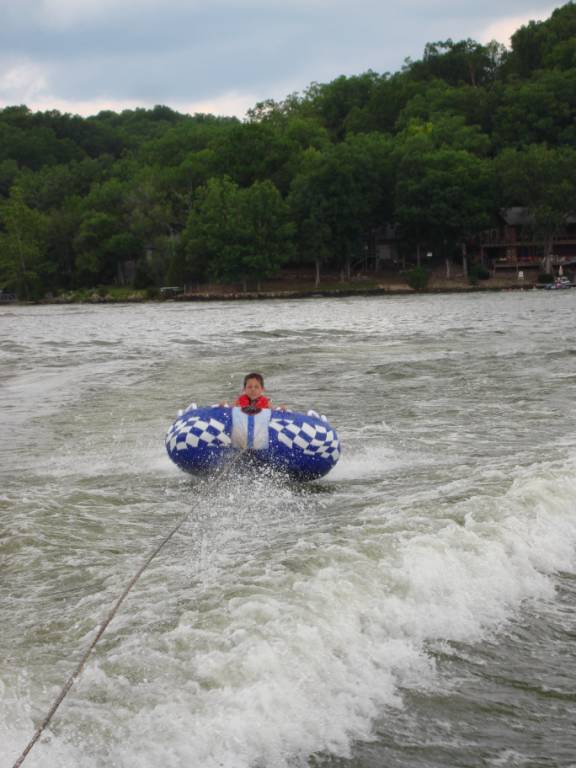 Whip the tube into the turn forcing it to jump the wake and Austin is in his glory. Just look at that smile.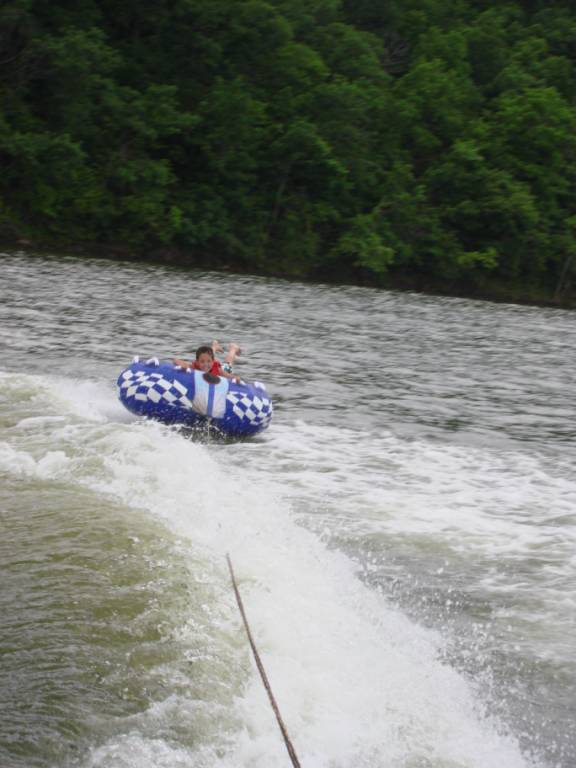 Even if he gets flipped out of the bouncing tube, he's ready to jump back in and go for it again. Let me remind those of you that may have forgotten, young kids are completely tireless. They seem to have even more energy and stamina than we can imagine.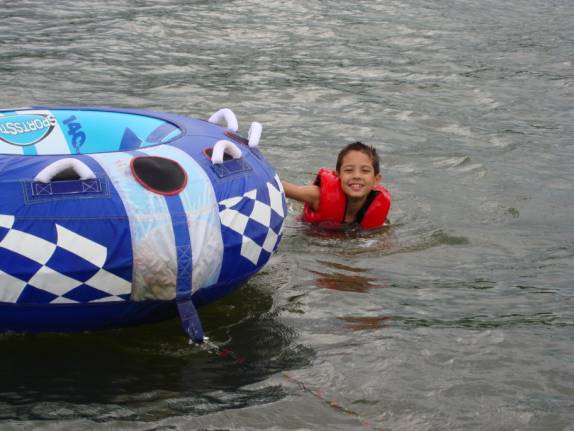 This smile clearly shows me that Judy is having a great time too. She must have been a water baby too.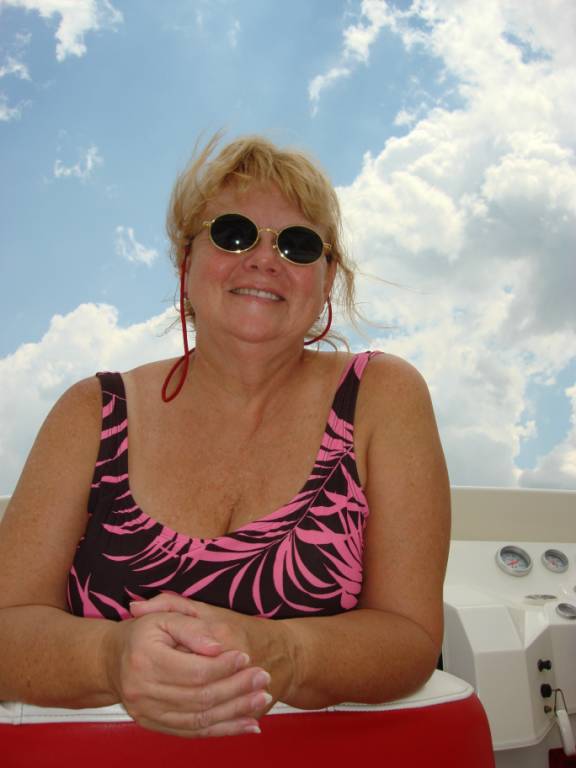 Paw-paw Fred and Austin had a great time swimming and splashing near the dock.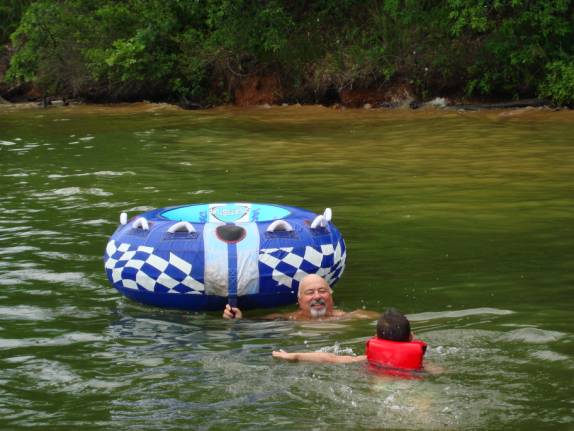 It was time to bring out "The Gladiator". This three-person water sled is a great way to enjoy the tubing sport in a bit more comfort than the single unit. Austin agreed to keep his grandpaw from getting too scared.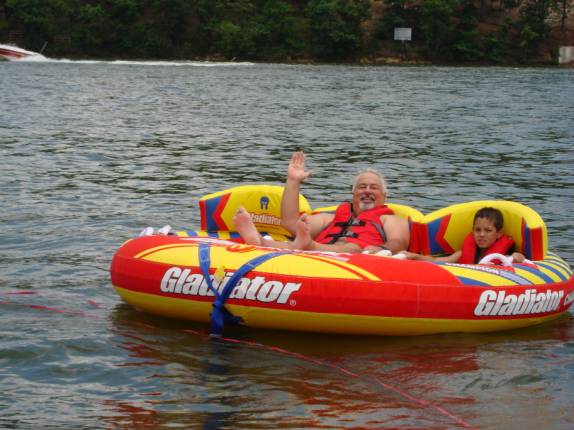 I'm having a ball while Austin is signaling for more speed and to whip us outside the wake.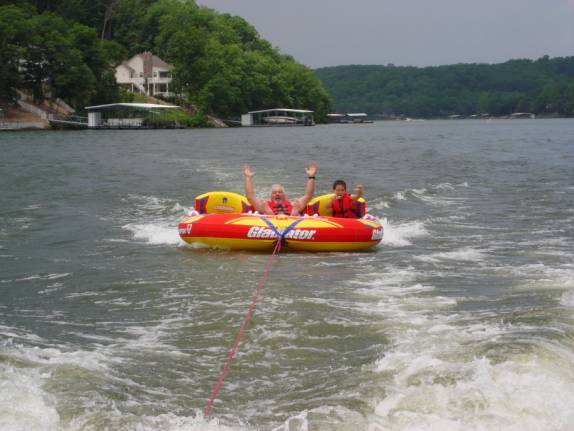 It was Doug and Austin, father and son, in the "Gladiator" this time. Yep, that put Fred at the controls of the rocket boat, "Check This", while Judy kept a sharp eye out as safety spotter.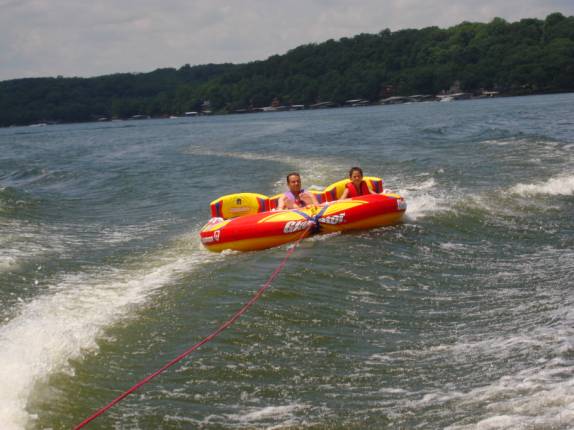 There was no way that Judy was going to miss out on this kind of fun and good time.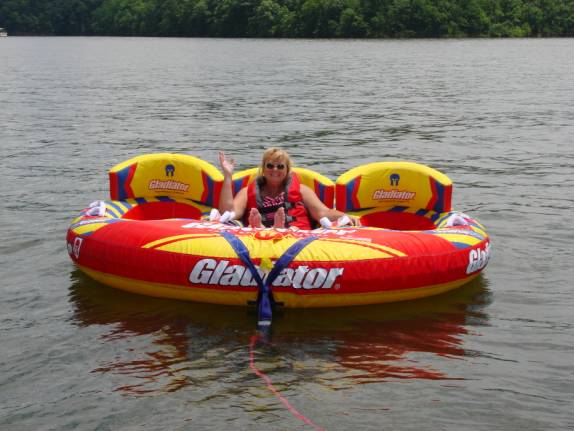 With the tubes up on the dock, the Jet skis back on the ramps, we all jumped into "Check This" for an afternoon cruise on the lake. Ashley has taken to the boat and the water with a natural flair. It is so great that the whole family enjoys things together.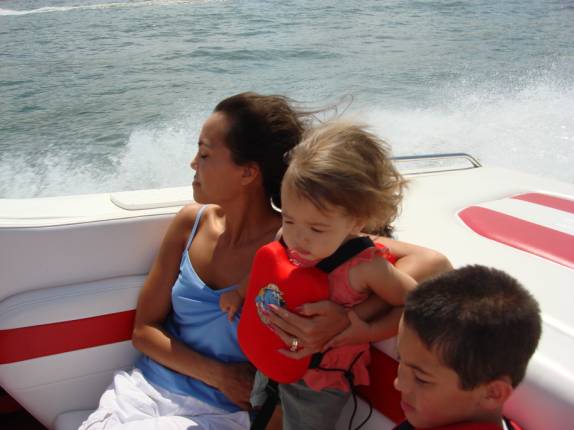 There are numerous bars and restaurants around the lake. This place is relatively new and Doug was anxious to try it. The "Jolly Roger" dockside restaurant had a couple of open slips for us to land at. They even had some cute gals to take our lines.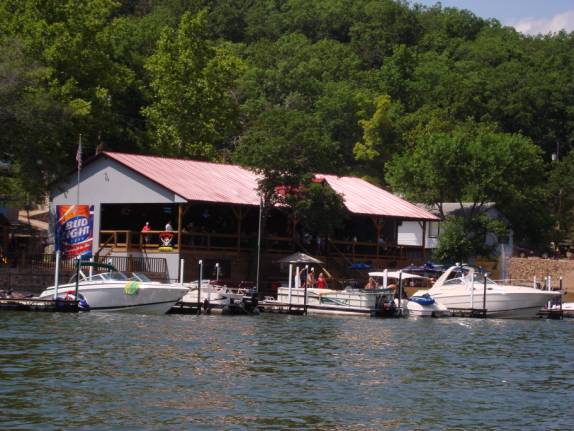 As we climbed the stairs to the open patio, Judy just had to have her picture taken with the infamous, Captain Morgan. Of course, he is the rascal pirate associated with the rum producer so famous in tropical drink circles. Perhaps you have seen their huge billboards depicting the mischievous pirate that draws red mustaches and beards on the people. It always bears the slogan, "The Captain was Here". I find the ads quite humorous.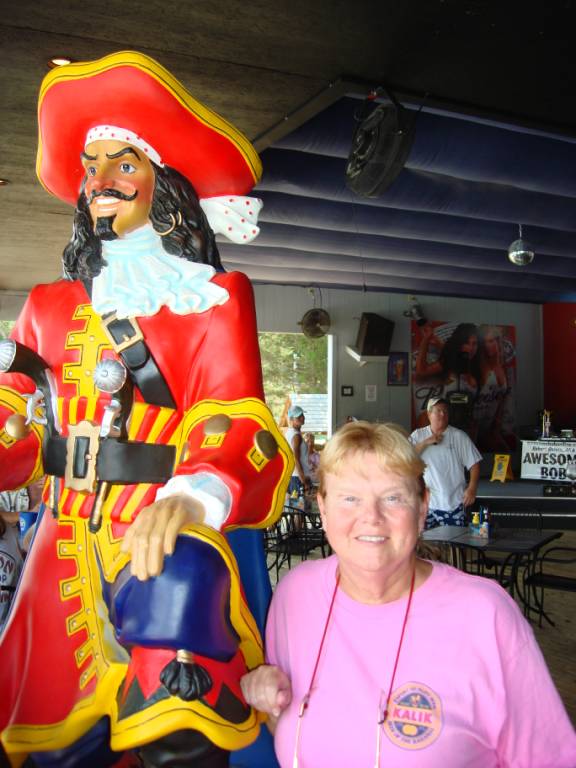 My daughter-in-law is absolutely gorgeous. Her inner beauty is even more awesome.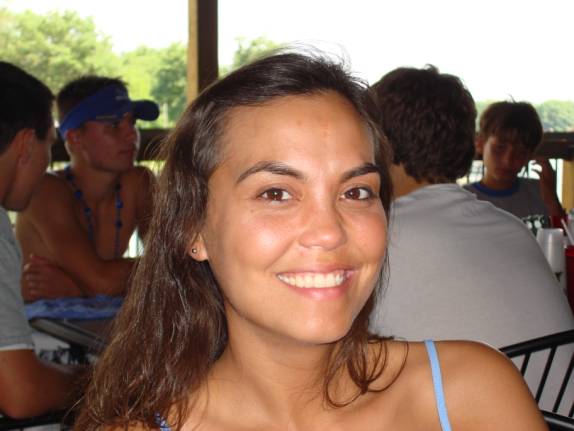 I guess it's obvious, "The Captain was Here".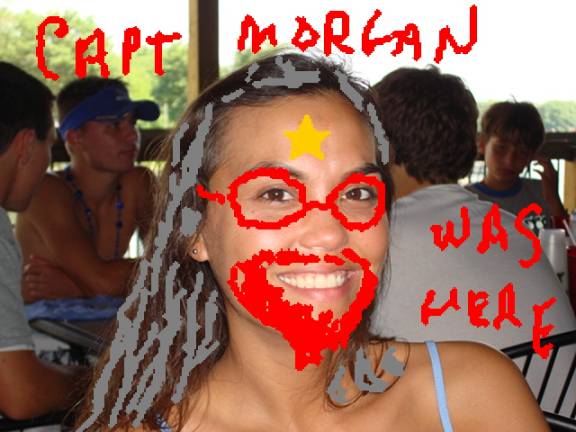 I never would have guessed that a pirate girl could be so cute. This one has captured me and taken me slave.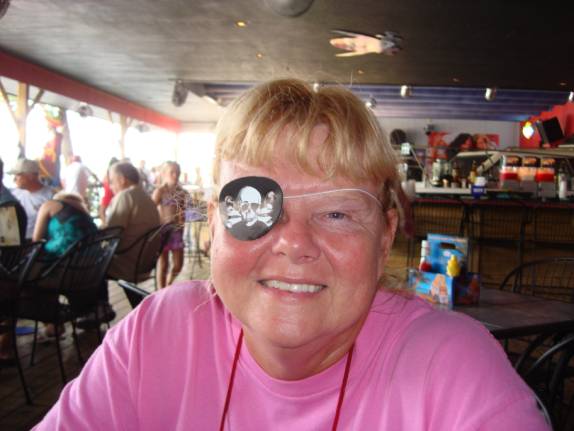 Doug's boat is really sharp. "Check This" is a Checkmate boat and its thunderous power will pull your hair straight back.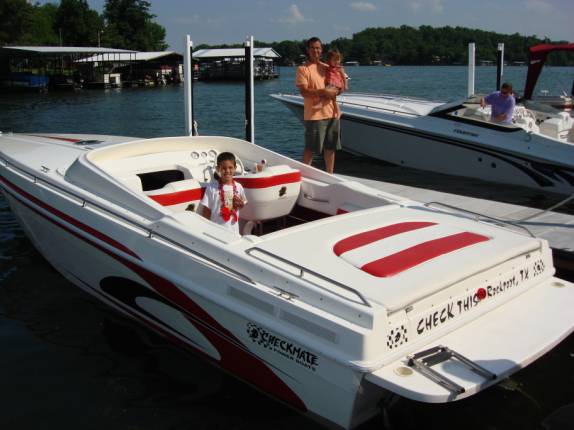 We all had the grouper sandwiches. Although they were pretty good, they don't even come close to our favorite place on the lake, "Outback Jack's". We had lots of fun and our boating time on the lake was super.
Everyone was stuffed to the gills so we just snacked during the evening. It was a quiet and relaxing evening, just the kind that makes family togetherness so great.
06/25/07 MONDAY LAKE OF THE OZARKS, MO
It was another fabulous morning. The weekender crowds had returned to the cities and their jobs leaving tranquility and peacefulness behind. I was the first one awake and looked out over the placid lake with inner solitude. I enjoyed the chance to think how wonderful life is and how much love I have for all these people still resting in their beds.
Before long, the others began to join me downstairs for another fun-filled day. After a nice, light breakfast, it was my turn to disrupt the stillness of the lake.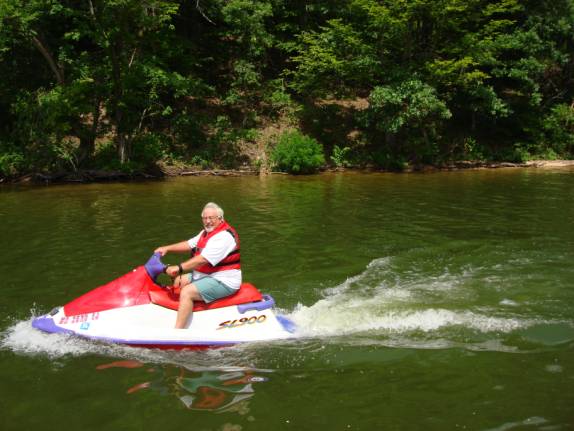 Doug and Austin can easily maneuver circles around me on these powerful PWCs. I may not be as fearless as those two, but, I bet I had just as much fun.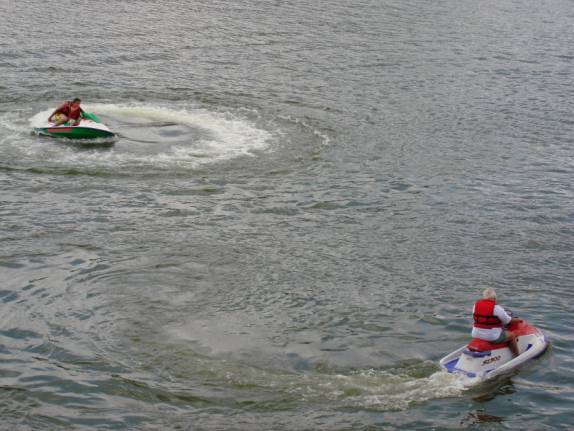 "Watch this, Paw-paw Fred". His back flip was fantastic. He has developed a lot grace, agility, and skill through his extensive training in Tae Kwan Do.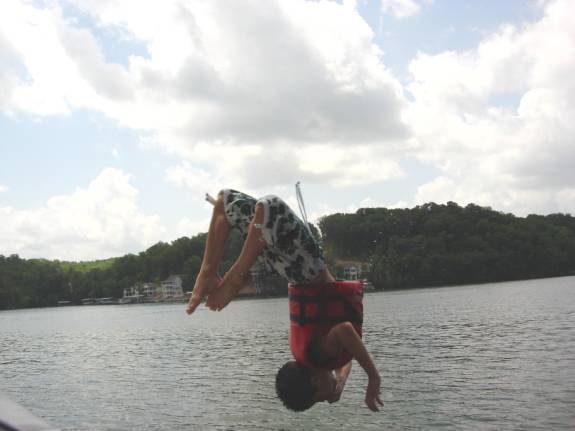 "How about this one, Paw-paw Fred and Judy?"
All this water sports can make a family mighty hungry. The grill master had the answer, what could be better than hotdogs hot off the grill.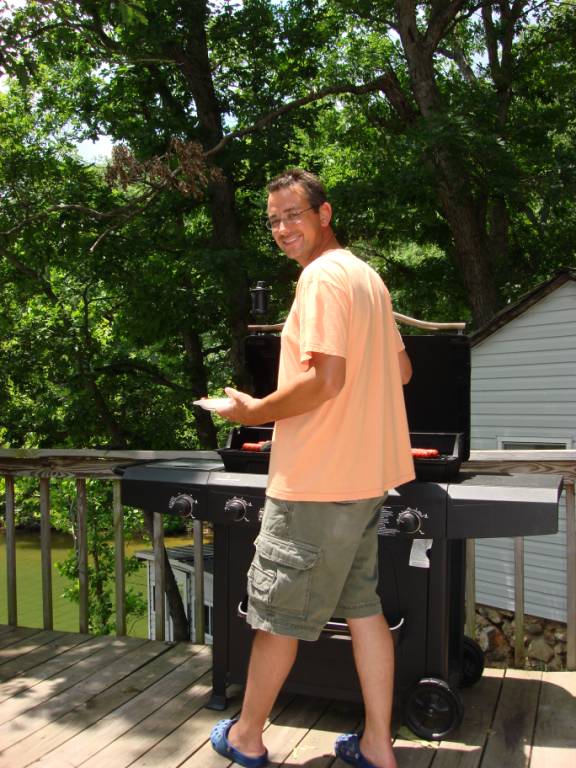 The energy to jump and play continuously empowers this kid to be constantly on the move. Who said that a hot tub is only for relaxing?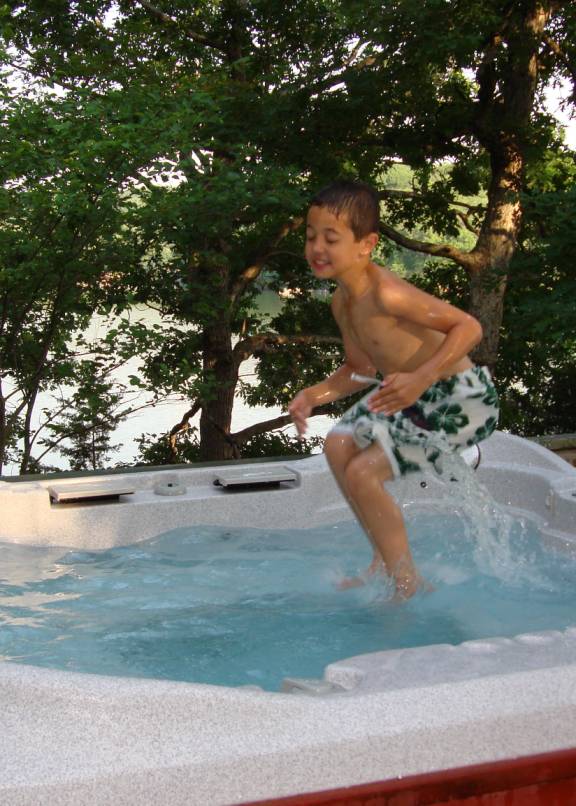 With my energy levels severely depleted, my only chance for revitalization was an afternoon nap. Thank goodness, they awakened me in time to go out for a late afternoon boat ride on "Check This". The weather was absolutely perfect and waters were as smooth as only a weekday afternoon could be.
It was Judy's turn to demonstrate her culinary skills. She prepared my favorite dish of Chicken Breast in Mushroom sauce, mashed red potatoes, and stuffing. Wow! She deserves a Gold Medal for that meal.
It was a delightful evening on the patio. With the Tiki torches burning brightly, we yakked, family style, until well after midnight.
06/26/07 TUESDAY LAKE OF THE OZARKS to O'FALLON, MISSOURI
Once again, we were greeted to a class A morning here at the lake. Doug busied himself with the putting away of all the toys. By early afternoon, we were on the road headed for O'Fallon, Missouri. It is their family tradition to stop mid way for ice cream. We joined right in too.
Doug and Lisa have moved into a new house since we were here in September. It is much larger and very nice. Although it looked great to us, Doug explained some of the changes that he was anxious to make. The kid is mighty ambitious, however, he has the talent and ability to tackle any remodeling task or project.
Aunt Jen, Lisa's sister, volunteered to watch the kids so that the adults could go out to dinner tonight in celebration of Doug's birthday (tomorrow). We chose Maggiano's Little Italy. We had introduced the restaurant to them last fall and they loved it. We had to wait about an hour but everything was well worth it. We all shared a large Caesar Salad. Doug wanted the Lasagna for himself. Lisa had a half order of Chicken in Farfelle pasta while Judy and I shared an order of Veal and Mushroom Ravioli in a Sun-dried Tomato Cream Sauce. How about some Tiramisu for dessert?
06/27/07 WEDNESDAY O'FALLON, MO
HAPPY BIRTHDAY, DOUG!
The day was occupied with doing errands and some shopping. My daughter, Sharyn, and my son-in-law, Jeff, had planned a get-together around their poolside patio. It was to be an outdoor party of grilled steaks and birthday cakes. Ever heard of the term, "Best laid plans…."? The afternoon skies filled with threatening cumulonimbus clouds that soon delivered their promise of thunder, lightning, and high winds. Wouldn't you know it, they lost power for several hours thus crushing the plan. Sharyn and Jeff quickly came up with the idea of the Longhorn Steakhouse as a substitute. We all met for a delightful birthday dinner and Doug not only had cake but also had his favorite apple dessert. My Filet Mignon and Judy's Baby Back Ribs were absolutely fabulous. We are both looking forward to our next visit to the Longhorn. Thanks, Thanks, Sharyn and Jeff! We love you! This would be our last night together for a long time, much too long a time.
06/28/07 THURSDAY O'FALLON, MO to BRUNSWICK, GEORGIA
It was only 4:45am when the brutal blaring of the alarm signaled our get-up time. This is the same time that Doug has to start his workday, everyday. My Grandson, Austin, had made the request that we be sure to wake him before we left. His loving way made us feel very special. We exchanged hugs and kisses and reluctant farewells, then headed out on the highway at 5:30am for the trip back to Georgia. Fortunately, we still had lots of the Stuart Woods' audiotape left to listen to. The trip took longer than expected and we finally arrived back in the Brunswick Landing Marina parking lot just before we would have turned back into a pumpkin at midnight. It was great to be back home again.
06/29/07 FRIDAY BRUNSWICK LANDING MARINA, BRUNSWICK, GA
Because of our late arrival last night, we were in no rush to get started today. Our email had indicated that Paul and Sue Graham of "ODYSSEY", a Great Harbour 37 trawler, would be here in the marina today. We were excited to see the beautiful, teal colored hull of "Odyssey" tied up on Dock 14. With big smiles, they invited us aboard to chat like long lost friends. Our last visit together was in the Bahamas at Boat Harbour in April. Although they had only planned on staying a day or two, we hoped that we help them change their minds to stay a month.
Judy and I had lunch at Michael's Deli in Brunswick. The meatball parmesan sandwich was good and Judy enjoyed the Chicken stuffed Pita.
Per our agreement, we picked up Paul and Sue for a tour of St. Simon's Island.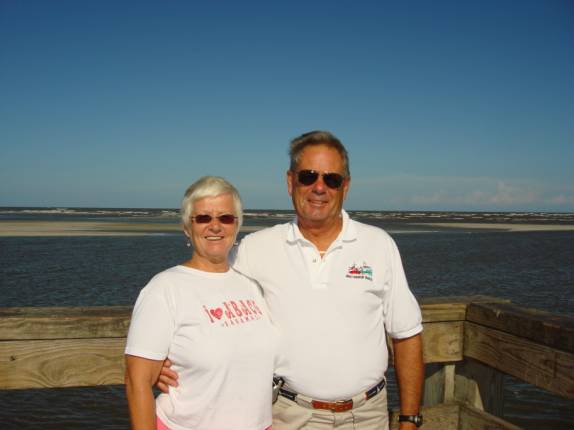 We drove out to the historic Coast Guard Station and the fabulous lighthouse that dates back to the 1800's.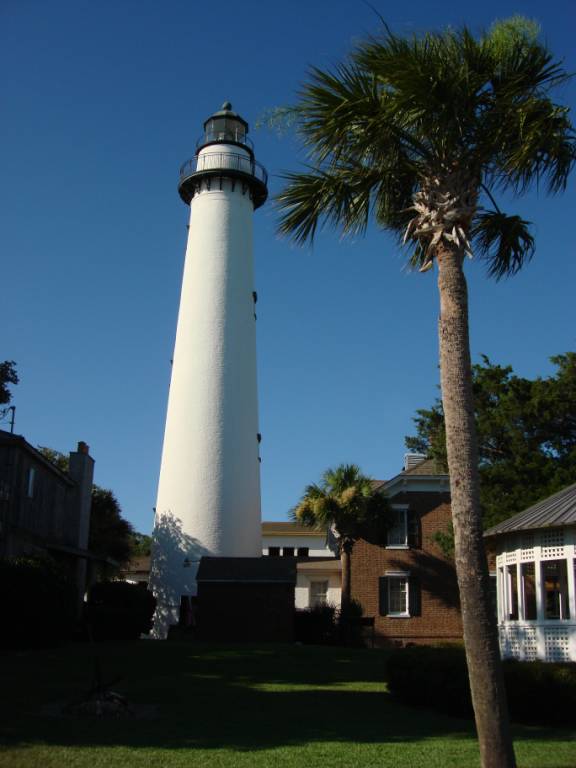 A trip to St. Simon's Island would be incomplete without a visit to Barbara Jean's Restaurant. Now, I've previously proclaimed the accolades for this fabulous restaurant, however, it bears repeating, "This place is really goooood!"
06/30/07 SATURDAY BRUNSWICK LANDING MARINA, BRUNSWICK, GA
On Tuesdays, Thursdays, and Saturdays, a farmer's market displays fresh, local produce. We filled our canvas bag with tomatoes, cantaloupe, cucumbers, corn on the cob, and, of course, Georgia peaches.
Claiborne Young's guidebook highly recommends Jim's Corner Café in downtown Brunswick. Of course, we had to try it for breakfast. We can happily add our recommendation too.
To say that Sue Graham is just an avid NASCAR fan would be an unconscionable understatement. She was glued to the TV in the boater's lounge for the Busch circuit match-up at Louden, NH. Although her favorite driver, Carl Edwards, didn't win the checkered flag, no one could say it was because she didn't lend her vocal support on every lap. One of the nice things is that we could get our laundry chores accomplished during the televised event.
For our dinner, Judy and I had a plate of Jambalaya and sides of cob corn, sliced tomatoes, and crisp cucumbers.
In the historic section of downtown Brunswick resides the lovely, old Ritz theatre.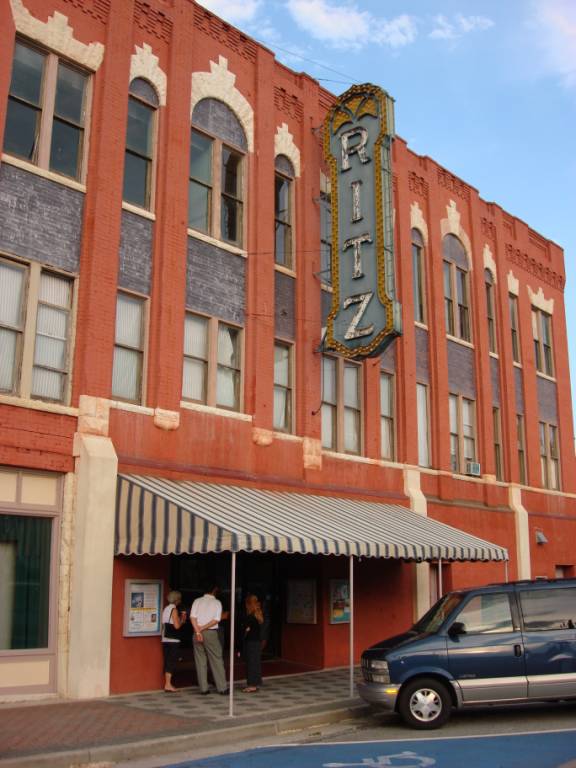 Tonight, the Golden Isles Arts and Humanities Association presented the Eugene O'Neill play of "Ah, Wilderness". The selection was particularly apropos as the author was a one-time resident of this area and the setting occured over a 4th of July period.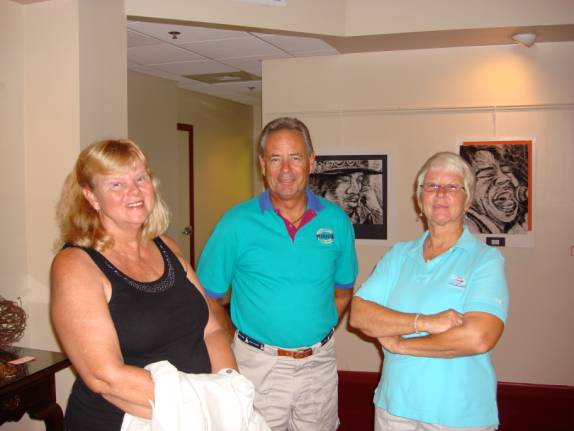 Surprisingly, it was O'Neill's only comedy. We found the production to be very enjoyable and well casted.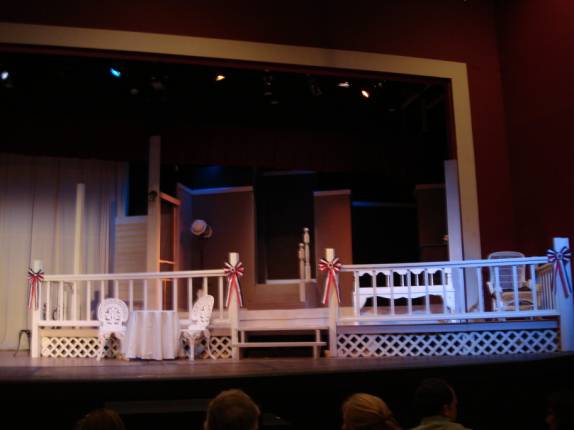 We look forward to more theatre experiences this summer. As this month of June comes to a close, we look back on our fun-filled times and travels. It is great to be home on AMARSE and we are looking forward to lots more fun and adventure in the coming, summer months.
POST SCRIPT:
I apologize for letting myself get so far behind on these updates. If I had a good reason, I would probably us it as an excuse, however, I think that I've allowed some laziness to settle in. I will attempt to bring everything up to date as soon as time permits. As I publish this edition, it is 07/19/07 and we are back aboard AMARSE in Brunswick, Georgia. Thanks for your patience. Please let us know if you have any special suggestions and thoughts.
We thank those of you who have contacted us recently and we are looking forward to hearing from each of you in the near future. Thanks for allowing us to share our life and adventures with you.
REMEMBER: The website is now fully active and you can visit it at any time. You can review any of the 2006 or 2007 logs and learn more about the crew and our plans. Enjoy.
ATTENTION: SPECIAL NOTE
We would like to hear more about what is happening in your lives. Let us know as we very interested in what's going on with our friends and family. Please call or email us with your thoughts and comments and ideas too. Thanks
Lot of Love,
Fred Reed and Judy Law
AMARSE
MT40