UPDATE#19
06
/16 thru 06/23/07
Howdy Everybody,
The period 01/19/07 thru 06/15/07 has been covered in Updates 1 through 18. We continue with UPDATE07 # 19.
UPDATE 2007 #19 06/16/07 through 06/23/07.
Welcome back to the new Adventures of the trawler AMARSE. At last update, we were docked at Brunswick Landing Marina in Brunswick, Georgia and taking a land visit to Texas.
06/16/07 SATURDAY ROCKPORT, TX
The morning was clear and bright like only a Texas morning can. We had a great evening and a restful night. We are the guests of Joe Fugate aboard his Mikelson 42, "My Obsession" docked at Key Allegro Isle Marina.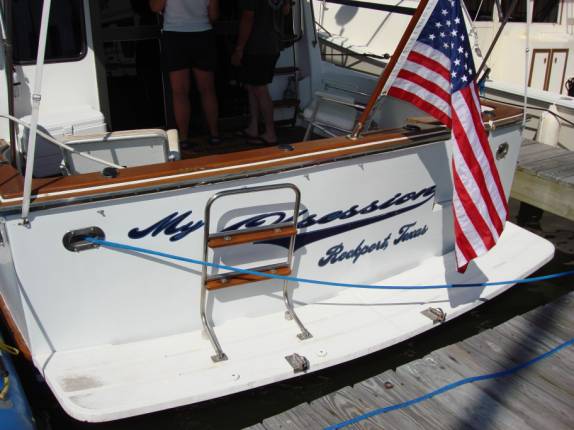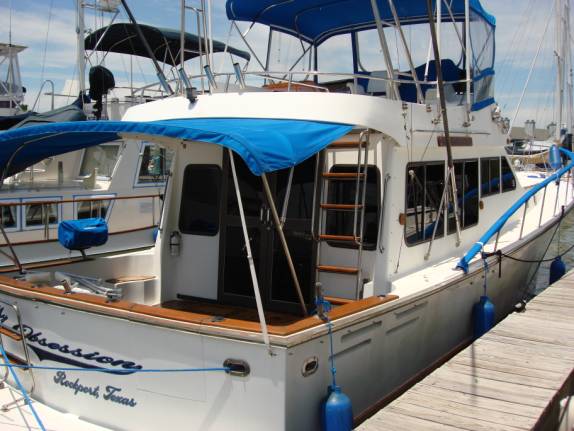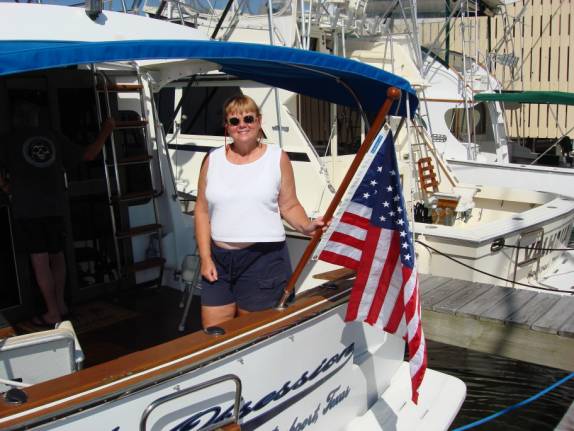 Although he did not join us this last evening, he was an early bird leaving San Antonio to make the 2 hour, 45 minute drive to Rockport. Along with Bill Seward, the four of us enjoyed a great breakfast at JJ's Restaurant.
Joe offered to take us out for a little cruise. We were quite excited since this is his new boat and we had not yet had the chance for a ride. Of course, there are always those last minute checks to be made. Don't you wonder what he could be doing in that little hole?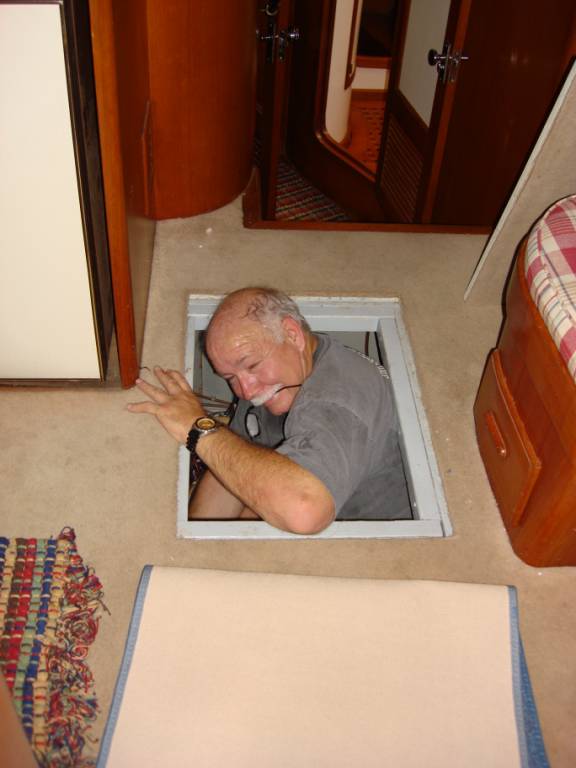 "My Obsession" is a great boat and we enjoyed it so much that we wished we could have stayed out all afternoon. It was fun having Scott and Mary on board too.
The evening sunset/cocktail cruise was aboard "Tortuga", a Marine Trader Europa design. Bill Seward keeps his vessel in pristine condition and we always enjoy the chance to be with him. Bill was very instrumental in shaping our decision to become trawler owners before we bought AMARSE. Bill is enthusiastic about doing the Great Loop trip. We all need to be on the lookout for that right gal to keep him smiling on the voyage.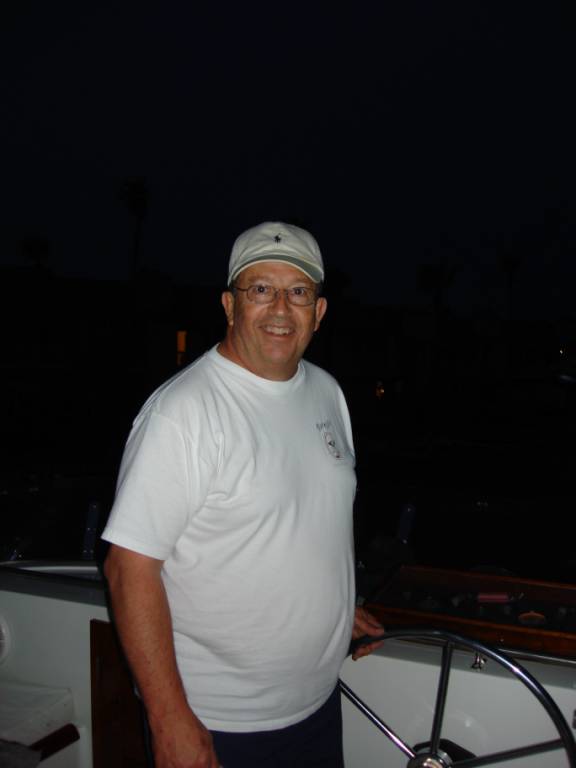 As the cocktails continued to flow back at the dock, we all enjoyed the DVD video concert by the Eagles. The music sure sounded good over "Tortuga's" very nice Bose Sound System.
06/17/07 SUNDAY ROCKPORT, TX to SAN ANTONIO. TX
Plain and simple, it was another beautiful morning in Rockport. Key Allegro Marina was our home marina for more than a dozen years. I know that I've said it before, but we truly love this place and the people that own, operate, live, and dock their boats here. John and Larie Nelson have owned and operated this wonderful marina for several years now. They seem to know just how to create the perfect atmosphere for boating. They work long and hard to make sure everything is just the way you'd want it. Their efforts have been rewarded with numerous awards and accolades. I think their biggest reward comes from all the happy customers. John is always on the run to pump fuel, adjust a dock board, or even carry a bag of ice to your boat. How many marina owners will do that for you? Anyway, as you can guess, we love these guyz!
If you are planning a Texas Gulf coast cruise, I urge you to stay with them as long as possible. If you haven't started planning that Texas cruise yet, these folks would be reason enough to start.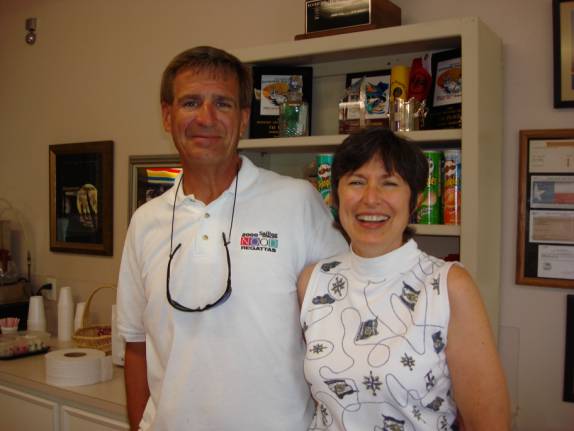 Details: Key Allegro Marina
37 Mazatlan Drive
Rockport, TX 78382
Office: 361-729-8264
Toll free: 800-790-8830
Website: www.keyallegromarina.com
Email: keyallegromarina@sbcglobal.net
Scott and Mary fired up the twin powerplants of "Molly Brown" to take us for a Sunday morning cruise. This 34' SeaRay Sedan Cruiser is a very fun and comfortable boat. Of course, like many SeaRay owners, Scott loves to push the throttles way up. It sure is fun, but, better his gasoline bill than mine.
By early afternoon, it came the time to close up the boats and head for the city. Our thanks to everyone here for making our weekend so special.
Back in San Antonio, it took just a quick phone call to convince Joe and Roxanne to meet us for dinner at the Broadway/410 Diner. This is where home-style cooking got its name.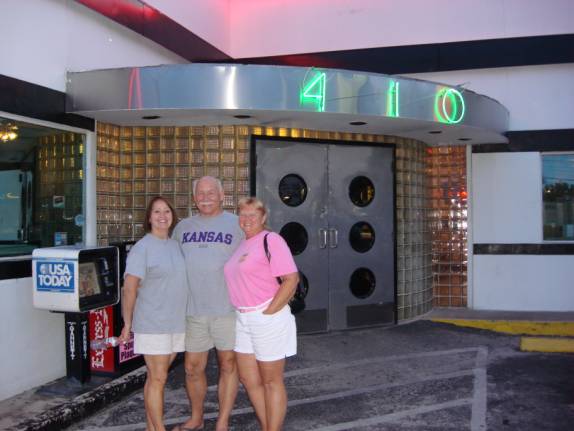 06/18/07 MONDAY SAN ANTONIO, TX
It was Judy's turn in the dentist chair. Her 6-month check went well and she came home with lovely, pearly whites. I think it must be a Texas tradition to crank the Air Conditioning until you are only comfortable under a blanket. There is an old saying that "Cows and Oil brought people to Texas, Air Conditioning convinced them to stay."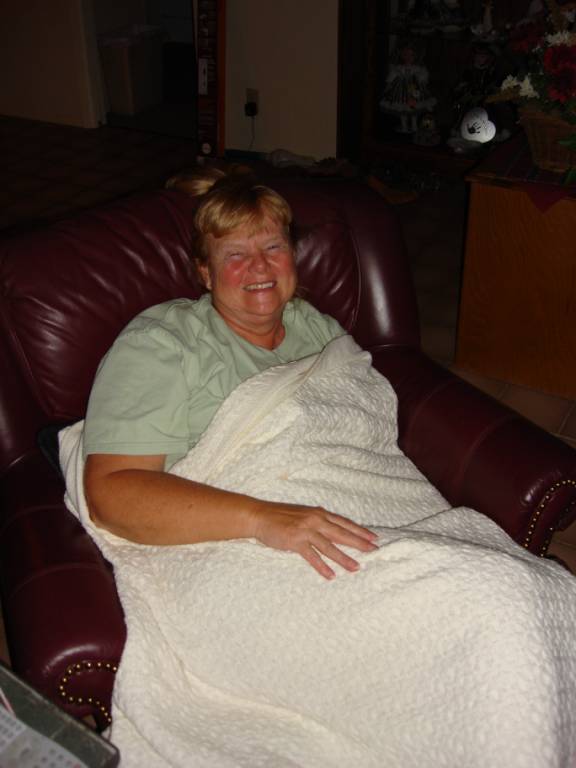 Judy worked tirelessly to pack up all our stuff for the upcoming cruise trip in August. We will have to take all our "fancy" clothes along now in as much as we won't be back to the house before then. We also had to ready the house to be secure while we go back to the boat.
06/19/07 TUESDAY SAN ANTONIO, TX to LUFKIN, TX
We packed up the car, turned off the electric and gas, shut down the water, sealed off the toilets, and cleared the refrigerator. As we waved bye-bye to the house, we were eager to visit with family. Taco Cabana, a Texas chain, serves up a wonderful breakfast of Eggs Mexicana loaded with pico de gallo and slathered in cheese sauce. A couple slices of bacon and a few bites of spicy, refried beans fill the plate. Put some of those eggs in a flour tortilla, spoon on a little Salsa Fuego (roasted jalapenos), and you've found a taste that can't be beat. I guess you've figured out that we stopped here for breakfast.
Suitably nourished, we set out for the 5 or 6-hour drive to Lufkin, Texas. Much of the gang was at Mark's house to meet us. The only one not able to come was Chris, Judy's middle son, who was in south Texas.
Judy's oldest, Mark, his wife Dawn, grandsons, Tyler, Nick, and Alex, represents that branch of the family. Scott, Judy's youngest, his wife Sarah, and granddaughters, Alexis, and Ashlyn, represented their branch. It was wonderful to see Judy enjoying her family so much. The kids and grandkids love her so much. We had a wonderful fajita dinner at Mark's.
Mark is in the process of building a new house. On the 10-acre lot, he has a place for their RV Trailer. That is where we stayed during the visit. Scott, and his family, stayed in the trailer too. It was large enough and we had plenty of room.
06/20/07 WEDNESDAY LUFKIN, TX
At Mark's property, they have constructed a pond. Scott endured the onslaught of energetic youngsters to enjoy the cooling waters.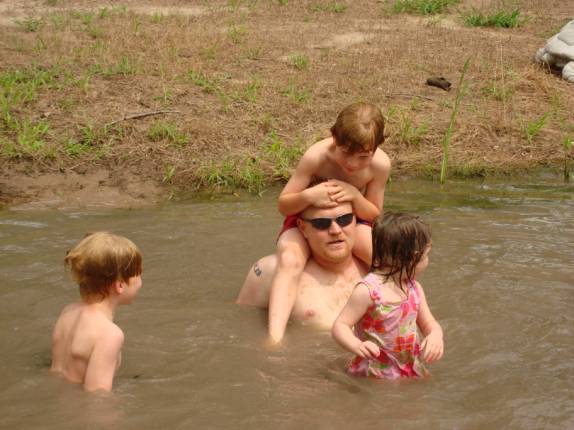 Under the covered shed, the trailer keeps cooler and eases the load on the air conditioners. We even had satellite TV to enjoy. Maybe we should just move in.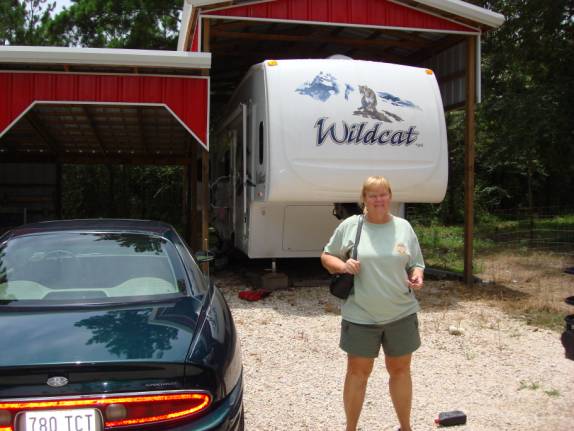 The construction of the huge home is progressing nicely. With Mark as ramrod of the project, they are even ahead of schedule. The new move in date is late September.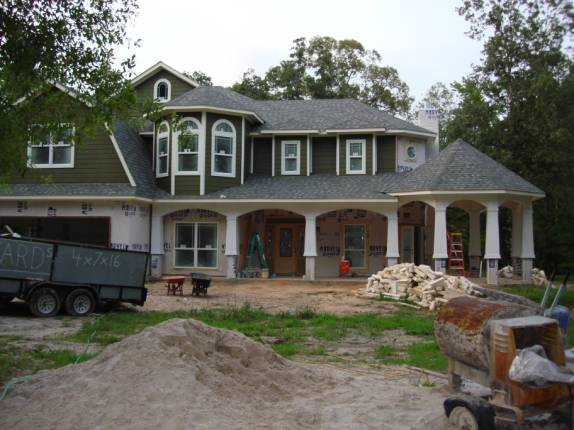 Everybody likes the paddleboat and it gets great mileage.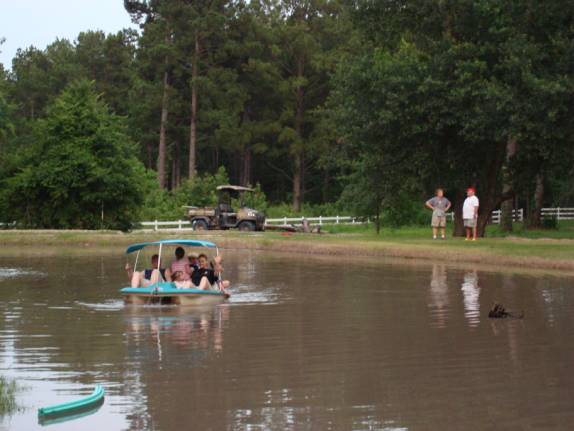 06/21/07 THURSDAY LUFKIN, TX to JOPLIN, MO
We have had a wonderful visit in Lufkin and Judy has been revitalized with this quality time with family. This morning we will load up and head north toward Missouri. I like this picture of a proud mother and her son.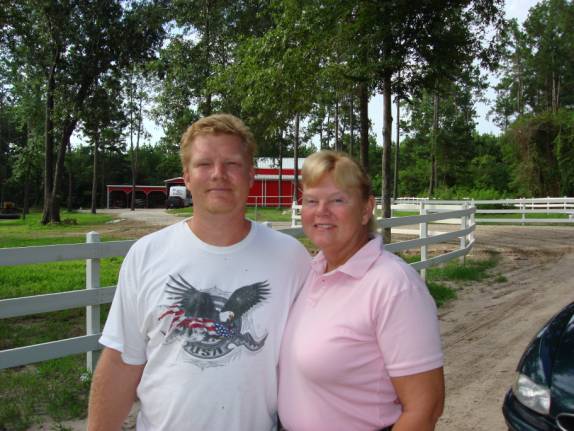 Mark and Dawn are raising a happy and successful family. We thank them for their hospitality and we look forward to returning when we can.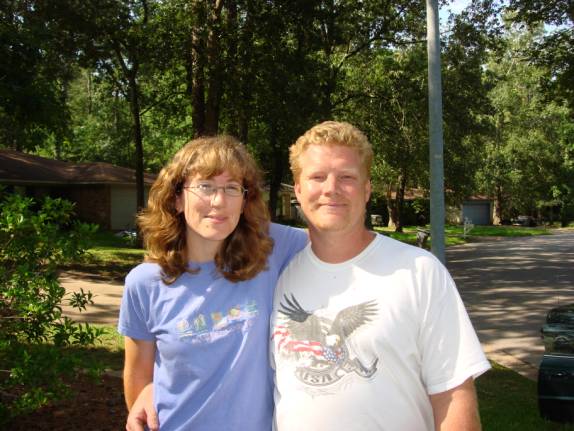 After breakfast at Whataburger and saying the goodbyes, we were on our way. We slipped an Audio book into the player and began enjoying "Deep Lies" by Stuart Woods. The intriguing storyline caught our attention and the hours flew by. By early evening, we were at our reserved motel in Joplin, Missouri. After check in, we took a locals advice to try Stout's Pizza for dinner. They boast a huge selection of beers and were acclaimed to have the best pizza in the area. Although we enjoyed the evening, we can't say that they met our expectations.
06/22/07 FRIDAY JOPLIN, MO to LAKE OF THE OZARKS, MISSOURI
We didn't have a long day of travel ahead so we took our time getting started. A great breakfast was enjoyed at the Cracker Barrel Restaurant. They consistently provide excellent food at a fair price.
By mid-afternoon, we were at the Lake of the Ozarks. Fred's son, Doug, will be bringing the family here this evening. We agreed to get some supplies and be responsible for making dinner for everyone tonight. We had several hours of time to waste so we just dawdled around in the stores. My son has been reluctant to try "Crocs" shoes for some time. I fully understand his feeling as I would not have been caught dead in them a few years ago. Boaters in the cruising lifestyle have widely taken to the plastic footwear for everyday use. They are the most comfortable shoes that I've come across yet. They are on and off easily and provide a kind of support that allows me to walk and stand for long periods without getting tired feet. I am sure that the cruisers are also attracted by the wide variety of bright colors. Last week, I had found a couple of pairs of "knockoff" Crocs that boasted the Corona Beer emblem. I thought that Doug might not reject them as quickly as, say, the pink ones. We located a pair with the Corona Logo in a dark blue color. My grandson, Austin, has wanted a pair for himself. Although we couldn't find any in his size with the logo, we did find a pair in plain black. These would probably be more acceptable to a reluctant dad. Unfortunately, we didn't find anything in the girls' sizes.
We found our way to the lake house ahead of Doug and family. We relaxed peacefully on the huge deck overlooking the tranquility of the Lake of the Ozarks. This has to be one of the premier vistas of the enormous lake.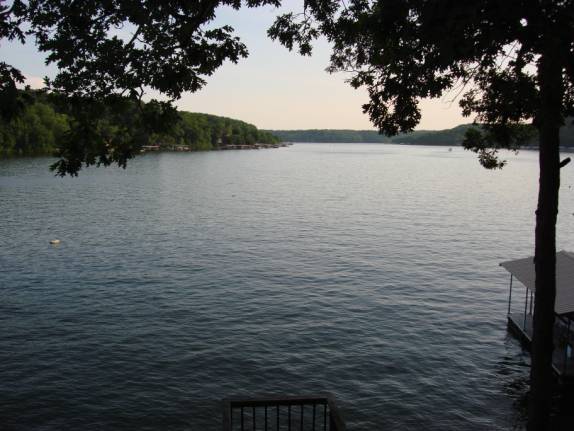 From the waters edge, the look up the hill is also impressive. The house has lots of square footage and those magnificent trees shade the large deck area. It is such a lovely place to enjoy and relax.
The floating boatshed has a hydro-lift to keep the boat safe and clean, a pair of Jet Ski hydro-lifts, and a swim platform with retractable access ladder. Nice setup.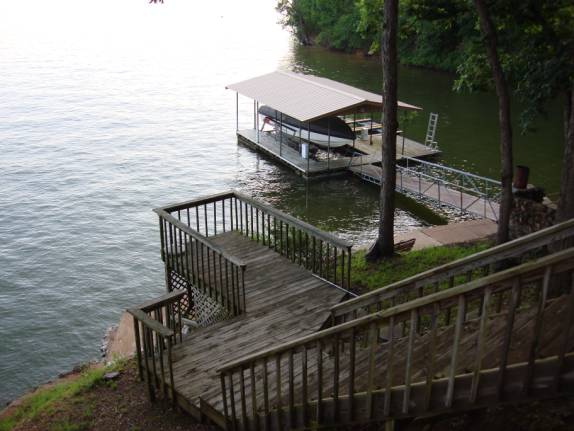 It was wonderful to see them arrive as they came down the drive. I am very pleased with all of them and I am delighted that they love Judy too. Doug has worked long and hard on remodeling the house. When he first got it a couple of years ago, it need a lot of TLC. His workmanship is impeccable to say the least. His attention to detail and ability to apply fine craftsmanship is evident in every project area. We were amazed at the amount of transformation that has taken place since our previous visit in September, 2006.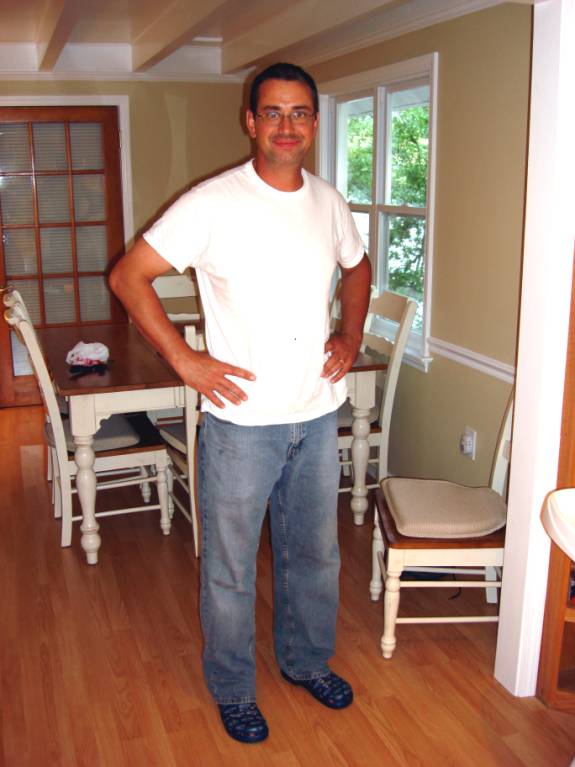 The girls of the family are absolutely gorgeous. Ashley, my granddaughter, and Lisa, my daughter-in-law, now, these are a couple of real beauties.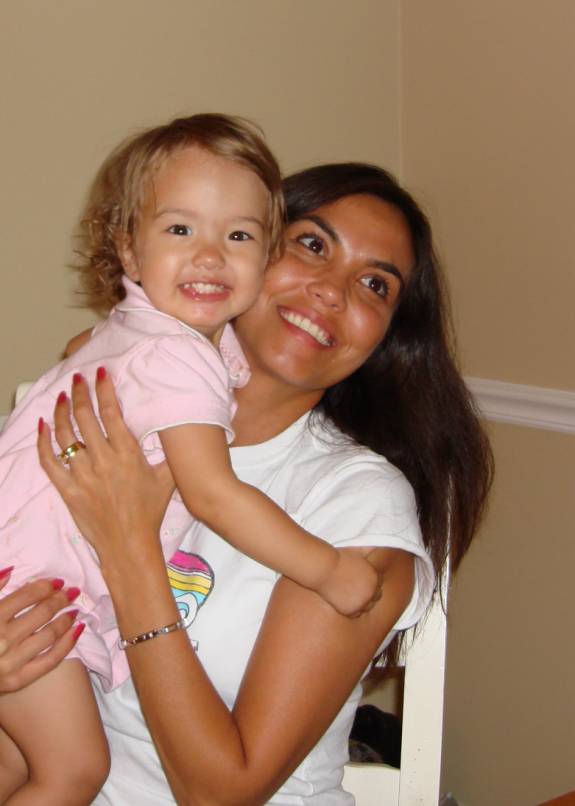 We presented the boys with their new pairs of Crocs shoes. Austin was delighted and, you know, I think that Doug even liked the Corona Beer pair too.
Per our agreement, I commenced the dinner process. I prepared Penne Pasta in a Vodka Sauce served with meatballs. Some nice Sourdough Bread went well as an accompaniment. Austin especially like the meatballs.
It is just so wonderful to be here.
06/23/07 SATURDAY LAKE OF THE OZARKS, MO
Everyone had slept well. Lisa prepared a great breakfast with eggs, bacon, and English muffins. It was a lovely morning and Doug was already getting busy on his big project for the day. He was installing the bunker rails on the jet ski hydro-lift units. Doug has constructed the units from basic materials over the last several months. It's pretty clear to me that the kid can do anything. Makes a Pappy right proud!
Austin loves to swim in the lake. Mom and Dad are always in close supervision.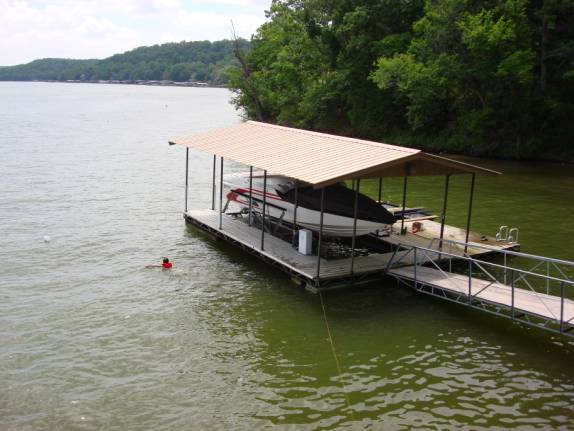 The little princess, Ashley, has just had her morning bath. With her hair still wet and modeling her silk pajamas, she is an awesomely beautiful sight. Oh, Grandpaw!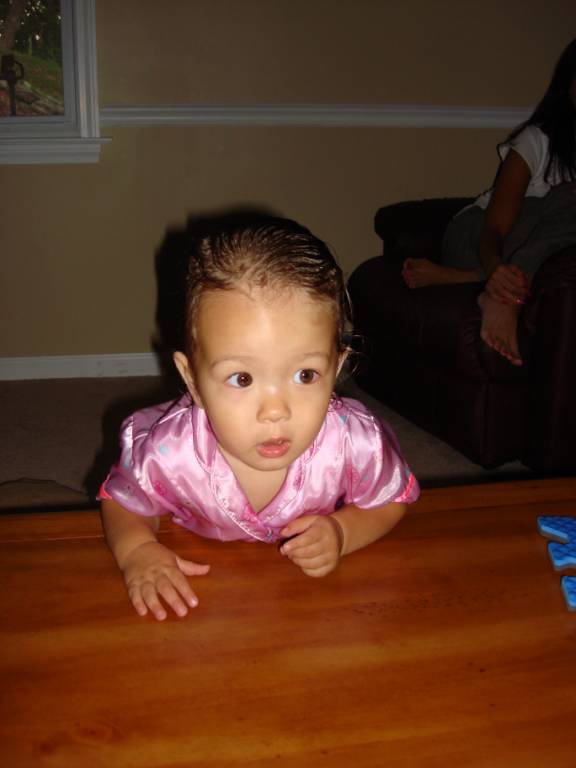 Doug finished up the ramp project and we took the jet skis over to a nearby launch facility. It is a trusting son that lets his Dad drive his truck, loaded with the jet skis, and back the trailer down a steep, narrow, and curved launch ramp. Even more trust was required since he and Lisa had to sit on the jet skis during the process while Austin and I eased the rig closer and closer to the lake waters. Fortunately, I didn't let him down.
It was Doug's turn to demonstrate his culinary talents. He prepared one of his favorite Pork Tenderloin Roasts. Together with help from Lisa, they served a sumptuous meal with roasted potatoes and Boston baked beans.
For evening entertainment, we watched the delightful "Shrek" movie. If you haven't seen it, I urge you to enjoy it soon. It is such fun for people of all ages.
POST SCRIPT:
I apologize for letting myself get so far behind on these updates. If I had a good reason, I would probably us it as an excuse, however, I think that I have allowed some laziness to settle in. I will attempt to bring everything up to date as soon as time permits. As I publish this edition, it is 07/14/07 and we are back aboard AMARSE in Brunswick, Georgia. Thanks for your patience. Please let us know if you have any special suggestions and thoughts.
We thank those of you who have contacted us recently and we are looking forward to hearing from each of you in the near future. Thanks for allowing us to share our life and adventures with you.
REMEMBER: The website is now fully active and you can visit it at any time. You can review any of the 2006 or 2007 logs and learn more about the crew and our plans. Enjoy.
ATTENTION: SPECIAL NOTE:
You may contact us via cell phones and/or email. Judy's cell phone is 361-550-5353. Fred can be reached at 210-296-4933.
"AMARSE". is pronounced "AM-ARE-SAY". Our website is: www.amarse.net .
We would like to hear more about what is happening in your lives. Let us know as we very interested in what's going on with our friends and family. Please call or email us with your thoughts and comments and ideas too. Thanks
Lot of Love,
Fred Reed and Judy Law
AMARSE
MT40