UPDATE#18
06
/01 thru 06/15/07
Howdy Everybody,
The period 01/19/07 thru 05/31/07 has been covered in Updates 1 through 17. We continue with UPDATE07 # 18.
UPDATE 2007 #18 06/01/07 through 06/15/07.
Welcome back to the new Adventures of the trawler AMARSE. At last update, we were docked at Brunswick Landing Marina in Brunswick, Georgia.
06/01/07 FRIDAY BRUNSWICK, GEORGIA
The morning hours passed quickly as I worked to finish up the last set of updates for last month. Jimmy Ethridge, Captain and Supreme Commander of "SIMPLY SOUTHERN", a 42' Marine Trader, came by to visit. They have decided to stay here in Brunswick for a couple more days to wait out the forecast for inclement weather.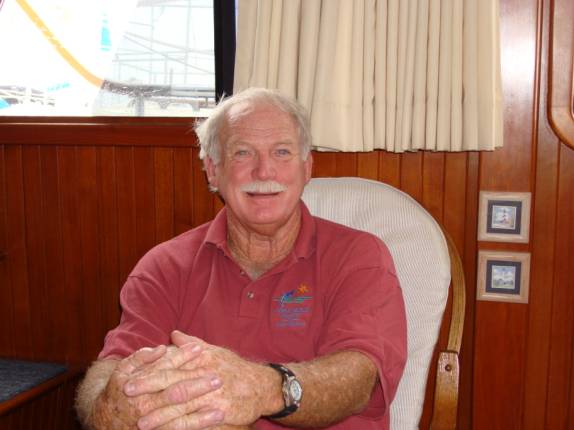 Toby has been crewing with Jimmie on this section of their northerly trip while Betsy has been visiting in Washington, DC for a couple weeks enjoying the care of her grandkids.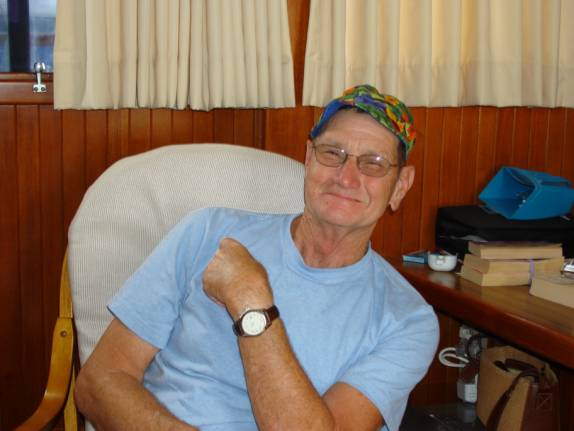 Around noontime, we picked up a rental car from Enterprise. Once again, their weekend rate was too hard to pass up. The gal from the agency recommended a Chinese luncheon at the King Buffet. The chilled shrimp were especially good.
One of the first considerations when you have access to a car is to find a Sam's Club store. The nearest one is in Savannah, nearly an hour drive north. Upon our return to the marina, we teamed up with Robert Wilson. He is the Commodore of the RMHYC (Royal Marsh Harbour Yacht Club) and keeps his boat in this harbor during the summer months. It was his recommendation that led us here to this marina in Brunswick, GA. Together with Jimmie and Toby, we all piled into Robert's Jeep for a tour of the nearby area. We crossed the bridge to St. Simon's Island for a beautiful, 10-mile ride along the tree-lined roadway. Robert was taking us to one of his favorite restaurants, Barbara Jean's. With a southern style menu reminiscent of the Blackeyed Pea or Dixie House restaurants, we enjoyed a fabulous dinner.
As we returned to marina, Robert took advantage of the waning daylight to give us a firsthand view of the famous Brunswick Bridge. It didn't take us long to close up the boat to avoid the evening onslaught of No-See-Ums. For about an hour or so at dusk, these voracious little buggers can rile the heck out of the peacefulness of nightfall.
06/02/07 SATURDAY BRUNSWICK, GA
Sometime after midnight, the initial rains began to fall with increasing intensity. Soon, the wind was howling and the droplets became torrents. By morning, Tropical Storm "Barry" was in full swing and dousing the southeast with lots of rain and beach surf. Fortunately, this marina is well situated inland to minimize the effects of hazardous weather. The effect of the storm brought relief to the states of Florida and Georgia in the form of significant rains. Suffering from a severe drought and hundreds of wild fires, the drenching was welcomed by most. The only downside was the beach erosion occurring along the ocean side coasts. The pounding surf can eat away feet of shoreline in short order.
While watching the radar picture on my computer, it appeared that the rains were subsiding and clearing was promised from the south. We piled Jimmie, Judy, and Toby into the backseat and Robert and I jammed into the front seats of the little rental car for a trek to Savannah. Our destination, some 70 miles north, was the huge Bass Pro Shop. That promise of clearing was a ruse and we endured lousy driving conditions through torrential rains. The fun of perusing the thousands of items in the store helped to lift our soggy spirits.
As we returned to Brunswick, the pouring rains continued relentlessly from the thick, black clouds as gusty winds tried to unwillingly force the little car into adjacent highway lanes. It was not until near Brunswick that the downpours turned to mere showers.
Robert suggested the dinner plan at Mac's BBQ Restaurant. Once, an immensely popular place that always supported a long line of eager customers, now, the unfortunate death of the original owner has resulted in a rapid downslide. The food was only OK but the business is very poorly run now and is suffering numerous problems with cleanliness and employee moral. We fully expect that nails will seal the doors and fate of this place very soon.
06/03/07 SUNDAY BRUNSWICK, GA
With Tropical Storm "Barry" having left the area and being replaced with a pleasant, sunny day, Judy and I headed toward St. Simon's Island for some sightseeing. The magnificent snowy white feathers of these herons and storks were some of the first sights to greet us on the island.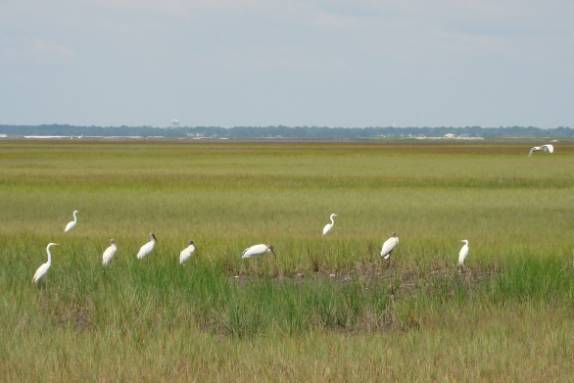 Having enjoyed Barbara Jean's Restaurant previously, it became the perfect lunch spot for a Sunday dinner of delicious Pot Roast, Mashed Potatoes, and Squash Casserole. Great place, great menu, great service, and we highly recommend it to anyone in search of a delicious meal.
A waterfront statue reminds us that the Georgia coast is inhabited by enormous mammals from the whale family. The North Atlantic Right Whale is the Georgia State Mammal. It is the most endangered of all the whale species with less than 350 remaining in existence.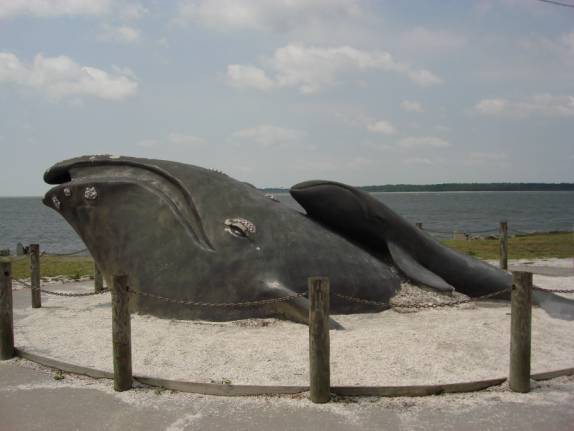 Our first tour stop was the 1800's Coast Guard station. Now fully restored and operated by the historical society, it helped to educate us on the vital role, both past and present, played by this arm of our military forces.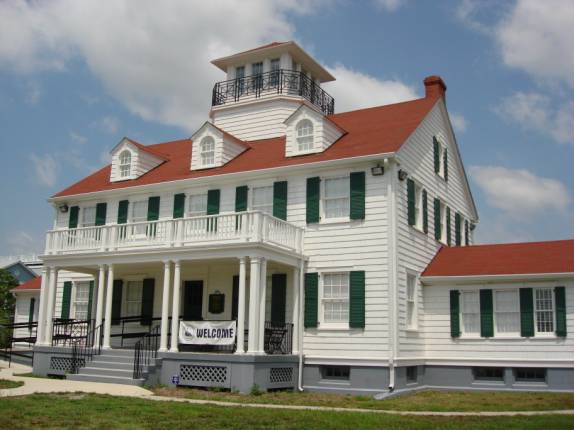 This cute little sailor girl has saved me at sea numerous times.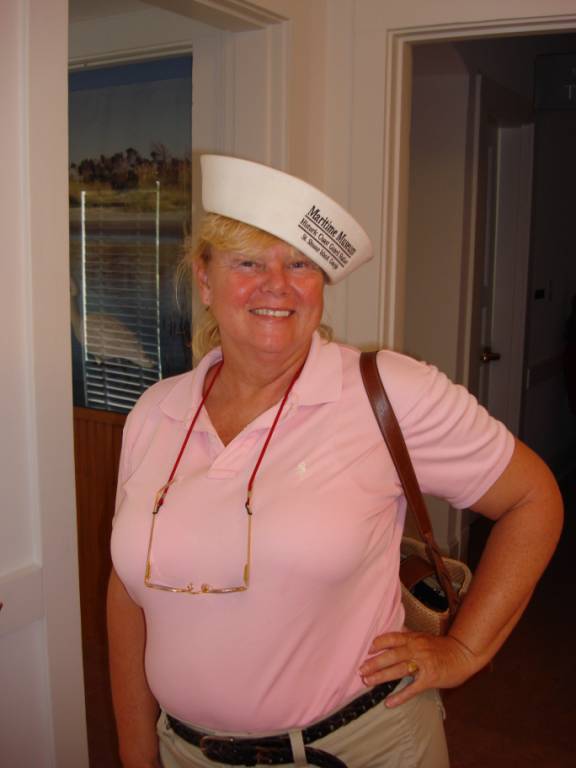 Move over, Gilligan, this is my island now.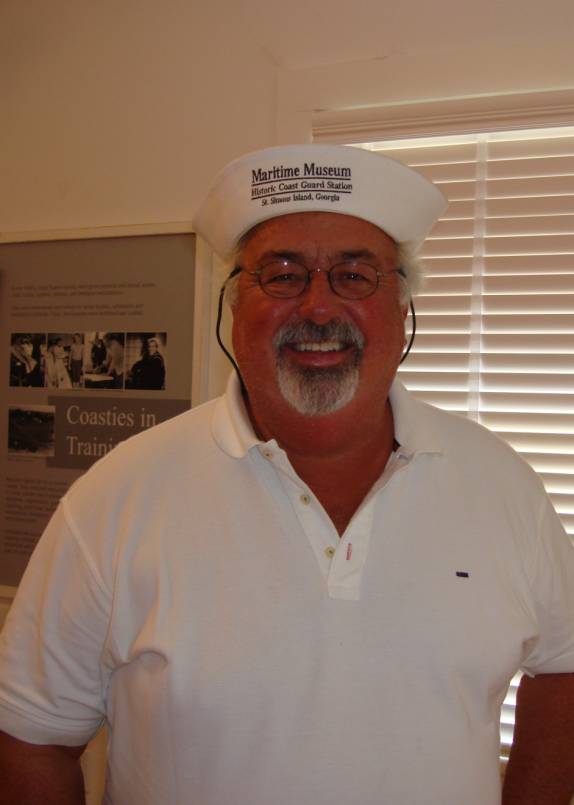 This lovely, Georgia beach was filling rapidly with sun worshipers on this Sunday afternoon. The whole island is a Mecca for the more affluent of tourists.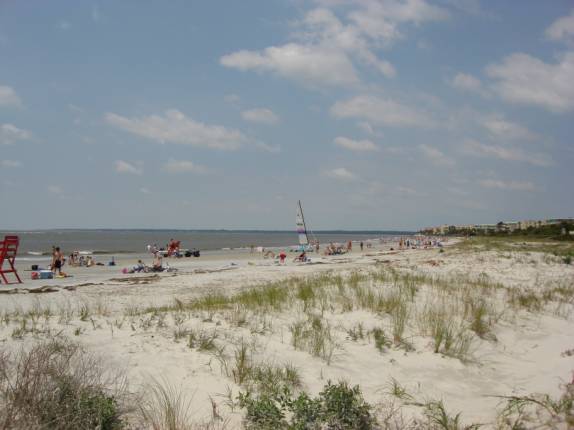 Also operated by the historical society, we toured the stately, 1872 lighthouse that still emits a bright beacon to welcome and guide approaching vessels.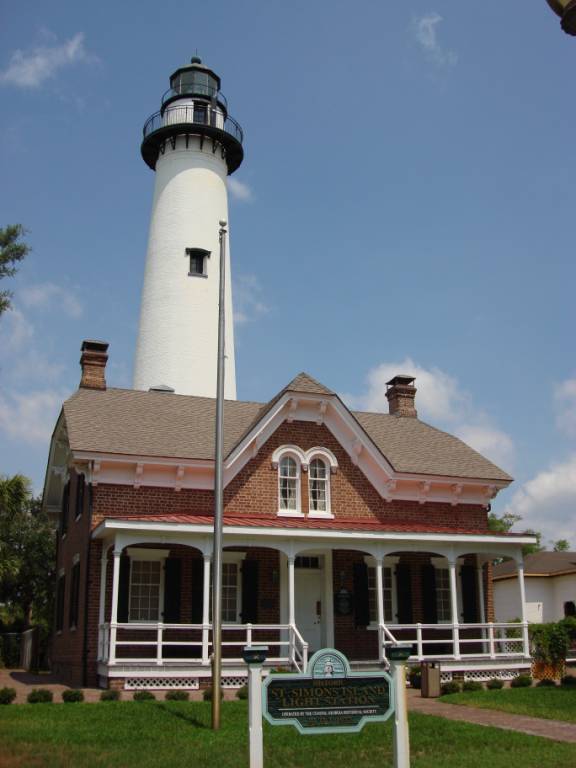 It was a pretty long climb to the top via the descending radius, spiral stairway.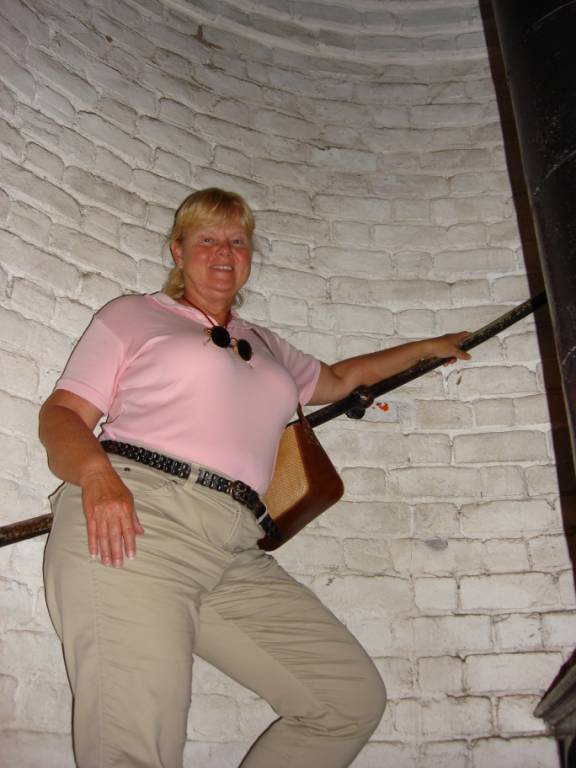 It was very windy at the top, however, the view was spectacular.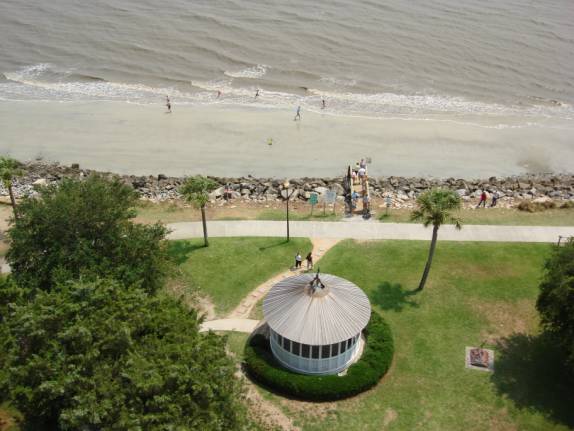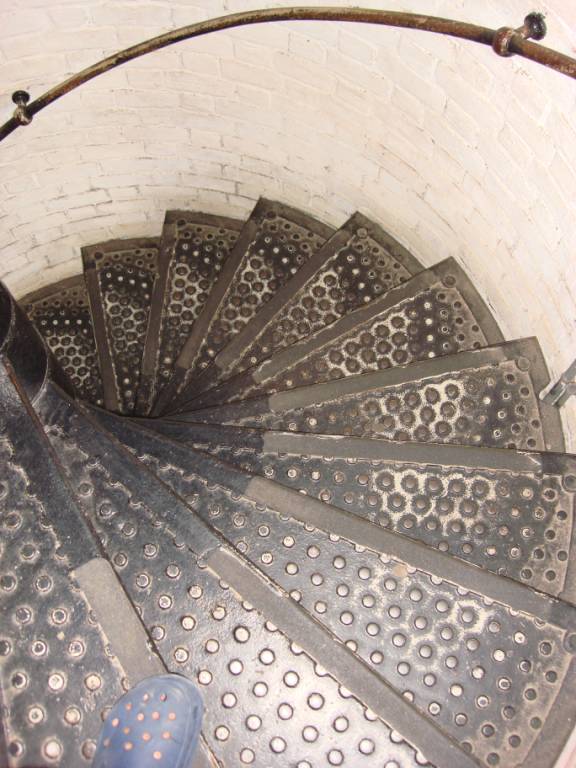 Back in the days when the lighthouse was manually operated, the keeper and his family lived right on the premises. Most of the time, it must have been a very nice existence.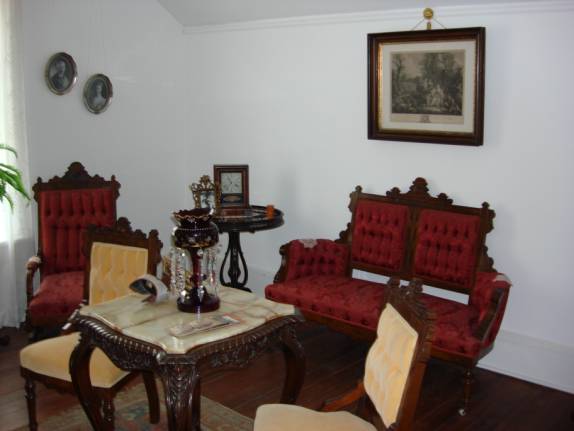 Our tour continued to Fort Frederica. Not much remains of the original settlement established in 1736 by James Oglethorpe. It was intended to protect the English from the Spanish that occupied Florida.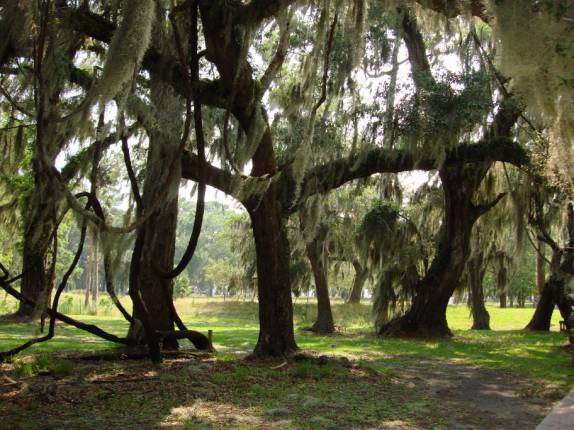 Of the many homes that were here, only the ruins of the foundations still mark their locations.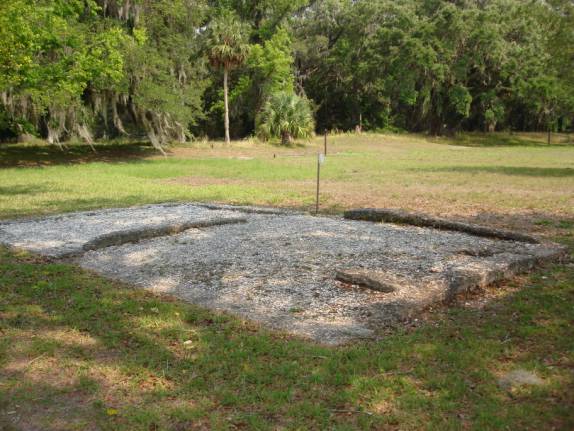 It is very plain and small when compared to its magnificent neighbor to the south at St. Augustine.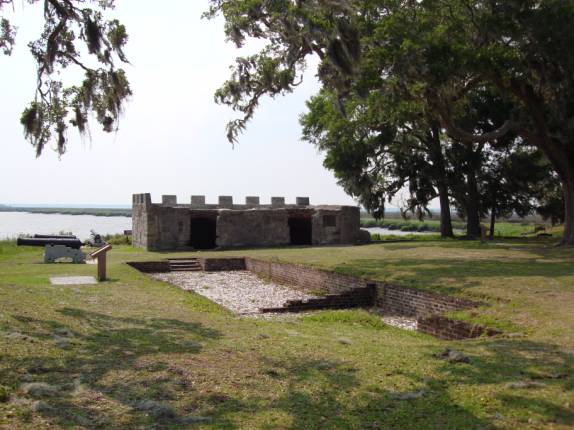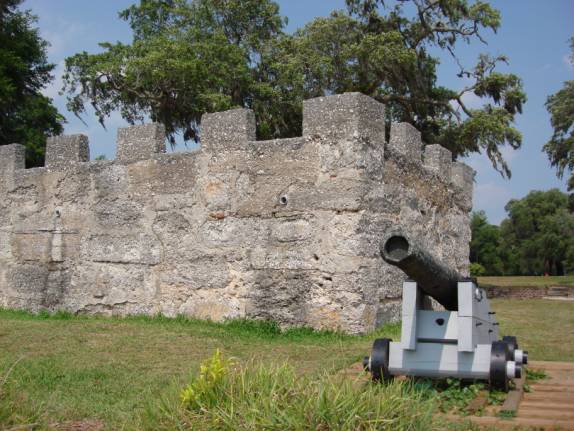 The architecture and landscaping at this little church must be one of the most beautiful in the country.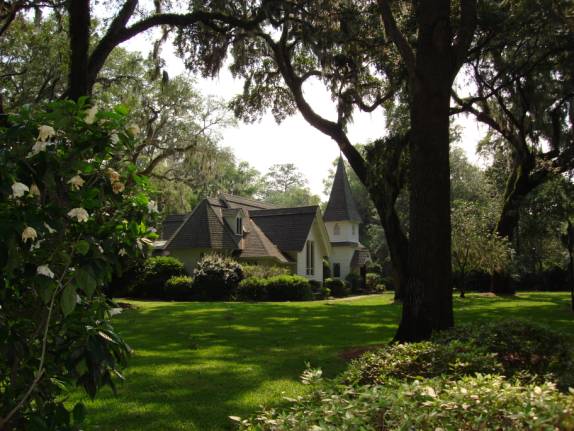 Out on Jekyll Island, we marveled at the gorgeous, summer "cottages" of the rich and famous. The likes of J.P. Morgan, the Rockefellers, and the other wealthy industrialists of the 19th century originally owned these places.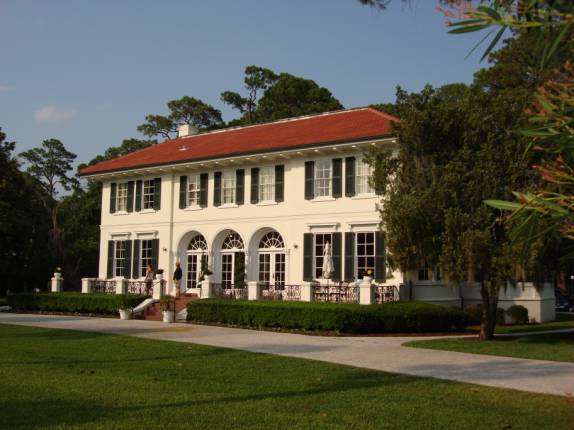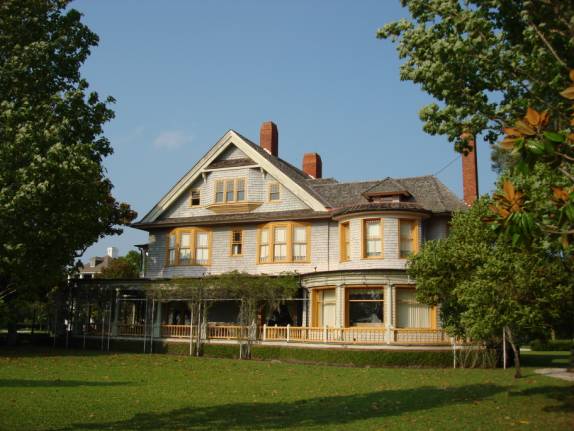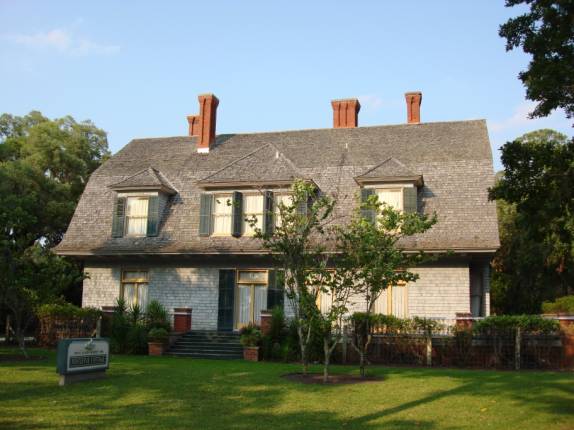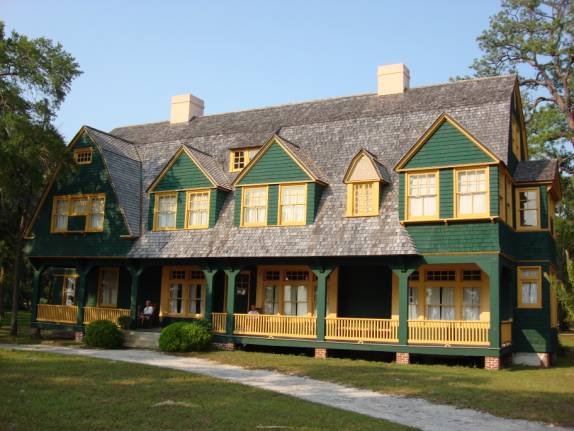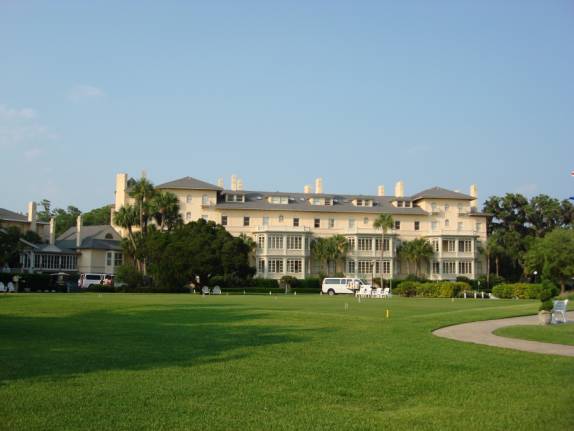 06/04/07 MONDAY BRUNSWICK, GA
Judy did laundry and started packing for our land trip to Texas and to visit with family. I did a complete backup of our picture files and logs onto DVD media and onto our external hard drive. I am always in fear that we will lose our computer files housing our pictures.
After returning the rental car, a very heavy rain shower kept us inside the boat. About 1:45pm, we were able to walk over to McGarvey's Wee Pub for lunch. The special of the day was Philly Cheese Steak sandwich. How Irish is that?
Our afternoon was completely occupied with preparations for the trip. We took a dinner break at Fox Den Pizza. This place has new management and will need to get their act together. The place is quite nice and the food is tasty and attractive, however, Judy has had to send stuff back several times before they cook it right. We talked with the new manager/owner and we sincerely hope that she can make the adjustments in the kitchen. We will let you know if it improves. We are not going to give up yet.
06/05/07 TUESDAY BRUNSWICK, GA to SAN ANTONIO, TEXAS
The taxi had been scheduled for 6:40am. We were ready when he pulled up at 6:39am. Of course we were impressed and the short 5-minute ride got us to the Greyhound station in plenty of time for the scheduled 7:15am departure. It was a pass-thru bus and departed almost 30 minutes late for the hour and a quarter ride to downtown Jacksonville. Storage lockers in the terminal kept our bags safe while we walked around in Jacksonville. We had a great little breakfast at the Zodiac Café.
After retrieving our bags, we took the Skyway Tram to Rosa Parks Downtown Bus Terminal for the JTA (Jacksonville Transit Authority). At 11:07am, the NS33 bus departed for the airport. This service runs only in the daytime during the week. No evening or weekend schedule is available. Fares are $3 Adult and $1.50 Seniors over 60.
It took about 35 minutes to get to the airport where we checked in for the 2:45pm flight aboard ExpressJet Airlines. Due to weather and crew availability, we didn't get going until about 3:25pm. After a quick stop in New Orleans (MSY), we arrived in San Antonio at 6:05pm. Special thanks to Barb, our next-door neighbor, for picking us up at the airport.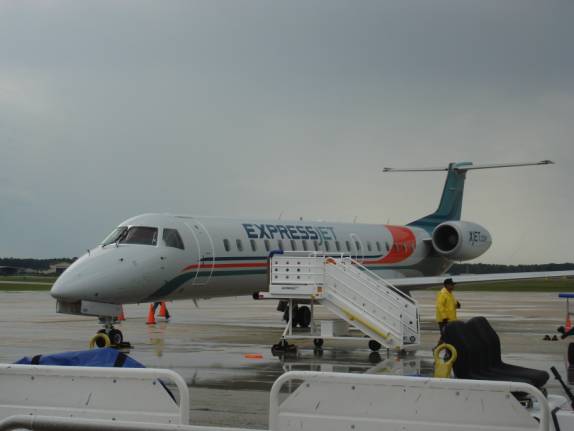 The house was in good condition and there were no crisis issues to deal with. We put the insurance back on the car and I had no trouble getting it running smoothly. Of course, we had no food in the house since the refrigerator has been shut down for months. Not to worry, we soon remembered that Tuesday nights are special at the Broadway/410 Diner. Judy chose her favorite, Chicken Almandine with Potatoes Orleans and a Baked Apple. We are back in Texas, so, the CFS (Chicken Fried Steak) accompanied by Potatoes Orleans and fresh Spinach suited me perfectly.
06/06/07 WEDNESDAY SAN ANTONIO, TEXAS
The majority of the day was occupied with chores and minor repairs to the house. The water softener was acting up, the patio drains were clogged with leaves, and there seemed to be a bunch of little things that needed to be set straight. Our good neighbor, Barb, has been trying to keep her mailbox together with bread ties, tape, and bits of wire. The mailman was getting frustrated and has asked Barb to make things right. I was happy to be able to help her and after replacing a bunch of bolts, screws, and clamps, the mailbox was just like new. Barb has always been there to help us. It felt good to return a favor.
The clothes dryer has been giving Judy a difficult time with exceedingly long drying times. I suspected the vent but, after vacuuming and cleaning, it was still performing poorly. We were beginning to think that we would have to replace the dryer.
For dinner, we prepared white meat Chicken Pot Pies. It turned out to be an excellent dinner for these tired kids.
06/07/07 THURSDAY SAN ANTONIO, TEXAS
Somewhat resigned to the idea that the dryer was kaput, we went shopping for a new appliance. All we wanted was a simple, no-frills dryer to handle our basic needs. Of course, we would need delivery and pickup of the old unit since our laundry room is on the second floor. It seemed like an easy task, however, the combination of price, availability, and installation forced us to rethink the option of repairing the existing unit.
While out, we had selected a beautiful chunk of beef that had been slow cooking in the crock-pot for many hours. Served with rice, we enjoyed every bite of the tender roast.
06/08/07 FRIDAY SAN ANTONIO, TEXAS
I resumed the testing and troubleshooting of the dryer in hopes that something would appear that could be repaired. All of my tests indicated that the dryer was working fine and I returned my attention to the vent once again. With some help from the internet, I located a brush tool that has been designed to clear the vents all the way through. The vent tube is about 15 feet in length and opens to the roof. There was no way either of us was going aloft on the steep roof. Of course, there were none of the tools available locally.
Using the leftover shredded beef, I made a pot of delicious Beef soup. If you can think of anything better, please let me know. It was wonderful.
06/09/07 SATURDAY SAN ANTONIO, TEXAS
I was up early this morning and busy searching the internet in hopes of finding a "Lint Eater" brush tool. Finally, ACE Hardware in Canyon Lake had one in stock including the fiberglass extensions needed to snake through the vent tube. Judy and I set out on the 35-mile jaunt to the store. On the return, we decided to take the leisurely, scenic route along the beautiful Guadalupe River.
A lunch of leftover Beef Soup provided the sustenance needed to work on the vent. The new tool worked like a charm. Attached to an electric drill, we continued to increase the travel of the brush by adding 3-foot lengths of fiberglass rods. We were both completely surprised and amazed at how much accumulation of lint had been lodged in the upper sections of the vent tube. It was no wonder that the clothes were not drying properly.
Our test was totally successful and the clothes dried quickly. Just think, if we had bought a new dryer and they had hauled off our old dryer, we would have been out all that money and still face the real problem. I'd say we were lucky.
We had the urge for Mexican food. I prepared a fiesta dinner of Beef Tacos served with Charro Beans. Our evening entertainment included relaxing in front of the TV and the treat to have Blue Bell Ice Cream.
06/10/07 SUNDAY SAN ANTONIO, TEXAS
I'm not sure if we accomplished much if anything on this lazy Sunday. Perhaps we were just focusing on the meeting of our beloved Spurs basketball team with the Cleveland Cavaliers in Game #2 of the NBA Finals. It was a terrific game and we were pleased with the Spurs victory. Go, Spurs, Go!
06/11/07 MONDAY SAN ANTONIO, TEXAS
We must have done something, but darned if I can remember what.
06/12/07 TUESDAY SAN ANTONIO, TEXAS
The call came that we could get together with friends tonight at El Jarro de Arturo Restaurant. Roxanne told us that Joe was inbound from his flight from Europe. Joe flies a Falcon 50EZ (a three engine business jet) for a San Antonio company. They have been away for three weeks. Rox had returned via commercial airliner from Rome a couple of days ago.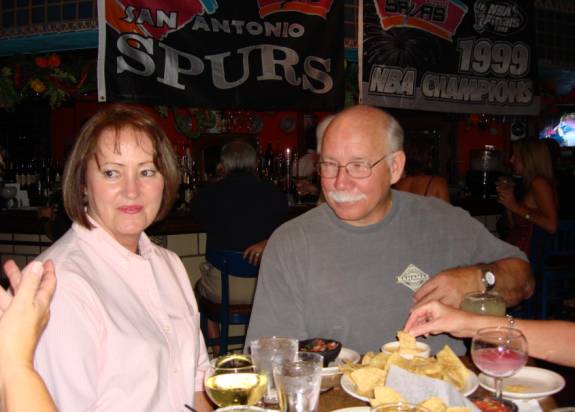 Scott has just returned from Russia. He flies a Falcon 900EZ for a company in Austin, Texas. Both of these guys retired from the same flight department with me. Believe me, they are a couple of the best and most experienced pilots in the world. Another credit to these guys is that they are avid boaters. Scott and Mary make a wonderful and fun couple.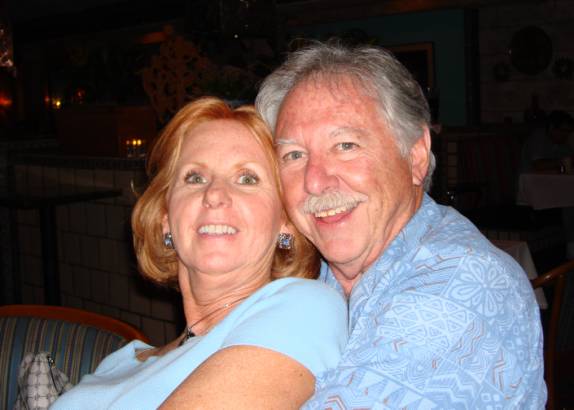 The margaritas flowed steadily on this great get-together. Having friends like these is what makes life so great. The liquor bill was a bit of a shock, as you can guess.
06/13/07 WEDNESDAY SAN ANTONIO, TEXAS
One of my all time favorite restaurants in San Antonio is Teran's Mexican Restaurant. They open at around 5am everyday and close by 2pm. Without question, they have the very best breakfast tacos in the world. The tortillas are fresh, homemade, and absolutely fabulous. I had a Chorizo con Huevo Y Queso (Mexican sausage, egg, and cheese) and a Picadillo con Queso (spiced ground meat with cheese). Judy's favorite is the Bacon, Bean, and Cheese. "No Hay Mas Mejor in Todo El Mundo" translates to "there are none better in the whole world".
Along with Joe, Roxanne invited us to join her for a cozy dinner at her place. The Italian theme carried beautifully and the everything was delicious.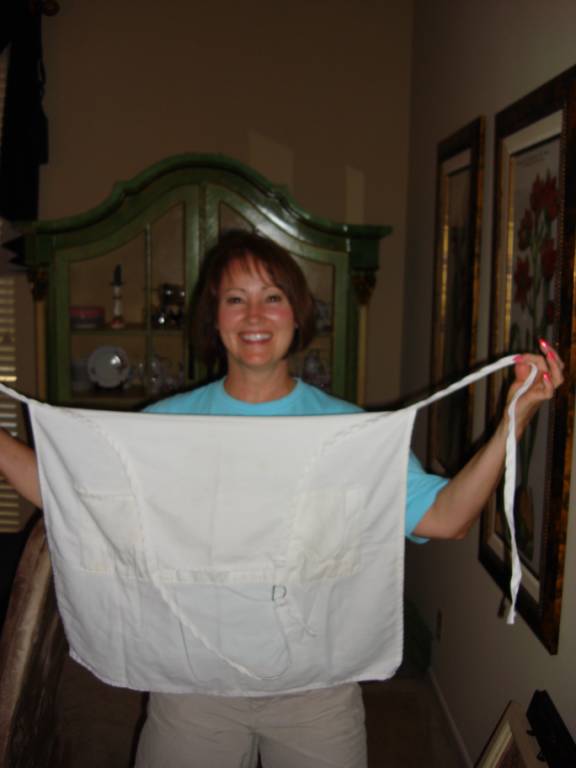 From the tasty appetizers, to the crisp salad, to the al dente pasta in sausage marinara sauce, the meal was absolute perfection. Of course, a few glasses of Chianti provided more Old World flavors. Roxanne does Interior Decorating in addition to her Mortgaging business, so, as you might expect, the ambiance was delightful. Another great reason to celebrate is that Rox and Joe became engaged while they were in Rome. Congratz, Kidz.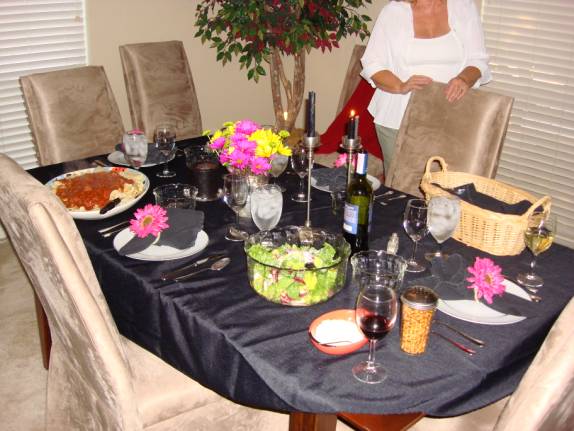 06/14/07 THURSDAY SAN ANTONIO, TEXAS
The Tip Top Café has been serving loyal customers steadily for 50 plus years. One reason for their success is their plates piled high with crispy onion rings. In my opinion, they are the best anywhere. On our many visits in the past, we only order the onion rings. They always fill us up completely.
The afternoon was perfect for puttzing. The vacuum cleaner decided to give up the ghost and all my attempts to fix it were to no avail. Fortunately, we have another one that will suffice.
We had enjoyed the Pot Roast last week so much that we decided to make another. It was equally as fabulous when served with Farfelle noodles. Soon it was time to settle back for Game #4 between the Spurs and Cavaliers. The Spurs went on to "sweep" the series in four games. This makes the Spurs the NBA Champions for the fourth time. Wow! What a team!
06/15/07 FRIDAY SAN ANTONIO, TEXAS to ROCKPORT, TEXAS
Having lived in San Antonio for many years, we have found many eateries that have become favorites. One spot in particular was high on our list to revisit. "The Little Fish Factory" serves a great lunch of fish. I had the dinner and Judy had the sandwich. They maintain their excellent reputation.
With full tummies, we set out on the 3-hour trip to Rockport on the Texas Gulf coast. Key Allegro Isle Marina has to be my favorite marina in the world. It has a wonderful nautical feeling and the people are terrific. We had the chance to visit with some longtime friends. It was great to visit with Sam and Donna Jansma. Many of you may remember that they came to visit us in Florence, Alabama last fall. This couple shines brightly and brings smiles and happiness to all they meet. Hopefully, they will have the opportunity to cruise the Tennessee and Cumberland Rivers some more this fall. Right now, they are taking a work break while their boat waits patiently at Pebble Isle on Kentucky Lake.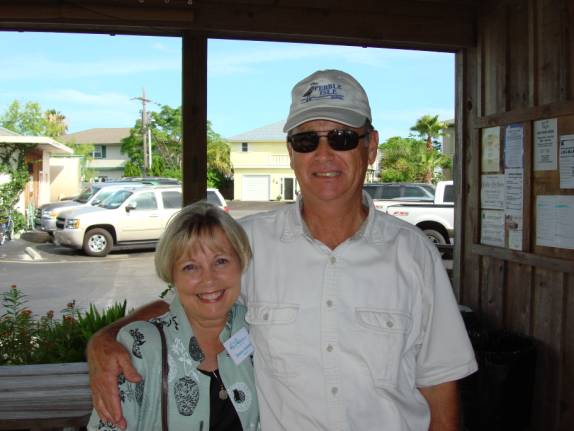 No trip to Rockport would be fun without a visit with Stash and Teresa. At their ranchito in Rockport, I snapped this picture of a tranquil little bird in the nest.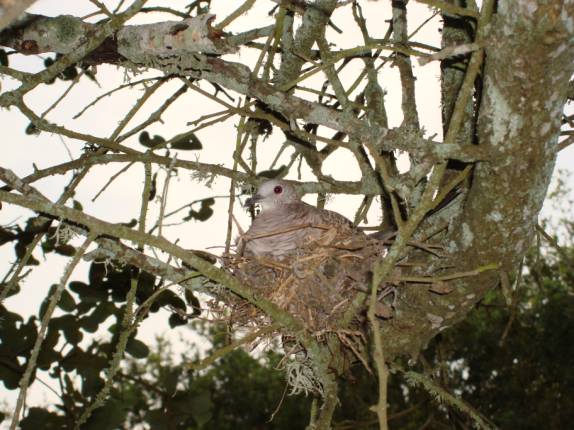 A new restaurant has opened in Rockport. We joined Stash and Teresa for dinner at the Cancun Café. It was pretty good. More of our friends arrived late from San Antonio. The weekend often leads to a few cocktails and fun conversation around the docks. Bill Seward (in red) has a pristine Marine Trader trawler. He was an inspiration for us to join the trawler crowd in the transition from sailboats. He dreams of the day when he can break free from the corporate world and cruise aboard "Tortuga". Scott and Mary (in black) will be aboard "Molly Brown" tonight. The gal in white was friendly but I can't remember her name. There were numerous other boating friends around for the evening exchange of friendly conversation. Unfortunately, I didn't get any pictures of them.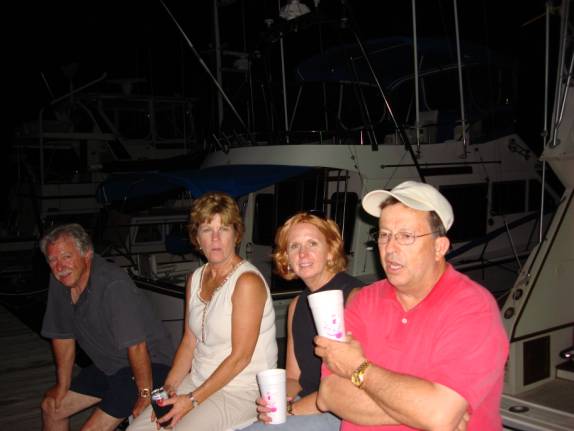 We are the guests of Joe Fugate aboard his Mikelson 42, "My Obsession"(background). Unfortunately, he did not join us this evening. We had a great evening and a restful night.
POST SCRIPT:
I apologize for letting myself get so far behind on these updates. If I had a good reason, I would probably us it as an excuse, however, I think that the constant change in our location has allowed some laziness to settle in. I will attempt to bring everything up to date as soon as time permits. As I publish this edition, it is 07/02/07 and we are back aboard AMARSE in Brunswick, Georgia. Thanks for your patience. Please let us know if you have any special suggestions and thoughts.
We thank those of you who have contacted us recently and we are looking forward to hearing from each of you in the near future. Thanks for allowing us to share our life and adventures with you.
REMEMBER: The website is now fully active and you can visit it at any time. You can review any of the 2006 or 2007 logs and learn more about the crew and our plans. Enjoy.
ATTENTION: SPECIAL NOTE:
"AMARSE". is pronounced "AM-ARE-SAY". Our website is: www.amarse.net .
We would like to hear more about what is happening in your lives. Let us know as we very interested in what's going on with our friends and family. Please call or email us with your thoughts and comments and ideas too. Thanks
Lot of Love,
Fred Reed and Judy Law
AMARSE
MT40