UPDATE#12
04

/16 thru 04/23/07

Howdy Everybody,

The period 01/19/07 thru 04/15/07 has been covered in Updates 1 through 11. We continue with UPDATE07 # 12

.

UPDATE07 #12 04/16/07 through 04/23/07.

Welcome back to the new Adventures of the trawler AMARSE. At last update, we were docked at the Riviera Beach Municipal Marina.

04/16/07 MONDAY RIVIERA BEACH, FLORIDA

Judy and I awakened to a perfectly clear but breezy morning. The temperature was pleasantly in the 60's. We appeared at the Department of Homeland Security office at the Port of Palm Beach in time for our 9 am appointment. The agent gave us several sheets of forms to fill out to apply for a special program known as the "Local Boater Initiative". Supposedly, the approval number will authorize an individual to complete the entire clearance process via phone upon re-entry into the USA from the Bahamas. We were issued a card with a special number. Everyone on board the vessel must have his or her own special number that confirms that you have been personally inspected and approved by the Department. We will see how well the program works upon our return next year.

In the remaining time, we visited the local boat supply stores and returned the rental car at 11am. Along with Jimmie Ethridge, we enjoyed lunch at the Tiki Hut located at the marina. We had the Crunchy Grouper Sandwiches that are a house specialty. They were pretty good. Unfortunately, Betsy Harris, Jimmie's mate, is still recovering at the Good Samaritan Hospital in Palm Beach.

AMARSE has been docked in this narrow slip up against the concrete wall. The current and wind can be quite strong in this marina. "Simply Southern" has been docked on the face dock normally used for refueling boats. In the relative openness to the channel, they have been subjected to much harsher conditions.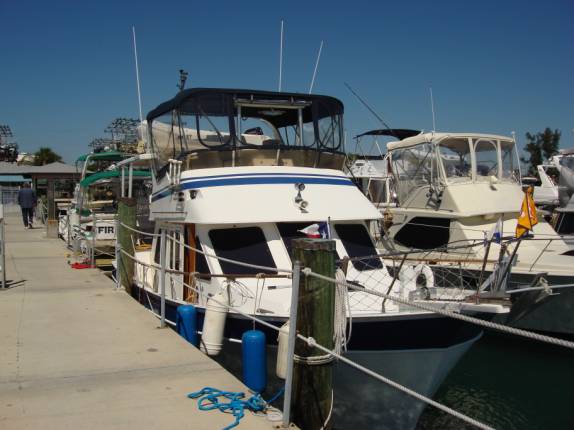 As AMARSE sits here in this slip, we have recorded 1213 miles to date on this year's adventure commencing in Mobile, Alabama.
POSITION: N26 46.368 W080 03.072
04/17/07 TUESDAY RIVIERA BEACH, FLORIDA to MANATEE POCKET, PORT SALERNO, FLORIDA
At 11 am, we started the engines and attempted to get away from the narrow dock at Riviera Beach Municipal Marina. The current was running strong pushing us hard against the concrete wall. The additional forces of the wind further combined to pin the boat. Attempts to pivot the boat proved fruitless when the protruding anchor would come close to catching on the walkway railing. Even the spring line approach didn't work well enough in the confined space.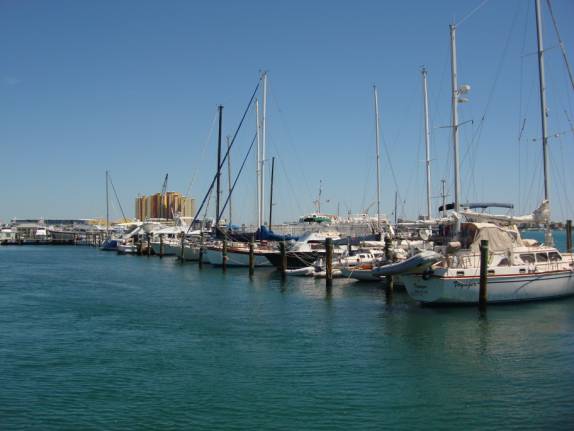 In the interest of safety, we backed into the slip again to wait for slack tide. By 2:40 pm, the current had slackened sufficiently for us to vacate the slip.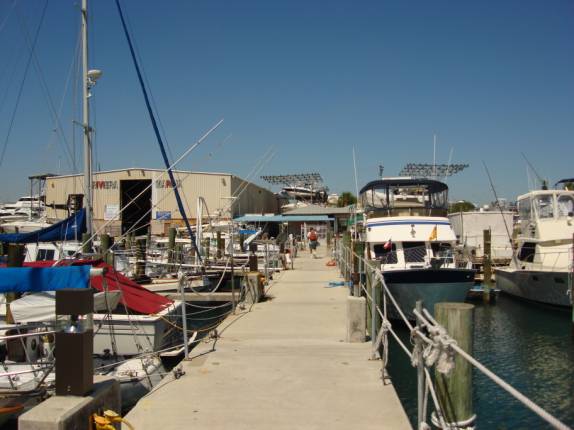 Once clear of the marina, we enjoyed fabulous conditions on our trip north.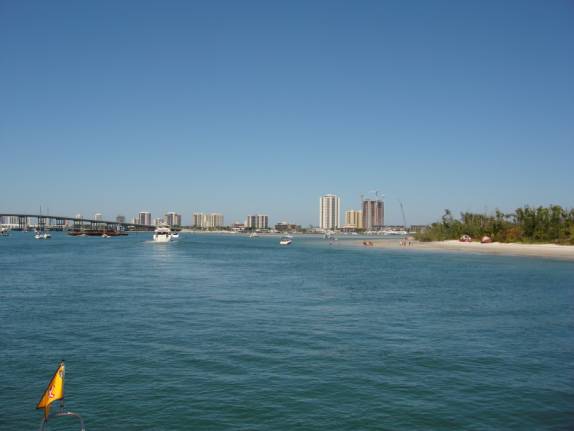 The beautiful and historic lighthouse at Jupiter Inlet stands tall and proud.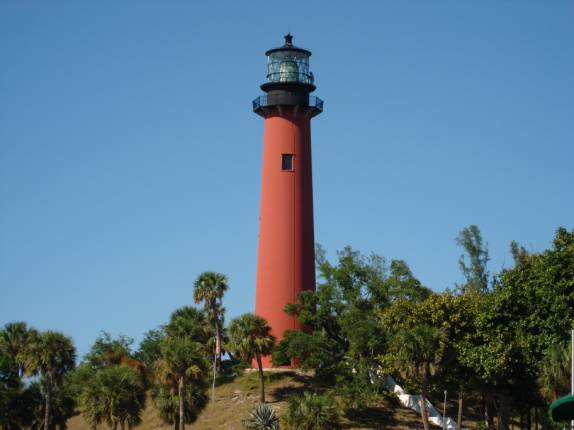 The waterway is lined with fantastic homes, towering condos, and luxury yachts. This building is just the dock building. The palatial mansion is secluded behind the trees.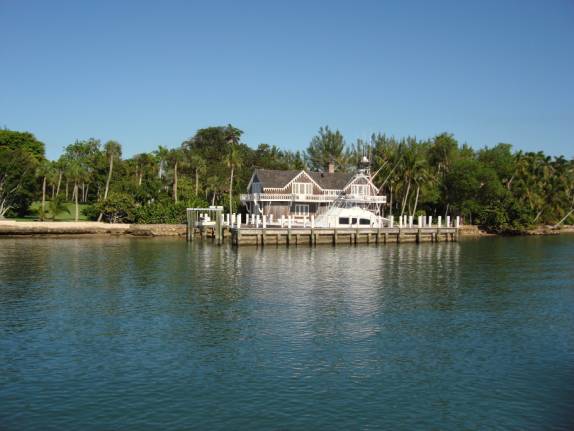 The peaceful tranquility of Manatee Pocket is a relaxing and very pretty place.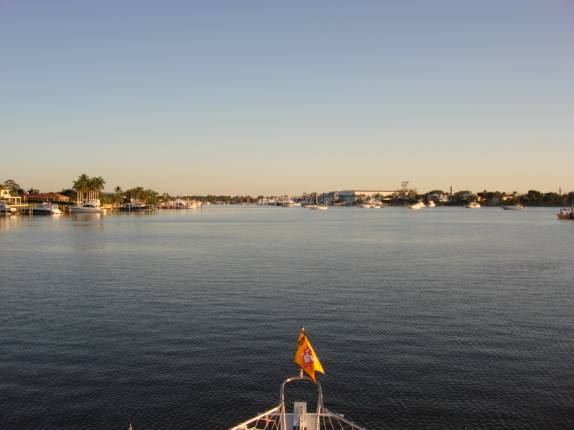 At 5:20 pm, we tied up to the low dock near the boatyard. We washed down the boat and rinsed all the salt from the canvas top. For dinner, we went to Shrimper's Restaurant. Dining at a lovely, waterfront table on the patio, we both selected the Florida Fish N' Chips platters featuring both local Dolphin (Dorado or Mahi-mahi) and Grouper pieces. This restaurant had come highly recommended by Ivor and Susan. It lived up to its fine reputation.
During dinner, Judy mentioned that she thought we might be at the wrong dock. We took a walk around the area and, sure enough, she was right. The dock that we should have been at was around the corner. Oh well, hopefully no one will bother us here and we can relocate in the early morning. Well secured and totally relaxed, we spent a quiet night aboard.
04/18/07 WEDNESDAY PORT SALERNO, FLORIDA
At about 7 am, we moved the boat around to the correct dock in waiting for the lift hoist. Dave arrived right on time, however, the yard was not quite ready for us. At 10:30 am, the yard manager, Jack, lifted the boat.
During the rest of the morning, the yard assistant, Fred, power washed and cleaned the bottom. After blocking the boat in the main yard, Dave began the time consuming process of sanding and repairing the bottom surfaces for painting.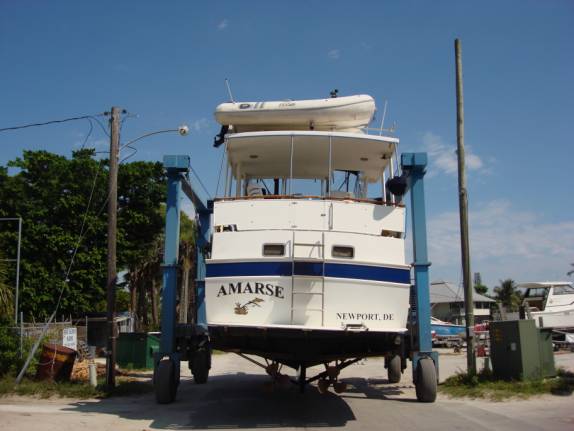 We contacted Enterprise Rent Car to pick us up. The boat maintenance project would take at least a week and we would need to get back and forth from Ivor and Susan's house. We would also need to pick up all the supplies and stuff that would Dave would need to accomplish the job. While waiting for the car, we had lunch at the Italian restaurant located next to Enterprise. The lunch special for Judy consisted of a pizza slice, salad, and ½ turkey sandwich. My choice was a cup of Pasta Fagoli and ½ Eggplant sandwich. Soon, our car arrived which was a silver Ford Taurus.
We loaded up the cushions from the saloon chairs and the sofa seat from the forward stateroom. Ivor had recommended Linda from Hobe Sound Canvas to do our upholstery work. We got a quote for the labor portion and decided to obtain the fabric on our own to save money. I had an account from some years ago at a Stuart Sunbrella distributor. It is the same place that I purchased the fabrics for the sailboat, Jeannie Lin. We were able to save ½ the cost with my discount. We ordered 8 yards from Outdoor Textiles. The fabric should be delivered on Friday.
Dave had a bunch of supply runs for us to do and he pressed on with the bottom work. By the end of the day, we were ready to clean up and relax at the comfortable home of Ivor and Susan.
04/19/07 THURSDAY PORT SALERNO, FLORIDA
We are extremely fortunate to have the services of Dave to do work on our boat. It is an honor to know this man. Dave is a man of knowledge, a man of abilities, and a man of ethics. He has been working on boats most all of his life. In his early years, he grew up working and learning at the yards of Hinckley Yachts in Maine. Involved in all phases of yacht building, Dave acquired and mastered the skills and work ethics at the highest quality level. Lots more experience came from his work at the Portsmouth Shipyard and handling the tough jobs of submarine maintenance. He has a strong work ethic and is as reliable as they come.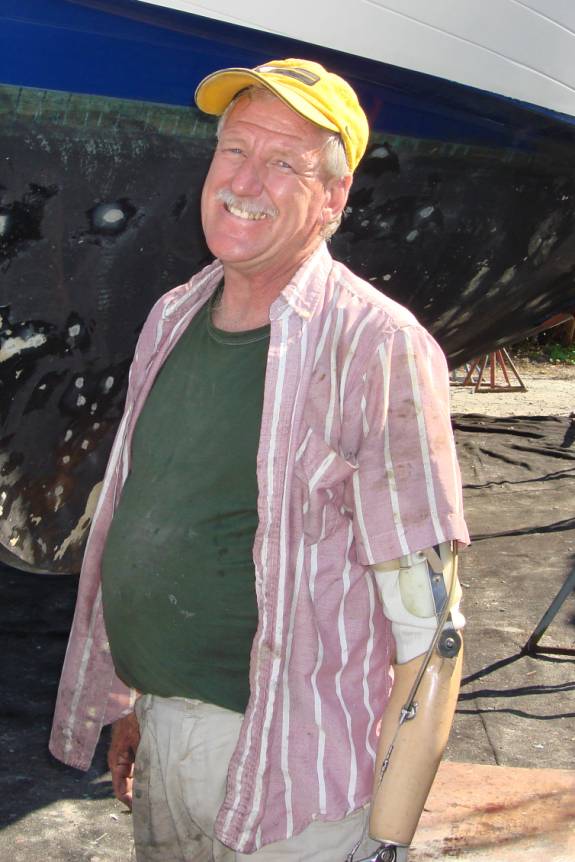 Outdoor Textiles called to tell us that the Sunbrella furniture fabric had arrived a day early. Now that's great service. We hustled the roll over to Linda at Hobe Sound Canvas. Now, she could begin her portion of the improvement.
04/20/07 FRIDAY PORT SALERNO, FLORIDA
As Dave did the sanding, filling, and grinding, we did the duties of shagging parts and supplies.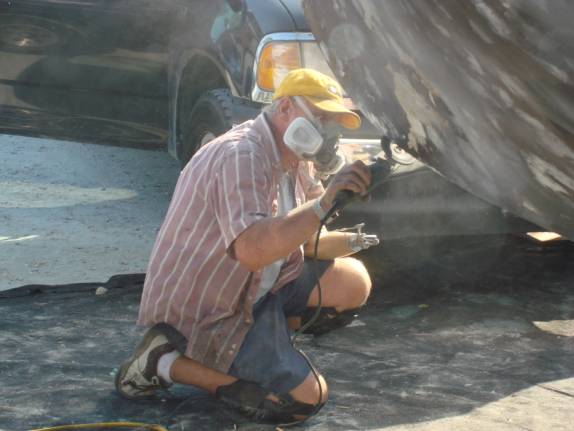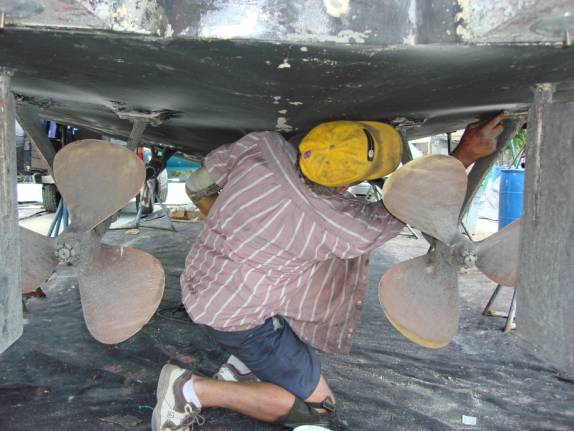 It is hot and dirty work but you'll never hear him complain. Even after these years in Florida, his Downeast Maine work habits persevere. He says he is the happiest when he's busy working or out sailing on his 47' sailboat. Dave only takes a few breaks and then he's back at it again. With all the black paint dust flying around, I'd guess it will take him half the evening just to clean up.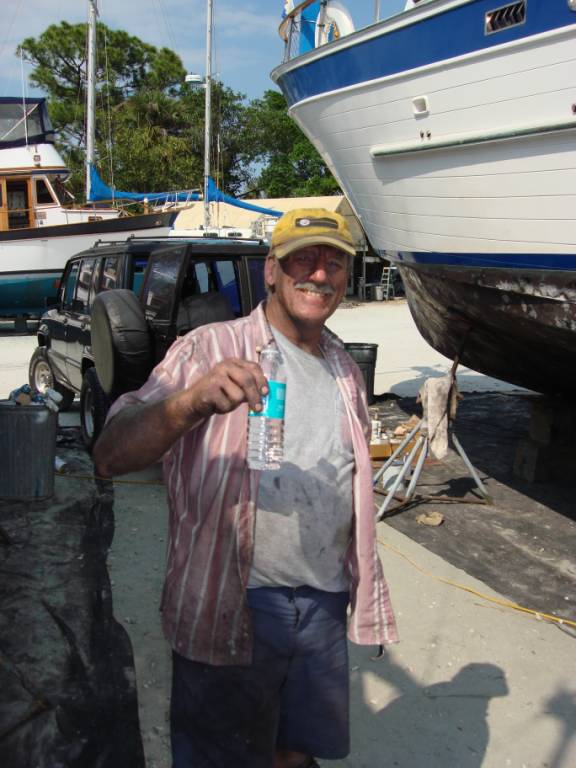 04/21/07 SATURDAY PORT SALERNO, FLORIDA
Dave called early to inform us that he couldn't work on AMARSE this weekend. He promised to be back in action on Monday morning. Unfortunately, his father-in-law had suffered some heart problem and had to have a pacemaker installed over on the west coast of Florida. We are all happy and relieved that he is recovering well.
We decided to do some sightseeing and take advantage of our rental car. We drove up to Ft. Pierce in hopes of connecting with our friends, Robert and Patty Mitchell from "Orinoco". We located their boat and a phone call revealed that they were in south Florida putting Patty on a United flight for Montana. While Robert helps his brother retrofit his Bertram, Patty will go home to retrieve the family truck. Oh well, we'll catch up to them again another day.
We continued north to check out the facilities and boats at Vero Beach. Much to our surprise, our beloved Commodore of the RMHYC was strolling around the marina. Robert and Carolyn Wilson, from "Sea Island Girl", are moored on one of the city operated mooring balls out in the harbor. Soon, Tim and Jane, from "Janie-O", stepped down from the bus. They had been out visiting the town and were returning to their boat that was also out on mooring. It was a fun opportunity to, unexpectedly, meet up with friends. All too soon, we headed back to Stuart and Palm City.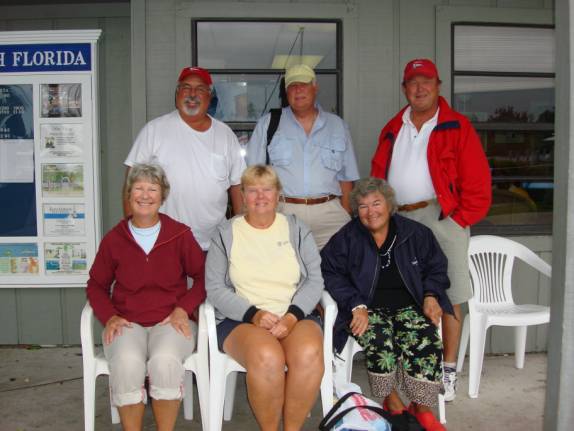 I think that this is a Banyan Tree.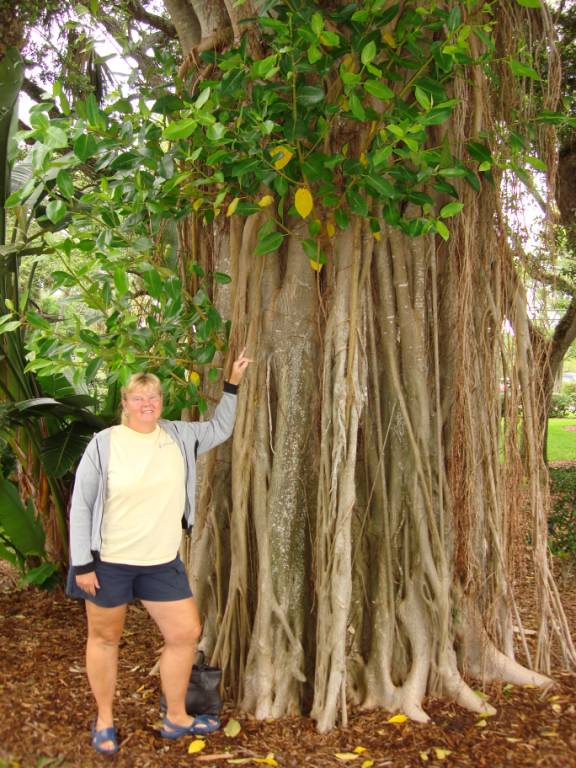 04/22/07 SUNDAY PORT SALERNO, FLORIDA
Jimmie Ethridge and Betsy Harris called to let us know that Betsy had been released from the hospital and was feeling quite a bit better. Due to complications with the IV injections, she had developed a few blot clots. Now on blood thinners, she would have to be careful and monitor her levels to safely dissolve the clots. They decided to relocate the boat to Ft. Pierce and leave it there for a month or so while they return to Mississippi to continue Betsy's recovery. We volunteered to pick them up in Ft. Pierce and drive them back to Riviera Beach to pick up their rental car. They would need to go back to the hospital on Monday morning for additional tests. As they motored "Simply Southern" up the ICW, we took a leisurely route toward Ft. Pierce. We had our brunch at Cracker Barrel and visited several seaside locations. The breeze along the shoreline was quite brisk and had the Atlantic waters quite churned up.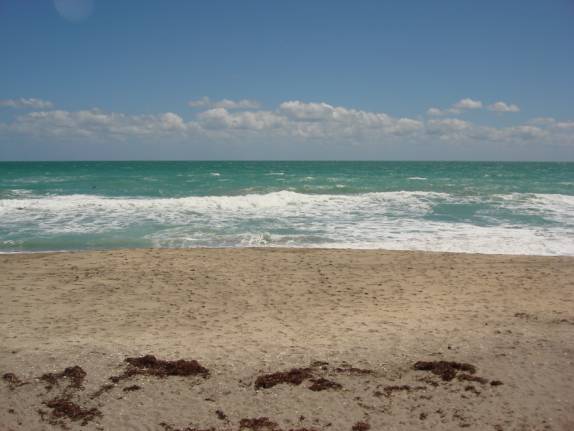 With their boat safely tied up at Harbortown Marina, Betsy and Jimmie hopped into our car for the trip back south to Riviera Beach. We had planned to go to Hollywood to visit with my daughter, Sharyn, and her husband, Jeff. Since it was getting a little late, they agreed to meet us in Riviera Beach for dinner. We dropped off our boating friends and arrived at the PA BBQ Restaurant at 4:30pm. Jeff and Sharyn arrived almost simultaneously. Judy and I love visiting with these kidz. Yah, I know, they are all grown up, however, to me, they're still the "Kidz". We took our time with the meal and thoroughly enjoyed every minute of being together. All too soon, the hours flew by and we had to set off in opposite directions again. We certainly look forward to a time that we can get back together again.
04/23/07 MONDAY PORT SALERNO, FLORIDA
Dave was back to work this morning after returning from the west coast of Florida. We were glad to hear that his Father-in-law was improving rapidly. He coated all the metal surfaces with special, two-part metal primer. Hopefully, this will help the surfaces keep the anti-fouling coatings in place longer.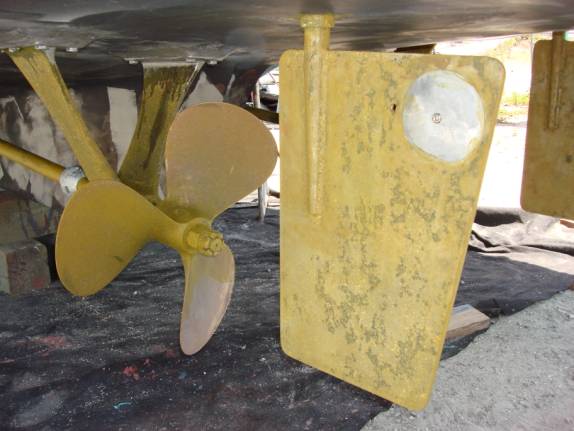 Jimmie had taken Betsy back to Palm Beach to have some last minute tests done at the hospital. They also needed to return their rental car to Enterprise. We were pleased to be able to help them by picking them up in Riviera Beach.
We got the call that our upholstery work was complete. Now that is good service at a fair price. I can add my recommendation for Linda at Hobe Sound Canvas if you need any of that kind of work while you are in the area. On our way to Ft. Pierce, we stopped to pick up the cushions. Jimmie and Betsy got a bid to do some work for them too. We will drop off their stuff when we return.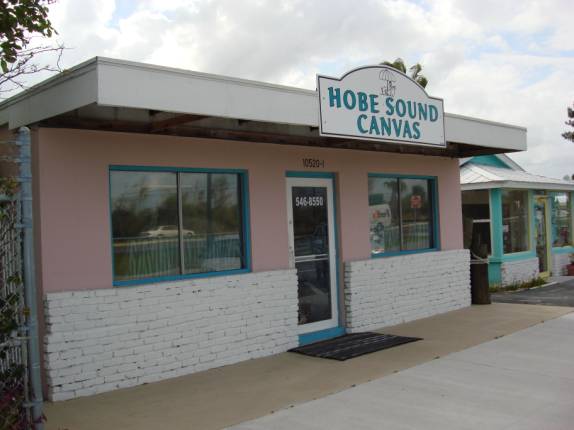 We think that the new fabric lends itself well to AMARSE's interior. It is a nice improvement in appearance and comfort.
Dave continued with the bottom work applying several coats of the finest paint available. The Petit Paint company makes this hard epoxy based Trinidad SR product.
When we returned in the late afternoon, Dave had the bottom application looking good. We worked to touch up the blue trim and improve the look near the waterline.
We stopped by Sam's Club to pick up a rotisserie chicken for dinner back at the house. We have been thanking Ivor and Susan every day and every night for their generosity in extending their home to us. Thank You, Thank You, Thank You!!!!!!!!!!!!
POST SCRIPT:
As you have probably noticed, I am quite a bit behind on my update duties. As I complete this edition, it is already 5/09/07 and we are in St. Augustine, Florida. We are waiting for better weather before continuing north. The winds have been wild and lots of boats have had problems with accidents and anchoring problems. We have a primary interest in remaining safe. Thanks for being patient. Please let us know if you have any special suggestions and thoughts.
We sincerely hope that you enjoy these email UPDATES. We thank those of you who have contacted us recently and we are looking forward to hearing from each of you in the near future. Thanks for allowing us to share our life and adventures with you.
REMEMBER: The website is now fully active and you can visit it at any time. You can review any of the 2006 or 2007 logs and learn more about the crew and our plans. Enjoy.
ATTENTION: SPECIAL NOTE:
You may contact us via cell phones and/or email. Judy's cell phone is 361-550-5353. Fred can be reached at 210-296-4933.
"AMARSE". is pronounced "AM-ARE-SAY". Our website is: www.amarse.net .
Check it out while we will attempt to keep you informed via email
We would like to hear more about what is happening in your lives. Let us know as we very interested in what's going on with our friends and family. Please call or email us with your thoughts and comments and ideas too. Thanks
Lot of Love,
Fred Reed and Judy Law
AMARSE
MT40