UPDATE#11
04
/08 thru 04/15/07
Howdy Everybody,
The period 01/19/07 thru 04/07/07 has been covered in Updates 1 through 10. We continue with UPDATE07 # 11.
UPDATE07 #11 04/08/07 through 04/15/07.
Welcome back to the new Adventures of the trawler AMARSE. At last update, we were visiting the Grand Bahama Yacht Club at Port Lucaya on Grand Bahama Island.
04/08/07 SUNDAY GRAND BAHAMA YACHT CLUB, PORT LUCAYA, GRAND BAHAMA ISLAND
HAPPY EASTER
The morning dawned clear and beautiful. Everything was calm and peaceful on this lovely Easter morn. Judy prepared her special recipe French Toast for breakfast.
The marina ferry took us over to the Port Lucaya Village. Judy and Betsy shopped in those stores that were open to serve the tourist clientele. Judy found some nice T-shirts boasting the logos of the local beer company, Kalik. The colors were nice and the designs were quite pretty. We couldn't find anything interesting for lunch at the village so we returned to the marina pool bar and grill for their delicious burgers.
One of the boaters organized a potluck dinner to be held at the commons area. It is always great fun to see what people bring to share for dinner. Many folks have a signature dish that becomes their trademark. Others are quite inventive with ingredients that they have on hand. Some people get an idea and then search high and low for whatever they need to make their idea blossom. Tonight, we had a great turnout and a wonderful array of treats ranging from salads to desserts.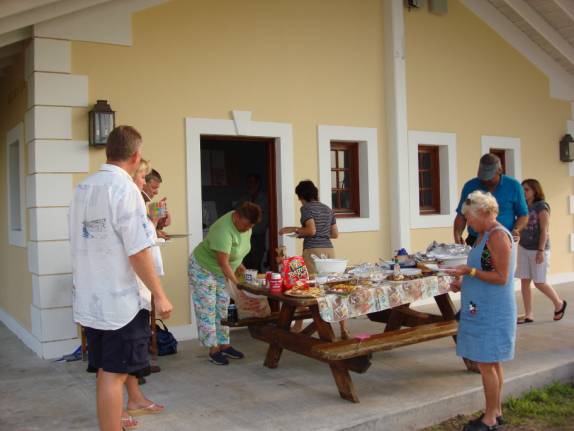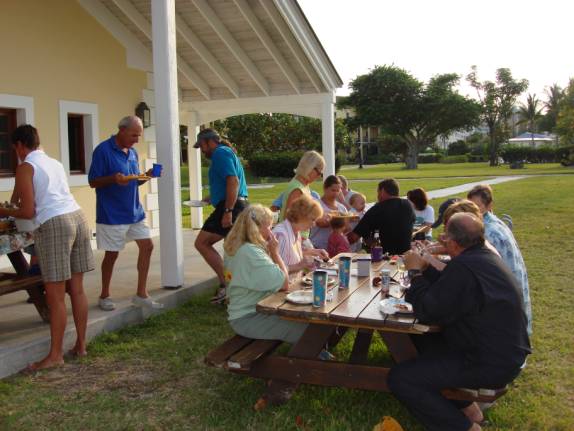 04/09/07 MONDAY GRAND BAHAMA YACHT CLUB, PORT LUCAYA, GRAND BAHAMA ISLAND
After a breakfast of eggs and English muffins, the girls were anxious to return to the shops at the straw market over at the Lucaya Village. Judy and Betsy Harris hopped an early ferry in quest of bargains. Generally speaking, Judy is relatively ambivalent to these types of shops, however, Betsy is lured by the tourist trap shops. Enjoying her company and friendship, Judy jumped right into the idea. I always enjoy seeing Judy meet such wonderful people and developing such nice friendships.
Jimmie and I talked boat stuff for the morning before joining the girls at the village. We had lunch together at the Pub At Port Lucaya. Judy savored the local snapper and chips. I chose spaghetti Bolognese and a side of plantains. Jimmie selected the nachos and an order of chicken wings. Betsy's choice of Greek salad and Club Sandwich looked very delicious.
The shopping continued for a while and then we took a walk to the Westin Hotel beach and pool. Upon our return to the marina, we splashed around in the GBYC pool.
Tonight's special event was a big cocktail party held on B-Dock. The RMHYC liquor locker was tapped to provide a wide assortment of spirits along with the traditional variety of mixers. Of course, I am hooked on my Bloody Mary concoction, which resulted in a "bring-my-own" situation. Everyone brought some form of heavy hor's dourves to tempt the palates of even the most discriminating yachtie. The evening fashion models, Judy and Betsy, stunningly displayed the latest in island fashion. These lovely and colorful, Caribbean outfits seem to have been designed especially for these two beauties.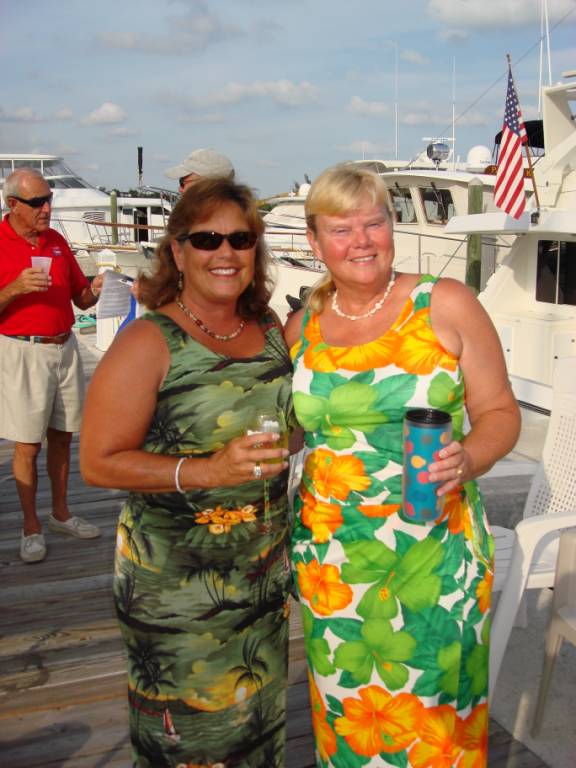 Past Commodore, Dave Bluto, offers a hearty welcome and a toast to the cheerful members of the Royal Marsh Harbour Yacht Club.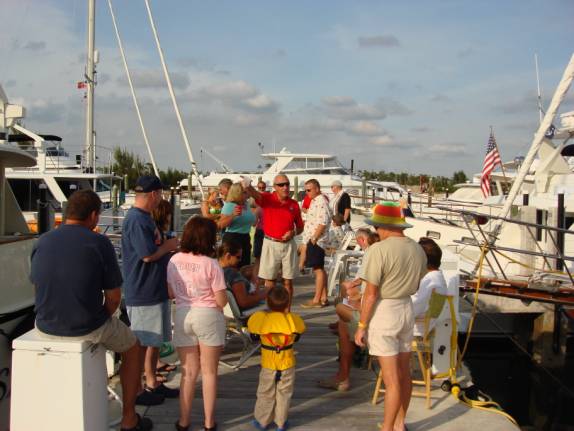 Mark Williams is visiting with his Dad, Bob Williams. The family resemblance is remarkable. They both have the same great smile and it's a pleasure to see the happy family together. It was snowing heavily when Mark left Michigan. Perhaps that why he is smiling so much.
Where I grew up, the term, "B Girls", had quite a different meaning. These are a few of the "B-Dock Girls", Judy, Betsy Harris, Carolyn Wilson, and Barbara Bluto.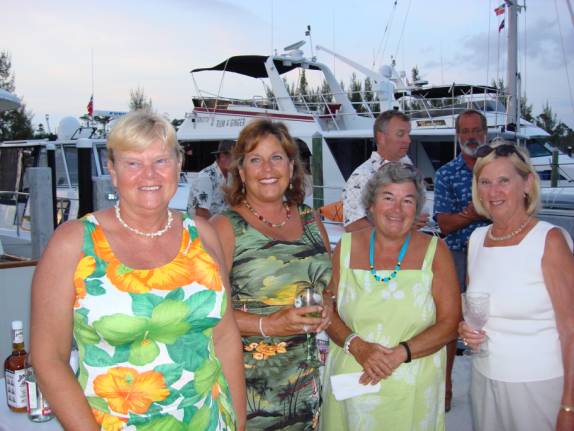 The evening continued with a bunch of "yakking" on "Simply Southern".
04/10/07 TUESDAY GRAND BAHAMA YACHT CLUB, PORT LUCAYA, GRAND BAHAMA ISLAND
The morning was fully overcast and the temperature was mild in the low 70's.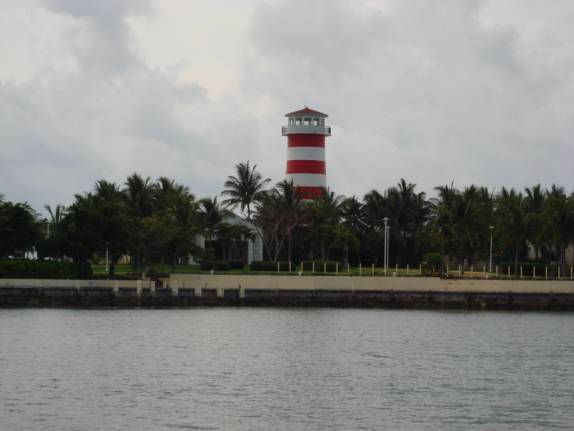 Betsy asked Judy to put her hair up in a French braid. The cut and style of her hair didn't work well with that plan so they decided to shelf that idea. What do people do when things don't go as planned? Of course, they go shopping. We took the ferry to the Lucayan Village where we found the van bus to Freeport center. Jimmie spotted the Burger King and immediately had a BK Attack. You guessed it, we had lunch at the BK. Needing some engine parts, Jimmie headed off to the NAPA Auto Parts store while Judy and I caught the next bus to the International Bazaar. This place is another collection of tourist-oriented shops hoping to sell to vacationing travelers. This group has lost a lot of business to the more popular straw market and shops at Lucaya Village. The Jimmie/Betsy team joined us there later. It wasn't long before Jimmie and I had had all we could take of this stuff. We headed back to the marina and the girls persevered.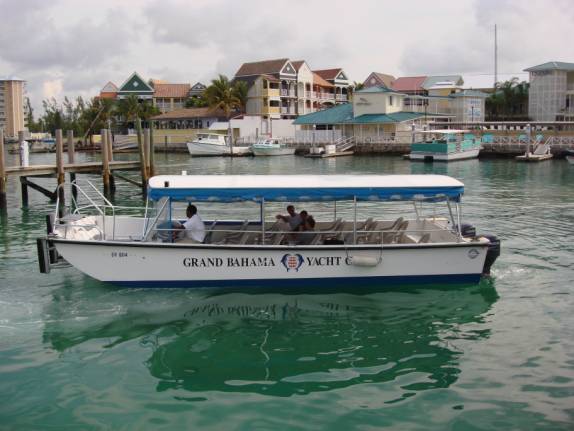 Dinner aboard AMARSE was shared with Jimmie and Betsy. I prepared a Penne Pasta in Chili Tomato Sauce.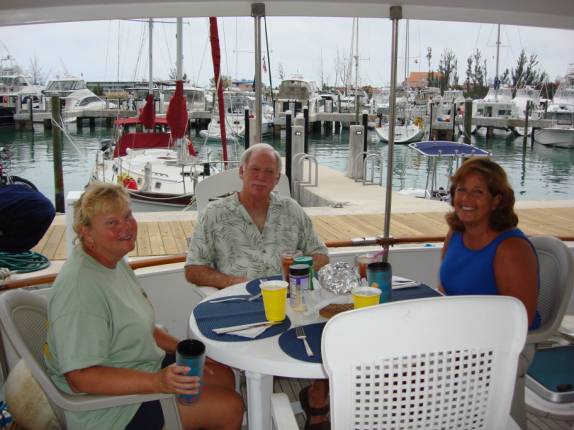 Judy and I enjoyed the rest of the evening just relaxing and watching TV.
04/11/07 WEDNESDAY GRAND BAHAMA YACHT CLUB, PORT LUCAYA, GRAND BAHAMA ISLAND
We have to start thinking about leaving this island paradise. To be more comfortable, I decided to work a little more on the port engine fuel filters. Yesterday, I bought a length of rubber hose from which I fashioned a makeshift spacer for the Racor secondary filter. As you may remember, the new design filter elements don't fit correctly in the earlier housings without a spacer. When I replaced the secondary last week, I didn't have a spacer. This installation will suffice until I can obtain the official spacer piece. To ensure the best chance for clean fuel, I changed both primary fuel filters at the engine mount. Although this may sound easy, it is a messy and time-consuming job. I have to be extra careful because I have an allergic reaction to contact with the fuel. Oh well, gotta do whatcha gotta do.
I was done in time to have lunch at the pool bar and grill. The afternoon swim in the pool was a delightful way to enjoy some of the afternoon.
"Simply Southern", a 43' Marine Trader Sundeck, was the site of the dinner hosted by Jimmie Ethridge and Betsy Harris. What could be more southern than their special dish of "shrimp and grits." A waldorf salad preceded dinner and Judy's chocolate, baked brownies touched the soul. The guest list included Fred and Linda Gassmann (Linda G II), Robert and Carolyn Wilson (Sea Island Girl), Fred Reed and Judy Law (AMARSE), and the hosts.
The harbor and yacht club has been hosting a large group of Mega-Yachts that have come together to raise funds for the charity, Boys and Girls Clubs of America. These humongous yachts will be island hopping for the next week or so. Their party included a performance by a Junkanoo band and was topped off by fireworks after dark. Late in the evening, we were invited to join the party on C-Dock, however, by that time, we were all too tuckered out to keep up with that bunch.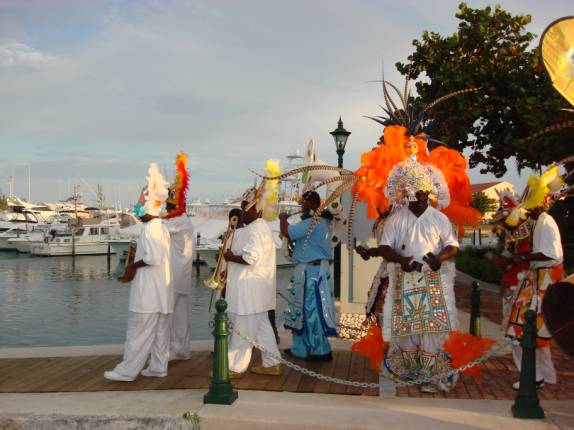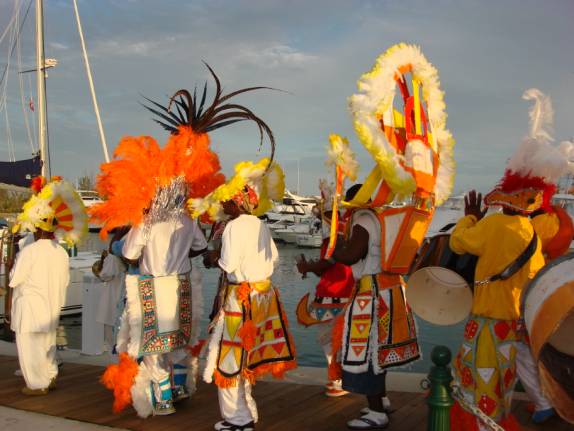 The Junkanoo band danced and played out to the Mega-Yachts to the delight of all the visitors. This group played more modern instrument and the costumes were more elaborate than the band we saw in the Abacos. I must say that the Abaco group was much more energetic and dedicated to the art form than this group.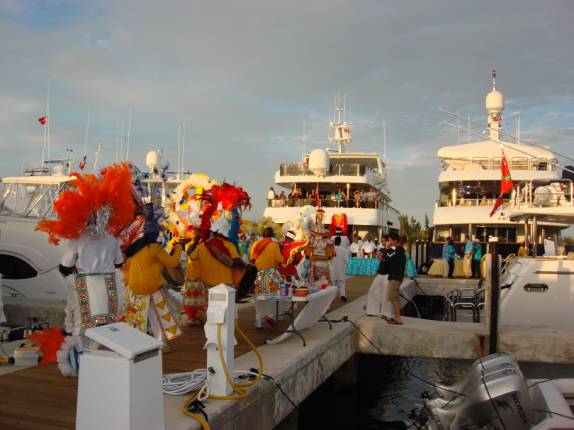 The different docks host a variety of vessels from Mega-Yachts to sport fishers to sailboats to motor yachts to trawlers. It is great that all can have this wonderful experience in whatever boat they choose.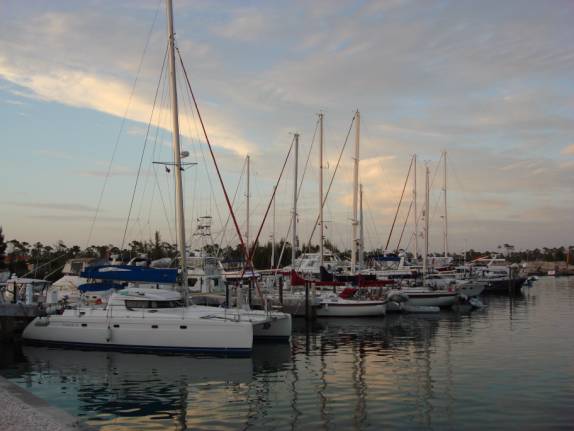 Jimmie Ethridge and Betsy Harris from Gautier, Mississippi aboard "Simply Southern".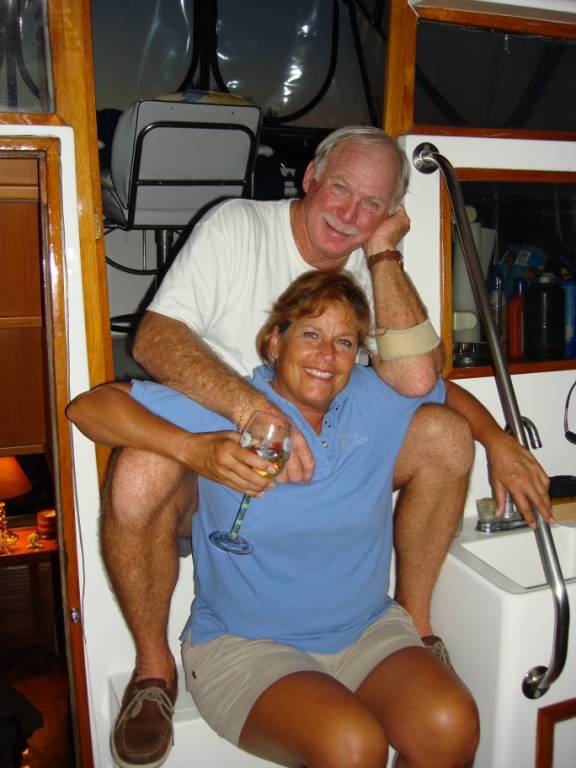 Fred and Linda Gassmann from Baltimore, Maryland. (Linda G II)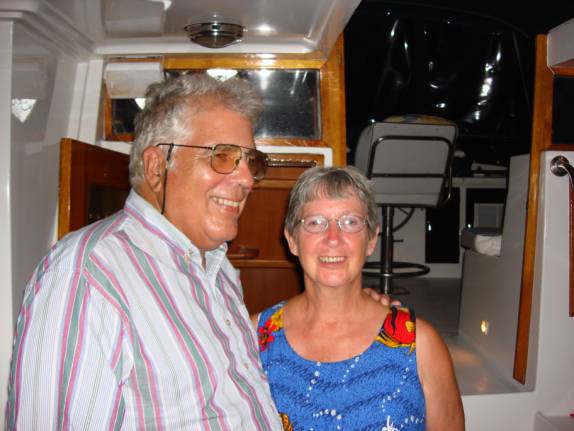 The weather did not sound very positive for the early morning departure. Several of us decided to wait for the updated forecast in the morning before making the final decision.
04/12/07 THURSDAY GBYC, PORT LUCAYA, GRAND BAHAMA ISLAND to RIVIERA BEACH, FLORIDA
The morning meeting of the "Planning and Steering Committee" commenced at 6:15am. The weather forecast had been revised to indicate conditions suitable for a safe crossing of the Gulfstream. The Captains of Linda G II, Simply Southern, and AMARSE agreed to attempt the voyage. We were ready to be first out since we are a bit slower that the other two. With a little help from our friends, we eased out of Dock #309 in the dim light of dawn. AMARSE idled out past the lines of Mega-yachts now passively still in the earliness of morn.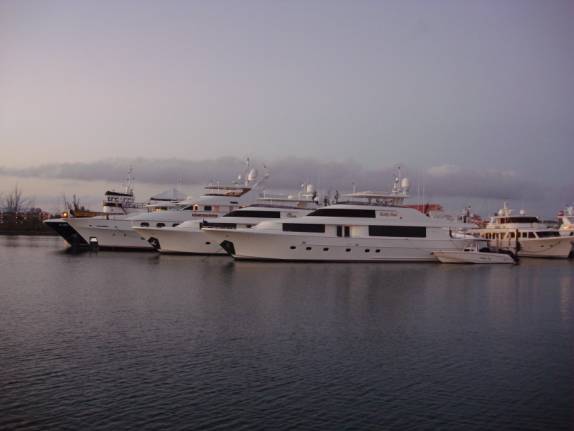 Those of you that are familiar with boats understand that they need maintenance and servicing on a regular basis. The more complex the vessel, the more attention required. So how do these mega-yachts handle that problem? It is not likely that the owners want to get their hands dirty doing fixit stuff. This next photo shows a large maintenance vessel that is well equipped with spare parts, tool, and technicians that follow in the shadows of these mega-yachts. I guess that there aren't many problems that a bunch of money can't solve.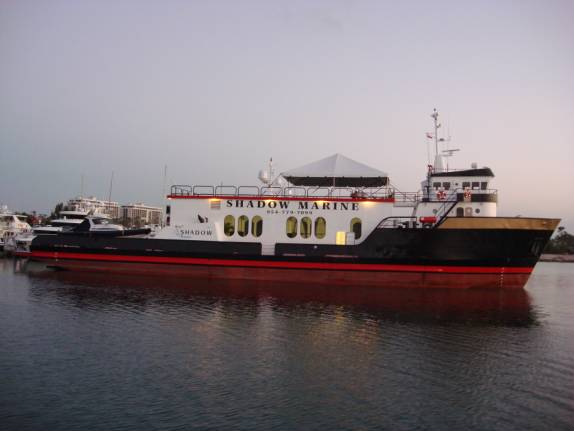 If you like boating but don't want to stay aboard your yacht, you can always buy a nice condo at the yacht club to make your stay more comfortable.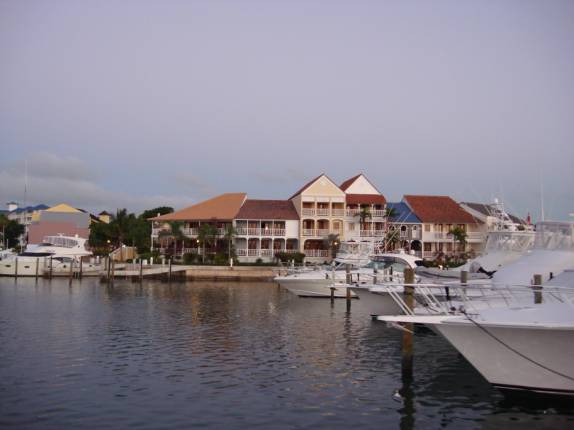 By sunrise, we were already pitching up and down in the deep blue waters of the Atlantic.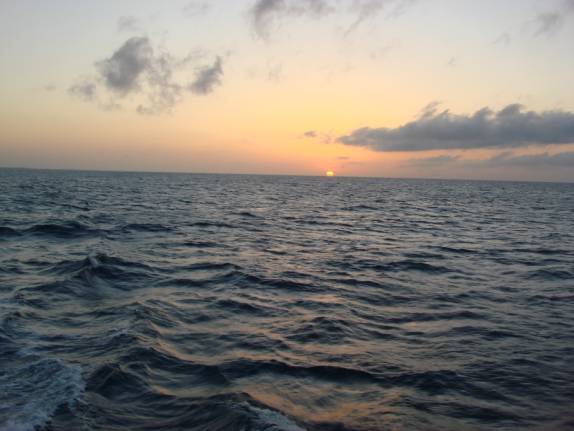 Although the camera flattens the appearance of the waves, you can clearly see the spray being cast from our bow.
The pitching motion of the waves caused our deck furniture to slide around and topple over. A severe thunderstorm well to our south caused the seas to build up in our area and the sharp wave action was a bit uncomfortable. Our friends had departed the GBYC harbor about an hour behind us, however, their higher cruise speed allowed them to pass us enroute. During the roughest part of the Gulfstream crossing, the forces caused our anchor light pole to come loose by pulling the mounting screws out from the arch and broke both the anchor light and the solar light fixtures. "Linda G II" had experienced some fuel contamination aggravated by the constant agitation of the sea state. This was causing fluctuations in one of their engines and causing a bit of excess stress in the crew. Fortunately, they kept adequate power. Nobody wanted to have to change filters in these bouncy conditions. When they got in smoother conditions just outside their marina assignment, that engine finally quit. Fortunately, they were close enough to limp in on the remaining engine. "Simply Southern" had to reduce their speed to ease the pounding of the waves.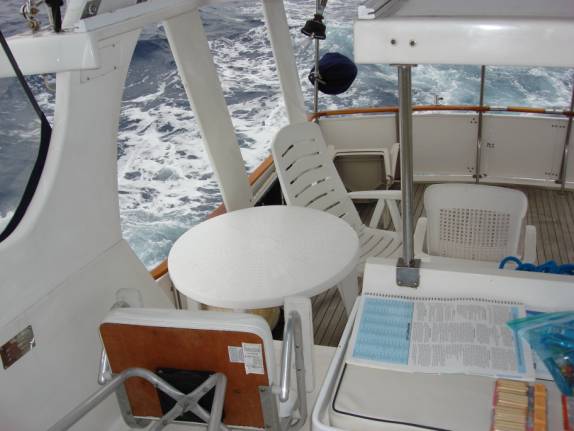 All in all, AMARSE handled the crossing most admirably. She is a fine and strong vessel that is such a wonderful pleasure to be aboard. The last several hours offered us smooth seas and delightful crossing conditions.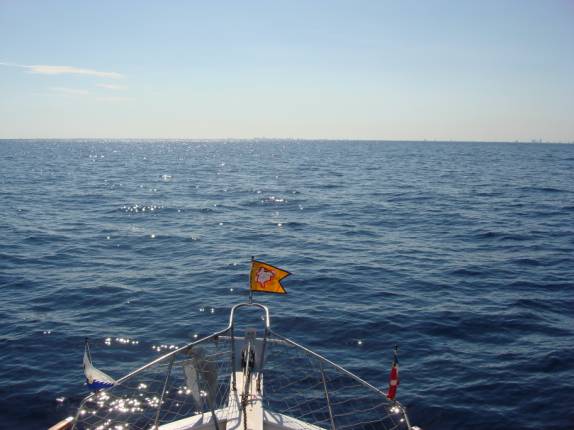 We entered Lake Worth Inlet near Palm Beach, Florida. The tides were slack, the wind was slight, and we were able to back into our narrow slip with relative ease. The Riviera Beach Municipal Marina is the closest marina to the US Customs office at the Port of Palm Beach. According to the latest regulations for Homeland Security, boaters are required to call in to Customs and report their arrival. After a complete telephone interview, we are issued a clearance number. The officials have deemed it necessary for each person to appear in person to the agents within 24 hours for personal inspection. From our marina, we will be able to walk over to the office. From other marinas, many folks have to take taxis or rent cars to go to the airport or the port office. Weekend arrivals all have to go to the airport. The taxi fare is $80. Perhaps the rules will be changed in the future, however, for now, the ordeal can be an expensive proposition with questionable value.
The marina folks recommended that we call Romana Pizza for delivery. We joined Betsy and Jimmie aboard "Simply Southern" to order the evening meal. I must tell you that this was the greatest pizza that I have ever had. I have to be careful to say that because Judy, as you may know, owned and operated five pizza restaurants in Texas. Fortunately, she was impressed too.
04/13/07 FRIDAY RIVIERA BEACH, FLORIDA
At 9 am, we strolled over to the Department of Homeland Security offices at the port. We joined other cruisers in the small waiting area and, within 30 minutes, we had an agent look at our passports and compare our clearance number. I inquired about a new program whereby we could get pre-approval for future entries by obtaining a special clearance number. The agent said that I would need to make an appointment. I asked him if I could make the appointment with him. He told me, "No", and that I would need to telephone for an appointment. I asked for the number, he gave me the number, I asked for the area code, he gave me the area code, I said "Thank You", He said "You're Welcome." I then walked out into the waiting room and placed the telephone call to request an appointment. Much to my surprise, I watched the exact same agent go over to the phone where he courteously made an appointment for us to appear on Monday morning. I think it is often too difficult for the average person to understand the complexities and bureaucratic idiosyncrasies of government entities.
We decided to stay here in Riviera Beach for the weekend. We rented a car on the weekend special program by Enterprise Rent Car. Betsy had complained of stomach cramps earlier this morning. She thought she would be better as the morning went on, however, her malady became more distressful. We offered to take her to the hospital and she agreed that she needed help. We came and took her to Good Samaritan Hospital in Palm Beach. After dropping them off, we headed to Jupiter to meet with our friends, Ivor and Susan Nathan. Judy and Susan traveled together and Ivor and I set off to meet his mechanic, Dave Elliot, in Port St. Lucie. Dave would undertake to work on AMARSE for the next couple of weeks and handle our spring preventative maintenance.
Back with Judy and Susan, we had lunch at Ivor's golf club restaurant before touring their home. They live in a lovely community known as Palm Cove Golf and Yacht Club. They were leaving on a several week cruise aboard a luxury liner to Europe and then visit family in London. Graciously, they have offered us the use of their beautiful home while AMARSE is being serviced. That's what I call a great friendship!
They were busy getting prepared for their departure tomorrow. While Susan was organizing and packing, Ivor took us to the Palm City Grill for a cocktails and some appetizers.
As we returned to Riviera Beach, we called Jimmie to check on Betsy. They had finally seen the doctor and the decision was made to admit her. We picked up Jimmie and went to the PA BBQ (Park Avenue) Restaurant for dinner. We tried the Baby Back Ribs in hopes that they would equal the ones from the Jib Room in Marsh Harbour. Although pretty good, I am convinced that we are terribly spoiled now and will have to wait until next year in the Abacos before we find ribs that good. Everybody was tired out from all the activities of the last few days.
04/14/07 SATURDAY RIVIERA BEACH, FLORIDA
In the morning, we dropped Jimmie at the hospital. It wasn't too long before he called to tell us that he needed to rent a car. We went back and drove him to Enterprise to pick up a car.
We checked out the local boating supply stores and then headed north to see the sights. Near Jupiter, we stopped for lunch at the Golden Pavilion Chinese Restaurant. The Egg Foo Young was quite good and Judy enjoyed the Cashew Chicken dish.
This coming week, we will have the boat hauled at Port Salerno Boatyard. We decided to check out the area to locate the facility, lift well, and docks. In a small, consignment boat store, we saw the familiar faces of Tim and Jane from "Janie-O". We had not seen these fellow loopers since Goose Pond Marina in Northern Alabama.
On the way back to the marina at Riviera Beach, I talked Judy into going to Romana Pizza place for another one of their terrific pies. The place at 45 Blue Heron Blvd, Riviera Beach is not very fancy, however, I don't know where you could possibly go to get better pizza. If you know, please let me know.
04/15/07 SUNDAY RIVIERA BEACH, FLORIDA
We found a little café on Route 1 in Palm Beach that served a magnificent breakfast. The place was packed and they are known for their friendly service. I love finding these kind of neighborhood, family-run eateries.
The weather was a bit rainy and windy and generally unpleasant. We unloaded all the foodstuffs from the refrigerator and took it all to Ivor's house. Since we would be without power in the boatyard, we could save all the frozen stuff that way.
From there, we drove to Hollywood, Florida. My daughter, Sharyn, and her husband, Jeff, have just returned from Missouri to their condo here. We thought we would miss them but they came back early because of lousy weather in the Midwest. It was great to see and visit with them. They showed us around their place that features wonderful views of the Atlantic Ocean, gorgeous sandy beaches, and the IntraCoastal Waterway. From the 17th floor, you can see a long way. It is such a ideal place from which they can work and play in comfort. It is so nice to see them highly successful and able to enjoy the fruits of their hard work.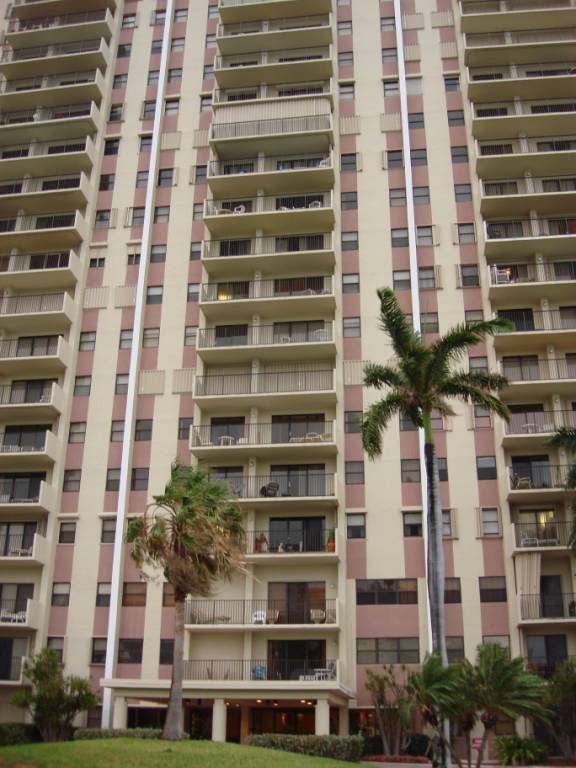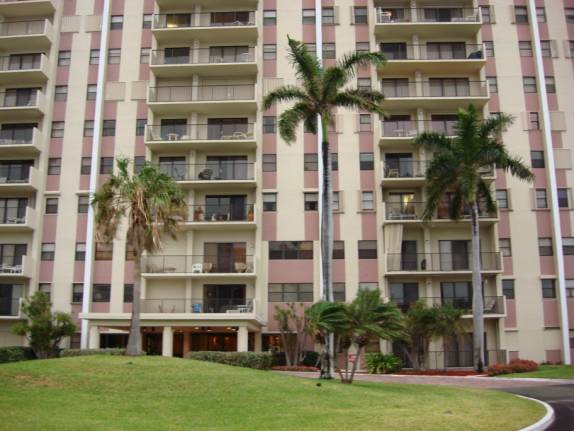 We chose to have dinner at the China Buffet Restaurant on Hallandale Boulevard. All too soon, it was time to make the long drive back to our home on AMARSE docked at Riviera Beach Marina.
Unfortunately, our dear friend, Betsy, is still in the Good Samaritan Hospital. She has been diagnosed with an acute case of "diverticulitis". It will take a while to get her all better again. We wish her the very best of Get Well Wishes and hope she will be better soon. Both Jimmie and Betsy are very special people and we are honored to have them as friends. We are ready to help them in any way we can.
POST SCRIPT:
As you have probably noticed, I am quite a bit behind on my update duties. As I complete this edition, it is already 5/07/07 and we are in St. Augustine, Florida. We have been extremely busy with annual boat maintenance and the boat has been out of the water in the boatyard. Frankly, we have been pushing ourselves to the brink of exhaustion and, perhaps, slightly beyond. I had not intended to be so actively involved with the physical part of the work, however, the constraints of time in the boatyard forced us to get down and dirty. Oh well, hopefully, I will get more done to keep you informed of our progress. We have completed our preventative maintenance items and are proceeding northward on the continuation of our adventures. Thanks for being patient. Please let us know if you have any special suggestions and thoughts.
Thanks for allowing us to share our life and adventures with you.
REMEMBER: The website is now fully active and you can visit it at any time. You can review any of the 2006 or 2007 logs and learn more about the crew and our plans. Enjoy.
ATTENTION: SPECIAL NOTE:
We are back in the USA and our phone coverage is back to normal. You may contact us via cell phones and/or email. Judy's cell phone is 361-550-5353. Fred can be reached at 210-296-4933.
"AMARSE". is pronounced "AM-ARE-SAY".
We would like to hear more about what is happening in your lives. Let us know as we very interested in what's going on with our friends and family. Please call or email us with your thoughts and comments and ideas too. Thanks
Lot of Love,
Fred Reed and Judy Law
AMARSE
MT40