UPDATE#13
04

/24 thru 04/30/07

Howdy Everybody,

The period 01/19/07 thru 04/23/07 has been covered in Updates 1 through 12. We continue with UPDATE07 # 13

.

UPDATE07 #13 04/24/07 through 04/30/07.

Welcome back to the new Adventures of the trawler AMARSE. At last update, we were staying at Ivor and Susan's wonderful home while AMARSE was undergoing springtime, preventative maintenance in the Port Salerno Boatyard in Manatee Pocket near Stuart, Florida.

04/24/07 TUESDAY PORT SALERNO, FLORIDA

This was to be our last full day in the boatyard. Dave continued the work on the boat bottom. Everything was looking real good and we were right on schedule for tomorrow's launch. The blocking pads had been moved and the paint had been applied to those areas. We had checked and lubricated all of the thru-hull fittings and shutoffs, as well as replacing one faulty thru-hull that had been in poor shape. We have all been working very hard on the boat to accomplish all this work. Even the interior upholstery work came out great. All new zincs and several coats of Petit Trinidad SR antifouling paint will be the best we can do to protect the bottom of our wonderful AMARSE.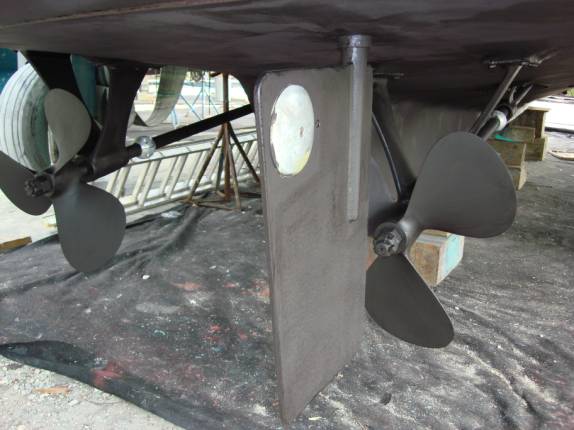 By late afternoon, the work was complete and we would need to wait the night before the early morning launch time.
On the way back to the restful solitude of Ivor and Susan's fabulous home in Palm City, we stopped at Winn-Dixie, the grocery store, to pickup our dinner supplies. We had selected some beautiful filets of chicken breast. When we got home, we realized that the bagger at the store had not put it with our other stuff. Oh well, we certainly enjoyed our Caesar salad even with out the chicken.
04/25/07 WEDNESDAY PORT SALERNO to PORT ST. LUCIE, FLORIDA
Judy and I were at the boatyard before 8am ready for the launch. Dave arrived exactly on time; you could set your watch based on this man's punctuality. Roy Durkee was going to join the three of us for the boat ride to Port St. Lucie. He would be our guide to thread the St. Lucie River and the canals that lead to his house and dock where we will finish up the work on AMARSE.
At 8:30 am, the boat was in the lift hoist.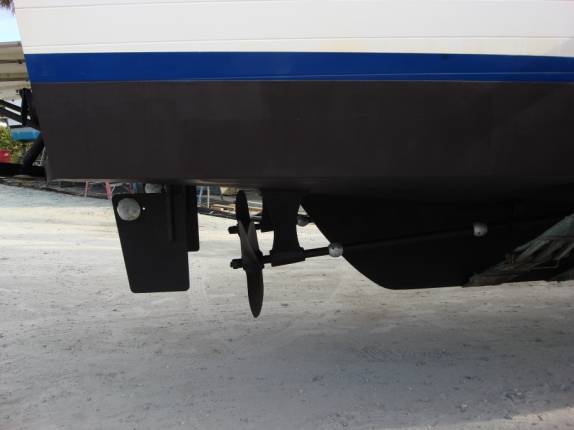 Jack, the yard manager, carefully and skillfully maneuvered the lift hoist over to the well and, soon, AMARSE was back in her own element.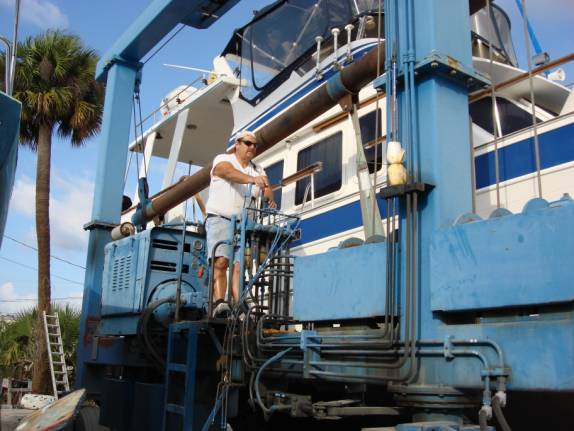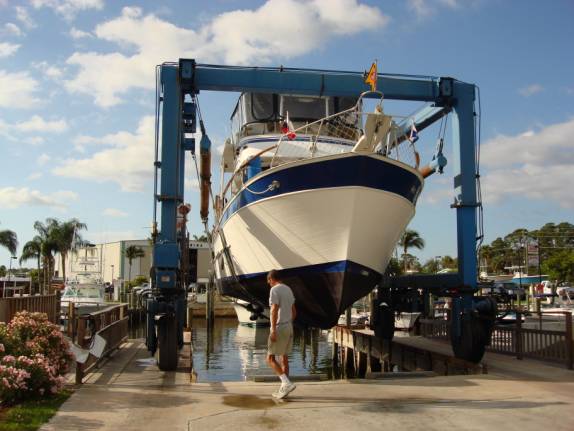 By 8:50 am, we were idling through Manatee Pocket passed numerous marinas, anchorages, and lots and lots of beautiful boats. We were told that the famous country singer, Alan Jackson, owns this beautiful sport-fishing yacht.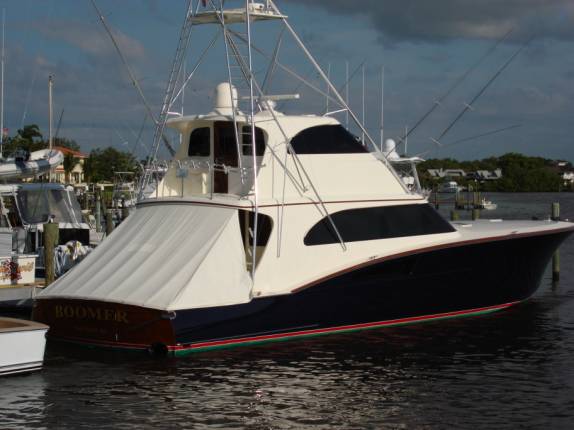 For several hours, we cruised up the St. Lucie River to arrive at Roy's dock about 11 am. The docks are in a small bay in a canal behind his house. Ivor has been keeping his boat, "Lazy Susan", here at an adjacent dock. It was good that Roy and Dave came along as it would have been difficult to find without their local knowledge.
As we looked around the boat, now at the dock, we found an uncorrected problem. We had been chasing a small seep of water into the rear hull near the stern. We thought we had taken care of the problem in the yard. Unfortunately, the area was still wet and should be fixed. We attempted to pinpoint the exact location, but it eluded us. We would have to narrow it down.
04/26/07 THURSDAY PORT ST. LUCIE, FLORIDA
To further inspect the lowest extremities of AMARSE, we had to remove the mattress and bed supports and work our way down into the stern. Access is quite difficult in this confined area. We used lights and mirrors to try to get a clear view. Using a small wet n' dry vacuum cleaner, we could dry out the area then look to find the seep. The location could not be exact but we could localize it quite well. The big question was, "How do we fix it"? We could attempt to patch it from the inside, but that would be exactly that, a patch. The correct method would be much more expensive but it would be the best and the proper way to resolve the problem permanently. The decision was made to take the boat back to the yard and haul it again. Oh well, we always want to do the very best for our beloved AMARSE.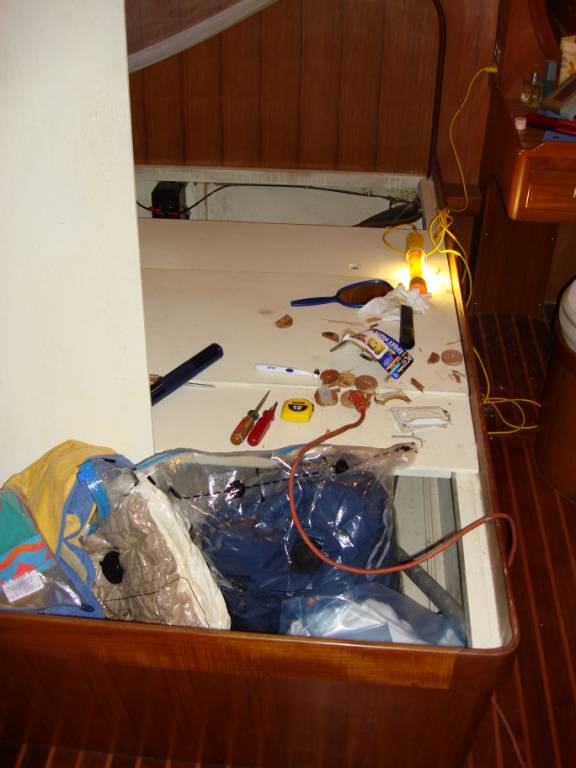 The boatyard was completely full and could not take us in. Dave convinced Jack to pull us on Friday evening and leave us in the slings of the lift hoist until Monday morning. With a couple of days to go, Dave set to engine maintenance. We changed all the fuel filters, primary, secondary, and generator, as well as, inserting the correct, factory-supplied spacers in the Racor filter housing. Dave found a fuel seep in the port engine supply line and torqued it down. We serviced all the fluids and checked all the hoses and belts. Although only slightly worn, we decided to change all the belts with the very best NAPA Gold V-belts. We removed the cover plates and cleaned all the tubes out in the main heat exchangers using a brass rod, then, replaced the end cap sealing gaskets and installed new zinc pencils. We thoroughly cleaned the drip pans and relined them with fresh absorbent pads. Everything that we could think of was accomplished to keep AMARSE's twin powerplants humming reliably. Dave is amazing and can wiggle and squirm into all the tight little spaces. We sure are pleased that he is helping us with all this work.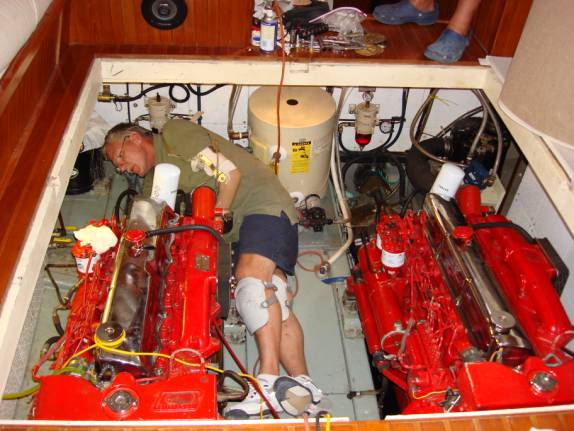 It was wonderful to be able to clean up and relax at Ivor and Susan's home. Thanks again! Thank You, Thank You, Thank You!!!! For dinner we enjoyed a big, Caesar Salad topped with chicken and shrimp.
04/27/07 FRIDAY PORT ST. LUCIE to PORT SALERNO, FL
We started early in the morning again to complete the engine room chores. We even had Judy down in the engine room to wipe down and replace the pads. While we straightened up and closed up the engine room, Dave started working outside on some cosmetics to the toe-rail panels. To keep a boat in tip-top, shipshape condition, you must devote considerable time and effort. In the long run, it is well worth it all it takes. We love this boat. Remember, it is "AMARSE", which means "to love each other".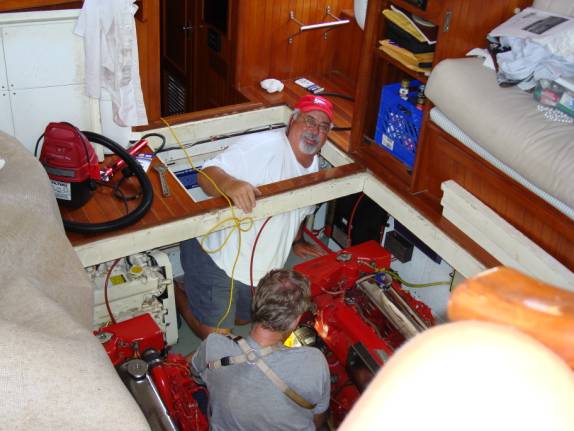 We had to make our way to the boatyard. In order to catch the higher tide necessary to give us adequate depths in the canals, we departed at 1:23 pm. Judy and I tied the boat to the short dock immediately adjacent to the lift well at 3:30 pm. When Dave arrived, Jack told us that he would be unable to haul us this weekend. What the ….? Dave was able to schmooze Jack into conceding to haul us Saturday morning and launching us early Monday morning. It would be a challenge to get all the work done but "ya gotta do what ya gotta do".
For dinner, we pan-grilled some tilapia and served it with steamed Broccoli. It was absolutely yummy. The Sam's Club in Port St. Lucie has frozen Tilapia Loins. These are thicker, larger pieces that grill up so delightfully. We haven't been able to find them at other places.
04/28/07 SATURDAY PORT SALERNO, FL
Judy and I arrived at the boatyard at 7:05 am. There wasn't anybody else in sight. We had coffee in the little specialty coffee shop right next to the boatyard. They do a good job there and have a pretty steady clientele for such an off the beaten path place.
Dave arrived exactly at his appointed time of 7:30 am expecting the boat to be in the lift. The lift was still in the yard with a sailboat in the slings. When we inquired with the owner, Pete, a Brit fellow, he told us that he was due to be in the yard all weekend. Big problem going on here since the sailboat needed to be held in the slings while work was being done. The sailboat was waiting for centerboard paint and, also, some rigging work on the centerboard pennant. Dave said that we would fix it all to get him out of the yard. Now we started to work on that guy's boat like we didn't have anything else to do. Oh well, "whatcha gonna do?"
About 10:30 am, we had enough done on the sailboat to lower it to the stands. Dave had convinced Jack to let us sit in the slings on the wash pad that is actually out of the boatyard itself. The first job was to remove the entire swim platform from the transom. The platform is one humongous piece that is mounted on about 25 stud bolts. All the bolt threads had to be cleared of accumulations of paint and old sealant. It was a slow, tedious process, however, we were doing it the right way that should last for a long, long time. The best product we could find for re-bedding the bolts was 3M 5200. We also decided to glass and fair-in the trim tab mounting blocks. This would provide an additional margin of strength and improvement to the system. With the afternoon sun beating straight down on us, we soon became very overheated and approached total exhaustion. I don't think I ever want to work that hard again. By 4 pm, none of us could continue without causing ourselves personal harm.
Once again, we uttered our most hearty Thanks to Ivor and Susan. For dinner, we had some cold meats slices rolled up along with a Caesar salad. We had gotten the Perdue brand, sliced, oven roasted turkey from Sam's Club. It was the best flavor brand that I've ever tried. (now we can't find it in the stores here, "ratz"!)
The owner of Blockbuster Video has a huge home nearby. Tonight, he put on a huge fireworks display for his wife's birthday. It would easily rival any put on by a large city. Judy watched it from our bedroom window, however, I was too exhausted to even get up to see them.
04/29/07 SUNDAY PORT SALERNO, FL
Judy and I arrived at the boatyard at 6:50 am. Dave arrived exactly on time at 7 am. We wanted to get an early start while the sun was still low. We occupied every available minute working on the project. By early afternoon, we had assembled 6 of the area boaters to help us lift and reset the swim platform. It was a struggle but we lined everything up and began the process of reattaching the platform. Once again, by 4 pm, we had totally worn ourselves out, however, this time the job was finished. We left AMARSE hanging in the slings and ready for the early morning launch.
04/30/07 MONDAY PORT SALERNO, FL to PORT ST. LUCIE, FL
We arrived at the boatyard at 6:45 am; Dave drove in at 7 am. When Jack got there at 7:35 am, we launched AMARSE and had her running away from the yard at 8 am. We had intentionally left the boat low on fuel to ease the lifting process. Mariner's Cay Marina in Manatee pocket offered the lowest price in the area. We only put on 80 gallons just in case we needed to do some additional work. From 9am to 10:55 am, we enjoyed a beautiful morning of cruising up the river and canals leading back to Roy's house and dock. Dave picked us up and drove us back to our car.
Judy and I tried the Whistle Stop Café for lunch. I had the daily special of Meatloaf and Judy had a grilled chicken Caesar salad. For the rest of the day, we would rest. The energetic Dave, however, would take care of installing a transmission in another customer's boat.
The list of maintenance items has been drastically reduced and we are bringing AMARSE up to shipshape and tip-top condition. Doesn't she look great tied to the private dock behind Roy's house in Port St. Lucie?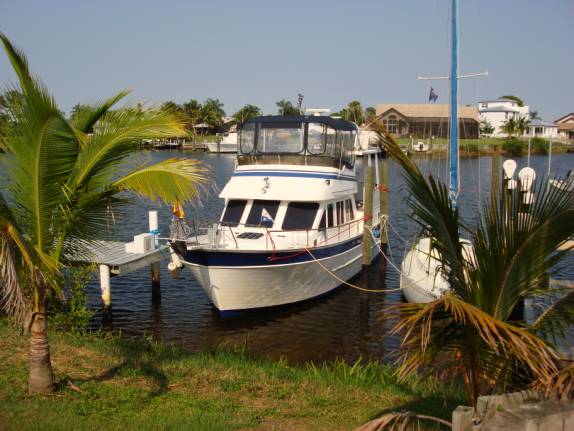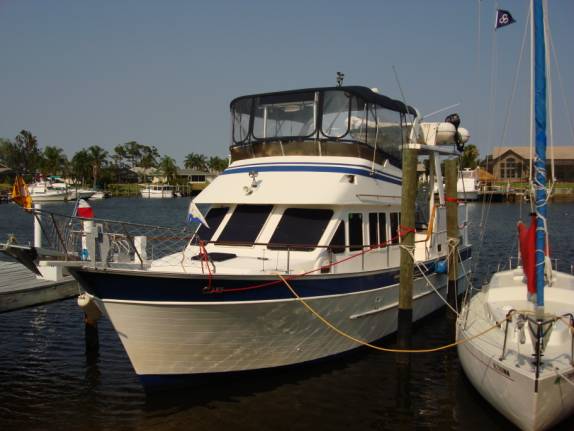 The great news is that the compartments are dry and we have been totally successful with our bottom work. AMARSE is the perfect boat for us. She has everything we want and much more. Compared to other boats we've traveled with, she has been relatively trouble-free. We are convinced that as long as we take good care of her like we are doing and keep our preventative maintenance items current, AMARSE will continue to take good care of us.
We have some more chores to do, however, today we rest.
POST SCRIPT:
As you have probably noticed, I am making progress on my update duties. As I complete this edition, it is already 5/12/07 and we are in Jacksonville, Florida. We are enjoying the beauty of the St. John's River as a side trip before continuing north. The winds have been wild with sub-tropical storm "Andrea" swirling offshore and the air has a bit of smoke. There are over 200 wildfires burning in the two-state area. Thanks for being patient. Please let us know if you have any special suggestions and thoughts.
We thank those of you who have contacted us recently and we are looking forward to hearing from each of you in the near future. Thanks for allowing us to share our life and adventures with you.
REMEMBER: You can review any of the 2006 or 2007 logs and learn more about the crew and our plans. Enjoy.
ATTENTION: SPECIAL NOTE:
"AMARSE". is pronounced "AM-ARE-SAY". Our website is: www.amarse.net .
We would like to hear more about what is happening in your lives. Let us know as we very interested in what's going on with our friends and family. Please call or email us with your thoughts and comments and ideas too. Thanks
Lotza Luv,
Fred Reed and Judy Law
AMARSE
MT40