UPDATE#10
04
/01 thru 04/07/07
Howdy Everybody,
Please let us know you thoughts, comments, and suggestions.
The period 01/19/07 thru 03/31/07 has been covered in Updates 1 through 9. We continue with UPDATE07 # 10.
UPDATE07 #10 04/01/07 through 04/07/07.
Welcome back to the new Adventures of the trawler AMARSE. At last update, we were enjoying life to the fullest at Marsh Harbour in the Abaco Islands of the Bahamas.
04/01/07 SUNDAY ABACO BEACH RESORT and BOAT HARBOUR, MARSH HARBOUR, ABACO, BAHAMAS
APRIL FOOLS DAY
As many of you may remember, this marks the 1-year anniversary of our initial departure from Clear Lake, Houston, Texas. We had wondered if it was wise to leave on such an ominous day, however, we are now quite positive that it was, in fact, the perfect day to head out on our adventure of a lifetime. We have accomplished some major goals over the course of this past year. We completed the entire Great Loop Cruise, made our way across western Florida, crossed the Gulfstream to the Bahamas, enjoyed the Abaco Islands, and, best of all, met lots and lots of the most wonderful folks in the world. Now we look forward to continuing our adventures aboard AMARSE to where ever they may lead.
Dean Ordiway, Judy's brother, was up early again to do his daily jogging routine. After breakfast, we planned for a dinghy ride. As soon as we reached the mouth of the harbor, it was easy to see that we weren't going anywhere today. The brisk wind had the seas churned up enough to make any travel by dinghy very uncomfortable. This did not prevent us from slow cruising around in the harbor looking at all the boats tied snugly to their pilings.
I put on a pot with a nice chunk of corned beef to simmer very slowly. I did not add the packet of extra seasoning for which I am glad. I planned 4 hours for the beef and about 1 hour for the added cabbage. It turned out absolutely wonderful. It was the most tender and flavorful that I have ever tasted. Judy made some of her special corn muffins made with creamed corn. No, it wasn't St. Patty's Day, but we felt even more fortunate than a lucky Irish Leprechaun. Dean even wore a green shirt to get completely into the mood. That little "toddy-for-the-body" proved that the Irish can get along with the English as long as we're talking about English Gin.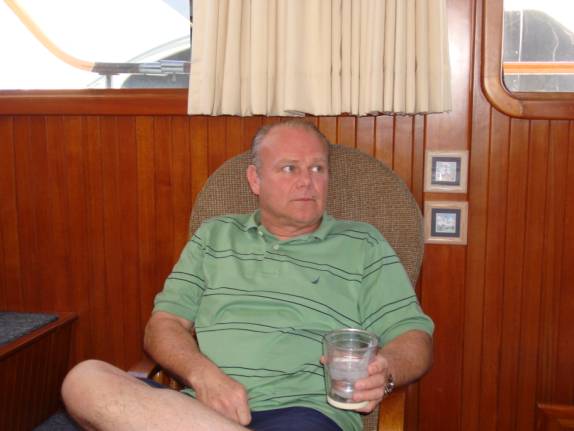 04/02/07 MONDAY ABACO BEACH RESORT and BOAT HARBOUR, MARSH HARBOUR, ABACO, BAHAMAS
It was another beautiful day here in the Abacos. The wind had relaxed her restless spirit and we were looking for adventure. After Dean did his morning run, we loaded up the dinghy and headed out of the harbor. Although it was still too windy to attempt to cross to Hopetown, we eased along the lee side of the big island and cruised through the residential canals nearby. With only two people, our dinghy will plane out and cruise up to 20 miles per hour. With three, the dinghy just plows water and won't do much over 6 mph or so. "That's alright", we said, " we'll just putt-putt along like three men in a tub." The ride around to Marsh Harbour was pleasant but slow. I'm sure it was well over an hour-long jaunt. We cruised through the main harbor and stopped by to visit with Bill and Karen on "Candy Dish". As we chatted, the winds started to build up. Anticipating a very wet and slow ride back, Judy offered to walk back to the marina while Dean and I took the dinghy back at a faster pace. I think that Dean probably wished he'd walked too. We were on plane and moving fast, however, the choppy seas made for a very bumpy ride. Dean held on tightly and even wore the skin off his hand holding on to the life ropes. I bet it didn't take us much more than twenty minutes to zip back in the high-speed mode. We made it back to the marina in time to have lunch at the pool bar and restaurant. As we engaged in more relaxing and a swim in the pool, the time grew close for us to get ready for tonight's party. All cleaned up, we were seated at the patio by 4:30pm in waiting for the bi-weekly Manager's Party. From 5 to 6pm, it's free drinks and appetizers. There have been so many of our friends that have departed the marina already that it was the least crowded that we've seen yet. Usually, the "Jackels" are poised and ready to pounce when the clock strikes 5:00.
Lest you think we would be ready to settle down so early, the RMHYC gang scheduled a "Pot Luck Dinner" to commence right after the Manager's Party. Judy made a special dish with scalloped potatoes and ham. Everyone brought something yummy. It wasn't too long after dark when almost everyone had reached the tired-out zone.
04/03/07 TUESDAY ABACO BEACH RESORT and BOAT HARBOUR, MARSH HARBOUR, ABACO, BAHAMAS
Here we go again, another fabulous day in tropical paradise. We solicited Dean's help to load the dinghy up on the sundeck roof of AMARSE. We were planning our departure for tomorrow morning. We did some boat preparations and added another 50 gallons of water to the rear tank. This make a total of 172 gallons of water that we have added since we arrived almost 5 weeks ago. Since water is priced per gallon, you quickly learn about conservation. Either you pay $0.15 per gallon or a flat rate of $3 per day for unmetered water. For us, it was more economical to pay per gallon. Without conservation techniques, it would be better to use the flat rate.
While I did stuff around the boat, Judy and Dean strolled into town. They had lunch at the Golden Grouper. Guess what they had? Right again. I was nice that they could have this special time together.
Tonight was the RMHYC Spring Fling party. With an Easter-time theme, everyone was urged to prepare a Easter bonnet for the contest. Judy assembled one with a visor, veil, and gorgeous fresh flowers. Dean and I didn't much think that we would look that good adorned with the colorful flora.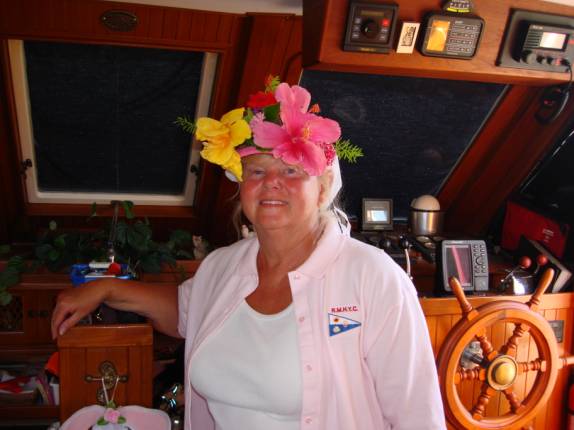 I'm so glad to see them having such a wonderful, fun time together. There is no sibling rivalry with these two kidz.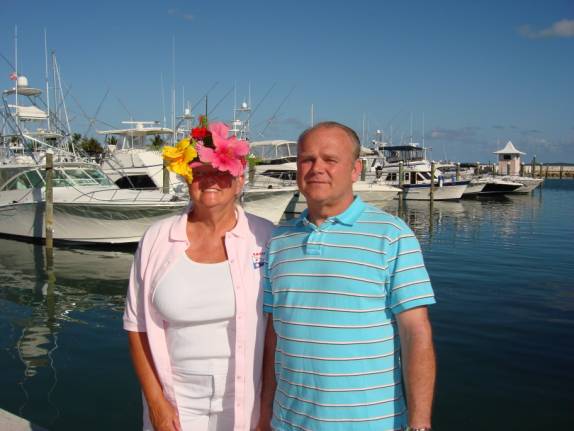 The Spring Fling event was held at the big palapa hut adjacent to this lovely beach. With open bar flowing freely, the BBQ grill cooking up big burgers with all the picnic style fixin's, and over 140 cheerful members present, it was a party to be delightfully remembered.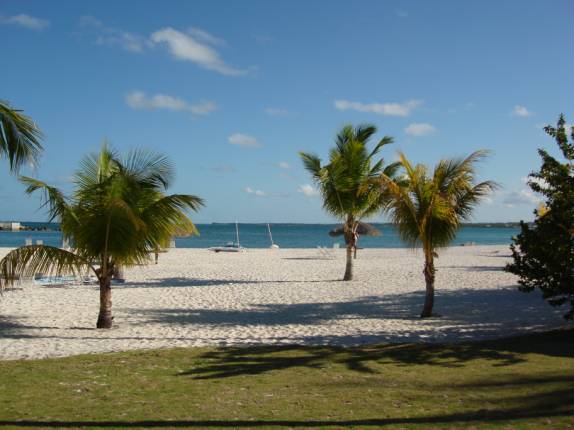 Participants in the Easter Bonnet contest were amazingly creative. My personal favorite was this creation by Linda from "Oblivion II".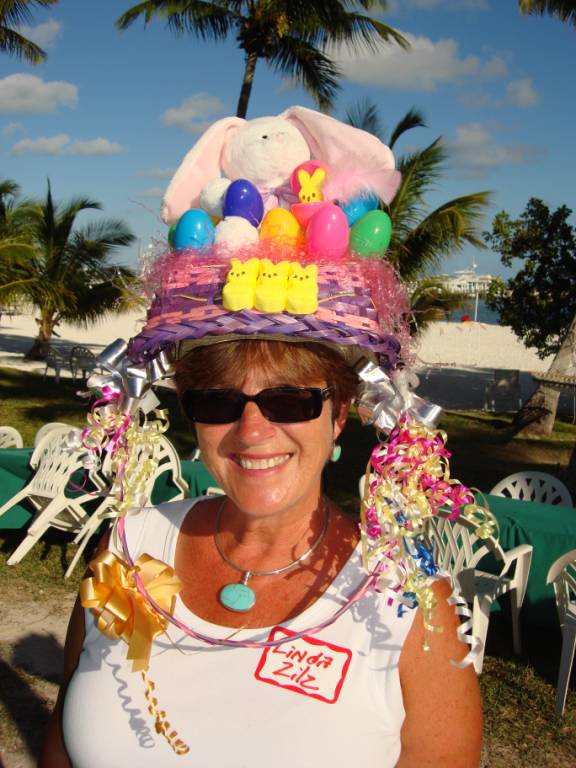 The official judges didn't quite see it my way, however, they selected this lovely ensemble, arranged by Fran Olsen from "Sea Fox", to be the overall winner.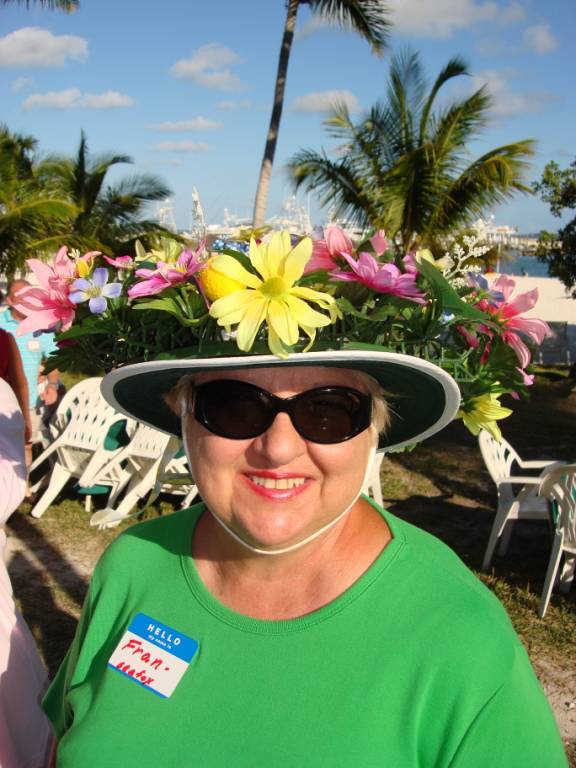 The whole group enjoyed the challenge of the Easter egg hunt. A few people won bottles of booze for their observant actions.
As the sun began to set over the island, the well-lubricated group of athletes gathered for the Egg/Spoon races. There were two heats and the final. I'm not sure, but there may have been some slight amount of cheating going on. Wild accusations of some participants using the age-old trick of thumb holding may have tainted the results.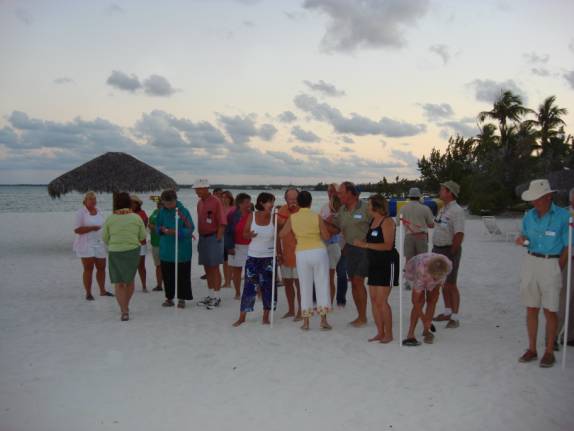 Here, we have photographic evidence that Judy's technique was in full compliance with all rules and regulations. Their opponents look like cheap, chiseling, cheaters to me. What do you think? Anyway, honesty prevailed in the long run and everyone had fun.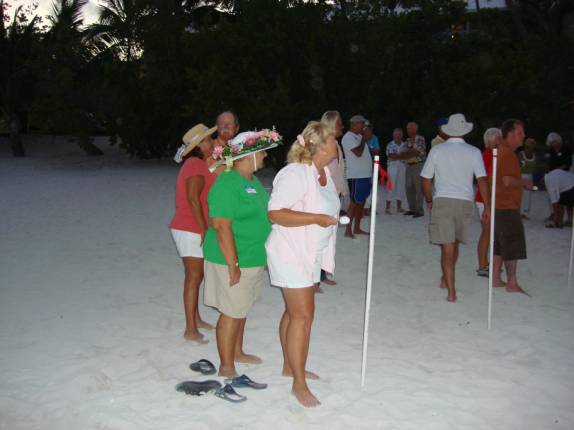 The dusky sky made the egg toss game a real challenge.
04/04/07 WEDNESDAY BOAT HARBOUR, MARSH HARBOUR, ABACO, BAHAMAS TO GREAT SALE CAY ANCHORAGE
Dean was scheduled to leave the island by airplane this morning. We have a perfect weather window to take AMARSE westbound toward Grand Bahama Island. We paid up our remaining bill for electric and water services and prepared the boat for getting underway. We said our goodbyes and tossed the final lines aboard at 8am.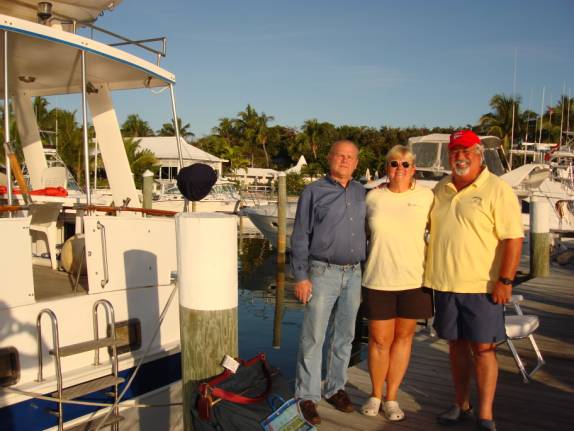 As we departed the harbor, we made sure that we had a little sand in our shoes. Tradition has it that this will ensure a return to the island soon. We sure hope it works for us. Perhaps next year, we will be able to enjoy even more time here in this wonderful place. We have had so much fun and met so many wonderful people here at Boat Harbour.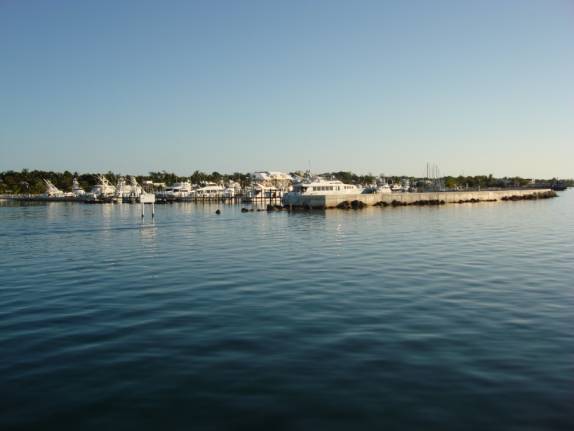 The winds that have persisted for most of March have given way to a strange, but welcome, calm. The crystalline turquoise water seemed so shallow to the eye, however, the depth sounder confirmed the depths at 15 to 20 feet. We could look right down to the bottom and see lots of starfish adorning the sandy bottom.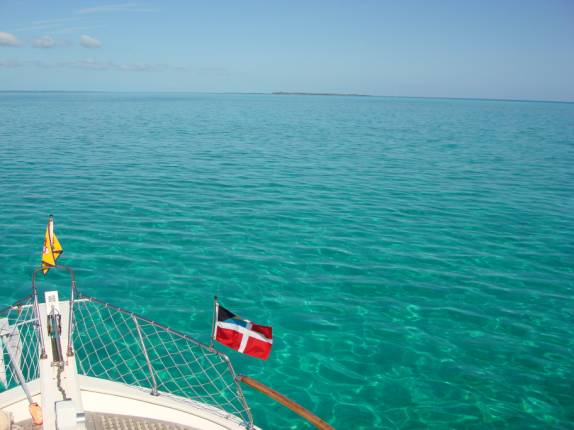 Numerous porpoises seemed to be enjoying the calm clarity of the water to frolic in our bow wake. Their aquatic agility and amazing maneuverability can mesmerize anyone fortunate enough to watch them in this natural environment. I can't help but thinking that they wanted to spend this last little bit of time with us to let us know that they hope we will come back next year. OK, we'll do our best to get back here as soon as possible.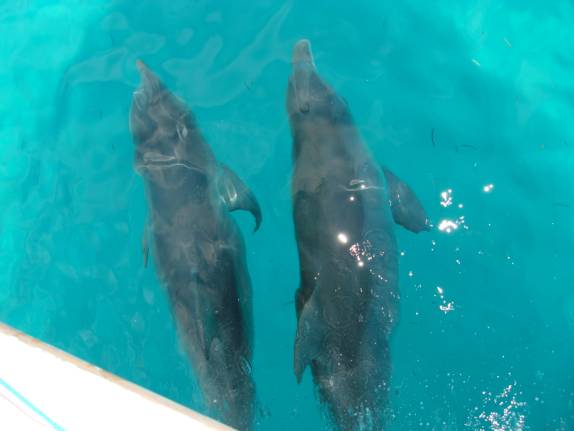 I could sense a hint of sadness in Judy that leads me to believe that she will miss this island paradise. I recognize the feeling because I too am experiencing it.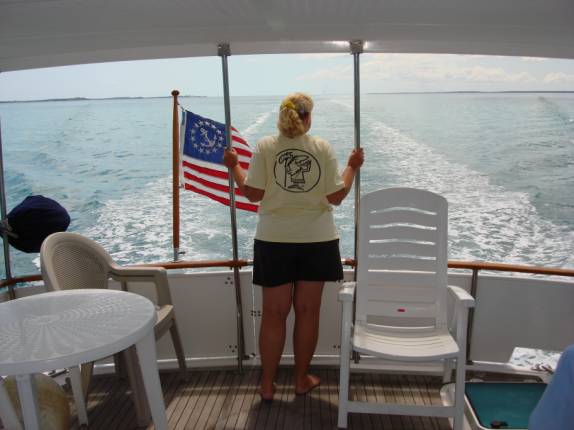 At 7:02 pm and shortly before sunset, we arrived at the Northwest Anchorage area at Great Sale Cay. We maneuvered around a bit and found a nice spot to drop the anchor. Fortunately, we hooked right up on the first try. The wind was starting to pipe up from the southwest and the wave action would begin to pack up in the little bay.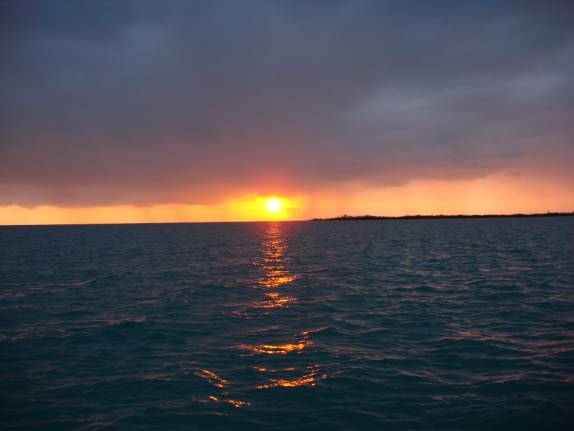 Today, we had traveled 94.8 statute miles at an average speed of 8.6 miles per hour. For dinner, Judy heated up the Bahamian Meat Pies that she brought from the bakery in Marsh Harbour. They were quite tasty and didn't require much preparation time or mess.
During our trip today, the port engine lost several hundred RPM's on a couple of occasions. This is usually indicative of a fuel filter that is beginning to plug up. Although the vacuum gauges showed some increase, it didn't seem enough for full clogging. I have heard others say that the Lehman engines don't show much vacuum before they clog. I crawled down into the engine room and changed out the secondary filter. I use a 2-micron filter in the Racor that should be the first to clog. As I changed it, I realized that a spacer was missing in the filter housing. I had read that Racor had redesigned the element and that the older housings would not support the element without the installation of a rubber spacer. Realizing that the filter had not been properly doing its job, I could only hope that the other two filters in the primary branch would last until we got to Grand Bahama. I manually installed the new filter element high in the housing to simulate the spacer position. We will find out tomorrow as we proceed to Lucaya.
The stars were incredible tonight. With absolutely no ambient light, the stars seemed close enough to touch. As Carl Sagen would say, "…billions and billions of stars". Judy was amazed to realize that what she thought was a sailboat anchor light was really the planet Venus set low on the horizon. I enjoyed the opportunity to point out the complete constellation of Orion. Often times, ambient lights block the lesser stars. Tonight, we could see it all so clearly.
The wind continued to freshen all night and resulted in a very rocky, rough ride. I set the anchor alarms and also set the clock alarm for every hour. In these kinds of conditions, you need to watch the other boats as well as yours. If they begin to drag, they could all too easily smack into you or snag your anchor line. We later learned that the boat just behind us dragged and was awakened by other boaters. He moved and reset his anchor but admitted he stayed up all the rest of the night monitoring his position. We didn't rest very well, but we were safe and secure.
POSITION: N26 58.911 W078 13.051
04/05/07 THURSDAY GREAT SALE CAY ANCHORAGE TO GRAND BAHAMA YACHT CLUB, LUCAYA, BAHAMAS
We were up and getting ready to depart at 6 am. The forecast had indicated that today would be calm and settled. As Judy sometimes says, "They Lied!" From our anchor up time of 6:30am, we would buck winds of 15 to 20 knots and the seas were kicked up to several feet. We plowed on to Mangrove Cay and made the arc-shaped course toward Dover Sound and the northern channel leading to the Lucayan Waterway. The channel leading in has been plaguing boaters with shallow conditions at low tide. We had planned to arrive as close to High Tide as possible. According to the charts, High Tide occurs at this location 2-1/2 hours later than at Nassau. Carefully, so carefully, we maintained our position in the very center of the channel. We saw nothing less than 6 feet at this tide. A couple of our friends had bumped ground several days earlier at lower tide. They anchored and waited several hours for the rising tide. Unfortunately, this had them arriving at the marina after dark.
The Lucayan Canal was constructed in the 1970's by some American developers. Unfortunate for them, the Bahamian Government failed to provide the necessary infrastructure for the project. The water, sewer, and electric utilities were never installed. Consequently, the project failed and the land has remained dormant for all these years. Numerous large residences and even a large hotel remain unfinished serving as a stark reminder of the project's collapse. At the southern end, we could see that there are clear signs of a resurgence in constructions. The canal is in very good shape and has lots and lots of side canals designed to be a waterfront home paradise.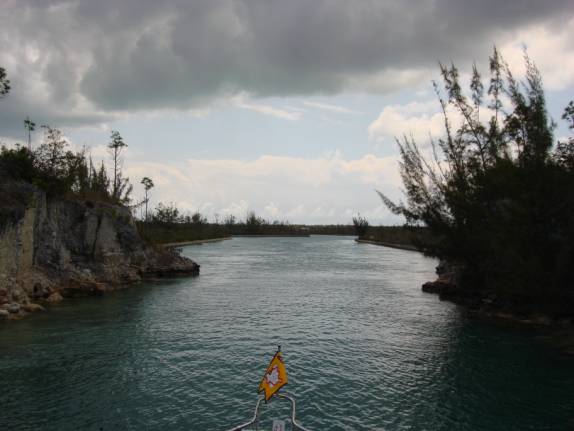 Most of the canals are rimmed with solid concrete seawalls. The concept was clearly well though out and well planned. Who knows what this place would look like had the project been completed.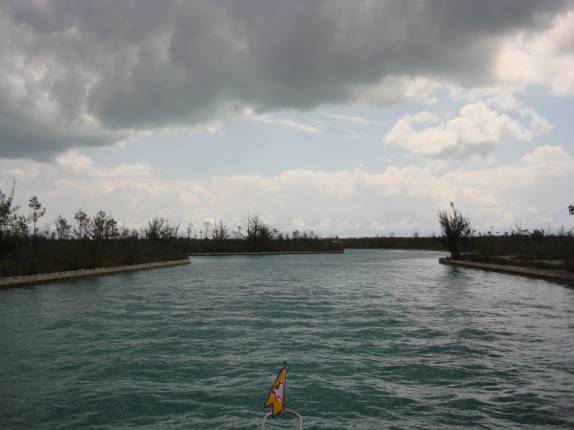 The canal emerges to the south into the depths of the Atlantic Ocean. The deep blue water is indicative of the 2000+ foot depths. It's about 5 miles to the Bell Channel that leads into Port Lucaya.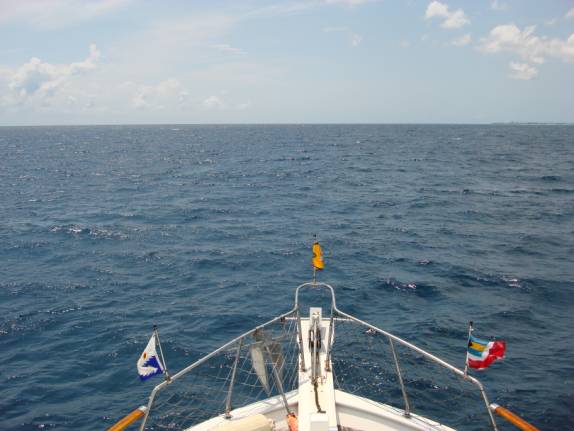 Judy consults the Steve Dodge guidebook for details on our harbor arrival.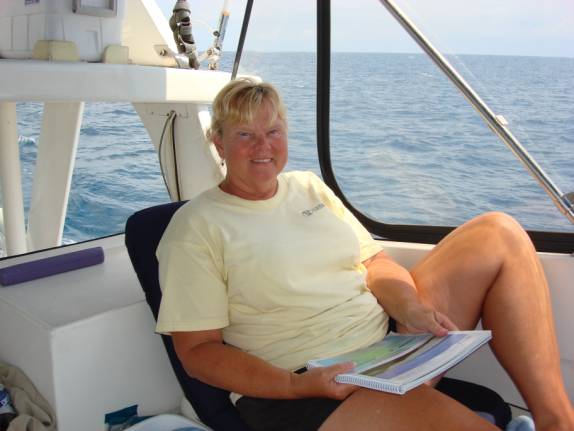 A VHF radio call to the marina directs us to our assigned slip at the Grand Bahama Yacht Club at Lucaya on Grand Bahama Island. The modernized marina sports fixed concrete docks for about 100 boats. Most of the RMHYC member boats were on B-Dock. We were fortunate to receive the same assignment and AMARSE was in place at 2:30 pm. Slip #B309 will be home for the next week or so. The RMHYC had negotiated a terrific rate from the management. This has lured 40 some member boats to this location. The program has been good for the marina and good for the members. It is always nice to see the Win-Win philosophy at work.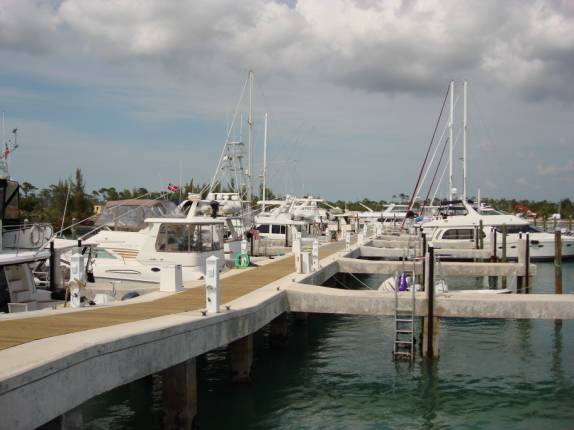 This building is nicknamed "Government House". Its design favors the historical attributes of architecture prevalent under British Rule. It serves at the complex business office and is the residence of the owner of the complex.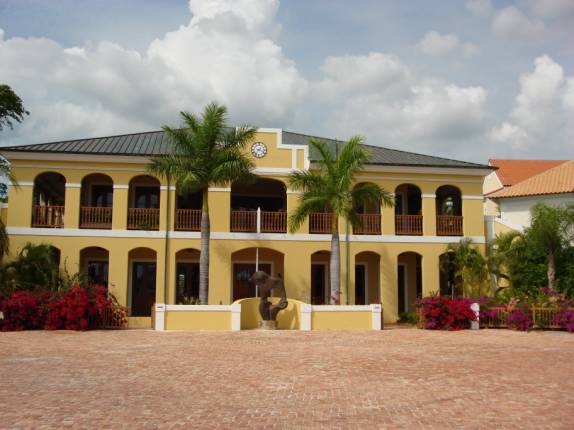 Judy got real busy and washed down AMARSE. Everything was coated with a crust of dried salt. There wasn't an inch of boat that wasn't covered with the layers of white crystals. We pay a $5/day flat rate for water here. It's a good thing too because it take lots of gallons to desalt this mess.
Hot and hungry, we head for the pool bar and grill for a late lunch. The burgers are very, very good. A dip in the very large pool is refreshing but I think they keep it heated a little too much. I would prefer it to be a bit cooler.
These two tired kidz slept soundly through the heavy rains that pelted overnight. I'm glad we made it in before the storms.
04/06/07 FRIDAY GRAND BAHAMA YACHT CLUB, LUCAYA, BAHAMAS
Today is Good Friday. Here in the Bahamas, the Easter holidays are very important. Most everything will be closed today, Sunday, and also on Monday. There are some problems with the internet service here. Even though they have been trying to fix it, it appears that the ISP (Internet Service Provider) is unable to keep up with the demand. I was awake early under the rainy skies to use the internet before it gets too crowded to use. Unfortunately, I could not send out any emails, however, receiving was pretty good.
When the weather cleared, we took the short, 10-minute ferry ride to Port Lucaya where all the shops, restaurants, and the straw market can be found. Lots of places were closed which didn't bother me much since all of them are just overpriced tourist traps. Enough shops were still available to cater to the cruise ship market.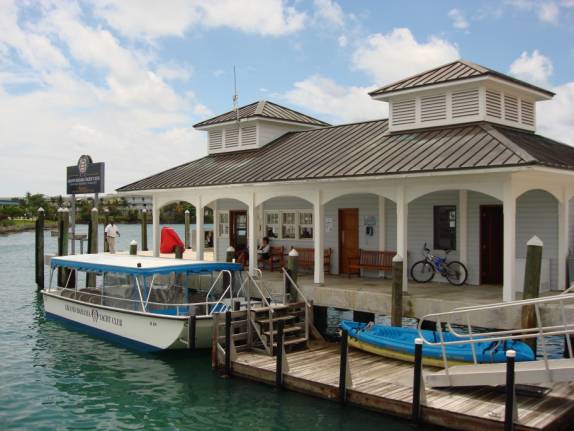 We visited the Isle of Hope Casino. I suggested that Wild Thing Judy try the Wild Thing machine. It didn't take too long for both of us to lose our limited allotment.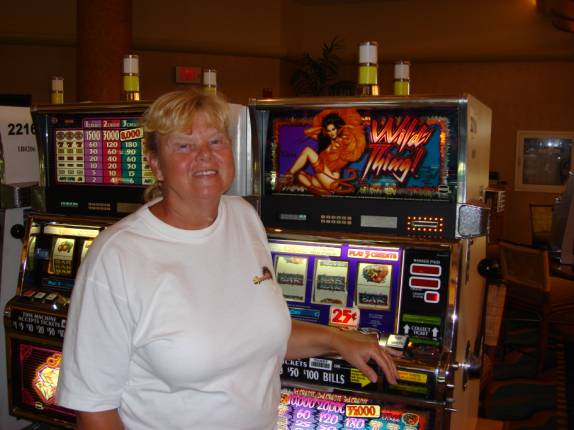 This young Bahamian was continuously cleaning fresh conch while his associate chopped onions, tomatoes, and conch meat to make conch salad. We were surprised to see that they didn't even rinse the sand off the shells before cleaning. I guess it probably won't make much difference in the long run.
Hidden deep in the conch muscle, a clear, string like vein can be plucked out. Slurped down like a piece of spaghetti, the Bahamians view it as a source of strength and good luck. This young lad is well on his way to real power.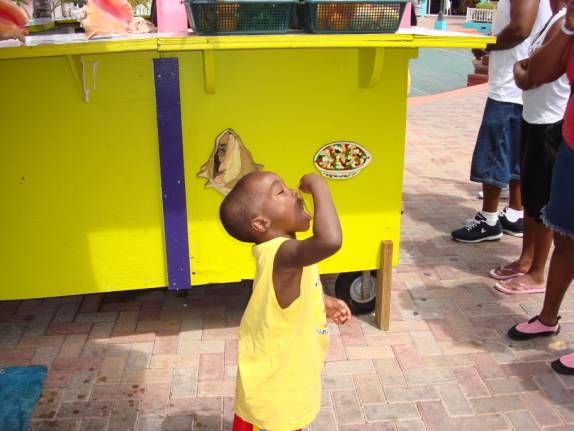 I like this picture. I don't know whether the beautiful flowers make Judy look so pretty or whether the beautiful Judy makes the flowers look so pretty. Maybe it's another Win-Win situation.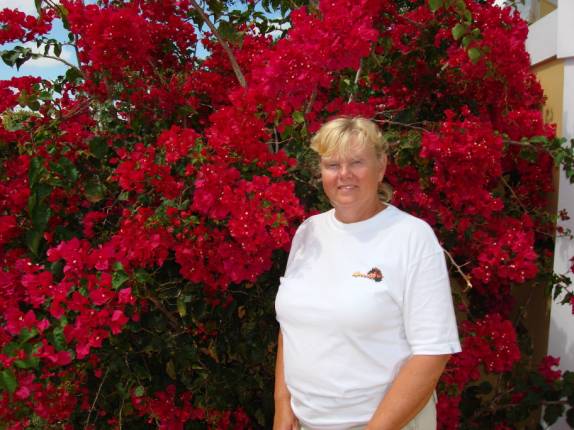 The pool may be overly warm but I still enjoyed my afternoon swim. At poolside, the outdoors bar host Captain's Hour from 5 to 6:30pm. It was the perfect opportunity to enjoy the local Lucayan Beer. We enjoyed chatting with a couple that managed to travel to Venezuela in their 50 foot Carver cruiser. It turned out to be a TV night of relaxing after a nice dinner of Frito Pie.
04/07/07 SATURDAY GRAND BAHAMA YACHT CLUB, LUCAYA, BAHAMAS
The Grand Bahama Yacht Club is a favorite spot for the Mega-Yacht folks. It is always quite amazing to see a helicopter land on the yacht.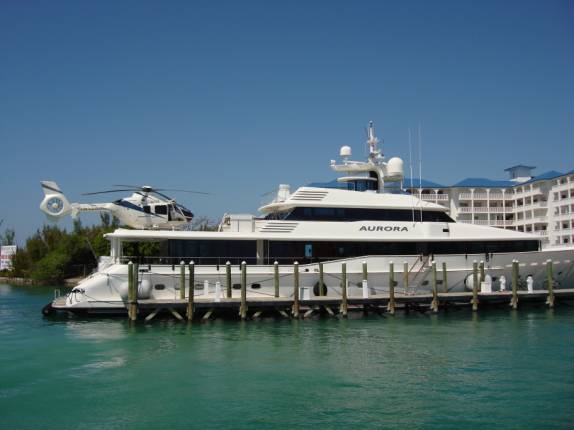 A cold front brought cooler temperatures that would only reach into the high 70's today. Breakfast consisted of corned beef hash, scrambled eggs, and toast. After riding the ferry over to the port dock, we located the local bus to take us to the grocery store. For a fare of $1, the mini van bus runs you the several miles to City Market grocery store.
Following some quality pool time, we joined Jimmie Ethridge and Betsy Harris, from "Simply Southern", and Robert and Carolyn Wilson, from "Sea Island Girl" for cocktails at the pool bar during the Captain's Hour. Both vessels had just arrived here in the harbor this afternoon. You probably remember them from Boat Harbour, Marsh Harbour.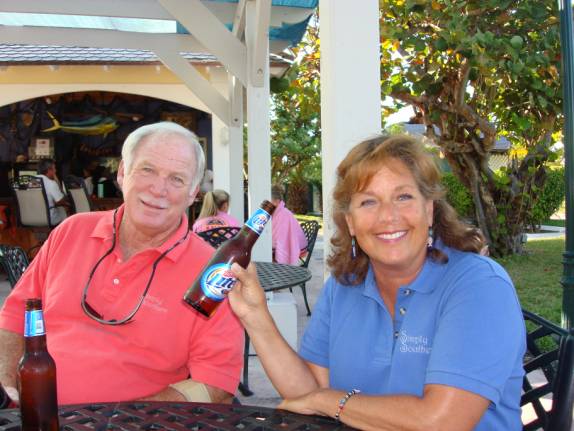 Robert Wilson is the Commodore of the RMHYC (Royal Marsh Harbour Yacht Club). To celebrate his arrival here, Past Commodore Dave Bluto and Preben Olhsen, owner/developer of this wonderful facility, arranged and hosted a festive get-together complete with a drink and dinner. It was great fun.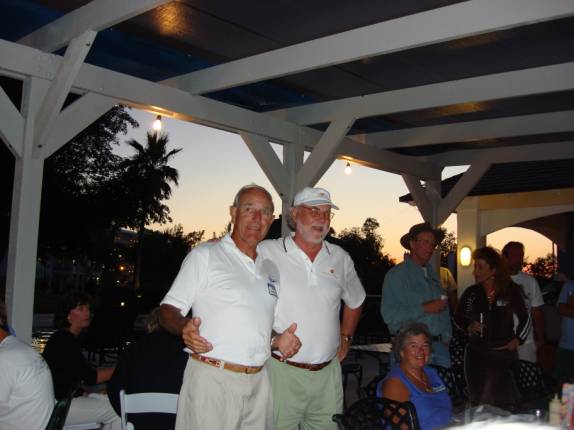 Dave Bluto (left) is honored for his years of service to the RMHYC and for his continuing activities to initiate a chapter of the RMHYC right here at Grand Bahama. Succeeding Commodore, Robert Wilson (right), presents a hand carved boat hull as a gift.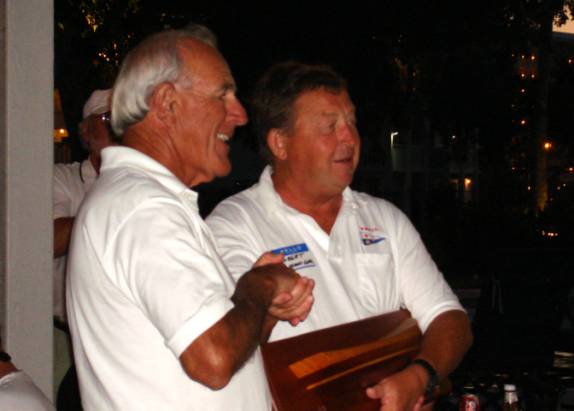 Judy and I were honored to be invited to close out the evening with the Commodore and his wife, Carolyn, aboard "Sea Island Girl".
POST SCRIPT:
As you have probably noticed, I am quite a bit behind on my update duties. As I complete this edition, it is 4/24/07 and we are back in the Good Ol' USA. We have been quite busy with annual boat maintenance and the boat is out of the water in the yard. Hopefully, I will get more done to keep you informed of our progress. Thanks for being patient. Please let us know if you have any special suggestions and thoughts.
We sincerely hope that you enjoy these email UPDATES. We thank those of you who have contacted us recently and we are looking forward to hearing from each of you in the near future. Thanks for allowing us to share our life and adventures with you.
REMEMBER: The website is now fully active and you can visit it at any time. You can review any of the 2006 or 2007 logs and learn more about the crew and our plans. Enjoy.
ATTENTION: SPECIAL NOTE:
We are back in the USA and our phone coverage is back to normal. You may contact us via cell phones and/or email. Judy's cell phone is 361-550-5353. Fred can be reached at 210-296-4933.
"AMARSE". is pronounced "AM-ARE-SAY". Our website is: www.amarse.net .
Check it out while we will attempt to keep you informed via email
We would like to hear more about what is happening in your lives. Let us know as we very interested in what's going on with our friends and family. Please call or email us with your thoughts and comments and ideas too. Thanks
Lot of Love,
Fred Reed and Judy Law
AMARSE
MT40