Howdy Everybody,
We are very interested in hearing from ya'all. If you have missed out on any of the previous emails and would like us to re-send them, please let us know.
Please let me know if these emails containing pictures are too large and we will send you a version with text only.
The period 4/1 thru 9/27 has been covered in Updates 1 through 24.
UPDATE #25 09/28/06 through 10/04/06.
As you may remember, we have been in St. Charles, Missouri since our arrival on September 13, 2006. The first half of the stay has been covered in UPDATE #24. In this email update, we will try to cover the rest of that stay with Fred's kids and grandkids.
09/28/06 THURSDAY ST. CHARLES, MO
After a restful night on the boat at Polestar Marina, mile 221.8 on the Mississippi River, we departed by car for a fun filled day of sightseeing. We headed for St. Louis downtown. After a driving tour of the beautiful downtown buildings, we took a parking space along the Mississippi River to visit the world famous St. Louis Arch.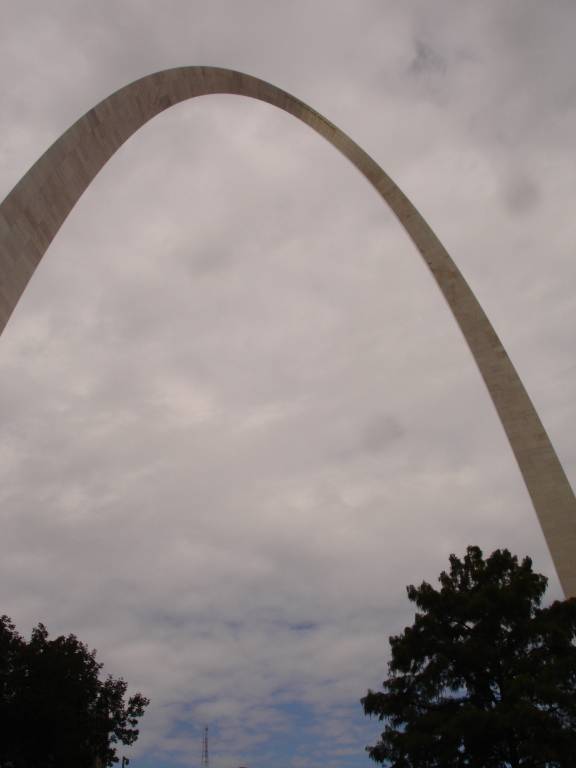 Operated by the US National Parks Service, the arch can be visited inside and out through the purchase of tickets. We selected a three-pack consisting of: (1) an IMAX movie about the Lewis and Clark Expedition; (2) a tram ride to the top of the Arch structure; and (3) a movie feature documenting the construction of the Arch. Also included was the Museum of Westward Expansion.
The IMAX movie was extremely excellent. It was very well done and held our interest with a reenactment of the historic journey. The Tram ride is really cool. In special, small capsules holding seats for five, you are hoisted up through the Arch. It would be quite claustrophobic for those so afflicted, however, for us it was just a bit cramped but still lots of fun. The little cars are kept level by some sort of ratcheting mechanism. It is kind of a weird sensation.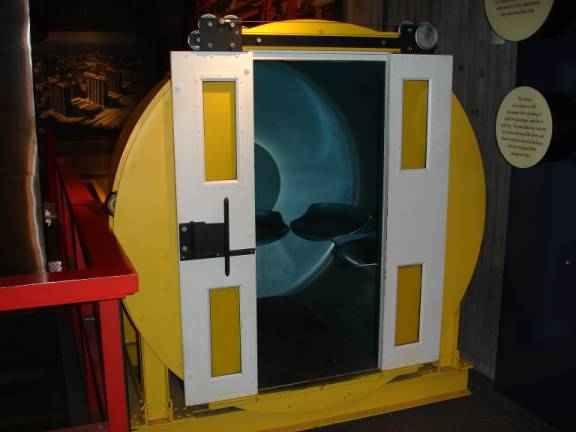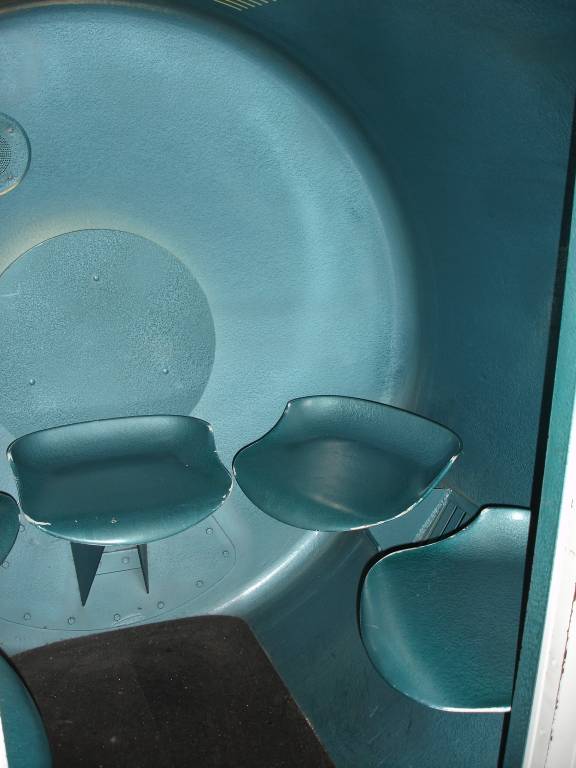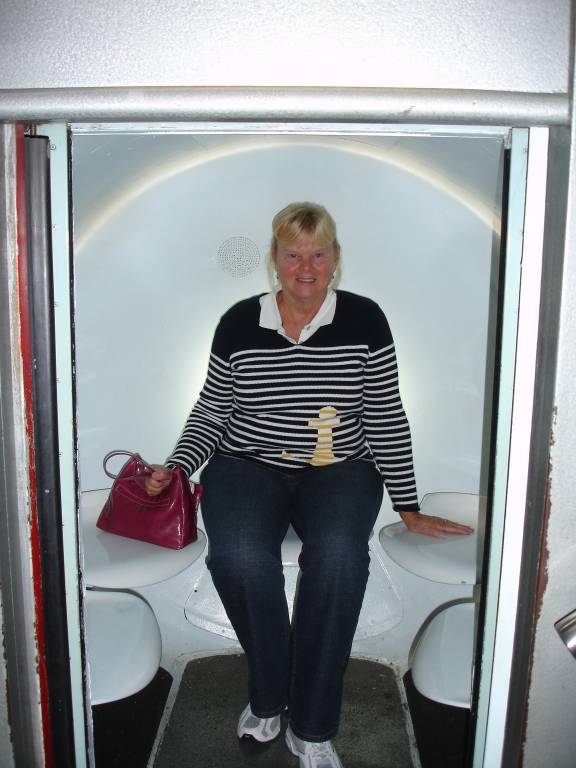 At the top, the view is spectacular. On a clear day like today, you can see almost forever. The St. Louis skyline is very beautiful. Note the old courthouse that was made famous at the "Dred Scott" hearings. As you may remember from your history lessons, Dred Scott sued his slave owner for his freedom. Dred Scott lost the suit, however, most historians believe that this case had a huge influence on the start of the Civil War.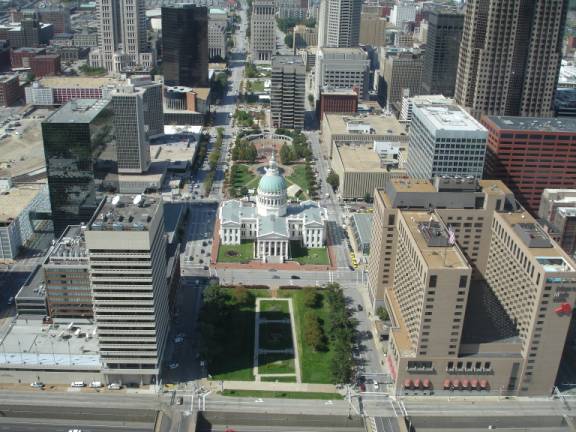 Among the myriad of high-rise buildings, you can easily see the brand new Busch Stadium.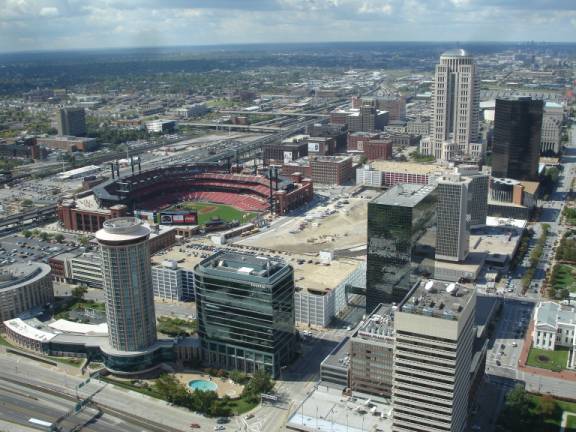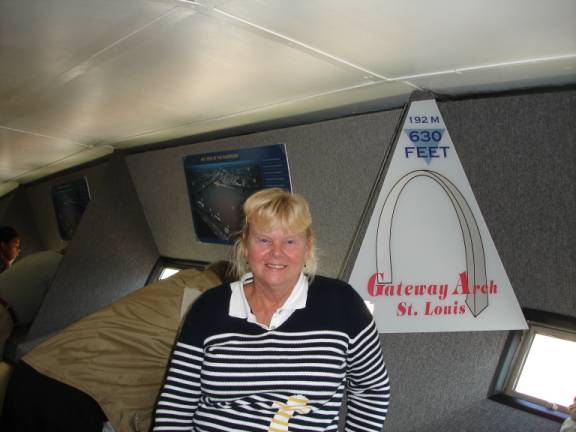 After the documentary movie in a theater at the base, we visited the museum. This wall mural relief was quite nicely done. The museum exhibits covered a large aspect of historical information and items that played a significant role in the development and expansion of this nation toward the west.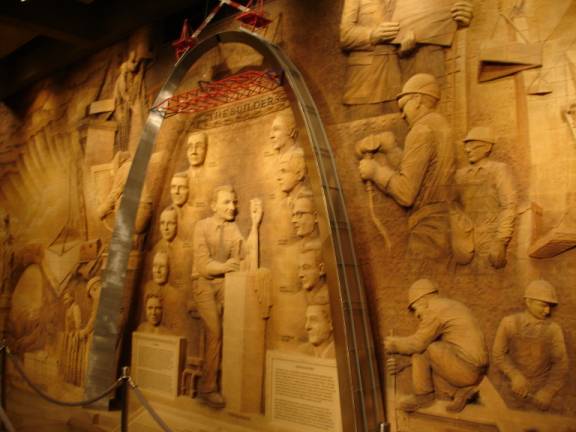 Of course, riverboats played a huge role in moving people, livestock, and supplies through the western rivers that crisscross mid-America. With out the aid of power assisted steering, these huge steering wheels provided the leverage to swing the huge rudders.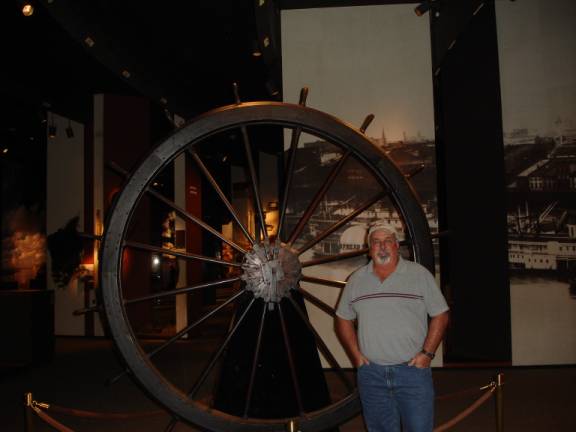 We drove through some more of the historical districts on the south side of the city. Our next stop was the world headquarters of the Anheuser Busch brewery. It was here that the world's largest brewing company started. They offer a delightful tour of the facilities and an insight into the beer making business and it's history. We had a nice time viewing the exhibits at the visitor center. This old truck particularly caught my eye.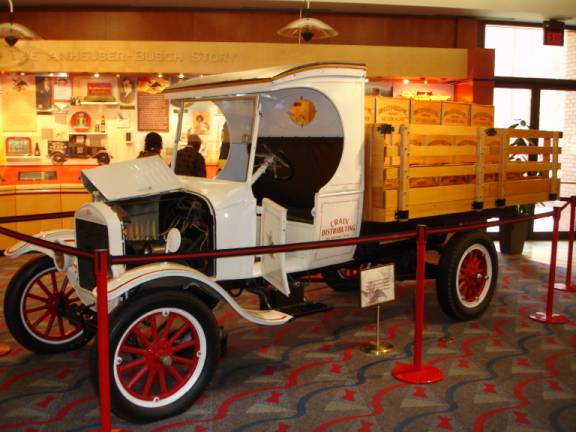 The first stop on the organized, guided tour was to see the Clydesdales. For Anheuser Busch, these massive draft horses are an institutional trademark. Half of the animals are housed and cared for here at the paddock. The other half are kept at nearby Grant's Farm (formerly owned by Ulysses S. Grant).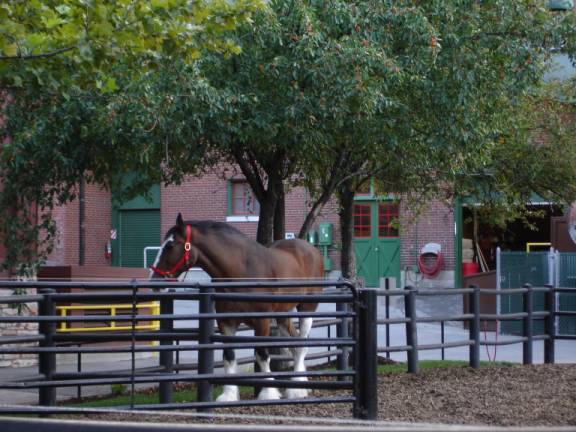 The beer wagon is something to see. The tack room holds the leather yokes, straps, and bridles for each individual animal.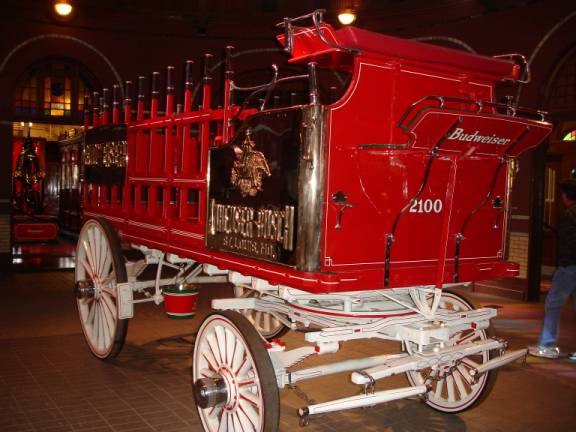 The large complex has many beautiful and historic buildings. Everything is spotlessly clean and the grounds are groomed to perfection.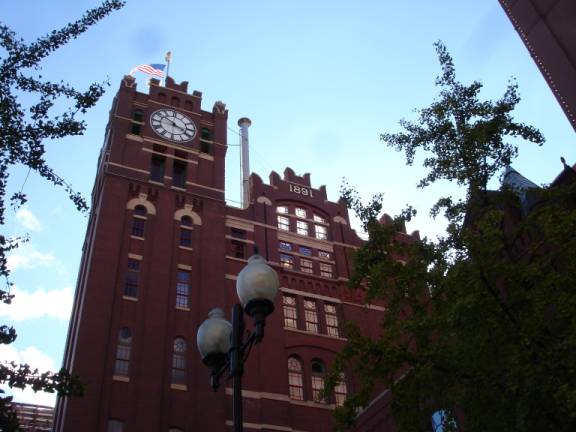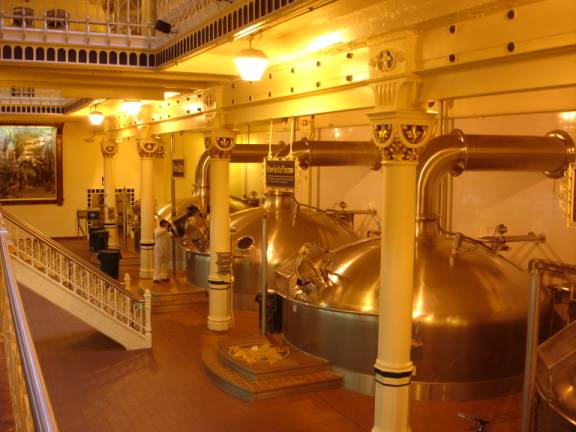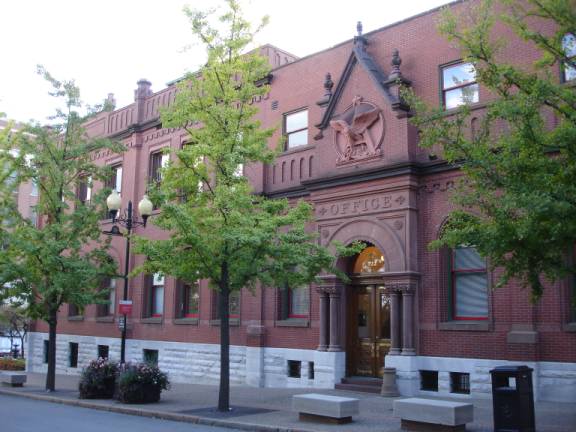 At the completion of the tour, visitors are offered their choice of any of AB's wonderful products. Unfortunately, they impose a limit of twelve ounce glasses to two. Delicious! We especially enjoyed the new Michelob Amber Ultra.
For dinner, we dined at Casa Gallardo Mexican Restaurant. I had eaten there many times in years gone by. We were disappointed at the decline in quality and service. Oh, well…..
09/29/06 FRIDAY ST. CHARLES, MO
After breakfast and another visit to West Marine, we tackled another round of chores and preventative maintenance on AMARSE. I have been wanting to do a modification on the steering assembly. The steering arms had seemed like they had a little too much play. I took them apart and installed a pair of large brass nuts to make the adjustment more solid. While there, I lubed all the clevis pins, scraped and treated the braces and brackets with CorrosionX. We rotated the mattress, switched over the fresh water supply tanks, replaced washdown nozzle washers, installed new anchor light lens and bulb, and installed some labels on the electrical panel. Another full day of work accomplished left us tired out again.
We went over to Doug and Lisa's for dinner. I prepared a large pot of my special recipe, homemade Chicken and Rice soup served with English Muffin toast. Yummie!!!!
I was delighted when Ashley said "PawPaw" for the first time. Judy heard it first but I thought she was joking. Well, Ashley said it several more times to make sure we all heard it. Even at that young, tender age, they know exactly what will melt you down.
09/30/06 SATURDAY ST. CHARLES, MO
At breakfast, Judy and I were so surprised to see Austin come in with grandparents, Ken and Suki. They were on their way to pick apples at the orchard in Illinois.
More chores aboard AMARSE were the scope of the day. We scraped and taped numerous areas to be re-caulked. It is very important to keep these vessels as dry as possible. Anything you can do to seal up the seams will aid greatly.
I contortioned myself enough to be able to reinstall the propeller on the outboard by crawling out over the edge of the sundeck roof.
Sharyn and Jeff invited us to dinner. We brought the roast chickens, mashed potatoes, croissants, and cake. If this sounds familiar, it is a repeat performance of the dinner we had at Doug and Lisa's a week or so ago.
Showing on the Big Screen and with Surround Sound, the movie "Monsters, Inc" played to entertain us.
10/01/06 SUNDAY ST. CHARLES, MO
We seem to be narrowing the "To Do List". We finished up the caulking project and removed all the window screens to make mounting repairs.
Judy and I went to dinner at Chevy's Mexican Restaurant. It was OK but nothing to rave about. I guess we are just too fussy sometimes.
10/02/06 MONDAY ST. CHARLES, MO
It was a very nice day again today. We have been quite fortunate to have mostly pleasant weather during our stay in Missouri.
The next marina, Port Charles Marina, had diesel fuel priced much better than the marina that we have been staying at. We started up AMARSE and motored the short way down river to fill our tanks in preparation for the continuing trip south. We frequently call around to locate the most favorable fuel pricing. We like to choose places that pump large volumes of fuel. Bacteria, water, and algae can quickly spoil Diesel fuel. A load of bad fuel is bound to cause serious problems with filter clogging and engine failures. It is interesting how much variance in prices exists in the fuel market.
Tonight, Judy and I treated Doug and Lisa to dinner at Maggiano's Little Italy Restaurant. As you may remember, this is a favorite of ours. They had never been there before. I am confident that they enjoyed it immensely. We started talking about restaurants and they told us that they had never been to the "Cheesecake Factory". Well, we couldn't have that so we crossed over to have dessert and coffee. Don't bother to ask if it was good. It was better than that.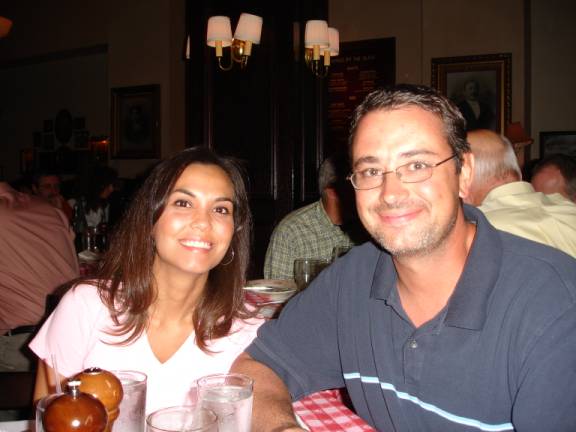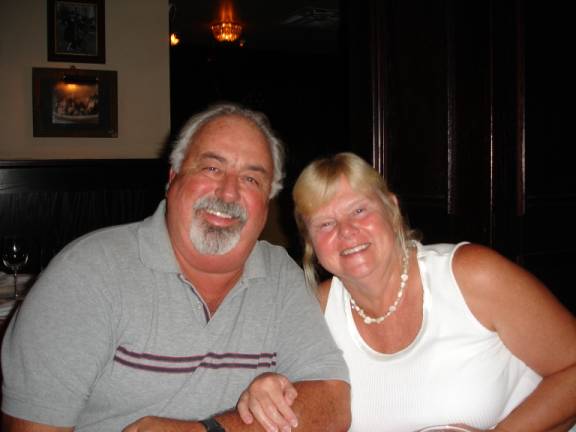 10/03/06 TUESDAY ST. CHARLES, MO
Our visit to the Kids and Missouri is fast coming to a end. We are still here in Polestar Marina in St. Charles.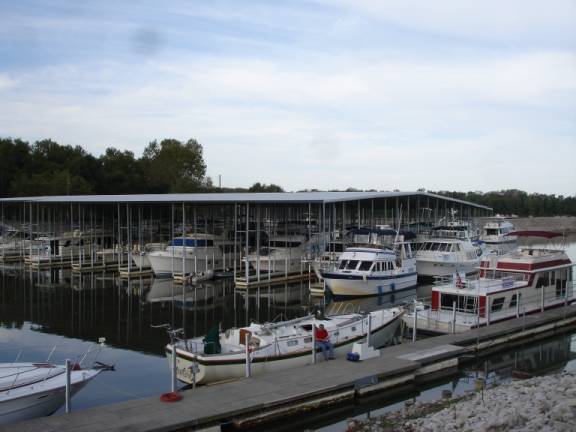 Our "Looper" friends, Larry and Doris Goby from McAllen, Texas, are here at the same marina. They have been accomplishing repairs and visiting family for the past several weeks too. We have agreed to travel a way south together along the Mississippi River, Ohio River, and to the "Land between the Lakes" (LBL). We are looking for a practical weather window to travel and avoid the problems of inclement conditions.
We are organizing our plans and preparing the boat and ourselves for departure.
Doug and Lisa hosted a great barbeque at their home. They grilled wonderful, tender chicken breasts and skewers of Veggie Kabobs. Absolutely Yummie, Yummie, Yummie.
10/04/06 WEDNESDAY ST. CHARLES, MO
We have a plan to depart tomorrow before daybreak. The weather is forecasted to be very conducive to travel and those conditions should prevail for at least four days. This is what we have been looking for. We have mixed emotions about our departure. On one hand, we have enjoyed every single minute of our visit and want it all to continue. On the other hand, we are anxious to continue on our fantastic adventure. Both Judy and I love this trip of a lifetime. We enjoy the boating lifestyle and being with friends that we have met along the way.
Larry and Doris have finished their work on "Missy B" and are ready to head south. They have their sights focused on a return to Texas.
It looks like a "GO".
Sharyn and Jeff joined us for a little "goodbye" dinner at Lloyd and Harry's Bar & Grill. This is a place that we will definitely miss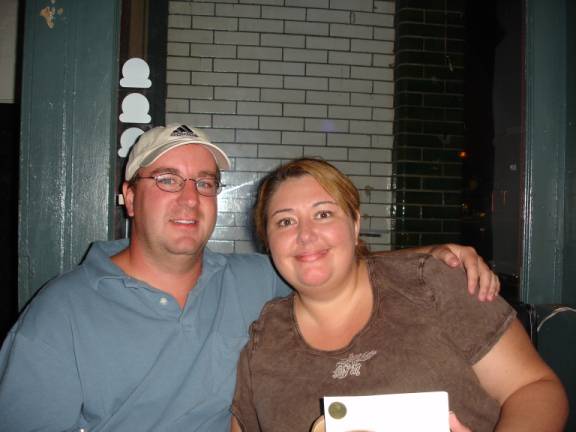 . We will miss the family even more. It makes a Dad very pleased and proud to see these young folks having grown to be so very wonderful in so many ways. They have renewed my inner spirit and it is such an honor to be loved by them. My heartfelt THANKS to Jeff, Sharyn, Doug, Lisa, Austin, and Ashley. You are all deeply loved and are so very dear to my heart. You are, and will always be, constantly in my thoughts.
The next installment UPDATE will continue with our voyage south. I don't want to make these email postings too large for some of the computers that have slower internet services. I'll try to get the next one out soon and eventually catch up. Thanks for your patience.
ATTENTION: SPECIAL NOTE:
My Verizon AirCard that operates my computer internet still operates slowly and sporadically. The coverage areas are not as good as we had hoped. We will be sending out updates when we can.
Judy has Cingular Wireless cell phone service. It seems to work even better than the Verizon Wireless. Judy can be reached at 361-550-5353 and Fred can be reached at 210-296-4933. We can be reached at either number. Please call us if you like, we'd really like to hear from you.
"AMARSE". is pronounced "AM-ARE-SAY". Our website is: www.amarse.net .
Check it out while we will attempt to keep you informed via email
We would like to hear more about what is happening in your lives. Let us know as we very interested in what's going on with our friends and family. Please call or email us with your thoughts and comments and ideas too. Thanks
Lot of Love,
Fred Reed and Judy Law
AMARSE
MT40